This year is set to be a year of significant evolutionary change for Love My Dress. I'm investing much time and indeed money in this much loved platform, modernising it, improving the user experience and making it a whole lot easier to discover creatively talented suppliers.
Supporting wedding industry talent is what we do. It's largely why we exist. It brings us joy to do so, and with my hand on my heart, I have never felt more proud to own that purpose.
From the very start, some 13 years ago now, I've owned a passion and deep, genuine desire, to seek out and shine a spotlight upon British bridal design talent, like the wonderful Wilden London, founded by Charlotte Wilden.
Supporting brilliant brands in the wedding industry is more than just a chance to highlight talent however, it's a chance to reveal the people and processes behind the brands, to provide an insight into the craftsmanship and integrity of those creating beautiful, bespoke and couture bridal fashion.
I hope that this interview piece with Charlotte Wilden provides that insight, and encourages those of you looking to work with an independent designer, to reach out to Charlotte to say hello and make an enquiry. It is a real privilege to be able to recommend Wilden London.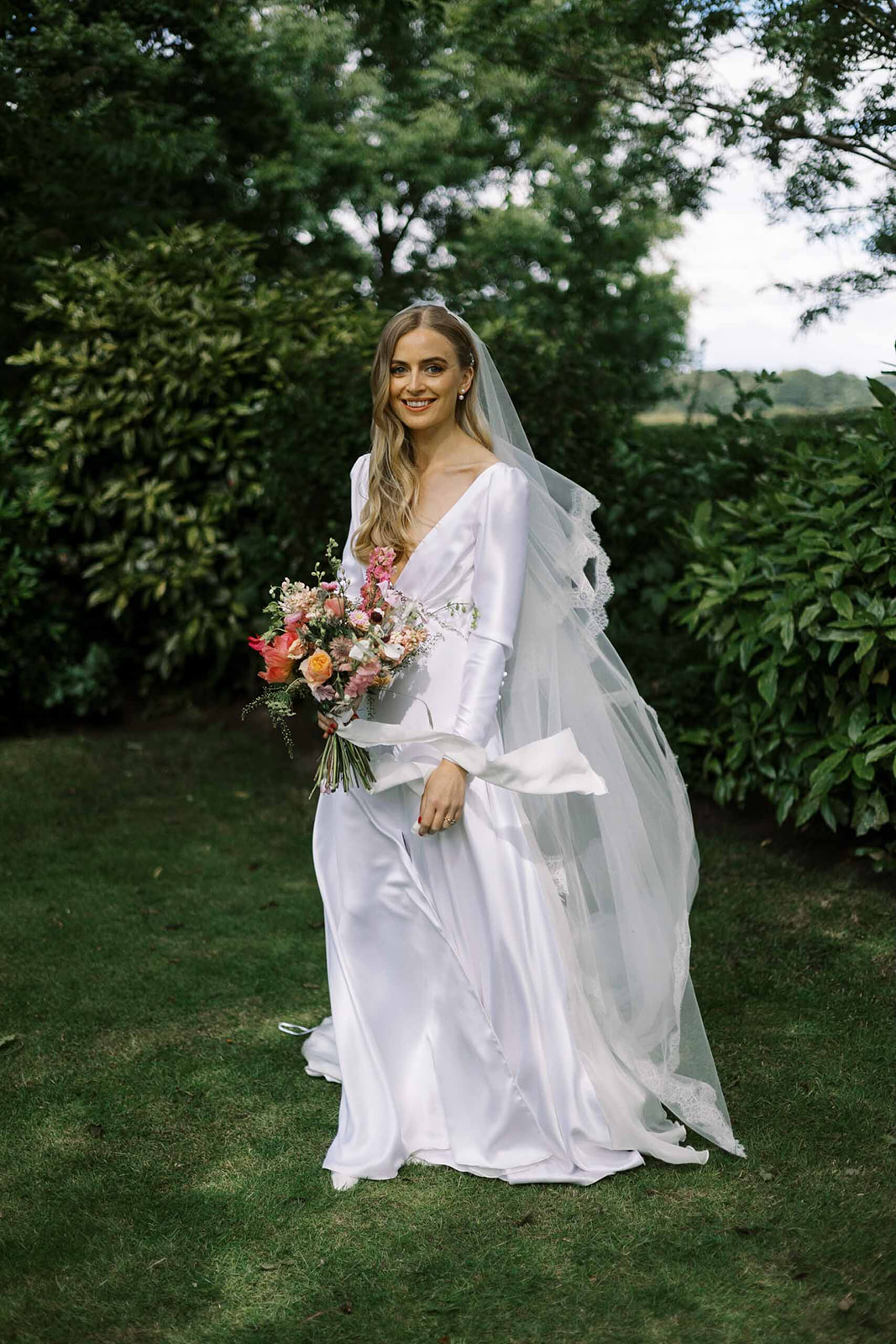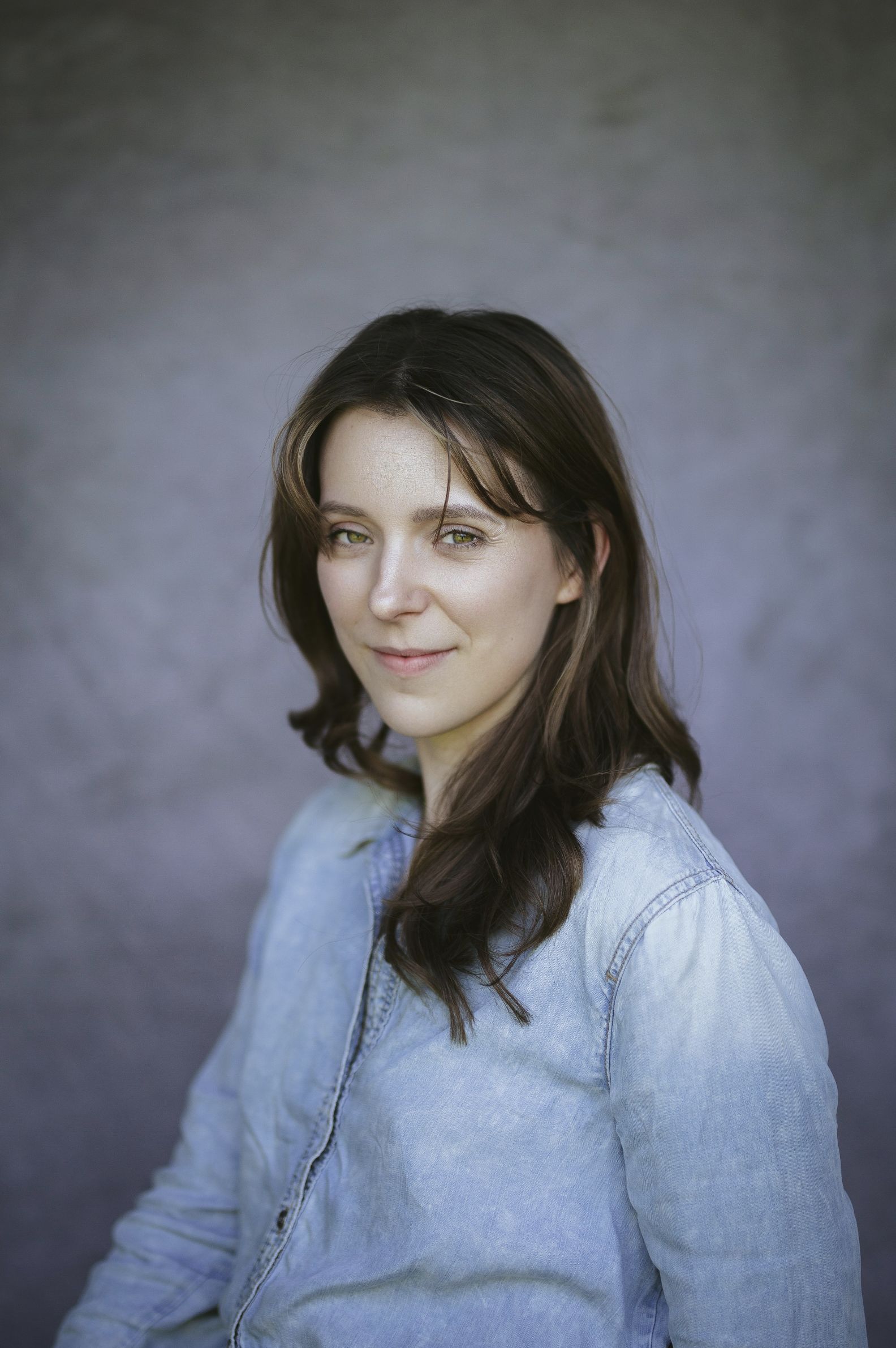 Charlotte Wilden
I'm Charlotte Wilden, the designer and creator of the wedding dress design label, Wilden London.
My studio is in Epsom, and my clients travel to me from all over London, UK and around the world. I've been designing luxury bespoke wedding dresses for ten years, and have created a debut made to order collection for 2023.
I trained in Costume, but my heart was always in fashion and couture. I worked for a private atelier, and also for luxury fashion houses Jenny Packham and Marchesa in London and New York. In 2012 I found myself with too many private bridal design commissions and decided to fully launch my own label, Wilden London.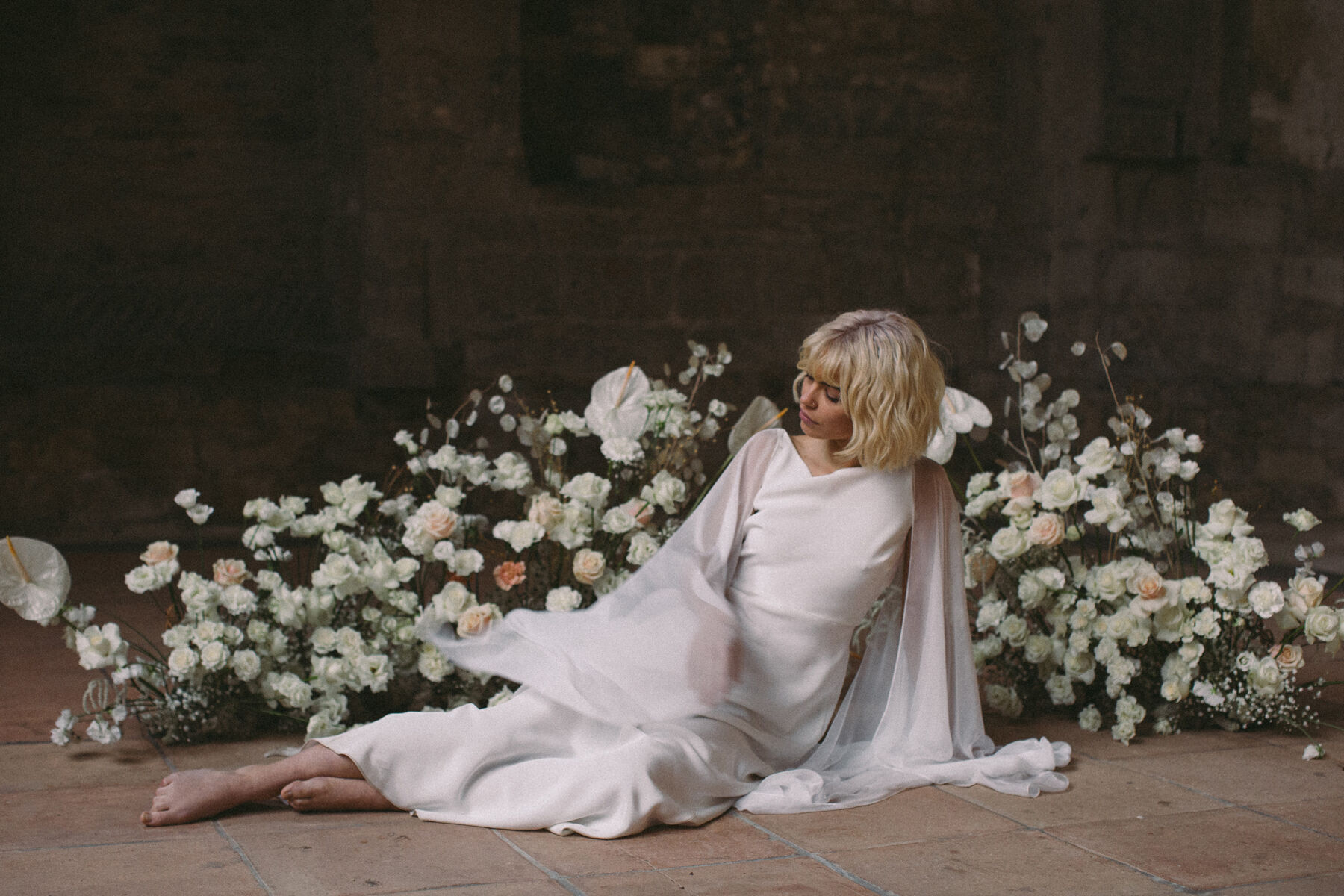 What do you love most about working in the British bridal fashion world?
Bridal lends itself really well to all the things I also love best about fashion; flamboyance, extravagance and a touch of sparkle, and purpose. I love to create clothing that is treasured. A wedding dress has a story in both its design and creation, but also, it's significance to a moment in time. I like to think that all my wedding dress designs will become heirlooms.
My signature style is romantic, often nostalgic, ethereal and whimsical, but also quite subtle so the brides ideas and personality always shine the brightest. Charlotte Wilden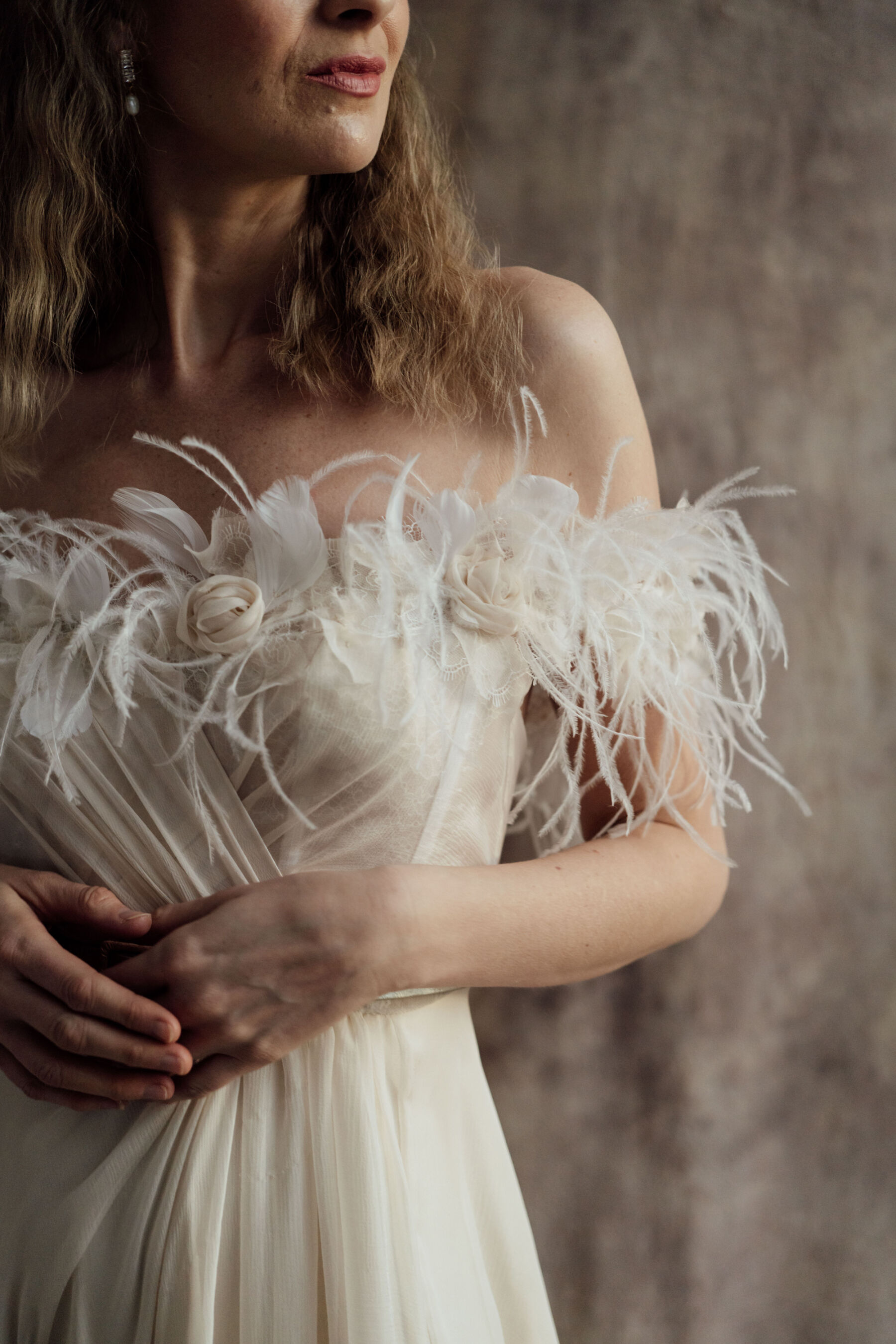 My muse becomes the bride I am working with at any moment in time. With bespoke design in particular I get to know a bride over time, so I can make tweaks to a design to suit her personality as I get to know her better, I'm so often asked if I have a favourite dress I've created for a bride, and truly, I believe the best designs are those which are so well suited to the bride and then I know, she has become my muse.
My inspirations and interests are quite broad so I'm able to design for all brides tastes and style and be passionate about every single one. Charlotte Wilden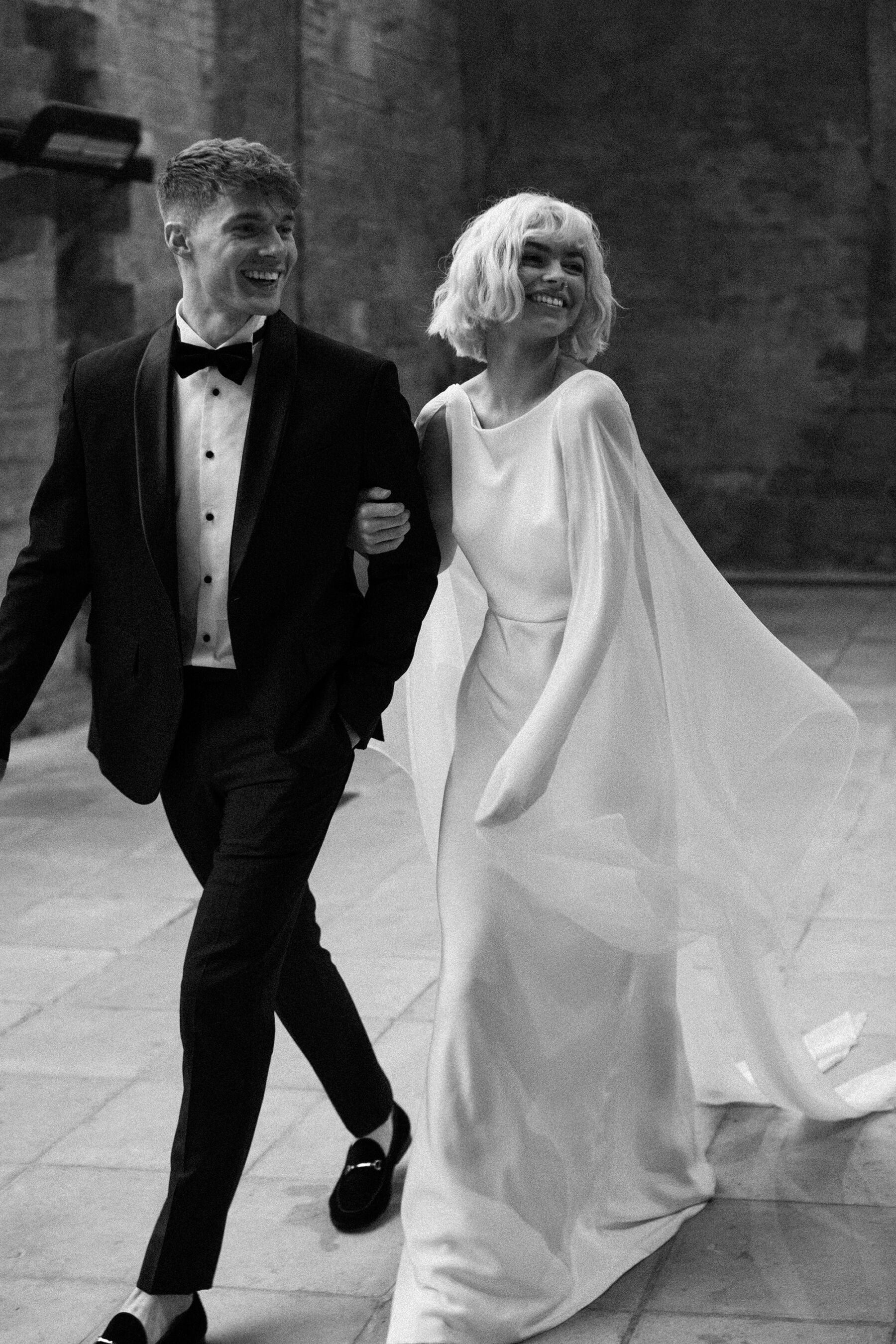 How would you describe the typical Charlotte Wilden Bride?
Wilden Brides are most often creatives, who need just a little help from me to realise their dream dress, I've worked with so many stylists, musicians, dancers and artists and those who love fashion and clothing.
My dresses are beautiful and are a joy to wear, they're fun and often extravagant, yet relaxed and easy – both brides and their dresses!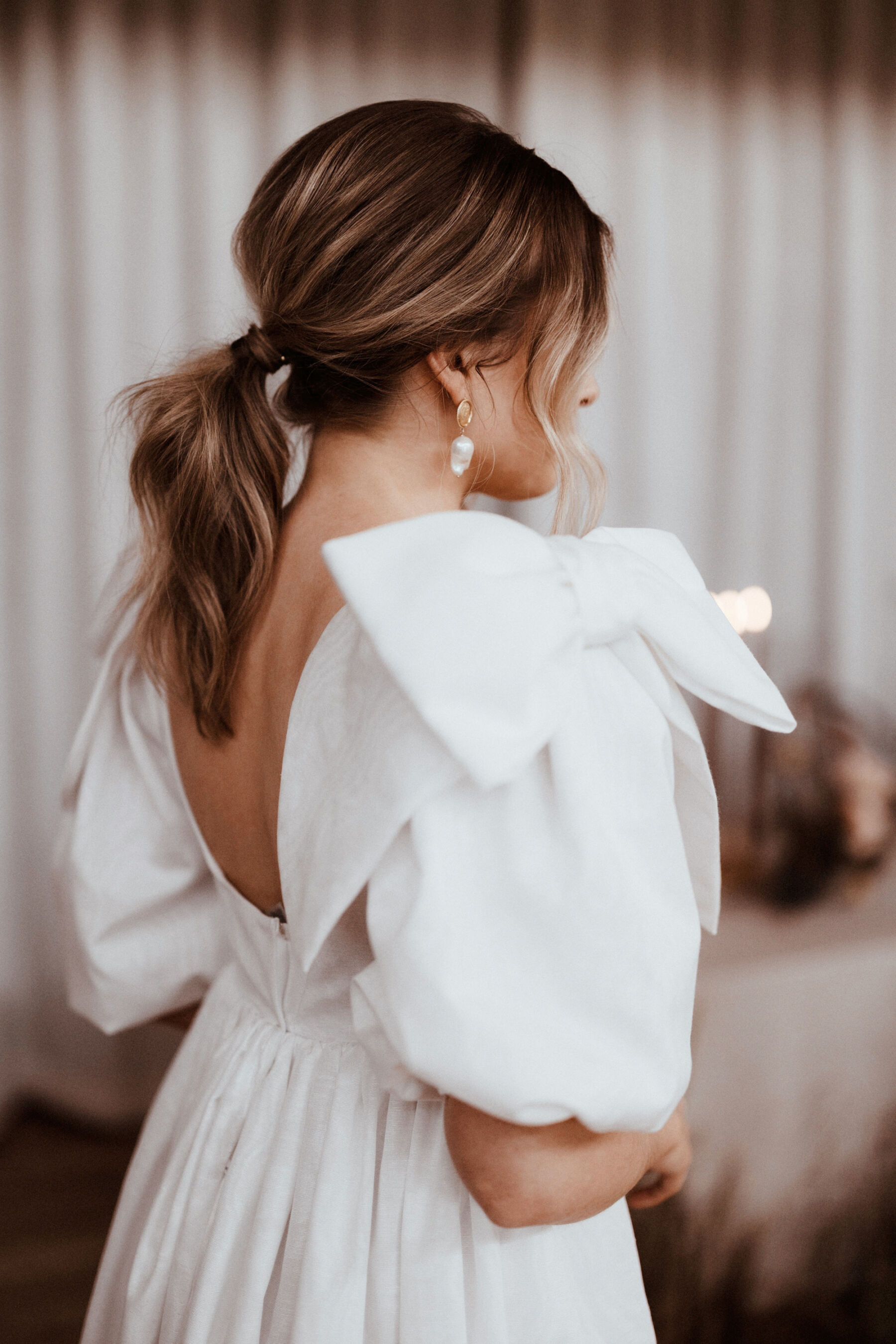 Where do you start with each new collection – can you talk us through your process?
This is my debut collection, so I took the opportunity to be bold and show more of my personal style. There are feminine undertones, with a few twists and modern statements.
My inspirations collection includes seashells, bows and vintage cuts and sculptural forms. I sketch my ideas and designs in my favourite Fashionary sketchbook, I'm quite decisive so often ideas are fully formed already, and if not, I'll sketch the parts I know already, and leave a part blank until the ideas come. Ideas can arrive at any moment, even in dreams so I have to keep a sketch book with me at all times to make notes.
I combine flat pattern cutting with draping on the stand, sometimes a design will have practical need for either method, or perhaps it will be how I feel on that day.
My first toiles and mock-ups are made to fit a mannequin, and then fitted on a model to check design, fit, proportions and movement as well as practical things like fastening positions, and ability to dance and sit. Only then, I can create the final dresses.
This debut made to order collection is focussed on fabric and cut, so I've used the same luxury silk fabrics that I do for my bespoke clients.
Do you have a favourite gown in this collection?
Of course, I love all of the dresses in the collection and they're all unique in their own way. The joy of a collection, for me, is that each dress can be styled with endless possibility. So each bride can choose one of my designs and completely make it her own.
The Kitty Dress I think brides will love. It's a really great cut on the bodice, can be worn with bust support if needed, and customised with a bridal jacket or cardigan. The skirt has three tier lengths, and the bottom two layers can be removed throughout the day, so you're covered for ceremony, cocktails and dancing with just one dress. It's definitely a dress that can be worn after the wedding day too!
The Zen dress also, the sleeves and bows are delicate and feminine with a vintage edge, but the cut out waist and backless element makes a modern and cool statement.
A personal favourite is the Elle dress which is a design that's been in my sketch book for a long time and I still love it. The dress pictured has a delicate scallop shell bodice and can also be customised with the Pandora bodice which has a gorgeous floral chiffon corsage. I imagine it for a spectacular and beautifully decadent ball, and then afterwards for a stunning cocktail reception.
All of my made to measure dress designs can be customised with beadwork and embroidery, several can be mixed and matched to exchange bodice and skirts, add trains, capes and jackets. So there's every chance to make something totally unique to you.
What is your best advice for brides setting out to find their wedding dress?
Simply, Follow your heart. If you instinctively love something (trend, traditional or otherwise), you will shine on your wedding day, and in your memories. Charlotte Wilden
If you're still unsure, find a stylist who can offer you the best advice and support to find a dress you feel confident in. Brides can feel a lot of pressure to find a dress that ticks many many boxes, plus social media brings never-ending inspiration.
Even the most creative and experienced creatives can find themselves lost in their choices. My bespoke service naturally comes with styling advice for all aspects of your look.
Practically speaking, any dress can look amazing on your figure if perfectly tailored to you, no matter the silhouette. Alterations can be a really important part of the process, so make sure you have a brilliant and trusted seamstress and enough time to complete them. I make all alterations myself so can tailor the proportions of a dress perfectly to the bride.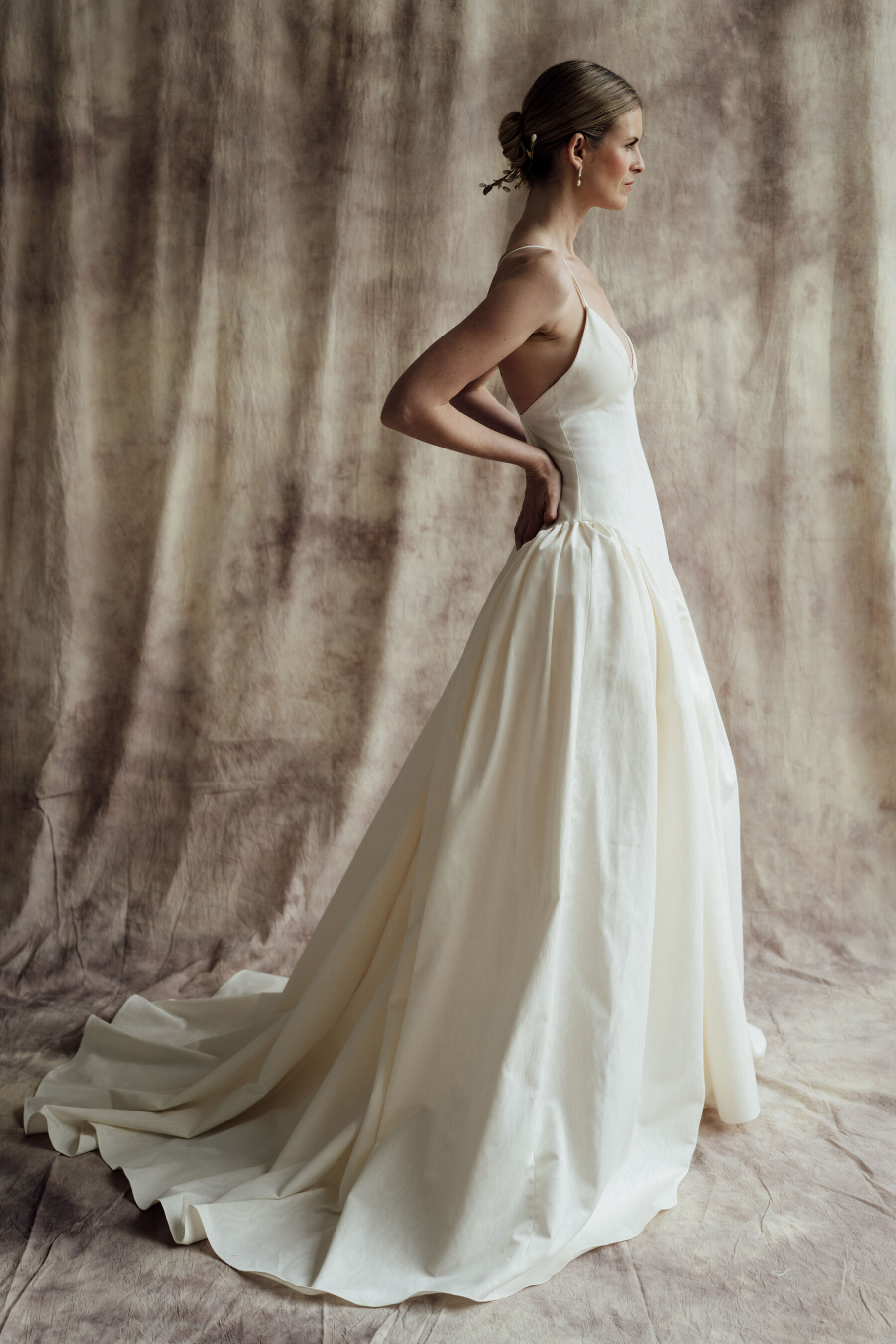 Tell us about your studio and creative space…
I meet brides at my private studio space, which is by appointment in a relaxed and friendly atmosphere.
You get a glimpse behind the scenes of how a dress will be created for you whether bespoke or from the made to order collection, with samples, swatches, sketchbooks all around.
I have some artworks, which give a nod to my personality, but as far as possible I create a neutral backdrop so that each bride can come, relax and imagine her own unique style without distraction.
What would you be doing if you weren't running your own bridal fashion design business?
I've always been a creative person, I love ballet and Irish dance, which I think informs my work when I consider the movement of fabrics, and delicate and light catching details.
I'm really lucky where hobbies cross over into work – embroidery, weaving, illustration and creating dyes with natural materials and gardening more recently. Maybe I'd like to be a florist too.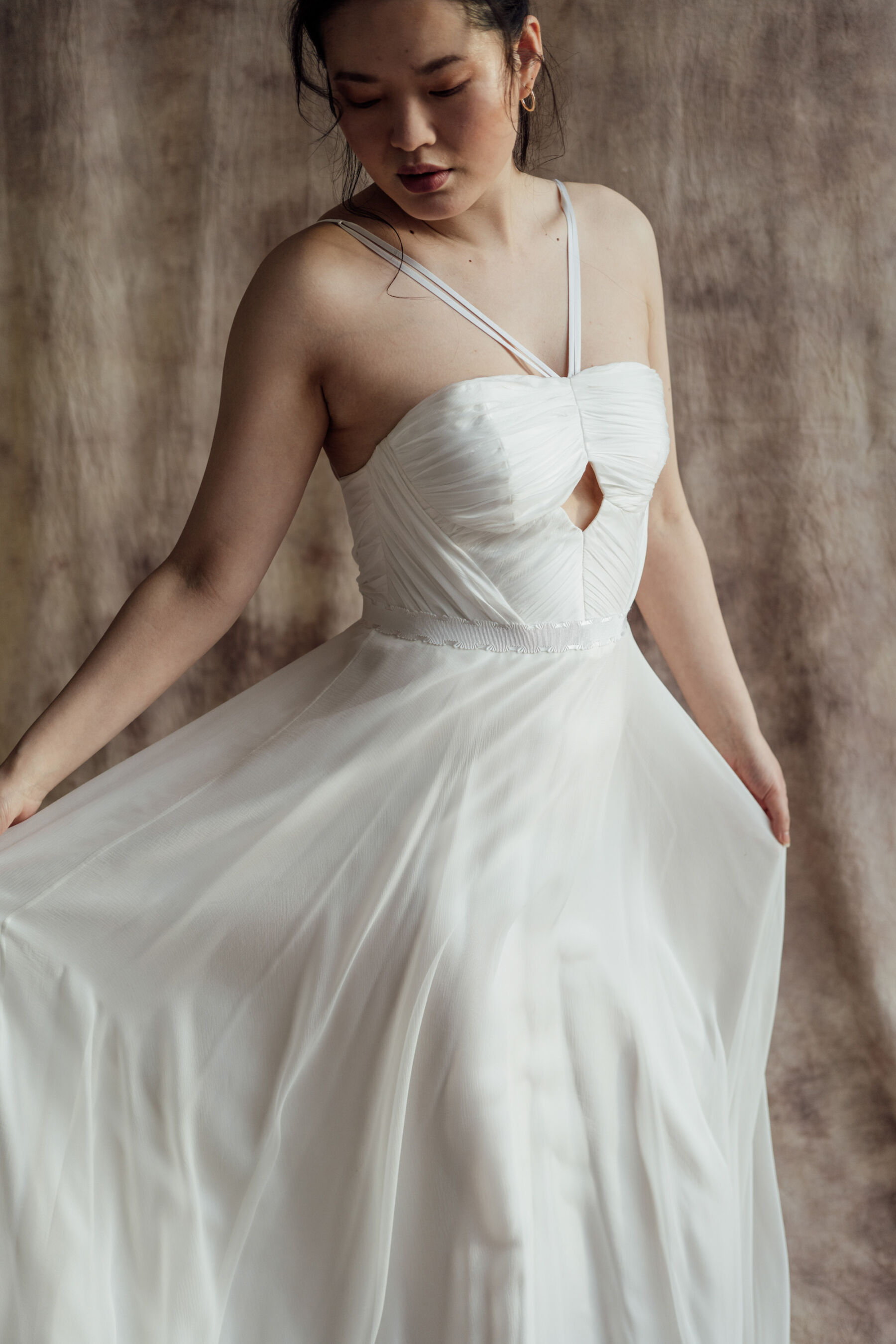 What do you love most about working with brides?
I actually gain a lot of new friends. My environment and process is really relaxed. I need it to be that way so I can really tease all the information out of a bride so I can be sure I'm creating the dress she wants. It's the same process for a made to measure dress, to be sure we've chosen the right one for them.
I think ultimately, the brides I create for, it's natural that we would be real life friends, because we've found a common interest, share a style and have a trust between us to create a really important dress together.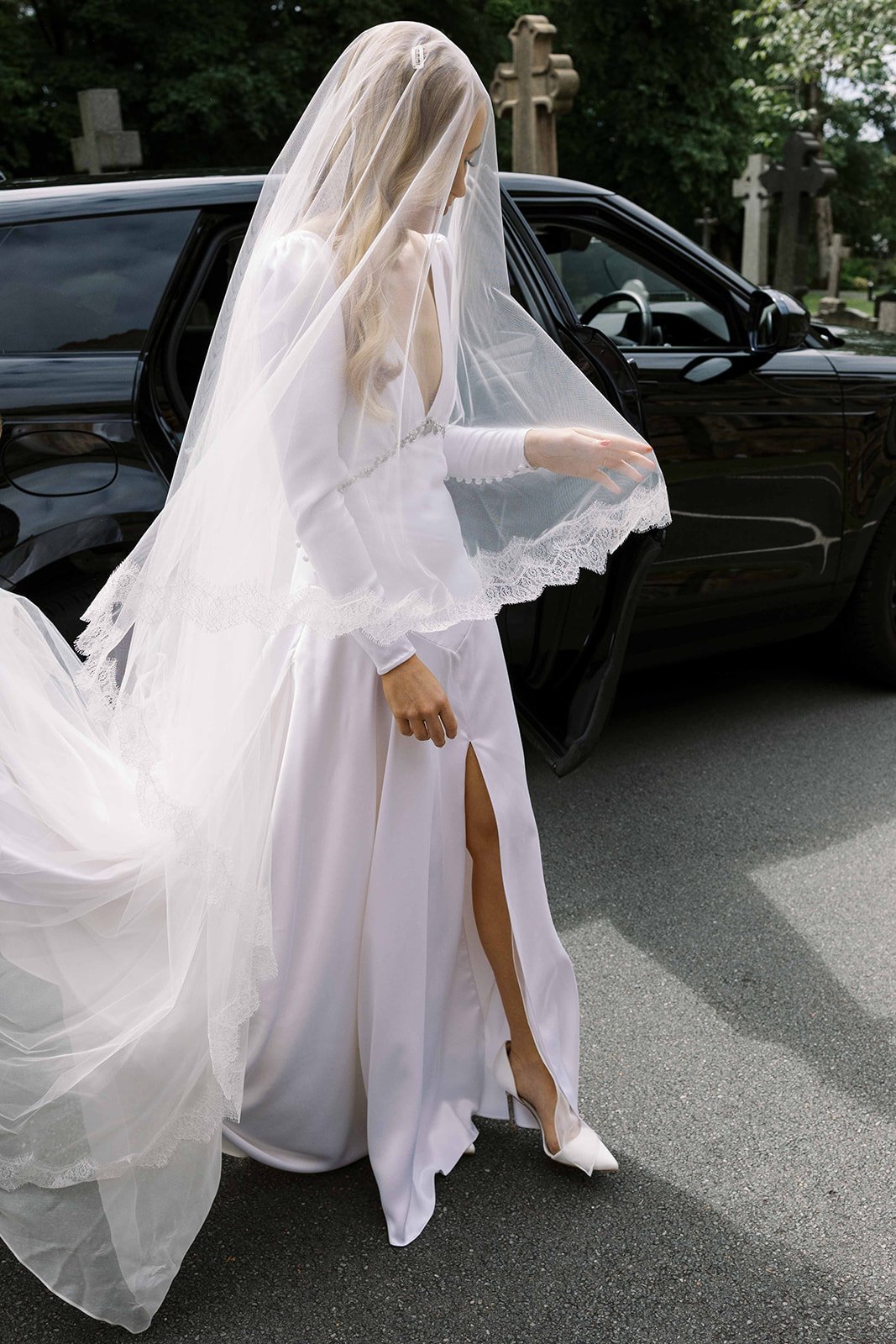 What's next for your business and brand?
I have many beautiful bespoke bridal designs to create for brides booked for 2023, with just a few spaces still available.
I've been really inspired by the possibilities with made to measure too, so I have some new designs that I'm working on already which I'm really excited about.
The current made to measure bridal collection will be available early in the new year, with. A few stockists too for which details will be revealed shortly.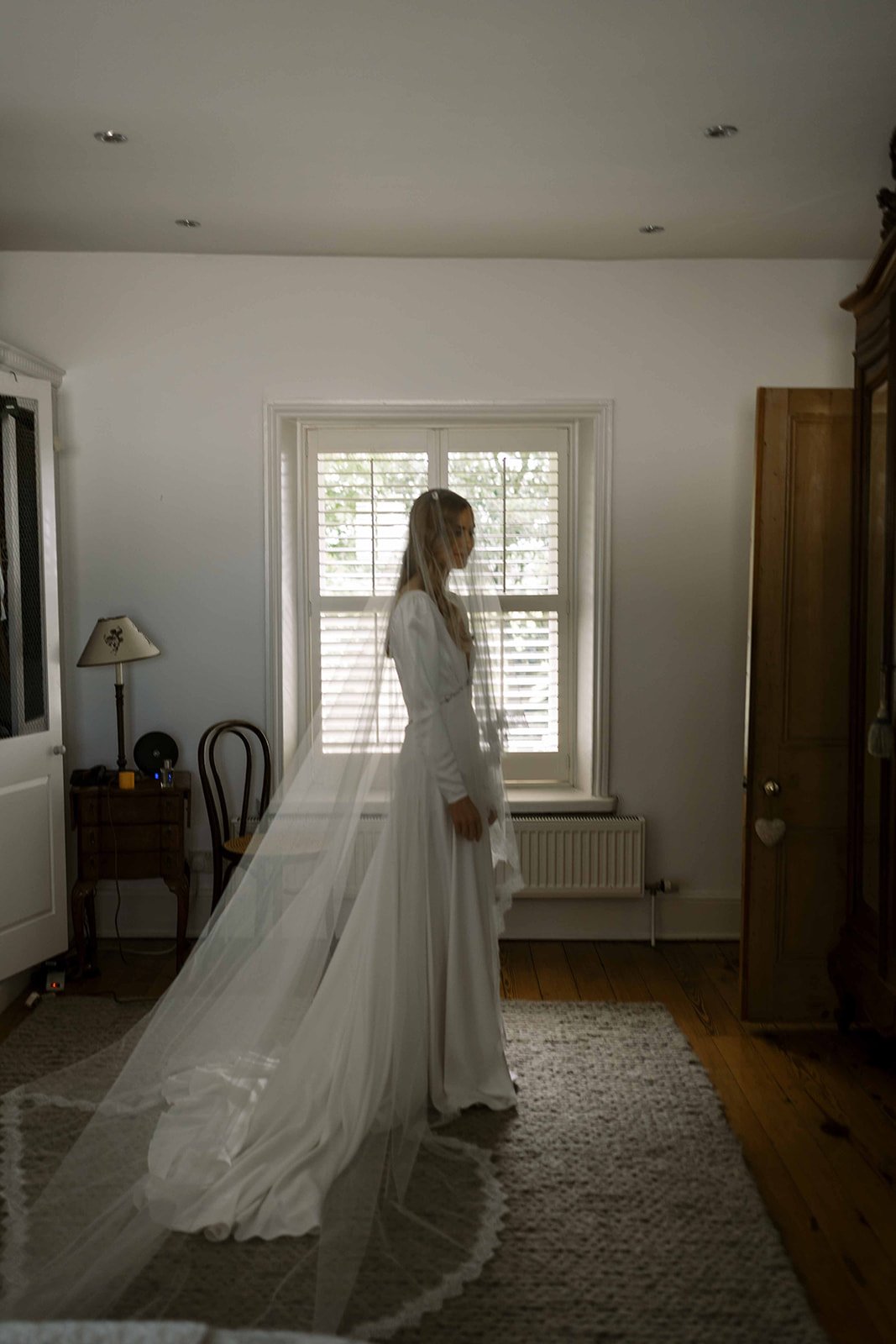 And please let us know a little more about Charlotte the designer…
Running a design label, looking after a busy toddler takes up most of my time as well as voluntary work organising running community social events for children.
I often listen to audio books and podcasts and radio while I'm working which is brilliant for multi-tasking. I can listen to work related podcasts such as Nessa Loves Weddings, as well as interesting socio-political podcasts, which are in many ways related to business and how things should be run in an inclusive and responsible and sustainable way.
For fun, I can't resist musicals and films with great sound-tracks – especially with fantastical costumes and if I can sing along!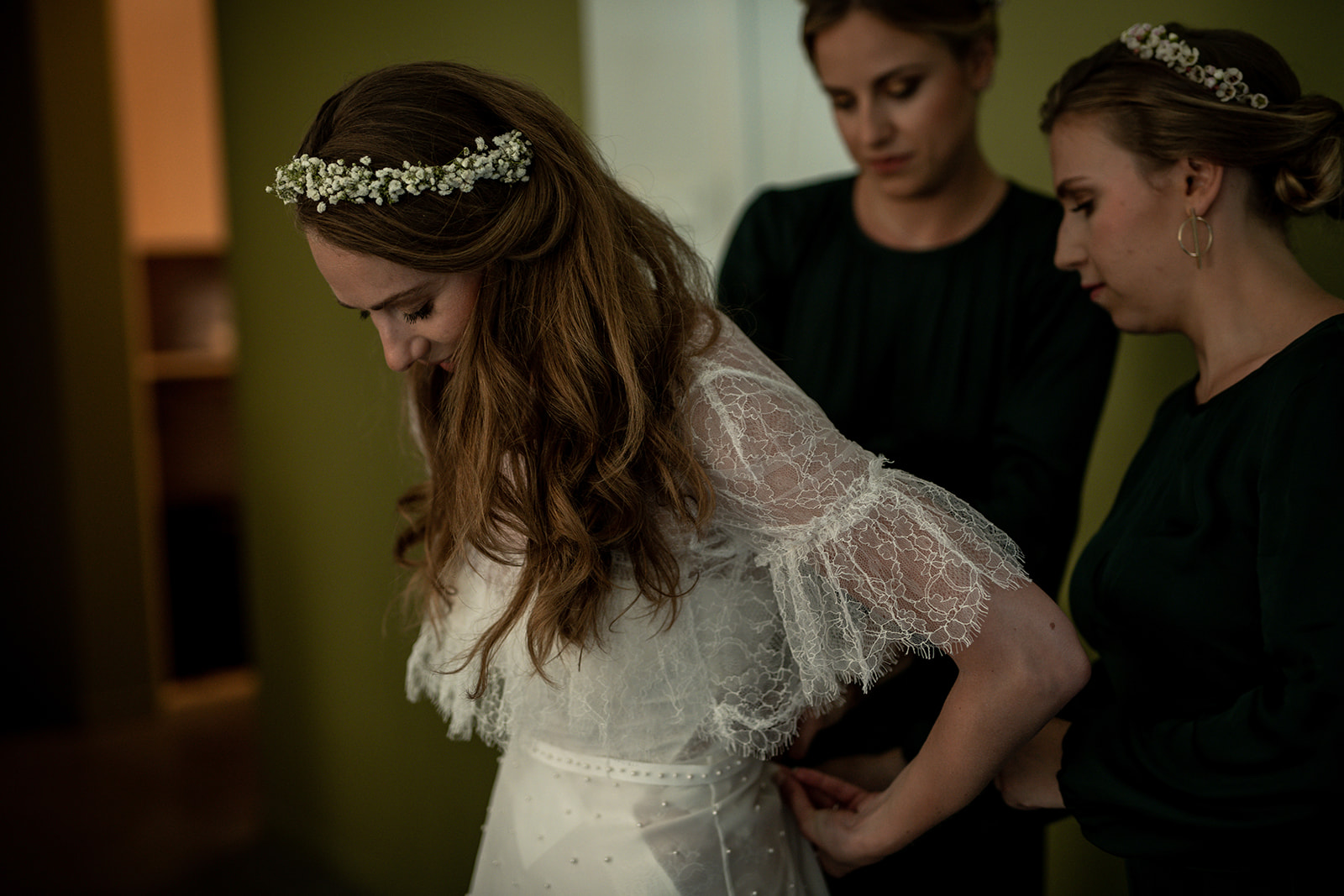 Visit wildenlondon.com
Photography & Photoshoot Credits