These beautiful images have been produced by a creative team that includes multiple Love My Dress recommended suppliers, including veil designer Rebecca Anne Designs, wedding planner Studio | Between, wedding stylists South Event Specialists, Kernwell Photography, bridal fashion designer Halfpenny London, stationery designer Ink & Paper and luxury shoe designer Emmy London.
Needless to say, the images were always going to be beautiful. Set in and around London's former power station, now modern restaurant setting, Wild by Tart, they seek to create a chic, modern wedding vibe with beautiful, achievable styling and detail.
Words by Katrien Bell, of South Event Specialists.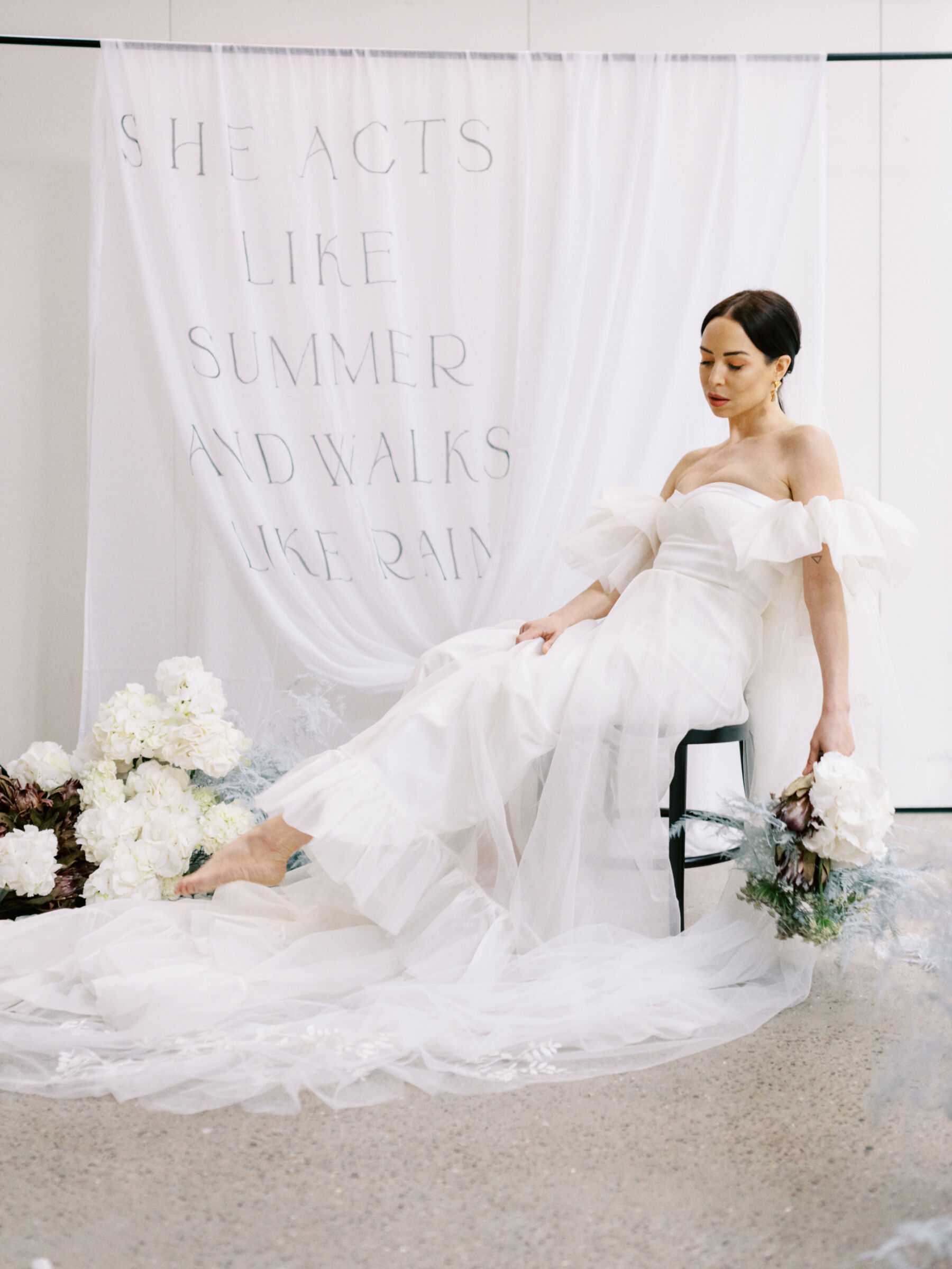 The Inspiration
We wanted to explore the concepts of movement and contrast though the lens of a chic, modern wedding. Weddings days are full of contrast. They fluctuate between calm and busyness, solemnity and jubilation.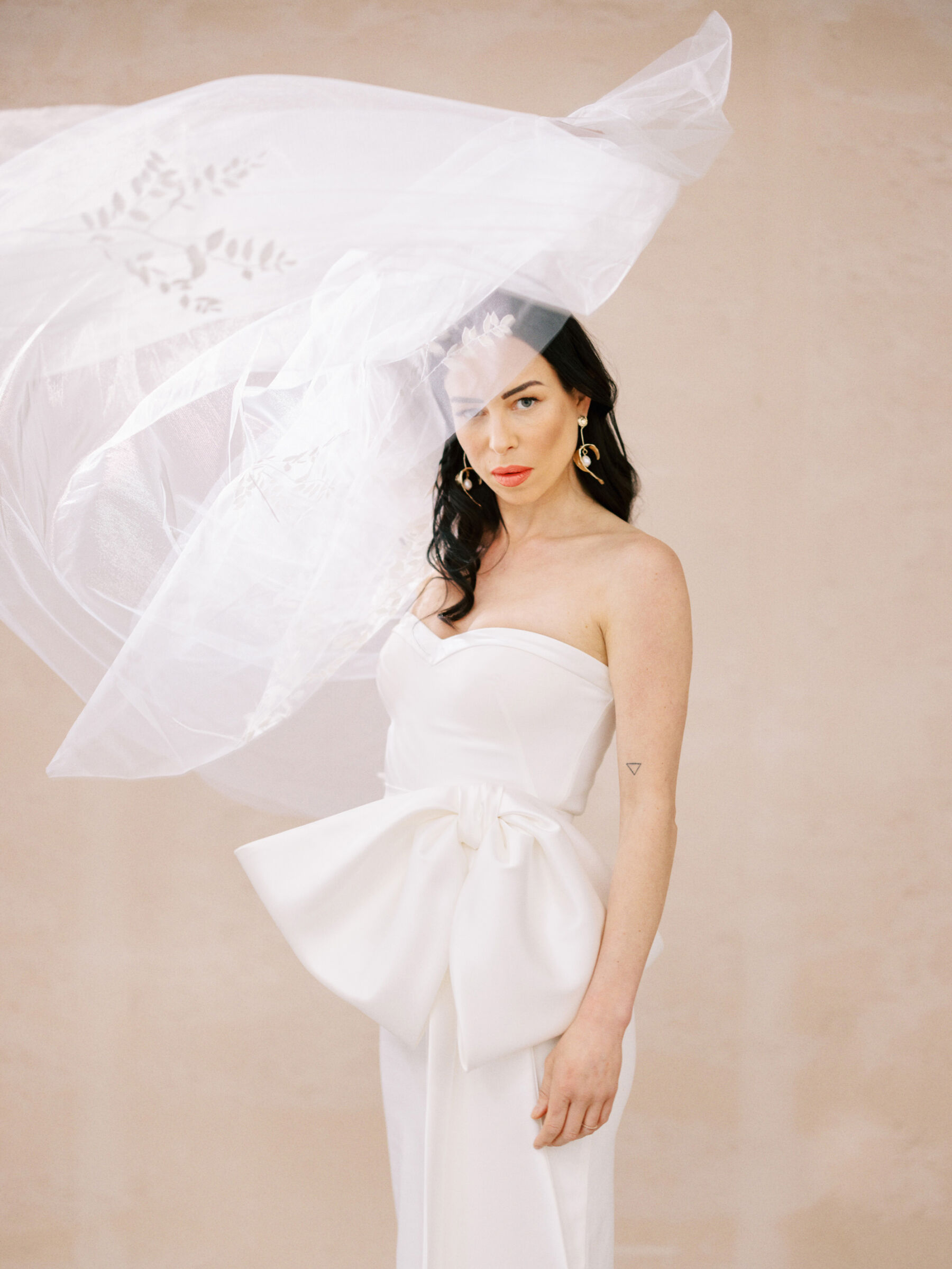 We wanted to play with dynamic through using motion and stillness, and light and darkness. We split the shoot into two moods – a light and dark feel, to capture the changing dynamic from a ceremony to reception.
The Design
Planned by Katrien of South Event Specialists and styled by Studio | Between the colour palette emphasises this study of contrast, by pairing both dark and light greys, with warm pink highlights and cool blue shadow tones.
Wild By Tart's private dining room was the perfect setting – giving couples space for both an elegant and captivating tablescape, and a dramatic floral installation by MOS London.
Sasha drew inspiration for the floral inspiration by contrasting elements of softness and hardness. Mountains of delicate hydrangea, pillowing asparagus fern and dried pink protea were grounded with small pebble paths to create an immersive indoor landscape.
Textural Wedding Styling
While the paths cascade and guide people towards a meditative space that plays with our ideas of illusion and imagination, the tablescape plays with decreasing heights, textures and movements. Together they showcase the powerful potential of bringing nature indoors in unexpected ways.
For the tablescape design, Katrien was inspired by clean, modern lines found in Scandinavian design and chose simple, but elegant tableware from Nordic House, as well as striking cone shaped candles from Ester & Erik candles. These designs were complemented by sophisticated bespoke letterpressed menus designed by Ink & Paper, who also designed the invitation suite.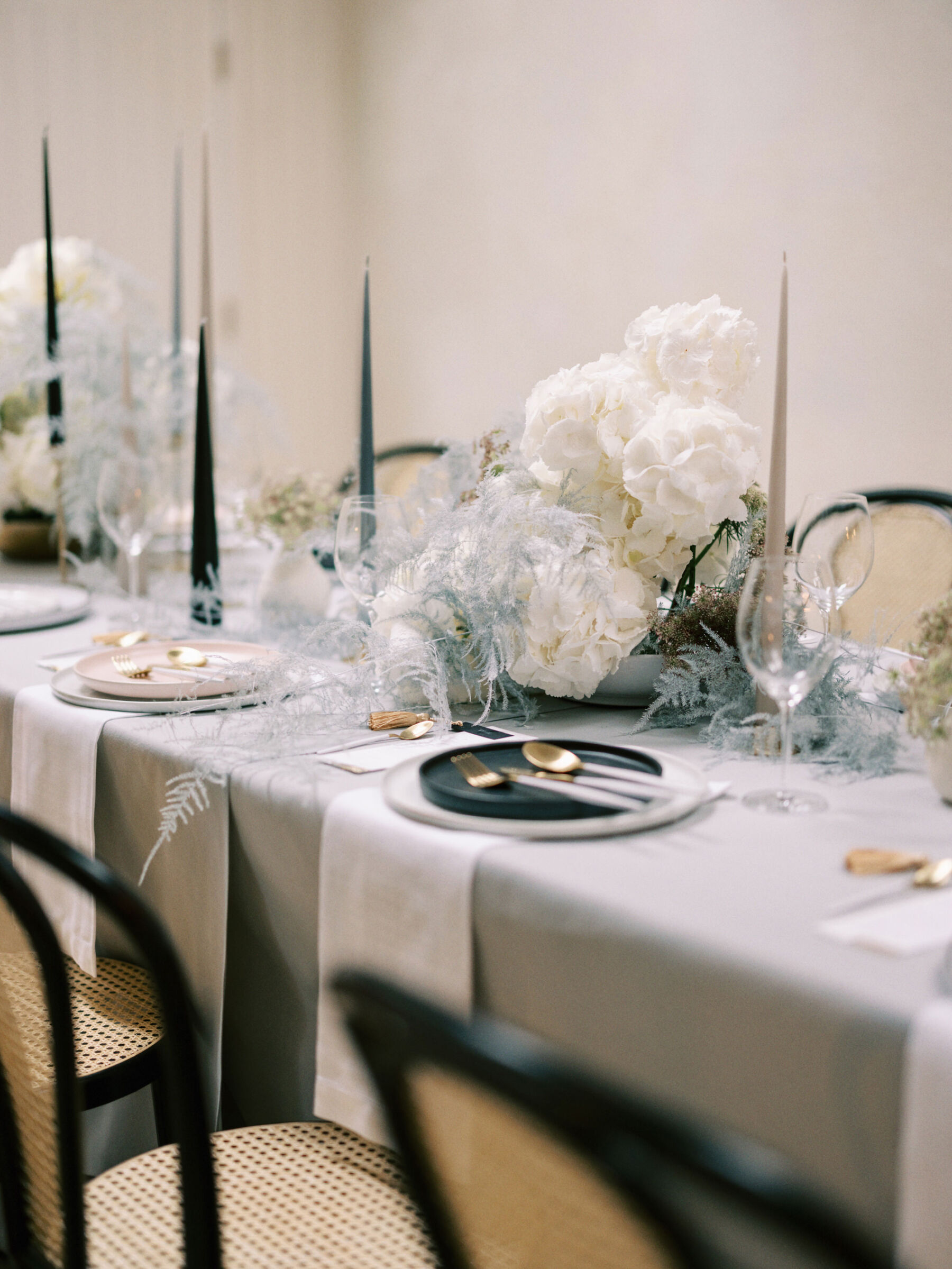 Clean, Modern Wedding Stationery
Drawing inspiration from clean, modern type and embracing a minimalist aesthetic, the soft texture of the handmade, pure cotton paper of the main invite is offset with a glimmer of gold leaf.
The translucent vellum RSVP too is counterbalanced against the dark, clean Details card, creating a tactile and bold suite.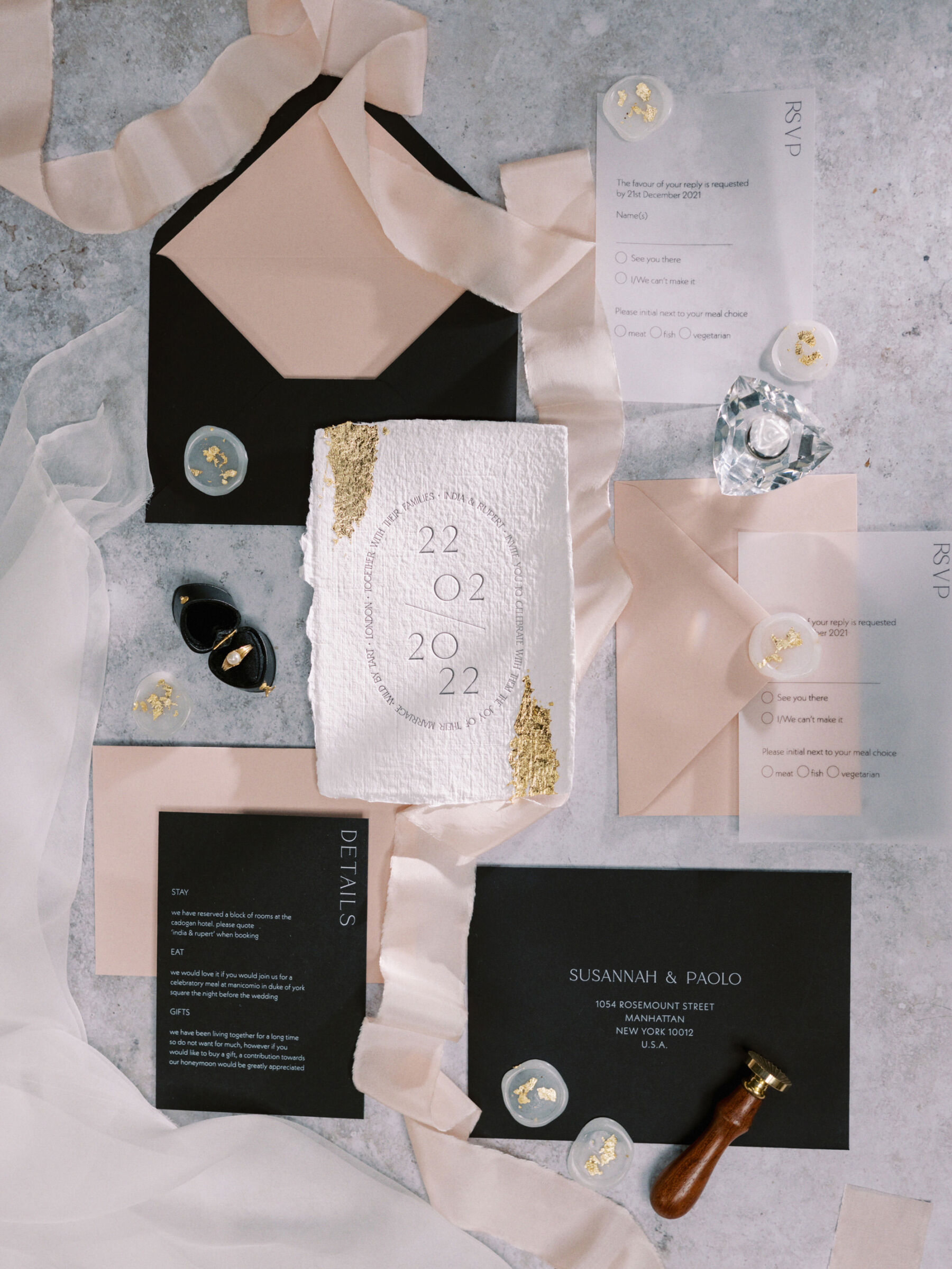 Wedding Cake with Drama
Anna from La Bohème Cake Design created a trio of dramatic cakes, with details mimicking movement, frozen in time.
Halfpenny London
Halfpenny London provided chic bridal looks from their Out Of This World collection. Halfpenny London's dresses are versatile, designed to allow for layering and creating multiple distinct looks.
Using the clean, modern Cosmic dress as a base, we explored daylight and movement by pairing it with the delicate and translucent Issa shrug and dramatic train of Moon skirt.
For evening attire, we played with the oversized statement Sun sleeves to add glamour, as well as the Ariel bow for a touch of playfulness. These looks were accessorised with modern, statement earrings from Saint Beth and an elegant soft ivory tulle veil by Rebecca Anne Designs.
The veil was inspired by bleached Italian ruscus and features a bespoke leaf embroidery. Emmy London provided two super stylish pairs of handmade, ivory suede and leather heels from their collection, the Rebecca and the Darcey.
Natalie-Danielle created a two stunning bridal looks: a sleek ponytail with clean lines contrasts with a second, softer look with loose, flowing curls emulating movement.
Shot on both analogue film and digital cameras, Michelle and Phil of Kernwell Photography played with long and short exposures to capture motion, both blurred and frozen.
They used off camera lighting to create harsh light, as well as the gorgeous natural light that streamed through the high windows in the warehouse space at Wild by Tart. Rachel Takes Pictures created a powerful, atmospheric highlights video that bought to life the mood and feel of the day.