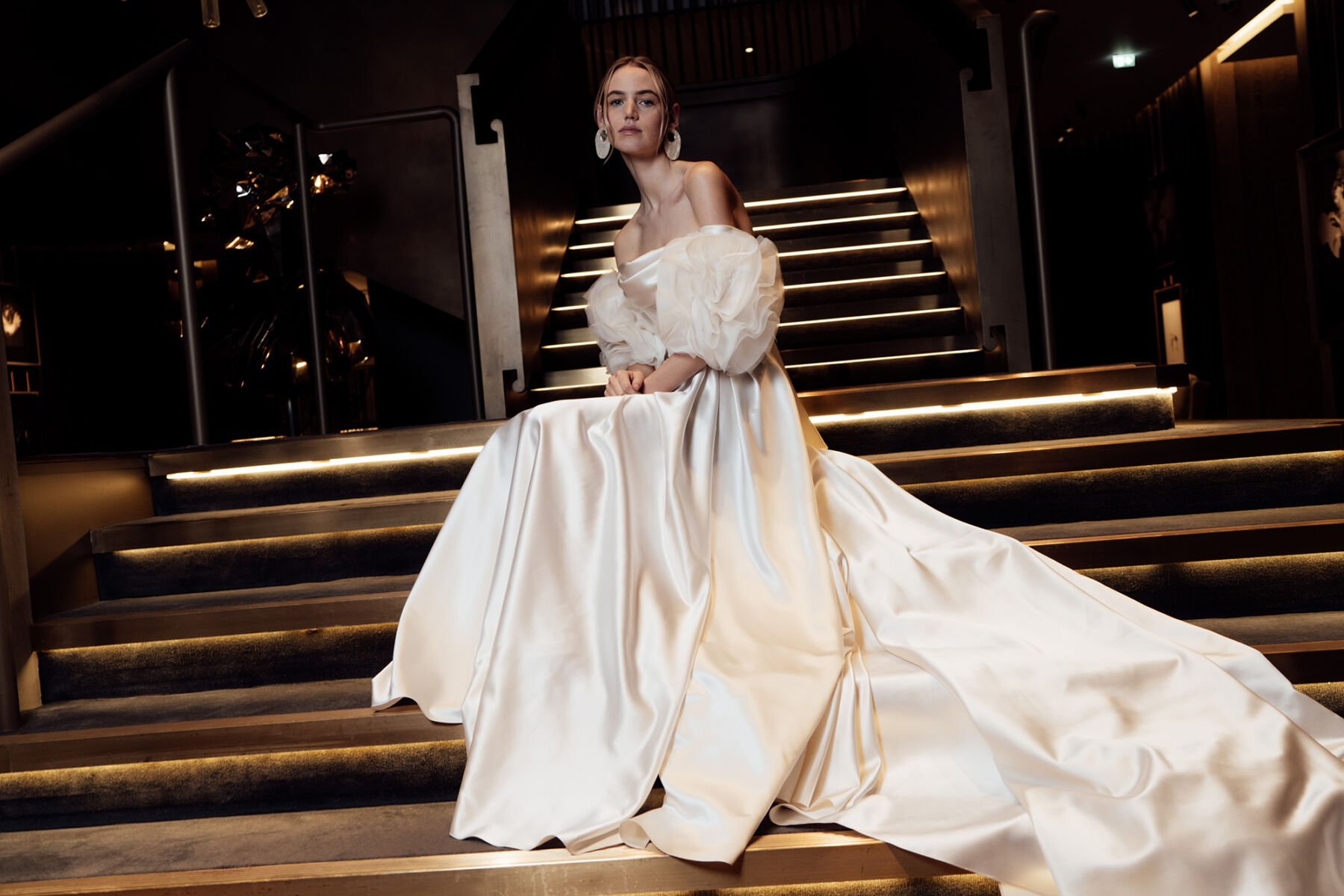 About Halfpenny London
Halfpenny London founded by Kate Halfpenny, is a London based bridal fashion brand who create versatile, chic, modern wedding dresses and interchangeable bridal separates in sizes 6-22.
Halfpenny London brings together a sense of 'Brit cool' with luxe sensibility. The brand is highly regarded for its innovative and chic wedding dresses and versatile, interchangeable separates, that can be layered and mixed to create a look that enables brides to truly express themselves in their own way.
Mix a sensuous and versatile slip dress with either a vintage inspired lace sleeved overlay or a detachable statement bow. Or wear a truly elegant and glamorous 50's inspired full circle ballroom inspired gown with detachable puff sleeves. There are so many choices and options with Halfpenny London designs.
Kate's knowledge as a former celebrity stylist has given her an innate understanding of the female form. She knows inherently how to flatter all woman, regardless of shape or size, and is passionate about designing bridal fashion for 'real women'.
Halfpenny London is a hugely popular British bridal fashion brand with a flagship boutique in London (a must-visit) and designs carried in Harrods, Net-a-Porter and in multiple top bridal boutiques throughout the UK, including Love My Dress recommended Morgan Davies Bridal and Rachel Scott Couture.
Halfpenny London create sustainable bridal fashion and is proud to design and make in London, England.
Boutique
10 Woburn Walk, Bloomsbury, London WC1H 0JL, UK
By appointment only, please contact us for details
Videos
Frequently Asked Questions
Is there an appointment fee?
Weekday appointments are secured with £30 and Saturday/evening appointments are £45. Both are non refundable and secure your time with a Halfpenny London stylist who will guide you through your options and your journey with us
Can I bring friends and family to the styling appointment or dress fittings?
You may wish to bring a special person with you to your appointments and due to space we welcome up to two guests only for styling appointments, and one guest for fittings. Please note, we don't have space to accommodate push bikes/buggies. If you have any accessibility requirements please get in touch to discuss with the team.
Do you allow pictures to be taken during appointments or dress fittings?
We operate a no photo policy in the boutique and the atelier. The reason we do this is because choosing a wedding dress is a very special purchase and we encourage our brides to choose based on how they feel in the dress instead of looking at a picture taken on a phone. Often, you will be trying a sample which does not fit your exact body shape in the way it will when it's your dress and has been tailored to your body during the fitting process.
If you are unsure about your dress we would be happy to welcome you back for a second appointment to remind yourself how amazing it makes you feel and reaffirm your decision.
If you'd like to view detailed shots of any of our dresses then please feel free to browse the galleries on the website.
How much do your dresses cost?
More details on our price range can be found here: www.halfpennylondon.com/price-guide. Always let us know what your budget is and our experienced stylists will do their best to help find your dream dress.
Do you hold samples in a range of sizes?
Halfpenny London is an inclusive brand and we like to carry a cross section of sizes from UK8 to a UK22. We don't have every style in every size so we ask you to let us know of styles that you are keen to try on so we can check availability as they can occasionally be lent to magazines for photoshoots or to one of our stockists. Letting us know your choices in advance means we'll have a head start when you come in and will allow you more time to try dresses in store.
How far in advance should I order my dress?
In general, it's best to allow 6-8 months for a gown to be made and altered in time for your wedding. If you have less than 6 months we may be able to arrange a priority service for an additional fee. Please note, for some rush orders, it may not be possible for us to facilitate your fittings. Please discuss your wedding timescale during your appointment.
What happens if I change weight, or get pregnant before the wedding?
If you suspect your measurements will change before the wedding then please advise us and we can schedule to take your measurements as late as possible. Unless you choose to have a bespoke or made to measure dress, your dress will be made to order to a standard UK dress size most appropriate for your measurements taken at that time. Your dress will then be tailored to your body during your fitting (should you choose our alterations package).
We strongly advise you maintain consistent measurements, particularly after your first fitting. If your measurements continue to change after the fitting date, or are plus or minus a full size (or more) to those taken during your measure appointment, you will incur additional fees to provide extra fittings and alterations.
Articles featuring Halfpenny London