Natalie, a business owner and host of The Mum Club Reigate & Banstead, married Lawyer Simon on 4th February this year, at Clapton Country Club in London.
The couple wanted everything to be laid back and fun, with good food, cocktails and an amazing DJ or band. Natalie looked divine in her Halfpenny London gown and veil and the couple's children were their flowergirl and pageboy.
This delightful winter wedding was captured beautifully by photographer Cat Arwel. Enjoy!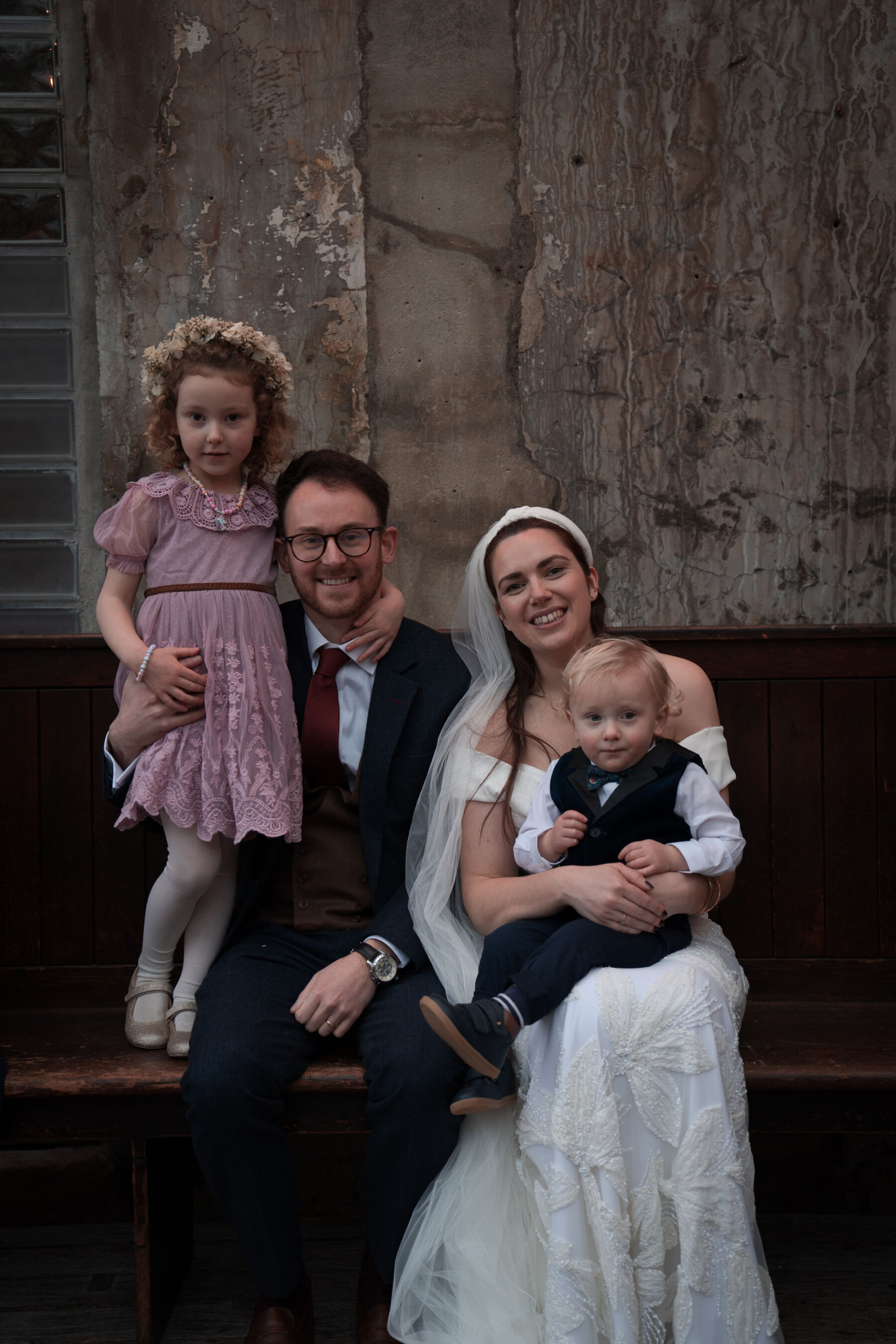 The Venue
Our venue was Clapton Country Club, Clapton London. Simon and I wanted a London wedding in a venue that was a bit different to your normal location. Clapton Country Club ticked all of the boxes. It was quirky and alternative and gave off a great vibe when we went to visit. We didn't really want to spend a lot of money on decoration so was looking for somewhere that didn't need much dressing and Clapton Country Club was perfect for this.
There are plants everywhere, it looks so lush and green, there really is very little needed in the way of additional décor. There are candles and other trinkets all over the place. It's a renovated old tram store, finished to an industrial, rustic look and it was just perfect for us.
Bridal Beauty & Accessories
I tried to keep accessories pretty simple due to the heavy embroidery on the dress skirt. I borrowed Simon's mum's gold bangle that her dad her bought her when she was 21, which felt really special, paired with the Vinita gold plated bangle from Oliver Bonas.
I had some gorgeous gold and black onyx drop earrings By Pariah which I didn't get to wear, which I'm really sad as I think they would have finished the look off nicely. Instead, I had a couple of cuff earrings from Wolf & Badger that I used instead. 
My shoes were Sofia, in Super Gold, by Terry de Havilland. I actually had my shoes picked out before I even knew what dress I wanted! I loved them and the platform and ankle strap made them comfortable and secure.
I wore a Halfpenny London 100″ Single Tier Picot Edge veil. It was simple which was all I needed as the skirt had so much detail. I loved how soft and light it felt and it just made the look complete.
I wore a white knotted headband from Moyoni Textiles who I found on Etsy.
My perfume was Raving Rose by Dries Van Noten. I had been looking for a new scent for a while and Simon got me a little tester gift box of Dries Van Noten scents for Christmas. There were 10 scents and I chose Raving Rose as it was feminine with a twist. As it has a scent of Pepper with the rose it made it floral with a bit of grit to it.
I did have a makeup artist booked, but she fell down with a bug the morning of the wedding. A nightmare to some brides but I had my incredible Maid of Honour, Jane, do my hair and makeup beautifully. It actually turned out to be so lovely, as I felt completely relaxed in the run up to the ceremony.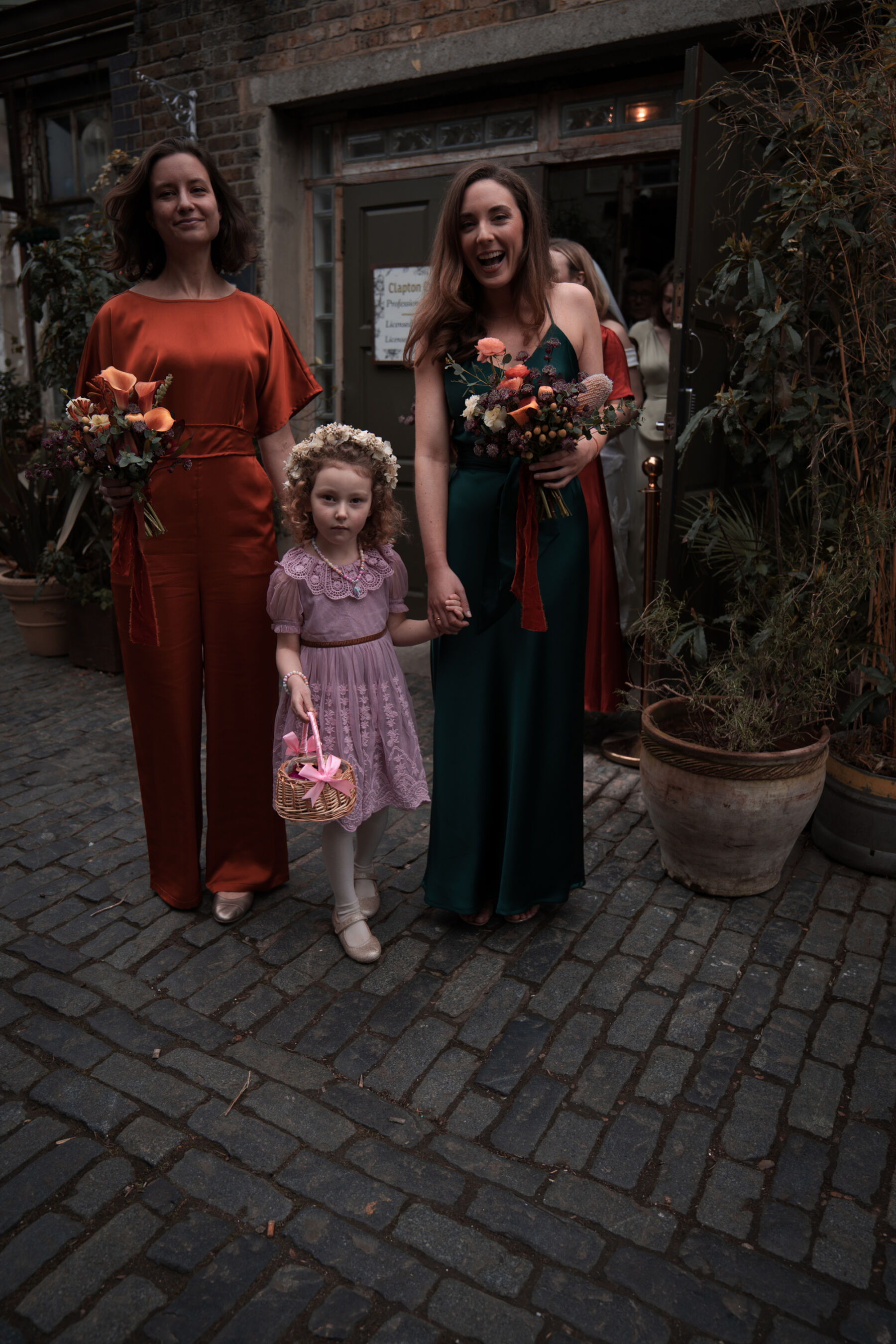 The Dress
I was lucky to have an appointment with the Halfpenny London Boutique. It was such a great experience from start to finish. Megan my stylist was so kind and made me feel like a million dollars in every dress I tried.
She was very good at listening to what I liked or disliked about everyone and from that making suggestions about what to try on next.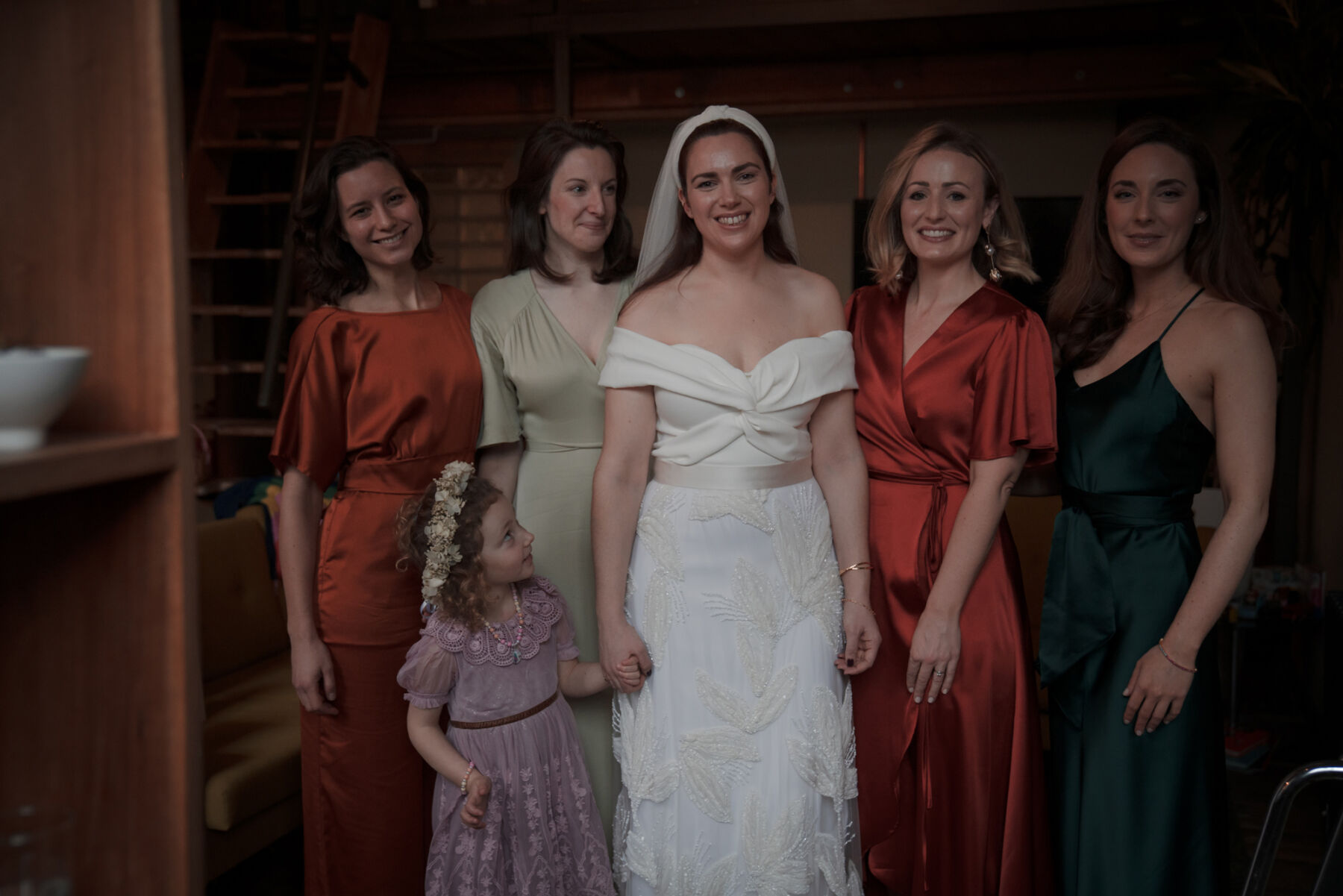 My dress fittings were also a dream. Summer, my seamstress, was the nicest, calmest person and just made me feel so comfortable at each one.
I originally wanted to wear a jumpsuit. Dresses are not something I reach for comfortably but once I tried on the Maple skirt at Halfpenny, I knew it was right. I eventually paired it with the Daffodil dress. The shape suited my body and I loved that it was a little different to a lot of dresses that are out there. The Maple skirt has the most beautiful embroidery and was so classy.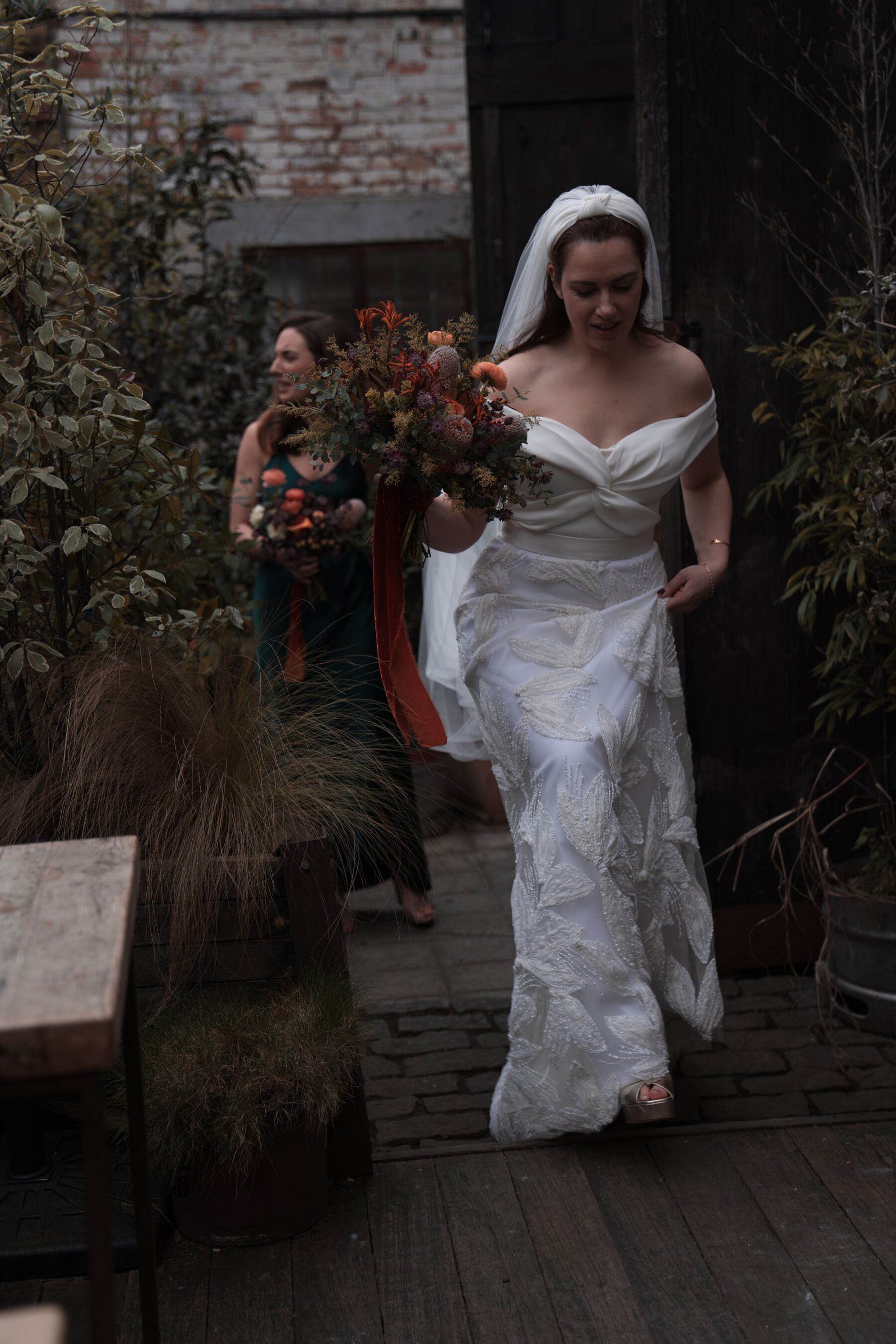 Groom
Simon wore a navy three-piece, tailored suit from Dress 2 Kill London. Shoes were Grenson, deep burgundy tie from Hawes & Curtis and socks to match the tie from The London Sock Company.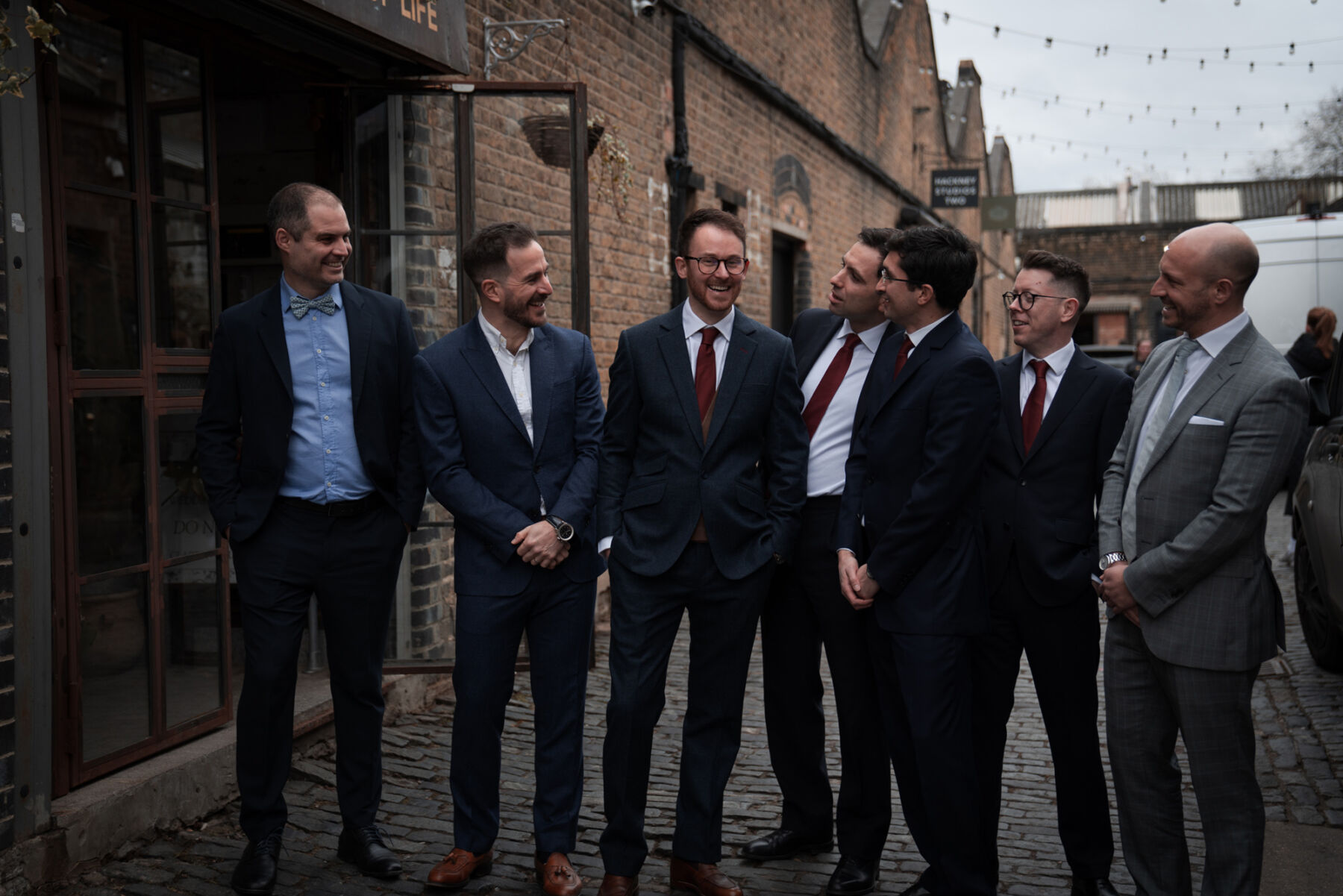 The Ceremony
---
Although, we were trying to keep away from the really traditional style wedding, it was really important to me that my dad walked me down the aisle. This was to an instrumental, acoustic version of 'Simply the Best' by Tina Turner. We are huge Schitt's Creek fans and that song plays a really important part in the best love story on the show, so we had to incorporate somewhere in our ceremony.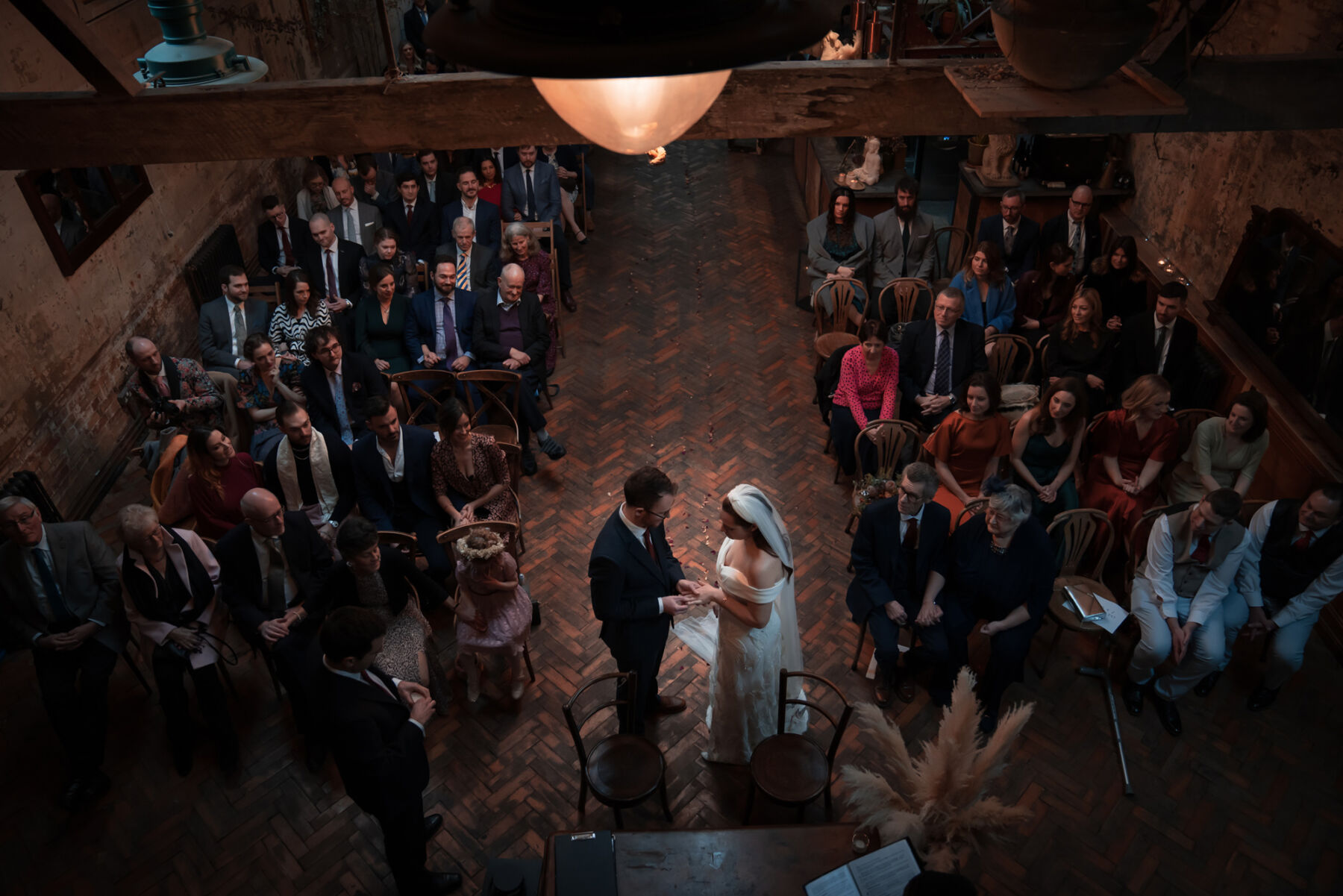 Our wedding bands were by Michelle Oh. Michelle was also the designer that my engagement ring was from. I loved her style, which again is just a little bit different to the norm.
I have a salt and pepper diamond half moon diamond rose gold engagement ring which I just love. All of her jewellery is made in England and the stones are ethically sourced, which was really important to us when we were choosing the engagement ring.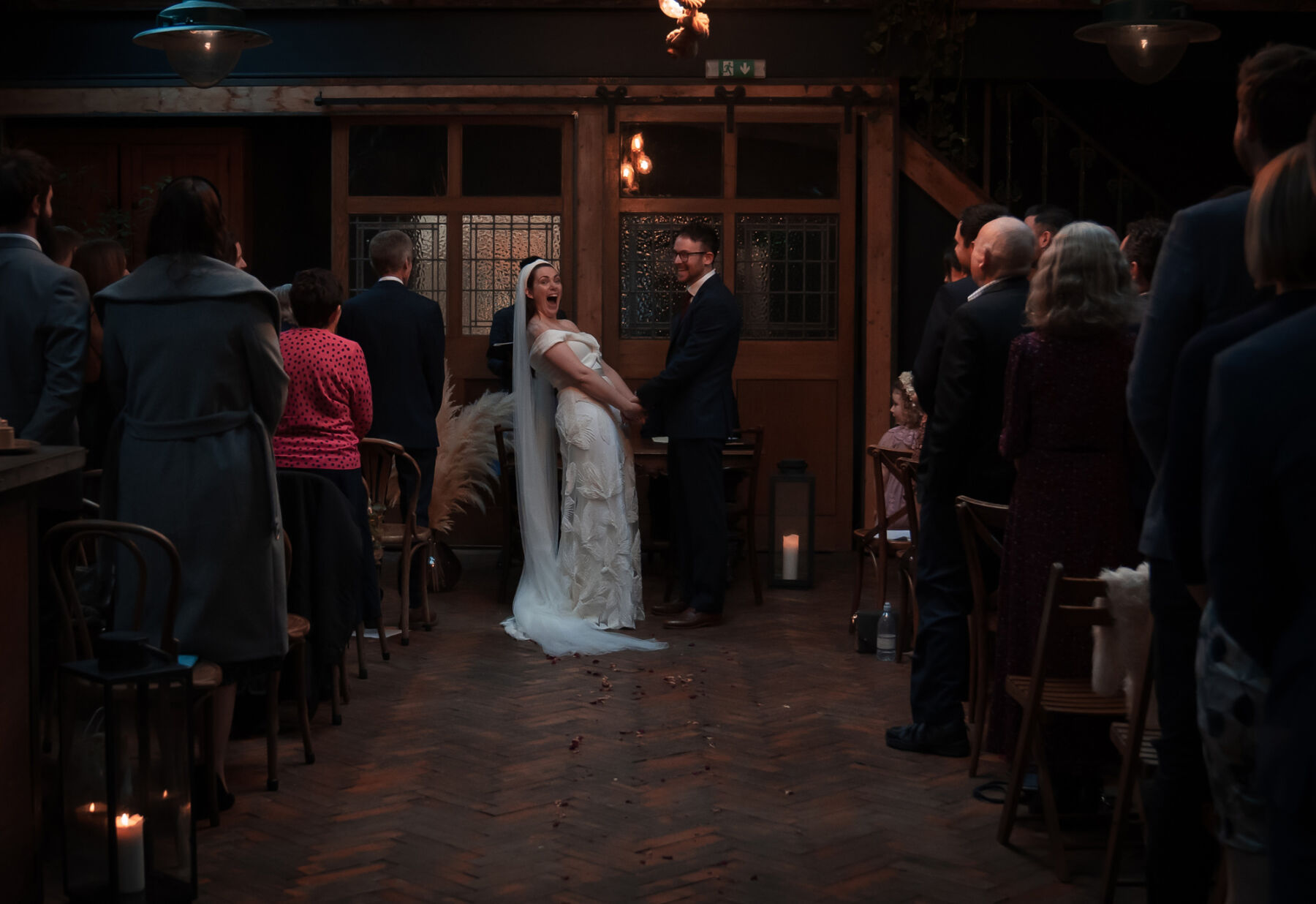 Our reading was an extract from Captain Corelli's Mandolin, by Louis de Bernieres. When we first started dating, Simon and I discussed our favourite books with each other and made recommendations as to what the other should give a go.
Captain Corelli is one of my absolute faves and was one of the first Christmas presents that I got for Simon. So it made sense that this should be used as our reading in our ceremony.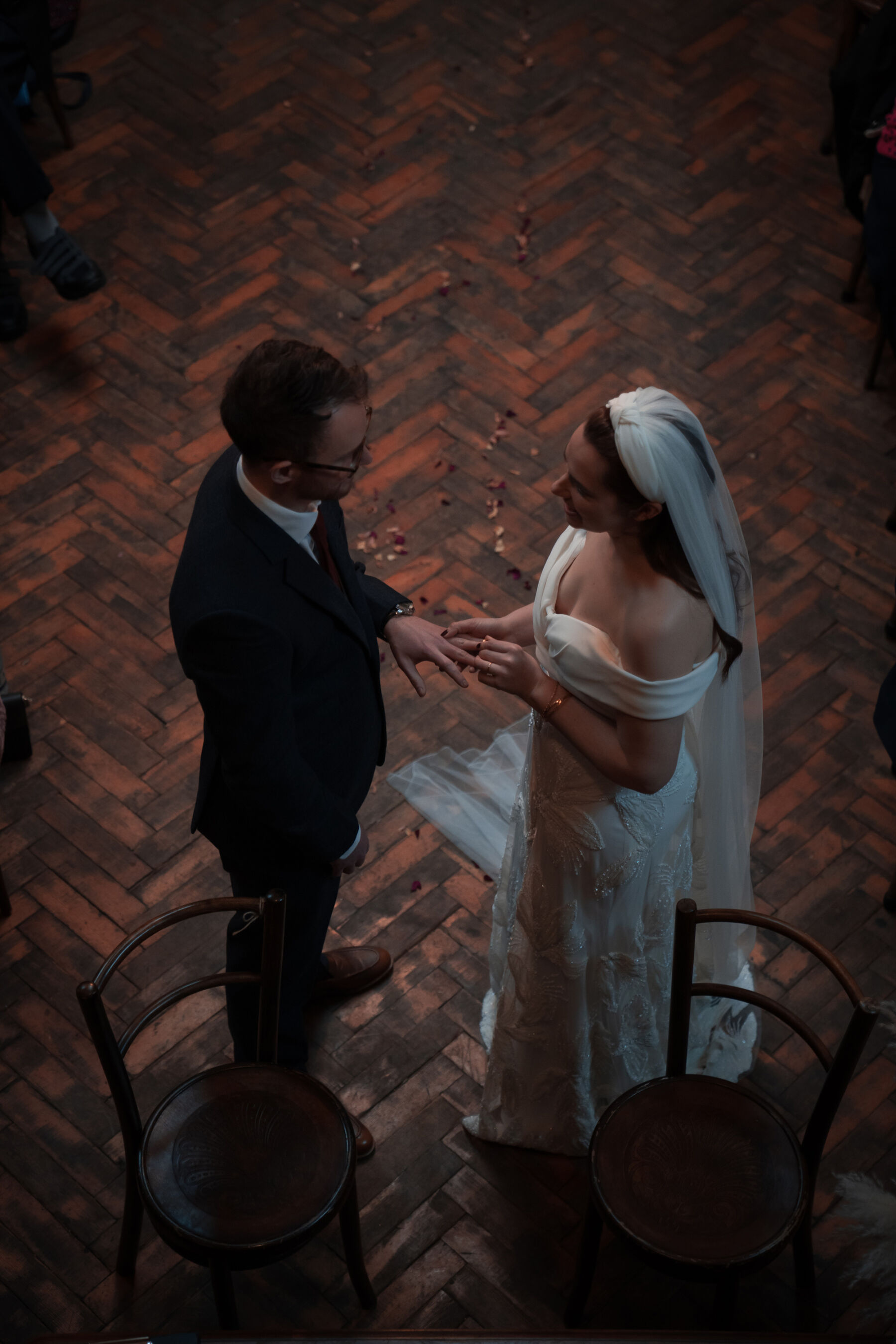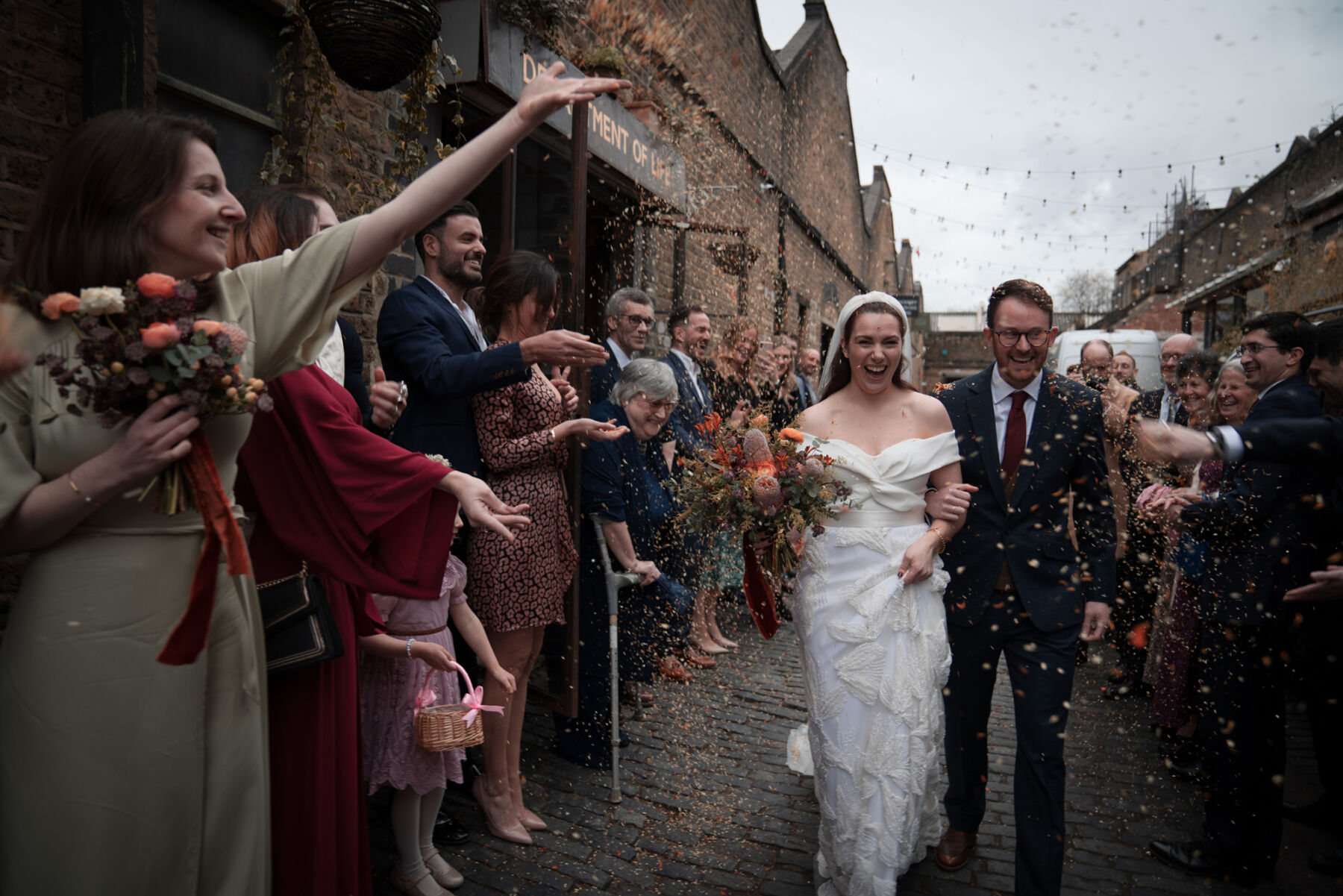 Bridesmaids
After a discussion about colours and budget (burnt oranges, forest and sage greens), I let the girls choose their own dresses. Two purchased from Rewritten, one from Maid to Measure and the other a beautiful jumpsuit from Next.
All the bridesmaids wore their own shoes – they all had gold shoes to tie in with mine.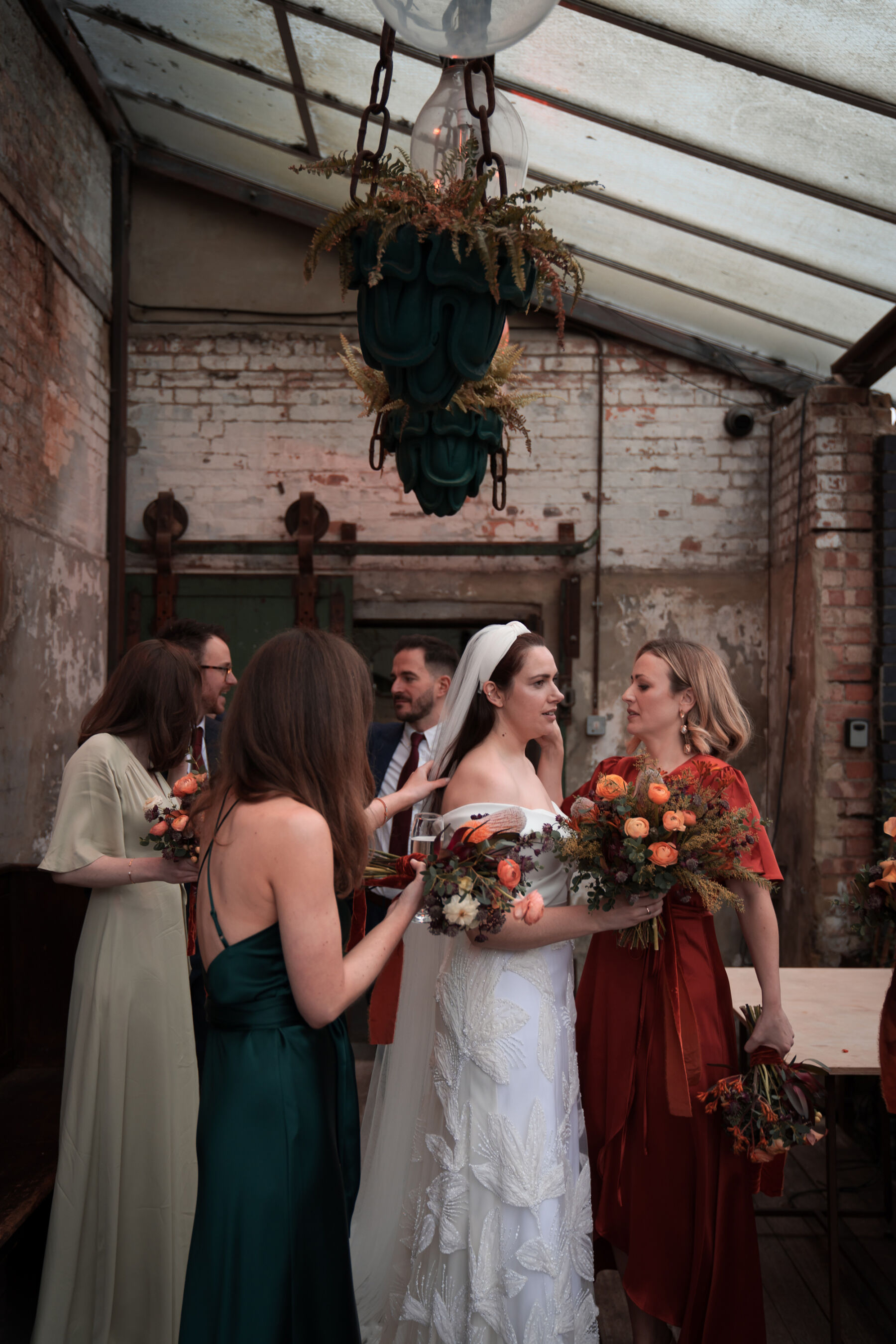 Our daughter was our flower girl and wore a dress from Next. She loves pink so we knew we had to find her a twirly pink dress and Next delivered. It was a dull Rose colour with a pretty chunky oversized lace collar. To make it the best dress ever for her, it also sparkled.
Our two year old son begrudgingly took the role of page boy, in navy chinos, white shirt, teal green velvet waistcoat and cute bow tie.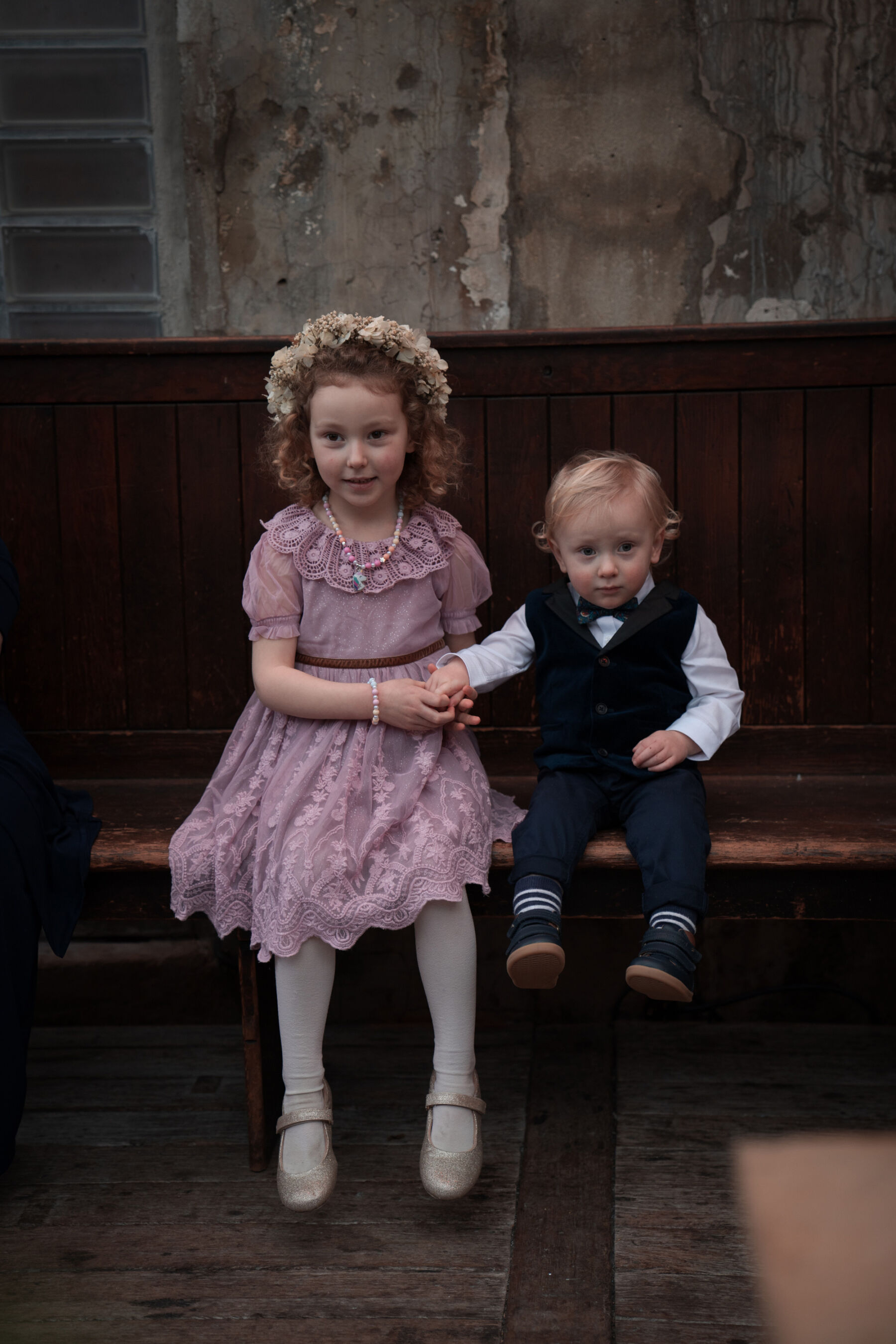 Flowers
Wildstone Floral, a Surrey based floral design studio, did my bouquet and four bridesmaids. Leanne has a really natural and wild style, which is what I wanted, to complement the laid back nature of our wedding. She was just brilliant from start to finish.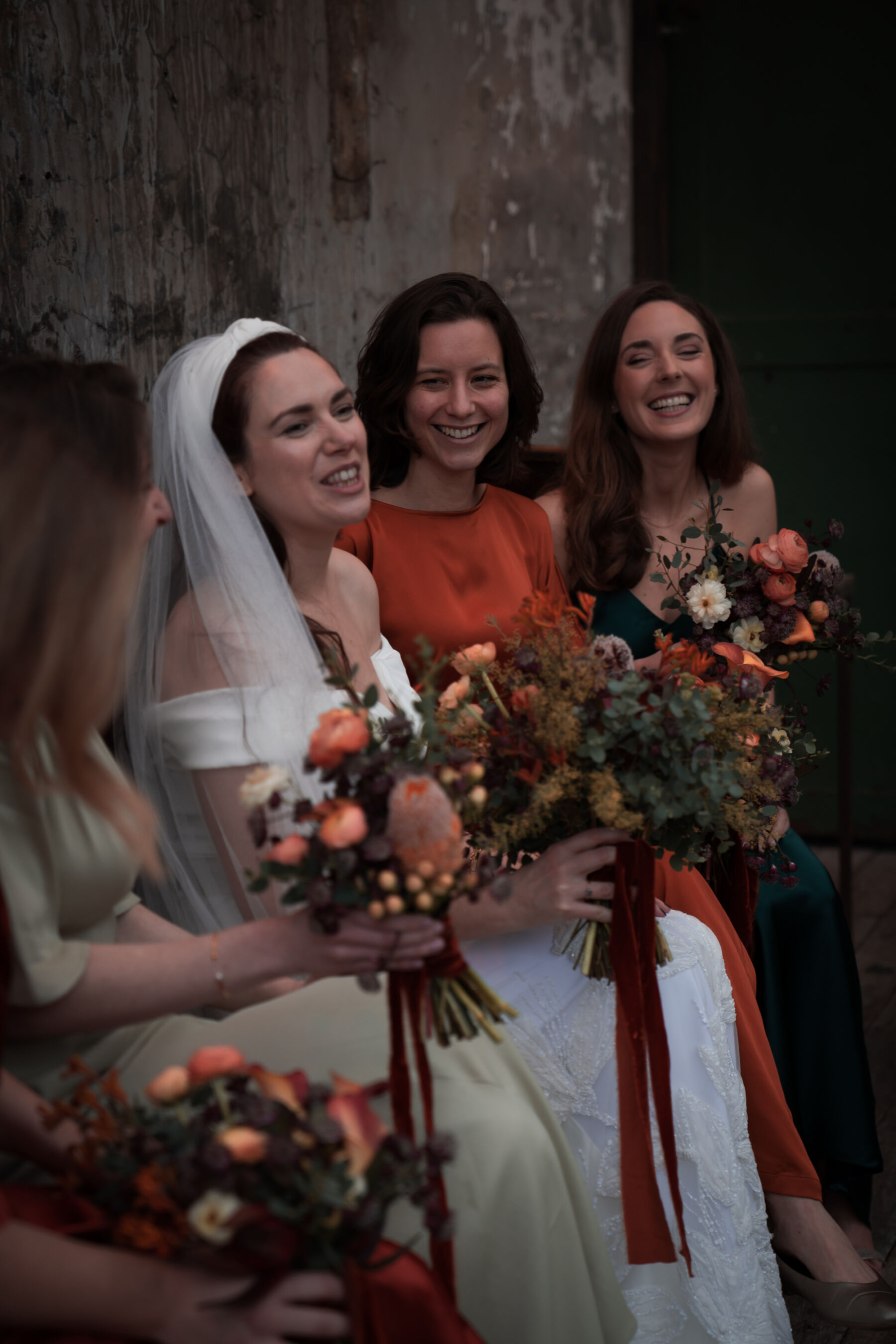 I had worked with Leanne on a Mum Club wreathmaking workshop during Christmas and alongside how lovely she is as a person, the care and genuine love she has for what she produces is so warming to see.
Little finishing touches like the bridesmaids' names to their bouquets to ensure the correct feature bloom matched their dress colour was so thoughtful.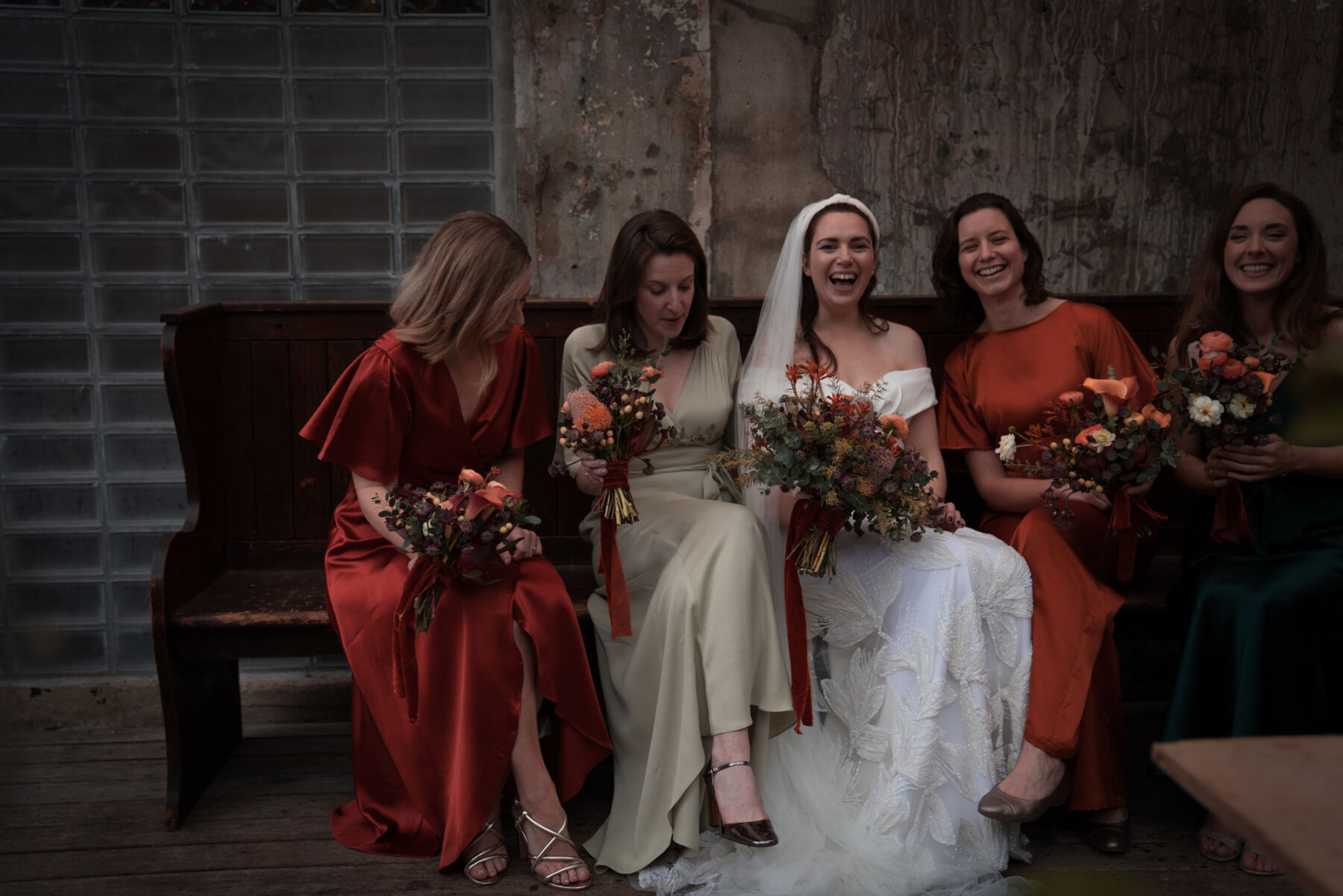 Photography
Our photographer was Cat Arwel. Cat shot our friend's London wedding, and they could not recommend her enough to us. When we looked at her work, we knew her style would suit us too. She's really relaxed but fun too. She listened to us and delivered on keeping family and group shots down to a minimum as we wanted to get back to our guests quickly and join in the fun.
Cat was brilliant at getting the best out of everyone, especially Simon and I who are probably the two most awkward people when having our photos taken.
The finished gallery is a dream. She captured exactly what we wanted and caught moments that we didn't see, which we are so grateful for.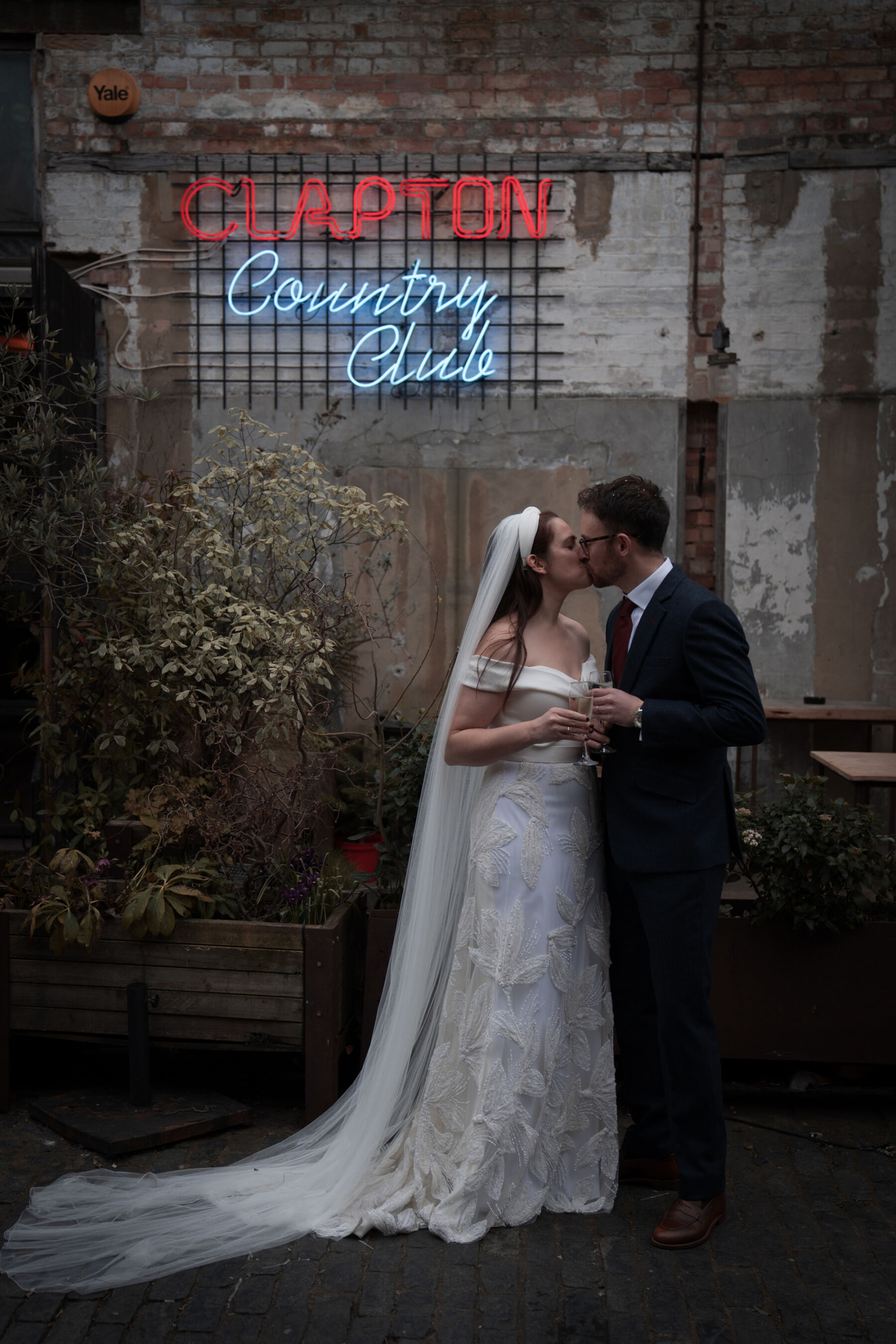 How They Met
We are a Tinder love story; we met in 2017 through the App, after chatting for a couple of weeks we finally arranged to meet for our first date (which he actually cancelled VERY last minute – the perils of trying to date a city lawyer)! We finally had that first date and our love blossomed from our love for food, gin and watching terrible TV.
Our road to getting engaged is slightly different to your typical couple. After dating for 15 months, we dramatically found out we were having a baby (that's a story for another day) which accelerated our relationship together.
We moved in, met family and became family all in the space of a few weeks. After 10 months of having our baby, we were fortunate enough to travel Malaysia for four weeks, whilst Simon was in between jobs. In short, he proposed to me on the beaches of the Perentian Islands, with our little girl wearing a babygrow reading "Mummy will you marry Daddy?"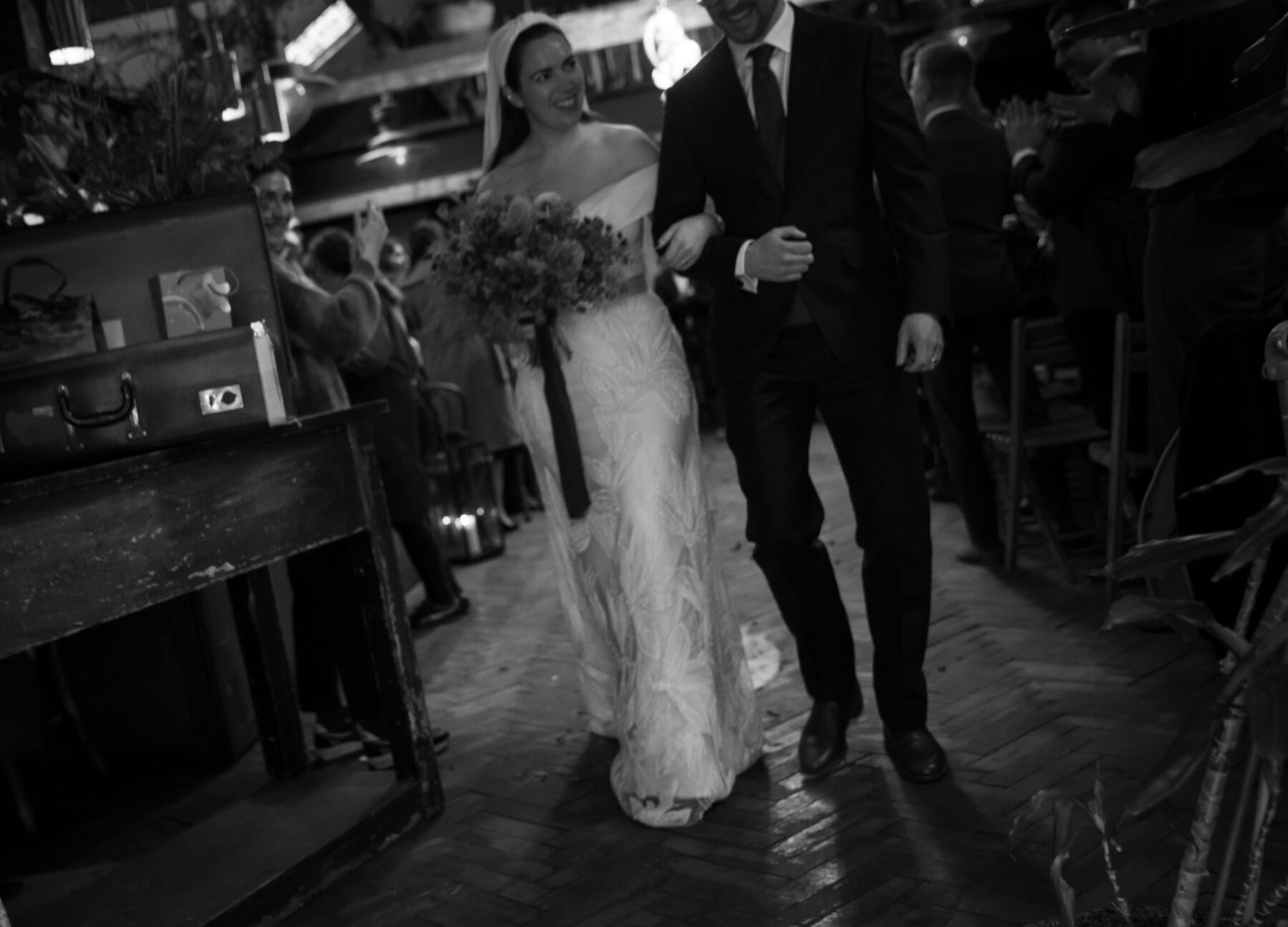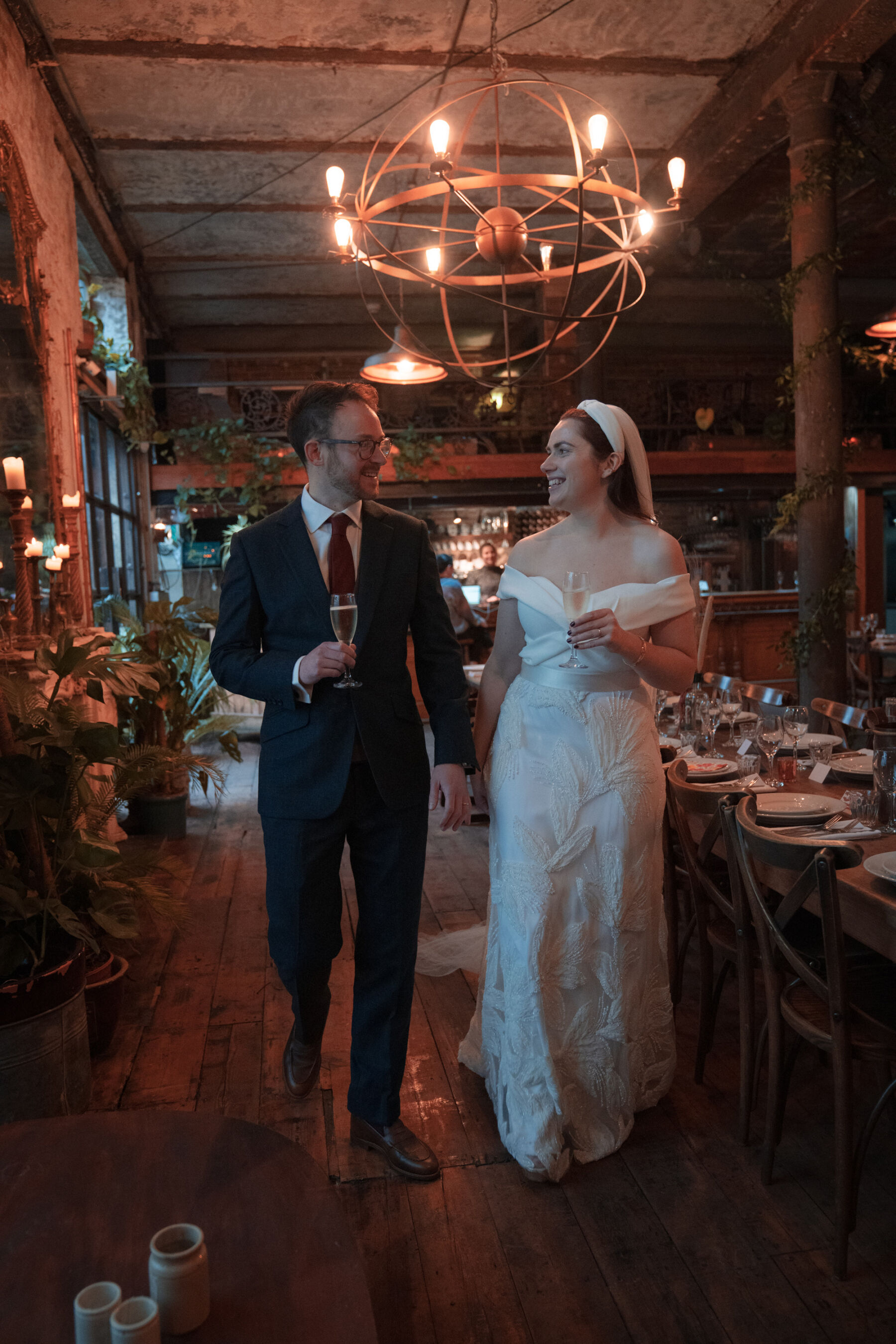 Reception
Decor & Detail
---
Simon's sister used to be a pastry chef and very kindly made our cake. We didn't want to have the cutting of the cake as part of the day so she delivered it straight to the chefs at Clapton Country Club to plate up and we had it as our dessert. We had three flavours, Victoria sponge, Lemon sponge and a Pistachio sponge all covered in delicious swiss meringue buttercream.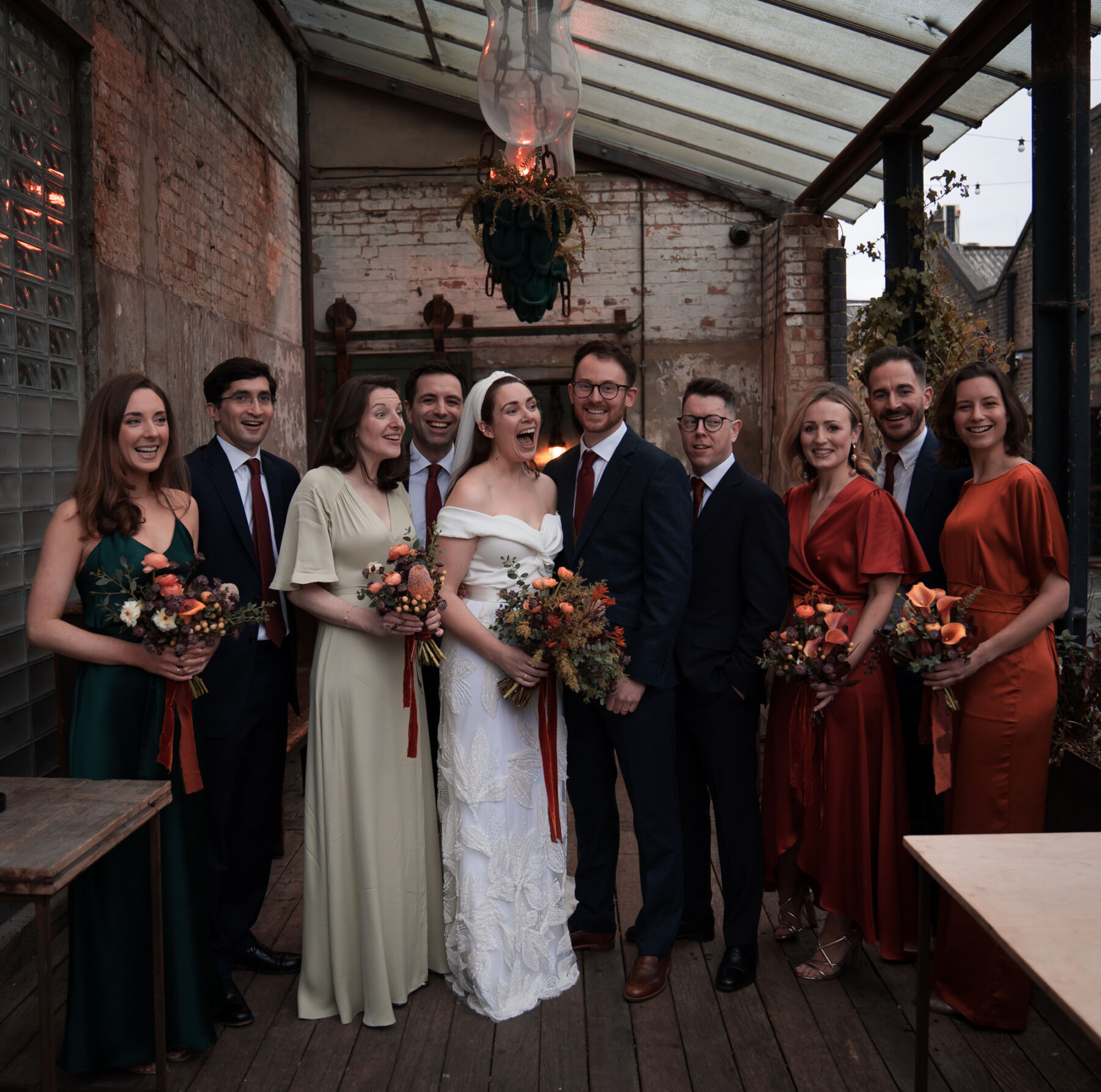 The food was delivered in-house by Clapton Country Club. Simon and I are big foodies and food was one of the most important parts of the day for us. Clapton Country Club had such a diverse range of cuisines to choose from on their menus. We love middle eastern style food and was delighted to see that they had something that suited us perfectly. Grilled aubergine, crispy chickpea and a tahini dressing for starter with flatbreads then a preserved, sumac spiced chicken and Israeli cous cous for the main. It was so good!
The canapes were great too, they ranged from pigs in blankets to moroccan lamb on crostinis, to honey spiced pumpkin tarts and there was plenty to go around which, again was really important to us that everyone felt well fed at that part of the day.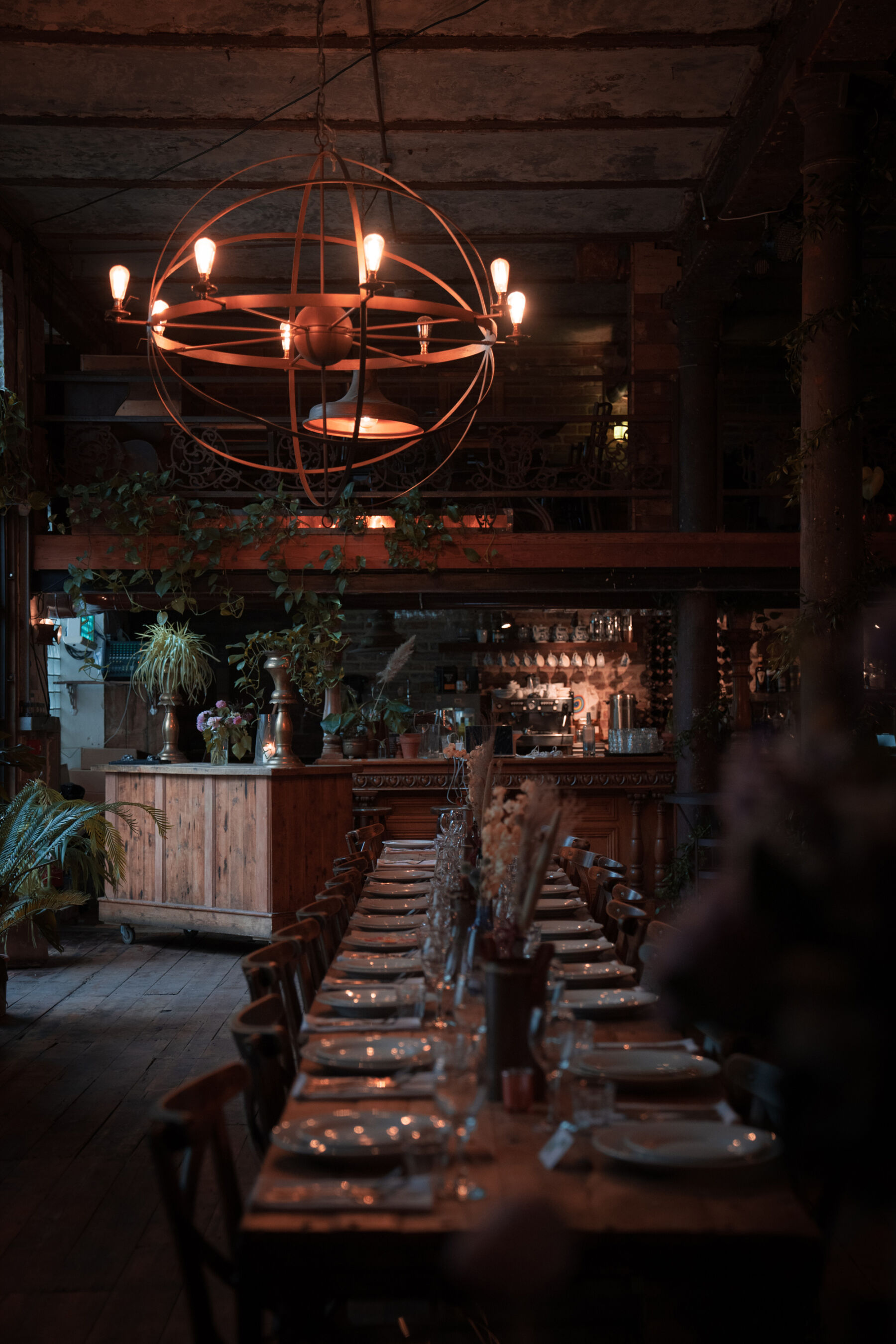 We went totally DIY with stationery! Our four year old daughter helped us paint place settings forest green and burnt orange to tie in with our very loose colour scheme. It felt really special for her to help and contribute in some way and each place setting was beautifully unique.
Our Table plan was also very DIY too. Green card burnt orange velvet ribbon and names printed on white paper in cheap white frames. They did their job and we forgot about them on the the Sunday when we went back clear up, so don't feel hugely upset that we didn't spend a small fortune on getting it professionally printed.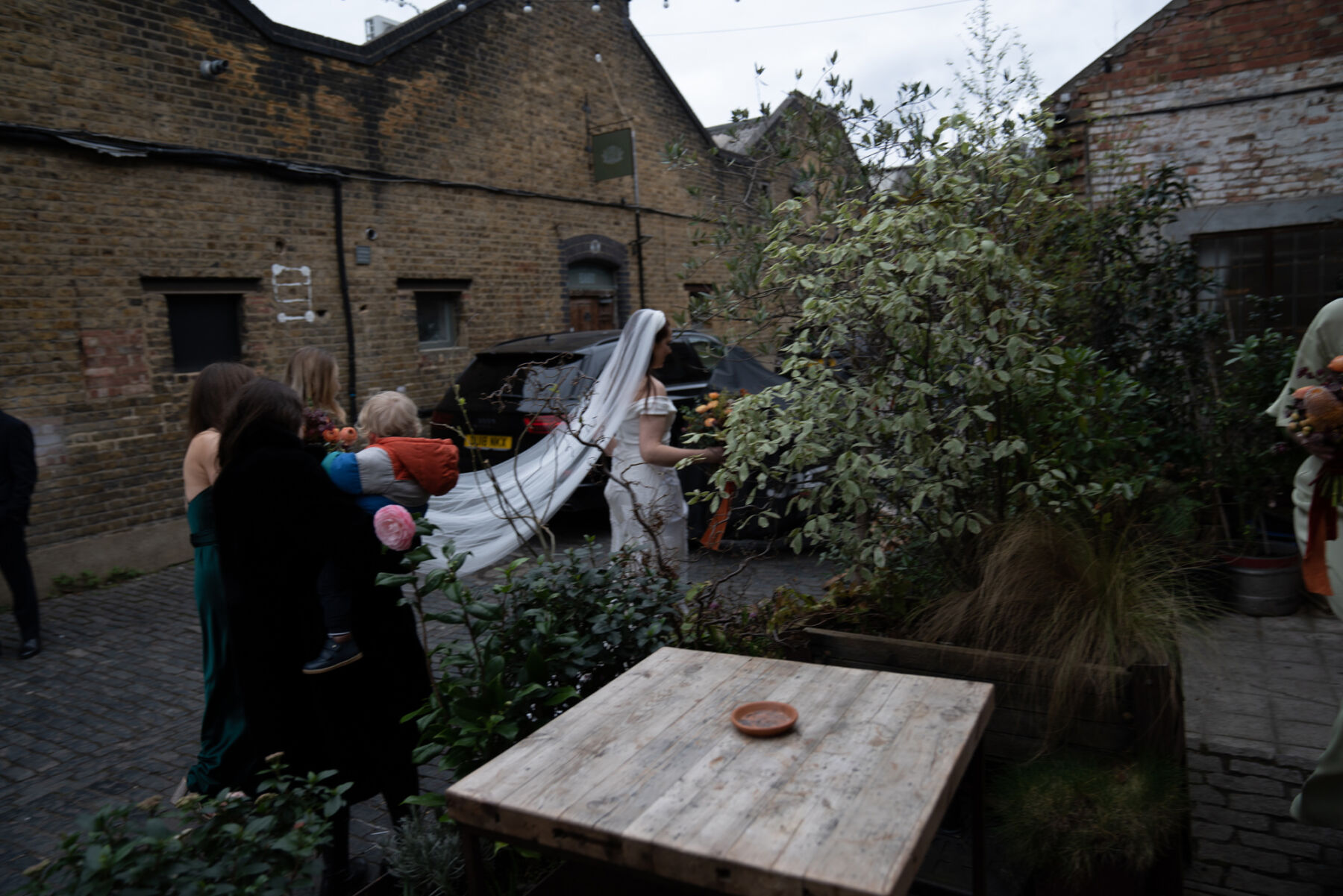 Clapton Country Club has so many plants everywhere that we knew straight away that it would need very little dressing. We also knew that we wanted to keep the cost down for this. We did the table decorations ourselves. During lockdown us and friends and family had saved the MANY gin bottles that we all got through, to use as vases for the dried flower arrangements which we created ourselves.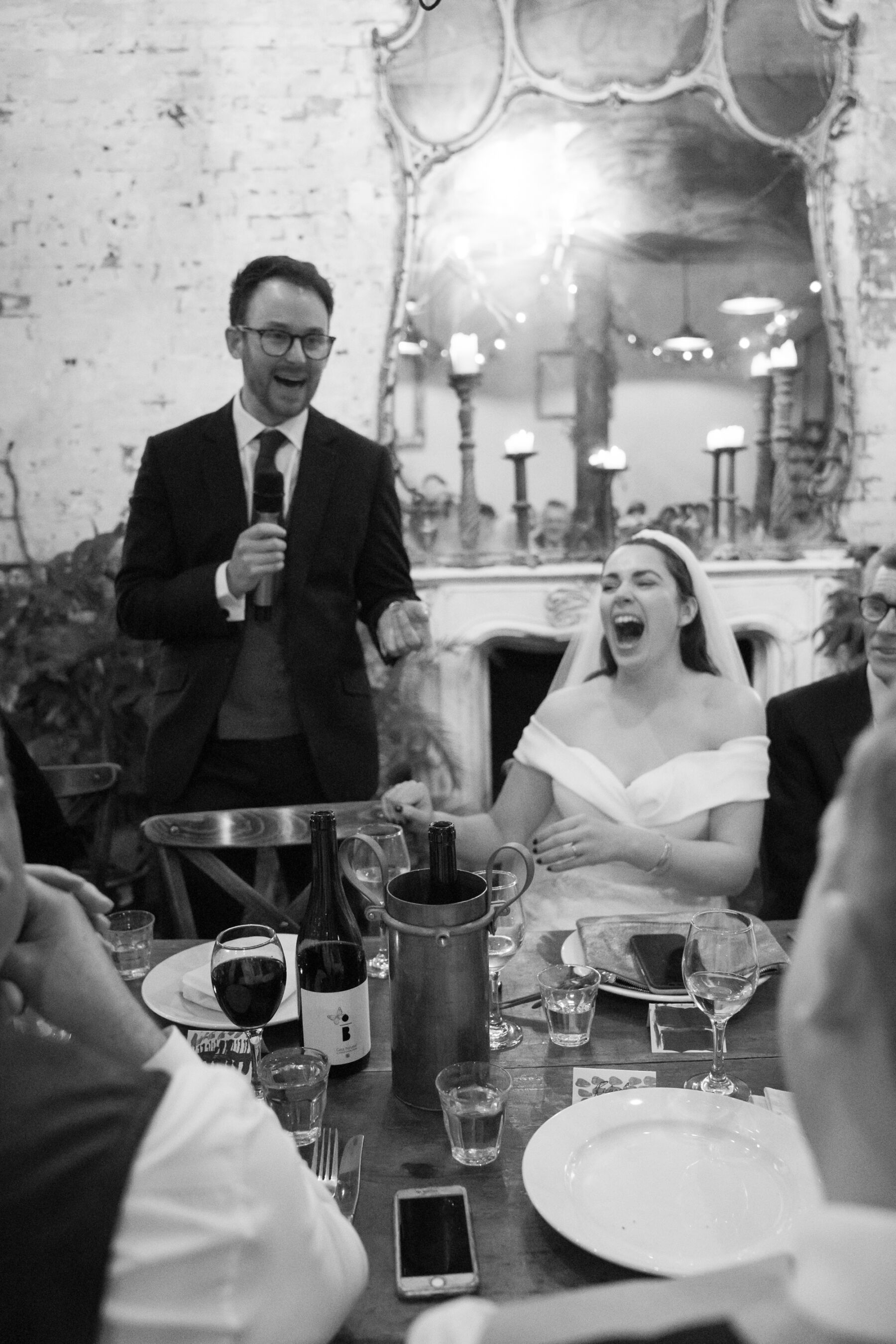 We also simply got 10 stems of pampas grass the ultra big, really fluffy ones and popped them in a big vase from home to decorate the front of the aisle. It was simple but pretty and again, the venue has candles that they light round the room anyway so we were really glad we didn't spend £100 on LED candles and batteries to decorate the aisle like we were going to but ran out of time in the end (thank goodness).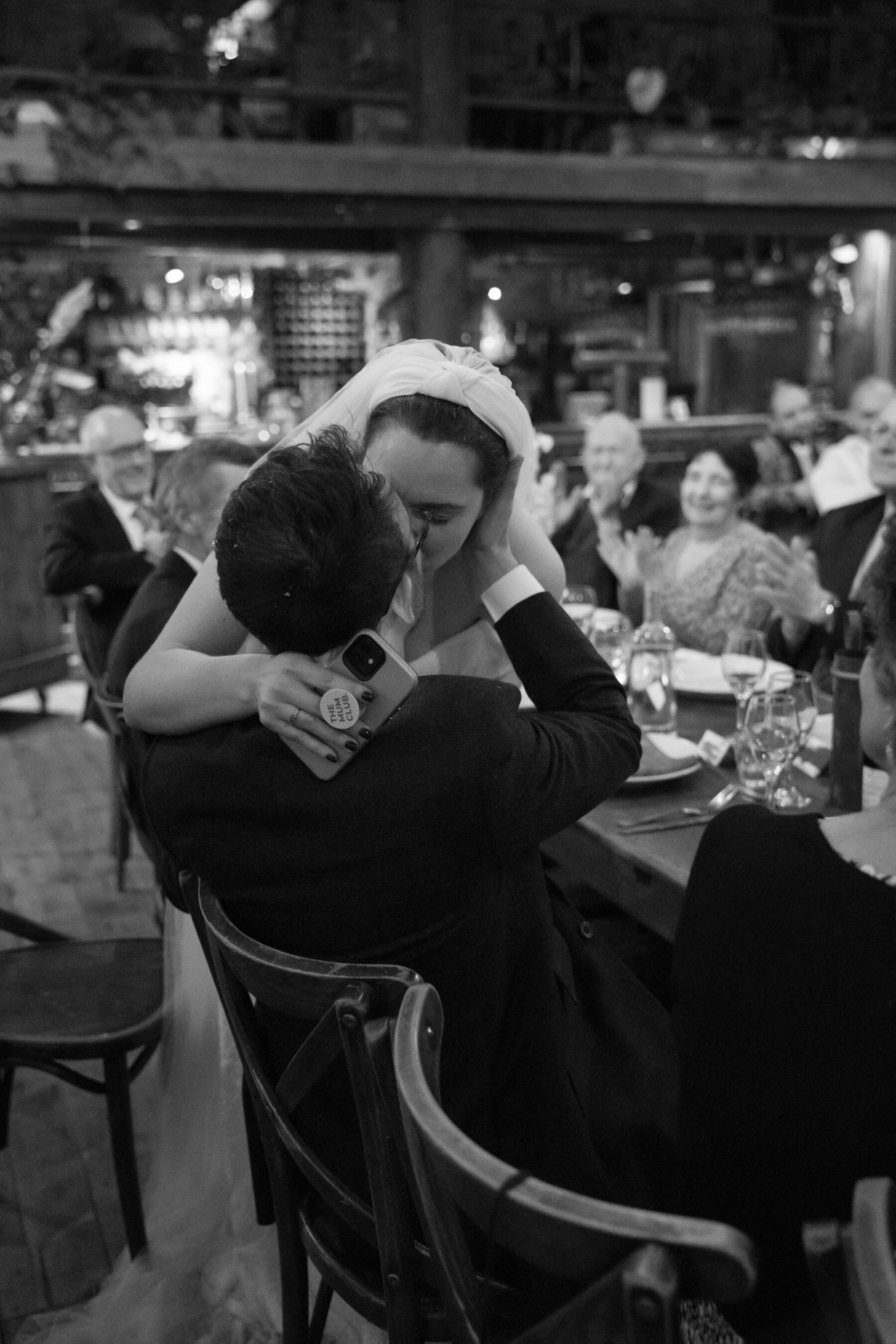 Evening & Dancing
We hired the Wedding Smashers – Flos was our DJ and she was just incredible! She kept the dance floor alive for 6 hours! The party at the end was what everyone talked about after and how good she was. It was flawless and we loved her so much.
Our first dance was to Precious Love by James Morrison. This again has roots in Schitt's Creek. It is a bit upbeat, which helped with that awful first dance awkwardness.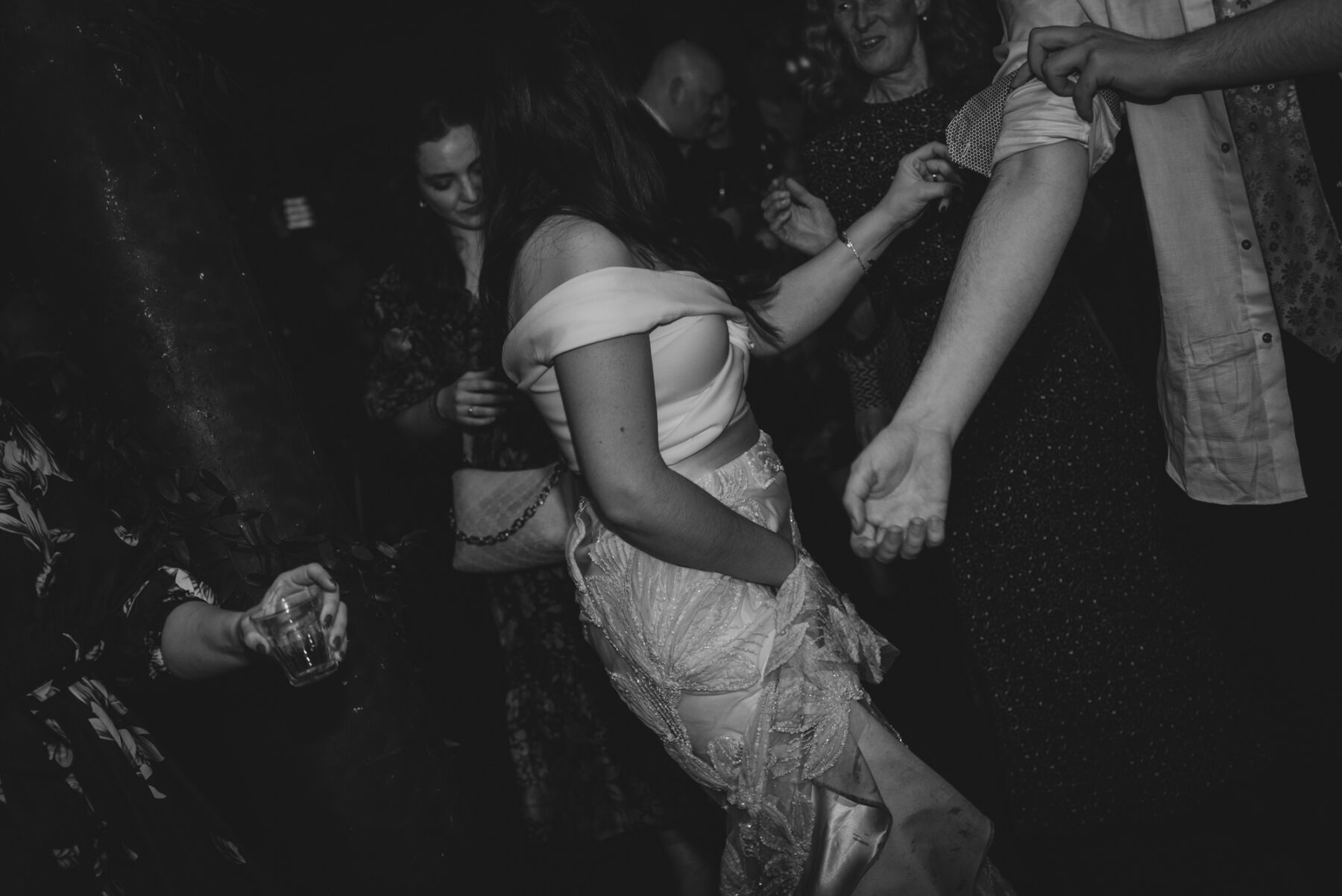 Words of Wedded Wisdom
Really consider what is important to you and stick to that when thinking about your budget and what you are willing to splash the cash on. For example food, a brilliant DJ and a fantastic photographer to capture memories was really important to us but we knew from the beginning that favours were not, so did not stress about not having them or allocating any budget to it.
Also, remember it's your wedding so you can have exactly what you want and invite exactly who you want. Don't let wedding/family politics sway you in any way.    
We wish we'd not spending so long and agonising over the table plan! Ultimately, if people have delicious food, a place to get a drink and great music they will probably have a great time and not care who they were sat next to for a couple of hours of a very long day.
We spent a lot more than we intended to! This was probably down to a lot of the small things which we ended up buying in the last two weeks in the run up to the wedding which soon added up!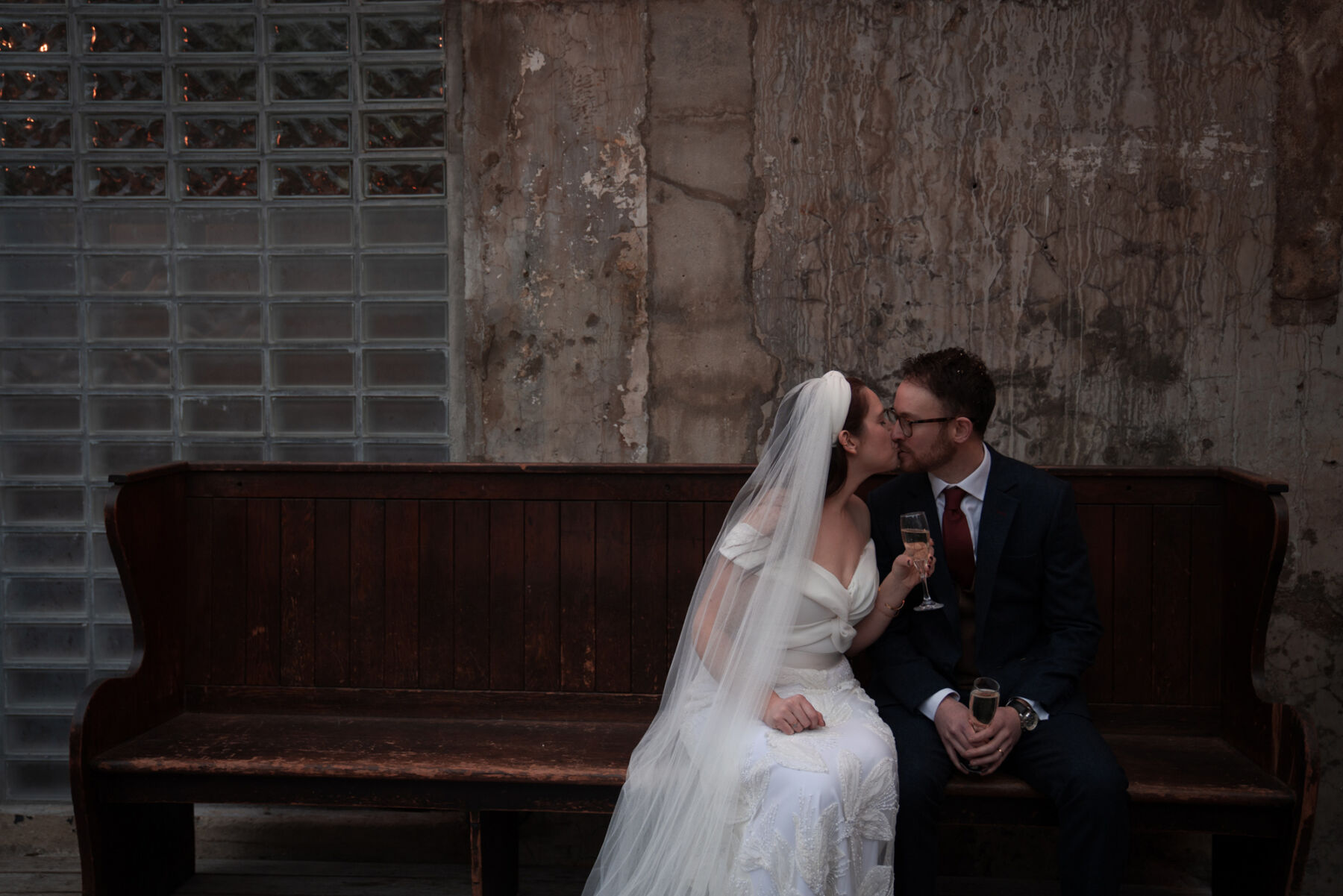 Welcome to the
Love My Dress Shop
Browse the latest handpicked items in the Love My Dress Shop.
Shop by Category
or
Shop by Brand
Love My Dress Wedding Directory Members
The below suppliers and venues featured in this article are part of the Love My Dress Wedding Directory.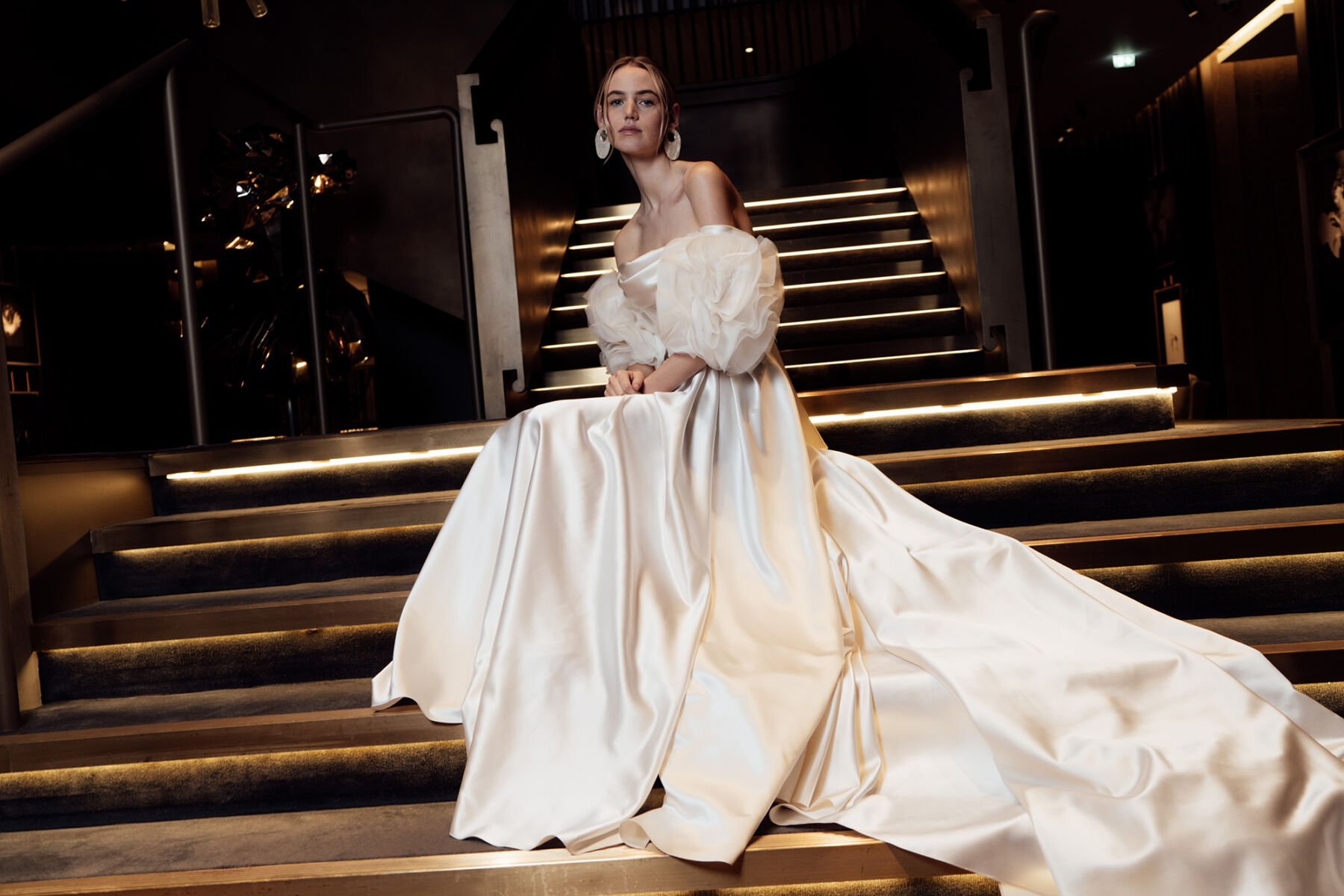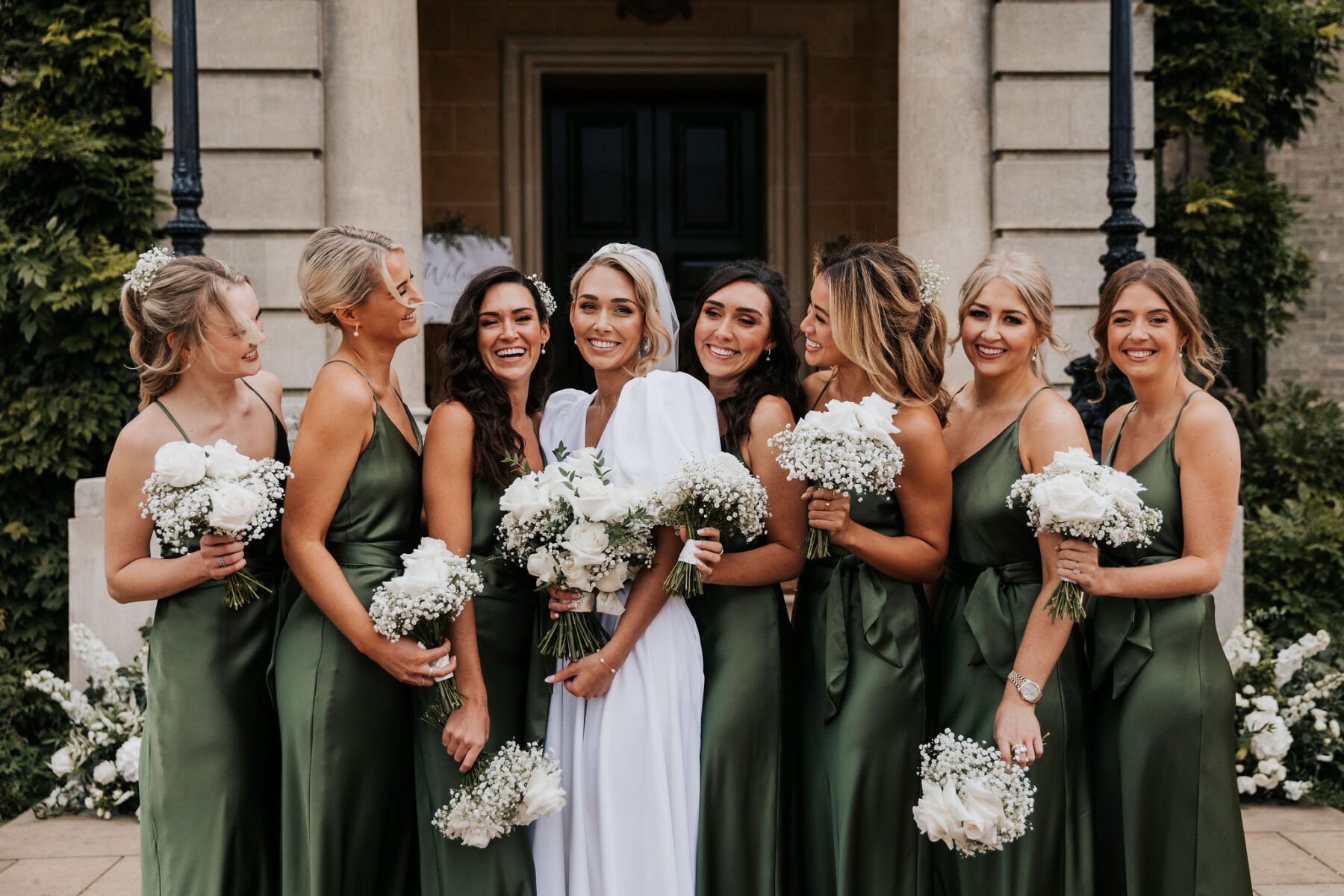 Additional Credits
The below suppliers and venues are featured in this article, but are not part of the Love My Dress Wedding Directory.