On Thursday this week, I had the absolute pleasure and delight of attending the inaugural Nourish Social event, hosted at popular foodies restaurant Spring, in London.
Nourish is a new, beautifully elevated and informal supper club experience for wedding professionals to gather together and enjoy an immersive evening of good company, delicious and wholesome food and to take some meaningful time out from their busy schedules to relax in considered surroundings with good people.
Aimed primarily at businesses with at least five years experience, Nourish was founded earlier this year by three extremely lovely women, each of them immensely talented wedding suppliers in their own right. Through work and friendship, these women came to realise that they shared the same vision for creating an experience that would leave their fellow industry professionals feeling enriched, inspired, and relaxed, both professionally and personally.
Nourish Founders
Nourish Social is the concept of friends and industry colleagues (and in order, pictured from left to right), intimate destination wedding planner and stylist Valentina Ring of The Stars Inside, luxury wedding cake designer and maker Vaani Wadman of Sugarplum Bakes and letterpress stationery designer Grania O'Brien of Ink & Paper London.
All three of these women's businesses are listed in the Love My Dress Wedding Directory and come highly recommended.
The Need for Wedding Professionals To Gather
As wedding professionals (and btw, I qualify as one personally both as founder of Love My Dress and co-founder of Moonwind Flowers), we rarely, or, at least, we don't make enough time for social gatherings with industry friends and colleagues. For much of the year, we're flat out working from wedding to wedding with weekends a write-off come late Spring through to October for most of us. Remaining months are spent recovering, marketing and planning for the year ahead, and more recently, paining over the cashflow and potential price rises as we grapple with a cost of living crisis.
Like my vast majority of my fellow wedding professionals, I truly adore working in this industry, and I say that from my heart. But I don't want to sugarcoat my professional lifestyle by suggesting that it's a day-to-day high, that everything is swell and wonderful. There are periods where loneliness and isolation from working from home can hit hard, and my mental health struggles with the lack of regular human connection.
I wouldn't change a thing about what I do, but being self employed does have it's challenges; Zooms are great, but friendly, authentic, creative connection IRL is hands down what I seek every time I get the opportunity. It's partly why I feel so grateful that Nourish has come in to existence (spot me impatiently wanting to get to the dinner table below, hehe!).
We believe a very special kind of magic happens when like-minded people meet with open hearts and aligned values. A rare, precious, unspoken affinity that ignites your creativity and gives you the freedom to be yourself. It's this spark that lead to Nourish. Vaani, Valentina and Grania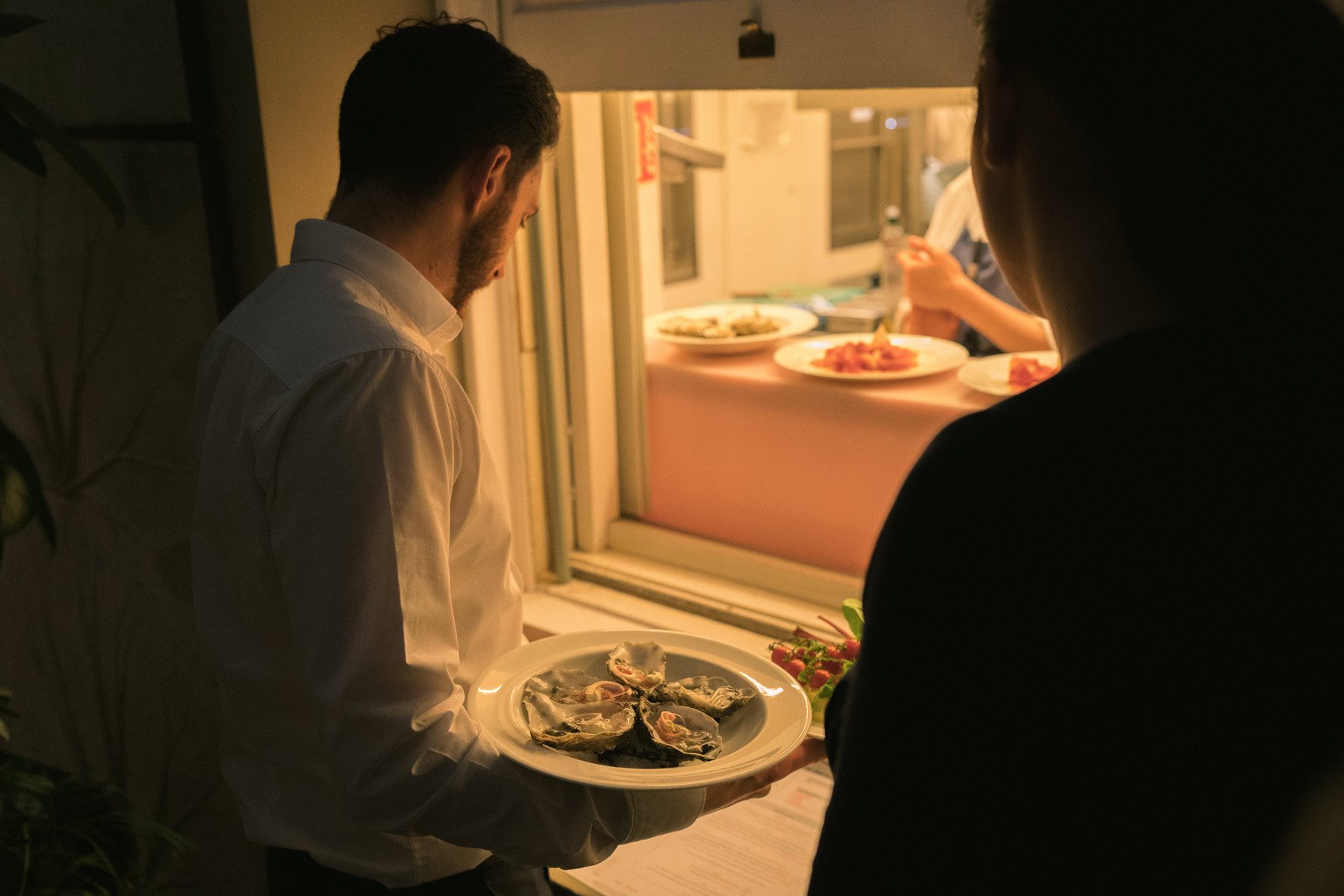 A Wedding Industry Supper Club
Nourish isn't like other industry events I've attended. It wasn't organised to support a collection or product launch, to showcase a venue or promote a designer, it was conceived, styled and produced entirely with the pleasure of its guests in mind. And it was done so with pure authenticity and love. If you know the sweet, caring and generous women behind the event, you know this needs no explanation.
Vaani, Valentina and Grania sought to bring together kindred spirits to dine on seasonal produce, to be fully present and share mindful conversation. Their shared desire was to fill a room with warm company and meaningful connection, to ignite togetherness and that magical sense of belonging that this creative industry delivers when it's people comes together.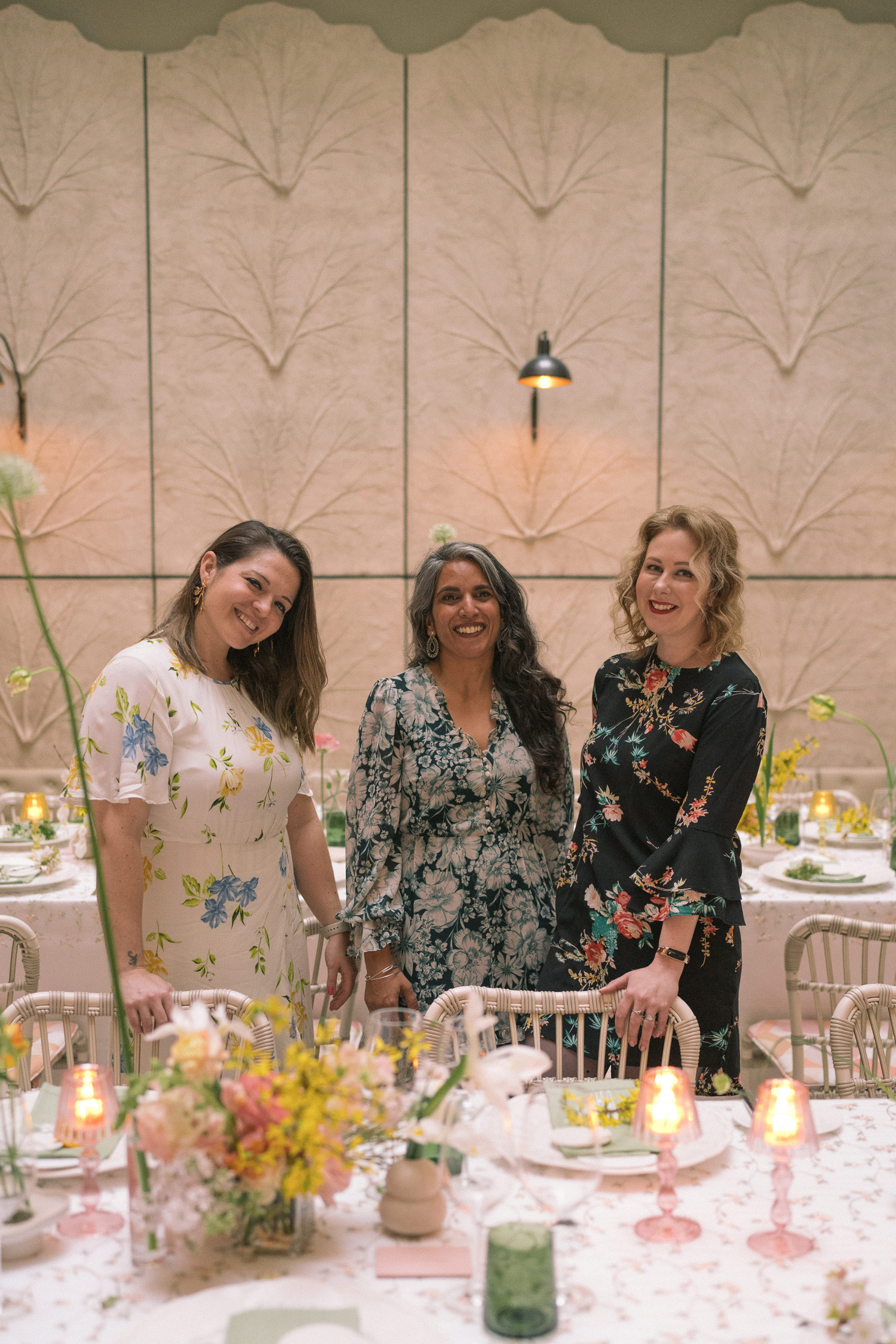 Through Nourish we want to explore the concept of luxury, but in an understated and meaningful way. It's about luxury with substance – and always originating from a place of true authenticity. It's about experiencing the kind of elevated gathering we so often help to create, so we can more deeply understand and represent the art of hospitality. Vaani, Valentina and Grania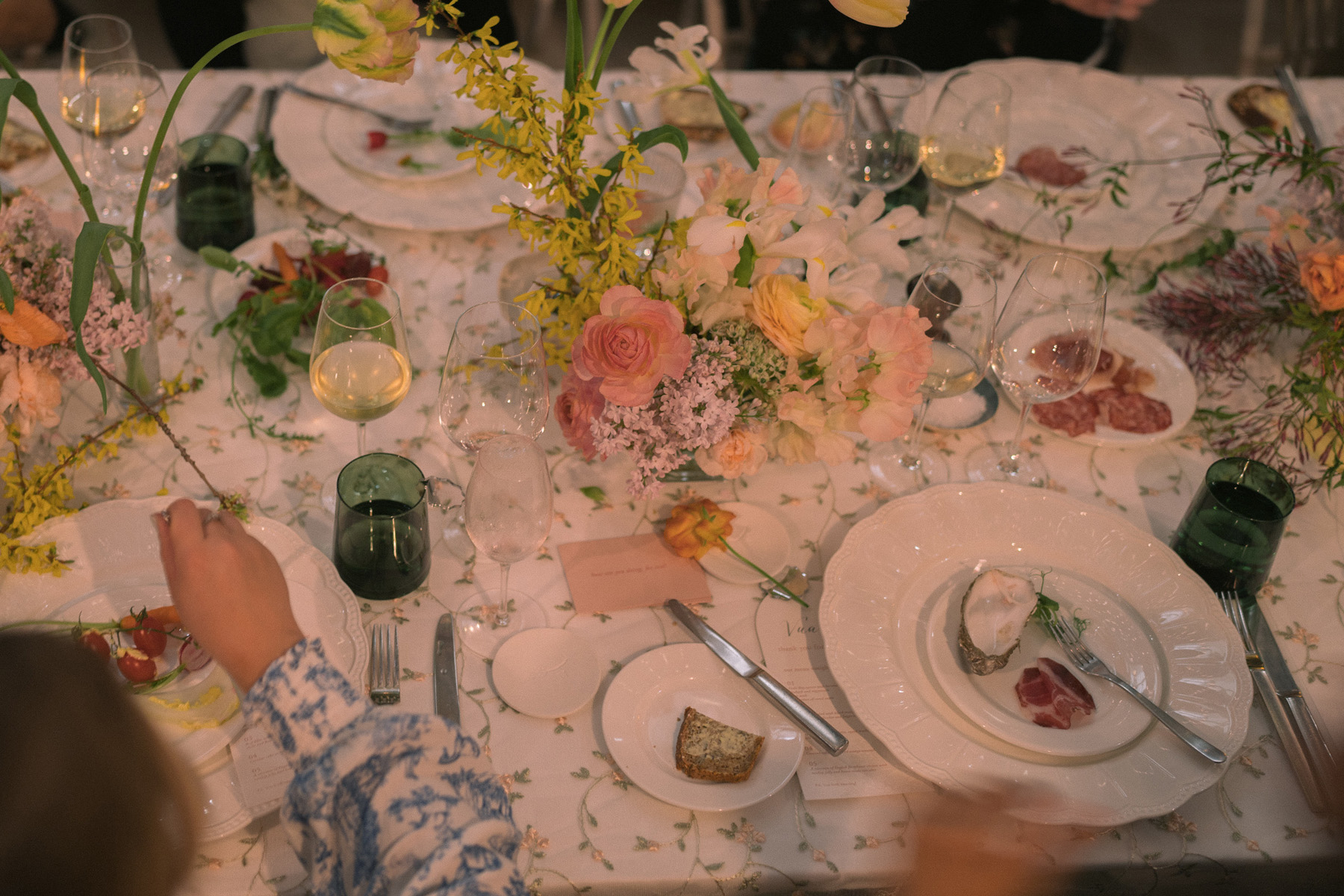 Spring Restaurant London
It was a rather genius stroke to have hosted the first Nourish event at Spring. It was the most perfect, elegant space. We were located in a private dining room adjacent to the main dining area, through which we had to wander through very briefly in order to reach the quite frankly beautiful rest rooms. The main restaurant is breathtakingly gorgeous – cool, contemporary, relaxed and romantic. I have already booked a table for when I'm in London next month.
Spring was founded by acclaimed and highly respected chef, Skye Gyngell, former head chef at Petersham Nurseries. The head chef on the evening of the Nourish event was Eleanor Henson, who came out to tell us all about the biodynamic ingredients used at Spring (the restaurant partners with Fern Verrow, a biodynamic farmer in Herefordshire who supplies all her produce exclusively to Spring).
Eleanor's passion for her craft was palpable and her introduction and chat to diners was both fascinating and much appreciated. As the co-founder of a sustainable flower farm that also grows ethically, seasonally and biodynamically, everything resonated with me deeply. Absolutely nothing beats the quality of organic food (or indeed flowers) grown this way.
The atmosphere of our intimate, private dining room was beautifully enhanced with considered, seasonal inspired detail and styling by the Nourish team, and the prettiest Spring blooms by Flavia Studio. Guests were encouraged to put their phones aside and honestly, it was a pleasure to do so.
A serving hatch opened directly into the kitchens – this was largely closed and only opened when it came to serving one of the five delicious courses in our tasting menu – and it felt like a really special connection to the heart of Spring – incredible creativity and magic was happening behind that hatch. The wine flowed freely, though as a tee-totaler, I had a generous and endless supply of delicious non alcoholic cocktail.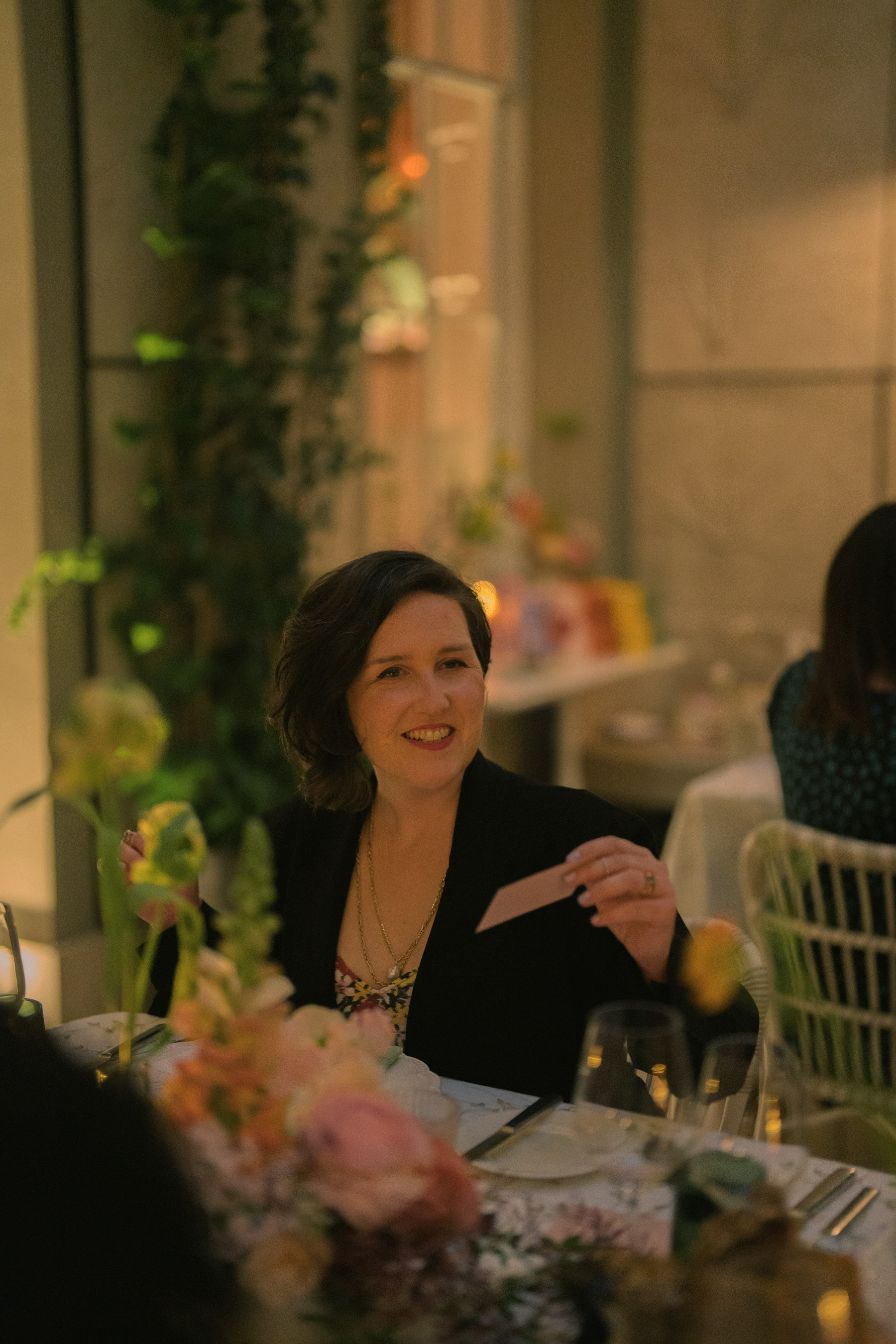 From the moment I arrived, a pale shade of nerves but actually far too excited to care, I felt the warmest of 'we've been waiting for you' style welcomes. Nourish was a truly delightful and sincerely enjoyable experience. Also, give me any opportunity to wear a beautiful pair of Malone Souliers mules, and I'm there.
My only regret is not having had the time to catch up with everyone there, though I adored being able to chat about everything from business planning to Marvel movies, from AI to self care and so much in between, with Assumpta of Ave Creations, Nat of Nat Raybould Weds, Rebecca of Rebecca Carpenter Photography, Joséphine of Joséphine Elvis Photography, Tash Busta Photography, Abi of A R Weddings, Rachel of September Pictures, Louise of Louise Hayes Cakes, Andri of Always Andri, Kate of The Destination Wedding Co, Caitlin of Digital Bloom, and all too briefly at the start and at the end, photographer Rachel of Rachel Takes Pictures and the lovely Claire of Love Story Inspiration.
Thank you so much Vaani, Valentina and Grania for going out of your way to create something so lovely, meaningful and wholesome through Nourish. I'm full of gratitude and can't wait for the next event. Consider me a devoted Nourishee 🙂
Attend the next Nourish Social Event
There are at least two other Nourish events being planned for this year, the first is on 11th July. If you are interested in finding out more and attending this event, visit the Nourish website.
I'll see you in July,
A x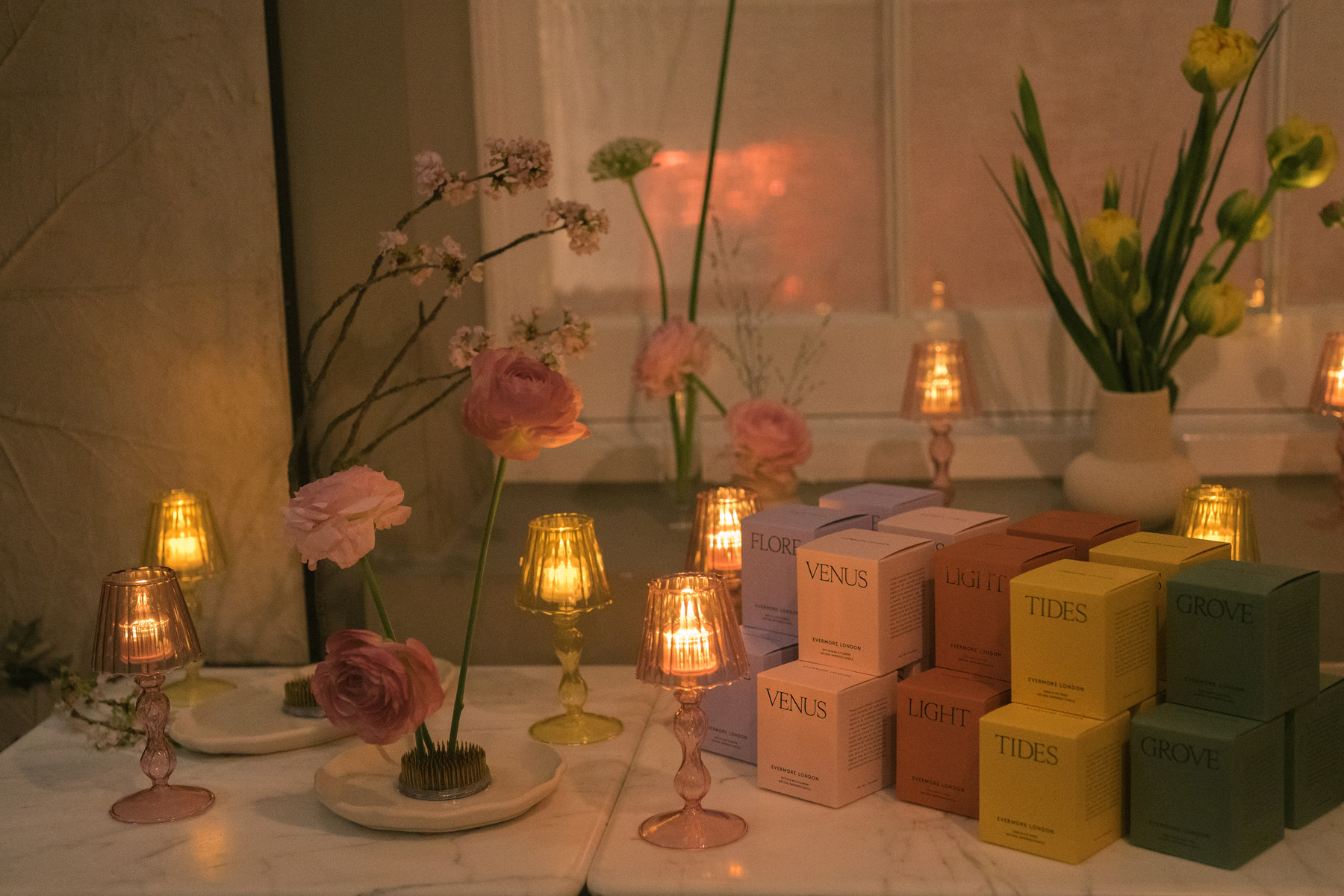 nourish.social