This one is for all you lovely brides looking for beautiful wedding accessories. Have you considered an embroidered wedding veil?
Whether you've written off the option of a veil or are researching widely to find the right kind, I truly believe that the talented Rebecca Anne of of Rebecca Anne Designs has a veil that you will fall in love with. And if she doesn't, she can create one especially for you, personalised in any way that you wish.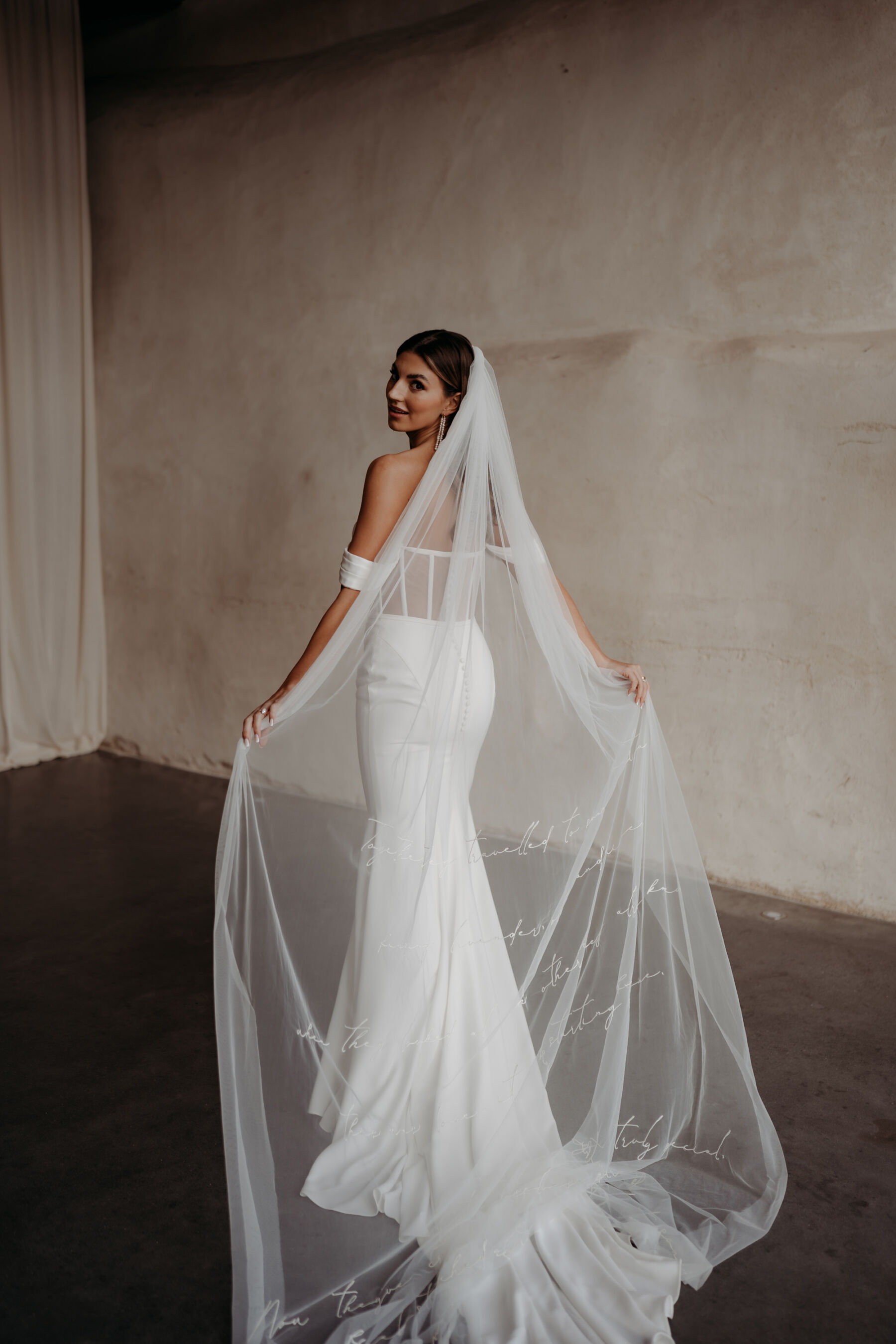 Rebecca of Rebecca Anne Designs creates beautiful, luxury embroidered wedding veils from her Somerset studio and ships them to stylish modern brides all over the UK and world. Her wedding veil designs are feminine and romantic, modern, contemporary and cool. The embroidered they feature is handcrafted with love and can depict almost anything – flora, fauna, symbols, emblems, monograms or dates, poetry, meaningful words – anything you like.
I spoke with Rebecca to find out all about her gorgeous embroidered wedding veils and how you can get your own.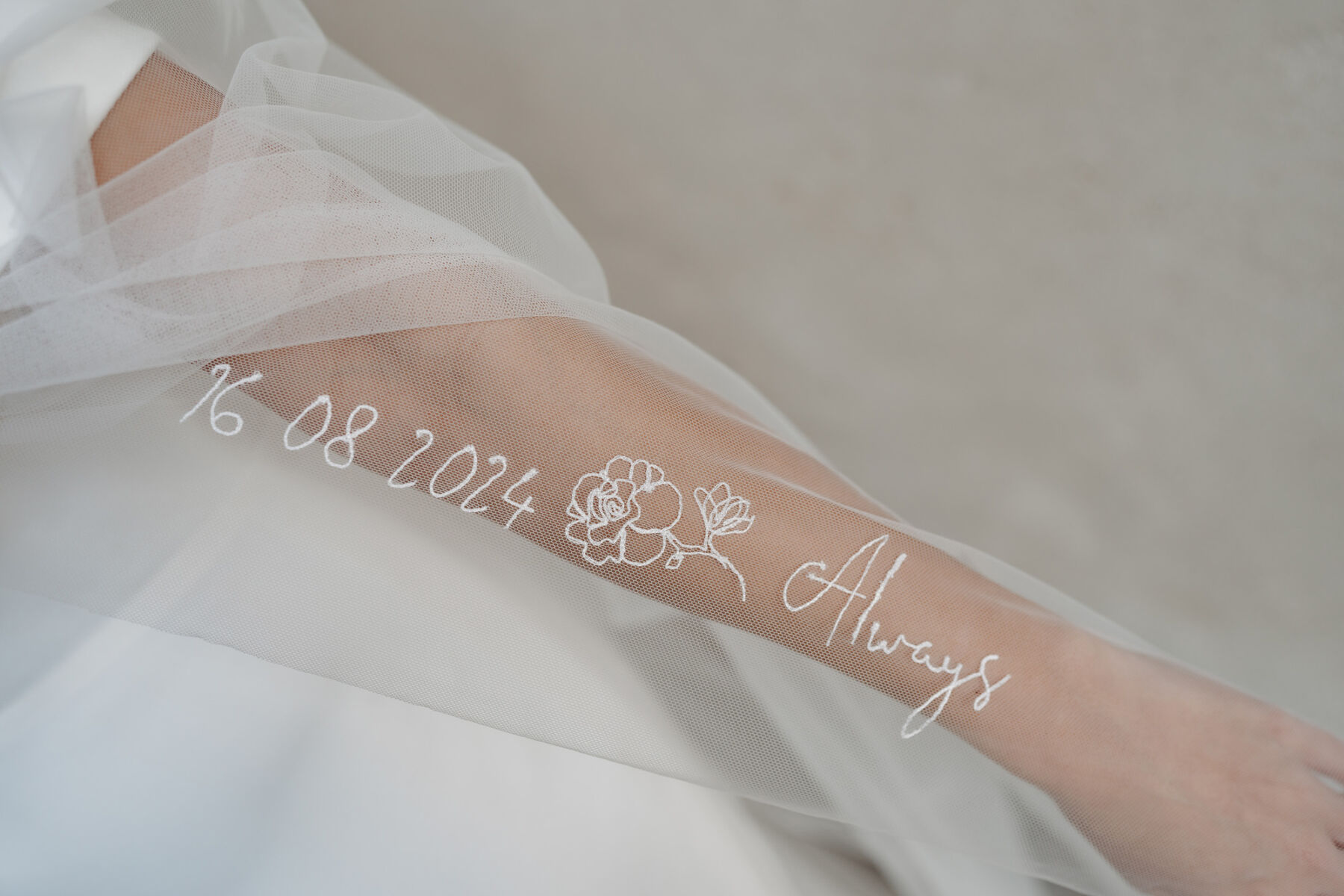 How did you get into designing beautiful embroidered wedding veils?
I actually studied Fashion Design at university and my final collection was so well received that it won me a placement with Sassi Holford Bridal. That was really the start of my love affair with bridal fashion and I continued to work in the wedding industry, managing bridal boutiques for several years.
However, I eventually realised that I missed making things and always found the romance of a veil to be particularly captivating. That's when I decided to set up my own business, Rebecca Anne Designs, in 2015.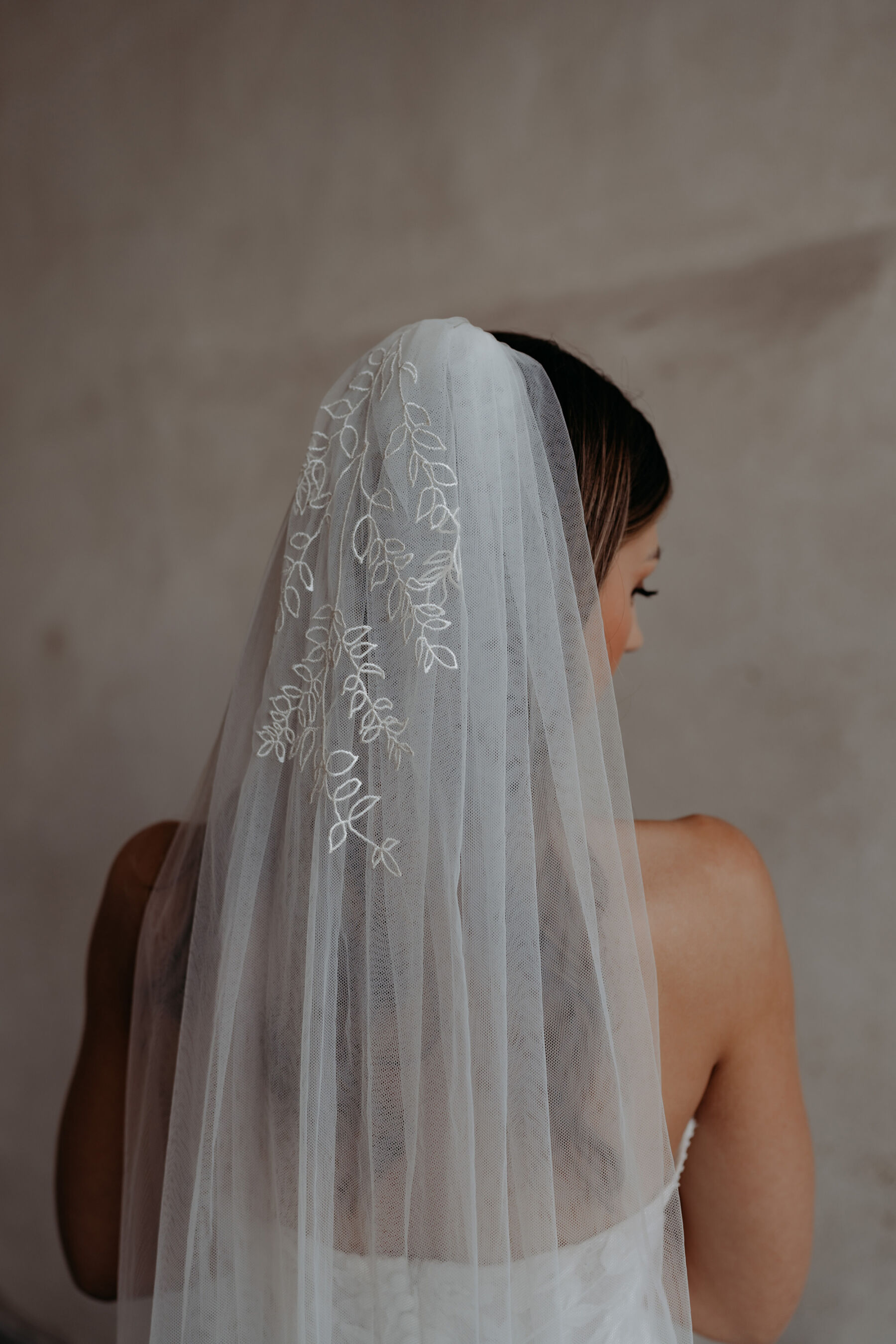 Over time, I found that simply making plain veils and lace edge veils wasn't fulfilling my creativity. I missed working one-to-one with brides and helping them to achieve their dream wedding look. So, I decided to evolve my brand and expand my skill set.
In November 2018, I purchased my first embroidery machine. Although embroidery wasn't something I had learned at university, I was determined to teach myself and quickly fell in love with the craft. Now, I specialise in designing and creating unique, personalised wedding veils that incorporate intricate embroidery and delicate embellishments. It brings me so much joy to see my brides feel beautiful and confident on their special day.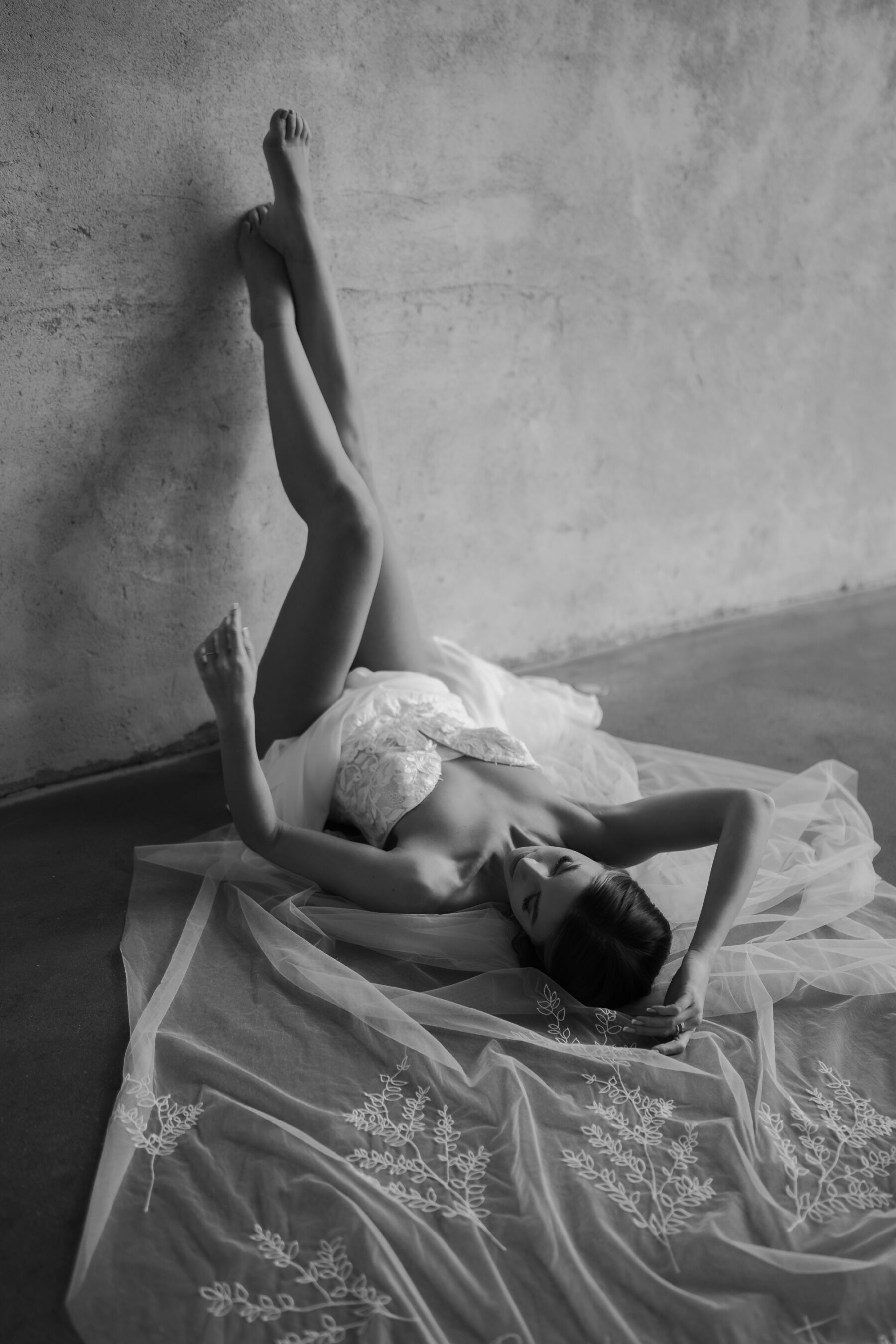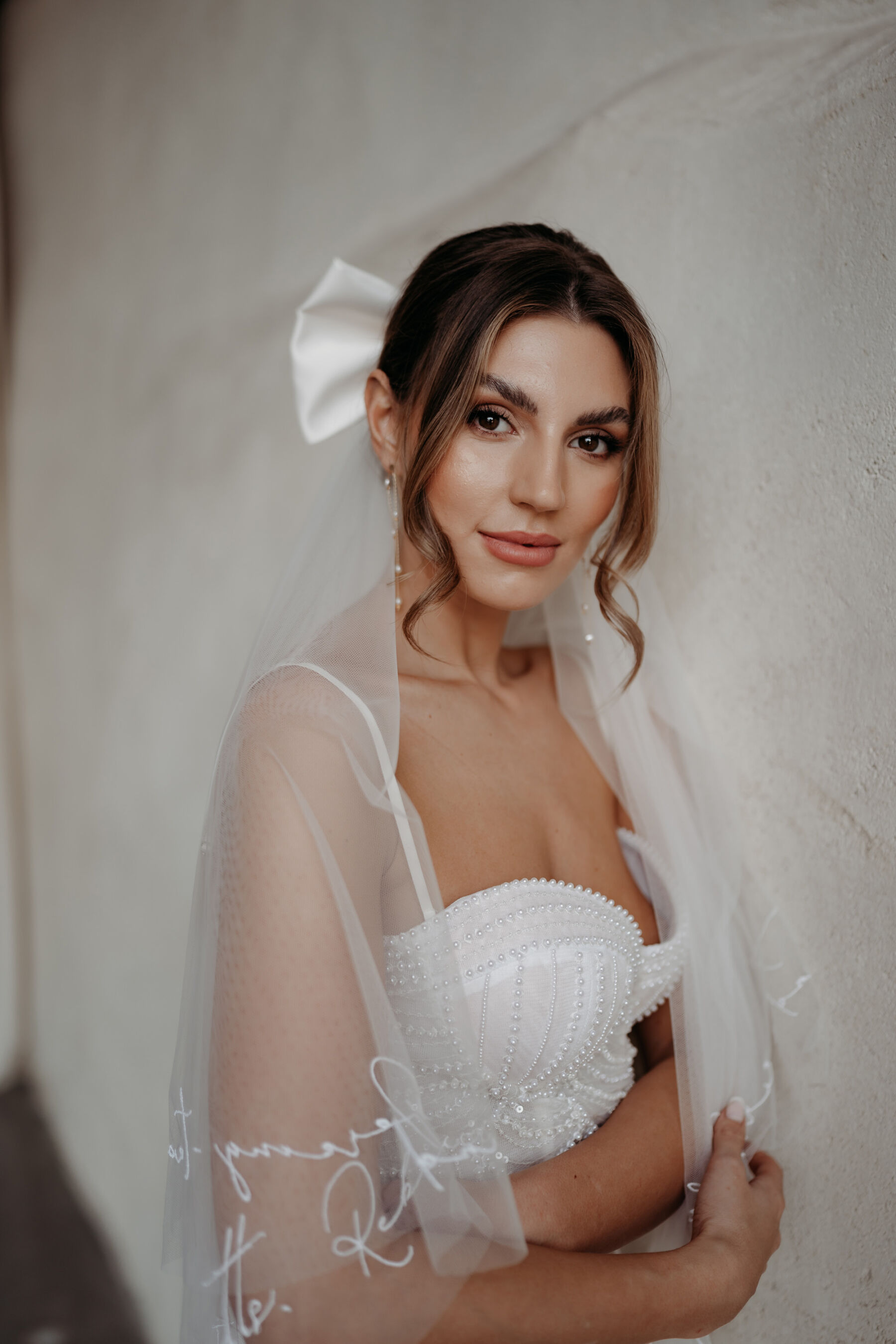 What makes Rebecca Anne Designs veils extra special?
---
One of the things that makes my veils extra special is my passion for the romance and tradition of these beautiful bridal accessories. I pride myself on offering brides a bespoke experience like no other. I truly believe that there is a veil style for every bride, and that it's the finishing touch that makes a wedding outfit truly complete.
What really sets my veils apart is the level of personalisation that I bring to each one. Every veil that I make is truly one-of-a-kind, custom designed with my own hand drawn artwork that I meticulously digitise for embroidery and hand finished specifically for each individual bride.
I love hearing feedback from my brides about how their veil was such a talking point on their big day. And I'm especially proud to know that many of these veils will be cherished as heirlooms, perhaps to be passed down through the generations and even further personalised with additional embroidery.
Working with a designer to create something so precious and meaningful is the ultimate luxury experience. I involve my brides in every stage of the process, making it a truly collaborative effort. And the result is always a veil that perfectly reflects their unique style and personality, and that they will treasure forever.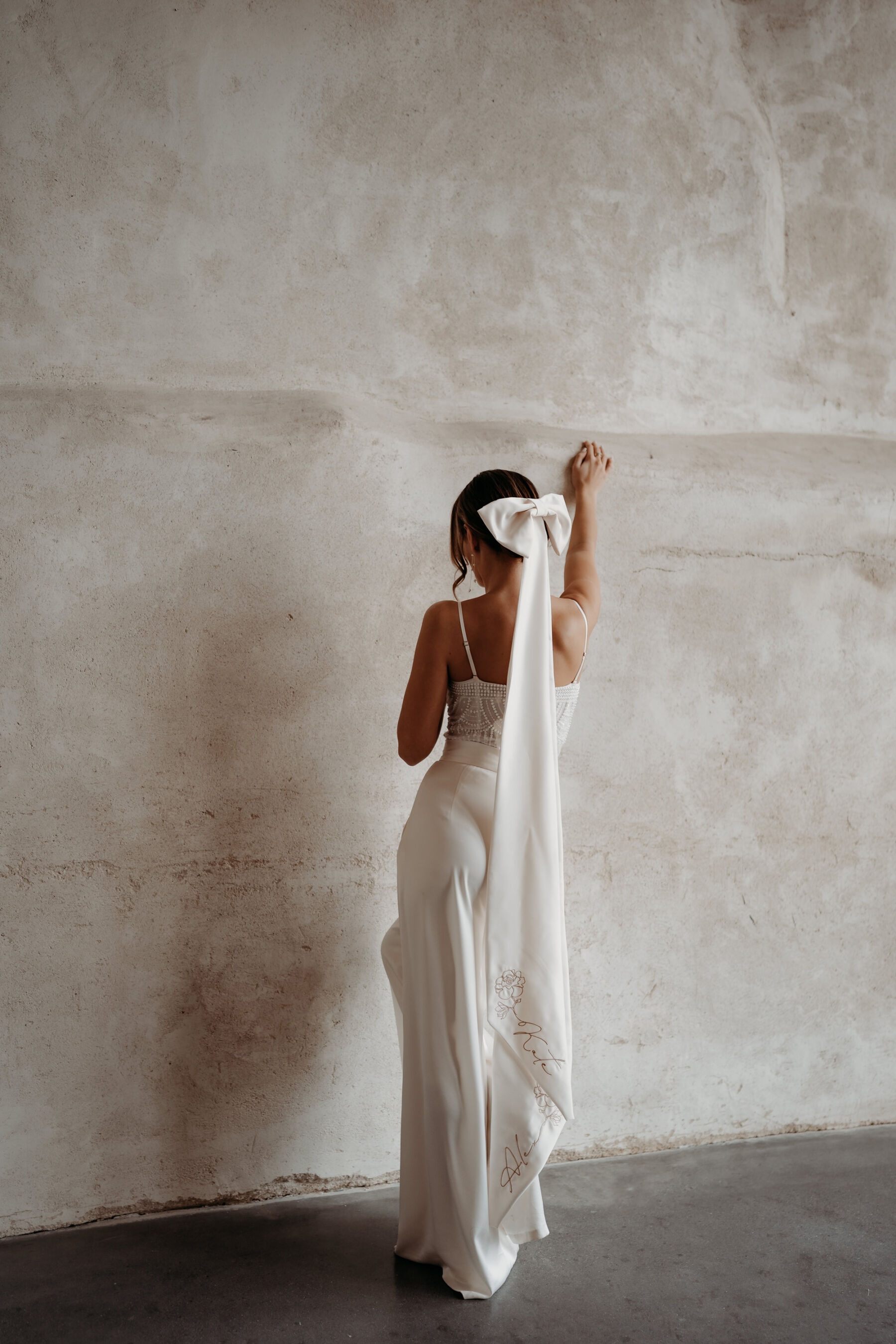 How do you work with brides when creating bespoke and personalised designs? Can you describe your process?
When it comes to creating bespoke and personalised wedding veils, I love working directly with brides to bring their vision to life. Typically, brides find me through a variety of sources such as Pinterest, Instagram, word of mouth, or through one of my lovely stockists. Once they reach out to me through the contact form on my website, I ask them to provide as much information as possible about their wedding plans and bridal styling ideas.
I absolutely love hearing about their ideas, and it's especially exciting when they let me in on the secret of their choice of wedding dress. This information helps guide me as I work with them to create their perfect veil.
As an international designer, I work virtually with brides from all over the world. Some like to set up a design consultation video call, but many are just as happy to explore and create via email. My process is centred around working closely with my brides, and I'm always excited and challenged by their unique ideas. It brings me so much joy to see each and every veil come to life as a true reflection of their individual style and personality.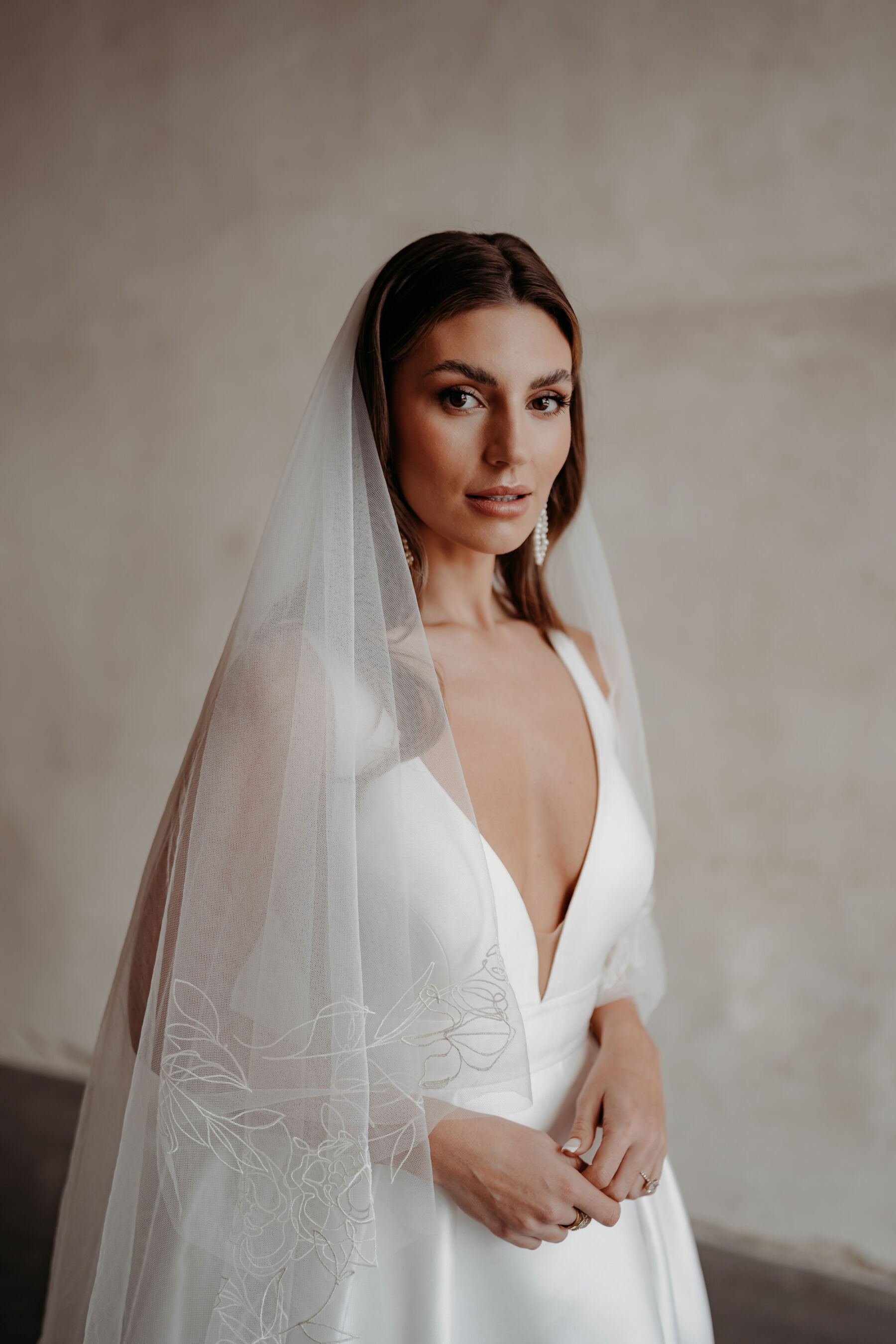 How long does it typically take to create a custom embroidered wedding veil?
As a designer of custom embroidered wedding veils, I often get asked about timelines for creating these unique pieces. However, it's not as simple as giving a specific timeframe. The process of creating a bespoke veil involves much more than just the actual making.
From the initial enquiry and design consultations, to drawing and digitising the design, and testing and approving the embroidery, every step of the journey is collaborative and intimate. Depending on the complexity of the design, the embroidery process itself can take up to a week or more.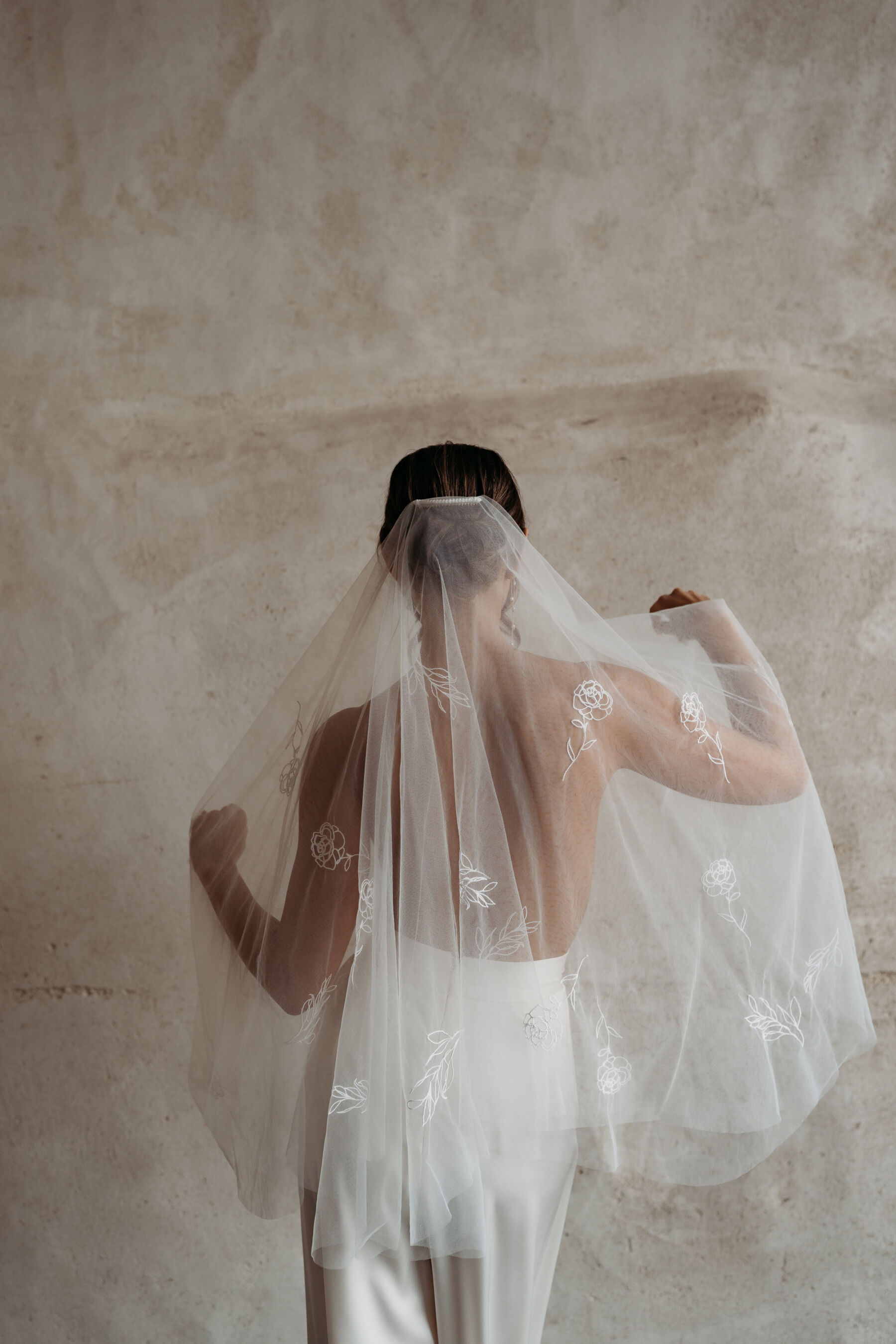 I always try my best to accommodate rush orders, but to ensure that every bride receives the attention and quality that they deserve, I typically require a minimum lead time of 18 weeks. This timeframe allows for 8 weeks of designing and making, and an additional 10 weeks for delivery before the wedding day. I aim to deliver my brides' veils on this timeline so that they have time to try the veil on with their dress to have a visual of their final bridal styling before the big day.
That being said, I do book up months in advance, so it's important for brides to get in touch as early as possible in order to enjoy the creative process and the bespoke veil journey. Whether you have a clear vision for your veil or need help bringing your ideas to life, I'm here to work with you every step of the way, ensuring that the end result is a one-of-a-kind masterpiece that you'll treasure for years to come.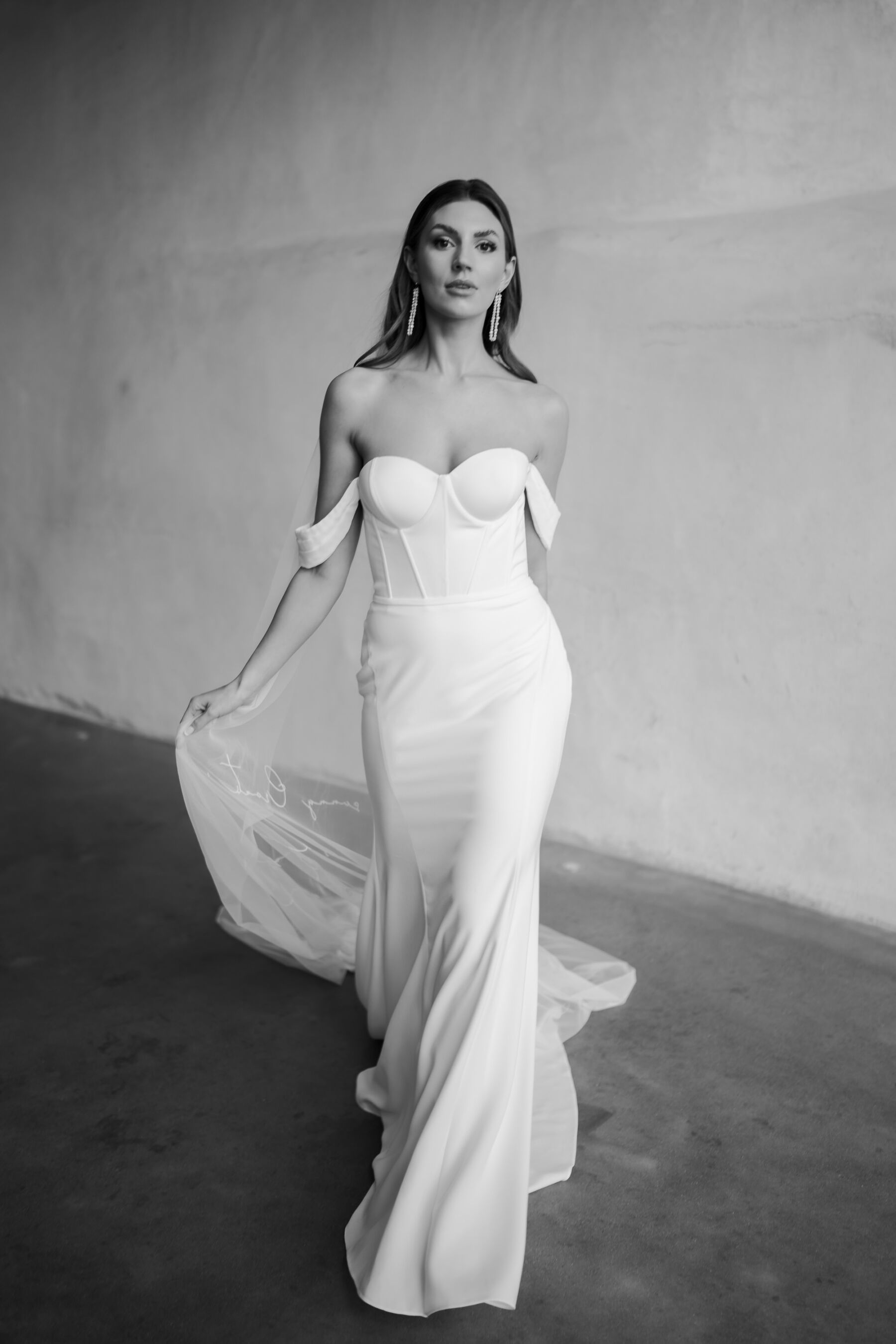 How do you incorporate personal touches, such as monograms or meaningful motifs, into your designs?
I offer a range of design and investment levels to suit every bride's needs, from simple and elegant designs to truly bespoke and intricate creations.
For those who want something simple yet stunning, I offer embroidered initials or names along with the wedding date, either as a centrepiece on the bottom edge of the veil or stitched where the veil falls by the bride's left-hand fingertip, perfect for capturing those special wedding ring photos.
But where I really shine is in my signature artwork. I specialise in continuous line art designs for a modern and elegant finish. I work closely with each bride to incorporate meaningful elements into their veil design.
For example, some brides have a particular flower that holds special significance for them, such as a beloved family member's favourite or a flower from their heritage. Others want to include meaningful sayings or quotes that have been special to them throughout their relationship. As I design and create everything myself from start to finish, it is easy for me to include additional personalisation into the artwork such as their wedding date – some brides have even asked to have their family dog hidden among their florals!
One of the most sentimental additions I offer is tracing the handwriting of a loved one. This can be a beautiful way to include a special message or even the signature of someone who cannot be there on the day, bringing them closer in spirit to the celebration. Whatever the design, every veil is a true labour of love, created with care and attention to detail for a one-of-a-kind masterpiece that the bride will cherish for a lifetime.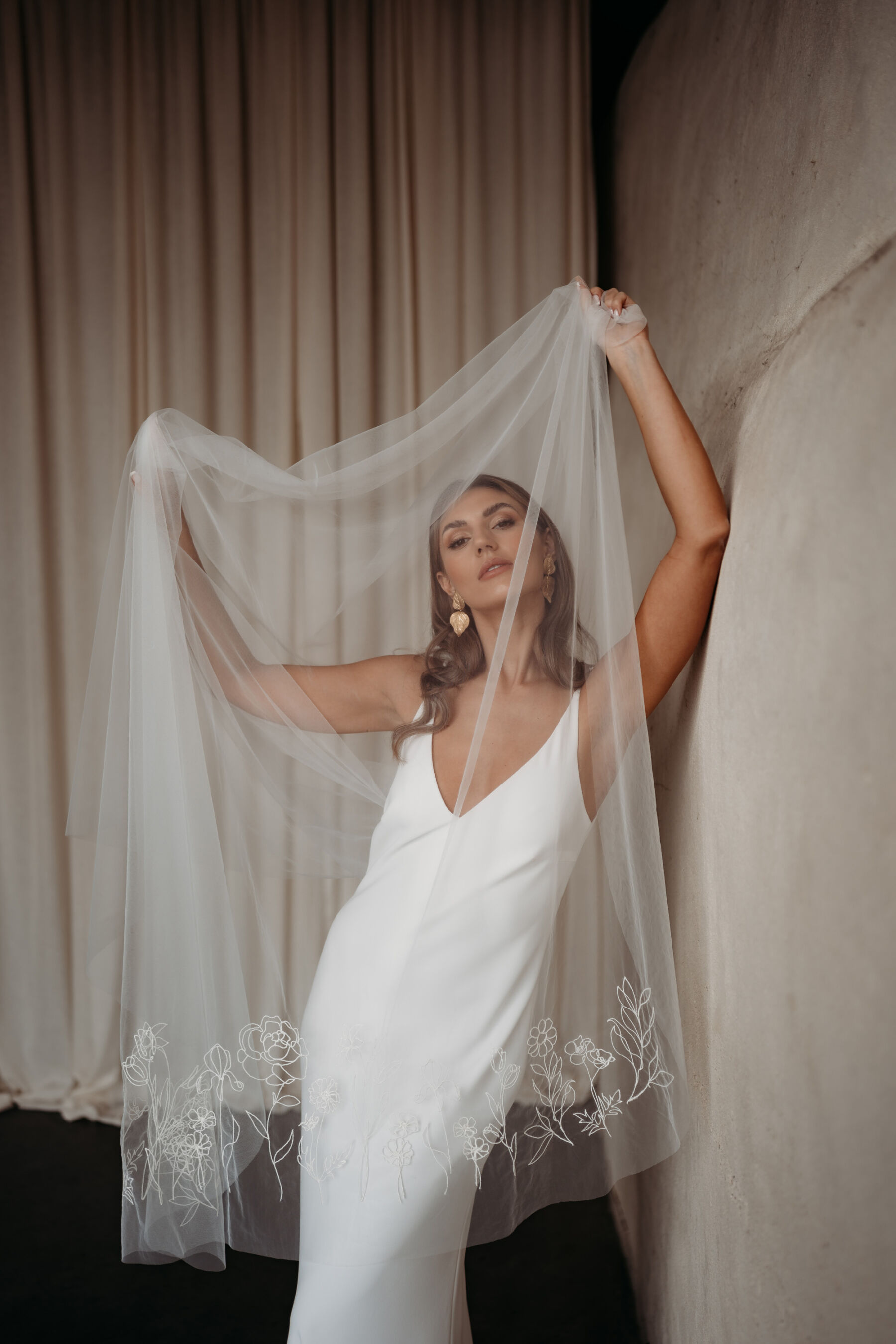 How do you stay current with trends in the wedding industry while still maintaining your own unique style?
As a designer, I'm fortunate that my brides keep my work fresh and current. They come to me with new and unique ideas for veil designs that challenge me and inspire me to create something special – this ultimately then inspires my future brides. Each bespoke veil is a trend of its own, tailored to reflect the bride's personality and unique bridal style.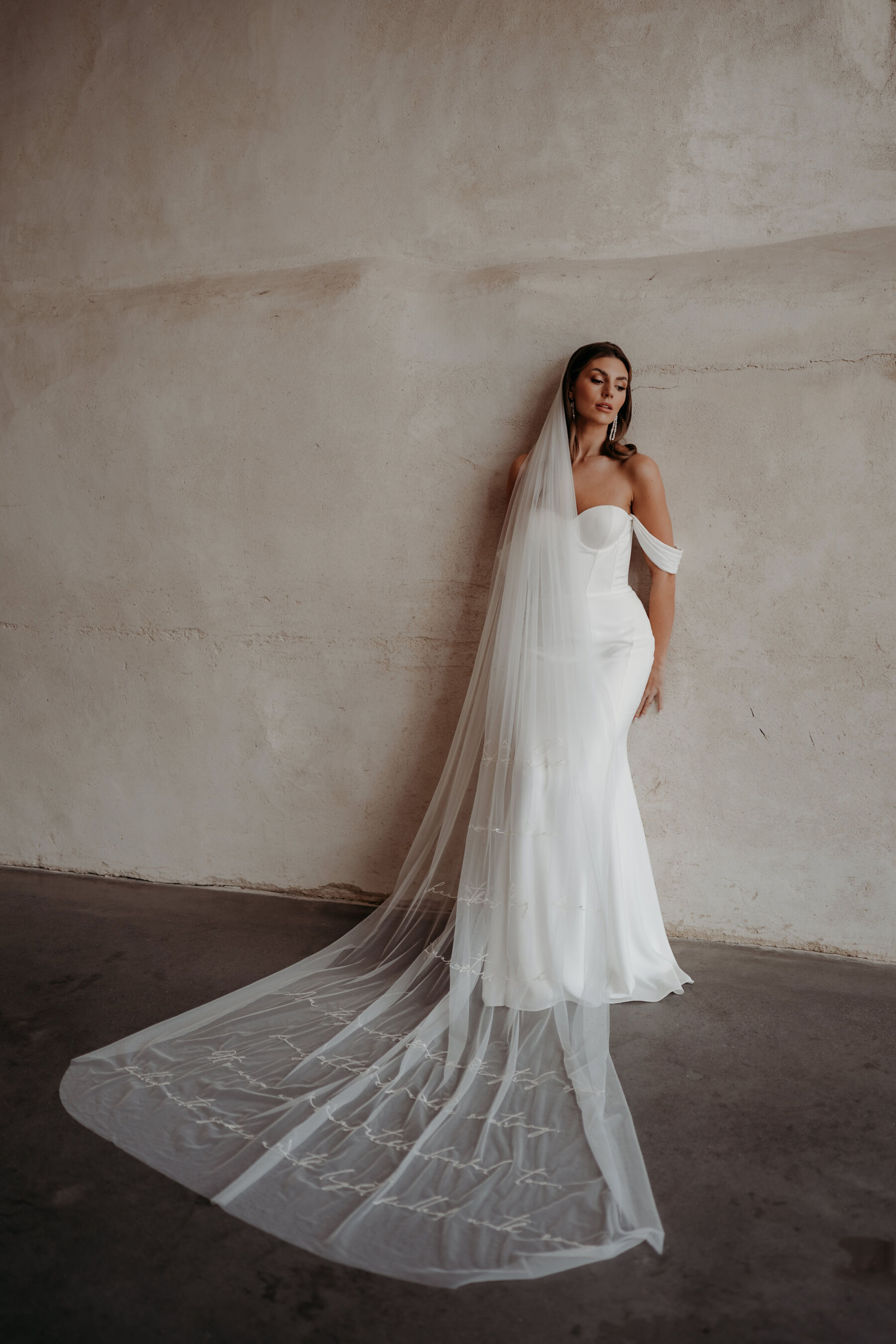 Tell us about these beautiful images captured with photographer Kamila Nowak
During the recent shoot, my main goal was to refresh my website and branding, as well as highlight my unique artwork. As a designer of bespoke wedding veils, each bride presents a new challenge and brings fresh inspiration to my work. I pride myself on creating one-of-a-kind pieces that truly reflect the bride's individual style and personality. Over the years, I have honed my signature artistic style, using continuous line art to bring my brides' visions to life through embroidery.
For this shoot, I wanted to debut a new capsule collection that would inspire future clients. I focused on showcasing the different ways in which design elements can be incorporated into a veil, highlighting the personal and meaningful aspects that make each piece so special. To capture the luxury aesthetic of my veils, I collaborated with Kamila, a talented photographer whose editorial style and warm tones perfectly complemented my designs.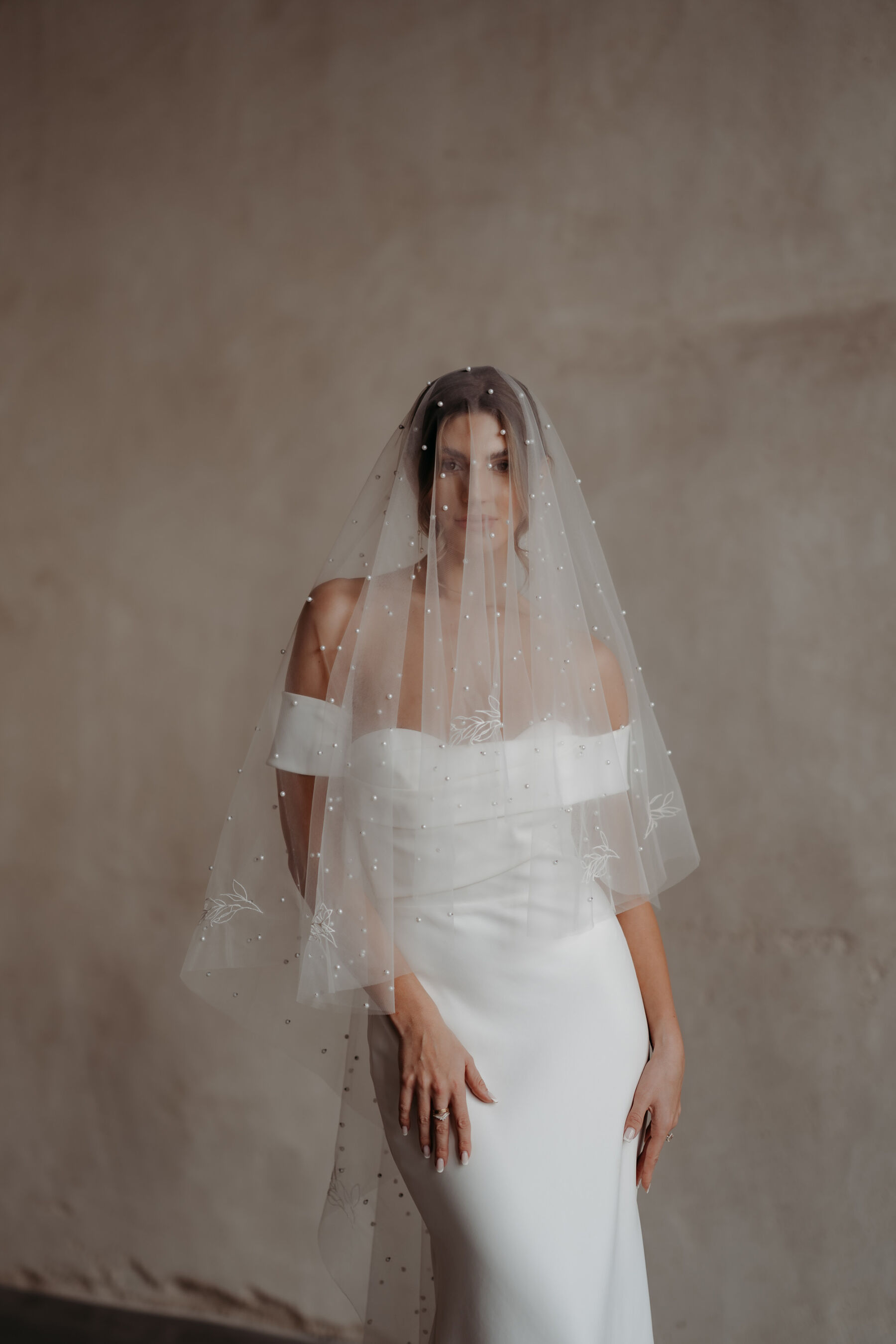 What advice would you give to brides who are considering a custom embroidered wedding veil?
When it comes to designing your wedding veil, it's easy to get carried away with the endless possibilities. However, it's important to stay true to your own style and vision for your special day. As a designer, I love working with brides to incorporate personalised touches that are both meaningful and unique to their love story.
Whether it's a subtle detail or a bold statement piece, I always enjoy discussing the options and helping brides find the perfect veil design that truly represents them.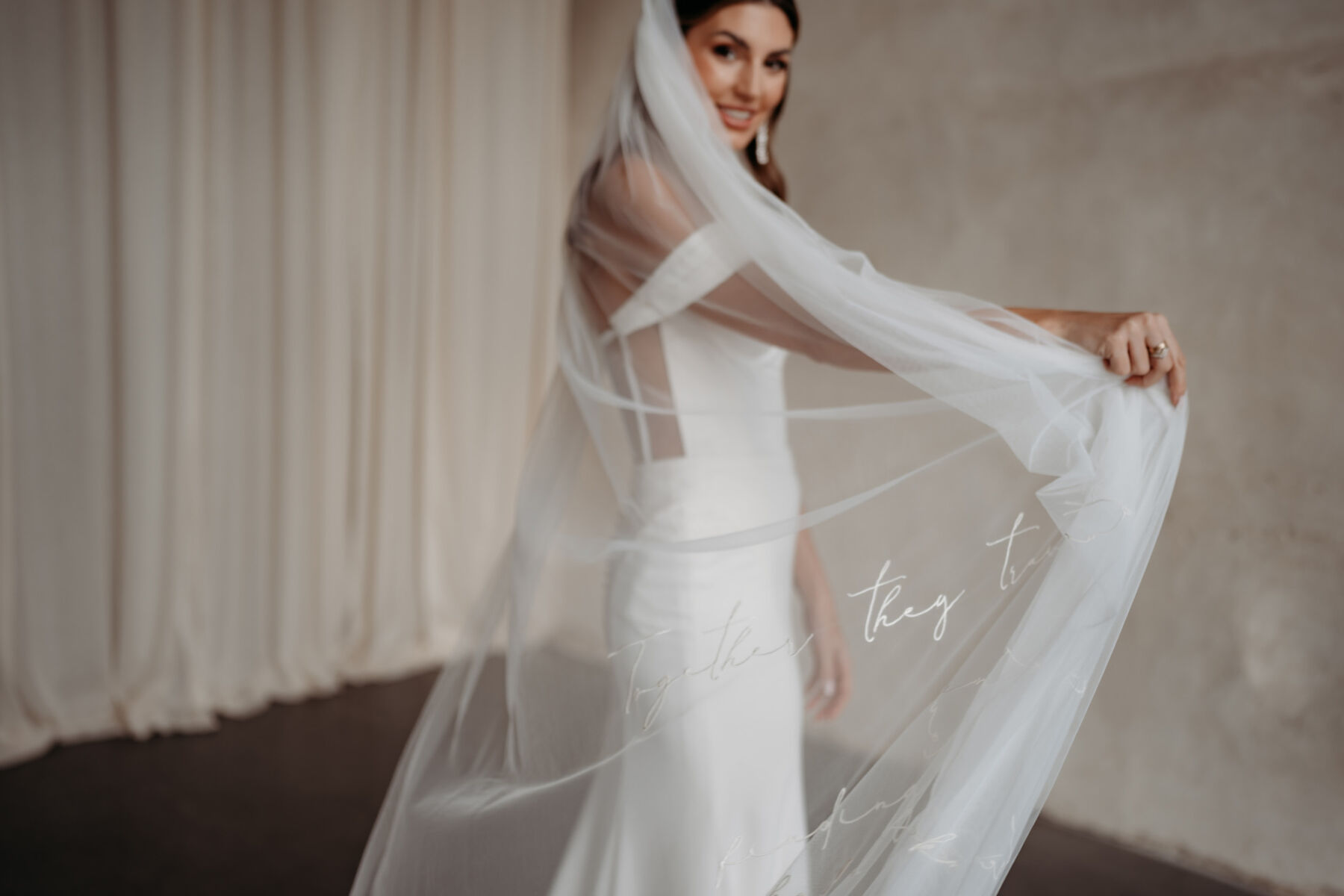 rebeccaannedesigns.co.uk