Solicitor Charlotte married Software Developer Curtis on 11th March 2023 at the beautiful Merchant Hotel in Belfast, which was followed by a casual get-together on day two of a weekend long wedding celebration.
The bride wore a head-turning bridal gown by Pronovias, with exaggerated ruffled sleeves, YSL heels, and a variety of designer jewellery, but her best most beautiful accessory in our view were her fabulous pair of glasses. It's not often you we see a bride owning this gorgeous look – I hope Charlotte inspires many brides worrying over whether to wear their specs or not!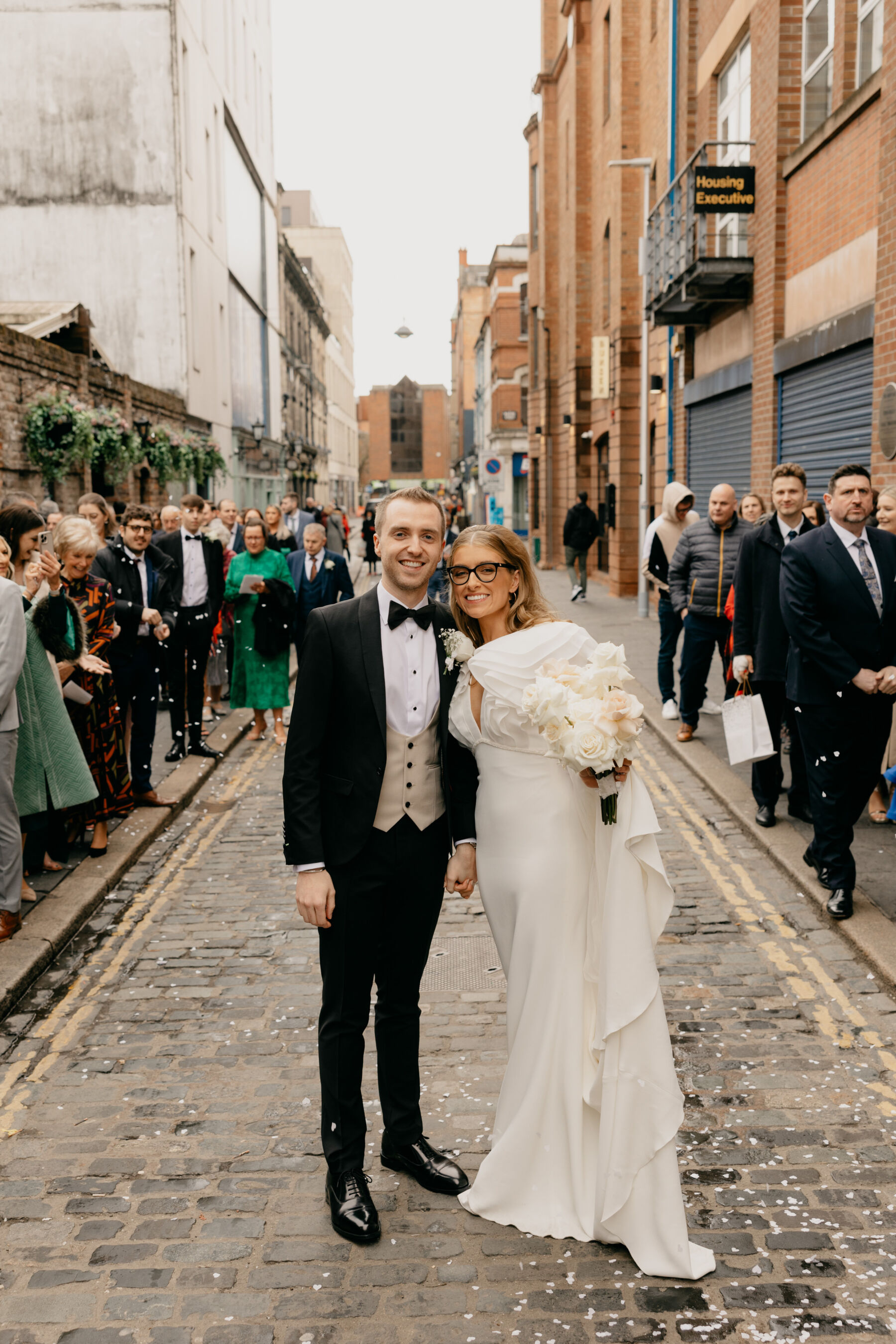 How They Met & The Venue
Although we have both lived in London for six and a half years, and considered having a city wedding there, both being Northern Irish and having our families based in NI, it made sense to have it at home. We knew we wanted to maintain the city theme and make it as convenient as possible for those landing in Belfast having travelled from London.
When looking at the city centre Belfast options, the Merchant was a clear winner (and was the only venue we actually visited) due to its style and reputation. Ultimately the team's professional yet personable service, and attention to detail, were outstanding.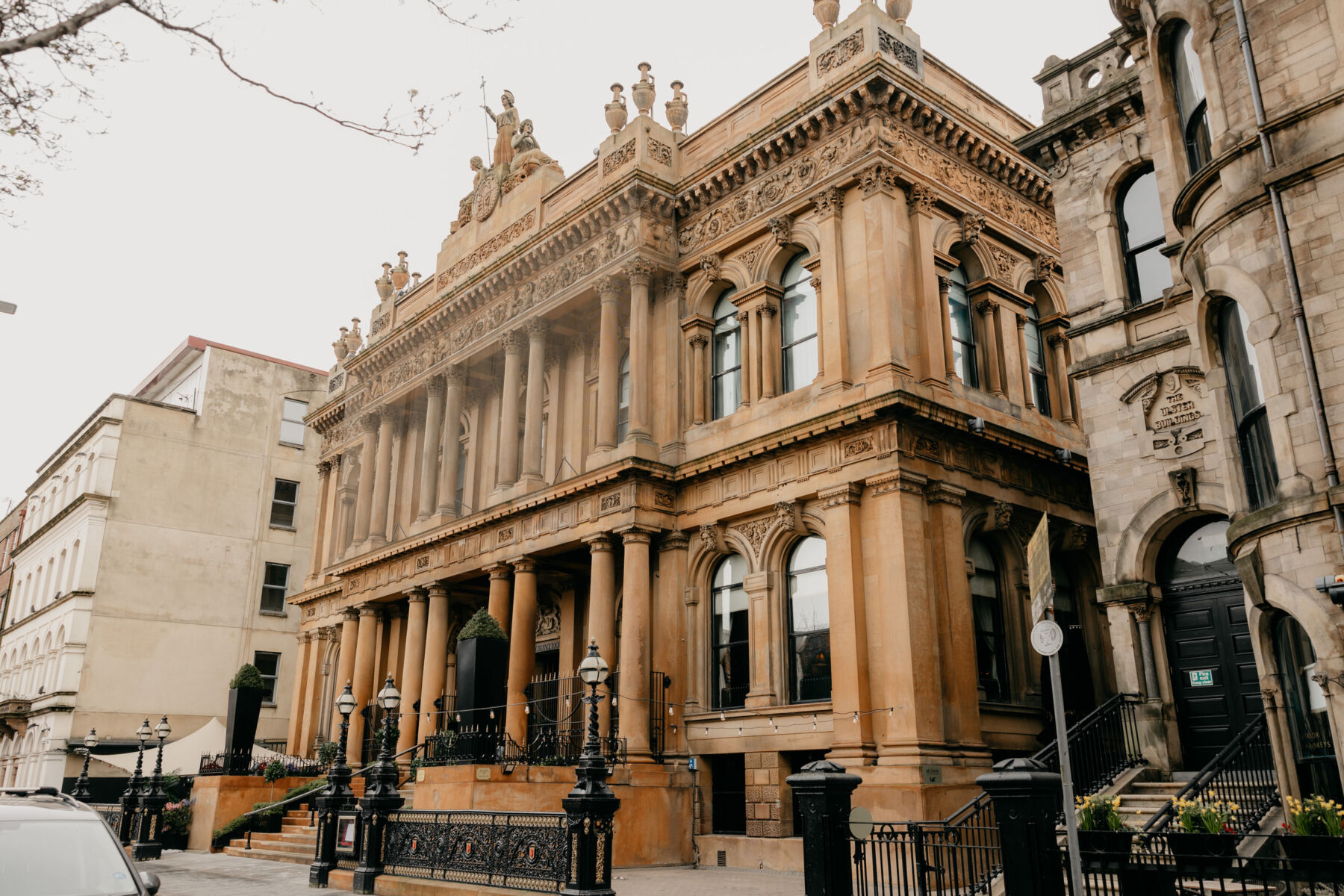 Shoes, Veil & Accessories
Despite my initial protestations about not having a veil, being encouraged (read forced) into trying one on in the shop, I changed my mind. I went with a Pronovias silk veil which was cathedral length and without any trim or embellishment.
My shoes were YSL Jodie in black – not your standard bridal shoe, but I fell in love with these shoes the moment I saw them, and having gone to some effort to track them down, I simply couldn't resist pairing them with my dress. I felt the rose worked well with the drama of the dress and the colour allowed me to incorporate black details into my outfit which I feel helped compliment my glasses that I wear daily, and ultimately the black, floral earrings that I wore on the day. 
Being a lover of jewellery, I wore: black rose petal earrings, a Van Cleef & Arpels vintage Alhambra pendant gifted by Curtis on the morning of the wedding, a silver bangle borrowed from my mum (something borrowed), a Monica Vinader Keshi Pearl bracelet from my bridesmaids on the morning and a gold Ania Haie bracelet from my auntie also gifted on the morning. I don't believe in only wearing silver or gold, so it all worked for me, but the mother of pearl which featured in three of the pieces nicely tied it all together.
Curtis and I decided we would choose a particular, unisex fragrance so that we would wear the same scent on the day. We wanted to be able to create that nostalgia when you smell something in years to come, and so we thought let's go for something neither of us usually wear and double up so we both have that connection with the smell. We went for Penhaligon's Babylon having had lots of fun on our shopping trips to suss out our favourite.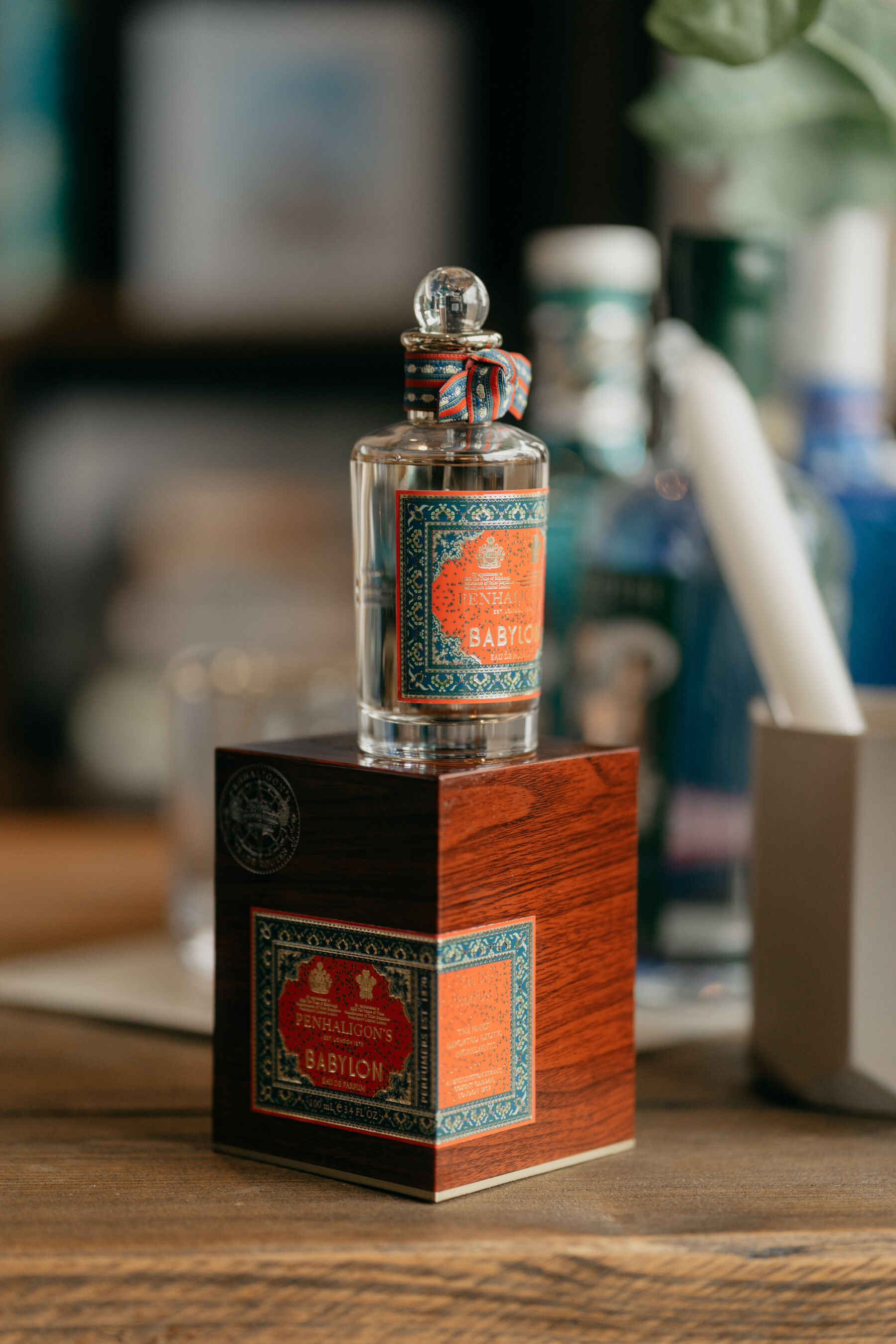 Bridesmaids and Flowergirls
I knew from the moment I saw this dress in Reiss that I'd love my bridesmaids to wear it. It was totally my colour scheme (with a bonus of the little pop of black detail on the shoulder) and I knew it would suit all of my bridesmaids in terms of shape and colour.
I also love anything asymmetric. Setting aside the frantic attempts to source a largely out of stock dress, it was perfect.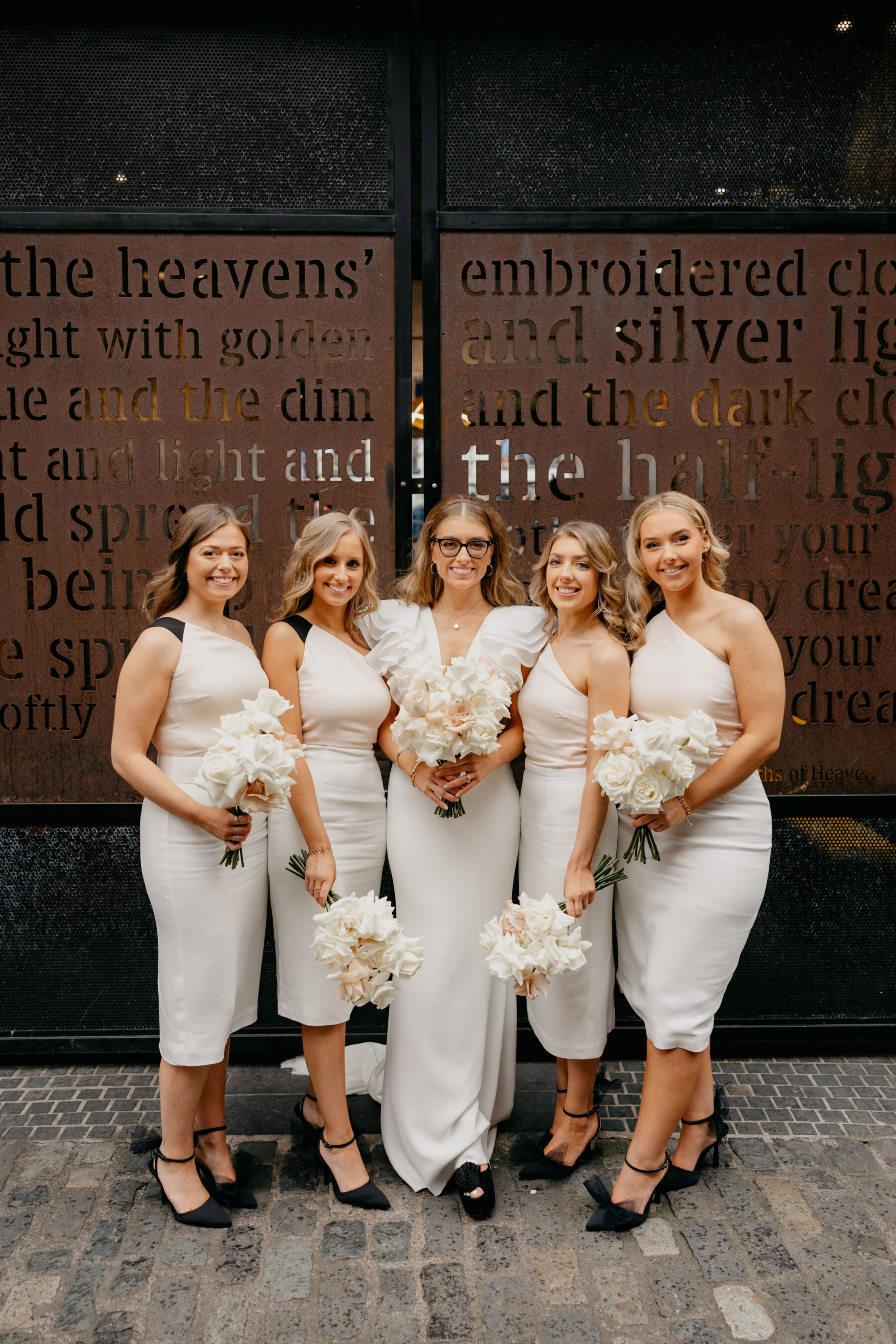 The Groom
Curtis wore a black, shawl lapel suit. From the outset, I loved the idea of men in a shawl lapel jacket (but not a dinner jacket which usually features a satin trim/lapel). May sound simple but we spent months trying to find one to fit the bill. Just as we were about to give up hope we came across Twisted Tailor which had seemingly the only one in the country.
Accompanying the suit was a neutral coloured Reiss waistcoat which I had actually picked out before the suits. We love a neutral theme and it really helped tie the bridal party together. Curtis wore a scooped waistcoat and the other men wore a standard six button cut. 
The men's ties were a similar neutral tone, also from Reiss, whilst Curtis opted for a black Reiss bow tie. The shoes were from Samuel Windsor.
Curtis gave each of the men a set of cuff links personal to them – picture among them little wine bottles, F1 cars and PlayStation controllers. Curtis also wore a silver Tiffany bangle which I gave him on the morning of the wedding.
A Humanist Ceremony
Whilst the concept of 'giving me away', felt a little outdated, it felt right that both my parents were by my side for such a big moment. So that's exactly what we did, to the sound of 'If I Ain't Got You', by Alicia Keys.
As part of our ceremony we had our baby flower girl being pulled in a cart (arranged by my maid of honour and carefully painted by my Dad) by our older flower girl down the aisle. We were at first hesitant to this as we didn't want it to appear silly but we are so glad we just went for it. It was the sweetest thing and any giggles were in admiration of the total cuteness! The flower girls entered to 'How Sweet it is to be Loved by You' before Alicia keys started for the bridesmaids.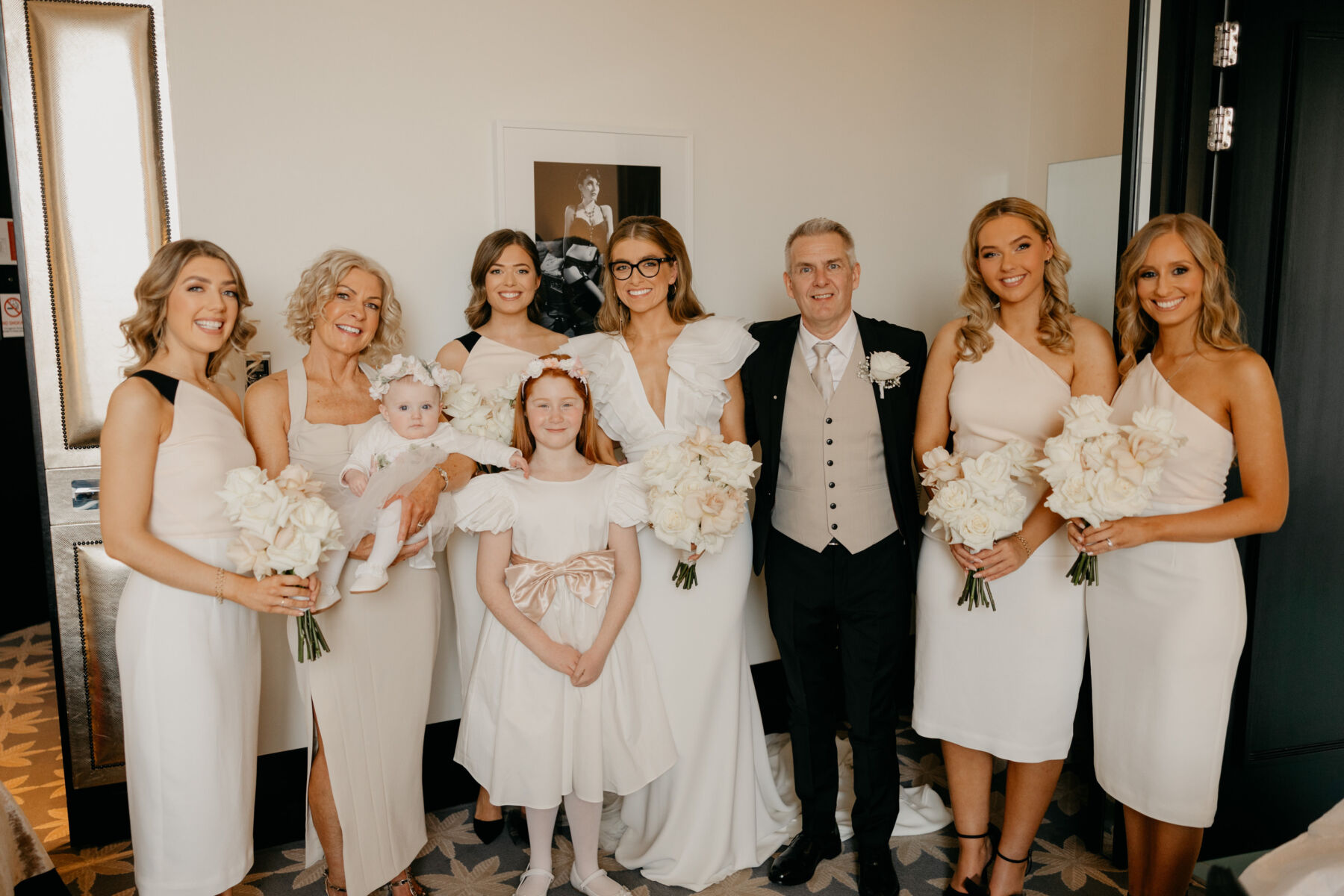 Photography
Our photographer was Iain Irwin. Having worked with Iain previously (and having attended the same school!) we were familiar with his talents of capturing beautiful, natural images and what a nice guy he is. His approach on the day was great (an aspect of the day which shouldn't be underestimated!) and he took on board all of our requests.
He struck the right balance of going with the flow of the day but ensuring he got the job done in terms of which images needed capturing. The images we have seen so far are perfect; natural, colourful and reflecting the fun and love on the day.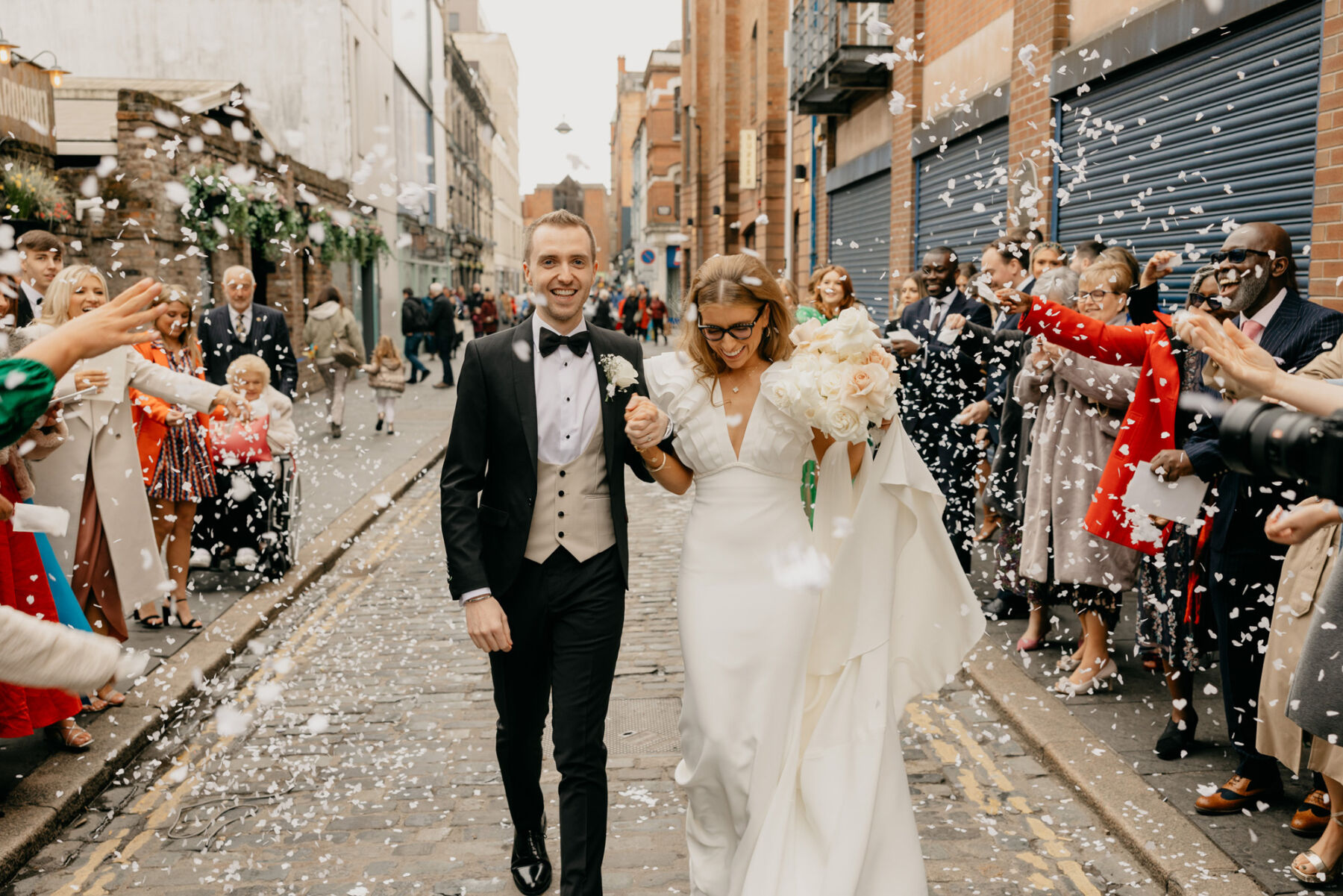 Flowers
I knew early on that I wanted white roses. Gill from Flowers by Mee's instagram caught my eye as her designs were unique and so luxurious. After explaining our vision she really took it and ran with it, creating a masterpiece and following discussions incorporated a little dash of blush pink to the bouquets.
Gill inspired us to really go to town with the flowers on our backdrop frame (which I discuss below) which transformed it wonderfully. She was an absolute joy to work with.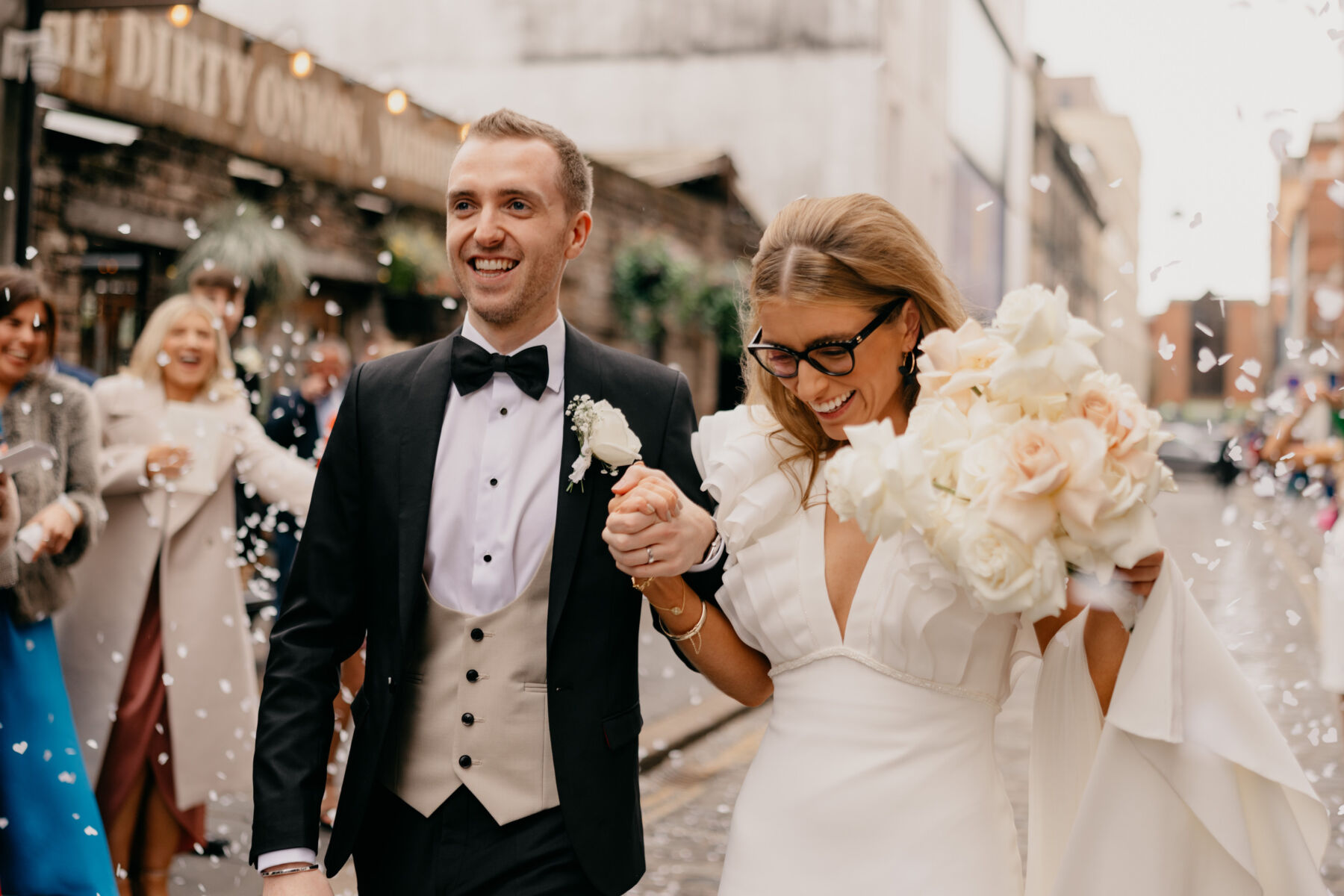 Drinks Reception in Belfast City Centre
Our drinks reception was held in a separate venue, namely a bar, The Dark Horse, just around the corner from the Merchant. The setting and service were just fabulous with the soundtrack was provided by Acoustik. This was such a great way to break up the day and some people's favourite part! The walk there with all of our guests and lots of confetti was a blast too. As we conveniently got our bridal shots just outside , it meant no one was away for hours getting photographs taken and could stay with the fun of the roaming band.
The canapés for our drinks reception were provided by The Yellow Door which were very yummy (so I've heard, I didn't actually have a moment to have any!).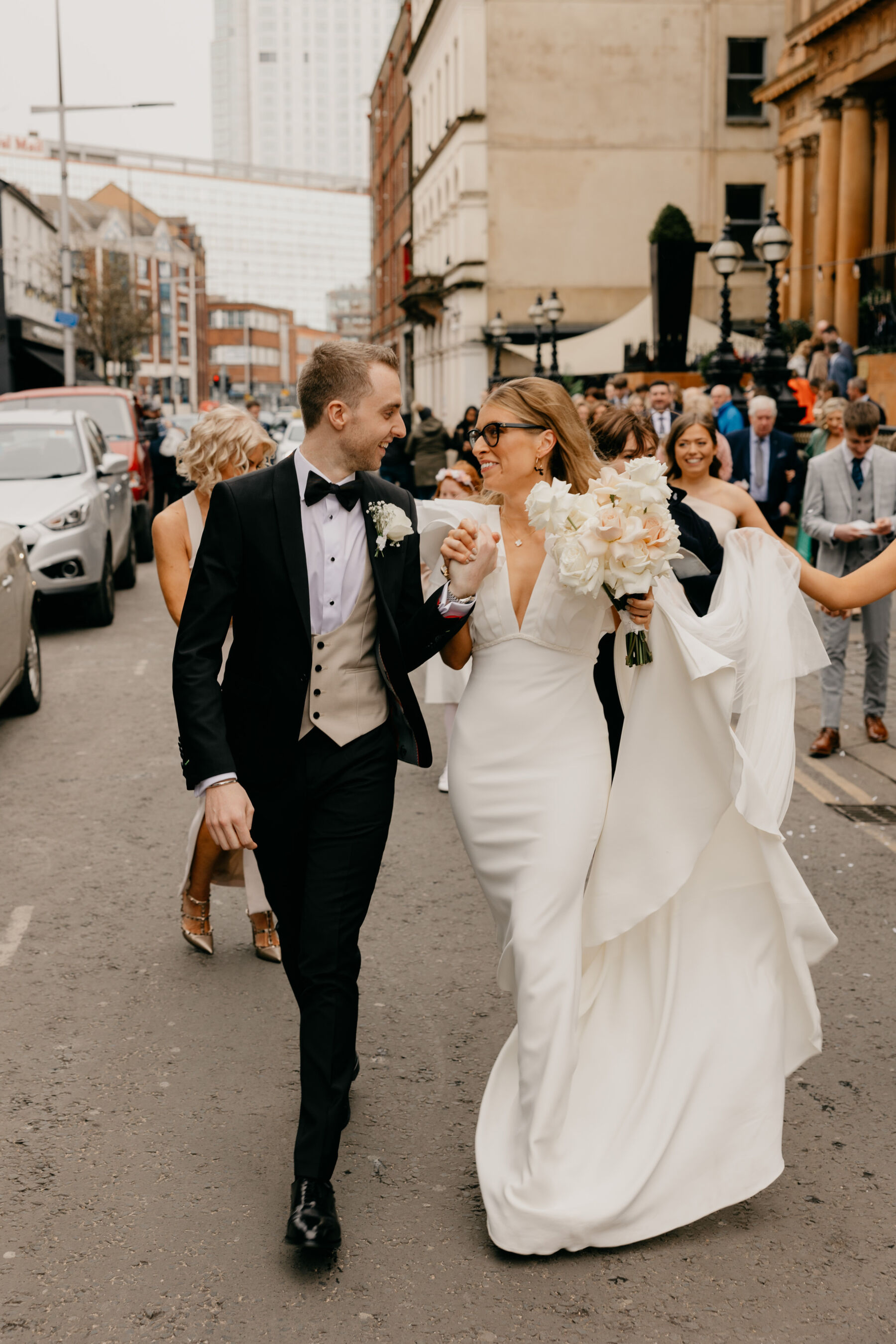 First Dance
Having heard Acoustik UK play in London around four years ago, I followed them ever since and knew they needed to entertain our guests at our wedding.  It was everything and more! We had a four piece roaming band featuring vocals, saxophone, guitar and percussion.
They played at our drinks reception and then had everyone dancing in between courses which was an all round favourite on the day! They then did a set in the evening before our DJ.
Our first dance was to 'Thinking of You' (a Sister Sledge track, but mixed by our DJ, Max. The thought of having a slow dance in front of 120 ish people gave us both anxiety and so one night dancing in our kitchen we decided on this fun bop! We worked with Max and he opened the floor with a saxophone feature before welcoming us both to dance. We were then joined by everyone. It was so much fun and much less distressing than a ballad!!!!     
The Saxophone Player also doubled up as our DJ in the evening and also went down a treat. What else can you ask for but mega cool saxophone playing DJ!? 
Words of Wedded Wisdom
From day one we envisaged a loving, fun and relaxed day, and so it made sense to have this mindset during the planning. We kept reminding ourselves of this throughout and refused to let inconvenience or something not going exactly to plan ruin the vibe. I'd say that we also kept the planning and the day itself exactly to suit us and reflect who we are as every day people. It's a very special day, of course, but it should reflect the best version of yourselves and shouldn't stray into unfamiliar territory just because it's a wedding.
If something (or someone) doesn't quite fit into that, then don't settle! I think our humanist ceremony helped set the tone of the day as we got to share such an insight into our values, relationship, commitment to each other and the days ahead, which we then carried throughout the whole day. In some ways our day may have looked a little different to other weddings, but was filled with fun, love and happiness and was 'us' in every way.
I'd also add that some of the details in our day took a lot of time and effort that other people may prefer to outsource. There were moments we questioned ourselves doing it but looking back it was worth every single second. So for those taking the same approach, don't give up!
At the risk of sounding a little shallow and with the caveat that I have no regrets, I would spend a little time touching up my hair and make up before getting our couples' shots. I hadn't brushed my hair or fixed my make up since it was done around 8am and a ceremony, drinks reception, and walk in the rain later, I could have been a little tidier.
On the day, however, it didn't cross my mind and so it would have been good to have set aside a few mins beforehand. 
In a similar vein, I wish my veil had been fixed a little when I turned the corner to walk down the aisle as its full effect was lost. I share these points so that it may help another bride plan accordingly!