On 28th March 2023, Love My Dress recommended wedding venue, The Royal Society of Arts (RSA House), welcomed some of the UK's leading wedding industry professionals to 'Weddings without Compromise'.
This beautiful and considered afternoon was designed to showcase how weddings can be more sustainable and specifically what RSA House, its catering partner, Company of Cooks, and its recommended suppliers are doing to help reduce their carbon footprint and promote sustainability in the wedding industry.
Steeped in history, with its graceful Georgian architecture, stunning interiors and stylish spaces, RSA House is gorgeous choice for a quintessential London wedding. A short walk from the River Thames, Covent Garden and Trafalgar Square, RSA House boasts an unrivalled location in the heart of Central London with 11 unique event spaces, all different in style and size. RSA House offers exclusive use of the entire House for weekend weddings, allowing guests to be transported from room to room on a journey throughout their wedding day.
We spoke with Amanda Azarian, Wedding Executive at RSA House to find out more about this event and what efforts this sublime London wedding venue are making to move towards providing more eco-friendly options for classy and sustainable weddings in the heart of the city.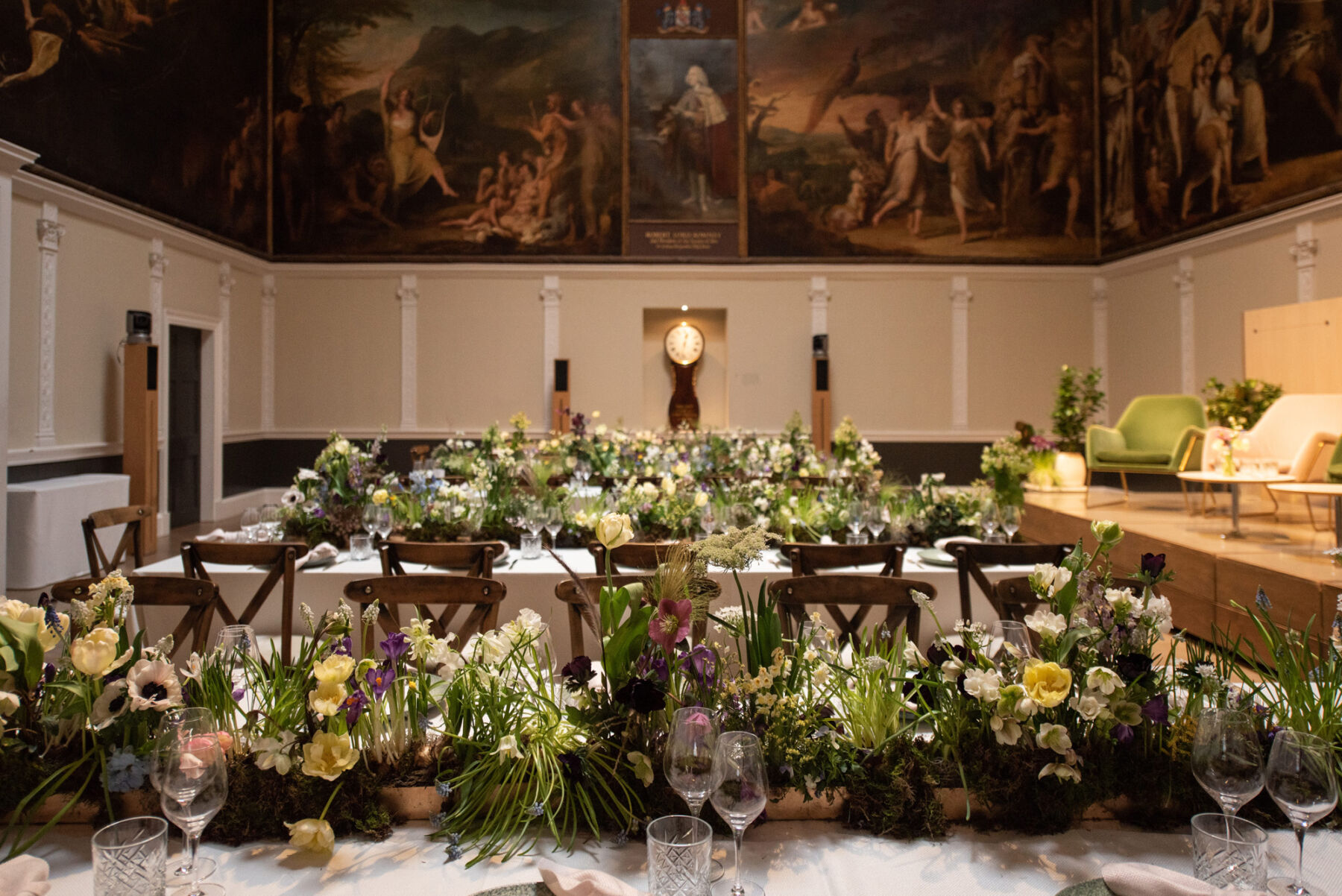 Please tell us about your campaign to host sustainable weddings in London
RSA House is home to the Royal Society for the encouragement of Arts, Manufactures and Commerce, a social change organisation dating back to 1754. We believe in a world that is resilient, rebalanced and regenerative, where everyone can fulfil their potential, and therefore sustainability has always been a focus for us.
But even more so this year, as we continue to grow the weddings business, we believe that we have a responsibility to encourage our couples to do what they can to reduce the carbon footprint of their wedding and to help protect the planet for future generations. To do this we are thrilled to now be offering a Sustainable Wedding Package, which, at its core, targets one of the largest contributors of greenhouse gas emissions (which cause climate change) – the food.
Earth Friendly & Sustainable Wedding Food: Vegan & Plant-Based, Vegetarian & 'Better Meat & Dairy'
Our Sustainable Wedding Package offers couples a menu where they can choose from fully plant-based, vegetarian or, what we like to call 'better meat and dairy' options. Couples will be spoilt for choice with our catering partner, Company of Cooks at the helm – they will be taking a step towards protecting the planet without compromising one bit on creativity, taste and presentation.
Our Sustainable Wedding Package offers couples a menu where they can choose from fully plant-based, vegetarian or, what we like to call 'better meat and dairy' options. Amanda Azarian, RSA House
The menus are truly seasonal and use local ingredients, where possible. The package also offers a selection of wines that are all organic, biodynamic, and sustainable. This menu will help to reduce the carbon footprint of the wedding and as a venue that provides in-house catering, is one of the key ways we can make a difference.
Reducing Waste in the Wedding Industry
As a venue, we are also taking large steps to commit to a greener future including reducing the overall waste produced by our weddings, including food waste, and reducing the carbon footprint that we leave behind. Couples will enjoy the benefits from these changes solely by holding their wedding at RSA House.
The events industry and weddings in particular generate a huge amount of waste each year, and according to The Sustainable Wedding Alliance, this averages nearly 1/3 of a metric tonne of solid waste produced and 14.5 tonnes of carbon dioxide emitted per wedding! Our planet cannot survive if we continue to follow the same model we have in the past and so we believe it is our job as industry professionals to make some changes.
As the wedding business continues to grow at RSA House, we recognise that we must be a part of the change. It is therefore our priority at RSA House to promote sustainability in the weddings and events industry, and we are taking some big steps in 2023 and beyond to tackle the issue, including engaging in a number of green initiatives to help the environment and minimise our impact on it.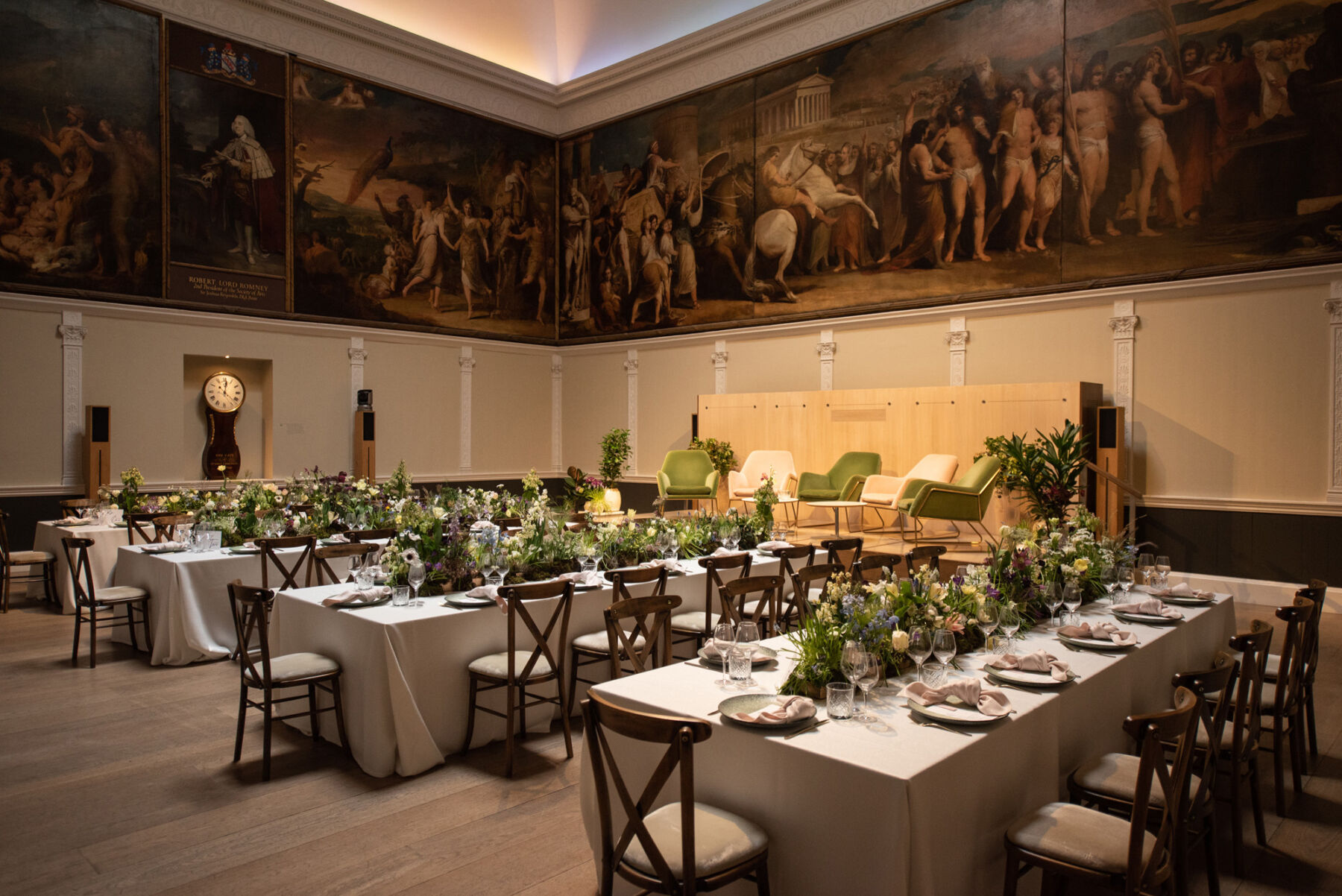 Reducing The Carbon Footprint of Weddings
Last year the RSA launched a new strategy, Design For Life. This is the north star of the organisation and will see the RSA unlock opportunities to regenerate our economy, society and environment and to enable people, place and the planet to flourish. A few commitments that RSA House has already made include:
Having a target of net zero for 2025, with all waste oil collected and turned into bio diesel and all food waste collected by Greener than Green which is then used to produce green energy.
And speaking of green energy, our very own kitchen is run on 100% green energy with no gas appliances.
The entire building has also gradually been converted to the use of LED lighting, with many of these on sensor timers, to reduce electricity consumption.
Upcycling and reusing furniture where possible.
Replacing carpet, only when and where necessary, with new carpet made of discarded fishing nets from some of the poorest communities in the world. The nets are recycled into new yarn for carpet tiles.
We also encourage plant-based menus where possible.
Hosting more sustainable weddings is another way that we can continue to play a part in reducing our carbon footprint and help to leave the planet a better place for future generations.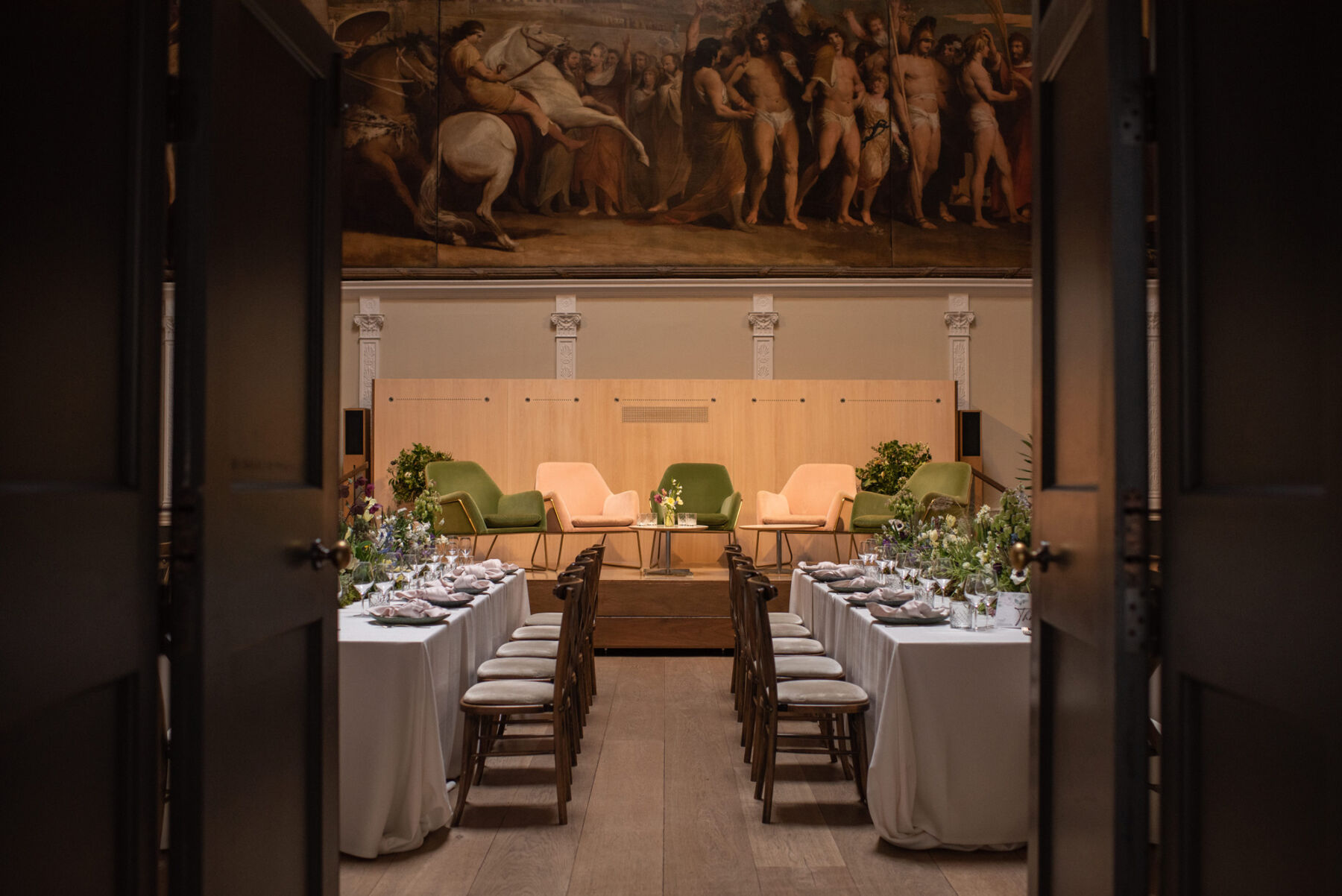 Working with Eco-Conscious & Sustainable Wedding Suppliers
It is increasingly important to work with suppliers who share your values and are equally driven to contribute towards a greener more equitable future for people and planet. This is central to everything we do, and we feel it should be echoed by the suppliers that we work with.
Starting with our very own in-house catering partner, Company of Cooks, who believe food should be as sustainable as it is stylish and are proud to have been awarded three stars from the Sustainable Restaurant Association. They also hold Environmental Standard and Energy Management certifications, a Good Egg Award from Compassion in World Farming (CiWF) and are members of the Marine Conservation Society.
Their menus are packed with plant-based choices prepared with creativity, skill, and flair so there is no compromise when it comes to food. Finally, they work hard to help their venues achieve their zero carbon and zero waste goals. This includes partnering up with schemes such as Olio, Too Good to Go and Neighbourly to distribute surplus food to communities and individuals.
Each and every supplier that we worked with for our 'Weddings without Compromise' (see details at end) event puts sustainable and ethical practices at the forefront of their businesses. This is why we will be continuing to recommend them as our preferred suppliers for the Sustainable Wedding Package.
What are 'weddings without compromise'?
'Weddings without Compromise' means that a couple can have their dream wedding without compromising the planet to make it happen. Couples should not have to sacrifice, or compromise on the beauty, style, or experience that they have envisioned for one of the most important days in their lives, in order to host a more sustainable wedding. We want to show them that they do not have to.
It does not mean that they must have a fully plant-based menu or cut back on their floral dreams to play their part. Merely taking some small steps, like carefully considering each supplier they choose and that supplier's sustainable and ethical practices, will go such a long way. Michelle Miles, Founder of The Sustainable Wedding Alliance put it beautifully when she said, "it is all about progress over perfection" and this is the message that we are hoping to convey.
Wedding Ceremony & Reception Spaces at RSA House
RSA House provides a stunning backdrop to both ceremonies and receptions. Couples and their guests are sure to be delighted as they explore this spectacular property, with corridors filled with art and the aura of its rich history. The venue boasts a choice of elegant event spaces to suit the style of any couple.
The Benjamin Franklin room is licenced for civil ceremonies of up to 100 guests and can accommodate up to 150 guests for receptions. Boasting high ceilings embellished with a Troika chandelier, this room overlooks The Strand, providing a truly remarkable view as day turns to dusk.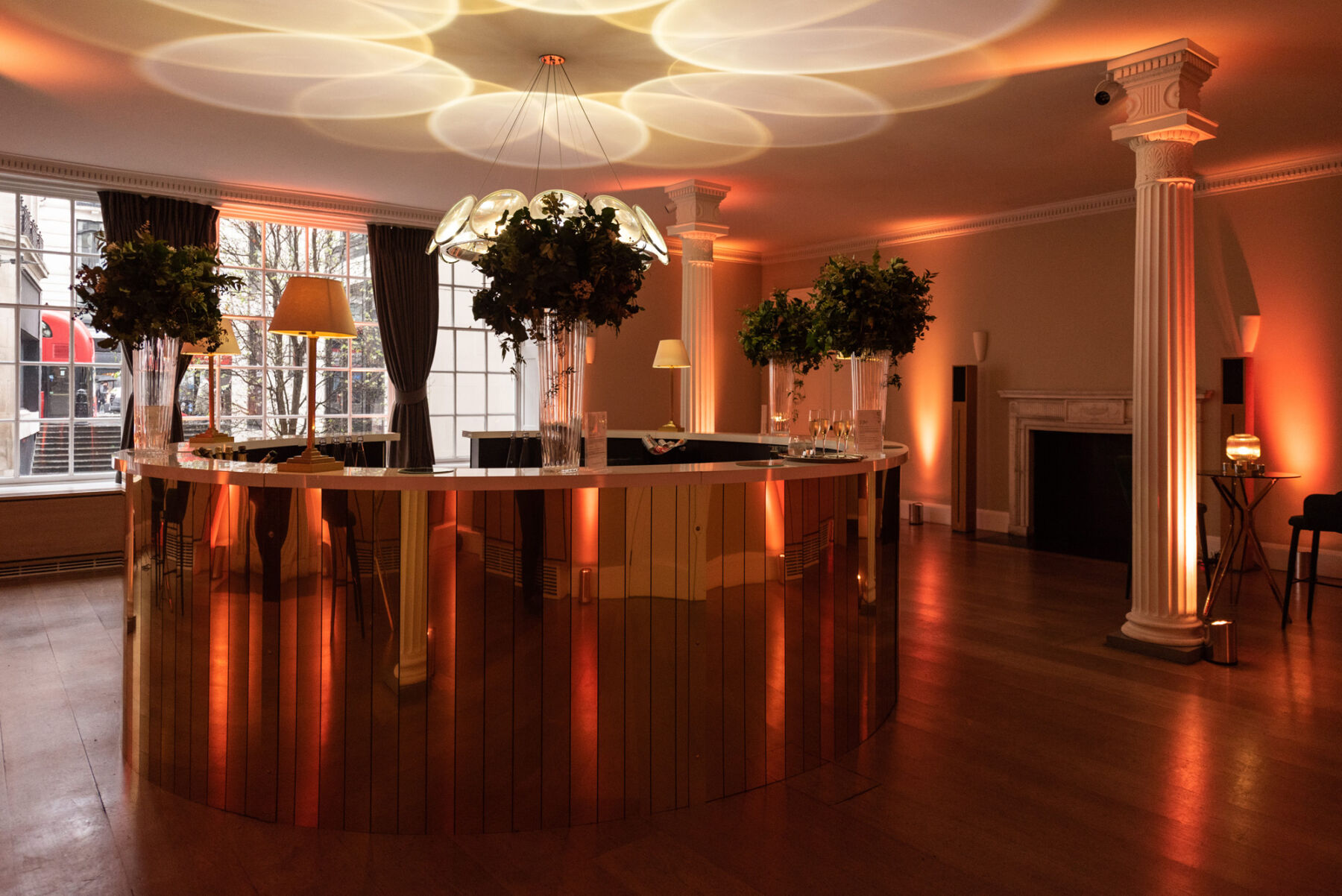 Couples who are hosting a larger event might prefer The Great Room, which can accommodate up to 150 people for ceremonies. It is also our favourite space for wedding breakfasts and can host up to 130 guests for a seated meal. This room is covered with incredible artwork and was the space where the celebrated Alexander Graham Bell first tested the telephone. There may be no windows in the Great Room, but you would never know with the amount of natural light that streams through the beautiful central glass dome. Watch this space completely transform from day to night.
Contemporary couples might opt to celebrate their day in The Vaults, which were once used as the building's wine cellar. Originally fronting the Thames, the Vaults' interconnecting rooms feature arched ceilings and exposed brick walls and offer a remarkable illustration of modern style in a historical setting.
They can be used for the entire wedding day including a civil ceremony for up to 40 guests or be kept a secret for your guests until the evening after party with a live band or DJ awaiting guests to dance the night away. The Vaults can hold up to 220 guests for a standing reception.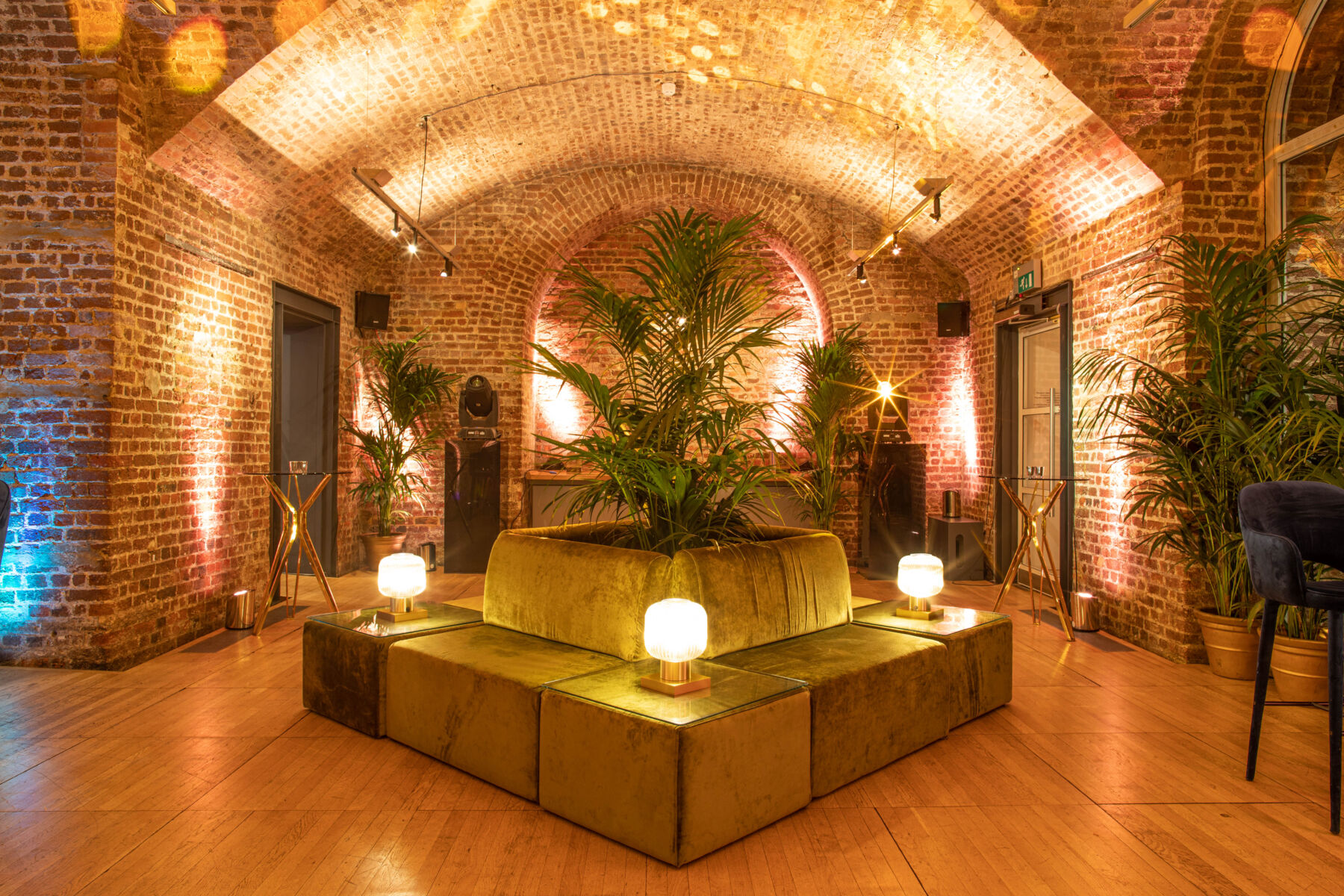 Why should couples book their wedding at RSA House?
Weddings are a passion of ours and are what we love most and do best. The venue is incredibly versatile (winner of the most versatile London venue award at the 2021 London Venue Awards), and our service and catering is second to none which is what has enabled us to maintain consistent positive feedback over the last two years as we have rebuilt the business following the pandemic.
When you get married at RSA House you get to take your guests on a journey from the modern, simplicity of the Benjamin Franklin room with its one of kind chandelier, to the breath-taking Great Room surrounded by 18th century paintings, to the exposed brick, subterranean Vaults which is the most perfect space to dance the night away.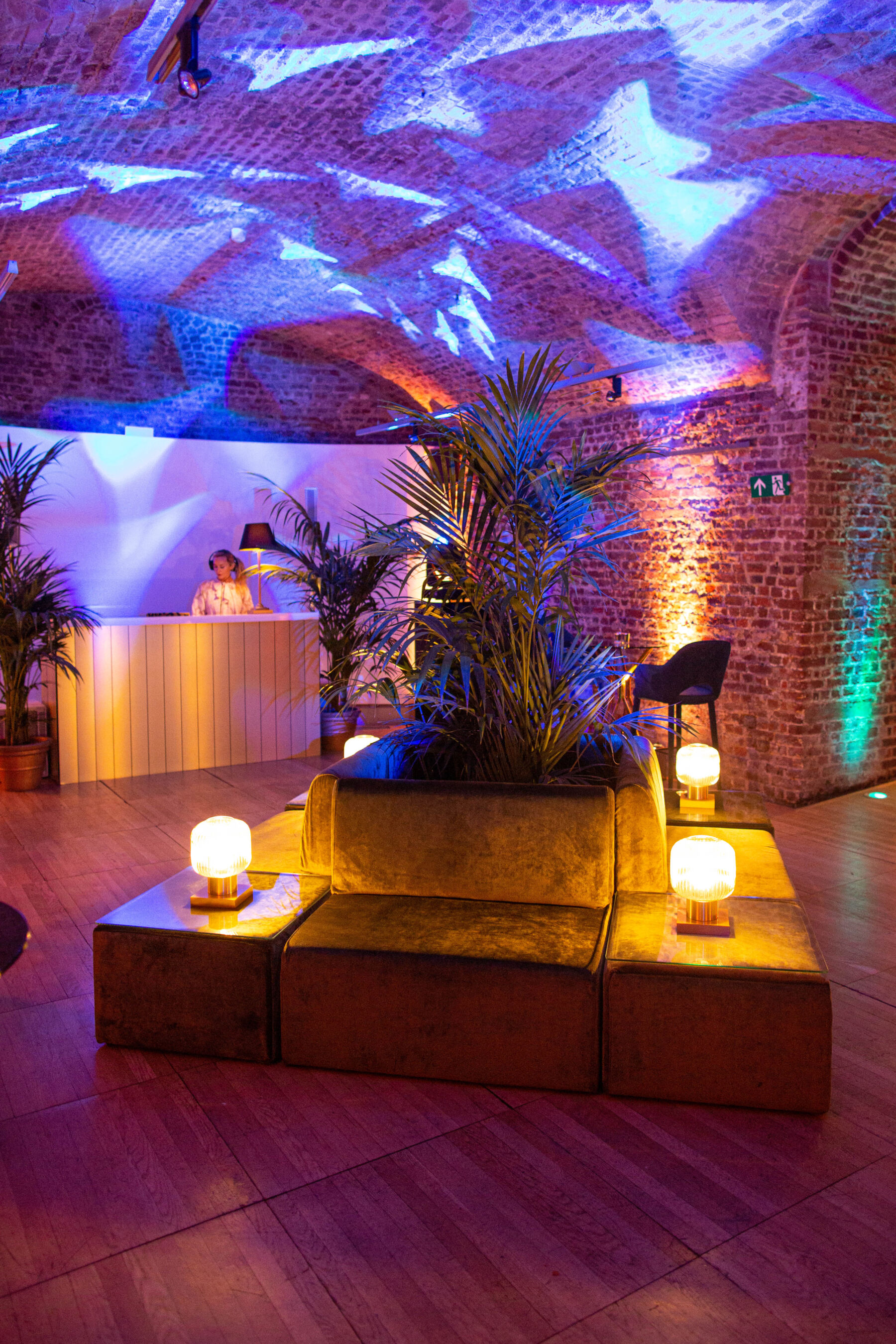 At RSA House, you also get the expertise, guidance and knowledge from a wedding venue coordinator who will be your point of contact throughout the planning process to help with all venue and catering-related questions. The venue coordinator will also be there on the day to coordinate the wedding and make sure everything runs smoothly.
Weddings are more than a passion for me, and it is my mission to make sure that every couple I work with feels as comfortable and secure in the planning process as possible. I don't just want couples to have their dream wedding, I want the entire experience from their initial enquiry to booking to the wedding day to exceed their expectations in every way. A couple's wedding day is meant to be one of the best days of their lives and I work tirelessly to make sure our couples feel just that. There is nothing that gives me more joy than seeing a couple enjoying every moment of their wedding day without any stress and knowing that I played a small role in that happiness. RSA House Wedding Co-ordinator
Weddings held at RSA House provide a vital source of income for the RSA charity, as 100% of the profits that come in from all weddings and events held at the House are directed straight back to the charity which is committed to delivering social impact and creating an equitable and greener society for all.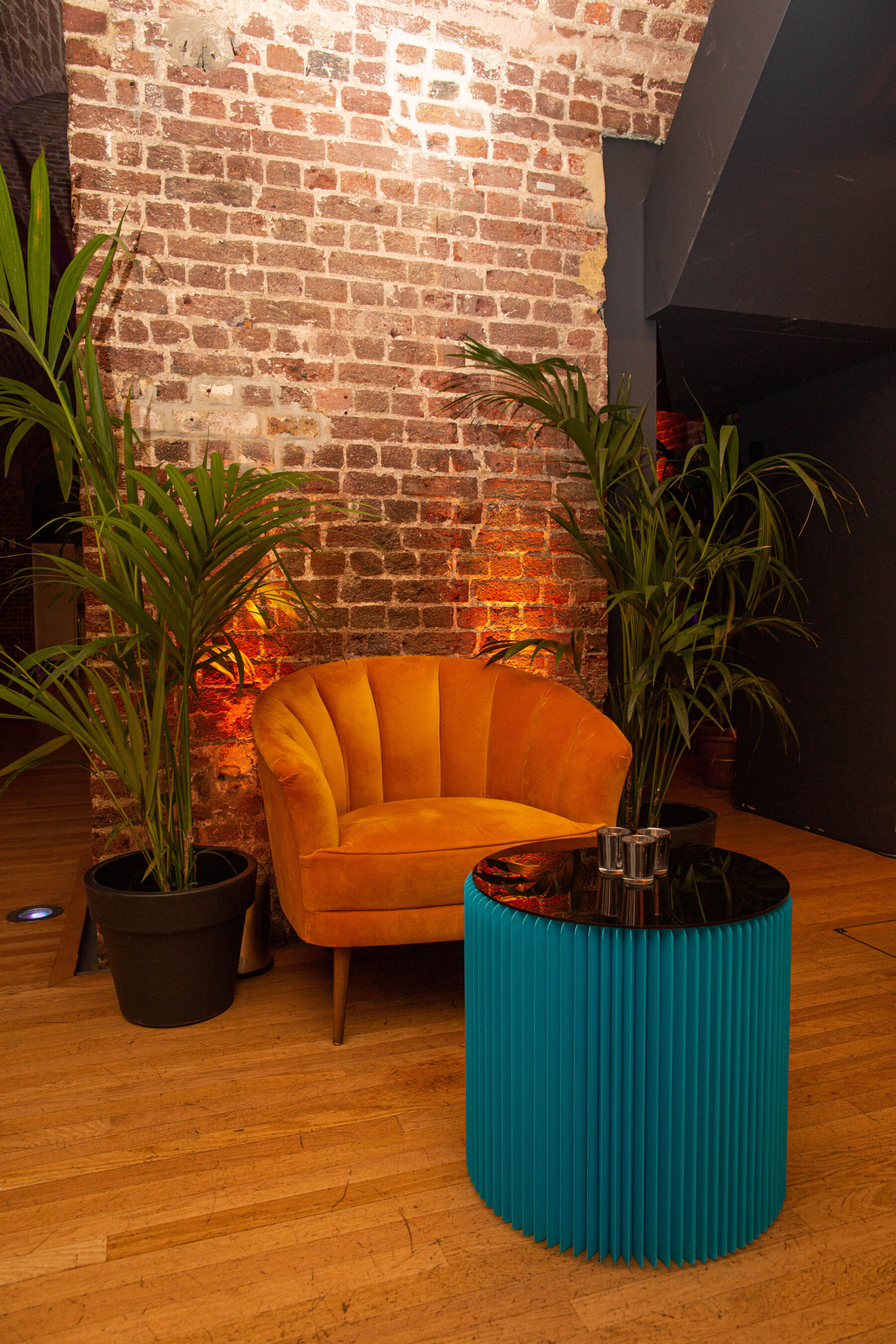 Tips for Hosting a Sustainable Wedding
We are working to compile some top tips for couples to think about when they are planning their weddings. We can't control everything when it comes to someone's dream day, but we are excited to share some great advice that we have gained over the years, including most recently from our 'Weddings without Compromise' panellists.
The panellists offered a wealth of information: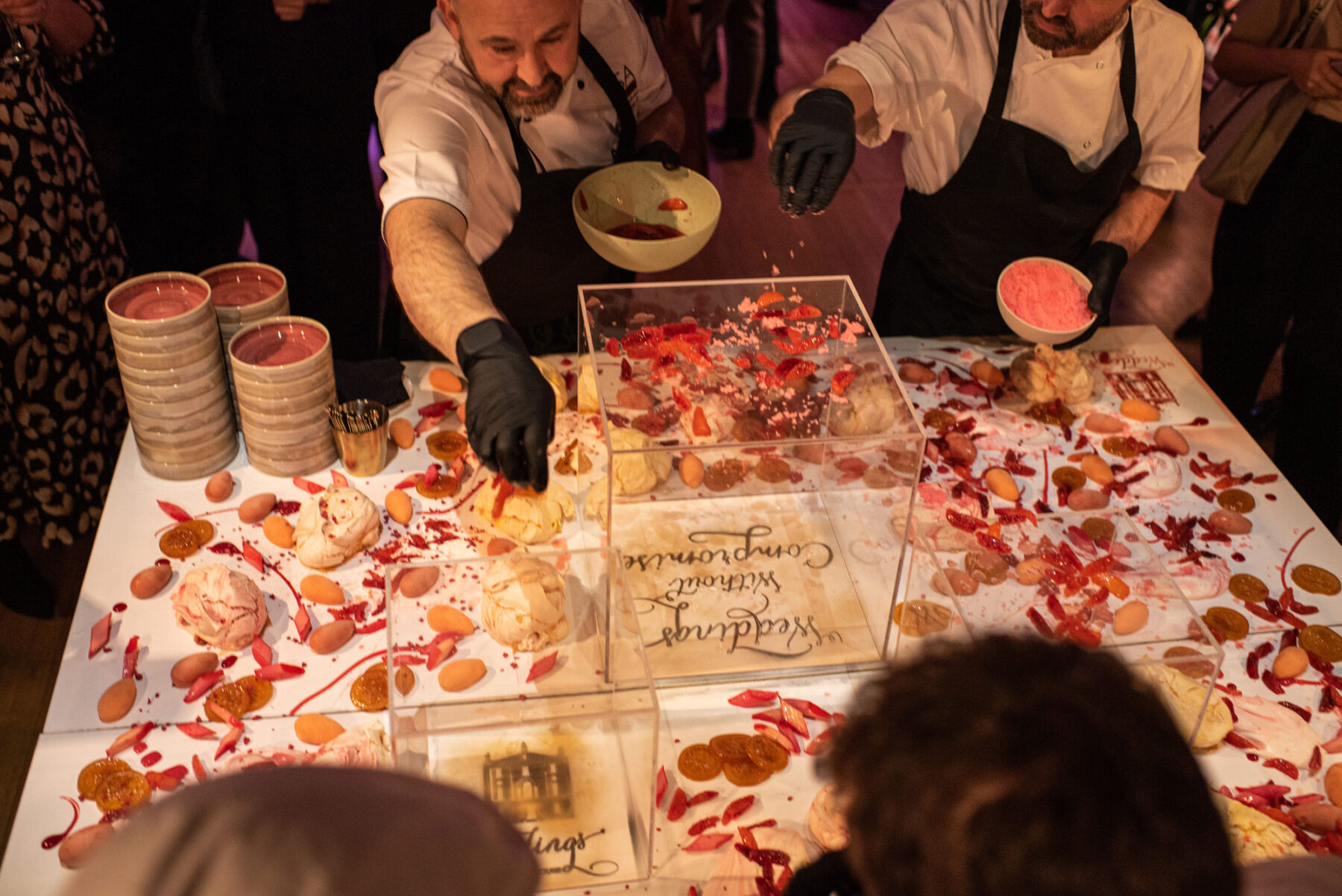 And finally, can you tell us more about what your guests experienced at your 'Weddings Without Compromise' event?
Of course! As guests walked through the doors of RSA's beautiful Georgian Town House, they were greeted with local English sparkling wine (Albury Vineyards, Surrey Hills Cuveé, Brut NV) sourced by Ellis Wines and the smooth sounds of live jazz by Black Tie Jazz, a Blank Canvas entertainment band. As guests mingled with industry friends in the Benjamin Franklin room they feasted on delectable plant-based canapes designed by in-house Executive Chef Darren Archer from RSA House's catering partner, Company of Cooks, which included:
Jersey royal potato, pea cream, tarragon cress
Cauliflower bhaji, mint chutney, spring onion
Sweet potato falafel, crispy fried onion, chilli veganaise
Guests then moved to the Great Room, RSA House's iconic flagship space, steeped in history and surrounded by 18th-century paintings. The Great Room was originally used as an assembly room for the Society Members' discussions and debates and as a venue for the presentation of awards and prizes. One of these prizes was used to plant an estimated 60 million trees, to fund inventions that would not otherwise have been profitable, and to find plants or minerals that could be the basis of new industries.
The room was beautifully adorned with florals by Hayford & Rhodes, and guests were able to enjoy a delectable lunch of Roast Isle of Wight tomato and fennel tart, summer herb and tomato puree, horseradish, and crispy capers, designed and prepared by RSA House's talented Executive Chef, Darren Archer, from RSA's catering partner Company of Cooks.
The finest organic wines from Ellis Wines were carefully selected to pair with the dish (Bianco di Custoza, Azienda Agricola Gorgo, Veneto, Italy 2022 and Bardolino Rosso, Agricola Gorgo, Veneto, Italy 2021). The table scape was complete with linens and tableware from Well Dressed Tables and sustainable, plantable stationery from Laura Likes.
After being served tea and coffee from Union Coffee and Hope & Glory Tea, it was time for the main event. A panel of industry professionals took to the stage to give their insight and discuss how beautiful weddings come to life without compromising the planet or vision.
The panel included Zeleka Nadine Hall (Founder of The Wedding Day Coordinators), Michelle Miles (Founder of The Sustainable Wedding Alliance), Clare Clark (Head of Sustainability at CH&CO) & Simon Powys Maurice (Business Development Manager at Ellis Wines) and was hosted by RSA House's resident Wedding Executive, Amanda Azarian.
Finally, guests moved down to the exposed brick subterranean Vaults, where cocktails from Edmunds paired with a showstopping eton mess smash dessert table awaited them, along with soothing DJ sounds from Velvet Entertainment's resident DJ Lindy Layton and luxury furniture and production from Velvet Living and Velvet Entertainment.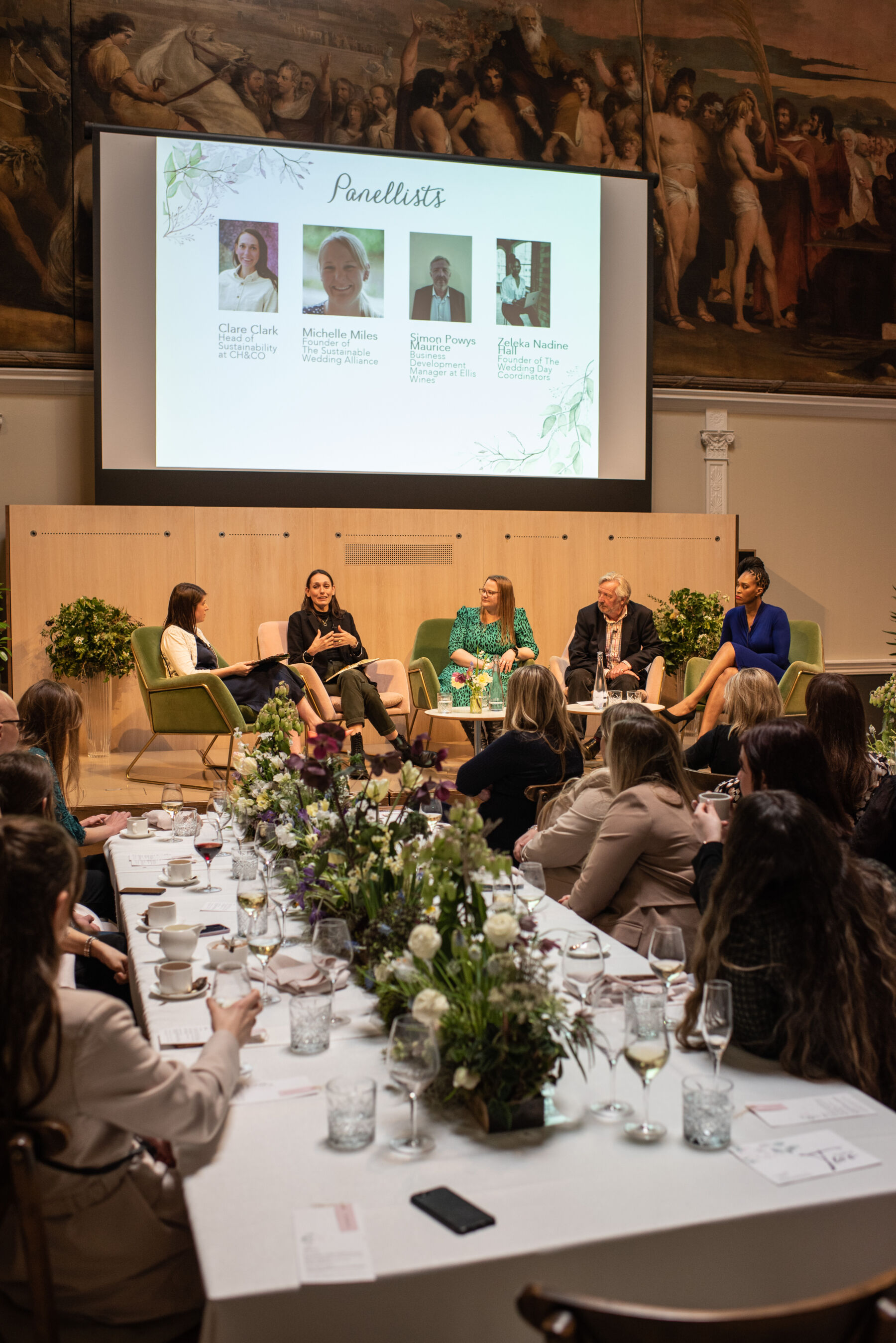 'Weddings without Compromise' Event Supplier Credits
thersa.org