A Modern & Non Traditional Barbican Wedding, for Kate in a Halfpenny London Gown & Cape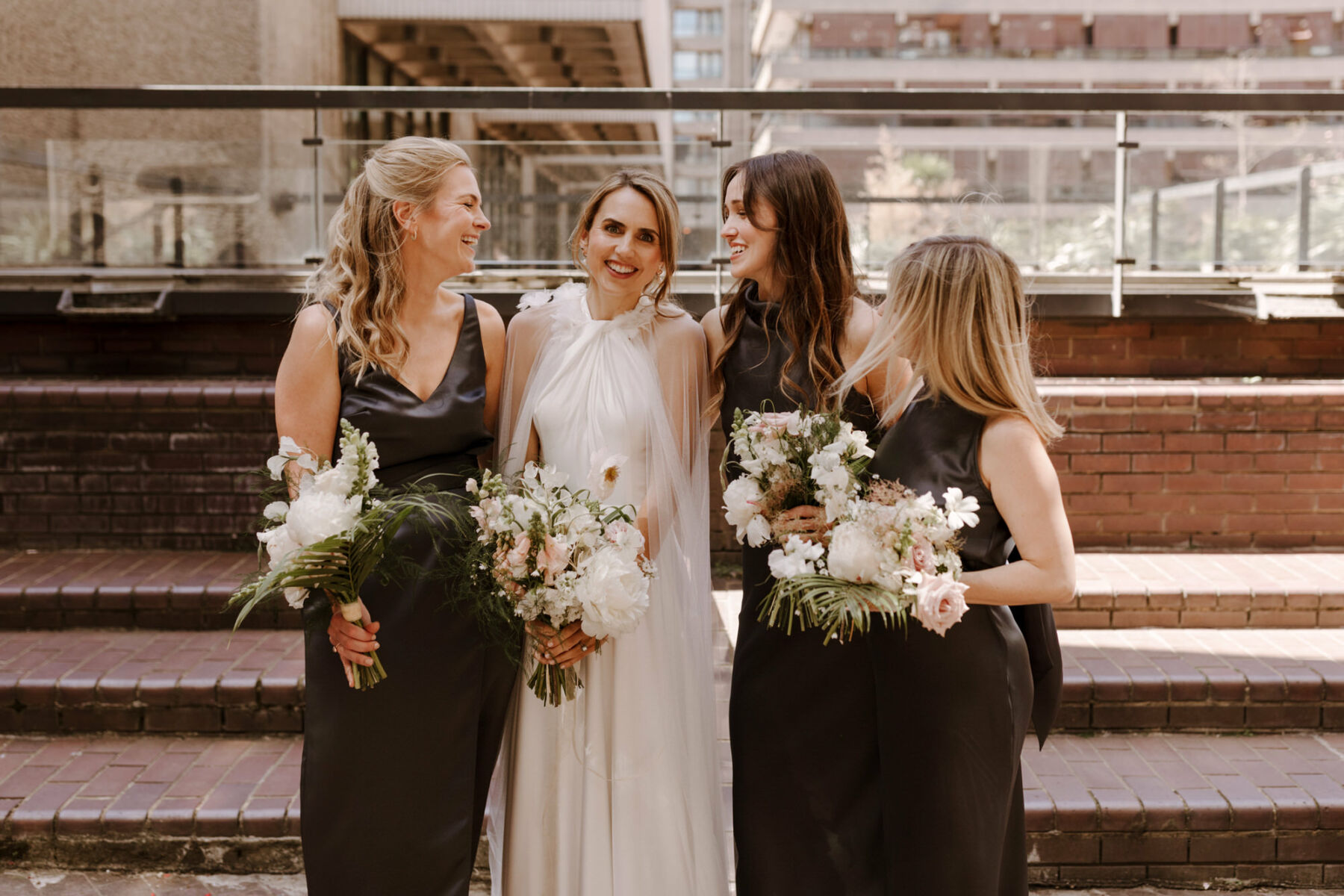 Womenswear Buyer Kate, married Travel Business owner Toby on 27th May this year, at The Barbican Conservatory in London.
The couple wanted an unconventional, non traditional wedding – a day that felt relaxed and modern. It was important to both bride and groom that their day reflected them both us as people, as well as their love for travel and design. They set out to maximise the time everyone could spend socialising and having fun together and minimising the formalities.
Kate looked absolutely resplendent in the Halfpenny London 'Cedar' Dress and 'Campagne Cape'.  Shout out too for the wonderful Portraits Bridal team who provided expert bridal hair and makeup on the day.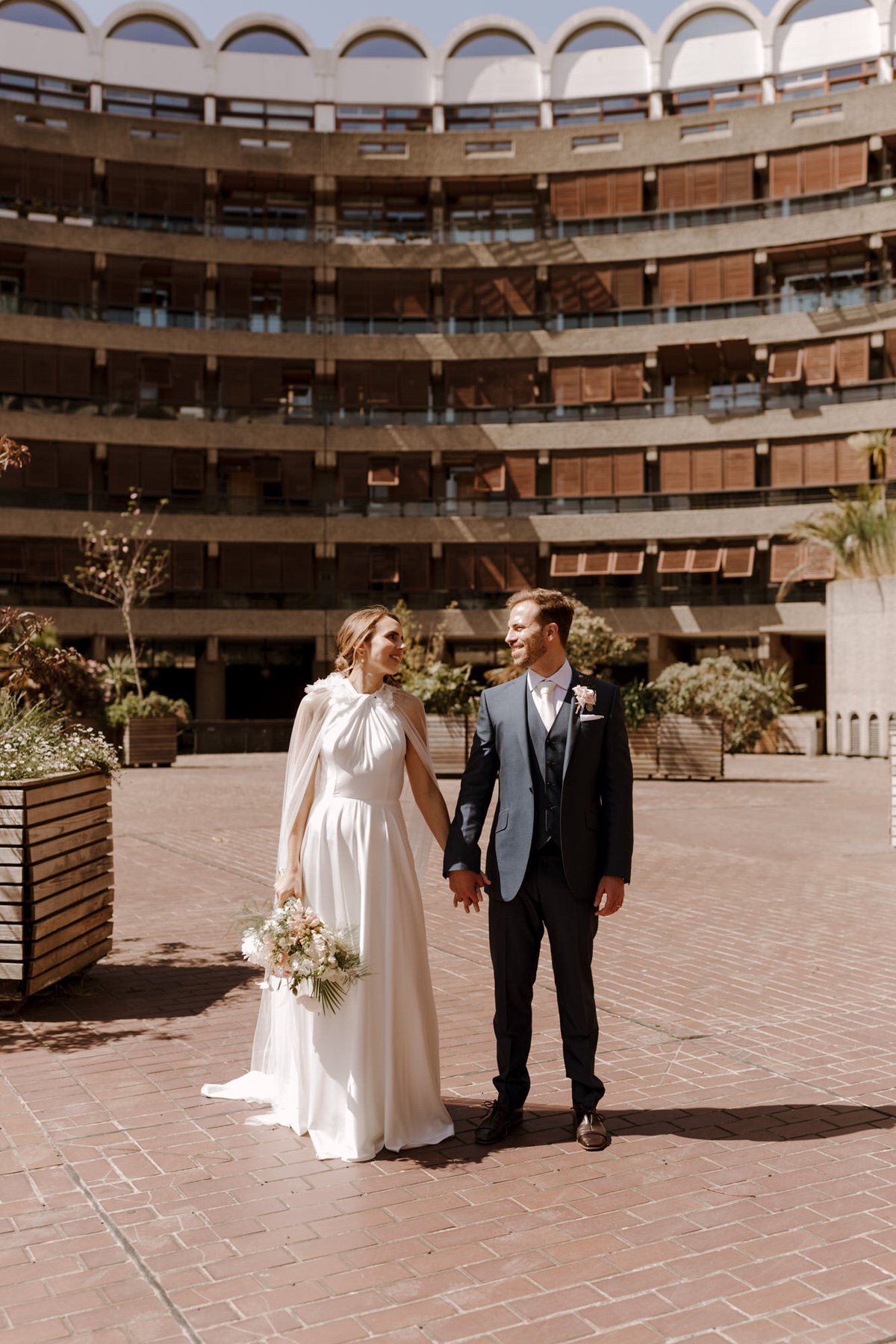 Shoes & Accessories
My shoes were Loeffler Randall from Net a Porter – the perfect blush block heel and really comfortable, which was the main thing.
I didn't wear a veil, as my Halfpenny cape with applique flower detail felt like a more contemporary alternative. I had a low loose bun and no hair accessories as I wanted my hair to be unfussy and relaxed so it was all about the cape. I wore a mother of pearl bracelet from Van Cleef & Arpels which was a lovely surprise gift from Toby on the wedding morning.
Due to the high halter neckline of the dress, and the cape which covered a lot of my arms, I kept my jewellery simple and wore just my engagement ring and wedding gift bracelet, with some simple pearl drop earrings. Very unfussy and simple.
A Halfpenny London Dress & Cape
My dress was from Halfpenny London, from their Bloomsbury boutique. Due to the fact that we were engaged for some time and were trying to plan our wedding on and off throughout the pandemic, I visited a lot of different bridal shops along the way as I tried to decide what type of dress I wanted.
As our plans evolved and we secured the venue, I had a much clearer idea of the dress that would be most perfect for the day. Most important to me was that I was comfortable (I really didn't want anything too structured or complicated), and felt like myself wearing it.
When I first visited Halfpenny for my initial appointment with one of my bridesmaids, I had a really good feeling as I just loved so many of the dresses, and the interchangeability of the different items to create different looks was perfect for what I wanted on the day. In most boutiques I had been to, I liked a couple of dresses, whereas here I loved them all. It felt feminine but modern.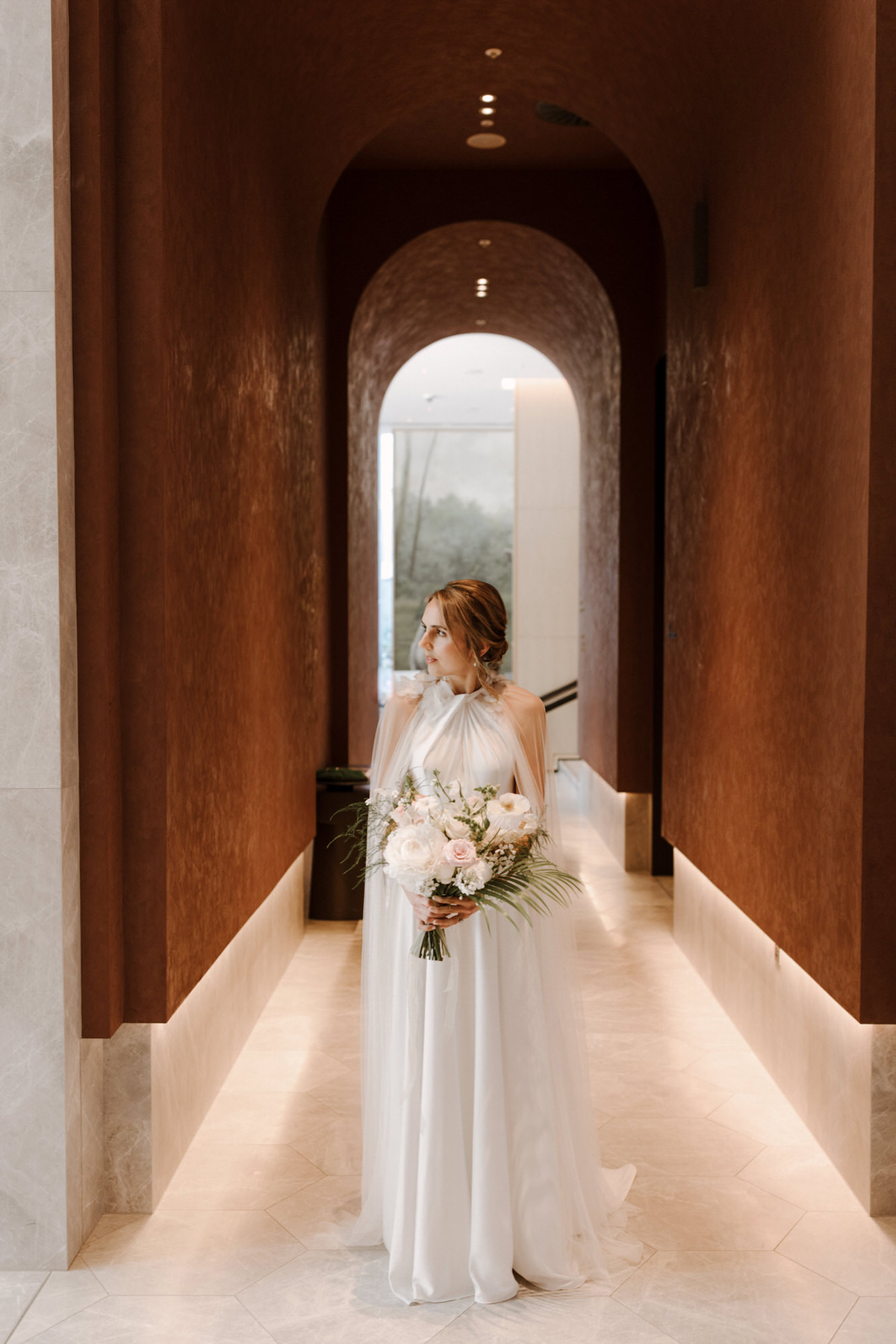 The Campagne cape was one of the first things that I tried on and despite trying on half the boutique in the end, it was the satin dress with the tulle cape overlay which really stuck with me. When I returned with my sister, she completely agreed that this was the one and the search ended there.
Everyone I dealt with along the way at Halfpenny was super helpful, made me feel completely at ease and really helped me to refine my search, giving honest advice and opinions…even during my fittings when I was trying to talk myself into some quite uncomfortable but beautiful shoes, they were the voice of reason. I would definitely recommend them to other brides looking for their perfect dress.
In the directory Halfpenny London
Listed in
Boutiques
As soon as I tried on the dress with the cape I could completely visualise wearing it on the day. I had tried on some gorgeous dresses at other bridal boutiques along the way but a lot of them just didn't feel very 'me' (as strange as that sounds).
I wore the Cedar dress with the Campagne cape. I loved that the dress was so understated and the focus was on the beautiful fabric, and the cape just felt dramatic, modern and fun to wea. It was also a nice way of having two different looks in one, as I took the cape off for the evening.
Flowers
With so much greenery in the venue, we wanted flowers which would complement, rather than detract from, the venue. We chose a mix of tropical greenery mixed back with soft blush and ivory flowers including foxgloves, peonies and sweetpeas. We had the same elements in all the bouquets, two large urns at the end of the aisle and on our long banqueting tables were decorated with lots of small vases for a dense and modern look.
The florist was Rebel Rebel, whom we had visited in their East London studio early in the planning process and they were brilliant, super helpful and really understood our vision. All the flowers looked soft and natural, just how we wanted them. We were beyond happy with how they looked on the day, they were perfect.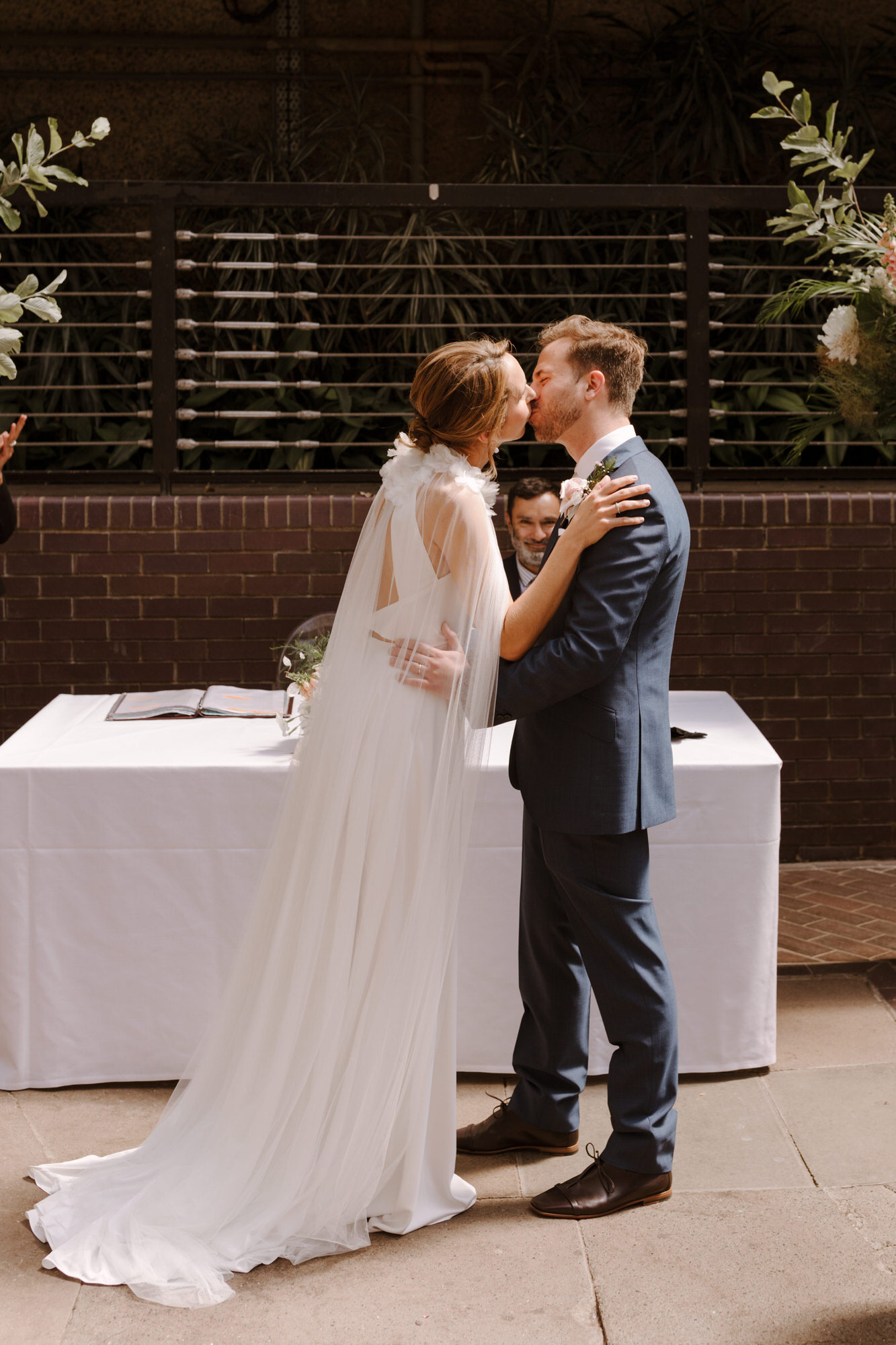 A Wedding At The Barbican
The venue was perfect as it felt like an exotic location in the middle of the city- we loved the idea of people getting lost in the gardens and having drinks by the koi carp pond and the tortoise pen! Toby had long loved The Barbican Conservatory from sneaking in during his urban exploring days. As soon as he took me to see the conservatory, we knew it was the perfect venue for us. We had people travelling from all over the world and wanted a London wedding, but this venue felt like an exotic location in the middle of the city. With the brutalist architecture and tropical foliage, it was the perfect mix of urban and tropical.
We also loved the fact that we could have the whole day in one location as this ensured that there weren't any logistics (or London traffic!), or even the British weather to contend with, and everyone could just relax and enjoy themselves. Ourselves included.
In-keeping with tradition, it was my dad who accompanied me to the ceremony and walked me down the aisle, to 'My Song' by Labi Siffre. We also arrived in a white London taxi which felt really perfect.  Seeing each other for the first time as I walked down the aisle in front of everyone felt surreal, and neither of us could stop smiling.
We decided to write our own vows and shared them with each other beforehand to check that they were of a similar length and tone, and would complement each other in the ceremony (I would highly recommend this, if only to make sure that they work well together and are nicely balanced) Luckily, we had both gone for something similarly concise, sentimental but with some humour too.
Rings were custom made from Susannah Lovis in Burlington Arcade– we wanted something personal that we could be involved in designing, and that would complement my antique engagement ring.
Photography by The Curries
I had always loved the soft, natural 'documentary style' photography of The Curries since a friend had them for their wedding years ago. In the end we booked Joe at The Curries and he did not disappoint. Joe was really receptive to the fact that we wanted to focus on spending time with all our friends and family and not spending too much time having large group and posed photographs.
He was brilliant on the day, made us feel really at ease and found moments to take us off for photographs together both inside and outside the venue without disrupting the flow of the day. We are really super happy with the results, they're perfect and really capture the essence of the day. Looking through them all when we first received them felt like we were reliving the day.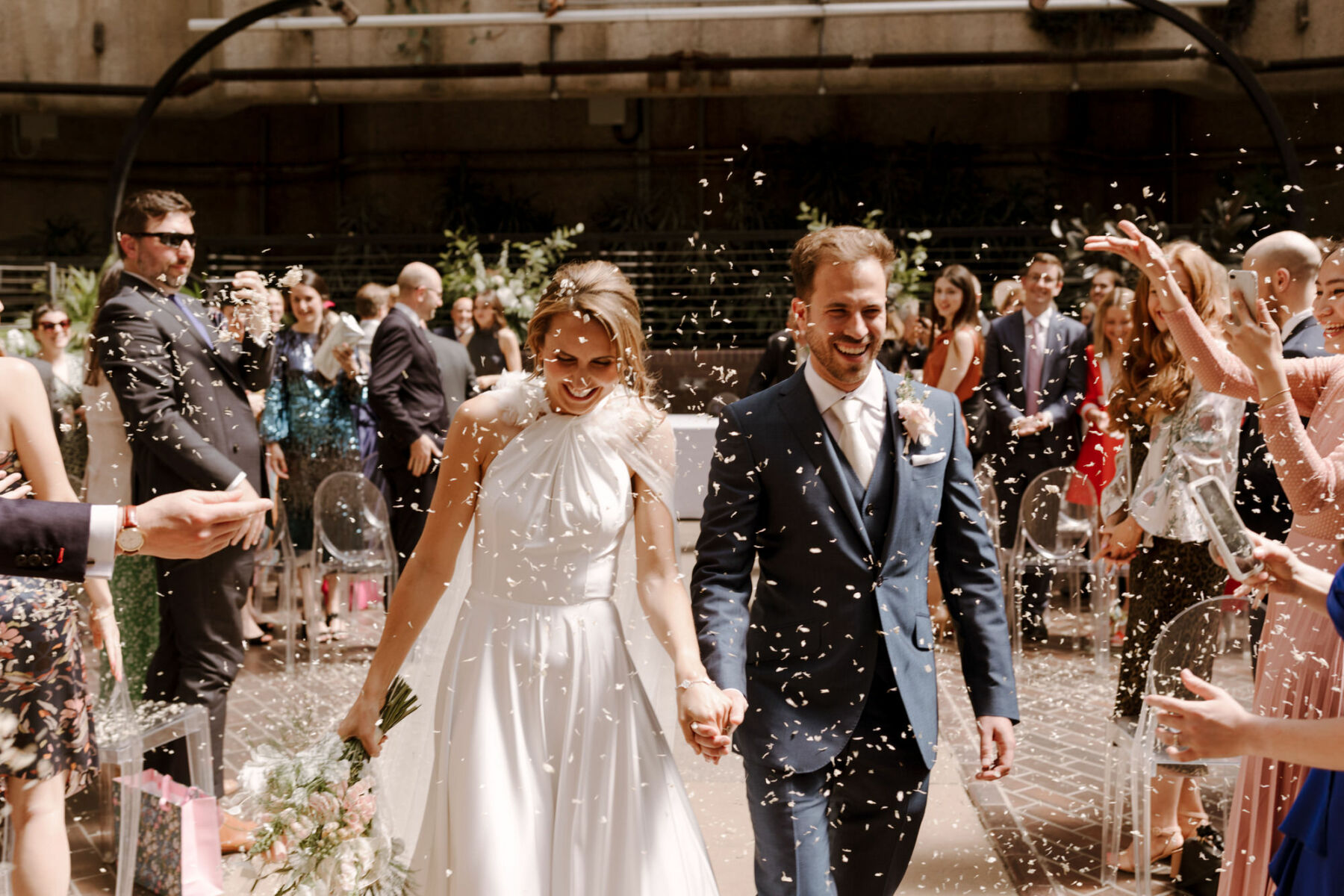 Bridesmaids
My sister was my maid of honour and two of my closest friends were bridesmaids, and I really wanted everyone to wear something that they felt comfortable in and loved. I didn't want anyone feeling uncomfortable or wearing a dress that they didn't like.
We decided on made to order dresses from The Own Studio so that each bridesmaid could wear the same shade (a deep charcoal blue) but a different style which suited them best- one chose a halterneck dress with a tie neckline and the others chose skirt and top separates.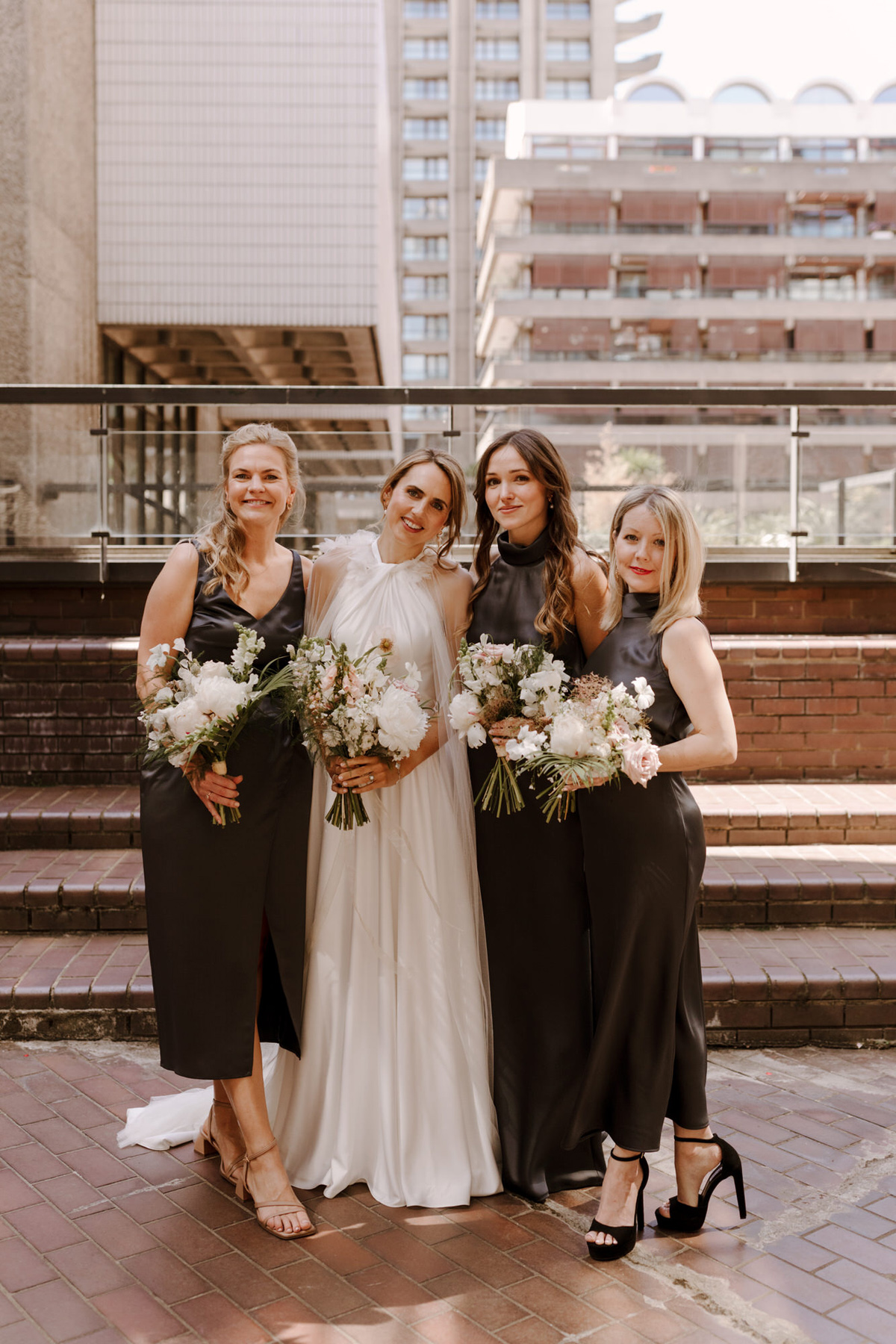 How They Met
We met the modern way – on an app! The proposal was a complete surprise one weekend in October when Toby had planned a London staycation at The Connaught Hotel. After dinner and cocktails we went up to our room to have a drink on the balcony, and as I brought the glasses and stepped outside there he was down on one knee, surrounded with flowers and candles. It was very special.
When the pandemic hit we decided to put the planning on hold as luckily we hadn't actually booked anything and as a result, we ended up booking a date in May 2022 when we hoped everything would be calmer and we would actually be able to go ahead. We just felt so fortunate that we were able to have our day without restrictions, even if it ended up being nearly four years after getting engaged.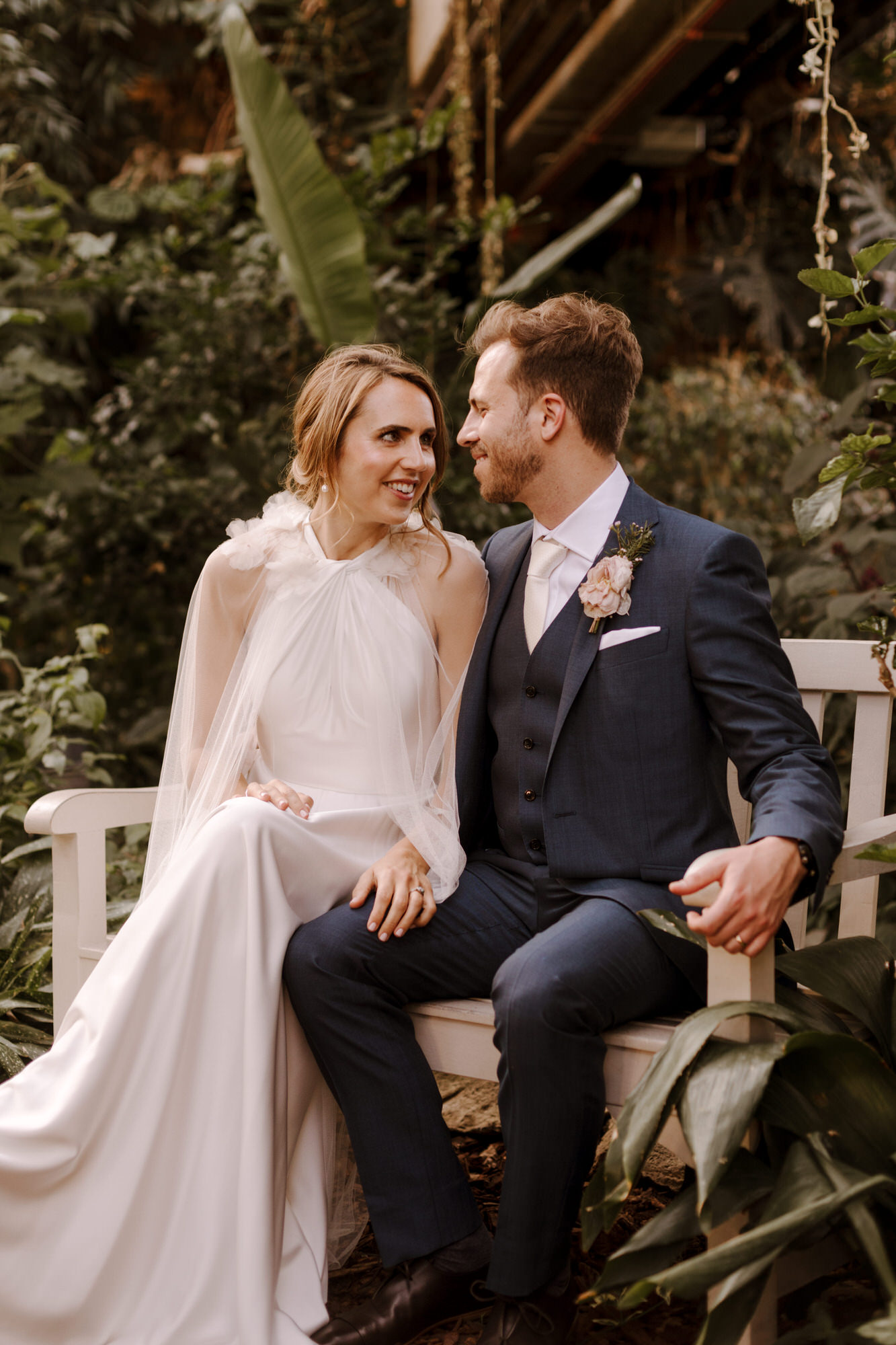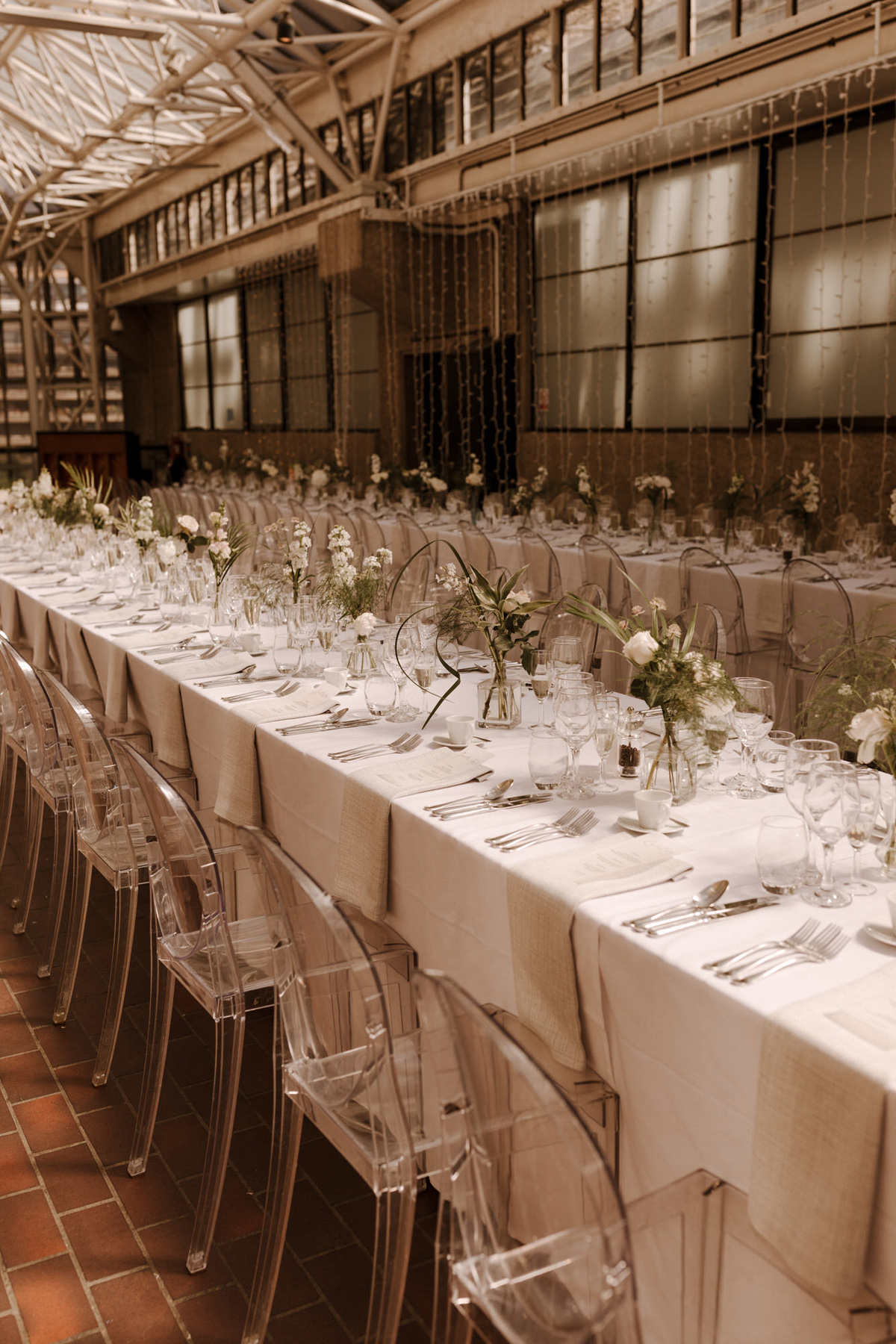 Reception
We worked with Mel at Your Story Events. I had started the planning process myself, and had secured a number of suppliers, but the whole process became quite overwhelming. At this point we began working with Mel for a partial planning service and she was amazing. In Mel it felt like we gained a friend, as she was so personally invested in making sure our day ran smoothly and was perfect from start to finish. We honestly cannot recommend her highly enough. Having her support on the day meant we could truly relax and enjoy ourselves.
One of our favourite moments was arriving at the venue and just seeing all our closest friends and family together in one place was really special, and quite overwhelming.
Catering was provided by Searcy's London.  So Calligraphy created the on the day stationery.
As we didn't want a traditional cake cutting, rather than a single wedding cake we wanted a desert table with a selection of cakes and baklava, which were a reference to Toby's Lebanese heritage. We chose 6 different small cakes from a local bakery, and they were amazing with flavours from white chocolate raspberry genoise to coconut and almond cake with passion fruit and fresh berries. Having a whole table of desserts was a real crowd pleaser. We bought glass cake stands for the cakes and tiered cake stands for the baklava and decorated the table with bud vases of flowers and foliage.
The six cakes were from Le Choux London and baklava were from Sweetland.
Words of Wedded Wisdom
It's so important to remember that ultimately, it's your day, so just stay true to yourselves, remember what's important to you as a couple and make sure that your day reflects that.
The day itself goes by so quickly, so as much as possible just try and put aside any stresses or worries and really enjoy yourself when the actual day arrives… everyone is there to celebrate with you and that is really all that matters. Looking around and seeing all your closest friends and family is really amazing, so make sure you take some time together to just take everything in.
I always found Love My Dress as a great reference for different ideas and styles of weddings which really opened our eyes to all the formats a wedding can take. I loved how personal the features were, and the fact that there was such a broad spectrum of styles and ideas, each of which felt really true to the couple getting married. We had always felt that the best weddings are the ones which really reflect the people involved, so this was really important to us.
We really couldn't have asked for a better day, we both felt that it was perfect and we just wish we could do it all again.  We would have liked to potentially have a later license, but we ended up going with some of our closest friends to a speakeasy bar in the nearby hotel where we were staying for cocktails afterwards, so that really was a lovely end to the most special day.