Graphic Designer Sarah, married Software Developer Ed on 1st July this year at beautiful Devon wedding venue, Anrán, at Tidwell Farm in Landscove.
The couple chose this beautiful space, a collection of boutique accommodation located in the heart of Devon, because it perfectly suited the natural, botanical vibe they were seeking.
Sarah looked divine in her Hermione de Paula gown, before slipping into a Self Portrait mini for the evening, which she wore with the most spectacular Halfpenny London cape.
The couple chose photographer Cat Arwel who has done the most spectacular job of documenting the joy present on the day. Enjoy my loves!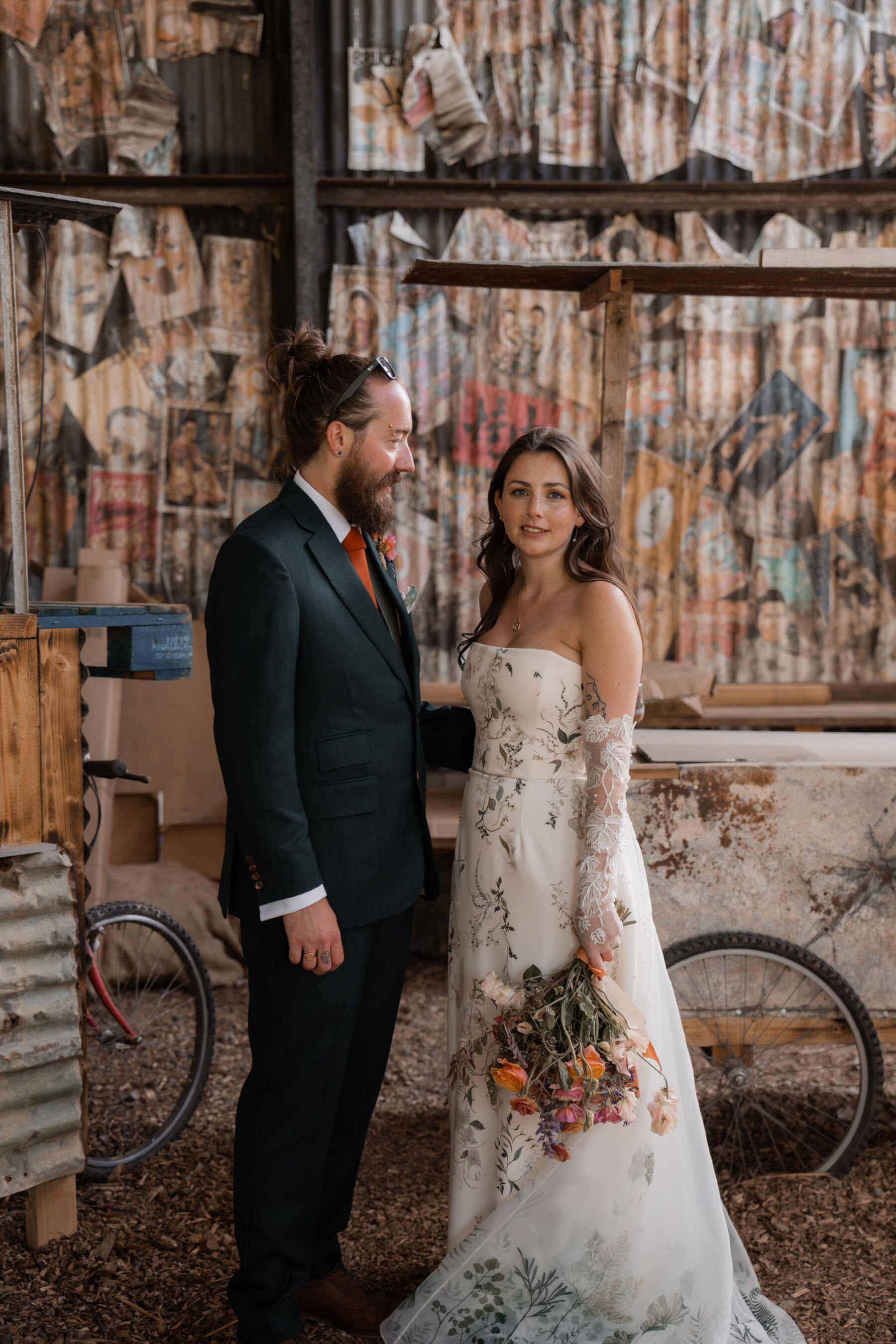 Bridal Beauty & Accessories
Shoes wise, I wore Alohas in the day and a pair of Steve Madden's in the evening.
My scent was Jo Malone's 'Lime, Basil & Mandarin' – my favourite scent. I had a very cute little pearl bag that I completely forgot to use on the day
Hollie Danby did both my hair and makeup. I chose her because of the lovely emphasis she puts on keeping things natural with some little touches to elevate your day to day. I loved the bronze tones, she was light touch in a way that allowed me to build up areas I wanted to, and be natural in the other places.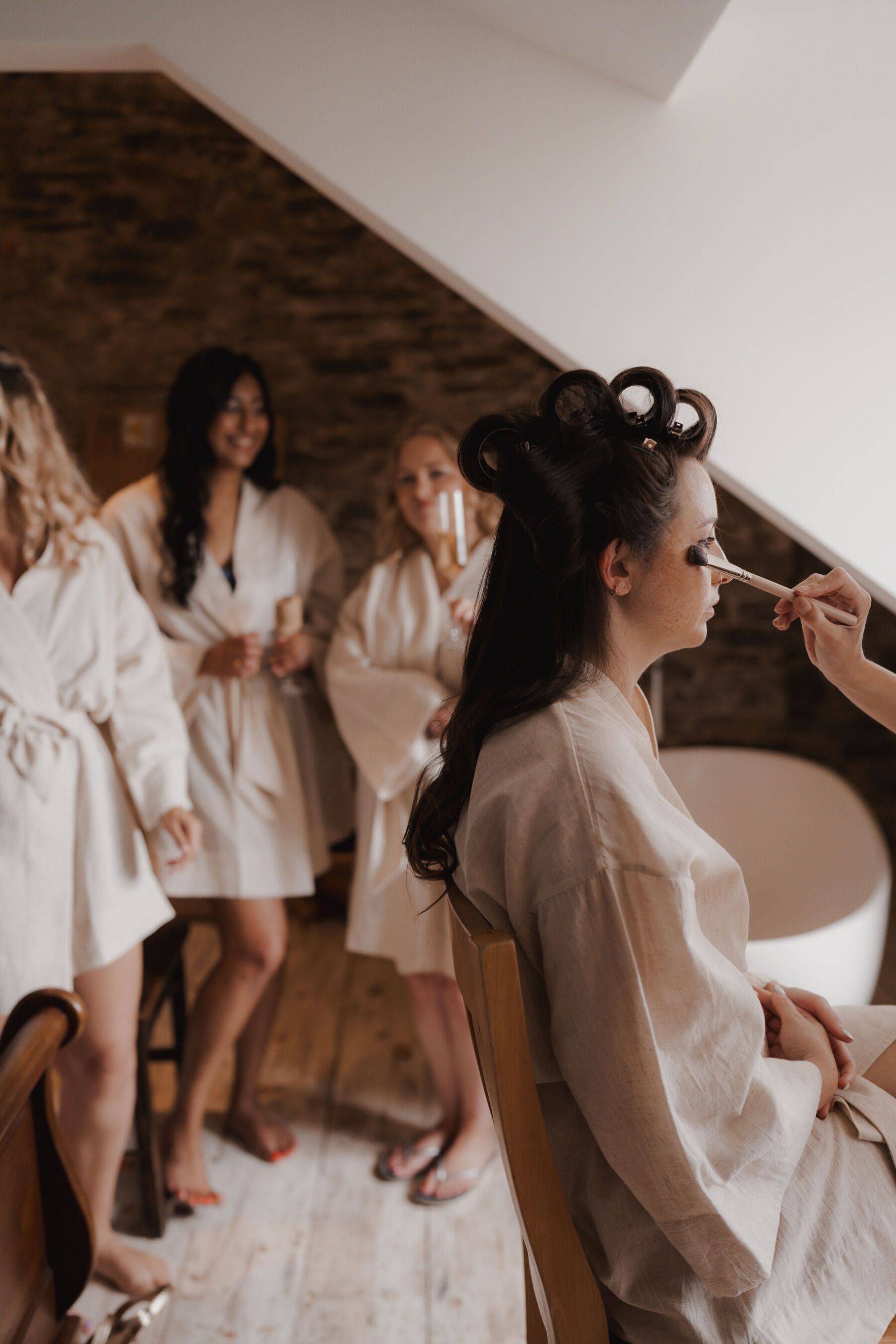 Explore our Wedding Directory and find beautiful bridal fashion, accessories and the best boutiques to visit…
The Dress & Gloves
I bought the day dress from Hermione de Paula's atelier in Hampstead. It's set in an gorgeous cottage in Hampstead Heath, all the stylists are lovely, and you can really build out from one item. I started with the printed column dress, and added the gloves and skirt for more drama. They are so accommodating and really excited to create something unique for each person.
I bought my Halfpenny cape in their Woburn Walk atelier, and because I was going there with the intention of trying the cape it was generally an efficient process, but also lovely stylists and a nice atmosphere.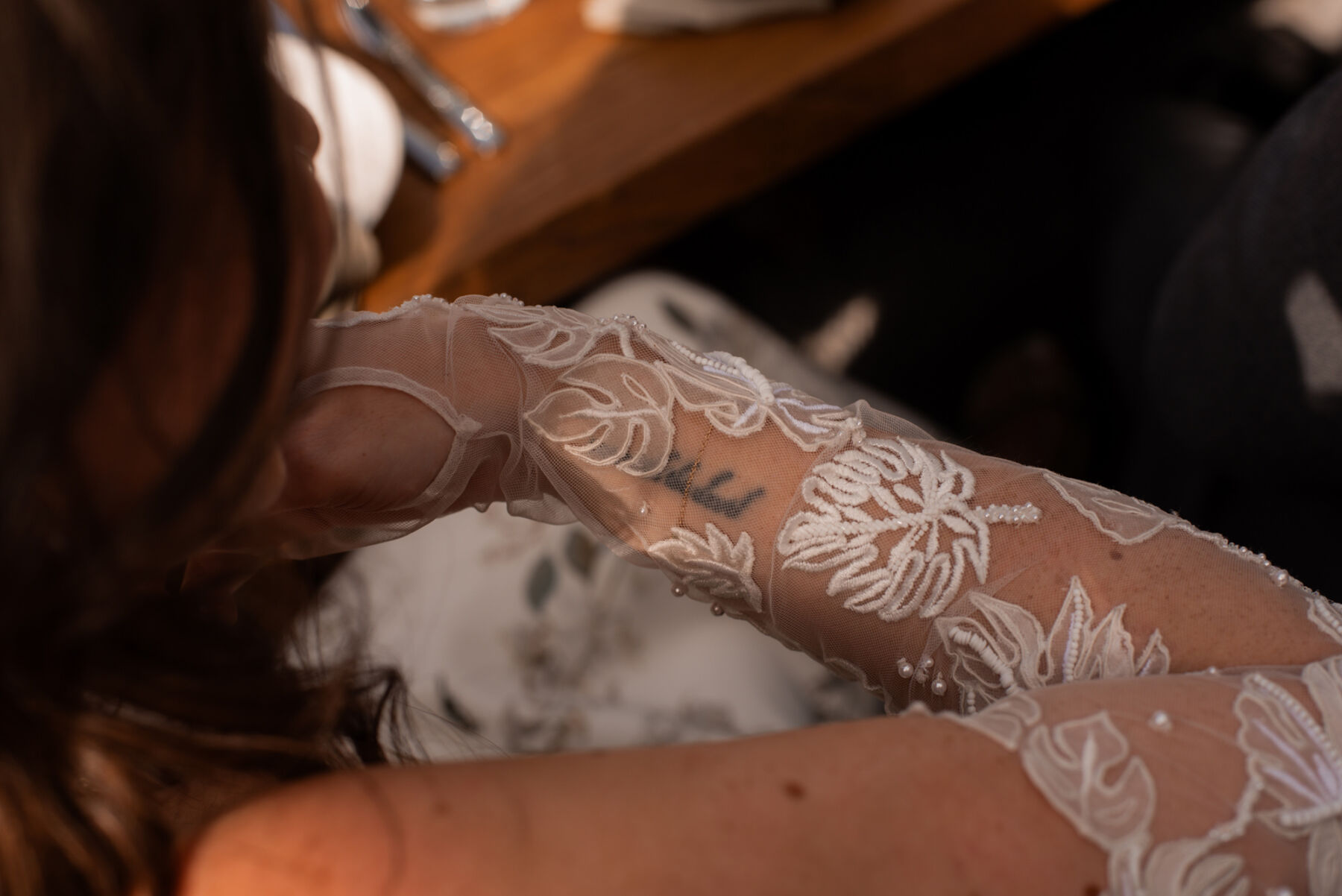 I've never really worn white, so it didn't feel right to go for a white dress. I loved the idea of the dress I chose in the surroundings of Anran. My favourite part of this were the gloves, they felt dramatic and ended up dictating how the rest of the outfit appeared.
I did adore the contrast my day dress had to my evening outfit, it felt like I was able to hit two ends of a spectrum in styles I love, and I am so happy I got to do both. I would wear the cape every day if I could.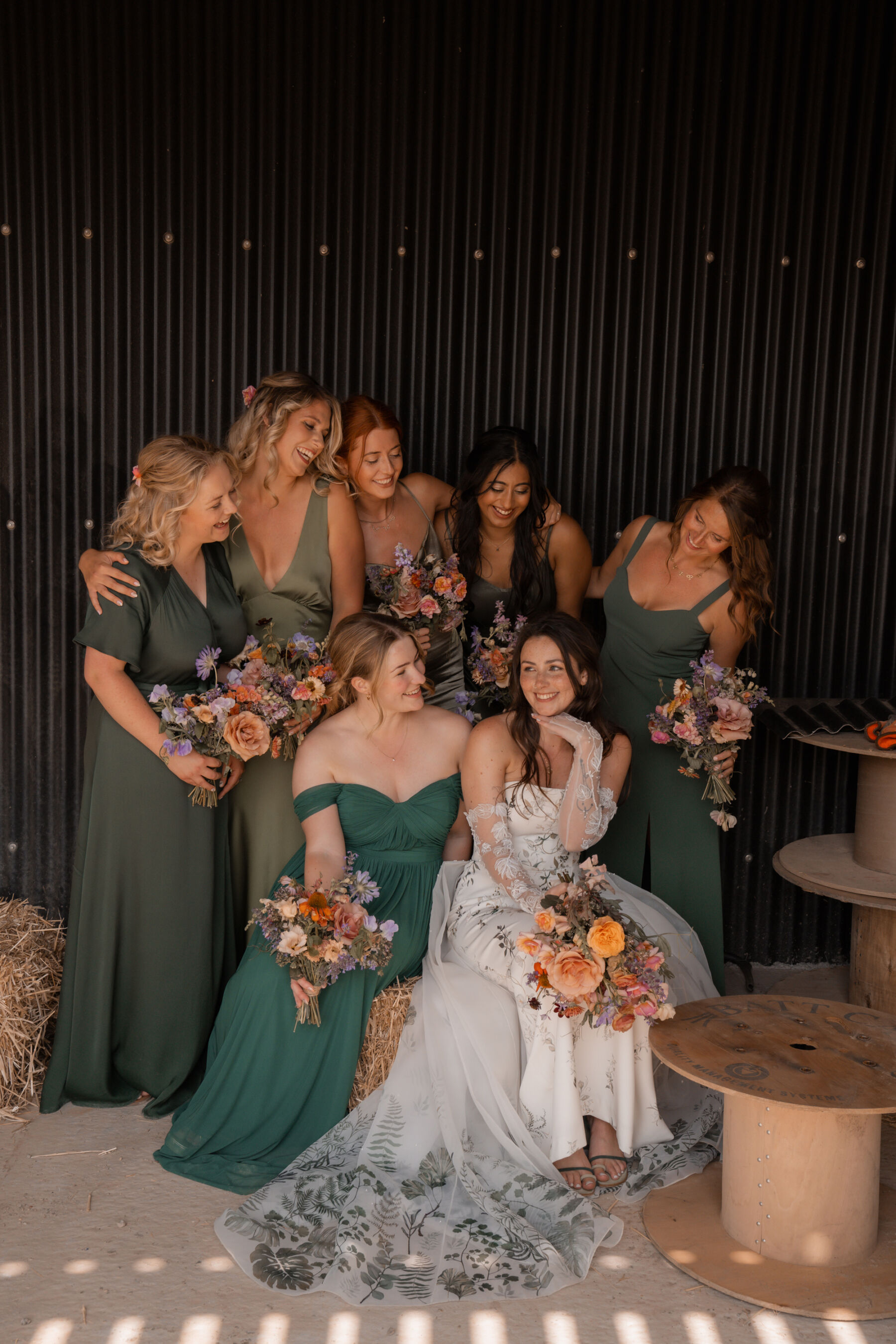 The bridesmaids all chose their own dresses. I gave them an image of the pattern on my wedding dress and they could choose any green from that. I got them all some gold bracelets for the day, and they had flowers in their hair but they otherwise chose all their own accessories.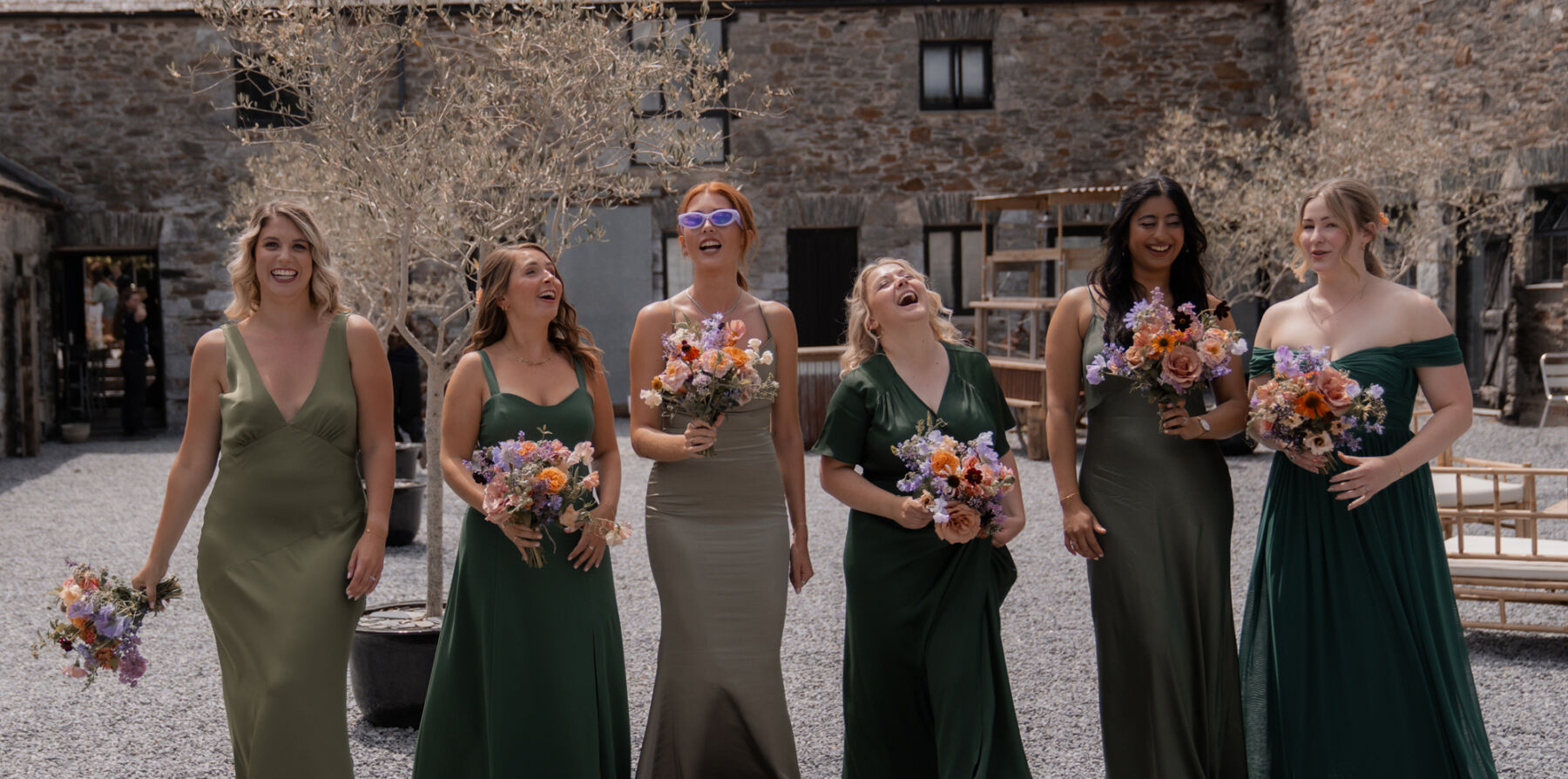 The Groom
Ed's suit was bespoke from Cad & the Dandy. I surprised Ed on the morning with a pocket square made from the same material as my dress, which we both loved. They had used the same fabric but had also embroidered a monstera leaf on it.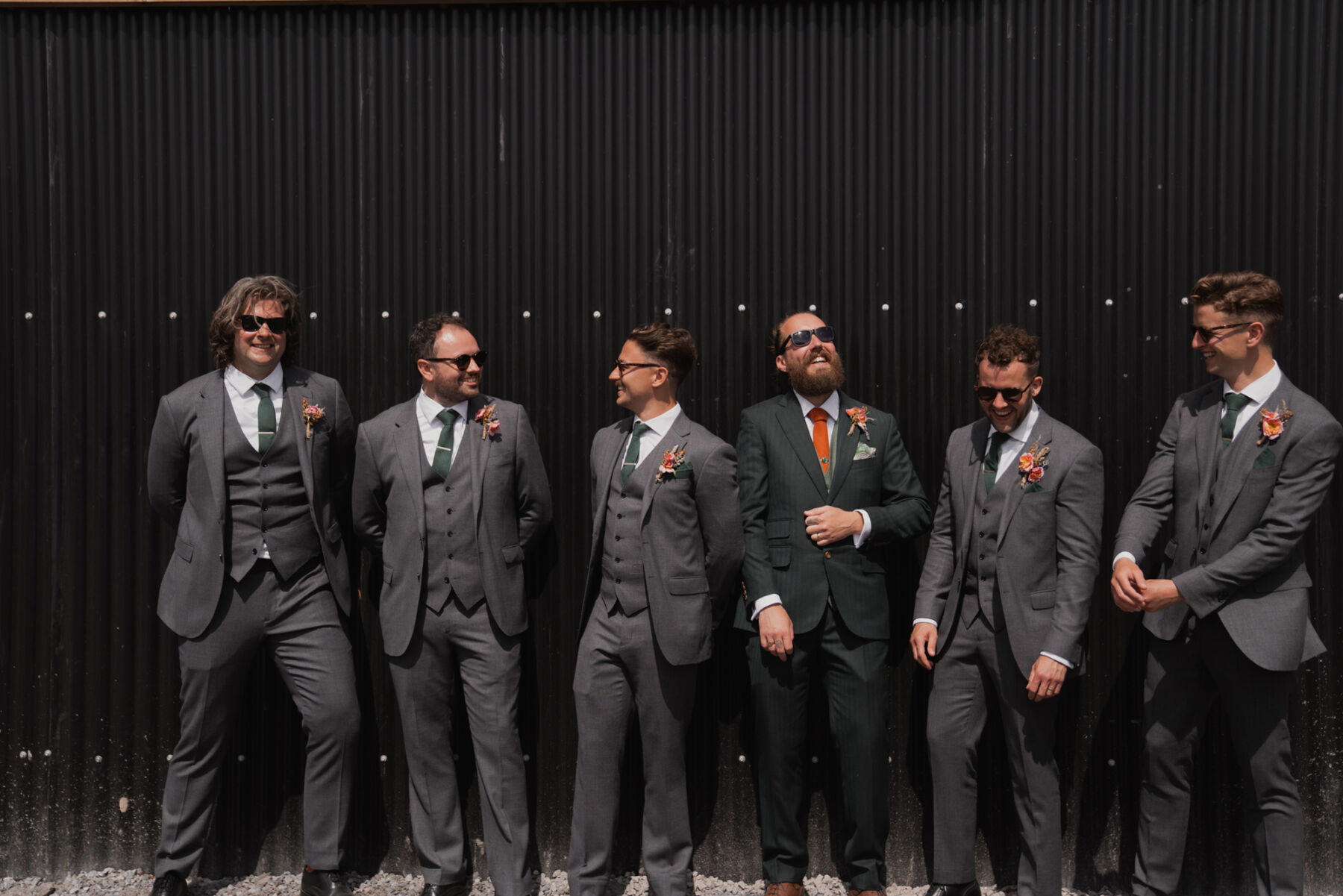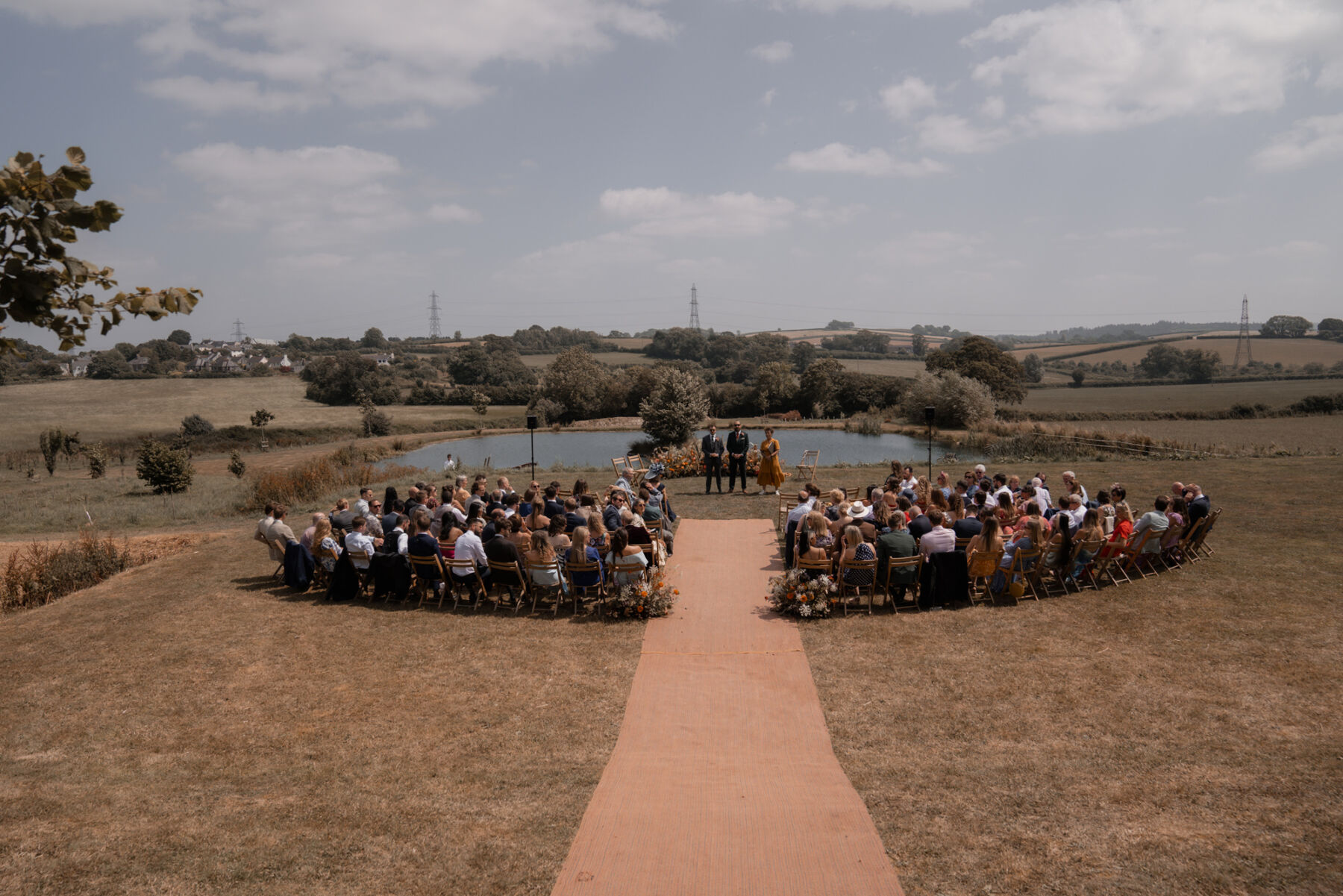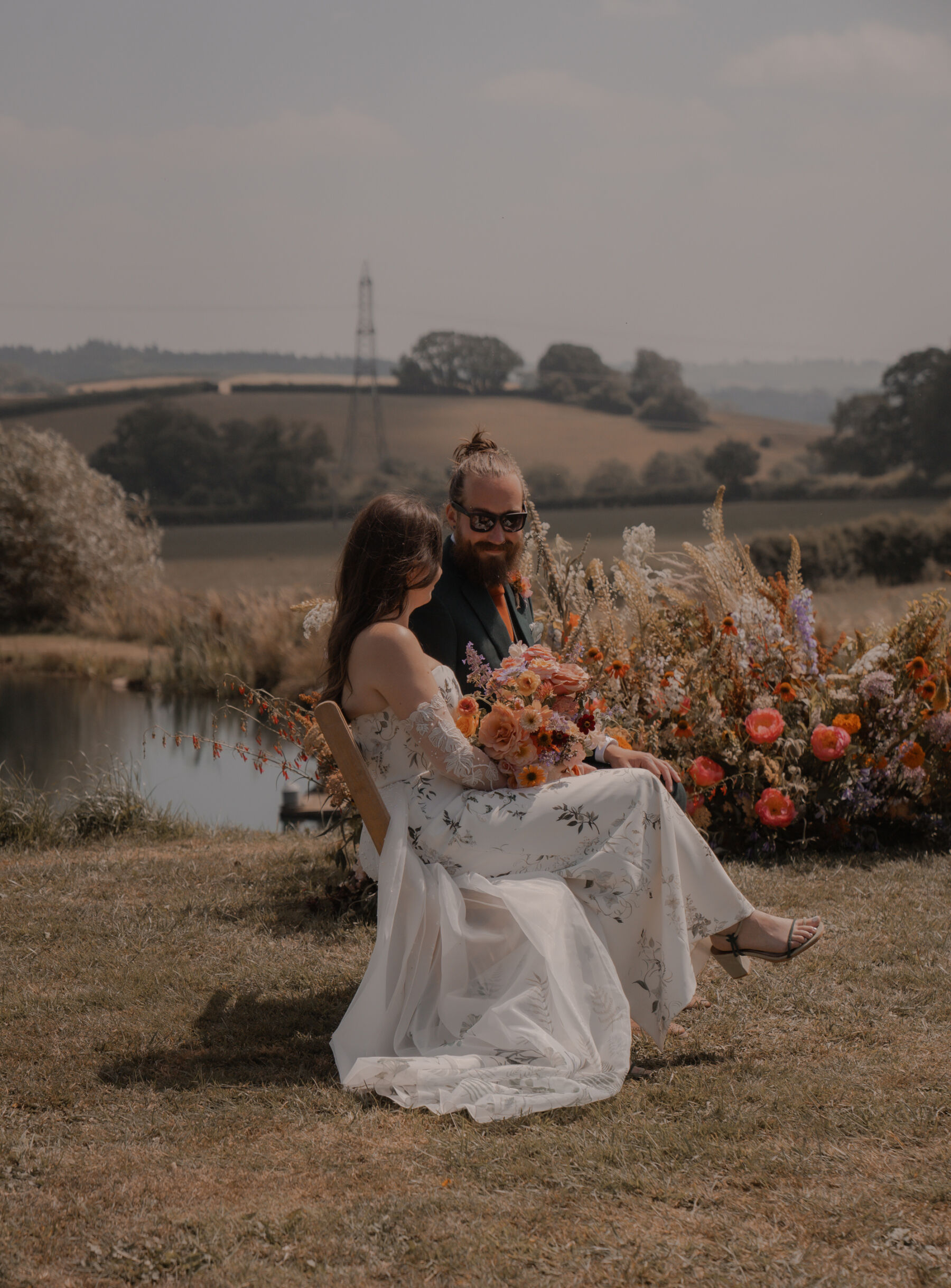 The Ceremony
---
My dad walked me down the aisle to the sounds of 'Me & Magdalena', by the Monkees – the same song was playing when Ed proposed to me.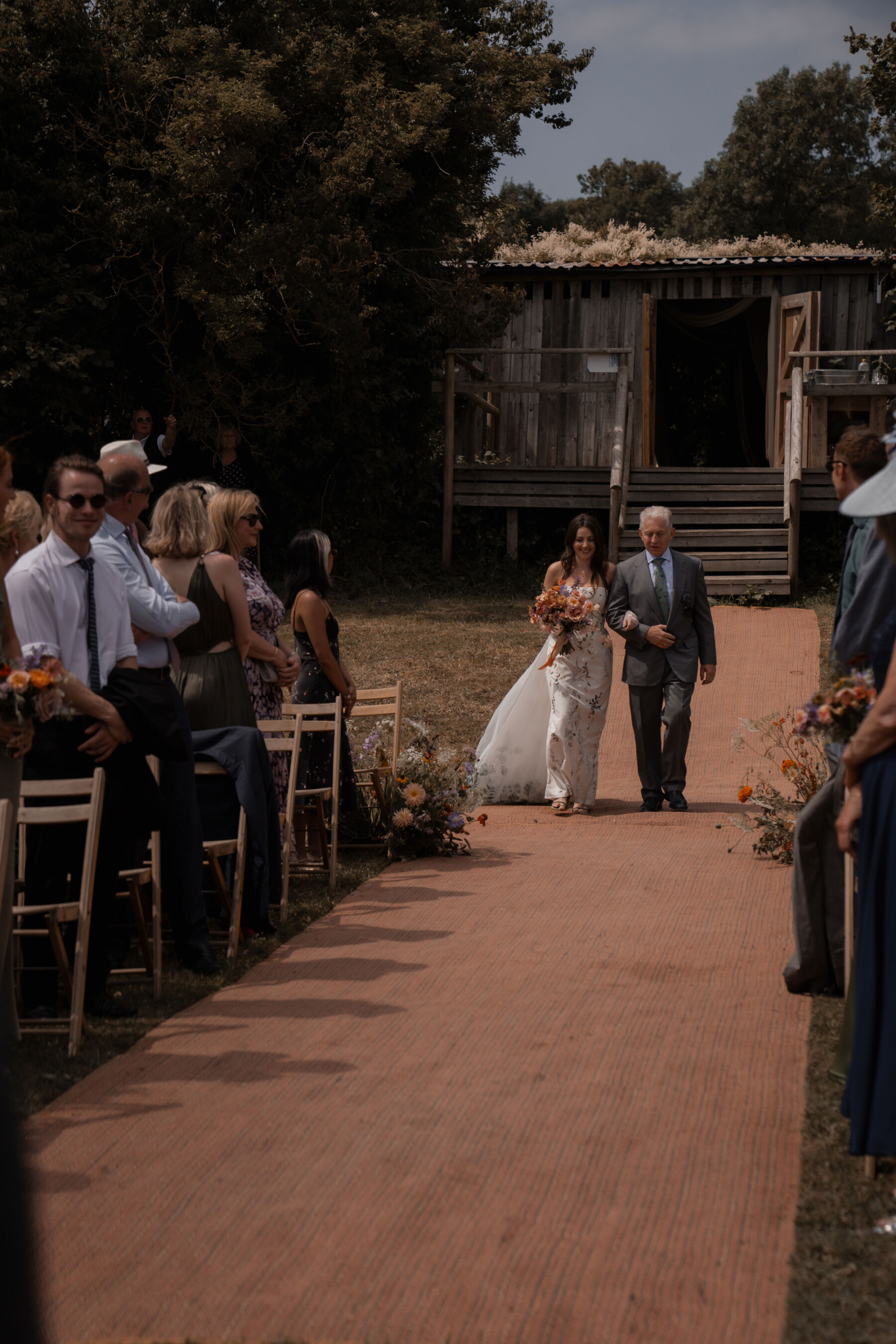 We wrote our own vows, which the other didn't see but we did establish together that we would do 6-9 promises, with a couple of fun ones to not be too serious. This helped as we knew that one or the other wasn't going to write vows a completely different length or anything!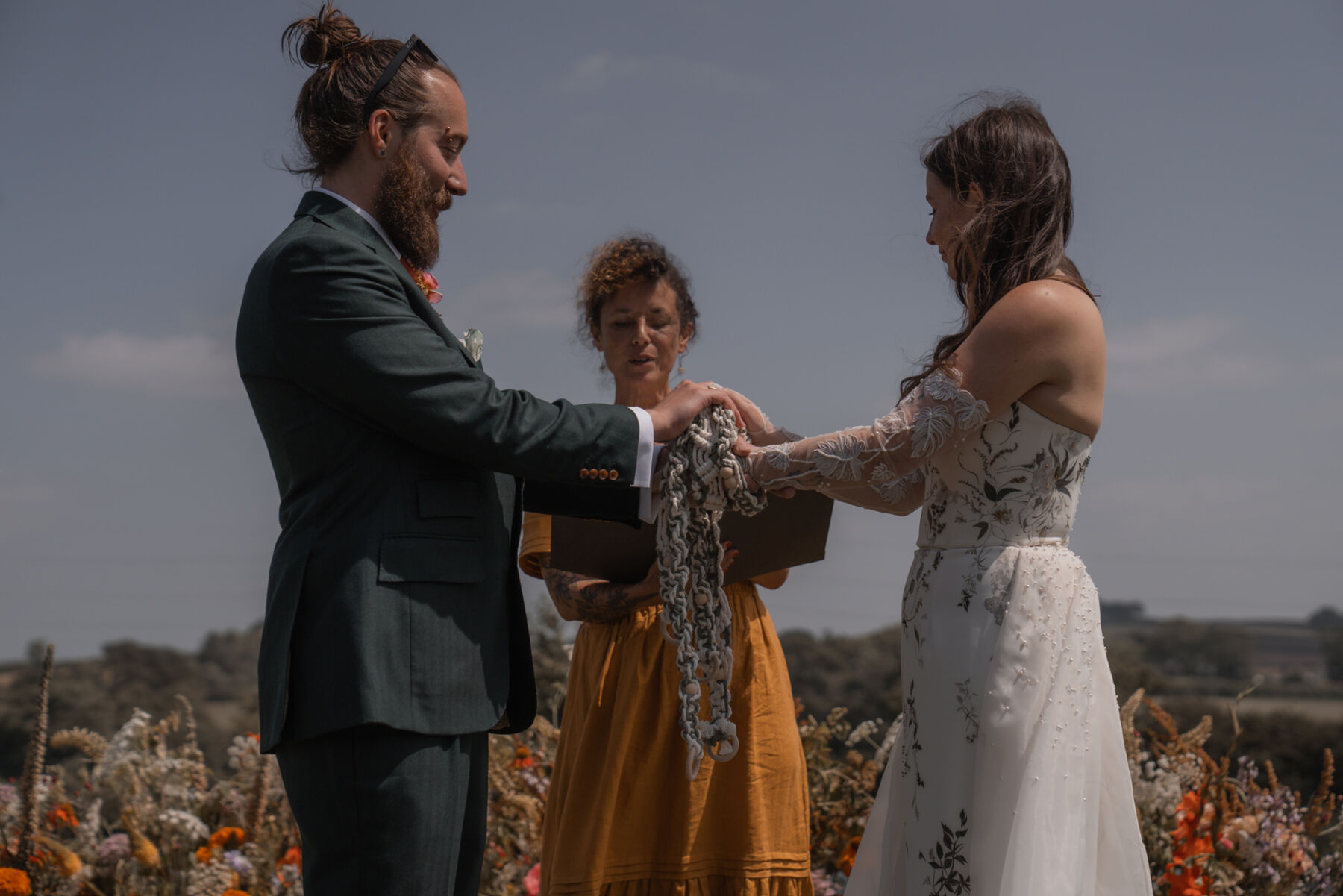 We had a celebrant, Justine Chase Grey from Hold Fast Ceremonies. She was brilliant and put us both at ease. Encouraged us to personalise as much as we could, and to write our own vows. We included hand fasting as part of our ceremony.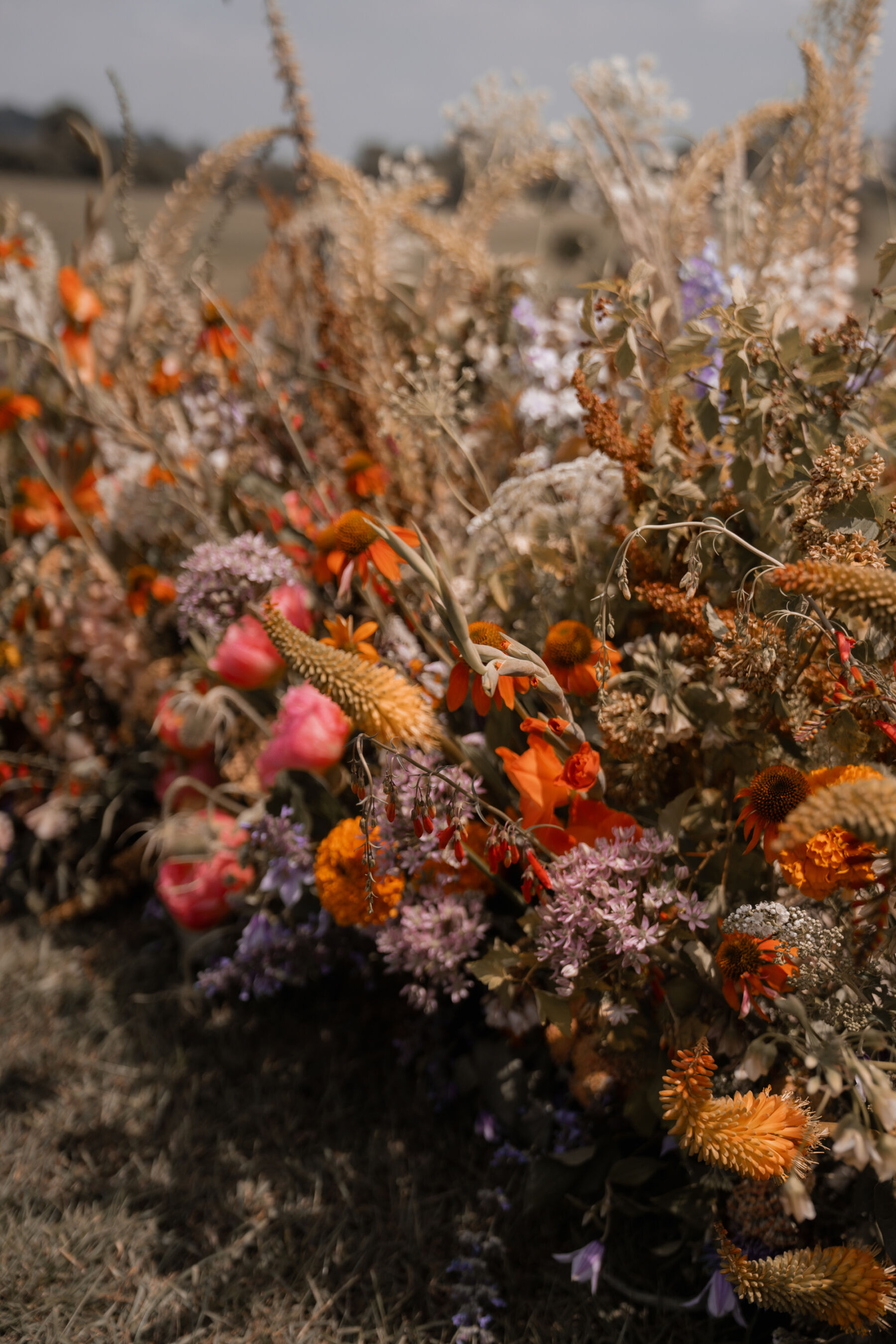 Sophia Perez designed my engagement ring and her brother Daniel created our wedding rings. They are both bespoke jewellery designers and use only ethically sourced metals and diamonds/stones.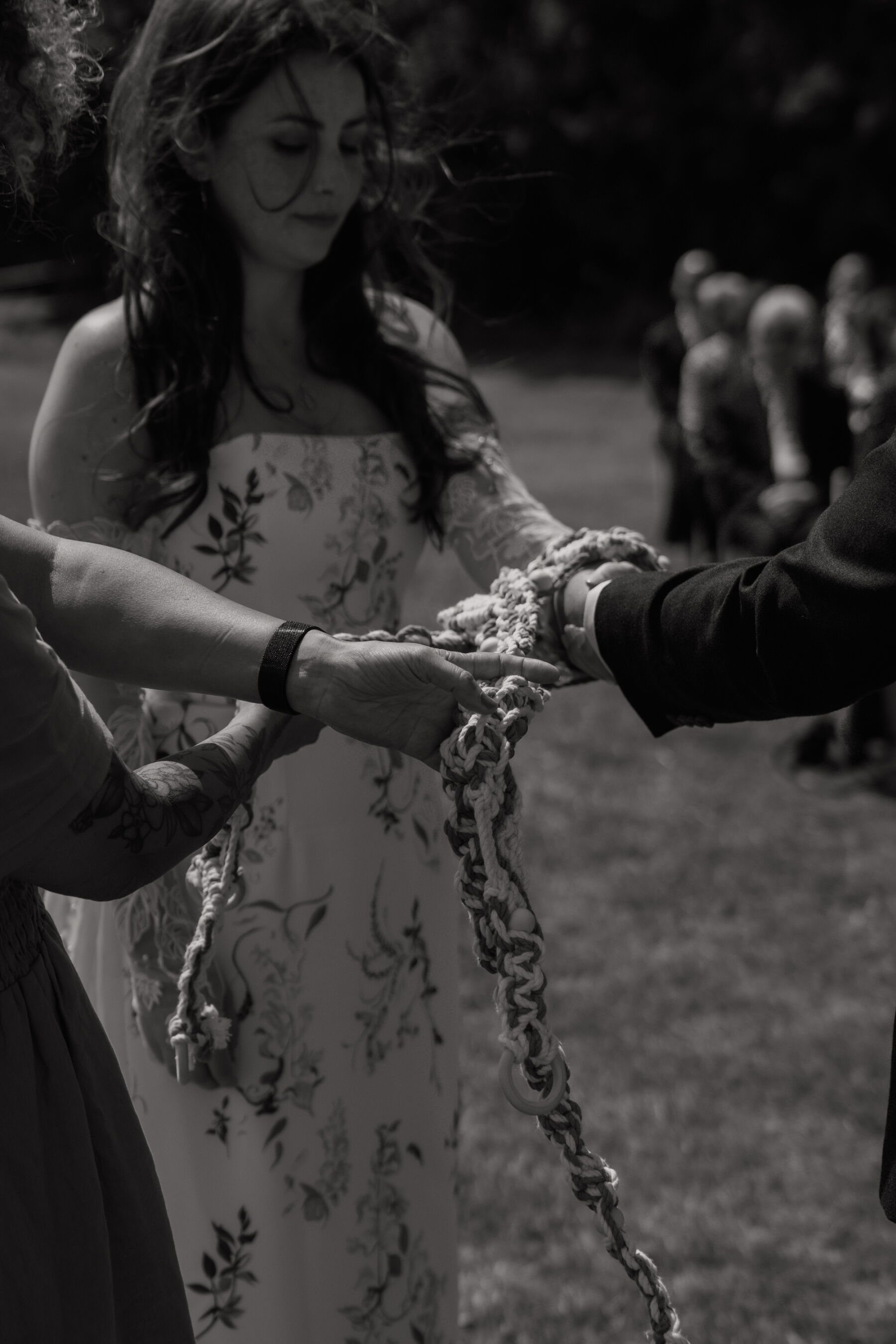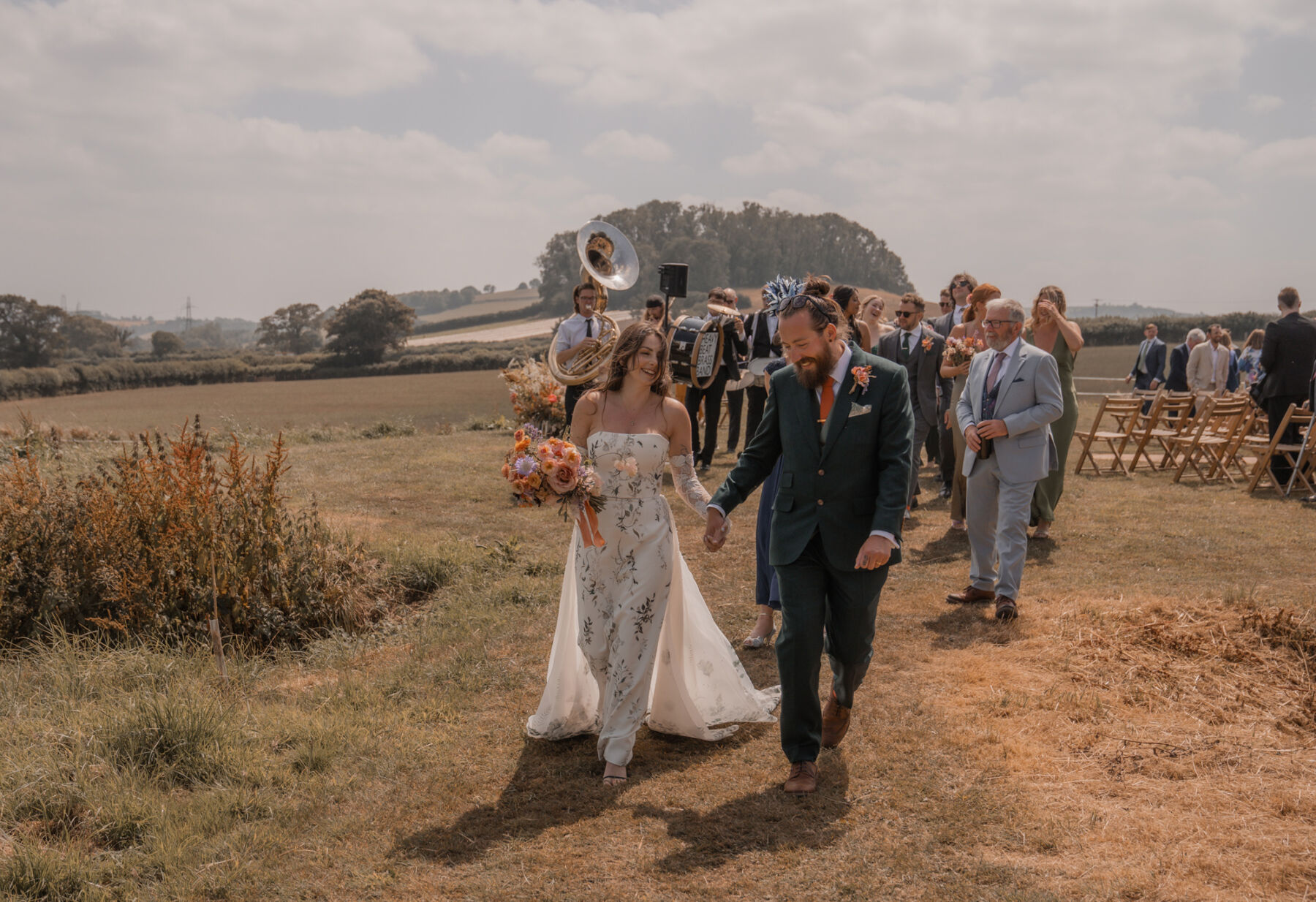 Photography & Videography
I adored Cat Arwel's aesthetic immediately – she is so wonderful at capturing small details and very impressive at hiding in plain sight!
There were a couple of photos on her instagram page that I was so enamoured with, I would probably have changed wedding date if she weren't available.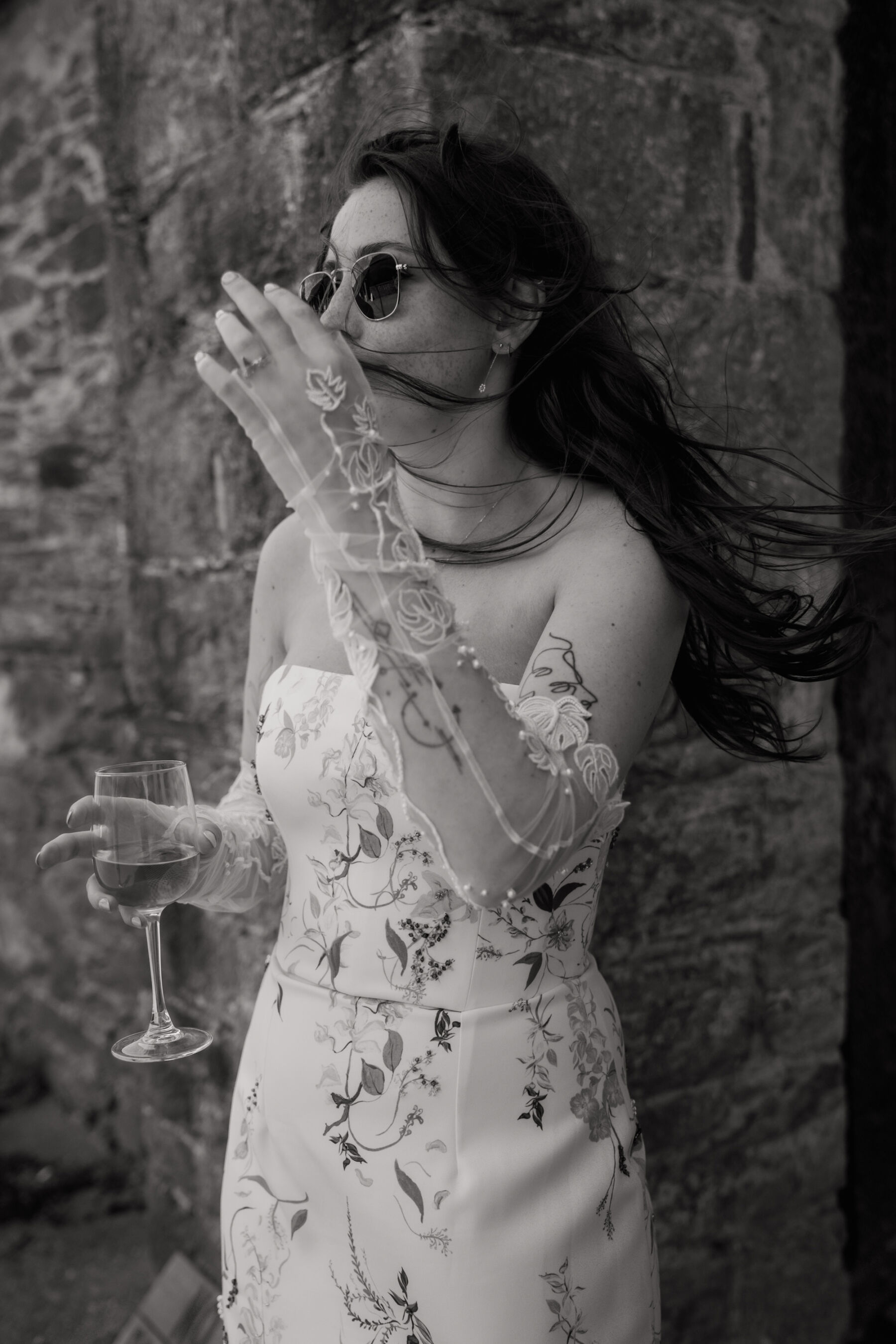 On the day she was the loveliest presence, I am not very comfortable in front of a camera, but she very easily makes it feel like you're chatting to a friend, which allows her to capture some lovely moments. I loved wandering off with her and our wedding party for photos, it felt like she was just a part of our little crew.
Robin from Loved Up Films also felt like an addition to our group, encouraging laughter and misbehaviour. He and Cat worked so amazingly everyone thought they were a team. He very quickly put people at ease and was also so great at going under the radar when needed.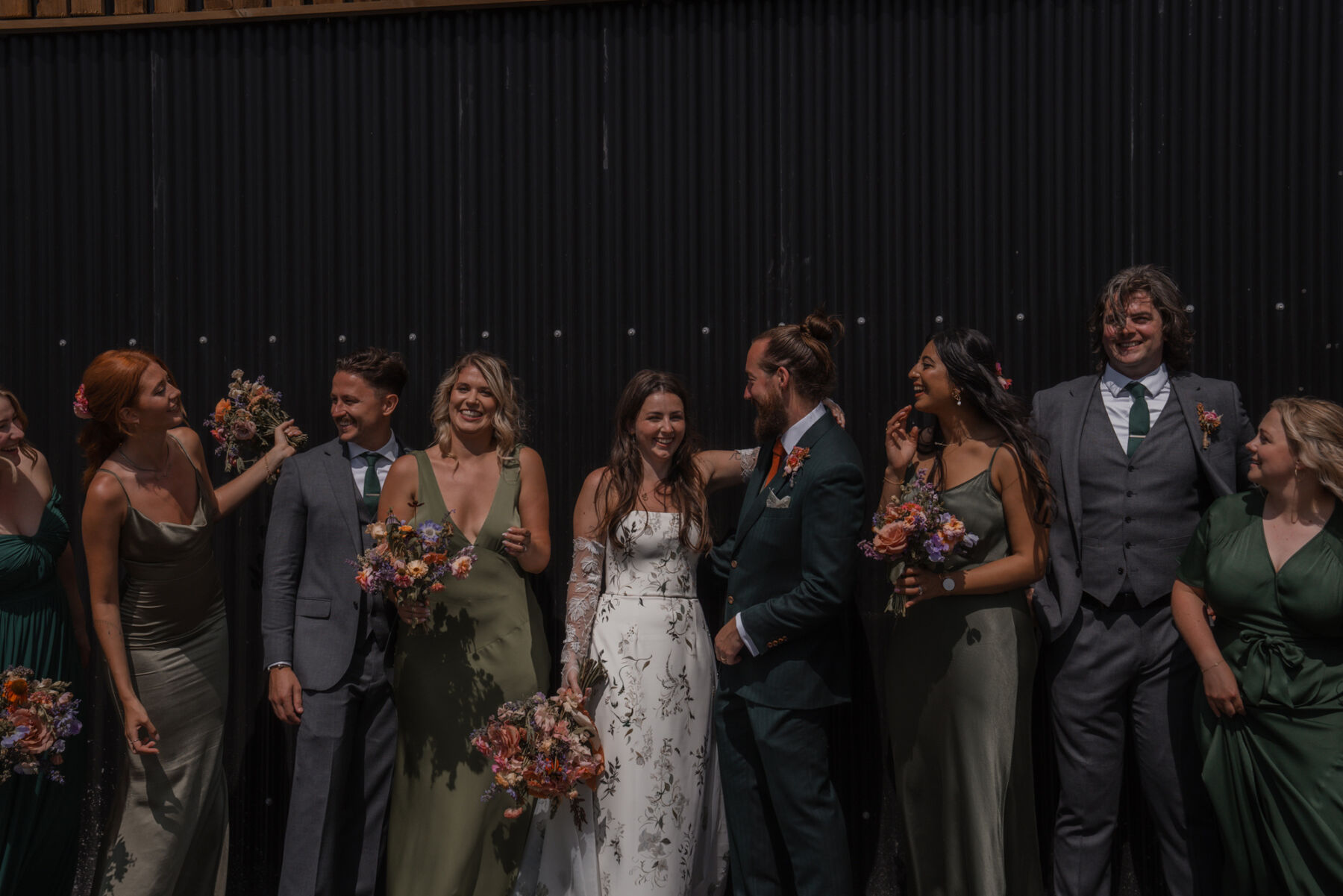 How They Met
We met at uni, were close friends for a couple of years before we got together. Ed proposed while we were away for our eight year anniversary, staying in a very remote treehouse near the coast with our dog, Nellie.
We were engaged for thirteen months before our wedding day.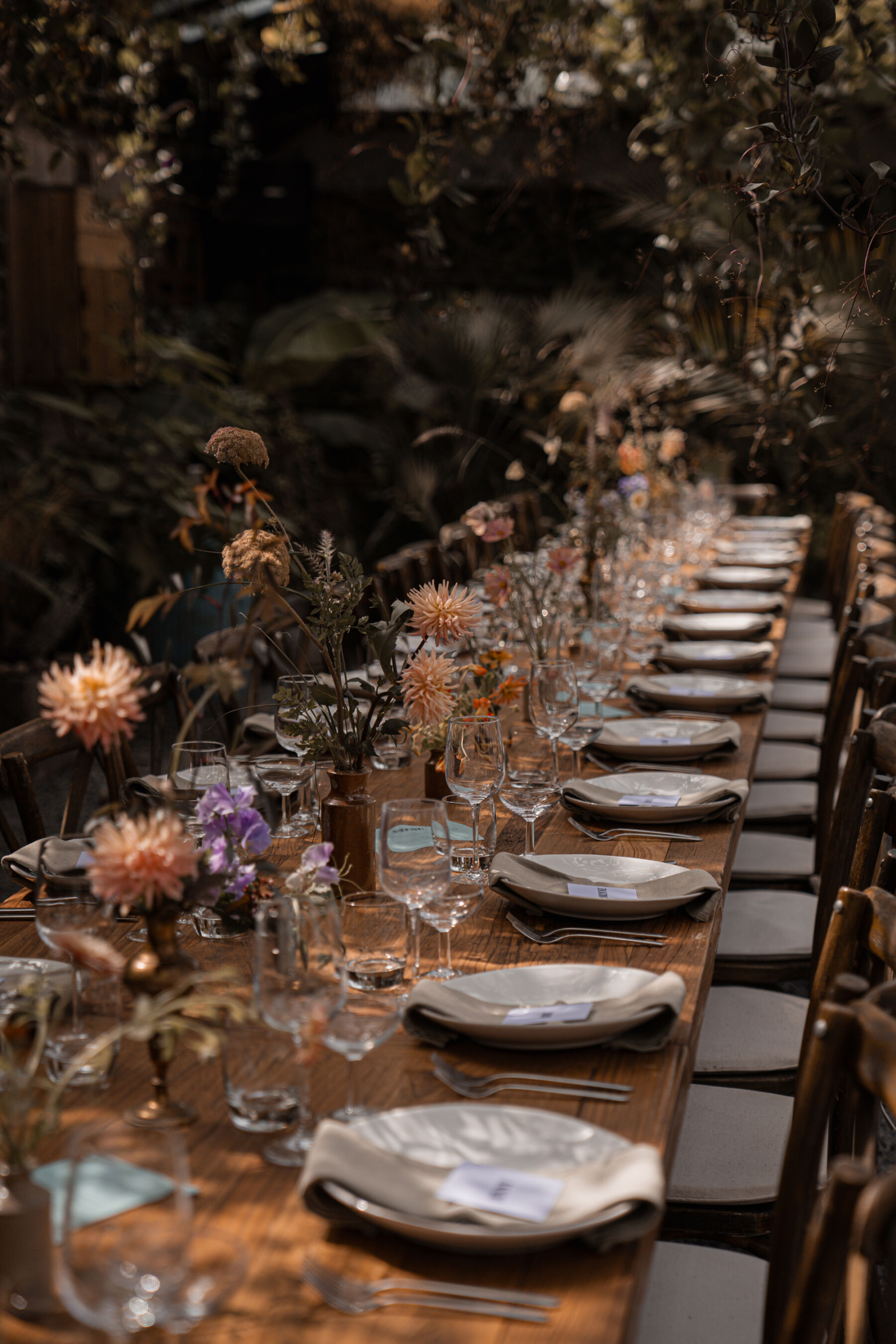 The Reception
---
We loved the glasshouse at Anrán, and because it does not do wedding 'packages', we were able to make it completely our own. It was the only venue we saw.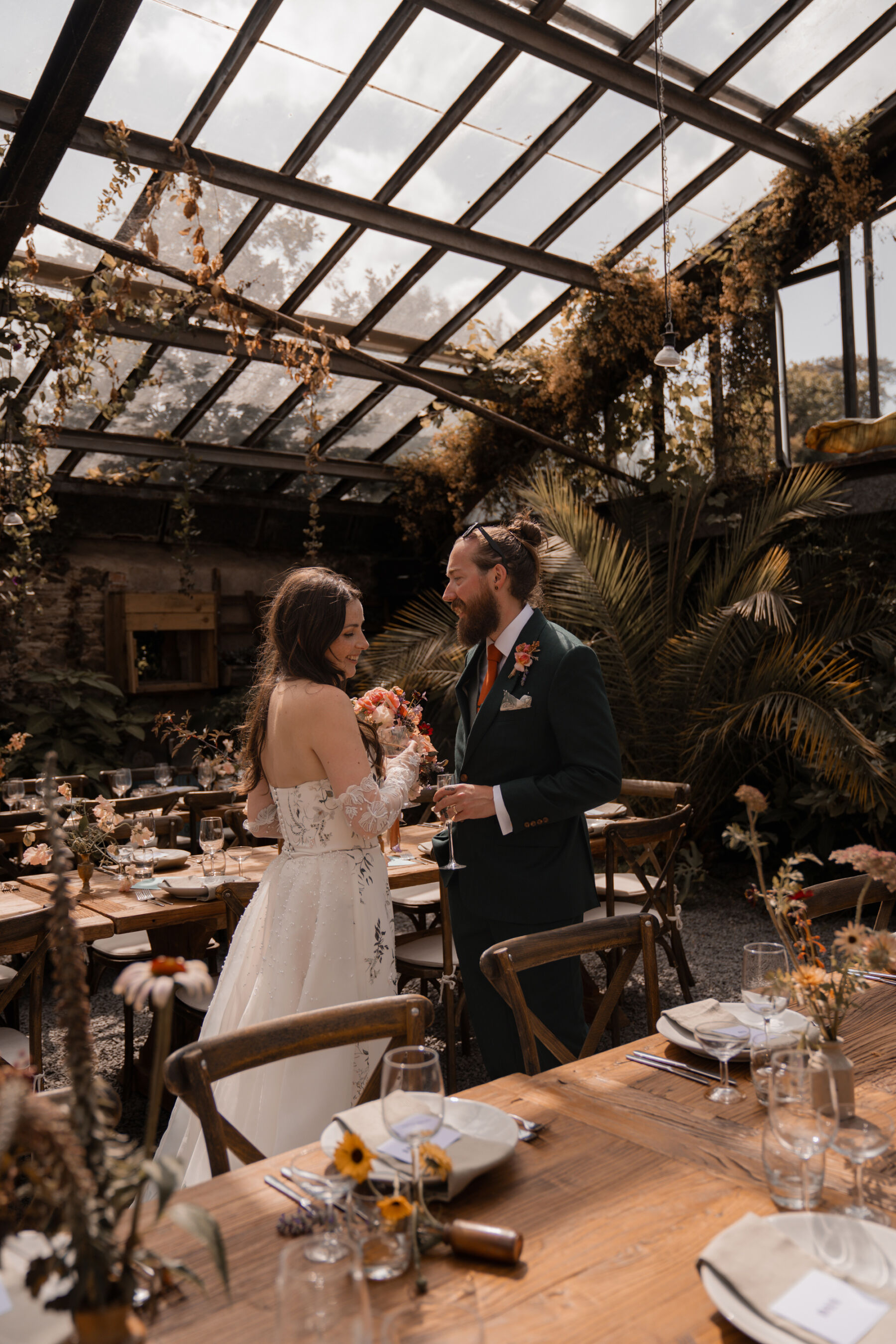 Anran doesn't really need much additional decor in the summer so we didn't have any.
Our co-ordinator booked some lovely seating capsules for the courtyard from Virginia's Vintage Hire and we loved the semi circle bar in the glasshouse from The Natural Hire Company. Our caterers were Cru Events.
We both love green, and wanted to use this as a base to have the pops of colour cut through, with the flowers and stationery.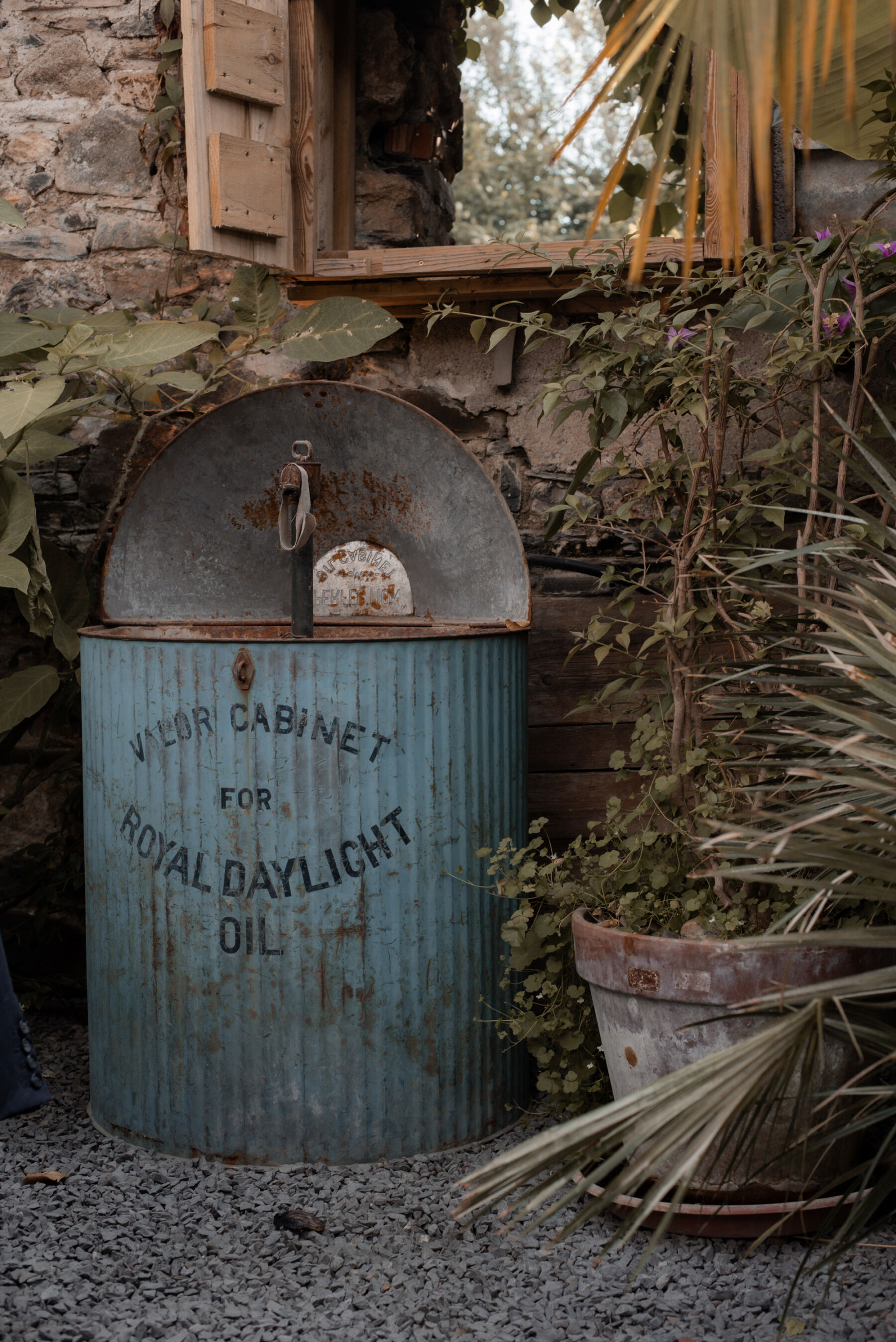 Anran was the perfect foundation for this with it's already lovely green surroundings.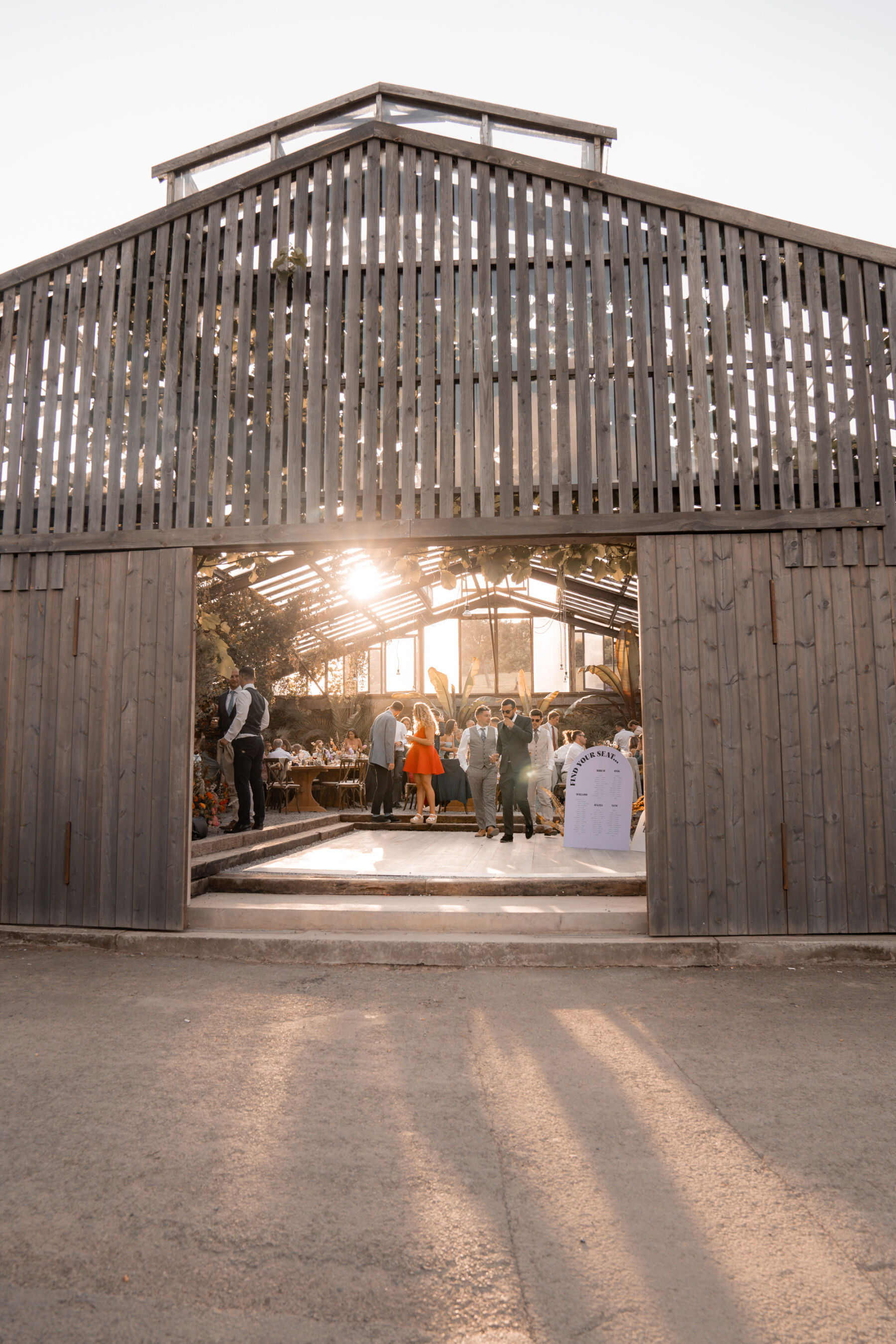 We wanted everything to be rooted in feeling relaxed, natural and botanical, and build out of that with little nods to our personalities, in the colour pops, the music, the cocktails.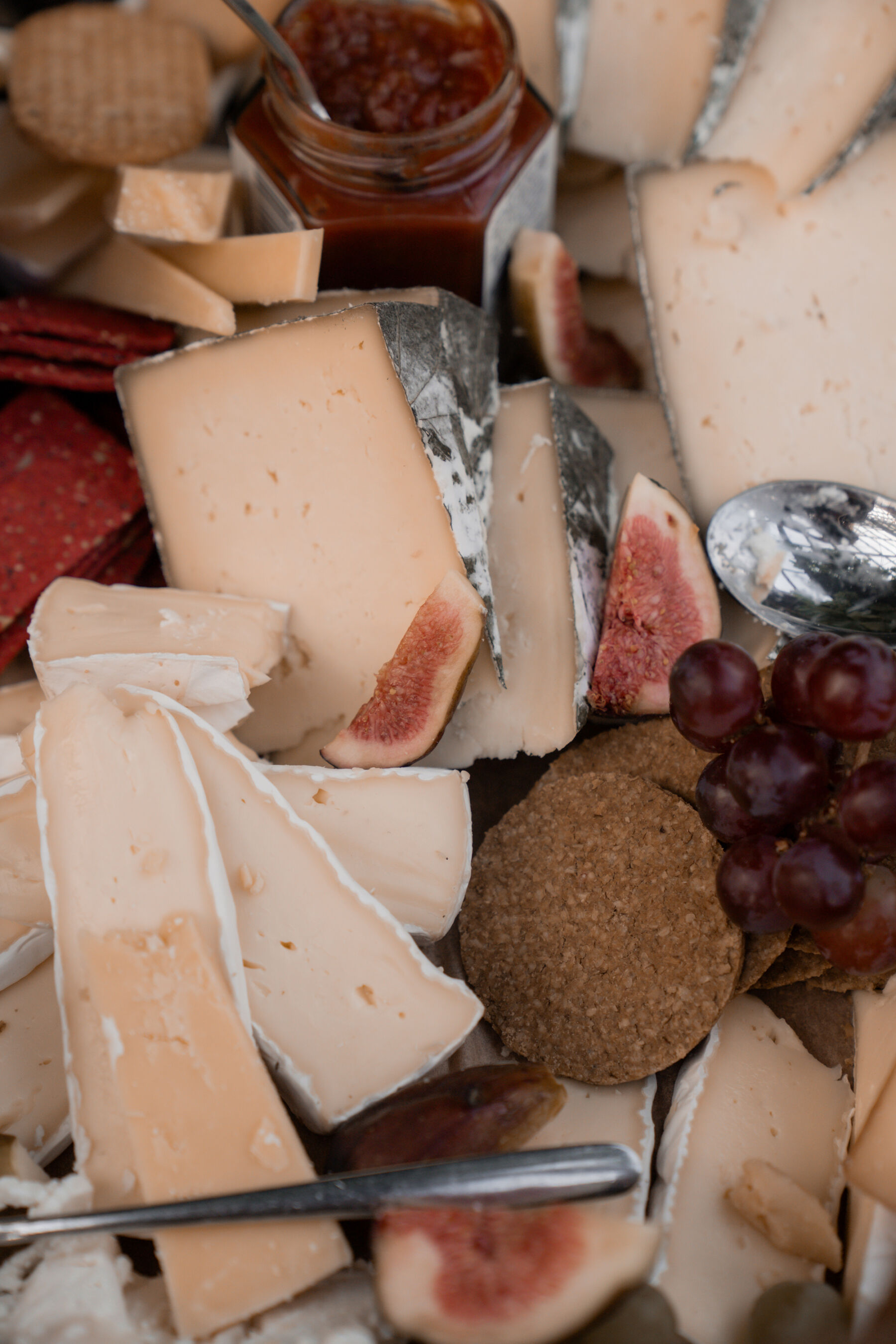 We used 'I Think That You Are Magic' for flowers, which was lovely Hannah. Hannah's florals and decor are like a dream, she completely understood our want for the lovely pops of colour in the green surroundings, we had gone to her with a want for oranges and lilacs, and it was her idea to add in some gorgeous peach and burgundy tones which framed these so well.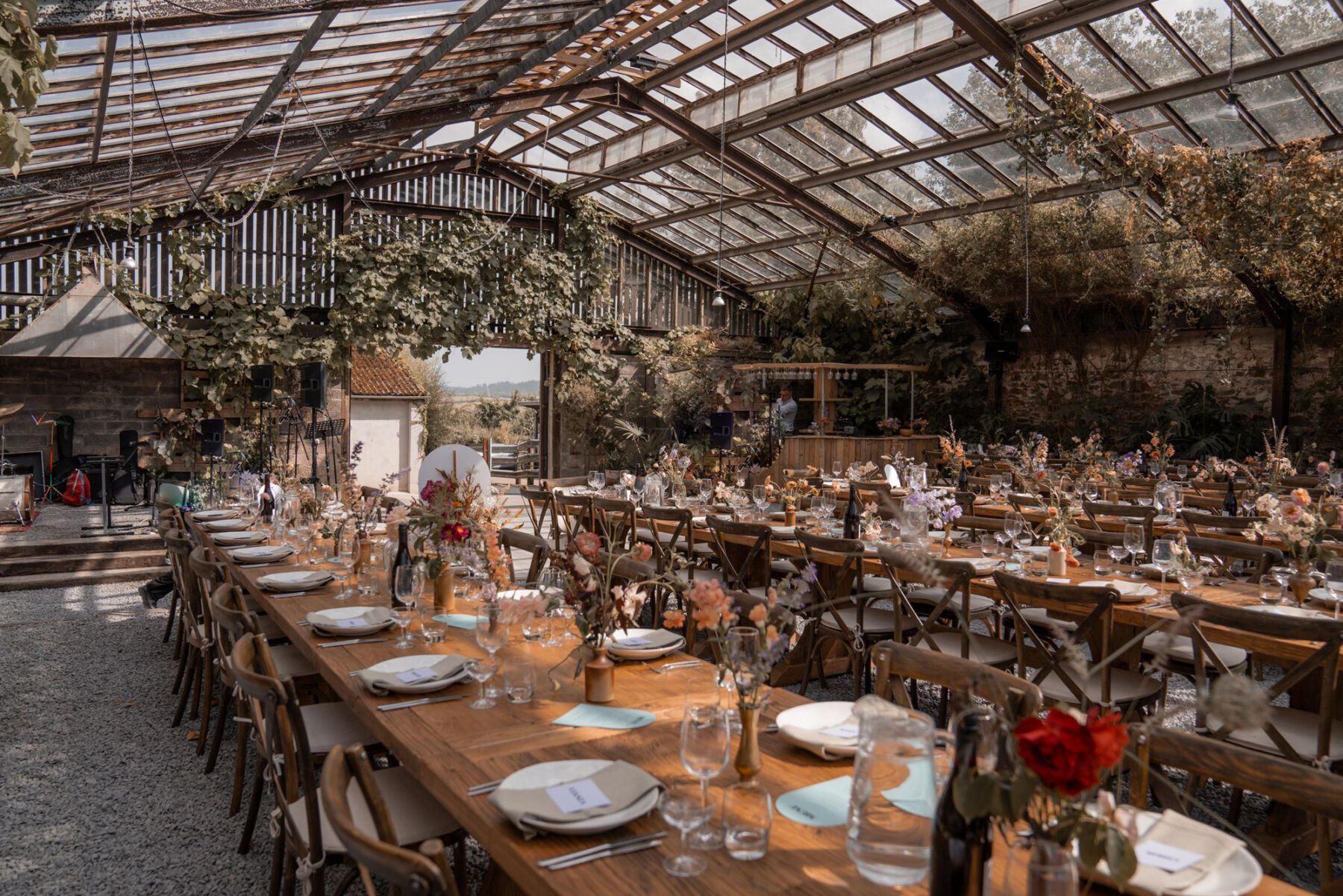 Evening & Entertainment
My evening look consisted of a dress from Self Portrait and cape from Halfpenny London.
We hired the Havana band for the evening – they were great.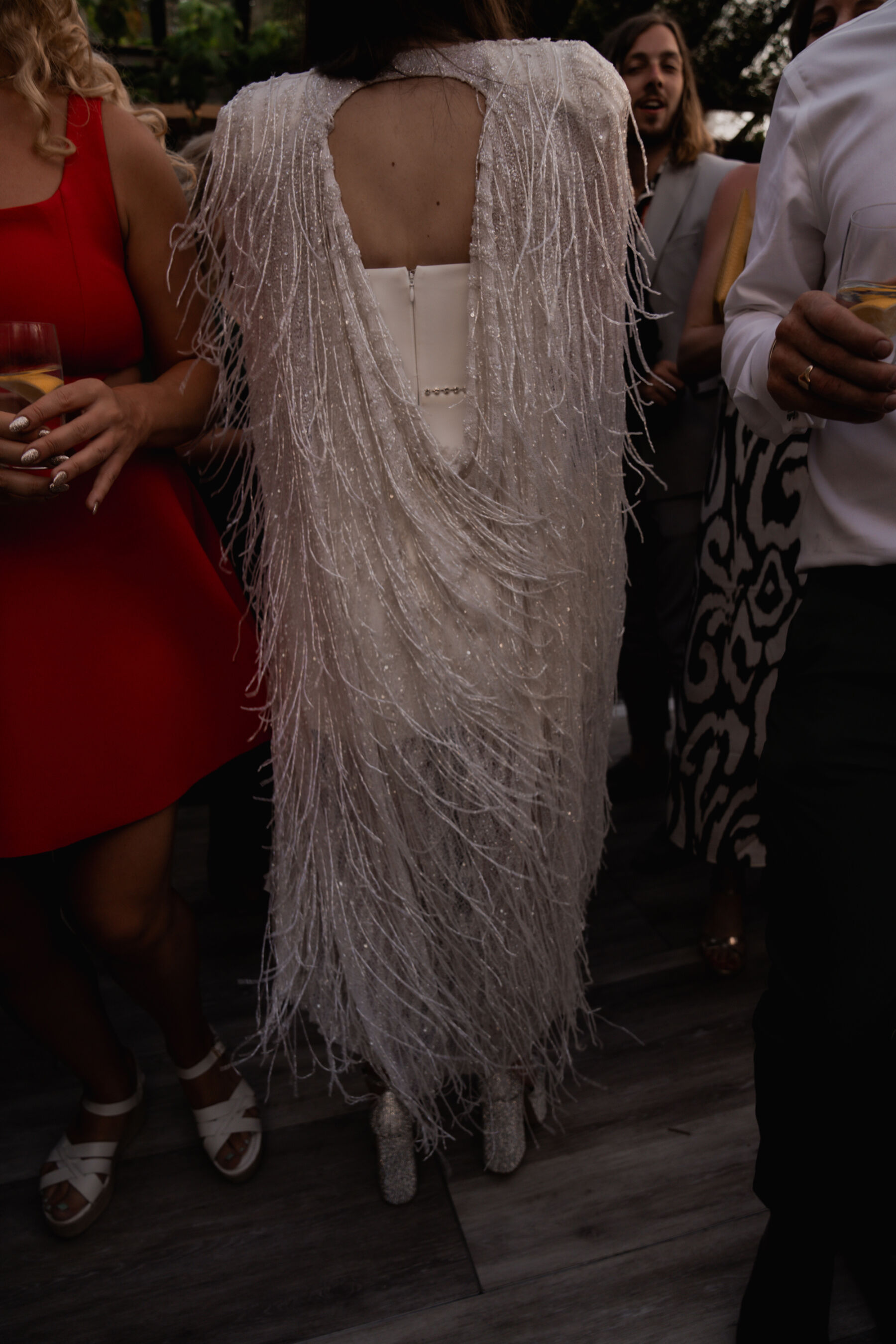 Words of Wedded Wisdom
In the couple of weeks lead up and on the day, no matter how well organised you are, there will be so many things out of your control that could change. And most of these will be completely unnoticeable to anyone but you, so don't dwell on them.
I ate a banana about 30 mins before the ceremony – I wasn't very well on the morning of our wedding and this made me feel so much better. Bananas also prevents you from feeling faint or light-headed which you might if you're anxious or nervous.
Everyone says this but I would have enjoyed the food more, it's so easy to get distracted from eating! Also I would have allowed more time in the morning, I felt a little rushed towards the end of the getting ready period.
Wedding Suppliers
Meet some of our Wedding Directory members.
Additional Credits
The below suppliers and venues are featured in this article, but are not part of the Love My Dress Wedding Directory.
Wedding Dress & Lace Gloves