Georgie and Dave's wedding was a joyous celebration of their love. Held on 17th September 2022. The couple chose the charming barn venue that is Bittenham Springs which spans a 400 acre estate in Gloucestershire and provided the perfect backdrop for their joyous day.
We are thrilled to have played a small part in this couple's gorgeous day – Georgie discovered two of her talented suppliers through Love My Dress, including her dress designer and on-the-day coordinator. In her own words, she described the wonderful Zeleka of The Wedding Day Co-ordinators as "an absolute dream and simply the best at what she does."
The wedding day was filled with so much love, laughter, and happiness and all the wedding day alchemy and magic we love to inspire you with here on Love My Dress. Go grab a cup of tea, sit back, and enjoy every detail of this beautifully uplifting wedding.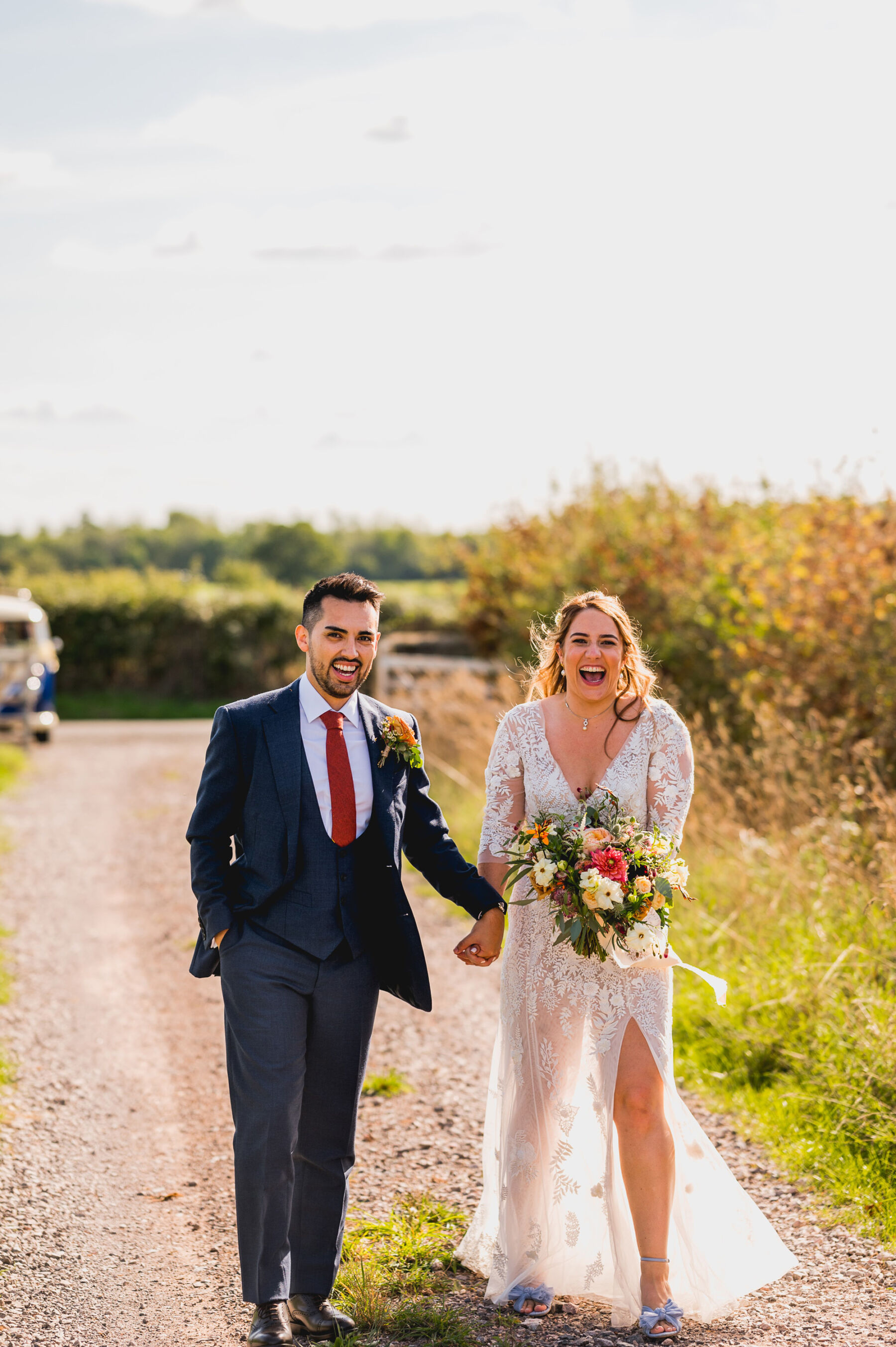 Shoes & Accessories
I wore the Camelia heels from Loeffler Randal, in blue. I spent ages looking for blue shoes that I liked, would wear again, and that weren't prohibitively expensive, but eventually my bridesmaid Becca came to the rescue and suggested these.
The next problem was that I couldn't find them in stock anywhere in the UK in my size, but luckily Dave and I had a trip to New York planned, so I dragged him to the Loeffler Randall store in SoHo so I could try them on. That only left the small issue of getting them into our luggage!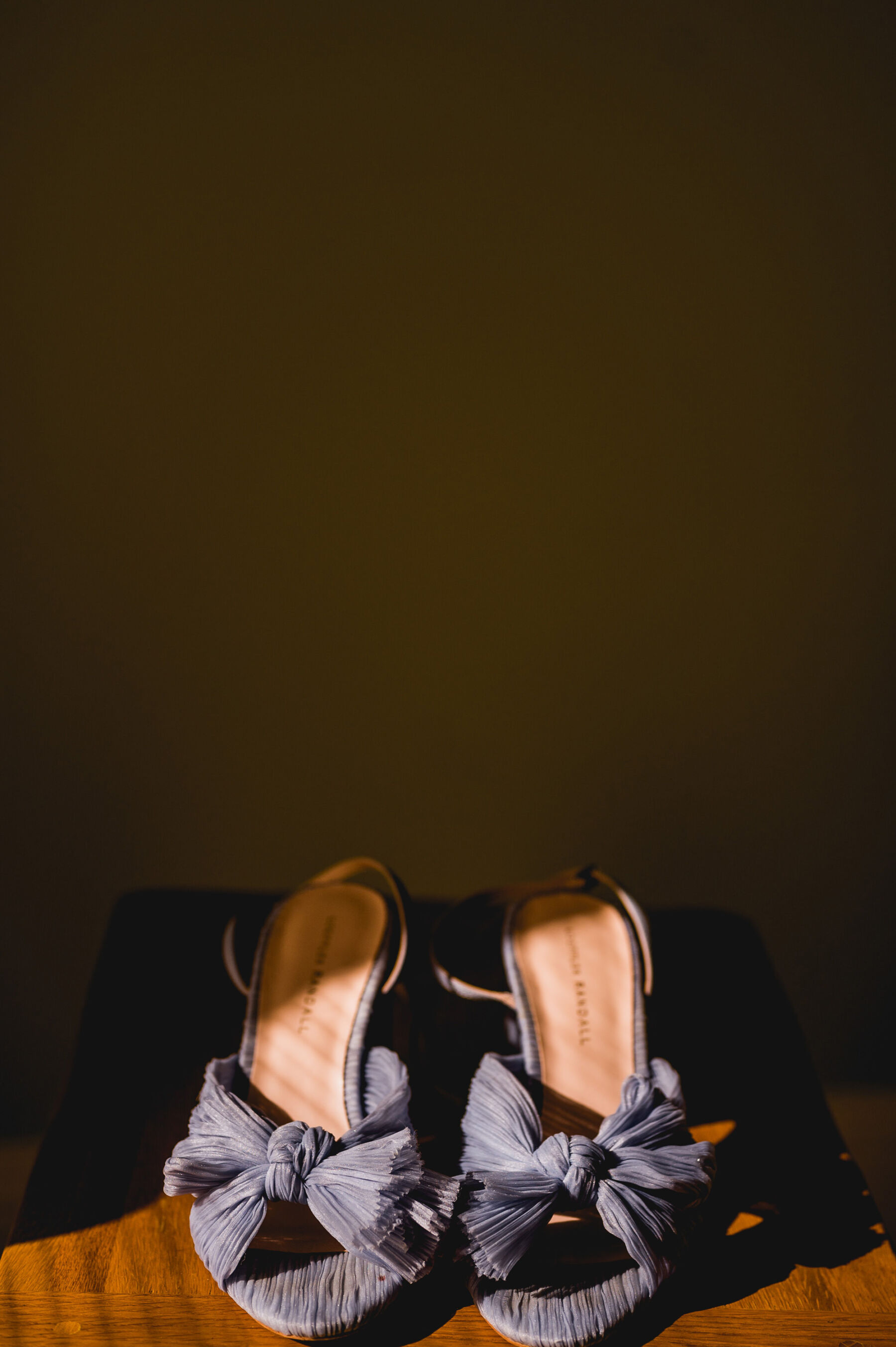 Margot and Lace, based in Cirencester did my hair and makeup. Kerry did my hair, and Elisha did my makeup and they were both fantastic. I'm very much a wash-and-go girl, so was a bit nervous about having a full face of makeup and was very clear I wanted to look like myself, which they completely got and as soon as I got to my trial, I felt at ease.
They were also so good on the day at calming nerves, helping tie dresses, and generally just being an extra pair of hands – I'd 100% recommend them to anybody.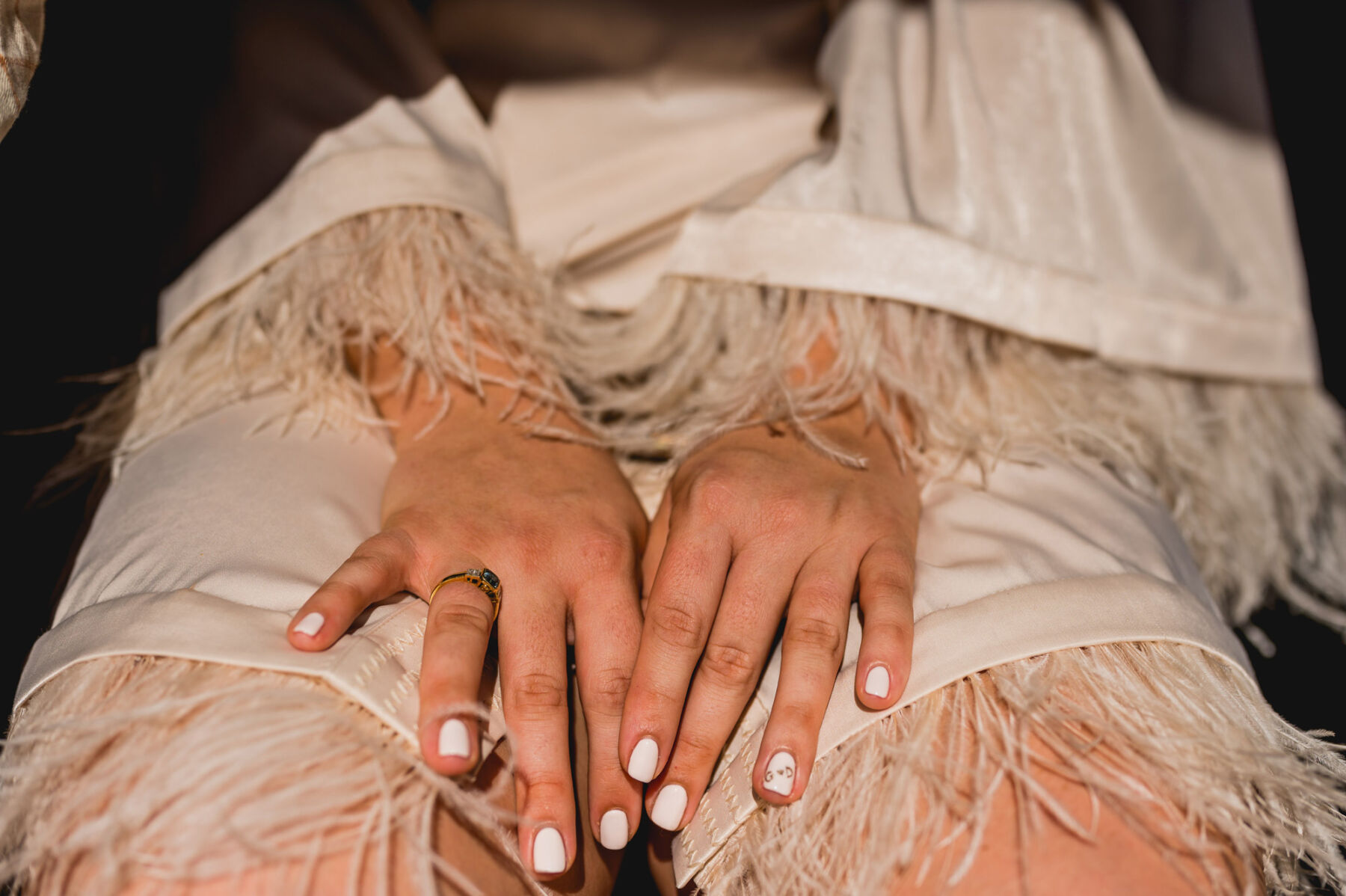 Perfume was a bit of a saga – I originally decided I wanted to wear Do Son by Diptyque, having smelt it at the store in New York on the day I bought my shoes. But them on a whim, bought Philosykos from Diptyque instead.
About a week before the wedding, I changed my mind and yet again, bridesmaid Becca came to the rescue by managing to negotiate her way to a very large sample bottle of Do Son whilst in duty free, which was also the perfect size to keep handy on the day.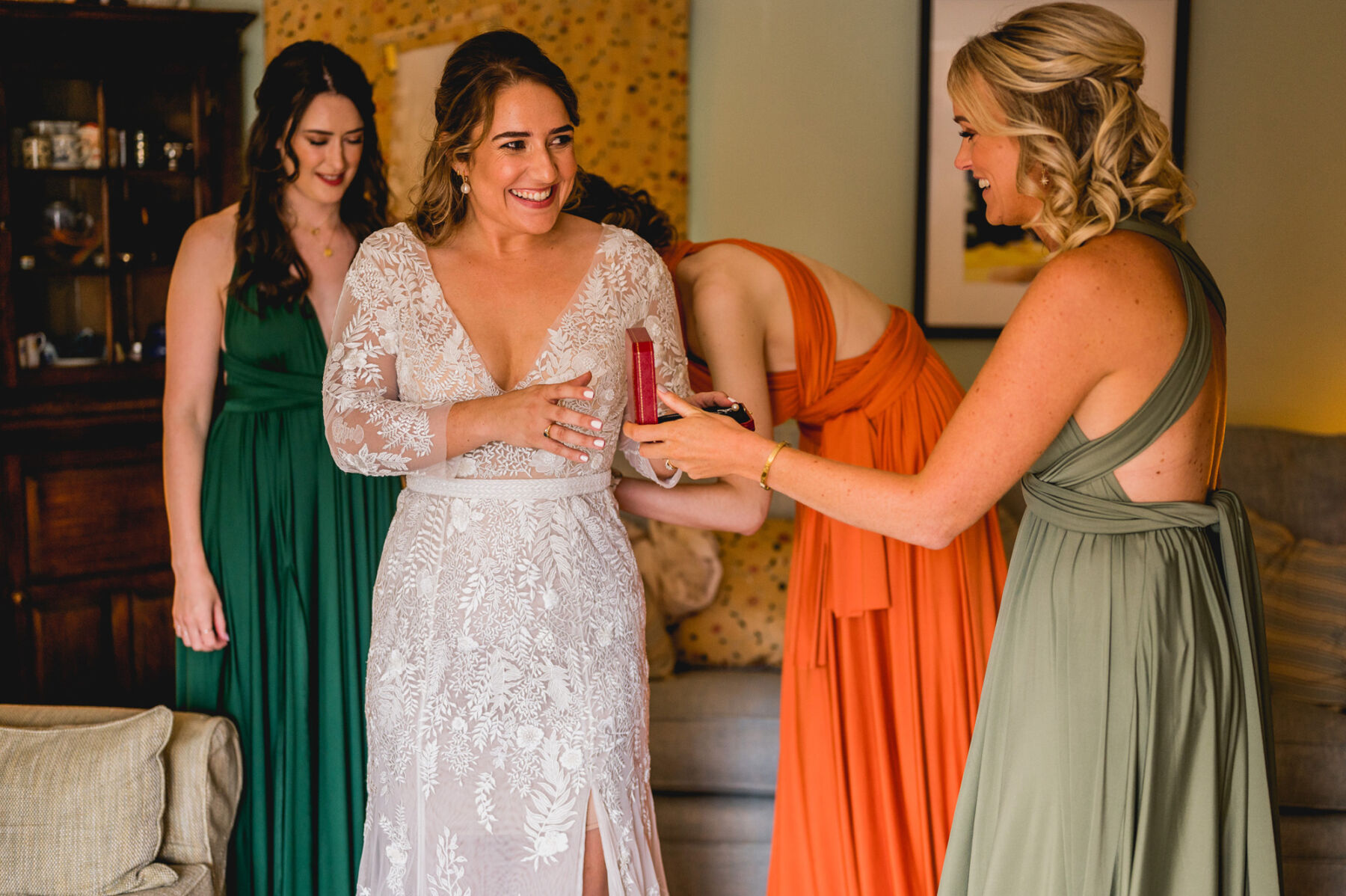 The Dress & Veil
Hermione de Paula
I got my dress from the Hermione de Paula studio, which was an amazing experience. It's such a beautiful, calming space, and I loved going there to try on dresses and with my bridesmaids for fittings. Claudia and Isobel were so helpful and patient when I made many many changes to what I wanted. As soon as I walked in, I knew it was where I would get my dress.
I saw a Hermione de Paula bride years ago, on a Love My Dress real wedding feature (it was Sophie, at Soho Farmhouse), and immediately loved the ethereal and unique style. I wanted to be comfortable, and the very light tulle was super easy to move in. I also felt like myself – I don't think I'd have felt comfortable or relaxed in a bigger dress.
You can also add personalised details to the dresses from Hermione de Paula, so I had our beloved cat Cleo on one arm, and an Inca symbol as a nod to Dave's family on the other. The dress was bespoke, so I could decide on neckline, the back, whether the edges should be scalloped etc., and make a dress that was truly mine. I'm planning to get it made into a mini dress in the future so I can wear it again.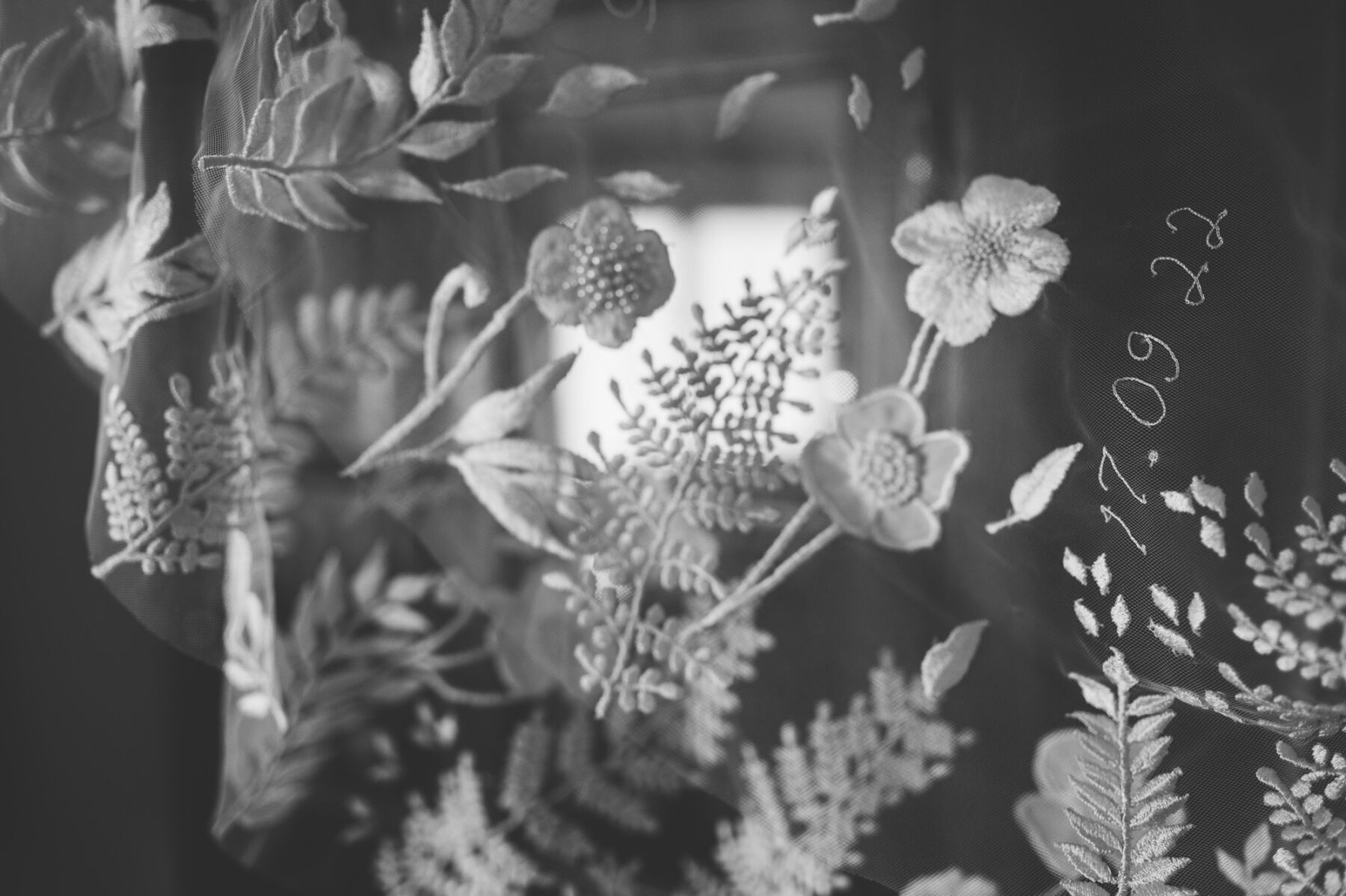 I wore a single tier veil, also from Hermione de Paula, with embroidery to match my dress and our initials and wedding date hidden within the embroidery. I also had an embroidered sprig of Manx heather included, as a nod to my family and for luck! I didn't love the symbolism of having a veil over my face, and knew it would stress out my dad or Dave, whoever ended up lifting it. I did want to feel like a bride, though, so went for one tier and loved it.
My necklace was borrowed from my mum, which was a gift my dad bought for her. I wore Monica Vinader earrings that Dave had given me for Christmas a few years ago, and a small pair of Astrid and Miyu hoops also borrowed from a bridesmaid.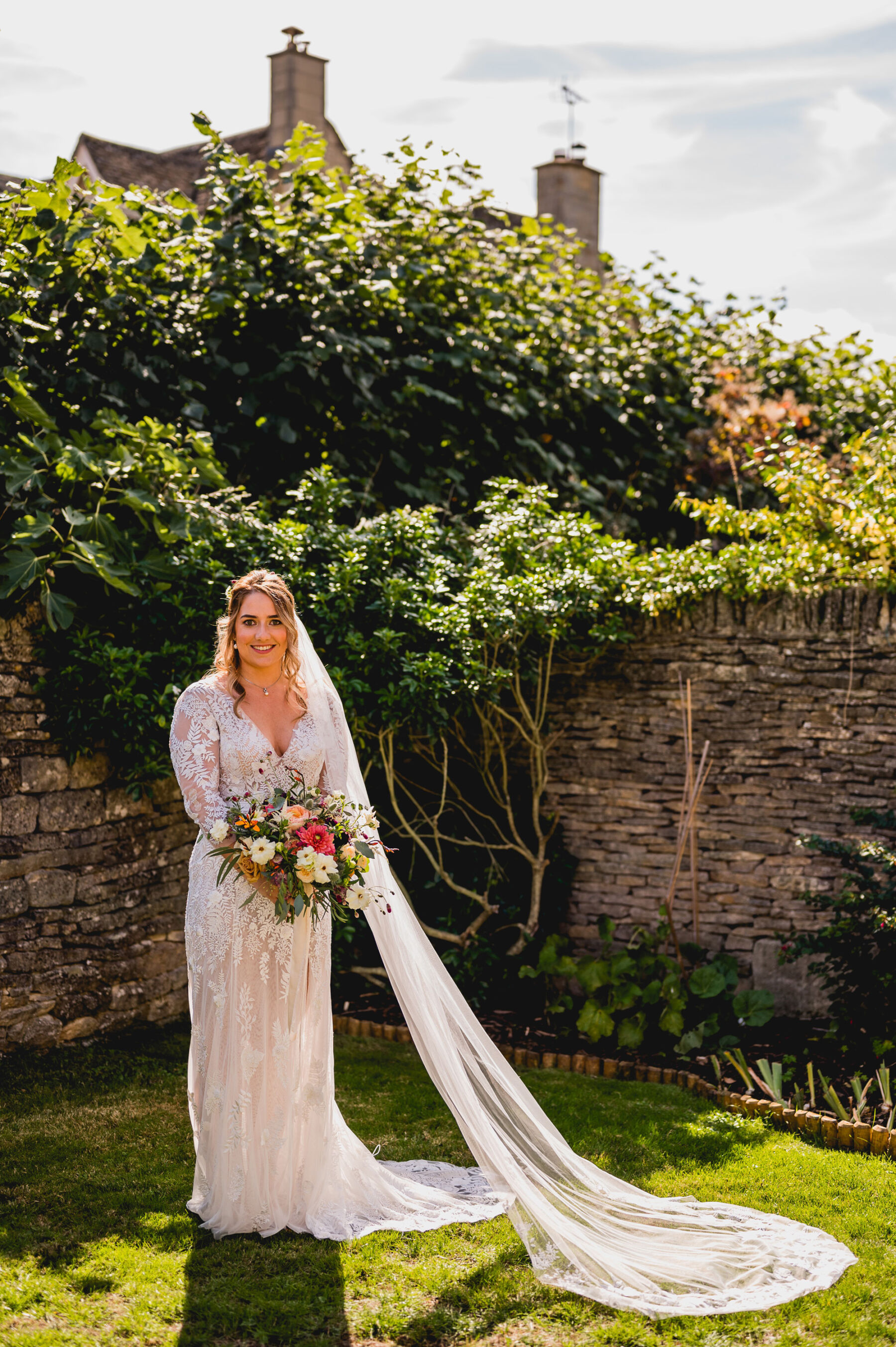 Bridesmaids
My tallest bridesmaid is a foot taller than my shortest, so dresses were always going to be a bit of a challenge! I went for multiway dresses from Kate's Dresses, in different autumnal colours so everybody could feel comfortable and reflect their own style. The only measurement we needed to take was height, so that was super handy with my bridesmaids living all over the country (and Europe…!). We had so much fun tying them in different ways, and I'm actually quite jealous I didn't get one myself!
I left shoes choice up to my girls to choose. I did buy each of them a necklace from Estella Bartlett, and some of them wore those on the day but otherwise everything was up to them.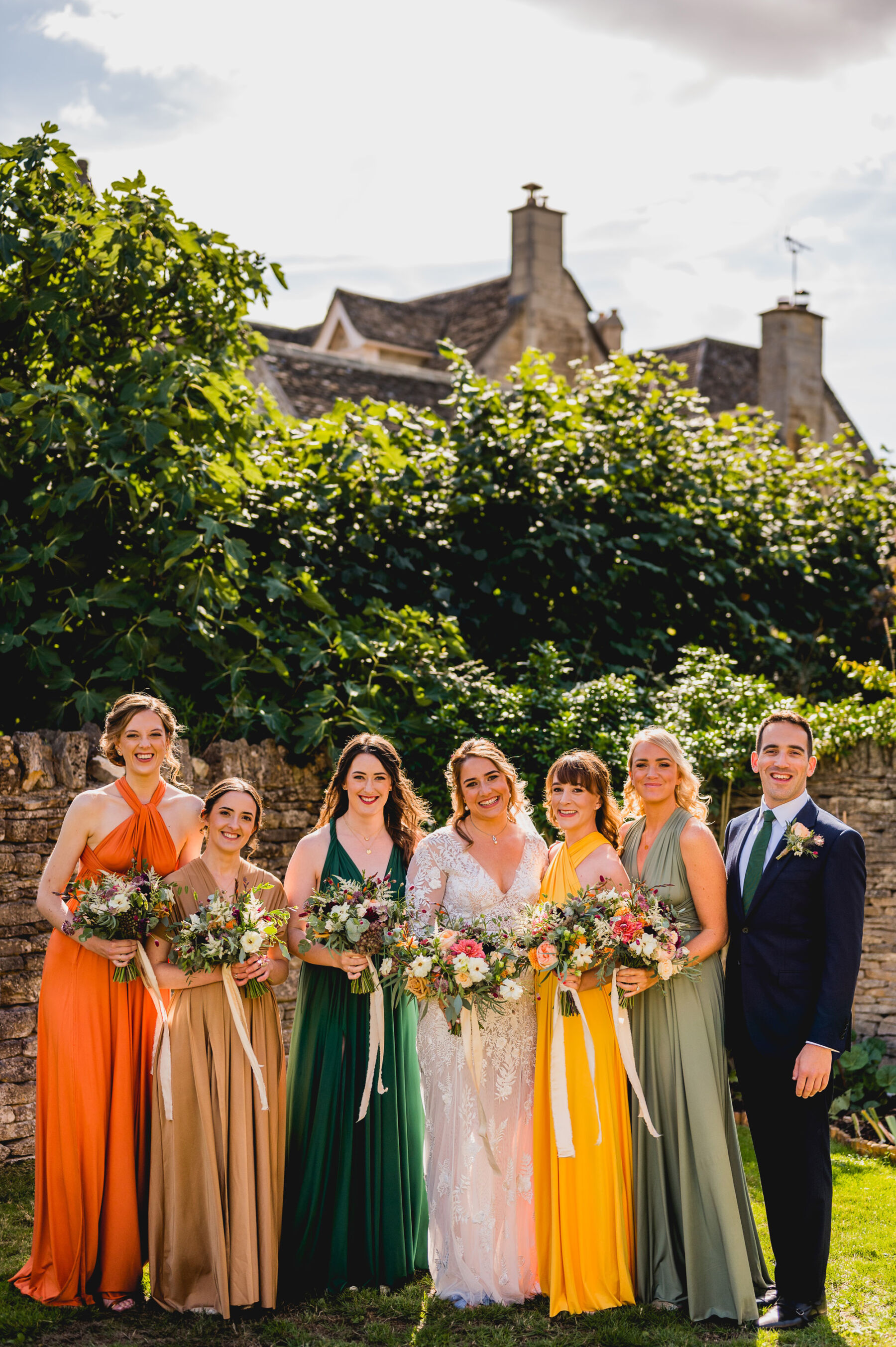 Groom & Groomsmen
Dave's groomswoman, Seeta, wore a dress also from Kate's Dresses in a colour to match the groomsmans' ties, and my bridesman, Dave, wore a suit to match the groomsmen but with a green tie so he fitted in with the girls.
The boys' suits were from Hawes & Curtis, who did a good deal on multiple suits and did the tailoring in store. Their ties were from Moss Bros.
Dave had always wanted a made to measure suit, so for his 30th birthday I arranged an appointment for him to go to Thom Sweeney with his brother/best man, Joe. They had a great time looking at fabrics and drinking whisky, and Dave loved going back for fittings.
He's a huge Arsenal fan, and having an appointment after Ian Wright had his fitting for the Women's Euros finals was a highlight for him! He wore a made-to-measure three-piece suit which was a blueish-teal, which is beautifully made and he'll be able to wear in future.
Dave wore very dark brown leather shoes from Velasca, a tie and sunglasses from John Henric and gold bumblebee cufflinks from Alex Monroe that I gave him on our wedding morning – one of the first things he ever bought me when we got together was a gold Alex Monroe bee necklace, so it was a little nod to the early days of our relationship.
In the evening, Dave changed into a green velvet tuxedo jacket from Edit Suits (with classic black tuxedo trousers), which he had made as a 30th birthday present to himself.
Our nephew, Everett, wore a suit from Next. We left it up to his parents to choose what he would wear, as our priority was that he was comfortable and happy. He looked super cute in his shorts and braces.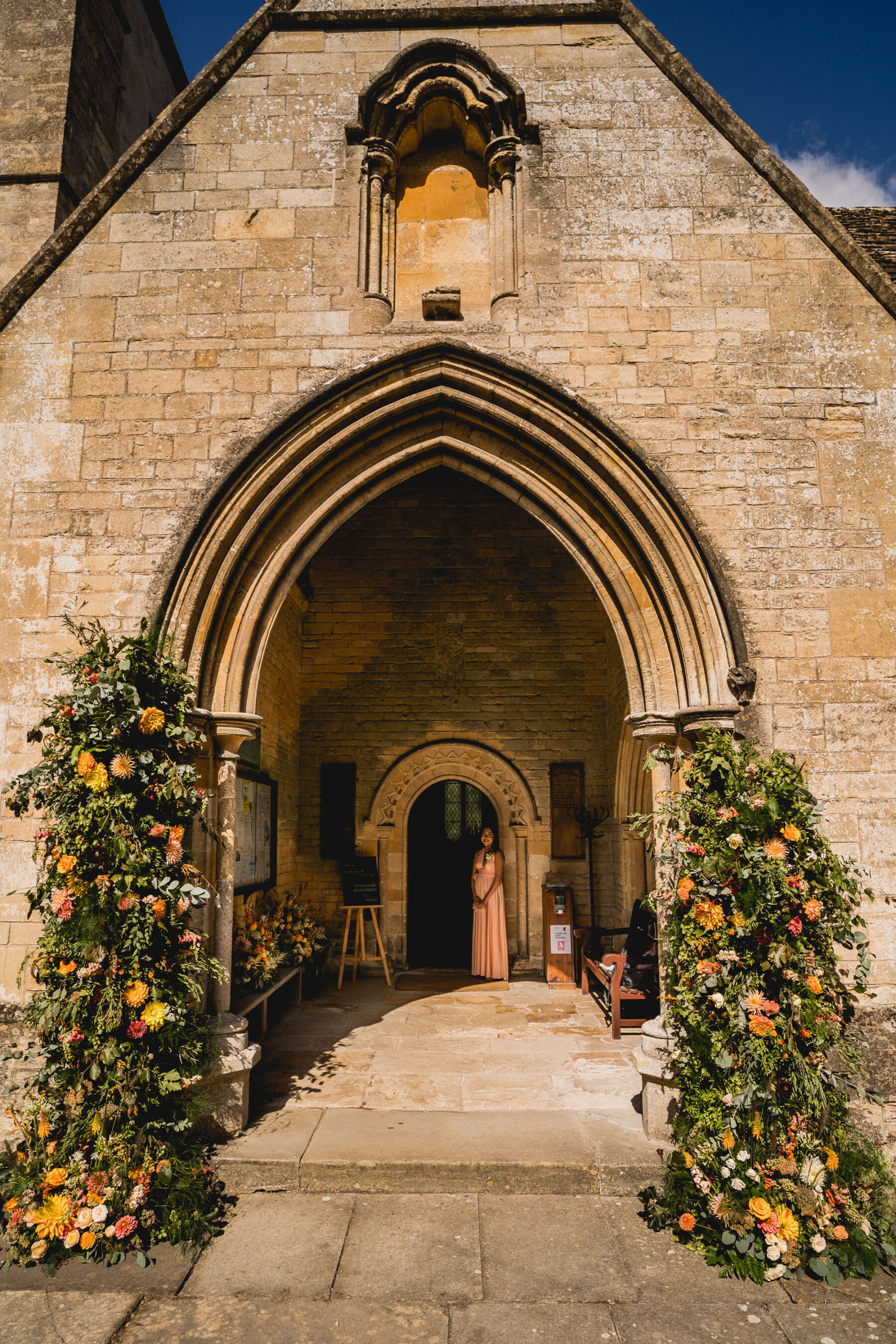 Ceremony
My dad accompanied me down the aisle, which was really special. However, neither Dave or I felt comfortable with me being 'given away', so our vicar changed the ceremony wording so all our parents were included and I wasn't 'handed over'.
The Cotswold String Quartet played 'Waterloo Sunset' as I walked down the aisle, which we had asked them to learn as it reminded us of me moving to London and us spending a lot of time round Waterloo whilst I was at law school. During the signing of the register, they played the theme from 'Up', and Wildest Dreams by Taylor Swift.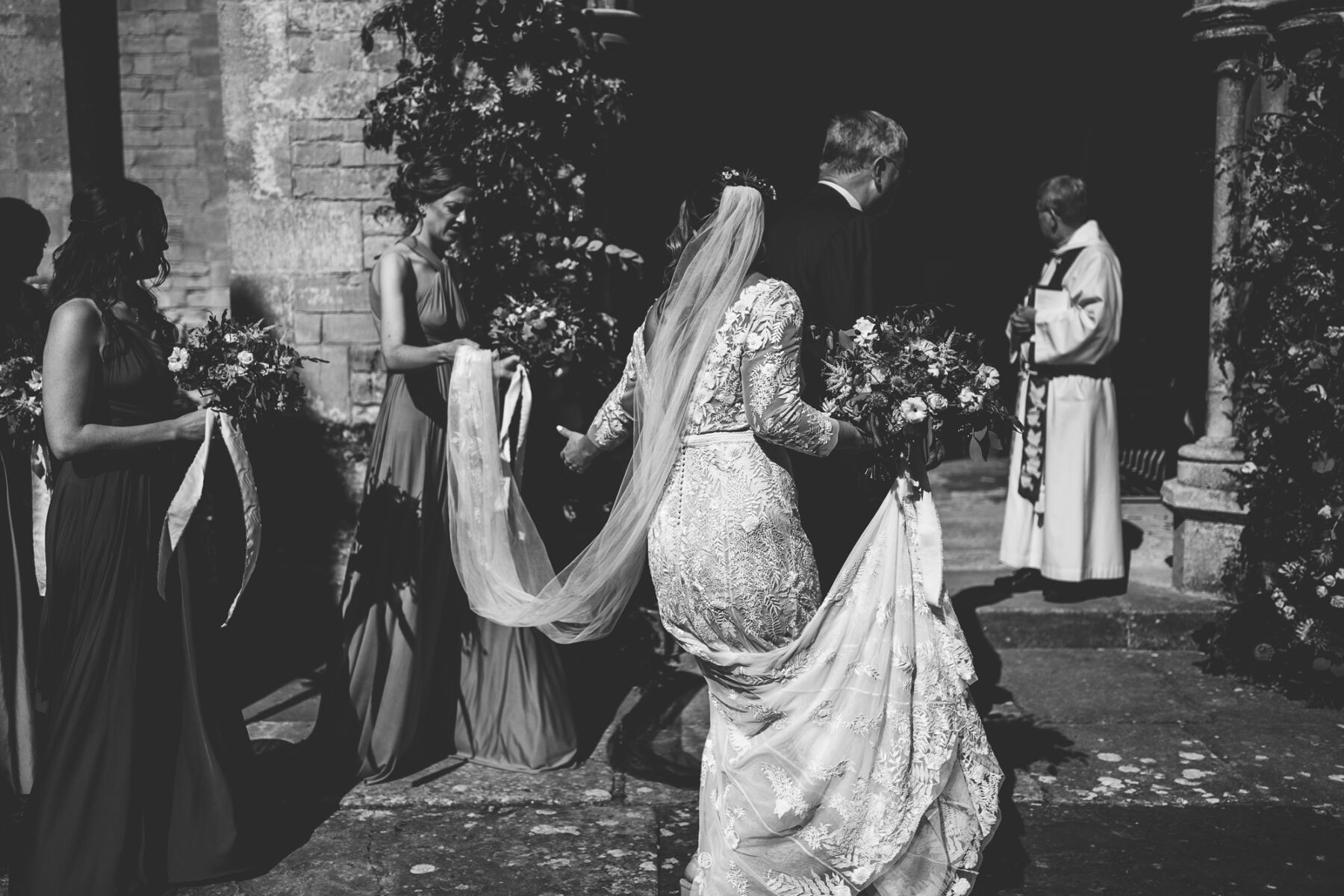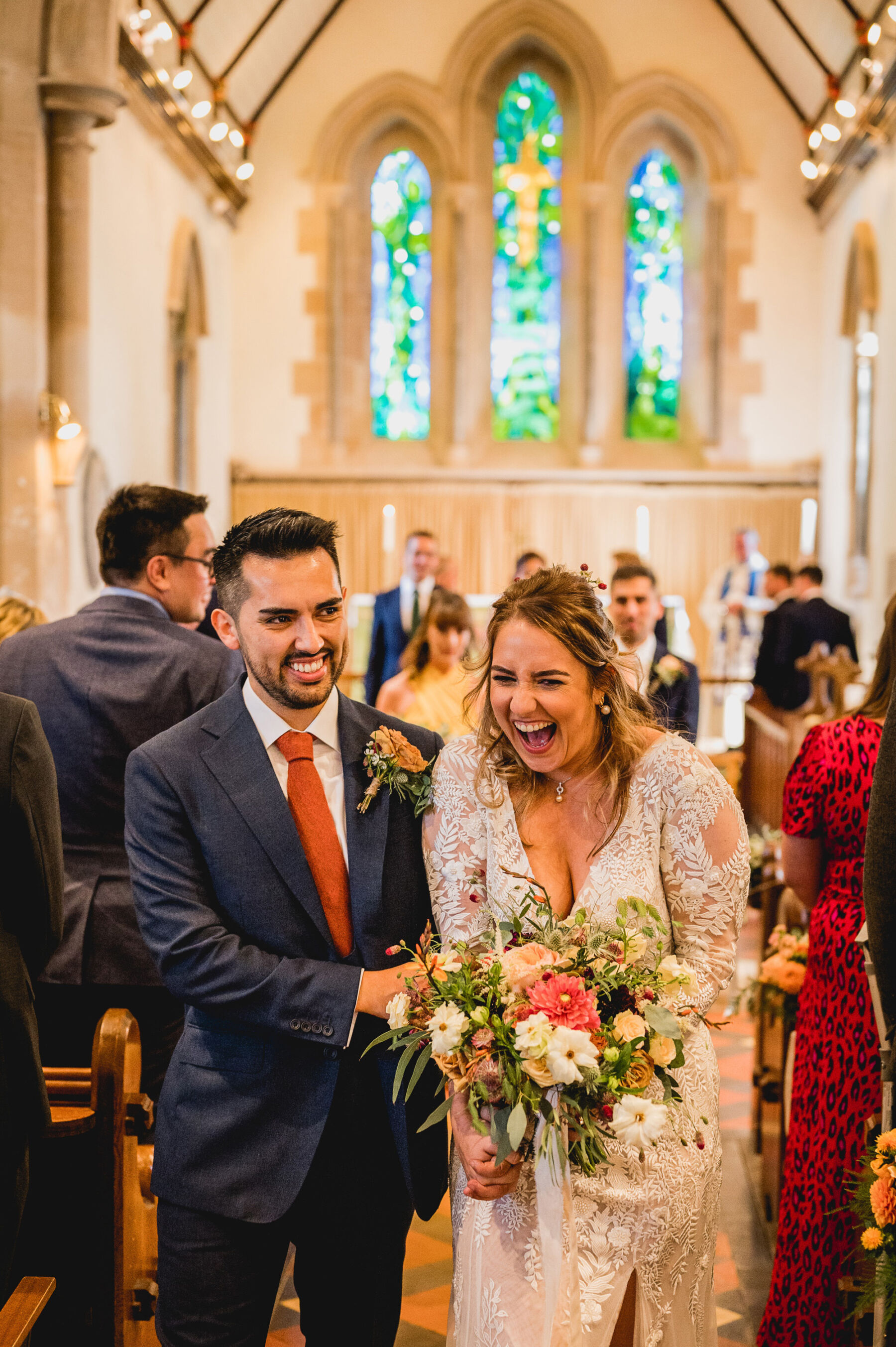 We left the church to 'I'll Make a Man Out of You' from Mulan (with impromptu choral support from the congregation!), which was an idea that came to us after a few too many glasses of wine and we ran with it… no regrets.
Reverend Trevor Kemp, the vicar at the church, officiated our ceremony. He had also officiated one of my bridesmaid's weddings a few months earlier, so it was fun that we were married by the same person. We were lucky that he was really flexible and was happy for us to make the ceremony our own.
We had three readings (it was a bit of a mega-ceremony because I kept finding ones I liked!). We had The Song of Solomon as our religious reading, which my godfather read. Our wonderful friend and incredibly talented poet Cat Turhan wrote us a poem as a wedding gift, which my brother Roger read. It's called City of Eternal Spring, and incorporates so many elements of our story – we have it framed in our flat now. Our third reading was a letter from Robert Browning to Elizabeth Barrett on the morning of their wedding day, 12 September 1846, read by my childhood friend Robin.
We also had three hymns – Jerusalem, Dear Lord and Father of Mankind, and Love Divine. We chose Jerusalem because everyone knows it, Dear Lord and Father is my favourite, and Love Divine was one of the hymns at my parents' wedding. And they're all bangers.    
We got our rings from Sophie Breitmeyer in Notting Hill. My ring is a simple gold band which was made to fit around my engagement ring, and Dave has a gold band with some Inca (Peruvian) geometric patterns engraved around it. Tatiana at Sophie Breitmeyer was so good, and we were amazed with the results – Dave did some drawings of what he wanted, and they transformed that into his perfect ring.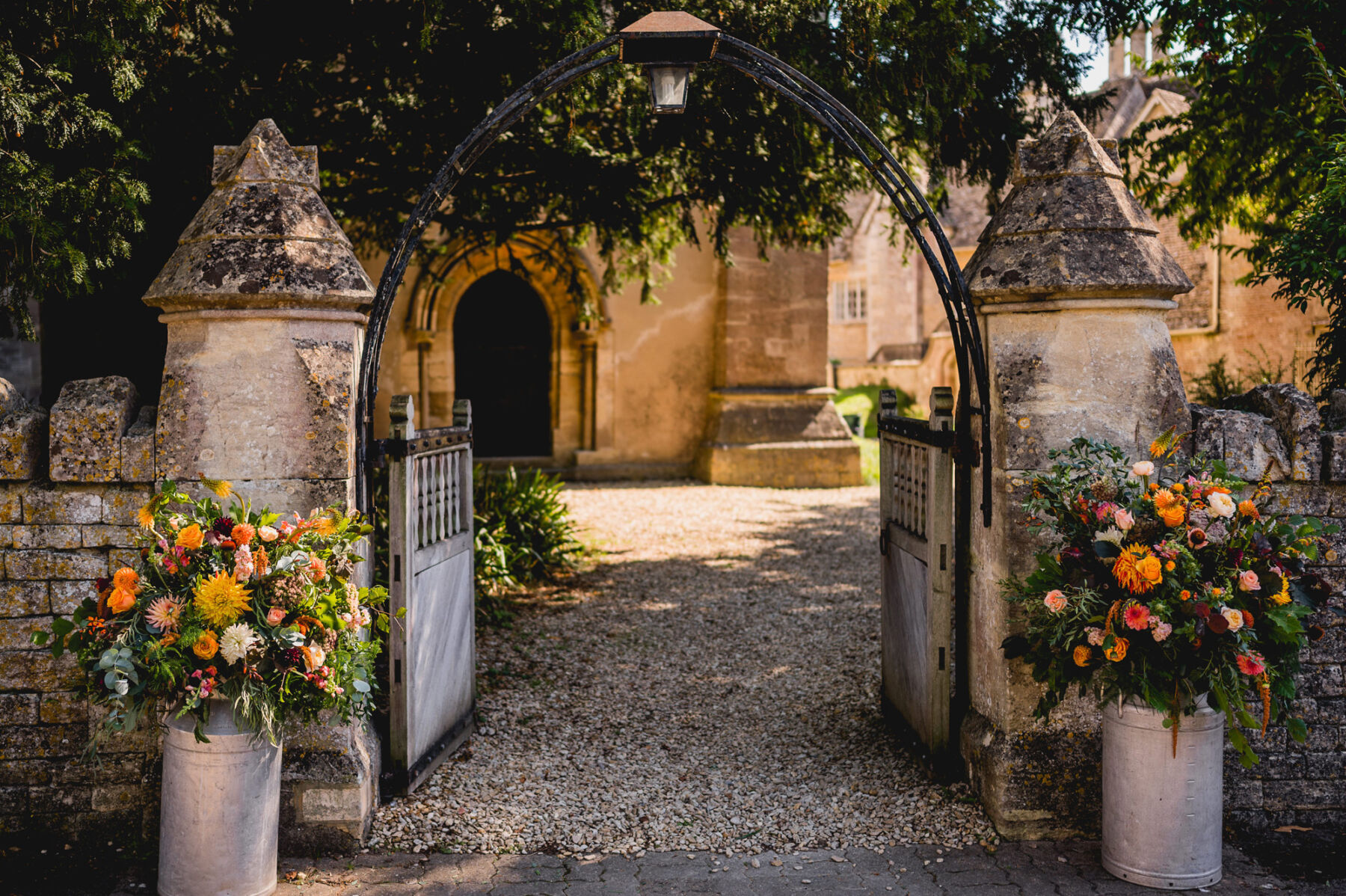 Photography & Videography
We used Barney Walters, who we first met at Dave's brother's wedding in 2016. We were so impressed with his crowd management, how much he puts into the day, and adore his fun, energetic and colourful photos. We didn't want to spend much time posing and doing group shots, and Barney totally got this and managed to keep this to an absolute minimum.
We also asked Barney to arrange a second photographer to come with him, so we didn't miss anything – we're still loving going through all the photos and spotting little moments we didn't see on the day! We'd recommend Barney to anybody – he's absolutely brilliant.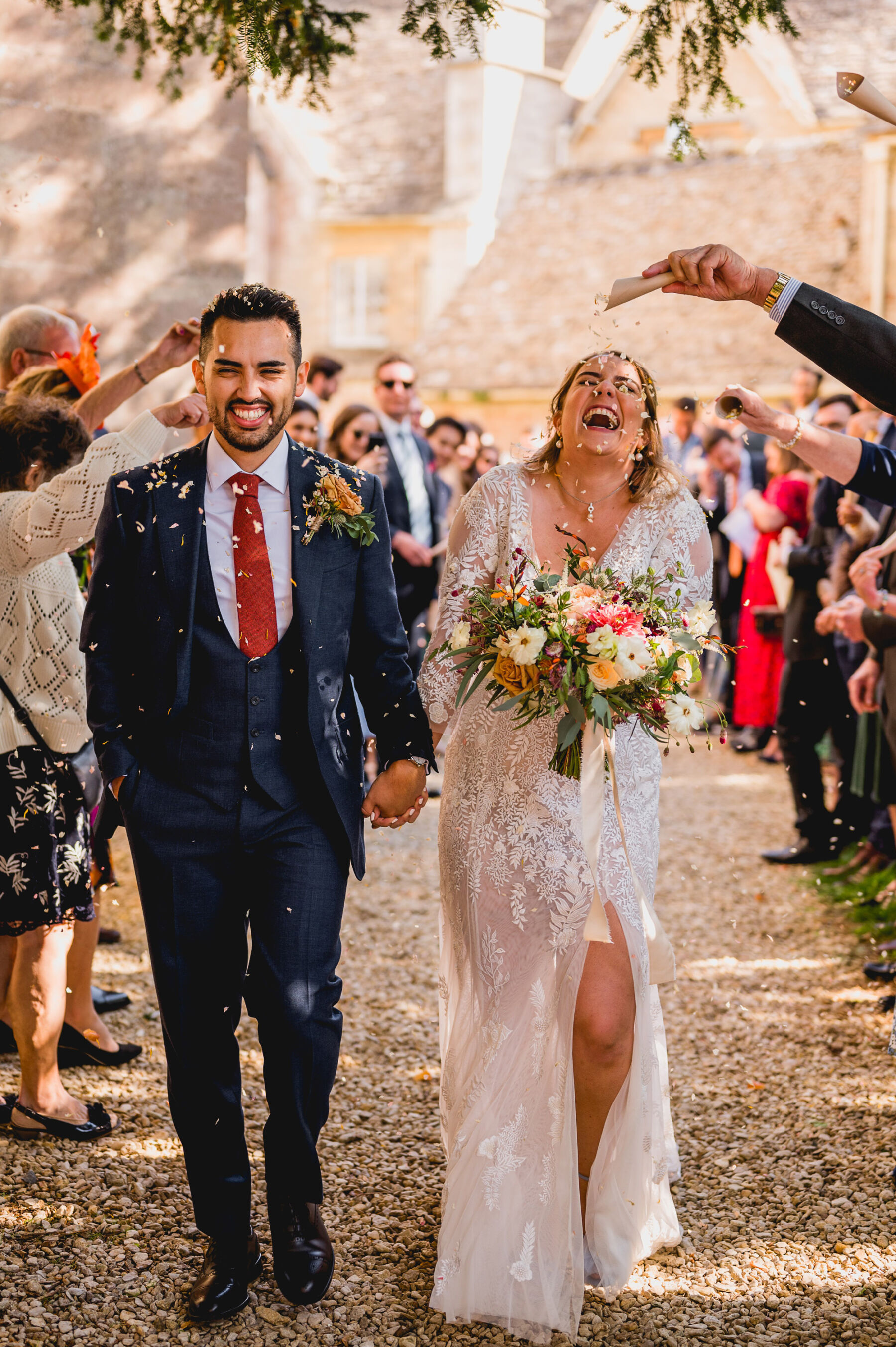 We originally didn't think we wanted a videographer, because we didn't want to feel like we were 'performing', but eventually decided we wanted a video as long as it was simple and nothing too cinematic.
We found Will from Cine Reportage after a lot of Googling, and really like that his videos are simple, romantic and just have musical backing rather than sound. He shoots using real film, which was a nice talking point for our guests on the day and can't wait to see the video.
Transport
Since our ceremony was walking distance from home, and the reception was less than a mile away, I had always said we didn't need transport and would just go in our own car (a very functional Hyundai!) or in the back of my parent's car. However, my dad had other ideas and when tasked with arranging guest transport, also booked us a vintage camper van which was kept a secret until we left the church!
He booked it with Wedding Day Wagon, and Chris who drove the car was great, even assisting Barney the photographer and holding my bouquet during the couple's photos after the ceremony. I'm really glad we did something a bit more special than I originally planned.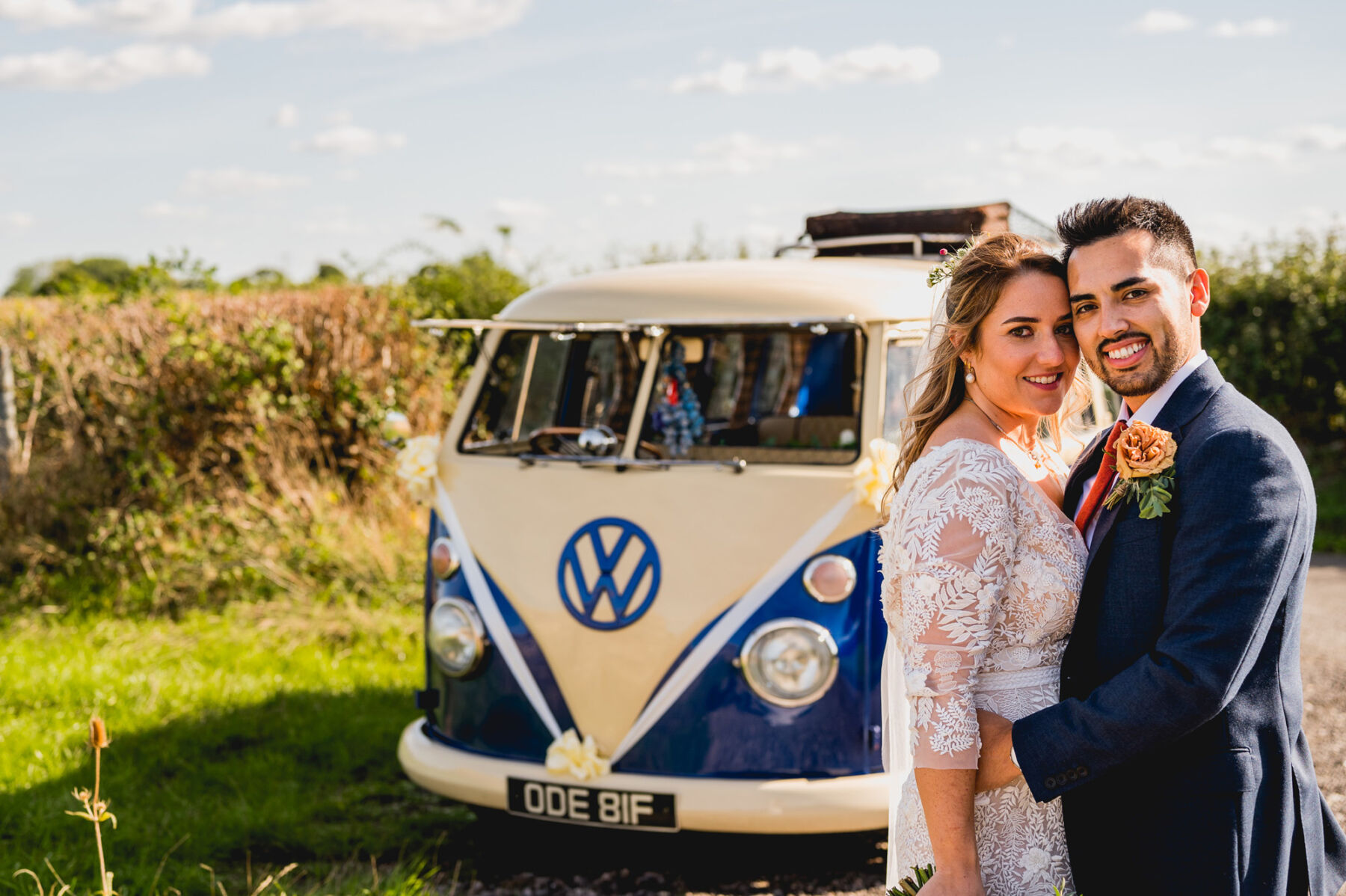 Flowers
I really struggled to find a florist that I liked and was available on the day. I knew that I wanted the day to be filled with flowers, and definitely wanted an arch, but other than that was quite clueless. Eventually, a work colleague suggested Caroline Clements, who is an absolute genius.
Caroline was incredible, often texting me with ideas and pictures she had seen elsewhere she thought I might like, and was so patient with my complete lack of flower knowledge. I wanted the flowers to look very natural, be seasonal, and reflect the countryside we were in, and for the colours to be seasonal and bright.
Caroline and her team absolutely nailed that, with a combination of dahlias, roses and lots of greenery – I think some of it was even foraged from the venue during prep! The day before the wedding, when it was all a bit stressful, I went for a walk down to the church, and seeing the florists working on the arch made it feel so real and completely calmed my nerves.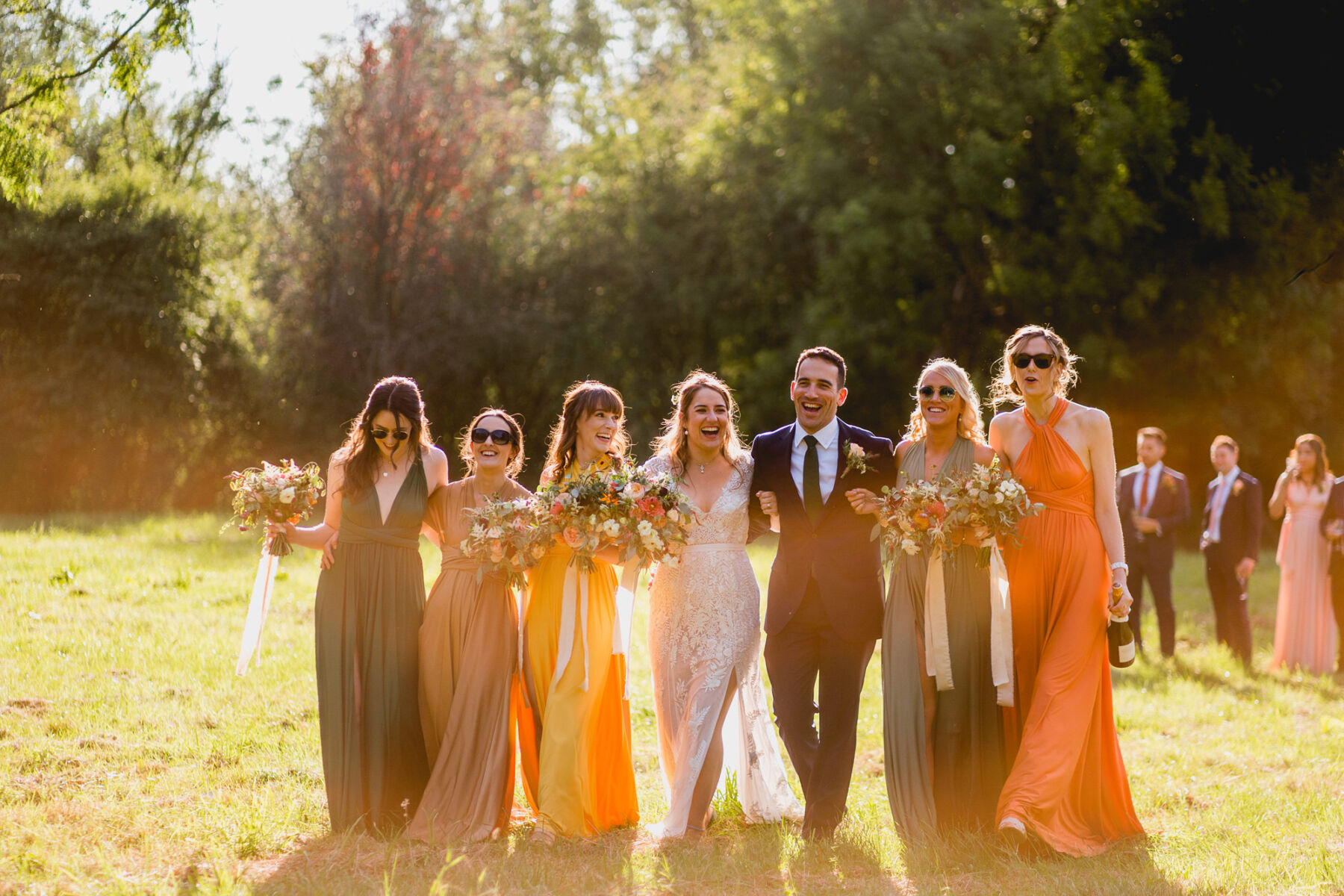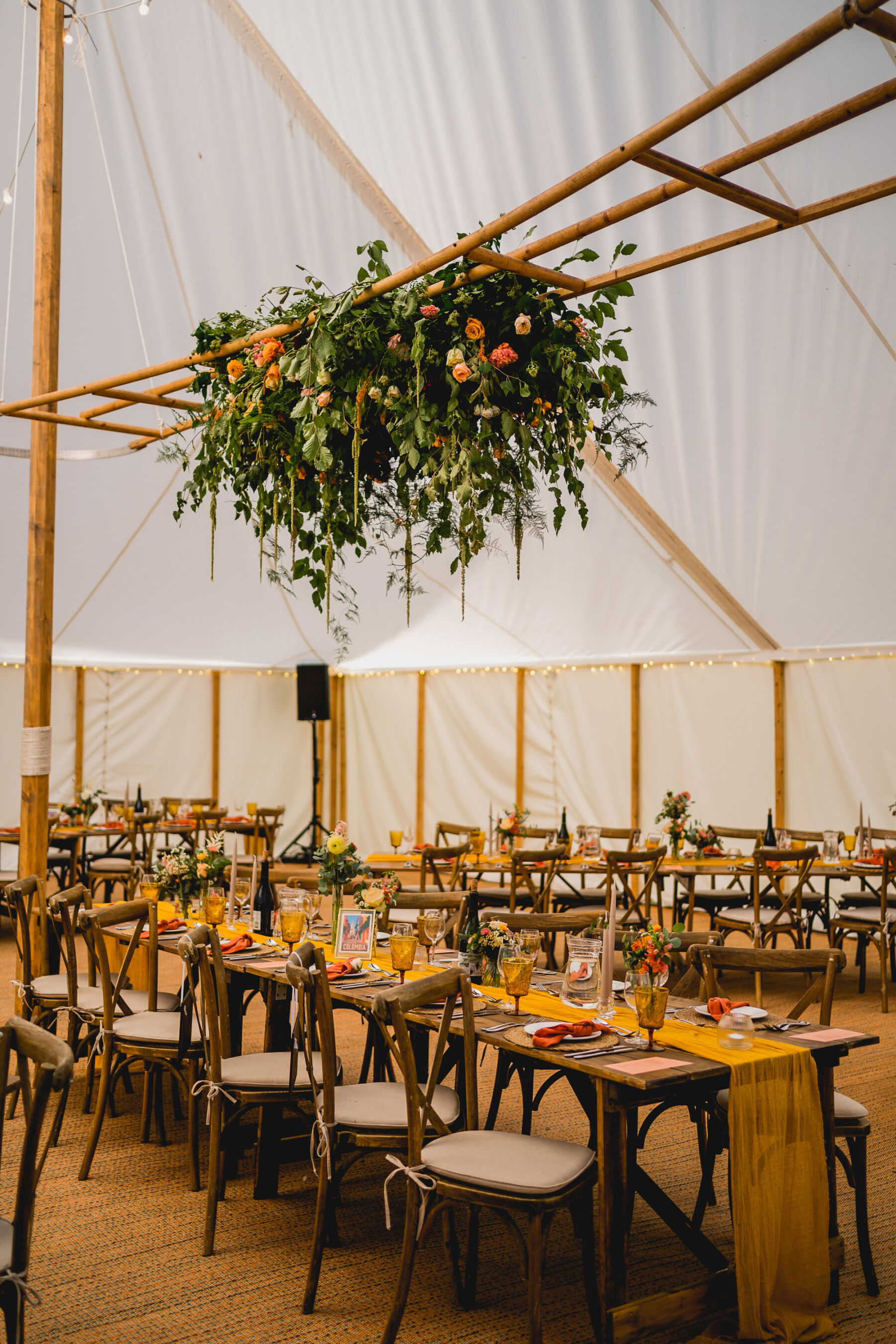 Reception
Detail & Decor
---
Kirsten, The Little Wedding Helper, was totally brilliant and came up with so many amazing ideas. She styled all our tables, helped us source the napkins, glasses, candles, stationery and placemats, and made the most amazing table plan I've ever seen using an old apothecary cabinet she found on Facebook Marketplace.
Kirsten also created a gin bar at the drinks reception, where we served Fynoderee gin from the Isle of Man with different tonics and garnishes. We mostly decorated the venue. I think it's quite easy when planning a wedding (or anything, really) to stick to safe colours and things you've seen before, but I totally trusted Kirsten to make our brighter, more autumnal colour scheme work.
Our save the dates, invitations, orders of service and menus were designed by Chloe Ainsley, who was great and made sure everything was very low stress. For our on the day stationery, we used Fran from Hunter Gatherings, who made our calligraphy place names, table plan and the larger welcome and order of the day signs. One of my favourite things was our bilingual order of the day sign in English and Spanish, which included our own bespoke drawing of a taco!
We originally didn't want a cake – neither of us are big cake people, and we couldn't justify the expense. My mum then offered to make the cake for us, which was so kind and generous, and such a lovely gesture. It was three tiers of her famous fruit cake, and my sister-in-law's incredibly talented step-mum Lynn spent the weekend with my mum to do the icing. Caroline the florist then added fresh flowers to the cake on the day, and we were so pleased with how it turned out.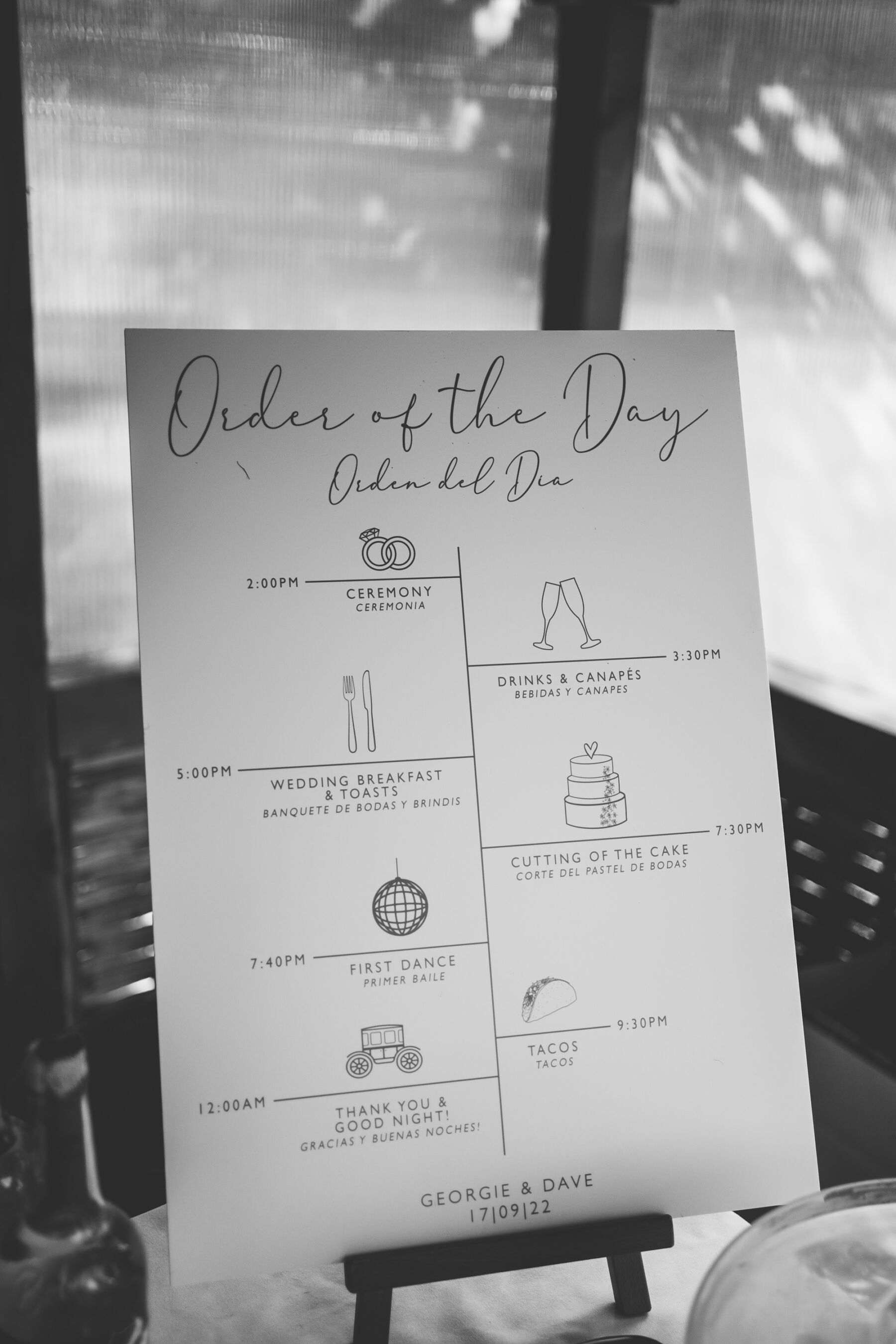 We used Caviar and Chips as our caterers. I found myself getting overwhelmed by long menus sent by catering companies, so we were really happy to find Caviar and Chips who don't do menus – they make you your own based on your preferences!
We had a great hour spent speaking with Marc about the type of food we liked to eat, what we wanted the meal to look like, how we wanted it served etc., and they really delivered. We had canapes that reflected our backgrounds, and then family style dining for the sit down meal. In the evening, we had a taco bar, as an homage to the taco bar in Medellin where Dave and I would meet for lunch when we first met.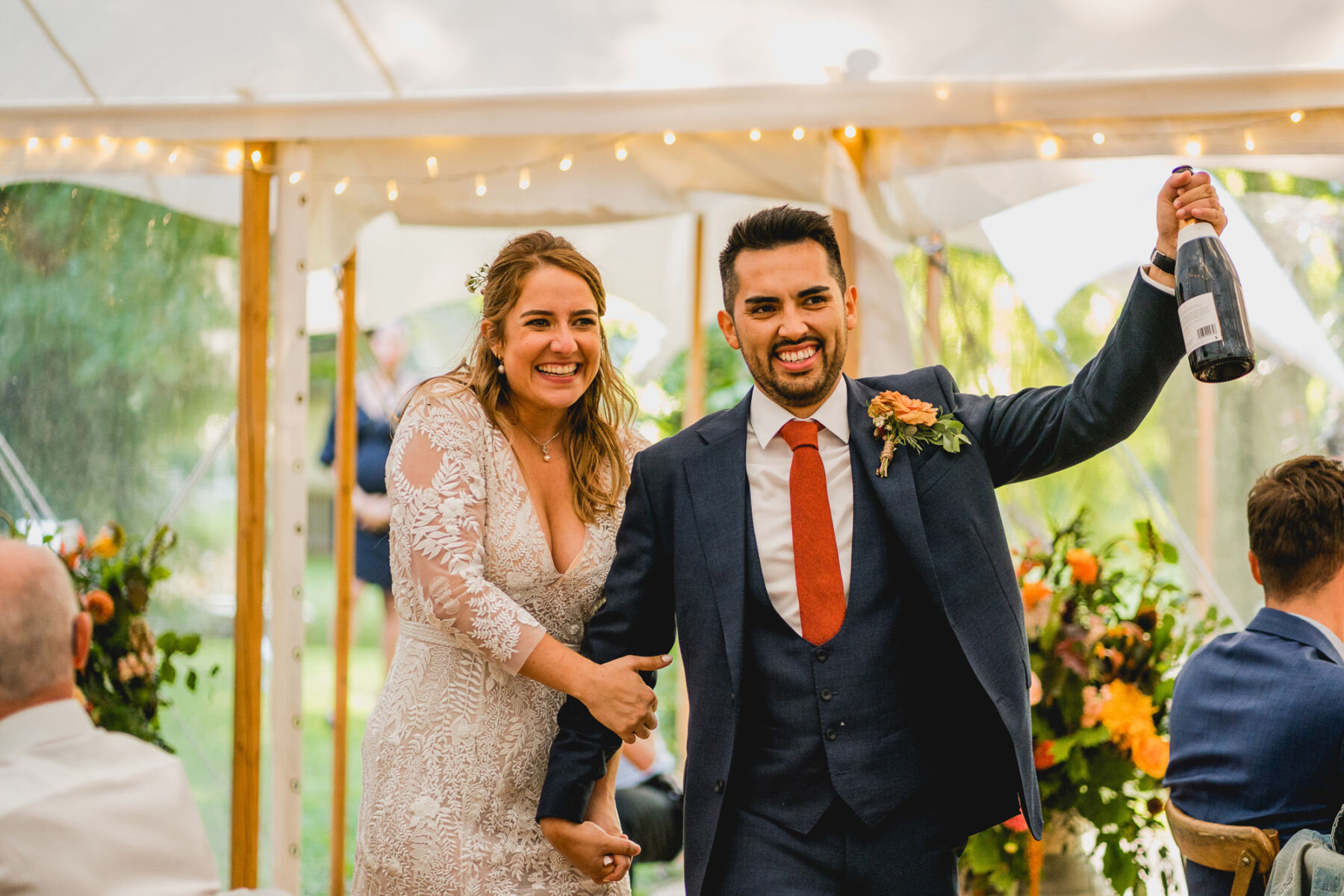 Bittenham Springs organised bar service, and as it was a dry hire venue we could pick what we wanted to serve.
My bridesmaid Georgie is a sommelier (she's a great friend to have), and helped us to choose the wines – she even came down to our flat and hosted a tasting for friends and family which was one of the highlights of planning!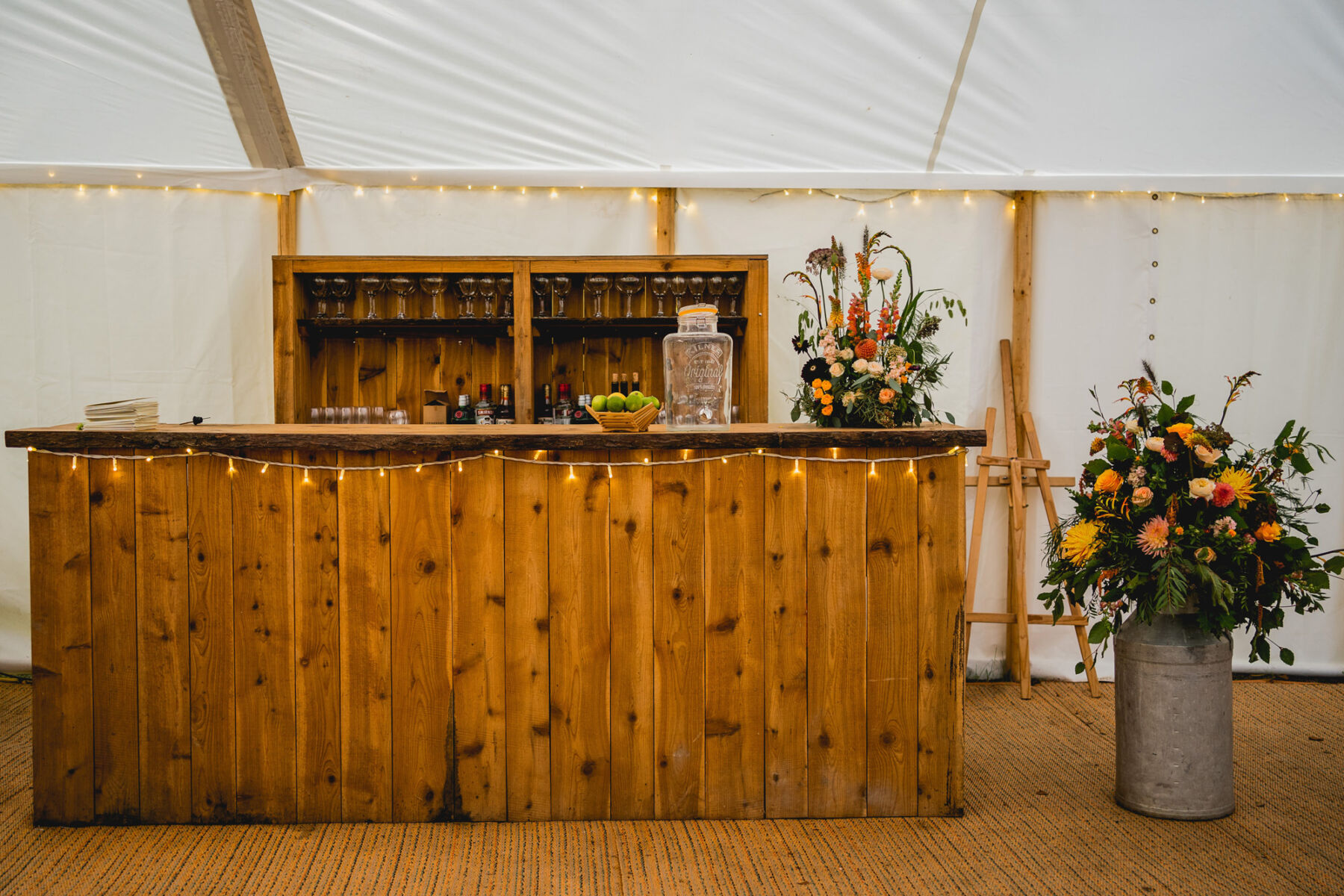 Be Inspired
You might like these recent articles…
Favourite Moments
Honestly I loved all of it! I think my favourite part was leaving the church and seeing all our friends showering us with confetti, or walking into the marquee before dinner to 'Takin' Care of Business' – there's nothing quite like walking into a room full of all the people you love cheering and celebrating love.
I also loved doing my speech – I'm one of those freaks who really enjoys public speaking, so was always going to do one. I had so much fun writing it, and it included Shakira, A Knight's Tale references, and even some Spanish… it was so nice to be able to publicly talk about how wonderful Dave is and our love story, especially as our vows were traditional.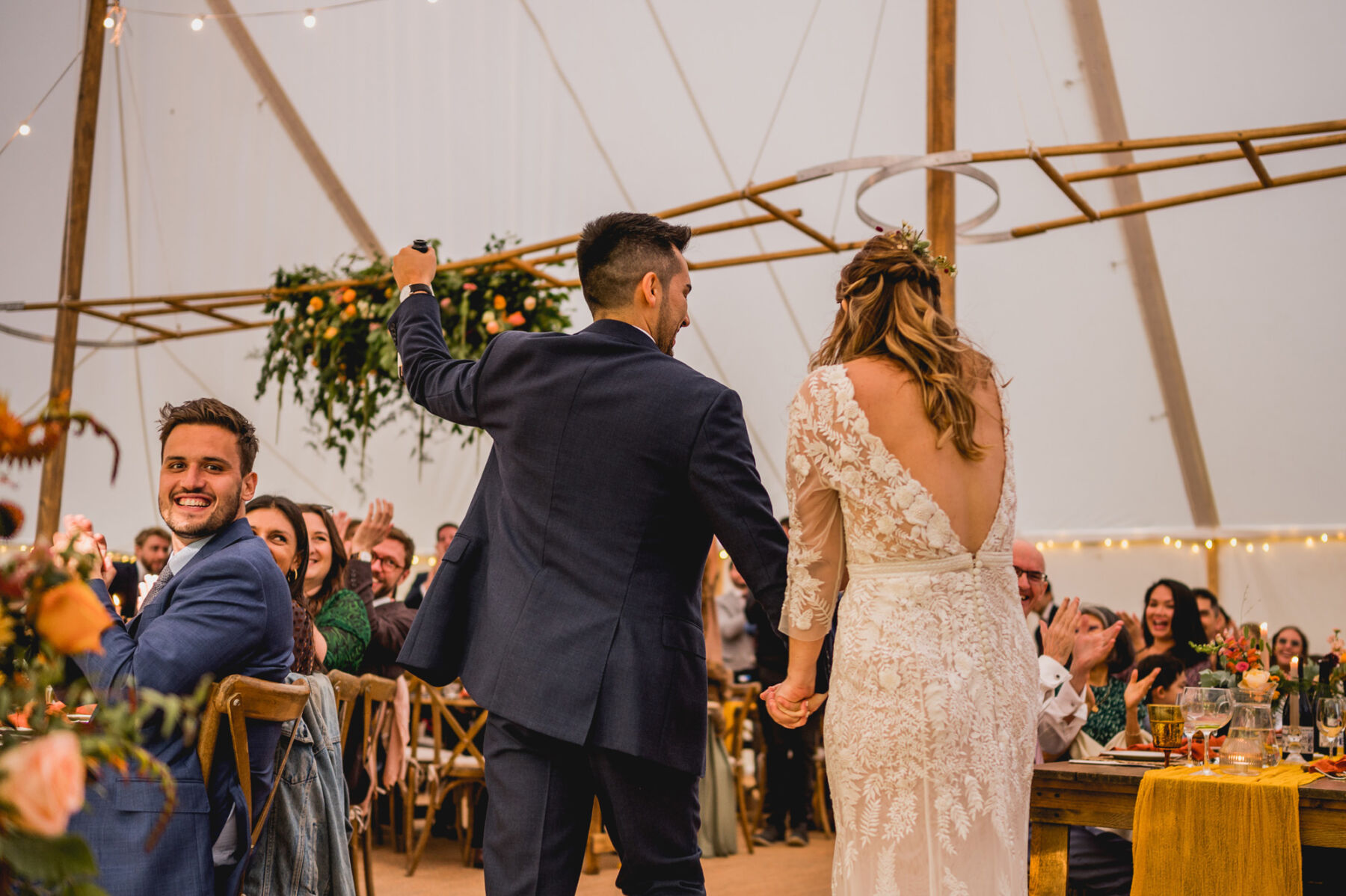 First Dance Track
In the evening, I changed into a Halston jumpsuit I got in the Net-a-Porter sale, which I then got altered by Tailored by Nancy based in Balham. I also wore green velvet heels from Esska which were comfortable all night (and matched Dave's jacket), and green chandelier earrings from Carrie Elizabeth which were a gift from Dave on the day. My sunglasses were from Izipizi.
We danced to 'Too Late To Turn Back Now' by Cornelius Brothers and Sister Rose – from a scene in the film BlacKkKlansman that Dave loves. We decided to choose it because we really liked the song as it's so upbeat and fun to dance to, and we thought the sentiment was quite funny for a wedding.
I also had some of the lyrics from the song embroidered into the train of my wedding dress – 'there's this thing called love, and it's ah ev'rywhere'.
Words of Wedded Wisdom
If you want to do a speech, do a speech! I loved doing mine, and had so much fun writing and delivering it. Also, as hard as it is, don't sweat the small stuff. I woke up at 4am the day before the wedding panicking about rosemary sprigs, and woke up at 7am to pick them from my parent's garden – but I reckon 4 people even noticed it.
Take time throughout the day to check in with your new spouse, as it passes in such a blur it's easy to miss each other. Basically, soak it in as much as you can, relax, and do it your way – we said no to a lot of the 'traditions', because they didn't resonate with us, and nobody minded at all.    
I loved Love My Dress – I found the real wedding featurees to be the most useful thing during the planning, as they were the most detailed ones I found. I also loved the diversity shown in the weddings and I loved knowing the suppliers and stories behind each couple. I also used the Love My Dress Facebook Group a lot, for information, recommendations and advice.
Our initial budget was c.£50k, but we ended up going over this and probably spend around £60k.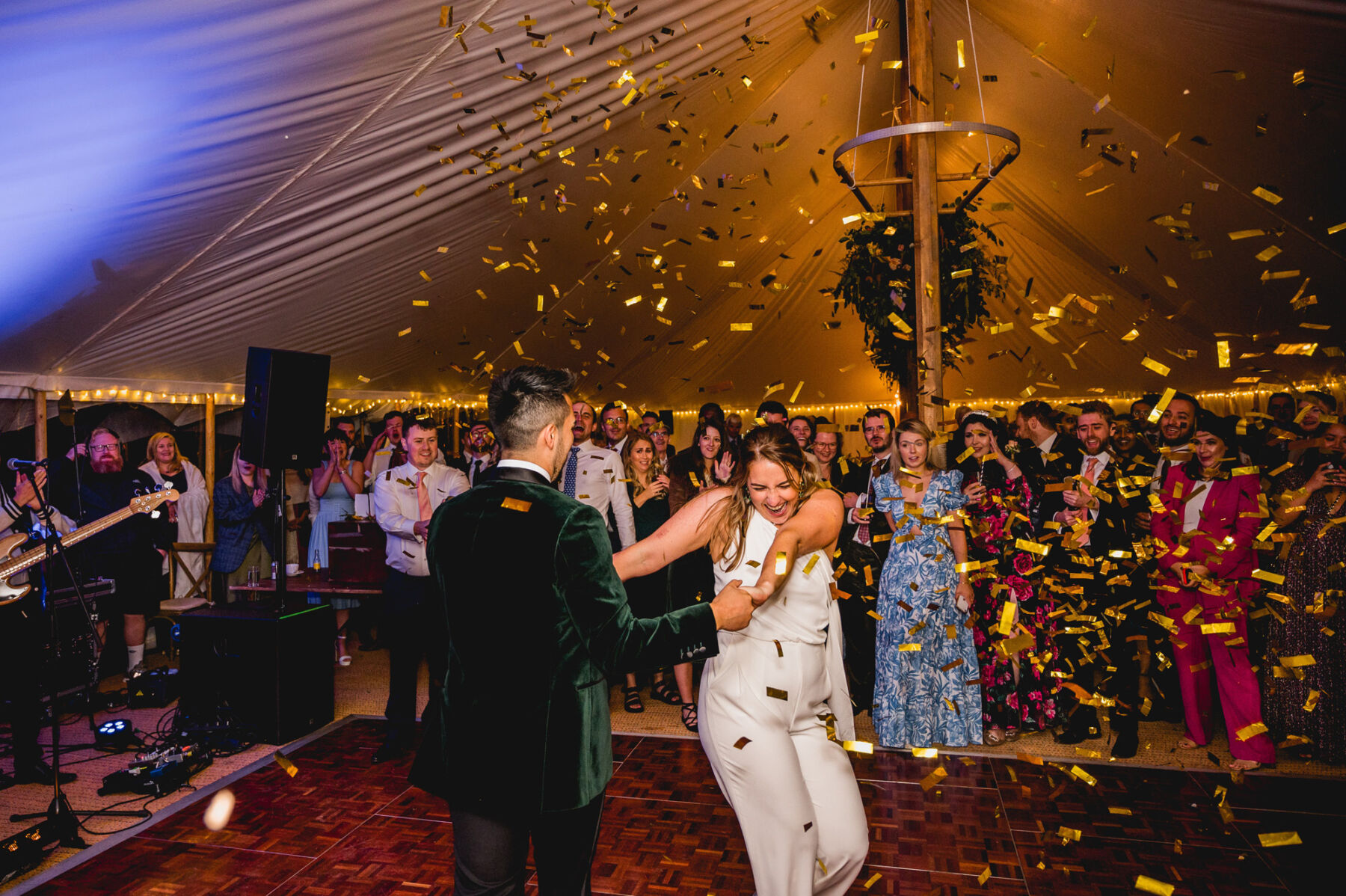 Visit our Directory