We're so lucky that we get to partner with some of the loveliest wedding venues across the land. From country houses full of character to city centre venues that ooze drama to light, bright and airy spaces like the delightful 41 Portland Place.
41 Portland Place is a truly beautiful Georgian townhouse located in the heart of London. This elegant and historic building offers a unique, romantic and intimate setting for city weddings – and comes complete with exquisite interiors, a grand staircase, and pretty, private garden.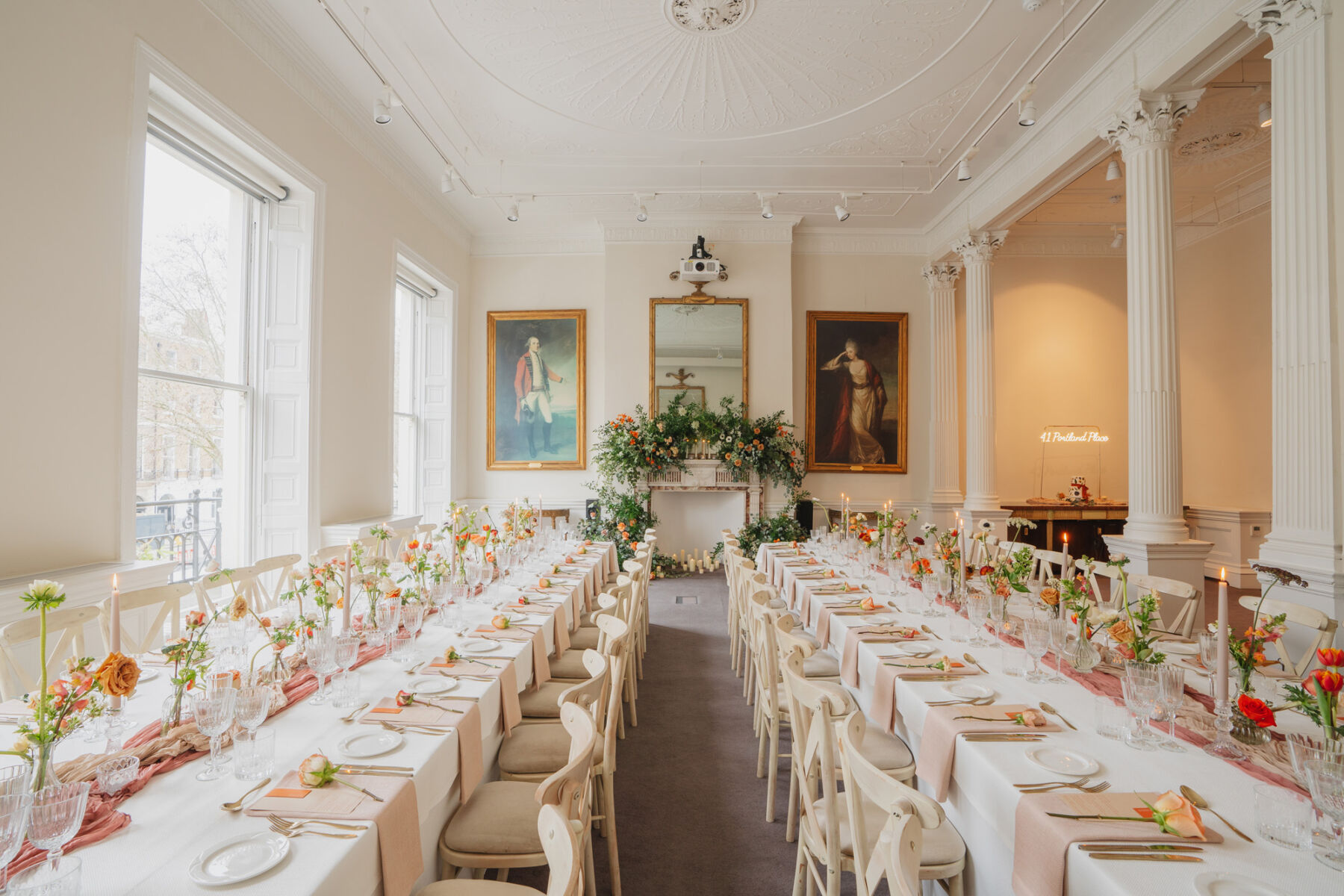 One of the best features of 41 Portland Place is its commitment to sustainability and responsible practices. We feel strongly about partnering with responsible wedding venues, whose hard working teams are making a real effort to reduce the carbon footprint and waste generated from weddings.
As the Spring season started to approach, the team at 41 Portland Place, lead by Olivia Parrot, hosted a wedding showcase, and used the opportunity to capture the beautiful setting of this elegant London wedding venue, and show how couples can host a beautiful, sustainable, visually impactful wedding, whilst working with a smaller budget.
Light, Bright & Airy Spring Wedding Inspiration
In planning for their showcase event, the team sought inspiration from the 2023 Pinterest Predicts Trends Forecast and as a result, wove rust, terracotta, creams and caramel hues throughout the beautiful light, bright and airy rooms and spaces at 41 Portland Place.
The team wanted to show couples how beautiful 41 Portland Place can look when styled in keeping with current wedding trends, but more importantly, to highlight sustainability, and how sustainable weddings with big visual impact can be achieved without compromise and whilst working with a smaller budget.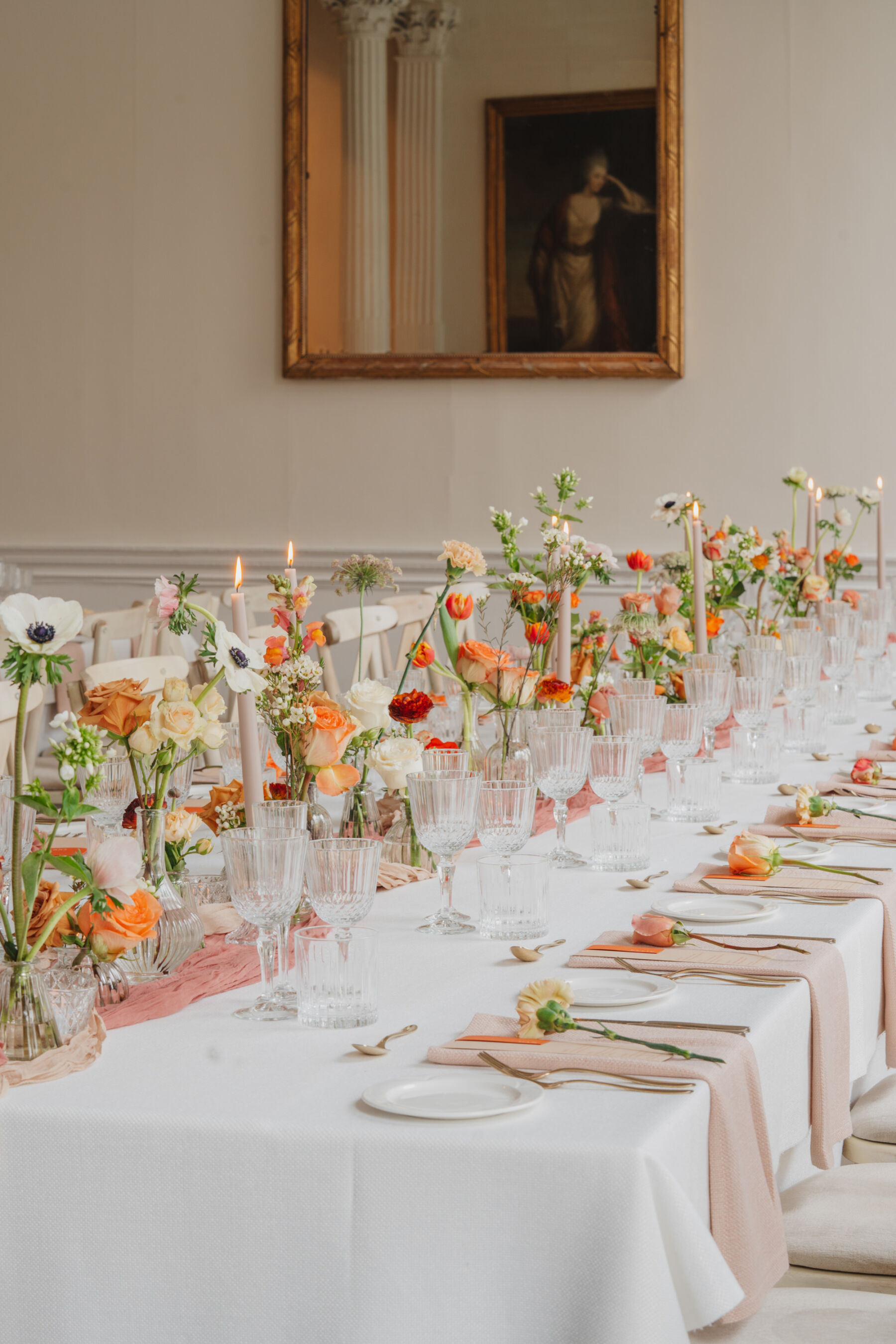 How To Make Your Wedding Sustainable on a Small Budget
The suppliers involved in this shoot were asked to share how they are approaching sustainability and what best piece of wedding advice they would share with Love My Dress readers. But first, a roundup of practical advice for couples endeavouring to plan a sustainable wedding of their own, courtesy of 41 Portland Place and friends:
Use UK grown flowers and foliage as much as possible. Work with floral designers who support British flower farmers.
Repurpose floral installations for use at different times and in different areas on your wedding day. Relocate your ceremony floral arch so that it can become the background for guests to capture pics to share. Don't be afraid to explore faux floral options.
Table runners can be reused.
Hire table decor like candle holders rather than investing in large quantities of single use items.
Create impact with your wedding cake by decorating it with real pressed flowers
Serve mocktails for your non-alcohol drinkers and serve a plant based menu. Plant based doesn't affect the quality of fine dining.
Go local – use ingredients sourced locally and grown or supplied by sustainable/ethical farmers. Make this easy by working with a brilliant reputable catering company.
Consider fine dining options versus food stalls, to avoid food wastage.
Reuse flowers after your wedding – gift your flowers as favours to guests or arrange for a charity like Floral Angels to recycle and repurpose the flowers and pass them on to local hospices, hospitals and care homes.
Tips & Advice for Sustainable Weddings
Sustainable Wedding Venue , 41 Portland Place
Who they are: 41 Portland Place is located in one of the most desired areas of London, Marylebone.. Surrounded by elegant grandeur, the Grade II* listed Georgian Townhouse is the ideal setting for a stylish, chic London wedding which can be exclusively yours from day until night making it the perfect home from home. The house boasts romantic spaces which you can make your own by hosting everything from intimate weddings to extravagant parties of up to 120 guests.
Sustainability/How to save a few pennies: Hosting many weddings can mean varying menu options. We advise guests to trust our expert chef to recommend a tailored menu. Making the menu the same as another wedding, means minimal ordering and usage of any leftover ingredients. We offer this at a lower cost to clients to not only help the planet, but our clients budget too.
Food is at the heart of what we do. Our fabulous Head Chef, Irmantas is an experienced professional and plant based is where his passion lies. Plant-based options are at the forefront of menus, these menus never fail to impress, whilst keeping our planet happy.
Best wedding planning advice: Use local suppliers and source eco-friendly items for your event to minimise your event's carbon footprint and support the local economy.
Sample Sustainable Wedding Menu at 41 Portland Place
Food and service is provided by specialist catering partner Company of Cooks who design, plan and cater for all our events with craft, creativity and community. All they do is with an absolute focus on you and your guests, never missing the detail.
Delicious, wholesome, plant based sustainable wedding food was prepared for the wedding showcase by the talented head chef at 41 Portland Place, Irmantas, providing a wonderful example of the kind of vegan and plant-based wedding menu that can be served to your wedding guests at 41 Portland Place.
Canapes:
Citrus ceviche & avocado ceviche, Matcha tea cracker
Crispy tacos, charred corn salsa, avocado & sour cream
Creamed corn Miele bread, whipped feta & pomegranate molasses
Pumpkin, spinach & smoked applewood, peach jelly
Wild mushrooms, crispy kataifi & truffle mouse
Sweet pea & parmesan foam tartelette, wild sorrel
Starters:
Beetroot & applewood dumplings white balsamic gel & pickled berries
Avocado sorbet, tomato caviar, charcoal tapioca crisp & coriander
Main:
Roasted cauliflower & riso beignet, wilted greens, orange & olive oil
Roast hispi cabbage & roots, hazelnut cream, charred baby leeks, parsley oil
Desserts:
Caramelised hazelnut praline & coffee cannoli cake
Raspberry & almond frangipane, whipped mascarpone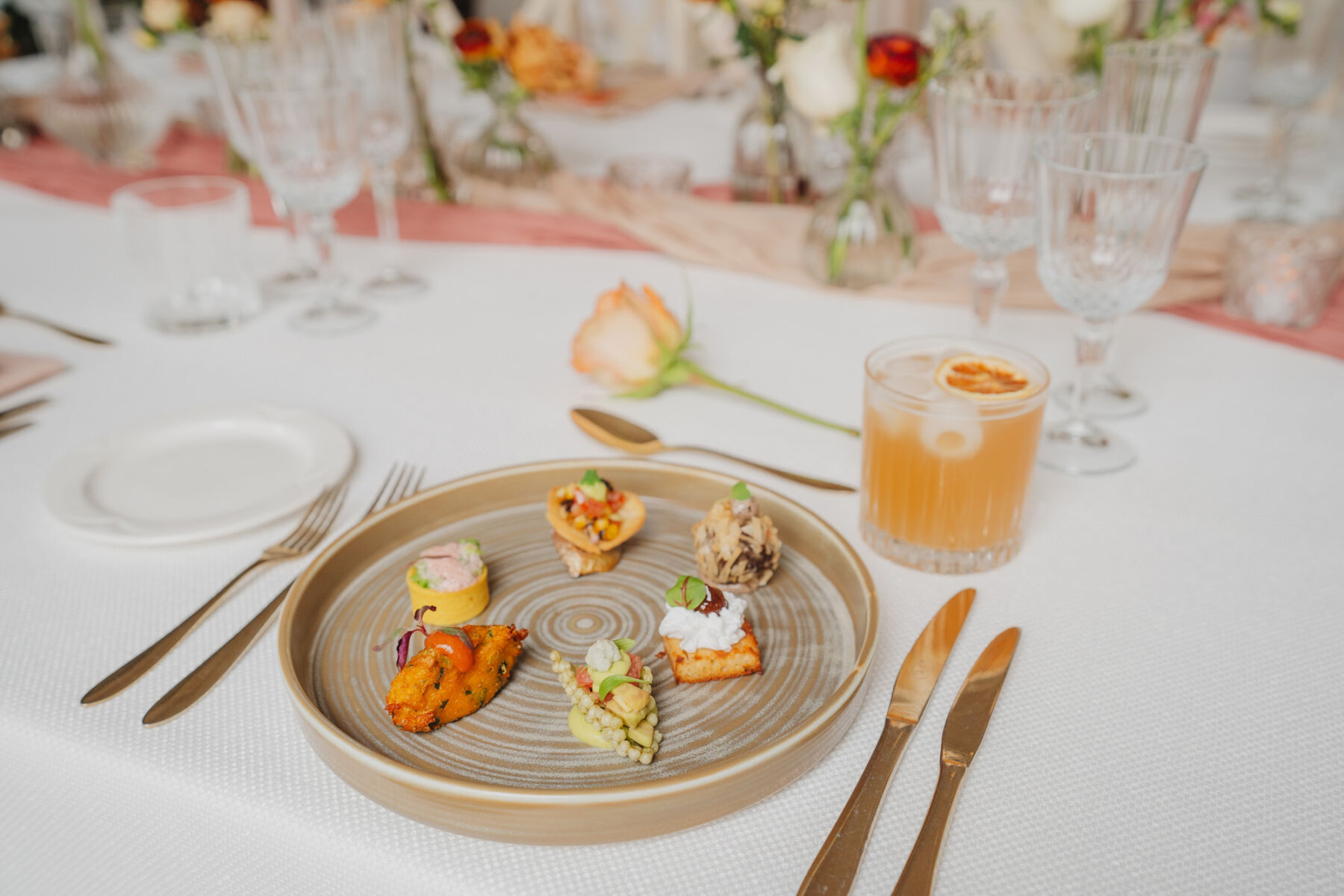 Sustainable Wedding Photography, by Jeff Oliver
Who they are: We are Jeff and Sarah of Jeff Oliver Photography, an award-winning husband and wife team. We work with couples to create photographs that truly reflect your personalities and tell the story of your day. You can relax and enjoy your wedding while we capture all the good stuff without keeping you away from your guests for hours. This gives you beautiful photos, and memories you will treasure forever.
About the shoot: We loved this shoot at 41 Portland Place, the light flooding in from the windows created gorgeous conditions for photography. Combined with all the talent from the other suppliers on board made for a truly memorable shoot.
Sustainability: Wedding photography is pretty environmentally friendly anyway, but we wanted to do more. We decided to plant a tree for every couple that books their wedding photography with us. Last year we planted over 50 trees.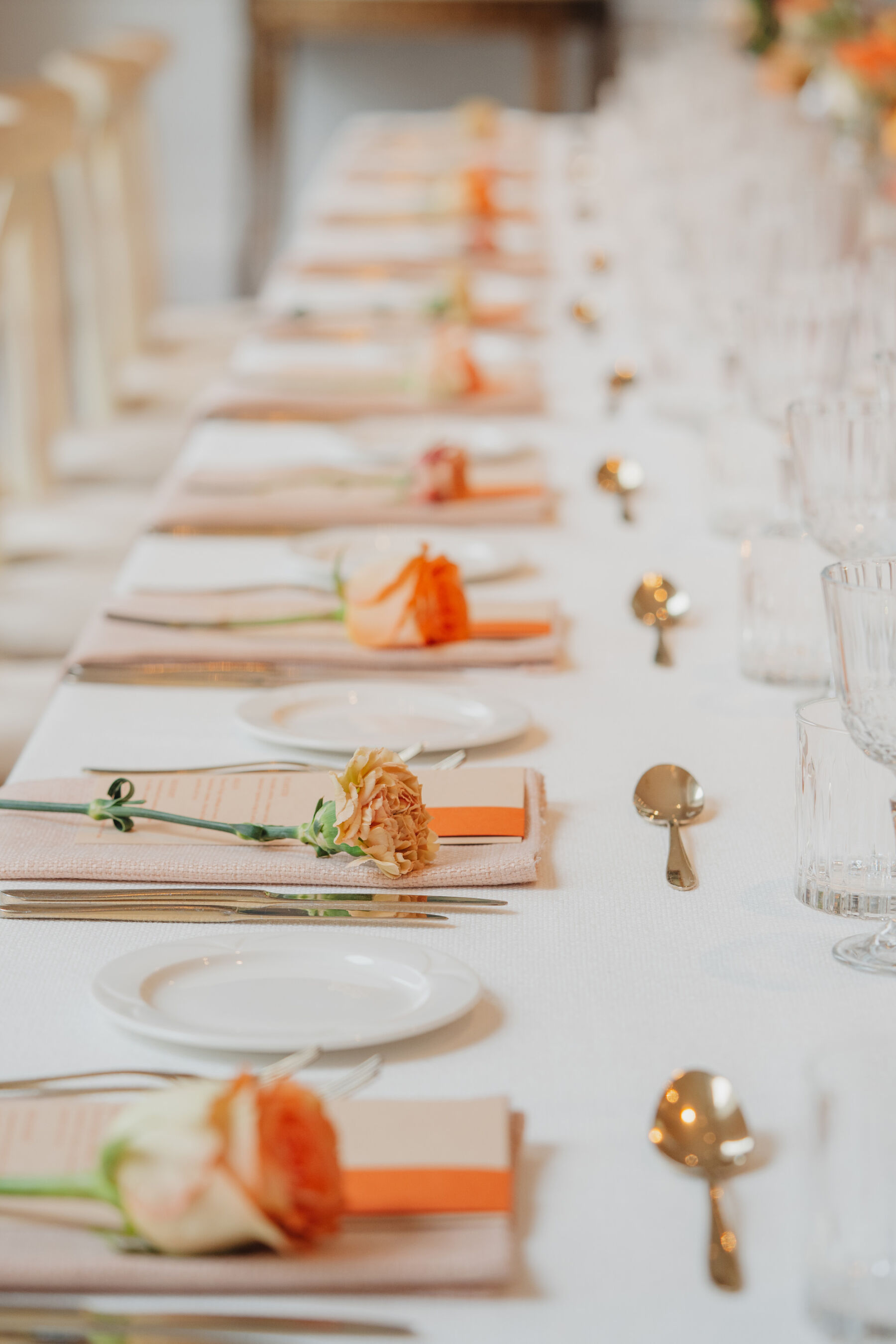 How to save a few pennies: The current economic climate has left many couples more conscious than ever of how much they need to spend for their wedding day. If you're looking to spend a little less on photography, our 'Digital Collection' offers the exact same coverage of our top tier package, but without any albums or wall art. These can always be purchased further down the line when finances are more settled.
It's better to book a digital only package with the photographer you love, rather than book a package that includes an album with a photographer that you don't love as much. Albums can be purchased later, your wedding photos can't be recreated!
Best wedding planning advice: The best advice we can give for couples in the planning stage is do your research and book early. The majority of enquiries we get from couples we can't do as we're already booked! Once you have your venue and date secured, think about suppliers who can only do one wedding on a given date and make that your next priority.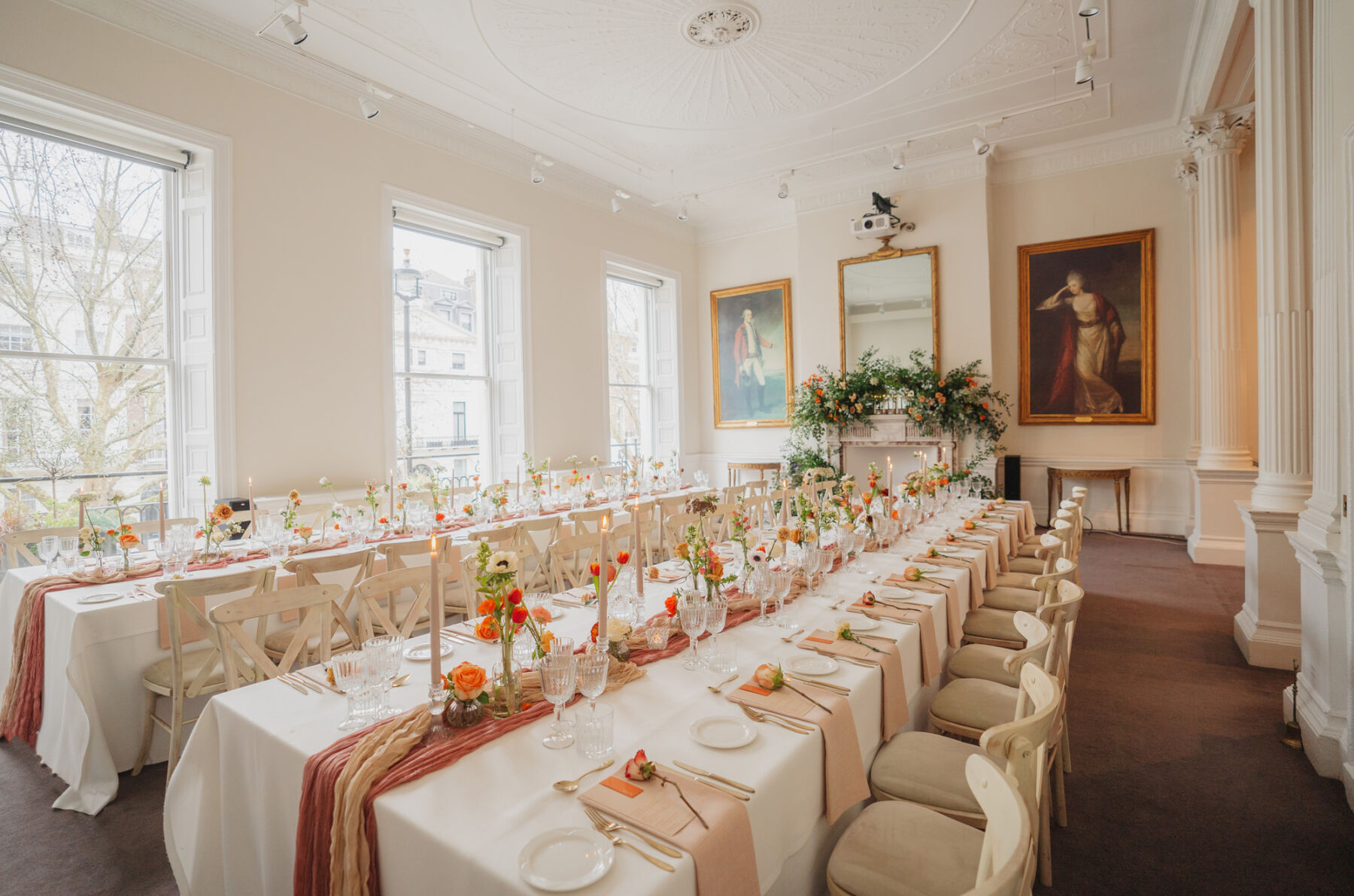 Sustainable Wedding Flowers by Peppermint Poppy
Who they are: No dream is too big no detail is too small for our team at Peppermint Poppy. With a reputation for creativity and quality of flowers and service, Peppermint poppy team will take you on a creative journey from the first mood board to the last petal, every detail carefully considered to turn your dream wedding into reality.
Sustainability: Use UK grown foliage and flowers as much as possible, supplied from small specialised, British flower growers. Use of table linen to match florals which can be reused, LED candles on fire place which has a real effect which can be reused. Replant! Guests will be delighted to take home flowers and plants used for decor to enjoy them at home/re-plant them in their gardens.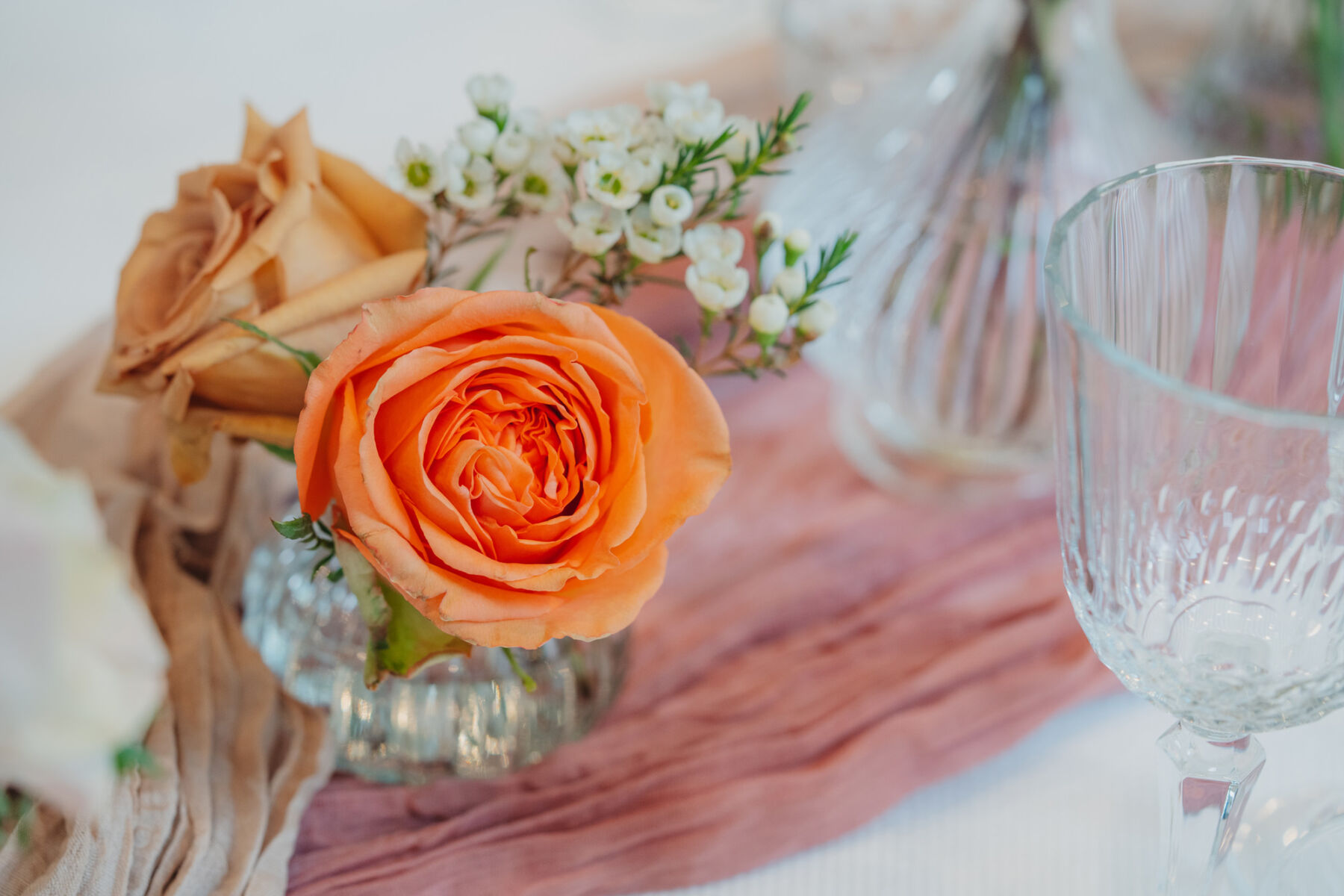 About the shoot: We wanted to create something that was a little different. British foliage, Roses, Spray roses, Eustoma, Anemone, Tulips, Ranunculus, Chamelauc, Bleached ruscus, and a mix of faux and natural flowers & foliage. We used bud vases on tables, keeping it more simple rather than a big display. We then reused the flowers after the showcase.
How to save a few pennies: Use of faux flowers on large structures or floral displays, which are then being used as an Instagram background is very popular. For Summer weddings in 2023 we are trying to incorporate potted plants such as herbs , little olive and citrus fruits trees on table centres. Clients and guests will be delighted to plant them in their garden. A long-lasting memory of the wedding which is also sustainable.
Best wedding planning advice: Choose the right season to make sure that your favourite flower, such as peony (most favourite), is available. Let the colours of your wedding match your personality. White and blush pink must not be exclusive to weddings. Bold touches such as yellow, burnt orange, blues are very trendy.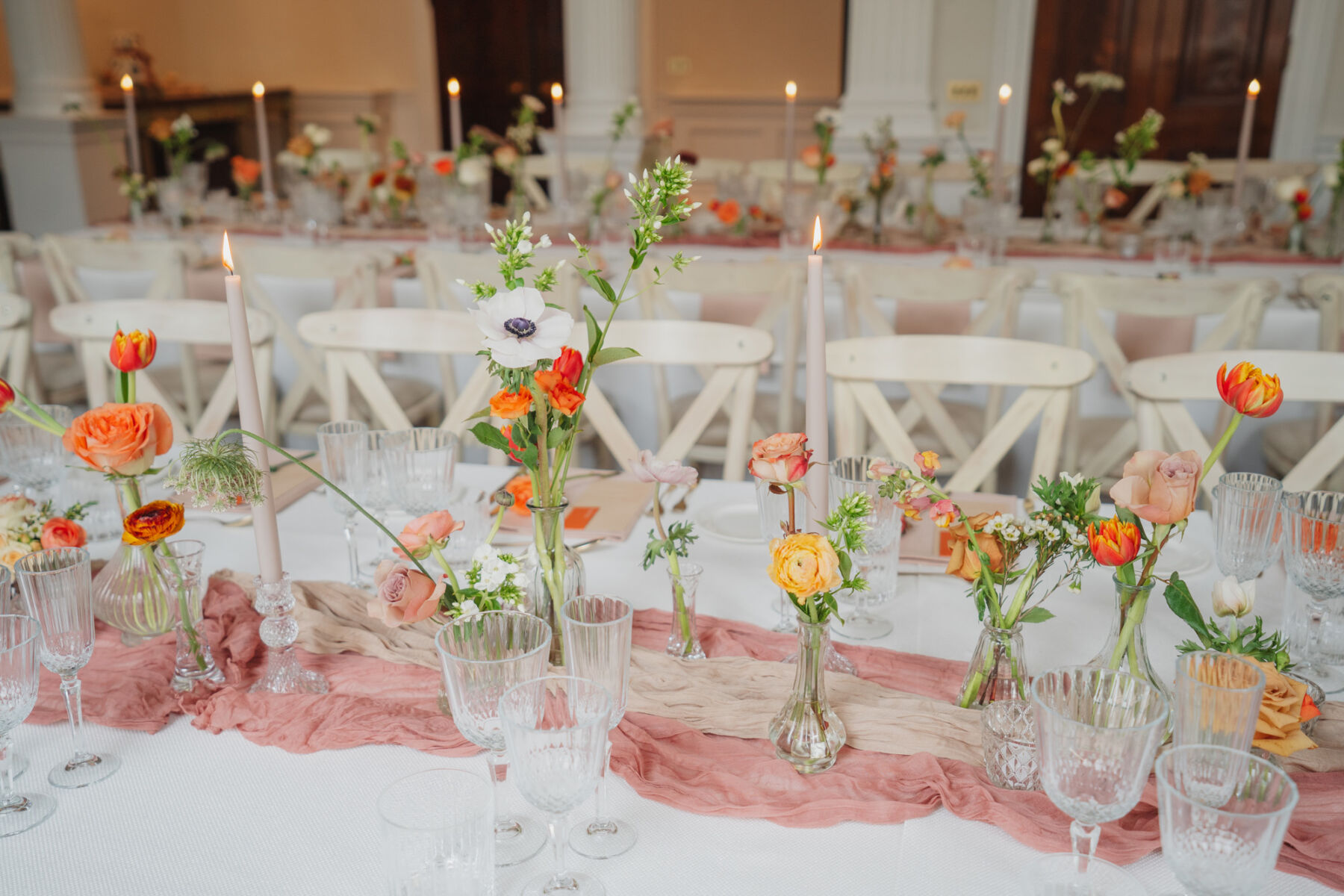 Sustainable Wedding Cake by Peboryon
Who they are: Peboryon are one of the UK's leading cake design studios, delivering unique and beautifully crafted cakes across the country. We work closely with our couples to make their wedding cake visions a reality. And our cakes taste as good as they look!
About the shoot: The colours were a big influence, and were the perfect match to organic pressed edible flowers. A crisp white fondant background showed all the colours off.
Sustainability: We are dedicated recyclers (within the business and at home) and use as much recycled or recyclable product as we can. We also work to support and sustain other small, local businesses for our supplies and ingredients. For travel we actually use the train as often as possible, which works well.
How to save a few pennies: For the cake it's hard to get something really spectacular on a budget. However I would say have a chat with your cake maker and we will work with you to come in on budget. Maybe look for an up-cycled cake stand and cake knife. And why not make your own cake topper? Then it's something really personal that you can then keep.
Best wedding planning advice: Book your wedding suppliers ASAP! Good suppliers get booked up early. On the day ask for some cake to be kept for you to make sure you get some.
Sustainable Wedding Entertainment – Blank Canvas Entertainment
Who they are: Blank Canvas Entertainment have been London's leading entertainment specialists for 10 years. We were founded by performers with extensive experience in the entertainment industry, with the aim of offering clients a personalised, tailored service at corporate events, private parties, award ceremonies, product launches and weddings.
We are dedicated to making our clients' events a success. Whether they know what they are looking for, or are in need of inspiration, we are able to accommodate their needs. Our team understands entertainment, and we pride ourselves on working with the very best acts that the industry has to offer.
On Sustainability: As part of our environmental and sustainability policy, the Blank Canvas team works from Brickfields – a shared office space in Hoxton. One of the main reasons for us choosing this site was the fact that 100 per cent of the electricity used in the building comes from a renewable source.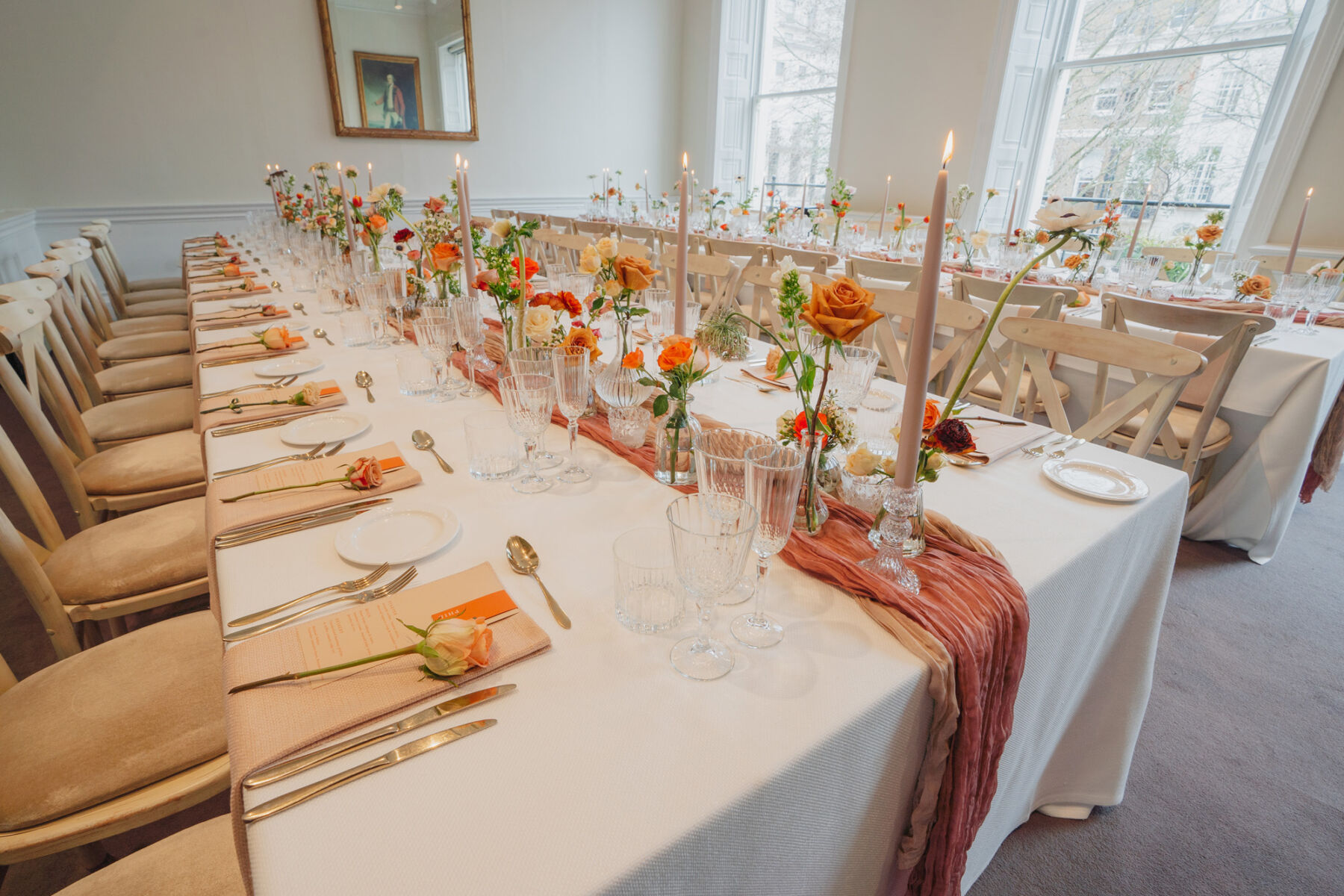 Our environmental and sustainability policy also emphasises that we will reduce our consumption of resources. As such, we are a majority paperless company with the exception of occasional flyers and business cards. And in the case of essential paper usage, we use recycled or ecologically friendly paper where possible. In the case of essential printing, we will always print double sided where practicable and then recycle all paper products, ink or toner cartridges.
As a company, we are always looking to operate the business in a way that protects the environment, promoting environmental awareness to colleagues and enlisting their support. As a result, we are always open to new suggestions and ideas as to how we can further improve our environmental performance.
About the entertainment chosen: For the 41 Portland Place showcase, we used The Muted Ensemble and Manouche a Trois. Acoustic guitar acts work well in the space and for weddings in general as they provide the perfect atmospheric background music for drinks receptions. Ideally you are looking for a relaxing ambient sound before the excitement of the evening entertainment picks up and guests head onto the dance floor.
Best wedding planning advice: Book your wedding suppliers early! The industry has finally settled back into a rhythm now. With the pandemic seemingly behind us, we are finding clients are booking well advance for all sorts of events – corporate, private and of course weddings. Confidence has picked up, which has led to more long-term planning.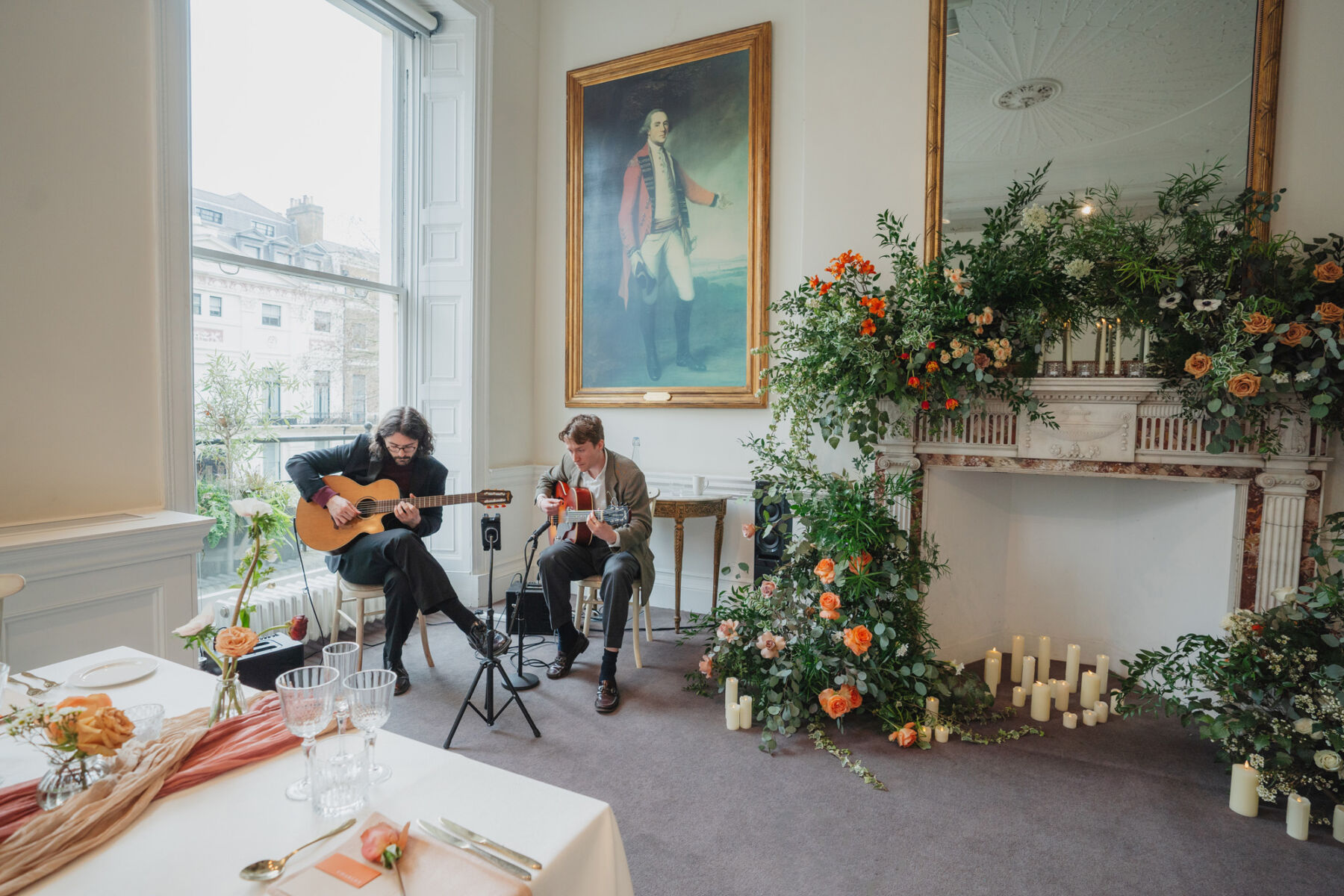 Sustainable Wedding Stationery by Dimitria Jordan
Who they are: Dimitria Jordan is a wedding and events stationer based in North London. Dimitria works personally with couples from invitations to on-the-day stationery, and offers Tailored Collections which are chic, elegant and classic, as well as a bespoke design service.
About the shoot: For the shoot, we focused on the gorgeous rust colour, which we teamed with a beautiful sand brown to complement. The menus added a neutral layer to the table, and the rust bookmarks gave a beautiful pop of colour, and worked perfectly with the florals without being overpowering.
On Sustainability: We are planting a tree for every order placed. Our cardstock used is also FSC certified, with various stocks made from recycled materials.
How to save a few pennies: Having stationery that has a double use works really well. For example, our magnetic bookmarks (as shown in the shoot) acts as a place card on the day, but also a gift for guests to use and enjoy (and is a perfect size to put in a pocket or handbag!).
Best wedding planning advice: When thinking of your stationery, keep in mind your venue as this will help decide on the style and colours of your invitations and well as on-the-day stationery.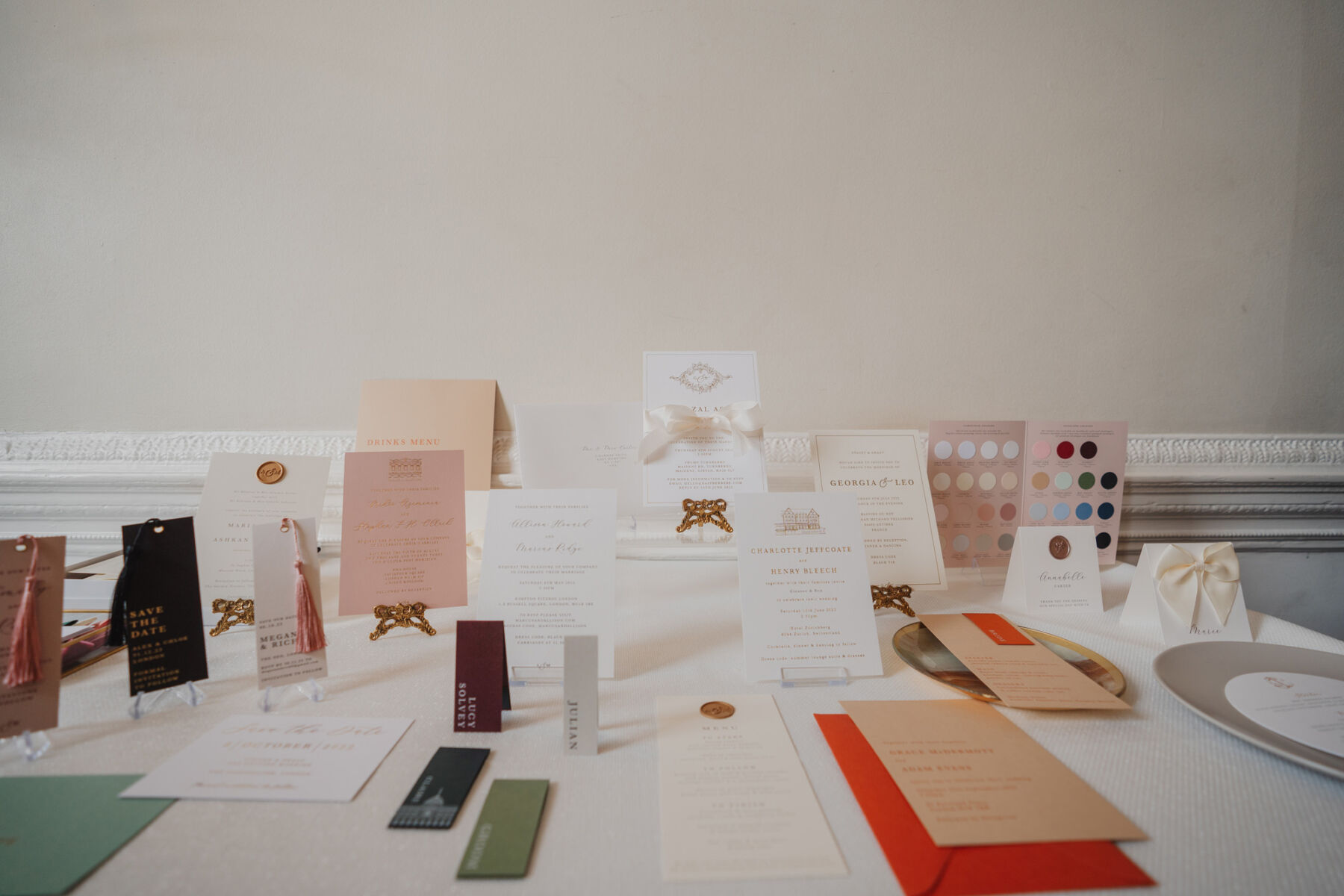 Sustainable Wedding Table Decor
Who they are: Since 2002, Well Dressed Tables has delivered the finest items to caterers and event planners throughout the UK and Europe. As a Catering Equipment Hire Supplier based in South London, our mission is to deliver on time, every time, with exceptional customer service.
We supply a variety of banqueting furniture, and kitchen and catering equipment. From modern designs to traditional classics, we have something to suit every budget, event, and style!
On Sustainability: Our Hi-Tech dishwasher technology means we use less water and un-harmful biodegradable chemicals. Owning our own fleet of vehicles with fitted telematics boxes means we can track fuel usage. We organise deliveries by postcode so we only travel to certain areas on certain days of the week, this minimises how much we are travelling up and down the country, and thus our carbon footprint.
We are becoming a fully paperless business in all aspects of our operation through developed software for picking, packing, quality control and despatch. We are committed to transforming the organisation to be 100% sustainable and protecting the environment.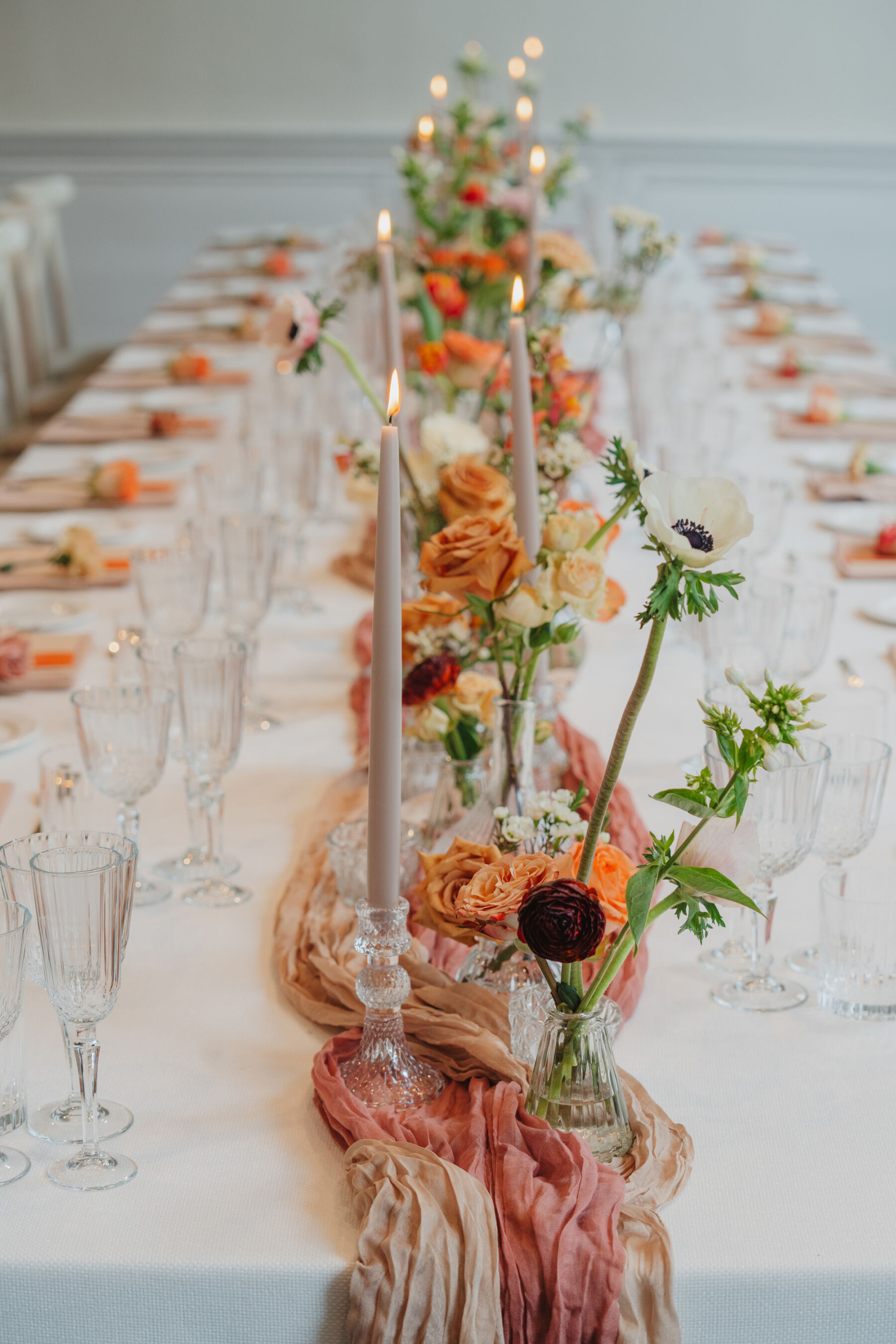 Sustainable Wedding Cocktails & Mocktails
Who they are: Often, the simplest ideas are the best. Take Edmunds Cocktails. Our original concept? To expertly combine the finest spirits, juices, syrups and aromatics into truly exceptional cocktails that recreate a bar-quality experience without the fuss – or access to dozens of specialist liqueurs.
About the shoot: We chose the cocktails which matched the vibe of the shoot. The mocktail was a belini which orangey/peachy colour was perfect. We then chose amaretto sours and porn star martinis, which are always a great hit. Which again, matched the vibe we were going for.
On Sustainability: We want to leave the planet in a better place than when we started and that's why we've taken steps to ensure we're a climate-positive business. From our fully recyclable packaging to our partnership with Ecologi, we're constantly looking at innovative ways to become more sustainable.
We work with Ecologi to ensure we have a completely carbon-positive workforce. On top of this, we've committed to planting a tree for every box or 1-litre bottle sold. Doing our bit to help make sure the only ice melting is in your drink.
To find out more about the reforestation projects we're currently supporting, visit our Ecologi page. The number of trees we've planted currently stands at 73815!
Best wedding planning advice: Choose wisely. Always have a mocktail option as this is important and you want to ensure you impress with this as much as you do with the cocktail option.
Get Married at 41 Portland Place
Olivia and the team at 41 Portland Place would love to hear from you, if you are considering marrying in London.
Email: [email protected]
Telephone: 020 – 31413255
Location: London W1B 1QH (Google Maps)
Make an enquiry via the 41 Portland Place website.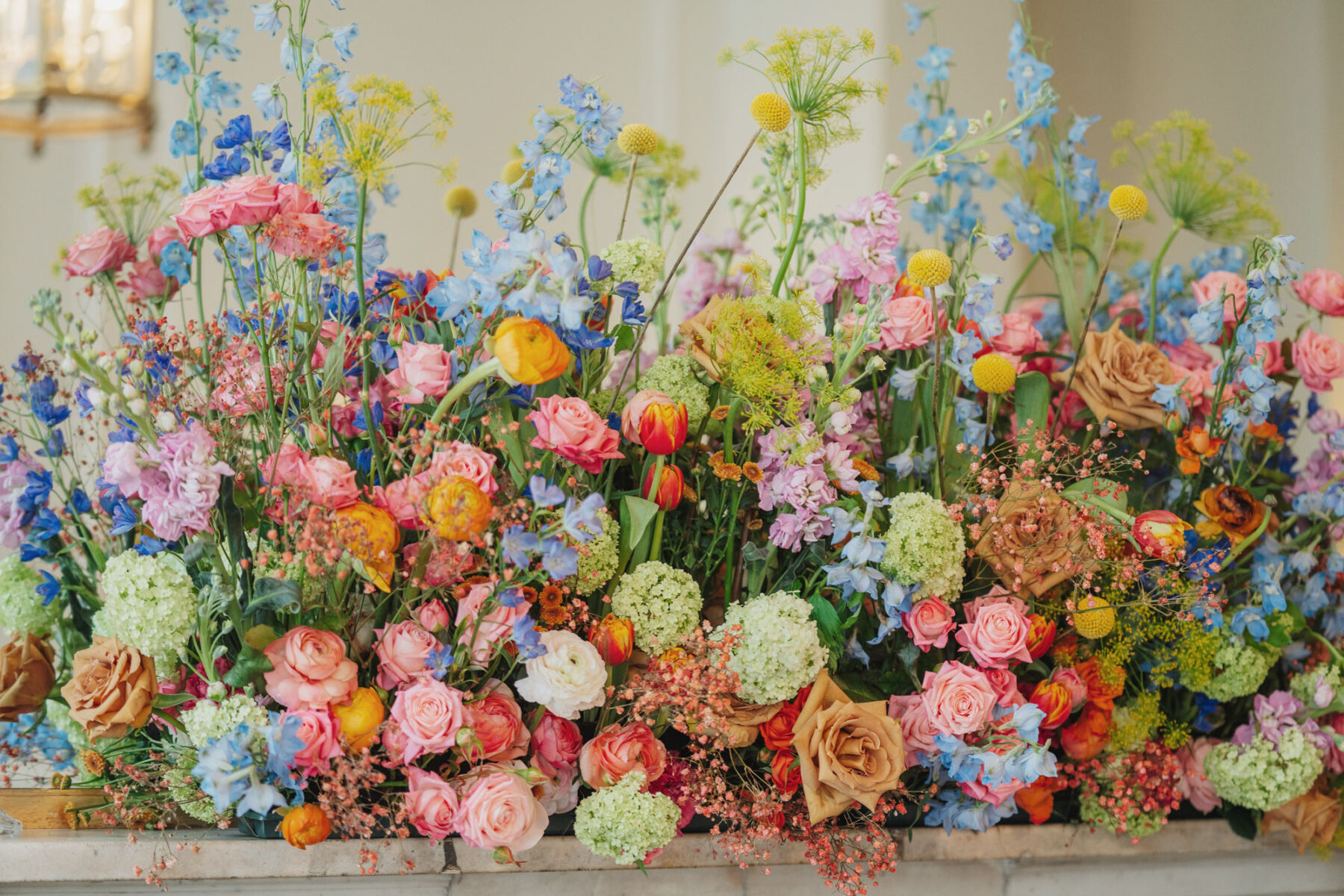 41portlandplace.com