There are whisperings of signs of Spring all over Instagram right now, and I for one am very happy about that. After a really sluggish week last week, I am ready to step out of winter and into a lighter, brighter more colourful new season, but not until I've shared the festive and magical wintery wedding of Sophie and Gregg.
Firstly, I'm thrilled to see that two members of our beautiful Little Book For Brides wedding directory helped make this beautiful wedding day happen. They are the The Wedding Smashers, and the inimitable and incredibly talented wedding photographer, Claudia Rose Carter, whose work we absolutely adore sharing on our beloved wedding blog. Sophie, a Barrister who specialises in Family law, married Associate Film Producer Gregg on 15th December at Soho Farmhouse in Great Tew, The Cotswolds. But first, a film that was created on the very same day of the wedding, by master film maker Jeff Wood. This film is utterly incredible and it's focus on the ceremony and vows is absolutely breathtaking. Watch and be moved and inspired…
"I couldn't recommend our photographer Claudia Rose Carter more whole-heartedly. She achieved exactly what we wanted, which was honest, warm, real joyful shots. which are beautiful but not overly manicured or staged. Claudia and her team were brilliant at both mingling with the guests and also being invisible at the same time ( I meant that in a good way!) My brother has already rushed to book her for his wedding. You will probably noticed there are pretty much no formal shots, which I know many people want but we didn't want to spend time doing that when we could have been having fun and I guarantee I would always have ended up framing the 'real' shots, either way!"
Film by Jeff Wood Visuals**
Where to even start with Sophie's gown and incredible cape. It was created by an artist and designer I fell deeply in love with last year through having featured these weddings on Love My Dress. She is the one and only Hermione De Paula – there simply isn't another dress designer like her out there. Anywhere. In the world.
"I designed my dress from scratch with Hermione De Paula. My brief to her was 'winter woodland fairy nymph'. The details included bar branches, snowflakes, thistles ivy, holly, mistletoe, poppies and moths (this was a joke between Gregg and I). The dress also had feather and textured details as well as a dress cape train and an outer cape , which I wore for the ceremony. I had secret messages and words stitched into both as well as the date of our wedding and our initials. I loved everything Hermione did – she is a genius."
Photography by Claudia Rose Carter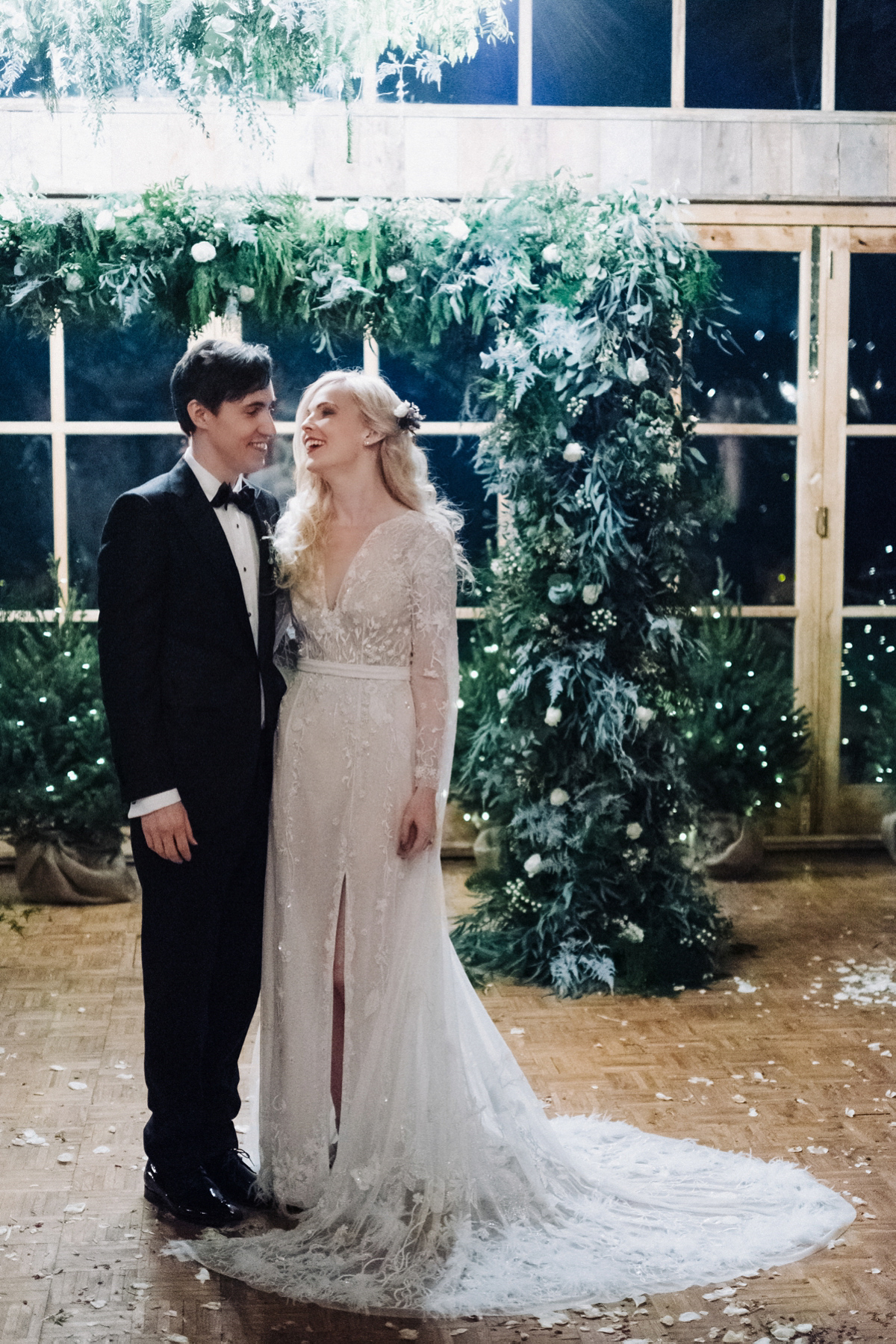 "Our venue, Soho Farmhouse, offered everything we were looking for – it is relaxed yet luxurious, fun and quirky. They could accommodate having 140 guests stay on site and we were able to have full and exclusive use. We have many international friends so it was important for us to spend quality time with them. A few of us stayed for several nights and all of our guests stayed at least one night at the venue or very close to it."The facilities at Soho Farmhouse are just amazing so we enjoyed outdoors swimming, hot tubs, crazy golf, horse riding and great food and wine in the days around the wedding. We hired out the private cinema for a film screening the night before and the day after the wedding."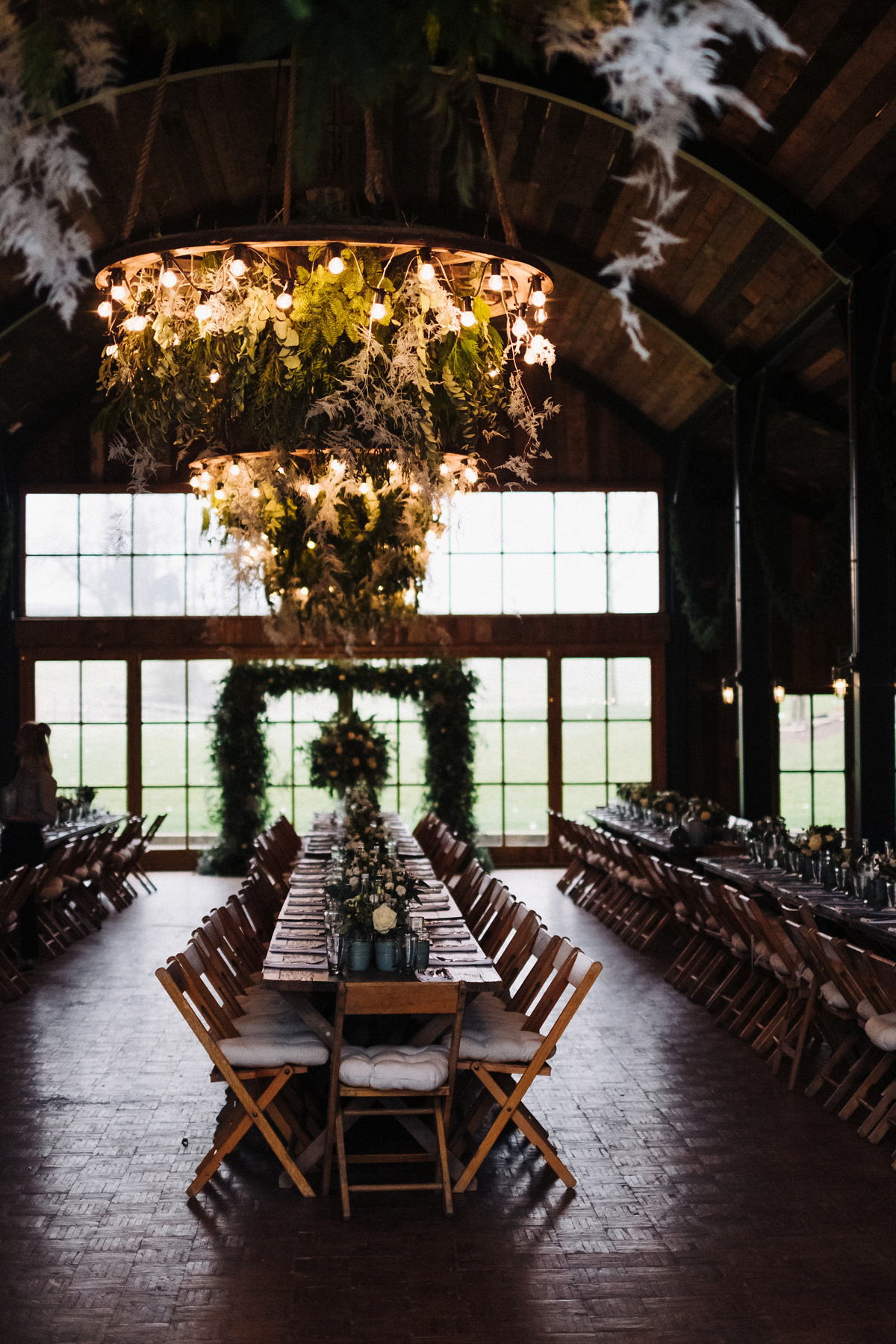 "The biggest influence on my colour scheme and flower choices etc was the fact that it was Christmas and I wanted to be seasonal without being obvious. We used silver blues, dark blues, various shades of greens, and creams."
"I organised the whole wedding on my own, although the events team for Soho Farmhouse were amazingly helpful in the run up to the wedding and at the wedding itself."
"Our florist was Sarah Coughtrey of Farmhouse Flowers. I went a little crazy with flowers… flowers were everywhere. Petals up the aisle, cartwheels, all the beams and posts were garlanded, there was a flower arch, twig arch, potted Christmas trees. Romance romance romance!"
"The flowers were all seasonal. I chose a lot of succulents, greens, creams, thistles, anemones, berries etc."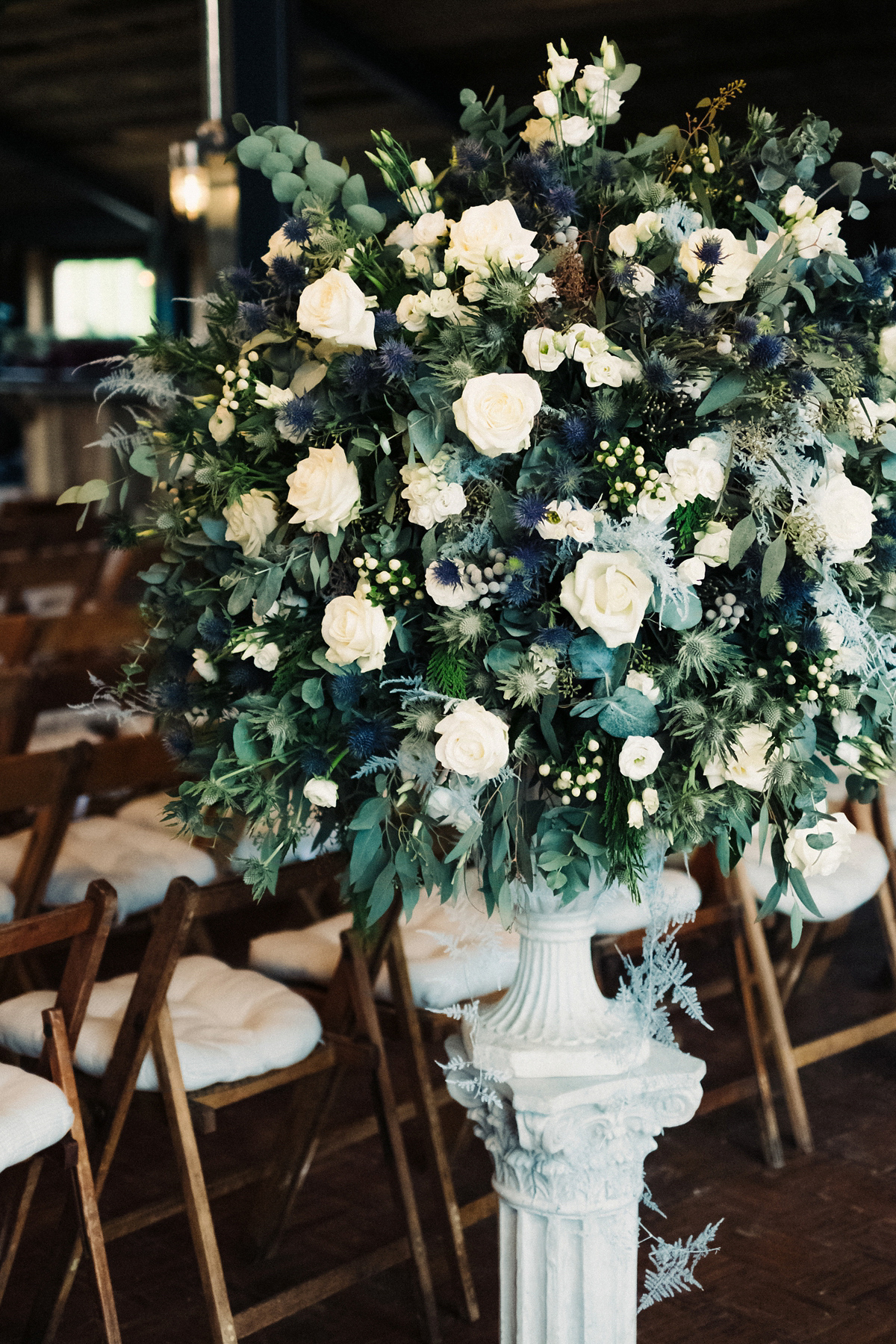 "I wore Sophia Webster's 'Jo Jo' shoes for the ceremony (they had feather pom poms on the toes which were mirrored in my dress) then changed into miu miu for dancing – these were chunky platforms in chrome with jewelled heels (they are no longer on line)."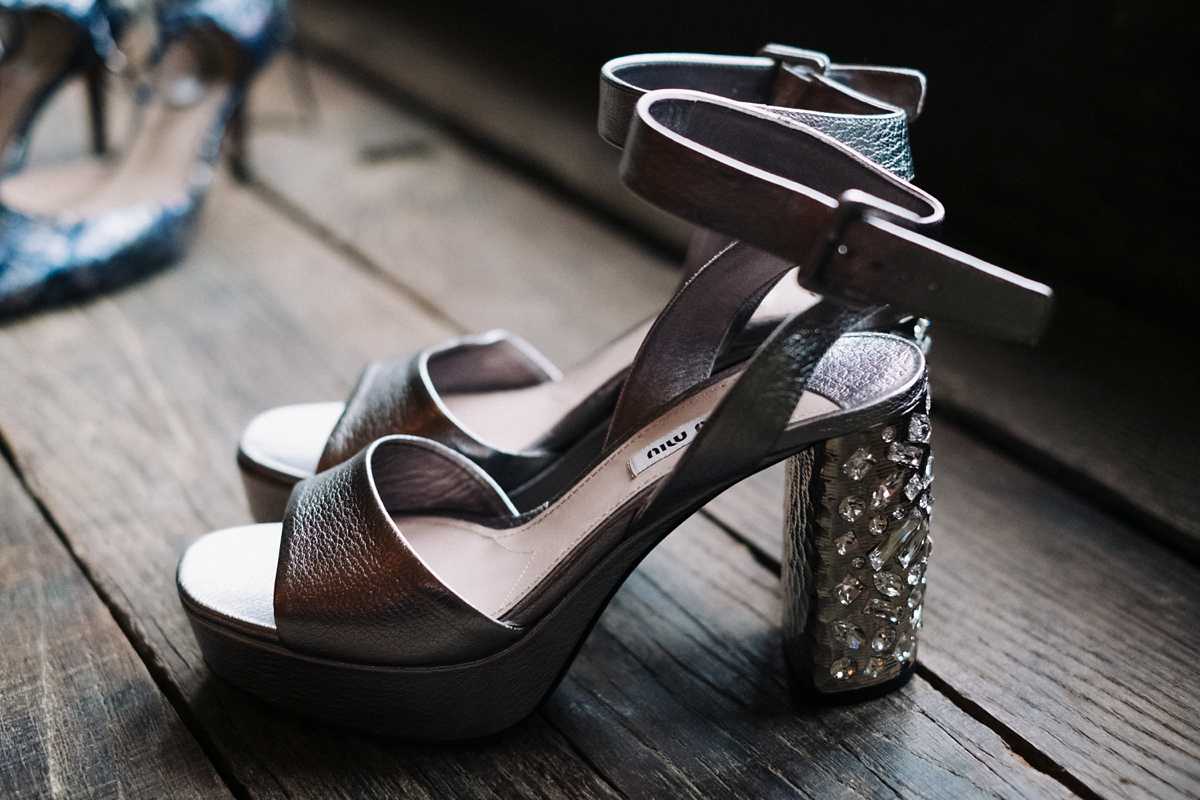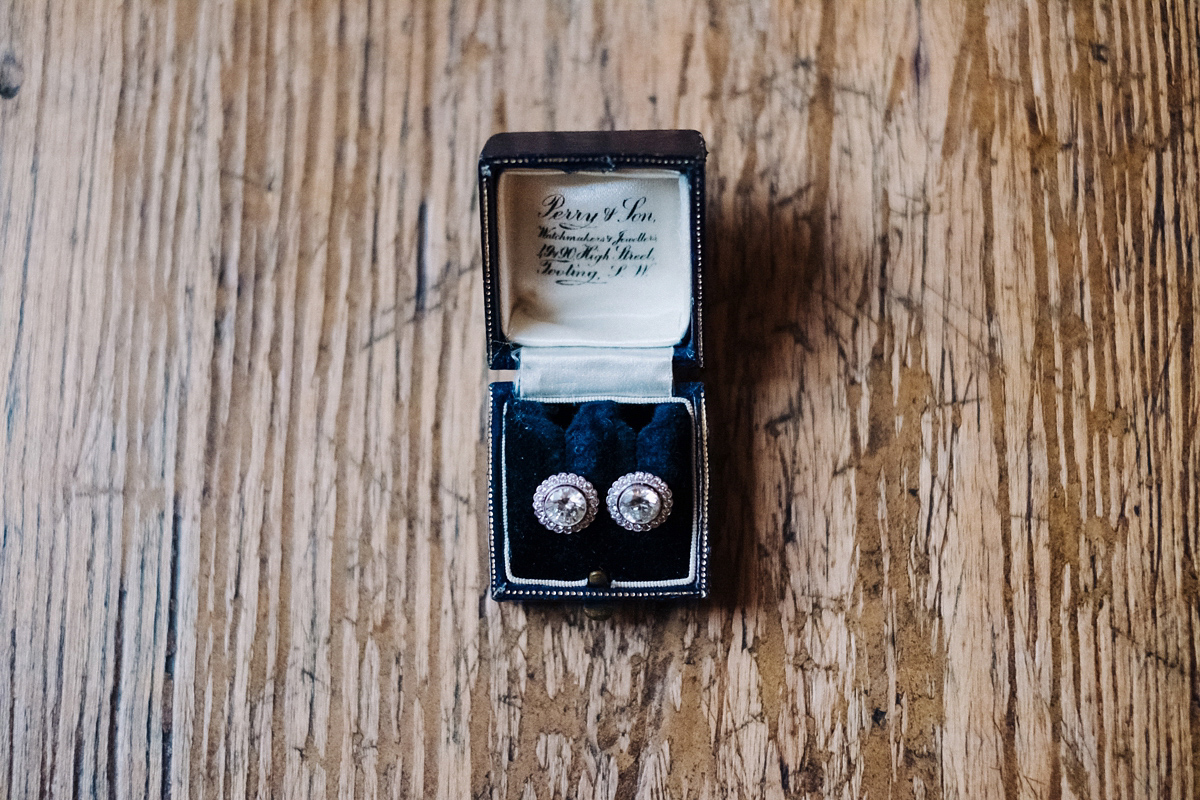 "All the stationery we had was designed from scratch and hand made by the incredibly talented Freya Jones at Deabill and Quince"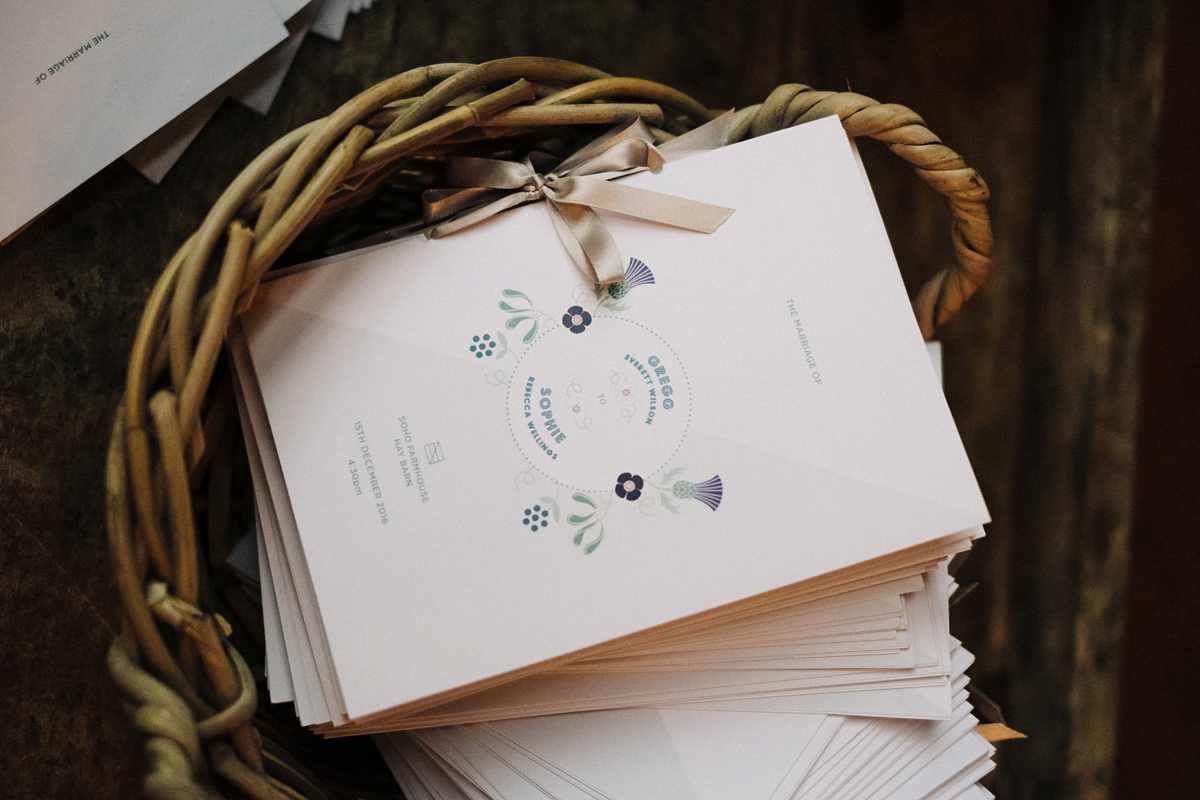 "Freya was incredible. We were wacky and she went with it! She designed us the most incredible pop up invites based on a pop up book we told her we liked."
"She made us handmade crackers including our own jokes, messages and gifts. She was just incredible."
"My makeup artist Sarah Brock was fantastic and managed to do my bridal makeup in 15 minutes flat! My hair was done by my own hairdresser, Mathieu Clabaux. I would never have had it otherwise. He is a genius. I had one knotted up do with flowers and then he transformed me in less than five minutes to hair down with vintage curls and a single flower behind the ear."
"I'm afraid I was not hugely traditional about the bridesmaids – I wanted everyone to be comfortable, happy and themselves. All of my bridesmaids wore different dresses. Zara wore Amanda Wakeley. Cordelia was in Gorgeous Coutoure. Kathryn was in Ghost and Rachel in ASOS."
"My sister, Lucy, was my maid of honour and I surprised her with an outfit on the day before the wedding. Hermione designed a bodice to match my dress and to include details such as a unicorn on her sleeve and the words 'I believe it's magic'. She had a matching high waisted tulle skirt."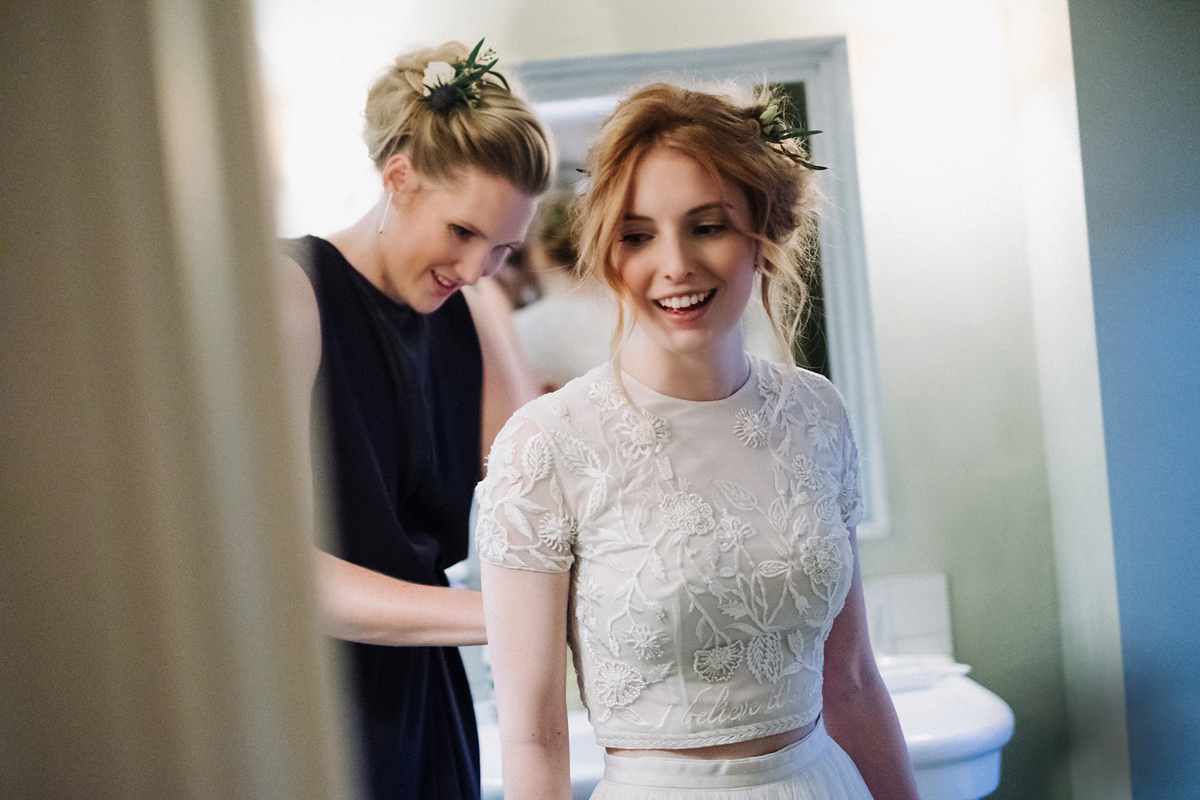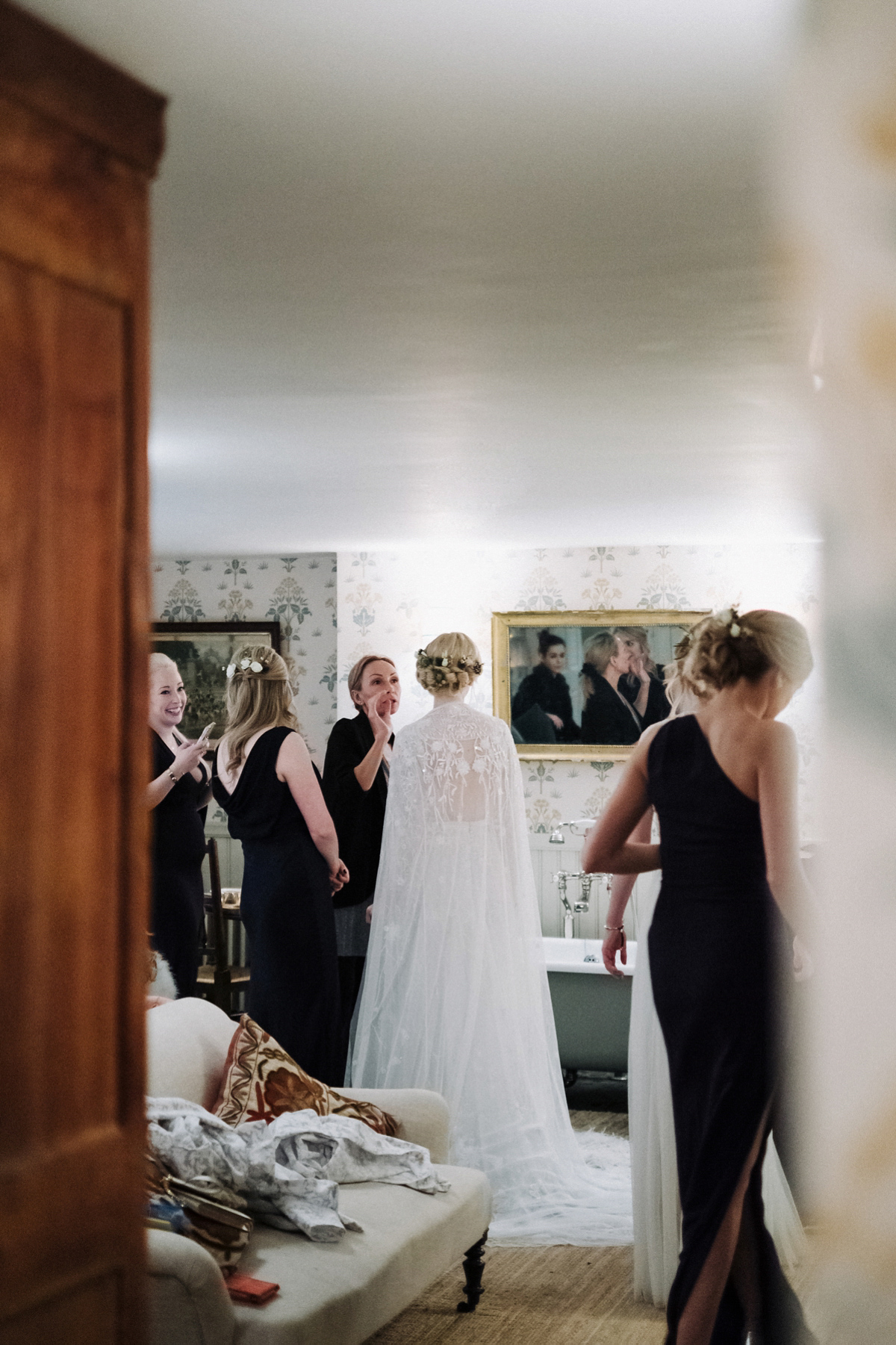 "All the flower girls were dressed in Monsoon – they are no longer online but were similar to this one. They also wore gorgeous little feather capes. Their shoes were sparkly navy blue mary janes from Jacadi Paris."
"I only had one page boy and he wore Monsoon. He looked dapper in his blue velvet suit and bow tie."
"I gave all my bridesmaids a bracelet from Monica Vinader."
"Because my dress was so detailed I wore minimal jewellery. I wore vintage diamond earrings given to me by Gregg's mum, my engagement ring and a simple diamond band given to me by one of my bridesmaids."
"I wore fresh flowers in my hair (thistles, and mistletoe), provided by the florist at the Farmhouse, Sarah Coughtrey."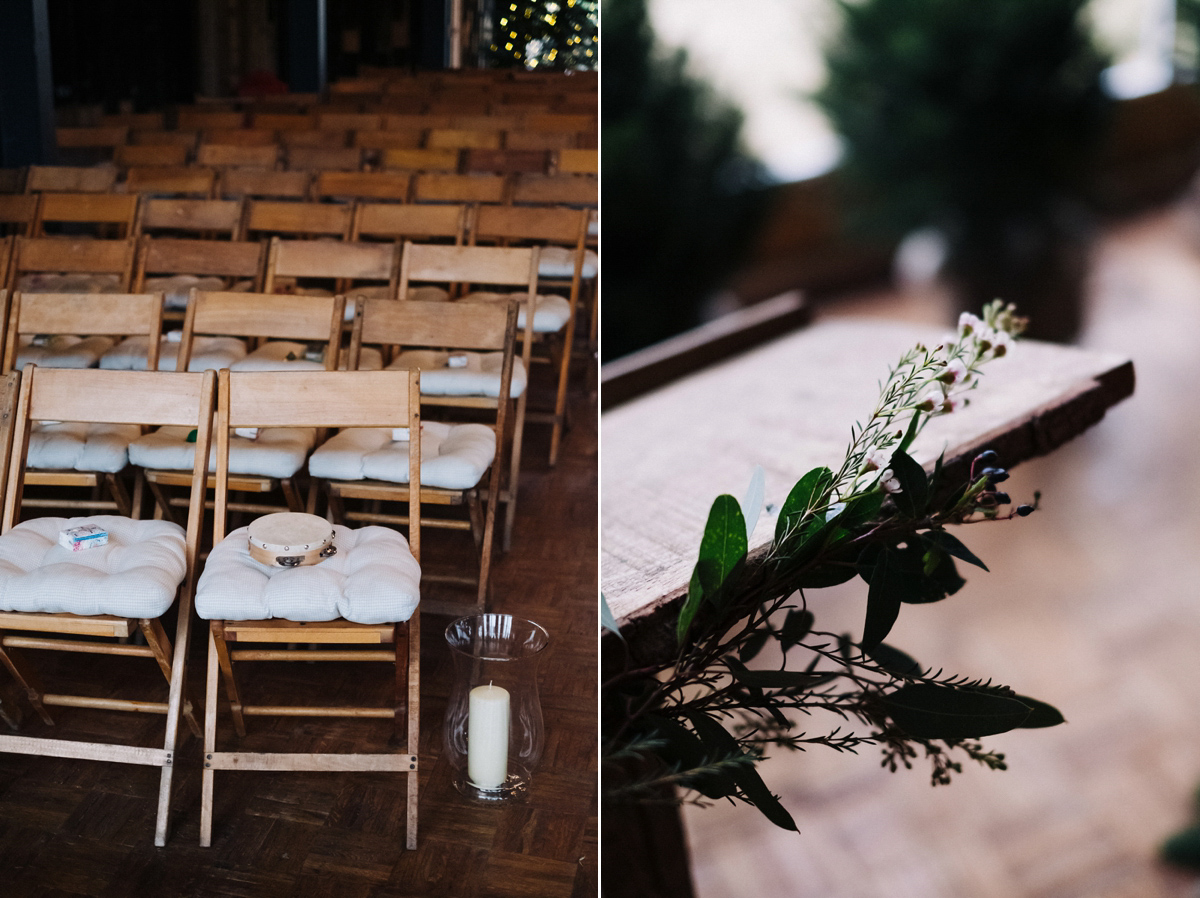 "We met through a great friend (in fact Gregg officiated her marriage ceremony and I sung her down the aisle then caught her bouquet… it was meant to be!). Gregg proposed to me on Hampstead heath in a secluded spot on a quiet Saturday afternoon in May."
"We walk on the heath almost every weekend with our dogs and I didn't suspect a thing, even though he brought a picnic basket with him (we had in fact bought this basket on a weekend at Soho Farmhouse a few weeks before!)."
"Gregg made me a book all about our life together so far and sent it with a question… 'So what is next for Gregg and Sophie?' – and then he got down on one knee. The whole wedding was planned in less than six months."
"There was a lot of music in our ceremony. Two of our bestfriends sang with their banjo and guitar (Moldy Peaches' 'Anyone But You', and Barry Pollisar's 'All I want is you'.) My brother sang with an octet called 'EPV' who sang choral music and carols – I am a choral singer – my brother and I both did a choral scholarship."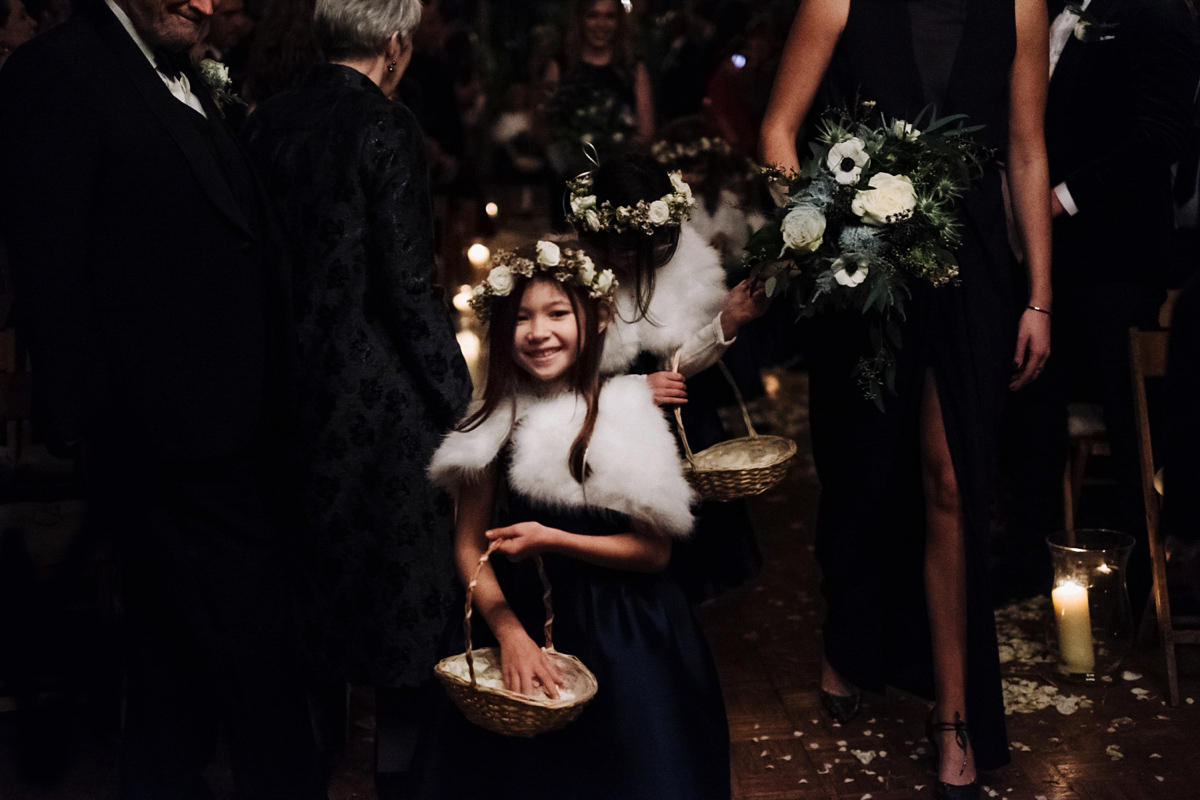 "My mum and dad walked together ahead of me and I walked on my own. I walked into Cinematic Orchestra's 'Build a Home'. This was played and sung live and every single musician was a personal friend and someone special in our lives. The girl who sang was Lila Palmer, a great friend of Sophie's from school."
"She was accompanied by Rosey Chan on piano ( a friend of Gregg's from the junior royal academy), Mike Figgis on bass, Michael Deegan on cajon and string quartet. It was magical."
"We had a non-religious ceremony in a barn conducted by a close family friend followed by a registrar ceremony immediately after at the venue (with only immediate family!) We had both sacred and secular music in the ceremony because music is a huge part of our lives (we are both musicians)."
"Our wedding rings were made by a close friend of ours Allison Bryan. She made my engagement ring in secret with Gregg and then designed a matching wedding ring with me."
"I love her stuff anyway and own lots of her pieces. I chose a style of ring Allison makes (which is an open ring) but tweaked it so it was platinum with pave diamonds all the way round."
"It is beautiful and sits flush with the engagement ring because the gap allows for the larger diamond on the engagement ring!"
"We wrote our own vows – you can hear them in our wedding film word for word. Whilst our vows were very different in their construction and style we actually both included the same vows in places (one was to be worthy of each other and the other was to always laugh and fill our home with music and joy). I even included silent mime in my vows."
"We also had three readings. The first was 'Liebeslied' by Rilke. This was read in German first and then in English by my oldest friends who are like siblings to me. We chose it as we loved the musical metaphor; 'yet everything that touches us, me and you, takes us together with a violins' bow which draws one voice out of two separate strings."
"We also had 'How Falling in Love is like Owning a Dog', by Taylor Mali. This was chosen for light relief and was brought to life by our friend Olivia. We have two dogs (disco and biscuit) who are like our children and it is a running joke how much we love them. They were all over our wedding stationery, orders of service and even in our favours!"
"Finally we had a reading from Gregg's best man Cristian. This was a surprise. He told a story about Gregg and himself at college which ended in him reciting Shakespeare's sonnet 116 off by heart. It was brilliant."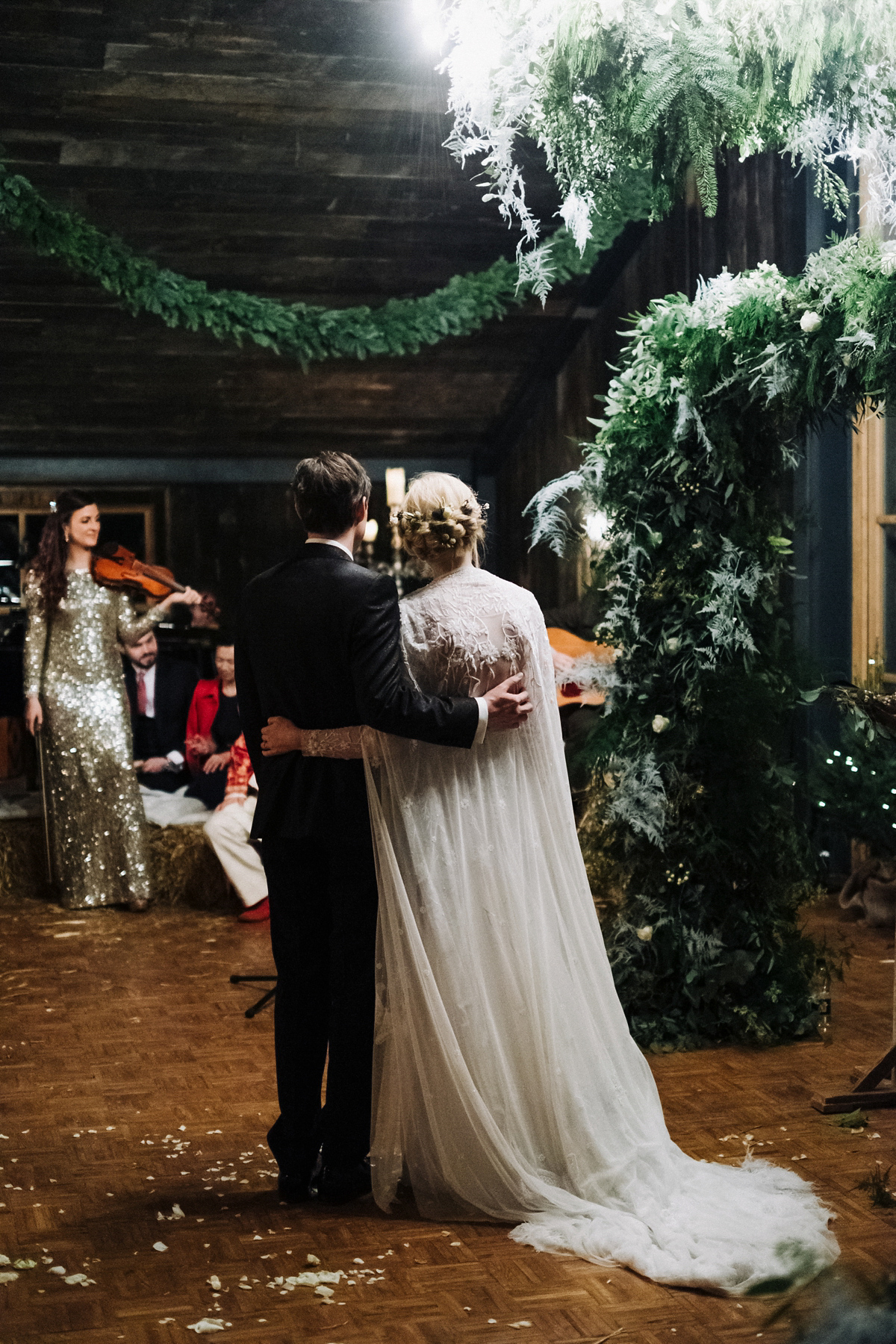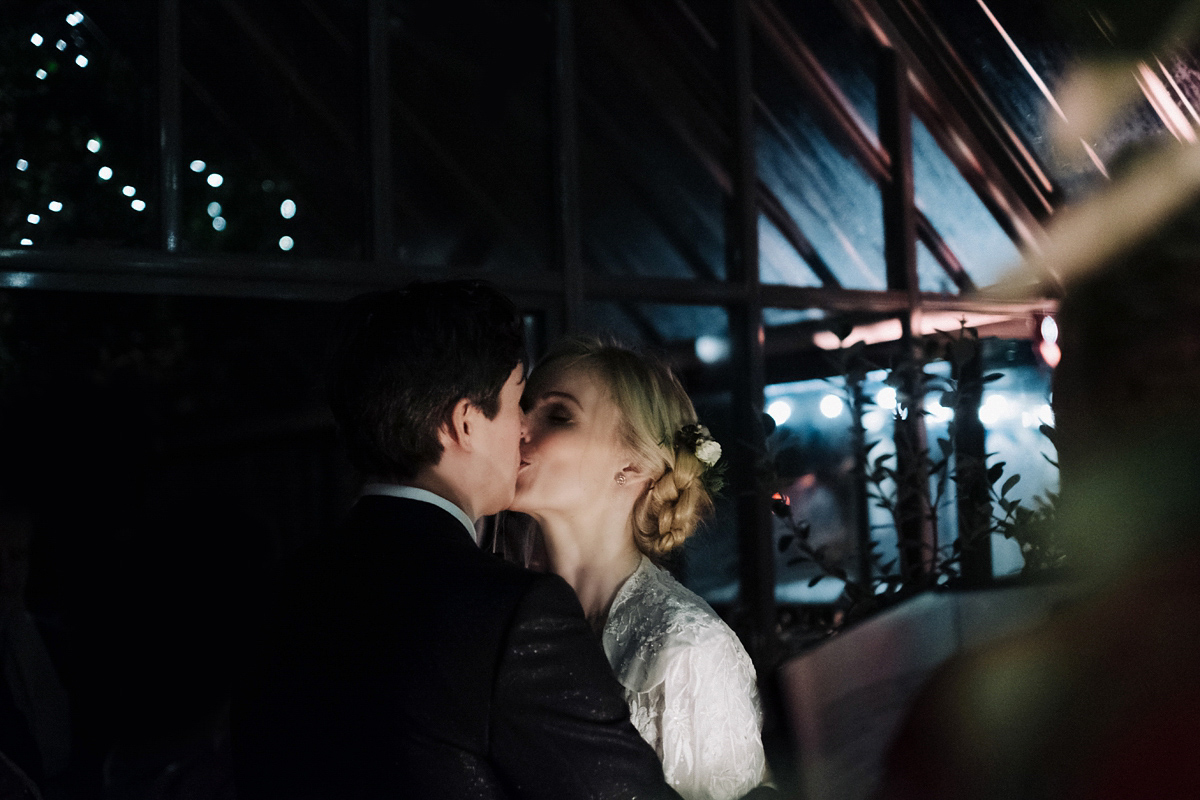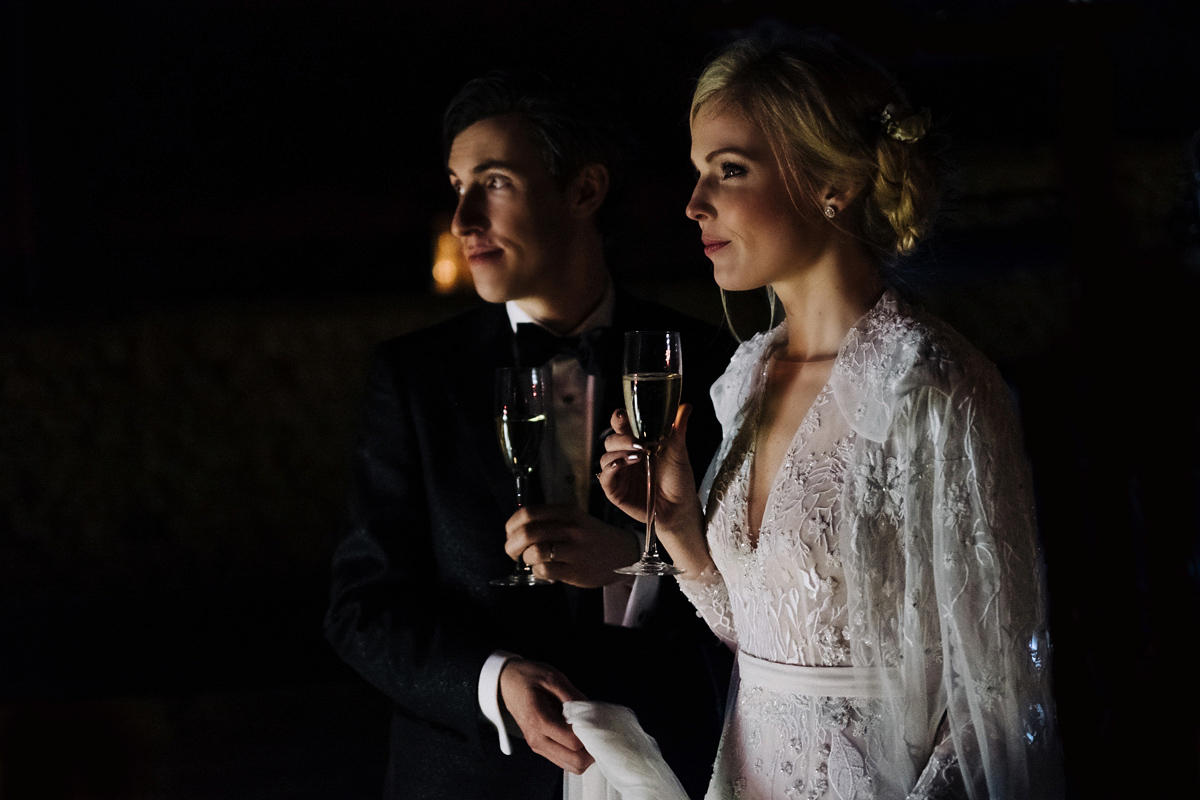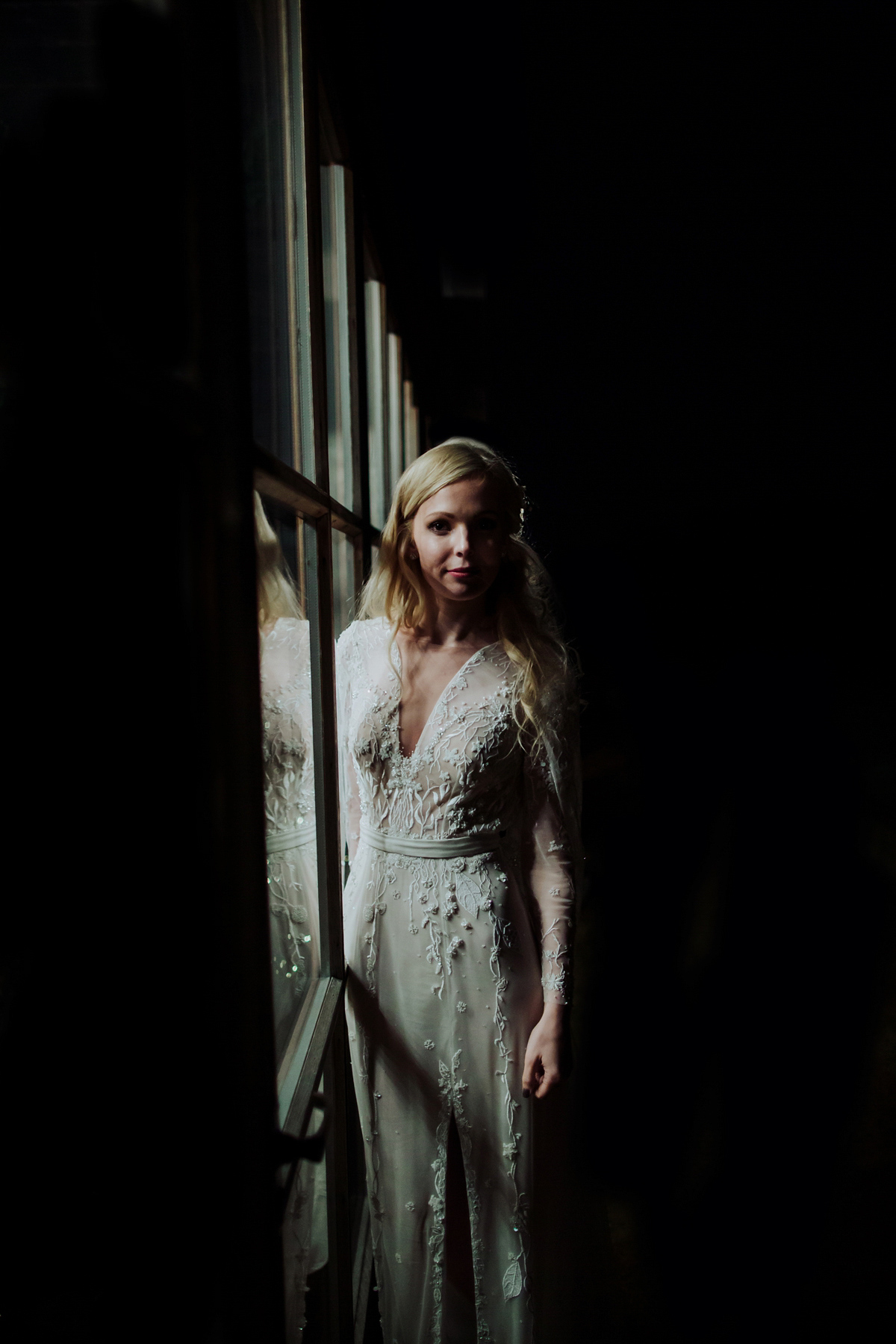 "Gregg's suit and accessories were made by the amazing Caruso – Umberto Angeloni is a family friend. He made Gregg's cocktail jacket (which has a faint glitter sparkle in it!) as well as pocket squares which doubled up as wallets for the groomsmen."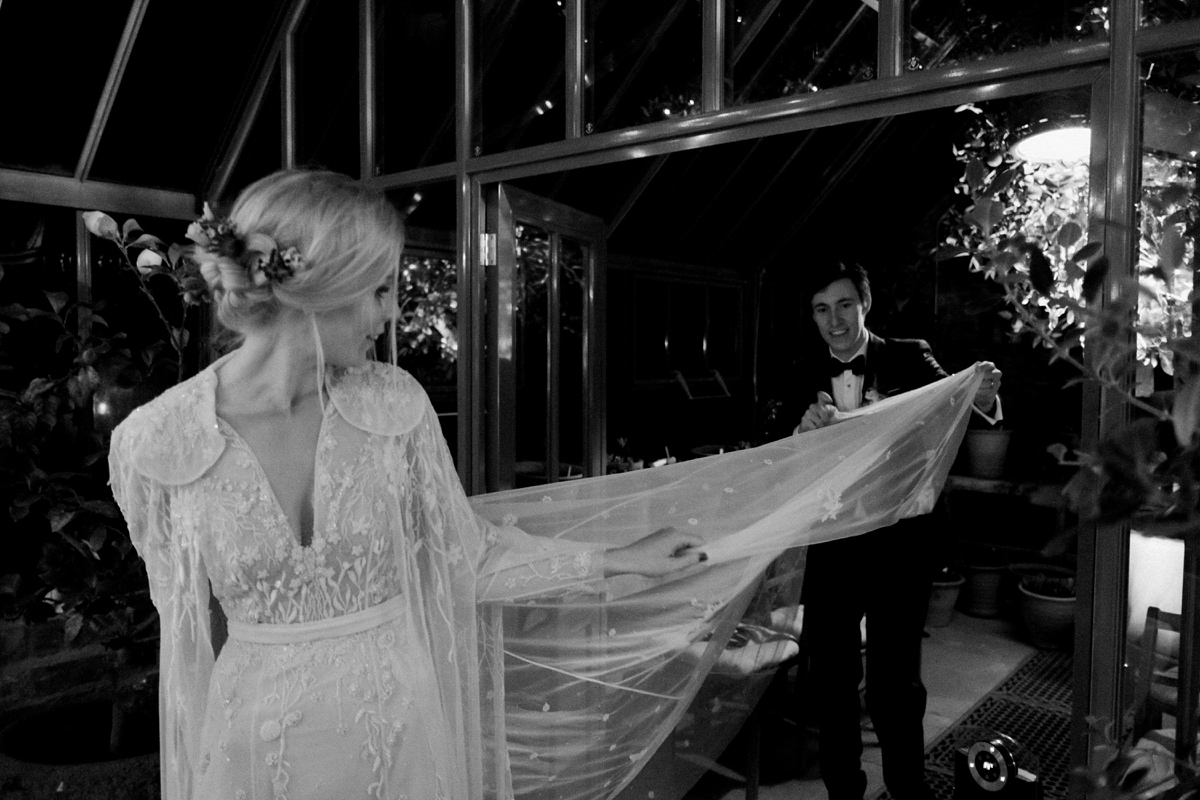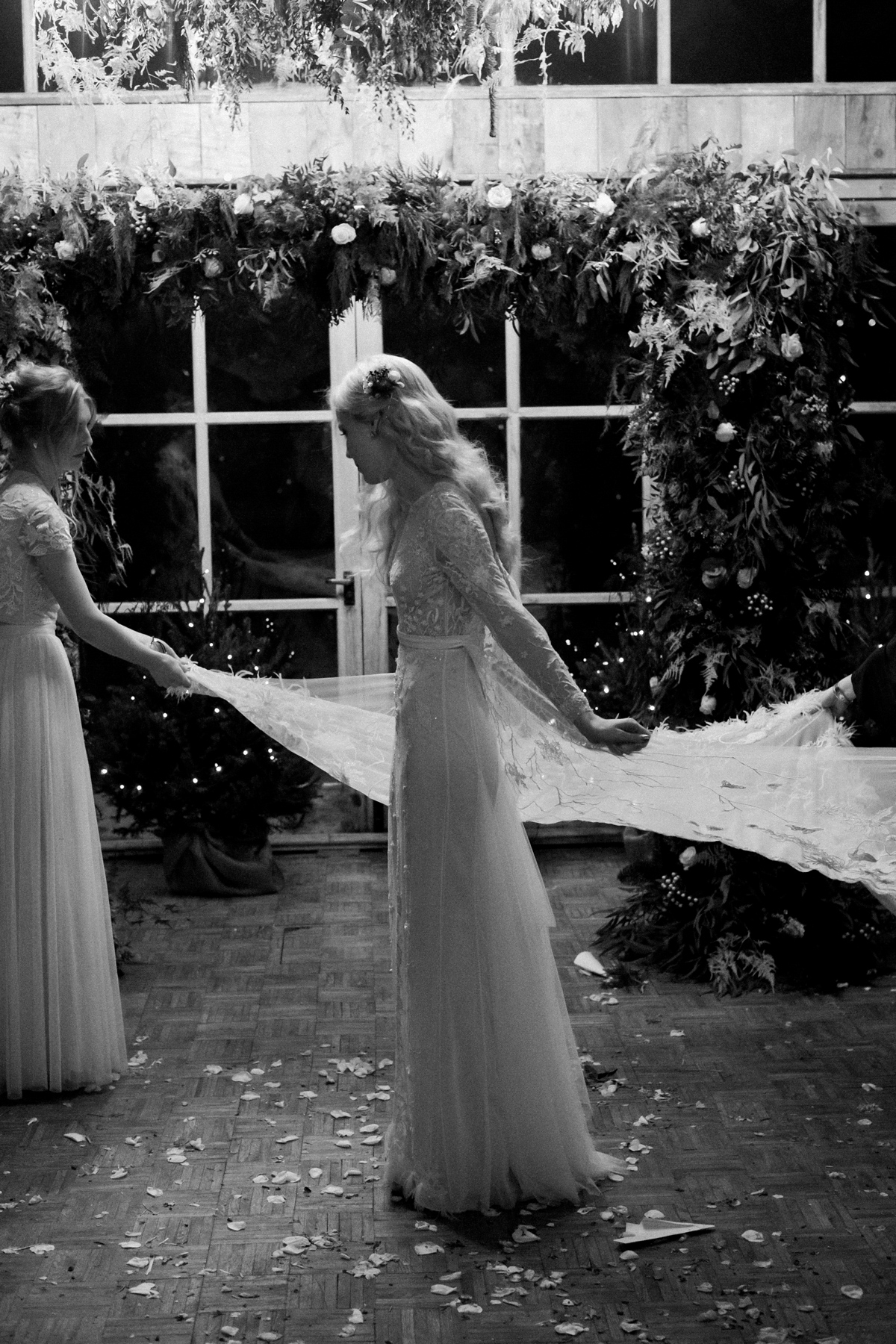 "Whilst I wanted our wedding to be luxurious I also wanted it to be relaxed and fun. We tried to inject fun into a lot of the things we did with our stationery (we had a pop up wedding invitation, personalised crackers, caricatures of our wedding party, personalised snow globe wedding favours and a giant snow globe photo booth!)"
"I bought a lot of wool blankets to add warmth but the venue is so beautiful very little needed to be done beyond the flowers and the romantic candle light. We included nutcrackers and traditional Christmas figurines around the room (from Germany which is where I grew up). Out table decorations were flowers, candelabras, and little metallic vases and pots with fruits and nuts."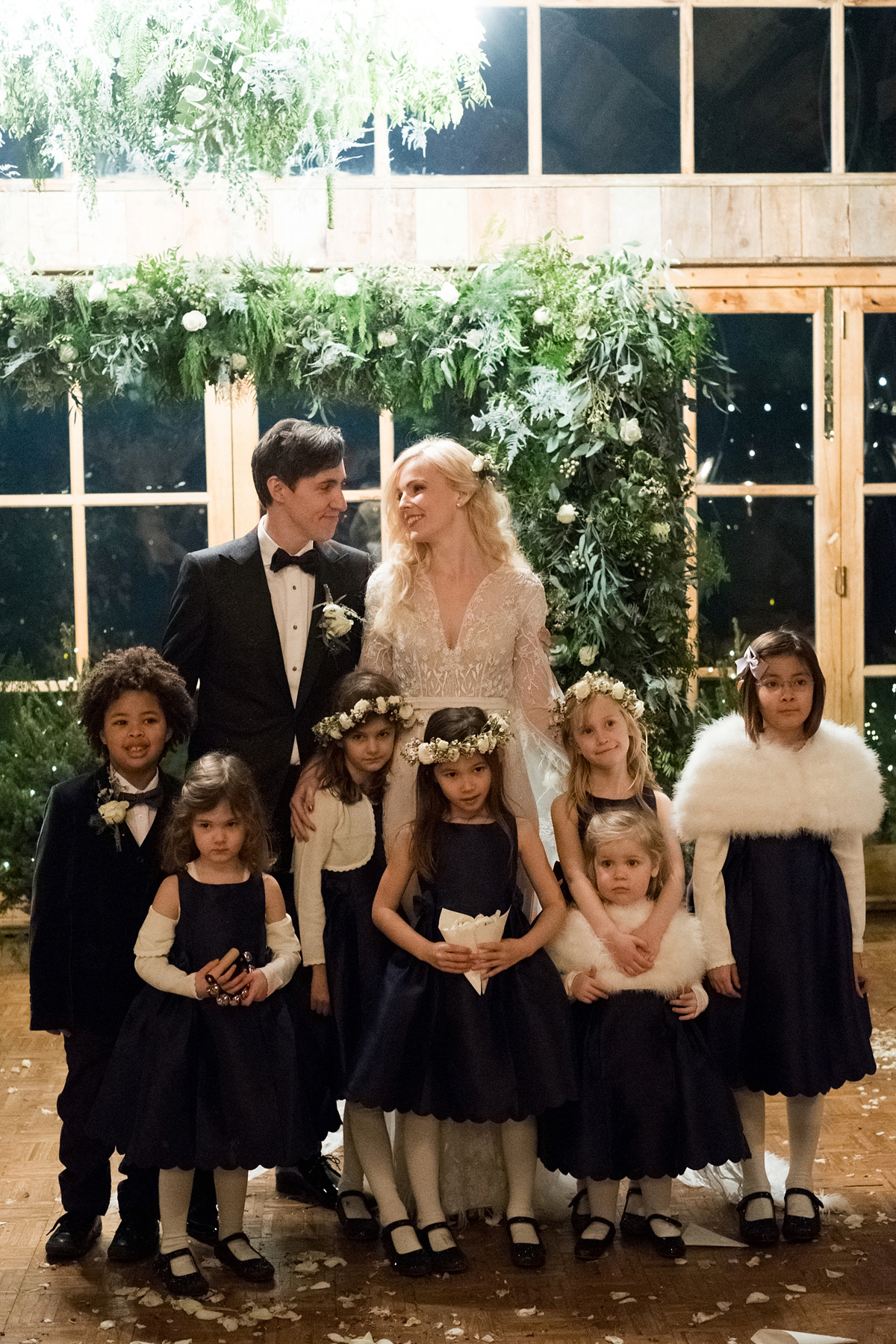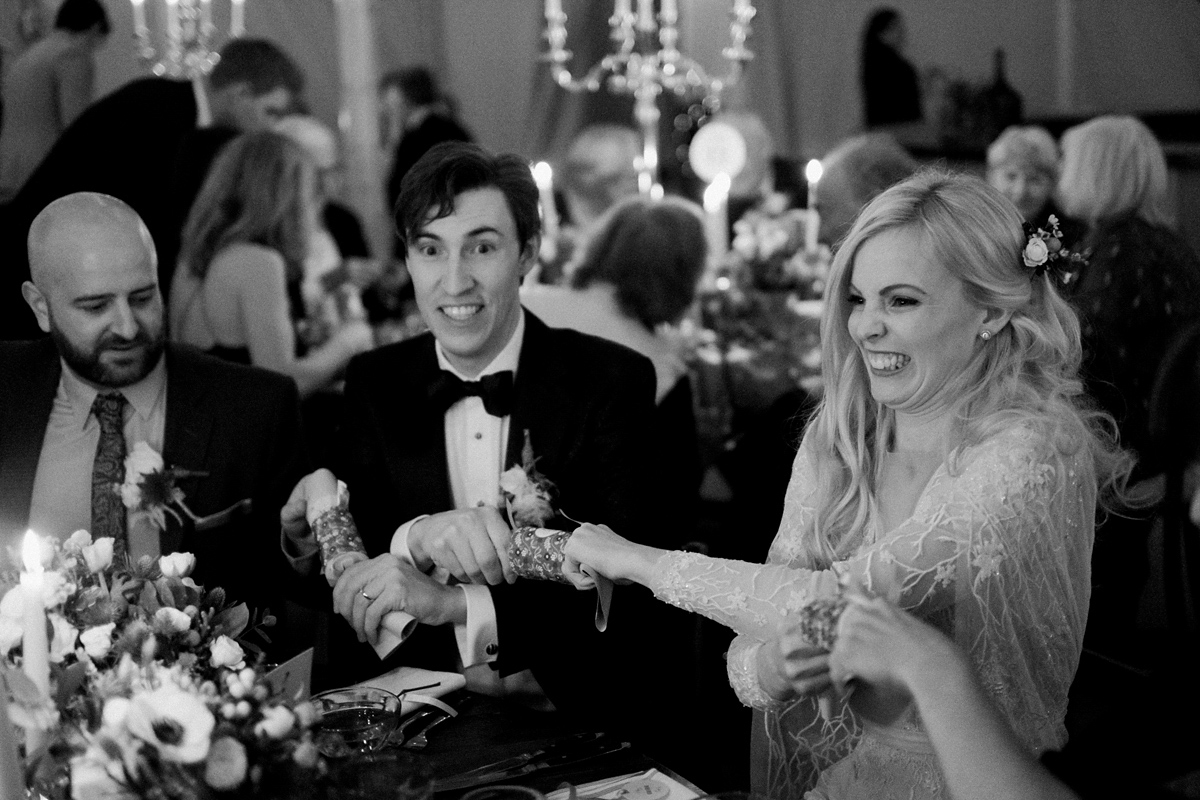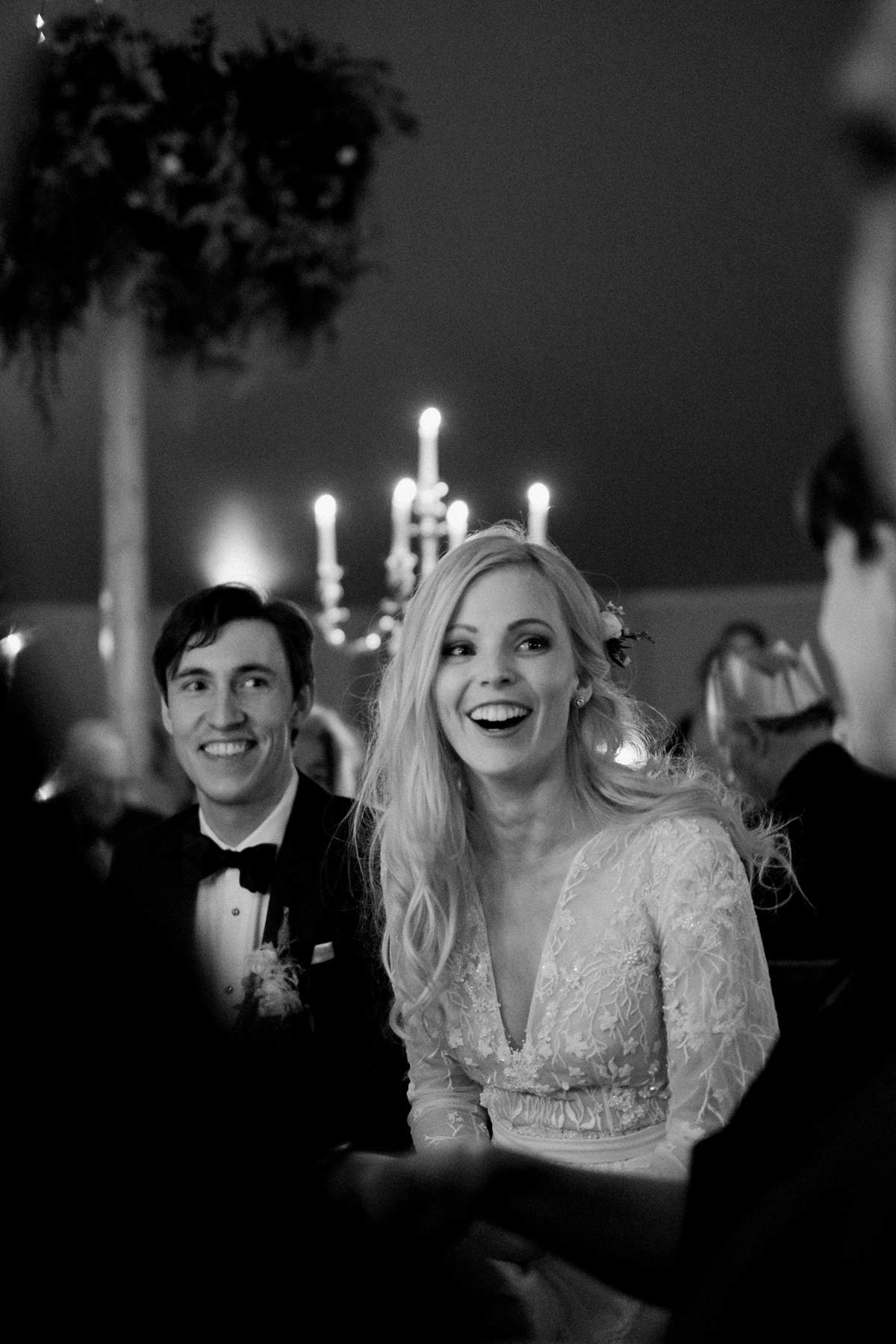 "Our wedding favours were personalised snow globes which had ourselves and our dogs in (our dogs were our ring bearers – they wore velvet bow ties). They were made by Queen of Snow Globes."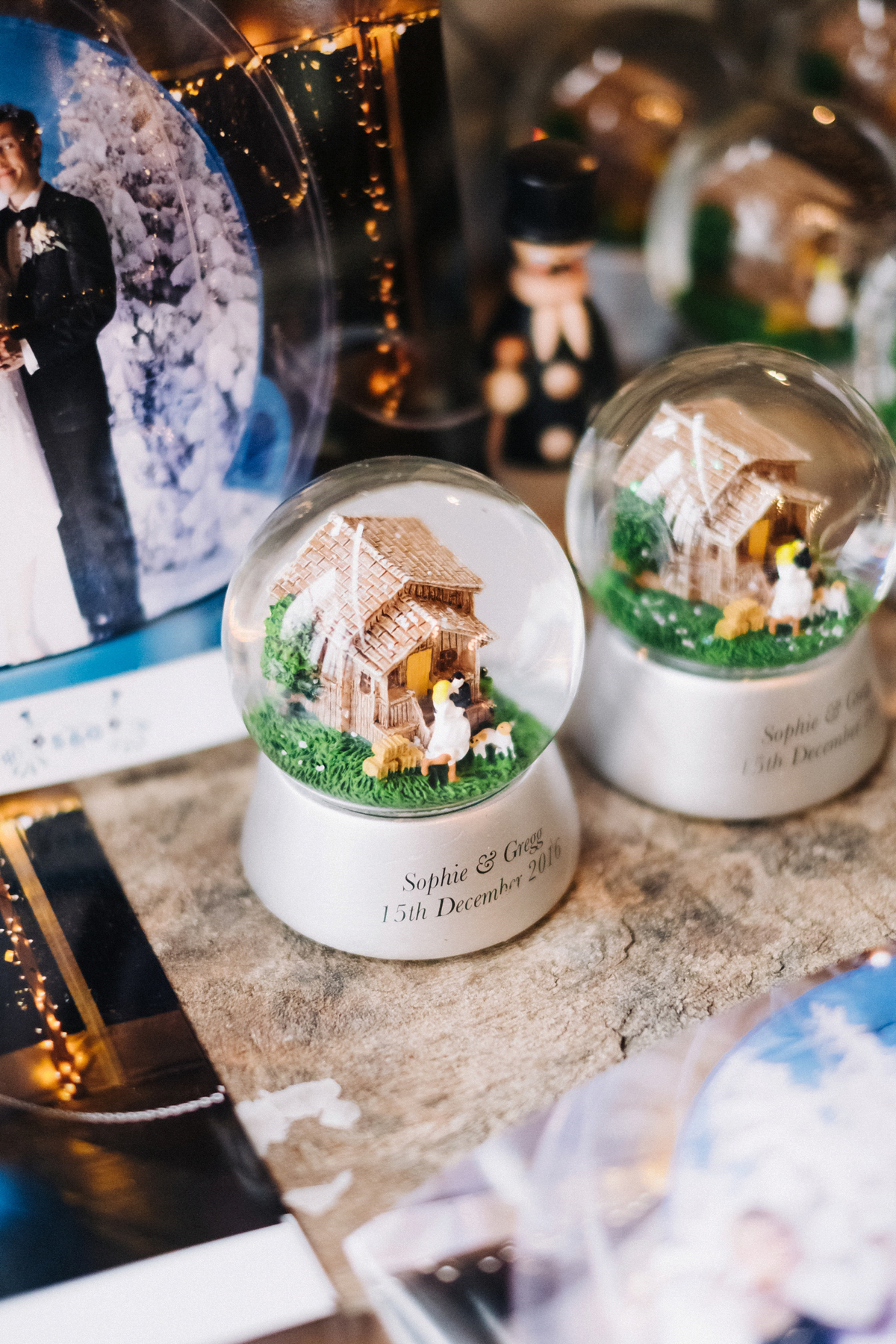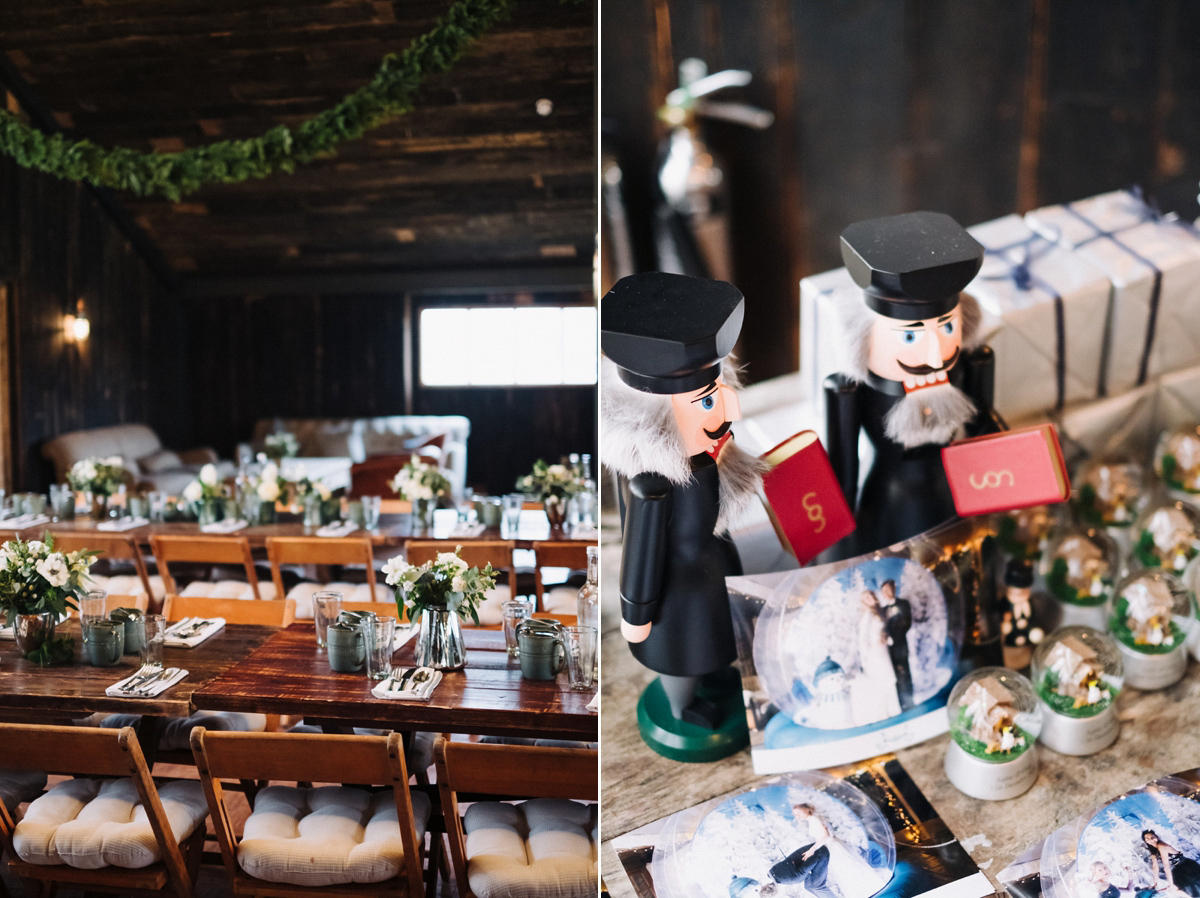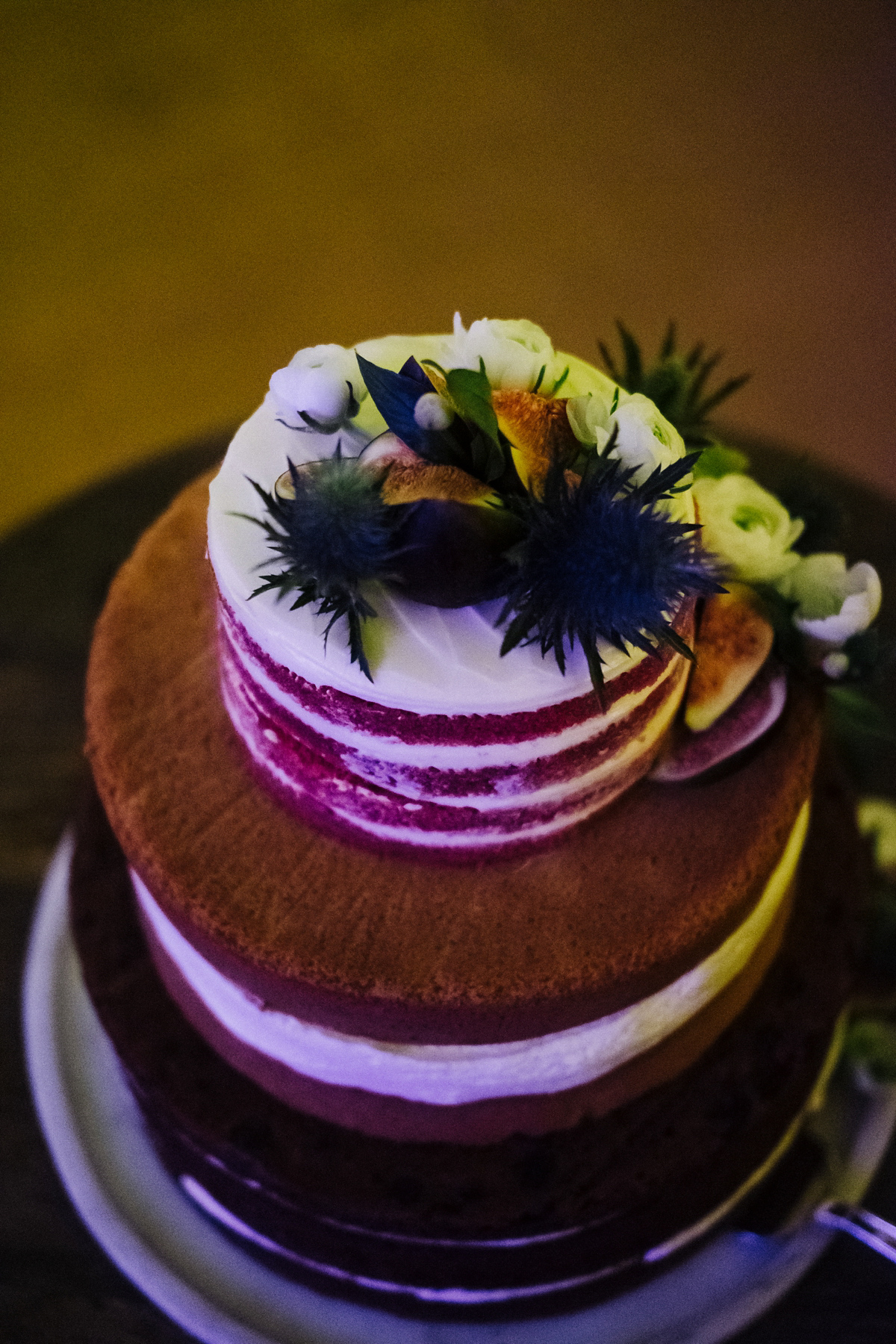 "We hired the Sensation Band – we had people on the dancefloor before we even sat down for dinner and all the way through! We also hired The Wedding Smashers – they were amazing – our after party went on until sunrise."
"We did not have a traditional first dance but the final song in our wedding was 'All I Want Is You', by Barry Pollisar, played a group of our friends on banjo, guitar, violin, and accordian. We put musical instruments on the guests seats and everyone played, sang and danced along as we danced with the flower girls out of the barn. The musicians then led the guests to the reception whilst still playing. Amazing!"
"Later on, we had the band play groove is in the heart as the first song after we entered the reception and we had every single person on the dance floor before anyone was able to sit down for dinner! It was so much fun."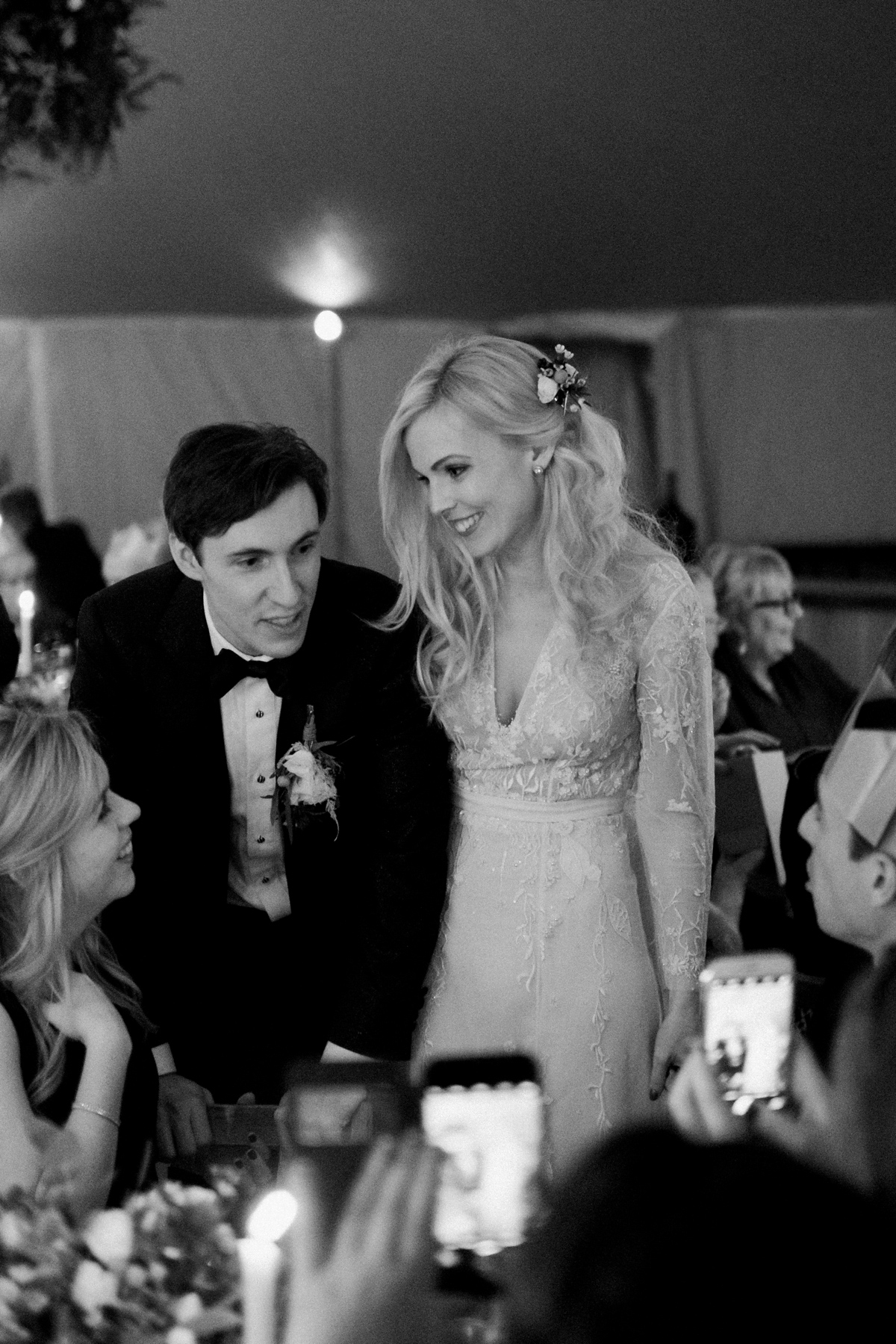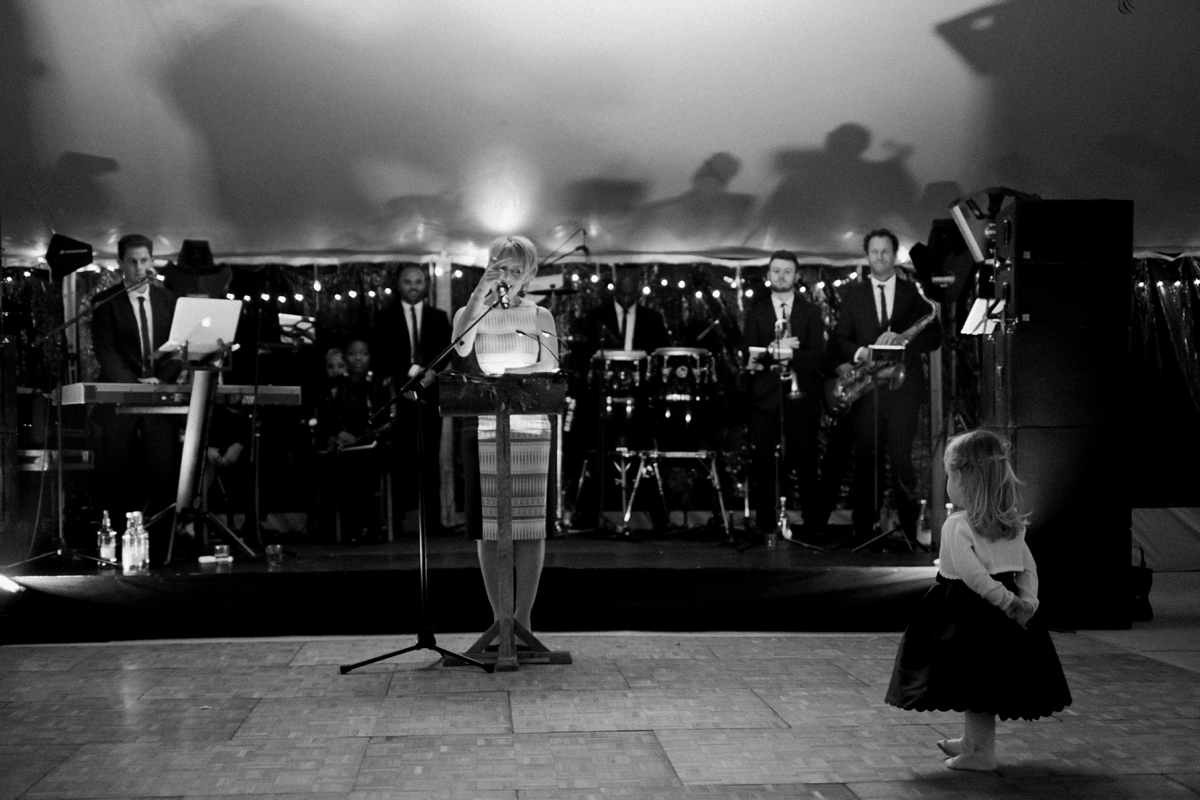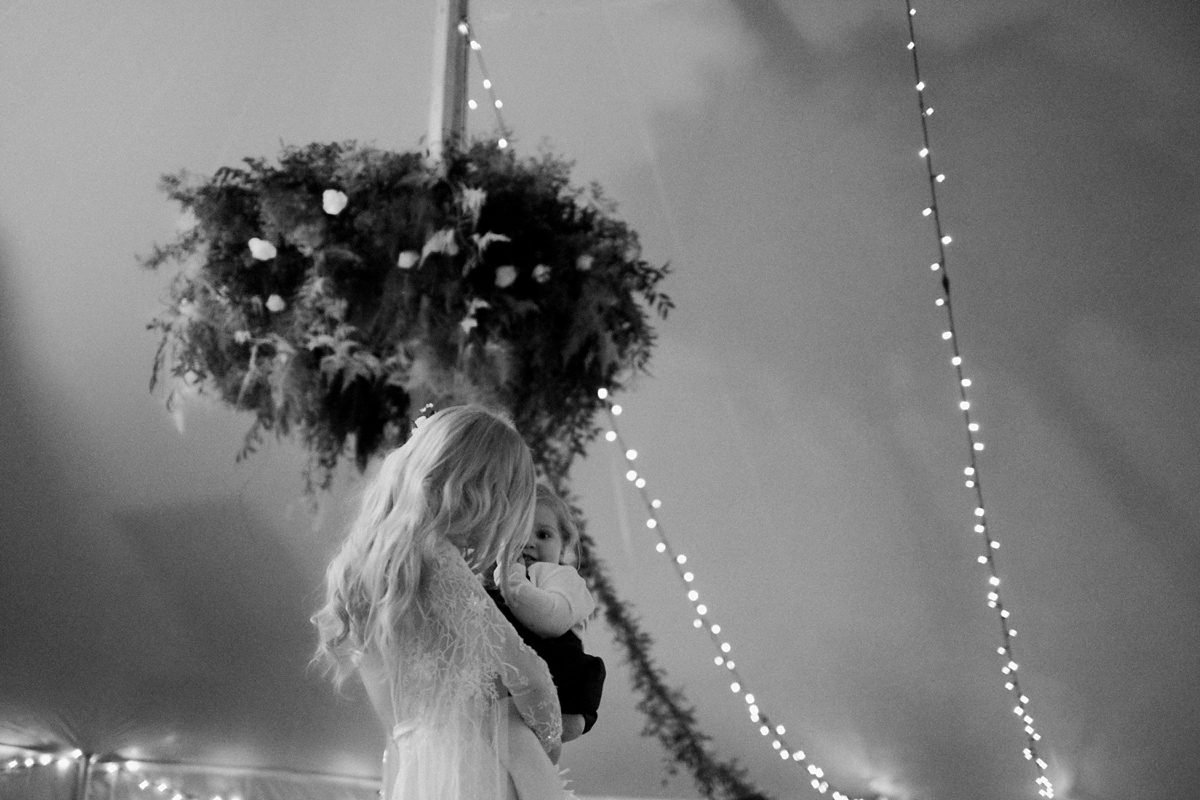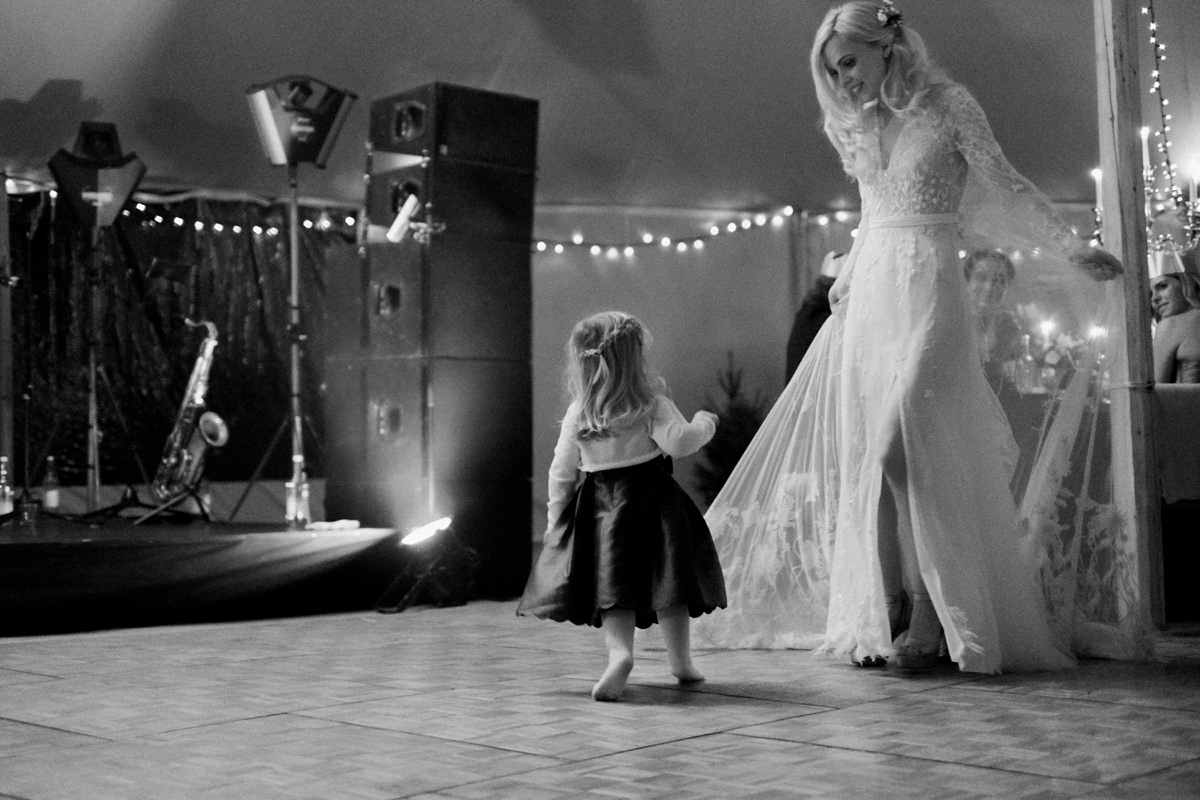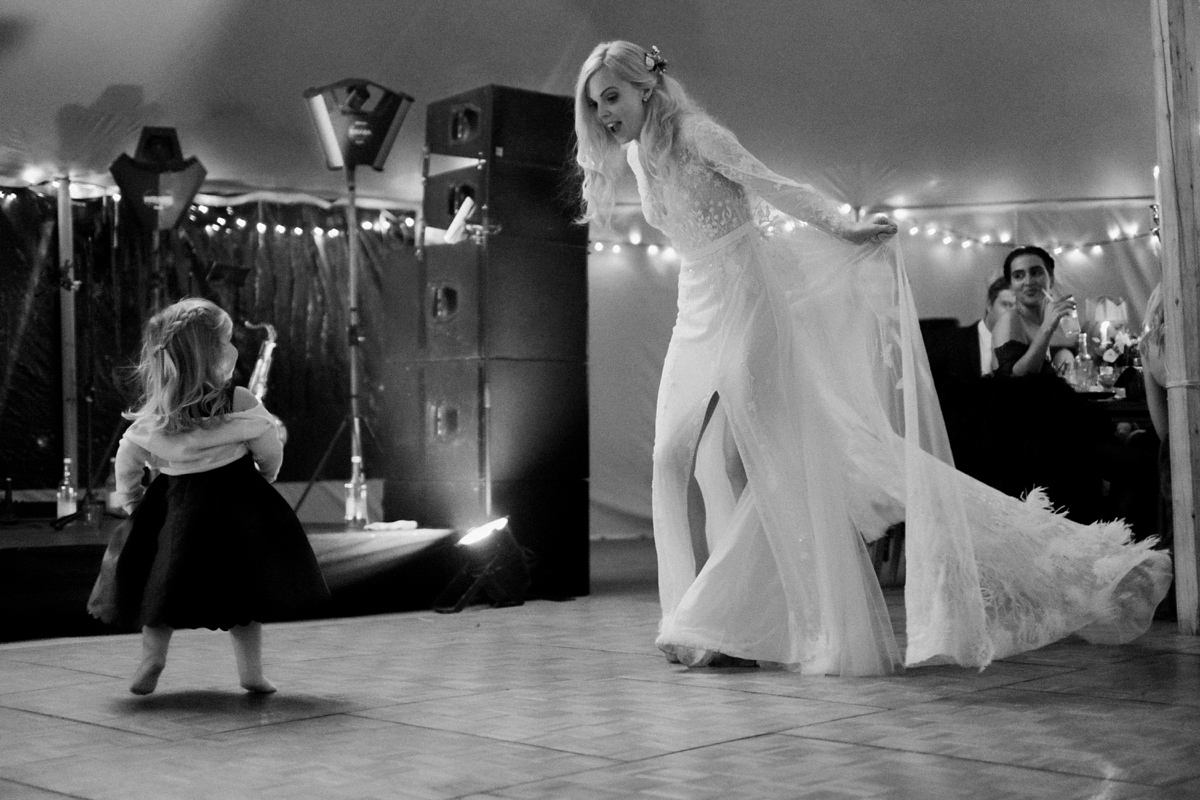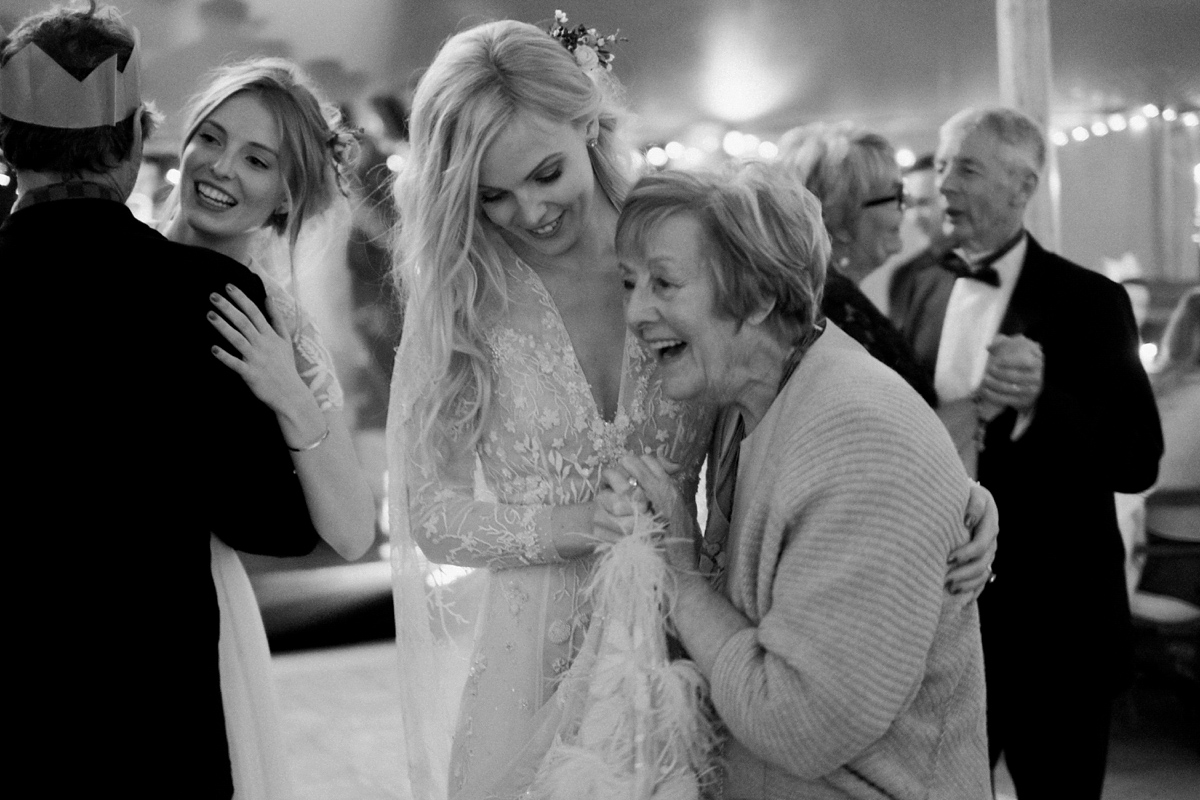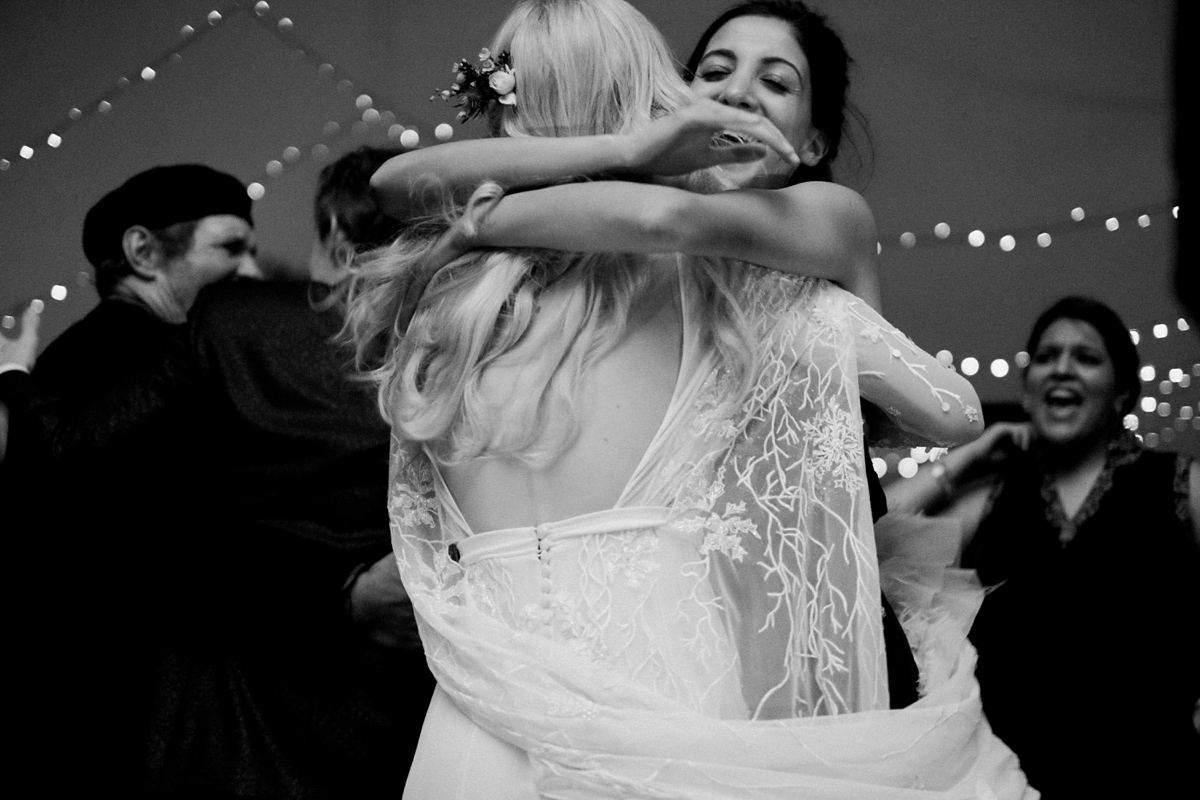 "Our film maker, Jeff Wood, was amazing. Even though we could have used contacts from Gregg's work – we just fell in love with his videos. He is down to earth, low key and hugely talented. The final video is not yet ready but the video shown at the top of this page was one he did overnight between our wedding and our brunch the next morning. What he has achieved is incredible."
"There were too many special moments to single them out. We both felt anxious until we saw one another so walking down the aisle was an amazing moment. We also had the most overwhelming moment when two of our friends surprised us after our fireworks with a musical medley they had prepared (it was genius!). We were stood on the dance floor and all our friends and family were hanging off the rafters, stood on the tables and circled around us screaming along to a very alternative version of Céline Dion's my heart will go on, and it was just beautiful seeing everyone's smiles and sheer joy."
Words of Wedded Wisdom
"Enjoy it, don't stress and make the whole thing as personal to you as you can or want to. Be yourselves and know that everyone else will be happy because you are happy!
I wouldn't change a thing other than maybe turning my phone off the day before and on the morning!"
Incredible, incredible – those vows. Tears in my eyes all the way. My love and thanks to Sophie and Gregg for allowing us to share their insanely beautiful wedding day. Kudos to Hermione De Paula for creating the most sensational gown and Jeff Wood for capturing so much love in one film. And as always, my deep thanks to Claudia Rose Carter for sharing her beautiful images.
Annabel x
** The film included in this feature is a 'same day edit' produced by Jeff Wood Visuals the evening and day after the wedding.