Hi there lovelies, I've got such a gorgeous wedding to share with you today, I've been majorly struggling to keep it under wraps! Allow me to introduce you to Rebecca, a Primary School Teacher based in York, who pledged her love forever on 23rd July last year to her handsome beau, Callum, who works in Marketing and Sales but has recently started his own mobile bar company.
The lovebirds held their intimate ceremony in the tiny St Thomas' Church in Ryton, followed by a wonderfully sweet English countryside reception at Ryton Grange. Rebecca wore a dreamy lace gown from Charlotte Balbier – a purchase she made from The Little Pearl Bridal Boutique in Pickering, North Yorkshire. Charlotte Balbier is a designer we are insanely proud to support through our Little Book for Brides and whose creations we encourage you to peruse in our fabulous Style Files. We adore Charlotte's designs almost as much as we love the lady herself; her gowns just ooze femininity and are so incredibly gorgeous. Rebecca paired her divine lace number with bargain shoes from Asda; a pair she knew she wouldn't be precious about wearing outside and were seriously comfy to boot.
"Your Instagram is engaging and dreamy – I always look there and then look for the wedding the images are from. I adore the variety of weddings you show and it's not too intimidating. The day after I'd fallen in love with Charlotte's dresses, I discovered (via Love My Dress on Instagram) that The Little Pearl Bridal Boutique in Yorkshire were hosting a 'meet the designer day' with Charlotte herself! So I snapped up the last appointment. We tried on the Lillie Mae gown and while she agreed it was the perfect gown for the 'feeling' of my wedding, she suggested trying on the Maud gown as well, because it has the same skirt shape. I fell in love with it; the combination of the beading, lace and delicate sleeves was what I had always dreamt of."
Photography by Todd & Moore Photography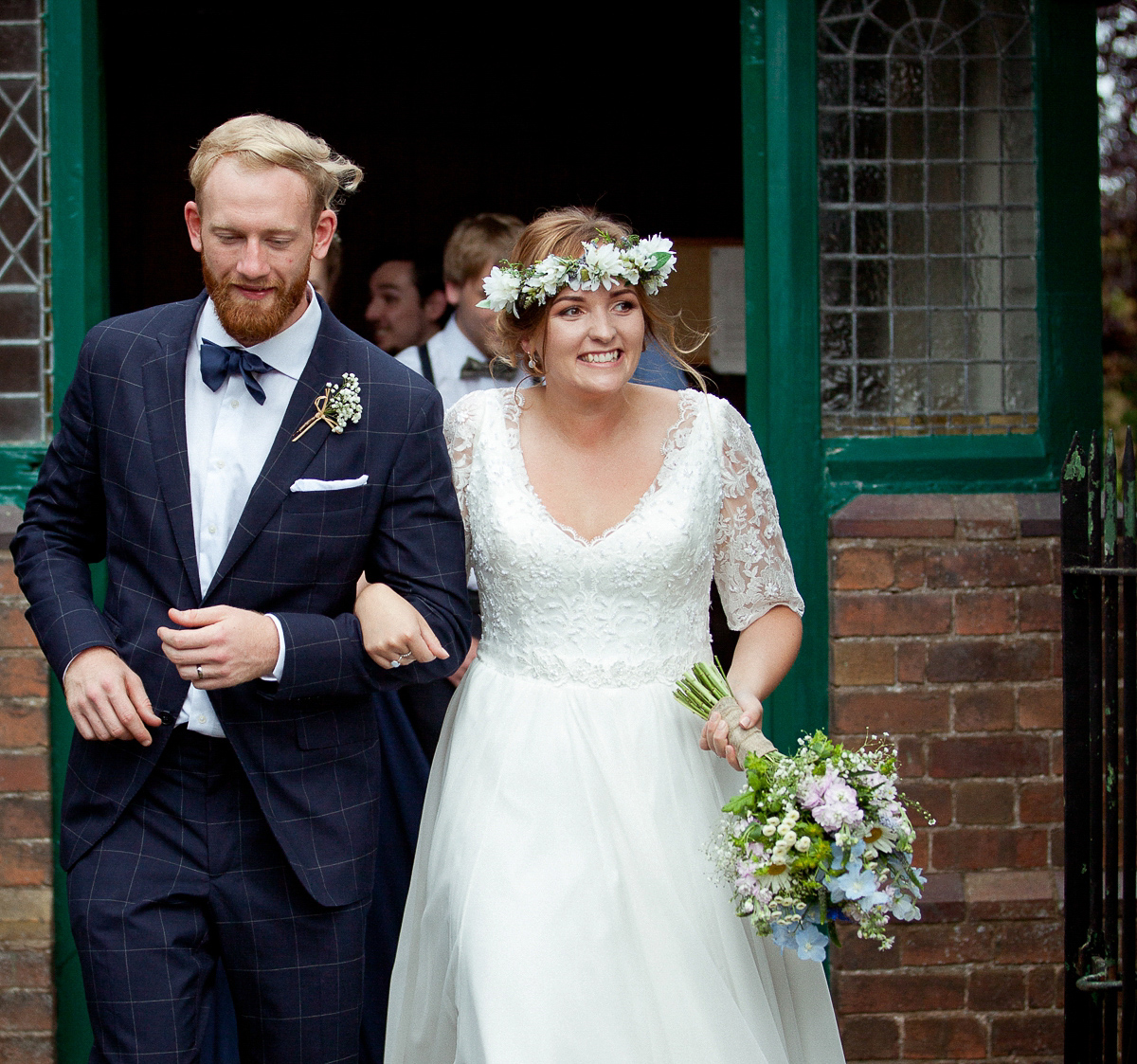 "I went alone because my bridesmaids all lived away and couldn't come with me to the appointment at such late notice. Going by myself and the relationship I built with The Little Pearl Bridal Boutique made the whole experience so magical –  and it ended up being my little piece of heaven and calm in the madness of wedding planning. AND I managed to keep the dress a secret from my bridesmaids and parents right up until the morning of the wedding."
"All we wanted out of the day was fresh flowers, beautiful English countryside and the people we love. So we chose a tepee, flowers, attire and everything else sort of evolved from there. We wanted to make as much as possible ourselves, and Callum has a very creative family so it was important for them to be as involved as possible. Navy ended up being our colour for lots of things (Callum's favourite) and it suited all of the bridesmaids perfectly. It was also a lovely backdrop for the coloured flowers I wanted."
Rebecca and Callum are so obviously madly in love it just warms my soul; her account of watching her love prepare for the day ahead as she got ready with her maids is so moving.
"Seeing Callum getting things ready in the morning as I sat on my bed having a moment of quiet before the madness started was so special. He couldn't see me, but I could see him working so hard right up until just an hour before the ceremony. It just let me take everything in and appreciate it – the weather, the views, the butterflies in my tummy and Callum."

"I don't think I will ever forget watching him and thinking about all the reasons why we were getting married whilst writing his card. He did everything, and he did it all for me. My vision would never have come to life if it wasn't for Callum's passion and drive."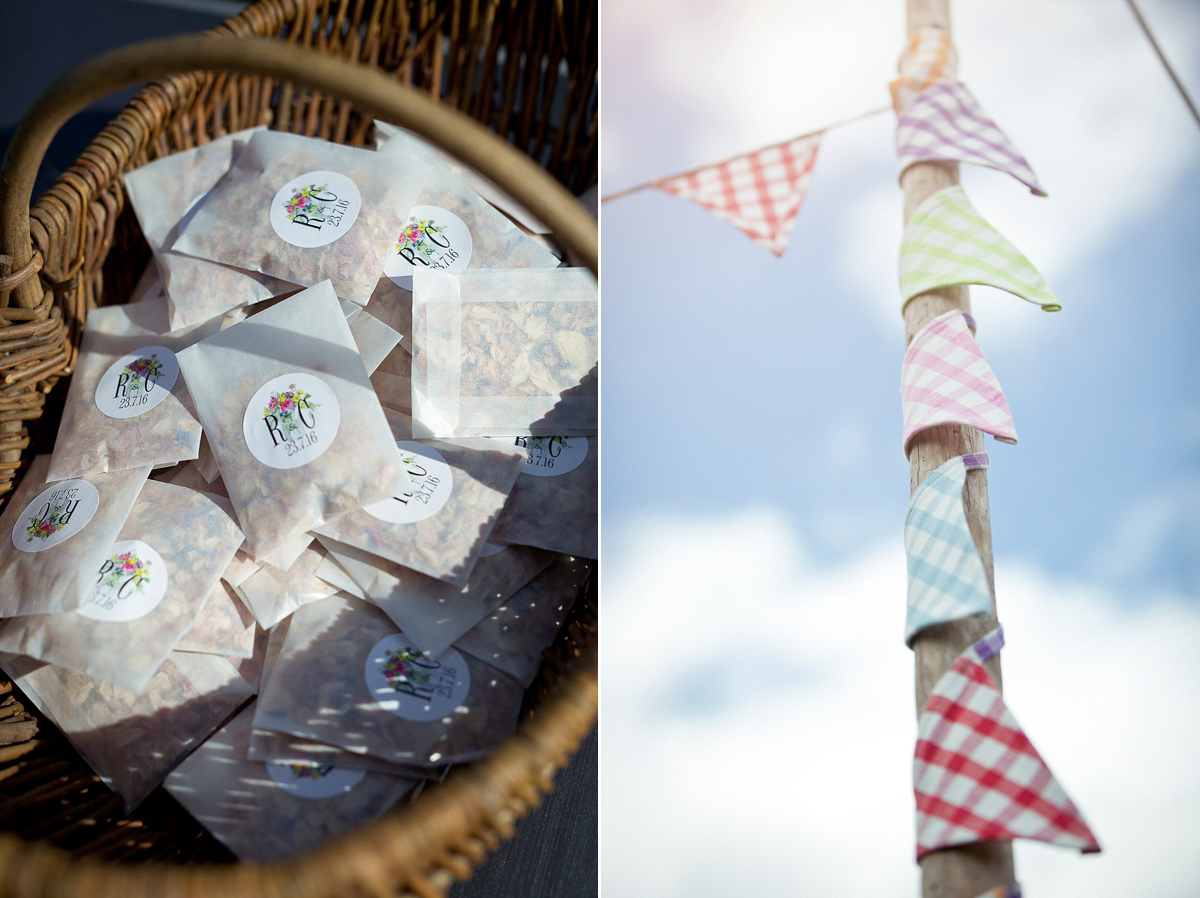 "We wanted the flowers to look like they had just been picked from a meadow – nothing too fancy. Just simple, beautiful, untidy posies. Luckily our family friends are florists so we went to see them and just showed them pictures I had found on Pinterest. The only flower I really wanted desperately in my bouquet was daisies – they're my favourite; me and two of my bridesmaids also have daisy tattoos on our ankles.
Claretys did our bouquets and kindly sourced the cut stems for Callum's nanna and great aunty to arrange the flowers for the church and the teepee. It was so special having it done by family and friends."
Our bride's soft up-do was crafted by Jayde Elizabeth and her stunning bridal make-up was applied by Charlotte Cashmore – both local suppliers that Rebecca put her absolute trust in. A pretty floral crown from Rock N Rose linked to Rebecca's chosen bridal scent (and all time favourite); the iconic Peony & Blush Suede by Jo Malone and a silver ring and earrings from Accessorise were subtle, sweet finishing touches.
"I stumbled across Jayde's Facebook and she was so helpful, she recommended Charlotte as she'd worked with her before. I was so anxious about this part of the wedding planning as I'd previously had trouble with another supplier cancelling. Jayde spoke to me for hours, helping me to arrange a trial and I sent her loads of photos of what we wanted and she achieved pretty much identical looks for all of us. I'm so glad I found them, it was like getting ready with old friends, we all had such a giggle."
Callum designed all the wedding stationery himself in line with the couple's vision for the day, and had it printed on recycled kraft paper. He looked very handsome indeed in his Hackett London ensemble with a dickie bow from Mrs Bow Tie, Marks & Spencer pocket square and shoes and socks from Paul Smith.
I do so love a bow tie! The groomsmen rocked these glorious accessories too, while the dads wore matching ties; all custom-made blue floral creations by Dusk Bridal, who the couple met at a wedding fair.
Rebecca's pretty maids wore versatile frocks from Atom Attire on Etsy; both purse-friendly and super flattering. Fresh gypsophila studded their braids and the girls all wore earrings from Accessorize and bracelets from Joma Jewellery; gifts from the thoughtful bride.
Rebecca simply walked the short distance with her dad and her best girls, from her accommodation to the tiny church, where she and Callum made their traditional vows. The couple's wedding party was made up of a mixture of friends from childhood and University; all special people that it was so important to have by their sides. Our bride walked down the aisle on her daddy's arm to Jason Mraz' I Won't Give Up, covered by wedding band, Four Shadows Theatre.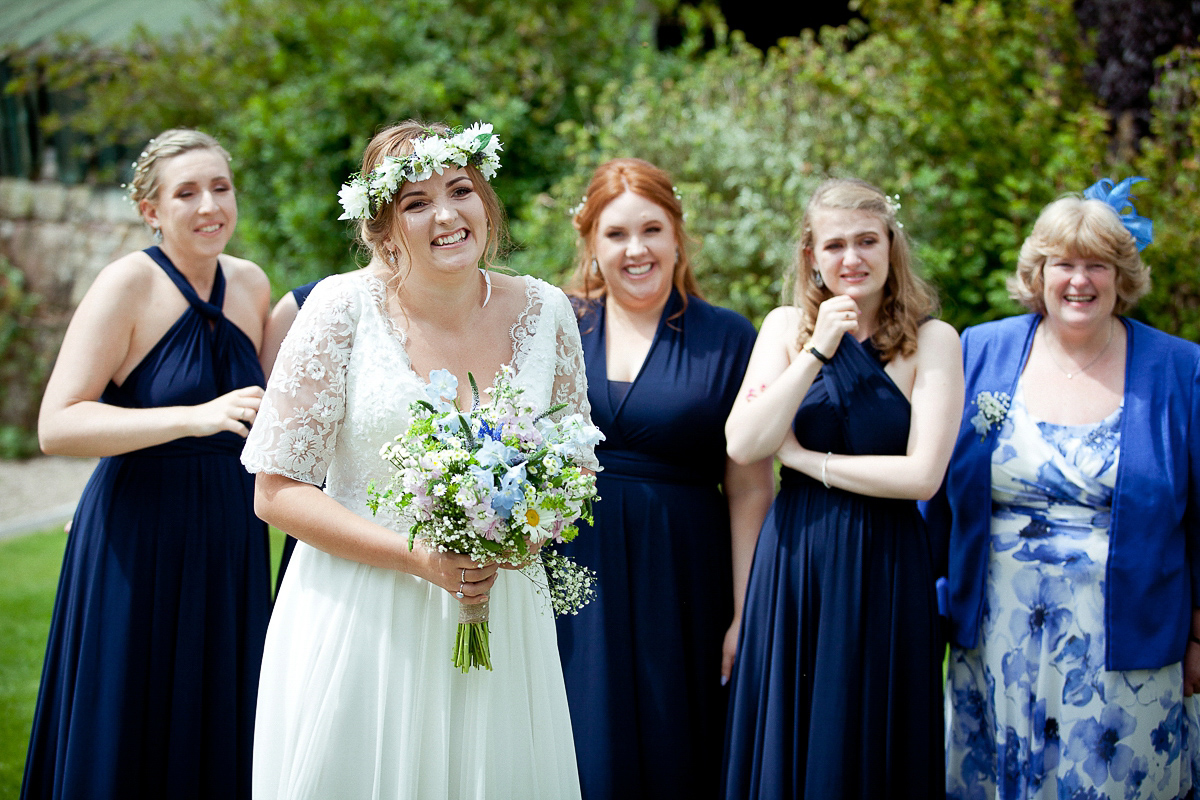 "Our ceremony was held in St Thomas' Church in Ryton. Callum's nan lives next door to the church and the cottage has been in the family since the 17th century. Callum's dad is in the Army so they have moved around a lot and Callum doesn't really have anywhere he calls 'home'."
"We thought that as the village has so much history involving Callum's family in the past, it would be a special place to get married and to continue making memories. We looked inside the church and I just fell in love; it was quaint, old and intimate."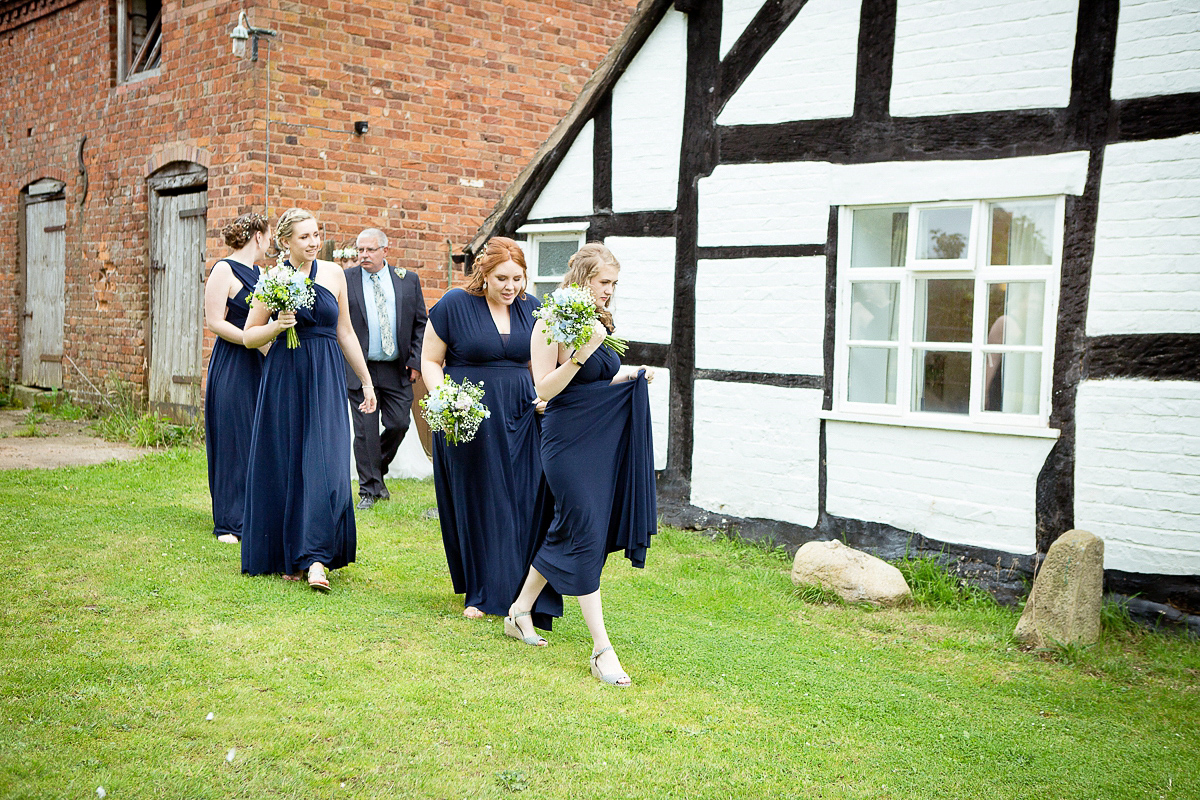 "We met at York St John University in 2011 and starting seeing one another pretty much straight away. We got engaged in August 2014, Callum had had the ring for a number of months before asking the big question. He had planned to ask me on a rowing boat in Knaresborough, but I scuppered his plans by wanting to stay at home and enjoying York instead – one of our favourite pastimes."
"We had a lovely day then went home for an afternoon nap and I awoke to Callum on one knee! We started the wedding planning in September 2015 and were engaged for just under two years before getting married."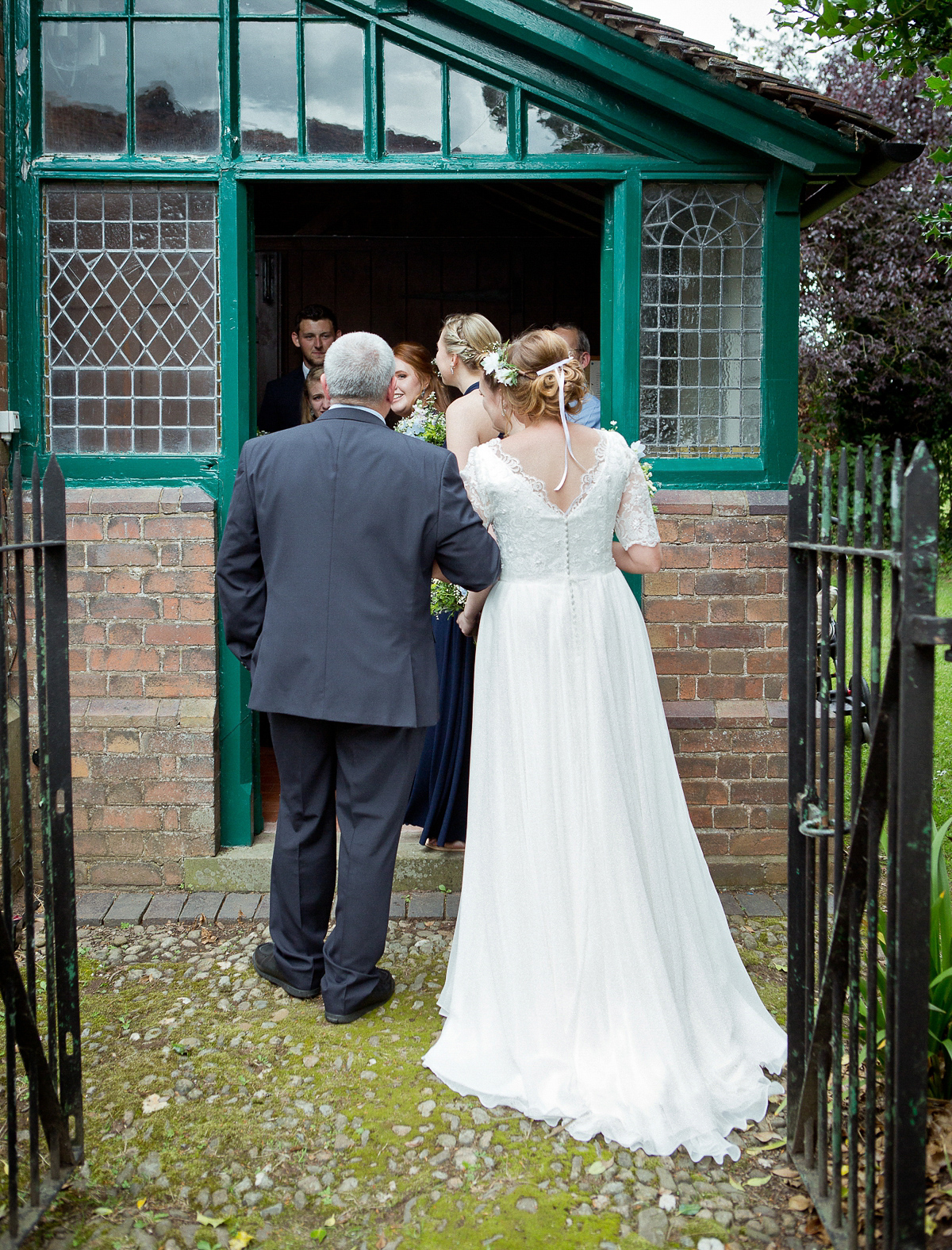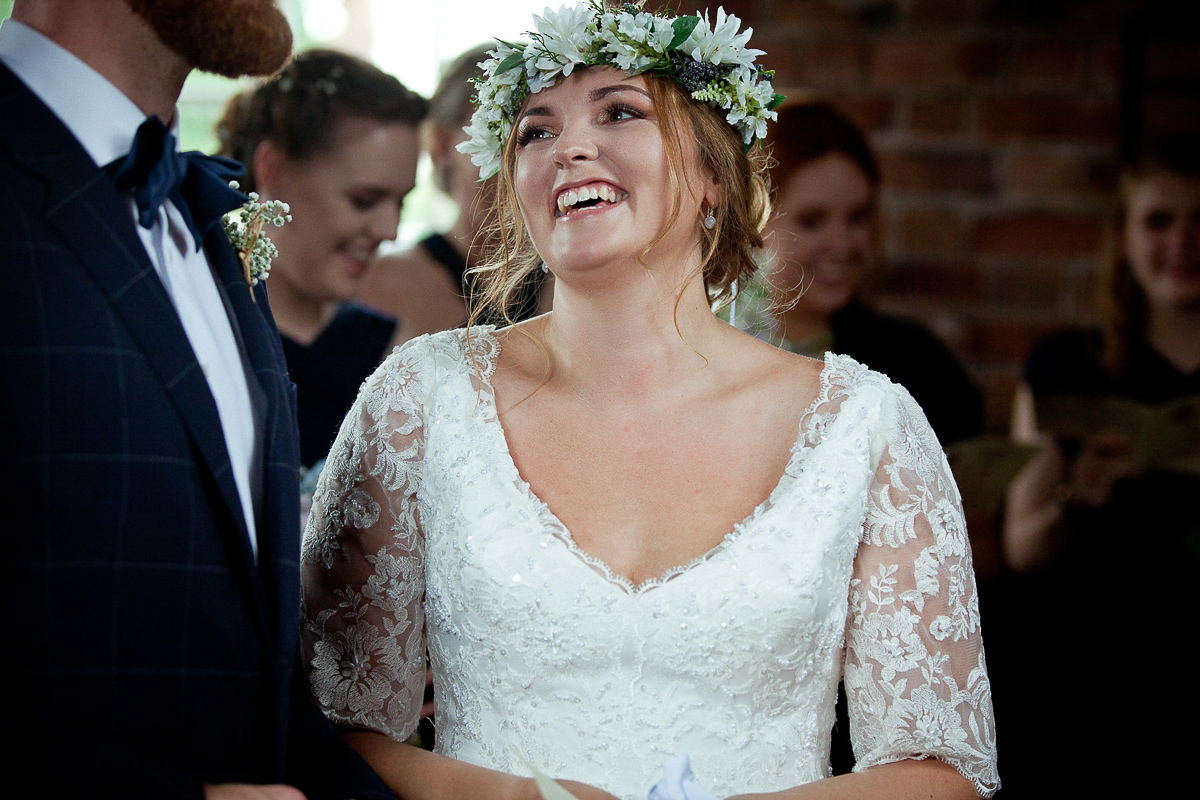 Rebecca and Callum exchanged rings during their church ceremony; the groom's designed by a good friend. I, like Rebecca, am horribly indecisive, so I had a good chuckle reading about her ring dilemma. After their intimate ceremony, the newlyweds and their loves floated on a cloud of just married happiness to the adjacent Ryton Grange for an afternoon of countryside merriment, smattered with pretty blooms and an abundance of sweet DIY touches.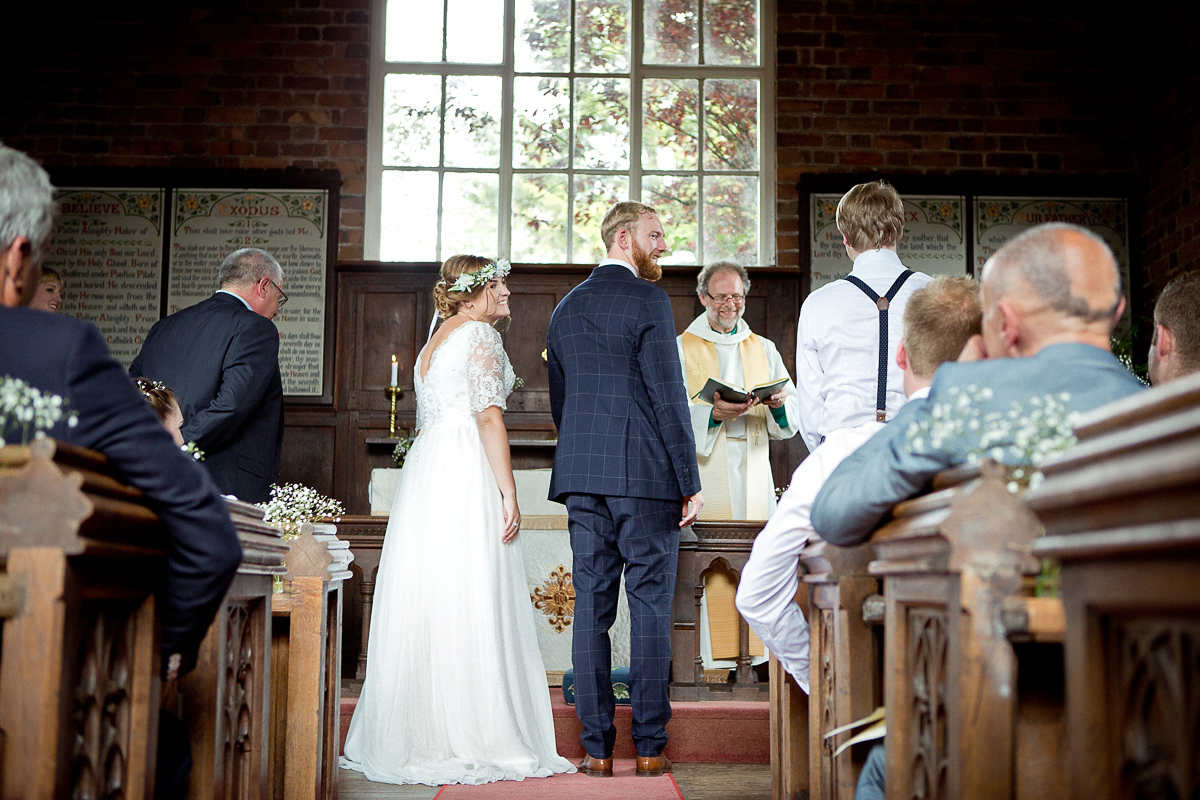 "Kay, the owner of Bradley's Jewellers, is a good friend of ours and she designed my engagement ring together with Callum – based on my Pinterest board apparently! Callum's wedding band is also from Bradley's. I am possibly the most indecisive person to have ever lived so I had a temporary wedding band – a vintage-looking silver band from Pandora. I've since fallen in love with it so I am going to purchase a near-identical platinum version from Bradley's too."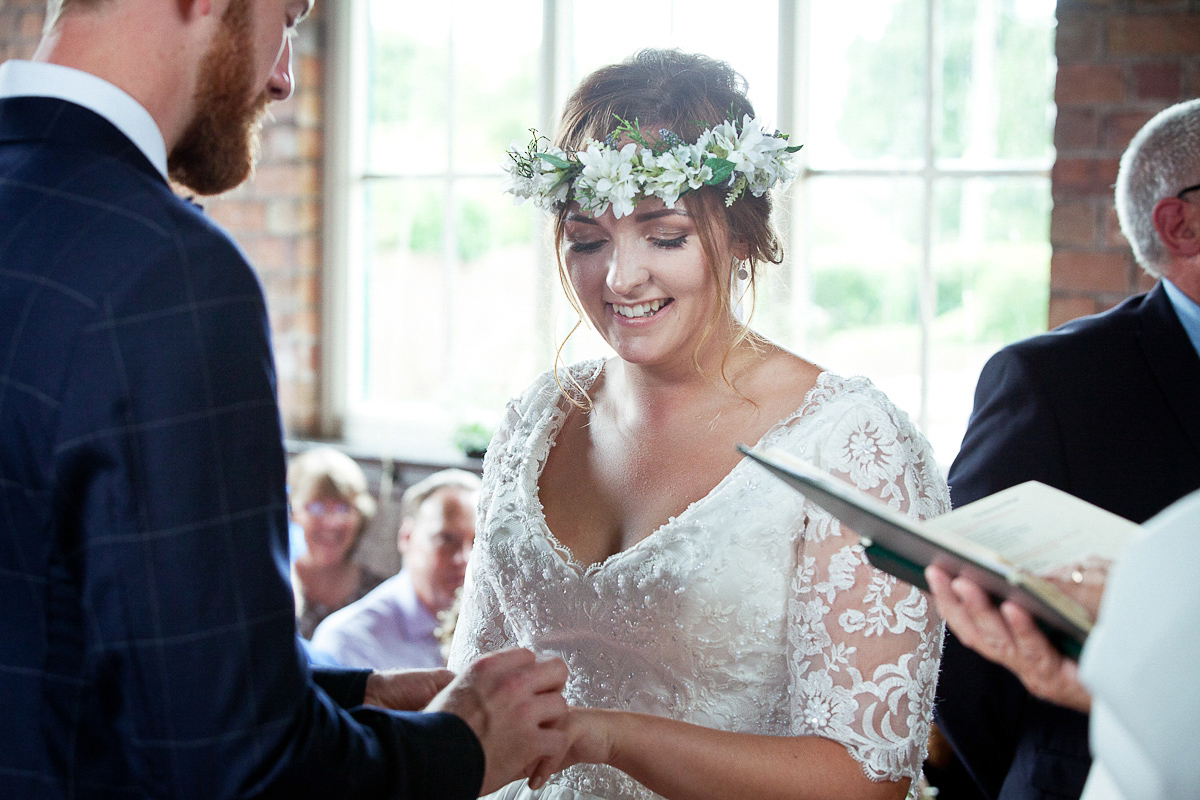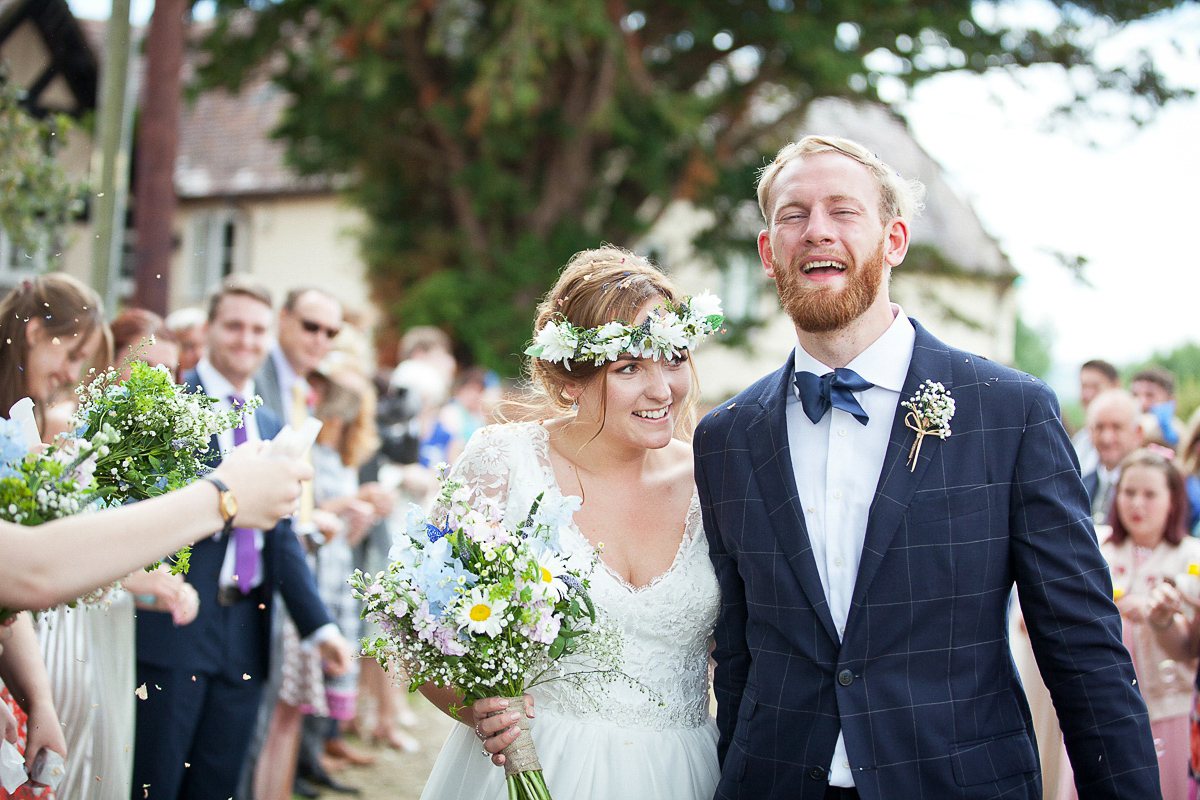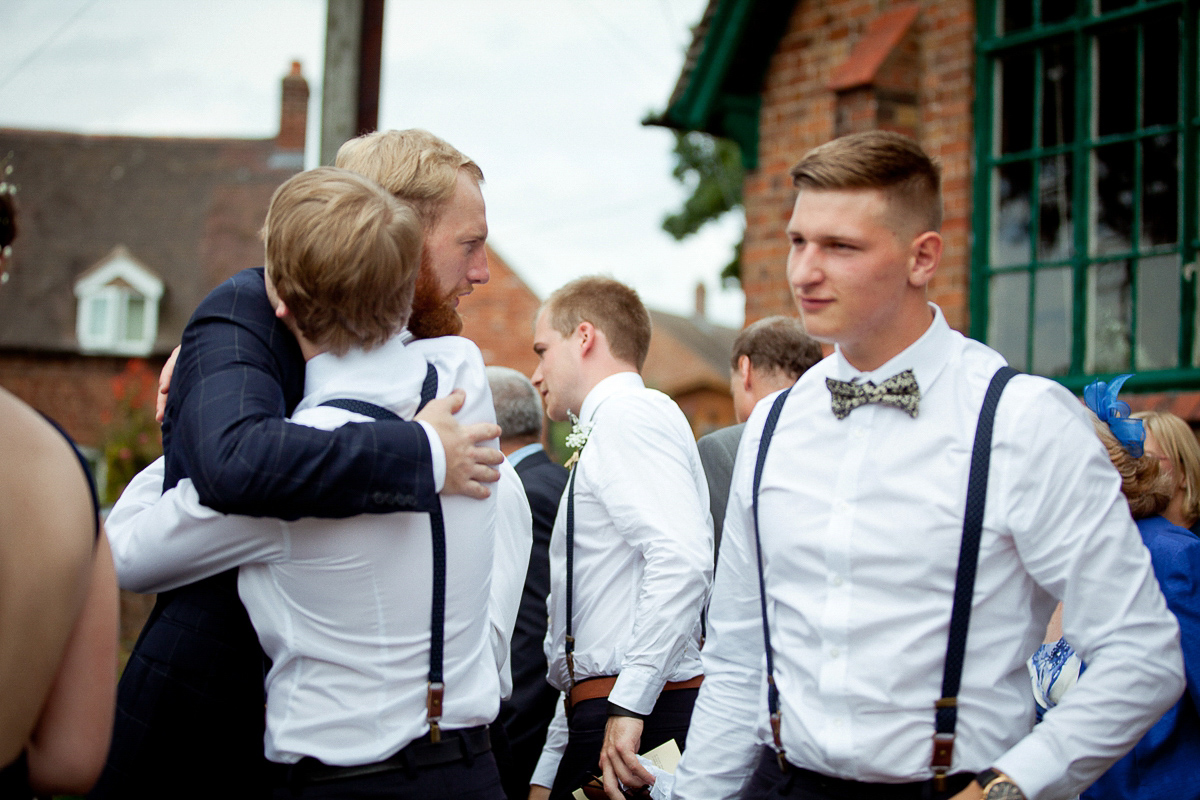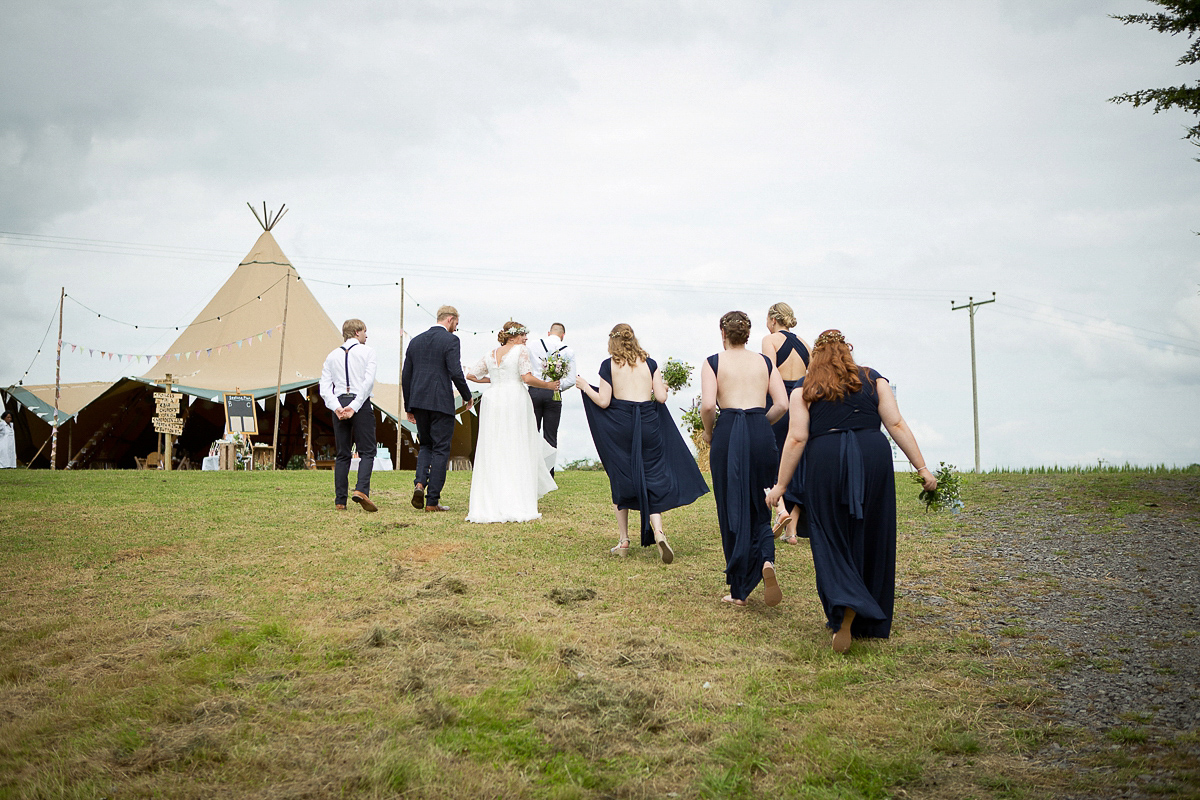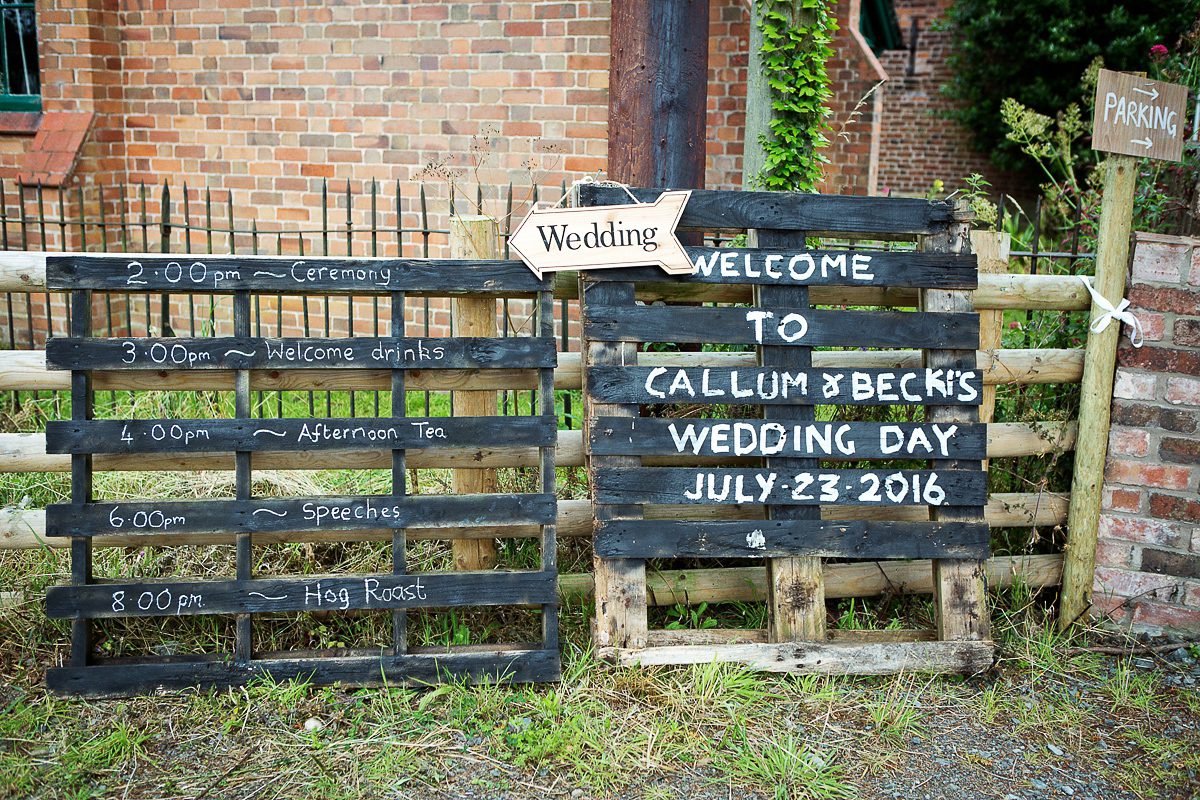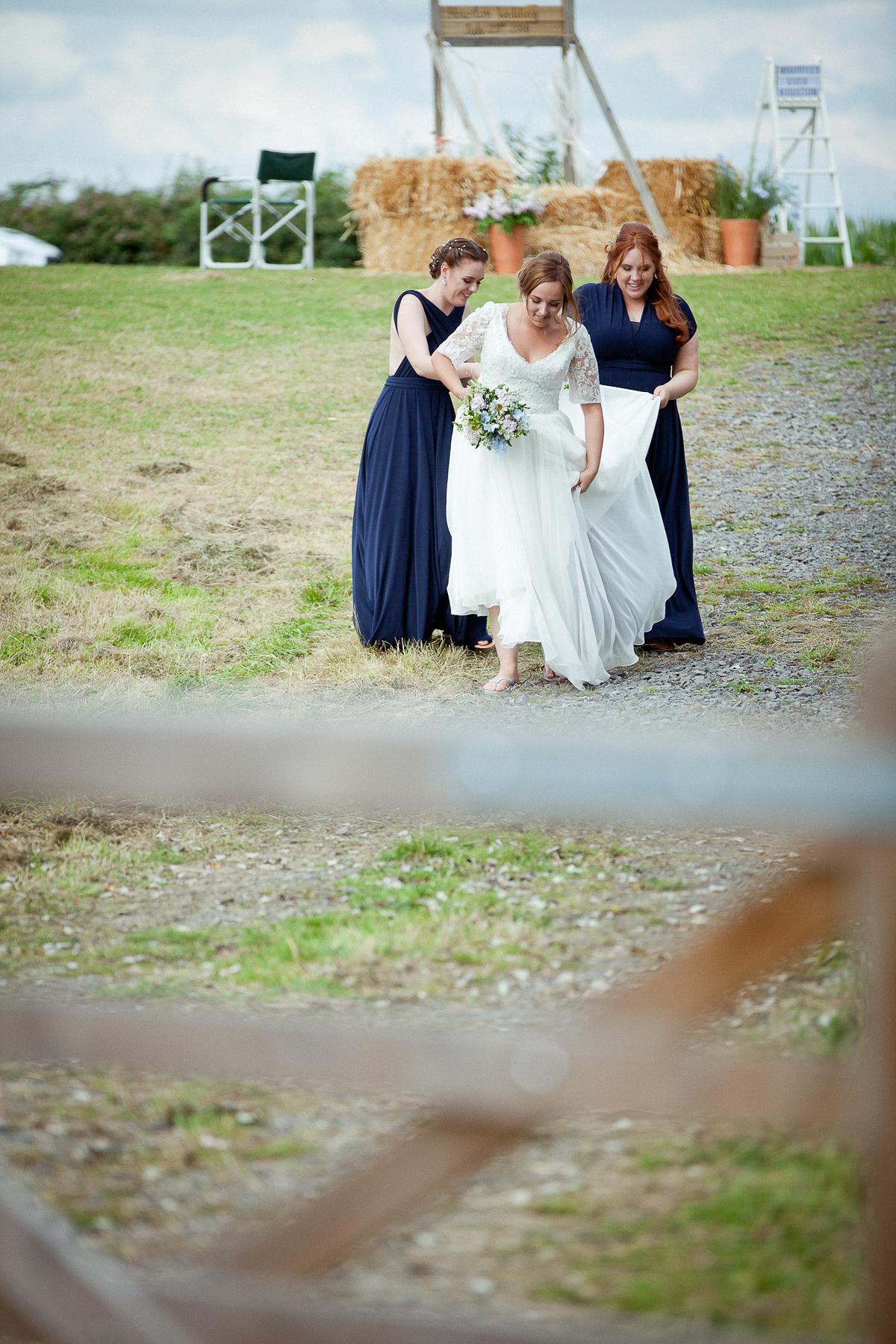 "Todd & Moore Photography, our photographers, also came from York, Callum met them years ago at a vintage wedding fair. We weren't even engaged, but Callum knew he wanted them. They are such wonderful people, who create simply stunning images."
"Included in their package is an engagement shoot – ours ended up actually being more of a pre-wedding shoot as we had it only a month before the wedding. It was such a lovely experience to add to our memories of the whole process of planning the wedding"
"From the day we booked them they made us feel so relaxed and we felt like they were 100% invested in our wedding and our wedding only, even though they have lots of other couples. On the day they kept me calm and instinctively helped the day run smoothly by directing people for particular photos and whisking us away for our photos together."
"It felt like they were guests, they cried when we cried and laughed when we laughed. I couldn't have asked for better people to take on such an important job. We are currently enjoying the process of building our photo album with them – over a glass of wine or two! We have come to love them both like dear friends."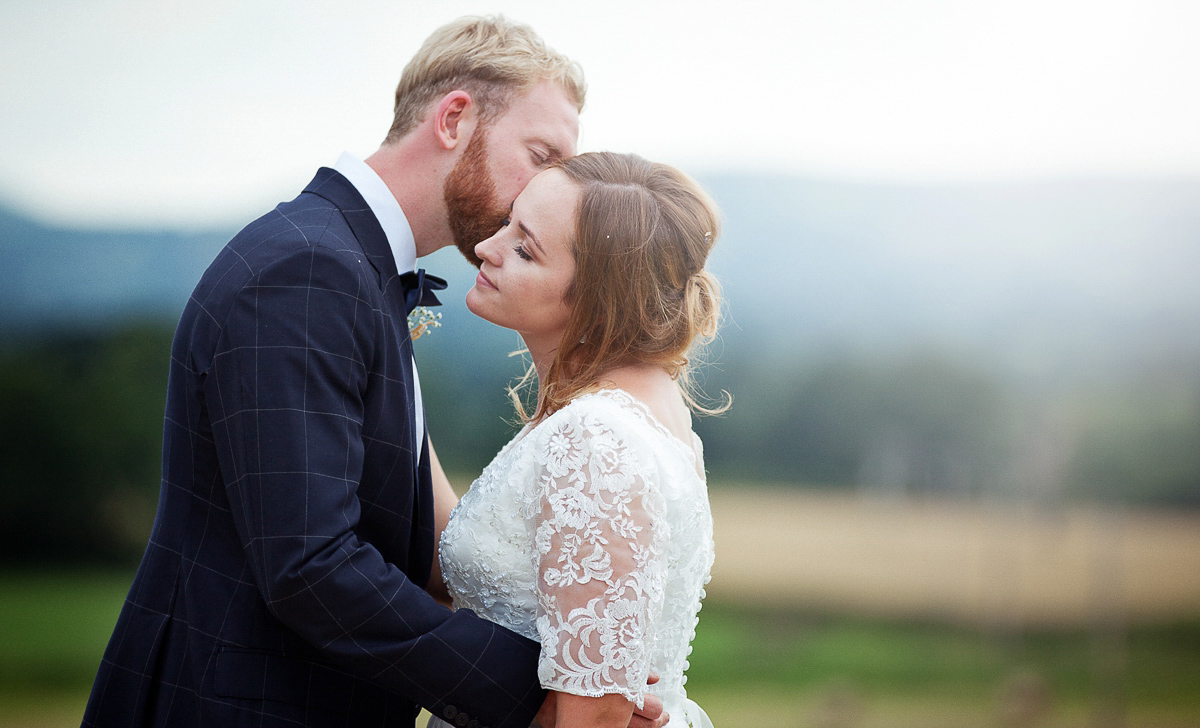 "One of the best things about the wedding was that it lasted for days. We were lucky enough to start the celebrations a couple of days beforehand and people stayed in the village for up to four days afterwards. We had people travelling from Canada, Australia, Devon, Scotland and cities all over the Midlands and the North. It was amazing having everyone together for so long."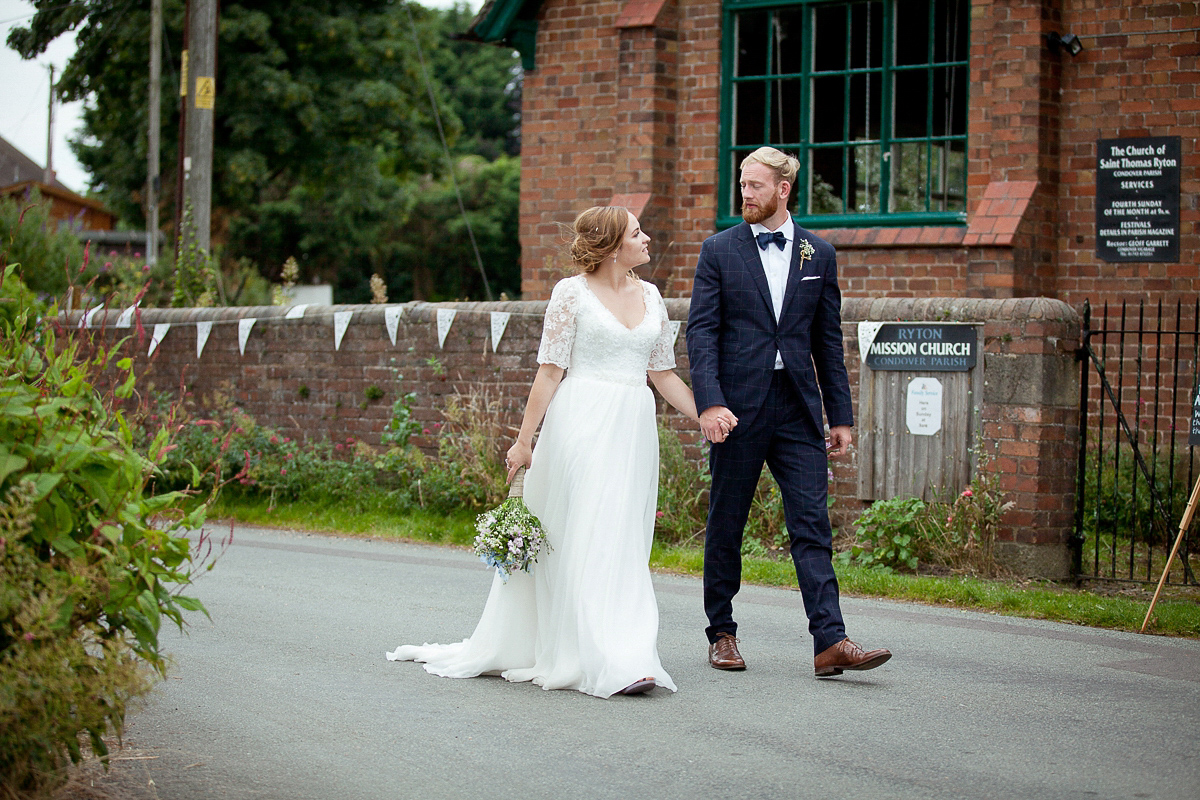 "We enjoyed a BBQ the night before and a lazy breakfast the day after, finished by an evening at the local pub. My bridesmaids were thoughtful enough to think of all of these memories I would want to keep, so bought me a polaroid camera to use to capture them as my something blue. It was such a lovely little surprise to open the night before the wedding."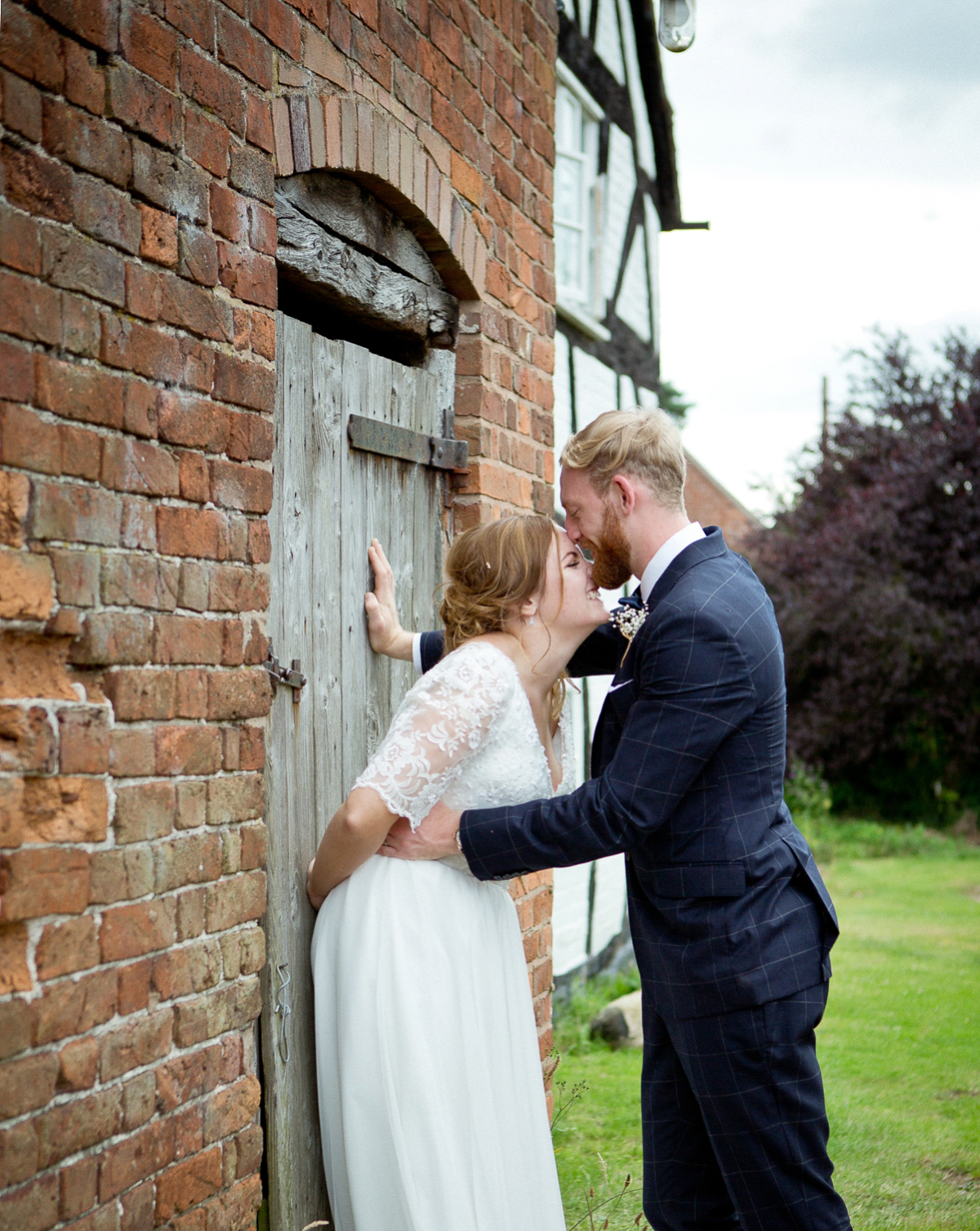 "Once the church was decided, we wanted to find the perfect venue nearby. We were keen on doing as much as possible ourselves so we wanted a DIY venue with a bit of character. As my parents aren't from Ryton, they wanted to book a holiday cottage for the week leading up to the wedding because they knew there would be a lot to do. While searching for venues we found Ryton Grange, which neighbours the church on the opposite side to Callum's nanna.
When we got talking to Emma (the owner of the house), she kindly said we could use their land for the reception so we had a teepee from Event in a Tent in the field. The room I slept in looked out onto the field and church, which was lovely to wake up to."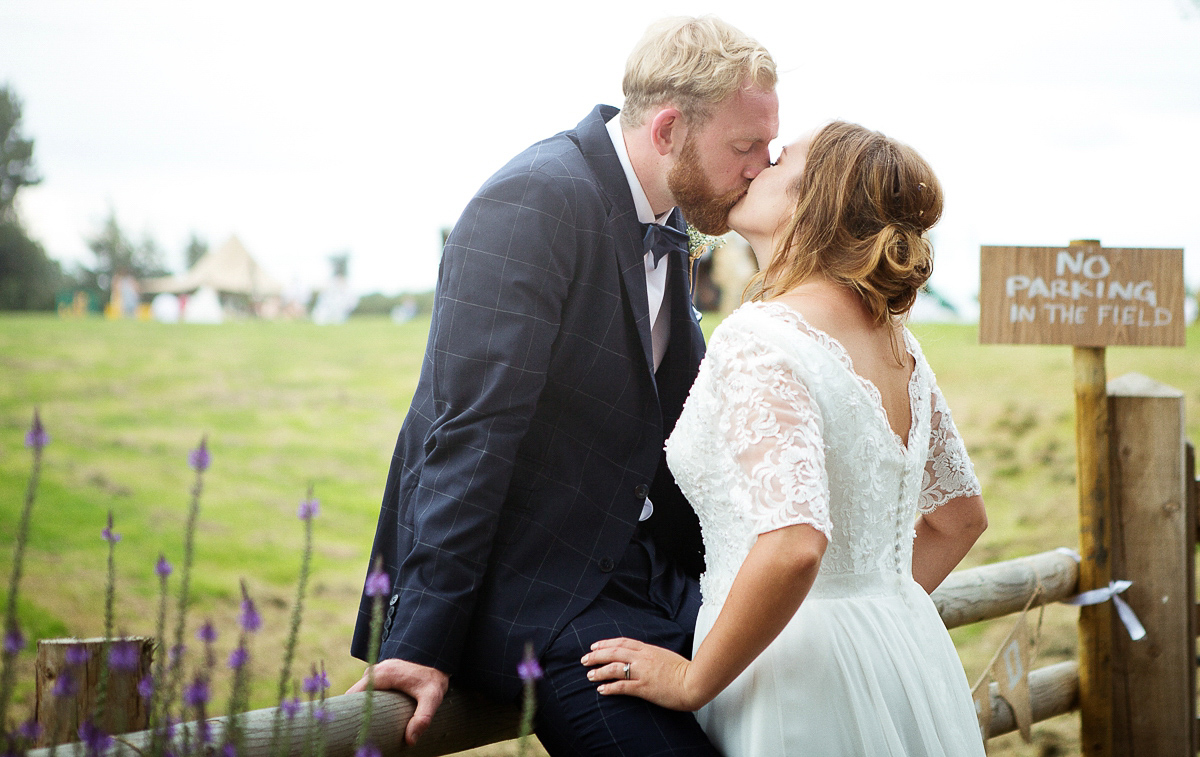 Guests enjoyed a delicious afternoon tea catered by Fresh & Lush, followed later in the evening by a hog roast from The Spitting Pig Co. Callum himself provided the 'help yourself bar' through his exciting new venture, The Yorkshire Bartender. A combination of the couples' favourite cocktails, wine, prosecco and Shropshire ales for Rebecca's dad kept the grown-ups well hydrated while the little ones were treated to homemade strawberry lemonade – yum!
"We did all the decoration ourself, but as I'm a teacher and we got married the day after we broke up for the summer holidays, I could only be there from the day before. Callum and his family spent the entire week getting the decorations and venue ready. I was blown away when I arrived – Callum's vision and the love he put into creating something so beautiful, was incredible. He handmade signs for the venue and all aroung the village, a photo booth, he personally hung every tissue paper pom pom, lantern, bunting, and ribbon strand."
"They also arranged all the flowers, laid the tables, and set up garden games with hay bales. Everything we used we either made or bought from eBay or gumtree. The only thing we bought from new was some polaroid photos that I had printed from Photobox, that we pegged around the posts of the teepee. I handmade ribbon chair backs for every chair and a ribbon backdrop for the photo booth. I decorated jamjars and bottles we collected with ribbon and lace and my teaching assistant made me a decoupage card box in the style of a vintage suitcase."
Place settings doubled up as sweet wedding favours – jam jar drink glasses adorned with a chalkboard name badges, which were both lovely keepsakes and great way of tracking down those all important drinks that can so easily go astray during a good old dance floor session. Band Four Shadows Theatre were absolutely instrumental in creating a celebratory atmosphere and are subsequently part of so many of the couples' favourite memories from their wedding day.
"We met Four Shadows at the Ripon Wedding Fair and instantly fell in love with them. So many of the memories from the day are related to their involvement. My favourite part was the speeches, particularly Callum's speech. He did a rap to the Fresh Prince of Bel-Air and Four Shadows Theatre kindly played along with Callum as he did it at the last minute – one of Callum's 'good ideas at two in the morning two nights before the wedding.' The atmosphere they helped to create throughout the evening was incredible.
I will forever remember being surrounded by our friends singing at the top of our voices to covers of Florence and the Machine and Mumford and Sons, with flowers in my hair and flip flops on my feet – my ultimate dream!"
"Sticking with the DIY theme, Callum's mum kindly made the cake for us – it was exactly how I had envisioned it; simple but, deliciously beautiful. We had a three-tiered naked victoria sponge with butter cream and raspberry jam, covered in fresh fruit and gypsophilia. Callum's aunty made the jam, and kept a jar for us from the same batch which has been lovely to enjoy on toast on those days the wedding blues take over."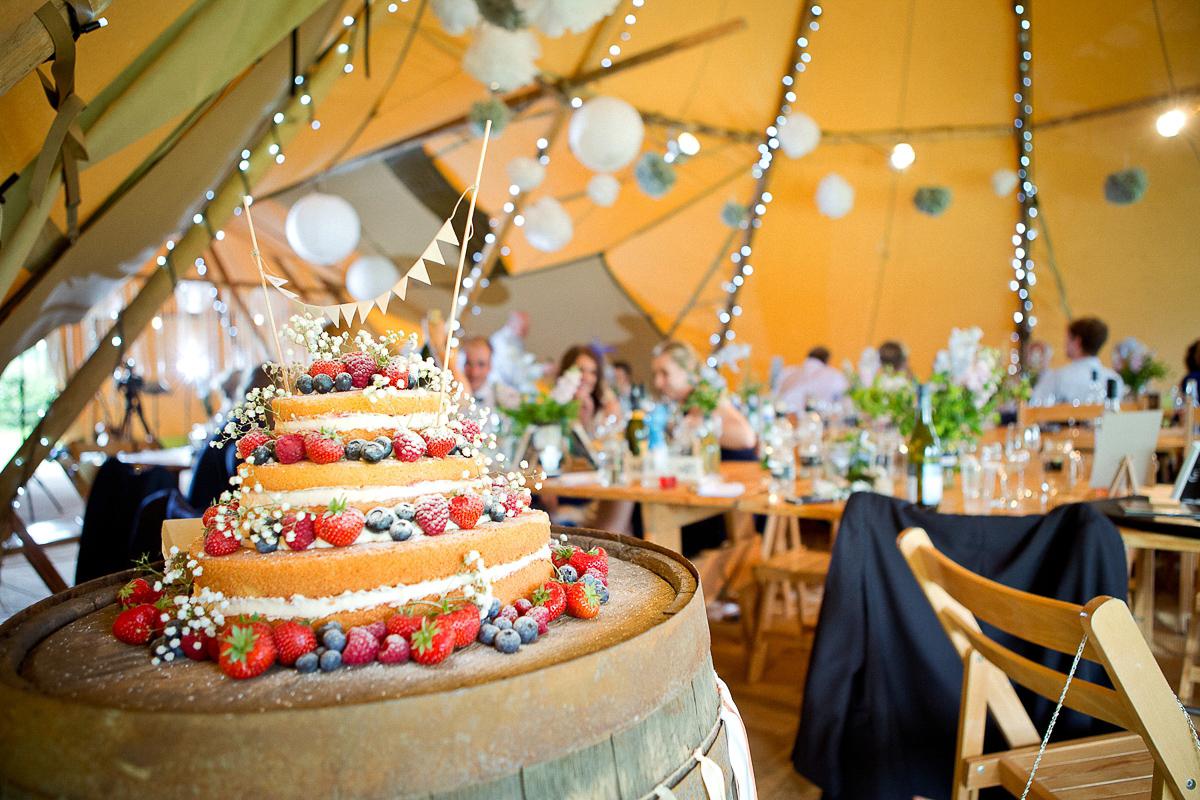 "We chose a first dance song, but forgot to tell our band beforehand to enable them to actually practise it! So we just had to chose something from their set list about five minutes before our first dance."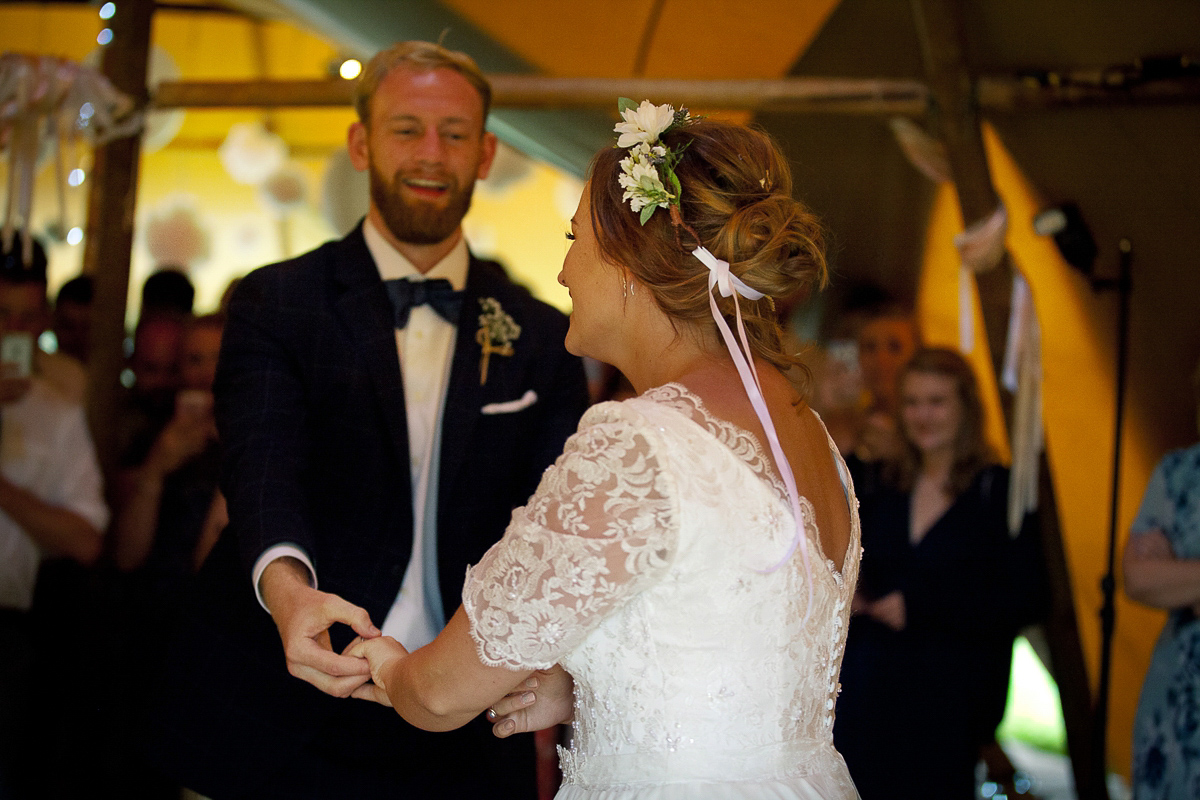 "We chose 'Stand By Me' which was quite apt and the band did a slow version that went into an upbeat track and everyone joined in with us."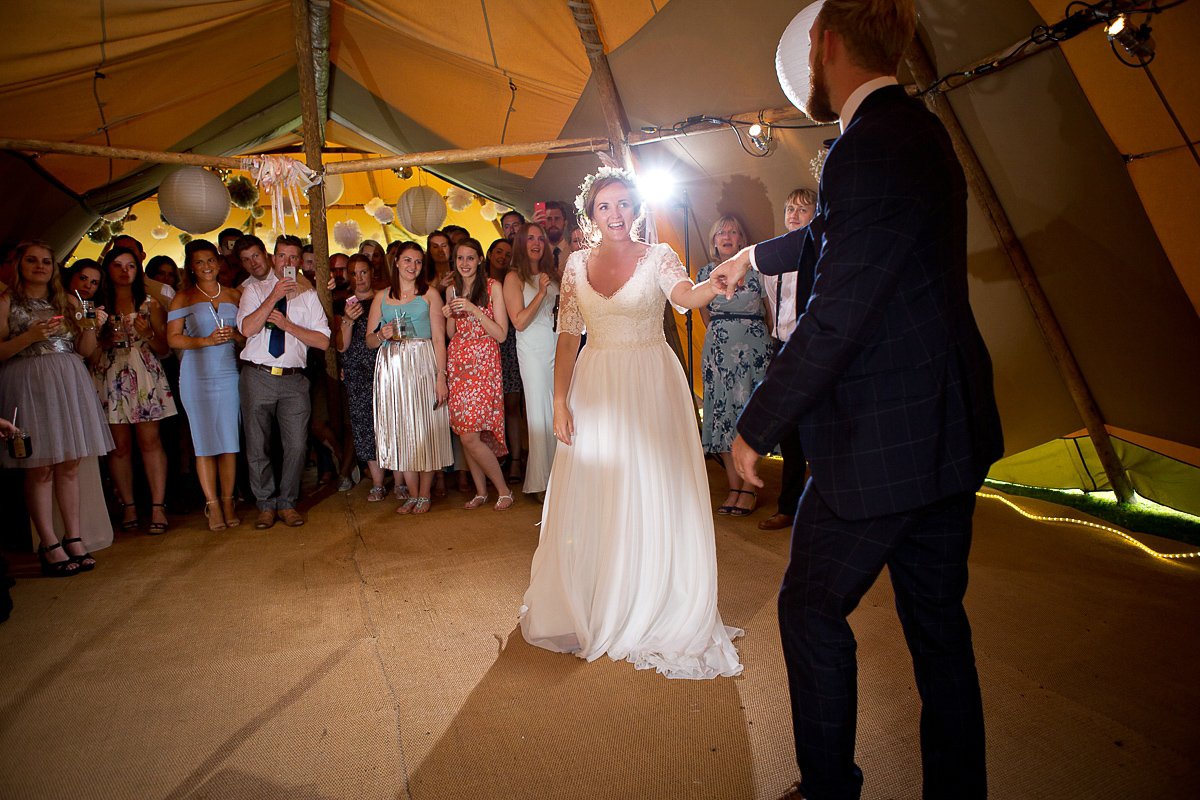 Words of Wedded Wisdom
"I wish we'd had a videographer. I hardly have any videos of the day, mainly because everyone was so in the moment, which I personally feel is a success. However, it also means I don't have any videos to help me remember the things that were said and sung.
Savour every second of it, from the second you get engaged. We believe that part of the reason we enjoyed the day so much, is because we enjoyed the planning so much; make memories throughout all of it. Yes, it was stressful at times, but no where near as bad as I thought it would be (and I get very easily stressed!) It doesn't need to be something that causes you months of sleepless nights and a surpressed appetite.
It also doesn't need to be expensive, by all means spend the money on things that are important to you (ours was photographers, flowers and having a free bar) but, don't feel pressured to spend hundreds on a pair of shoes if you don't want to.
I think the most important thing to remember is that yes, this is an important day and no doubt a day you'll want to be perfect and never forget, but don't settle for this being the only 'the best day ever'.  Strive to go on to make even better days."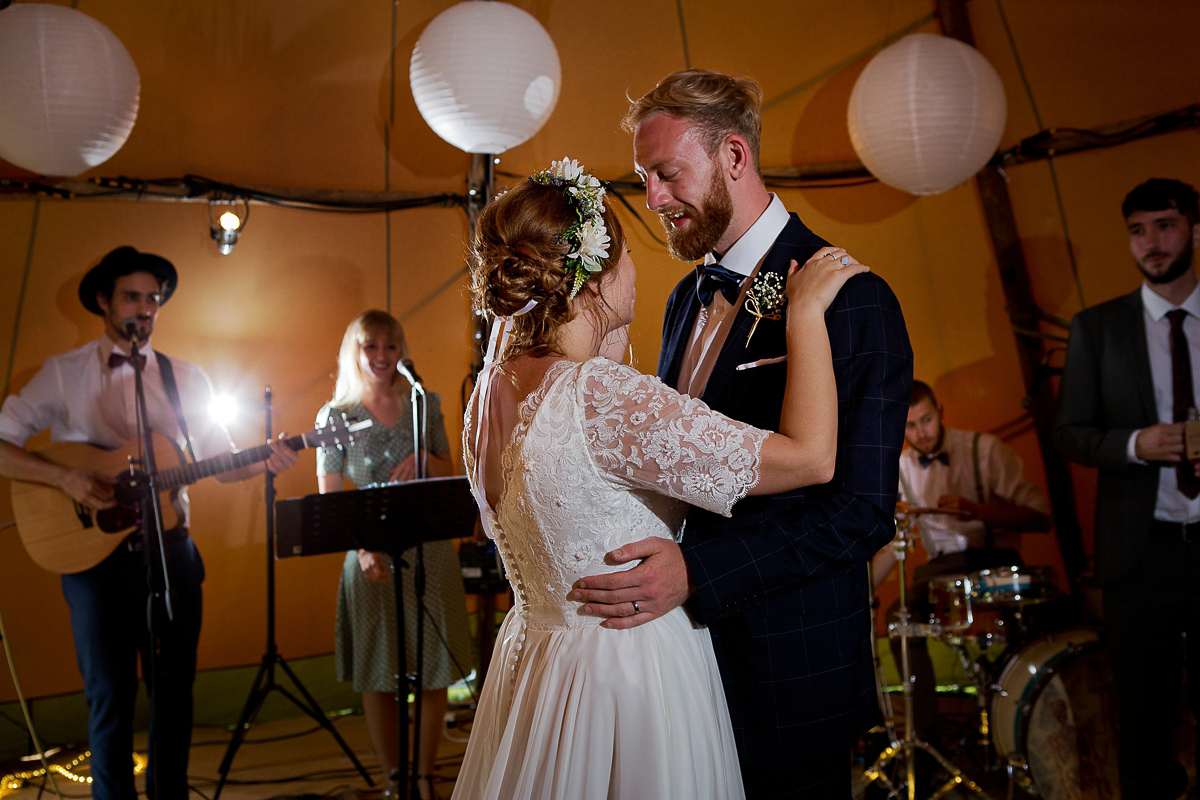 Thank you soooooo much Rebecca, for those wonderful words of advice, and of course thanks to both you and your lovely husband for allowing us all to bask in the just married joy of your beautiful day. Head over to Instagram using the hashtag #HappilyEverHouston to peruse more candid big day action. And lastly, major appreciation also must be paid to the talented Todd & Moore Photography for these love-filled captures.
With love,
Em x