Oh January, I've tried so hard to love you, but I have to confess that I've reached the end of my tether and am pretty desperate for lighter days and brighter mornings! Anyone else feeling the January struggle?  Our lovely wedding blog is a shining light amidst these grey, gloomy, long, dark days, and this particular wedding makes for a delightful Sunday morning read. Go and make yourselves a cup of tea then crawl back into bed, pull up the blankets and enjoy the charming wedding of Marti and Jake.
Marti, an International Programme Manager at Child.org married Jake, a Creative Director, at Leti Arts and Freelance on 27th August last year at King's Weston House in Bristol – a venue I know myself as I attend an event there back in 2013 to promote my book. It's a spectacular, breathtaking venue.  This wedding represents everything I love about modern nuptials; colour, love and laughter were abundant and every image captures the joy shared amongst family and friends. The bride took to the bouncy castle and donned feathers for the evening, a bridesmaids dress disaster was averted, friends and family made cakes and the couple were serenaded with a cover of Jake Thackery's 'La Di Dah' during their ceremony (I have fallen deeply in love with them for this fact alone!). Photographer Noel Deasington has done a really excellent job of documenting this beautiful day in images. If you've been feeling sluggish, like me, of late – I defy you not to feel even just a tiny bit uplifted after reading this feature.
"Choosing a wedding style was really hard and loads of research on Pinterest made it even harder. There is so much to choose from out there and making those first few decisions was the most difficult part of the whole process. In the end we chose a very vague colour scheme of teal and copper/rose gold, but it was very loose. We wanted a colourful and fun day and didn't want to restrict ourselves. It was important to us that our new life in Kenya (we moved there in March last year) was represented but we didn't want an 'African themed' wedding."
Photography by Noel Deasington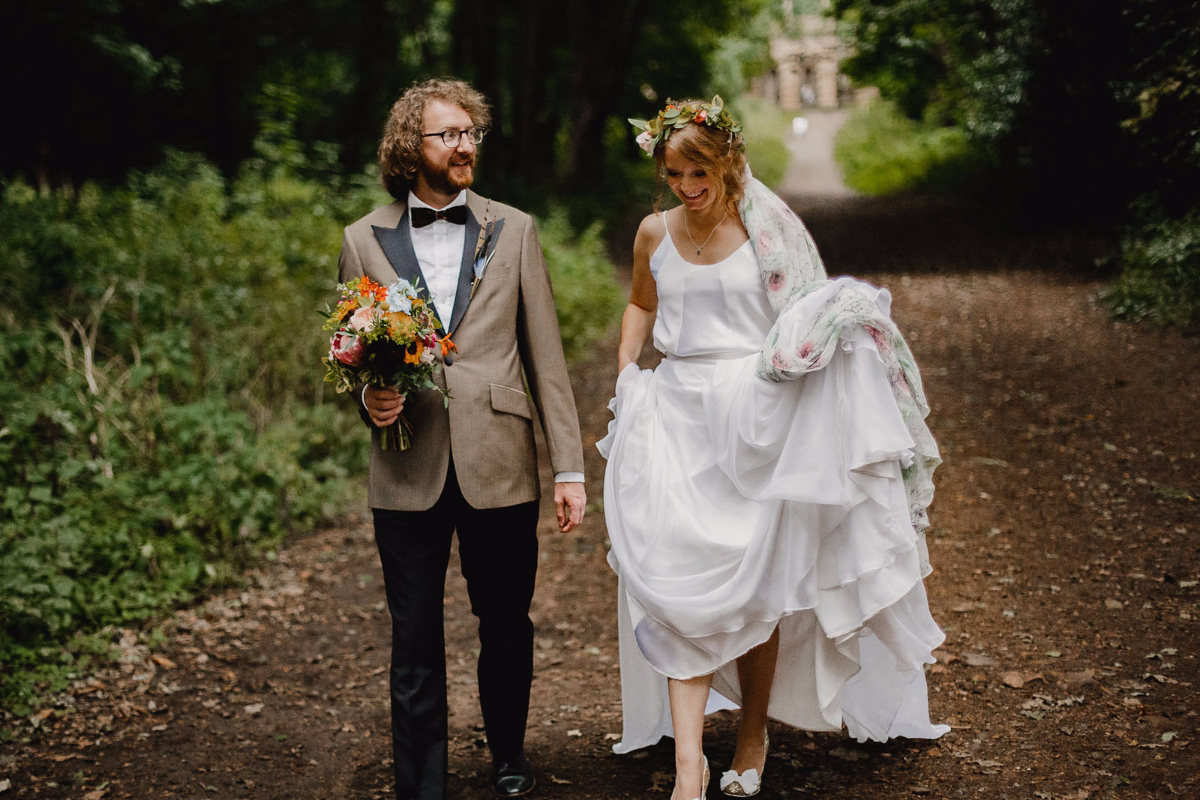 "In the end we just let go of the idea of a strictly coordinated style and just picked colours and touches that meant a lot to us. We got a unique and personal day as a result which was exactly what we wanted. 
In truth I discovered the best bits of Love My Dress late into the process and I wish I'd found it earlier! I absolutely LOVE the real wedding features – you always pick gorgeous pictures and they provide such great inspiration. You have built a solid and lovely community and the passion your team has for their work shines through your site. I think what you're doing is amazing.""We chose King's Weston House because of it's beautiful surroundings and splendour, but the thing that swung it was how relaxed and quirky it is. It's an impressive building that feels special and historic but has none of the pomposity of some grand old buildings. It's relaxed and informal – perfect for us."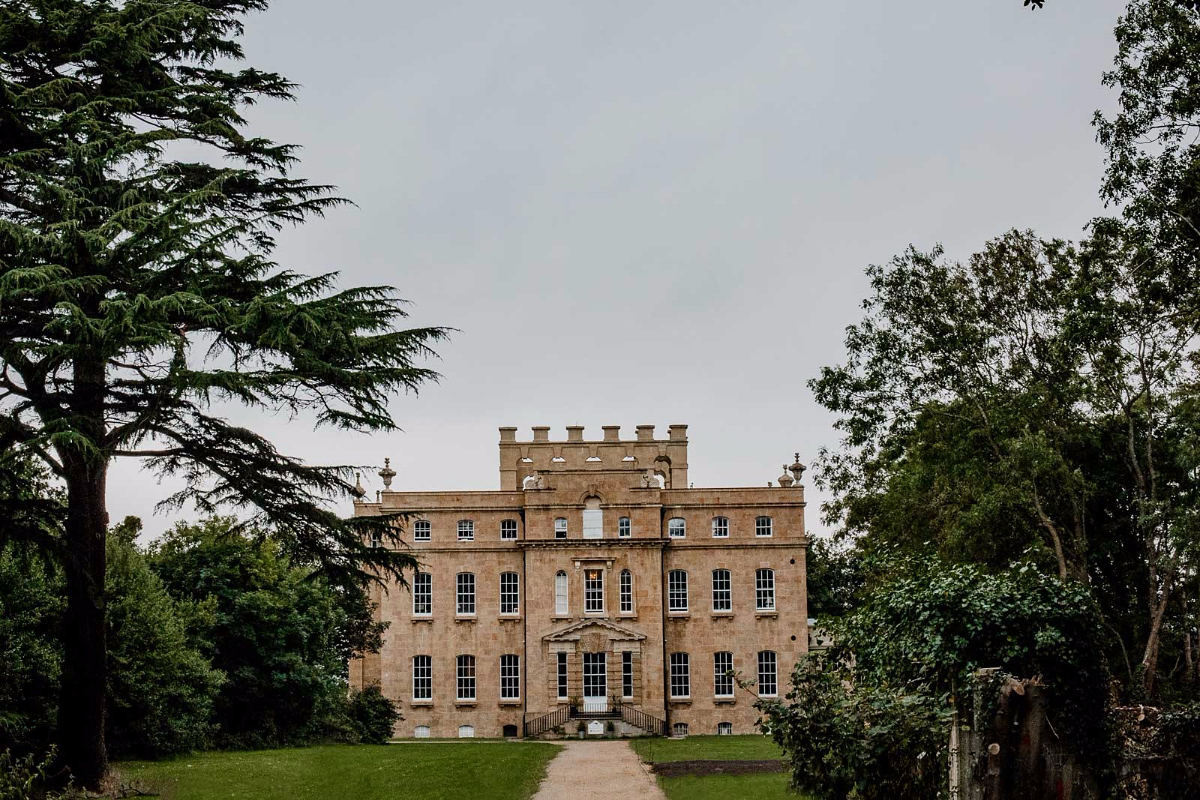 "Jake and I met in 2012. Our friends Dave and Laura plotted about us in the pub one summer's evening. They thought we'd get on and so we swapped email addresses and chatted for a bit while I was in Kenya. We then had a blind date in the Lounge in Bristol's North Street. It was supposed to just be tea and cake and it evolved into cider. Jake had to go to a gig to see one of his favourite bands. Of course I joined and we watched This is the Kit together for the first time."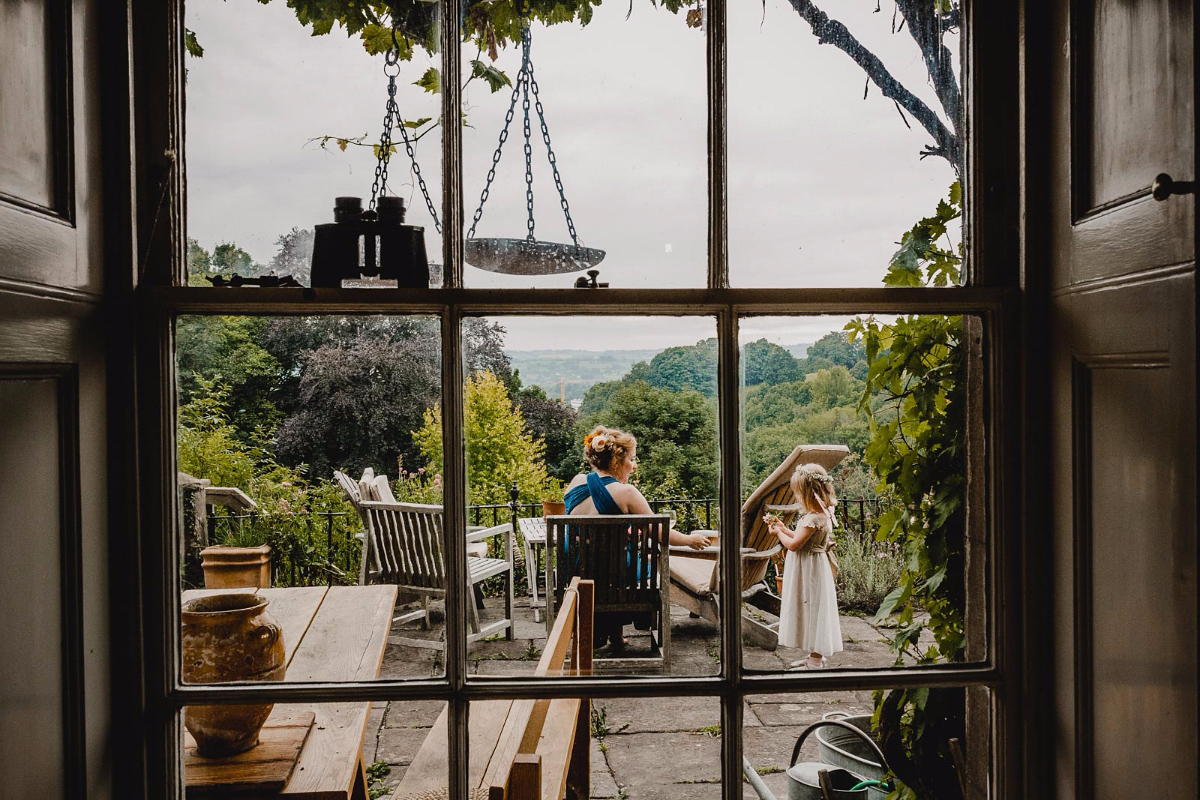 "Jake went full circle on the proposal as we were at the wonderful Latitude Festival working on Charity Concierge. Jake took me backstage where there was a boat waiting. He proposed on the boat with a diamond and a white gold band with 'melt me' engraved on the inside, all presented in a beautiful hand made box."
"The romance didn't end there; we got off the boat and got taken to a private camp where Kate from This is the Kit was waiting to serenade us both with a chilled bottle of champagne from the Latitude crew! It was magical. The team from Festival Republic helped him to sort it all out and we'll never forget how special it was. It was absolutely perfect and the rest of the festival passed by in a blur of love and Prosecco."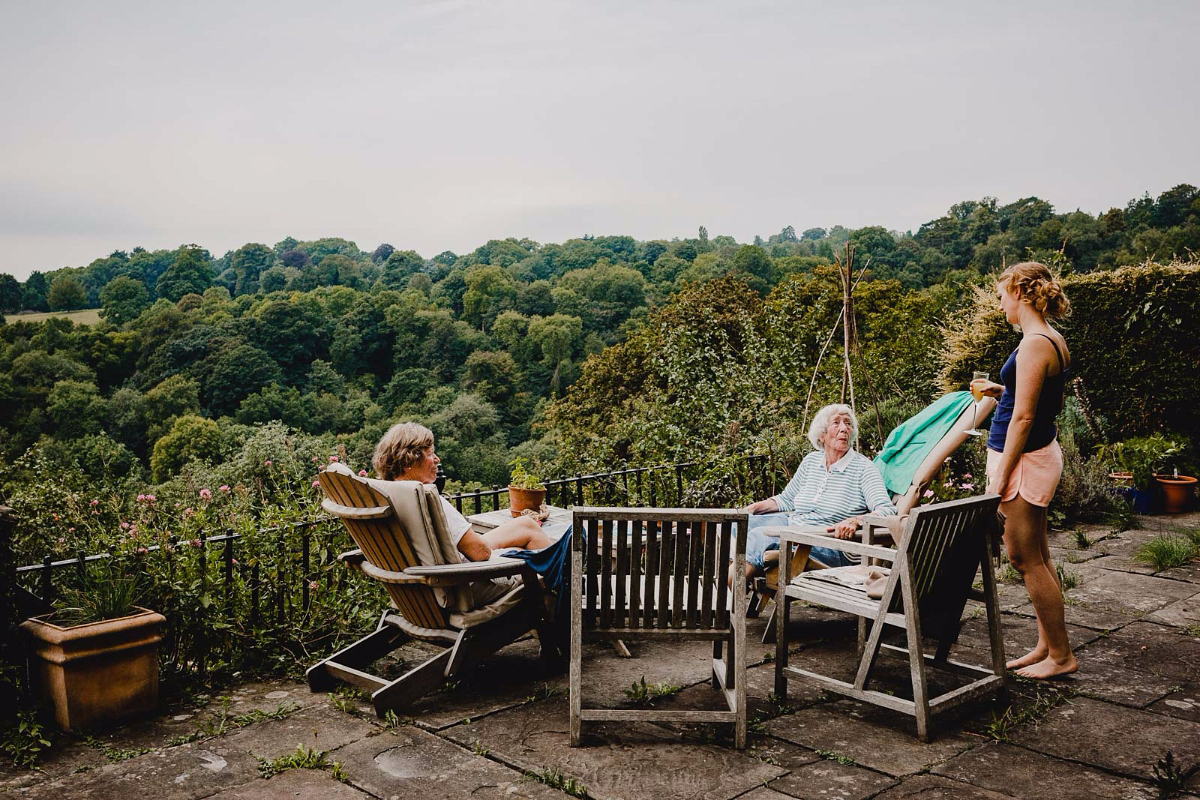 "Our florist was the exquisite Lily Violet May on Bristol Temple Meads train station. Having worked very close by for many years, I've loved seeing her work brightening Bristol and I'm always impressed by her colour combinations, her styles and her creativity."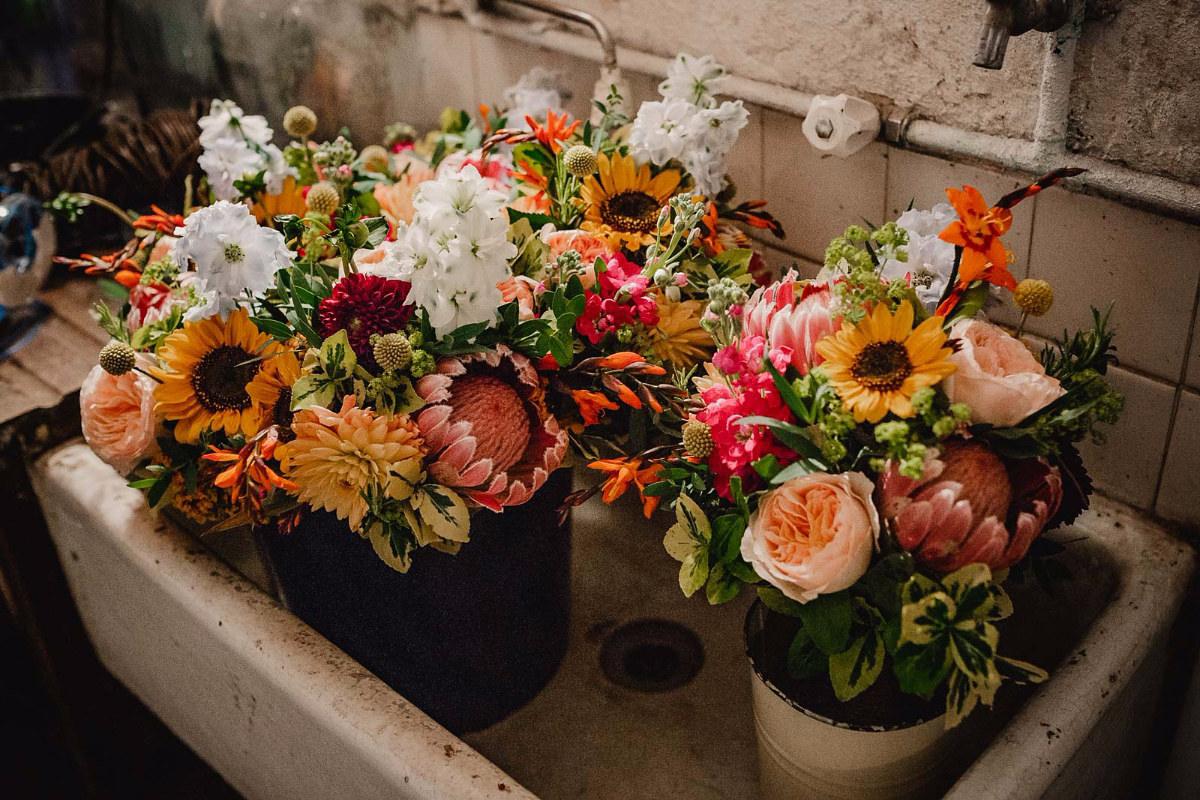 "I knew I wanted her from the second we started planning and fortunately she could fit us in. I sent her some loose ideas and her interpretations were brilliant – she suggested a bright and colourful floral theme with some exotic looking African flowers (Protea, which represents change and hope in South Africa, and crocosmia from East Africa) alongside more traditional wedding flowers (sunflowers, delphinium, David Austin Roses and dhalias)."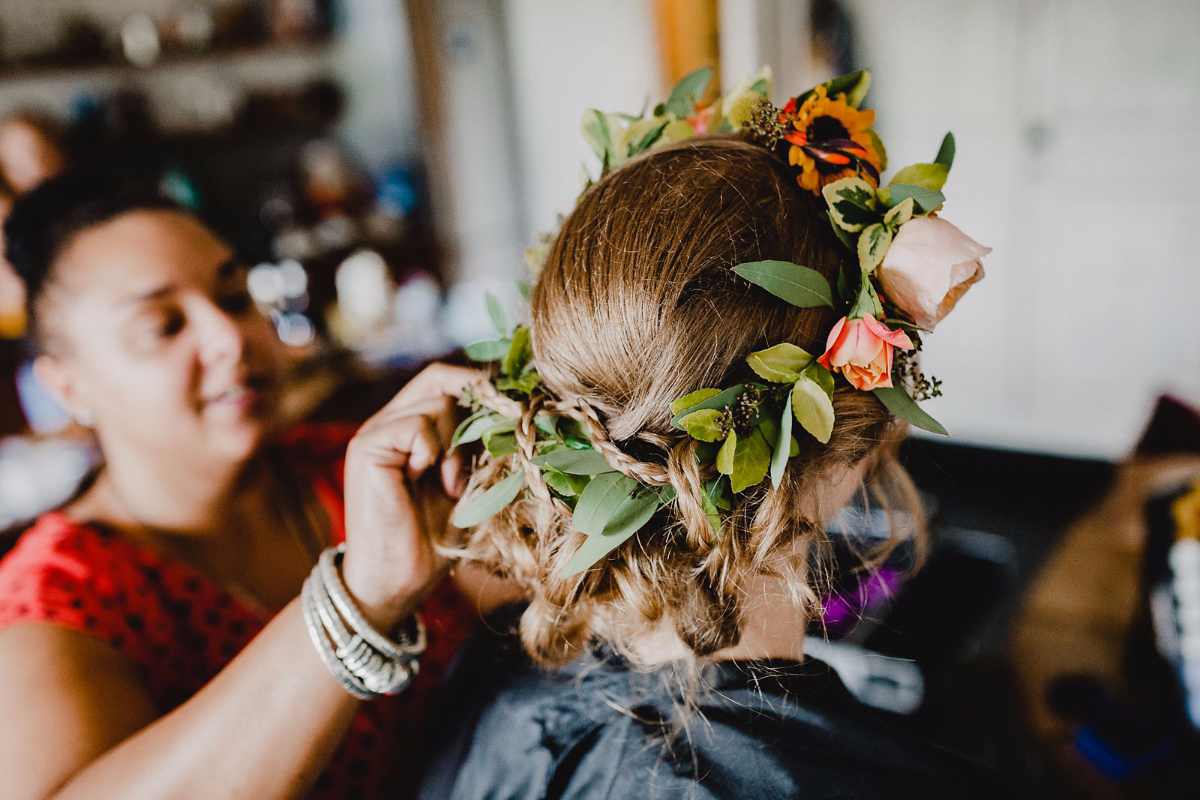 "Together they made such a beautiful mix of colours that oozed joy. We used Marti's dad's old collection of milk bottles to display them."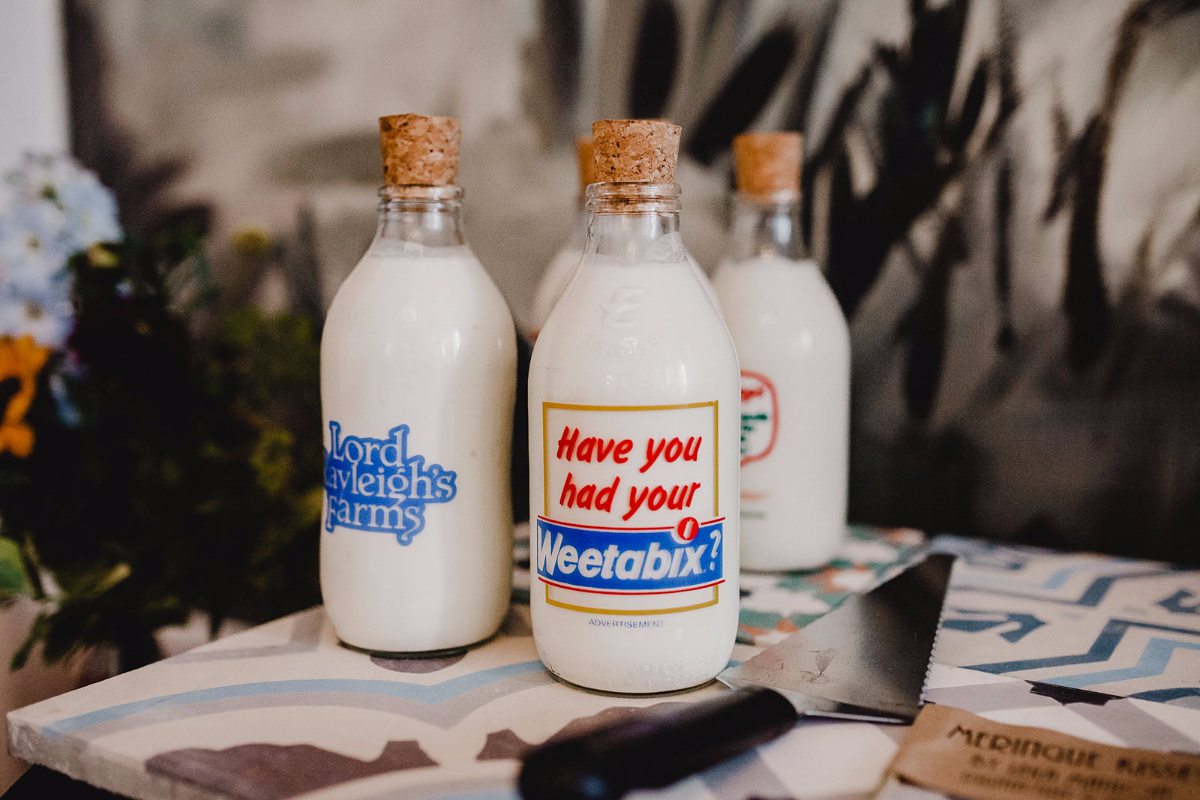 "There was only one choice for hair accessories for me and that was to have a flower crown made by our wonderful florist, Lily Violet May. The dress was simple and white and it was the accessories that gave colour and fun and the flower crown did exactly that."
"I was planning for us all to do our own hair but decided last minute to get us all a treat; Simon and Charmaine from the Clifton Hair Studio were great. I barely had to explain to Charmaine what I wanted and she nailed it – I wanted a relaxed up-do with soft touches and she curled and plaited my hair around the flower crown. I felt brilliant.
I did my own make up after a tutorial at Bare Minerals in Brighton. I don't wear a lot of makeup so I needed some help with the basics and they were brilliant and I love their brand. I was nervous about doing it myself but the quality of the products helped, as did my mum with the falsies and my maids with advice! I was very happy with the look in the end."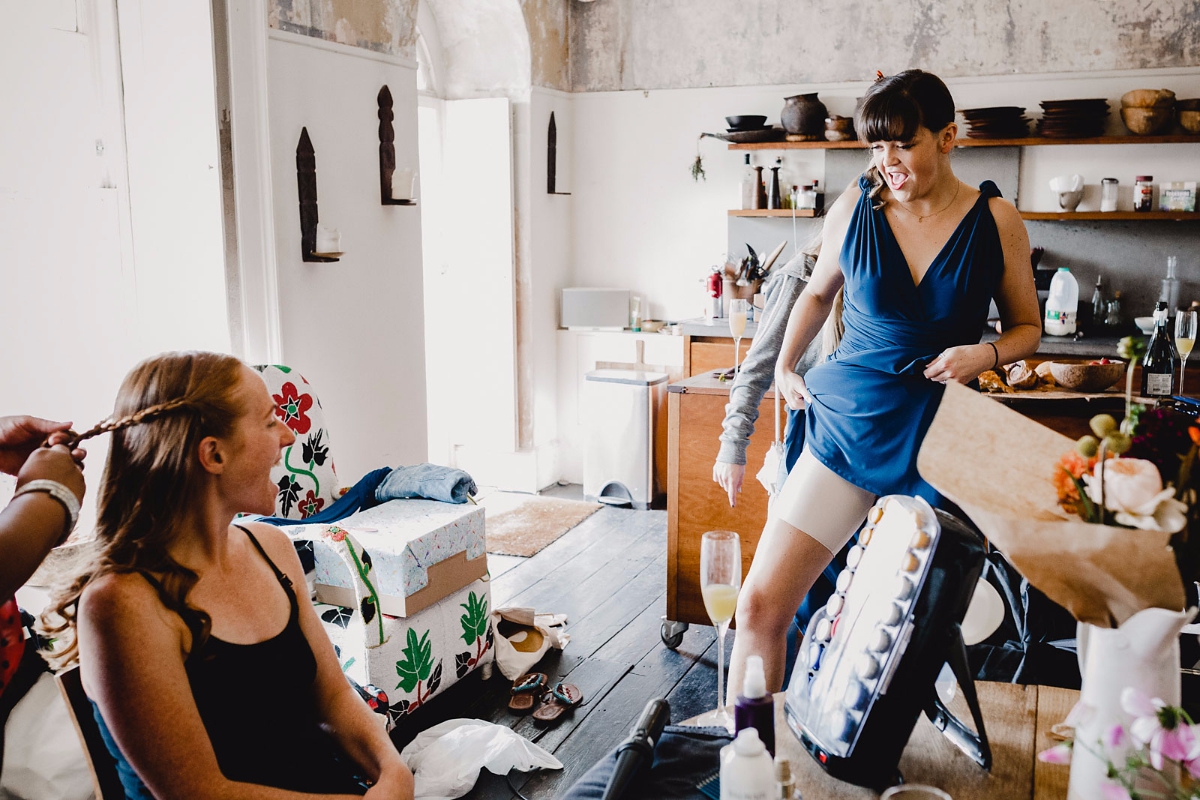 "I thoroughly enjoyed looking for flower girl dresses for my two flower girls (my niece Lilani and Goddaughter Mattie, both 4 years) and knew that Monsoon would be the place to get them. Having worked there in my teenage years, I've always liked their quality and their kids collection is adorable."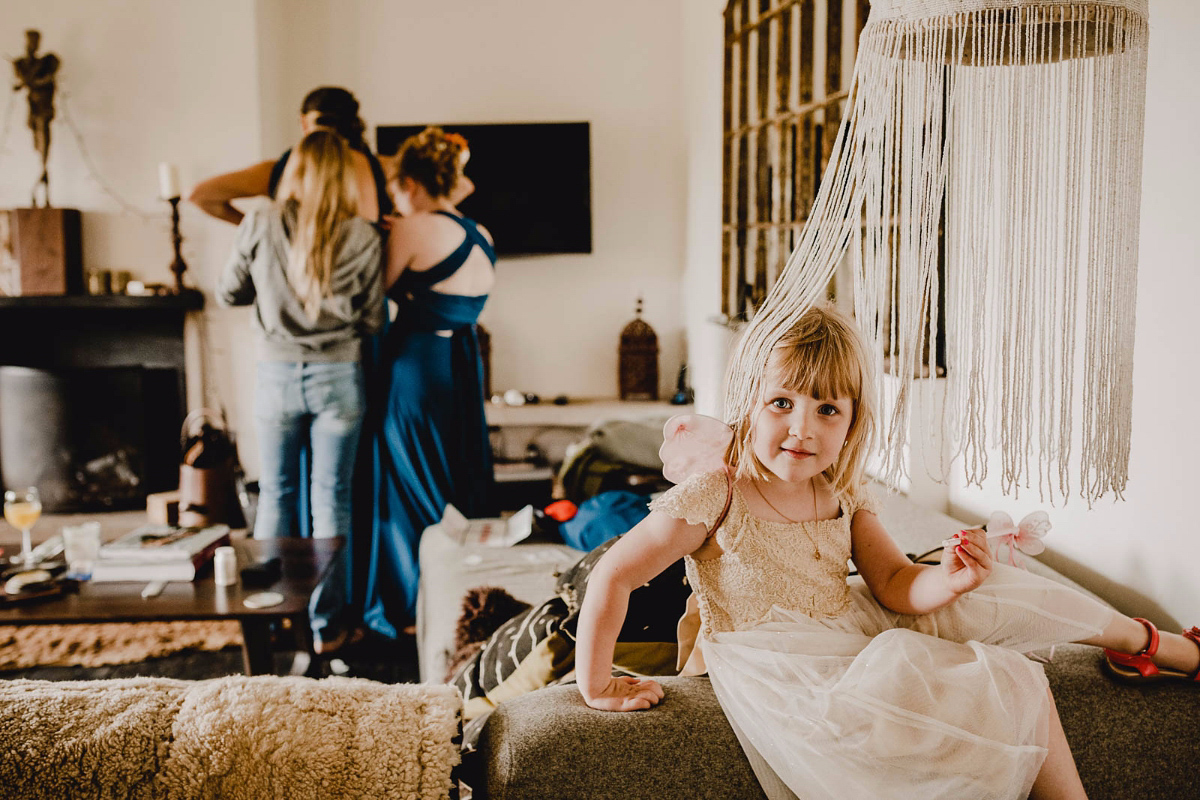 "We went for a gold Estella dress (to go with the original bridesmaid's plan.) and we managed to get them on sale."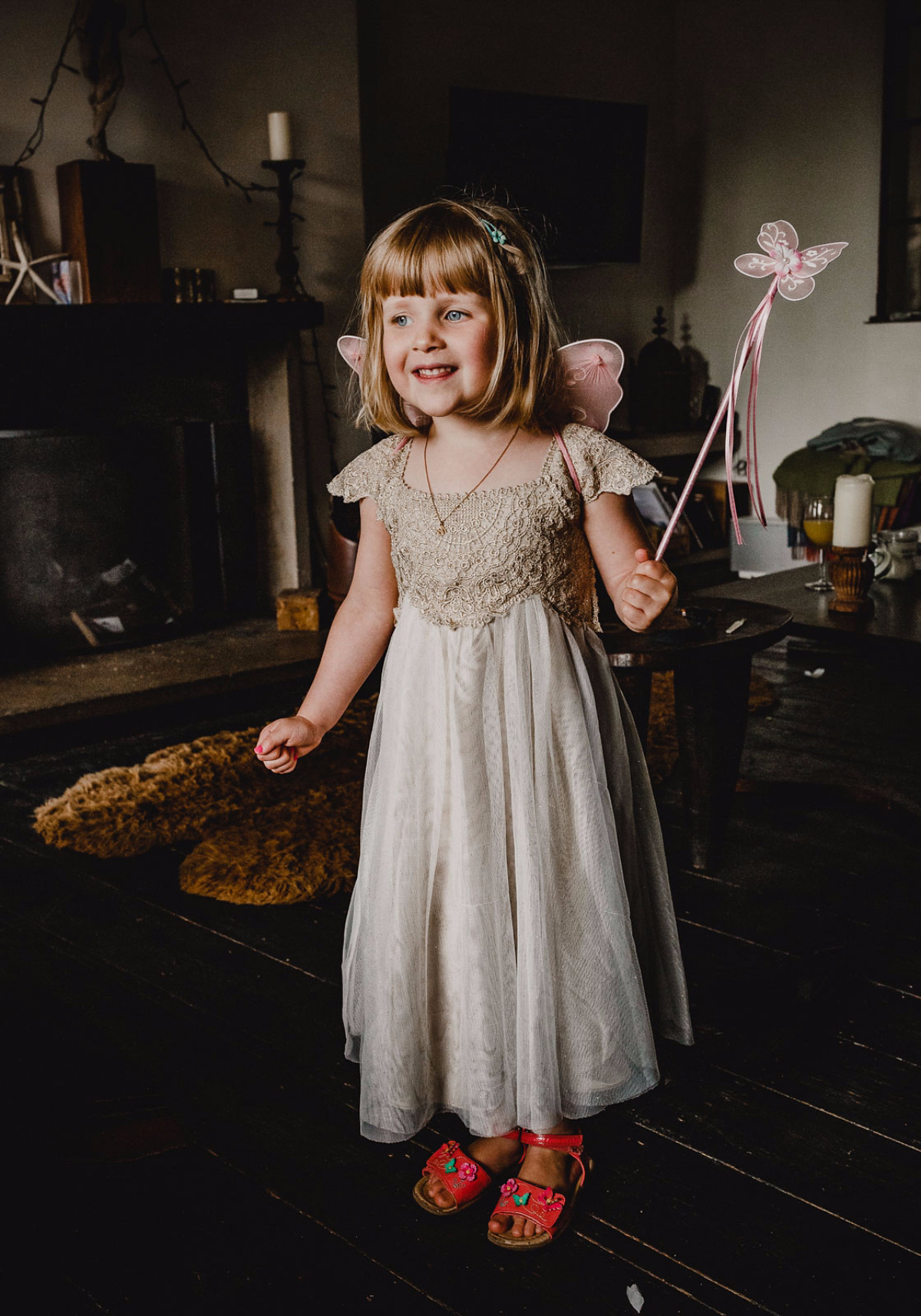 "I went to quite a few shops looking at designer dresses and came away feeling a bit like none of them were perfect, despite having some great experiences. My favourite designers were Kate Halfpenny and Laure de Sagazan but I liked elements of both and SO didn't feel like I'd had that feeling of finding 'the one'. I had also decided that I wanted to play with and change up my look with different accessories throughout the day.  I hunted for a dressmaker and found Pearl Bespoke Dressmakers who was then based in Bristol (she's now got a beautiful studio on a barge in London). I loved her simple yet beautifully crafted gowns and booked an appointment."
"Going to Pearl meant that I got to express everything I had hoped I'd find in a dress and to be a part of the creative process, which I realised was what I really wanted. She listened to everything I asked for and presented me with a number of different designs. They were all stunning but seeing them on paper helped me to narrow down what I wanted, and helped me to understand that some of the ideas I'd seen on Pinterest weren't quite for me.  So I said goodbye to the idea of a tie dye dress – which was for the best! We ended up with the design that had pretty much all the elements I'd asked for; a top and skirt (rather than full dress) with a full circle skirt made from brilliant white silk satin and chiffon, giving me a floaty and fabulous feeling. I wanted clean, modern and versatile, with swathes of dreamy, fun fabric and that's what I had."
"Pearl designed a simple top with panels – when I saw it I knew that was the one, as it looked like sun rays. Jake draws suns in every birthday card and my dad has a similar design in a stained glass window in his house. I loved it. I went for multiple fittings and the dress evolved with each visit. Pearl made the whole process so enjoyable – she is very talented, efficient and amenable but also realistic. If she didn't think something would work, she was completely honest but without being overbearing in giving her opinion. That's gold as far as wedding planning is concerned."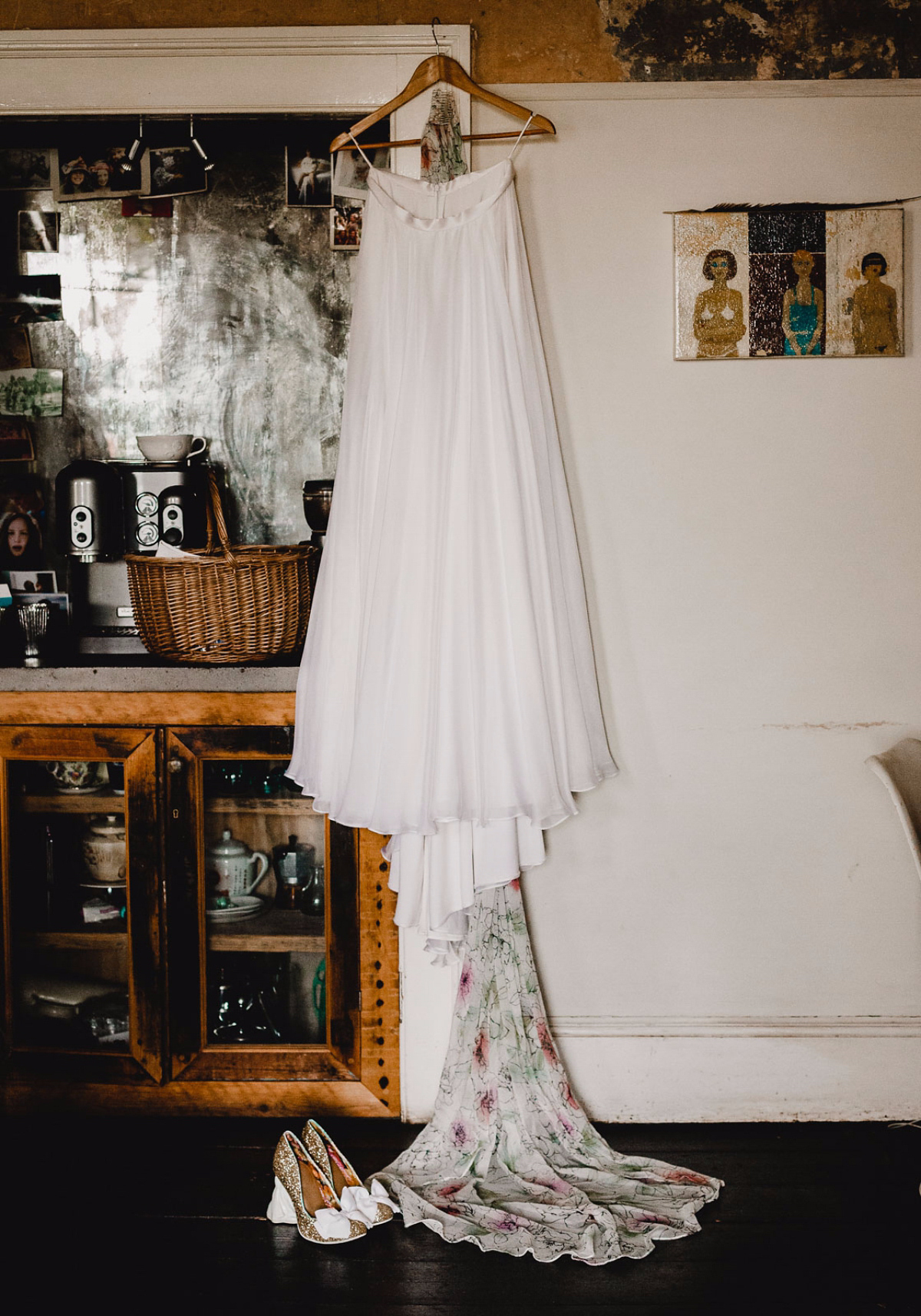 "The shoes! I remember seeing the shoes while searching online in Kenya, thinking they're a bit silly. But then I saw them in person and I HAD to have them. I was looking for gold sparkly shoes and Irregular Choice had a beautiful and subtly quirky pair, with bride and groom figures as heels.
My shoes remind me of my dad and were so much fun to wear. It felt like a private bit of fun that I enjoyed sharing throughout the day. I stuck a fake moustache on the groom to give him a beard to resemble Jake. I also bought a pair of gold Melissa heels by Vivienne Westwood on Ebay to change the look for the evening and for the legal ceremony the day before the big event."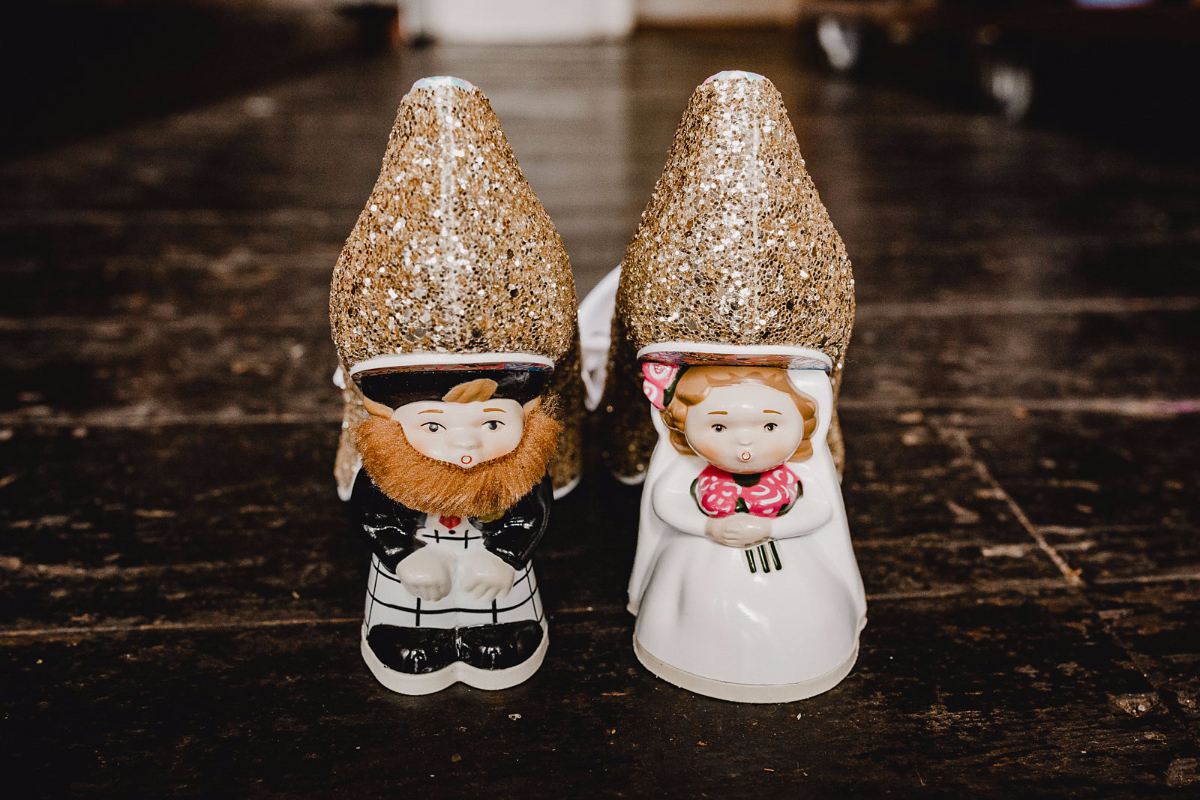 "We had a bit of a crisis with the bridesmaids dresses – The original plan was to have all five adults in sequin box-shaped tops and for them to choose their own skirts. I wanted to let them choose the skirts to make sure they were all happy with at least one part of the outfit (pleasing five very different women is no easy task). There was a communication breakdown somewhere along the line with the tailor making the tops as when they arrived, only two weeks before the wedding, they were crop tops!
They were so short that when hands went up in the air, bra and underboob were visible. So with two weeks to go, me in Kenya, bridesmaids between England and NYC, we pretty much had to start from scratch. It was stressful and really bad timing but with wonderfully understanding and patient bridesmaids, a supportive fiance and an apologetic tailor, by embracing the challenge (problem solving has been a large part of my career to date) it all worked out – probably better than the original plan."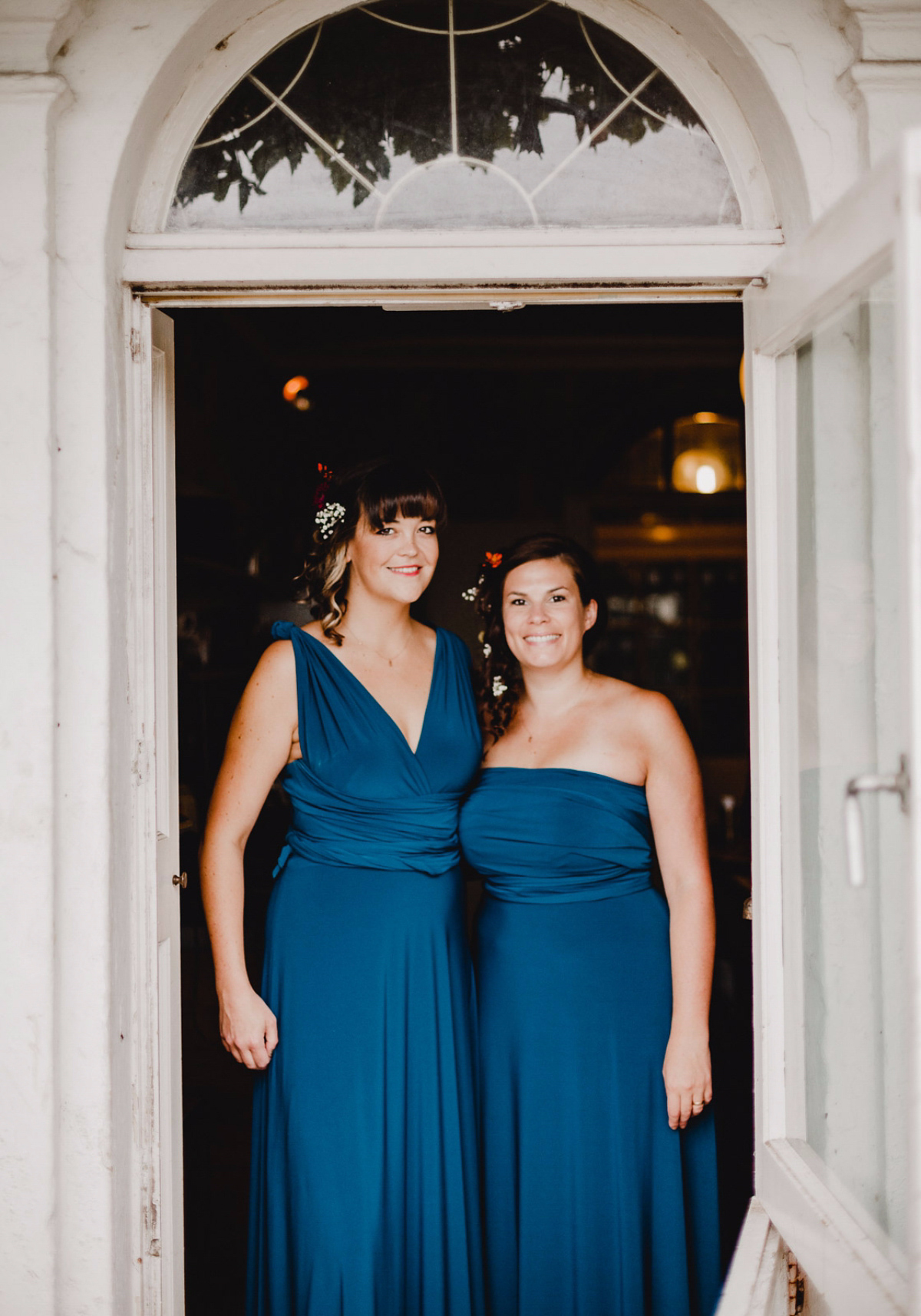 "Jake and I spent an evening in London looking for the right dresses. I was worried about finding a dress that would work for all five (who are all very different shapes) and whether they'd be happy given that there wasn't time to try them on. Pressure! We went to Coast on Oxford Street and they were brilliant. I explained the situation to Charlotte, the Manager, who nearly made me cry when I explained the situation – she was so sympathetic and kind!"
"She took control and sat us in the VIP section, collected loads of dresses and members of staff with different shapes. They tried the dresses on for us so we could see what they looked like on and in the end we decided on their Corwin Multi-Tie in Kingfisher blue because it had the best chance of fitting them all and for them to have the choice in how to wear it (which was what I'd originally wanted – for them to have some individuality to their outfit). We ordered a few different sizes so the ladies coming from NYC had a couple of options and it worked – they all looked absolutely gorgeous."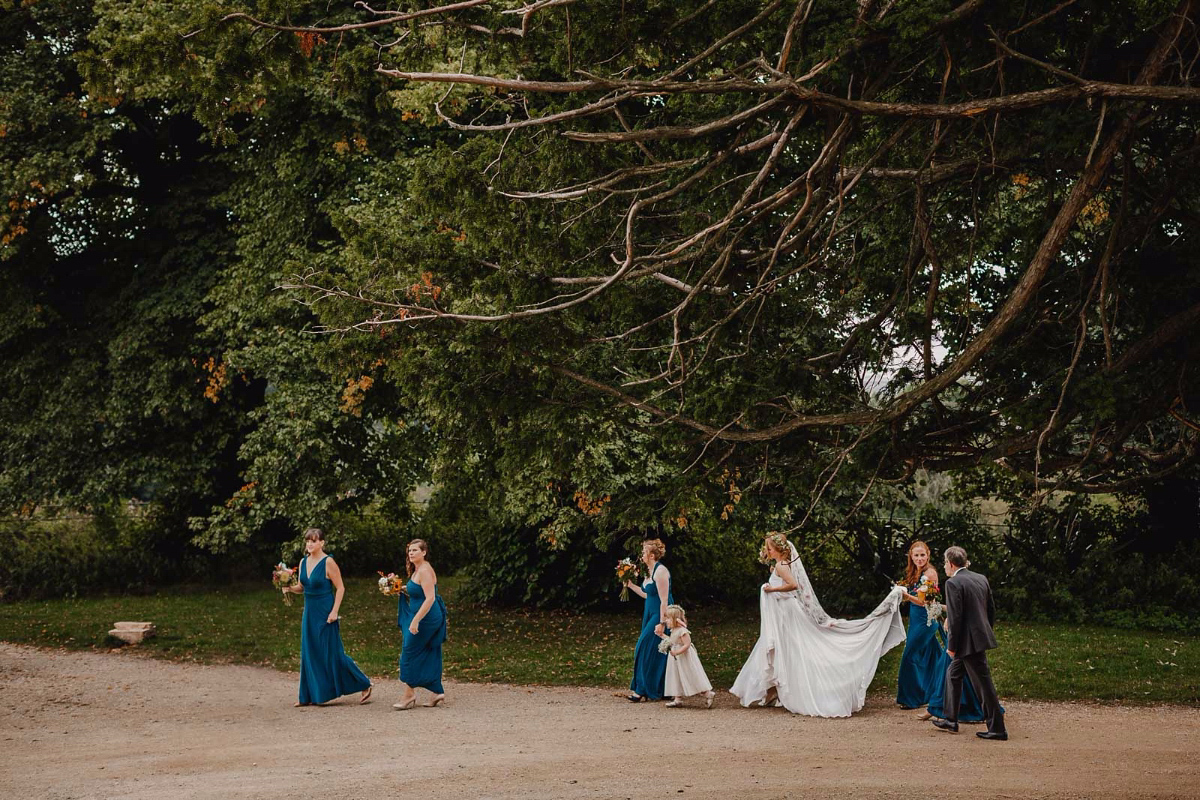 "I was happy for all the bridesmaids to wear whatever they wanted but in the end they all wore the necklaces that I'd given them as part of their thank you gifts. They each got (including the flower girls) a rose gold necklace with their initial. They were by Posh Totty in Brighton who were wonderfully helpful and they all seemed very happy with them. The team in Brighton were really helpful in finding the right letters and chains for everyone and they were perfect gifts for my brilliant bridesmaids."
"The flower girls both had gypsophila flower crowns and the adult bridesmaids all had one or two flowers that matched the bouquets and my flower crown."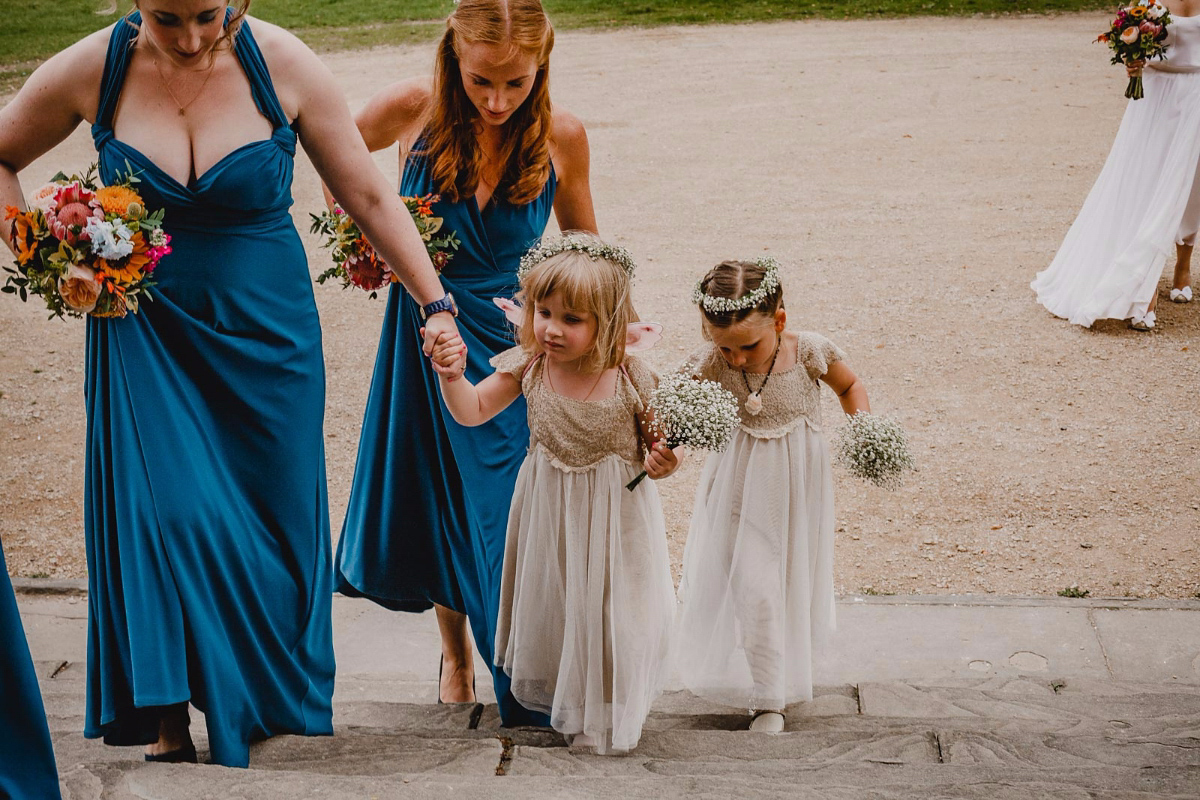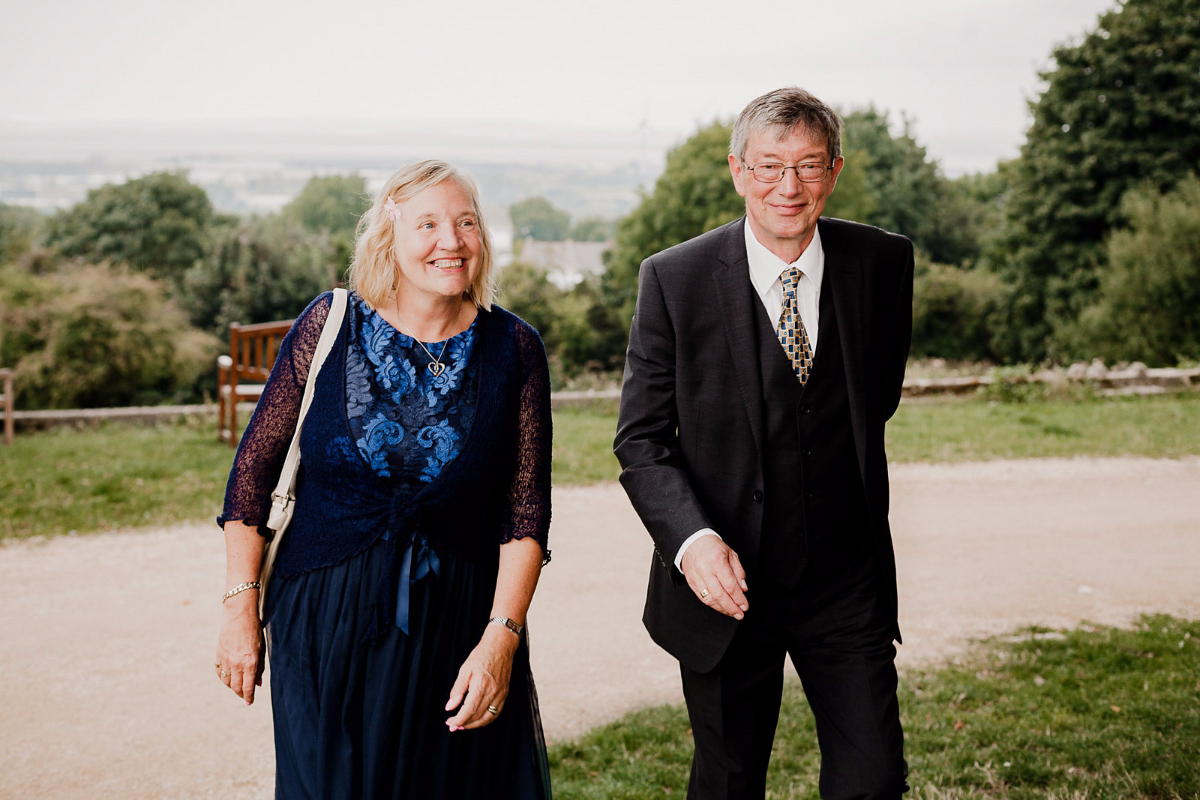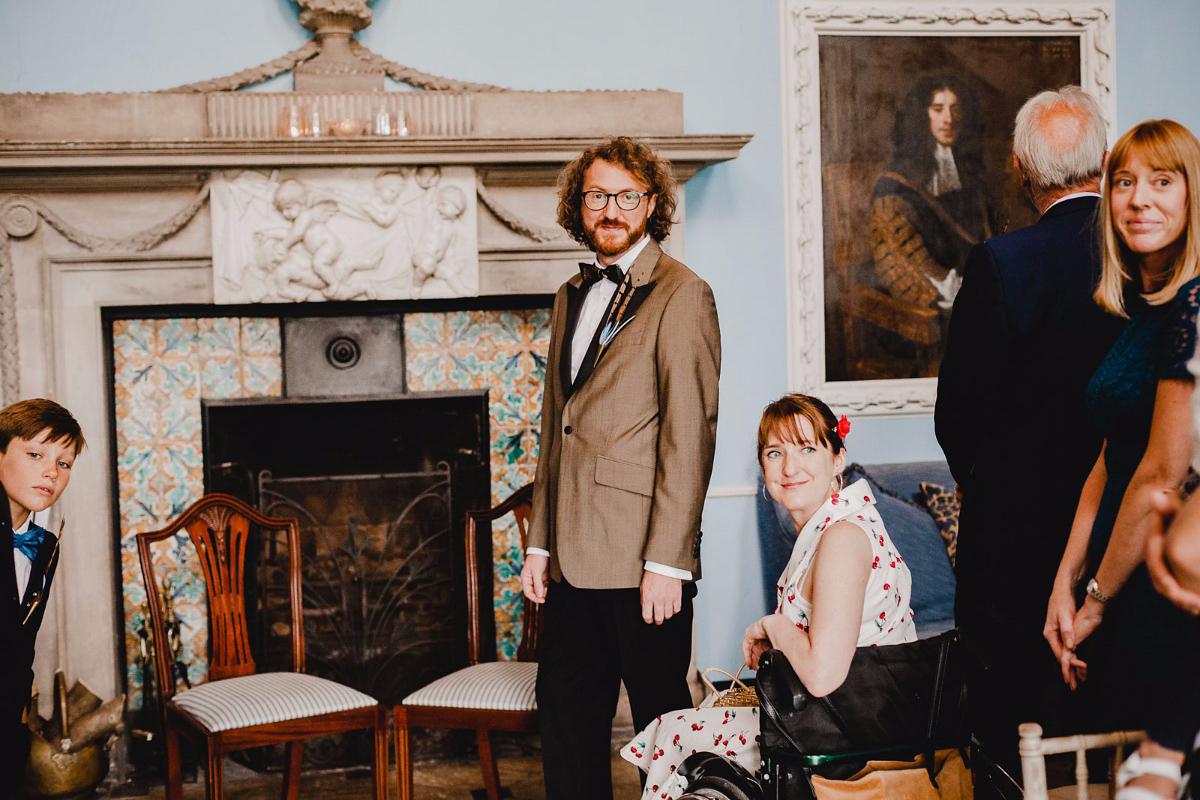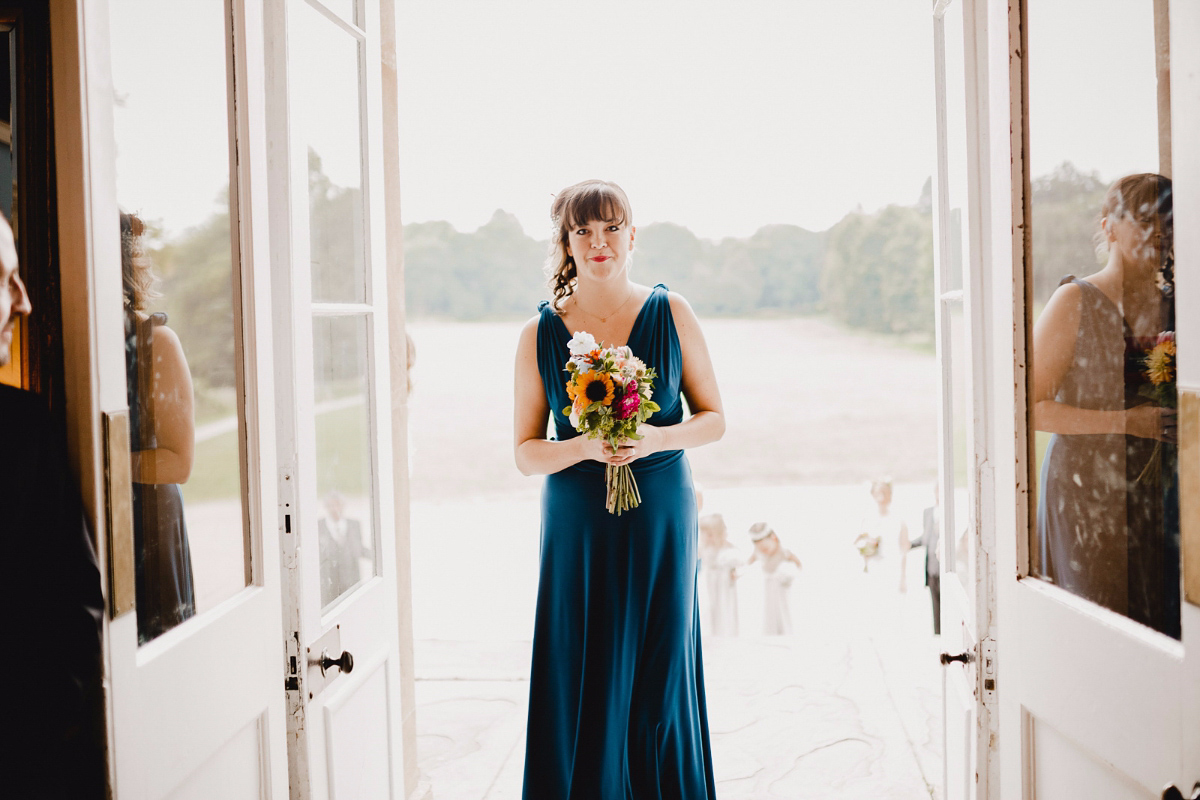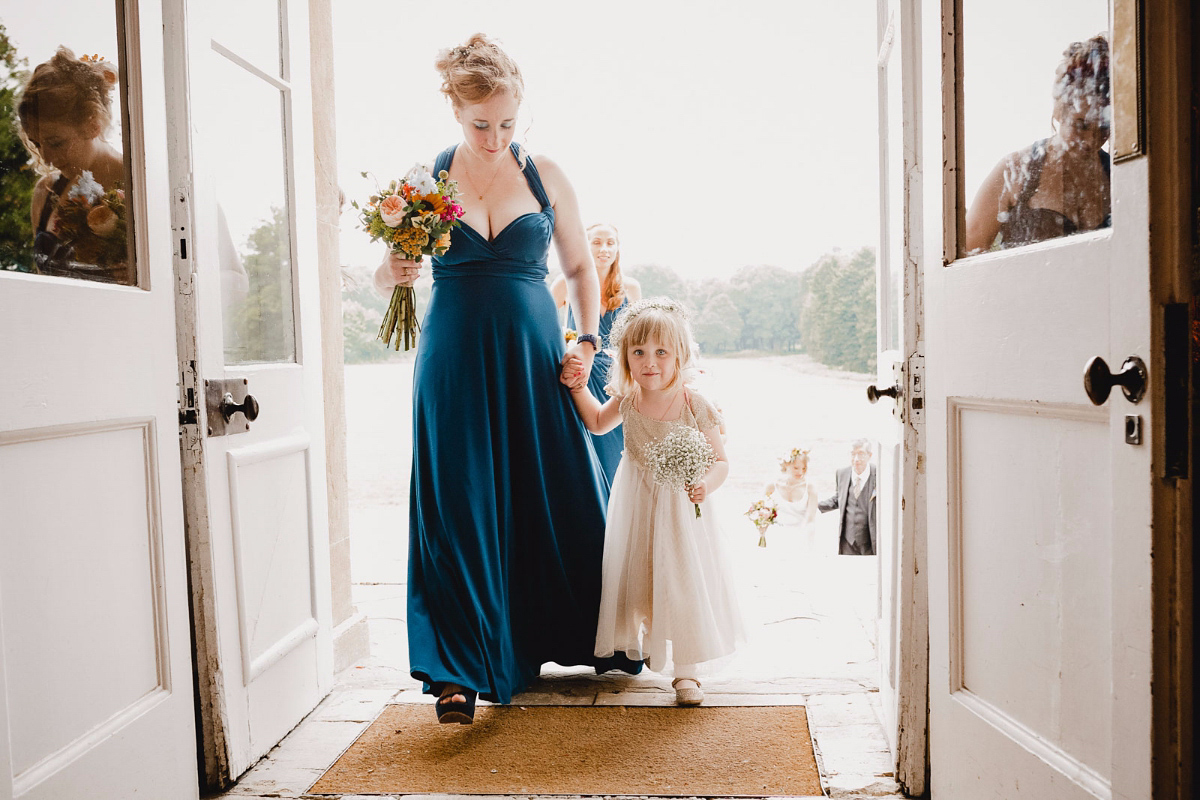 "My dad accompanied me down the aisle – there was no giving away. I walked down the aisle to 'Two Wooden Spoons' by This is the Kit. It felt so right to have them playing considering their presence at the start and the proposal. It's a song that struck me at that first gig on our first date and I'd loved it ever since. It's a really touching song with the opening lyrics 'what a duo, what a two'.
As soon as we'd decided to use it I cried every time I heard it in anticipation of how I'd feel on the day and my heart did the happiest leap as I heard it coming on before we went in."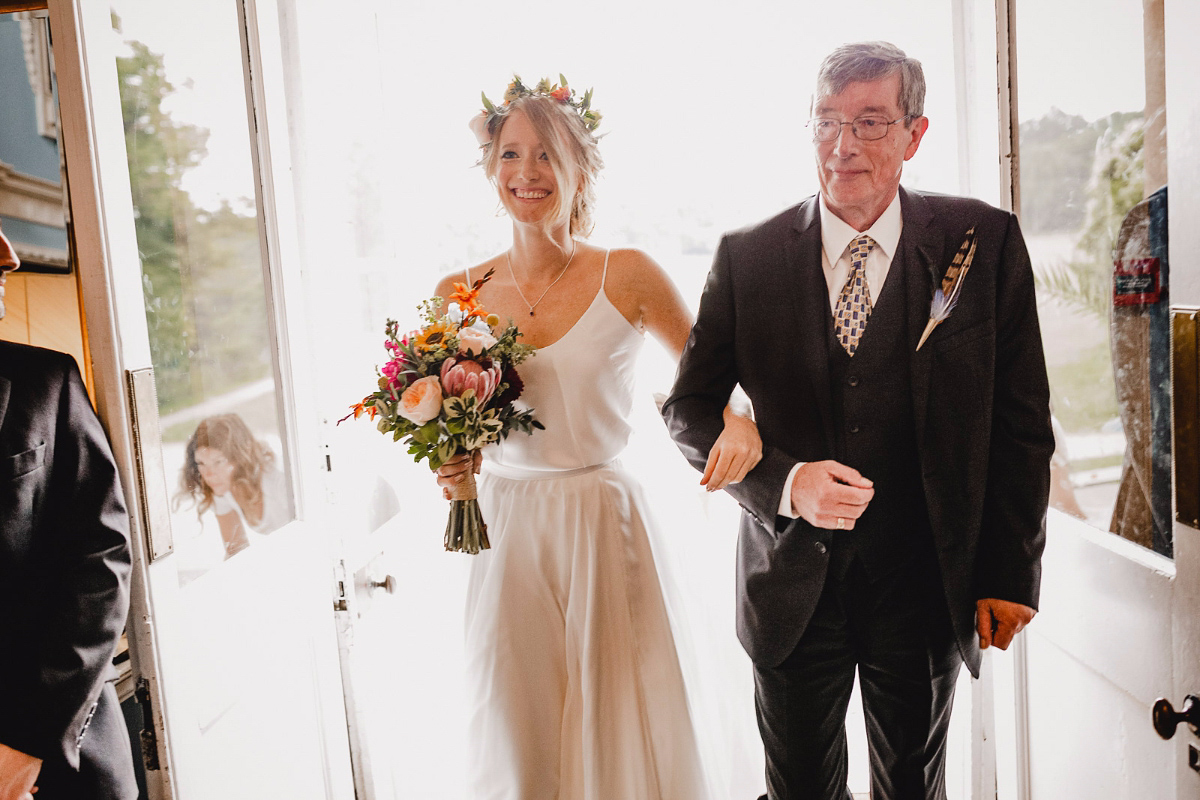 "Our ceremony was such a special part of the day. Early on in the planning we decided that we wanted to make the 'big day' as personal as possible so we asked two of our wonderful friends to host the ceremony for us. We got the legal bit done the day before and then Sarah, one of my closest friends from University, and Owen, a close friend and musical conspirator of Jake's, helped us to write an amazing service that was informal, fun and intimate."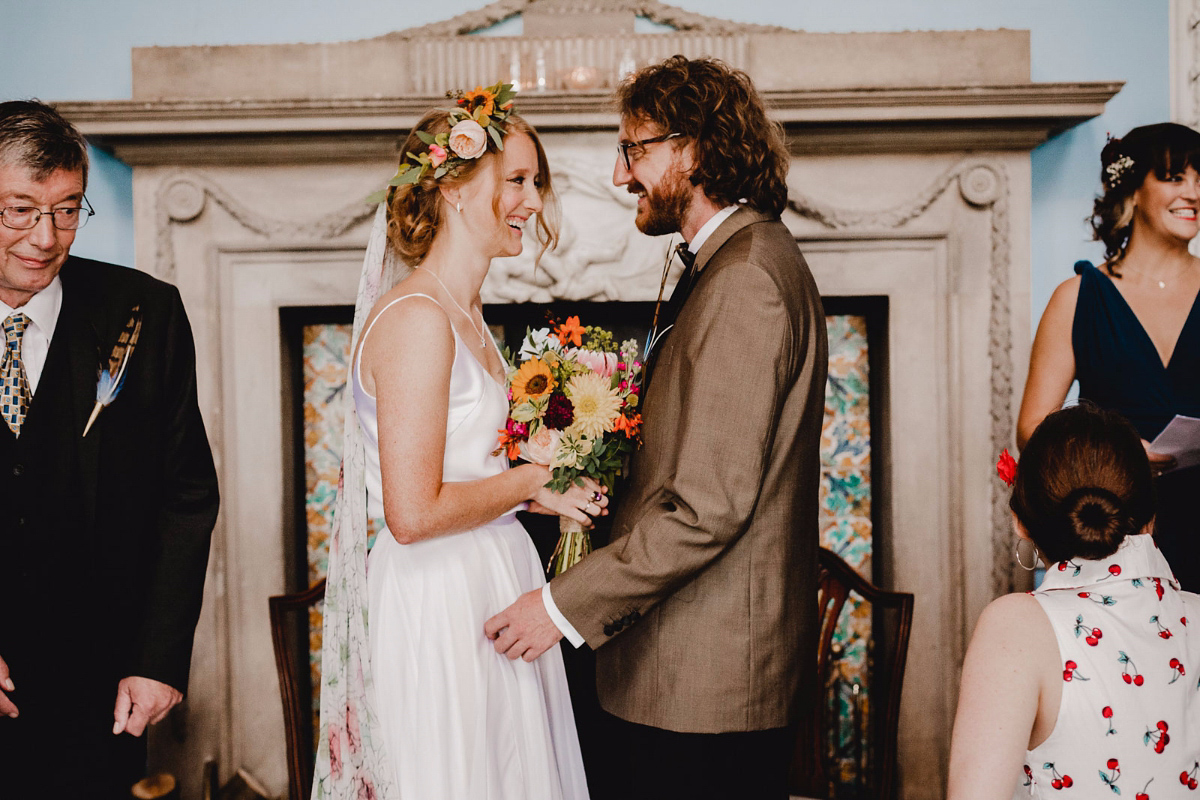 "They started with a history and anthropology of marriage and they shared what marriage means to us…"
By getting married here today, in front of you all, our most important people, we're formalising the beginning of our new family; and celebrating our choice of one another as life-long companions.
We enter into this union with open eyes and open arms, with respect and trust.
For us marriage is about supporting, encouraging and loving one another in all that we do – whether together or as individuals – wherever our adventure may lead us.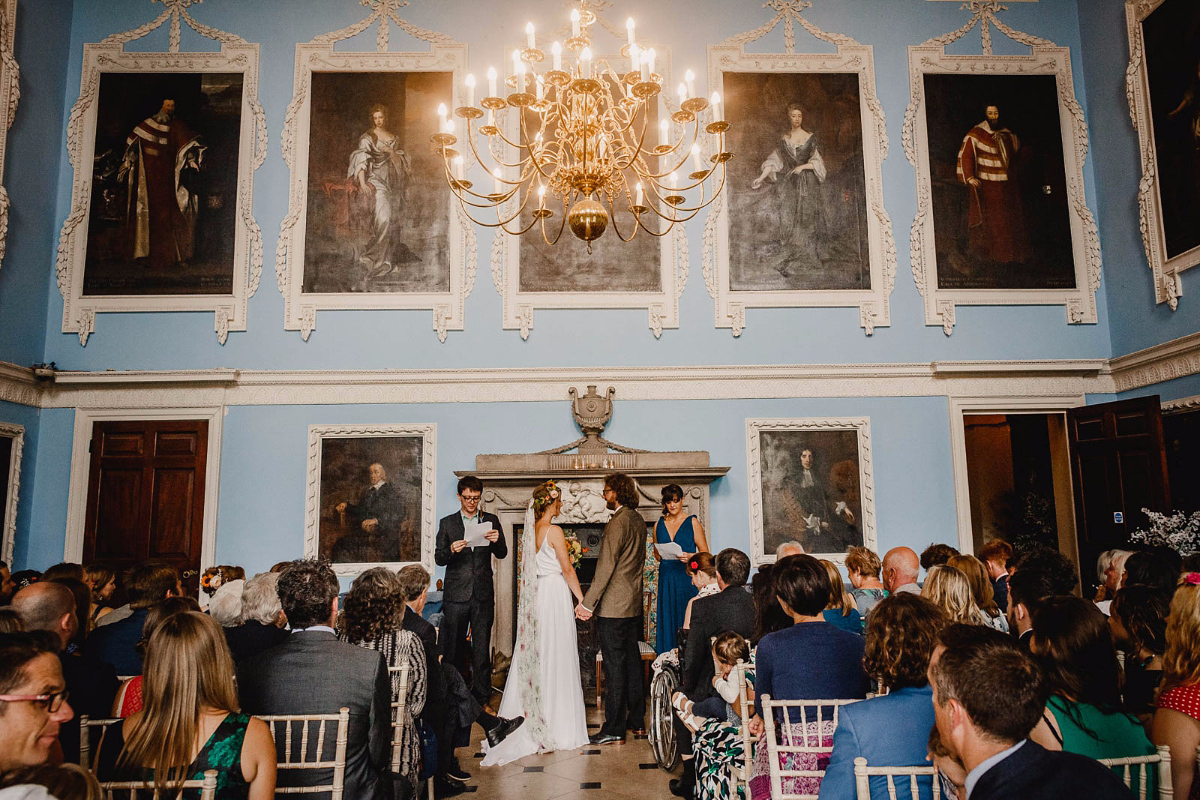 "We then had a reading and performance, followed by vows written by us…"
I choose to stand by your side and to sleep in your arms. To be joy to your heart and food for your soul. To learn with you and grow with you, even as time and life change us both. I promise to laugh with you in good times and struggle alongside you in bad times. I promise to respect you and cherish you as an individual, a partner, and an equal, knowing that we do not complete, but complement each other. May we have many adventures and grow old together.
I give you this ring to wear with love and joy. Let it be a reminder that I am always by your side and that I will always be a faithful partner to you. I choose you to be my wife/husband, this day and forevermore.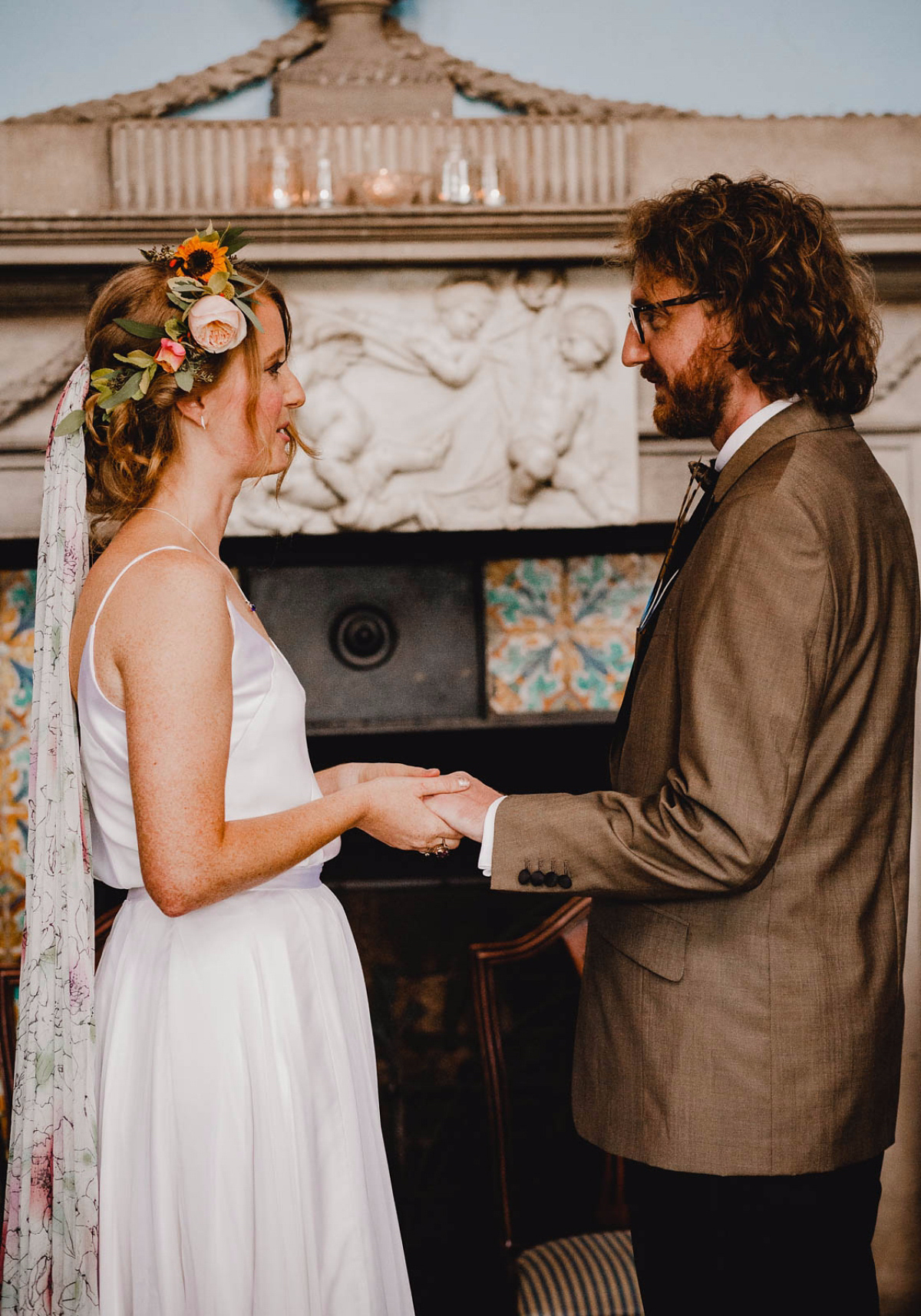 The couple had two readings during their ceremony, including 'Love Is Not To Possess' by James Kavanagh.
"We chose this because it's so true to how we view our marriage – we are individuals and we need the space to be so. While we were looking for readings the line 'It is finally to be able to be who we really are' struck me and I knew that this was the reading we wanted. It was when I realised that I could be myself with Jake, more so than with anyone else I'd ever met, and how safe and loved he makes me feel, no matter what, that I knew I wanted to marry him."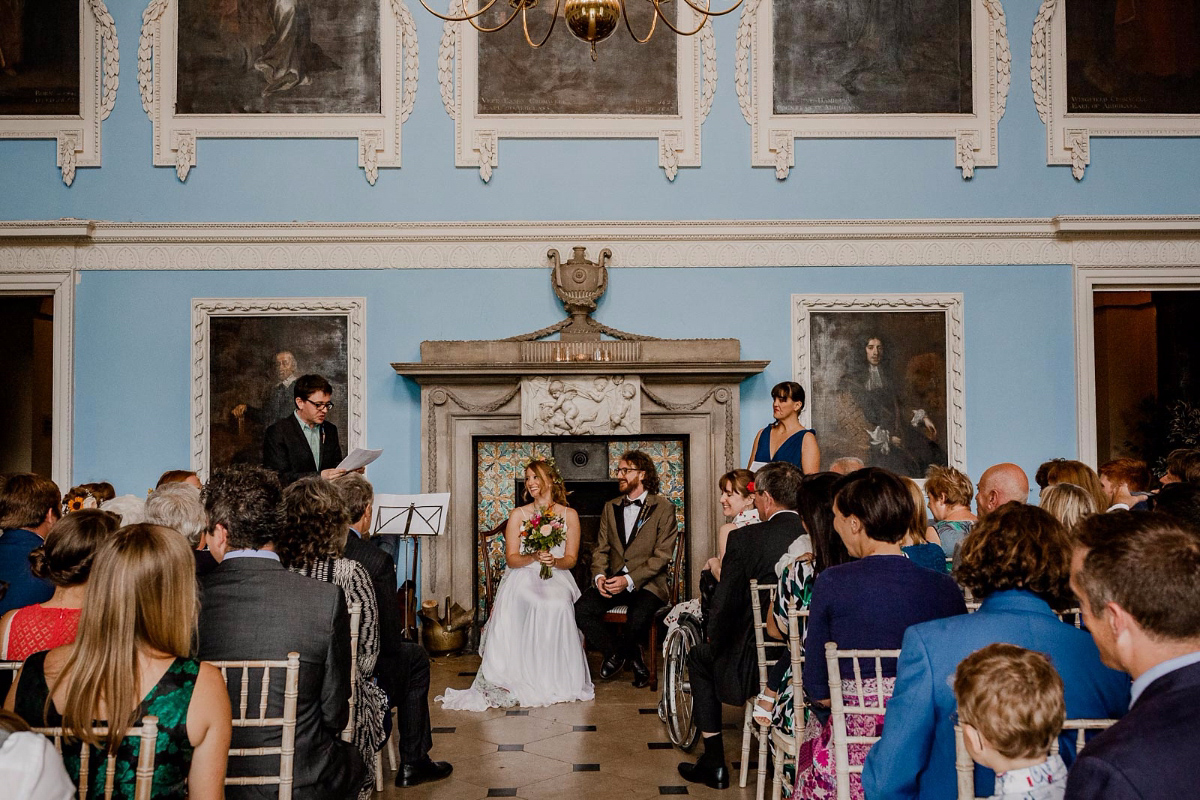 To Love is not to Possess by James Kavanagh
To love is not to possess,
To own or imprison,
Nor to lose one's self in another.
Love is to join and separate,
To walk alone and together,
To find a laughing freedom
That lonely isolation does not permit.
It is finally to be able
To be who we really are
No longer clinging in childish dependency
Nor docilely living separate lives in silence,
It is to be perfectly one's self
And perfectly joined in permanent commitment
To another–and to one's inner self.
Love only endures when it moves like waves,
Receding and returning gently or passionately,
Or moving lovingly like the tide
In the moon's own predictable harmony,
Because finally, despite a child's scars
Or an adult's deepest wounds,
They are openly free to be
Who they really are–and always secretly were,
In the very core of their being
Where true and lasting love can alone abide.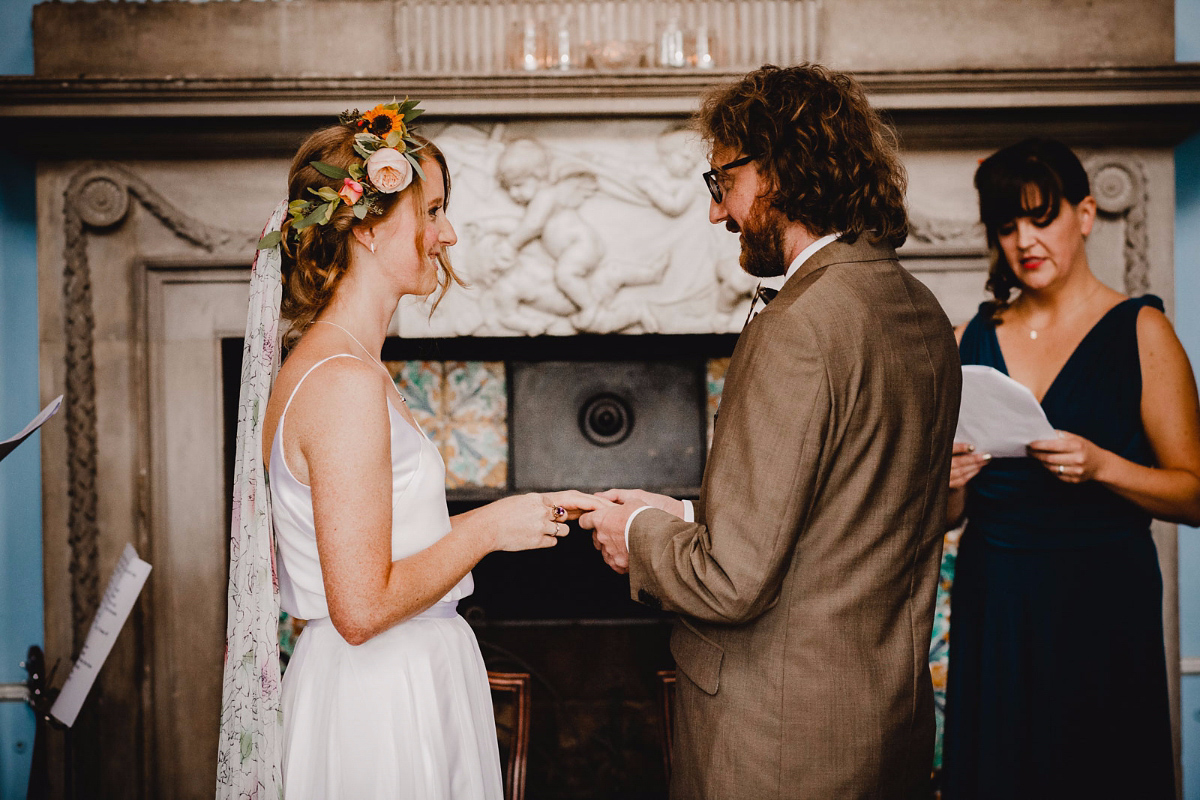 "The other reading became a song that we asked Owen to perform. We chose Jake Thackery's Lah Di Dah because it added a great bit of humour, it's got a really tender sentiment and we felt it was perfect for Owen's style."
"He did such an amazing job and surprised us by inviting other members of the congregation to join him. We new nothing about it until my mum got up and others followed. It was such a happy moment – there may have been a tear or two…"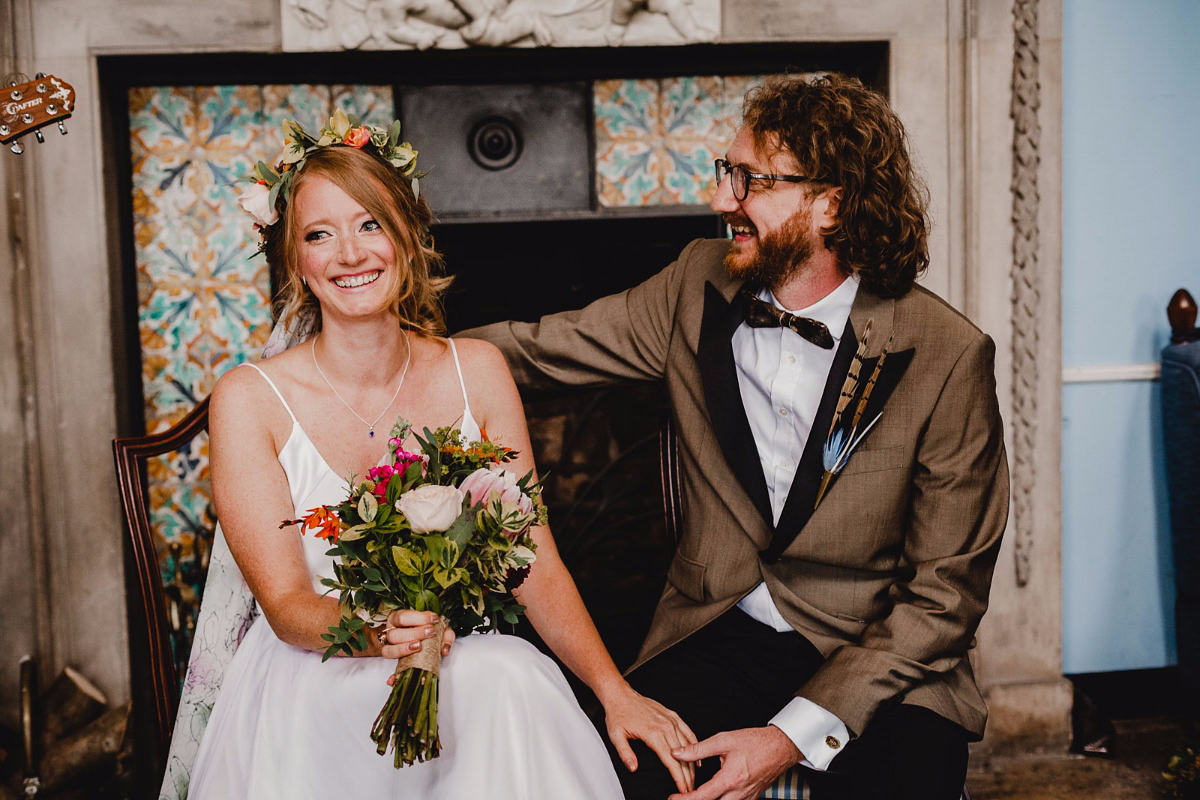 Lah Di Dah by Jake Thackery
Now we're agreed that we're in love
We'll have to face the lah-di-dah,
The eyewash, all of the fancy pantomime.
(I love you very much.)
I'll try love, I'll bill and coo
With your gruesome Auntie Susan
I'll stay calm, I'll play it cool;
I'll let your tetchy uncles
Get me back up, cross my heart.
And I shan't get shirty when they say I look peculiar.
I'll be nice to your mother,
I'll come all over lah-di-dah,
Although she always gets up me nose.
(I love you very much.)
And so I'll smile and I'll acquiesce
When she invites me to caress
Her scabby cat;
I'll sit still while she knits
And witters, cross my heart,
And I shan't lay a finger on the crabby old batface.
I'll be polite to your daddy,
Frightfully lah-di-dah,
Although he always bores me to my boots.
(I love you very much.)
And so I won't boo and hiss
When he starts to reminisce
I won't drop off, I won't flare up;
The runs he used to score
And how he won the war, cross my heart,
But I'll have to grit me teeth when he goes on about his rupture.
I'll behave at the wedding breakfast
I'll be lah-di-dah
So help me! Hearty toasts and risky jokes!
(I love you very much.)
So help me, I'll force a laugh
For the flicking photographs
So have no fear, I won't turn tail;
I won't run amuck when the females chuck
Confetti in my ears
And cross me heart, love, I'll keep off the pale ale.
When we're off on our own
No more lah-di-bloody-dah
I promise, we just won't have the time
We won't have time for such,
Such fancy pantomimes.
(I'll love you far too much.)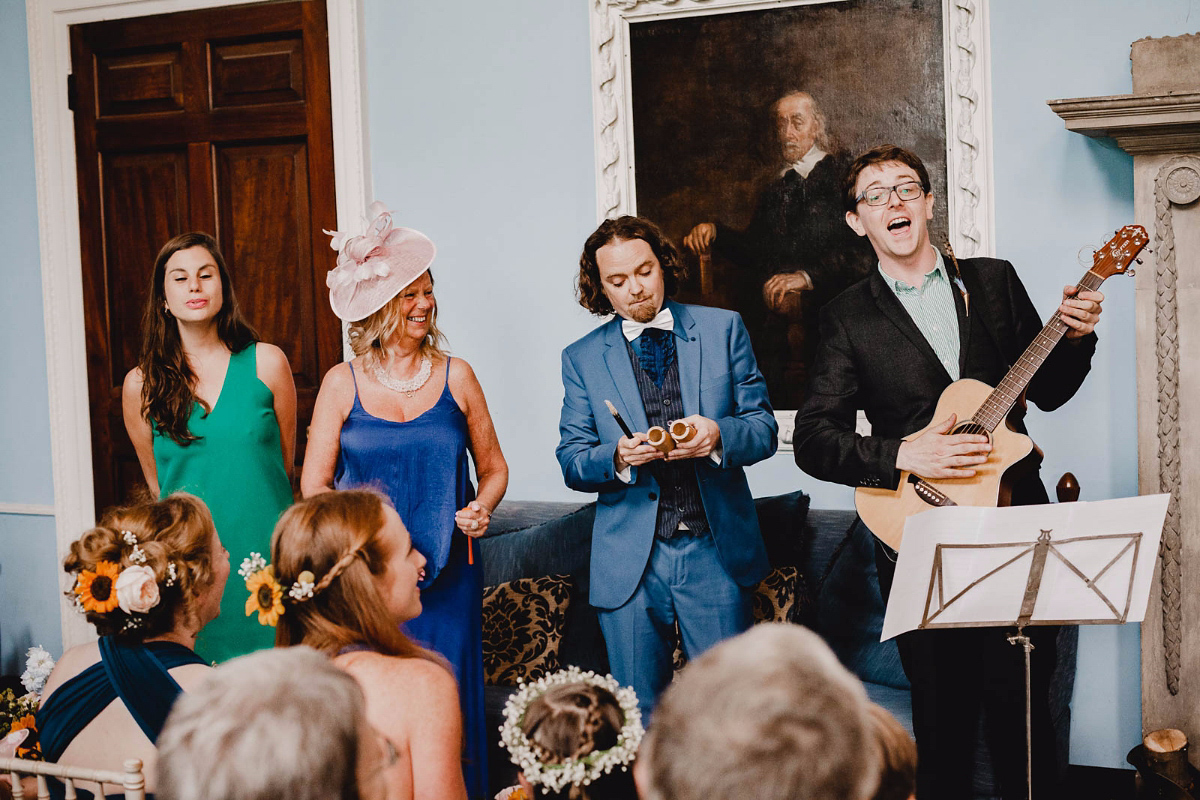 "We employed the skills of another very talented friend to supply the rings – Jane Kenney; a wonderfully talented jewellery maker, who also generously helped with sourcing the gold and stone for Marti's engagement ring. Marti's wedding ring is a rose gold softly hammered band with a polished finish to go with the rose gold setting on her engagement ring.
Jake's is a yellow gold hammered band with a brushed finish. Both are engraved on the inside with 'M&J 27.08.2016'."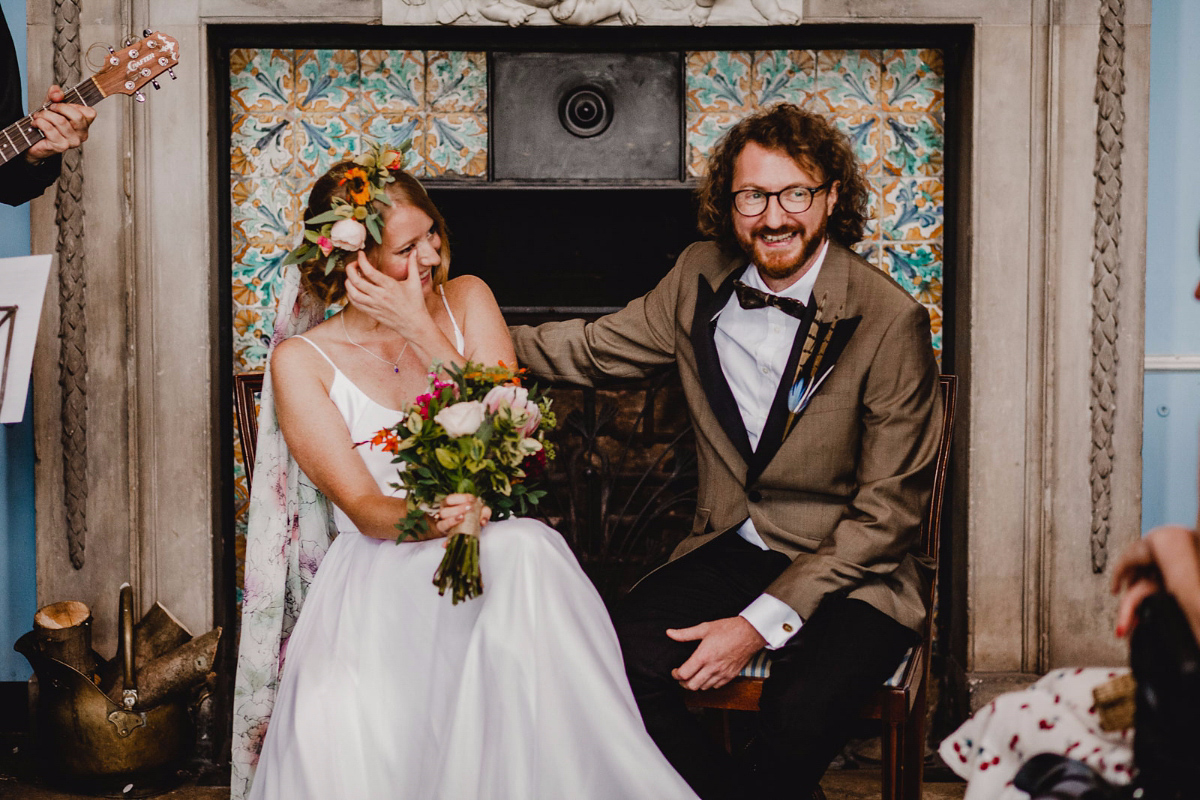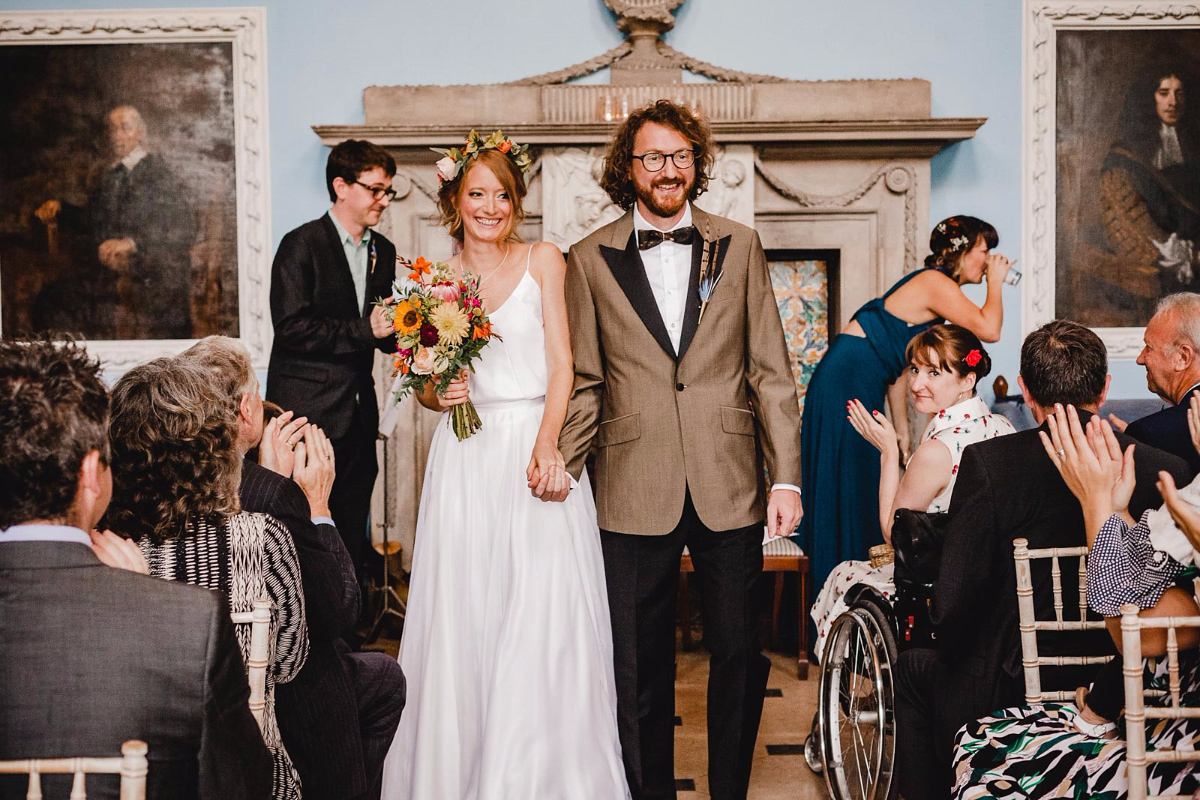 "After the ceremony we walked out to 'The Man in Me' (!) by Bob Dylan. Jake's a huge Dylan fan and we used the version from The Big Lebowski which is one of my favourite films. Again, the lyrics were great for us – 'Take a woman like your kind, To find the man in me. But, oh what a wonderful feeling, Just to know that you are near, It sets my heart a-reeling, From my toes up to my ears.' Both songs bring us even more joy now."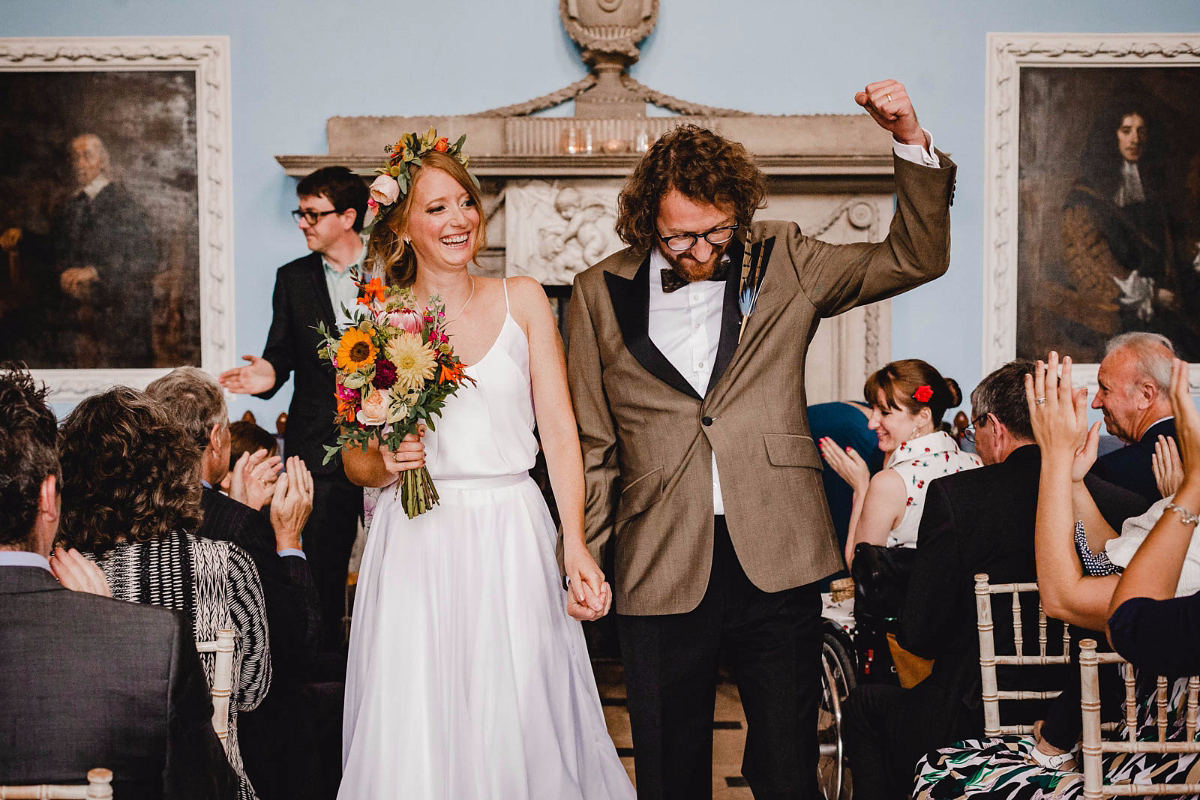 "They finished the service with a personal and direct statement that felt so special; 'Marti & Jake, as you enter this union, your belief that marriage is a partnership between equal individuals with common goals and dreams is what must remain paramount. You have already shown this in your move together to Kenya. You share the same bravery, sense of adventure and altruistic approach to life. This is a powerfully strong foundation on which to build the next level of commitment to each other.'"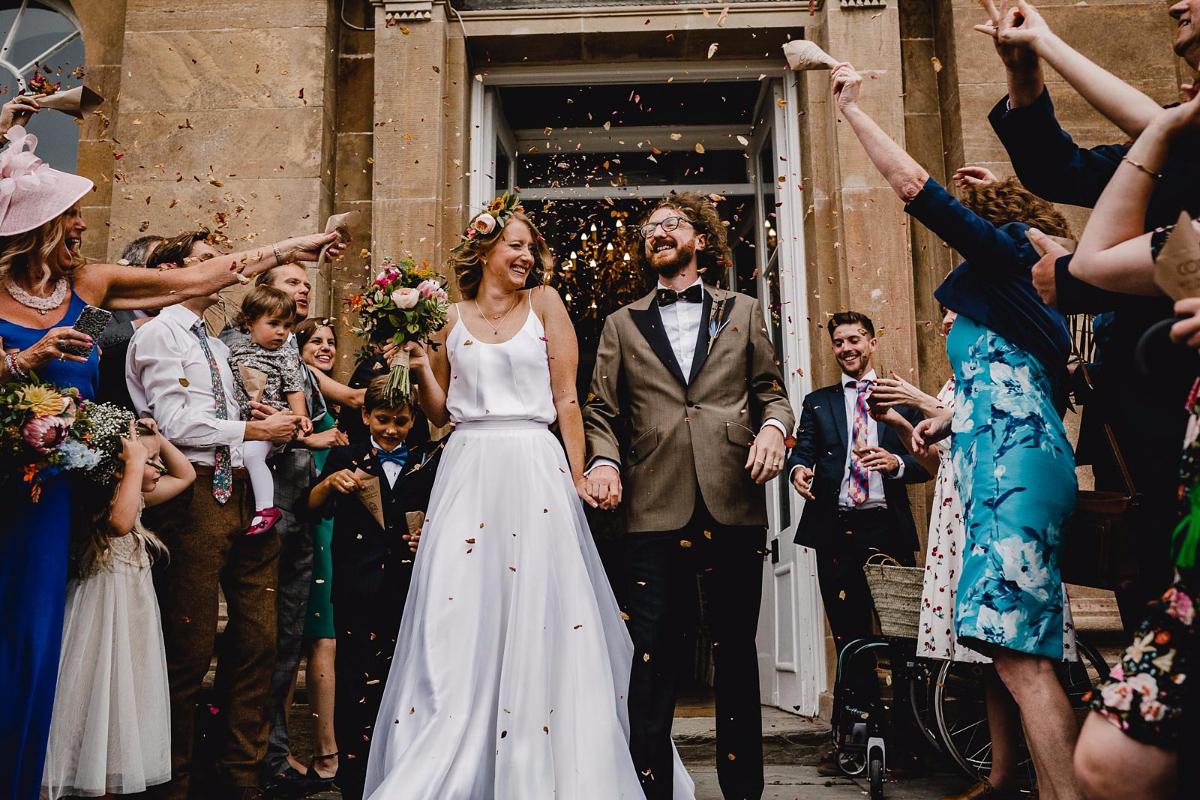 "We then walked out to be covered in dried rose petal confetti that we'd made ourselves, from our gardens in Bristol and Nairobi – it was utterly joyous and so special."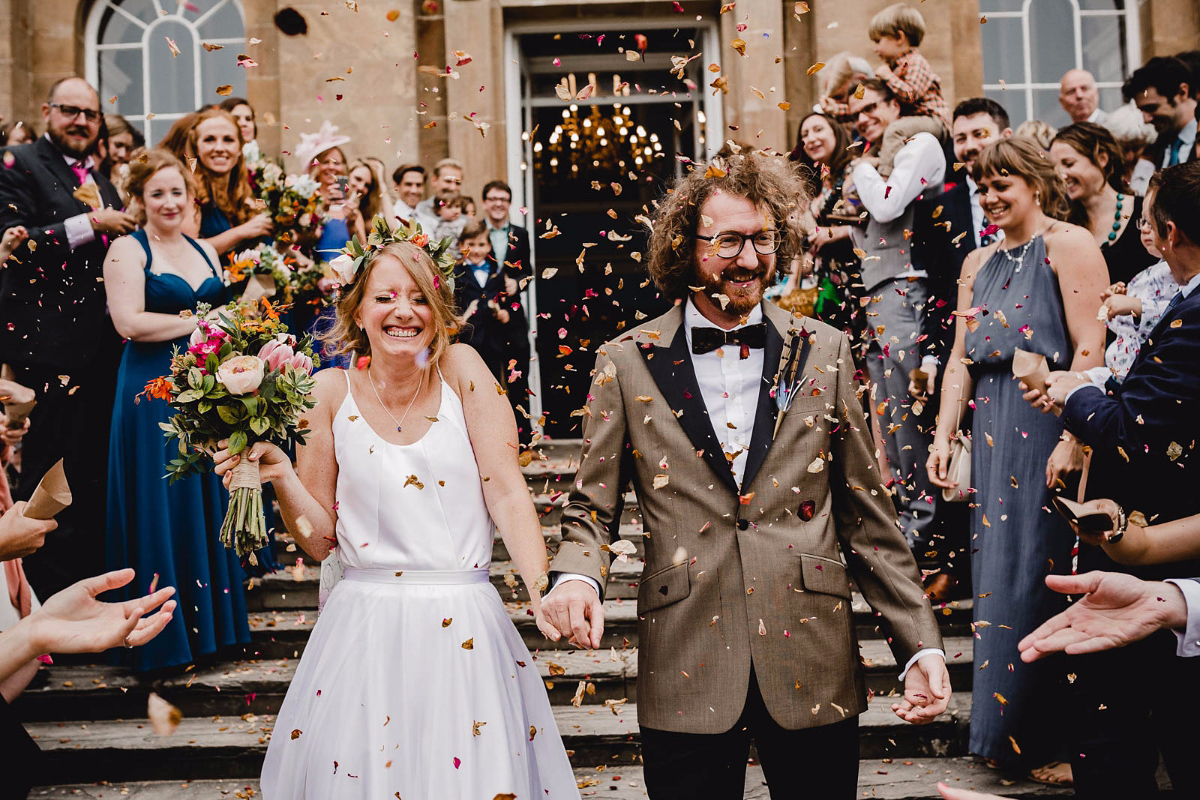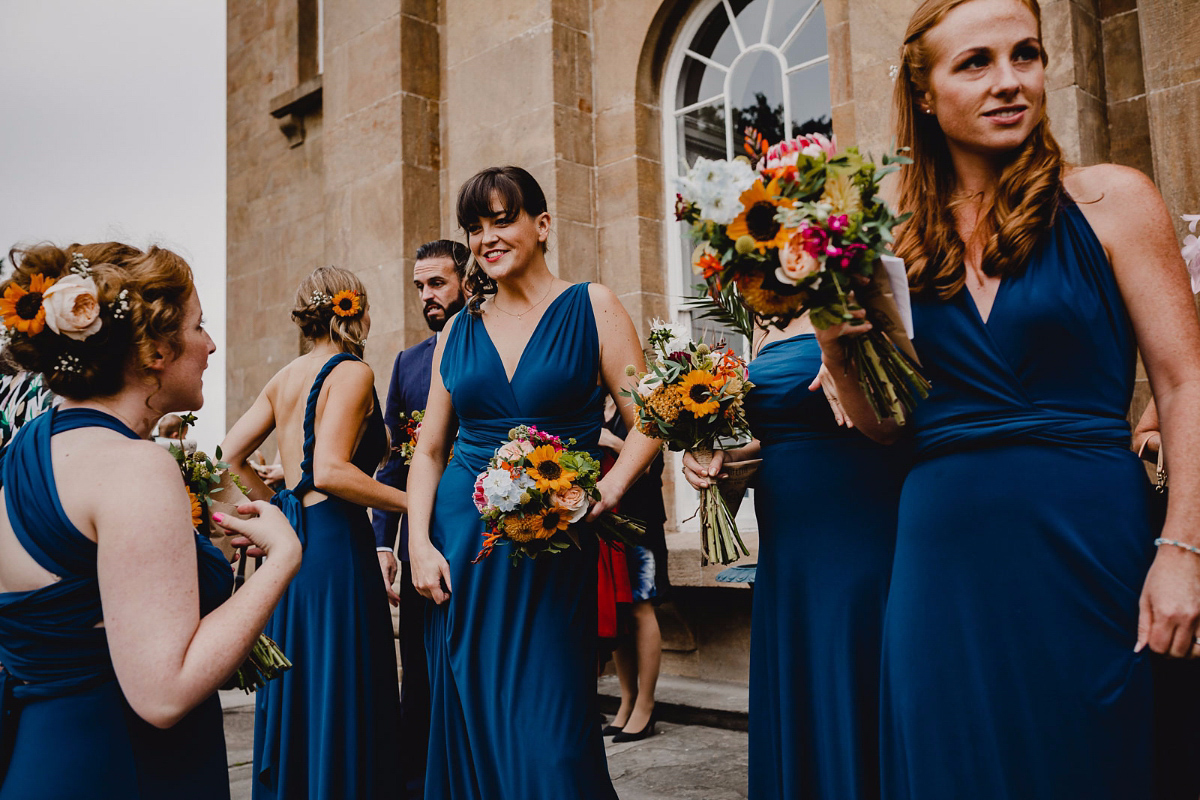 "We had one page boy, my nephew Isaac (8 years). He wore a suit he already had and a bow tie to go with Jake's, but matching the colour of bridesmaid's dresses."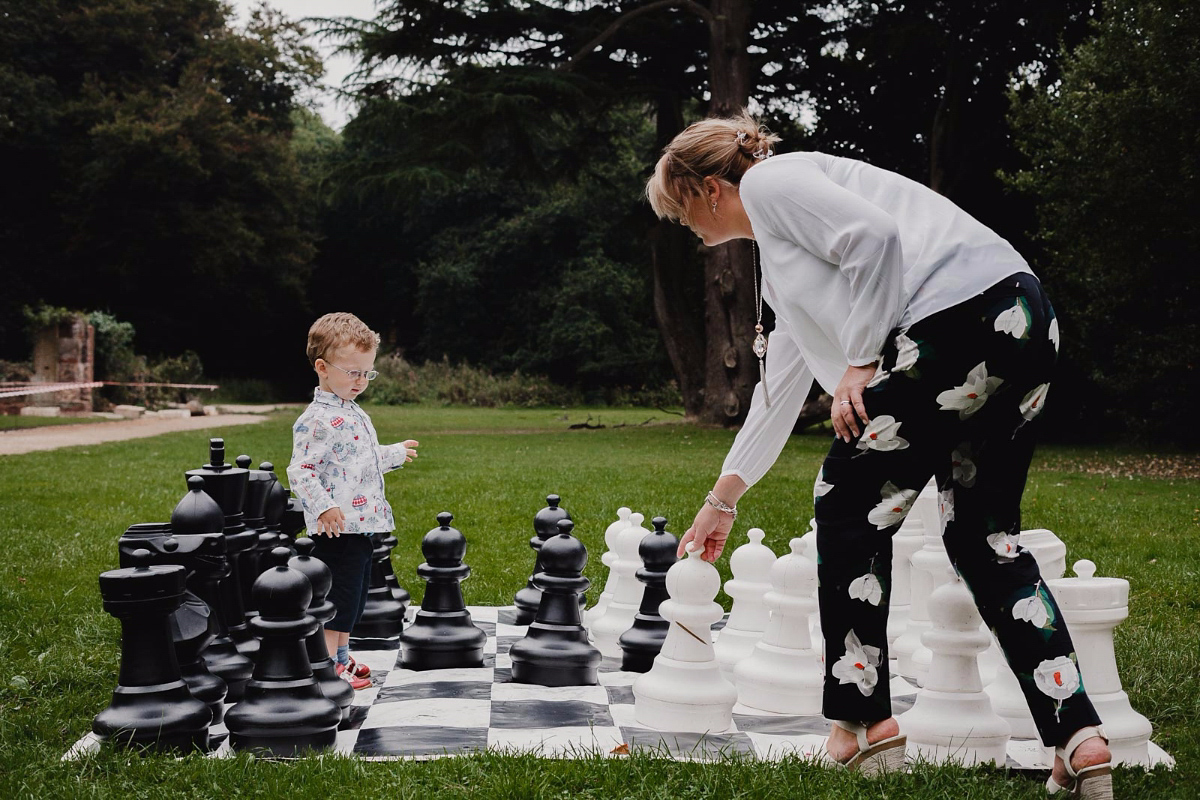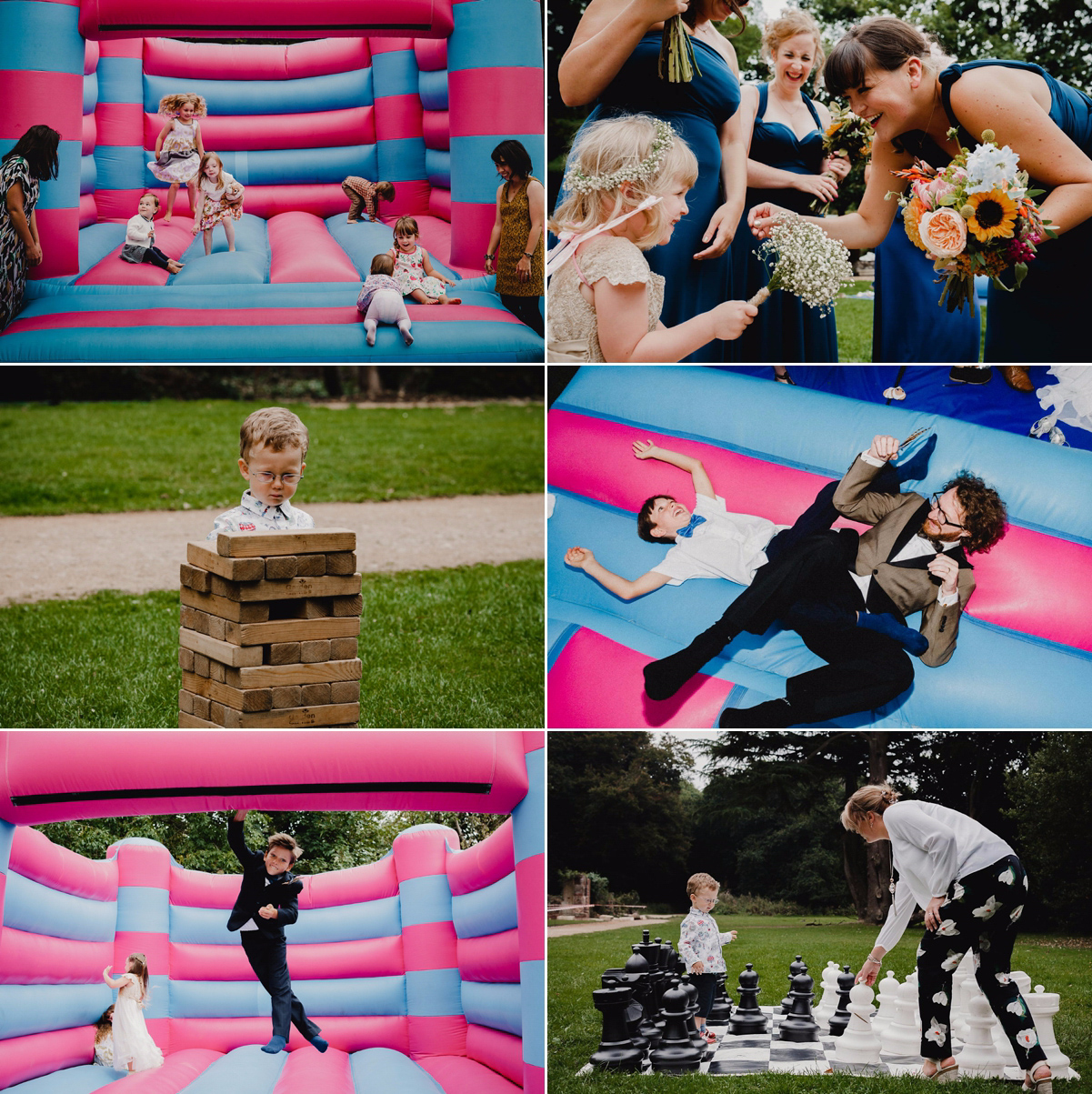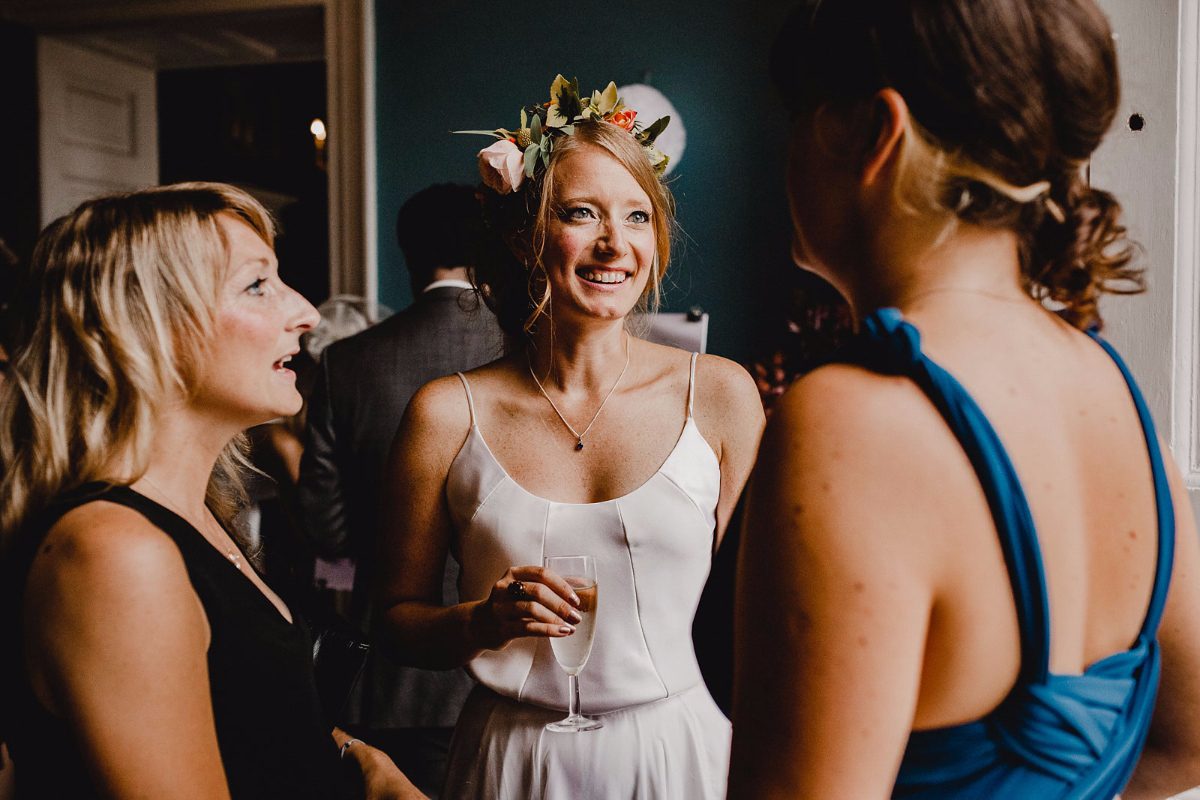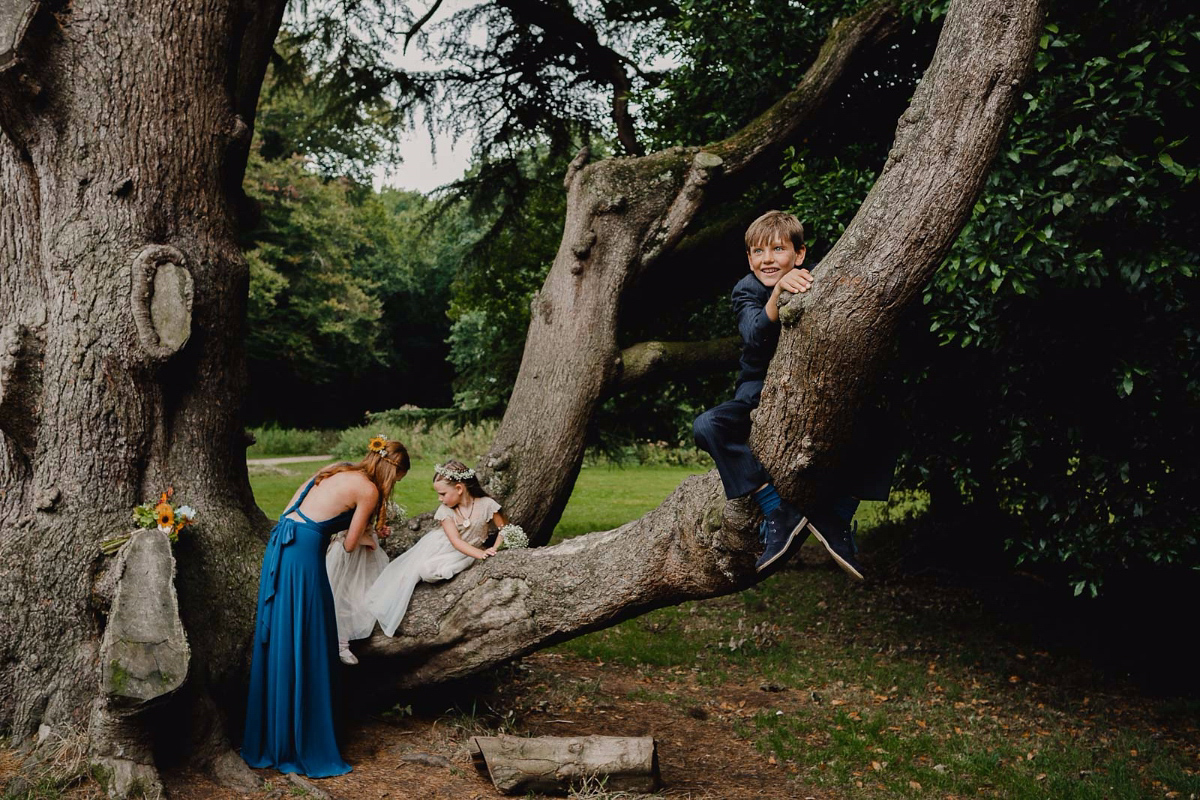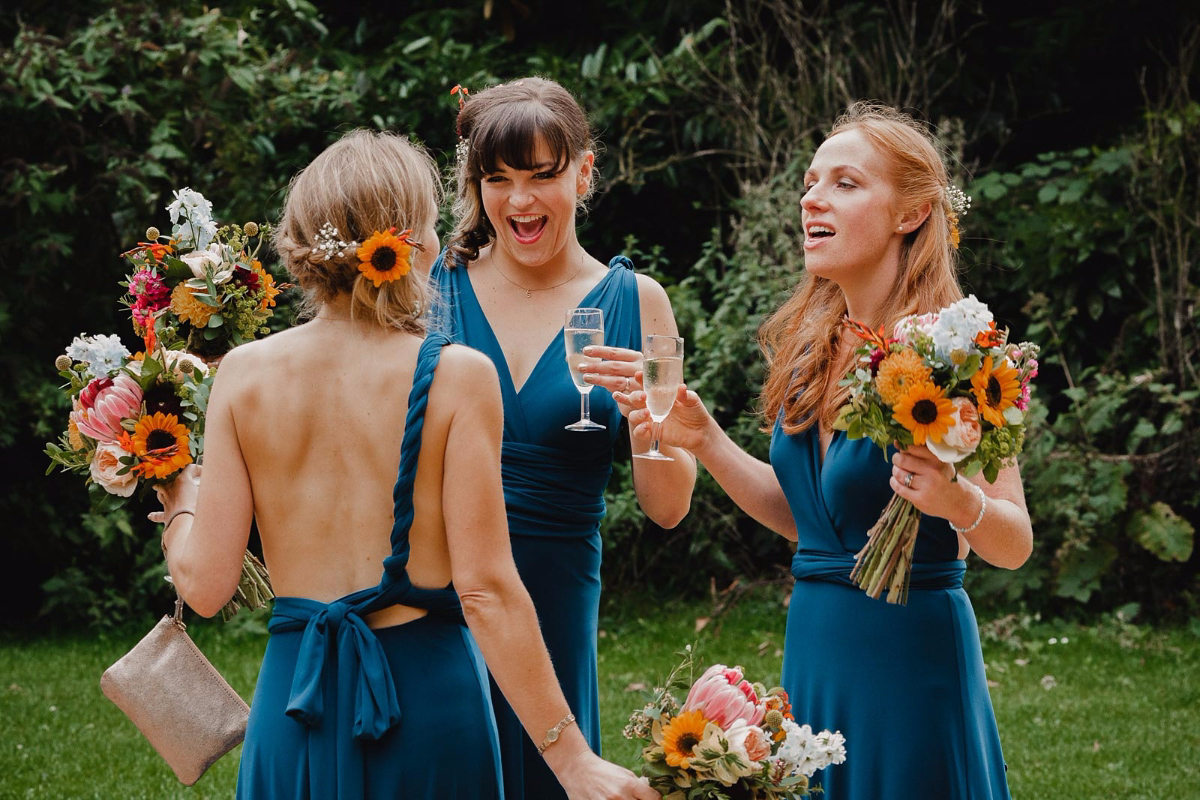 "As our families are unconventional in size and set-up, along with the fact it's not really us, we didn't want formal pics. We also didn't want to lose much of the day standing around and taking photos. We wanted relaxed, candid shots in a reportage style and that's what we got from Noel. He got so many gorgeous images of people that didn't know he was there."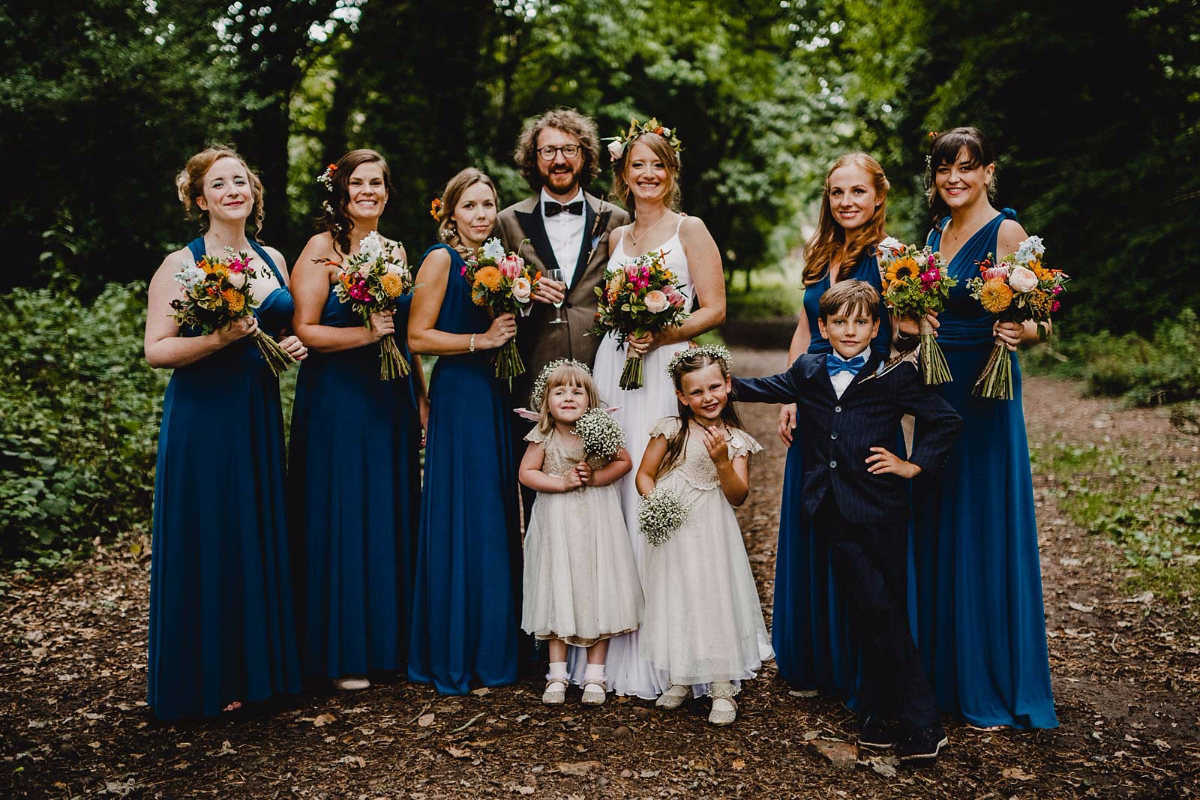 "Given the simplicity of the dress, I wanted to play with the veil. I've watch period dramas for years and lusted after beautiful silks, veils and floaty fabric and when can you indulge if not on your wedding day?! I decided somewhere in the dress designing that I wanted a printed silk chiffon veil instead of a tulle white one."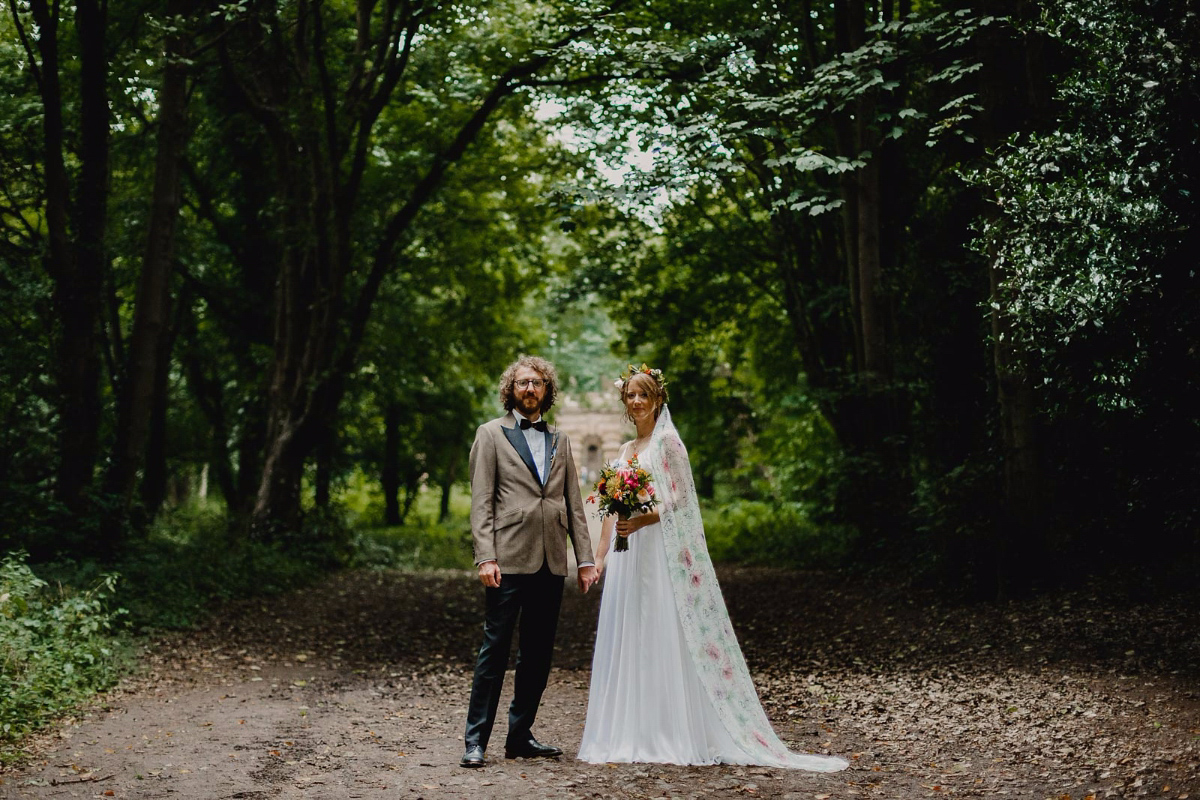 "I guess it was a bit of a risk given that I might not have found something I liked, but on a trip back to the UK, Pearl directed me towards Goldhawk Road in London. I had a brilliant lunch trip popping into multiple fabric shops looking at their silk chiffon collection and found the perfect fabric."
"It was white chiffon with delicate black flowers printed on, with some colour patches in pink, purple and green. Delicate and different, which was the goal."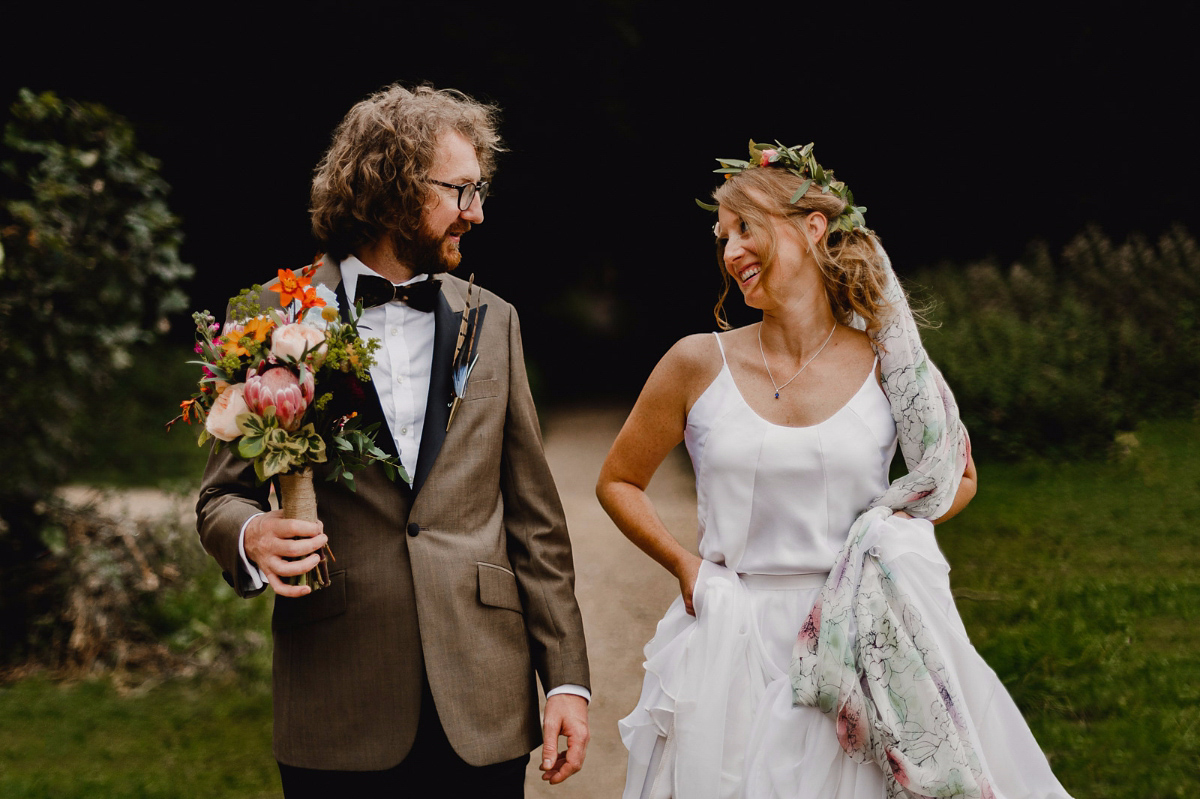 "The venue is so beautiful that we didn't add very much to what was there already. A few bits of bunting and some more Kenyan fabric and that was about it."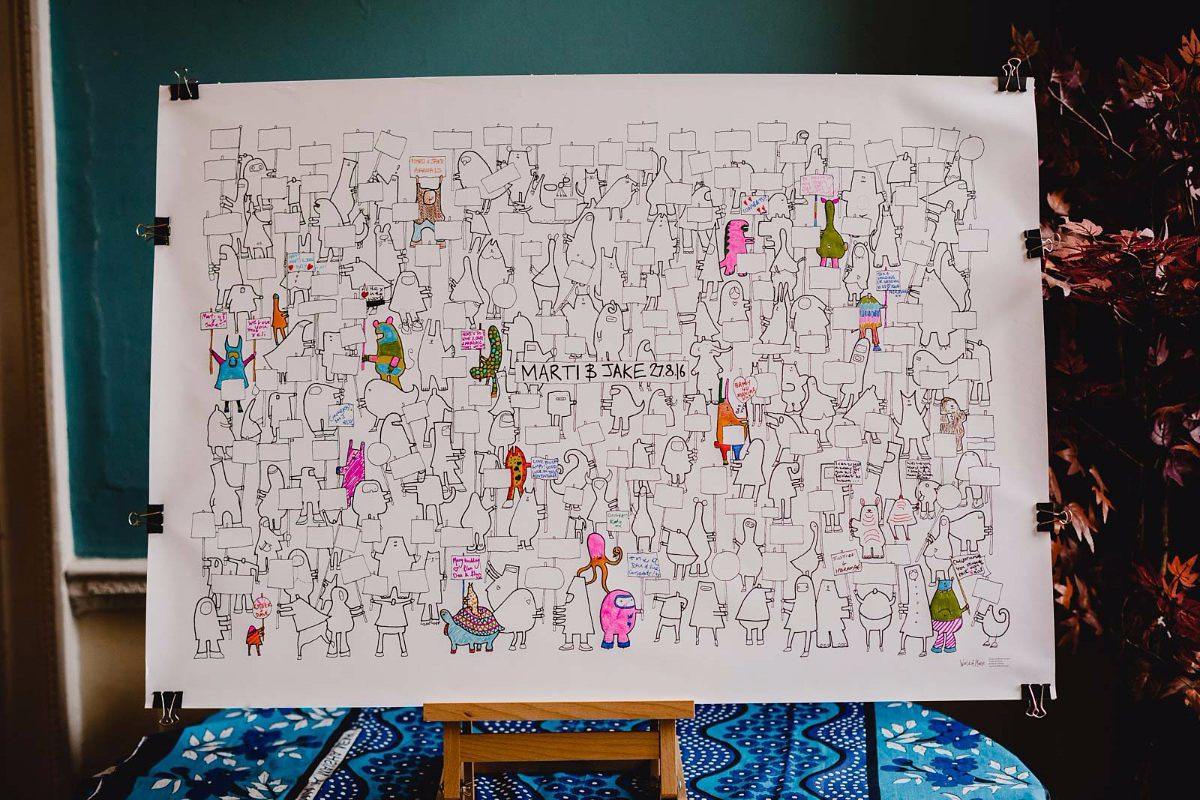 "Our guest book was a poster to colour in by World of Moose. We now have it on display in our house in Kenya and it reminds us of the day and our loved ones back home.
We had a few additional bits of stationary because we had a few extra personal features, which included crowd-sourcing ideas for a honeymoon destination and for a new surname."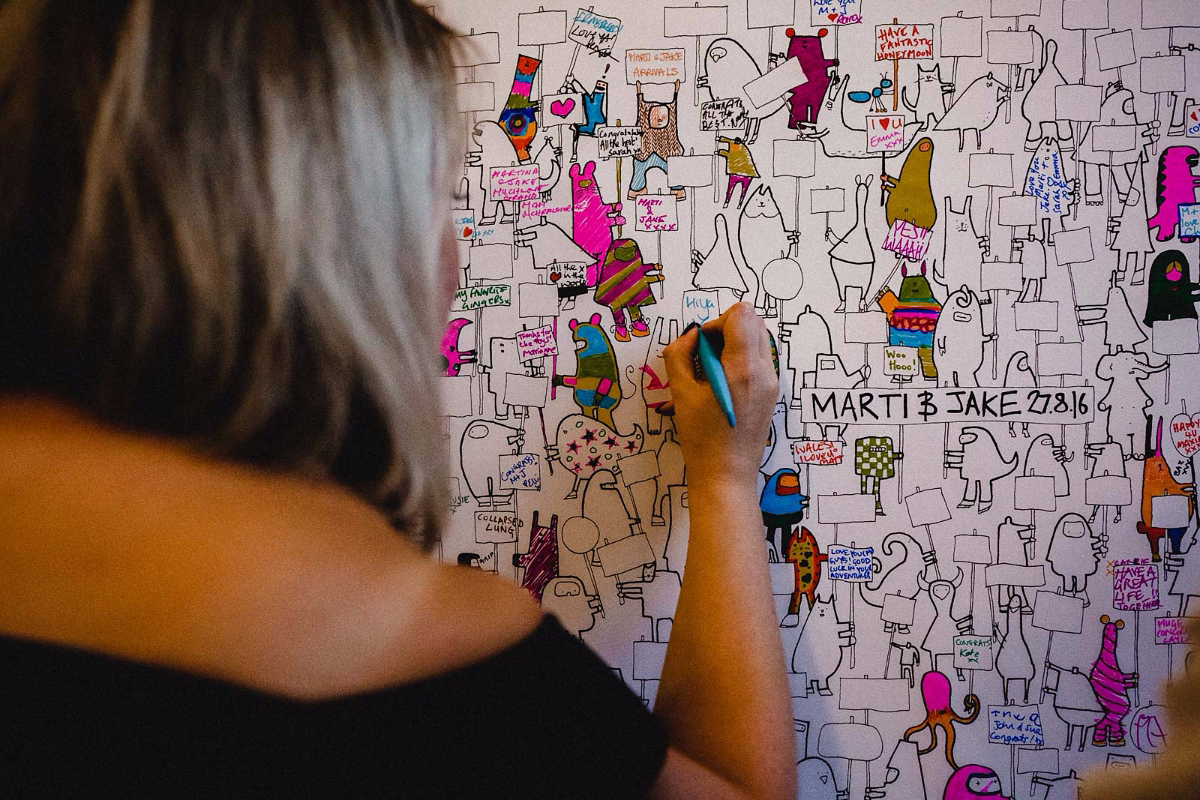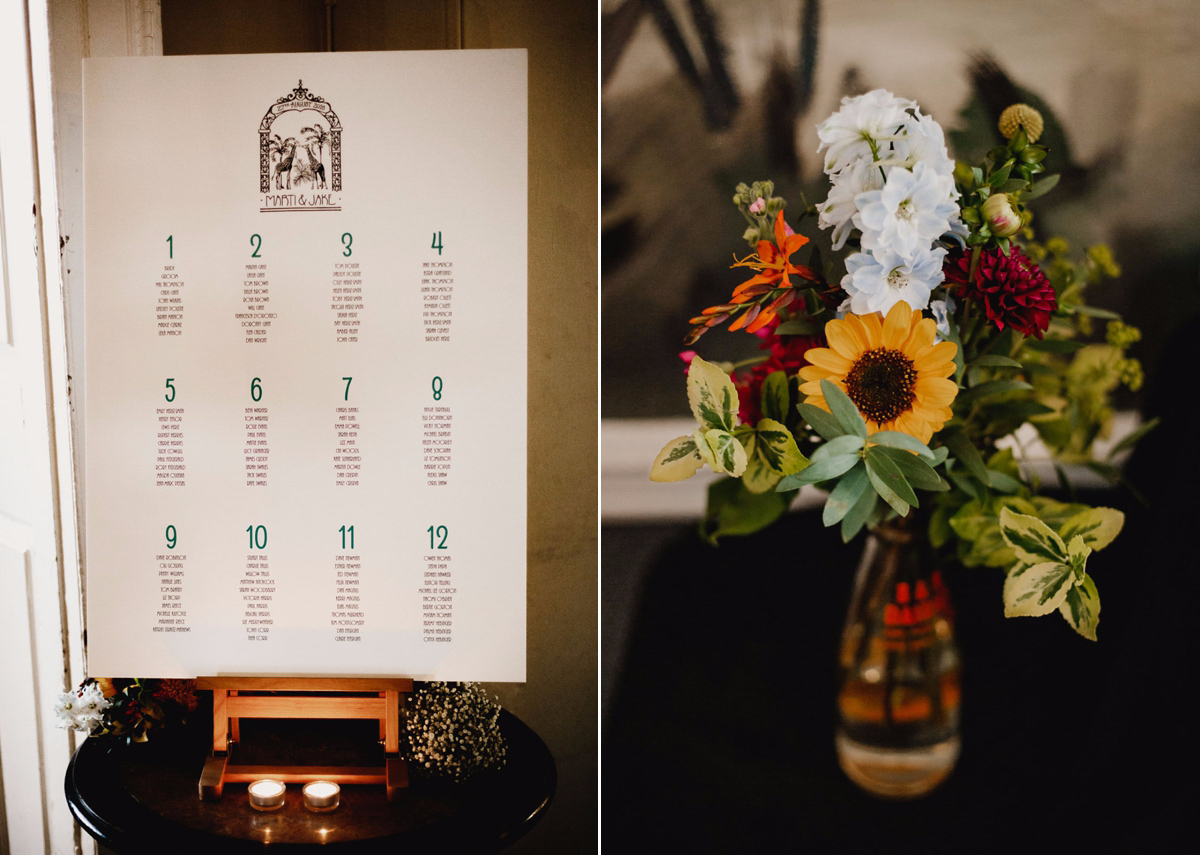 "While planning the wedding we've struggled with what to do about our names. We know that we want to share a name for when we start a family but neither of us is happy with the idea of one of us losing our name. It seems unfair either way, that one person's identity changes but the other's doesn't. We don't want to double-barrell so we started playing with the idea of choosing a new one, using the letters of each of our names. We're not in a hurry to make a decision and we wanted our friends and family to input so we asked them all to have a play with some of the letters and see whether they could suggest anything we like! We had some hilarious suggestions, some ridiculous and some interesting ideas. We have only recently decided that we will be going ahead with our new name, 'Mr and Ms Magnito'. Nothing's official yet and won't be for a while but we will be the Magnitos.
We had some posters made up with some of our own ideas for a honeymoon then asked people to suggest their own and to vote. It got people talking and there are some great ideas on there. We're hoping to go to Japan this year."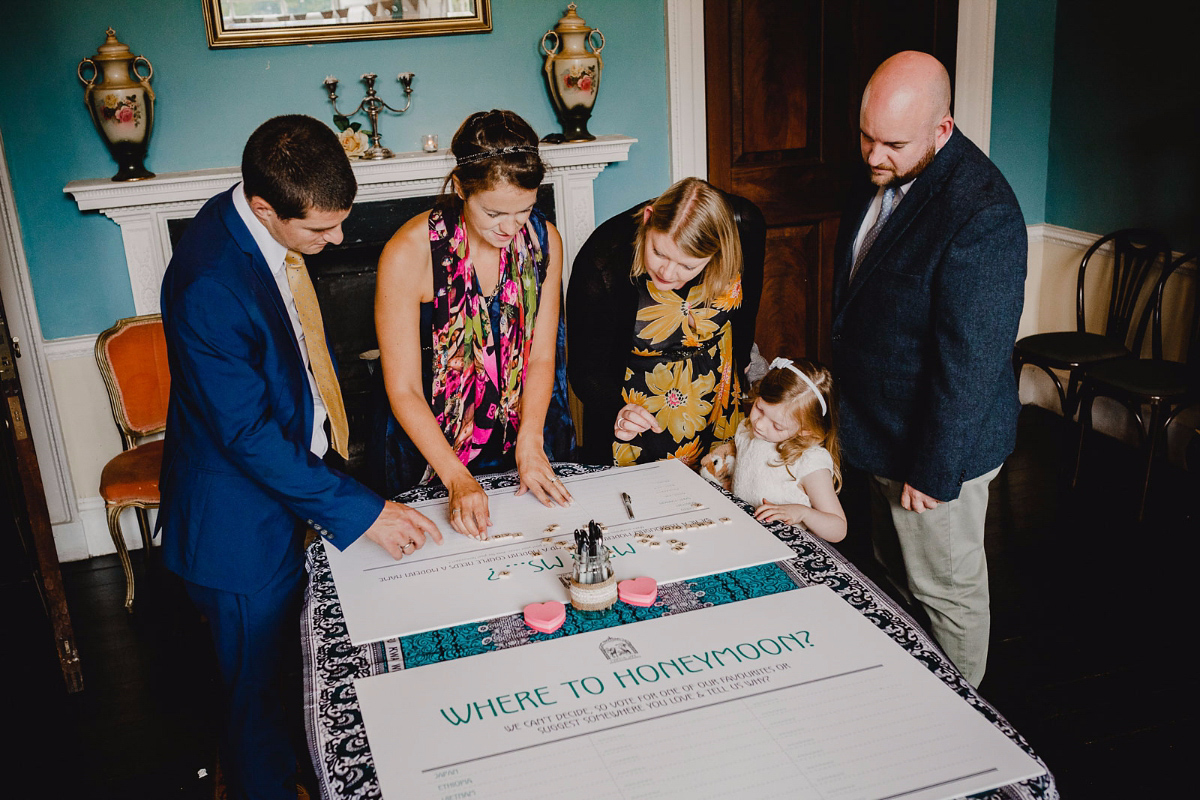 "We designed the majority of the stationery ourselves, again with help from creative friends. We found the perfect ink stamp from Bloomfield and Rolf for our Save the Date announcements in Christmas cards. We then used that design on a couple of items on the day.
For menus, table numbers and place cards we decided to use laser wood cutting because it looks great and the place cards doubled up as favours.  Then the menus were cut into one side of a piece of wood and the table number on the other. The Bristol Design Forge did a flawless job executing that remotely."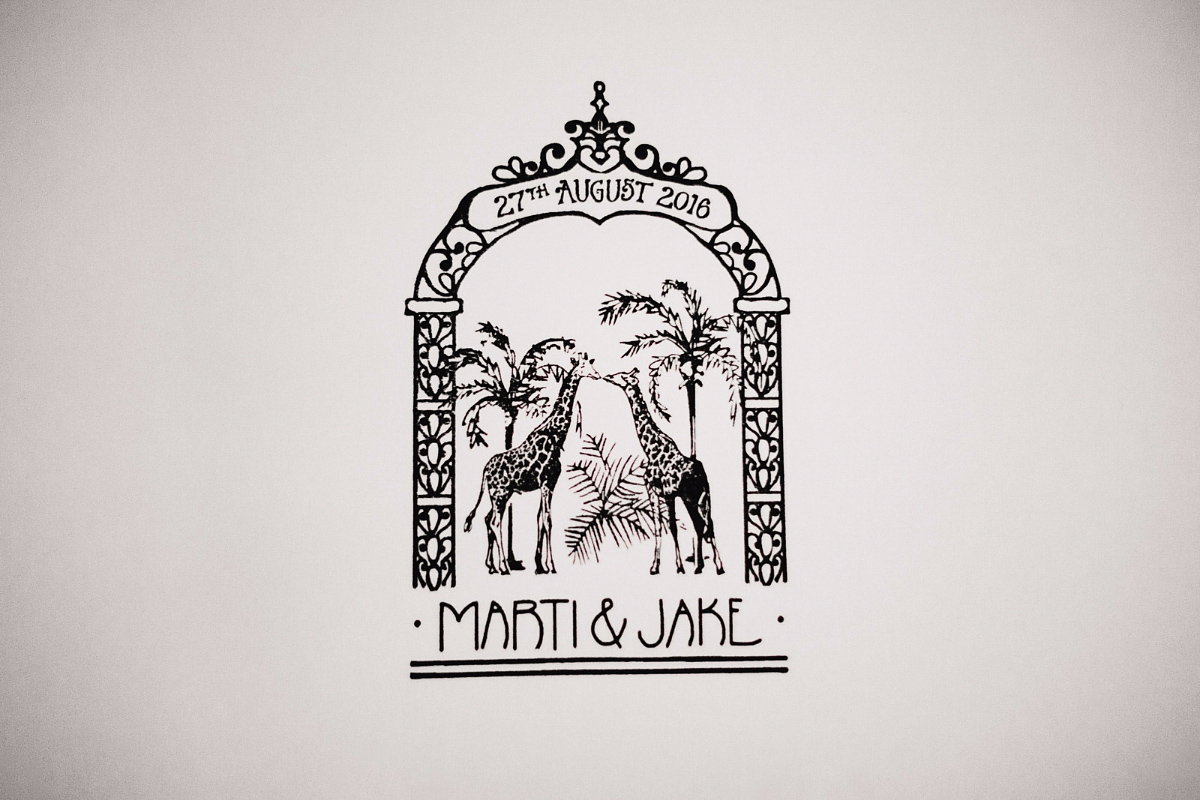 "We didn't have one wedding cake – we had multiple. We asked some of our guests to make cakes for us and they were all amazing. We had a croquembouche, chocolate guinness cake, lemon and chocolate cakes, mini lemon meringues and mini brownies, gluten free cheesecake, all supplemented by carrot cake by the indomitable Hart's Bakery and strawberries and cream.
We were so grateful to all our friends for making such amazing and tasty cakes and adding a lovely personal touch."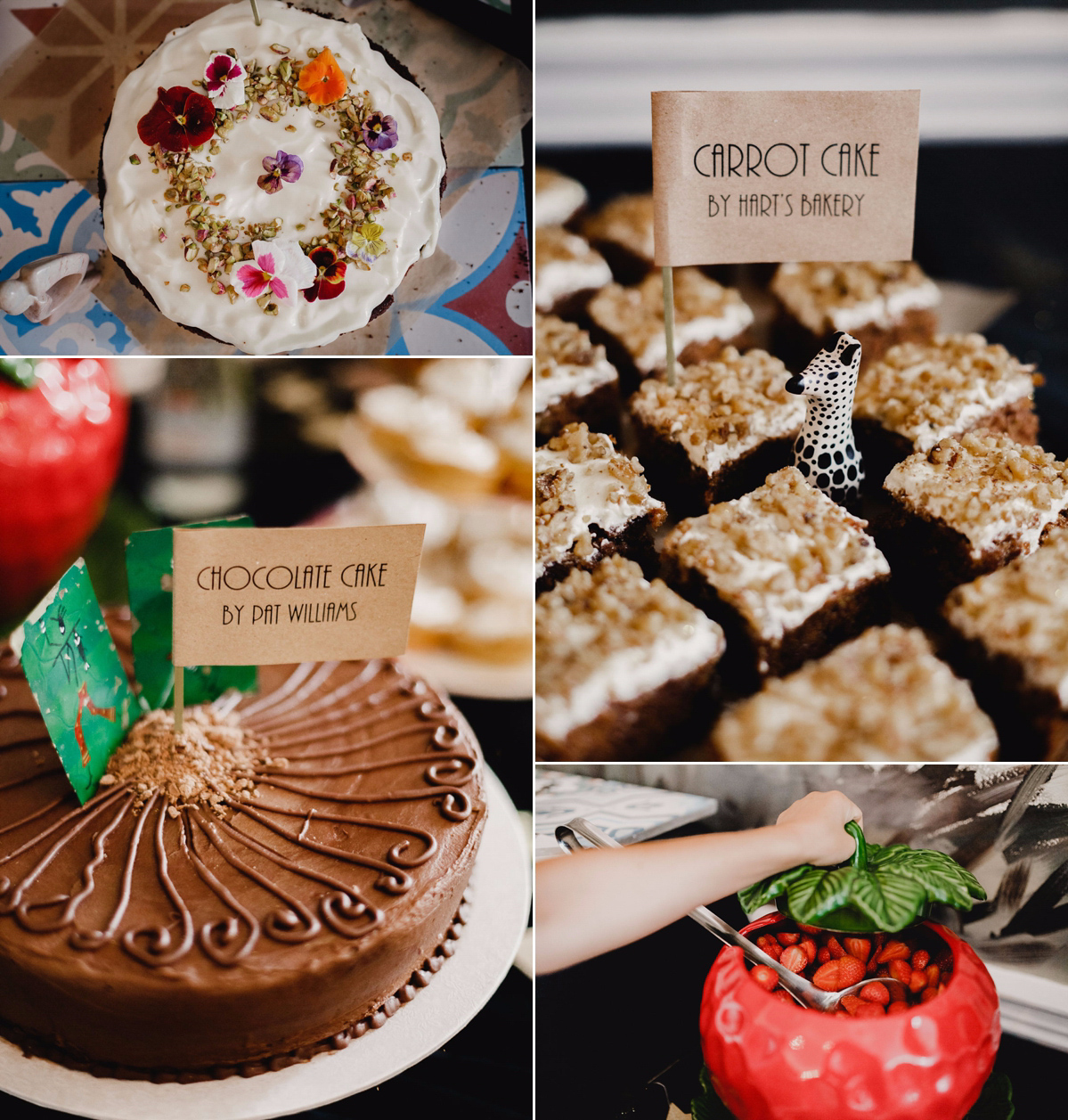 "Only one of our grandparents were able to join us for the day – Jake has sadly lost all of his and out of my three, two were far too frail to join us. We wanted them to be present so we got photos of each of them on their wedding days and displayed them. It was a really touching and beautiful display and we loved having them represented."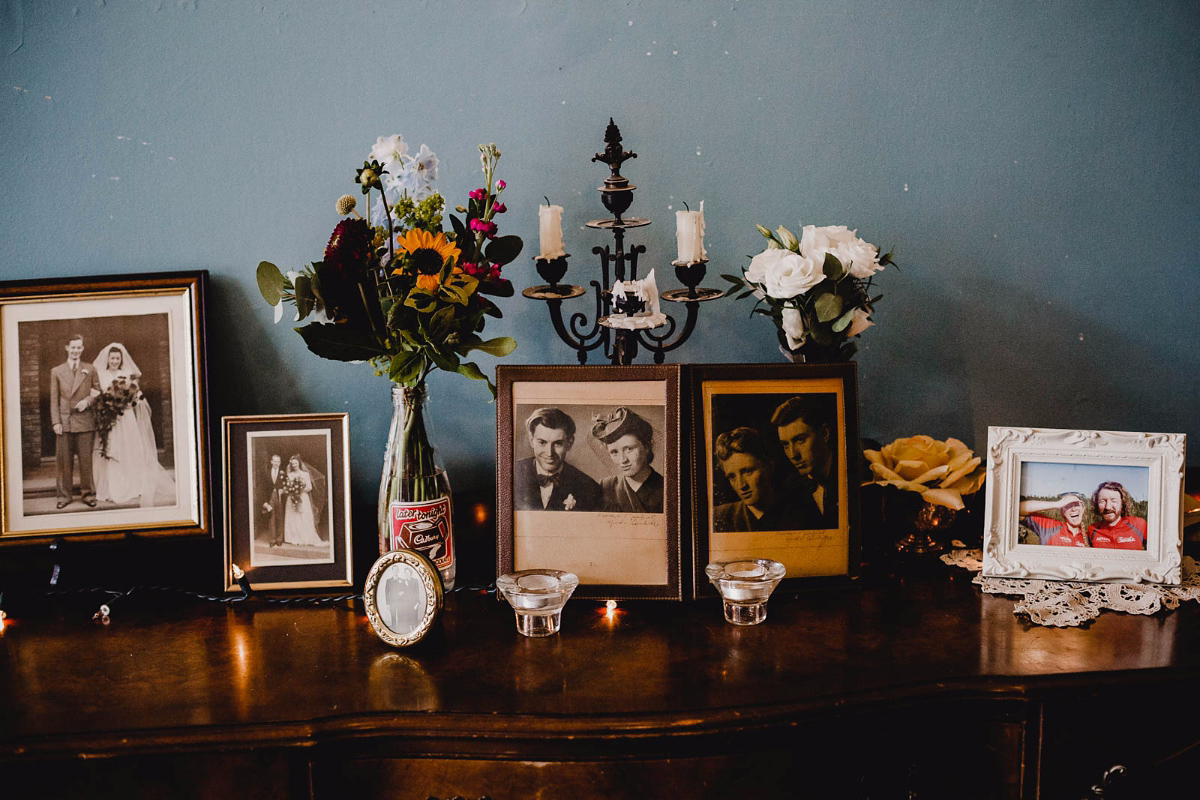 "We started talking to the venue about what we wanted and we realised that we were referencing our favourite North African restaurant in Bristol; Souk Kitchen – so we just decided to ask them whether they would do wedding catering despite there being little/nothing on their website to confirm that. They don't do it often but were up for it!
They made slow roasted goat shoulder (goat being a traditional meat at Kenyan weddings…and a bit of a theme for us) with flavoured rice and salad. It was absolutely delicious and many of our guests told us that it was the best wedding meal they'd ever had."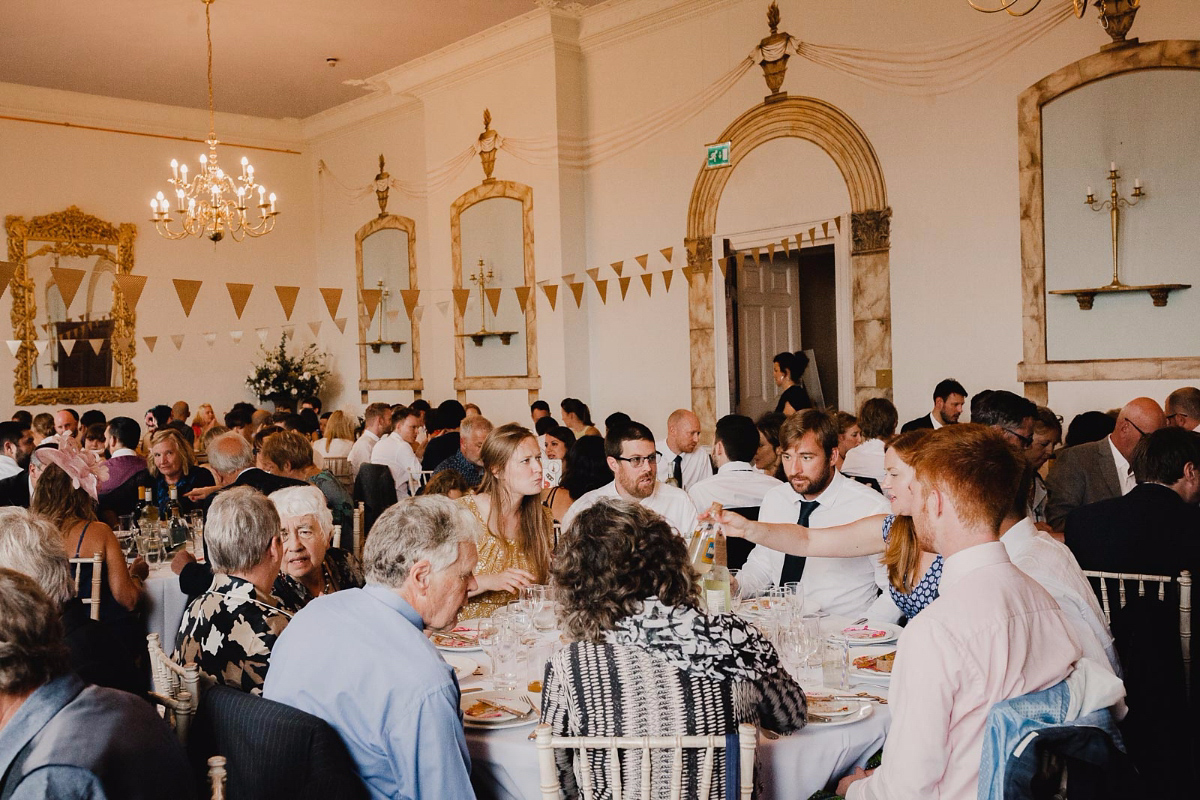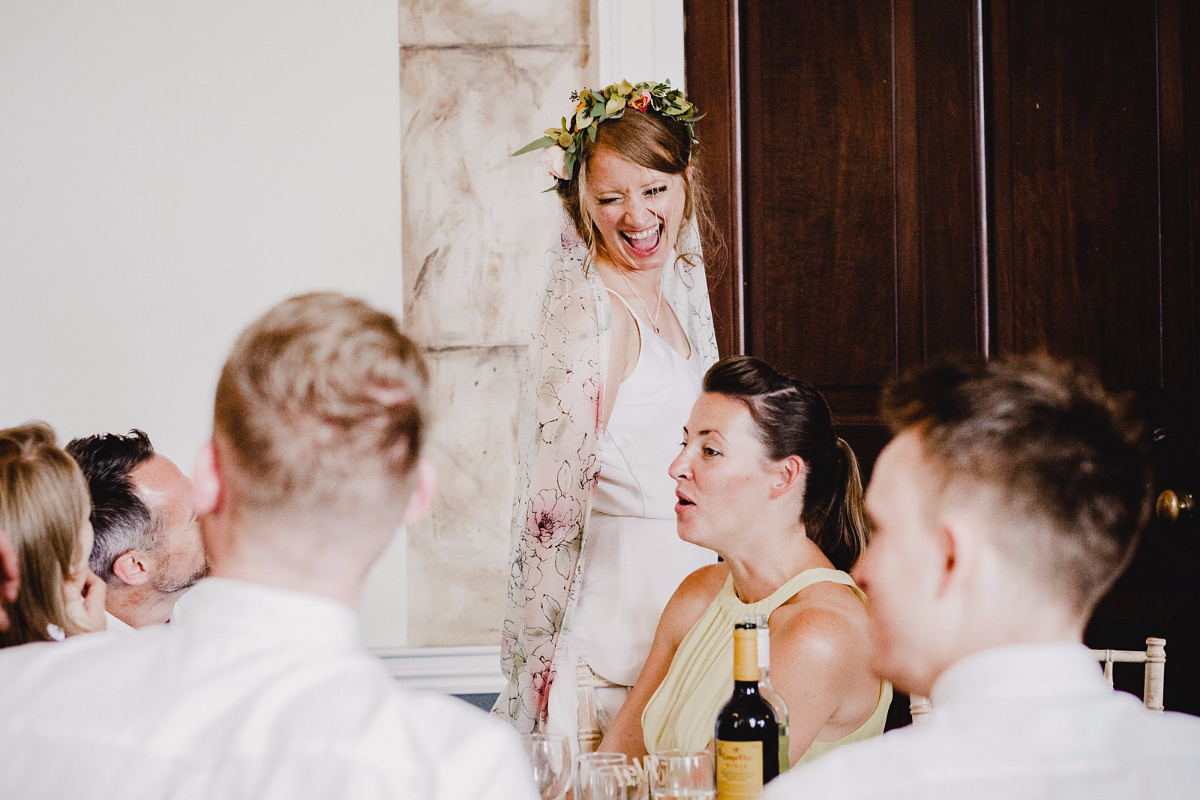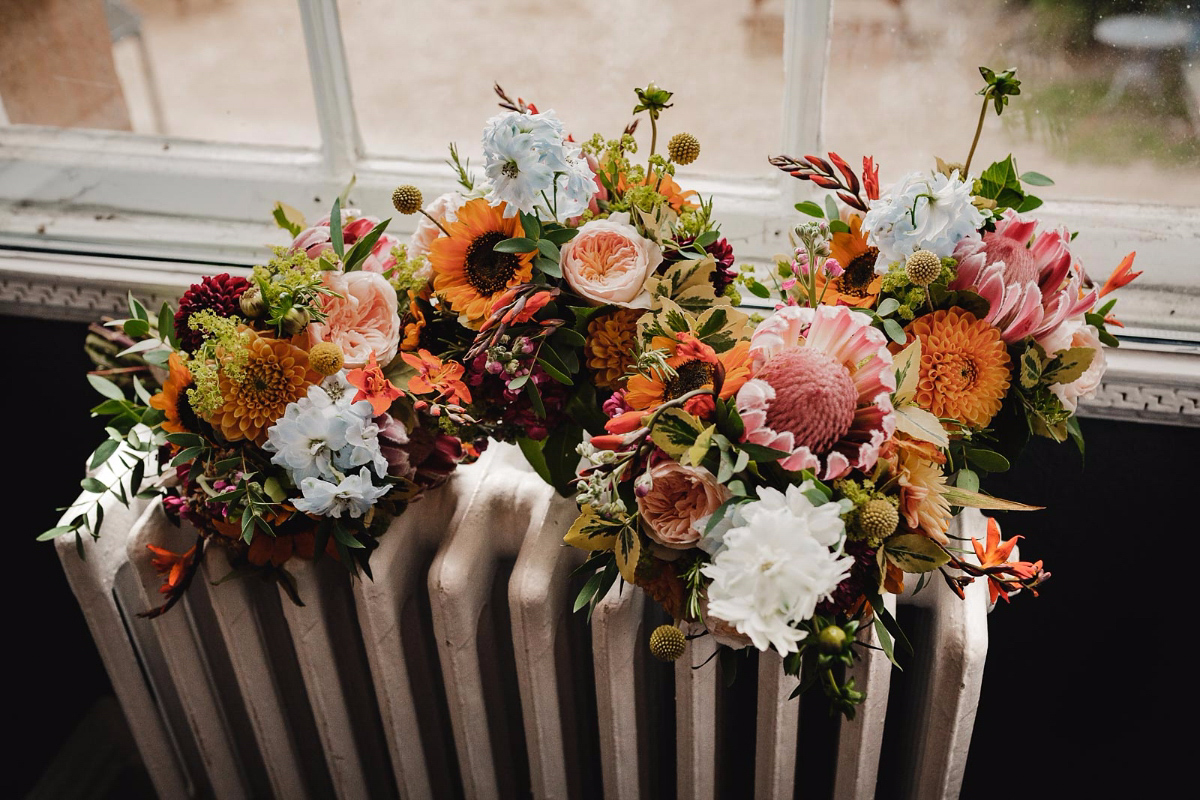 "Food was a real highlight. We wanted a feast-style meal, with everyone tucking in together and sharing big bowls of food. We loved the idea of everyone getting to know each other over a good meal and food is really important to us. We decided that a North African meal would really suit this style and it's so colourful and tasty too"
"We wanted our wedding favours to be fun and functional so we made napkins with colourful Kenyan kitenga fabric, and had everyone's names cut from wood. The fun part was booze. Jake's sister Leila kindly made ginger gin for us, which was presented on each table in my dad's milk bottles, with handmade labels with 'Jinja Gin' (named after our goat in Kenya, who's named after a fundraising project we did in 2014 for Child.org)."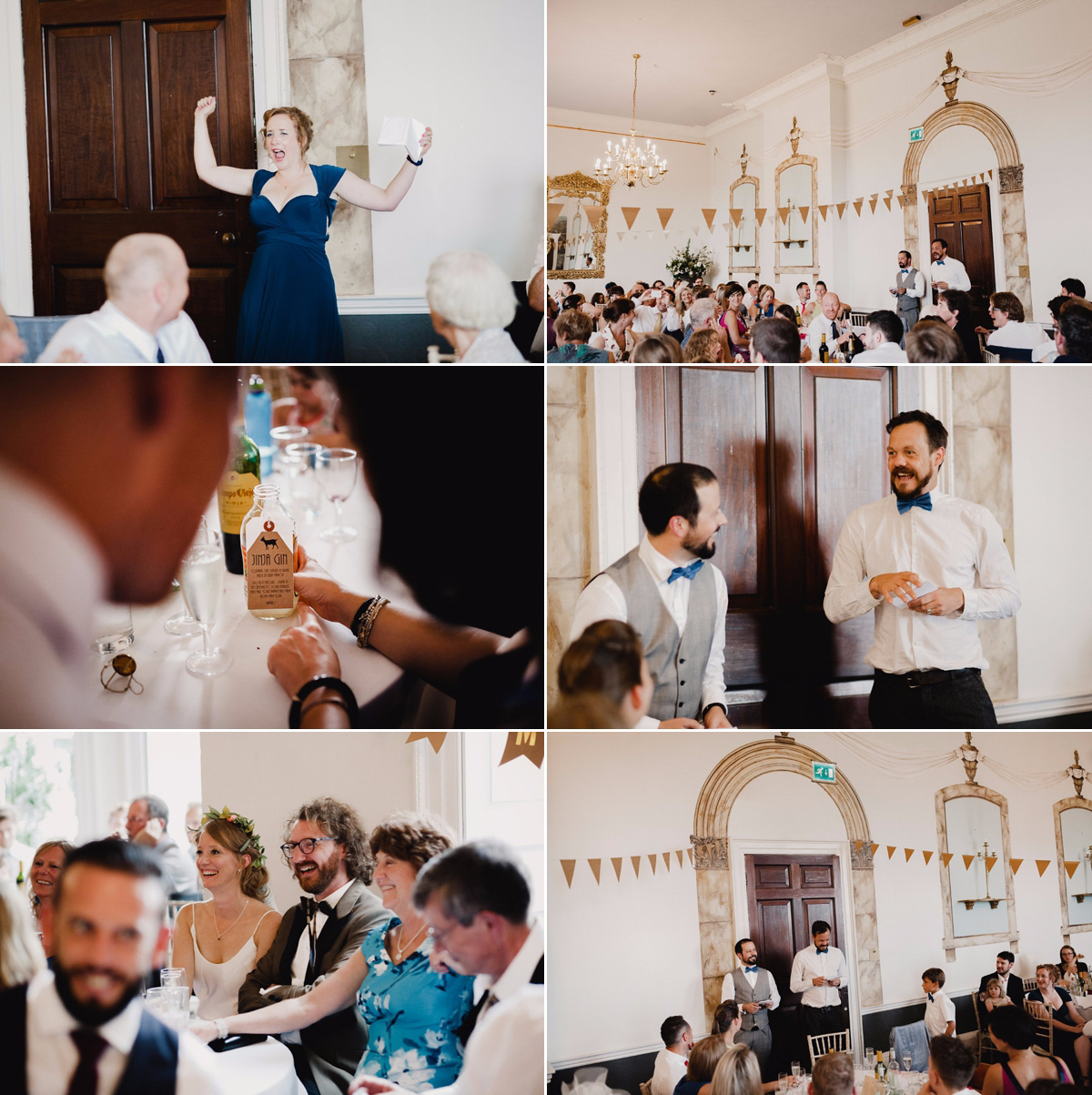 "For the children, we really wanted to make sure they weren't too bored with sitting at the table for so long, so we gave them goody bags from Kenya.There were activity books, toys and treats inside. The place names for the kids were soapstone hippos made by a friend in Kenya (who made the Jinja Lions for us in 2014), with names written on the side."
"In the evening I changed my look by removing my veil and wearing white feather epaulettes made by Ambica of Kapoeta. They were so much fun to wear! I loved having a different look in the evening and they felt like wearing wings."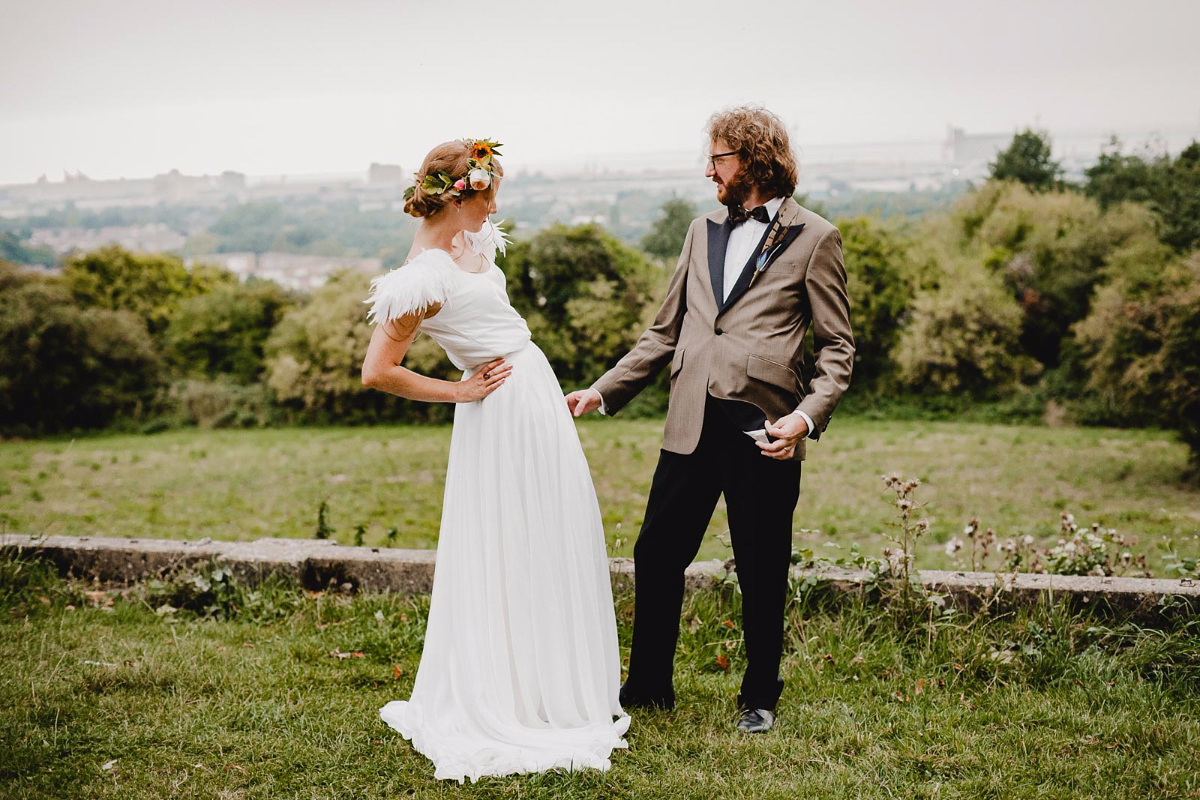 Jakes says "After trying a range of suits on the high street without much luck, I was recommended the tailor David Minns, AKA Brown in Town, by a friend in Bristol. Not being a suit wearer, he was incredible – patiently navigating me through both the basics and the finer points of suit design, selecting the perfect fabrics, getting measured and fitted, all before our flight out of the country."
"Months later when I landed back from Kenya, I went straight from the airport to his residency at the Hoxton Hotel for the final fitting – which went perfectly. He had made me a bronze mohair dinner jacket with black lapels, multicoloured pin-stripe lining (the gentleman's pleasure), the best-fitting white shirt I've ever had the pleasure to wear, and crisp black trousers."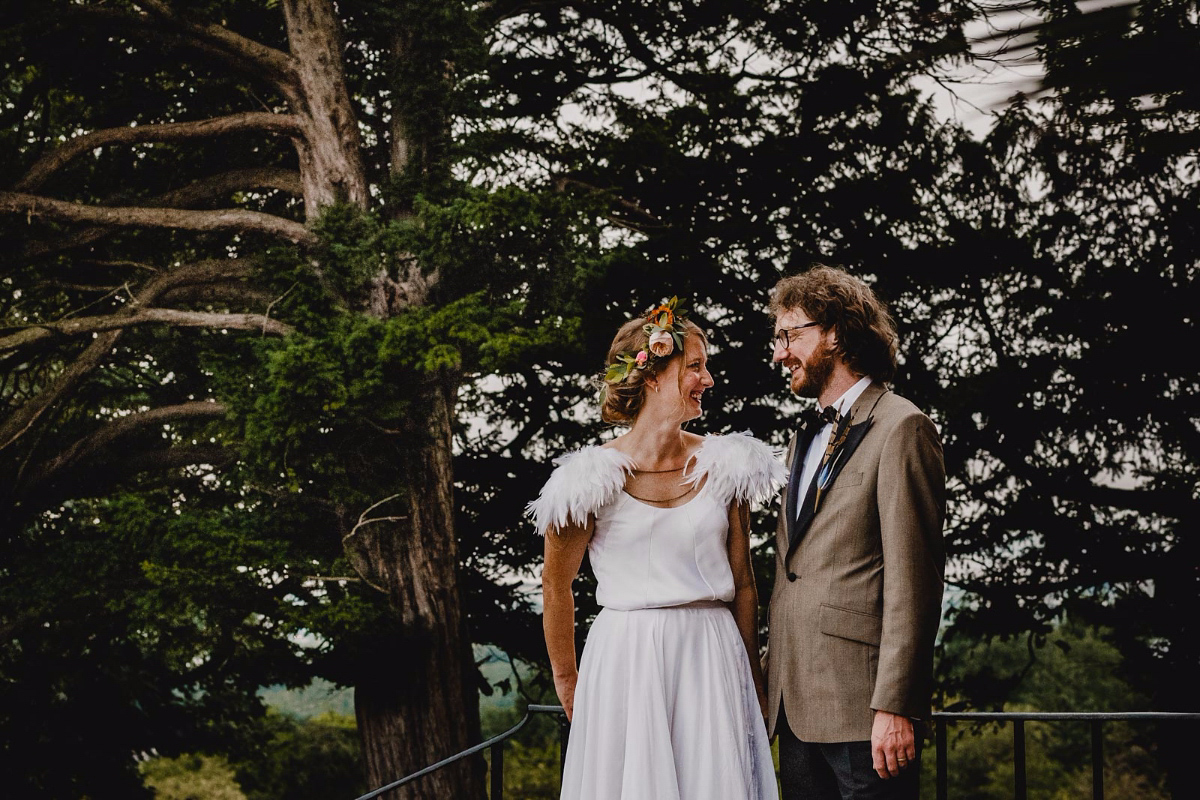 "I had been unsure about whether I should wear a normal tie or a bow tie with the dinner jacket, and while we discussed this at the final fitting with David, I produced a gift some new friends in Kenya had given me for my birthday; a cowhide bowtie. It matched the suit perfectly, and the decision was made. It was made by Kenyan designer Evelyn Kyegombe of Embody Accesories. David recommended brown and white polka dot braces, which were perfect."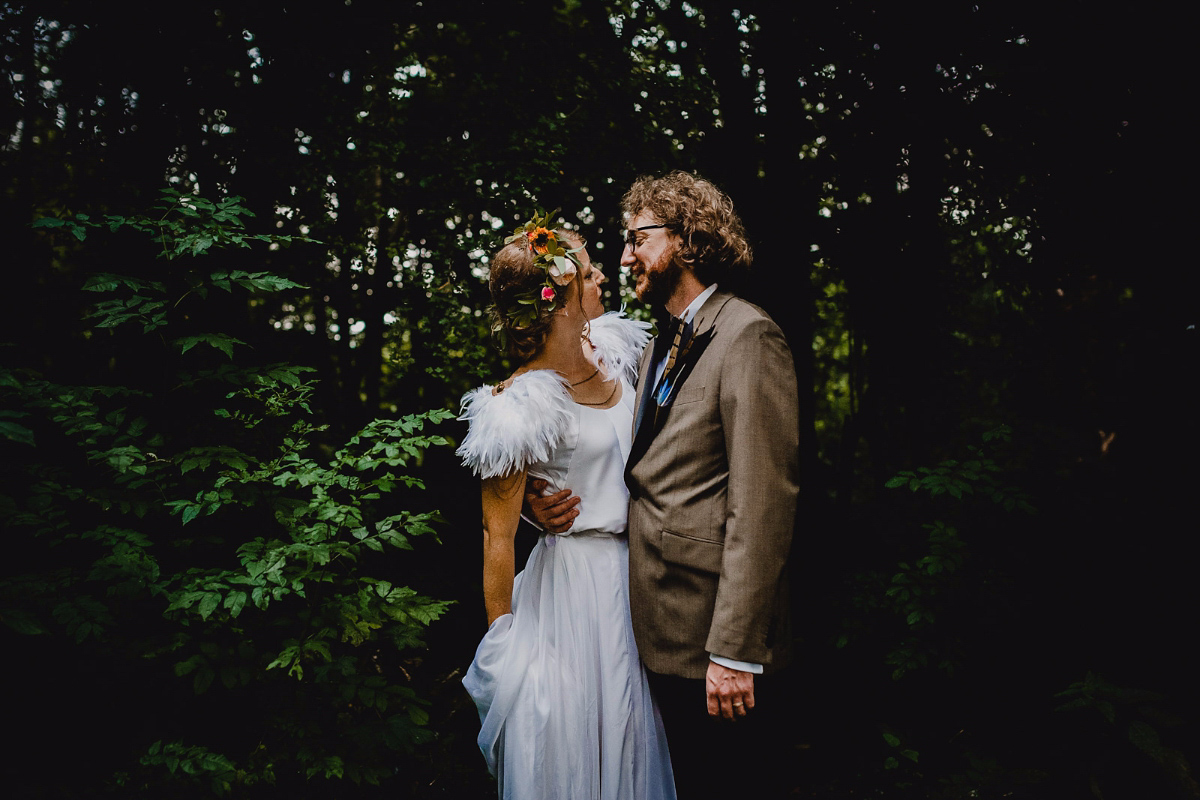 "Marti gave me a beautiful Gant watch to wear on the day, chosen to remind me forever of her family name. I wore lion cufflinks which Marti had given me a few years ago.
I had shopped around a lot for shoes, and in the end Marti found me a great black pair by Ted Baker."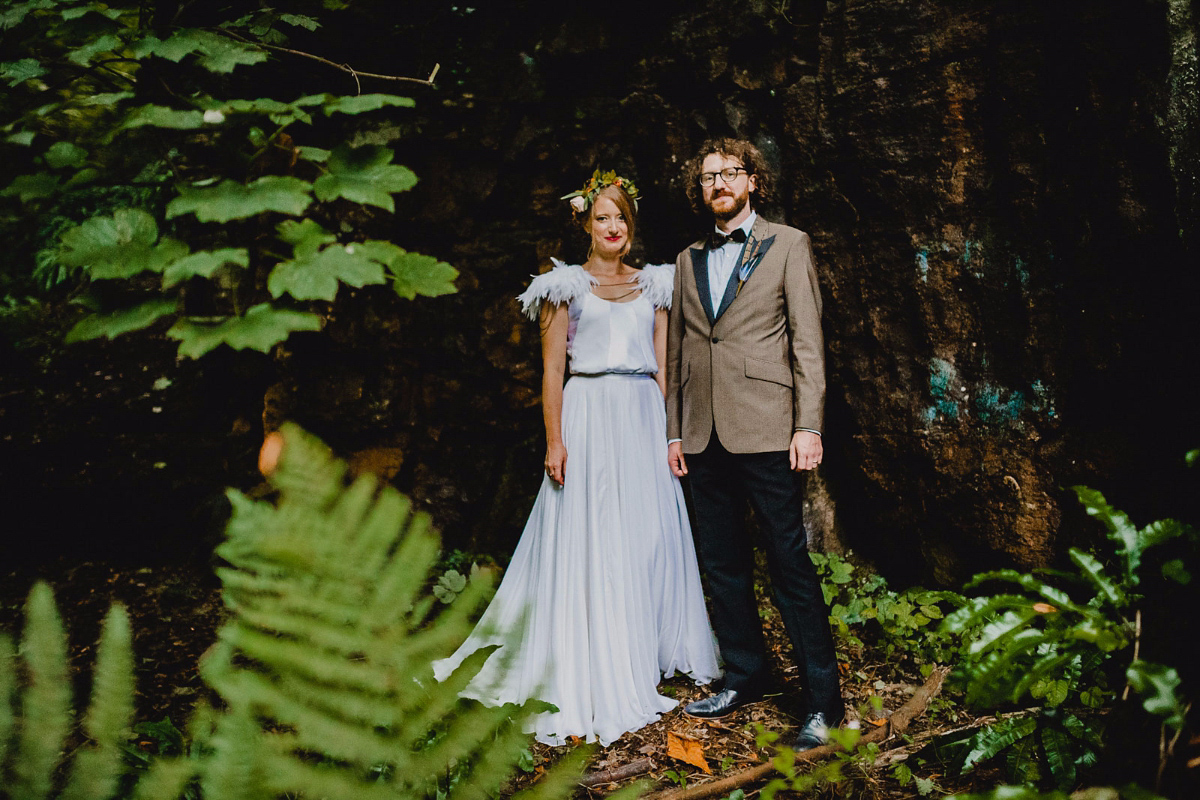 "To top it all off, I wore a feather lapel-pin by Ambica of Kapoeta – the same that I had had made for all the groomsmen, page boy and our fathers."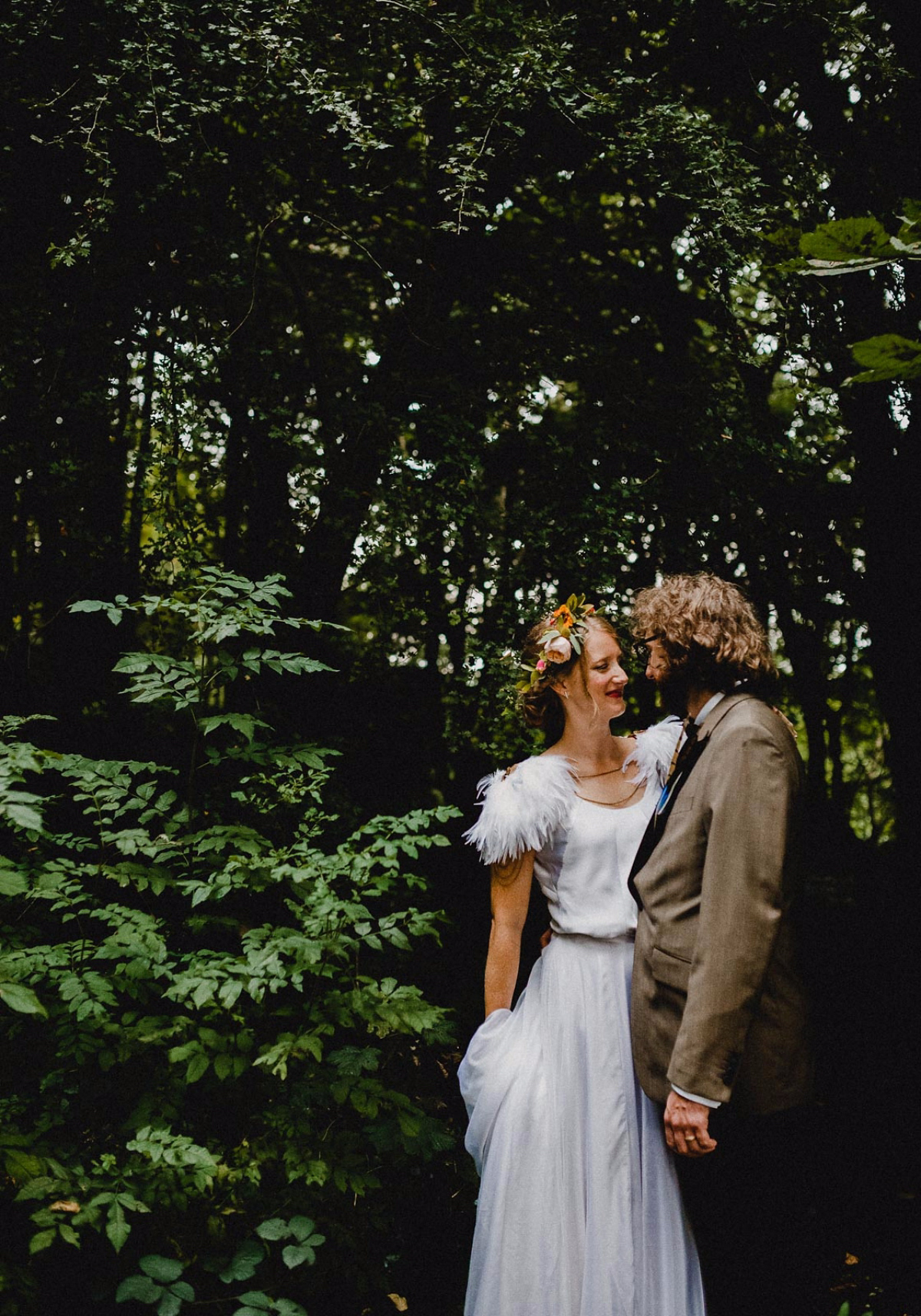 "Our photographer, Noel Deasington, was excellent. We met months before the wedding to see if we wanted to work together (from both sides) and as soon as he said he was a fan of This is the Kit, we knew it was going to work."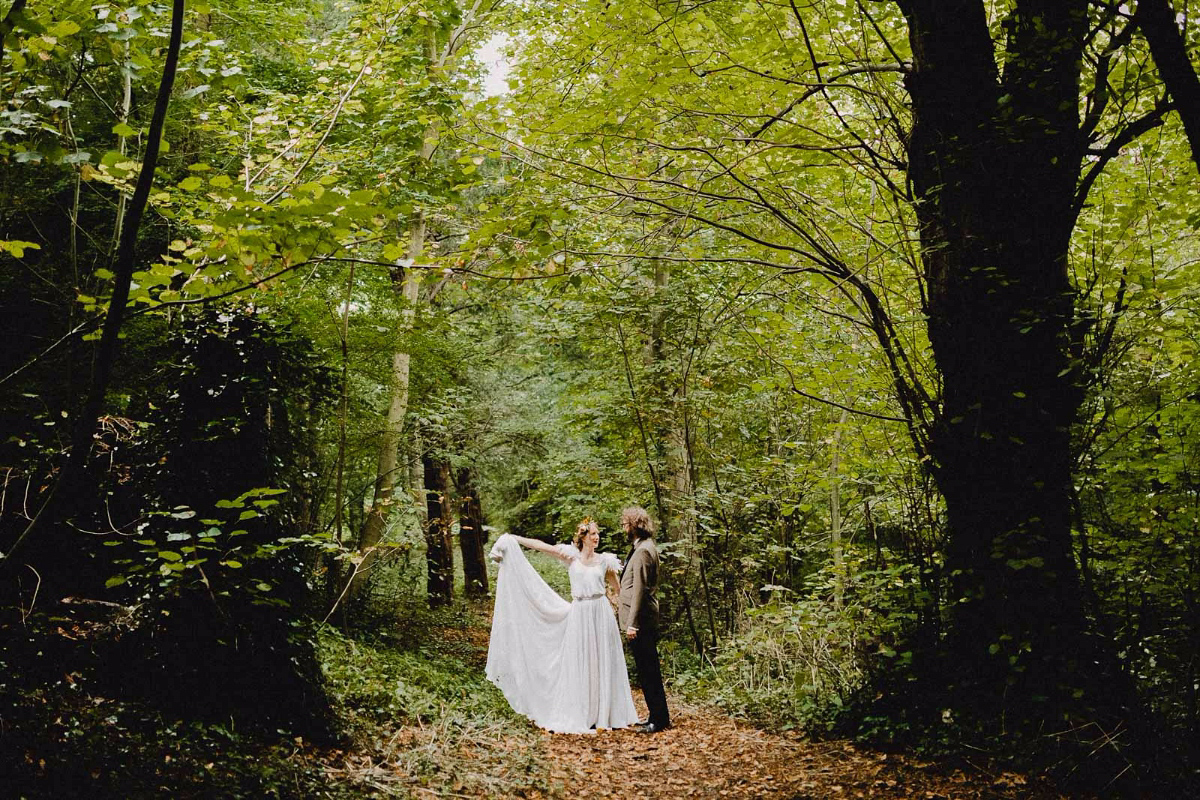 "We had a few posed shots with just the two of us and we can't believe it's us in the pictures. Neither of us is very comfortable posing for pictures (we both very much prefer to be behind the lense) but Noel made it much easier and we've got some pictures we will cherish forever."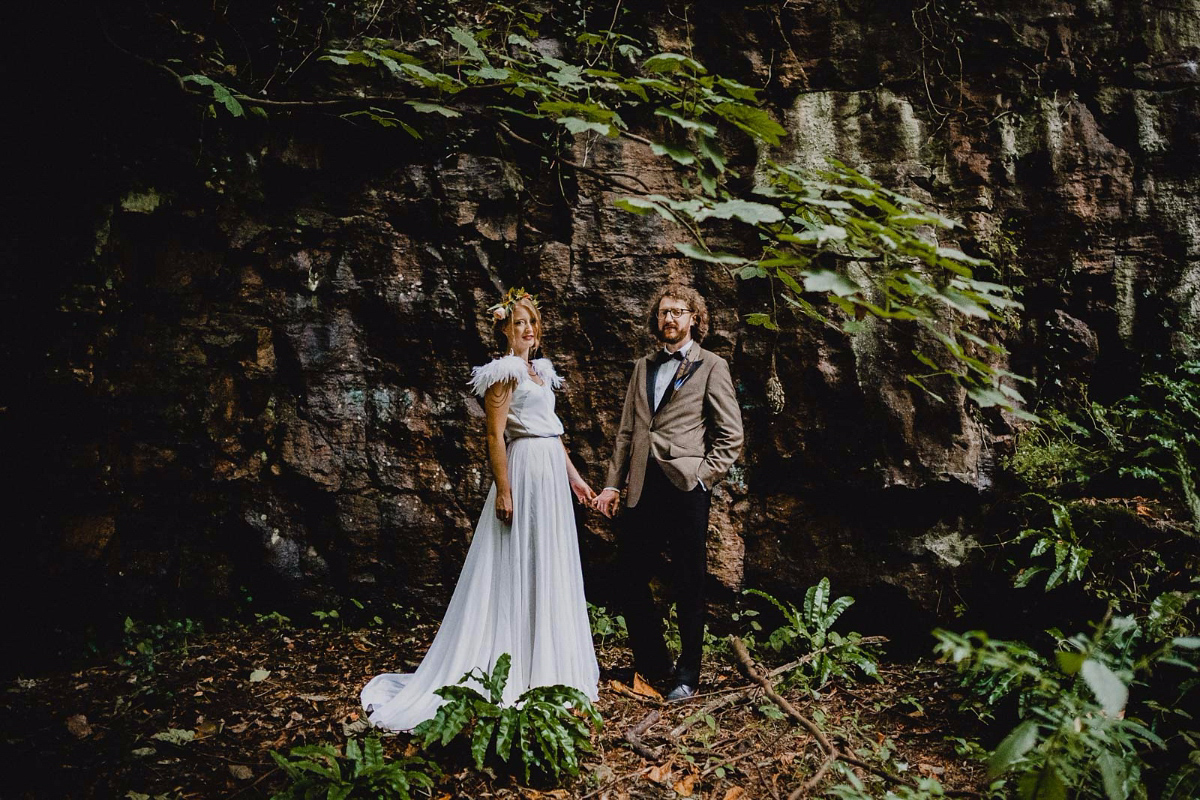 "I had intended to wear my maternal grandmother's pearl necklace on the day. She wore it on hers and had given it to me a few years ago. By complete coincidence, we got legally married at Bristol's registry office the day before the big day, on the same date as my maternal grandparents, 68 years earlier."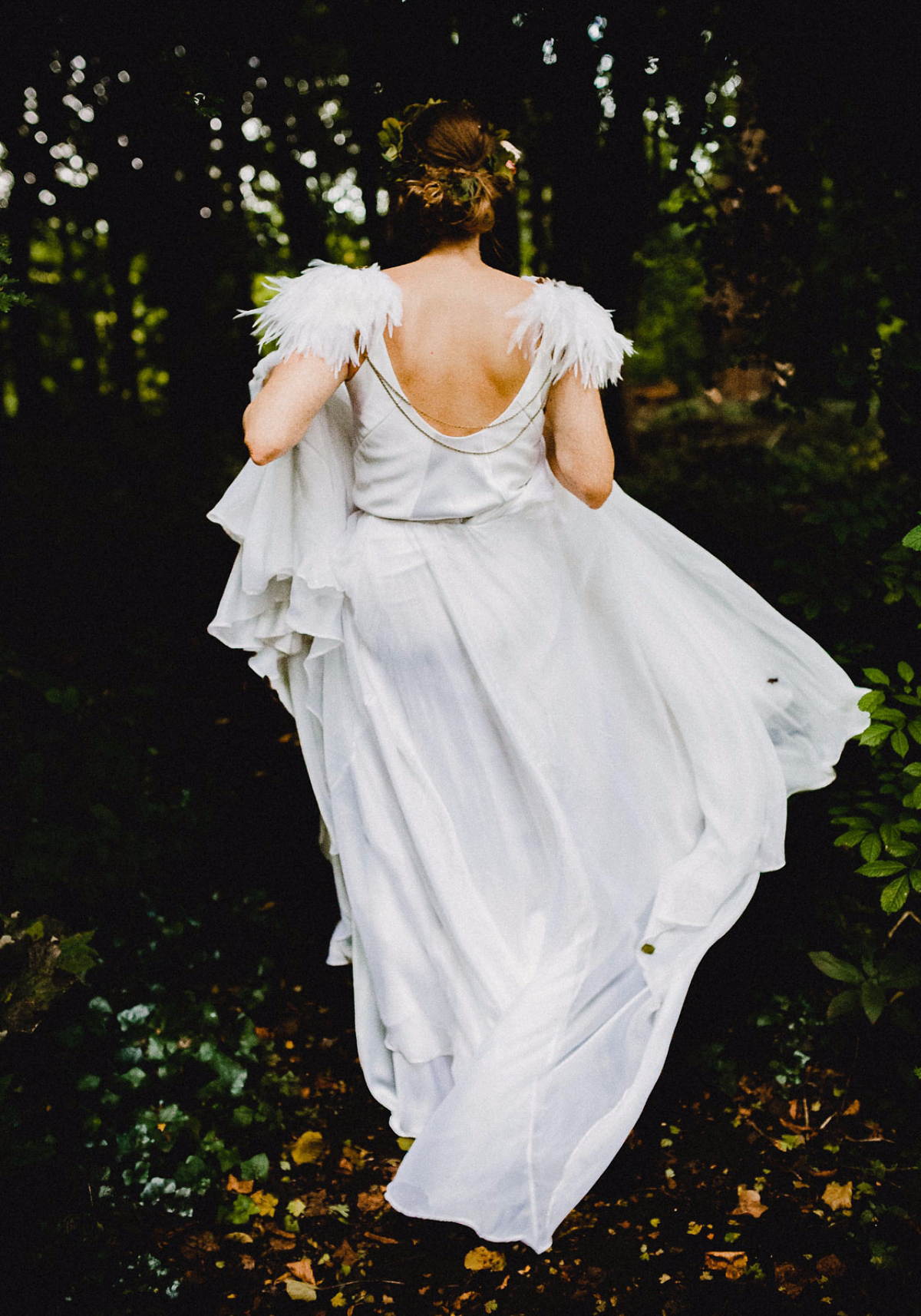 "They also happened to spend their wedding night in Bristol in a hotel literally next door to the registry office. However, I didn't wear it in the end because Jake's wedding gift to me was a beautiful and simple necklace with a stunning Tanzanite gemstone pendant. I love the colour of this unique (ethically-sourced) stone and the link to our lives in Kenya was so special."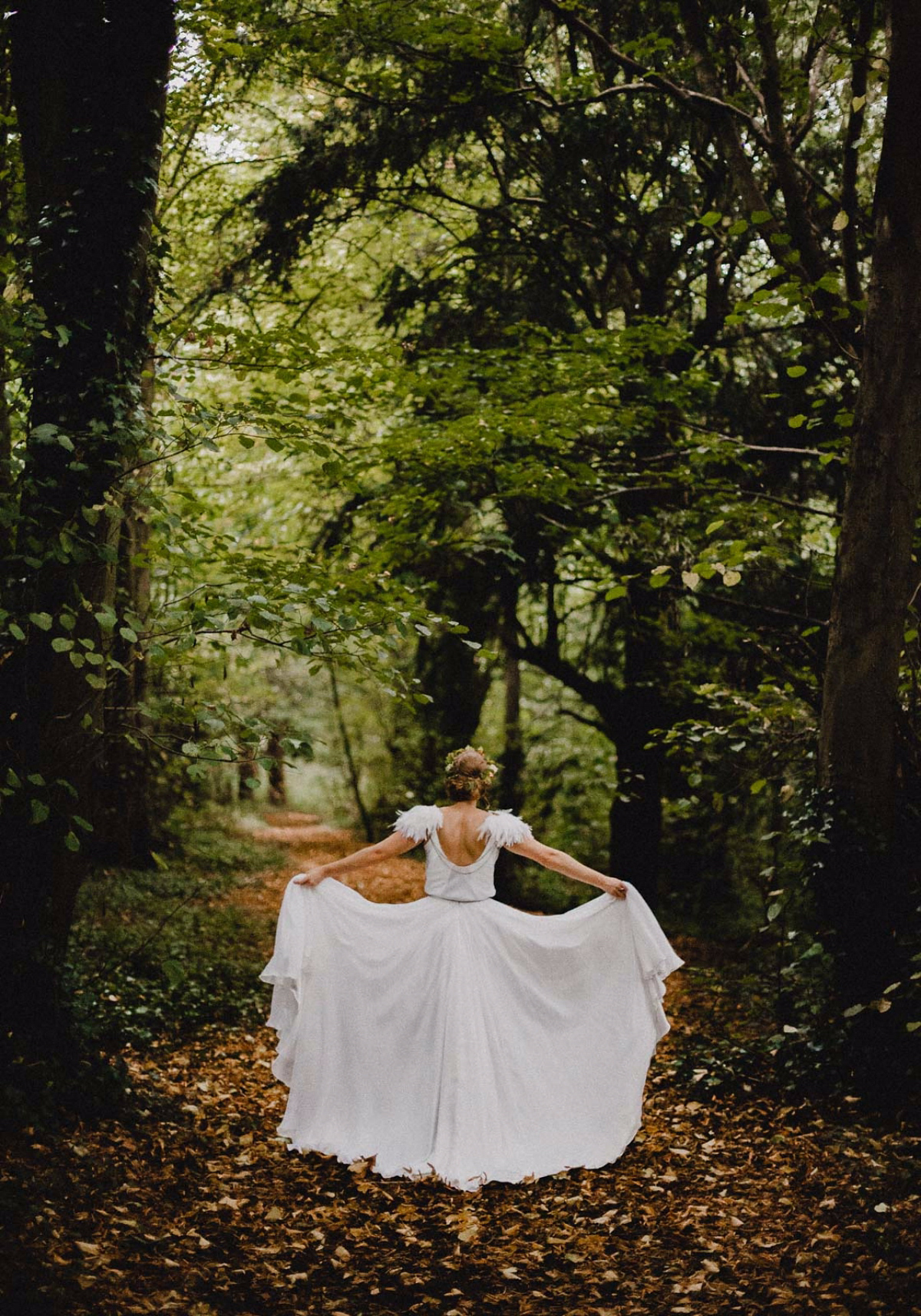 "My earrings were swarovski, given to me by a friend on my 30th birthday. I also wore a rose gold ring with a large amethyst that my grandfather had bought my grandmother while working in India."
"We didn't want to do a first dance so we had a moment on the bouncy castle as a 'first bounce' instead."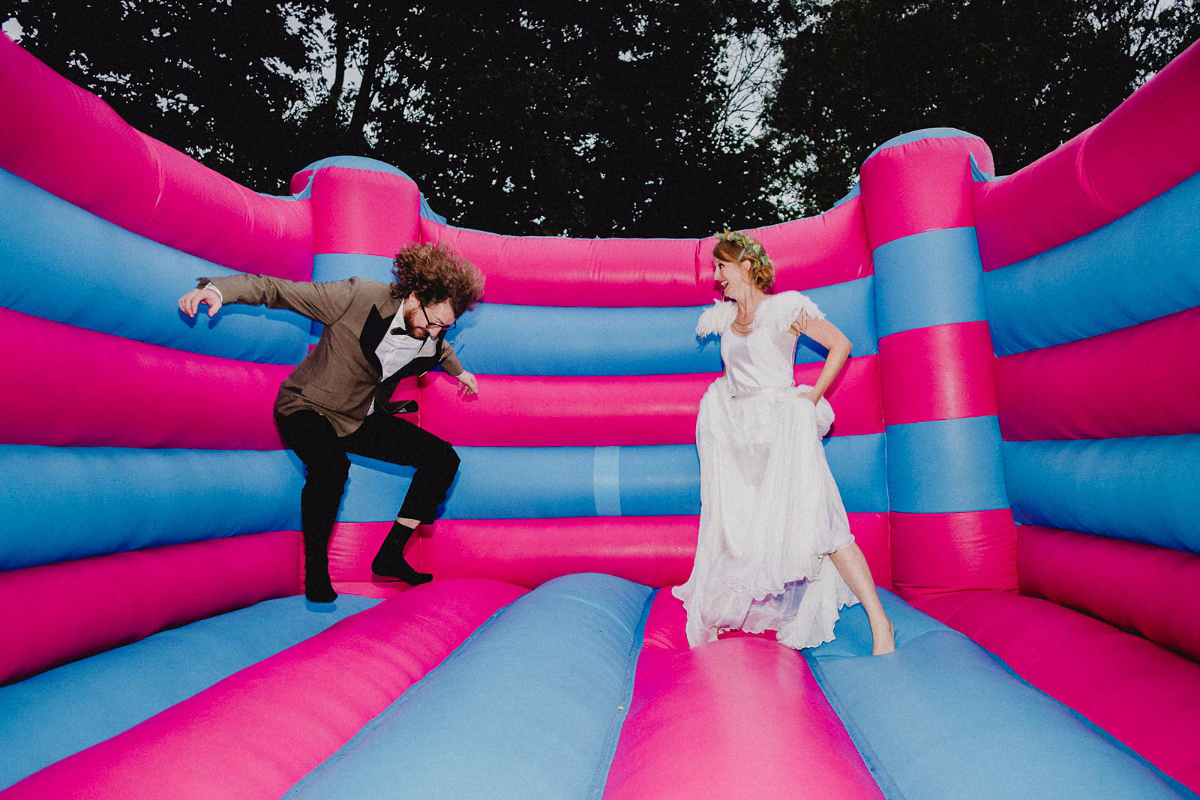 "It was important to us that the young guests (we had about 20 babies and children) were entertained so we hired a bouncy castle as part of a games and entertainment package. It was worth every penny because it was fun for all ages. Who doesn't love a bouncy castle after a few fine wines?!"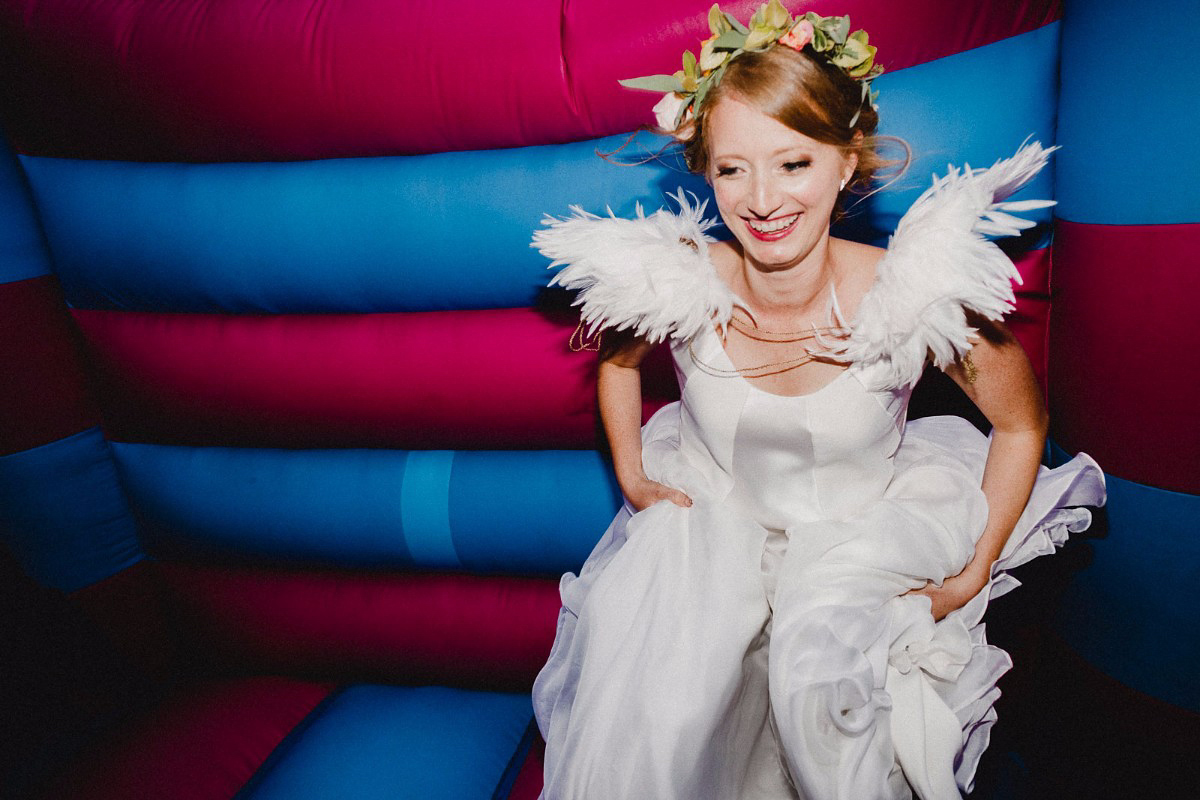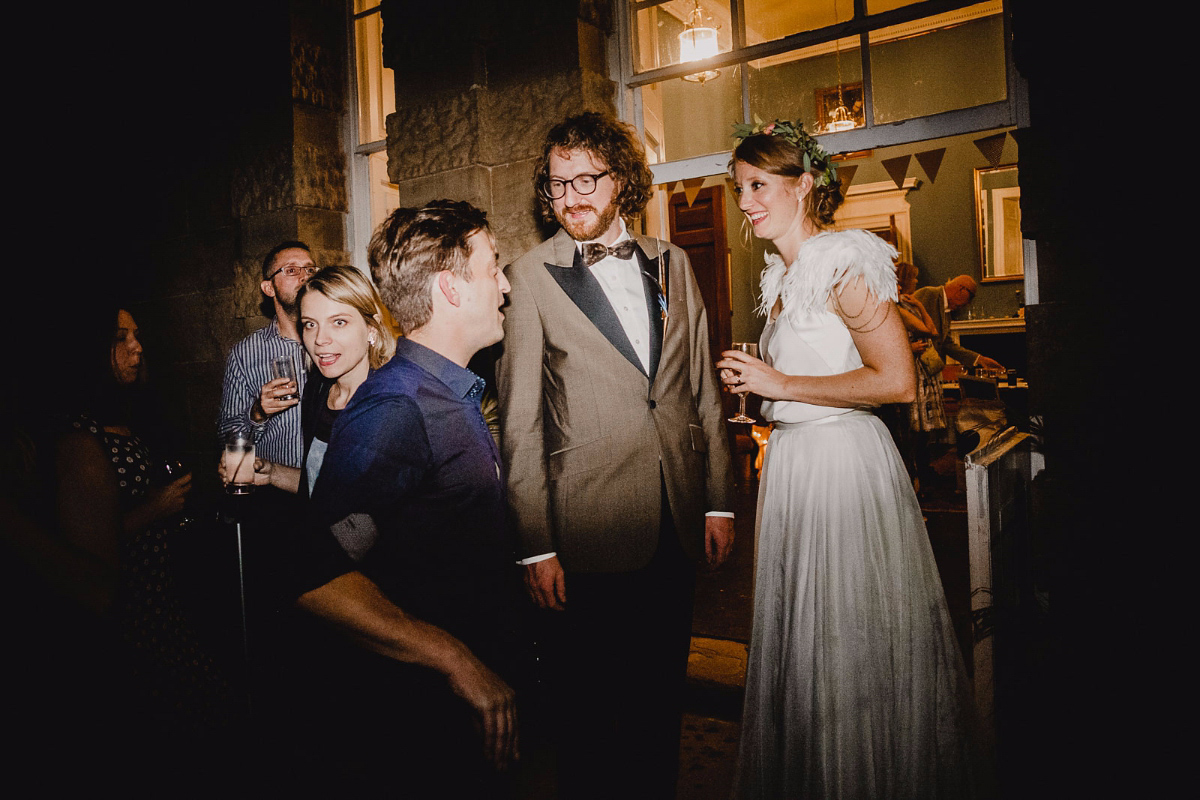 "Picking our entertainment was easy because we know a lot of musical people. My brother's partner Astra and her brother in law Tom (who also happens to be married to my bridesmaid Beth.) play together in a band and they kindly sang some lovely soul songs to entertain between the ceremony and the meal."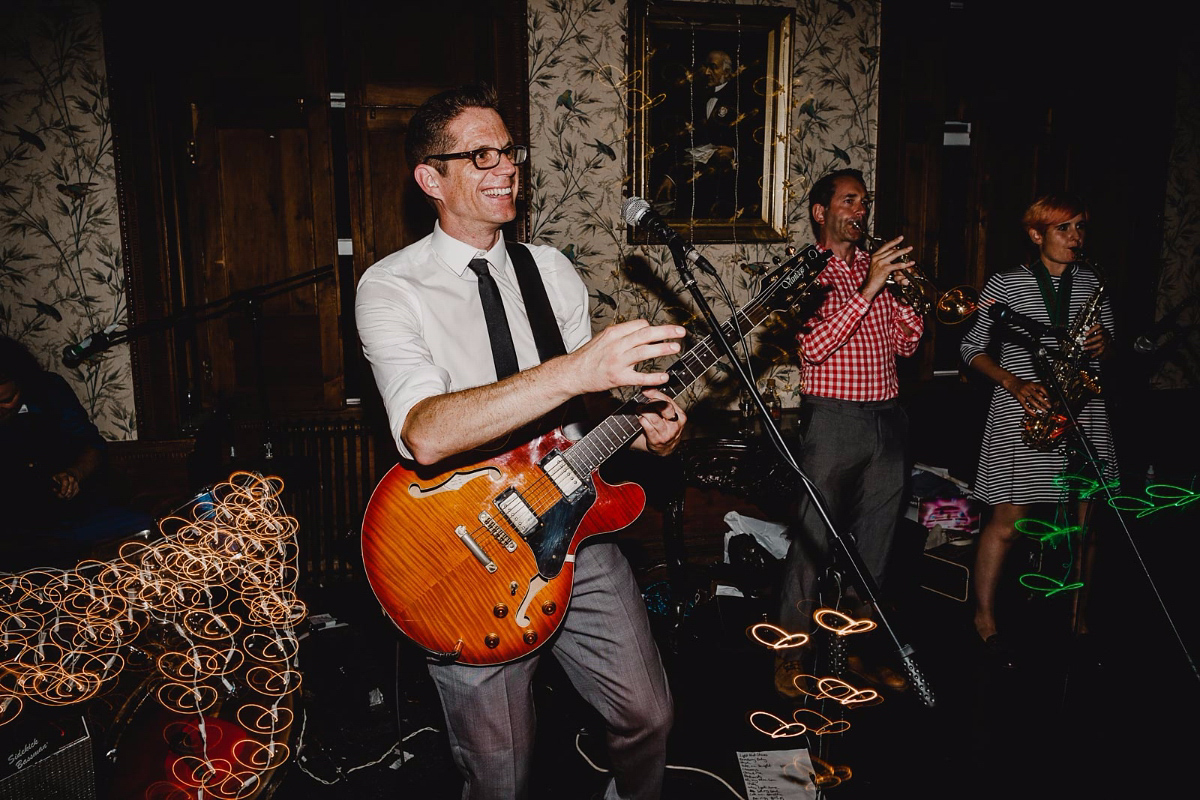 "For the evening, the was only one choice – Jake played sax for The Relay Rips for years before we moved to Kenya so the wedding was a great opportunity to hear them play again. They're so much fun and we had a great time on the dancefloor. Jake also joined them again for a few songs which we all loved."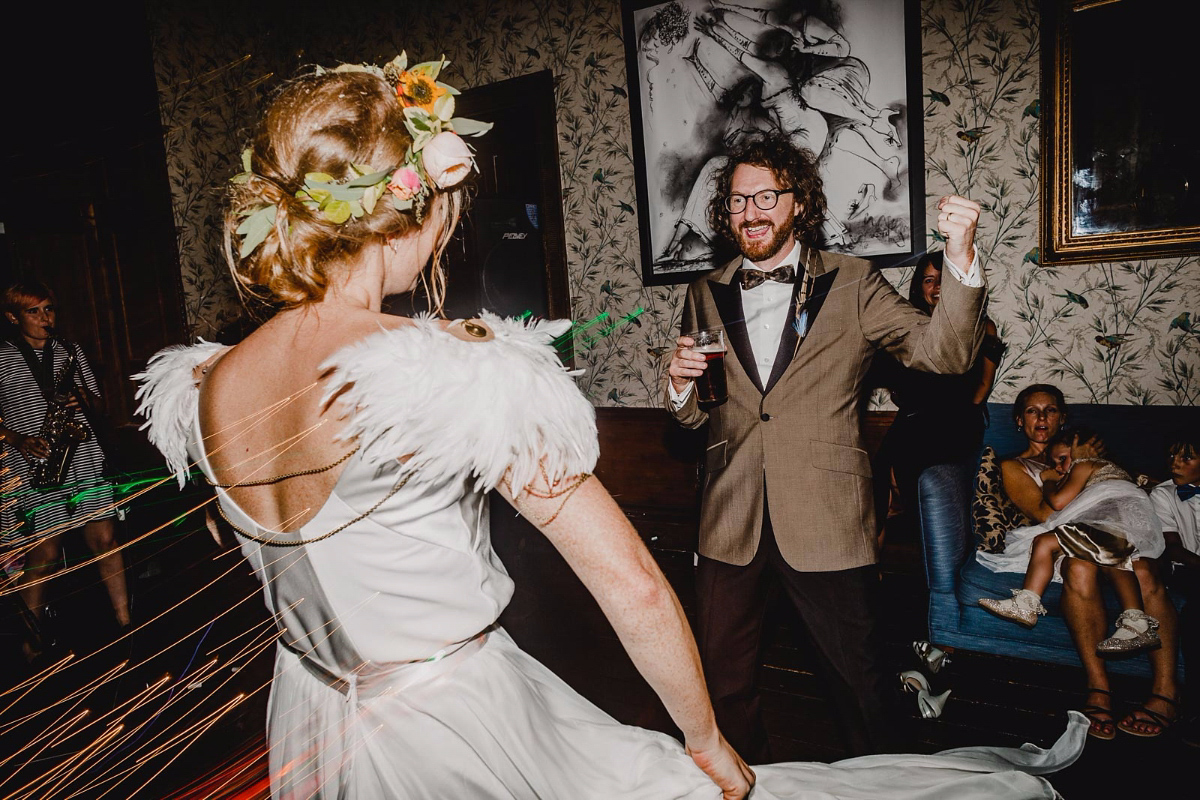 "After the band we had a DJ playing some excellent 80s and 90s classics. We'd asked everyone to give us their song suggestions to encourage as much dancing as possible."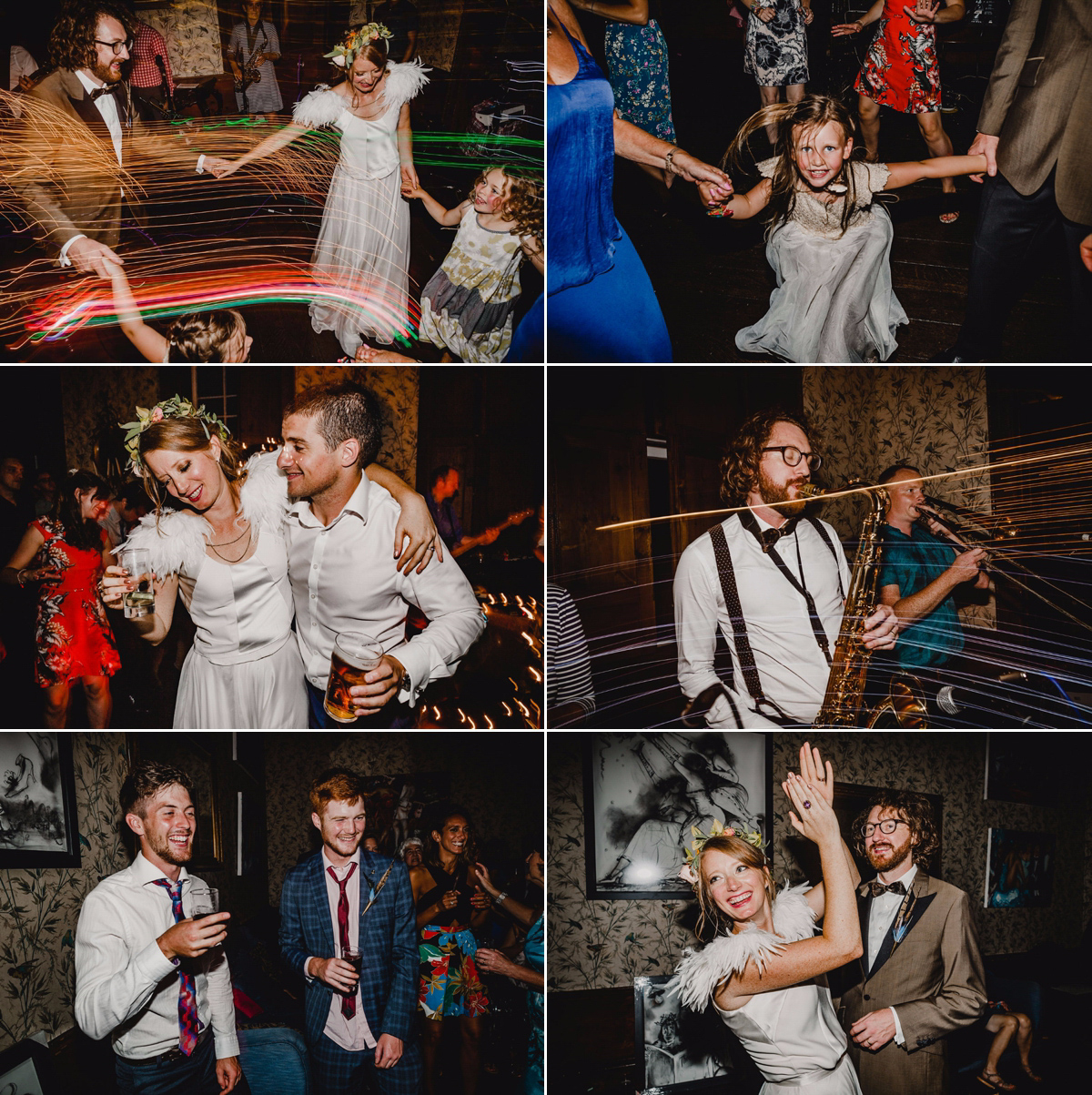 "Neil, our DJ, was a friend of Jake's from his old job at Aardman Animations, so having such a fun familiar face behind the decks was another great personal touch. He ended the set on an old Deep Forest tune which wasn't on the list but randomly has a lot of history with our family and got everyone wailing along while Jake and I were held aloft by our amazing loved ones."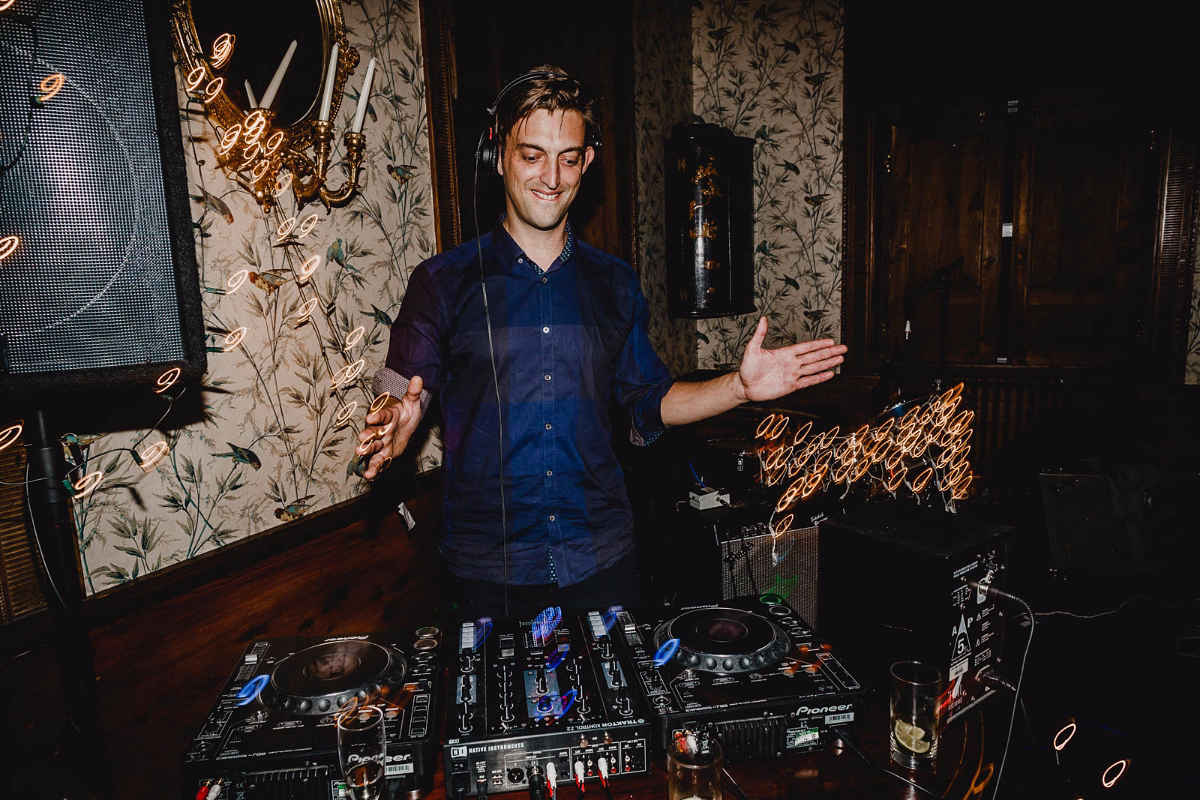 "Our favourite moment of the day is really hard thing to decide upon because from start to finish we loved every minute. We had wonderful speeches by my mum and dad, the best men and a best woman. We had brilliant fun on the dancefloor. We ate incredible food.
The best bit though has to be the ceremony. It was exactly what we'd hoped for and more. Sometimes the service is the bit that drags and is rarely the highlight for guests (generalising here!) – before getting to the bar. But for us we felt that it was important to make it fun and entertaining for our guests, and for us. We wanted a memorable union and we got one. I don't think there's much we'd change."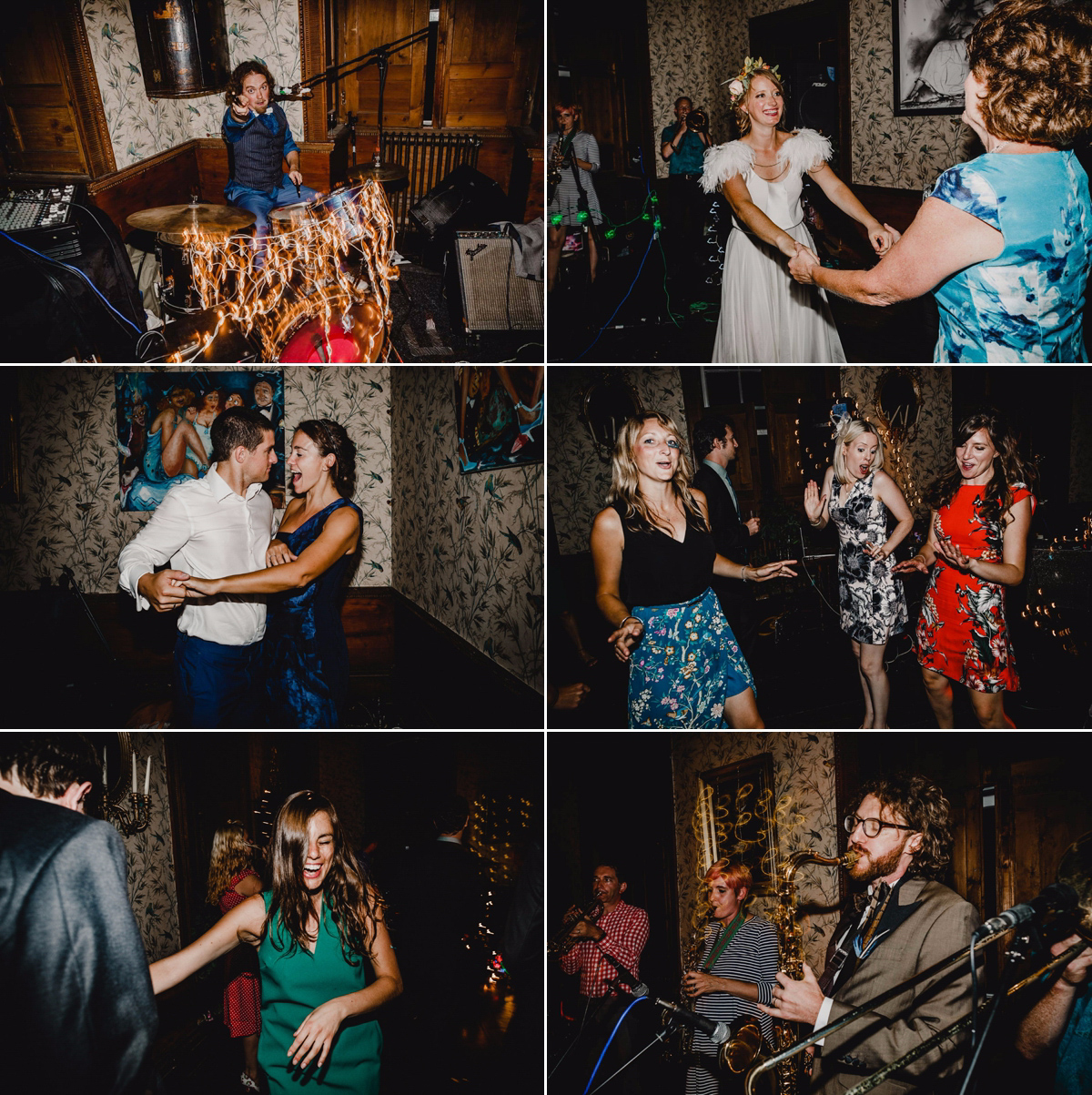 Words of Wedded Wisdom
"If you want something, ask for it. If we hadn't asked Souk Kitchen about catering, we wouldn't have had the meal we dreamt of. It's always worth asking whether what you want is possible.
Don't feel that you have to do something because of 'tradition' – weddings sometimes follow formulas that don't suit each individual or the couple. Take the bits you like or are comfortable with and leave the rest…and make up some new ones."
"The little touches are painful in the planning sometimes but completely worth it. We're so glad that we had so many personal elements of the day. It made it more interesting and enjoyable for our guests and it also made us really proud of the event that we put together.
Enjoy it – it needn't be stressful. This may be easier said than done but if something doesn't go the way you want it to, see it as an opportunity and accept that when there's that much going on, not every little thing will be 'perfect'. The only thing that really matters is the fundamental purpose of the day. You're getting married. The rest is just frippery. (albeit hopefully really fun frippery!)"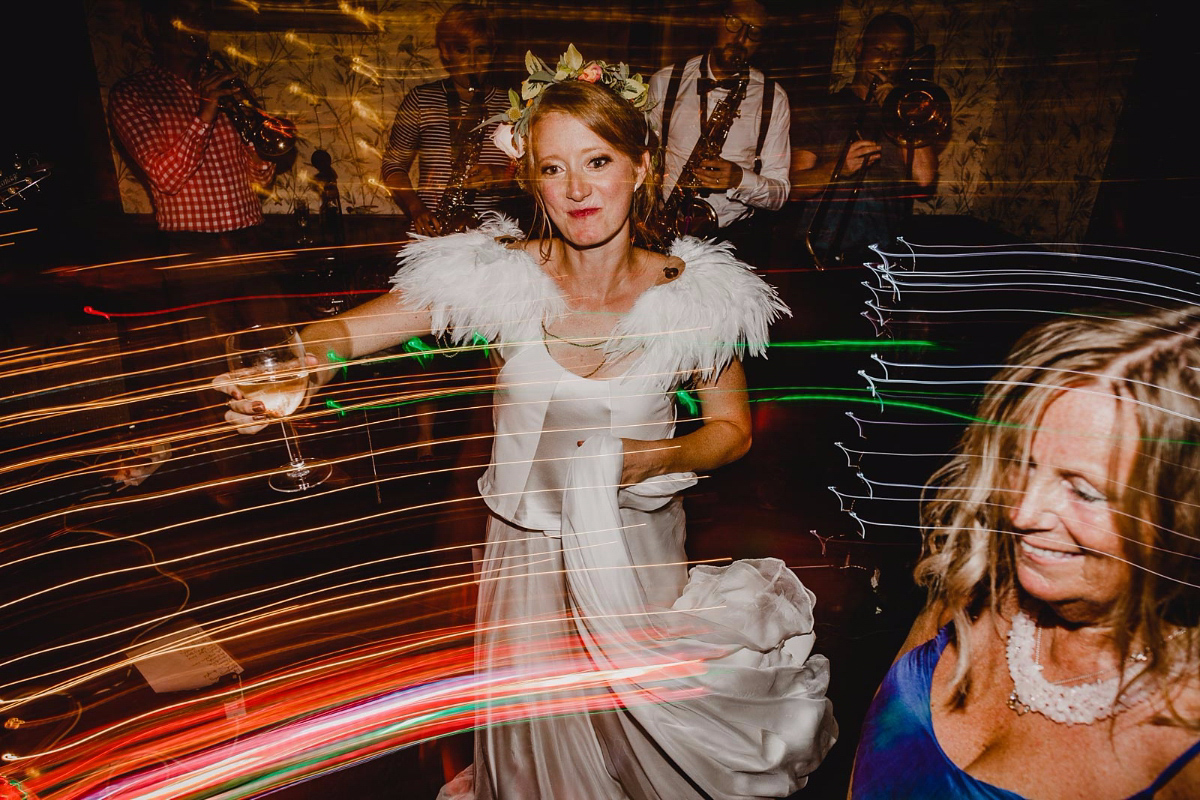 "If your budget won't stretch to everything you'd like in the 'ideal world' scenario, prioritise. There are plenty of traditions or add ons that we felt weren't necessary – for example hiring expensive cars for 15 minutes of the day – that money was spent on entertainment for everyone to enjoy instead. Agree on what your priorities are together.
I had to control my online wedding research. I spent too much time at the start of the process but I found the choices overwhelming. Based on internet searching I wanted a glamorous, formal, stylish, relaxed and informal, hippy festival event. It got a bit confusing because all of the options looked so great. I had to make peace with the fact that we couldn't shoehorn our random, imperfect and eclectic selves into a particular style.
After the initial searches, I had to stop the aimless browsing until we'd made a few big decisions. From this point we made sure that we based all decisions on what we like and what felt right. Then we'd do more research into how to get what we wanted."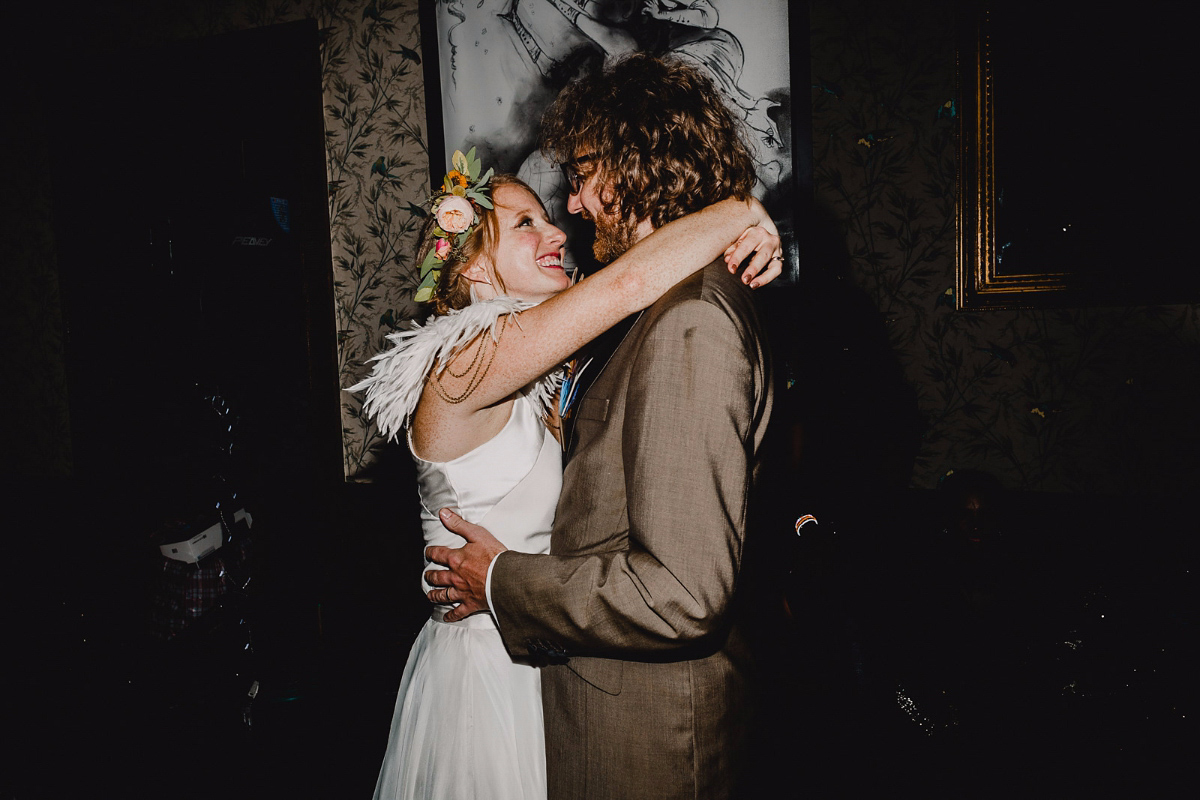 Oh my gosh, SO many beautiful photographs and such a lovely read too.
Huge, huge thanks to Marti and Jake for so kindly sharing their beautiful wedding day, and to photographer Noel Deasington for sharing his work too. I'm off to embrace Sunday in a hope to reverse the January struggle!
Have a lovely Sunday everyone,
Love Annabel x