Hey there weekend lovers! Saturday is here, and hopefully, for most of you, that will mean a well earned rest after this rather grey and dull January week. I've chosen this little beauty to share with you today as it has a wonderful pick-me-up vibe about it. Designer and buyer Jude married Designer Engineer Gavin on 5th November last year at The Craigellachie Hotel in Speyside, Scotland – where the couple's guests stayed for the full weekend.
The couple's wedding was one of pure, effortless elegance and entirely free of any fuss or frills – there were no bridesmaids, no flowers, no cake even, and yet the images capture such joy, that you don't even notice any details missing. Absolute proof, should it be required, that going 'minimalist' on your wedding day is a achievable and works really well.  Jude wore a chic, and effortlessly elegant gown by our highly recommended supplier, and Royally Appointed designer, Stewart Parvin. The dress was purchased from the Anne Priscilla Bridal boutique in Glasgow. You can view more designs by Stewart Parvin right from within the pages of Love My Dress by exploring our 'Style Files' – click the image below.
"I had a really open mind when looking for a dress and ended up having six appointments at wedding dress shops from London to the Highlands. I tried on feathers, sequins, massive frocks and even a blue lace dress! It was fun but I had no success in finding anything I felt comfortable in. I narrowed down my requirements to long sleeves, a filled in back and no fuss or frills. It turns out those requirements are surprisingly hard to find!"
Photography by Emma Lawson
"After a final ditch attempt at Anne Priscilla Bridal in Glasgow (and being ready to give up) the owner encouraged me to try on a sleeveless, backless dress (everything I didn't want!). However, she went on to explain that the designer, Stewart Parvin, could tailor the dress to my specifications. I then met with Stewart and he designed the perfect dress for me – simple, clean and with a focus on the perfect cut. It fitted like a glove and I was so comfortable I didn't want to take it off! Most importantly I felt myself in the dress and not overwhelmed by it.""Both working in design, we have a very strong sense of what we love (and what we don't!). We started planning our day with a 'No List', detailing everything we knew we didn't want."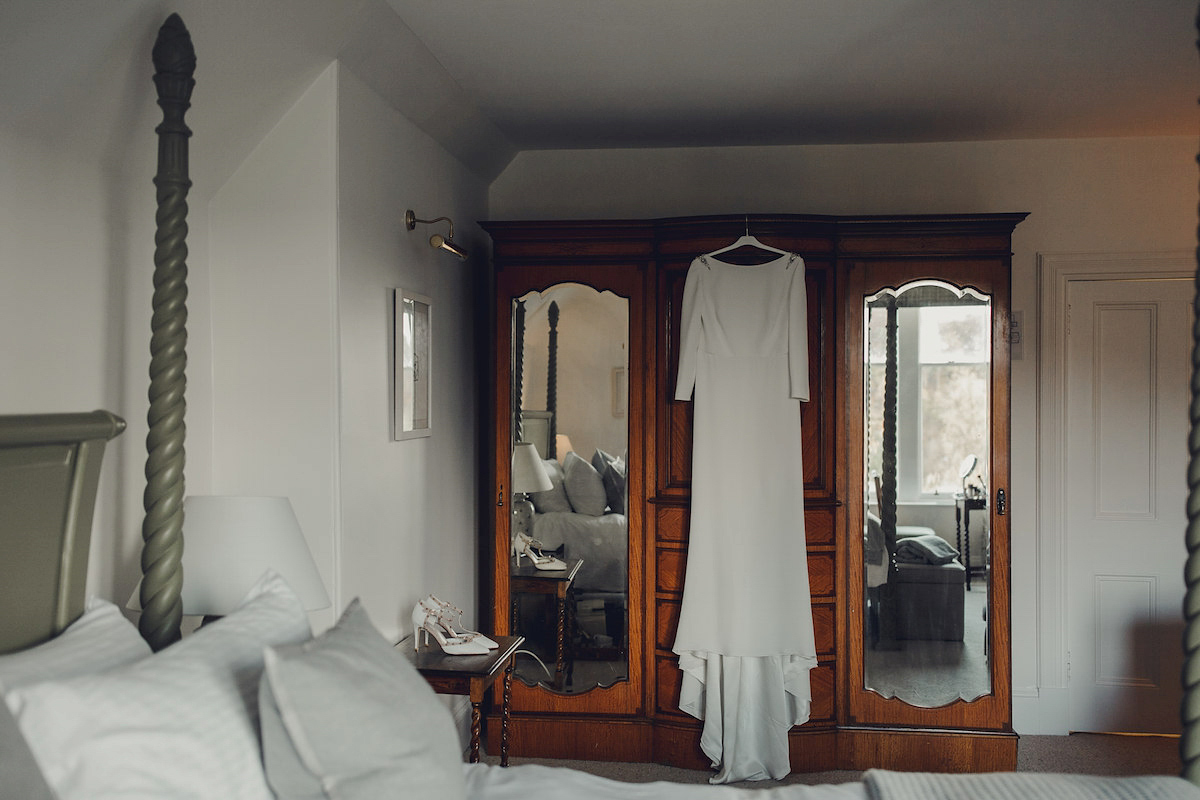 "The list mainly consisted of anything too saccharin, too fussy or anything that was a pastiche of vintage. We like to keep things simple, low key and laid back, without being the wrong side of shabby. We were totally relaxed about our day and just wanted to enjoy it and not fuss about the small stuff that no one actually remembers."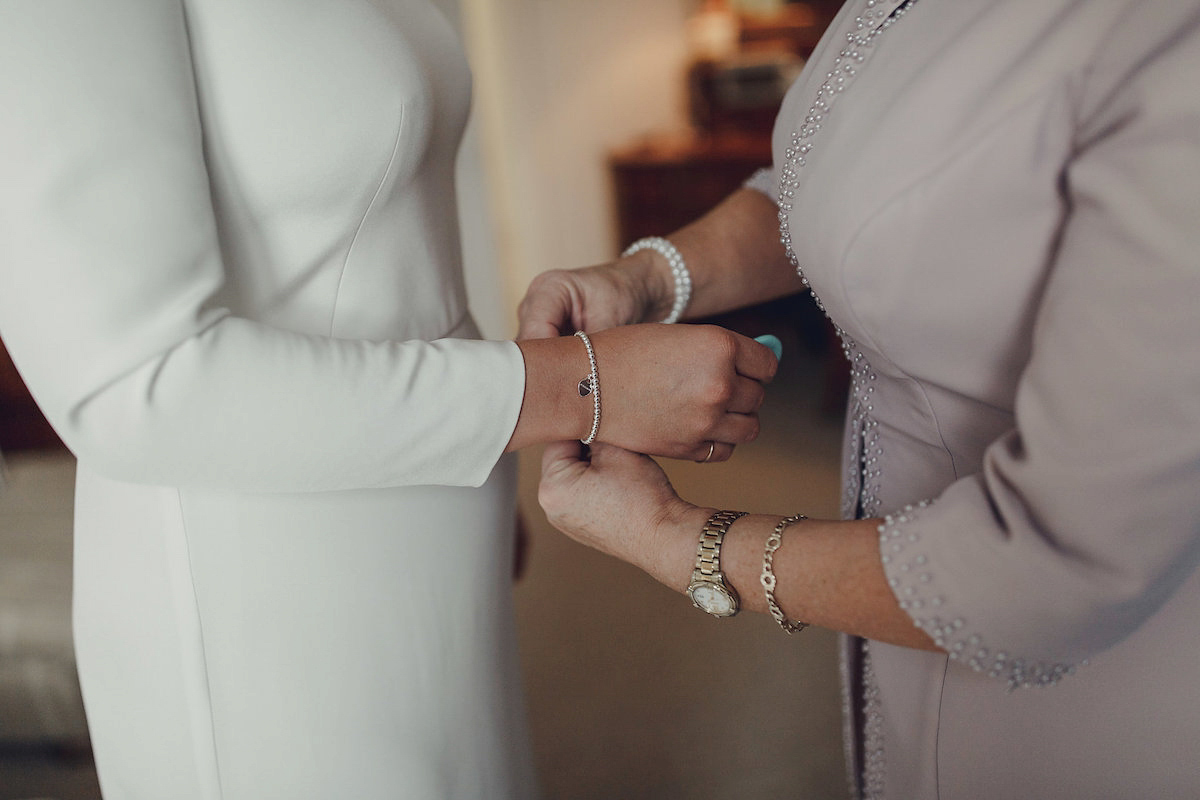 "We moved house in the summer prior to the wedding and during the move I went through all my belongings. In amongst some old diaries I found a letter to myself that I had written in 1996 and was dated to be opened on the 5th November 2016! – the date of our wedding!"
"A literal chill ran down my spine. I had no recollection of writing it and had no idea what the letter contained but I decided I had to hold onto it and open it on my wedding day, as it was too much of a coincidence."
"It turned out to be absolutely hilariously cringe and I am so glad I opened it with my friends, some of whom have known me since then. None of my geeky teenage predictions for myself had come true – AND I AM SO GLAD! My real life is so much better!"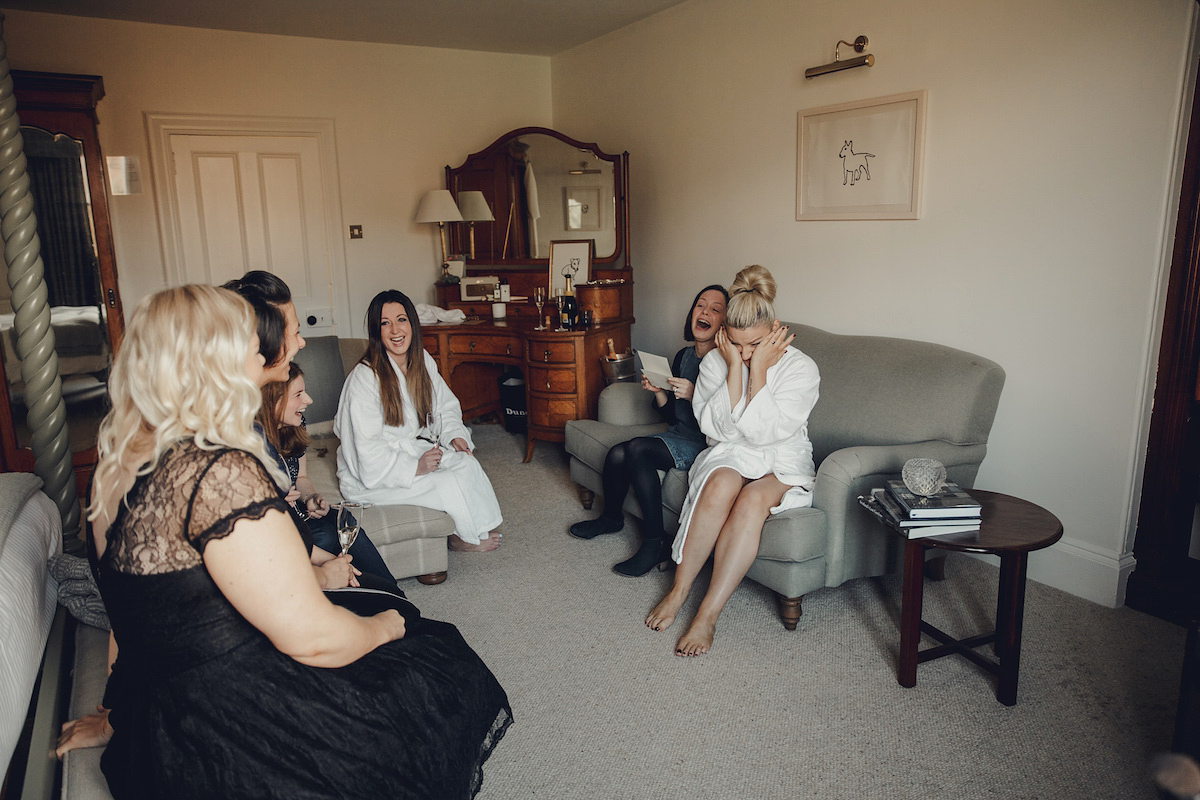 "I chose not to have bridesmaids. I love my friends (and they came to my room to have some pre-wedding champagne while I was getting ready) but I just wanted to walk down the aisle with my dad and no one else.
My cousin, Patricia, was my 'best girl'. She acted as our witness (along with Gavin's cousin, George). Patricia is the closest thing I have to a sister, we grew up together – spending our holidays between our families home in Ireland and her native Madrid. George also grew up with Gavin and they are as good as brothers so it was important that they were both part of our day."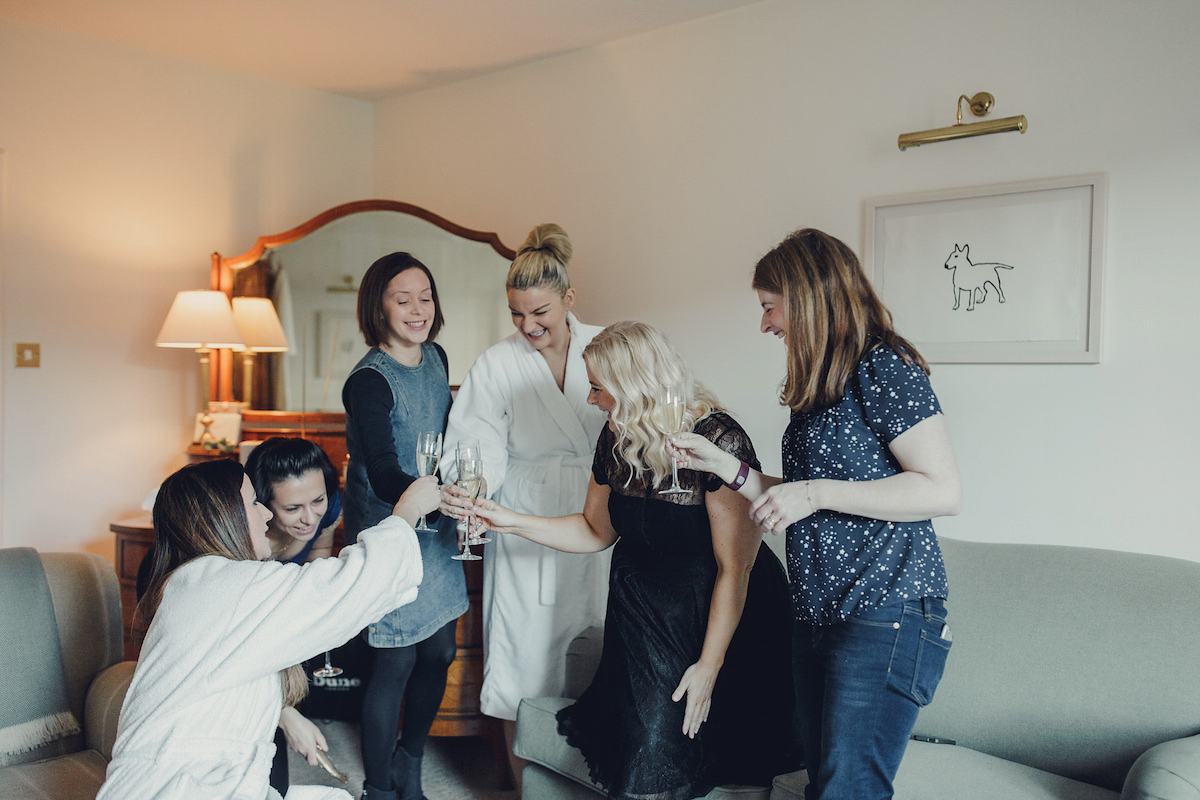 "I did my own hair and make up. I hate people fussing around me so I wanted to get ready on my own. I have worn the same make up for years and I didn't want to look different to how I do most days but I also wanted my make up to last all day so I went to a make up master class with Rae Matheson and picked up so many amazing tips!"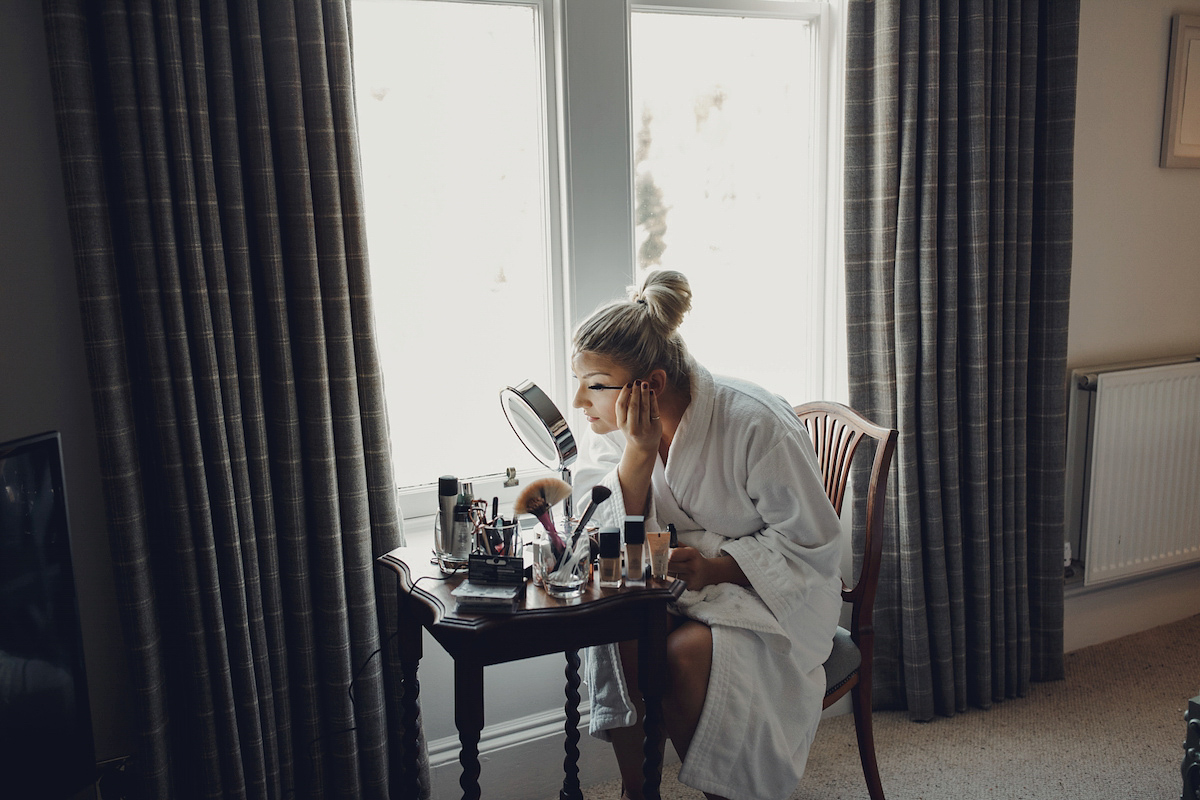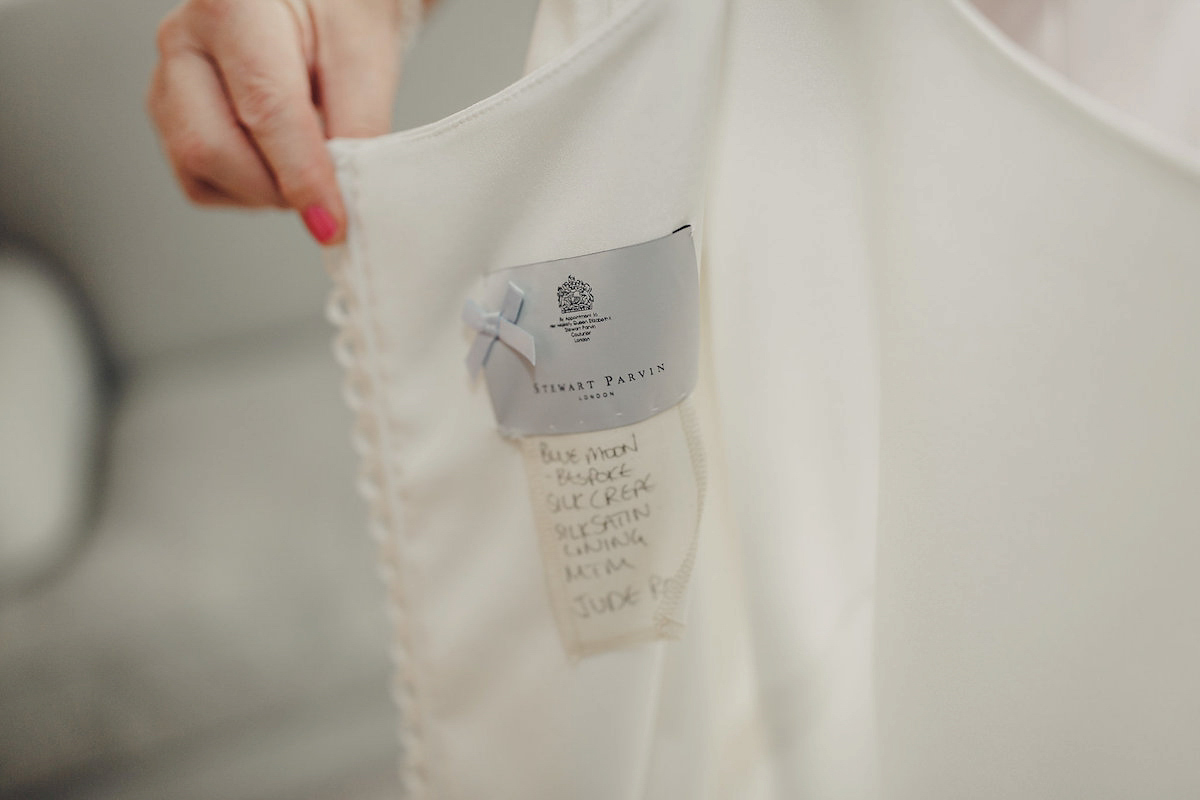 "I've worn Jo Malone's Pomegranate Noir for a decade so kept to that on the day, as it's so familiar."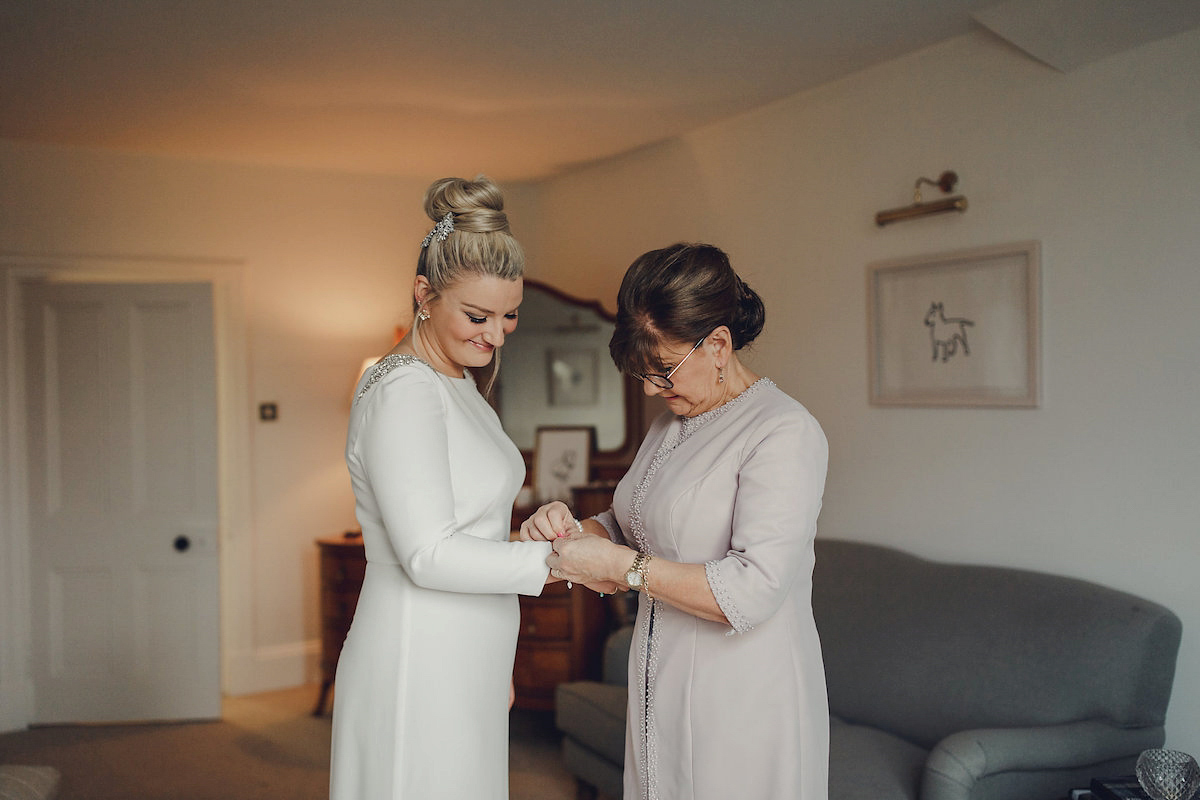 "I kept jewellery to a minimum, as I don't usually wear much. I wear my grandmother's wedding ring every day so I kept this on (it's just a simple gold band). I'd been craving some Pamela Love constellation earrings and ear climbers but the price tag was a bit hefty so again I found some identical ones on ASOS for just £12. On the morning of the wedding my mum surprised me with a simple Tiffany bracelet, which I wore and now wear everyday.
Another bargain, my hair clips were £6 from ASOS."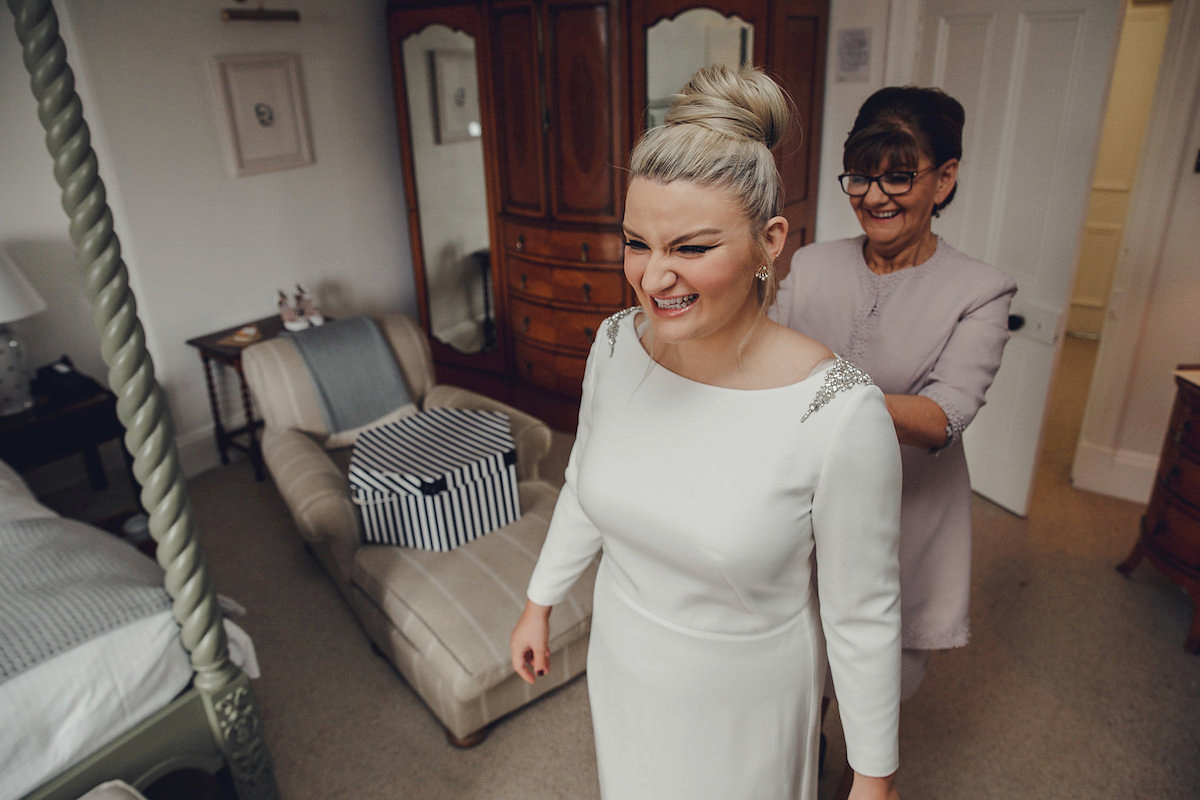 "As with my search for 'the' dress I couldn't find shoes that I liked anywhere. A couple of weeks before the wedding (assuming I was going to have to go barefoot!) I found shoes in Dune, they are a rip off of Valentino's Rock Stud designs, but I love a bargain!"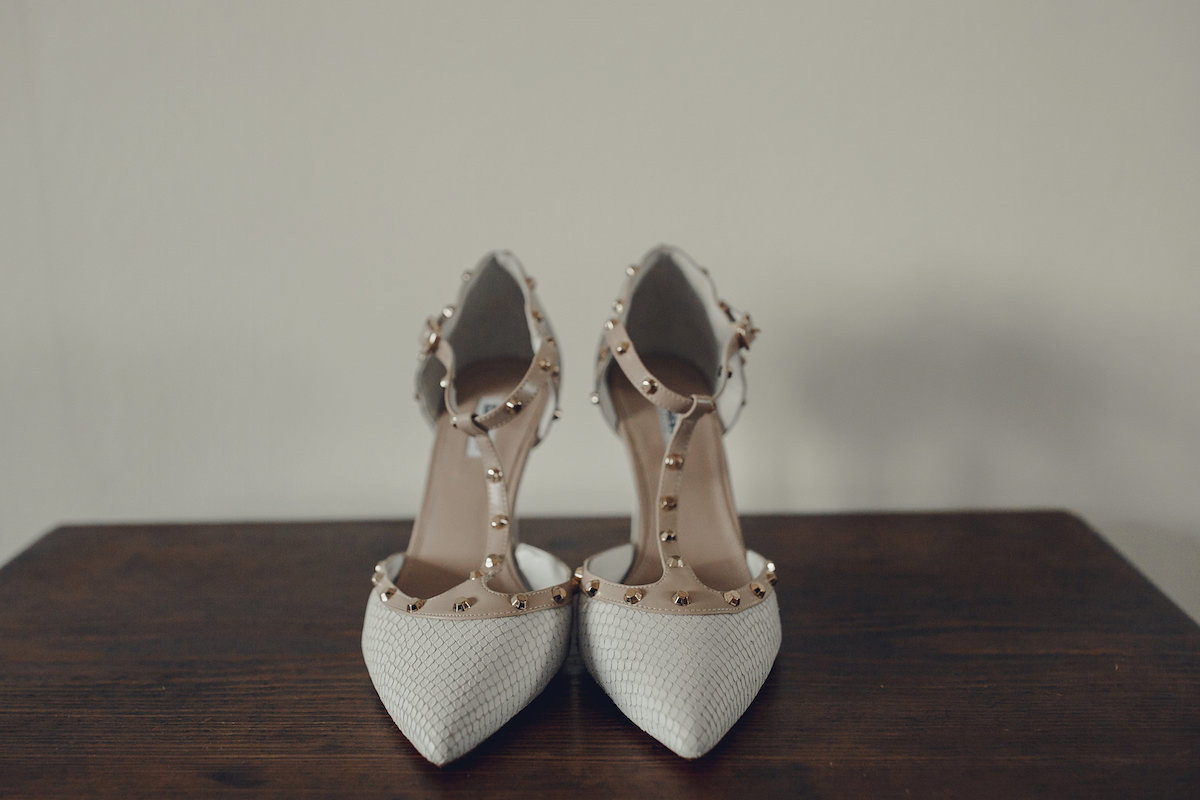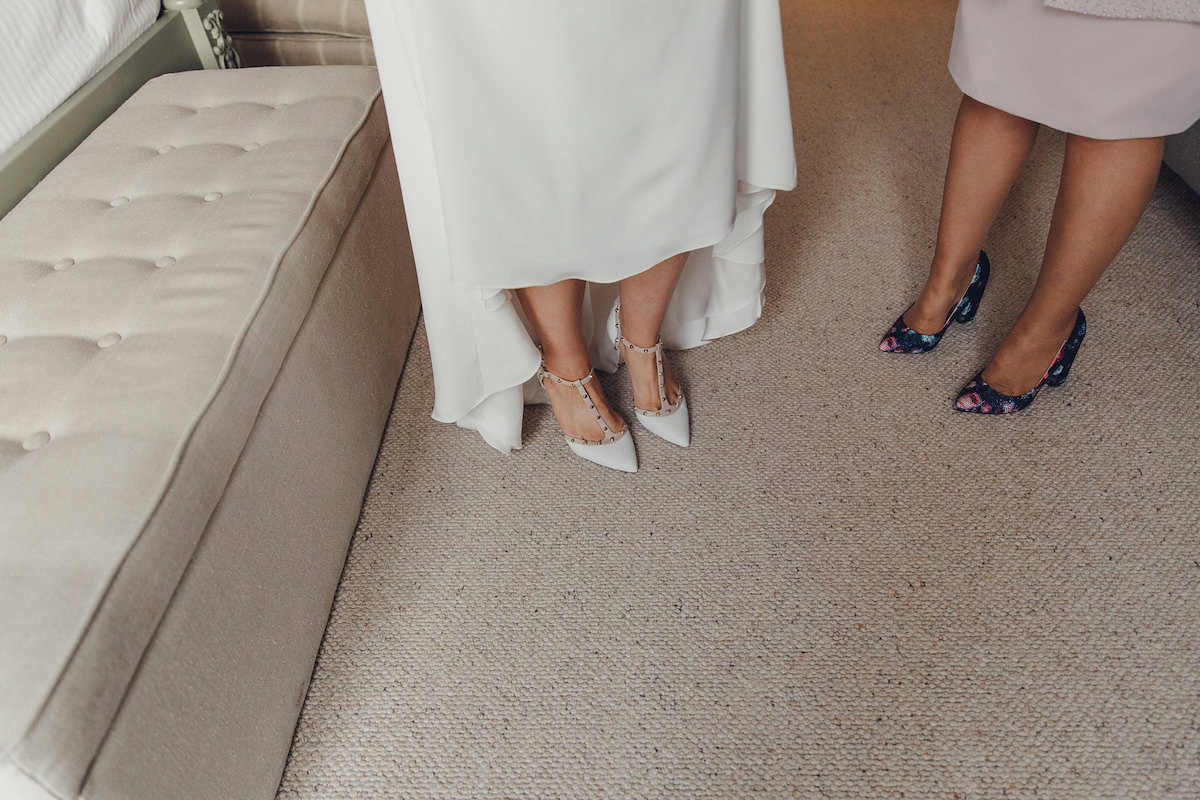 "I chose not to have any flowers. I do love flowers but decided to keep it clean and simple and go without."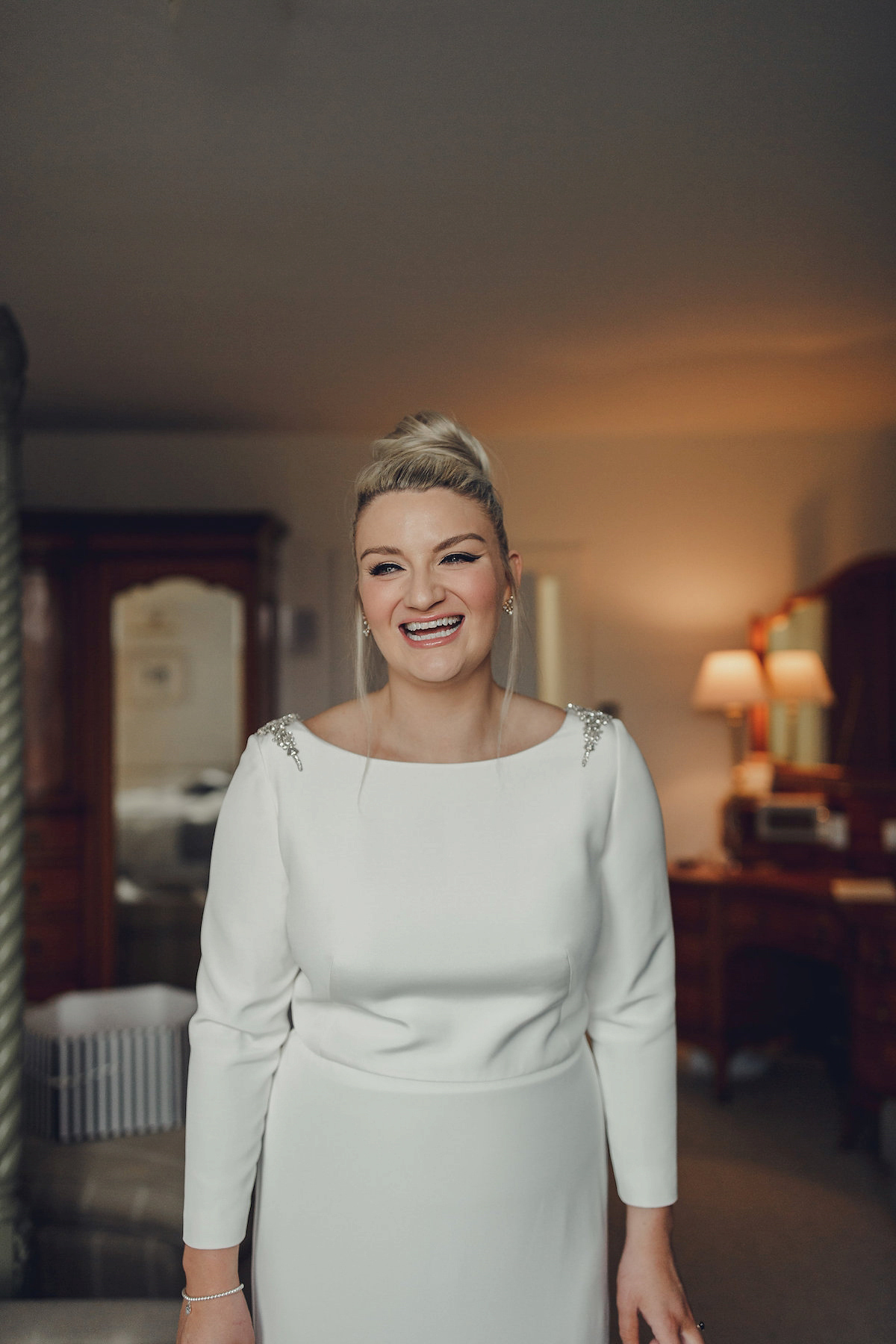 "Craigellachie is one of our favourite locations in Scotland. In the heart of whisky country it is surrounded by the most spectacular big trees, which in Autumn are on fire. The River Spey, which runs through the village, is a deep golden brown colour and it almost looks like a river of whisky flowing through the landscape."
"Initially we planned to marry in the hotel but on randomly discovering that a friend's mum was the local Minister we decided to have the service at Craigellachie Church. It just seemed too much of a coincidence! When we met Rev. Shuna she was so relaxed and easy going we knew we were in safe hands and having someone we had a connection with marry us meant a lot."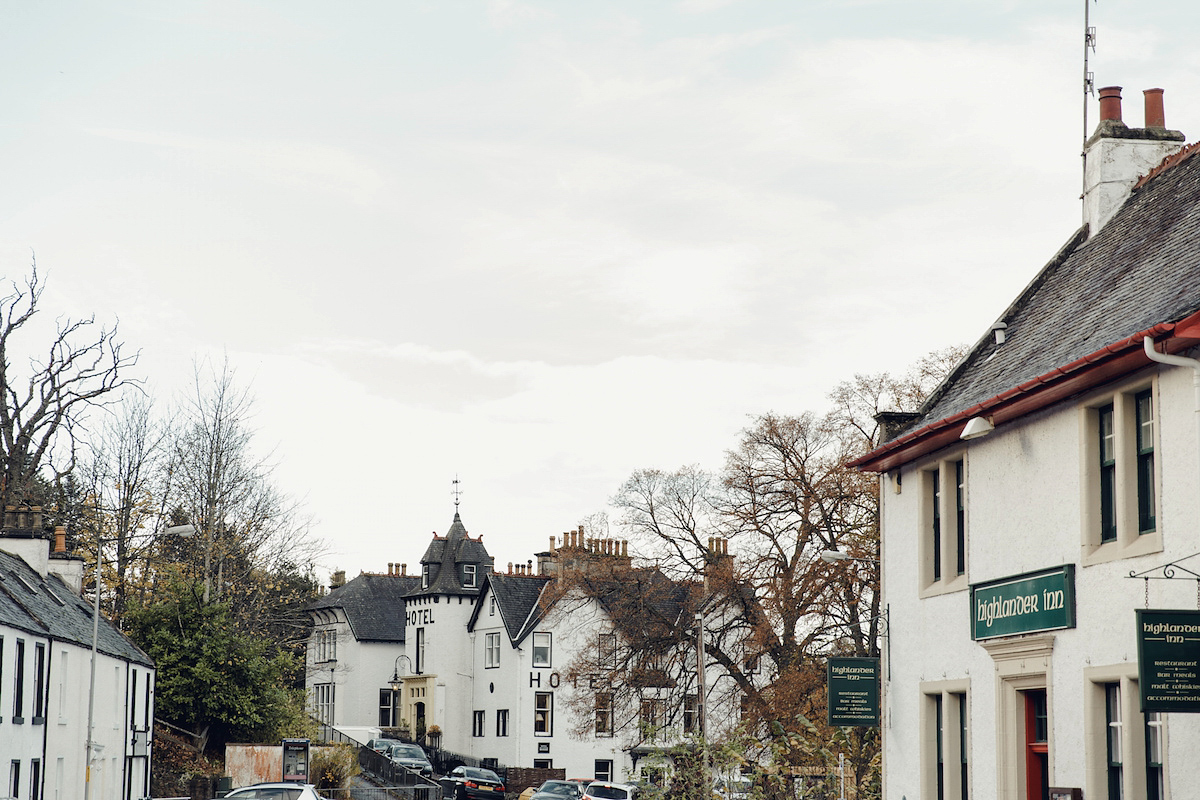 Now yesterday, we shared the wedding of a couple who met on Tinder, and I mused about the fact that so many of our featured couples these days have met online…
"We met on match.com. We both joined on New Year's Day in 2013, using a 2-week free trial. Both of us went on one date (with each other!) and deleted our profiles the next day. We got engaged in October 2015. Gavin got down on one knee in front of my parents (and strangers!) in the middle of Gordon Castle Walled Gardens."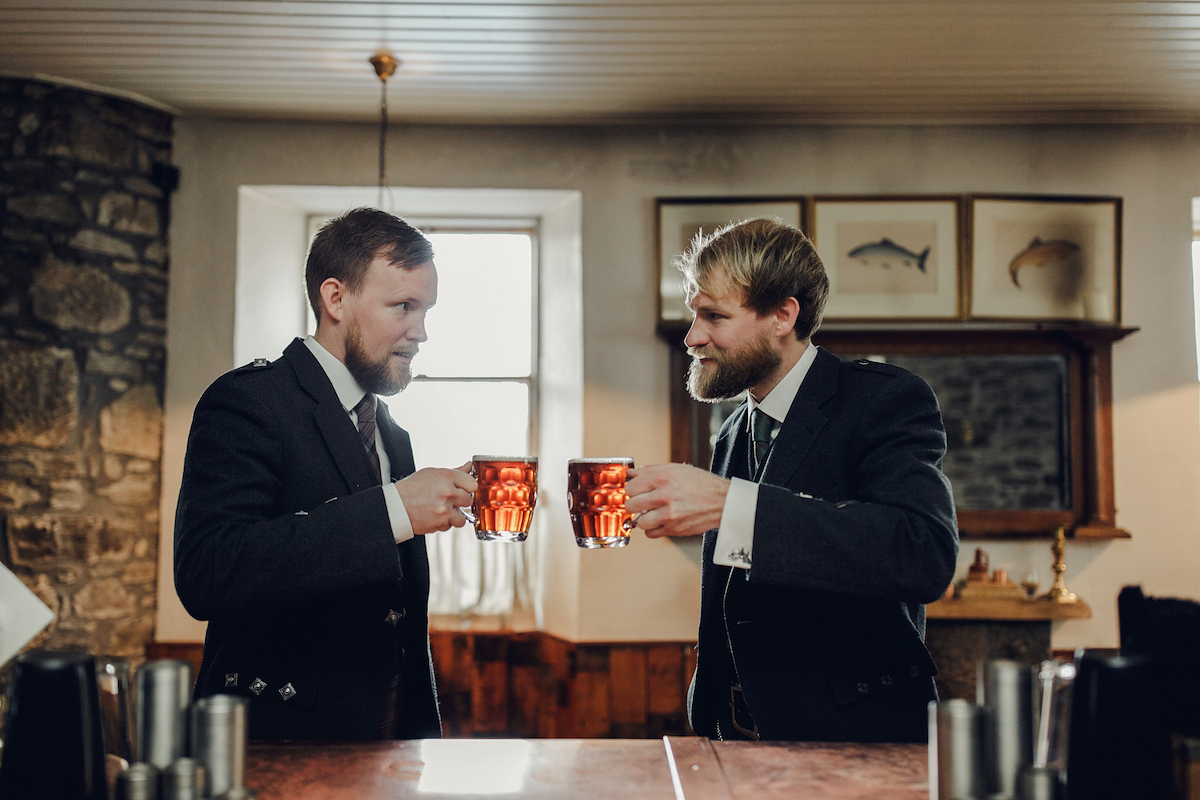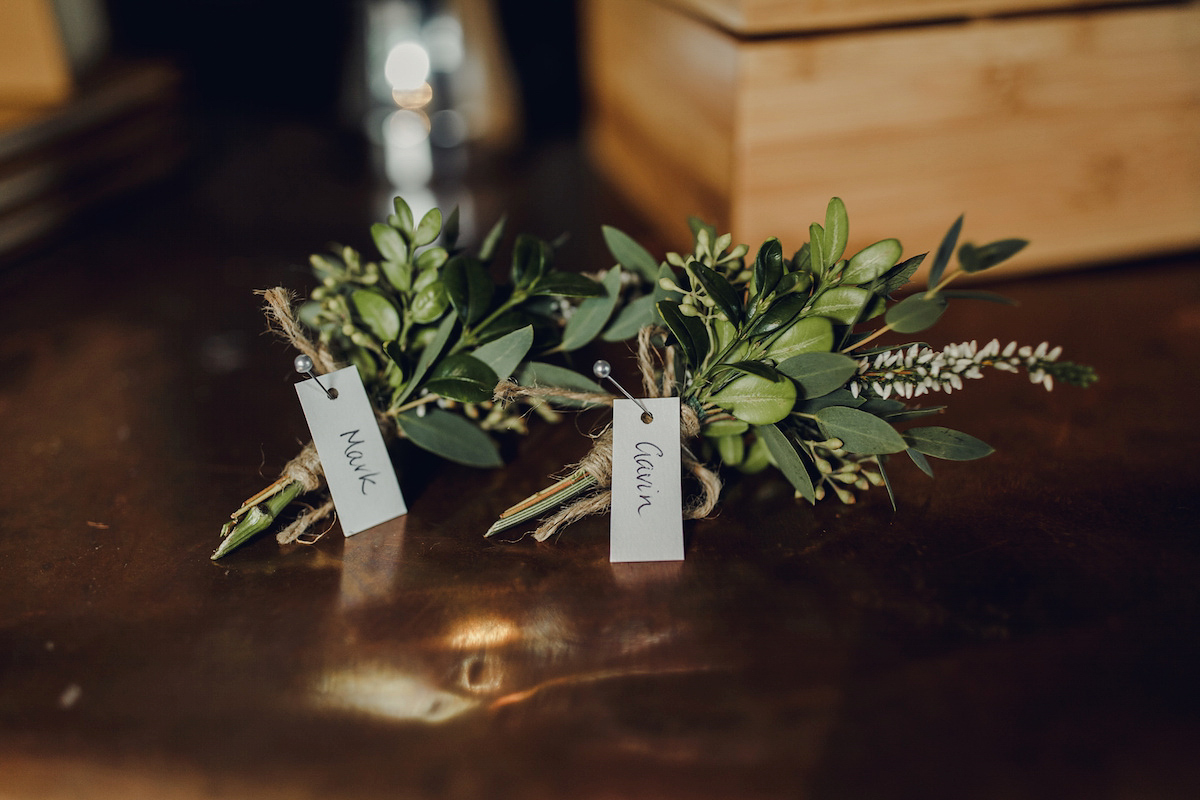 "Gavin was keen to get a new kilt outfit for the wedding. He doesn't have a Clan Tartan so choosing a tartan was a big decision as a kilt lasts a lifetime and is traditionally passed down from father to son. We looked at every tartan and his favourite just happened to be the Ross Hunting Muted. With my maiden name being Ross we thought it was lovely that he would be wearing the tartan of my family."
"Gavin gifted his best man, his cousin (who acted as a witness), his best friend (who did a reading) and my brother (who was the usher) new hip flasks for the day. He chose beautiful hammered metal flasks, which are so unusual but neglected to buy one for himself so I surprised him on the morning of the wedding with the same hammered flask but in copper."
"As is tradition the guys all wore their own tartans I just love when you see lots of men in tartan en mass and they are all different."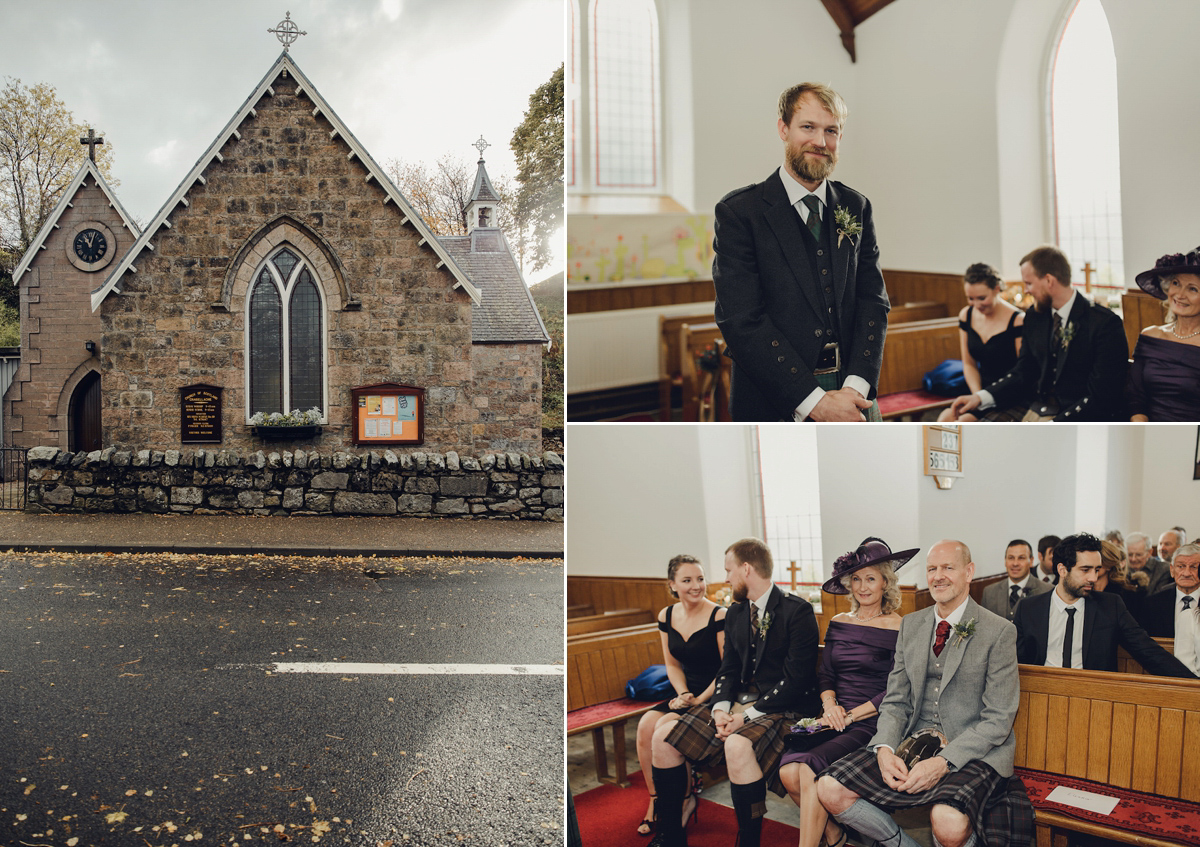 "We had a young local musician, Calum, play acoustic guitar in the church. He did my 2 favourite songs, Harvest Moon by Neil Young and Pink Moon by Nick Drake, quite the ask for someone so young but he nailed it!"
"The church and hotel are less than a 5-minute walk. My dad drove my mum and I to the church before the service then all the guests walked back and we even got a glimpse of some rare Scottish winter sun!"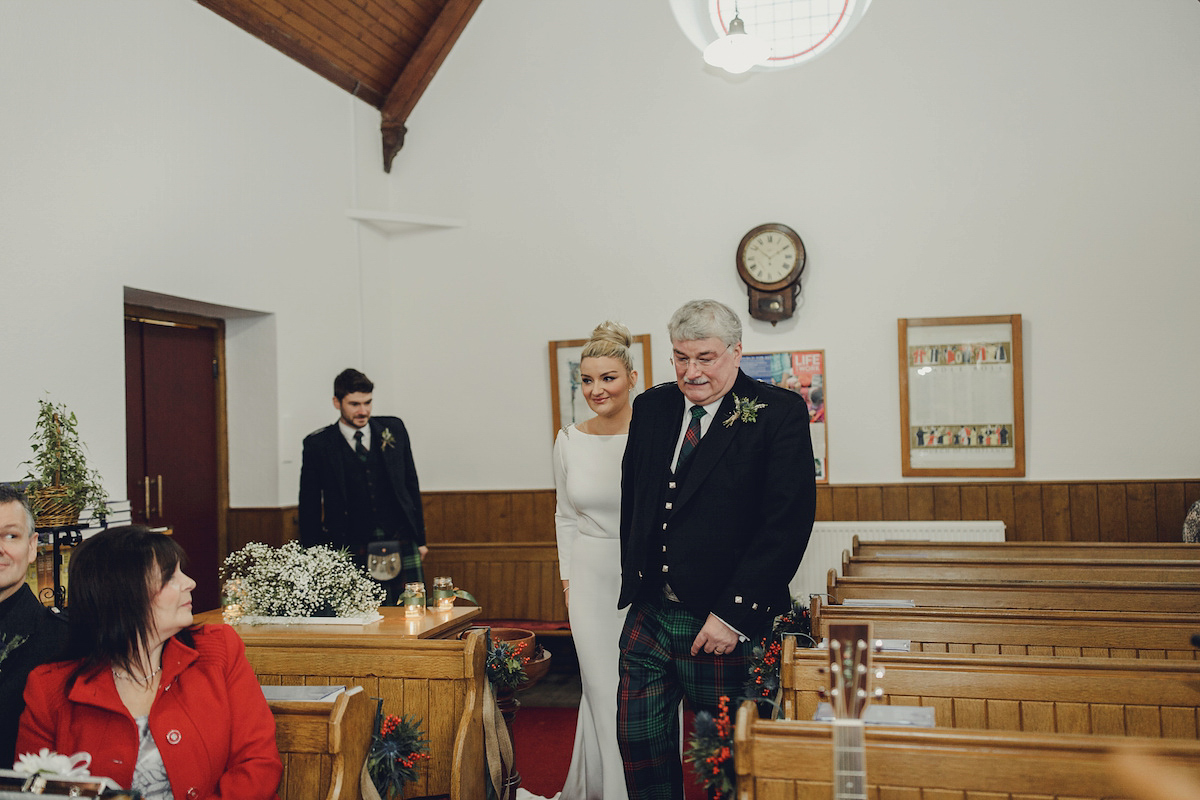 "The minister, Shuna, delivered the most uplifting service. She read prayers and readings of her choosing but also added a couple of prayers that I love including The Irish Blessing (my mum is Irish so that was a nice surprise for her and her family)."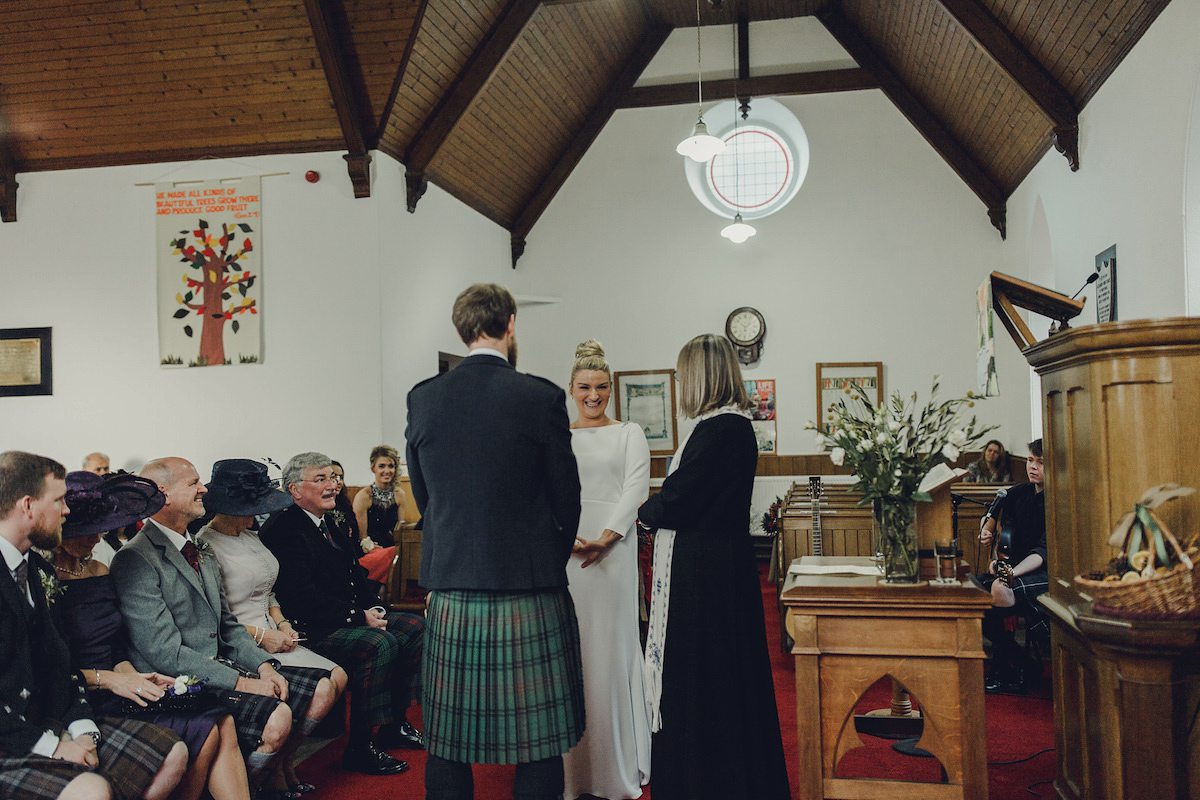 "We exchanged traditional church vows, and Gavin's best friend (Matthew Kinghorn) wrote a reading for us and read this in the church. It is possibly the most special gift of all."
When two beautiful people with two beautiful souls meet,
They are swept simultaneously from their newly synchronised feet.
The couple grasp for breath, instinctively unable to inhale,
And the body is soon engulfed by a chemical cocktail.
The mind is focused, palms sweat and pupils dilate,
Fumbled words pass dry lips to mask an increasing heart rate.
But time stands still with the soft touch of a hand,
Imaginations run wild and a future is secretly planned.
Love soon cast its spell and the two become entwined,
Comfortable in the company they had both been longing to find.
Time now passes with purpose, days quickly turn to night,
The past has all but faded, the future looks extremely bright.
She had designs for an original husband; he had plans for a resourceful wife,
And now they sketch together drawing a new blue print for their life.
Meticulously matched stood harmoniously side by side,
Talking fondly of each other with unrelenting pride.
Trendy, stylish, bespoke, chic,
They are individually distinct and collectively unique.
Genuine, considerate and perfectly paired,
Ready for tomorrow, perpetually prepared.
As this marriage is not the beginning, instead the start of another chapter,
If a page should ever begin in tears may it always end in laughter.
This may not be a fairy-tale but this love is very real,
Defined by two devoted people willing to share exactly how they feel.
Opinions will differ, words will get crossed,
But the reasons they chose to come together will never be truly lost.
Loyalty, trust, care and respect,
And an understanding it's impossible to always be correct.
For they have found a special someone on which they always can depend,
Beyond the tag of husband and wife they have found a new best friend.
If one should ever fall then the other will too,
So they can help each other up and pull each other through.
May you always look upon each other just like you do today,
May you always be willing to compromise and meet each other half way.
May your future be filled with happiness, may every moment be a pleasure,
And may every memory you make together be one you both can treasure.
Your family and friends love you dearly and wish for you only beautiful things,
May your everyday be as special as they day we saw you swap your rings.
– Matthew Kinghorn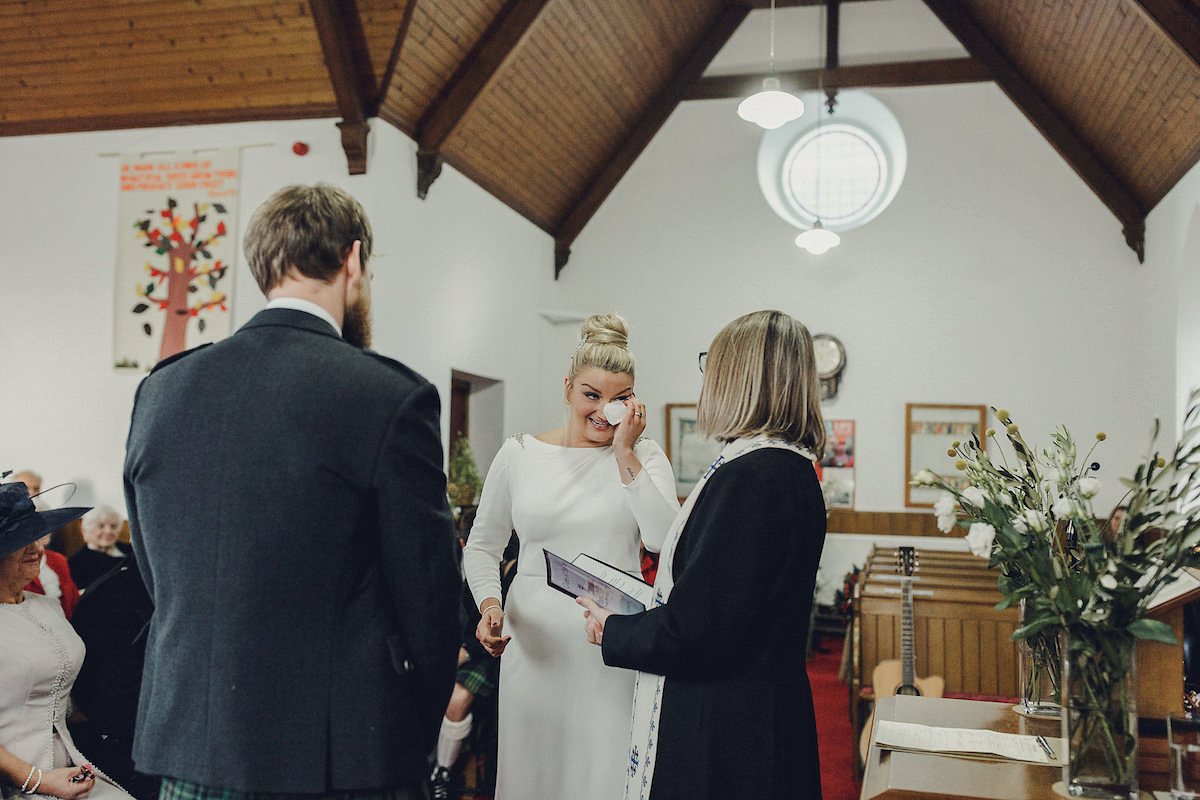 "An old friend of mine, Christina Rose Leon, designed and made both our wedding bands. Gavin's is a simple brushed rose gold band and mine, a yellow gold band with diamonds. Christina worked with Gavin to design my engagement ring, which is a yellow gold band with a black sapphire stone sitting on 2 skulls (it's not as gothic as it sounds!)"
"Christina did such a beautiful job of all the rings and it means so much to us that they were handmade by someone we know."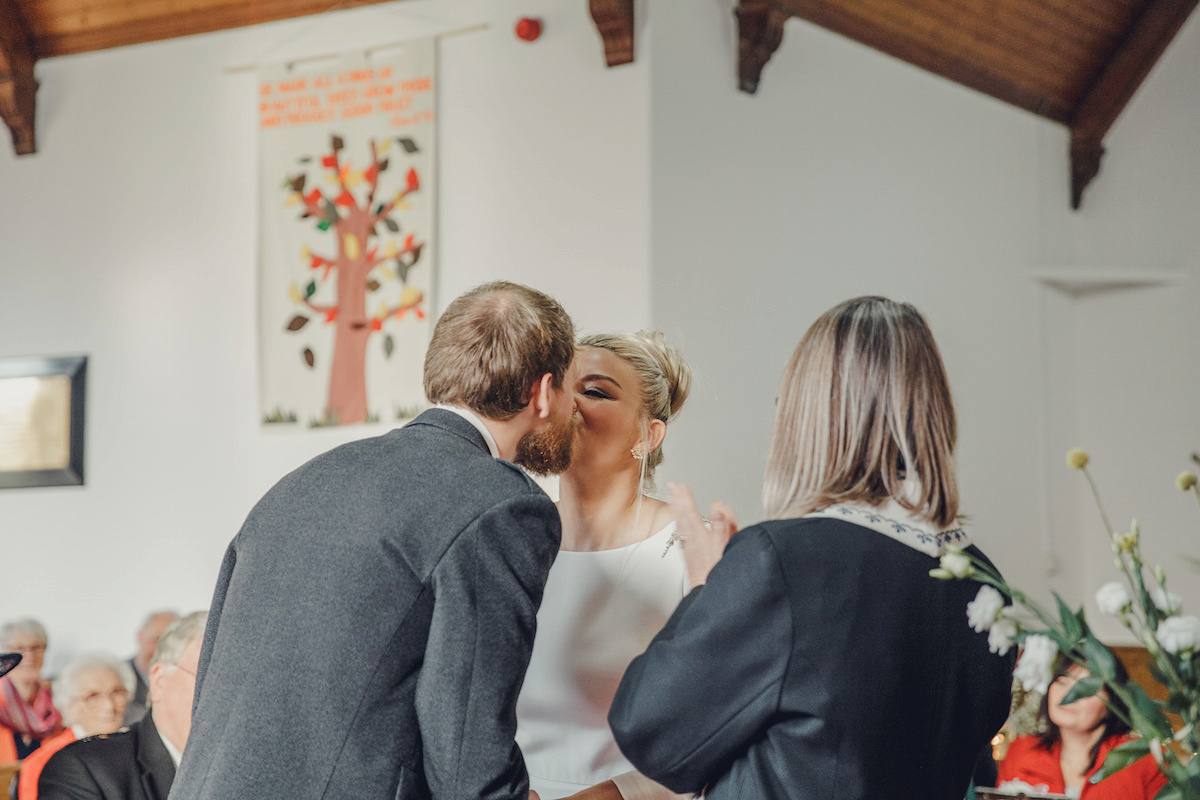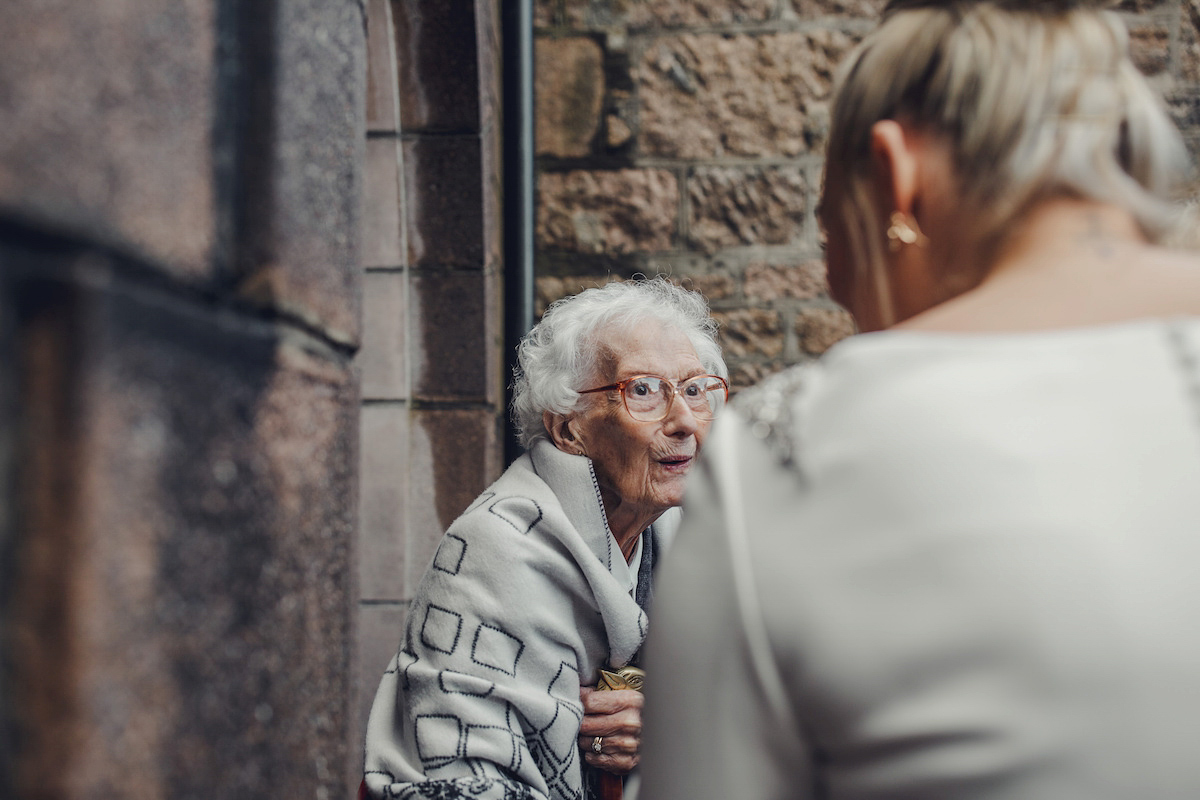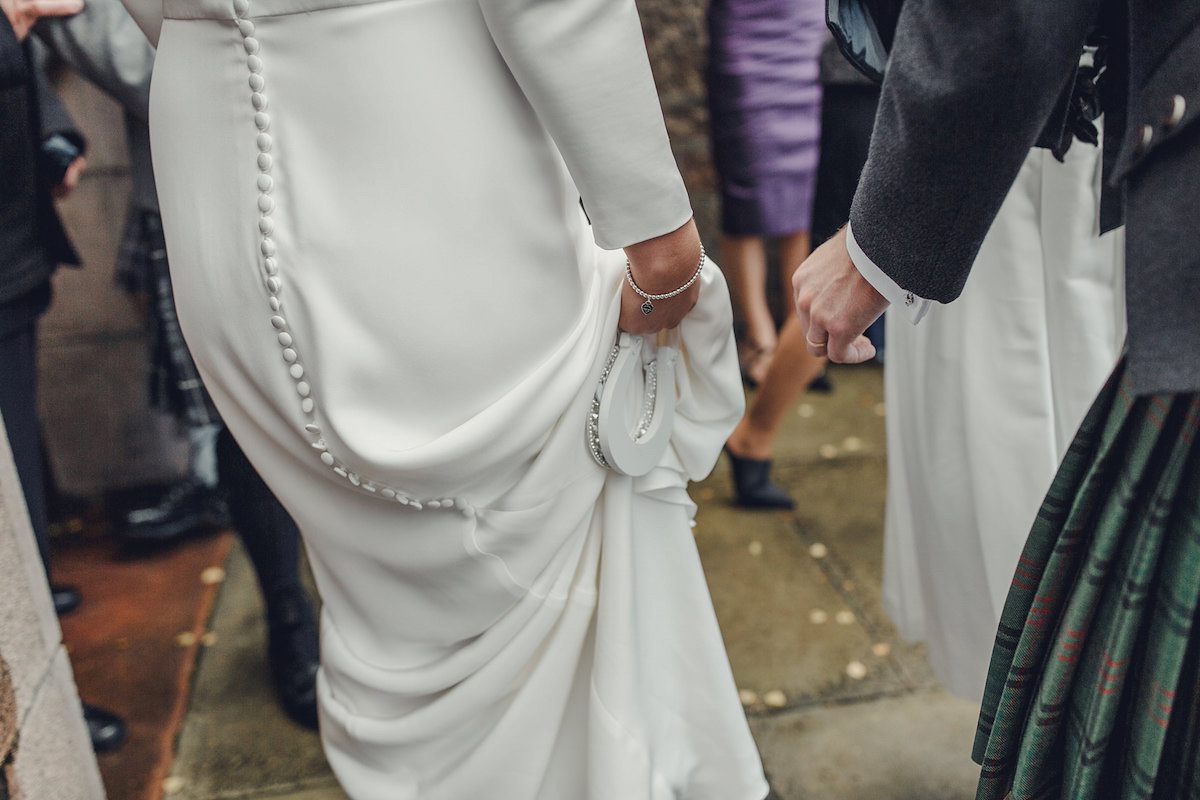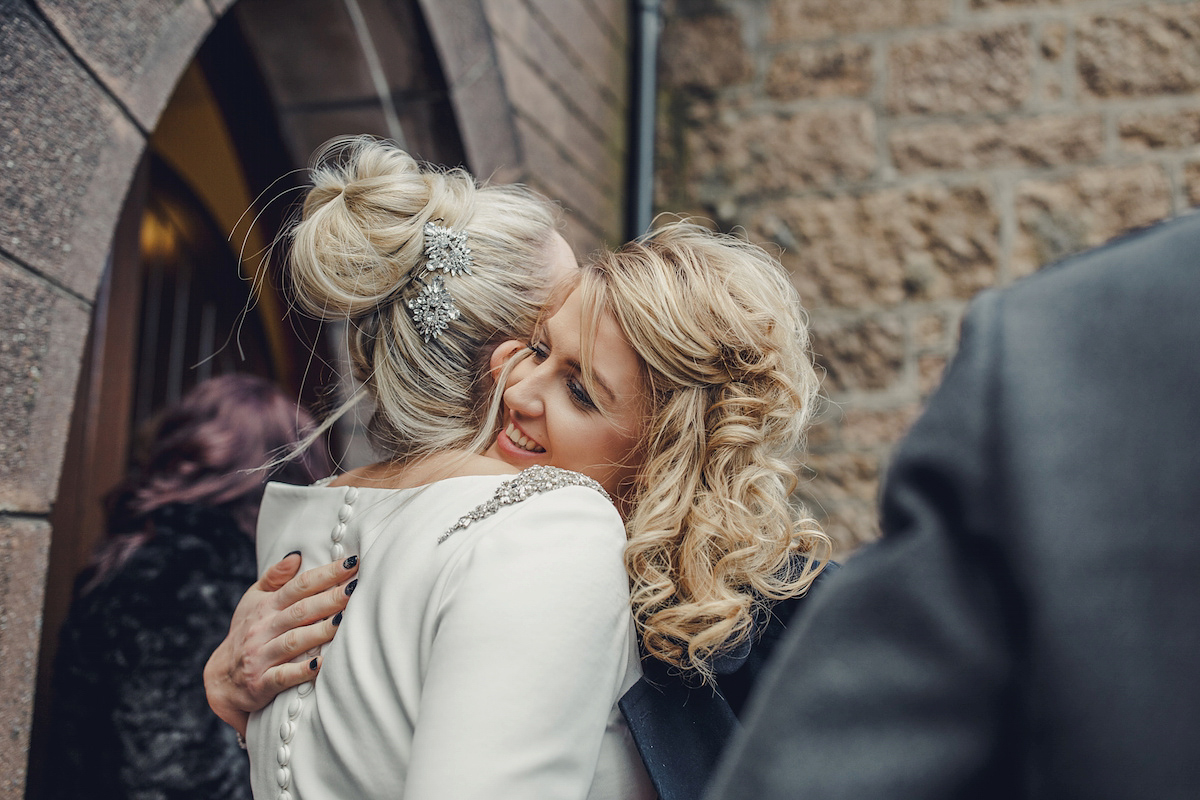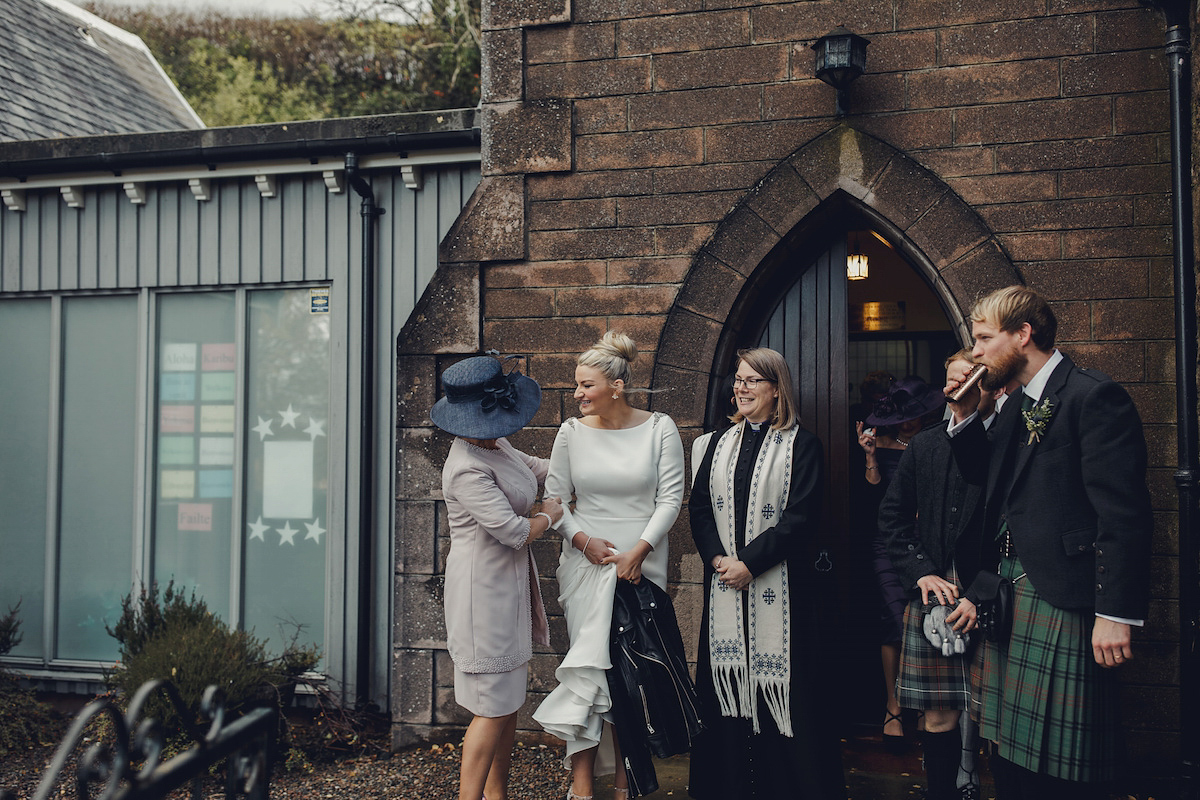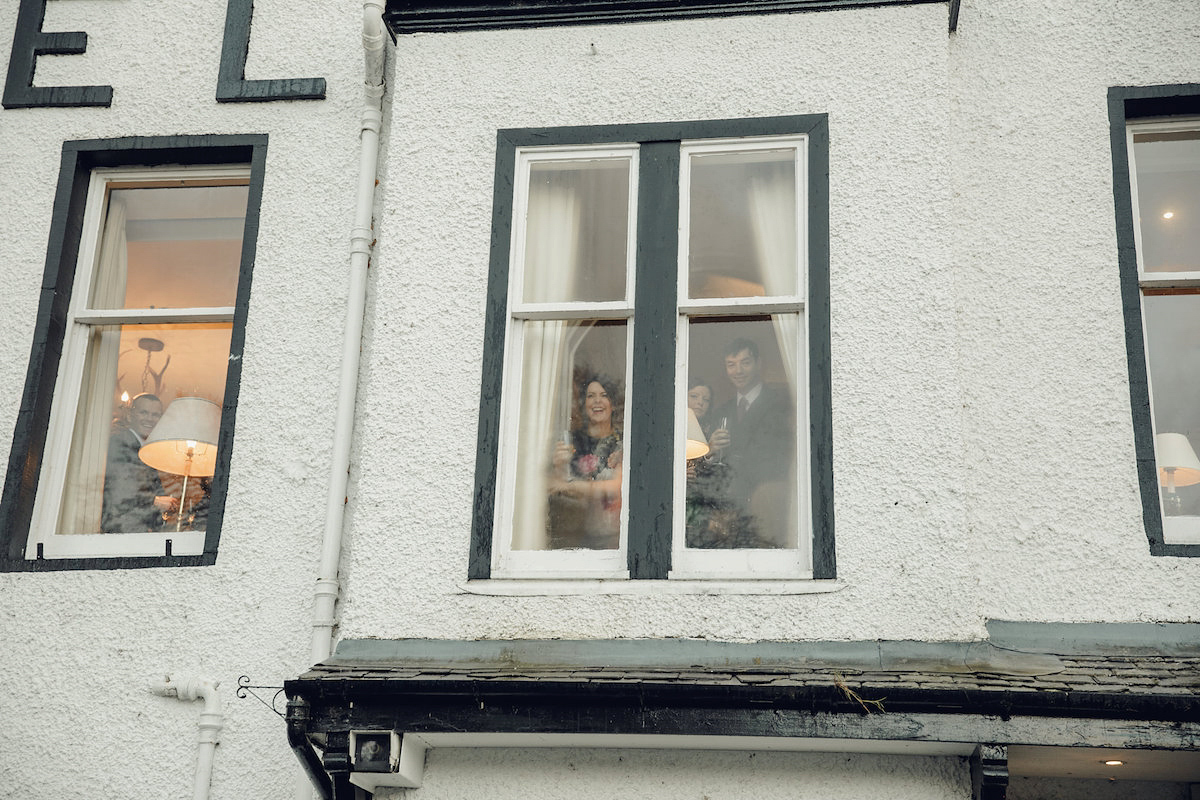 "We are so happy we booked our photographer, Emma Lawson. We instantly fell in love with Emma's colourful, honest photos that focus on people and capturing real emotions."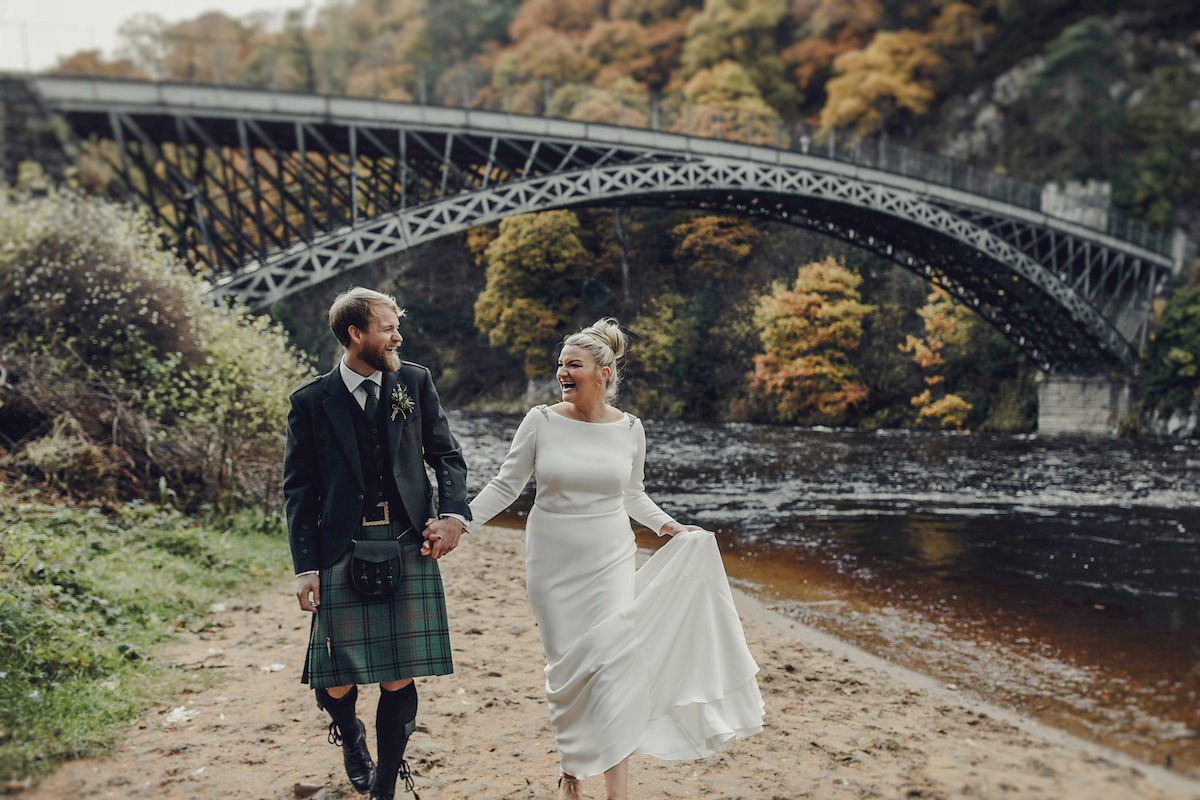 "On the day itself Emma was brilliantly no nonsense (which I love). She got the shots she needed without any fuss or taking us away from our day for any length of time."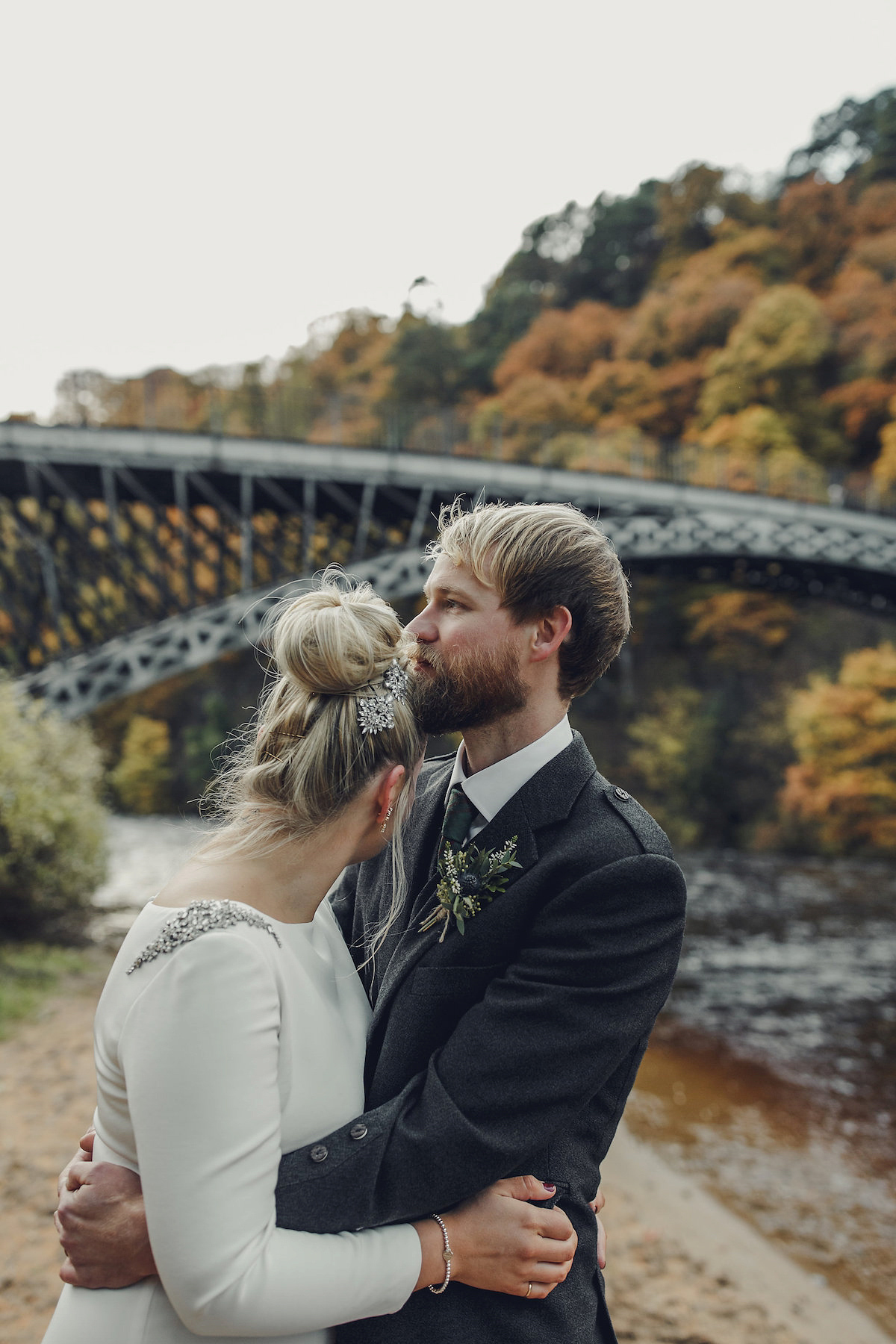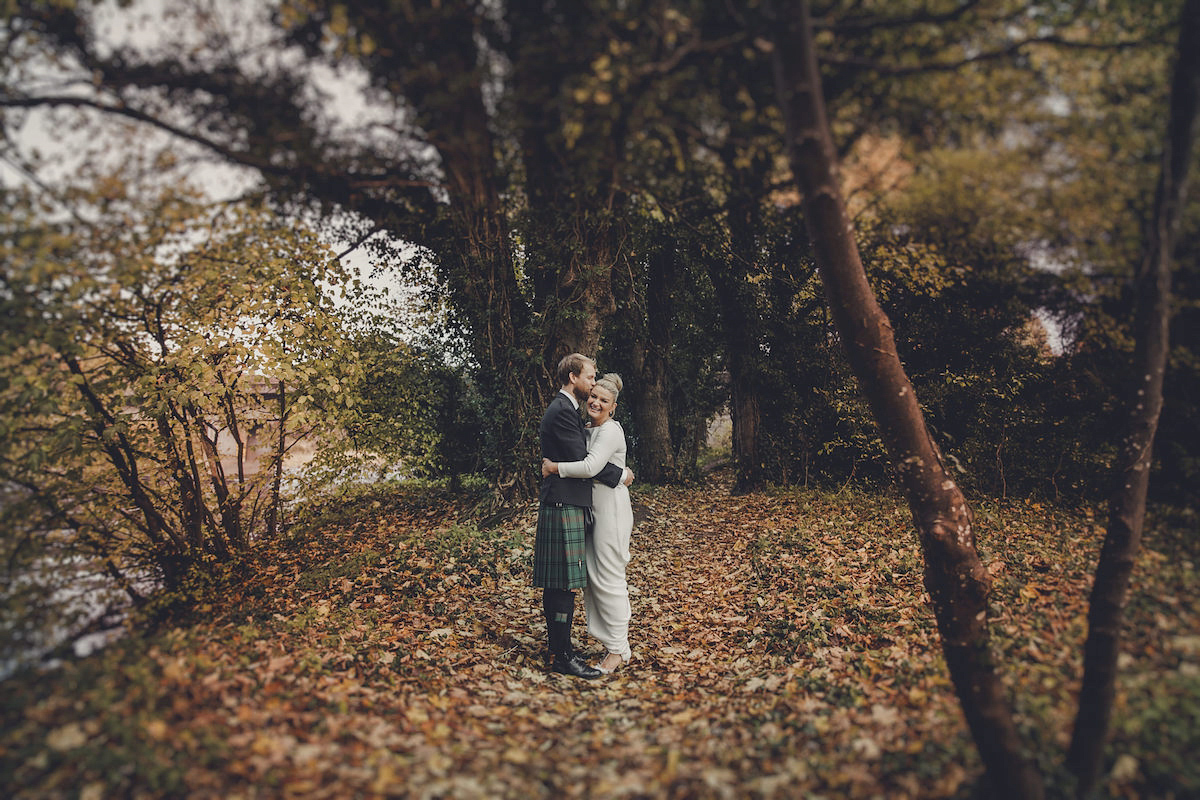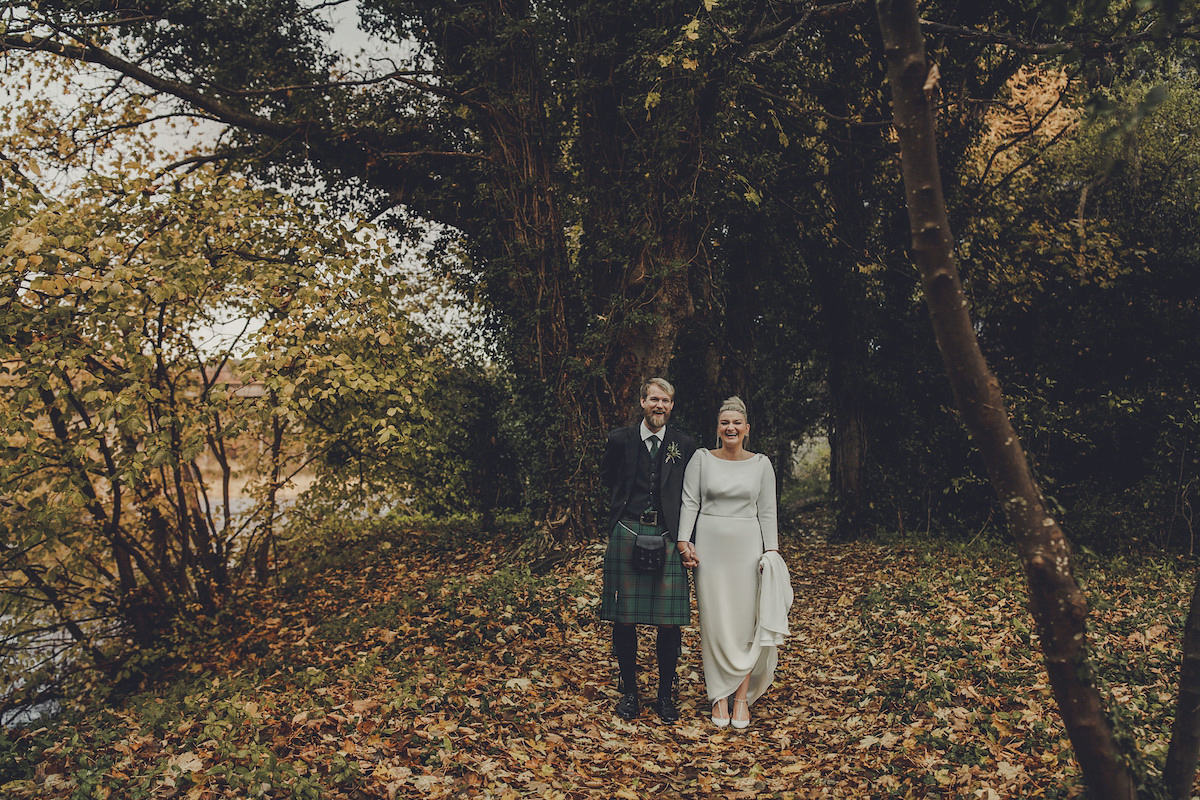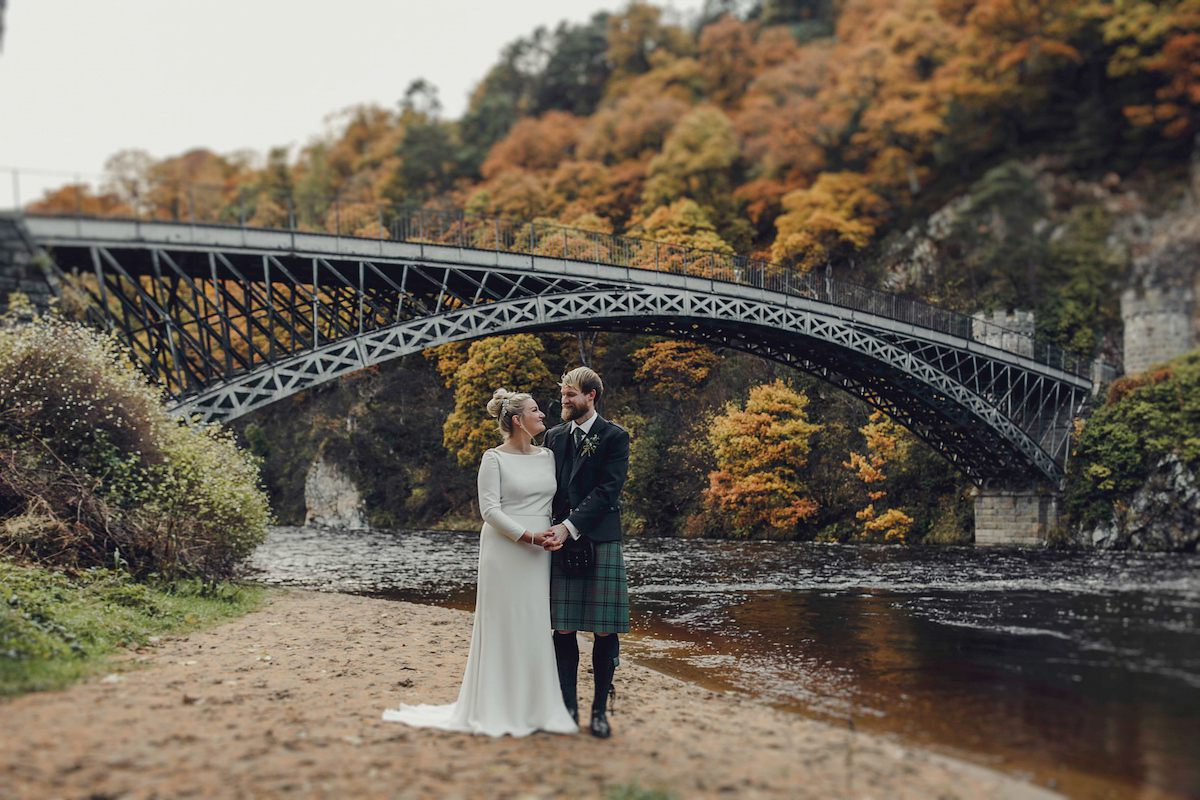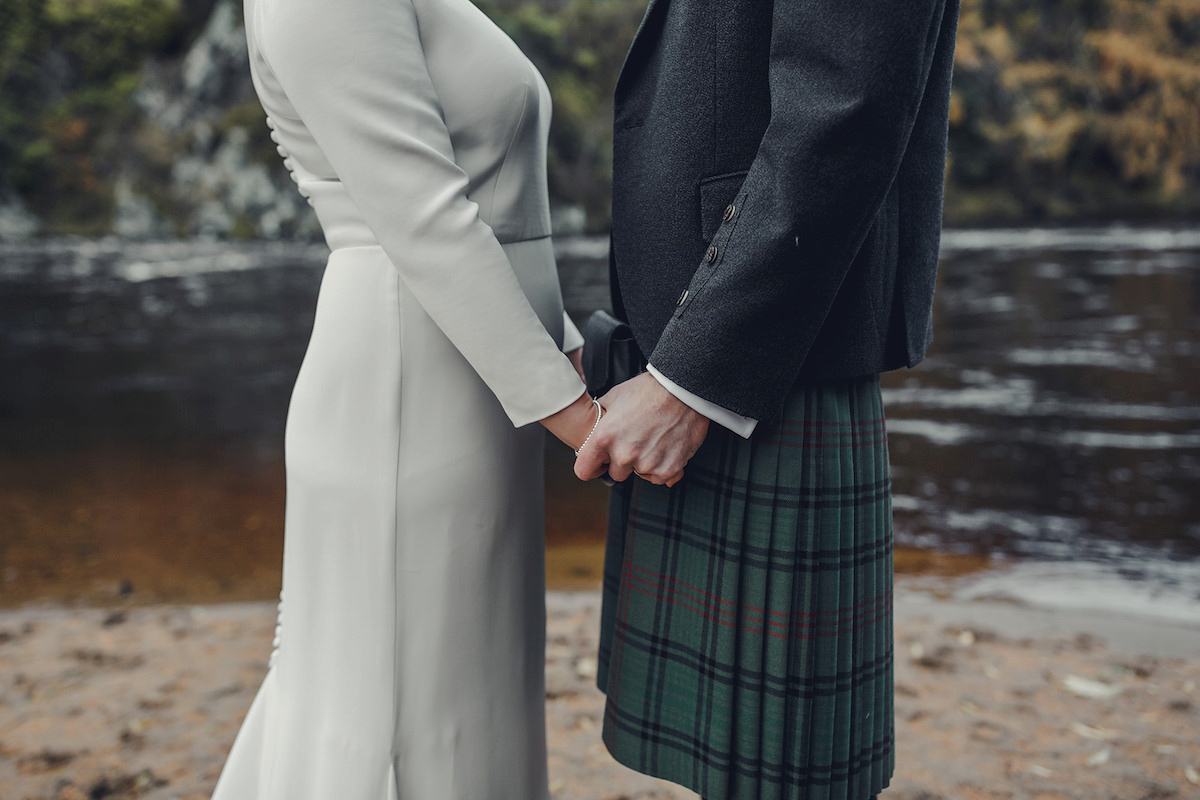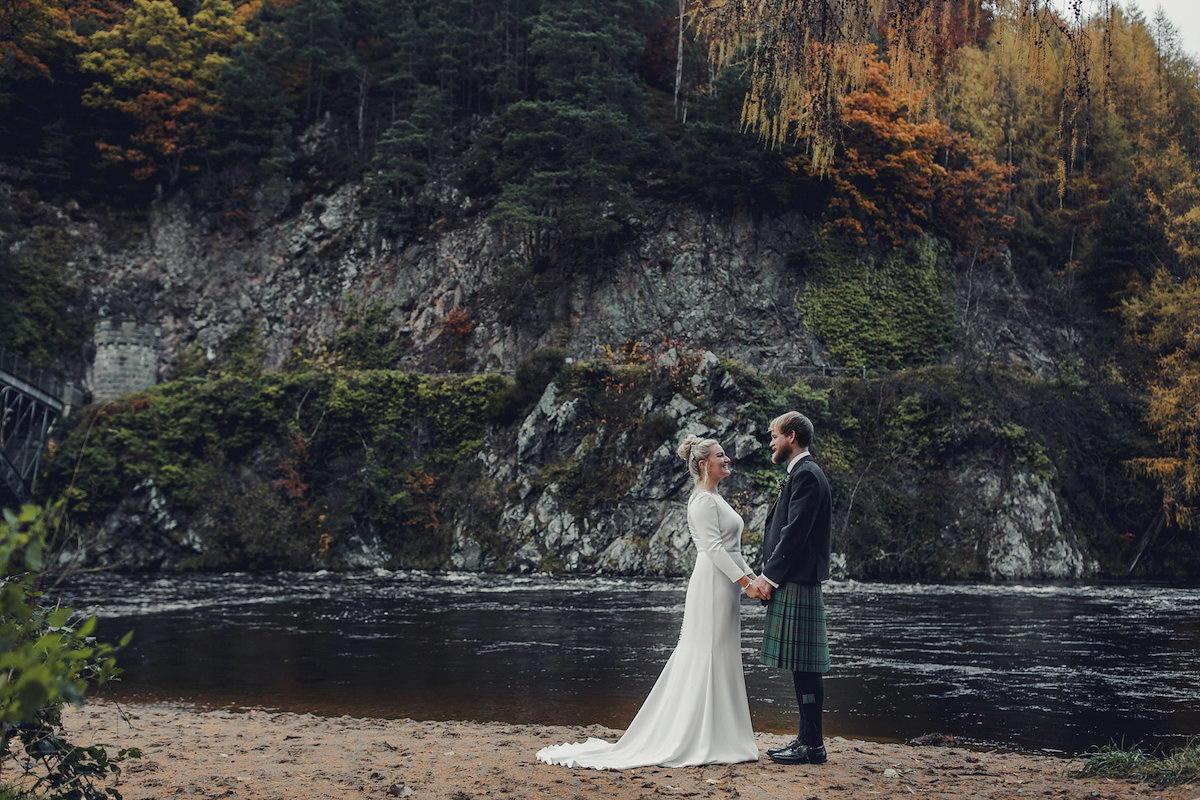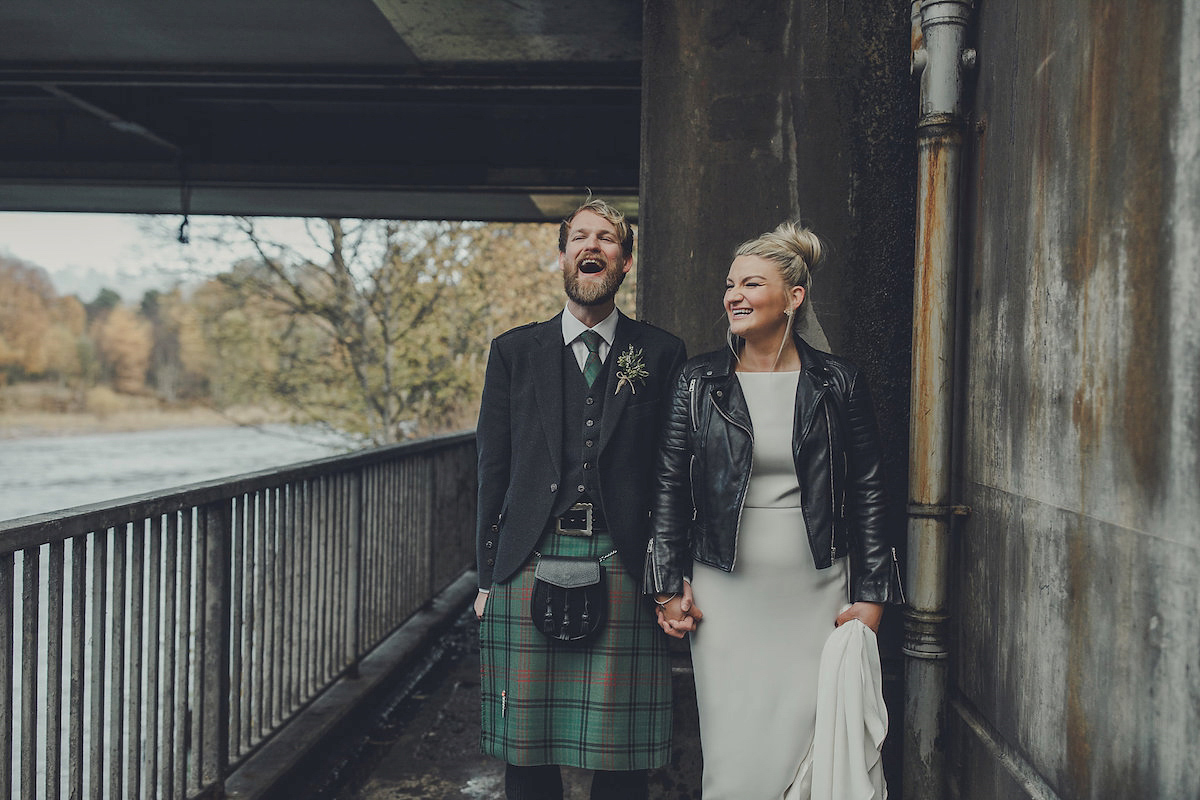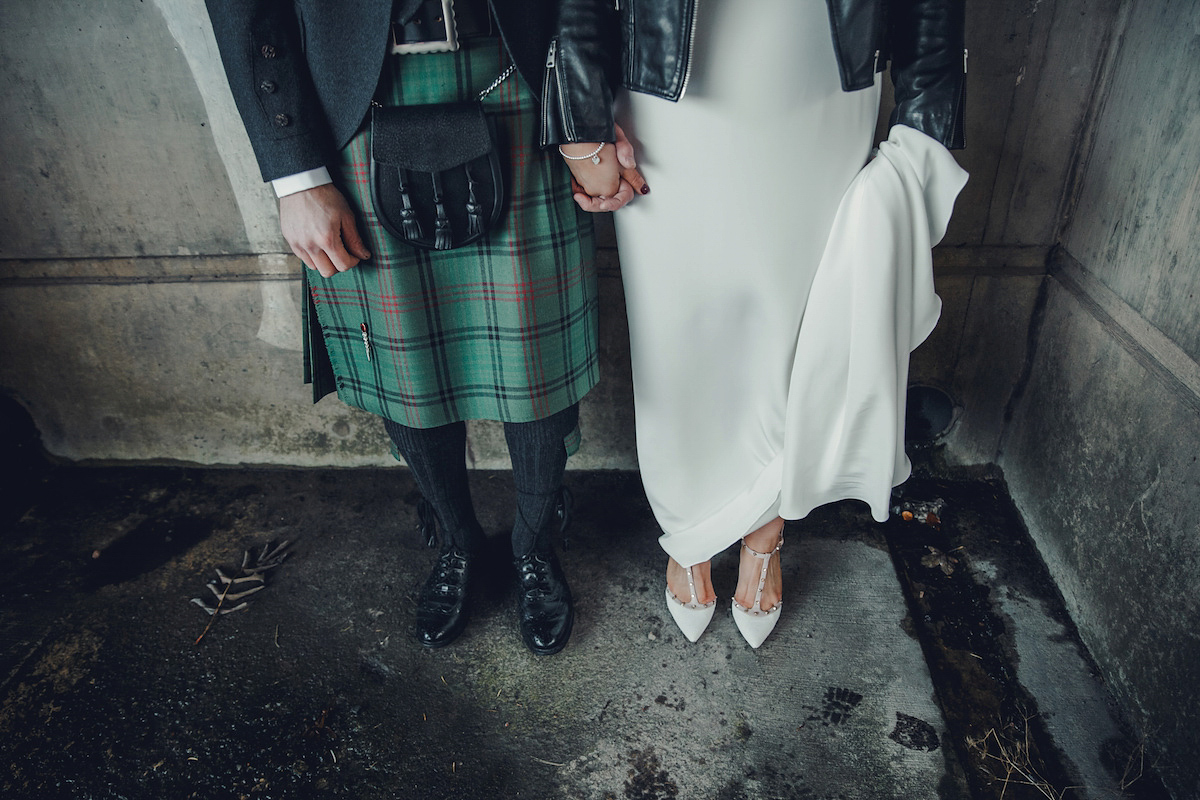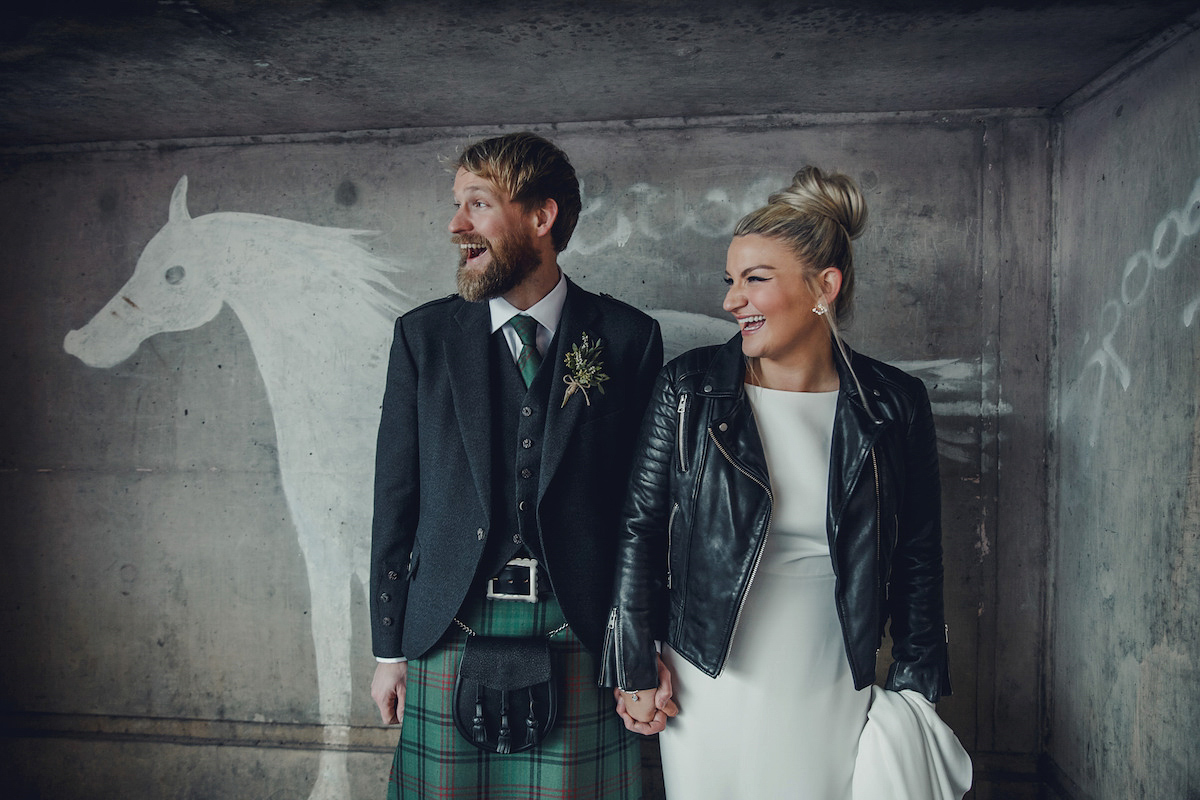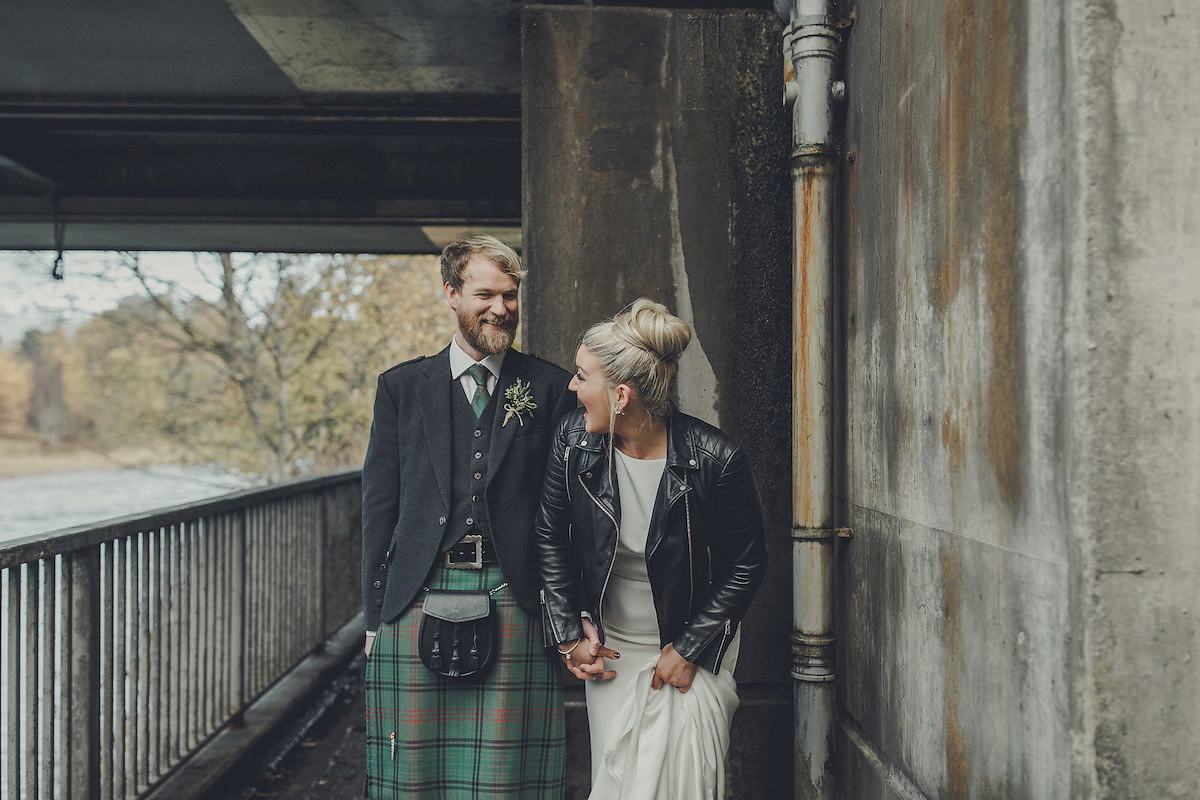 "The hotel itself is such a special place to us. We visit as often as we can and are always treated like family. It's the perfect place to sit by the fire with a dram and relax in good company. It also happens to be an incredibly cool venue with great attention to detail (being passionate about design, pleases us both greatly!) It's littered with great pieces of art and local textiles."
"It also serves the best local food and drink and the service is always so warm and generous, so we couldn't go wrong."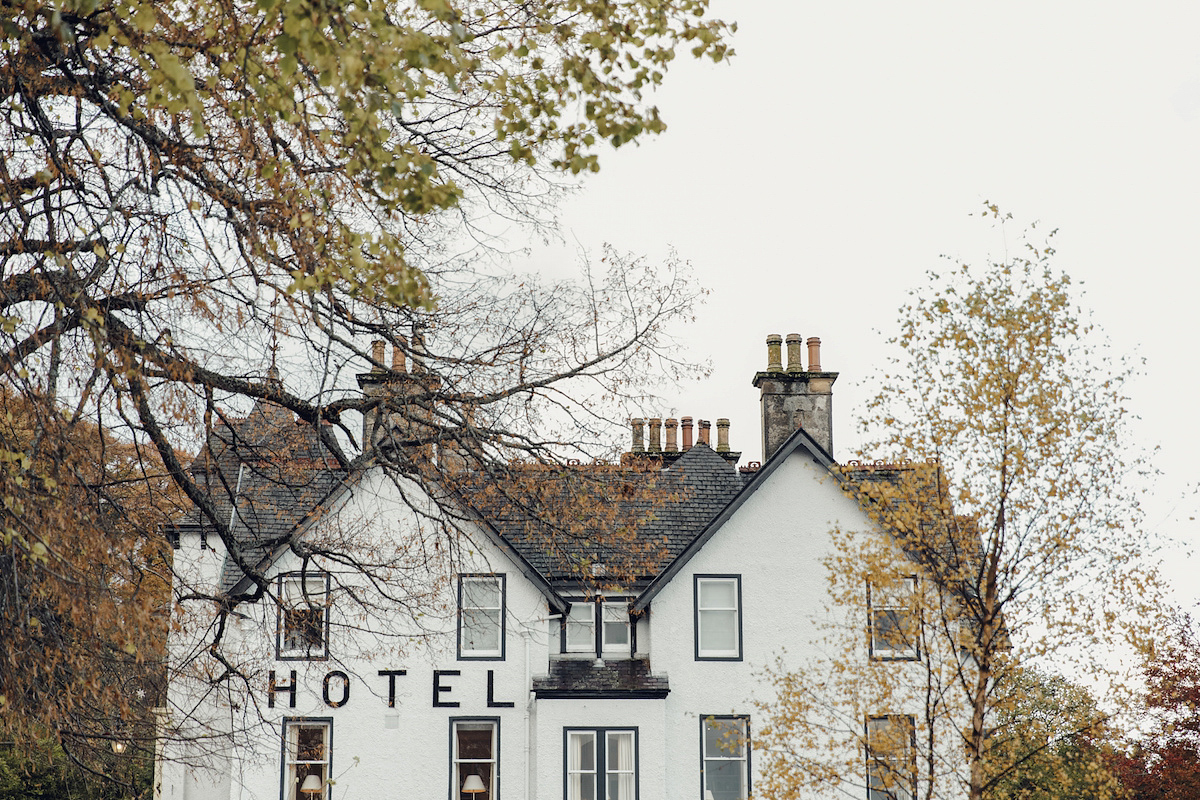 "We both love the hotel and it doesn't need any styling as it is already so beautifully curated. We just added simple table centre pieces made by A Vintage Tea Party which combined local heather, moss, barley and pheasant feathers to reflect the season and location."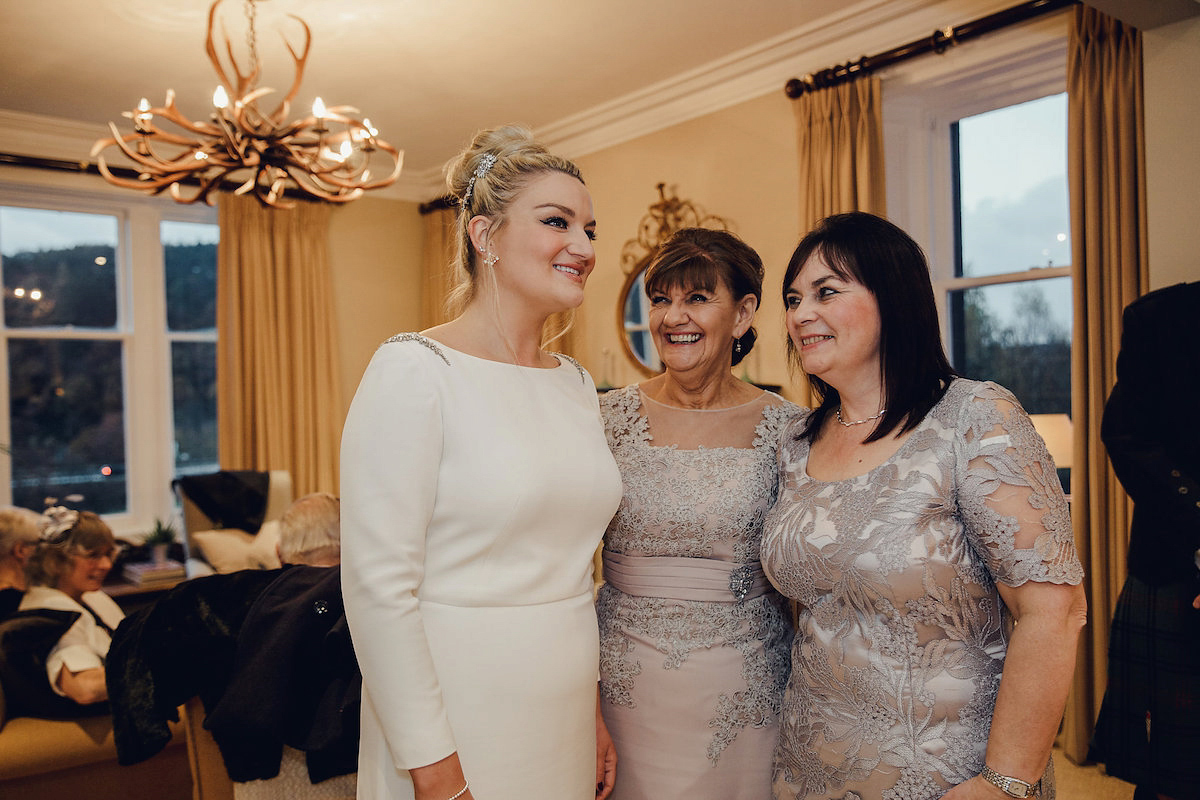 "All the catering was done by the hotel, which serves incredible locally, sourced food. We chose Isle of Mull Scallops with Stornaway Black Pudding for the starter, Roast Aberdeen Angus Sirloin for the main and the biggest slab of Sticky Toffee Pudding and Whisky Ice Cream were served for desert. Wedding food can be hit or miss especially when catering for big numbers but everyone raved about the food, it was spot on."
"Gavin printed some very basic table and place cards. Aside from our initial invitations we didn't have any other stationery, again preferring to keep it uncomplicated."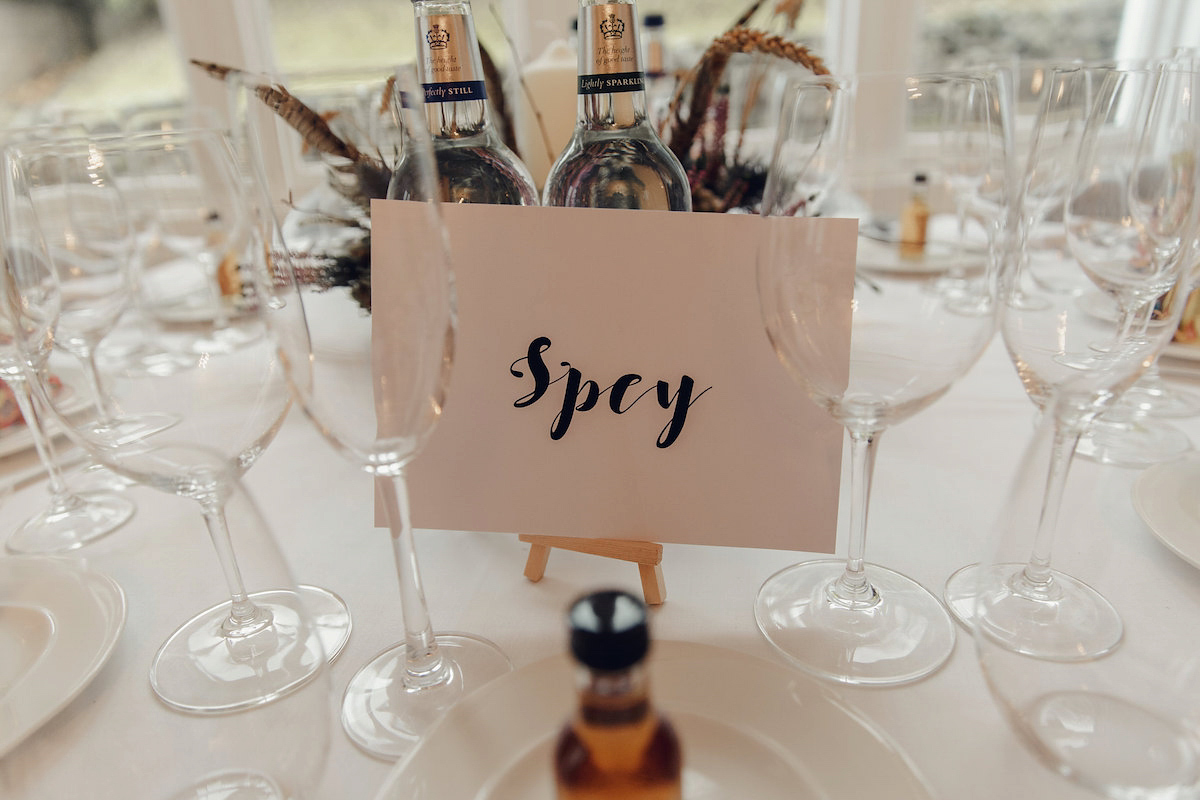 "The Quaich Bar in the Hotel is famous for it's massive whisky selection and they knocked up some delicious whisky cocktails. As I work for BrewDog, a local brewery, the hotel was kind enough to let me stock the bar with BrewDog beer, which went down a storm with guests."
"The men were given a miniature of Aberlour whisky, from the local distillery, and the ladies all got a bag of retro sweets. In a past life I owned a retro sweet business so it was a nice little trip down memory lane making up the favours for guests."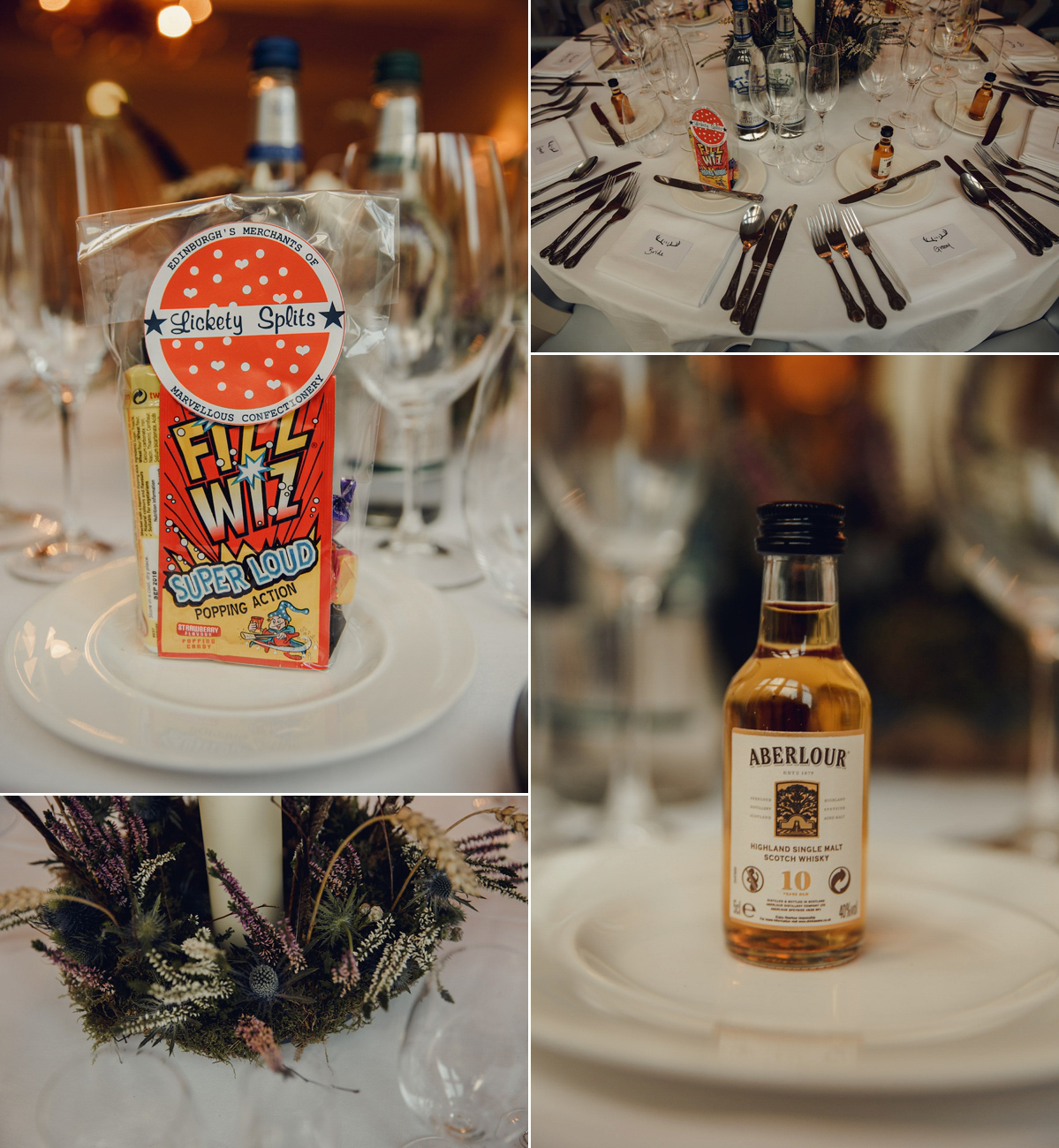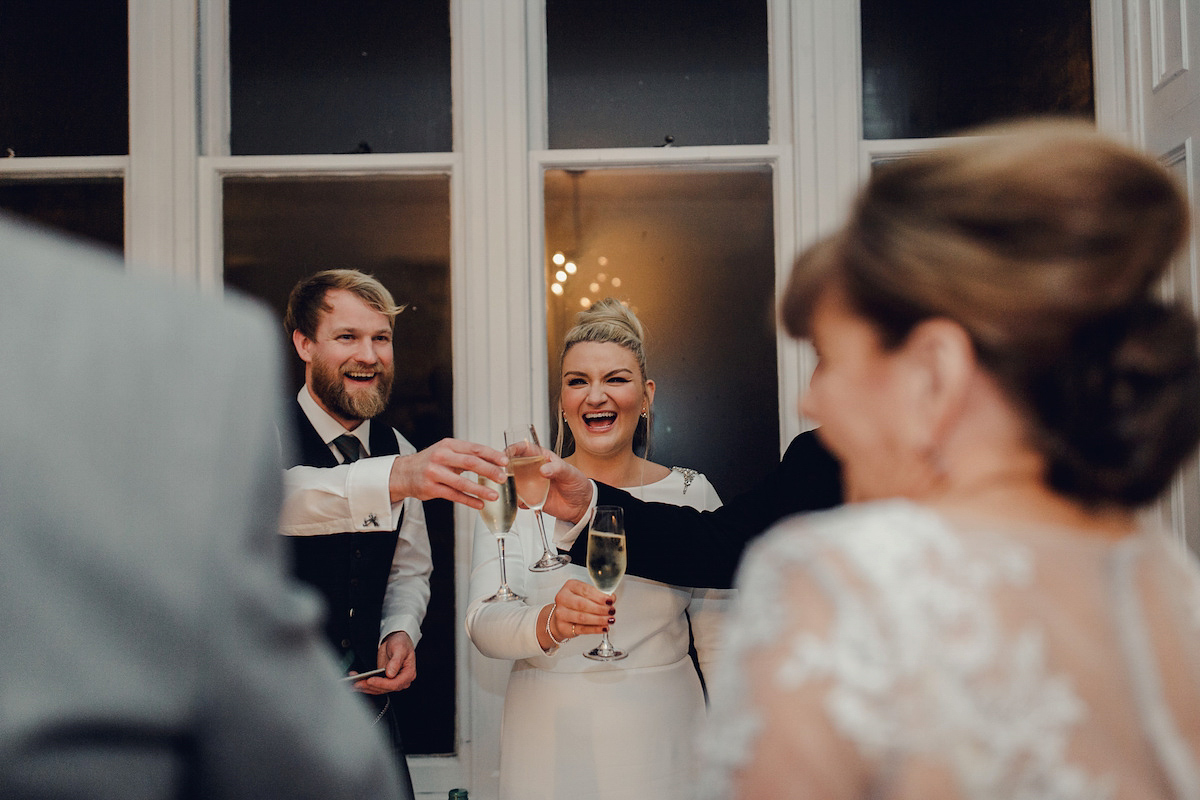 "Our grandparents being present on the day was very special. Gavin lost both his grandmothers earlier in the year so we paid tribute, in both the service and speeches, to them and he also paid tribute to his grandfather who was so strong on the day. As the only girl in the family I'm very close to my granny who has always sworn she would see me marry my soul mate before she died."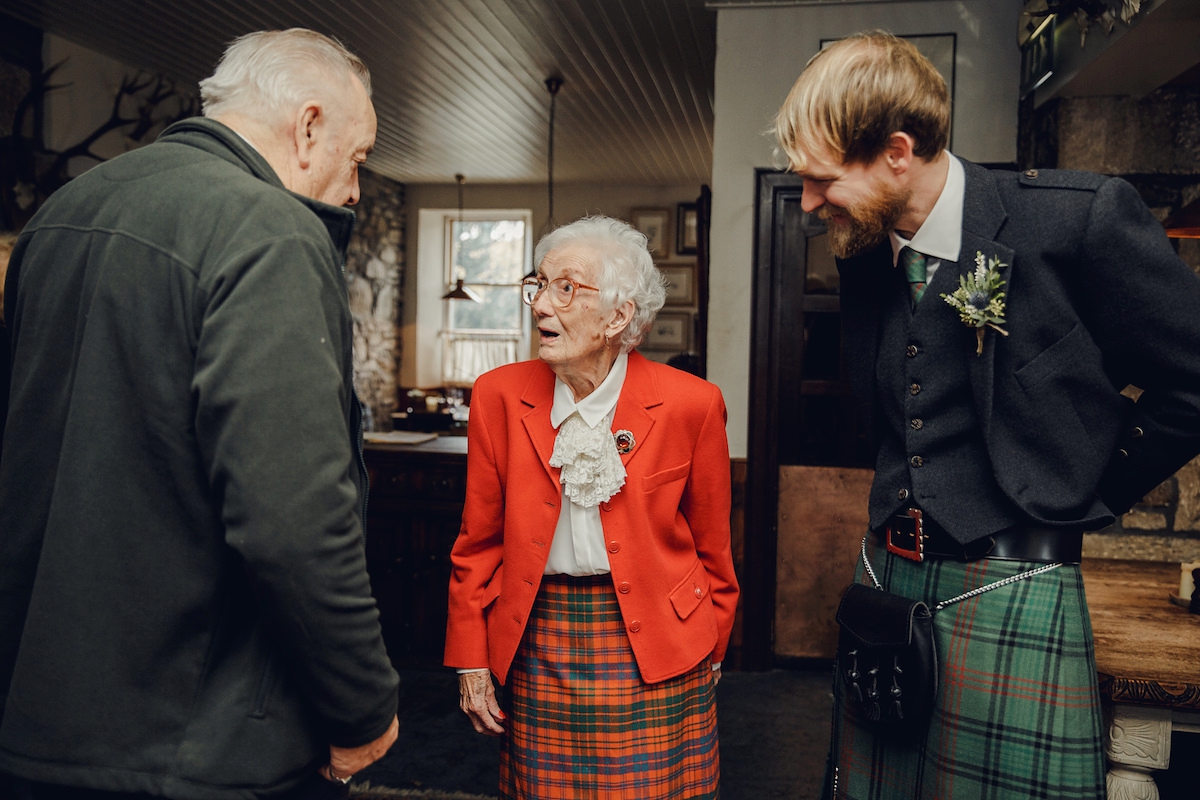 "At 96 she was incredible and insisted on wearing her Ross tartan. She passed away 10 weeks after the wedding. It is so wonderful to have shared the day with her and to have her in the photographs forever."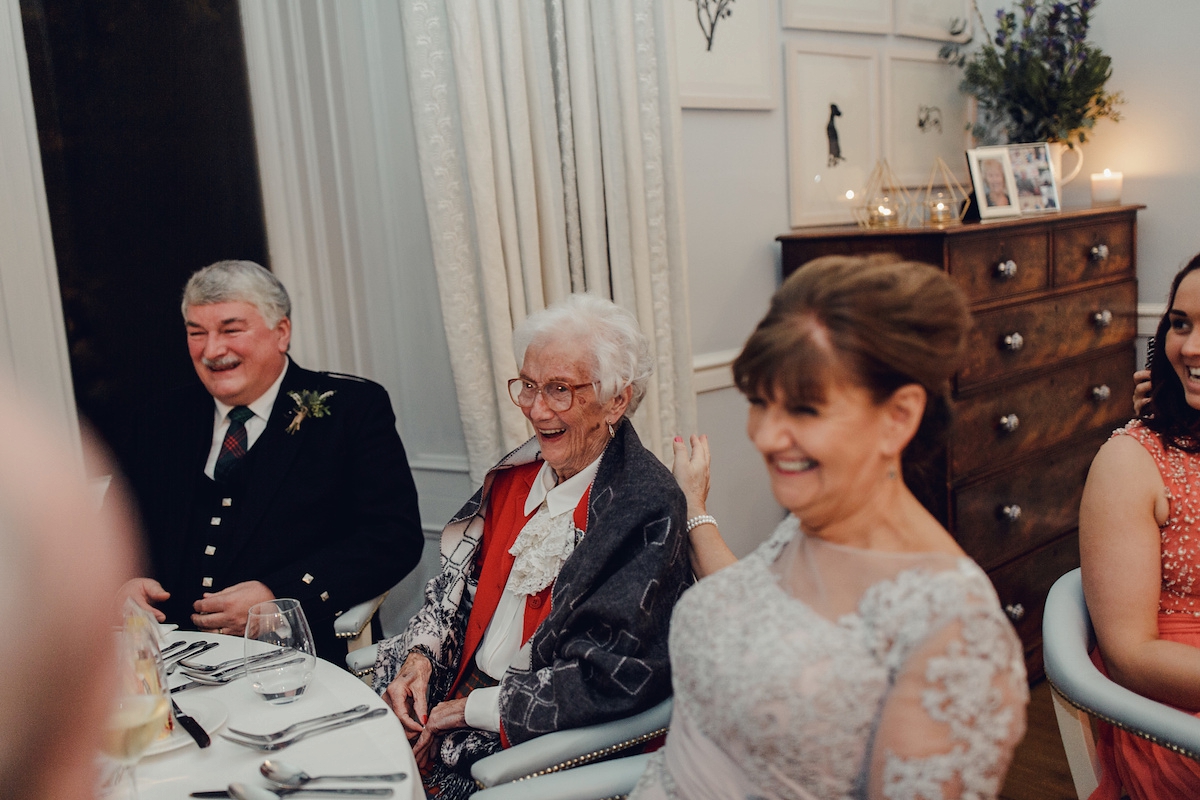 "Emma captured her eccentricity perfectly in the photos. My favourite being her sitting by the fire with a dram in her hand, her red nails matching her tartan, her gold fox headed stick by her side and telling wild stories to our guests!"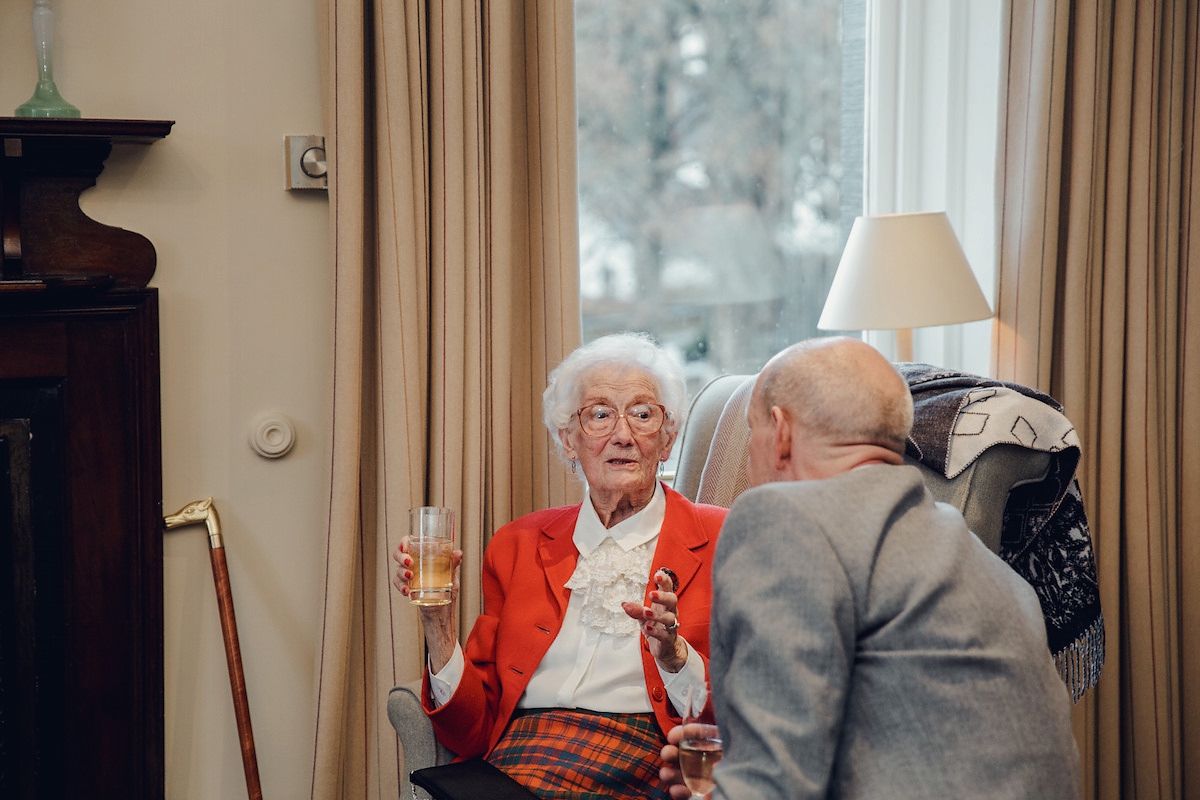 "We chose Roxy Music's More Than This immediately followed by David Bowie's Let's Dance, which I danced to with my dad. He loves dancing and is a great mover! Everyone was tickled watching him tear up the dance floor.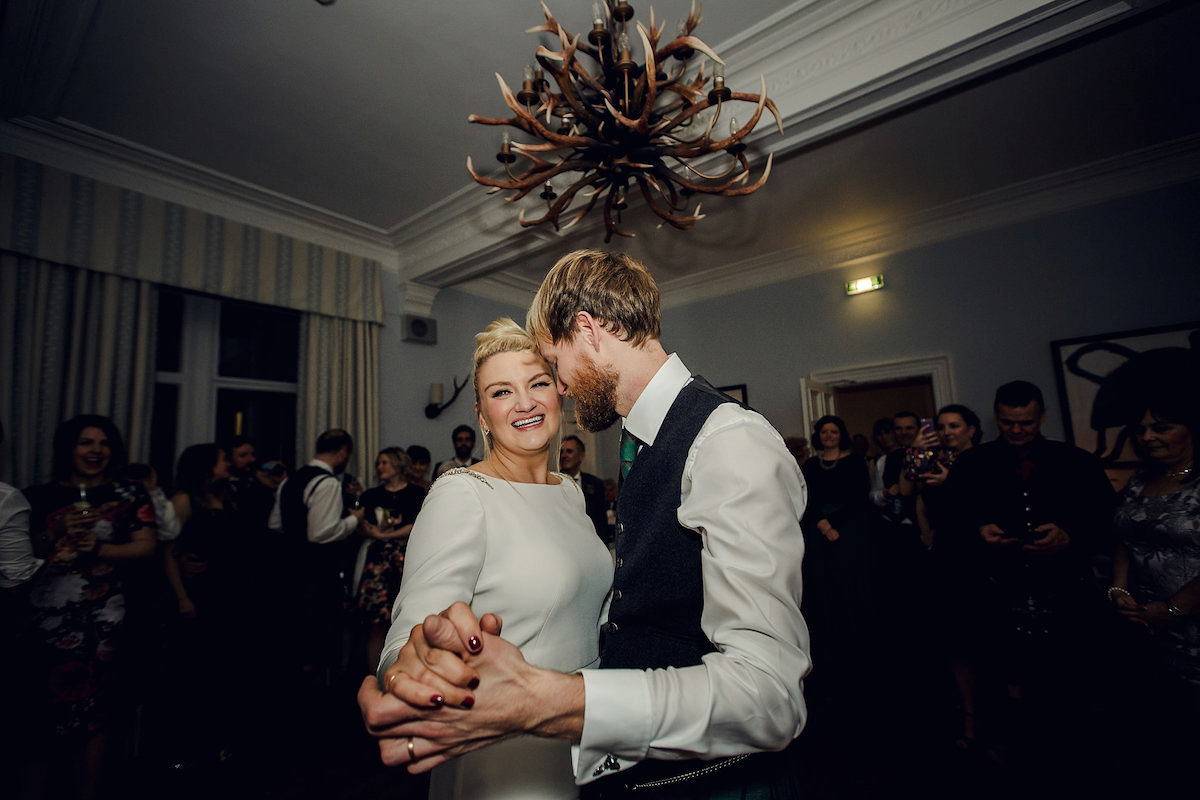 "The hotel recommended a local ceilidh band called Footerin' Aboot. The 4 lads that make up the band are still at school but are an incredible ceilidh and traditional Scottish band. They were unbelievable and filled the floor for a proper Scottish Hooley!"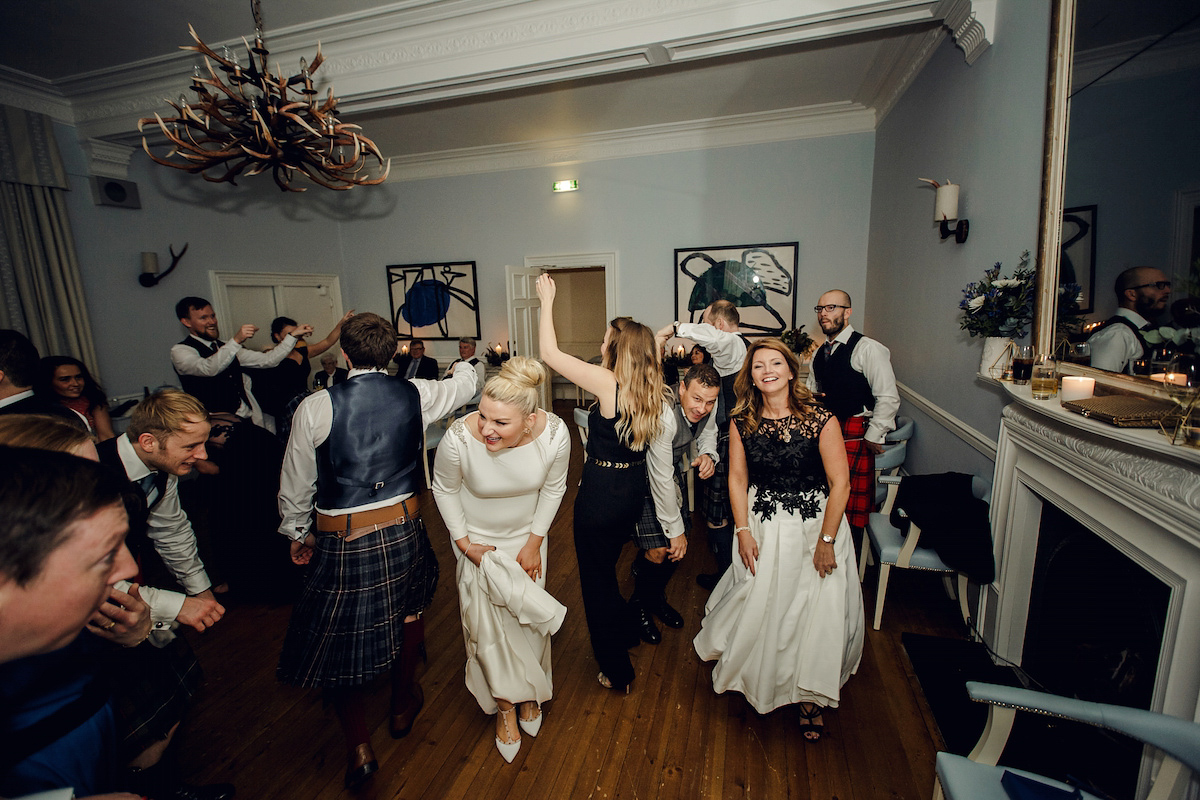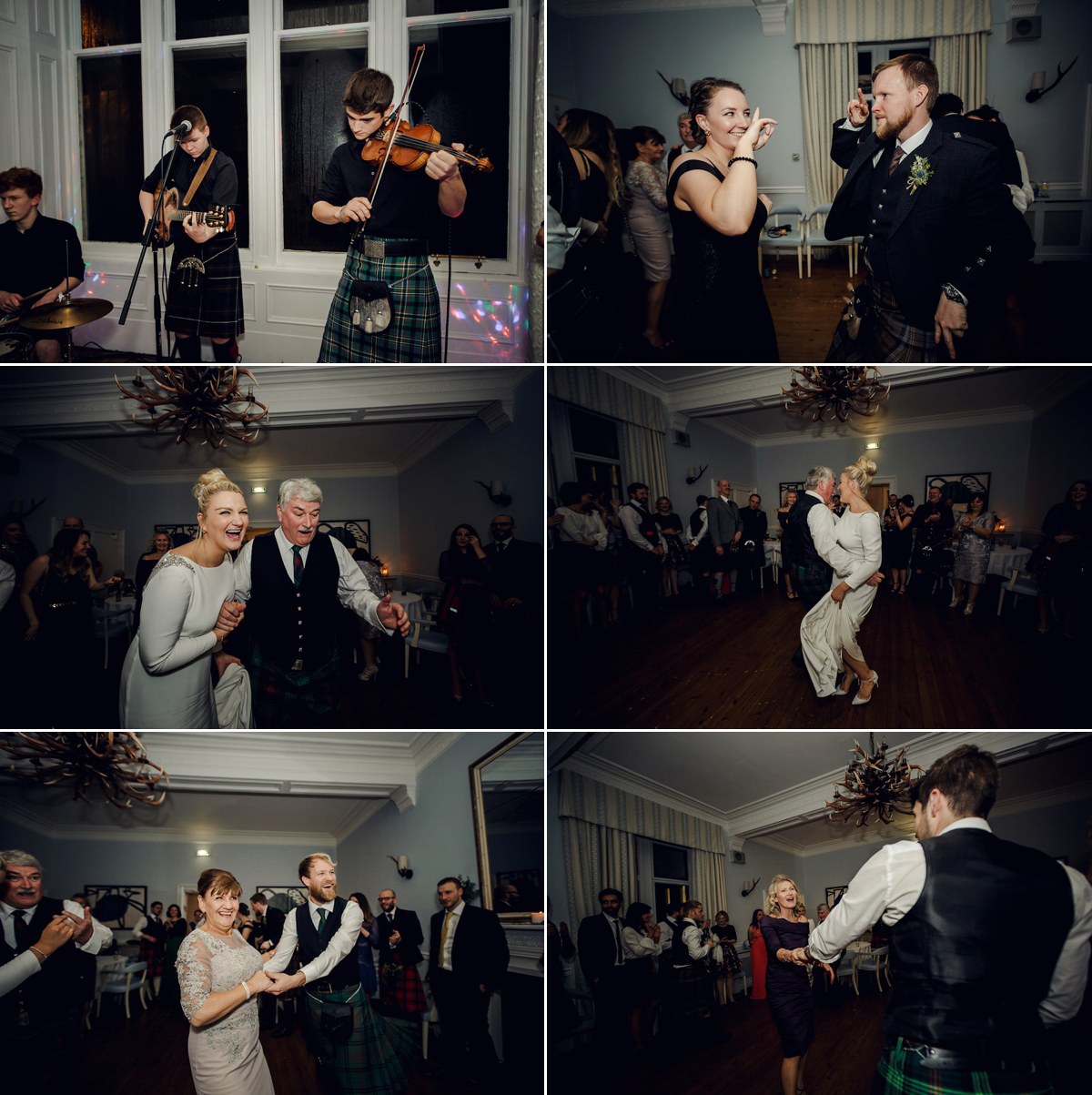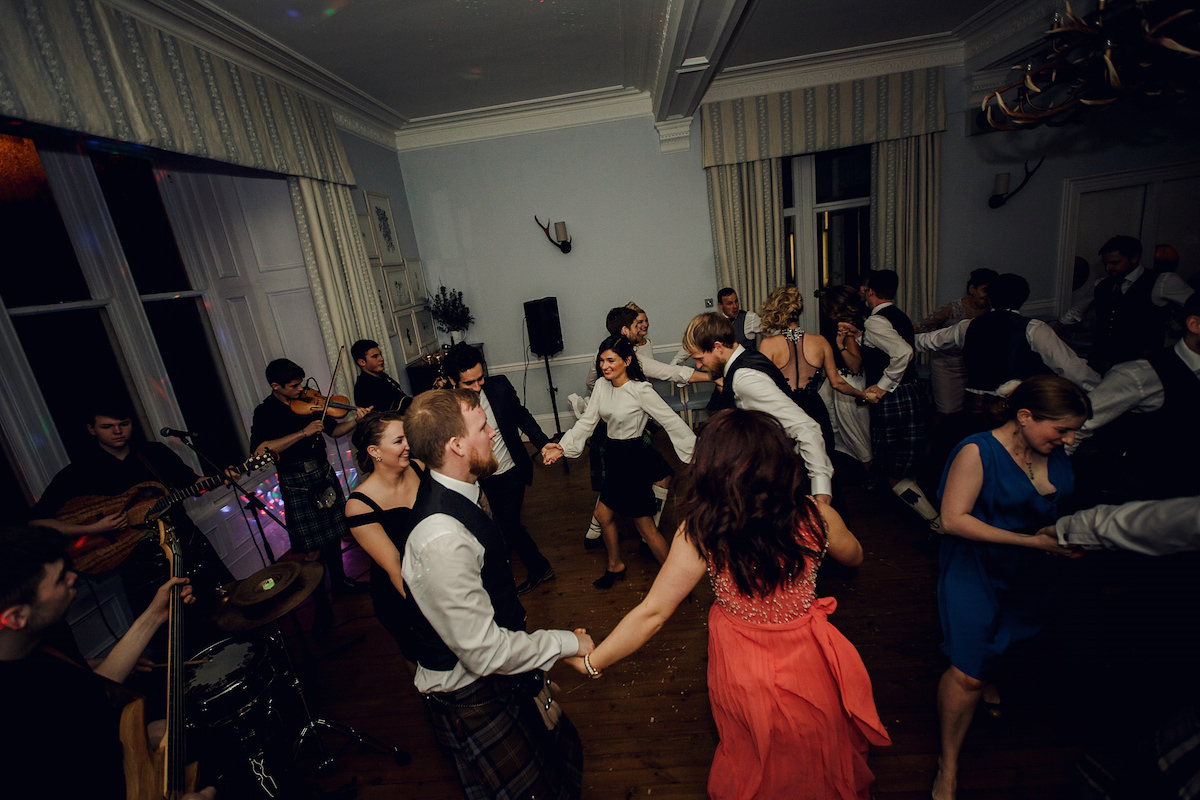 "It's so hard to pick just one favourite moment from the day – the ceremony was so uplifting, Matthew's reading for us was just beautiful and we really enjoyed taking a break on our own to walk down to the river but for me the speeches were my favourite part."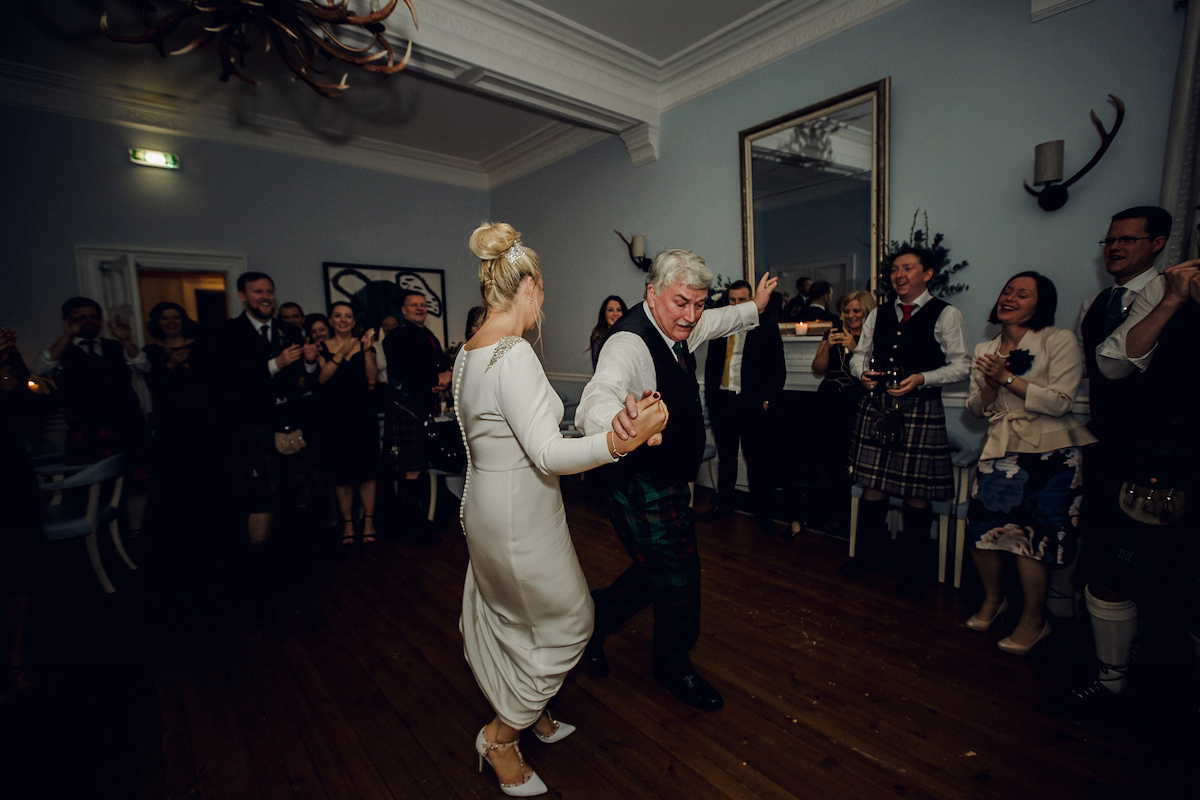 "Gavin's brother and best man, Mark, is naturally funny and entertaining but neither my dad or Gavin are confident public speakers so I was completely floored by both their efforts. Gavin shared his feelings so honestly and spoke so eloquently. My dad surprised us all as he'd written a limerick about Gavin!"
Words of Wedded Wisdom
"Remember less is always more! Don't try too hard or fixate on unimportant details. People will remember the warmth of your day, the words, your smiles and the happiness. They don't care whether you had cupcakes or bunting, a photo booth or fancy dress props!
We booked our wedding a year prior to the date itself and chose November as the trees in the area turn red, orange and gold for just 4-6 weeks and it is spectacular. As it was the 5th of November we had to have fireworks. The team at the hotel organised the most spectacular display and it was really fun!"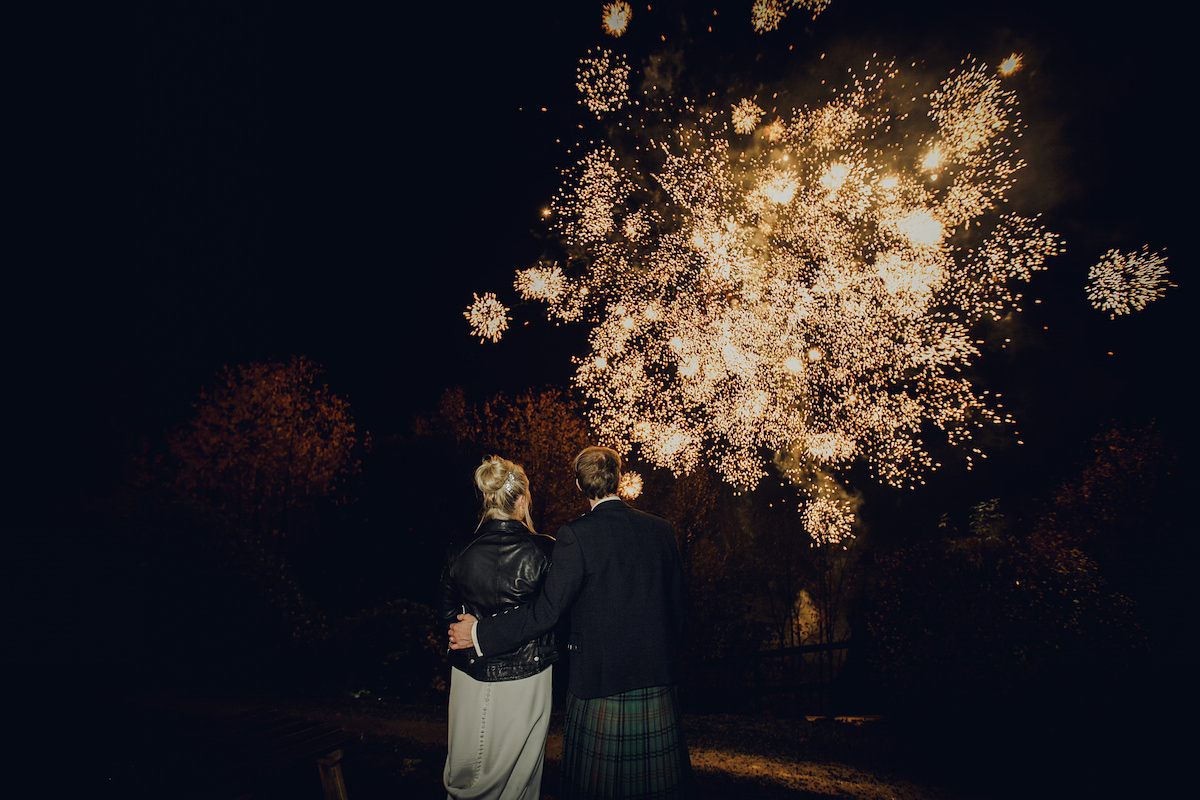 So gorgeous! And hopefully, inspiration for all of you feeling the pressure to incorporate 'detail' when you're just not feeling the love for such things! If you want to a simple, fuss free, pared back day, go for it!
I'd love to wish Jude and Gavin the loveliest of time on their honeymoon, which I know they're heading off to today!
Have a lovely Saturday morning folks – pop back at 12 noon for a super useful post that goes into some detail about wedding photography.
Love Annabel x