I'm sat here writing this having just dropped our girl, my fellow Love My Dress writer Emily D to the train station after an exceptionally smiley weekend in the Cornish rain.
Along with most of you wonderful women, a week of world news has left me with a heavy heart and some increasingly anxious flutterings that turn into disbelieving rage on a daily basis. What we can find comfort in, is the infinite power we all have to show compassion, kindness and love. Love My Dress allows us an insight into soaring love stories each day, and has become a platform for a warm and loving community. I, for one, am going to extend the goodness that radiates from our most beloved blog and carry it into all aspects of my life, including spending much more time with the ray of sunshine that is Emily B.
The wedding I am sharing with you today completely embodies the straightforward simplicity of pure love. No frills needed. It is about the intention and the pledge of a lifetime together being celebrated in the familiar cocoon of your back garden. Stripping things back, adding genuine heart and making delicious feasts for people you care about is as about as good as it gets. Haley, a freelance flautist, and Adam, a senior software architect knew they had found 'The One' very early on in their relationship, and decided to get married in a uncomplicated, yet still beautiful way. Cambridge Registry Office made it official on the 30th July 2016, followed by a back garden barbeque which they enjoyed with a small group of close friends and family. High fives to Haley for finding her wedding photographer on this very wedding blog. We also have a soft spot for our Little Book for Brides member Hannah Duffy.
"We absolutely didn't want a big, fancy wedding. We had initially tossed around the idea of eloping, but knew that we had some family members whose feelings would be a bit hurt if we did. So we decided to have a wedding, but it would be completely on our terms. A quick ceremony at Cambridge Registry Office and a reception in our back garden with good food and no disco, just family and a few close friends celebrating our marriage with us with the minimal amounts of fuss."
Photography by Hannah Duffy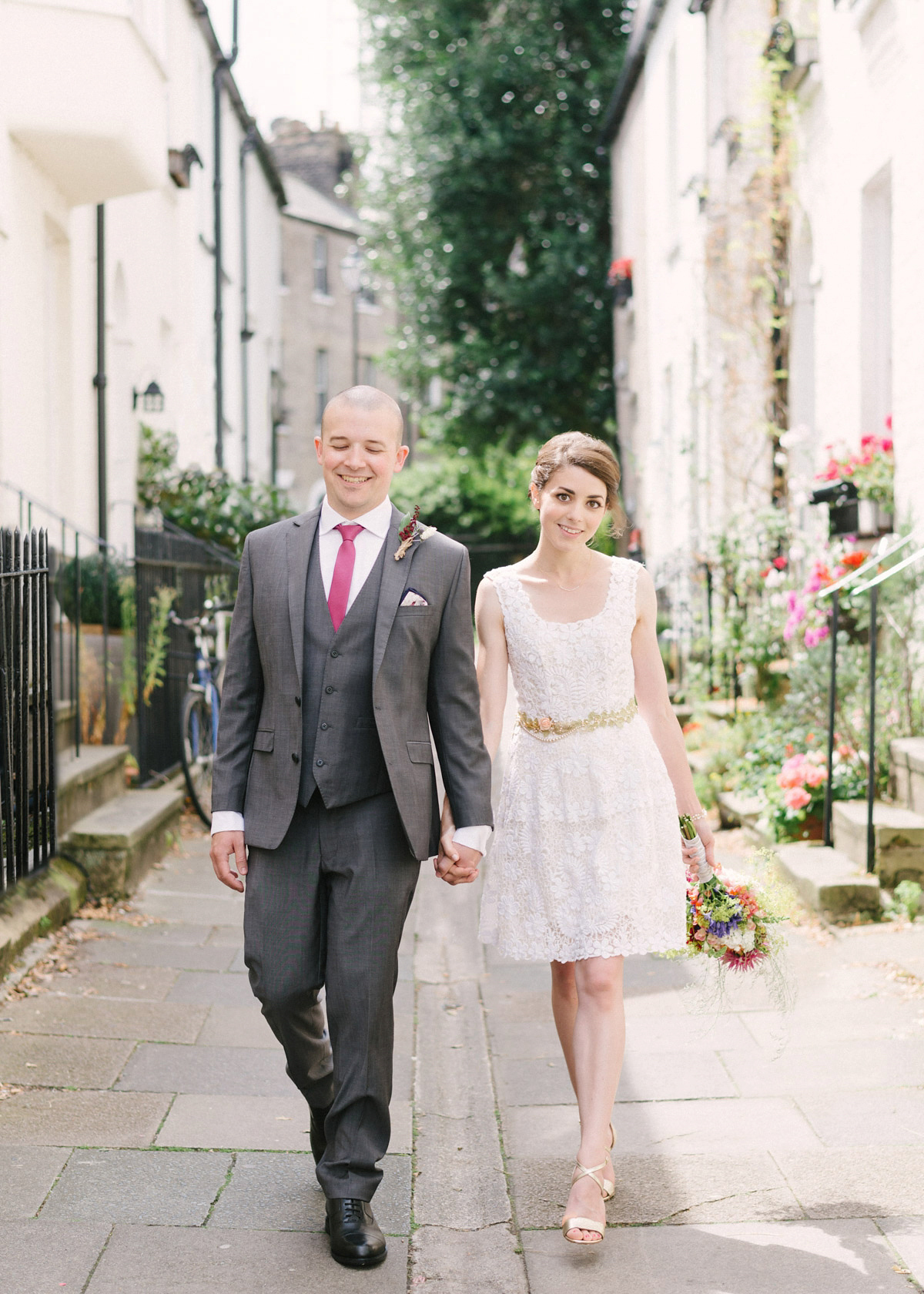 As is befitting of such a relaxed day, Haley went for simple elegance that still felt thoroughly bridal. A Yoana Baraschi gown was purchased from BHLDN's website in the sale and its simple lines and cute shortness was perfect for this warm summers day.
"When I initially started looking for a dress, there were a few that I really loved (think romantic, lacy gowns), but in the end we wanted to keep to a tight budget, and I also thought it would be a bit weird to wear a formal gown to our back garden barbecue reception; I didn't want to feel out of place at my own wedding. So, I headed over to the 'reception dresses' section of BHLDN's website, and found my cute little Yoana Baraschi. It was the very last one available, and it was on sale for £100! I knew it was the perfect dress for a casual summer wedding, and it's simplicity (and low price tag) gave me a lot of leeway to have fun with my accessories, like my beautiful bespoke gold belt from All Things Lucy."
"When I tell people about our engagement I tend to get a look of pity, but it was perfect and very 'us'. We were literally just having a conversation and Adam turned to me and said 'So, should we get married, then?', I said 'Yeah, alright' and that was that!"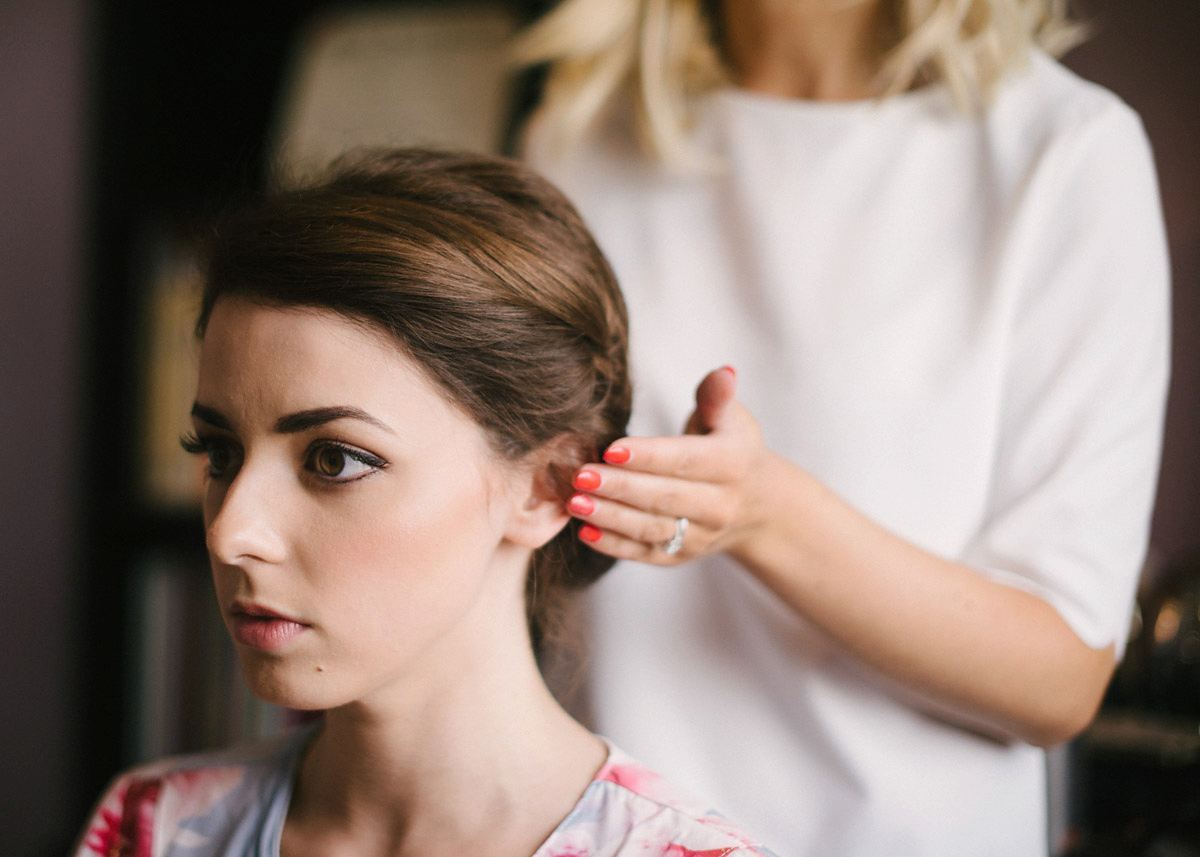 "It was our little secret for a few weeks; we went and got a ring designed, took a little celebratory trip up to Newcastle and didn't tell anyone until after my ring was finished. It was really lovely to just be able to quietly bask in that 'I've-found-my-life-partner' warmth together before starting the wedding planning madness."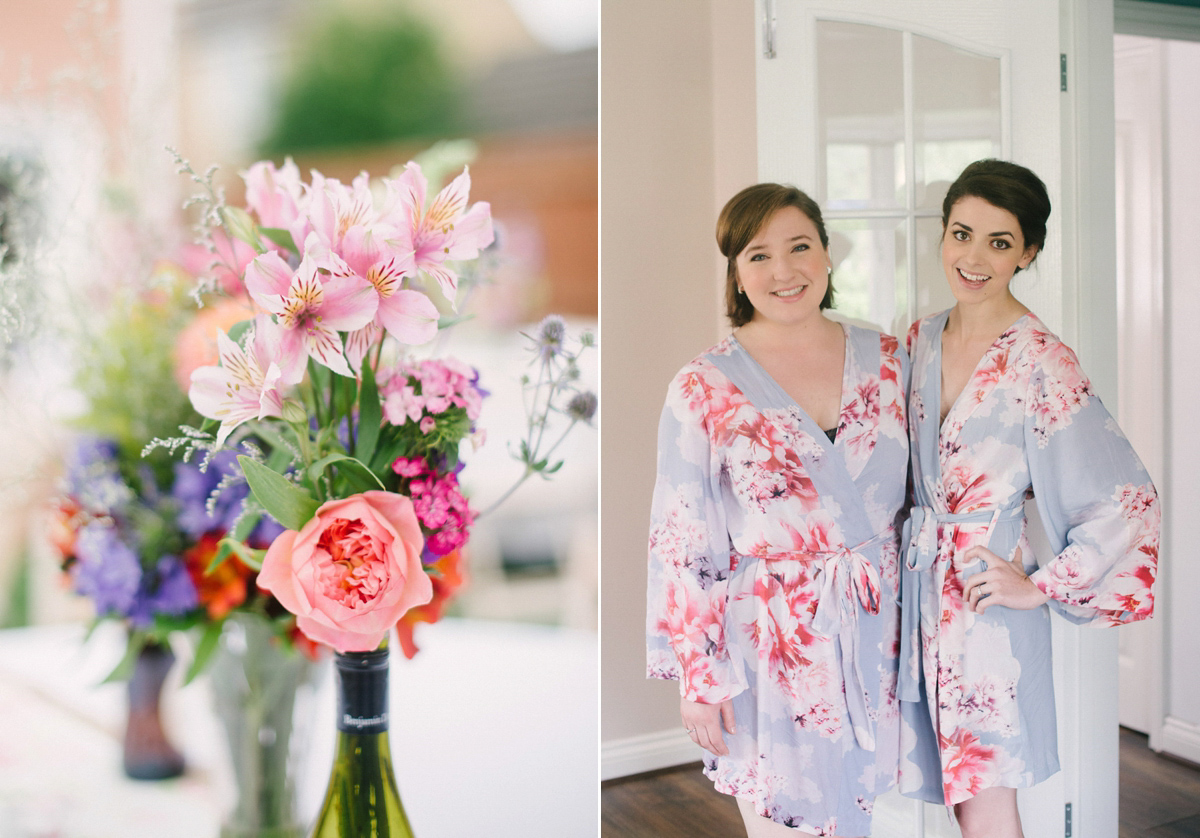 "I had to go back to the states for 10 weeks about a month after we got engaged (which was so difficult), so we had a 14-month long engagement, but by the time I was back in the UK we had just under a year to actually plan the wedding."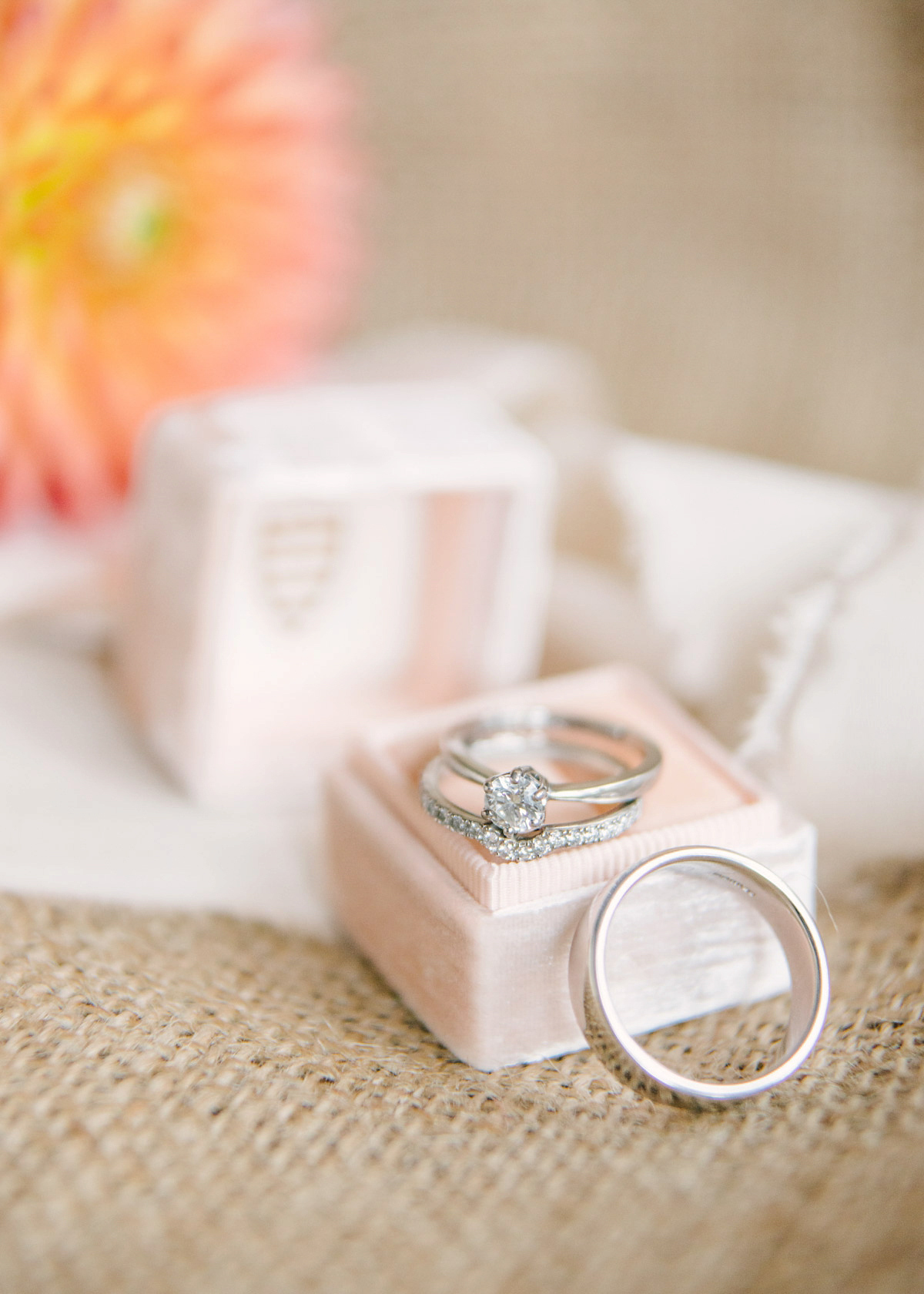 I feel giddy just thinking about having some leeway to shop for bridal accessories, and Haley chose pretty, golden detailing that made her simple shift pop with a bohemian vibe. These included a pair of golden sandals from Harriet Wilde.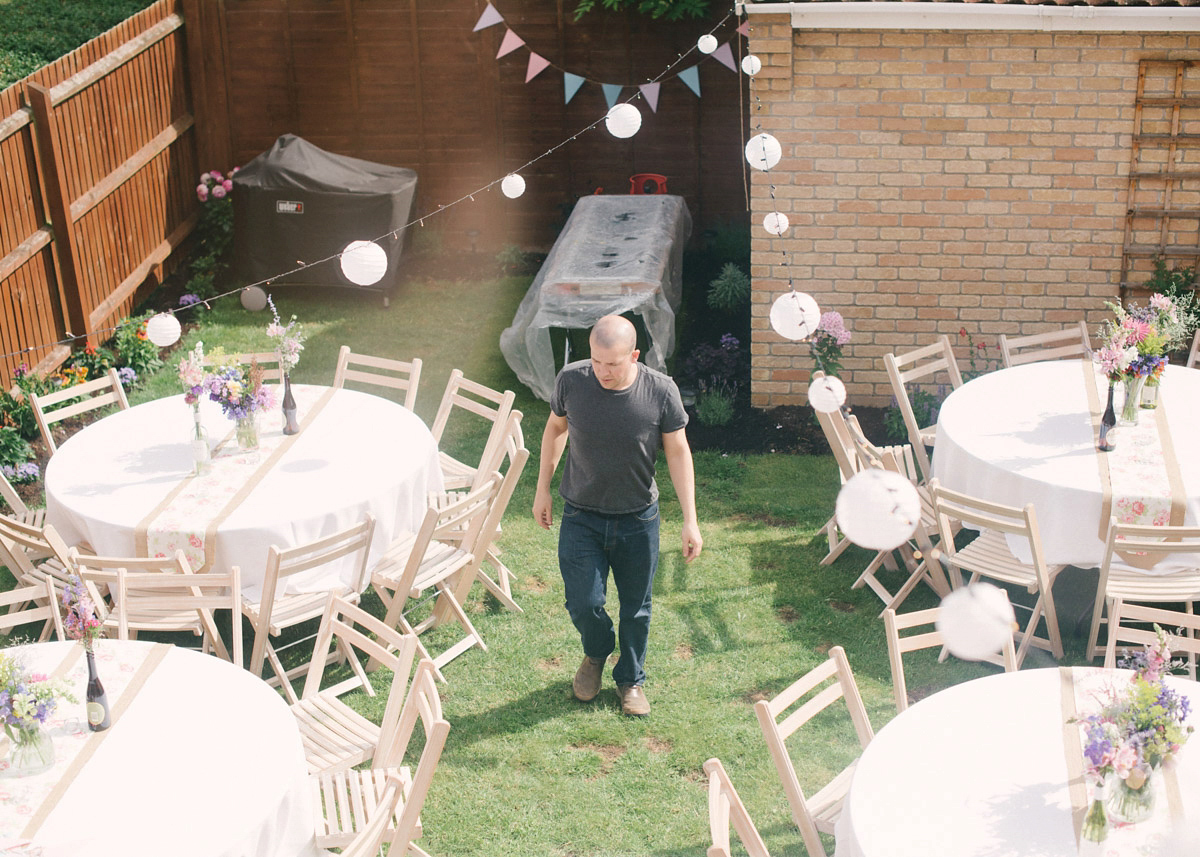 Bursts of bright dahlias and roses look so cheerful and happy, and you will see the thread of handmade and labour-of-love creations spilling through this joyful day.
"I knew I wanted flowers, but didn't want to spend a fortune on structured, formal-looking arrangements, so I decided to arrange them myself. My only requirements were that they be British and completely seasonal, so I contacted Helen from Bouquets and Butterflies , and she was more than happy to provide me with flowers."
"In the end, I ordered a 'mystery box' of around 350 stems of flowers (which she got from a larger farm in Cornwall), I didn't know what types I'd get until two days before the wedding when I picked them up—plus about 100 stems of slightly larger, focal flowers (dahlias and roses and the like) cut directly from her garden. I tied my bouquet and Adam's buttonhole and arranged all the vases, and my MOH did the cider/wine/gin bottle bud vases.
It was great fun, and I was really proud of how they ended up looking! A bit stressful to take on two days and the day before the wedding, but totally doable since I wanted an unstructured, cottage garden look anyway."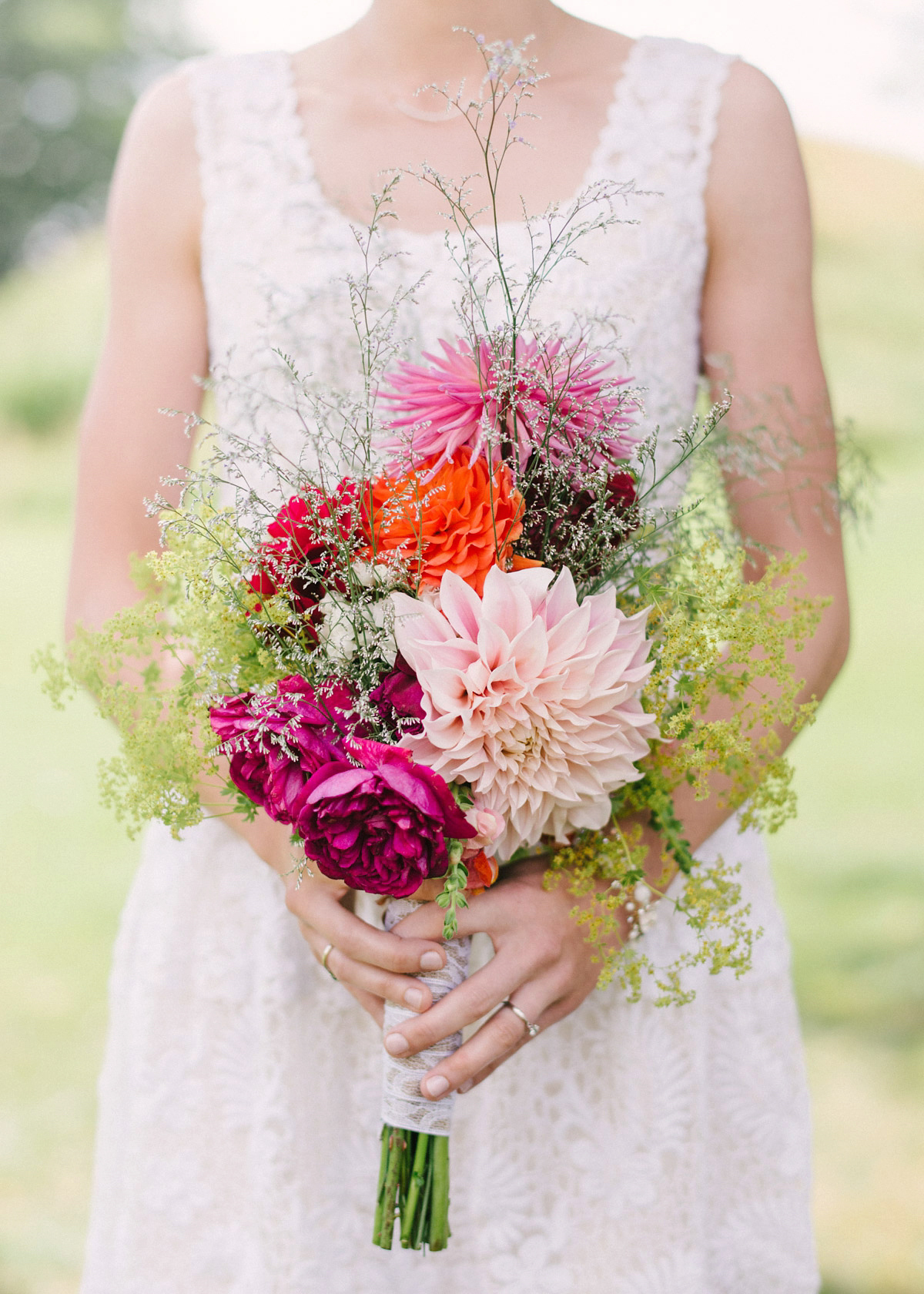 The incomparable Jo Malone provided a light and summery scent with a spritz of 'Nectarine Blossom and Honey' that Haley felt was different enough from her everyday perfumes to feel special.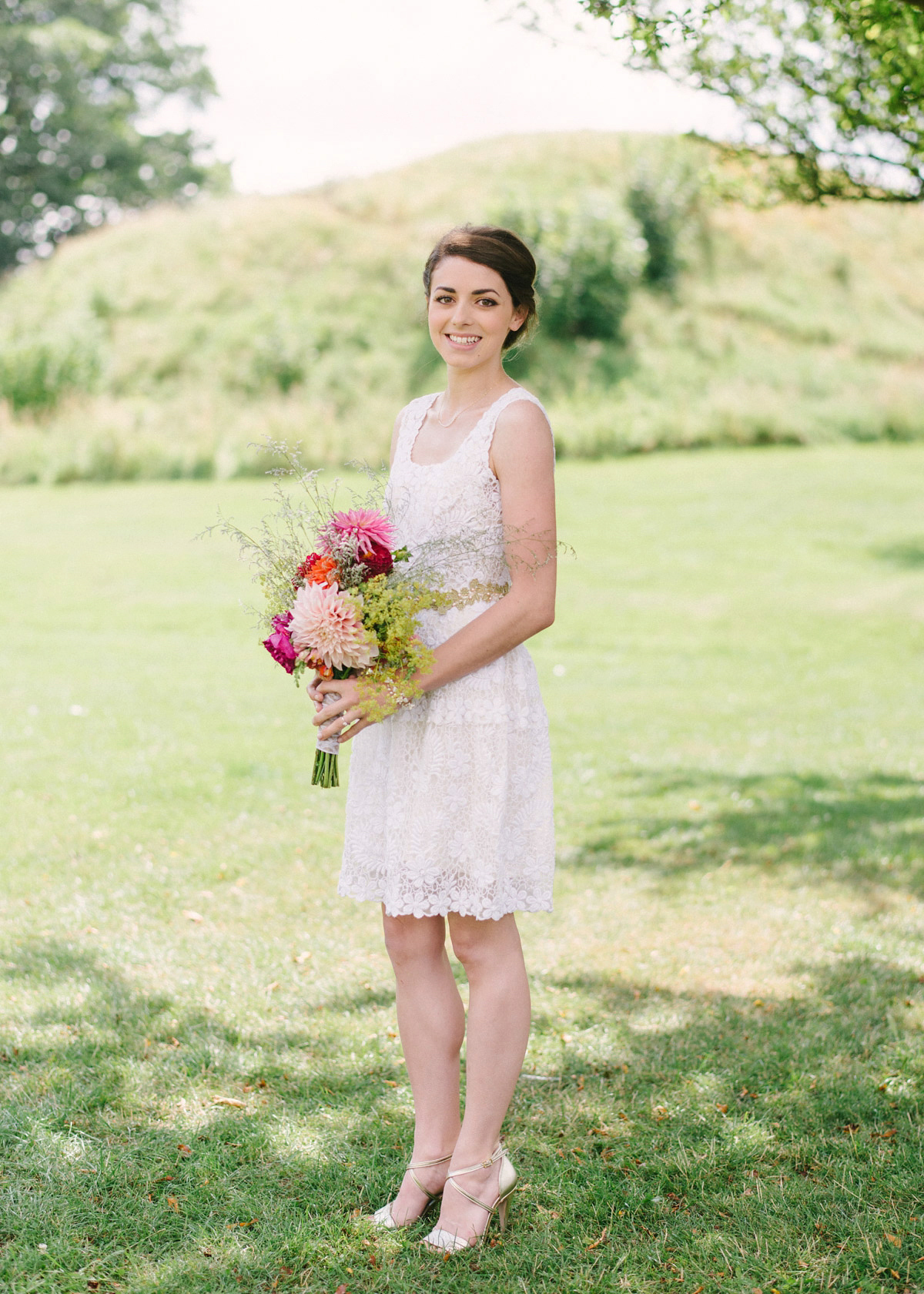 Adam rocked a Moss Bros suit with a bright Calvin Klein tie, Ted Baker pocket square and Clarks shoes,. Fresh from tying the knot, the happy couple couldn't keep their hands off each other, and I love these shots of giddy kisses. It was time to start the garden party and fire up the barbeque, all catered by the couple and their nearest and dearest!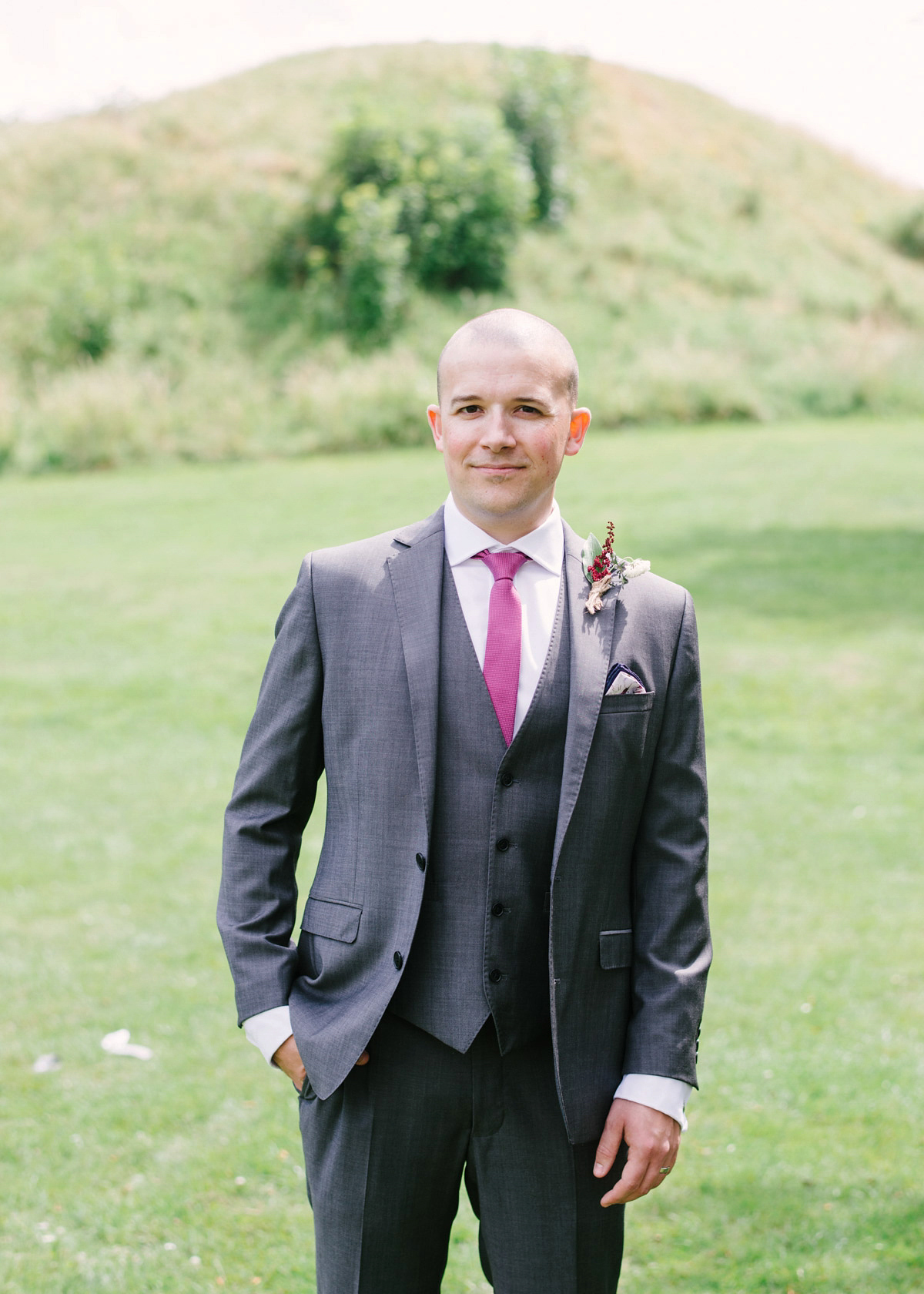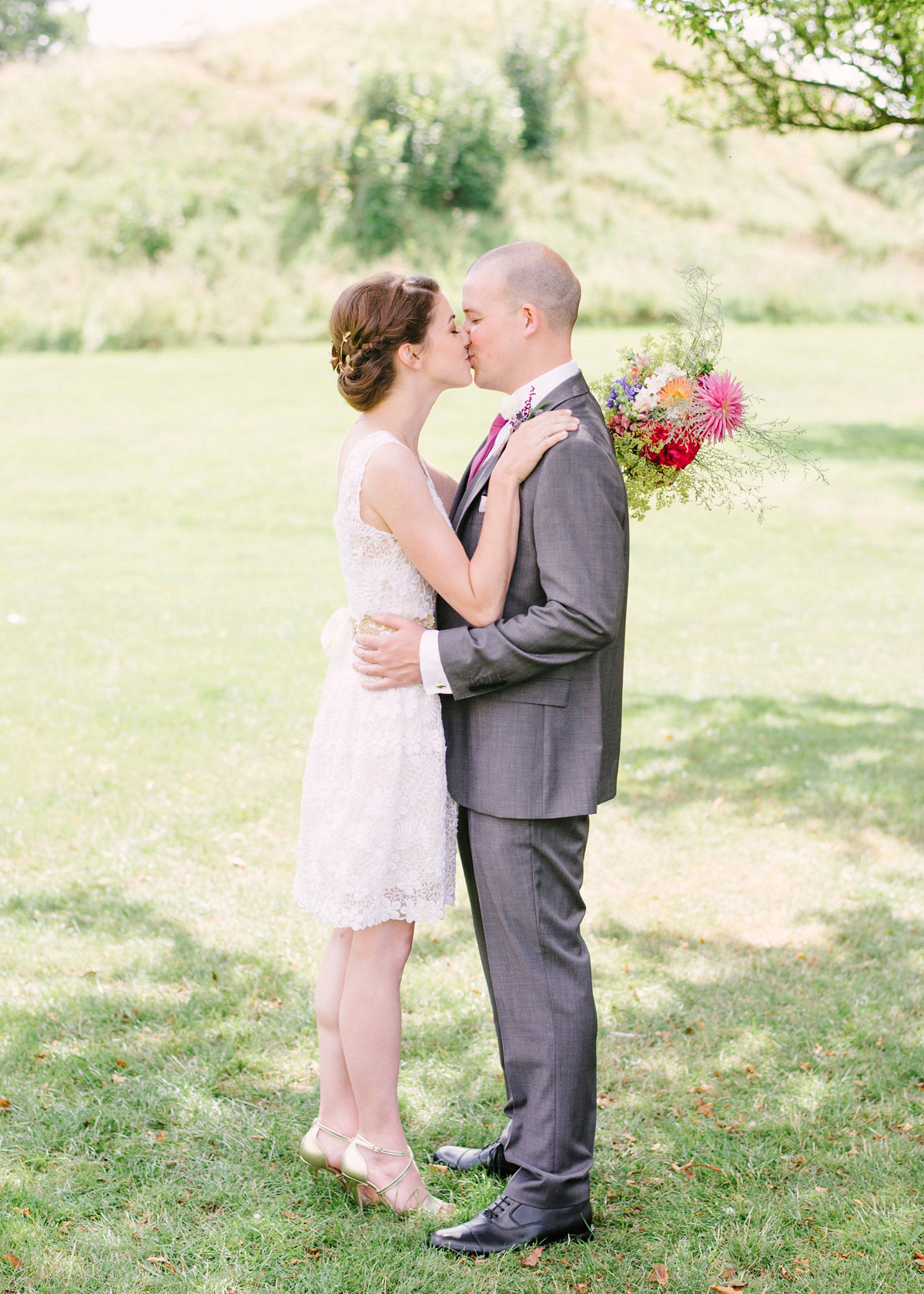 Haley's striking 'Golden Pearl Comb' by Debra Moreland is available at BHLDN.
The beauty of a wedding day is the choices you can make to reflect who you are as a couple, and what you feel strongly about. Haley and Adam walked down the aisle together, going into their marriage as a team.
"Adam and I walked down the aisle together. This was so important to us. I feel very strongly that I'm not a piece of property to be passed from one man to another. More importantly, we're such a team; we do everything and make every decision together—we didn't want that to be any different on our wedding day, so walking down the aisle arm in arm was really a no-brainer for us."
"We kept our ceremony to the bare-bones legal script that the registry office provided. We liked the idea of having personal vows, but didn't like the thought of sharing them with everyone. Instead, we wrote each other a letter that we shared at the end of the night."
"I rambled so much in mine—I just get overcome with so many emotions whenever I think of how much I love Adam—but Adam's letter to me was beautiful. It was the first time during that entire day that I just completely lost it and started crying. I keep it in my bedside table and read it every day."
"I had trouble finding an affordable bridal belt that wasn't covered in diamantes and crystals, so I emailed Lucy of All Things Lucy to ask if she would make me something that incorporated gold, nature and pearls that wasn't sparkly. I left her to it and she knocked it out of the park, she's so talented."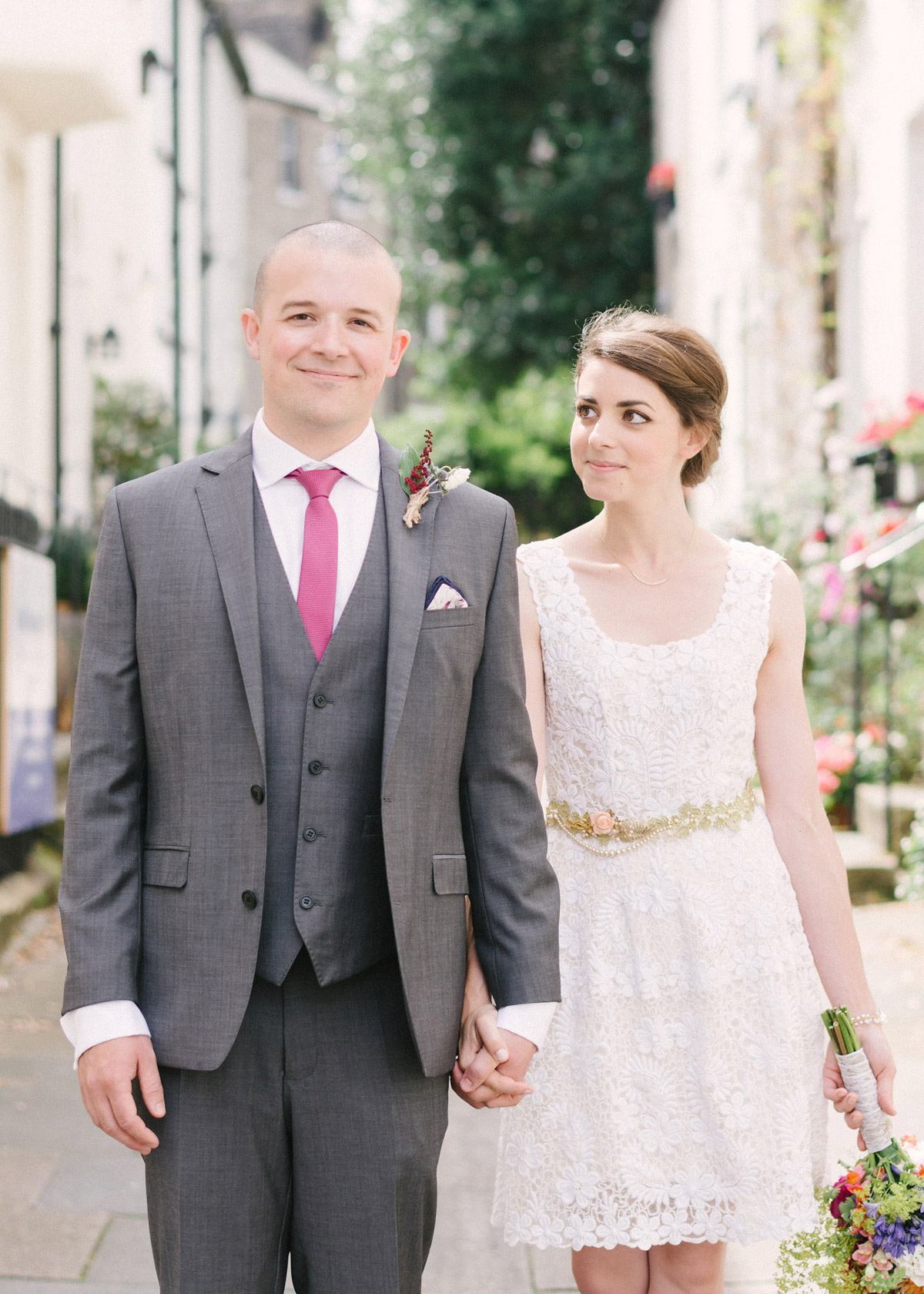 "Photography was the one thing that we didn't have a strict budget for. I knew it would probably be our only chance to get really nice photos together, so I wanted to get the best photographer I could possibly find. I came across some of Hannah Duffy's work on Love My Dress and fell in love."
"Her light, natural style was exactly what we were after, so I dropped everything and booked her immediately. From our first planning meeting, to our engagement shoot, through to the very end of the wedding day, Hannah was an absolute joy to work with."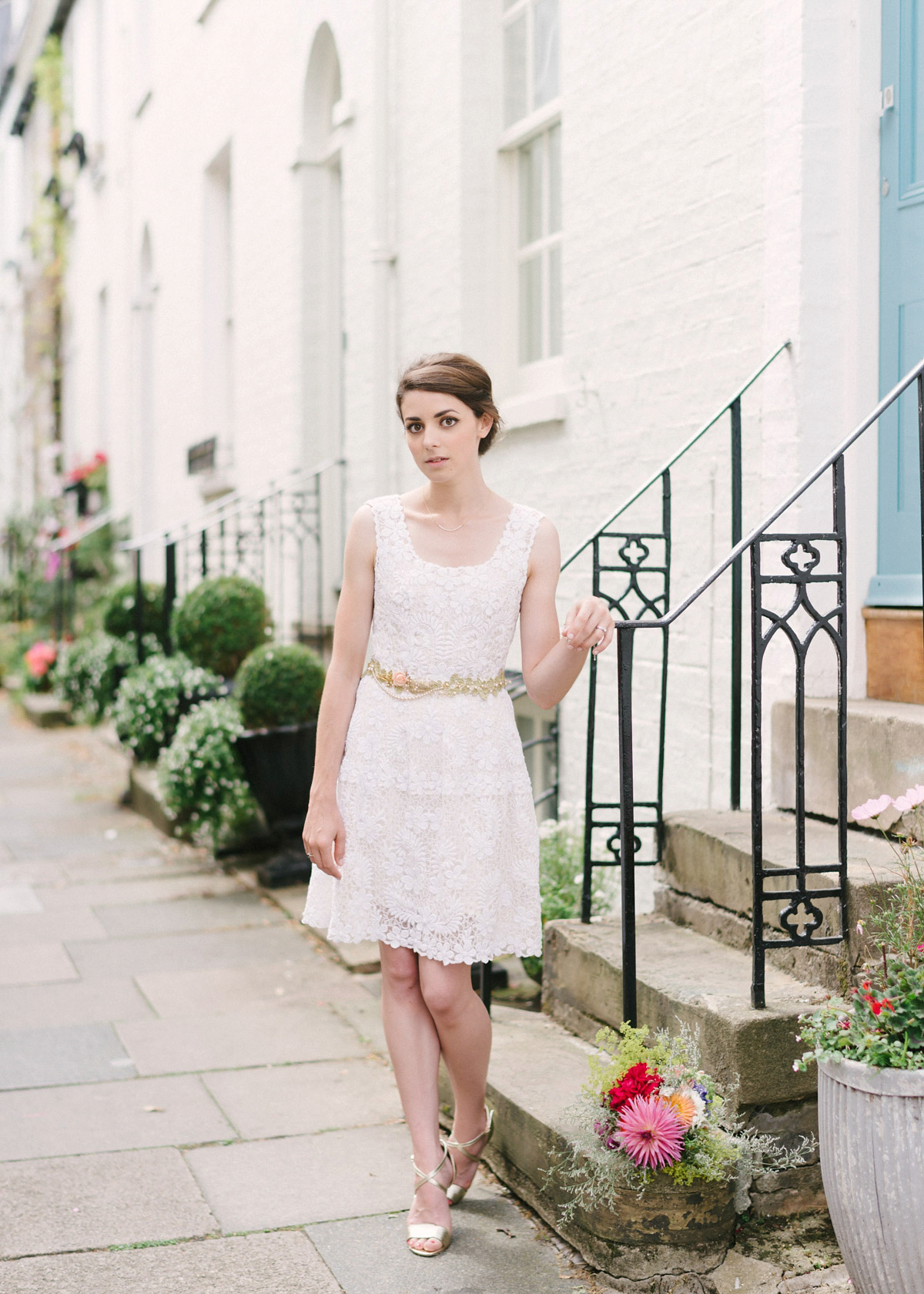 "Adam and I are incredibly awkward to photograph (I tend to get the giggles and trip over my own feet a lot, and we'll pull faces and randomly break out into bizarre dances), so she should win some sort of award not only for putting up with us, but for managing to get so many absolutely gorgeous photos that really embody our relationship. She is so talented and is such a lovely person, I wholeheartedly recommend Hannah to anyone looking for a photographer."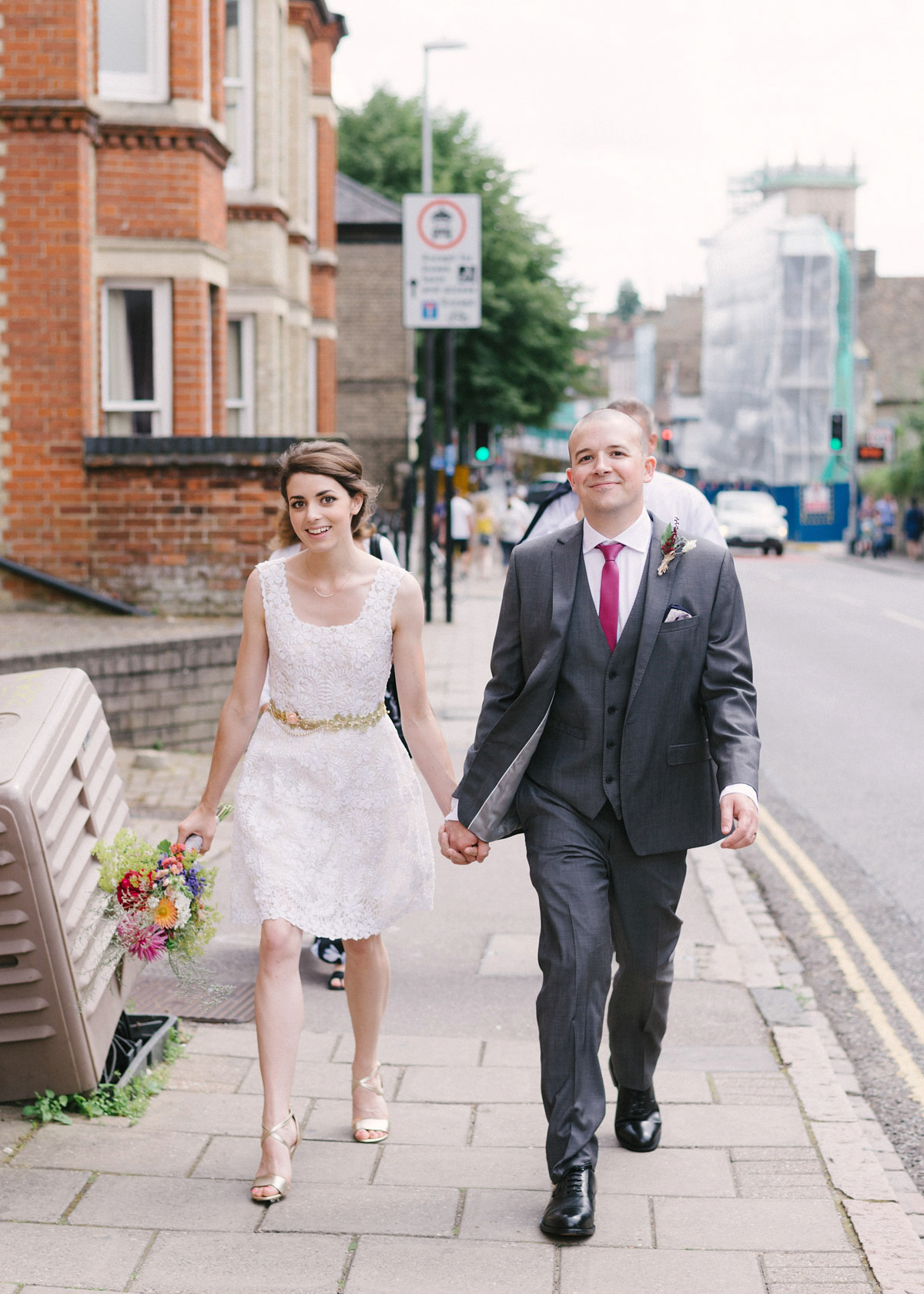 "We self-catered our entire wedding. We purchased the meat from our local butcher and I marinated it the day before. Adam's dad and uncle kindly stepped in and grilled it during the reception, so we could have a bit of a break."
"I spent a few days before making various pasta salads and green salads (with the help of my amazing sister in law, who also made the vegetarian skewers and vegan burgers). My MOH and her parents and a few of Adam's family members rushed back to our house before the reception to cut burger buns, put mashed potatoes in the oven, and set everything up. Unbelievably grateful for all their help!"
"I made my own cakes the day before the wedding: a two tiered flourless chocolate cake–my go-to cake that Adam and I both love which was decorated with fresh berries (which I did at 5 am on the morning of the wedding), two Victoria sponges, and one lemon curd layer cake.
We also had a tiered stand full of jam doughnuts (I wasn't ambitious enough to make 30 doughnuts on my own—Adam picked those up from the shop the morning of the wedding)."
Showing us all that wedding décor doesn't need to be over-done or expensive, craft queen Haley made some simple decorations and adorned the space with pretty lighting to create a magical atmosphere in their garden.
"We didn't have the time or energy (we had floor layers in up until two days before, and we were tiling our kitchen until midnight the night before the wedding!) to decorate the ceremony room, so we literally didn't do anything to it. Back in our garden for the reception, the tables, chairs, and white tablecloths were rented from Jasper's Hire."
"I made the table runners myself, with some lovely rose printed fabric I bought from John Lewis, then backed them with hessian that I cut and lightly frayed. The glass tea light holders were from Ikea, and all the clear glass flower vases were just from Tesco. We strung Ikea fairy lights from the upper floor windows of our house across the garden, and hung a few white paper lanterns ."
"Two days before the wedding, I decided I wanted something hung on our garden fence, but didn't have any more fairy lights and I couldn't face yet another trip to the shop—Adam's mom had a bunch of pastel pink, purple, and blue card laying around, so my MOH and I took a few hours to whip up a quick bunting."
"For the dessert table, I threw some spare hessian on our sideboard in our dining room, then made a swag out of some spare flowers I had (some variety of gyp, I think!), and interspersed a few flower arrangements and tea lights with the cake plates. I really just wanted the space to look like a sweet little garden party, so I kept it all fairly simple."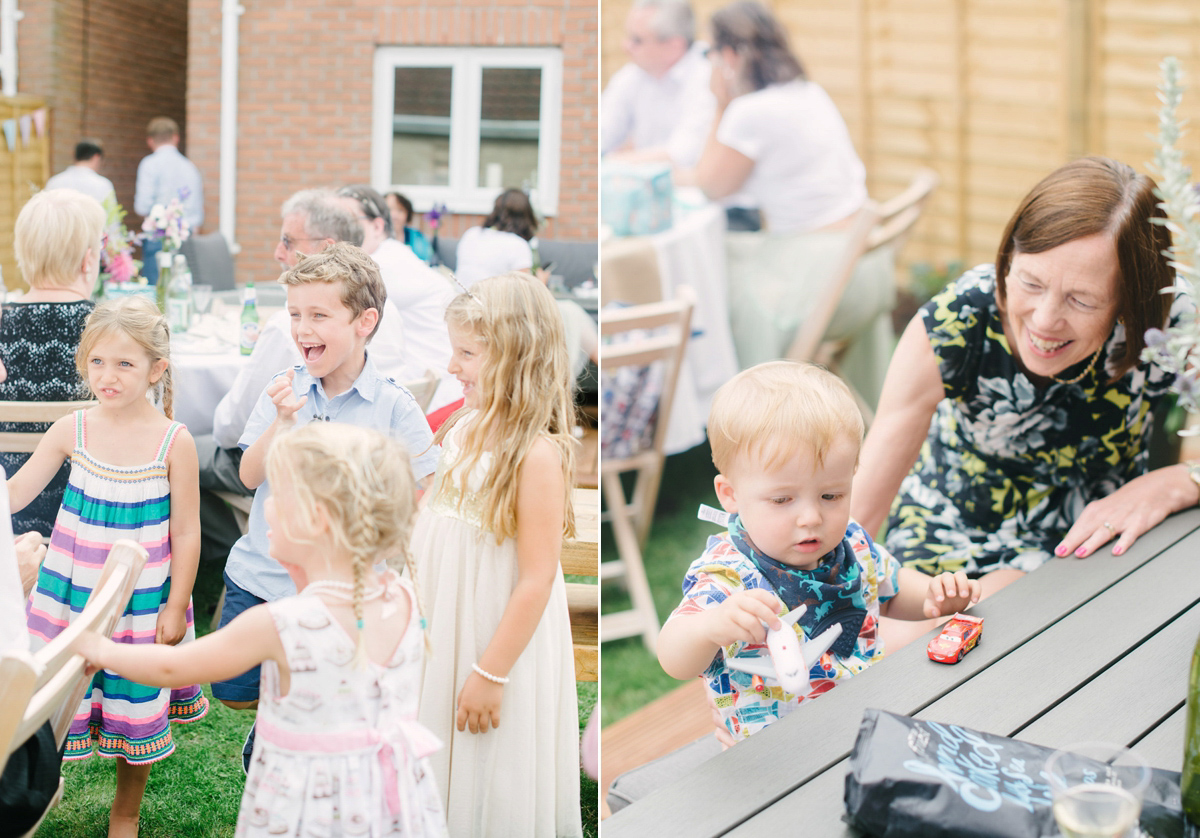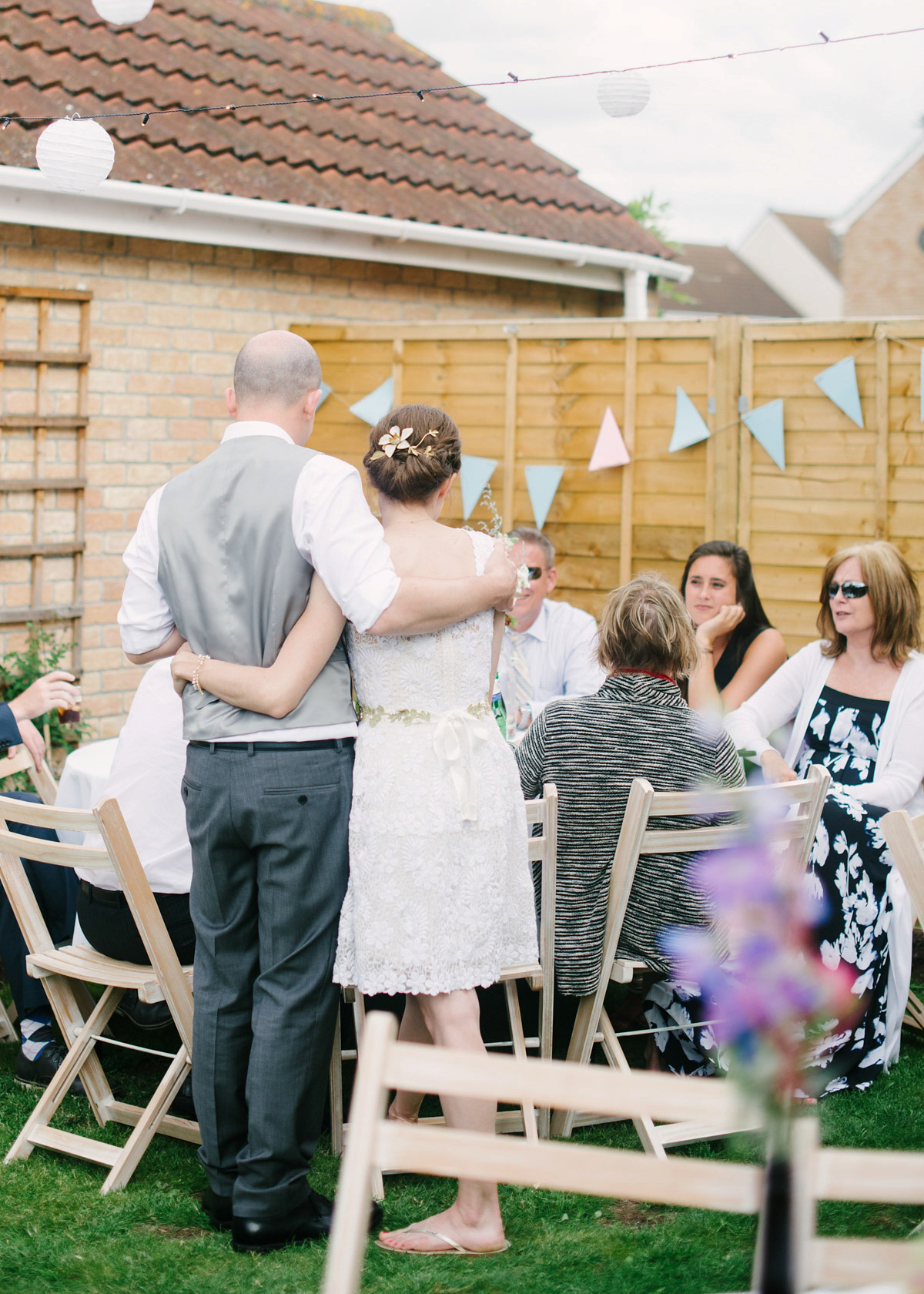 Words of Wedded Wisdom
"First, everyone always says this, but I'll repeat it: don't try and do everything on your own! People want to help—let them! I was fully ready to do everything completely by myself, by luckily my MOH commiserated with my sister in law and managed to reduce my workload. I felt terrible about delegating tasks to people, but looking back, I wouldn't have been able to do it all alone.
Secondly, on the day of, you'll be so busy and it will fly by, and you'll be running on pure adrenaline (and probably a bit of gin, if you're anything like me), so take some time out to just be with your new husband/wife. Adam and I managed to steal a few minutes every hour or so to step away from the party and check in with each other."
"It was so lovely to just take a breather and be with my person. We also had a golden hour photo shoot, which meant we got to leave the reception for about a half hour. There are going to be so many people there who you'll want to visit with, but don't forget: the day is about you and your partner.
Finally, don't worry about the little things! Your guests will absolutely not notice or care if your napkins match your tablecloths, or the style of your cutlery, or if your bunting is a bit wonky, or if you have a creative hashtag or not. People are there to celebrate your love and have a bit of a party. Don't spend your entire engagement stressing out about teensy details that don't matter at all, in the grand scheme of things."
What a sweet treat! A big thank you must go to Haley, Adam and Hannah Duffy for allowing us all to share in the radiance of this love story. If you're feeling inspired to get crafty, why not take a look at more home-spun weddings here and you can see more weddings featured on Love My Dress that were photographed by Hannah Duffy here.
All my love,
Emily C xxxx