Georgie and Sam's delightful Devon wedding was held on 24th June, 2022, at the beautiful sea-view wedding venue, Tunnels Beaches.
The bride chose a Grace Loves Lace bridal gown, veil and jewellery combination and the couple asked photographer Joan Jellett to document all the love, and wow, what a beautiful job Joan did of that. The smiles, the absolute joy emanating from these images – enjoy!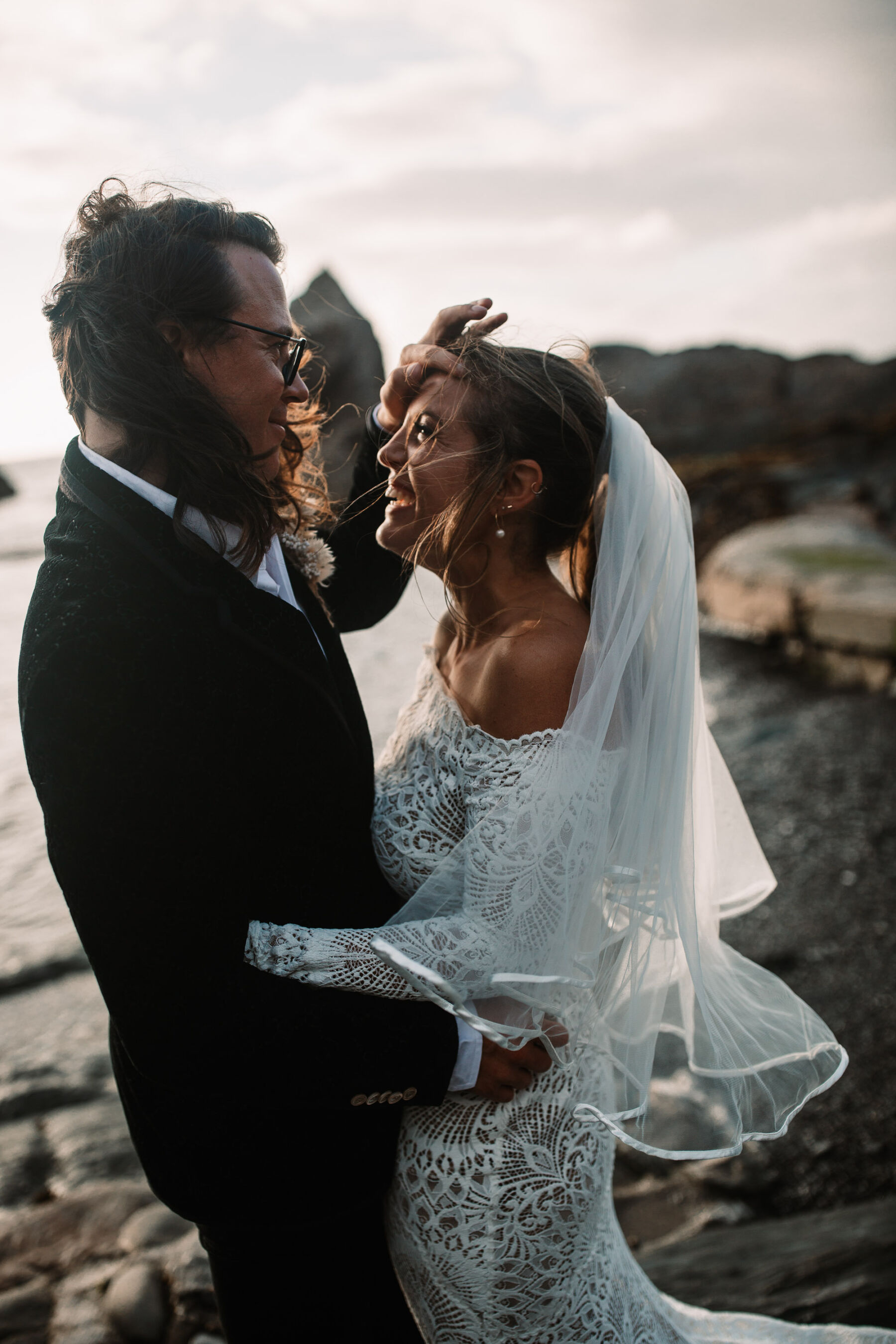 Tunnels Beaches Seaside Wedding Venue in Devon
We were immediately drawn to this venue after viewing it in person. It's a very unique and modern venue split over 3 floors nestled within the rocky, North Devon coastline – it really does feel like you could be anywhere! It even comes with its own private beach and spectacular tunnel entrance.
We were blown away and had to have our wedding here.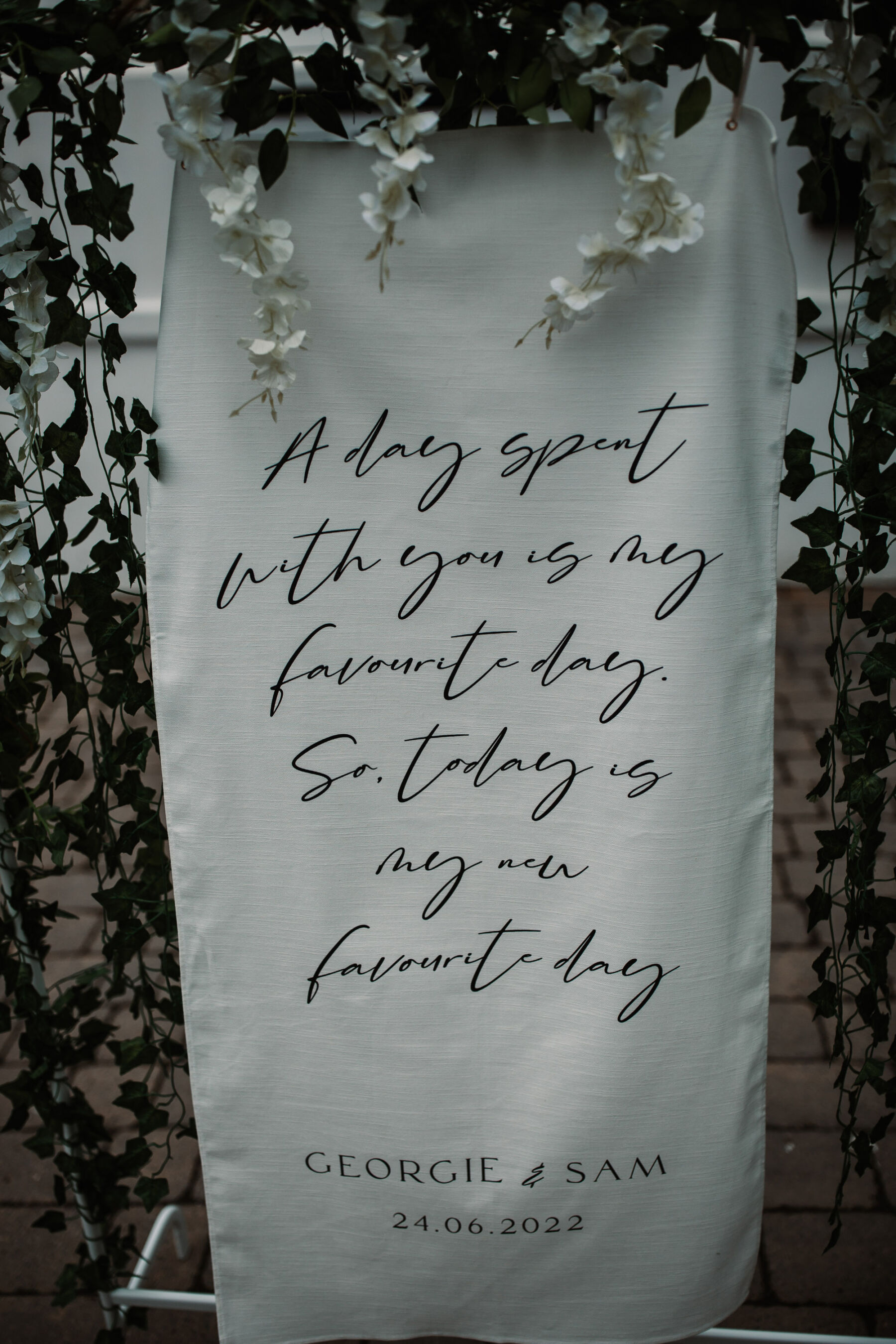 Bridal Beauty
I had the best girls from the South West of England! These girls are amazing. They will make sure you are looking your absolute best.
Ro from Hair By Ro, styled my amazing ponytail. Ro is super lovely, so friendly and will make sure you look perfect on your big day. Ro bought the awesome Jessie along to help her out (Parlour). My Makeup Artist Bernie is awesome.
I really struggled to find a makeup artist that I loved and Amy from Grace Loves Lace recommended that I get in touch with Bernie. It was a blessing, she was absolutely perfect on the day and all of the girls looked amazing. Bernie bought Amanda along to help and she was also a rockstar!
I wanted all of the bridesmaids to look less traditional with a more 'party/glam' makeup look that would last until 2am. I also opted for the same as well, I can't recommend these girls highly enough.
A Grace Loves Lace Wedding Dress
I would 100% recommend to any bride to be to visit Grace Loves Lace in Shoreditch in London UK. I wanted a dress that made me feel myself, that I could move around in all day long and was beautifully made. Grace Loves Lace ticked all of the above boxes and more!
All of the staff are super friendly, incredibly helpful and very easy to get on with. Amy Howells helped me find my perfect dress and she made sure that everything was perfect for me. All of their dresses are handmade in Australia and they are so beautiful, I really can't recommend going to try on a few dresses enough – you won't regret it!
Grace Loves Lace dresses are so lovingly made that they are super stylish yet soo incredibly comfortable! It honestly feels like you could be wearing your softest gym lycra from sweaty betty underneath – I climbed over rocks, danced on tables and didn't have to worry about any help from the bridesmaids when going to the bathroom.
It was such an easy dress to wear – this was the most important thing to me, to wear something that reflected my style but didn't compromise on comfort for the whole day.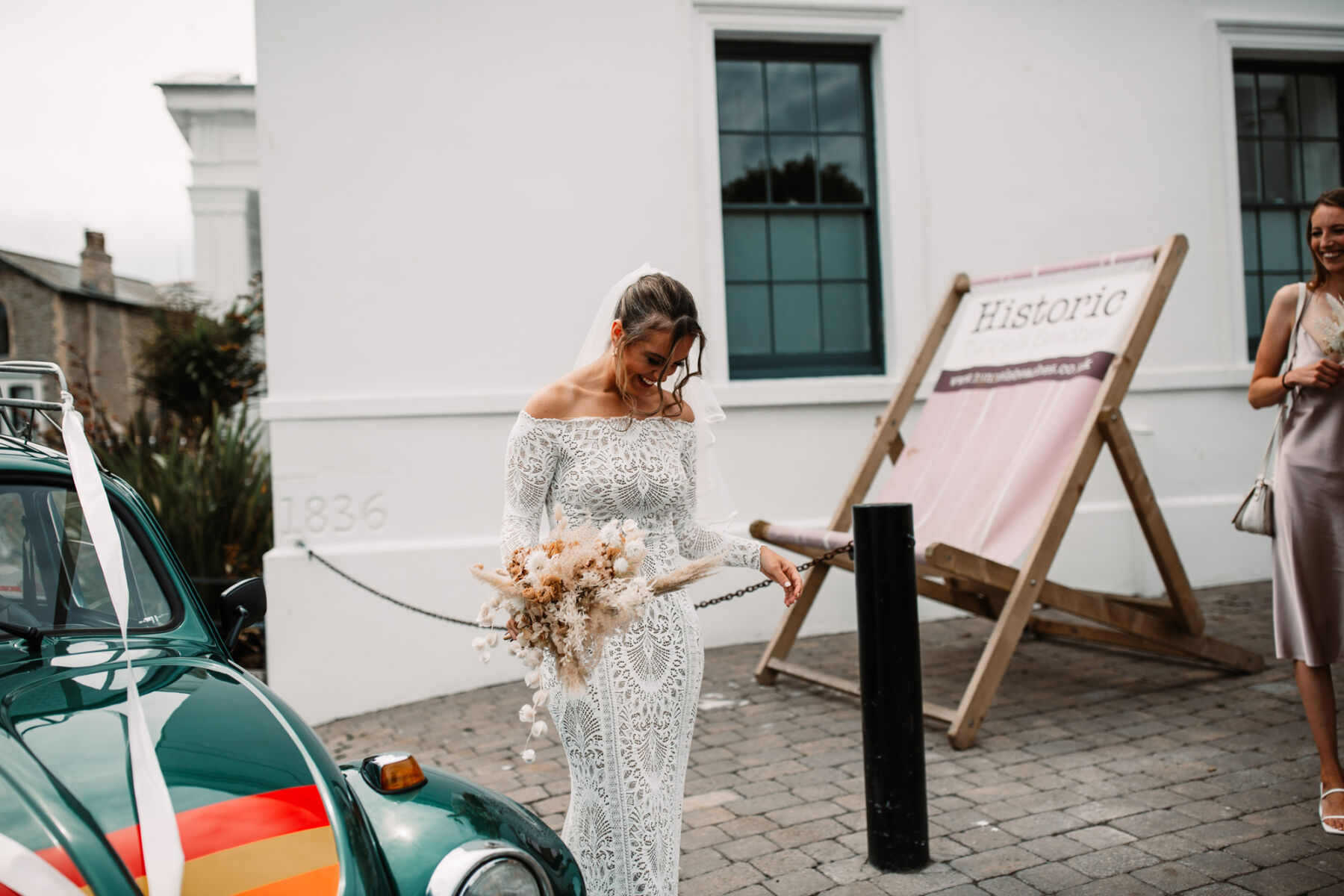 Shoes, Veils & Accessories
I wore the Henri Veil from Grace Loves Lace. A very flattering, shorter style veil that felt weightless when worn. I ended up wearing the veil for the whole day although this wasn't the intention! It was perfect.
I purchased my shoes very last minute as this was something that I had struggled to find. I wanted a pair that I could wear again after the wedding so went with a black, studded paid in the end that were easy to walk in and very light weight.
My sister in law had very kindly gifted me a Jo Malone's Red Roses perfume – a light floral scent that I absolutely love – so I had to wear it. I also wore Grace Loves Lace earrings that were really simple yet beautiful, gold hoops with a pearl on. They complimented the dress and veil perfectly.
My shoes were by All Saints.
Bridesmaids
As Amy had been so helpful with my own wedding dress, I decided to purchase the bridesmaids dresses from Grace Loves Lace too. The colours, fabric and fit were all beautiful and as I had purchased my own dress from GLL, it felt right for us all to be wearing the same brand and tie-in together. They have lots of options for bridesmaids available.
I also wanted the girls to have dresses that they would be able to keep and wear again. As my dress had a lot of detail and lace, these dresses were perfect as they complimented mine as they were plain yet classy.
I had eight bridesmaids in total, all ranging in size from UK8 to UK20 – these dresses were so flattering on everyone which also made the decision an easy one too.
The girls all wore the same pair of thin, white strappy block heels from ASOS.
I wanted them to be able to wear the heels all day comfortably and also tie in with the groomsmen.
We didn't have a flower girl, but we did have a 'beer boy'. One of my closest friends from school danced down the aisle handing out beers and throwing confetti to start the ceremony in a fun and light hearted way.
The Groom
Sam wore a blazer, bow tie and shoes by Gucci. His white shirt was by Karl Lagerfeld and his black skinny jeans were Topman.
We looked everywhere for Sam's outfit and it was definitely hard to find a suit that reflected his style. We ended up looking in Selfridges, where we came across the velvet embossed Gucci blazer. After that, nothing else compared to how good he looked in it that we had to go for it.
The oversized Gucci bowtie was super cool and went well with the blazer and his black skinny jeans.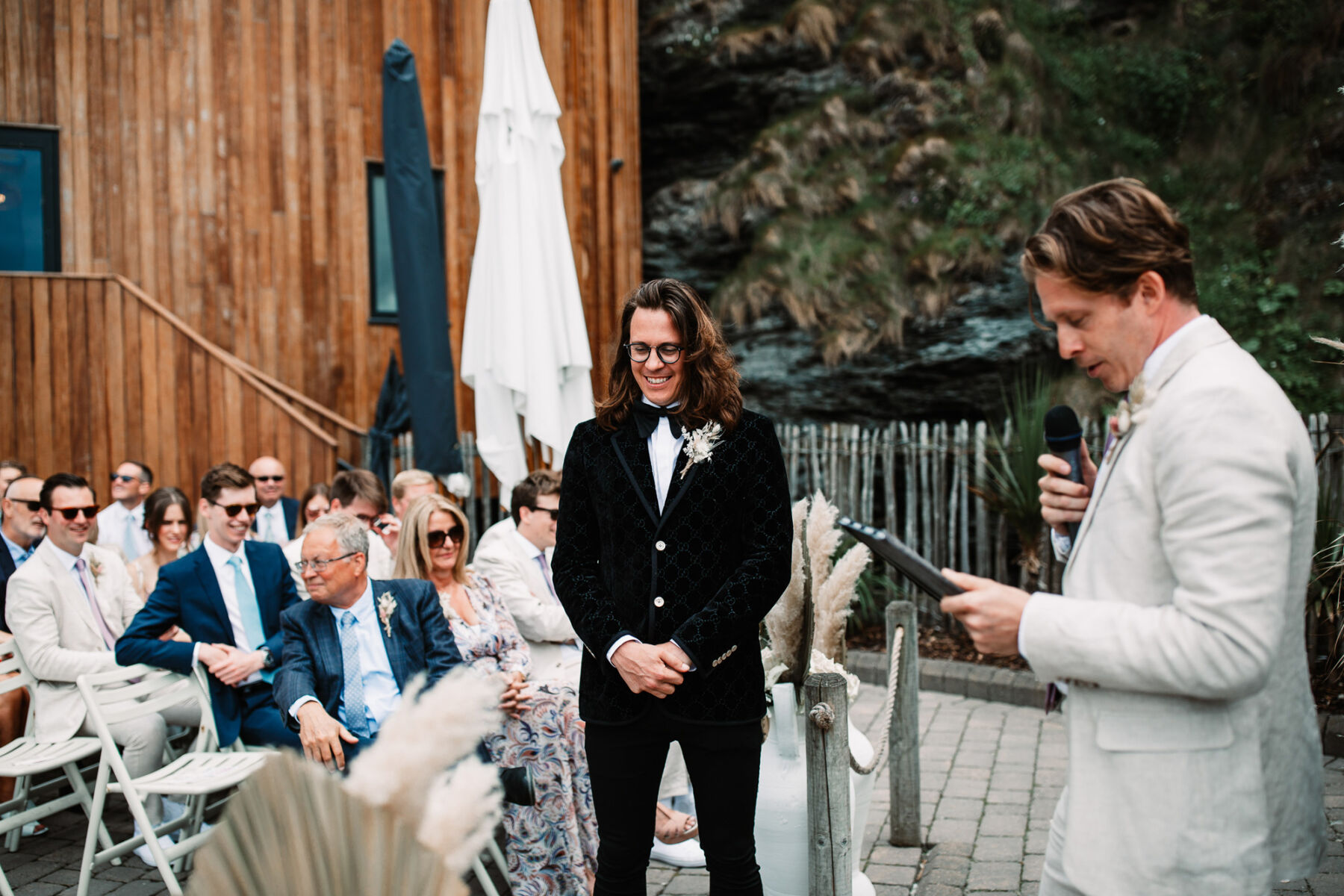 A Ceremony by the Sea
My two beautiful sisters who were my Maids of Honour danced me down the aisle to Sam Smith's song Latch by Disclosure. I wanted to keep this really upbeat, fun and get all of the guests on their feet and enjoying the moment.
Sam's twin brother, Ben, ran our ceremony and did the most fantastic job! He's a brilliant speaker and delivered the ceremony perfectly. We wanted the ceremony to feel special, with all of our siblings around us running the show. It was exactly as we had hoped it would be.
We hired a celebrant to help us script the initial structure of the ceremony which was an amazing help to get the bulk of the content together. Michelle Taylor, The Funky Celebrant, jumped on a call with us a few weeks out to make sure we pulled off the best ceremony we couldn't have done it without her. Michelle is great fun and really easy to work with, definitely recommend getting in touch!
Sam chose De Beers. This ring really suited him – it wasn't as bulky as other mens rings he had tried on and liked the style and simplicity of it.
Georgie chose Audry Rose. I had been looking for a ring to compliment my engagement ring for a while and hadn't found one I liked in store. I came across Audry Rose on Instagram and loved the delicate and intricate details. After emailing, Josselyn, was so friendly and helpful that it made my decision to purchase an easy one. I love it so much!
We used the vows which Michelle had scripted for us. They were informal, non-religious and were kept short and sweet. We made promises in the name of love towards one another whilst exchanging rings.
Photography
Joan Jellett is honestly incredible and we can't recommend her highly enough! She's super fun, has tons of positive energy and won't put her camera down until she's captured the moment perfectly for you. We felt really comfortable with Joan, she allowed us to be ourselves and try different things without feeling cheesy or posed.
Joan will go above and beyond to deliver not only the perfect photos but will also turn everything around in a matter of days after the event! If you're looking for someone who is outgoing, easy to get on with, hard working, pro-active and incredibly positive – Joan is the photographer for you!
How They Met
We met over ten years ago whilst working for Red Bull at university in 2012. We've been together ever since!
We had hiked to Old Harry Rocks for sunrise at 5:30am and Sam surprised me by proposing just as the sun came up. It was beautiful. Sam proposed to me in August 2020 but due to Covid, we didn't look at venues until 2021 and as things were still uncertain, we decided on 2022 as the year to wed.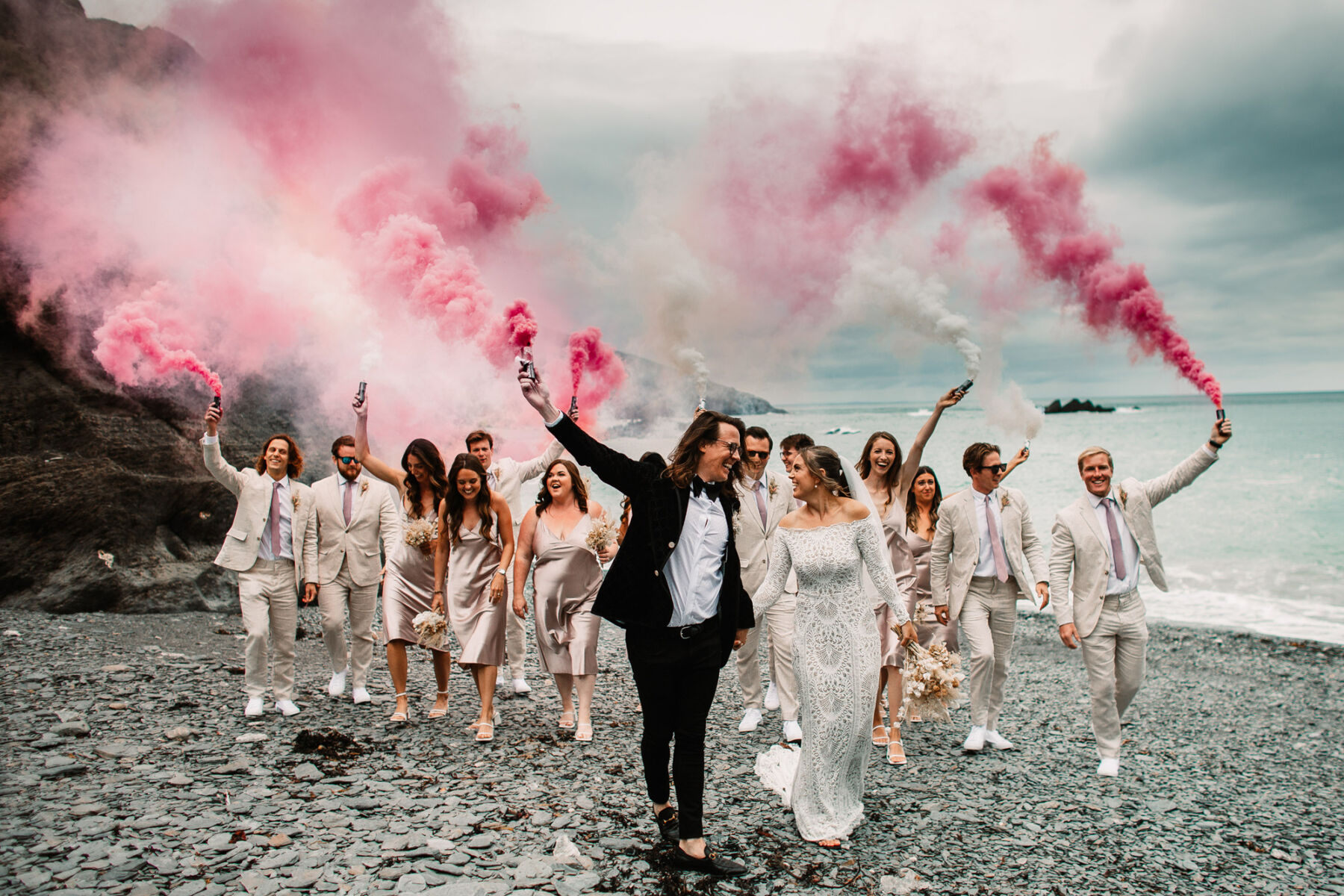 Reception
Another reason we had chosen Tunnels Beaches as a wedding venue was that they took care of the food as part of the package. They offer a BBQ buffet with a wide selection to choose from including meat, veg, salads and fish. The food was really good.
We decided that we didn't want to cut a cake as part of our wedding day so kept this simple yet fun. My dad built a tree like cake stand from tree bark in the garden and wood slices that were purchased on Etsy.
We ordered a large Colin and Connie the Caterpillar cake from Marks & Spencers (because who doesn't like Colin the Caterpillar?!) and placed mini caterpillars underneath for people to easily help themselves too.
I found a really lovely independent shop on Etsy, run by Lucy March. Lucy produces the most beautiful stationery that after ordering the bridesmaid hanger tags and place names, I then ordered the favours and entrance sign from her too! She's amazing, super helpful and incredibly friendly – all high quality products that suited the venue perfectly.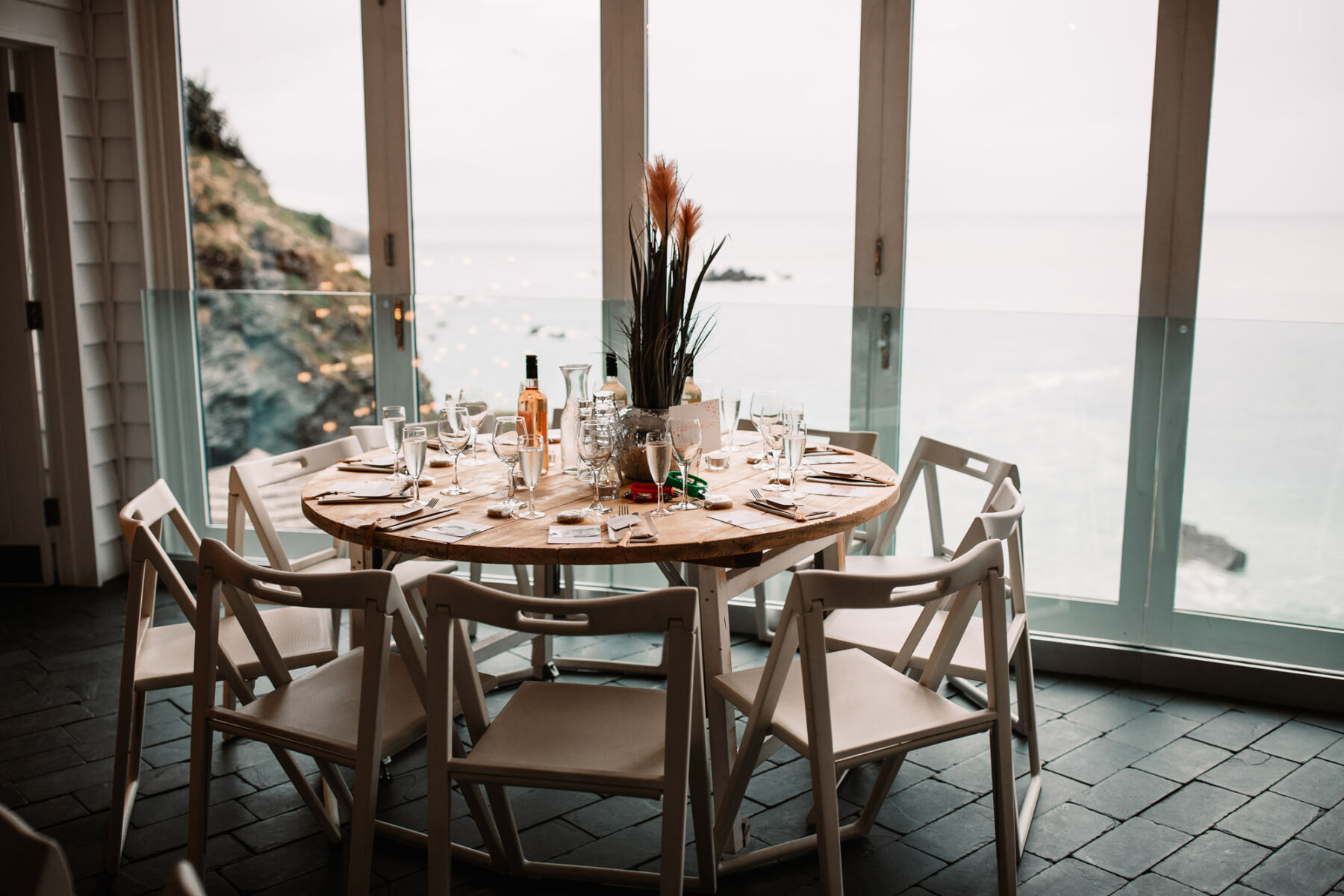 I ordered the Table Seating plan through Papier – highly recommend their high quality stationery/ paper products for modern weddings too.
Our florist, Hayley Scott Blooms, is amazing. She created the most perfect bouquets and buttonholes using dried flowers which complimented our outfits and the venue both in style and colour (neutral with a hint of pink)
The Salty Moon styled the other areas of the venue such as the altar, rooftop and bonfire with dried flowers and large pampas leaves to give a beachy, boho vibe @thesaltymoon.
I had Lucy March Studio create a bespoke lottery ticket holder for the wedding favours. They were amazing. Lucy loves creating bespoke items – you can find her website here: www.lucymarchdesign.com
Entertainment & Dancing
We decided not to do a first dance. But on the day, when the amazing German Jukebox band came marching out through the tunnels and got everyone up and dancing – Geri Halliwell's version of 'It's Raining Men' was being played so it became our unintended first dance together.
The music was really important to us though. We knew that good music would keep everyone upbeat throughout the day and on the dance floor until the end of the night.
I came across The German Jukebox band the year before after visiting Pergola in London with friends and knew that they had to be at our wedding. Sam and I had lived in Austria for a number of years and this was the perfect way to bring Austria to Ilfracombe.
James Mayhew from Brass House Entertainment was awesome to work with. James made everything so easy and helped us to create a memorable event that didn't comply with the usual traditions of a wedding. You won't regret booking them – they will definitely get everyone up dancing, even the aunties and uncles who won't dance!
After the ceremony, we had Bangers & Brass (a DJ duo with Trumpet) which James is a part of. After dinner, we had the incredible The German Jukebox inject everyone with a boost of energy and bring the party
Grace George opened our ceremony and sang a small selection of songs with her guitar. Grace is amazing, super talented and so friendly. I also highly recommend Grace too!
Words of Wedded Wisdom
Always go back to the things that mean the most to you and your partner. It is soo easy to get caught up in all of the wedding 'fluff' that you can loose sight of what's important to you. Especially when there are hundred of ideas on Instagram and Pinterest for example.
Stay true to you and make it personal so that it reflects you both.
Explore our wedding directory