Yoga teacher, producer and actress, Amanda, married her love Sandy, the Co-founder of a software Company in the garden of her own home.
This delightful Spring ceremony was followed by a reception at The Smokery at Weston, at Albury Estate Fisheries in Surrey, where Easy Marquee provided a glamorous space for the guests to celebrate.
The couple wanted their wedding day to to feel as relaxed and inspired by nature as possible. Choosing to exchange vows they'd written themselves in the garden of their own home, set the desired relaxed tone of the day. The bride wore a beautiful, bohemian inspired, backless wedding dress by the wonderful Grace Loves Lace – with whom she had an excellent boutique experience – more on that below.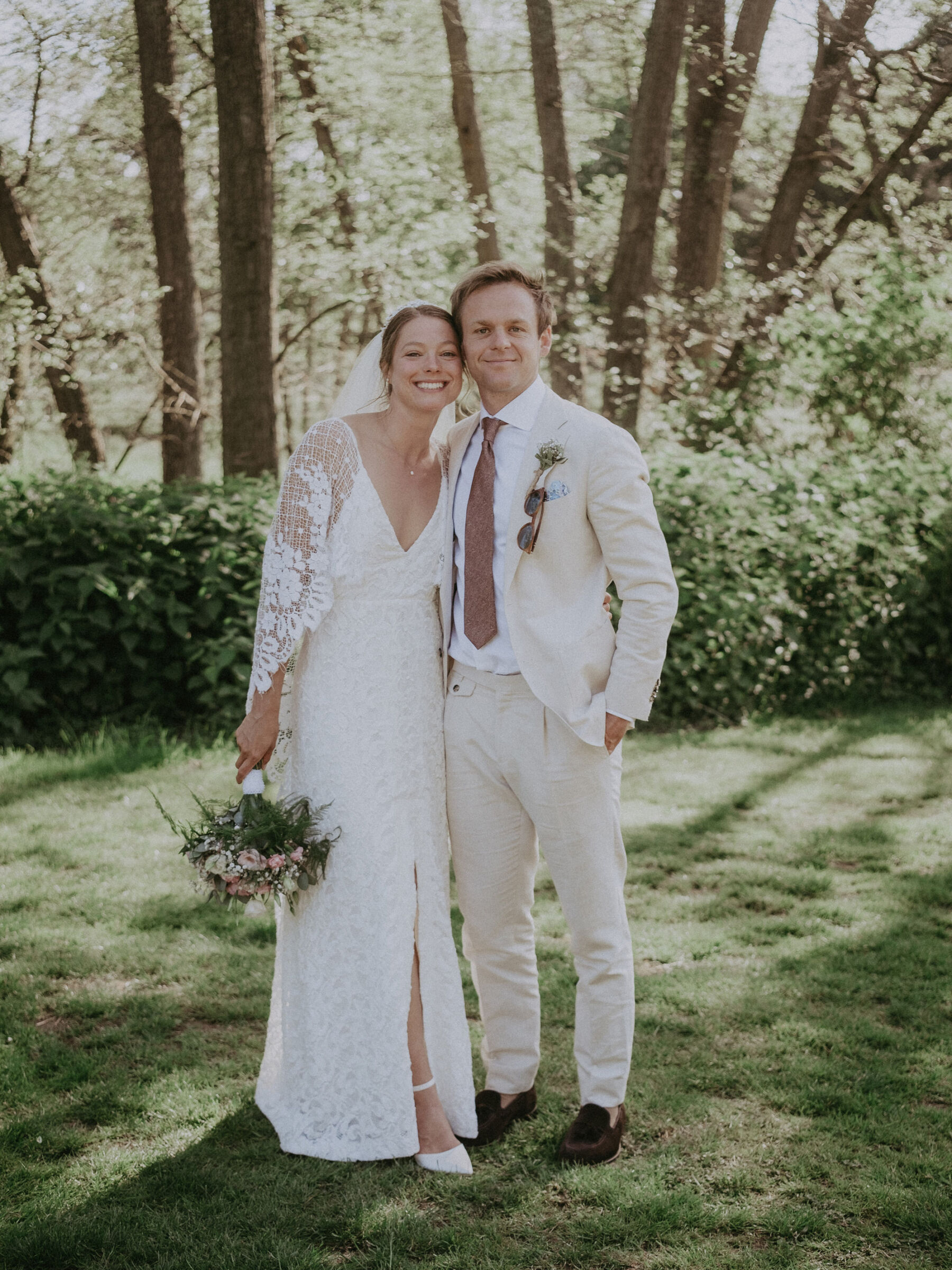 Bridal Beauty & Accessories
My hair and makeup artist was Holly Louise. Not only did she give me the absolute perfect 'no make up' look, (she was so accommodating to my needs and made sure I really didn't have much on at all), my hair was also perfect but – she cane to my house, a day before her baby due date.
Not only did she do this and give all the wonderful energy and positive attitude, that would be more than enough but the day after my wedding, I received a photograph of her baby. It turned out, she went into labour at my house – whilst getting ready, and we had NO IDEA.
I knew I wanted to wear a veil, but didn't know if my dress would suit one as it had long angel like wings. I did find a beautiful one from a local store in 'Brides Visited' in Ashtead, Surrey. It has subtle embellishments and had a blush to sweep back.
I didn't go all out on shoes. Just wanted some chunkier heels as I was out on grass all day and for them to be simple, elegant and comfortable. The were an ivory satin, pointed toe sling back heel.
I bought the most beautiful tiara from Brides Visited. Super detailed with pearls and diamonds, delicate and very pretty. My mum surprised me with a pearl necklace which had been passed down from my late grandfather – I had no idea and it was very special to receive. It also went beautifully because I didn't have anything organised jewellery wise.
I wore an Hermes, Eau de rhubarbe. I love it.
The Dress
---
I wore a Grace Loves Lace dress. I had a dream of a fitting experience and the dress ended up appearing in the sample sale, so I had an absolute steal as well.
I rocked up solo to mu fitting. I met the most wonderfully personal and enthusiastic sales assistant called Abby, she was amazing. After telling her what I was after (something fun – something I can dance and hug people in and something comfortable to wear), she selected six dresses and BOOM, as soon as I felt the dress on my skin and was able to spin around like a fairy, I knew it was the one.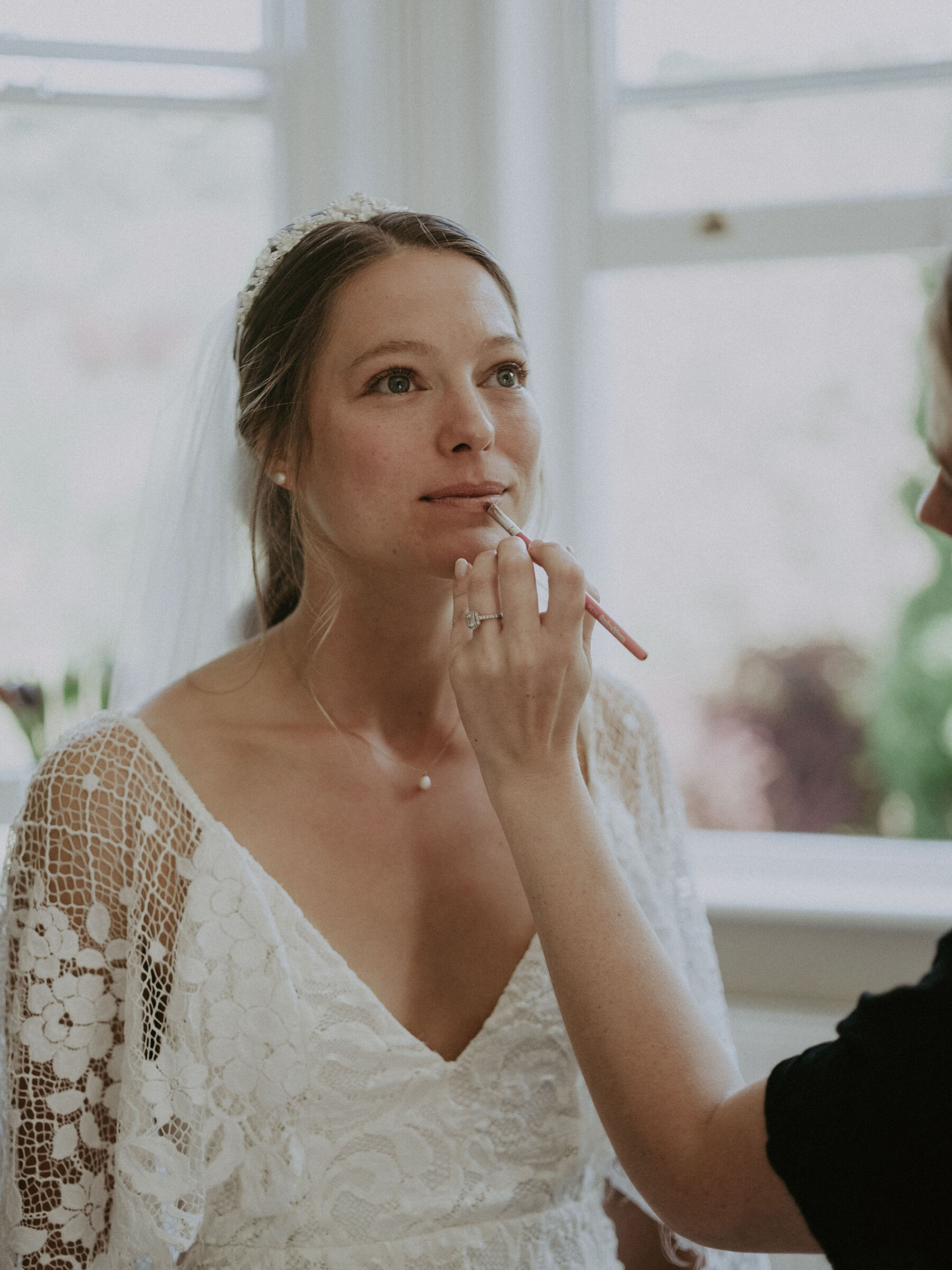 Abby took a photograph and the wings on the dress looked sensational and I knew it was the fun dress I'd been hoping for.
My experience at the Grace Loves Lace boutique was so fun and easy going. The dresses just slip right on and the store is gorgeous, spacious and clean. A glass of bubbles was given to me and a little slip dress to change into – it was the dress experience I wanted. The fact that I just went on a whim, and solo, made it even more magical because I didn't have any expectations and it just blew me away.
I feel emotional recalling that awesome day with Abby, the stylist – we've actually stayed in touch and I will never forget how special she made my wedding dress shopping experience. After trying on 40 other dresses in different stores, I was relieved. I didn't want anything super fancy and something I had to be pinned into. Grace Loves Lace is the dream solution for brides wanting a boho, easy going, beautiful and unique dress.
I loved the fit, the fun style of the dress and the comfort it gave. Soft, gentle, flexible. It was perfect.
Bridesmaids
Last minute job here because I wasn't too worried as I know something would show up.
We searched for ages as we didn't find many we liked. I just wanted them to feel comfortable and happy in whatever they wore. We did find set beautiful wrap satin dresses online. One wore Emerald Green and another soft lilac. They looked gorgeous.
The Location
It was most important that our wedding felt natural, comfortable and fun. We wanted to get married outside and in a space that we both loved and knew. Our garden was the perfect fit.
We hired a local florist, Sweet Lavender Flowers from Ashtead. We wanted some lavender for our aisle ends and pampass grass and eucalyptus for our ceremony arch. My bouquet was wild and so elegant.
Ceremony
My late Grandma's old brass bells were used to indicate that 'the bride was making her way from the house to the garden' on the wedding day. SO, we rang the bells and the pageboys carried the rings and the bells to Sandy!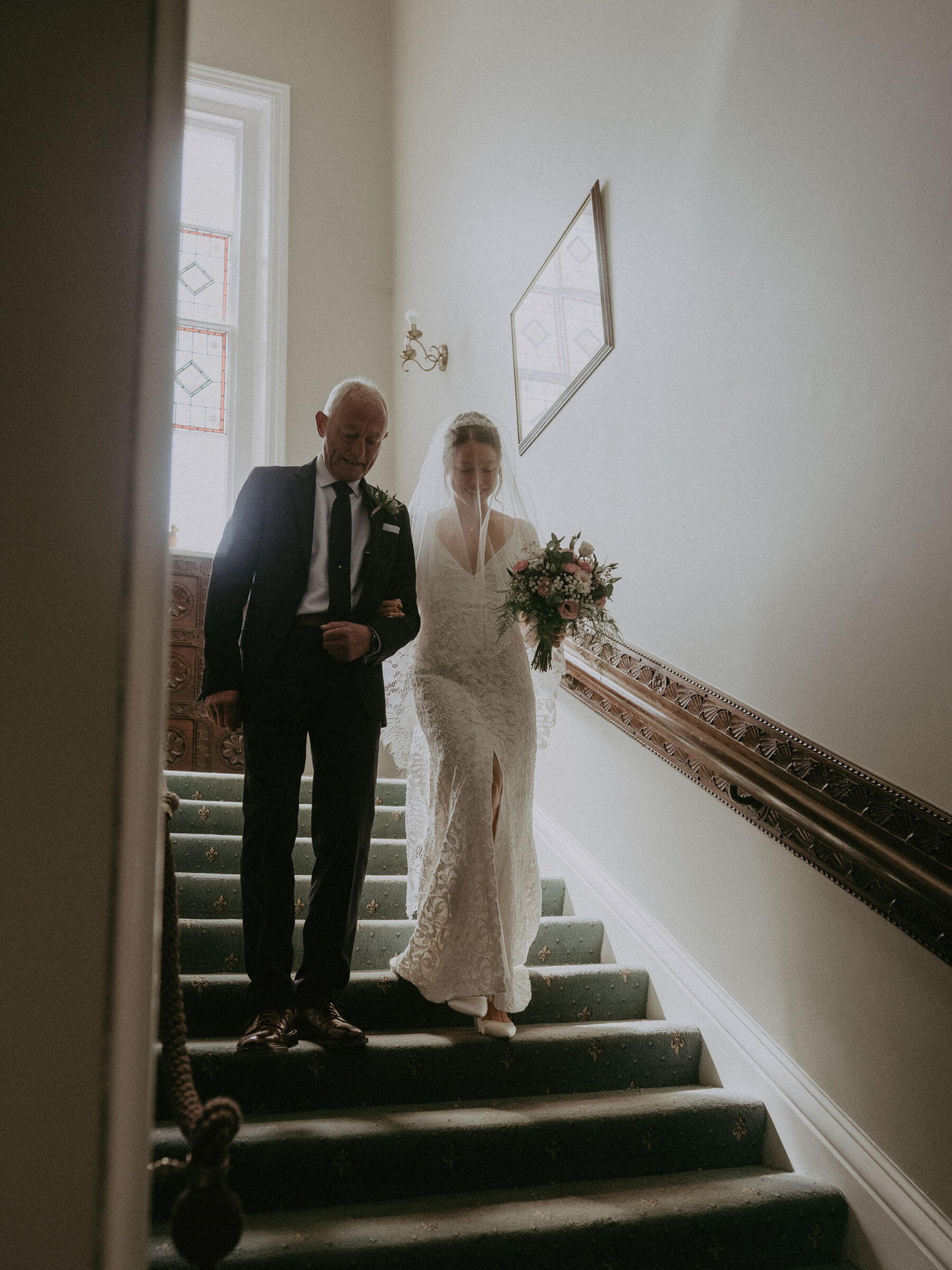 I think they were my gran's wedding present actually, they were one of those things that I always admired as a little girl and they'd indicate that I was finally at Grandma's house.
As children, my sister and our cousins would play a game of 'hide the thimble' when staying at our Grandma's and Grandad's in Yorkshire and it was always the first hiding place of choice. When she passed away, I chose to keep all her brass bits and bobs; the bells have been on our mantle piece.
My father walked me down the aisle to the sound of John Legend's 'All Of Me'. We had a violinist play it as I walked into the garden and down the aisle because on our first 'proper' date, walking over millennia bridge, a violinist played the song. It was the first piece of music Sandy and I heard together.
We wrote our own vows. From the heart.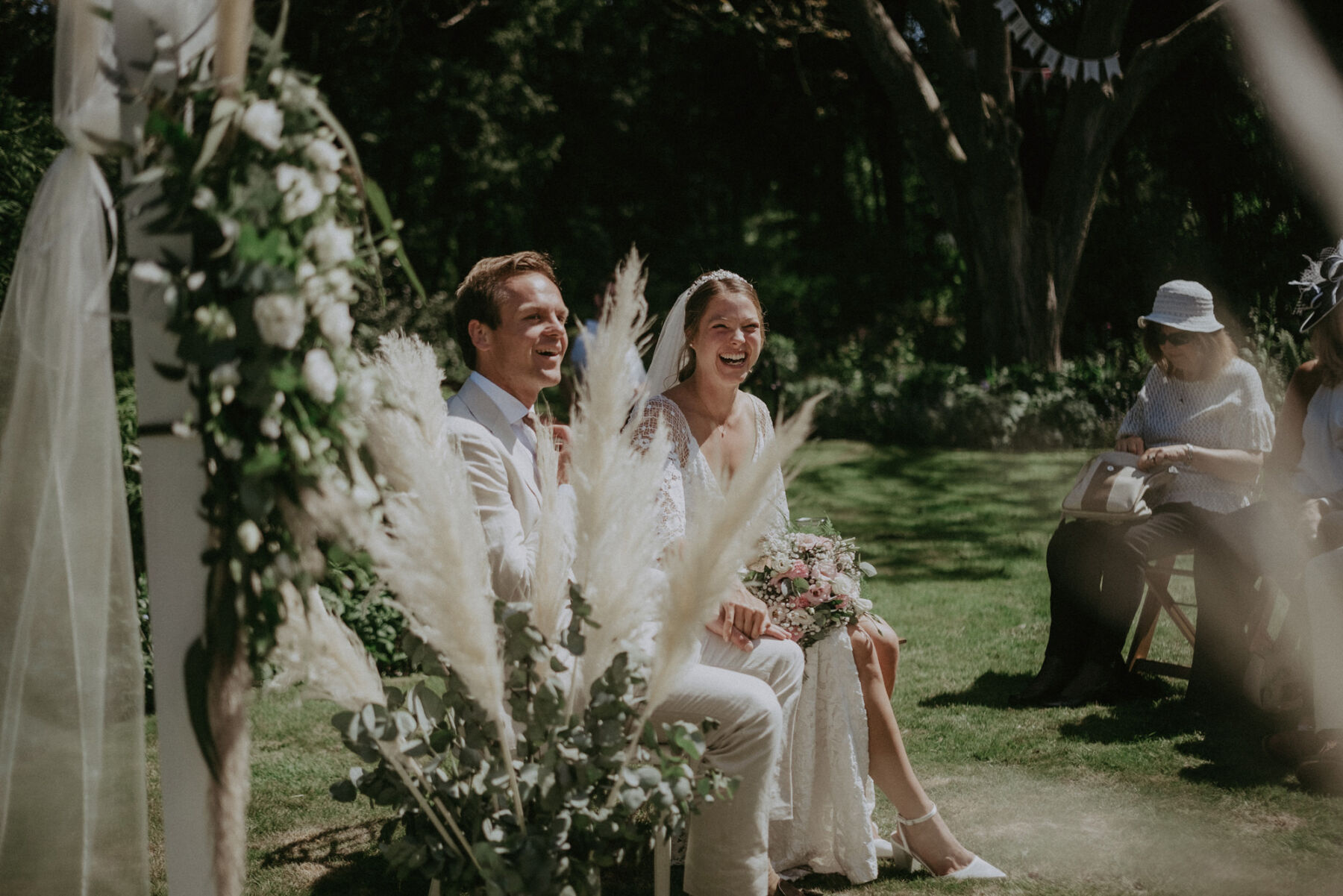 Our rings were by Queensmith – we had such a wonderful appointment at their workshop. We wanted simple, classic bands – both are made from platinum.
We legally married at Leatherhead Registry office the day before but on our wedding day – we had Sandy's amazing auntie, Helen Ellis, be our celebrant. She is so bright, so bountiful with energy and positivity and held the most loving, fun and vibrant ceremony. It was so, so special. I knew I always wanted someone special to marry us and this was a dream come true
Photography
Our photographer was Jason Mark Harris – he was on my radar after another photographer suggested him. The style, edits and moments he seems to capture were the exact vibe we liked; natural, candid, action shots.
Jason seemed to just get it right. I loved the softness to his photos and his website was brilliant.
On the day, he was extraordinary. He was so calming to be around, he was there but sort of in the back ground – he struck the perfect balance because being super friendly, available and so accommodating and also not imposing. He really did make such a fantastic impression – even our guests after the wedding told us how much they loved him and thought he was amazing.
I really am so happy he was recommended and he just exceeded our expectations. He filled the requests we had and never ever made it seem like an issue. He stayed as long as he could before needing to leave for a place home. We highly recommend.
How They Met
We met on a dating app, Hinge! After four days of messaging we decided it was more us to just meet in person, so we met for a walk at Hyde Park. We clicked instantly and subsequently met up at Hyde Park because we 'happened to be in the are' the following three days!
We agreed we should have a proper date so arranged for a romantic meal and a comedy store evening. Then, as they say, "the rest was history!"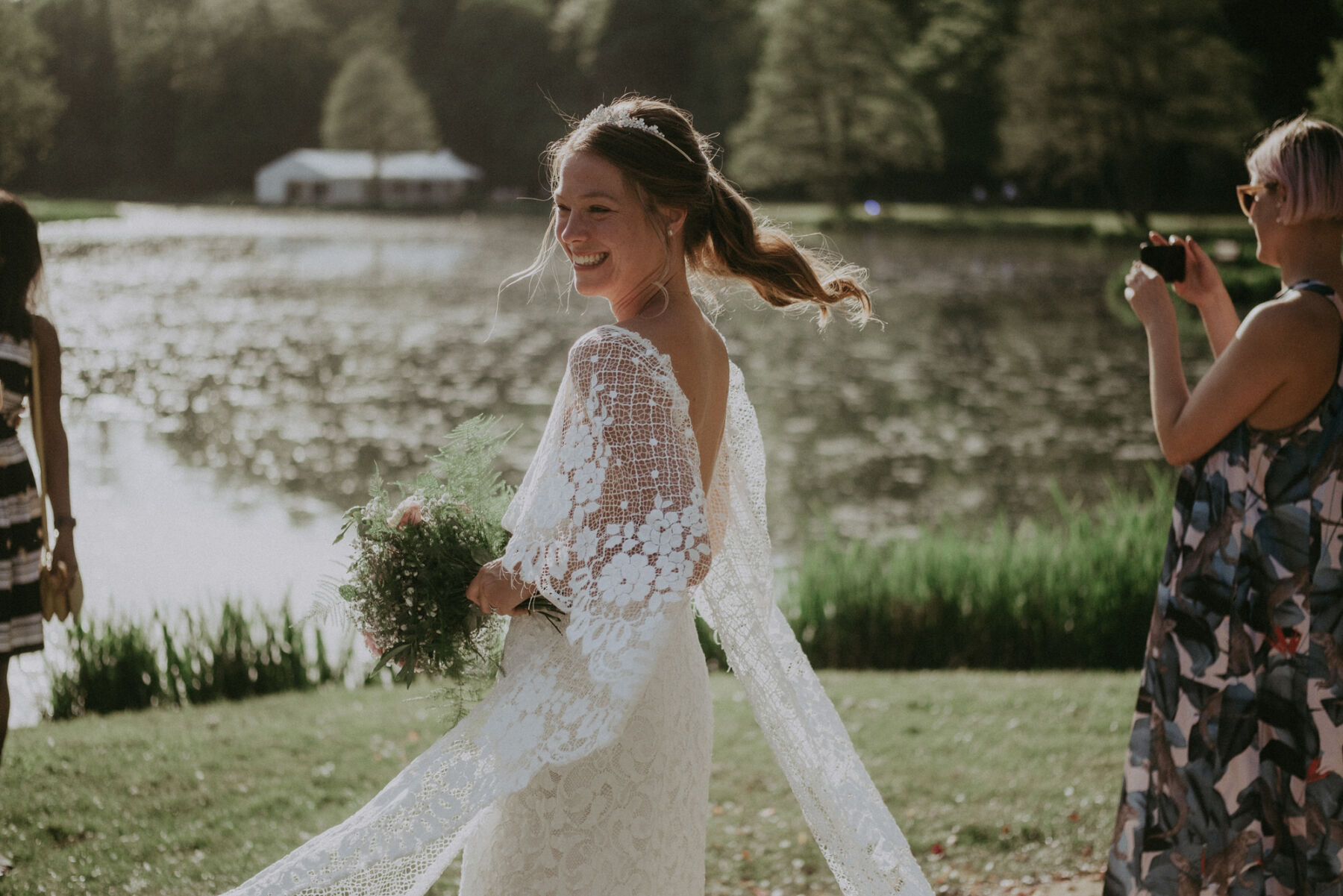 Reception
---
Albury Fisheries came about out of chance and we were the first, or second wedding, to be held there. We liked the idea of getting married in a unique environment and as we've cycled past it so much, it felt like the right place; natural colours, materials and as much nature as possible was our main vibe to follow.
Our caterers were 'Eat the Street'. They were insane!
Our cake was made by a local cake company, recommended by our neighbour.
We used festoon lighting around the lake looked gorgeous!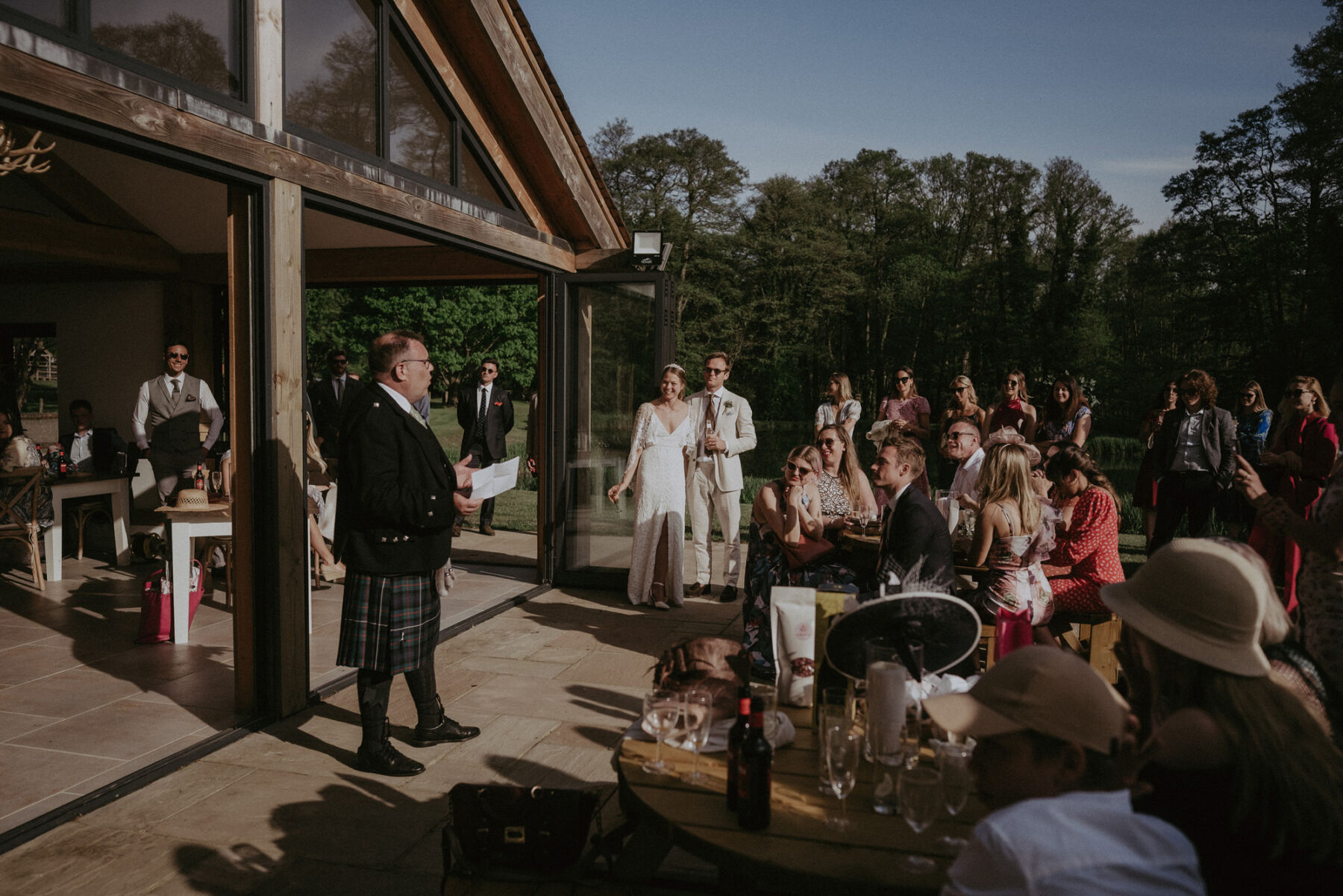 My Norwegian auntie gave a beautiful addition – she wore full Norwegian costume and presented us with some knitted mittens, with our new initials. One for my left hand, one for Sandy's right and one for us wear as one. We had to wear Them as she gave a heartfelt reading about how these mittens are to weather us through the storms and tides of marriage and wrote this for us…
"Dear Amanda and Sandy: These mittens are not for the warm, bright and sunny days of your life together. These are for the cold, dark and windy days ahead. Felted wool is very wind tight and resilient, because the fibres have been intertwined to form a tightly connected mesh that cannot be separated again. In the same way you will intertwine and mesh together your personalities and habits, your ways of looking at things and doing things, your values and your ideals, so that you will be- not two people – but two people felted and fasted together to form a family. Keep a good hold of each other, and find warmth, courage and support in your joined hands."
Evening, Dancing & Favourite Moments
Our first dance was to 'Eloise', by Penny & Sparrow. It's fun and we love the the rhythms the feelings it evokes. The song talks about a young man (the protagonist) and his partner (she) who feel like they could be like gunfighters and take on the world together, facing challenges and living adventures.
Seeing so many loved ones in our garden knocked me over! I was SO incredibly excited to see family and friends that had flown from all over the world, travelled from towns and cities around the UK to be in our garden, to celebrate our love. Also, seeing Sandy at the end of the aisle with the beautiful view of Box Hill behind him, made me exclaim out loud, "OMG this is AMAZING!". I knew it would be a special moment and it really was.
I didn't expect the sheer excitement to overwhelm how it did – it was the best moment of my life. SO much love and happiness in our garden. AND I had the most beautiful human being in front of me, ready to marry my socks off…and me to him!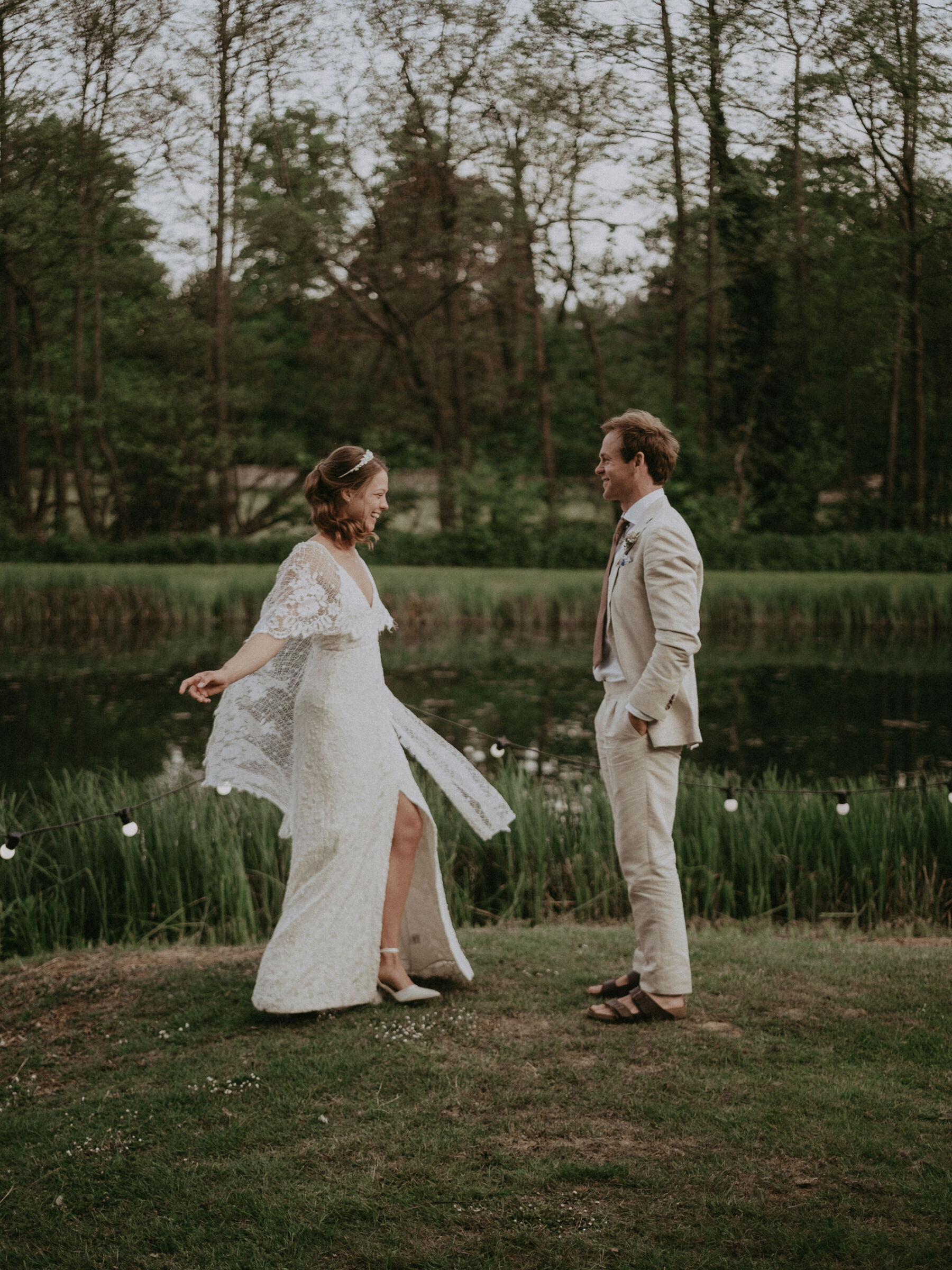 Words of Wedded Wisdom
Don't lose sight of what really matters to you. The day really does fly by and the most important thing is that you can just flow in your rhythm and be happy. Make time to be with your partner and to watch the guests in the setting.
It's precious. Everyone will be fine to organise themselves so don't worry about the small details. I spent far too long getting held back talking to everyone instead of dancing with my husband on the dance floor.
Of course it was great to chat but I wish I had spent more time on that dance floor with him. I had two amazing bridesmaids who were by my side ready to hold things, remind me to drink water and there to pull me away from people when they knew I needed to eat.
Also, I'd also suggest you ask all your guests to send any videos and photos of you to a google drive or something similar because they capture moments that you'd never expect and it's super fun to see those.
Welcome to the
Love My Dress Shop
Browse the latest handpicked items in the Love My Dress Shop.
Shop by Category
or
Shop by Brand
Bookmark our Directory