Andrea Hawkes Sustainable Bridal PJs & Robes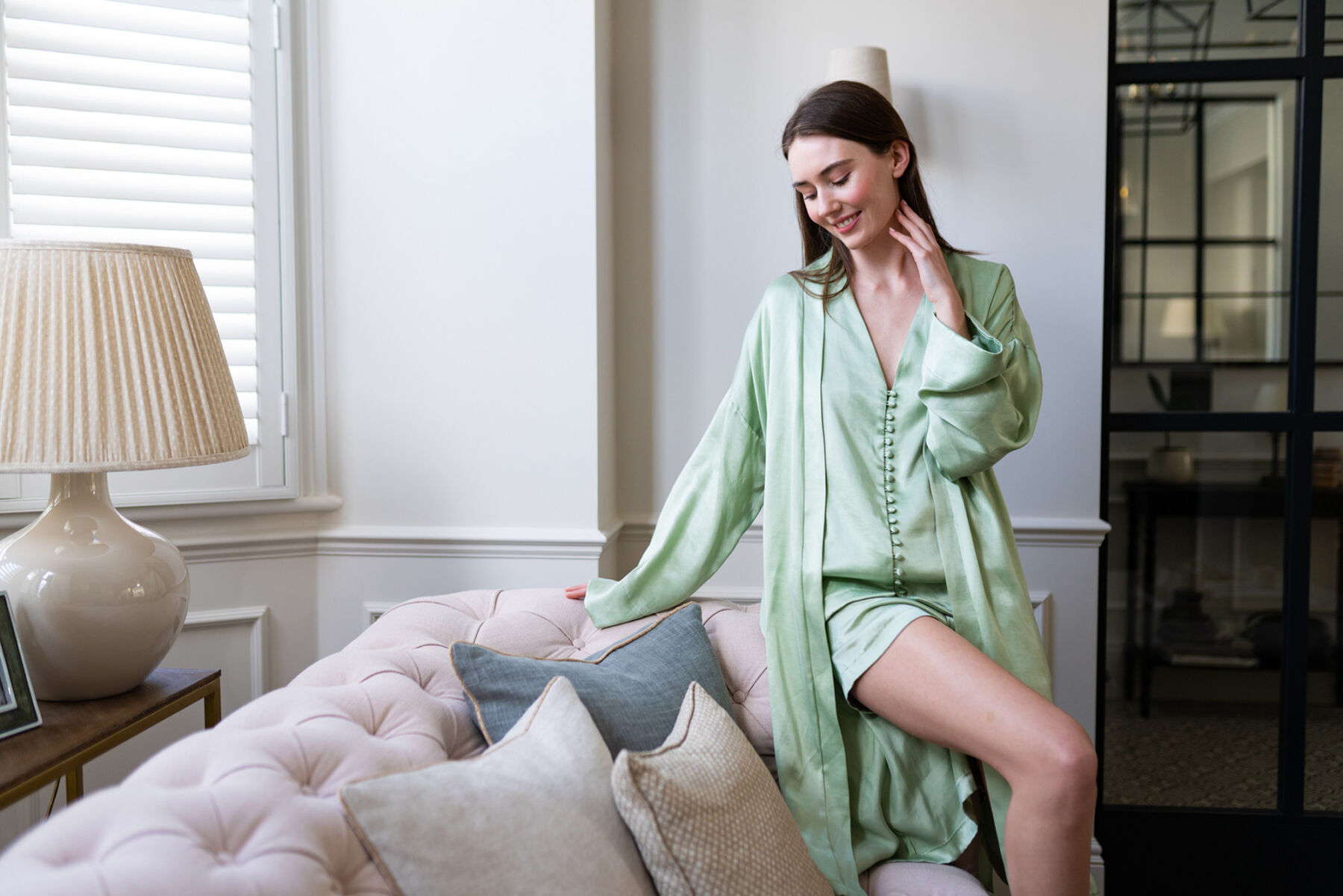 Our friends over at Andrea Hawkes Bridal have launched a beautiful, sustainable new collection of PJs and robes, that we think you're going to absolutely love love.
These luxurious pyjamas and robes are all made in Andrea's studio in London by Andrea's team of in-house, experienced pattern cutters and seamstresses, using the most luxurious silk and plant based fabrics.
They are absolutely beautiful PJs and robes anyway, but they are perfect for wearing on the morning of your wedding day (for those lovely 'getting ready' shots with your best girls) and for packing in your honeymoon or minimoon suitcase.
There are three different PJ sets and products can be mixed and matched based on colour and size.
Let's take a look….
Save 10% This Weekend Only
 Save 10% on all online purchases between 1st and 3rd April 2002.
Use code 'PYJAMA10' at checkout.
100% Ethical Ivory Silk Sets & Separates
These gorgeous pyjamas are made using 100% sustainable and luxurious, medium weight sandwash ivory silk, a natural fabric that feels so soft.
PJ Separates
Ivory Robe £235
Ivory Short Top £165
Ivory Long Top £185
Ivory Shorts £100
Ivory Trousers £160
PJ Sets
Ivory Winter Set £345
Ivory Winter Set with Robe £550
Pink Stripe Tencel™ Sets & Separates
These Pink Stripe PJ's are made by Andrea's team using plant based fabric,  TENCEL™. This fabric is derived from sustainable wood sources, harvested and certified from sustainably managed forests.
Pink PJ separates
Pink Robe £255
Pink Short Top £175
Pink Long Top £195
Pink Shorts £110
Pink Trousers £170
Pink PJ Sets
Pink Winter Set £385
Pink Winter Set with Robe £610
Green Tencel™ Sets & Separates
These gorgeous green PJs are once again created from the TENCEL™ Luxe – an earth friendly fabric that is created from sustainable wood sources, harvested and certified from sustainably managed forests.
Green PJ Separates
Green Robe £215
Green Short Top £145
Green Long Top £165
Green Shorts £85
Green Trousers £150
Green PJ Sets
Green Winter Set £310
Green Winter Set with Robe £510
Silk & Plant Based Fabrics
Our PJ range and Robes are a great option for anyone looking to add a luxury, wearable item to their night-time wardrobe or day-time lounge wear with a focus on sustainability. Made in London from both plant based and silk fabrics. Andrea Hawkes
Andrea Hawkes is a Love My Dress favourite – a British bridal designer based in London, who is renowned for creating beautiful, contemporary wedding dresses for modern brides. Andrea is passionate about ethical and sustainable bridal fashion design.
We absolutely love supporting this British business who are dedicated to making bridal fashion more ethically and sustainably responsible and providing employment to talented seamstresses, pattern cutters and dressmakers whose skills would otherwise be lost to overseas production.
We absolutely adore sharing Andrea Hawkes real brides and have had the pleasure of working with Andrea recently in producing this editorial for their collection of sustainable modern wedding veils and accessories.
Find out more here.