Chartreuse Chic Wedding Editorial, Featuring Avant Garde Cake Studio
This editorial idea began with an obsession for a striking colour that is not often seen in wedding palettes: chartreuse green.
That obsession belonged to the lady behind the design and planning of this shoot, stationery designer Hélène of Smitten with Ink.
"There is something so sophisticated about it", says Helen, "it's quiet and loud all at once and it is with this in mind that the concept of bold minimalism was conceived."
Film by White Ark Weddings
Hélène worked with a talented team of wedding suppliers to bring her vision to life, a "still yet loud, soft yet bold, sharp and controlled yet a bit wild" editorial all in one. We hope you love these beautiful images, captured at Brixton wedding venue, 100 Barrington and featuring the incredible cake designs of Love My Dress recommended supplier, Avant Garde Cake Studio.
Words that follow are by Hélène…
Images by Emily Rose Photography
The Space
Located in vibrant Brixton, South London, 100 Barrington is a gorgeous versatile space with bare brick walls, huge arched ceilings and beautiful light pouring in through the metal framed windows.
It was the perfect backdrop for our minimalistic but bold vision.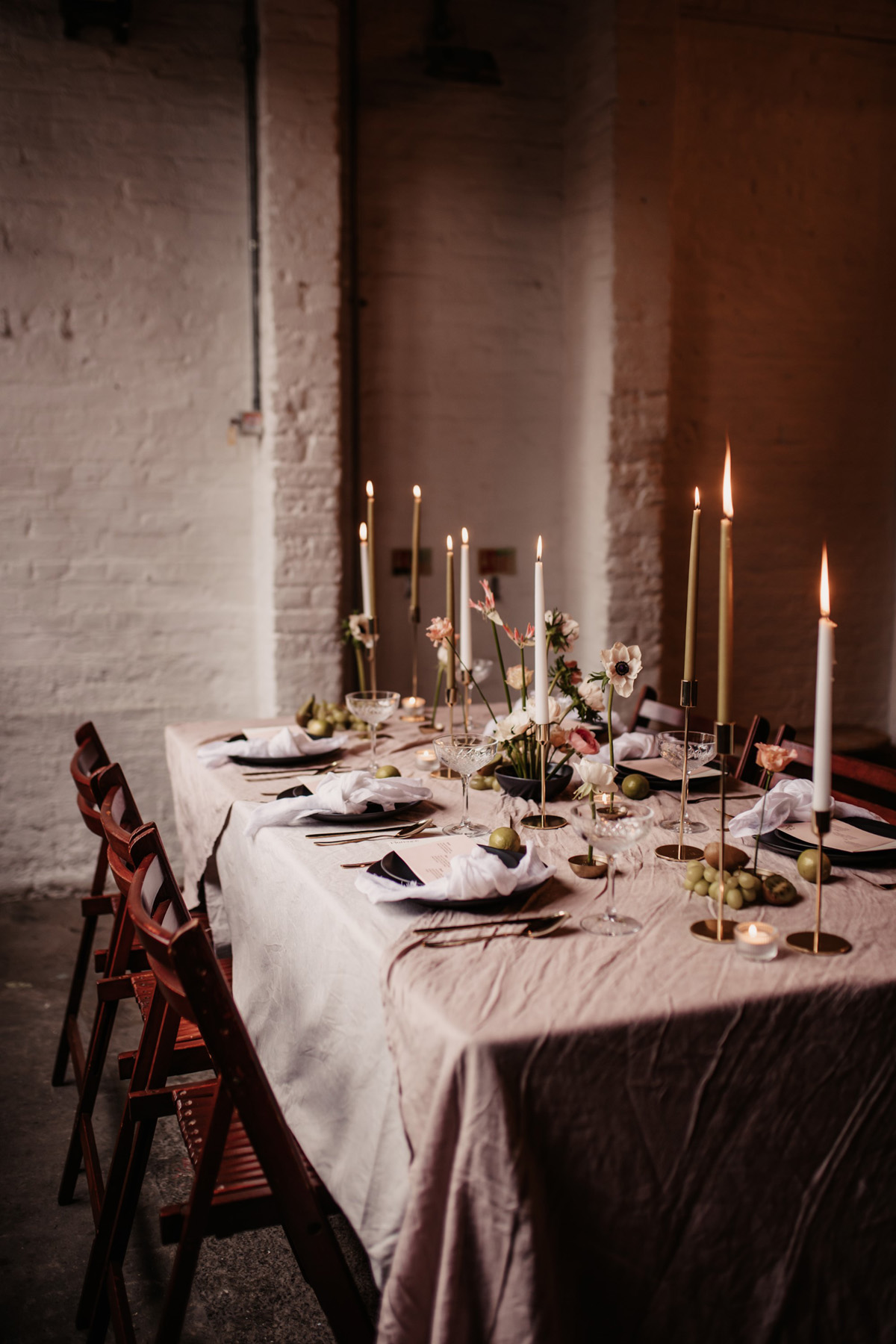 Evocative & Tactile Stationery That Awakens The Senses
The hot foil pressed invitation suite was produced in keeping with the theme of understated luxury. Mixing contemporary clean design and unusual shapes to the artisan traditional way of printing, I love to bring to life evocative and tactile stationery that awakens the senses.
It's about the details and I love including special touches, like the place cards conveying a message from the couple to their guests.
The Styling
The vision was perfectly brought to life by Nicola of Abstract Events. With a focus on less is more, she styled the tablescape and showed how you can make a big impact with carefully curated and placed items.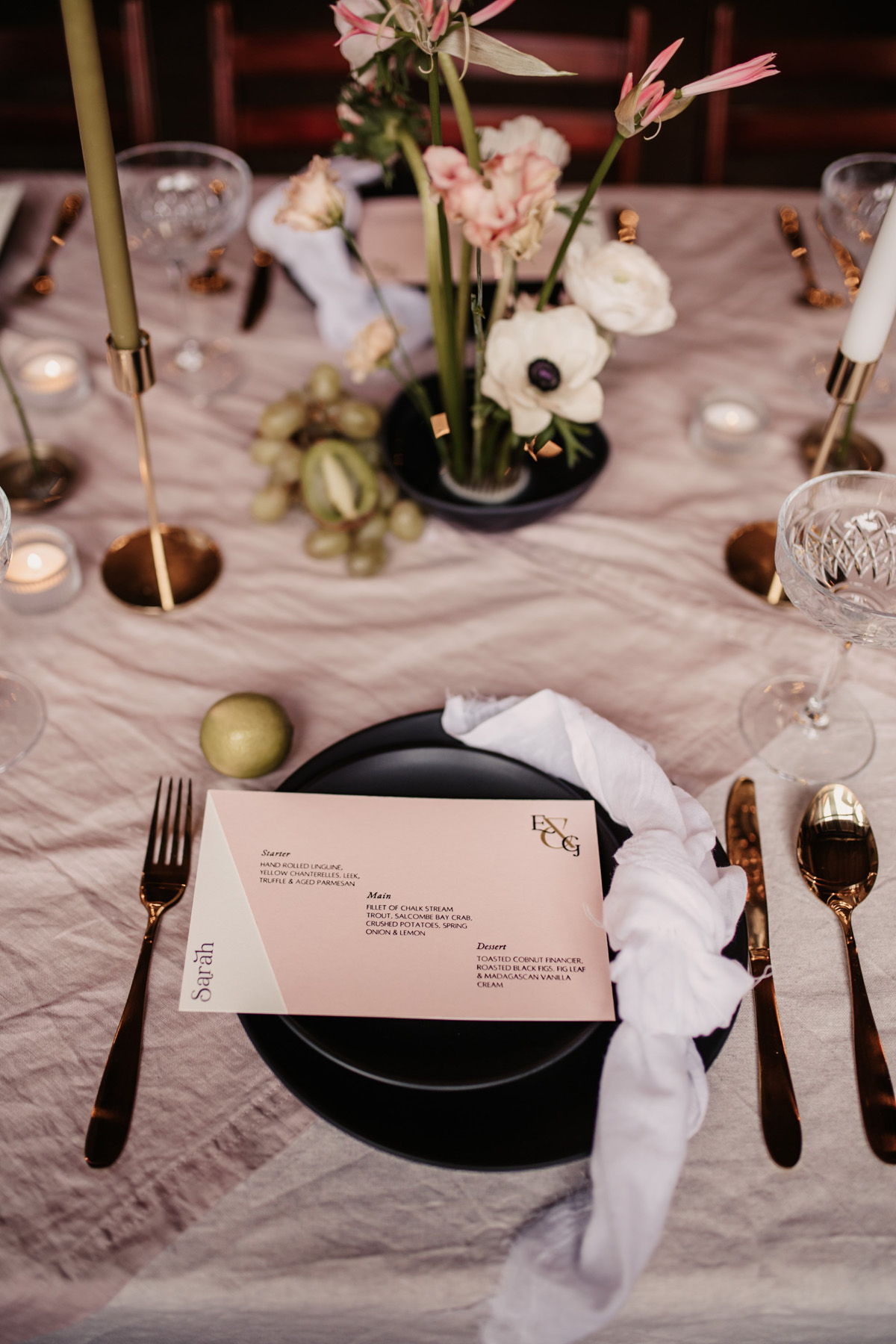 Texture was brought in with the linen and the fruits, height with the stacked plates and the uneven candles, movement and direction with the florals in the ikebana style.
The contrasting palette of pinks and whites with the chartreuse green and black brings out a bit of drama while the touches of gold in the cutlery and candleholders add that touch of opulence. It's all soft and still though, never ostentatious.
Catherine of Catherine Short Floral Design created floral arrangements that are expressive and design led, minimalistic but with big impact.
Inspired by Ikebana, the Japanese art of arranging flowers, a few but spectacular stems catch the eye with colour, texture and direction elevating the tablescape as well as the dessert table set up.
Emily of Emily Rose Photography was an obvious choice for she has such an eye for capturing details, movement and raw emotions.
There is real softness yet strength in Emily's photography, everything seems to be stripped back to its essence which is so fitting for capturing the atmosphere we wanted to create on that day.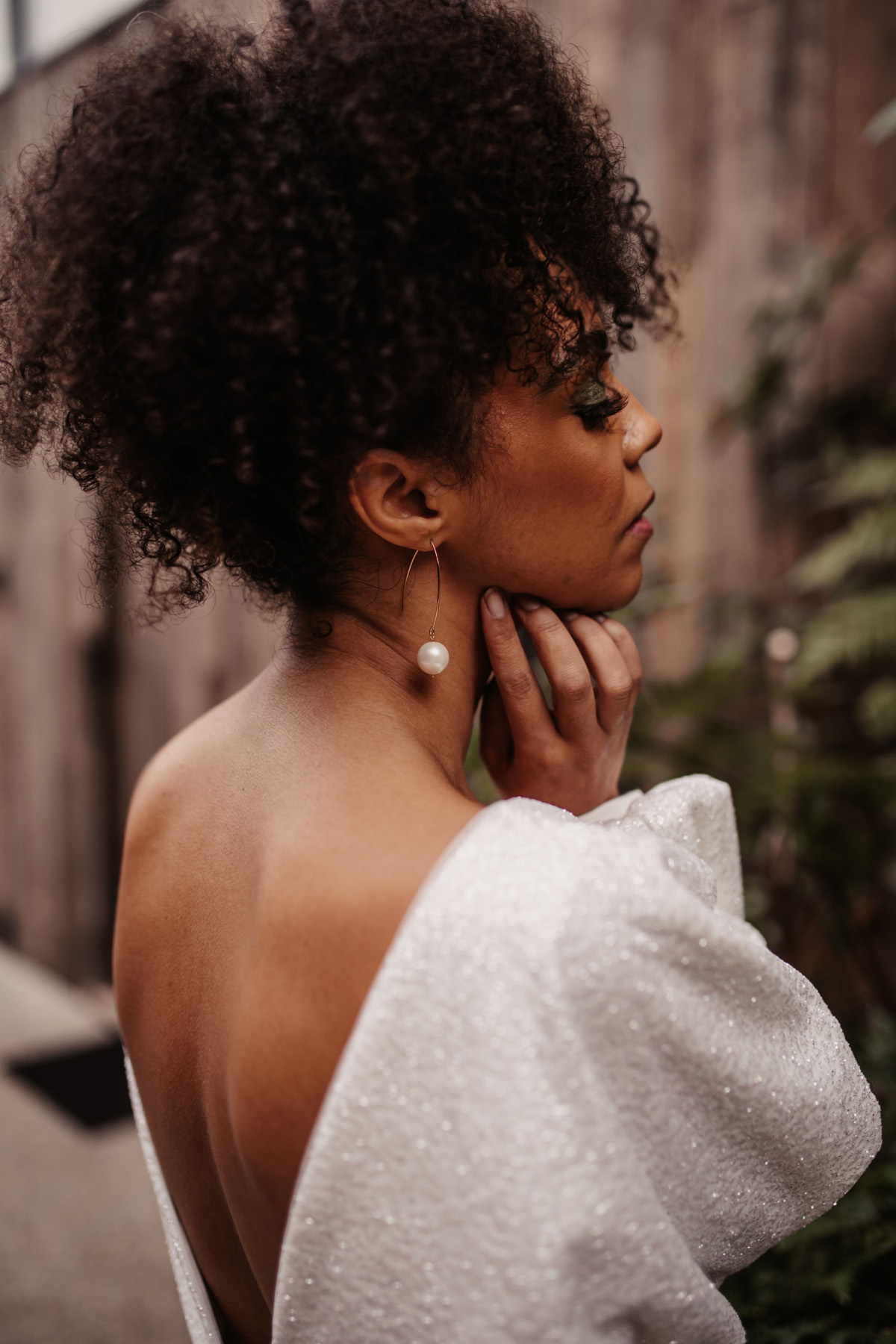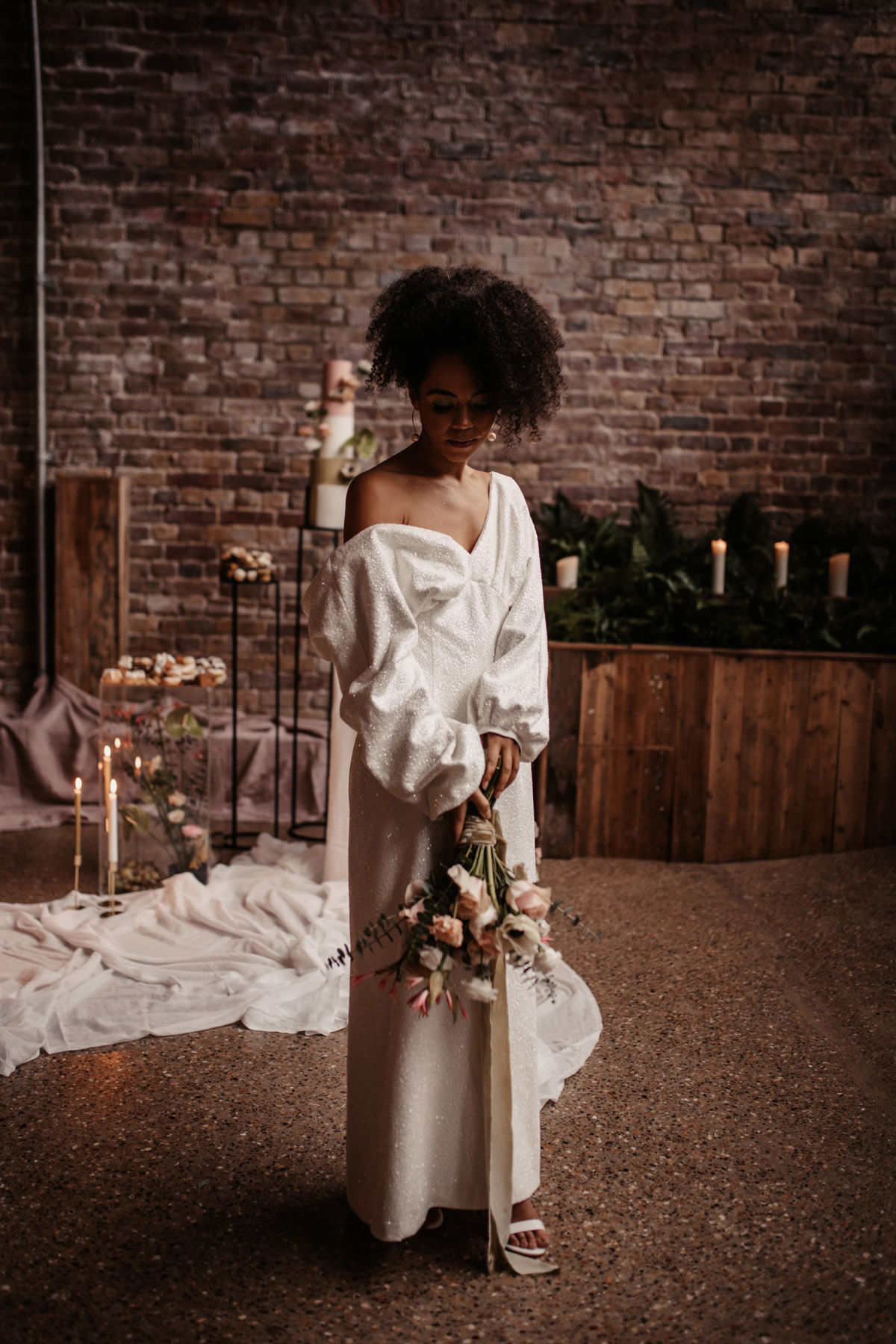 Fashion & Beauty
To fit in with the aesthetic, the bridal wear was key and needed to bring in sharp tailored lines and interesting cuts with an overall out of the ordinary feel.
Telling our story in three acts, we wanted three very different looks. The daytime look is perfect for the ceremony, a simple but stunning cut with bare shoulders and contemporary front draping.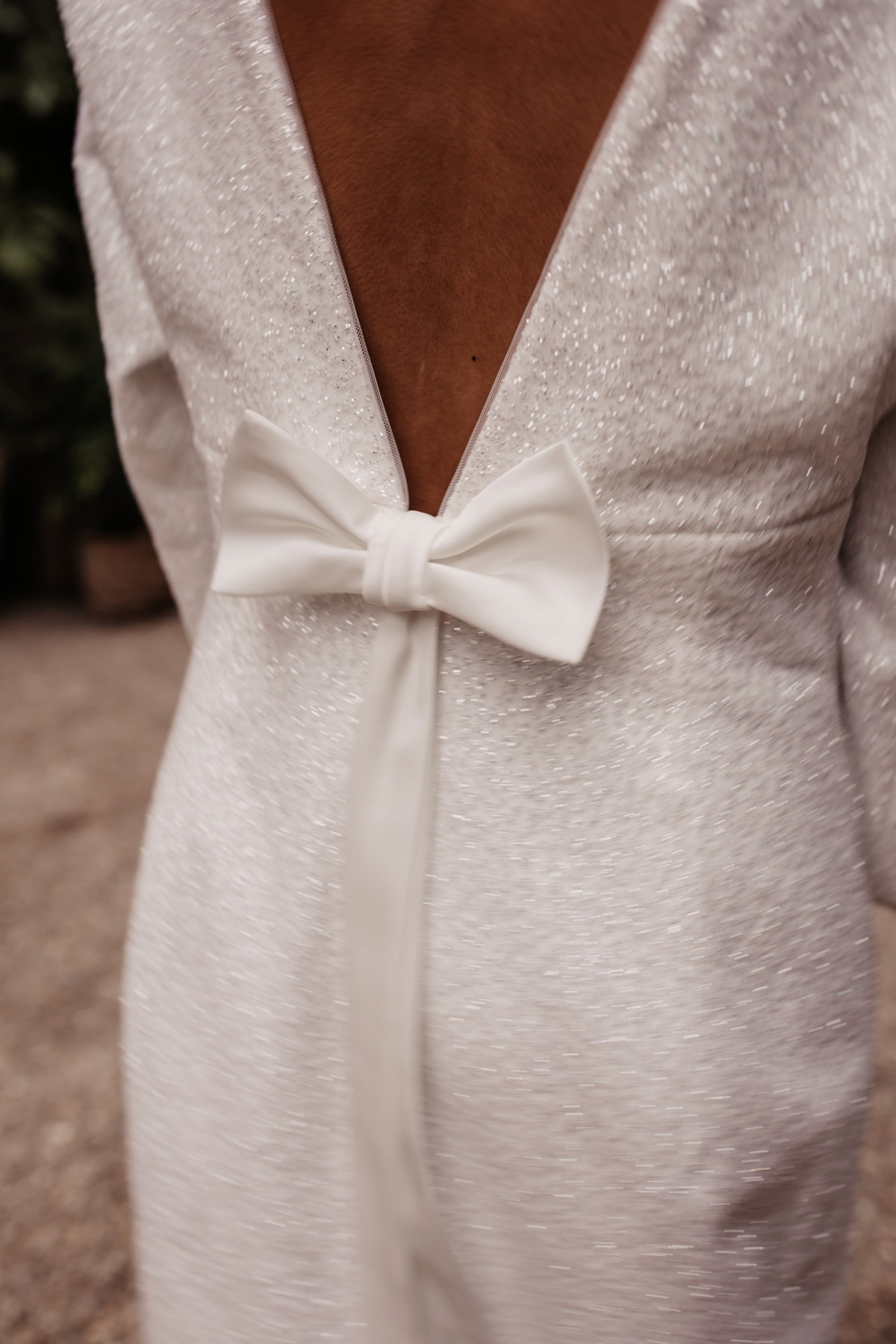 The hair was styled to showcase natural beautiful curls and to add an element of texture, in contrast to the sleek fabric of the dress.
A fresh soft face was opted for with Aina of Brides by Aina.M adding an audacious green eye shadow to bring out boldness and as a reminder of that chartreuse green.
A minimalist geometric bespoke hairpiece created by the talented Janie of The Lucky Sixpence adds another layer of understated luxe.
Our cocktail look is all about sparkle and fun but make it classy. The open back with its small bow is a delightful signal that the celebration can truly start.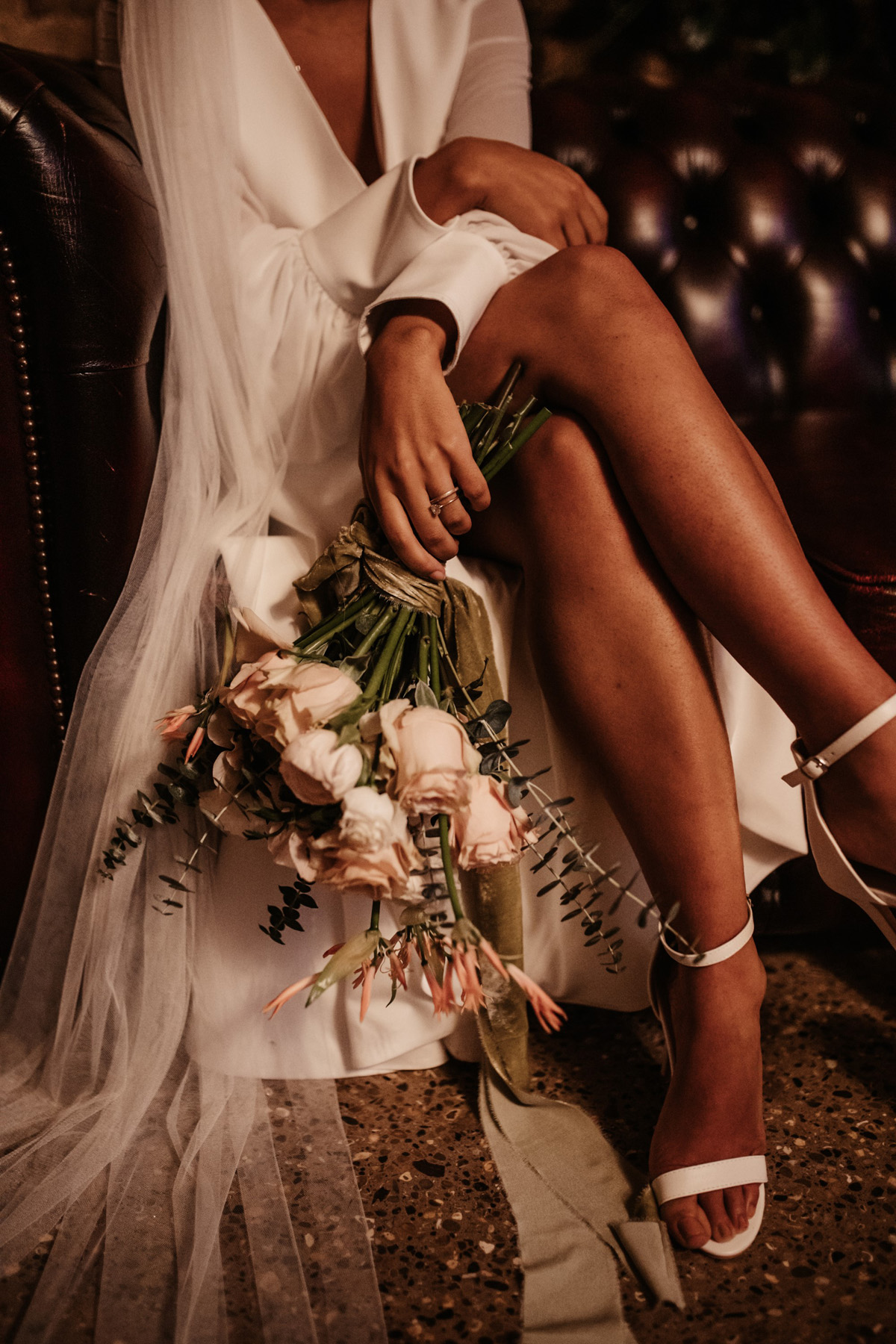 The hair is styled in an incredible up-do that feels simple, yet is chic and impactful. Statement earrings, again by The Lucky Sixpence, complete the party look.
Our final look is a gorgeous slip-in dress, styled with a large satin bow veil and striking golden earrings, bringing out sophisticated sensuality, perfect for the more intimate and softer atmosphere that comes with the late hours of the night where time seems  to be standing still.
All bridal wear was supplied by Melissa from Crazy in Love Bridal.
The Cake & Dessert Table
The cake needed to be a stand out piece of minimalism and the amazing Sarah from Avant Garde Cake Studio, a recommended Love My Dress supplier, designed just that.
From the colour palette, to the movement created by the flowers adorning it, to its mise-en-scene amongst a river of colourful stunning mini pastries and chocolates, this dessert table is a true show stopper.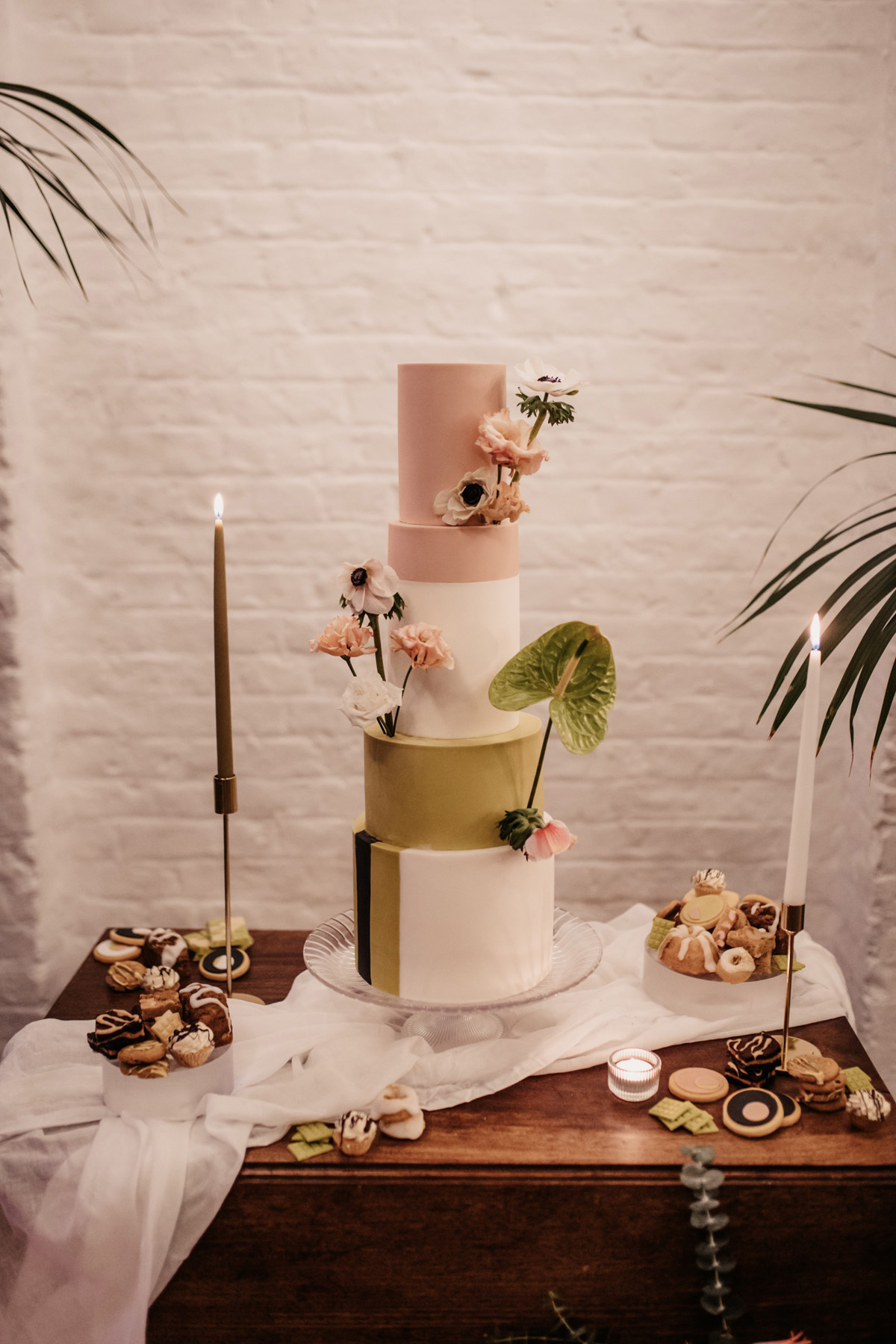 Avant Garde Cake Studio designer Sarah, designs and creates the most spectacular cakes form her Berkshire studio.
"I create unique wedding cakes for outstanding celebrations. Inspired by art, fuelled by love, each wedding cake that leaves my studio is a feast for the senses."
"I deliver my cakes across the UK, and abroad. My unique wedding cakes have delighted guests in Normandy, the South of France and Luxembourg, and I'm happy to travel further afield."
"Cakes are an incredible medium to work on. Their ephemeral nature has always fascinated me – the idea that art can be consumed, and doesn't have to have a timeless quality, moves them far away from what is classically considered to be art."