Liz & Adam's Sustainable & Nature Inspired Farm Wedding
For brides looking to wear something a little less formal on their wedding day, I hope that these beautiful images provide lots of inspiration.
Liz chose a beautiful, unstructured, linen dress with a pretty embroidered heart-belt to wear on the day she wed Adam. The couple tied the knot on 26 June 2021 at Lower House Farm in Longtown, Herefordshire. Having fallen in love with the farm venue on a photo shoot many years ago, they took its incredible, natural setting as inspiration for their styling, adding plenty of flowers, foliage and colourful touches to make the day feel truly them.
Photography Emily & Steve Photography
For her bridal outfit, Liz chose to pair a relaxed, boho-style white dress from A Perfect Nomad with a custom belt made by Angie Power and Rachel Rousham.
"We were in the midst of the pandemic, so I ordered my dress online. I've been trying to buy more consciously, ethically and sustainably, and spending on something that I'd wear once felt out of step with what I've been working on."
"My dress cost £250, was super-comfortable and the best thing is that I can wear it again."
"My belt and bag (as well as my sister's bag) were made as a collaboration between designer Angie Power and embroiderer Rachel Rousham."
"I share a studio with both of them in London and it felt so special to be wearing something made by the pair of them on the day. They're so talented."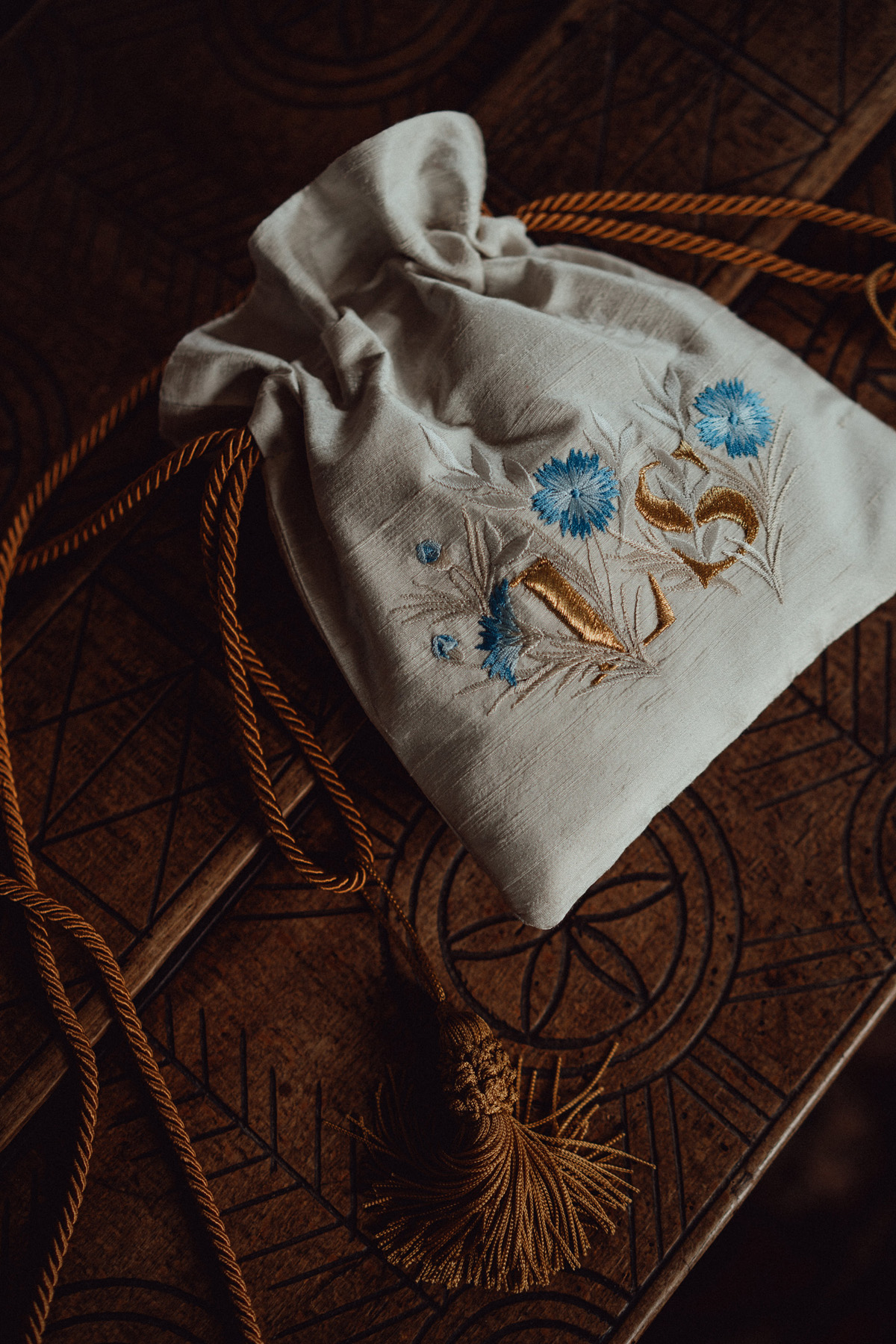 Liz slipped on a pair of gold Kit + Clogs sandals and added statement hair clips by Tilly Thomas Lux and Sylvain Le Hen via Wolf & Gypsy Vintage.
"My necklace was from Studio Rua and all my other jewellery was vintage from within the family."
Florist Wetherly provided the wild and natural, seasonal wedding flowers.
"Much like the photography, Liv who runs Wetherly was my first (and actually only) choice for floristry. She grows all her own flowers in Hertfordshire, so what's available is what's in the field at the time."
"In June 2020, we visited the fields with her to get a feel for what would be available and made a rough plan then. Her flowers are so beautiful and she's so passionate about them."
"There's nothing more wholesome than watching Liv arrange flowers, every now and then telling a single stem, 'You're beautiful, I love you'. She's a wonder."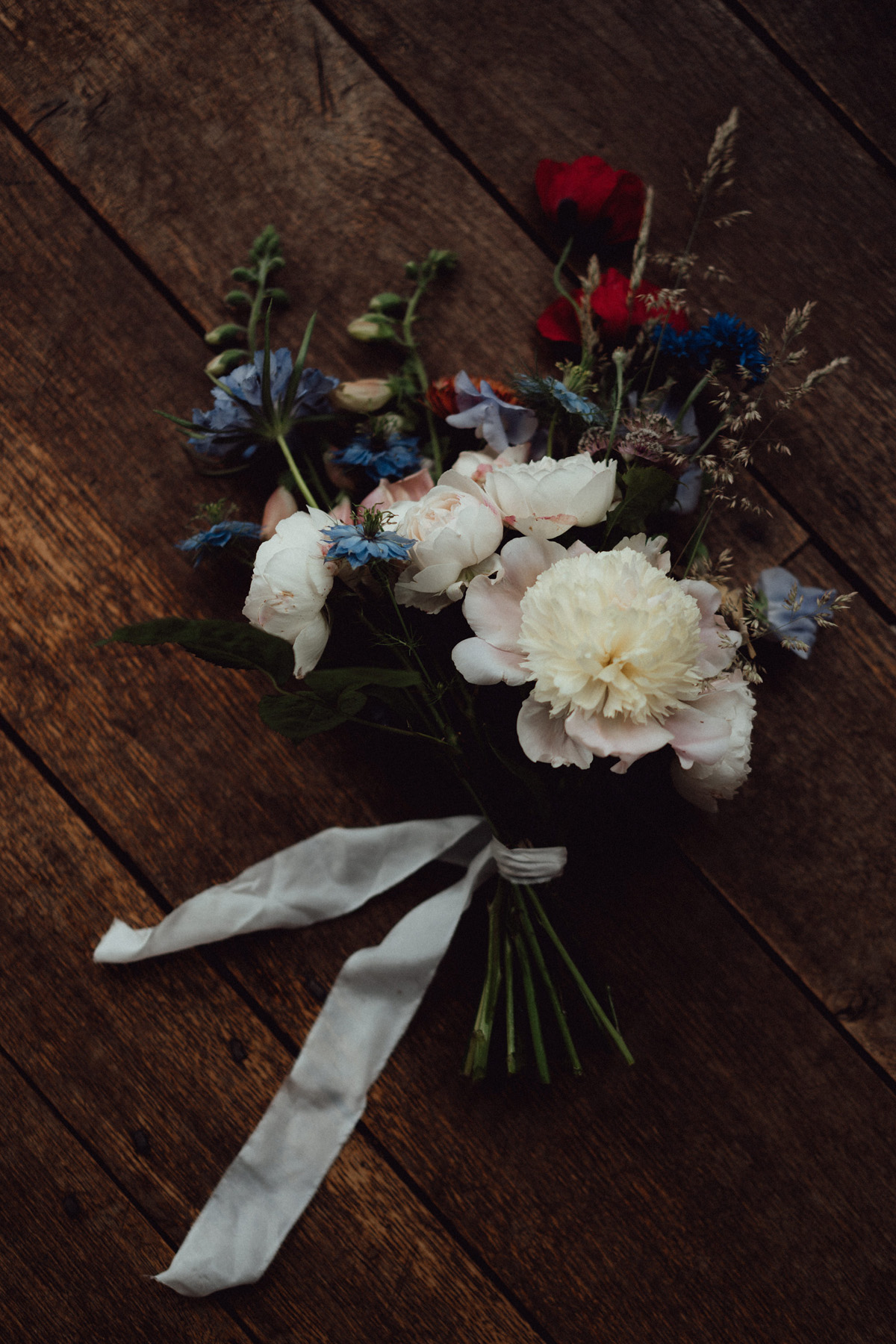 "I decided to do my own hair and make-up on the day. I don't really wear make-up day to day, so I didn't feel like I was overdone or not myself."
"I did, however, have a lesson from friend and collaborator Alice Oliver Hair & Makeup, which helped me feel at ease with my own skills."
"I wore Saint Rémy by Fugazzi because it's super long-lasting."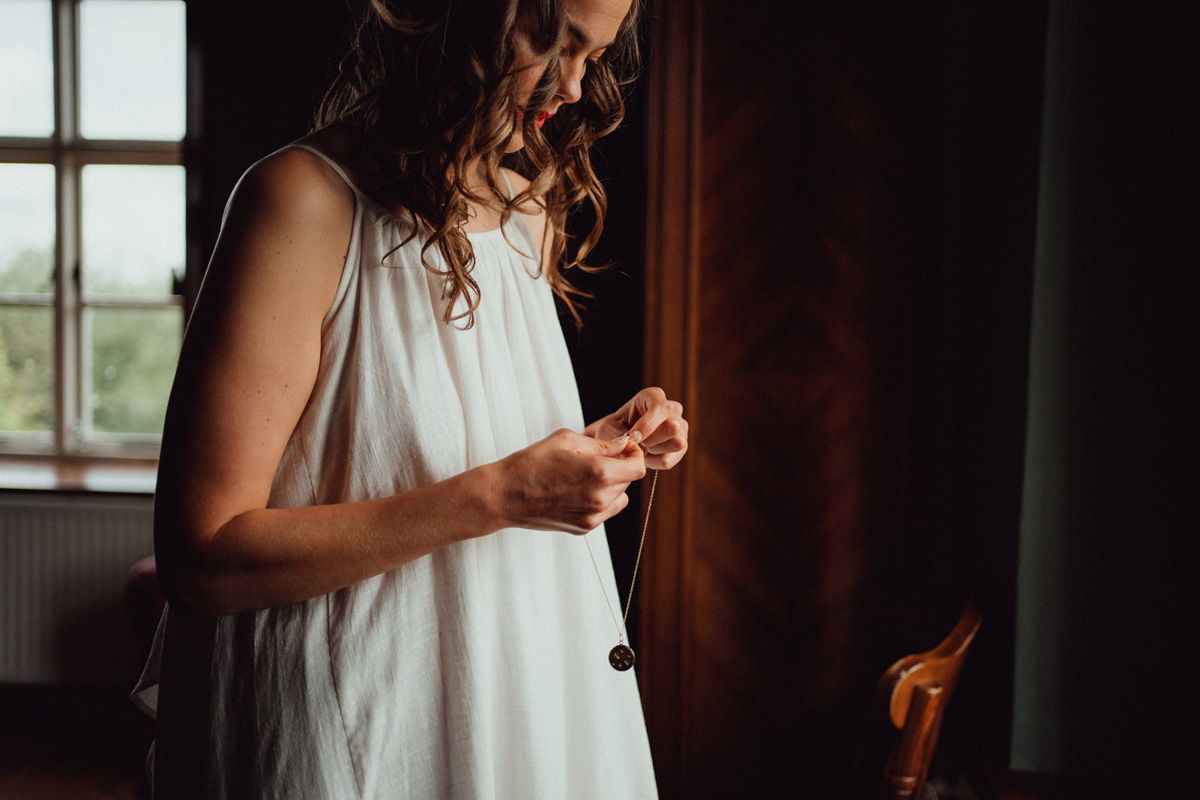 Adam chose a forest green, fine wool suit from Beggar's Run, and turned to Ebay for most of his accessories and shoes.
"I'd like to shout out to Beggars Run, who made Adam's suit. He'd never had a suit made-to-measure before and Eddie guided him through the whole process, helping him choose a fabric, style and details such as the button colours and lining pattern."
"Adam is left-handed and they designed the suit with that in mind, meaning that he felt comfortable and confident on the day."
"Adam also wore Wonderwood by Comme des Garçons because it's very sexy."
The bride was driven to the farm in her dad's car, complete with a bridal bow. The beautiful weather meant that the couple could wed outside, in a simple setting shaded by trees.
"My dad walked me down the aisle with my sister ahead of us. We were married under an oak tree which was so beautiful, but I hadn't factored in quite how long the walk across the field was."
"We didn't have music because we wanted it to feel very natural, but I definitely wished I had something to walk to about half-way across the field. I ended up humming 'The Imperial War March' of all things. Make of that what you will."
The ceremony was led by two celebrants from Herefordshire Council and Liz and Adam exchanged simple, sweet vows.
"We exchanged just a few sentences of promises to each other. Adam remembered his by heart. I didn't quite manage to do the same… I wrote them a couple of days before!"
"I come from a house where books were very important – my mum, in particular, being a voracious reader. She's passed that on to me but I've also become a bit of a snob about it. I was ardent that I wanted to find something that didn't appear on wedding blogs but when she sent me a passage from 'Winnie the Pooh' I read it to Adam and he welled up."
"'Winnie the Pooh' has always been an important book to my family, so it felt fitting to have it. For the other reading, I believe that I achieved what I sought and we used a passage from 'A Man Called Ove' by Fredrik Backman."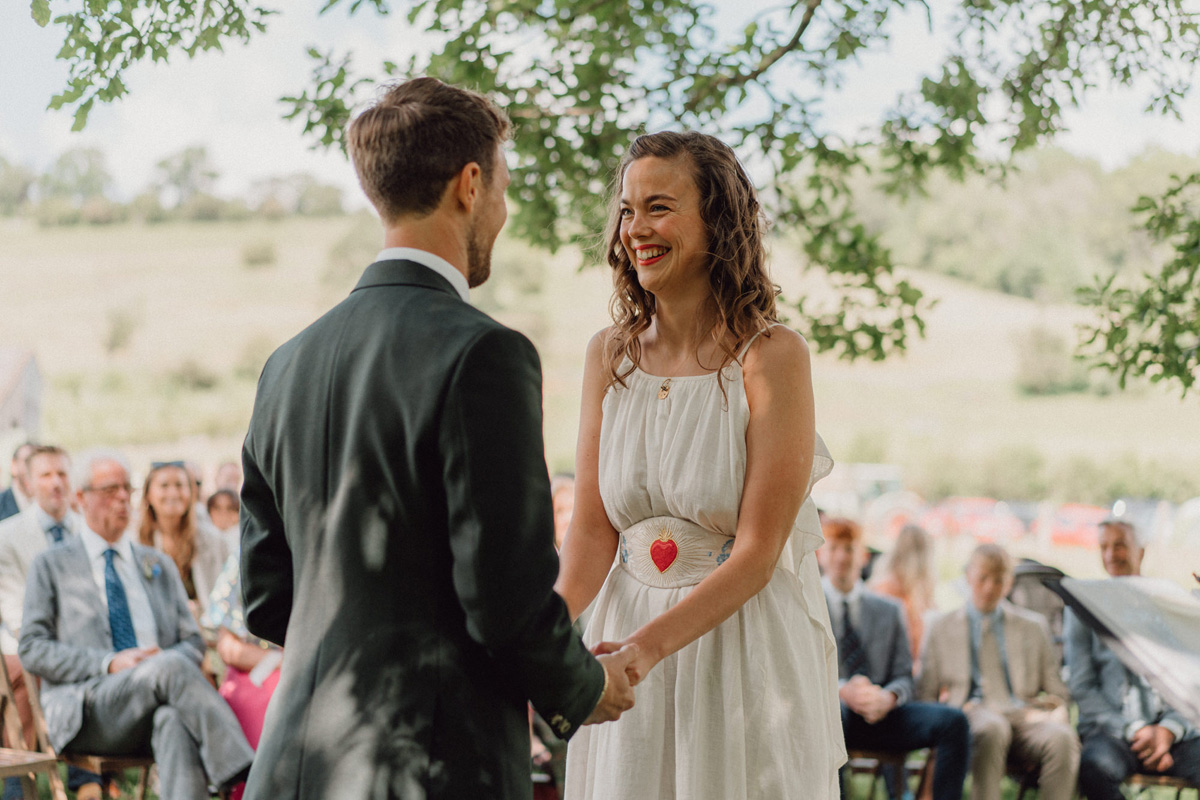 Liz's engagement ring and their wedding bands were made by Michelle Oh.
"I met Michelle years ago at a pop-up shop that a magazine I worked with at the time curated and I've followed her ever since."
"I said to Adam that if he ever did feel like he might like to propose, I'd like the ring to be made by Michelle. I don't think I thought he'd actually do it! Her jewellery is so beautiful and she's a real treat to work with."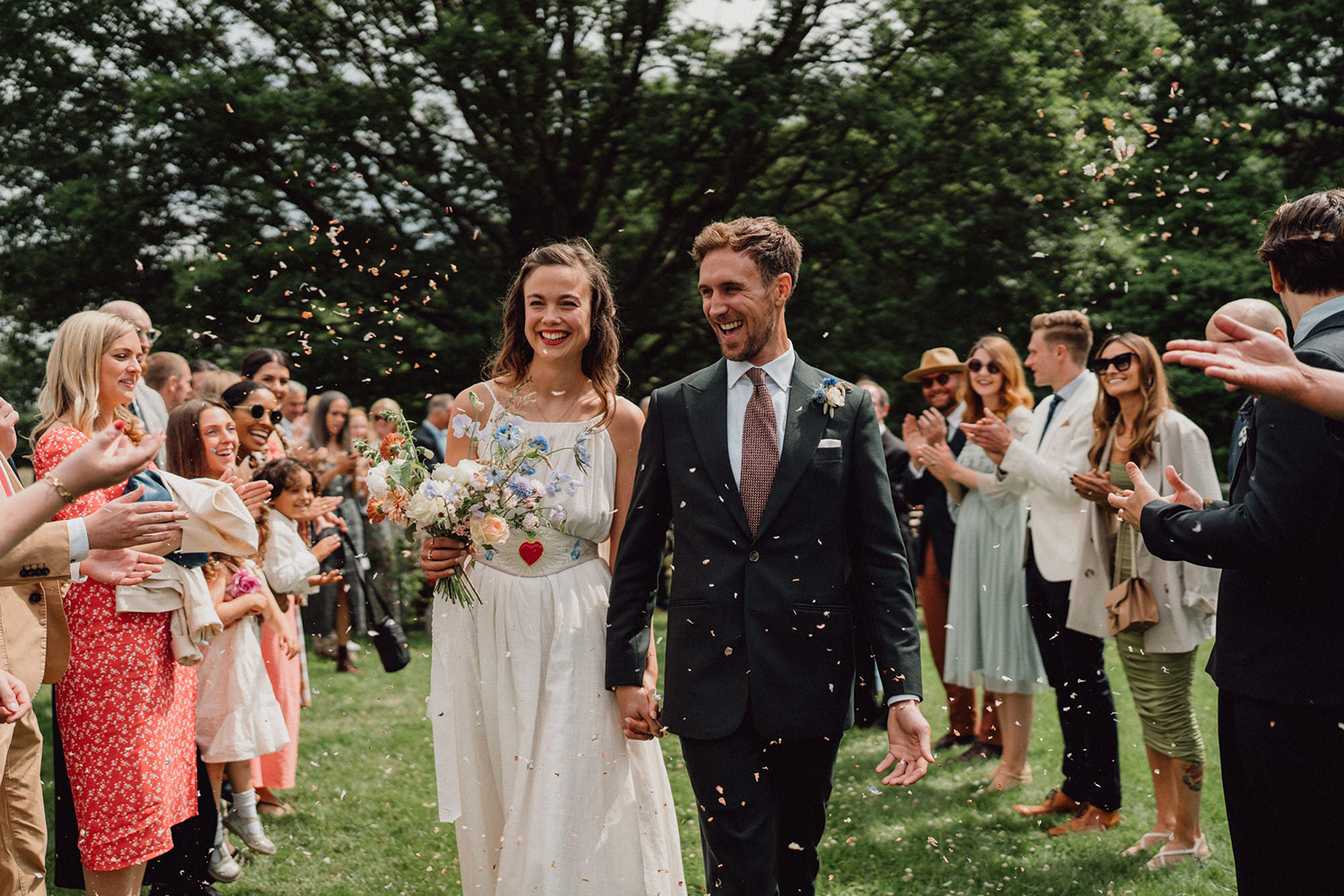 The newly-weds and their guests moved into the open-sided barn for a rustic, sit-down meal.
"I did a shoot for a magazine at the farm years ago and when we were looking for venues, I saw on Amie's profile that they were doing weddings. Jake and Amie are such lovely people."
"Emily is the wonderful planner at Lower House Farm and was all the help we needed. She's bloody great. We wanted a day which really felt like us, which sounds kind of basic but I think with weddings it's really easy to get caught up in a narrative of doing things based on the expectations of others and following norms."
"We were careful to choose suppliers we knew and who shared our values, but who were also familiar faces so that we didn't feel like we were surrounded by strangers."
"We made up little bags of pick and mix as our favours. At weddings, I always love it when there's a sweet table and as we couldn't do that for Covid reasons, we decided to include sweets in this way."
The wedding stationery was by Papier and Liz hand-lettered the place-cards herself.
The wedding dinner was provided by the farm's in-house team.
"Frankly, you'd be mad not to have Jake chef for you. Our friends are still talking about our wedding breakfast."
The three tiers of wedding cake were displayed separately to make a statement display.
"It was made by my mum. I didn't see any sense in spending a lot on a fancy cake when my mum bakes a perfectly good one. I'm also wheat-intolerant and I knew she'd do a really good job of it."
"The farm is so beautiful and we wanted to celebrate the farm and nature as much as possible."
"The main additional decor that we had was a wonderful velour banner from Alice Gabb which hung behind the top table."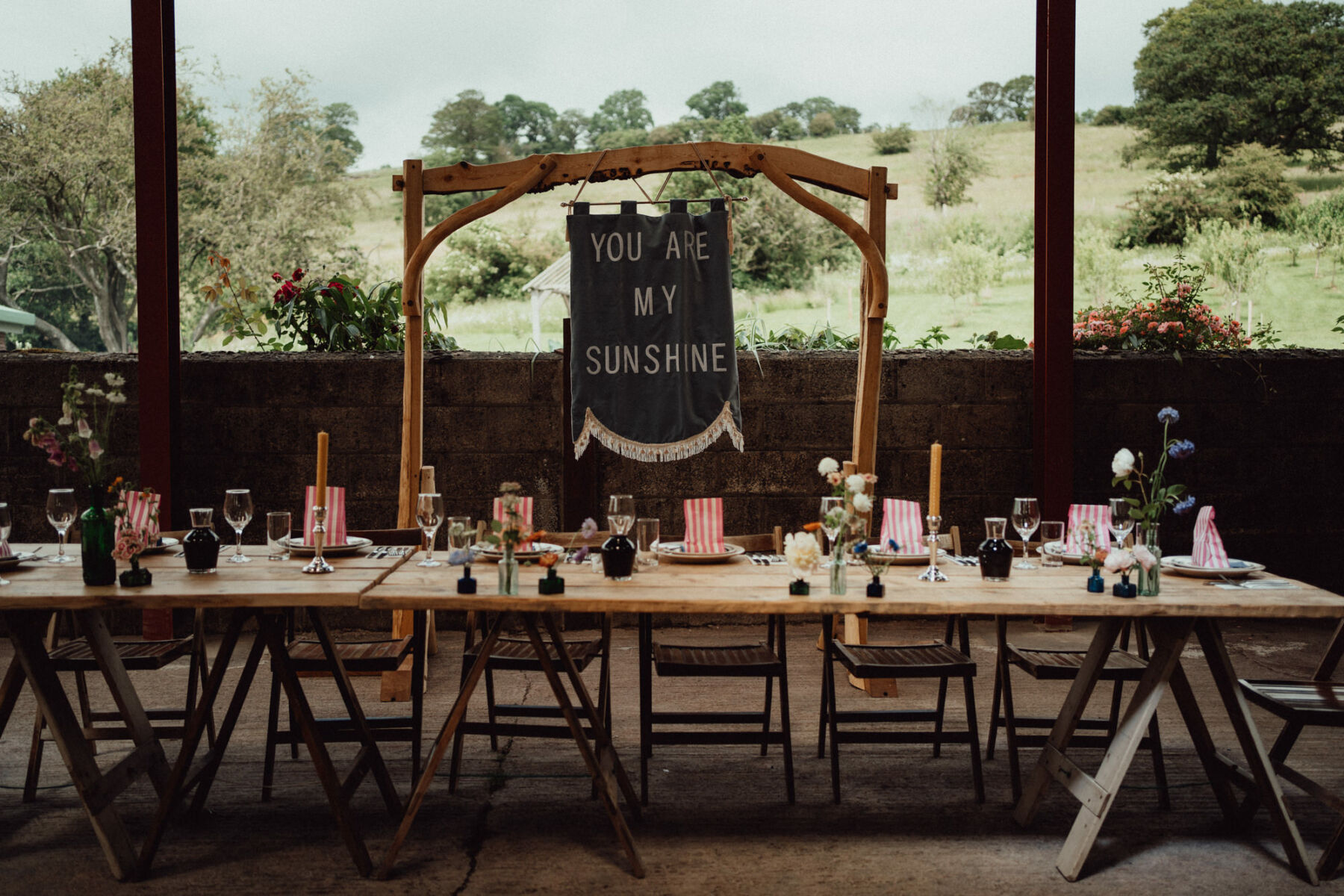 Capturing all the beautiful imagery on the day, were Emily & Steve Photography, whose gorgeous work we've had the pleasure of sharing on our pages before here.
"Emily and Steve were our number one choice from the moment we got engaged. Adam has known Steve since their college days so it was lovely to have familiar faces that we could easily integrate into our seating plan."
"It also helps that they are brilliant photographers: super-sneaky, very unobtrusive and absolutely lovely. We'd recommend them every time, but you have to get in fast with them – they're popular!"
The couple met via Adam's work.
"The magazine where he works was hosting an event and he'd been nominated for bar duty. I went over to talk to him and ended up chatting all night."
"He asked me out for a drink the following weekend and that was it. We'd been together for six years when Adam proposed on my favourite beach in Cornwall. We got married almost two years later."
Liz and Adam's day was luckily planned for the first weekend after Covid restrictions were lifted on weddings, but they still had to abide by some rules.
"We couldn't have people mingling with food or drinks, or amplified music and dancing, but we really didn't need it. Everyone was so happy to see each other."
"We didn't have to adjust our numbers either as the socially-distanced capacity for the covered yard at Lower House Farm was 120 and we had 100 guests."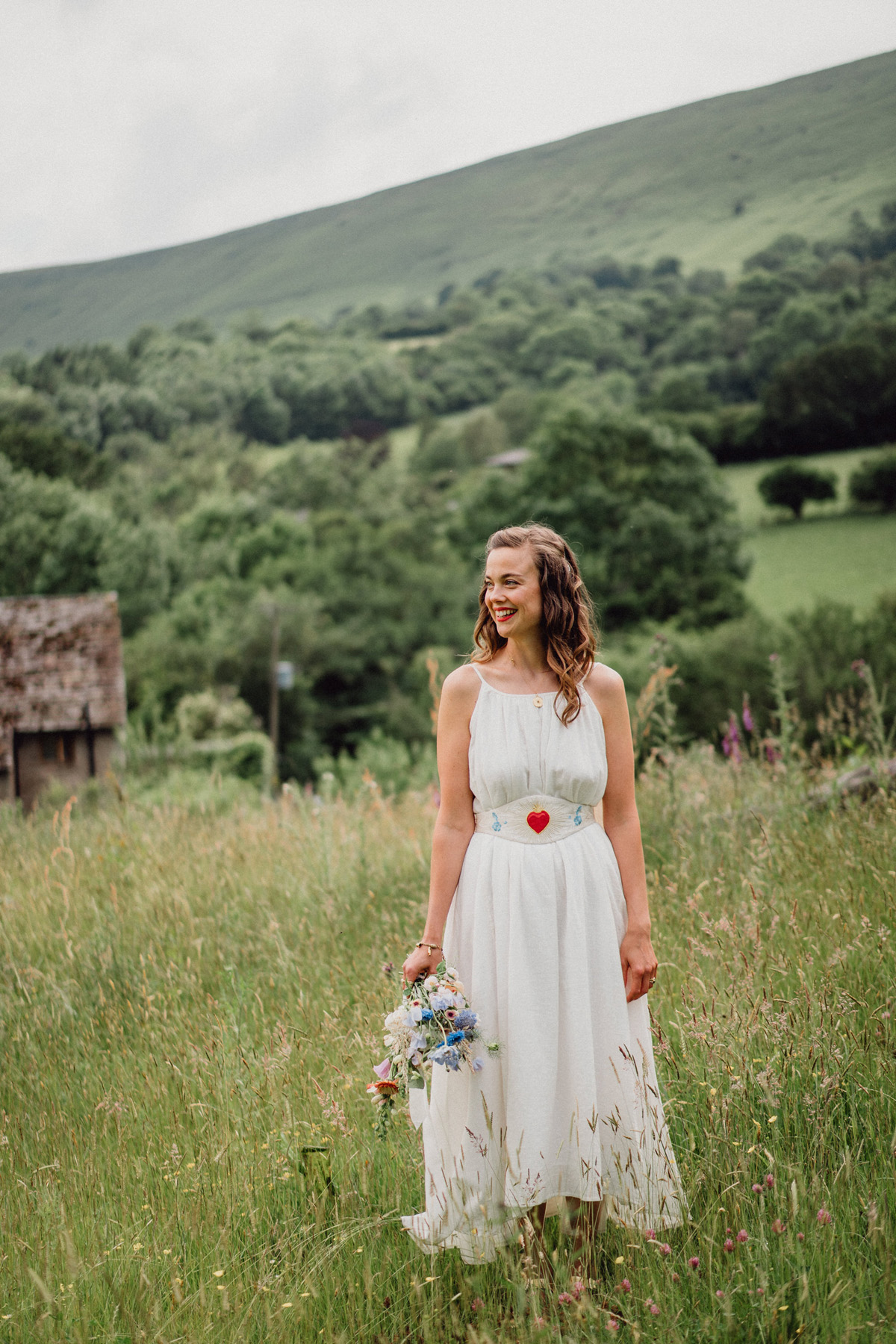 Although amplified music and dancing were not allowed, the couple got a friend to bring an acoustic guitar for an impromptu a cappella corner.
The couple's first dance was to 'Maps' by Yeah Yeah Yeahs.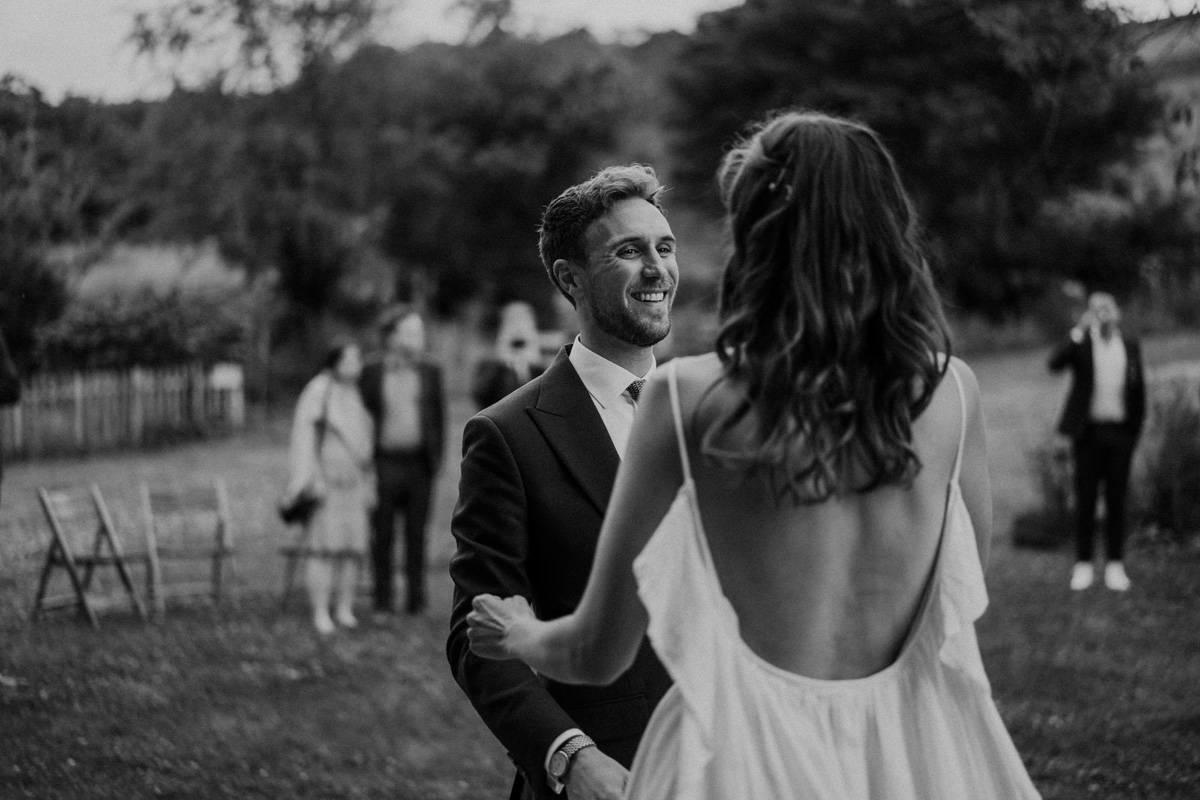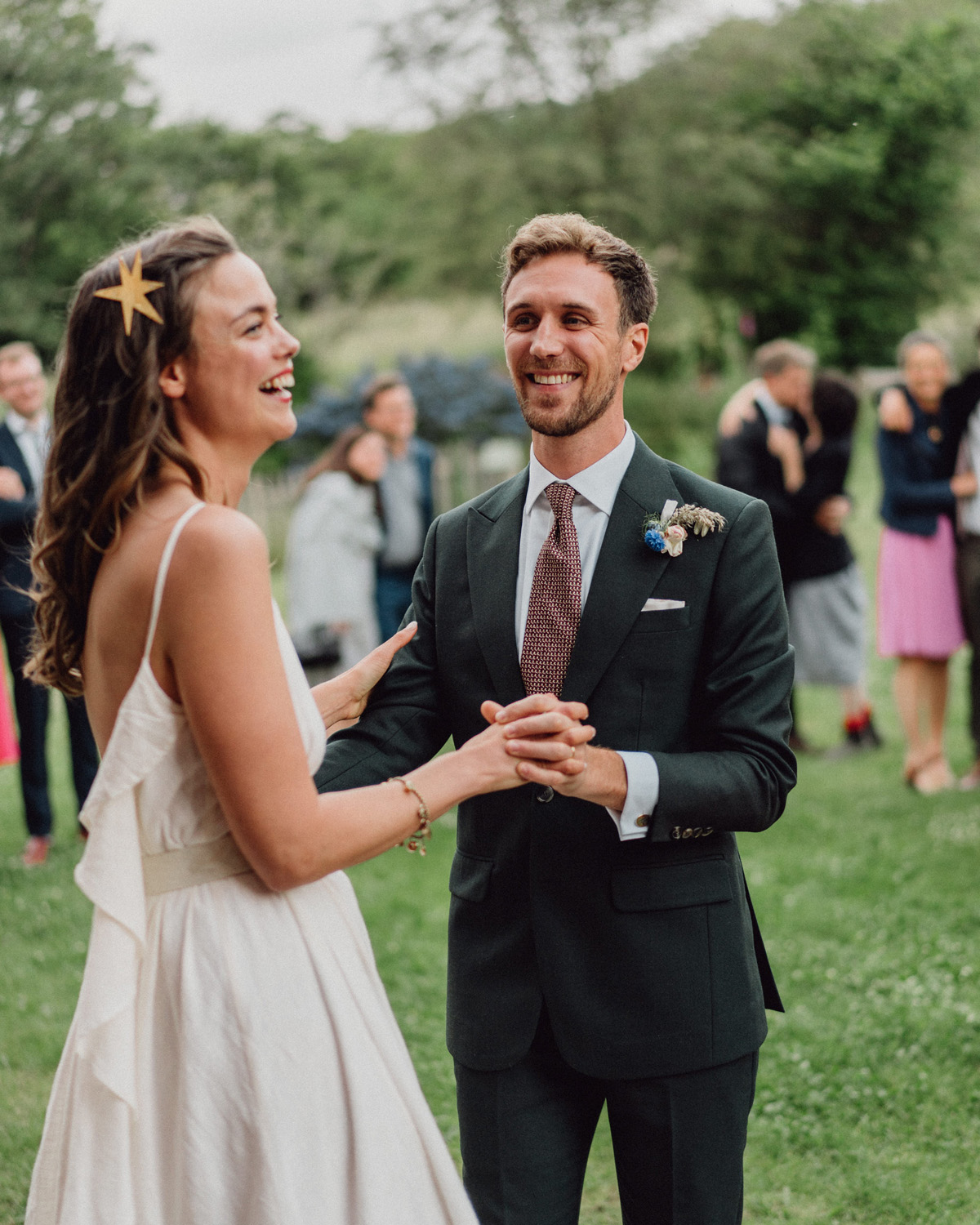 "It's short, it's sweet and it's a bit punk. Yeah Yeah Yeahs have always been one of my favourite bands and when we saw them a few years ago, I turned to Adam and said that I'd like it to be our first dance. Funnily enough, some friends who should've been married last year but ended up getting married in October, also chose it."
"The whole day was truly a joy. I really couldn't pick a favourite moment."
Words of Wedded Wisdom
"It's the cheesiest advice ever but stay true to yourself. You know what you like so go with your gut."
"Don't look around too much for inspiration, just think about what you love and it'll all come together."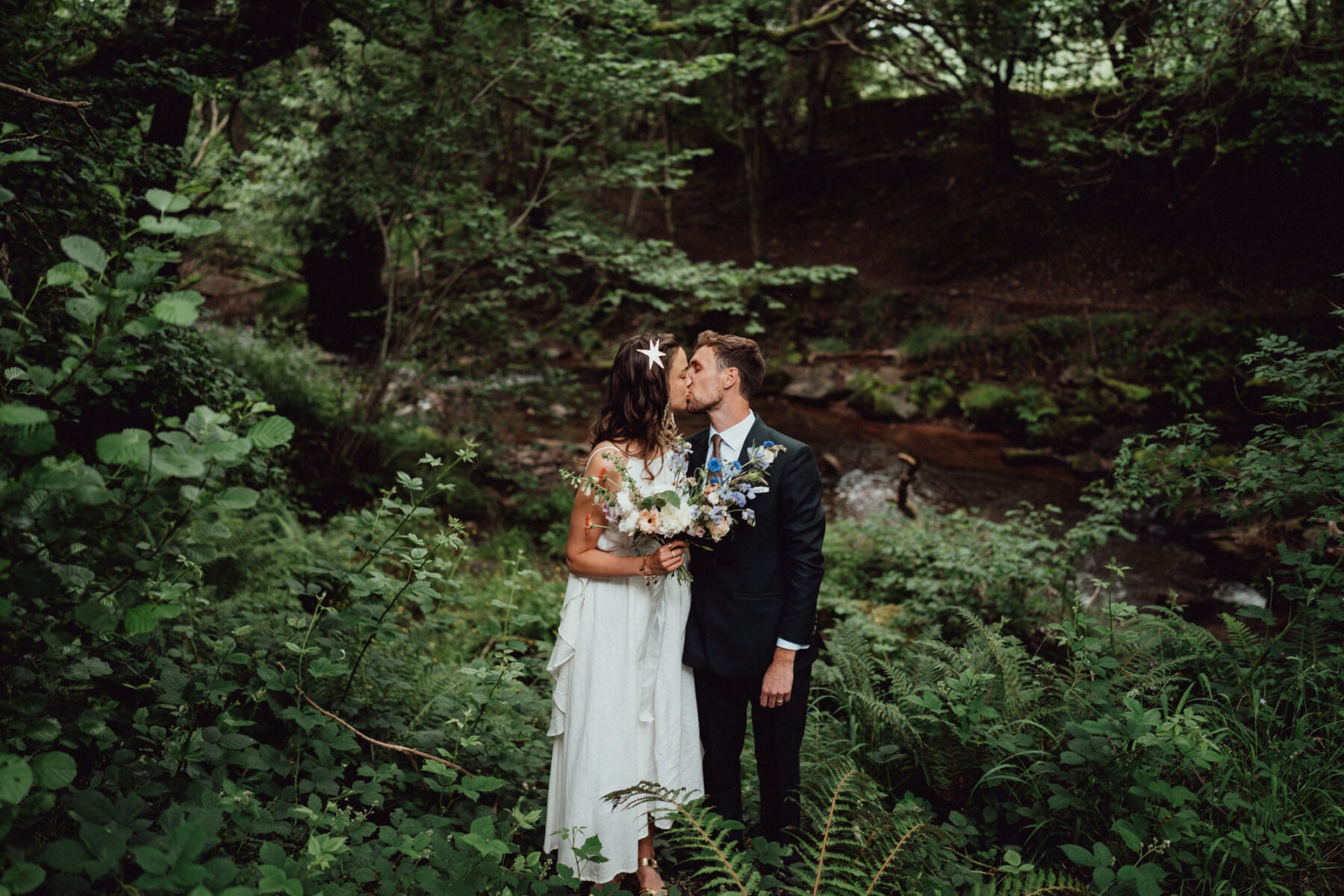 Sending so many congratulations and love to you both, Liz and Adam. It's been such a privilege to feature your wedding today and I absolutely love your bridal style.
Thank you as ever, Emily & Steve Photography, for your beautiful work.
For more farm wedding ideas, take a look at this selection.
Ele x