Rich jewel tones, magical trees and a celebration of music make this wedding oh- so special. Let's head to the Hertfordshire countryside to meet musicians Chevone and Rob.
On 12 November 2021, Chevone and Rob, both self-employed musicians and singers, wed in a Christian blessing in The Farmhouse at Redcoats, Hitchin, Hertfordshire.
With a rich, jewel green colour palette inspired by the bride's favourite colour, and 'romantic forest' décor, the wedding had music and the Christian faith at its heart, as well as allusions to the bride's Jamaican heritage.
Chevone's hair was swept back from her face by her regular hairdresser, Korell Williams.
"Korell has been doing my hair for over a decade now and he's become part of the family."
"I had a clear idea on how I wanted my hair to be styled for the day and gave the bridesmaids full creative control on how they wanted their hair to look."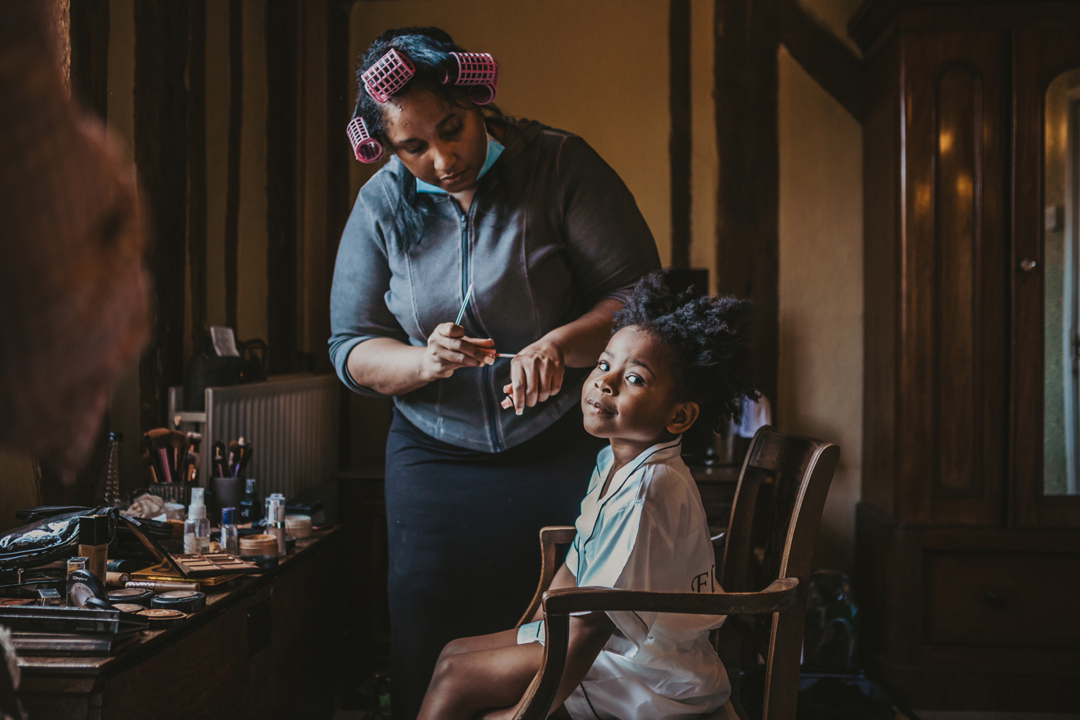 "Shanna, also a family friend, was our make-up artist. I think it's safe to say we all looked and felt the best we've ever felt in our lives."
"The quote of the morning was 'We've peaked'. Both Korell and Shanna made us all feel beautiful and so relaxed."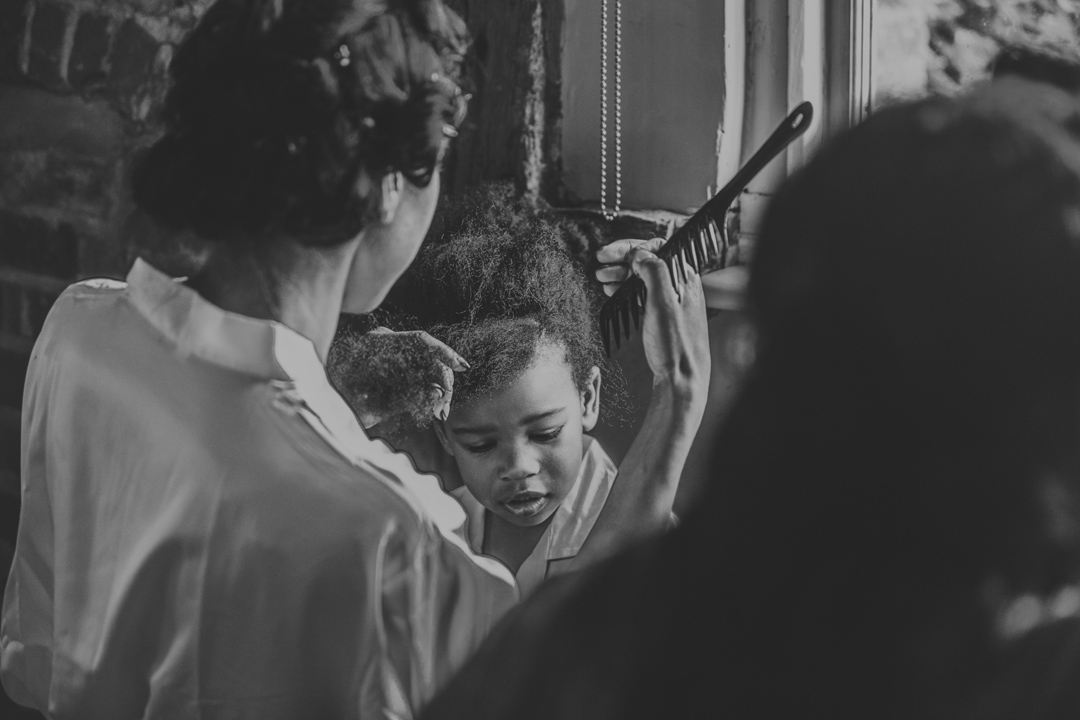 The bride visited Morgan Davies Bridal for her beautifully-full, fitted gown, 'Raven' by Maggie Sottero. I love the fitted bodice which flares into the statement skirt and train.
https://www.lovemydress.net/directory/supplier/lyn-ashworth-england/
"My dress sense has always been 'classic/simple' and I wanted that to be reflected in my choice of wedding dress. Our job requires us to be in suits and gowns on a regular basis so I'm used to wearing full length, fitted dresses. The first few dresses I tried on were in my 'comfort zone' and therefore seemed quite underwhelming."
"It was actually my sister that persuaded me to try the 'big dress'. I'm really happy I went with a style no-one expected me to wear."
"Morgan Davies Bridal was amazing from the beginning. I had already seen some lovely dresses at a couple of other bridal shops but the experience I had at MDB definitely played a major part in why I ended up going with a dress from them."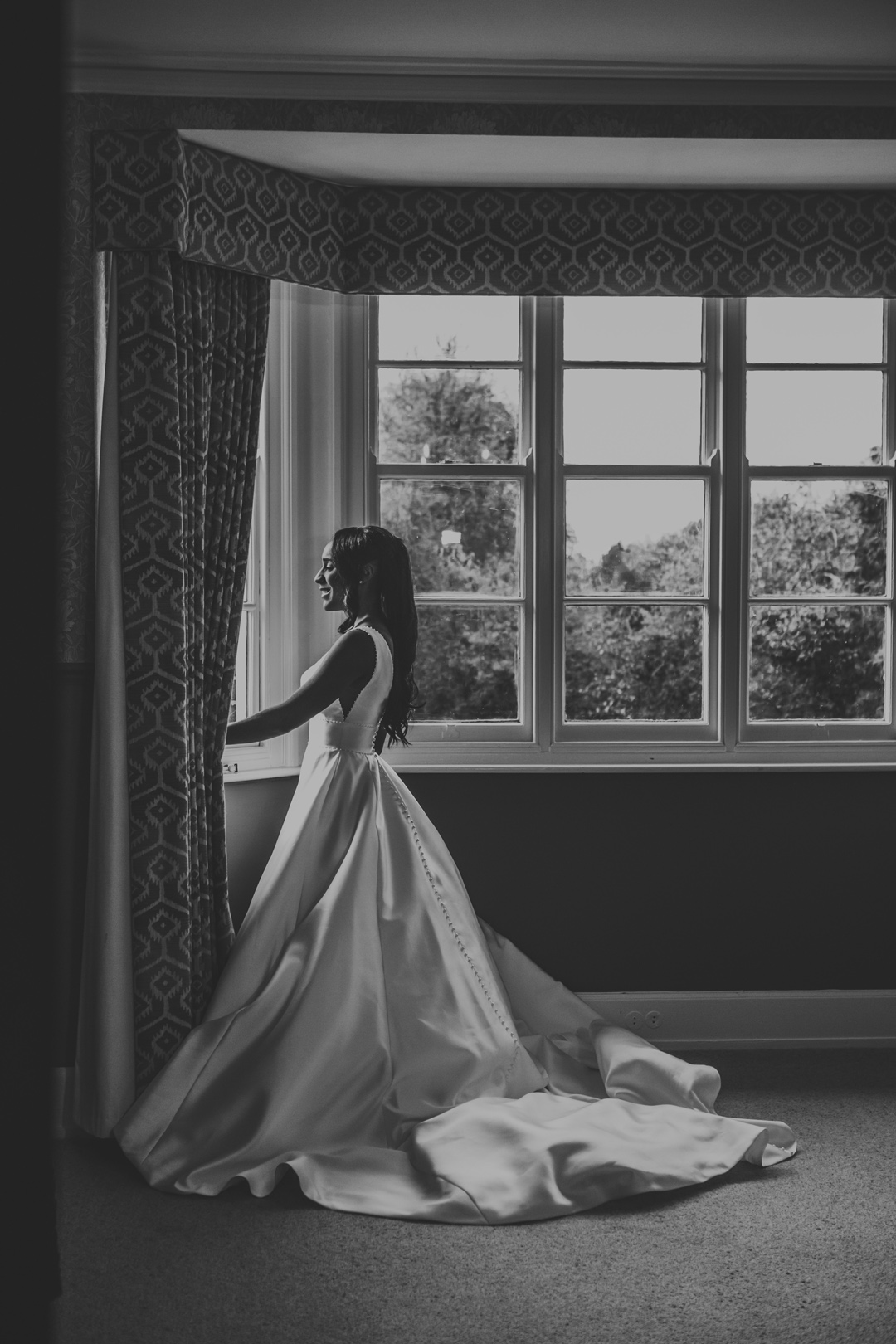 For the ceremony, Chevone wore ASOS shoes, switching into Dr. Martens later on. Her perfume was Jo Malone Velvet Rose & Oud.
"I had read somewhere that you should buy a new scent for your wedding day that would hold the memory of that day."
https://www.lovemydress.net/directory/supplier/sassi-holford/
"I wanted a scent that would last the whole day. When I stumbled across the Velvet Rose & Oud scent, I instantly fell in love with the smokiness of the oud wood. The oud smelt like trees to me, which all linked to the theme."
The three bridesmaids, Chevone's two elder sisters and her best friend from school, looked incredible in their glam, jewel-green gowns., made especially for them.
"We're both into fashion and therefore the styling of the entire bridal party was really important to us. All three girls have completely different body shapes."
"They've all been a major inspiration in my life so I wanted to have dresses made for them that showed their individuality. I loved that all three of them had the freedom to express their personal styles in each of their dresses."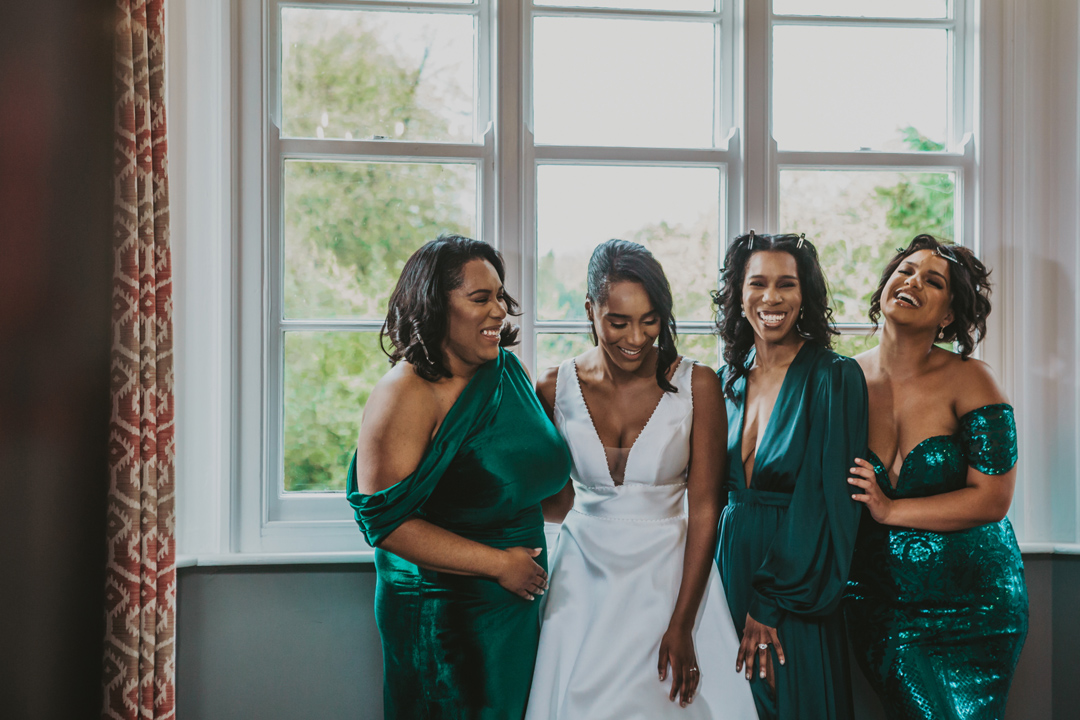 The bridesmaids wore gold shoes of their choice and jewellery from Liberty in Love, as did the bride.
"We had our two nieces as flower girls and they wore matching white princess dresses."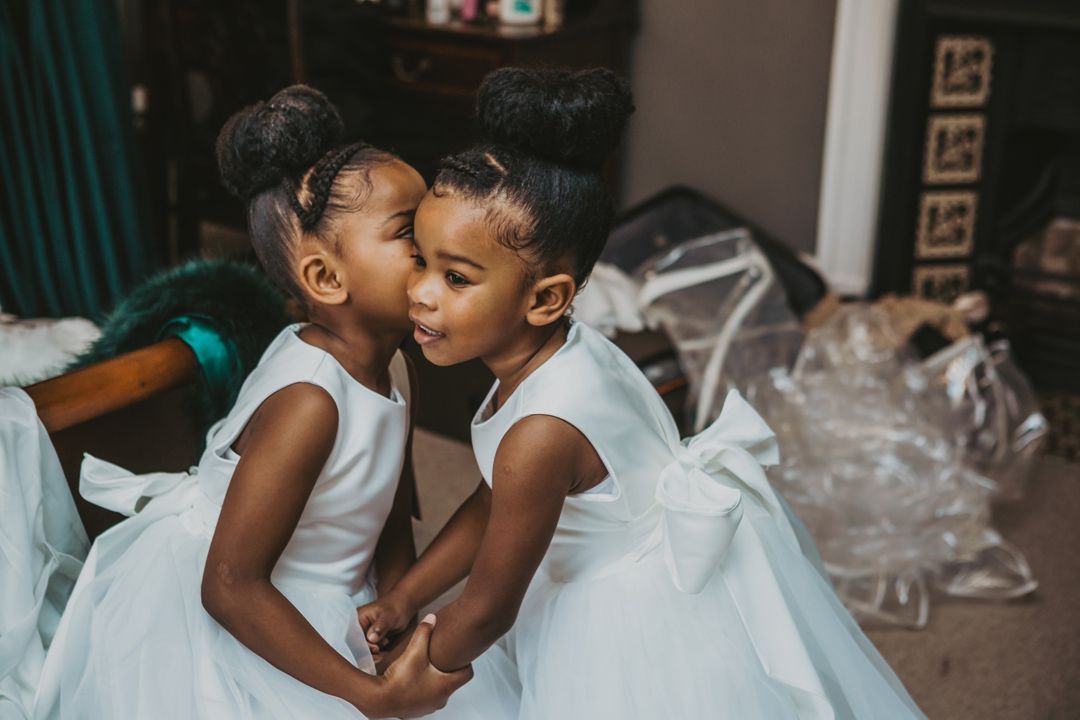 The groom's tailored suit, featuring a green velvet jacket, was from Harry Joseph Tailoring. Over to Rob to explain more about his choice.
"I stumbled on Harry Josephs whilst out for a coffee in Hertford. I already had a strong vision of the style I wanted in a wedding suit so popped in to see if it was something he could do."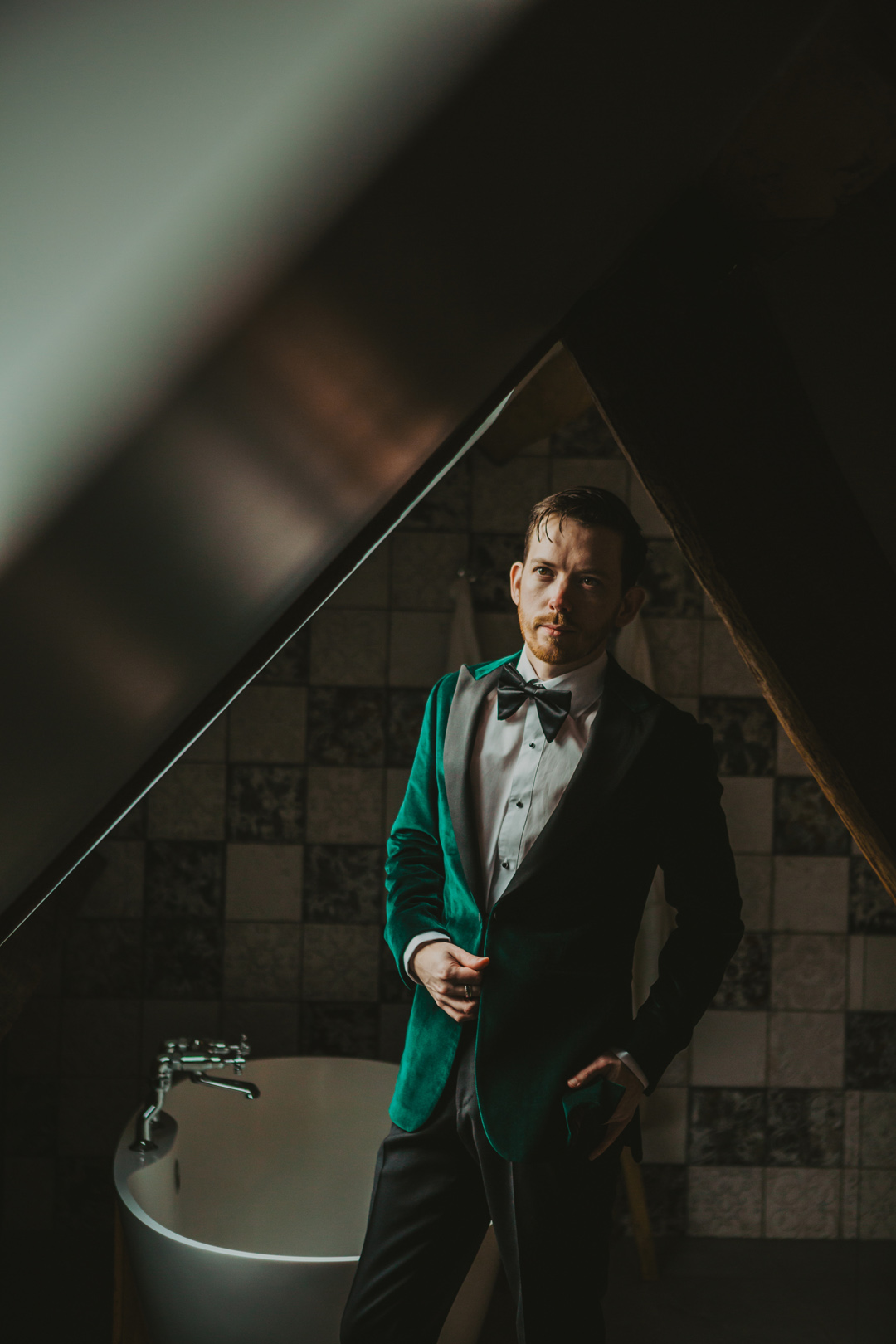 "Harry's down to earth and personable character made the whole process the most enjoyable and chilled-out experience. His expertise in both modern and classic men's style helped bring my vision to life. He created me a custom, tailored tuxedo with a single button, green velvet jacket."
https://www.lovemydress.net/directory/supplier/made-with-love-bridal-wedding-dresses-order-online/
"I could not have been happier with the tux and loved the small details, like stitching the wedding date into the inside of the jacket."
The couple put so much thought into the styling of the ceremony space, bringing in wonderful trees from Twilight Trees to be the main focus.
"This for me was a tree dream come true. I found Twilight Trees via Instagram and had my heart set of having them for our day."
"I think the trees made the barn magical. The team at Twilight Trees were lovely, so helpful and the communication was five star."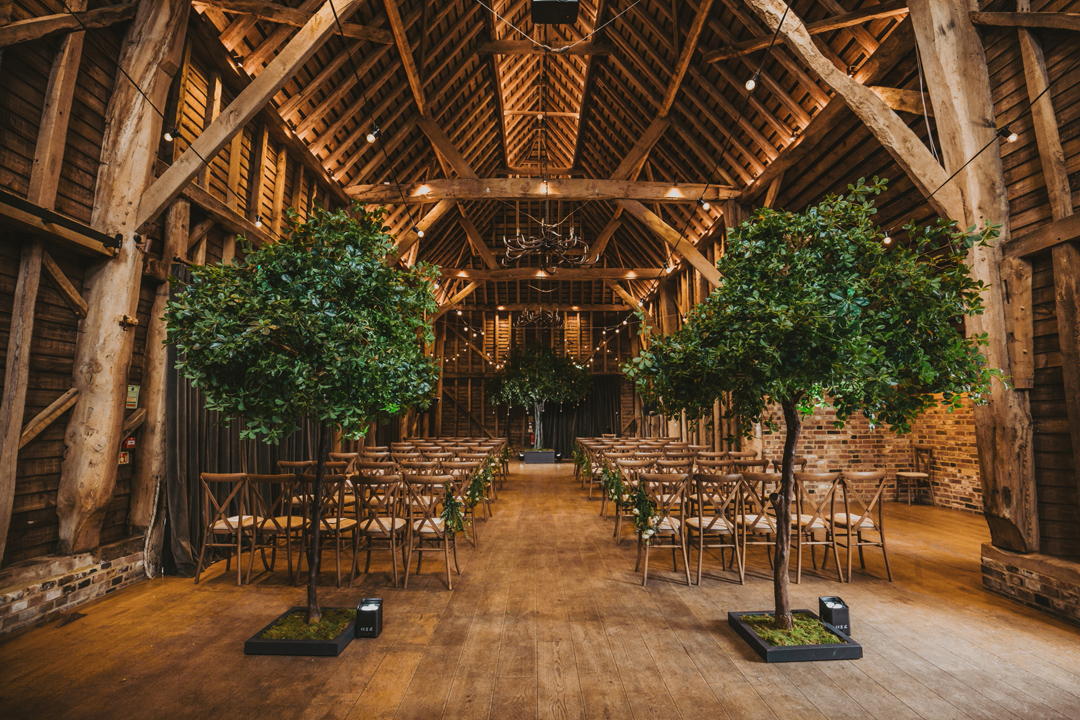 Chevone added a sheer veil, also from Morgan Davies Bridal.
"I went for the most simple one in the shop. I am the youngest of three girls and it was my mum's wish for us all to wear veils, as she did."
"My mum was so generous to gift me my wedding dress, and as my sister chose not to wear veils on their big days, I wanted to wear one for her."
Chevone and Rob were originally due to wed in January 2021 but postponed their celebration until later in the year. As they were waiting to live together until they were married, they had a super-intimate Christian ceremony with just their mums in attendance in Spring 2021.
"Our original wedding date was Saturday 30 January 2021. We ended up pushing back our date when we went into lockdown two."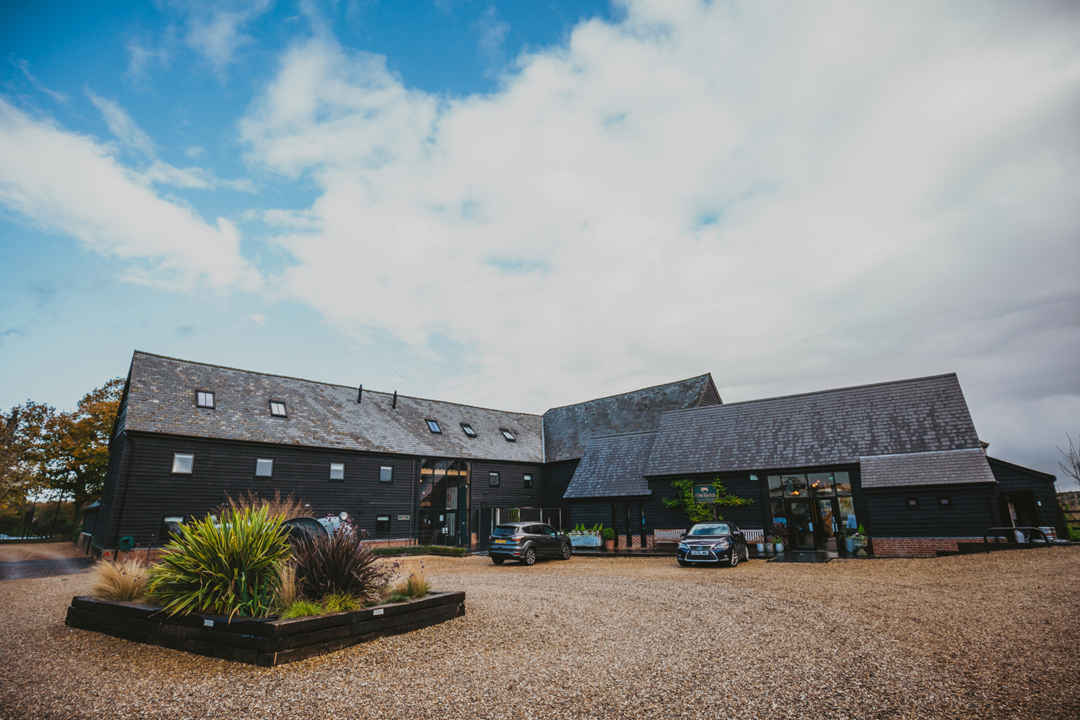 "We both decided we wanted to have an autumn/winter date so it made sense for us to push back ten months."
"Thankfully for us, all restrictions were lifted by November and we had the day we always wanted. We married legally on 6 April 21, in front of just our mums as we were waiting for marriage to live together."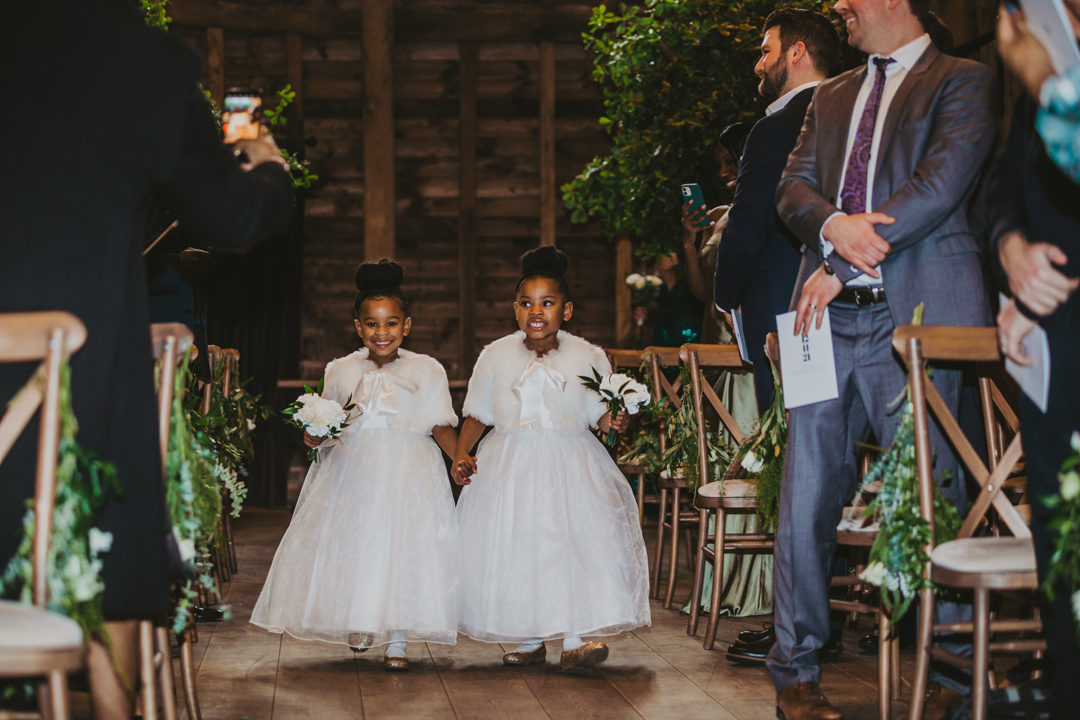 The change in date was the perfect opportunity for the bride to indulge her love of winter and crisp, cold weather.
"I've always loved winter weddings; I think because I'm a winter baby I like the cold. Green has always been my favourite colour and being amongst trees has always felt like a safe place for me. I wasn't ever one of those girls that planned my wedding from a young age but when we got engaged I was pretty set on what I wanted from the get go."
"Thankfully, Rob was a very chilled groom and pretty much gave me the reins when it came to the style and feel of the day. His domain was music and booze."
The ceremony was held in the barn and Chevone walked down the aisle to her favourite song, 'You Are So Beautiful' by Joe Cocker.
"My dad walked me down the aisle. I am the last of three girls and the last to get married, so this was a really emotional part of the day for us all."
The officiant was Chevone's childhood pastor Kevin Simpson and it was important to her that Christian worship had a big part in the ceremony.
https://www.lovemydress.net/directory/supplier/nikki-stark-jewellery/
"I have a strong Christian faith. The singing was led by Elaine Simpson who is the wife of our officiant."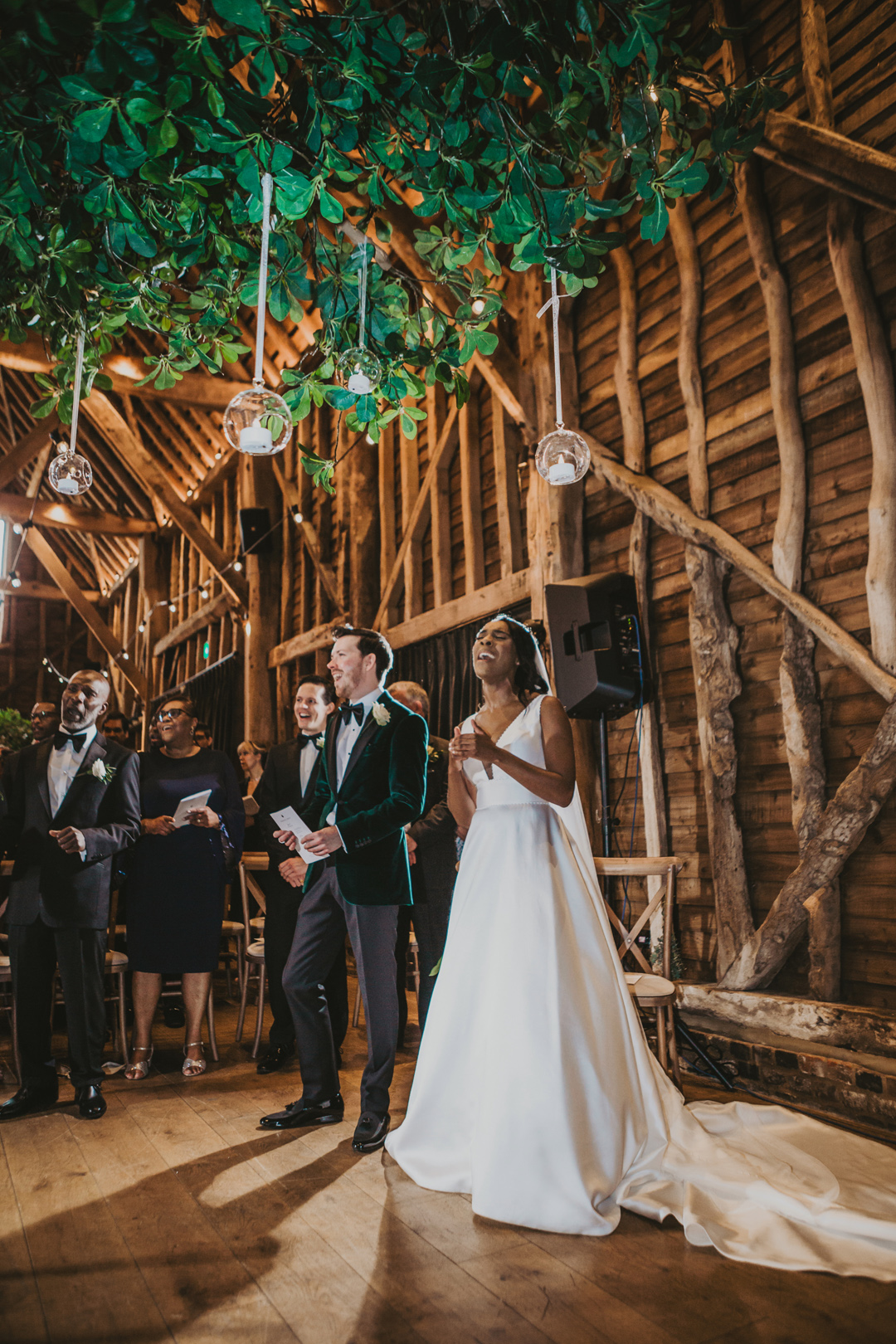 "My brother in-law accompanied on piano. Music is so important to us both and we really wanted to use the opportunity to share this with all our family and friends."
"My mum Velma gave readings of two scriptures during the ceremony; 1 Corinthians 13: 4-8 and Song of Solomon 8: 6-7."
"We kept our vows very traditional. I was raised in a Christian Pentecostal church and we wanted the blessing to reflect my faith. My dad prayed over us once we exchanged rings."
The couple were brought together by their shared love of music, when Rob auditioned Chevone for his band in 2013.
"My older sister and Rob's older brother studied music together. A few years later the brothers were in a band together and were auditioning for a new lead female vocalist."
"They got in touch with my sister. She was unavailable for the job but put me forward. I went along to the audition; I think I only sang one line and the job was mine."
"We went on to travel all over Europe with the band and our friendship grew, we fell in the love and the rest is history."
"Rob proposed on my 30th birthday in 2019, in my bedroom. I had asked for an 'initial' necklace so when I saw a jewellery box nestled between a pair of Dr. Martens (which I had also asked for) I figured it was the necklace.
"As I opened the box, Rob got down on one knee and asked me to be his wife. I burst into tears and then screamed my head off. We were engaged (technically) for about 18 months as we legally married in April 21 during the pandemic."
For her wedding band, Chevone chose a simple, thin, white gold wedding ring with small diamond embellishments from an independent boutique in Hertfordshire.
Rob selected a custom-made, sand-cast gold, wedding band from Cornish ring maker, Justin Duance.
"Our florist was Rob's mum Megan. We were so blessed that all four parents each decided to generously help towards the wedding, and this was Meg's contribution."
"I've never really been big into flowers but wanted to keep the indoor/outdoor theme throughout the day"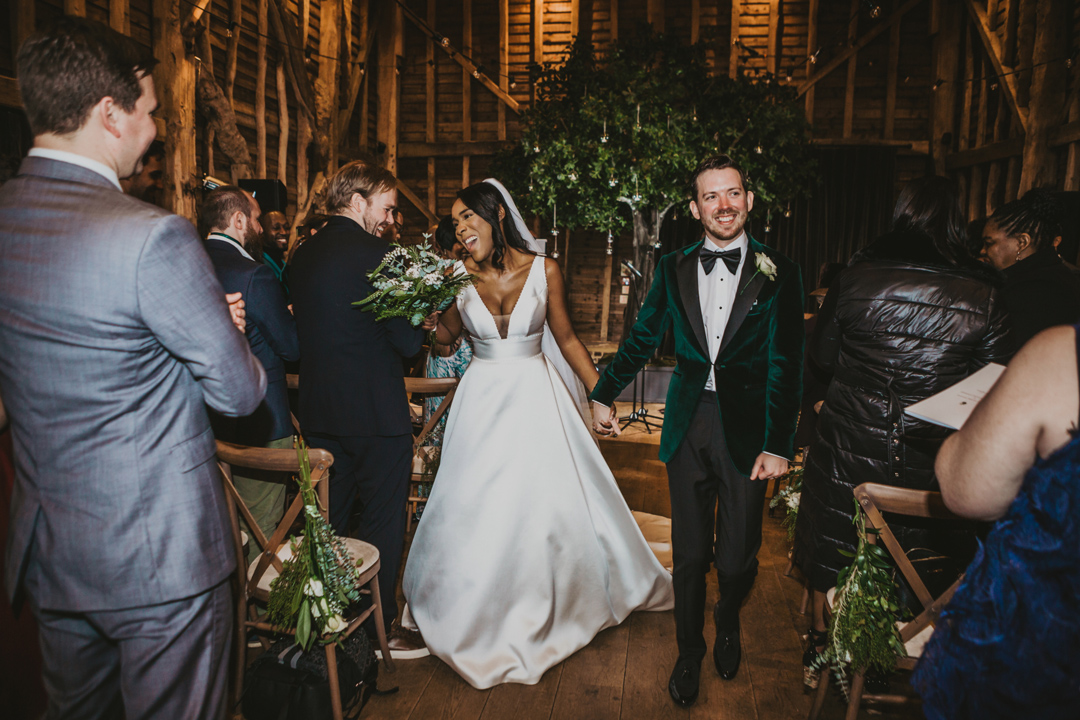 " The trees were the main focus so it made sense to keep the flowers to a minimum."
"I loved the idea of having an all-foliage bouquet, which all came from Meg's garden. I thought it worked so well with the 'romantic forest' feel."
The ceremony was followed by some beautiful outdoor portrait shots before a wedding breakfast provided by The Farmhouse at Redcoats team.
"We chose beef for the meat option and mushroom Wellington for the vegetarian. Our evening buffet was also provided by Redcoats."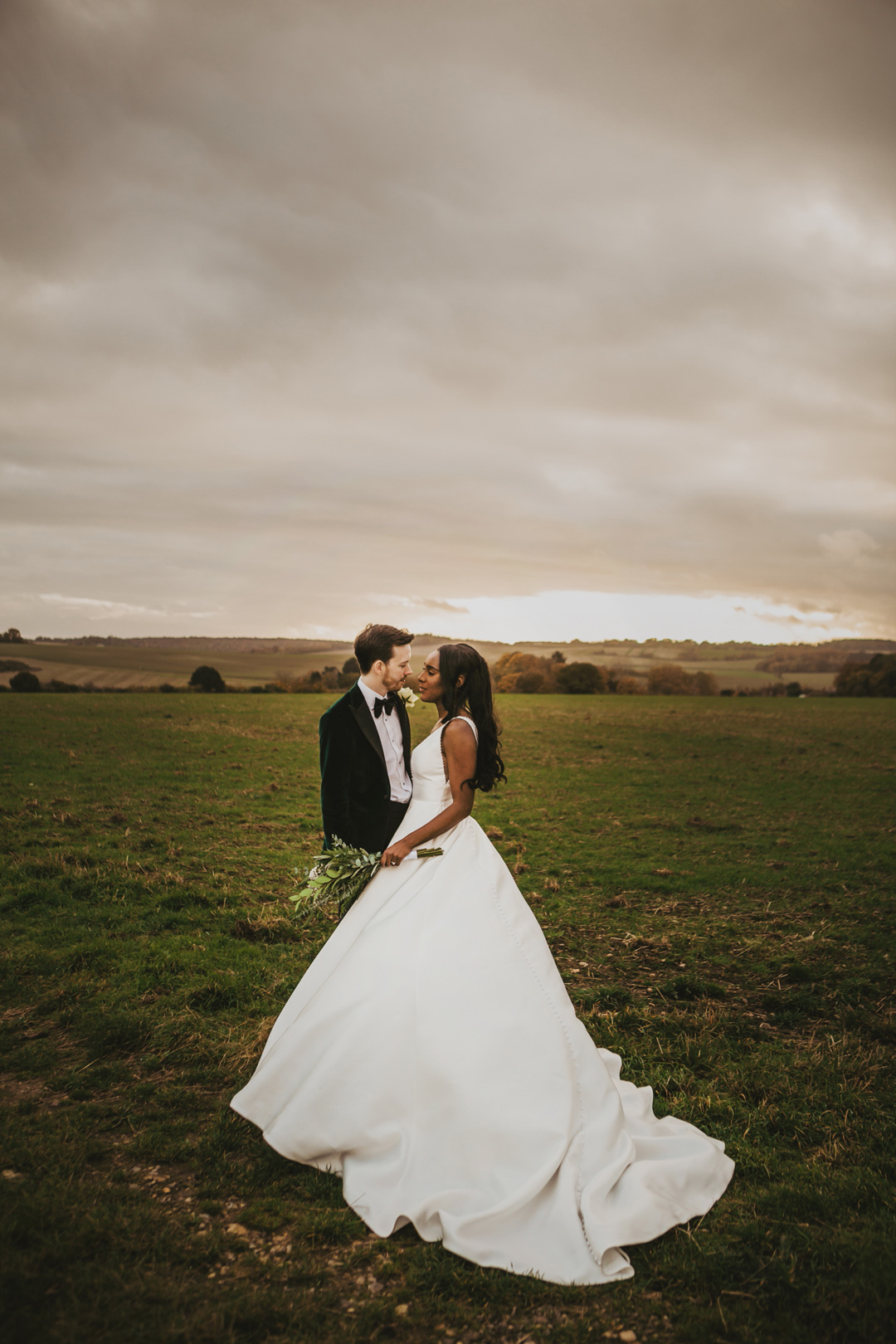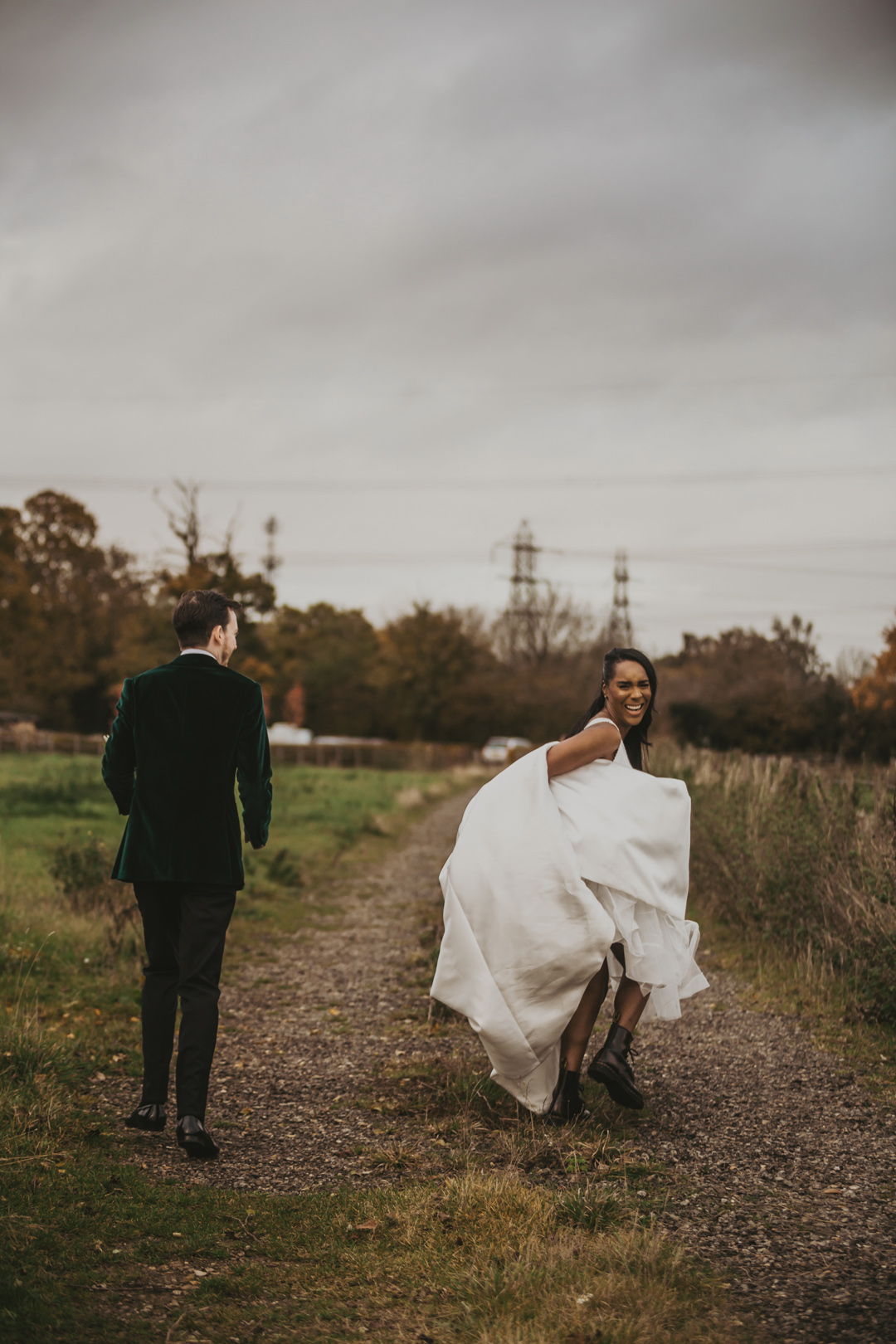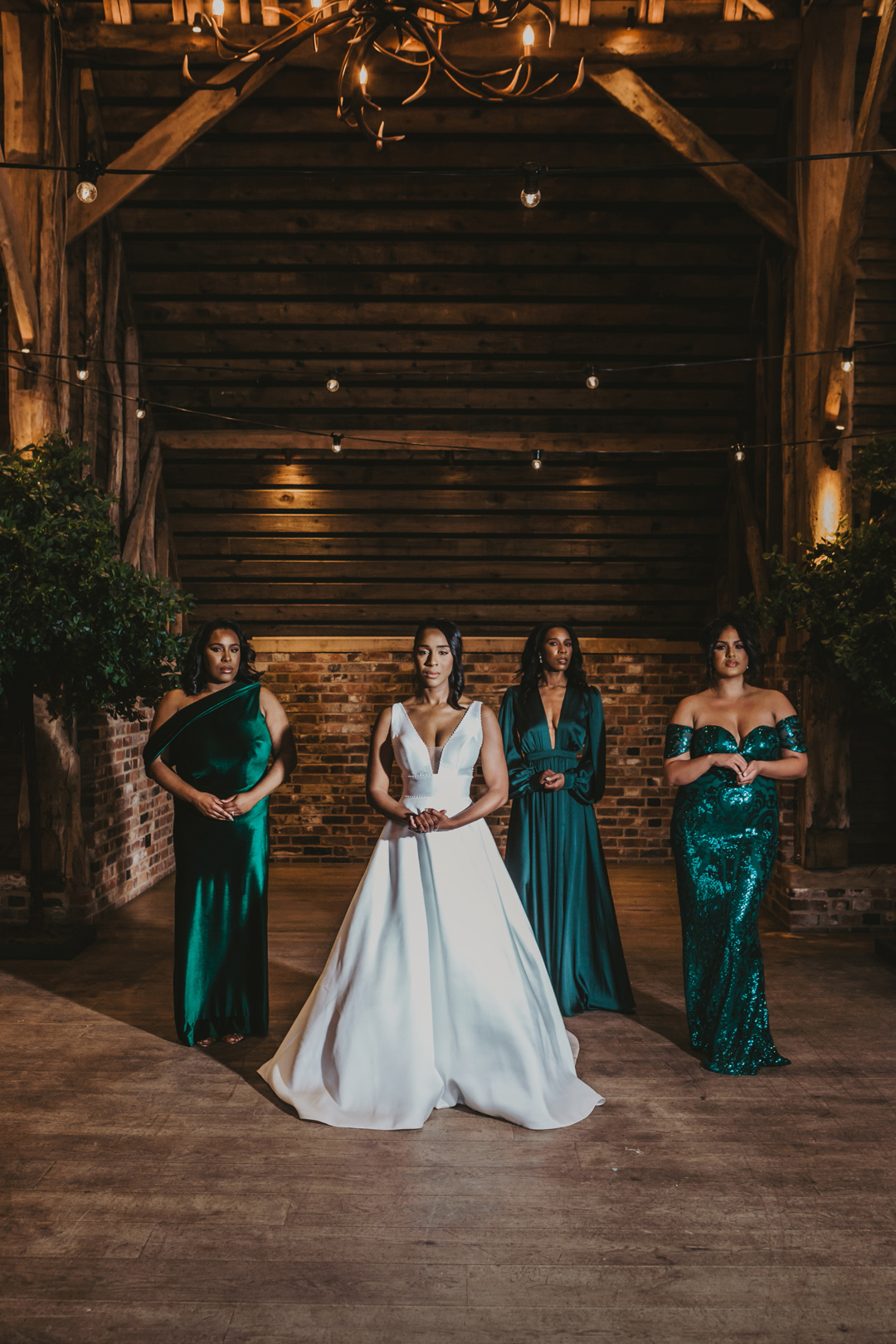 "All our stationery was designed by Rob. We saved so much money being able to do it ourselves."
"As soon as you walk through the dark moody bar into the 15th century barn you can feel the magic. It was an instant 'yes' from us."
"We'd been lucky enough to have worked at Redcoats on numerous occasions as musicians but looking at the venue with our wedding heads on, we just knew it was the place for us."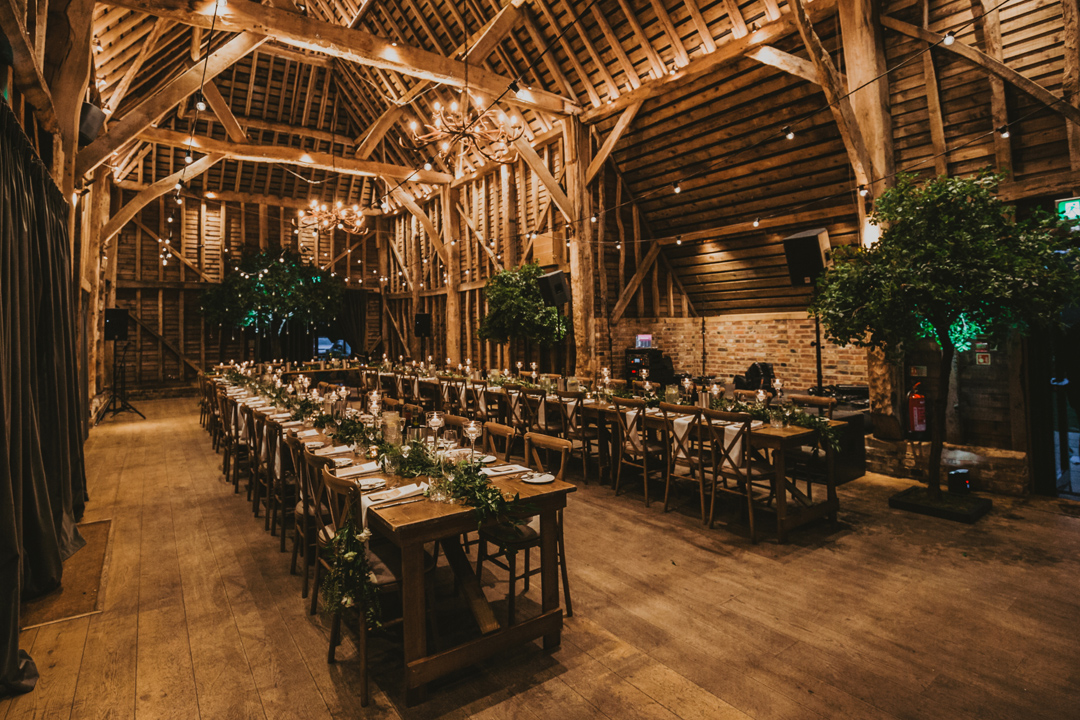 "Charlotte Cherry, our wedding coordinator, and the whole Redcoats team were the best."
"Every question, query and email was answered so swiftly and it was a pleasure planning the day with the whole Redcoats team."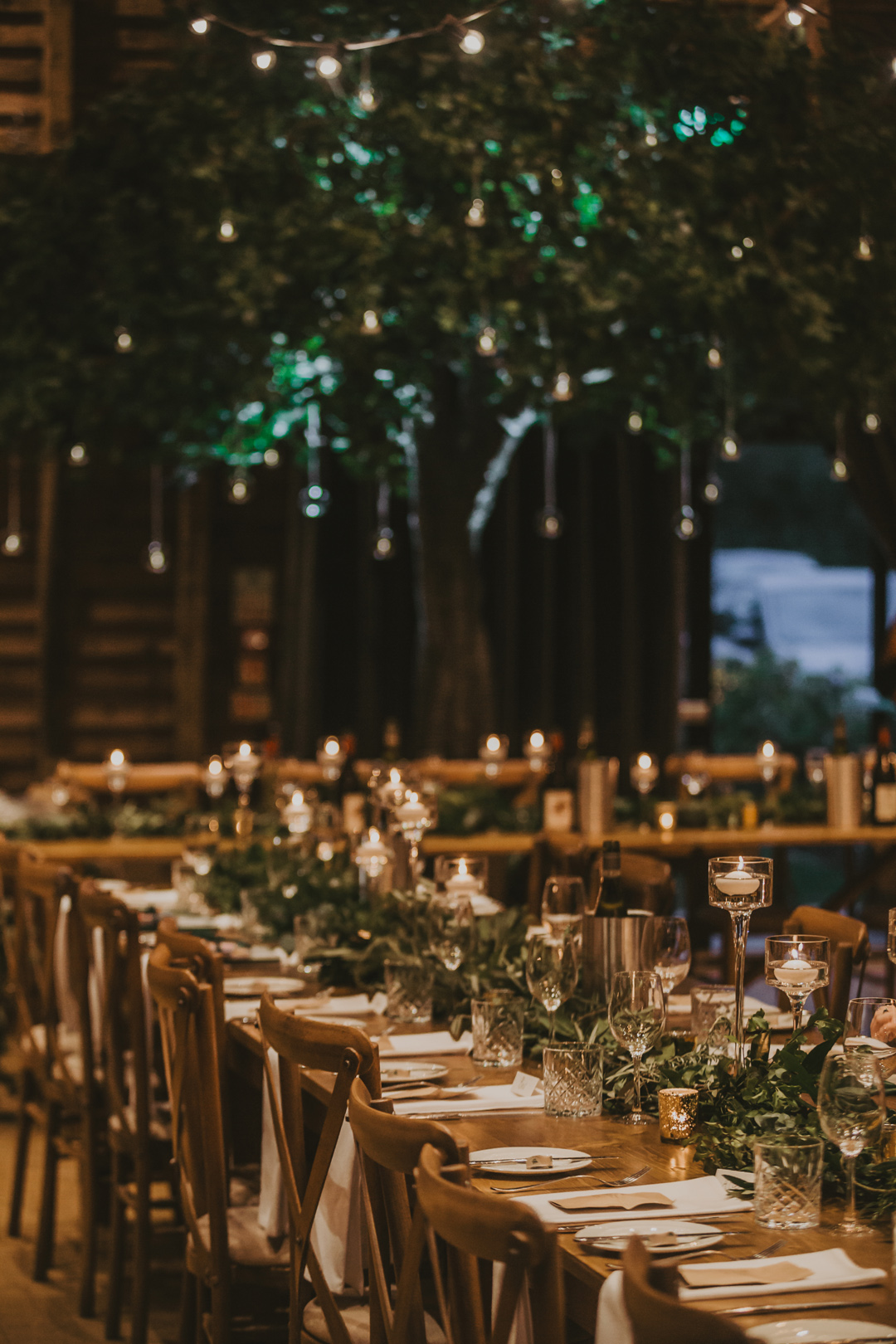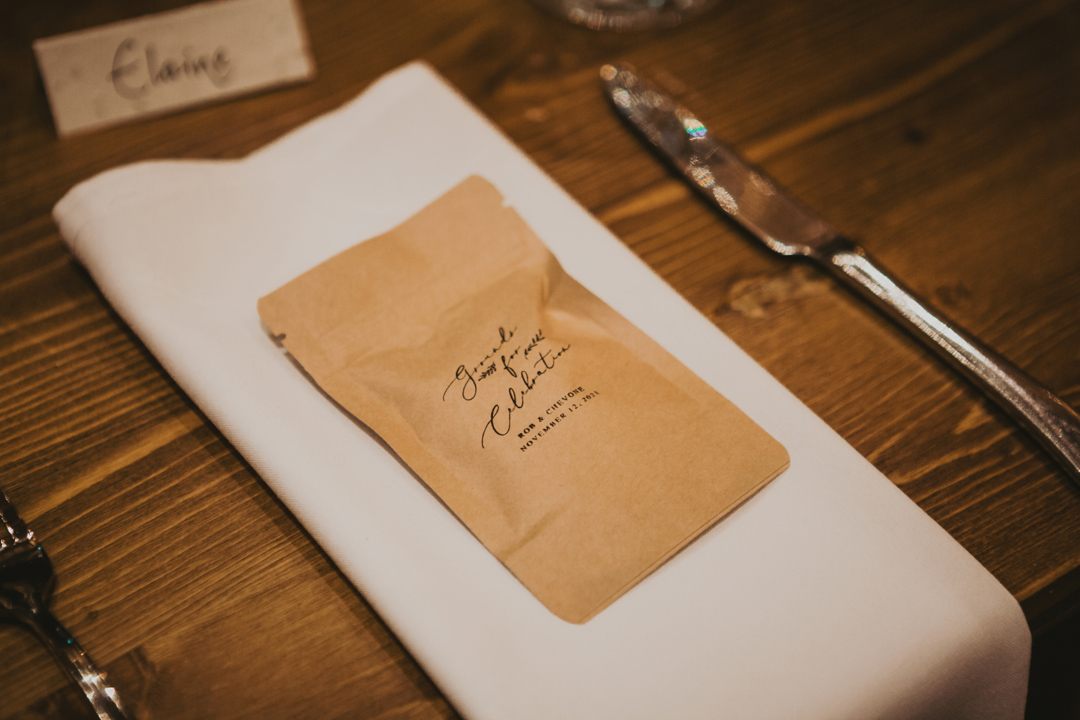 This beautiful photography is the work of Gemma of The Wardette Studio. I love its intimate style which is modern yet magical.
"Rob and I knew of Gemma's work through her fiancé Adam, who is a fellow musician. We initially shopped around for a wedding photographer but quickly realised Gemma was the perfect fit for us. Gem's raw, edgy style completely won us over."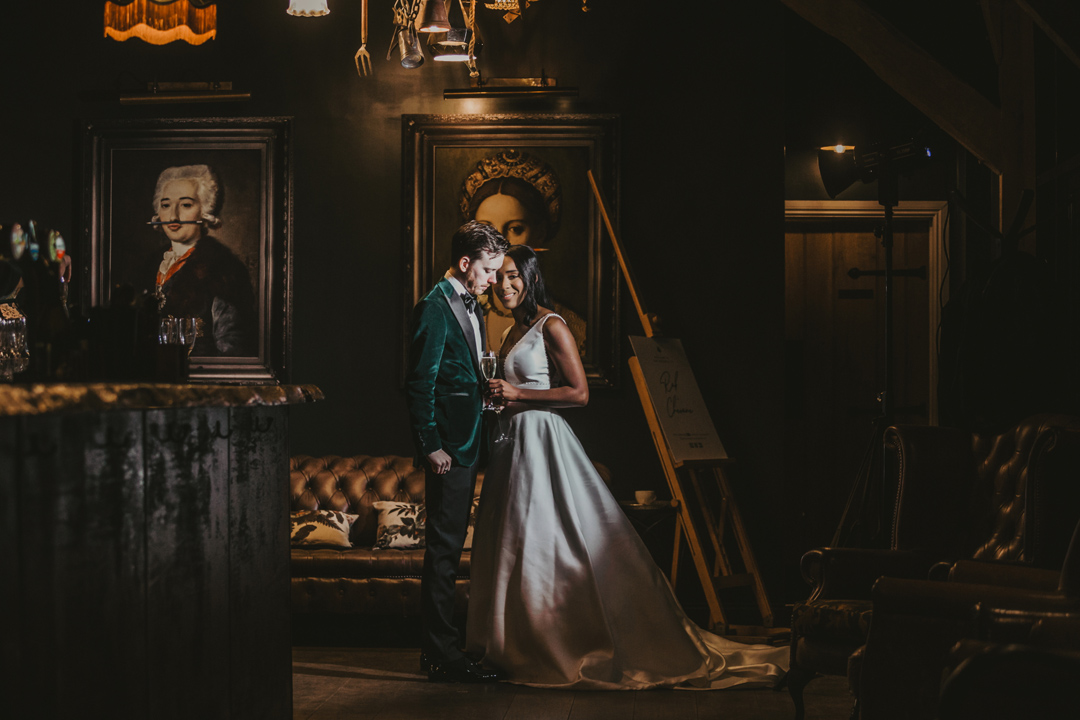 "Despite planning during the pandemic, we were able to have a meeting with Gemma over Zoom and share ideas for specific shots we'd love her to capture."
https://www.lovemydress.net/directory/supplier/debbie-carlisle-wedding-hair-accessories-bridal-headpieces/
"Our top priority however, was for her to naturally capture the day and Gemma did that to absolute perfection."
"Pictures aside, Gemma was definitely one of the highlights of our day. Her calm nature and altogether amazingness made a cold day in November (with a one-hour window of daylight) the smoothest and most enjoyable experience."
"She somehow handled our large family groups with ease and captured our ceremony and reception as a fly on the wall without being intrusive and always with a smile."
"The cherry on top is that our wedding photos are hands down the most incredible pictures I have ever seen."
"We would recommend Gemma to any couple in a heartbeat. A business professional, amazing photographer, and the most incredible person."
Bezza Visuals created the couple's wedding film.
"He literally stepped in 48 hours before the wedding day and did an incredible job to visually capture snippets of our day."
"The cake was my dad's (Newton's) contribution to the day. It was a chance to include a touch of my Jamaican heritage in the wedding. We chose dad's signature Jamaican blended fruit and rum cake."
"Not only did my dad create a beautiful and delicious two-tier wedding cake, he also baked individual, mini versions of the same cake which our guests were able to take home alongside a coffee wedding favour."
"One of our favourite things to do together is to go out for coffee. We used one of our local coffee shops, Herts Coffee Lab, to source the coffee and bought bags and a stamp to make individual coffee pouches ourselves."
The speeches included a musical surprise for the bride from Rob.
"My favourite part of the day was when Rob sang to me during his speech. I had a hunch he was going to sing but he went above and beyond and had the entire bridal party learn one of our favourite songs. It was perfect. The speeches were pretty epic as well."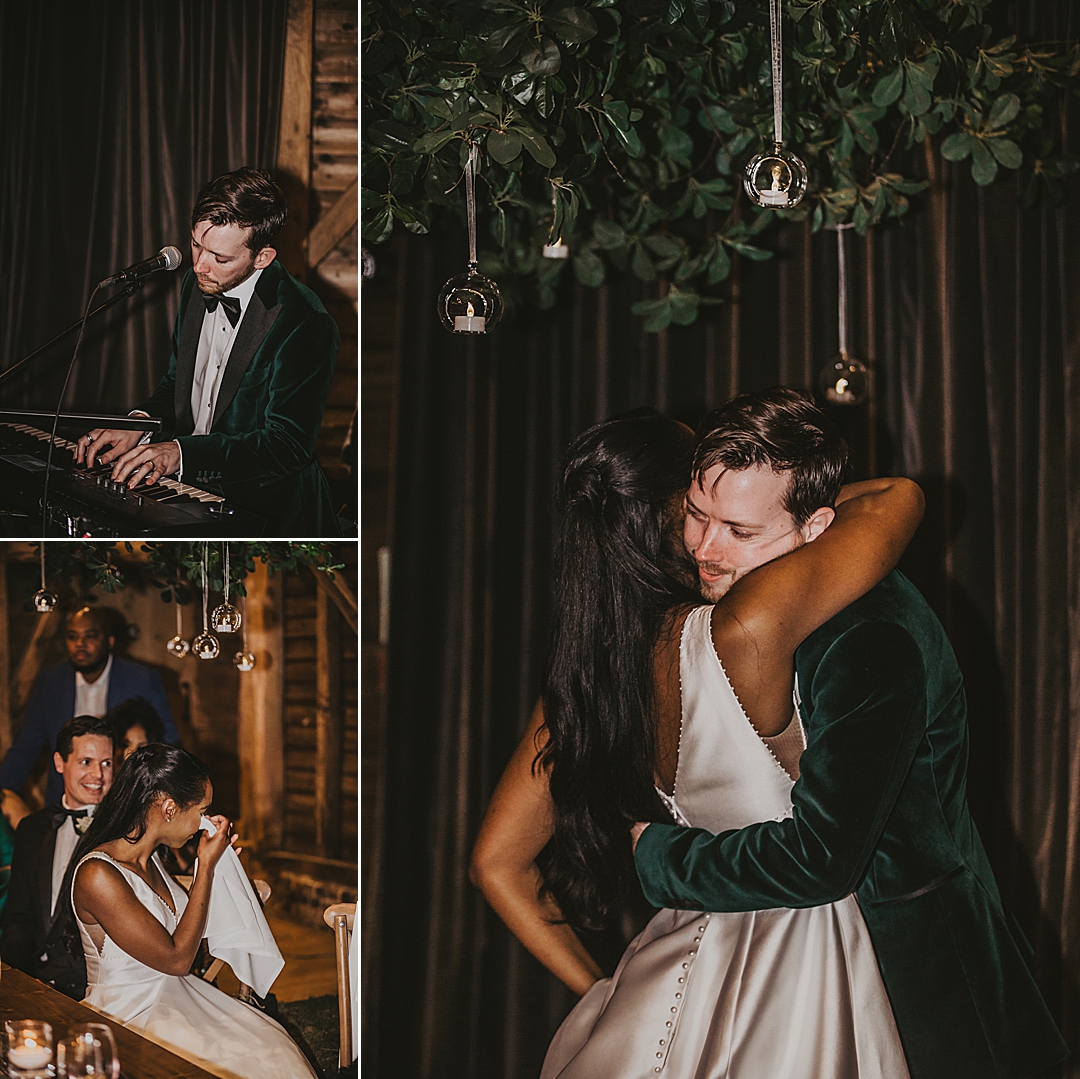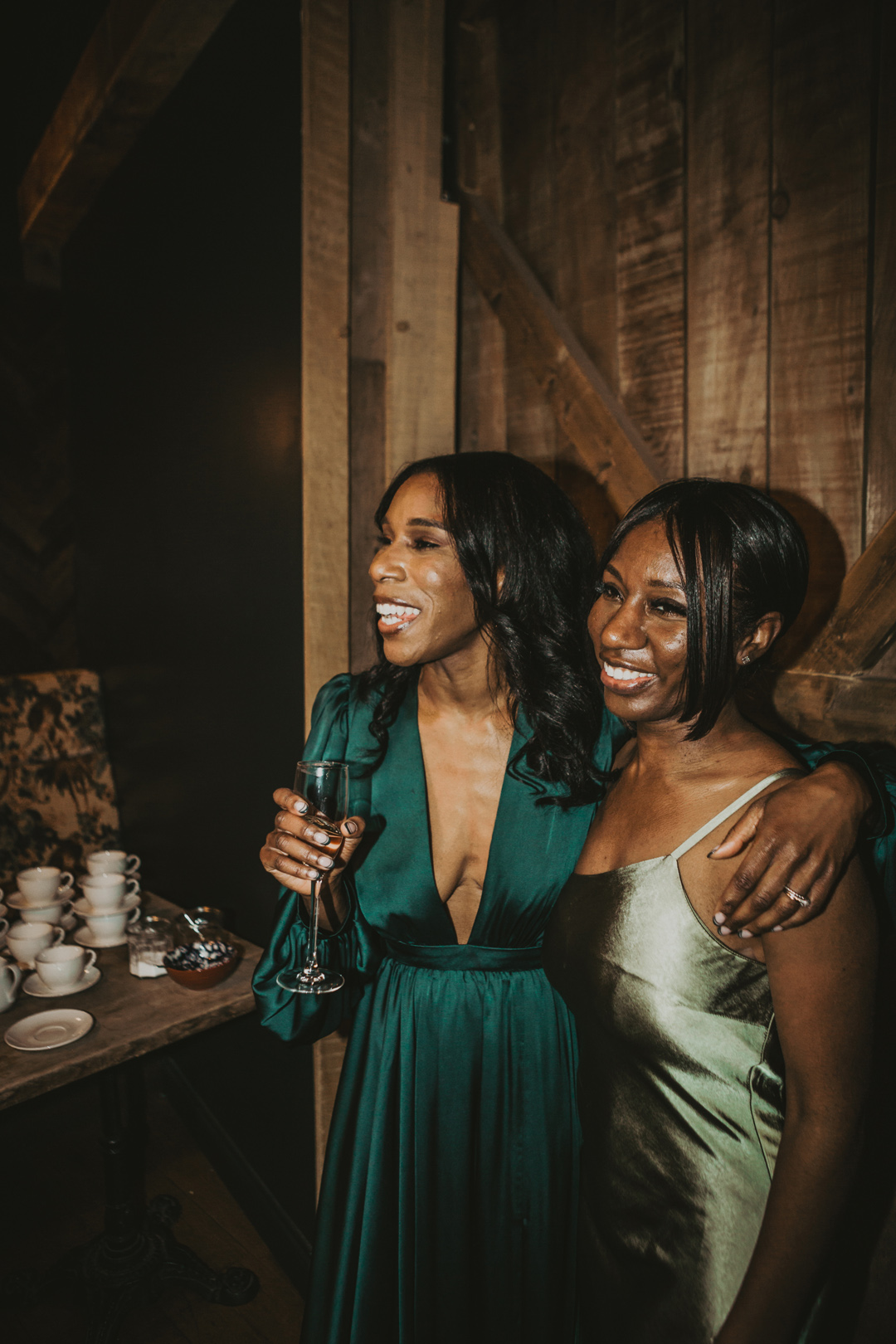 The evening party had music from band Next Level Music and there was a first dance to 'I Live To Make You Smile' by Jamie Lidell.
"We had seen Jamie Lidell perform live a few years back when we first heard this track and fell in love."
"Next Level Music did a great job of creating a party atmosphere in a room full of musicians. Not an easy task!"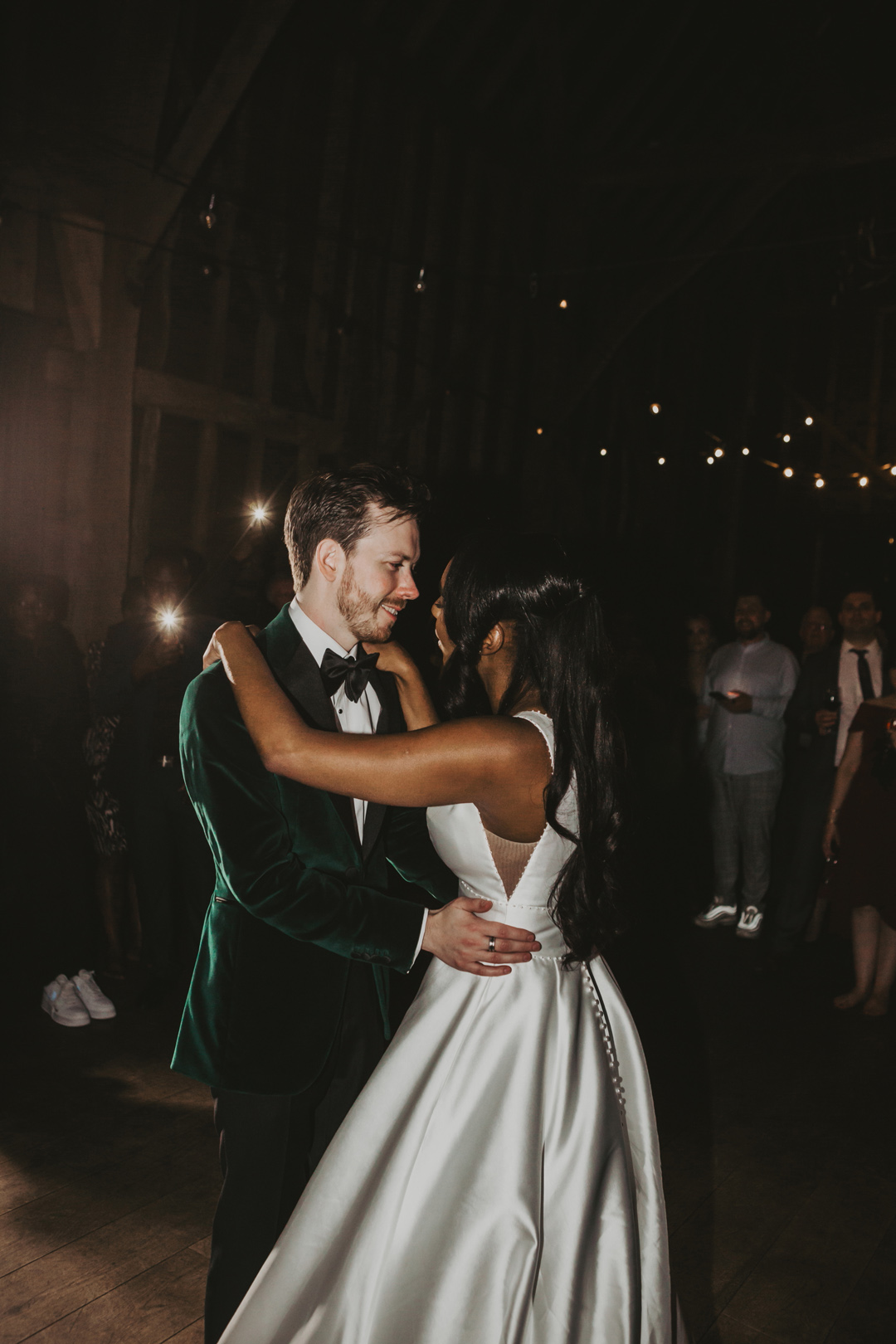 "As a surprise for our guests, we booked a Jamaican food truck that we found on Instagram, The Jerk Joint."
"It was another opportunity to weave in my heritage. The food was un-real and brought an authentic taste of Jamaica to the evening.
Words of Wedded Wisdom
"Have the wedding you want. Weddings will always welcome everyone's opinions in what they think you should do."
"The bottom line is that it's your day. It's the one day you can be selfish."
"Covid has shown us all that nothing in life is promised so enjoy the now and the place you are at in your relationship."
https://www.lovemydress.net/directory/supplier/andrea-hawkes/
"When you have to wait for things, the outcome will feel all the sweeter. Whether it's starting a family or buying a new house together, marriage will be a completely new chapter to your relationship. So, enjoy the experiences you are able to have together now and eventually your wedding day will come."
"As much as the day is important, ultimately when everyone goes home it will be just you two taking on life together."
Thank you Chevone and Rob for sharing your beautiful wedding with us. I adore the forest-inspired decor, and what a gown. Congratulations to you both. Thank you also Gemma at The Wardette Studio for your beautiful photography, too.
For more winter weddings, you can take inspiration from these Love My Dress features.
Ele xx