Today's celebration was a truly Scottish affair, taking place at the opulent Wedderburn Castle with a rich yet fresh colour palette of burgundy and blush, with sumptuous, full-blown roses and seasonal, autumnal blooms and fruits taking centre-stage.
On 2 October 2021 third sector marketing manage Hannah wed Craig, who works for the Crown Office, at Wedderburn Castle & Barns, Duns, Berwickshire, Scotland. Inspired by their own legendary house parties, the couple hosted a weekend-long wedding, combining the more stately and formal castle feel with relaxed partying in the barn.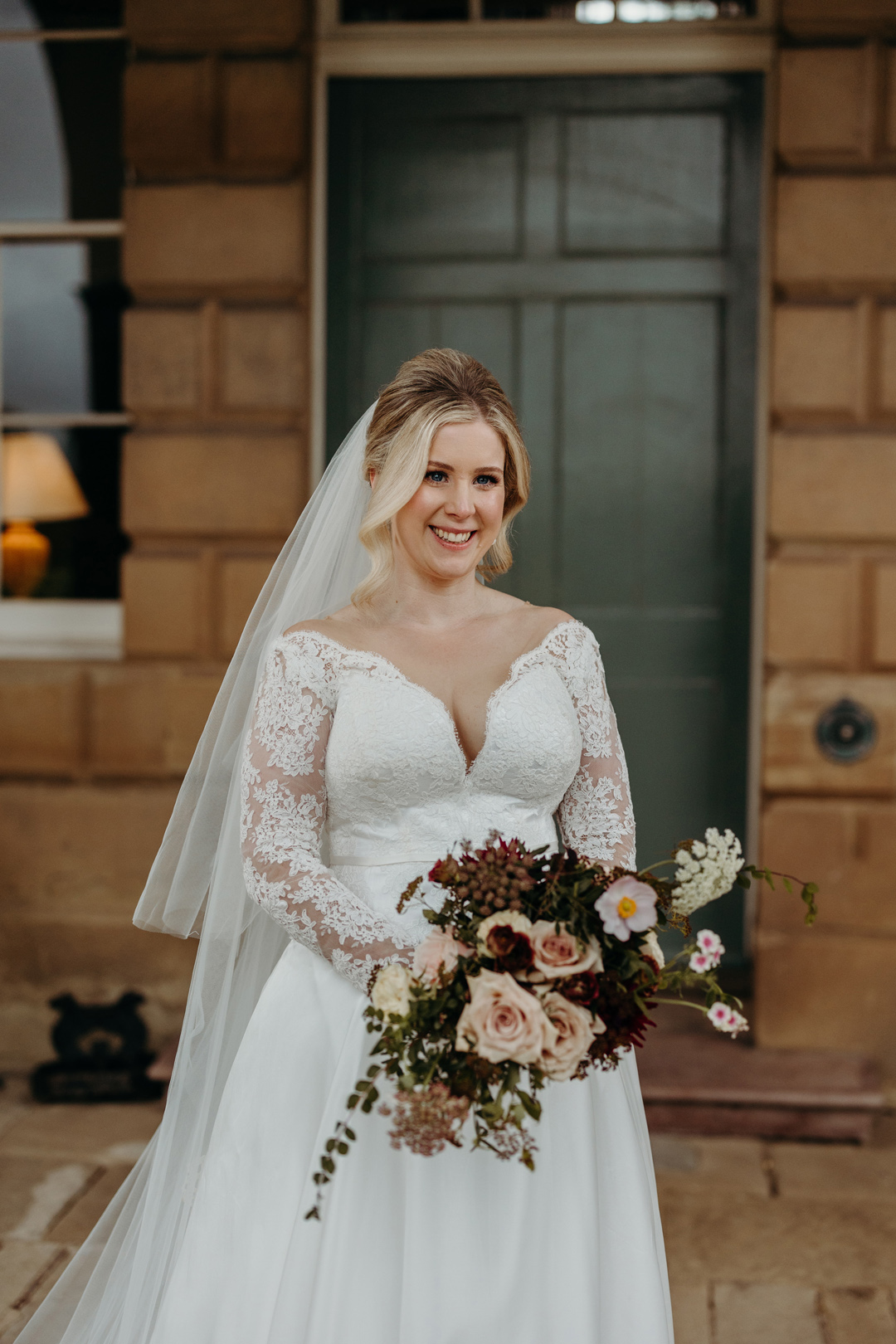 "Wedderburn was the only venue we visited when we decided to get married."
"We've attended a lot of weddings together and knew what we wanted: a weekend long wedding; accommodation for friends and family; a house party vibe with no kicking out time; the ability to provide our own bar and choose from a range of recommended caterers; an experienced but laid-back events manager; and a venue which was not a production line of weddings."
"We wanted everything to be in one venue with no traipsing around between sections of the day or having to travel between getting ready and the ceremony."
"Wedderburn was all of those and much more. It's a traditional Scottish castle with grand reception rooms and a cosy barn for more relaxed partying."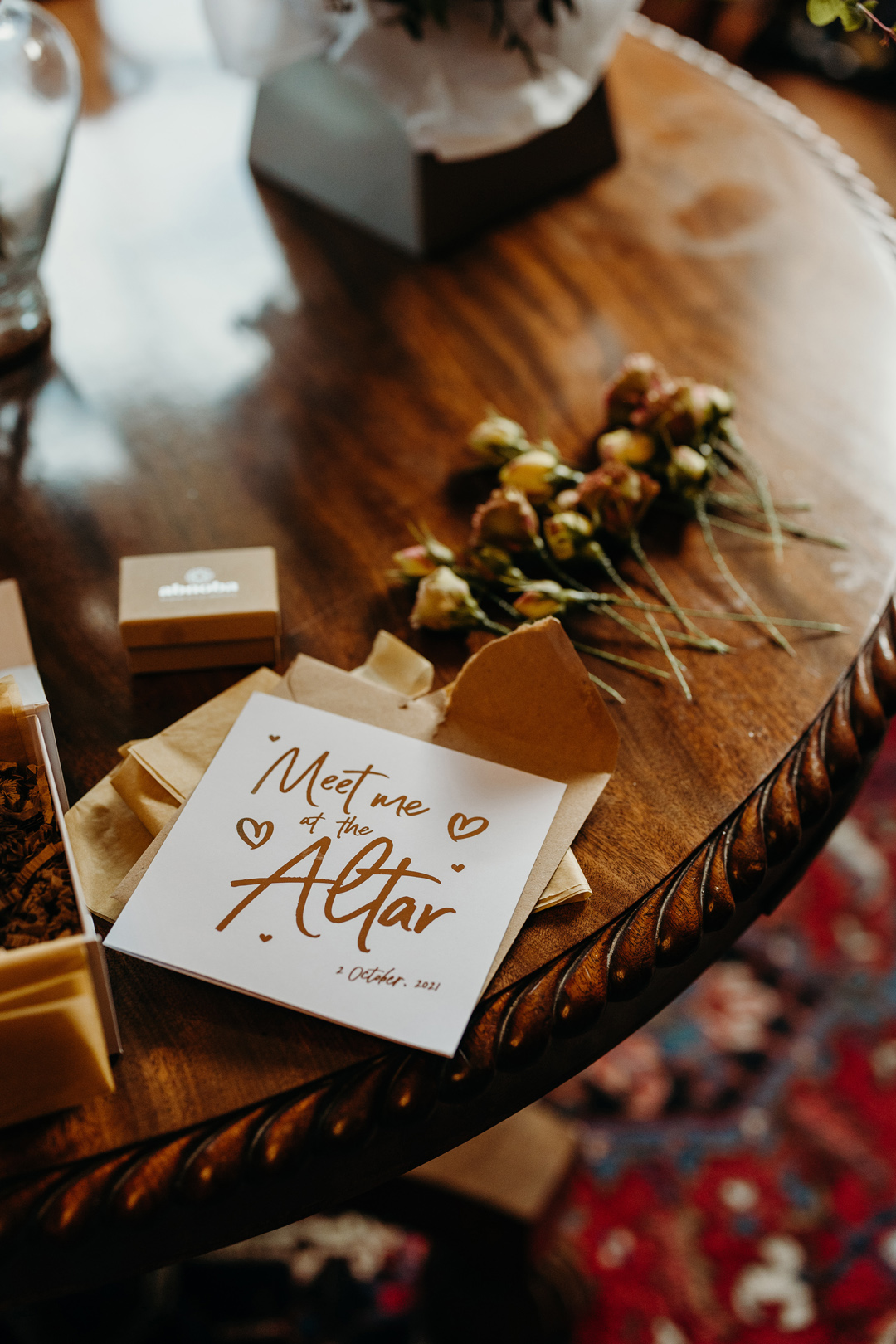 It's wonderful to hear that Hannah and Craig mined Love My Dress to find suppliers local to their venue and ideas for their styling.
"I mostly found suppliers by looking up weddings in our area on the blog. Throughout Covid, I really appreciated seeing weddings of different shapes and sizes, which despite last minute plans and changes looked beautiful and joyful. It was reassuring to see that even if plans were impacted, the day could still be worthwhile."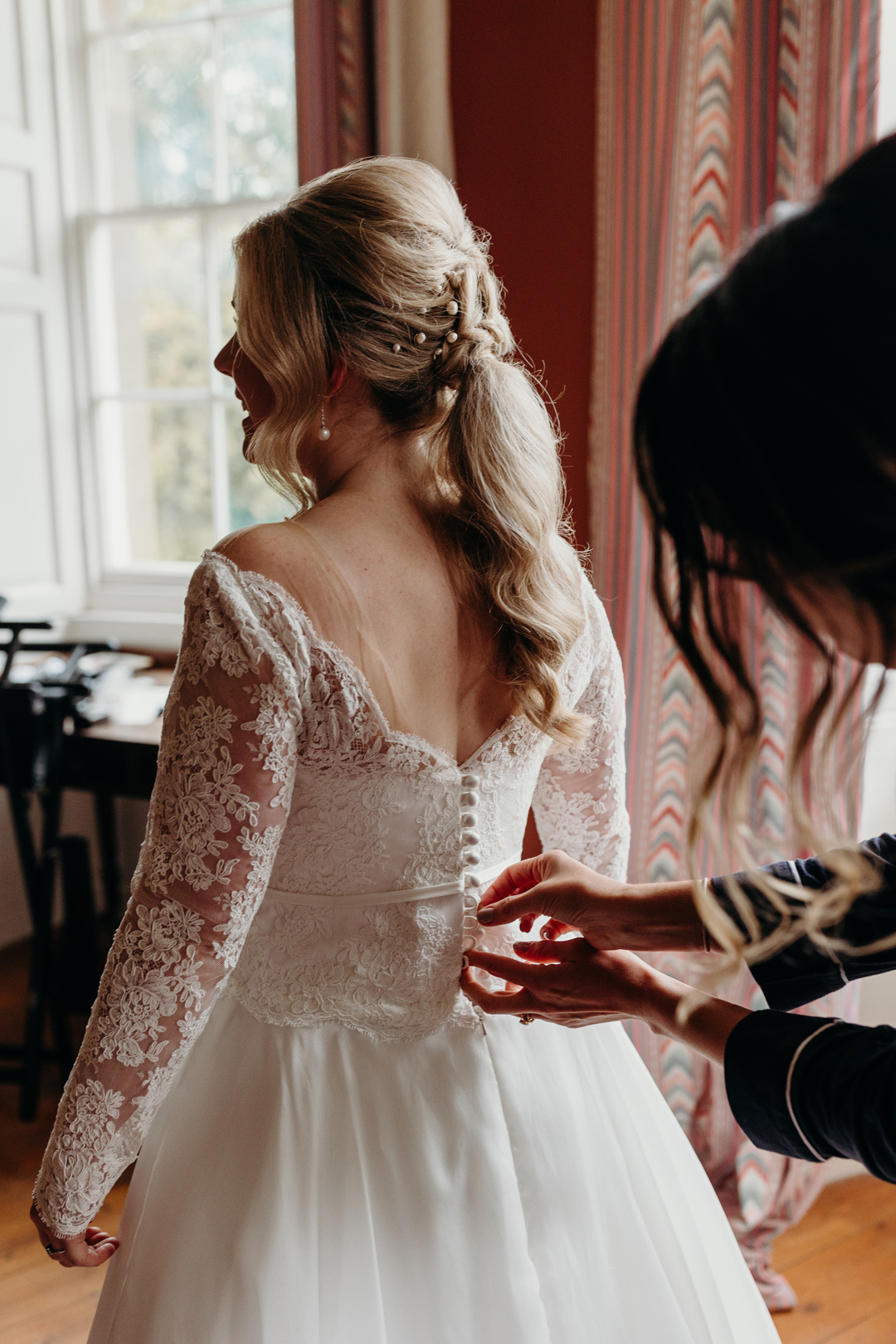 Fitting the majestic castle location, Hannah wore a full-skirted, lace dress with full-length sleeves and a plunging neckline."
"It was a Suzanne Neville design from Rachel Scott Couture. This Edinburgh boutique showcases some beautiful wedding brands and you can find out more on their Love My Dress Wedding Directory listing here.
https://www.lovemydress.net/directory/supplier/rachel-scott-couture-edinburgh-wedding-dress/
"I purchased my dress and veil from Rachel Scott Couture in Edinburgh in the February of 2020."
"Rachel was wonderful when I had to delay my dress fittings and final purchases to October 2021. I loved the swishy skirt for dancing!"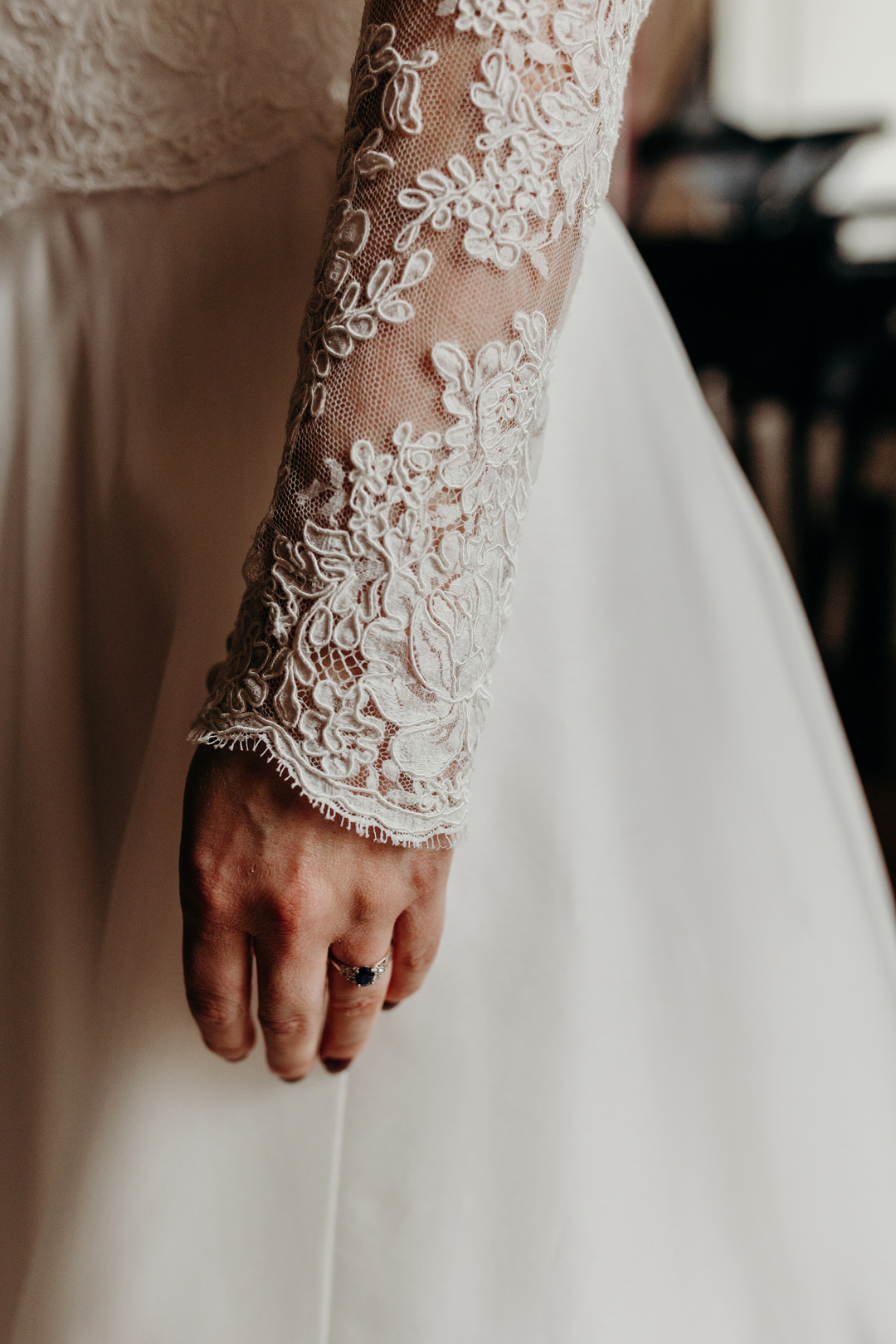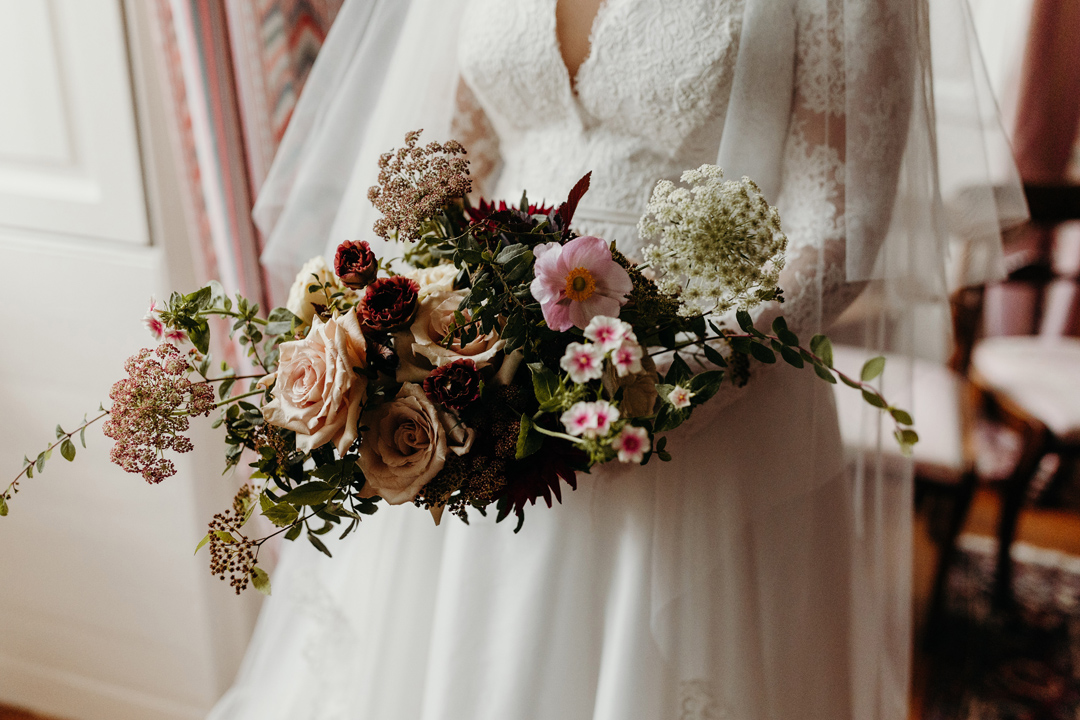 The Cathedral-length, lace-edged veil was also from Rachel Scott Couture and her shoes were by Rachel Simpson Shoes.
"They were a gift from my girls after my hen do in Berlin was cancelled.  I bought myself diamond and pearl drop earrings from our family's jewellers."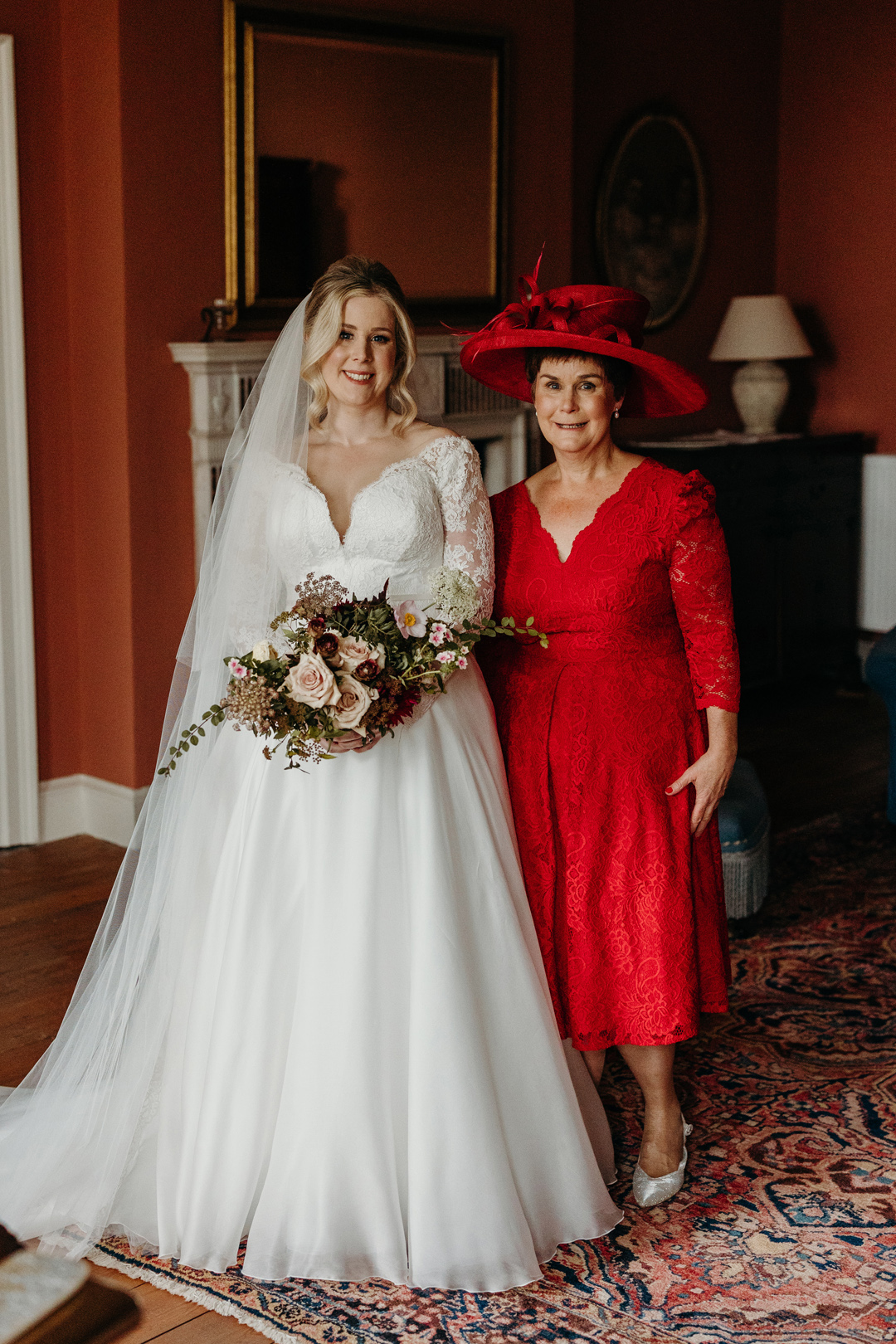 The castle, with its spacious interiors and rustic barn, provided plenty of options should the autumn weather be wet.
"As we were due to marry in October, we wanted plentiful indoor options as it would be ideal to have lots of space indoors for different pockets of conversation and partying, if the weather was bad."
The bride wore her long hair in a relaxed yet elegant wavy down-do, styled by Lisa Ivone Hair, with freshwater pearl pins from TrueVineBridal on Etsy tucked in.
Hannah's make-up was fresh and flawless, applied by Lauren Gollan and she selected 'Oxblood' nail varnish for her nails, which were manicured by Carly at Buff.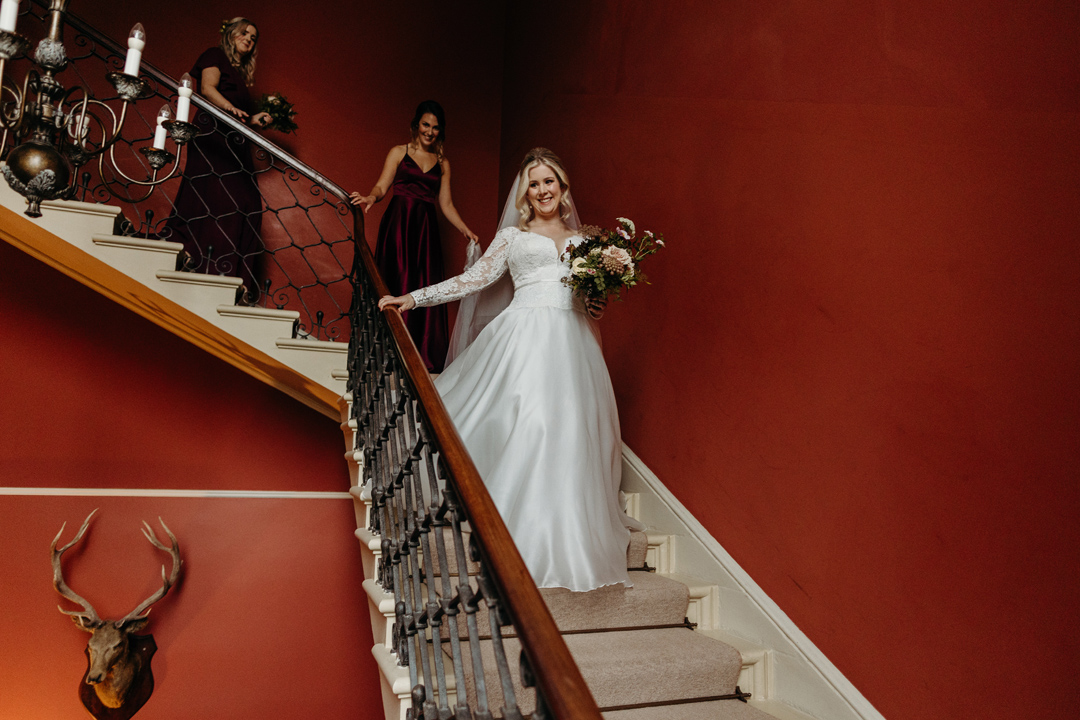 The blush and burgundy theme continued with the bridesmaids' gowns. They wore a selection of burgundy dresses in different fabrics and shapes. 
"The girls wore their own shoes. I gifted them keshi pearl earrings from Kiri & Belle on the morning. They wore fresh flowers in their hair."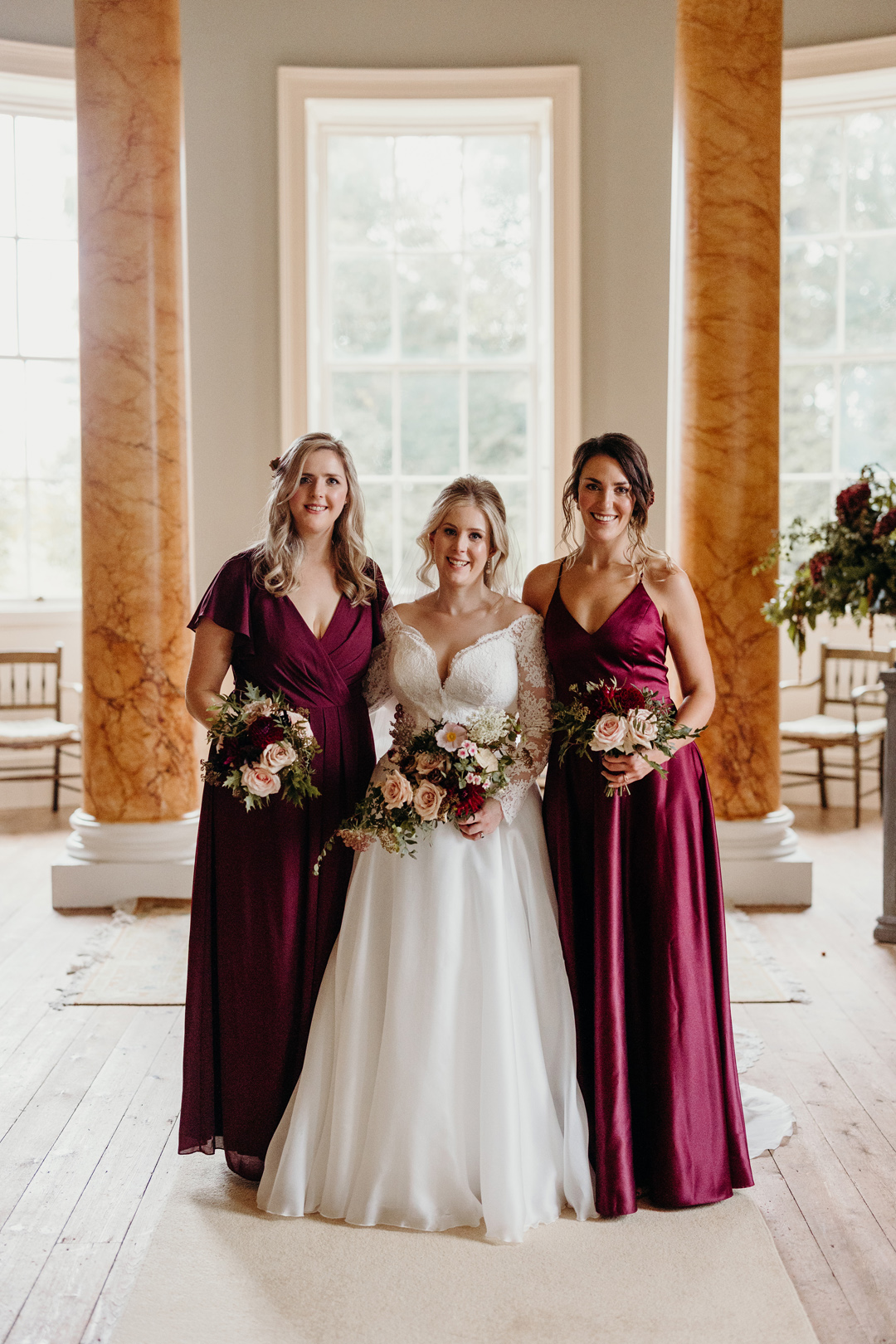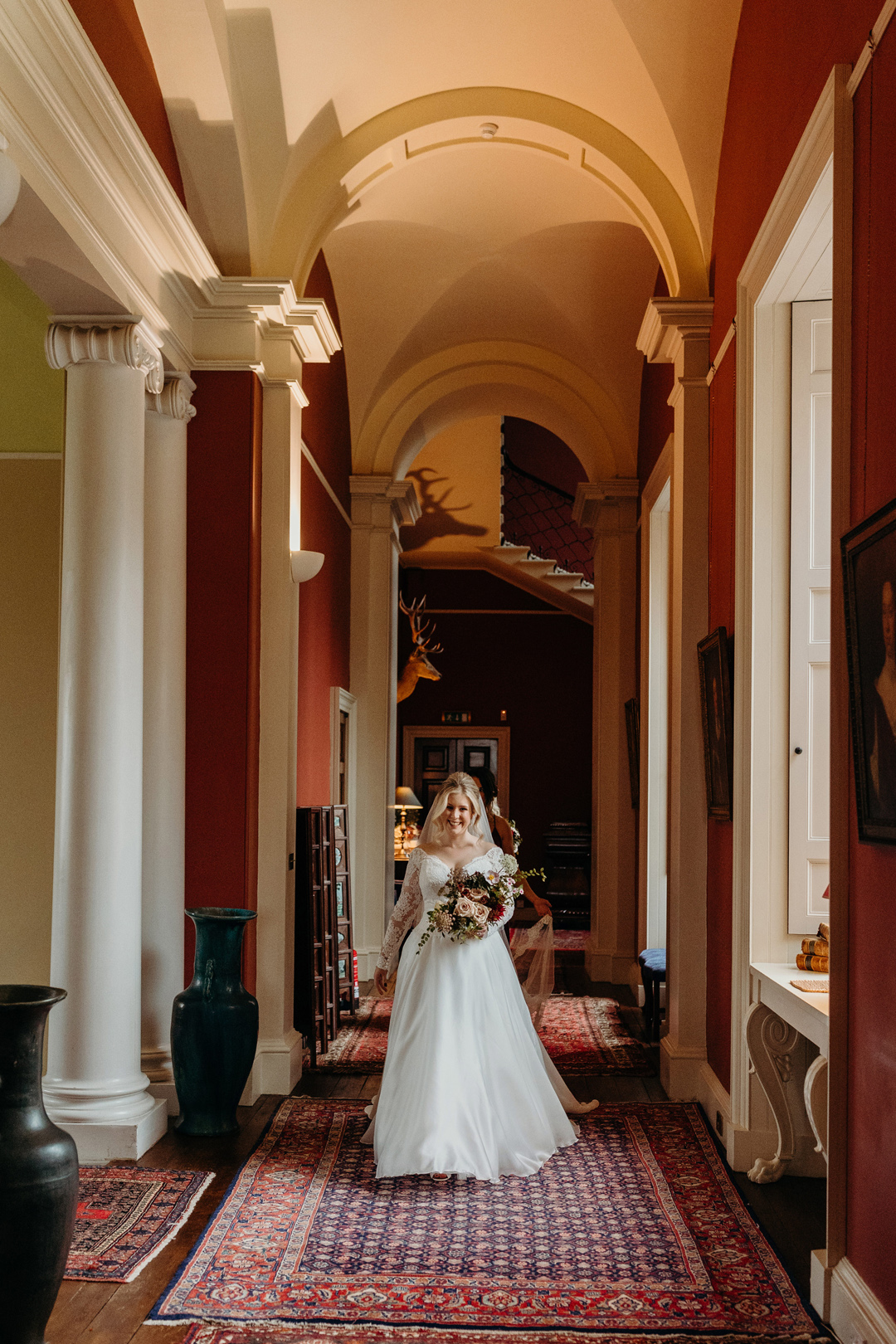 The groom dressed in a traditional Scottish kilt from A.Hume with a made to measure suit jacket and waistcoat by Andrew Brookes.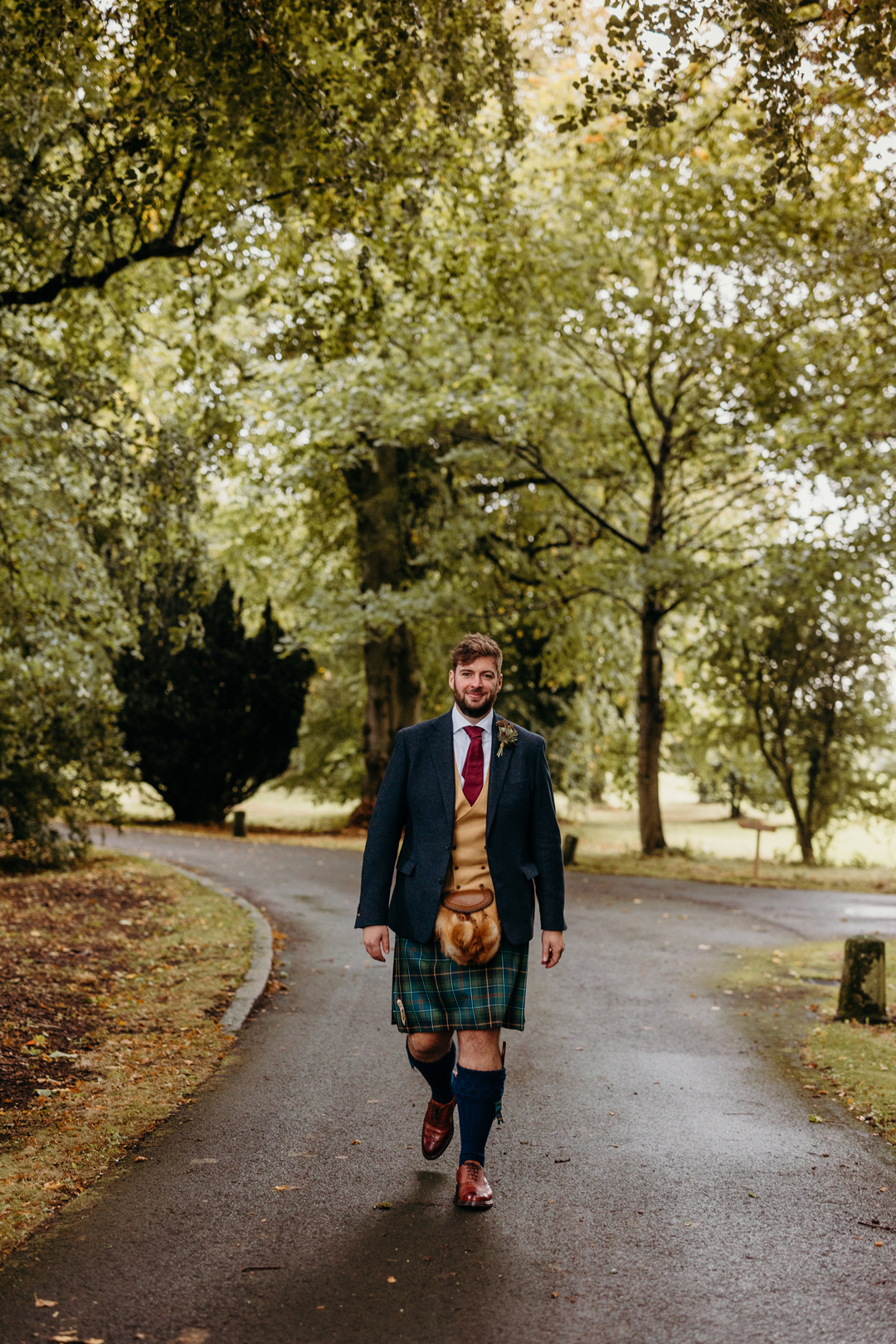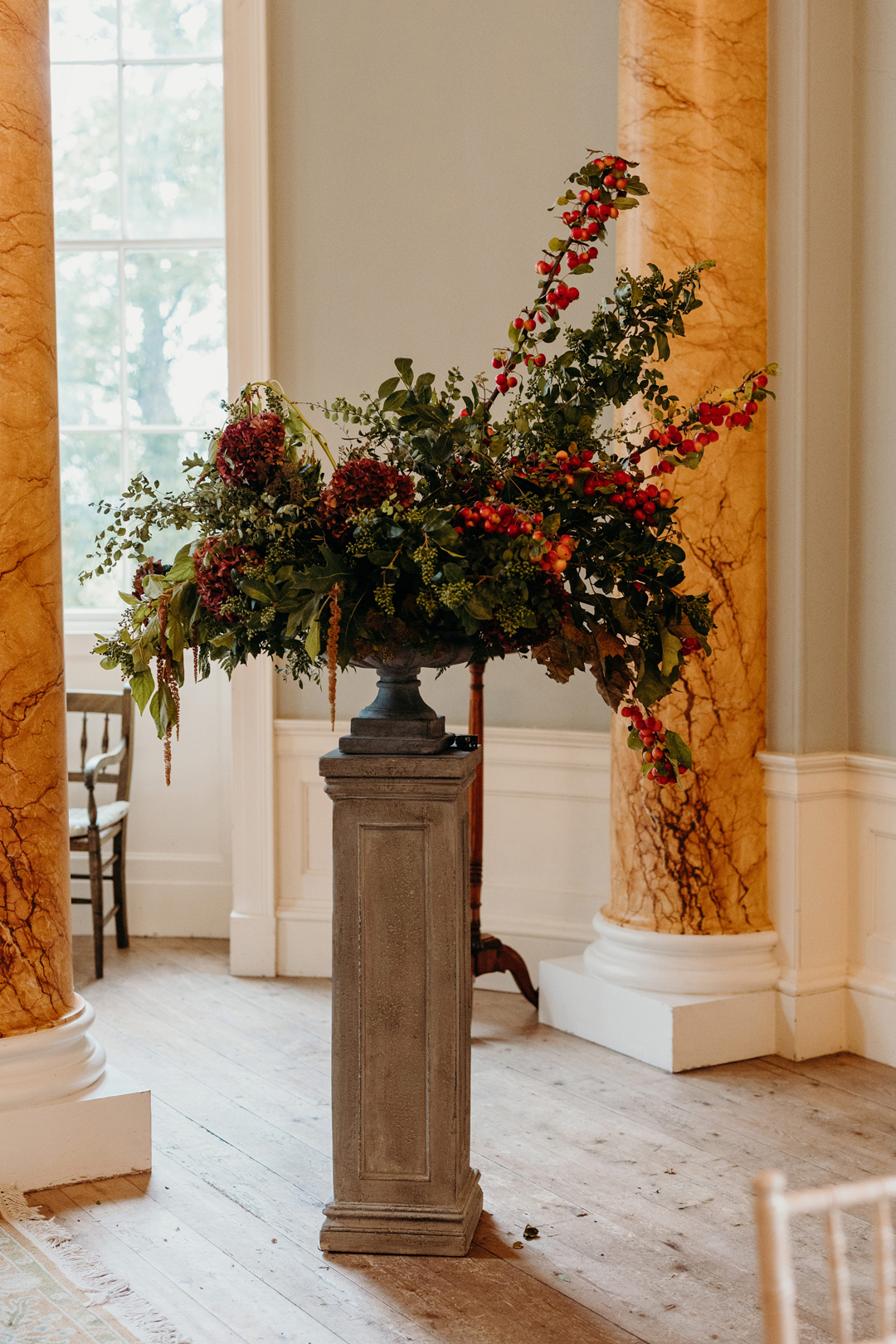 The couple chose 'You've Got The Love' by Candi Staton to play as the bride walked down the aisle.
The ceremony was led by Celebrant Caroline Pearson and accompanied with music from Fauna Strings.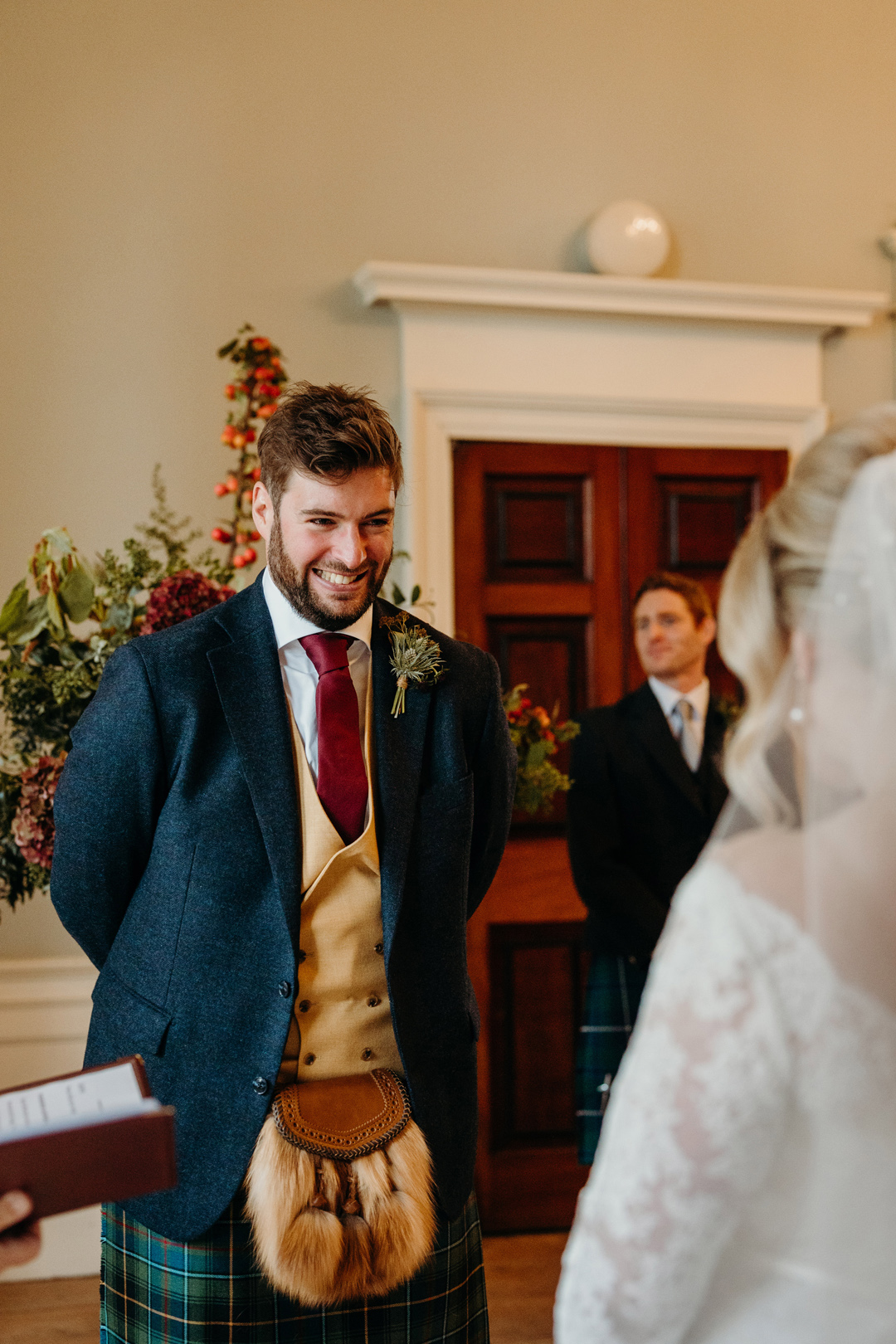 "My dad accompanied me to the top of the aisle and then I walked to Craig by myself. I was keen not to be handed over with a handshake."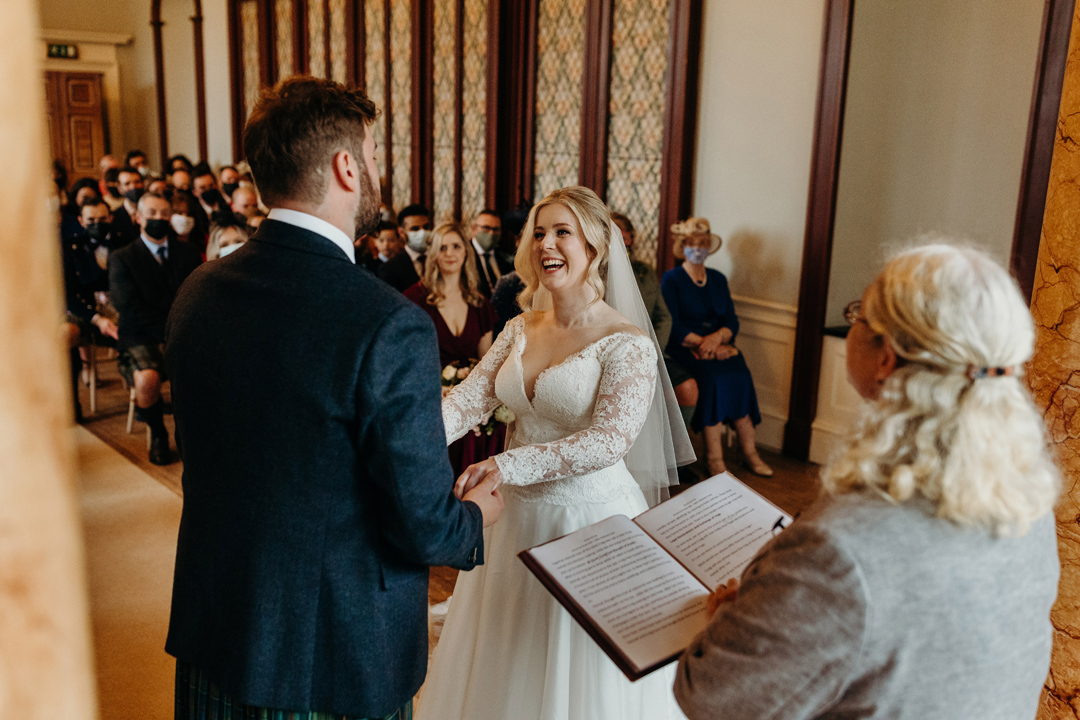 "Caroline was wonderful – she was so patient and helped us to write our own ceremony guided by her and kept track of the ever-changing Covid guidance."
"We wrote our ceremony along with Caroline though kept the 'in sickness and in health' traditional-ish vows."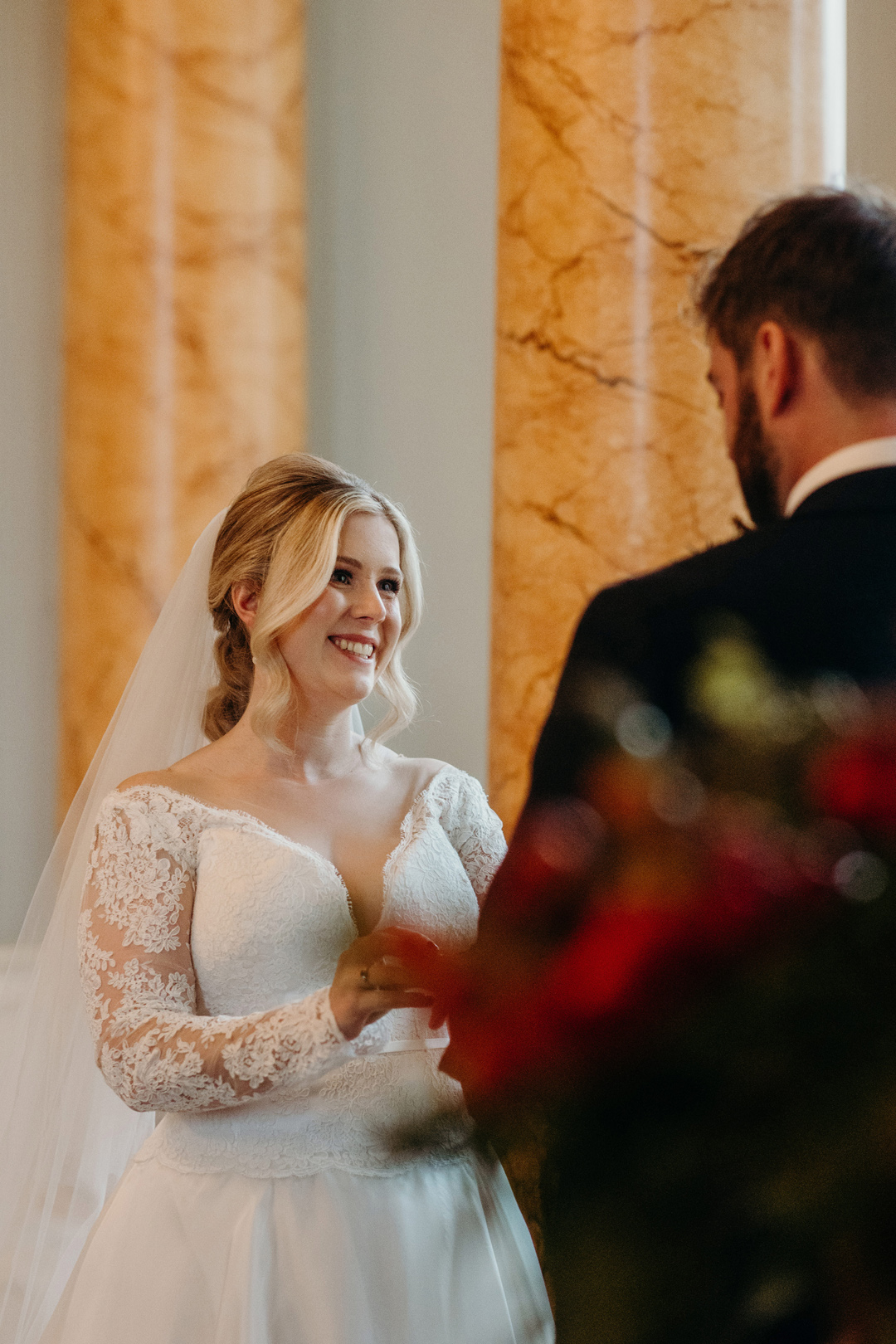 "We wanted to include all four of our parents – our mums were our witnesses and Craig's dad Brian did the toast."
"In the tradition of a Hammon family party, he poured the whisky into our Quaich for a toast to start married life."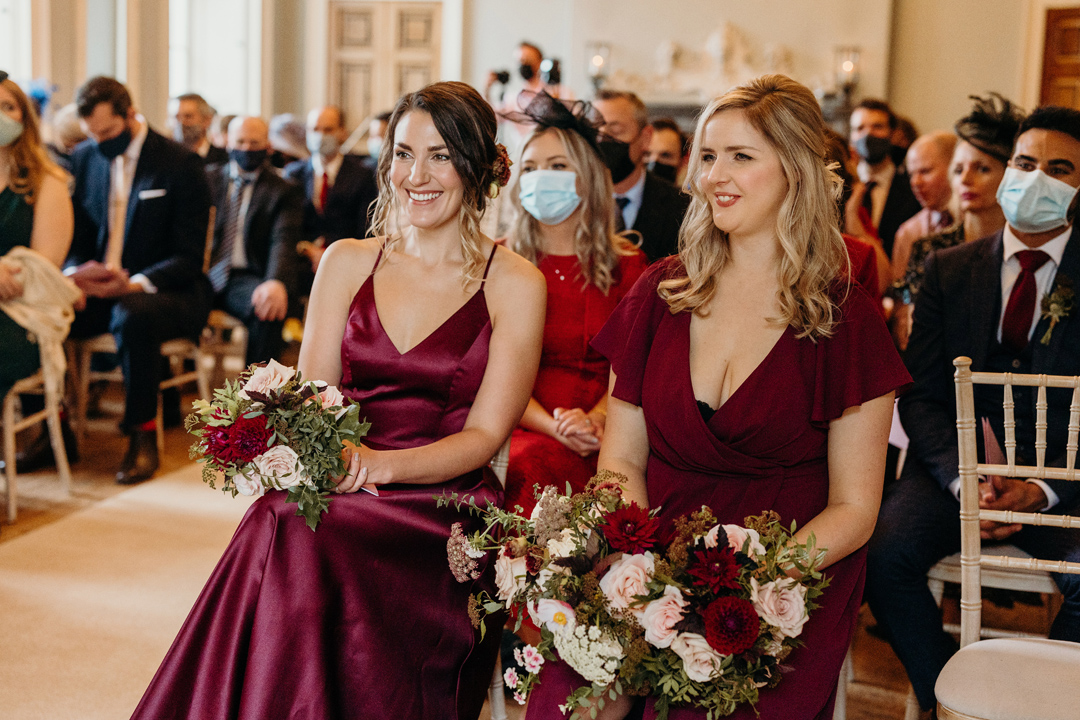 "We had alternative strings, a hip-hop mash up to accompany the register being signed, by Fauna String Quartet."
The rings were from the family's long-term jewellers, Chapel Jewellers in Eyemouth.
"We wanted to go to the jeweller who had made Craig's parents' wedding bands."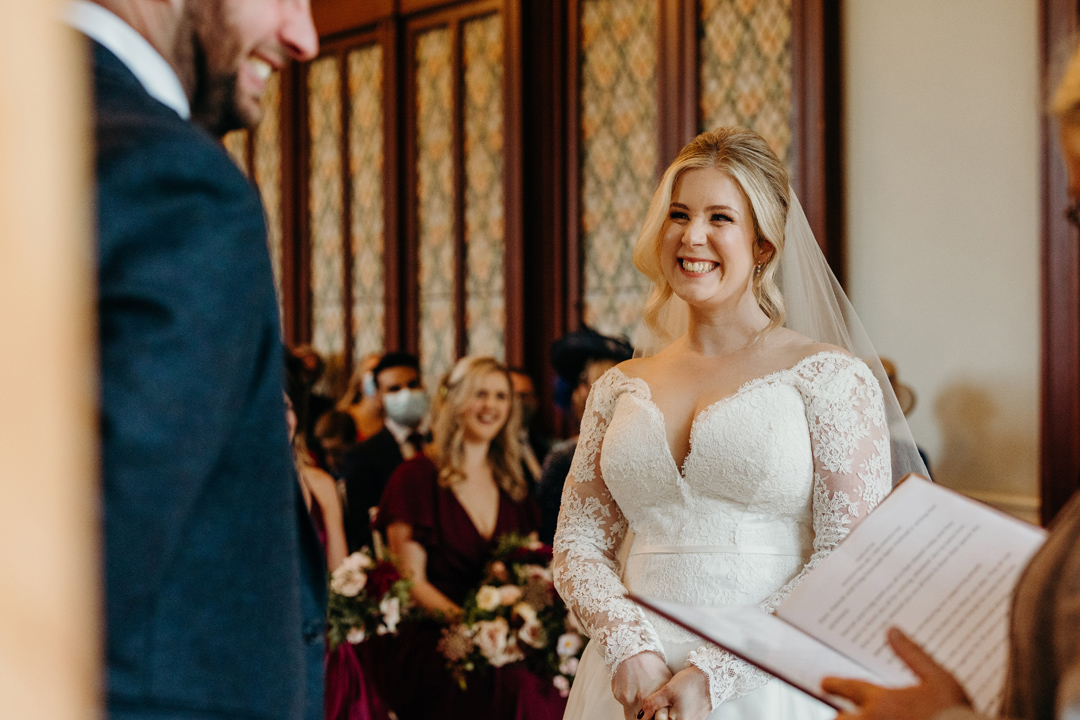 In their eight years together, the couple have hosted numerous house parties and wanted a similar vibe for the wedding weekend.
"We met eight years ago. Craig gatecrashed a girls' night out; he worked at his family restaurant with one of my oldest friends and popped by our night out to say hello."
"We got engaged whilst on safari in South Africa and had been engaged for almost two years when we got married. We wanted our wedding weekend to feel like the house parties we host, on a grander scale!"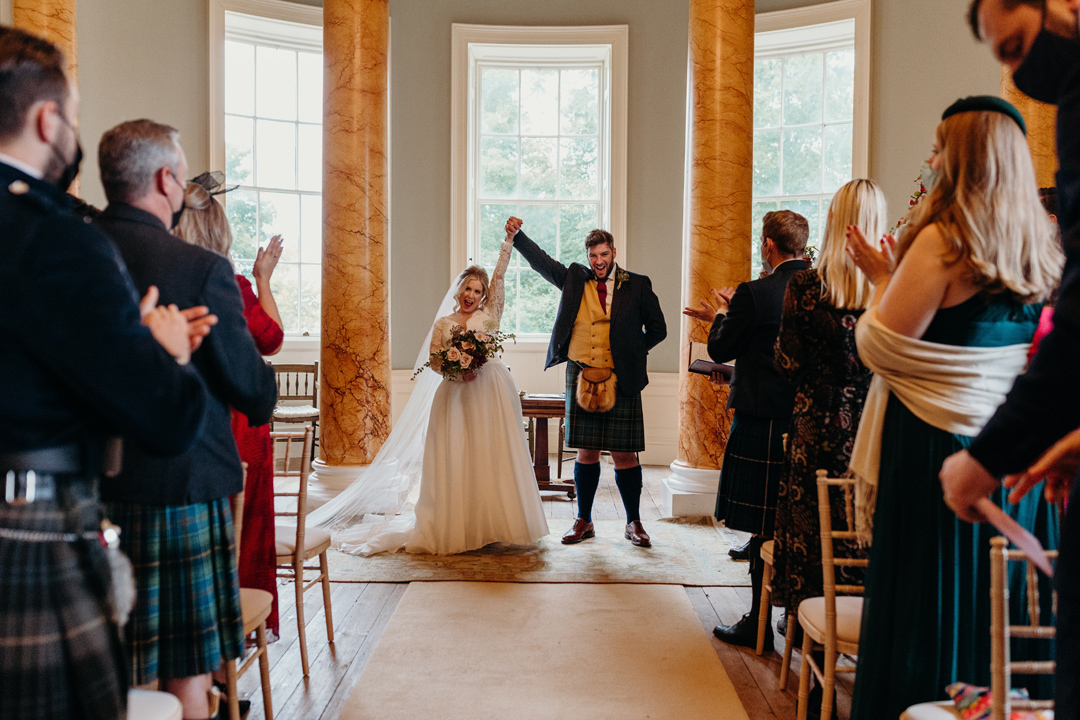 Like so many others, Hannah and Craig were impacted by the Covid-19 pandemic.
"When the pandemic started, there was seven months before our wedding day."
"It was a really valuable time in that it showed me how stoic Craig is in a time of decision-making and despondency, which we'd not really experienced before."
"We held out on cancelling until the summer and then moved the wedding to a year past the original date."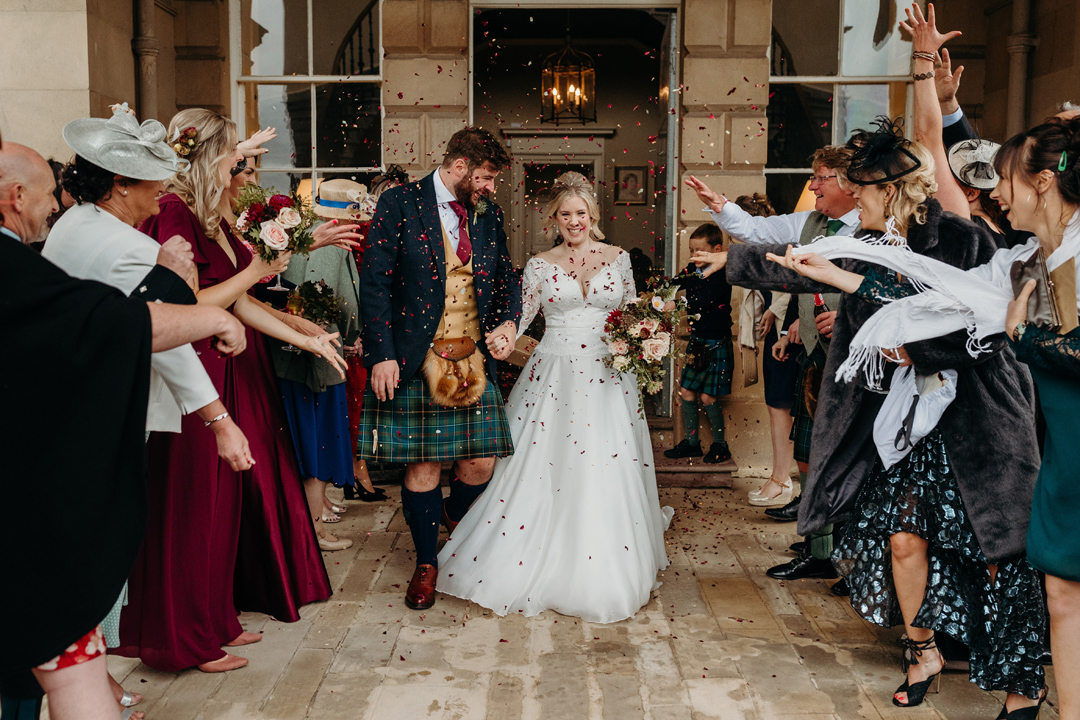 "At the time of our wedding, the restrictions in Scotland were that masks were required for our guests at our ceremony but not when eating or drinking – most of the day."
"This means that our ceremony photos will be a reminder of this weird time but at the time we were both focused on each other and didn't actually really register the room full of masked faces."
Capturing every gorgeous element was Love My Dress Wedding Directory member Richard Skins Photography, whose work we've featured on Love My Dress is always so emotive, movement-filled and utterly beautiful.
"We wanted honest documentary photography, we met him on the morning for the first time and Richard everyone at ease."
"From the photos, it looks like he was everywhere at once! He did not stop grafting all day and was so calm and unobtrusive."
After the ceremony, the castle and its grounds provided so much space for the newly-weds to relax and enjoy the company of their guests.
"The pandemic narrowed and made all of our worlds smaller, and we had missed our friends and family coming together so much. "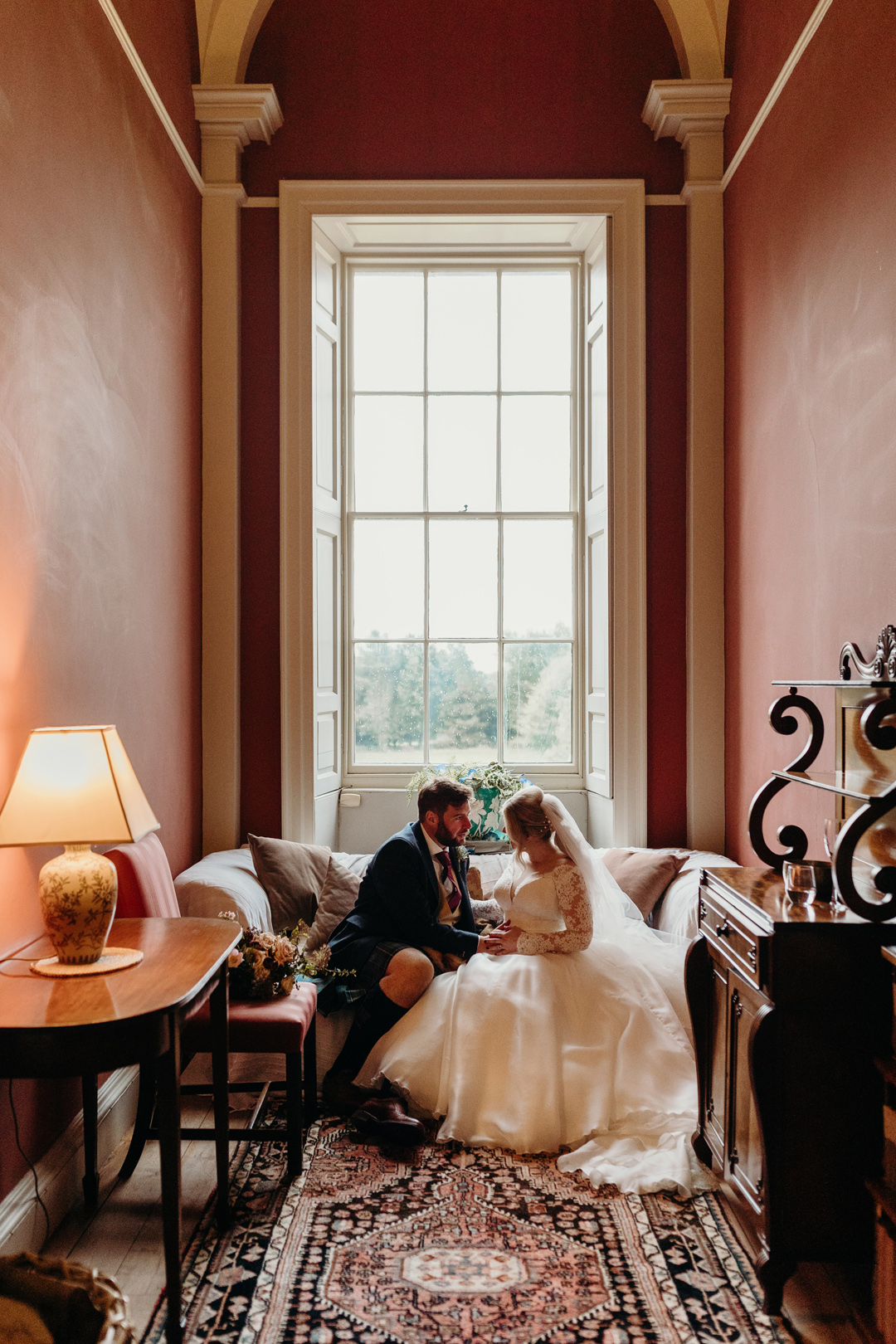 "To see everyone come together to share a meal and later to dance wildly was magic for both of us. We knew how lucky we were."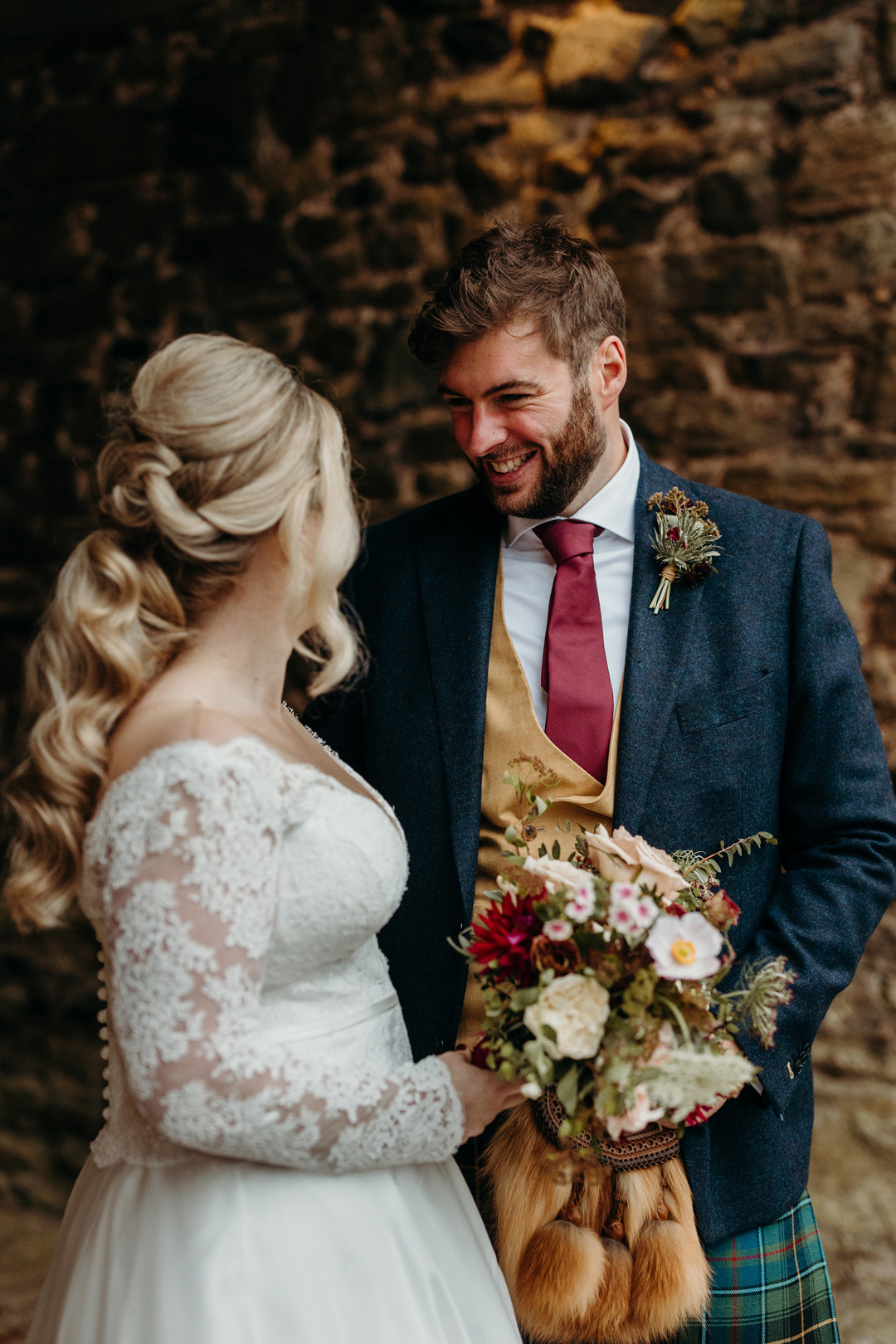 "I designed most of the stationery using Etsy templates and had it printed online. Our menus were by Papier and our calligraphy place cards were by Fawkes Quill."
So much thought was put into the dressing of the castle and barn, with thousands of fairy lights and candles and plentiful blooms from Myrtle & Bracken.
"We had two venues – a castle and a barn – to dress. I wanted a more classic feel in the castle with abundant autumnal foliage in gothic darker tones."
"There was a wilder feel in the barn, with rusty coloured foliage and apples hanging from the beams, overflowing golden bowls of blush and burgundy blooms, and figs and fruits on the tables amongst the candlelight."
"Di of Myrtle & Bracken understood what I meant from a few garbled descriptions – we arrived to a bare barn and she created beauty in front of our eyes!"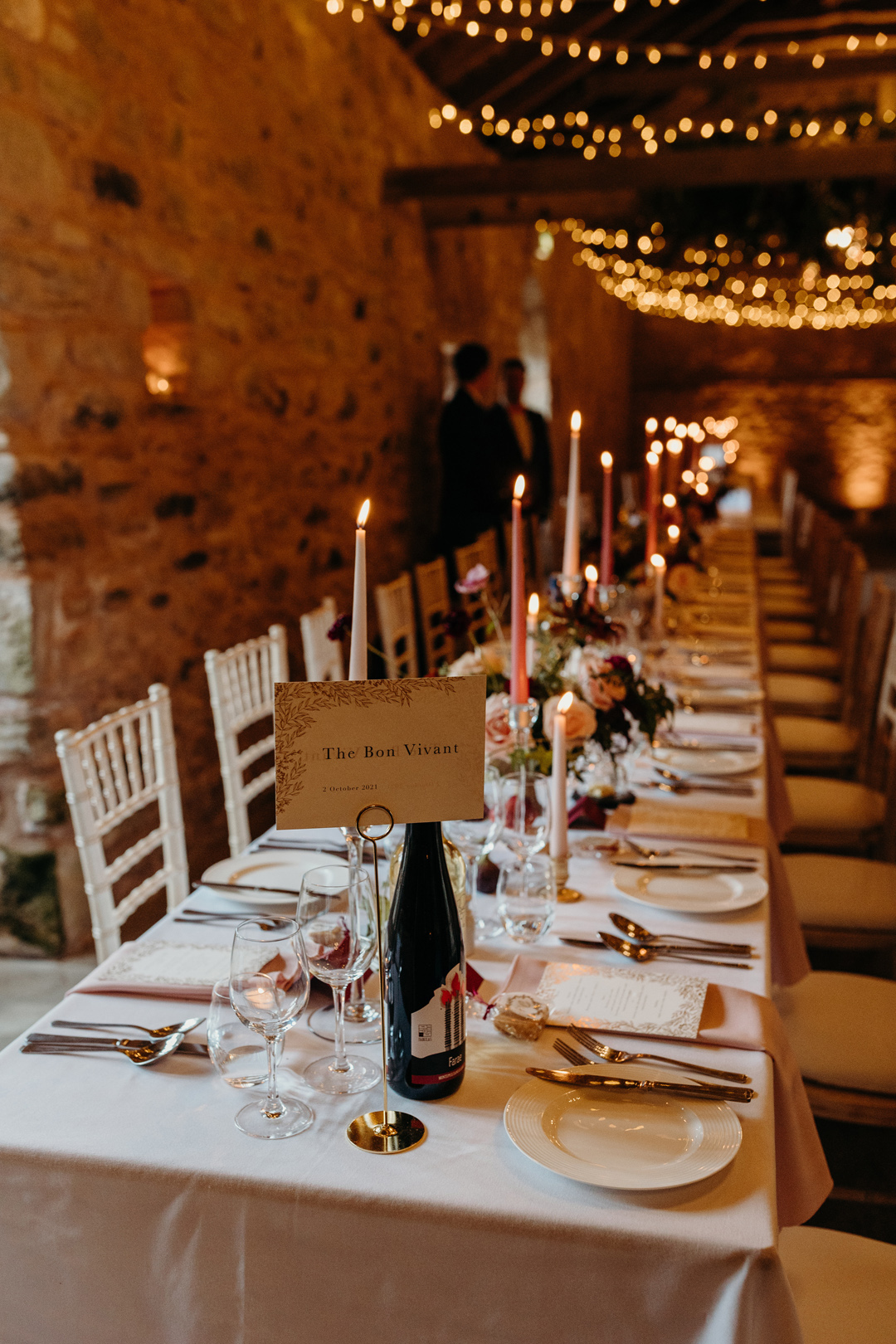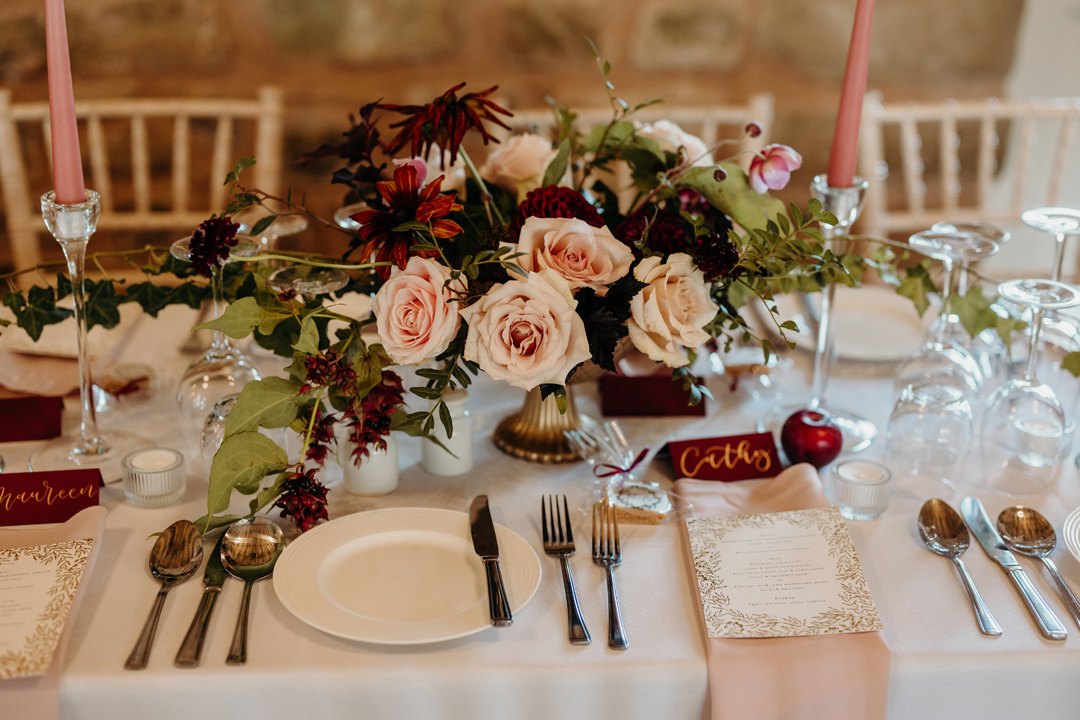 "We had masses and masses of Ester & Erik candles – the best! Get Knotted provided and installed indoor and outdoor festoon and fairy lighting and whisky barrels for tables, and provided additional candlesticks, as my styling brief was for as much soft lighting as possible to give a cosy vibe to the barn."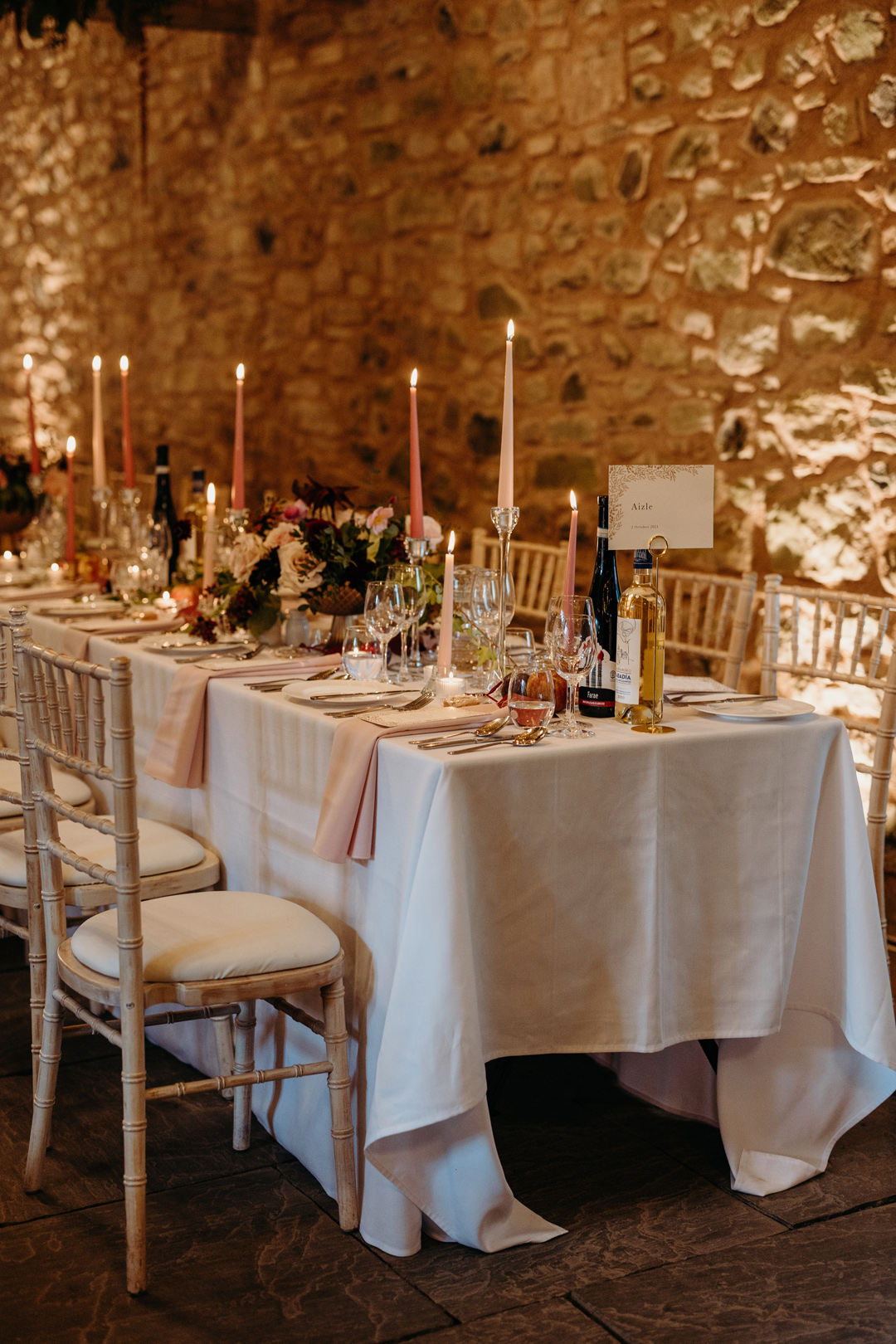 "Carnival Chaos provided rugs and furniture for a much-used seating area off the dance-floor and Hopler Wood Co. provided a handmade bar and bar stools."
"All were incredibly flexible and creative."
The newly-weds were piped into the barn for dinner by Danny the Piper before sitting down to food from The Orde Food Company. Their favours were traditional Scottish tablet.
"Our event manager Sarah, throughout planning and on the day, was so through and detail-orientated and very patient with changes to numbers."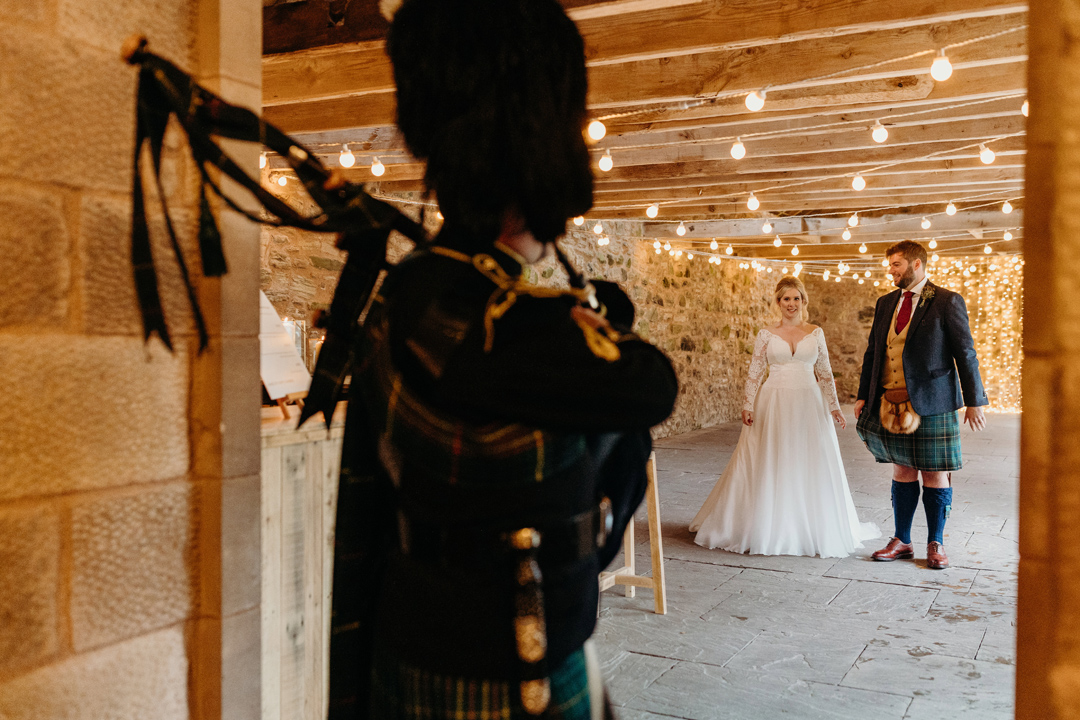 "The food was plentiful and so delicious. At the reception, we had shucked-to-order oysters by The Oysterman Events."
"Champagne and wines were supplied by L'Art du Vin, the local independent wine merchant."
"The Scottish tablet was made by Craig's dad to Craig's gran's recipe and wrapped by Craig's mum."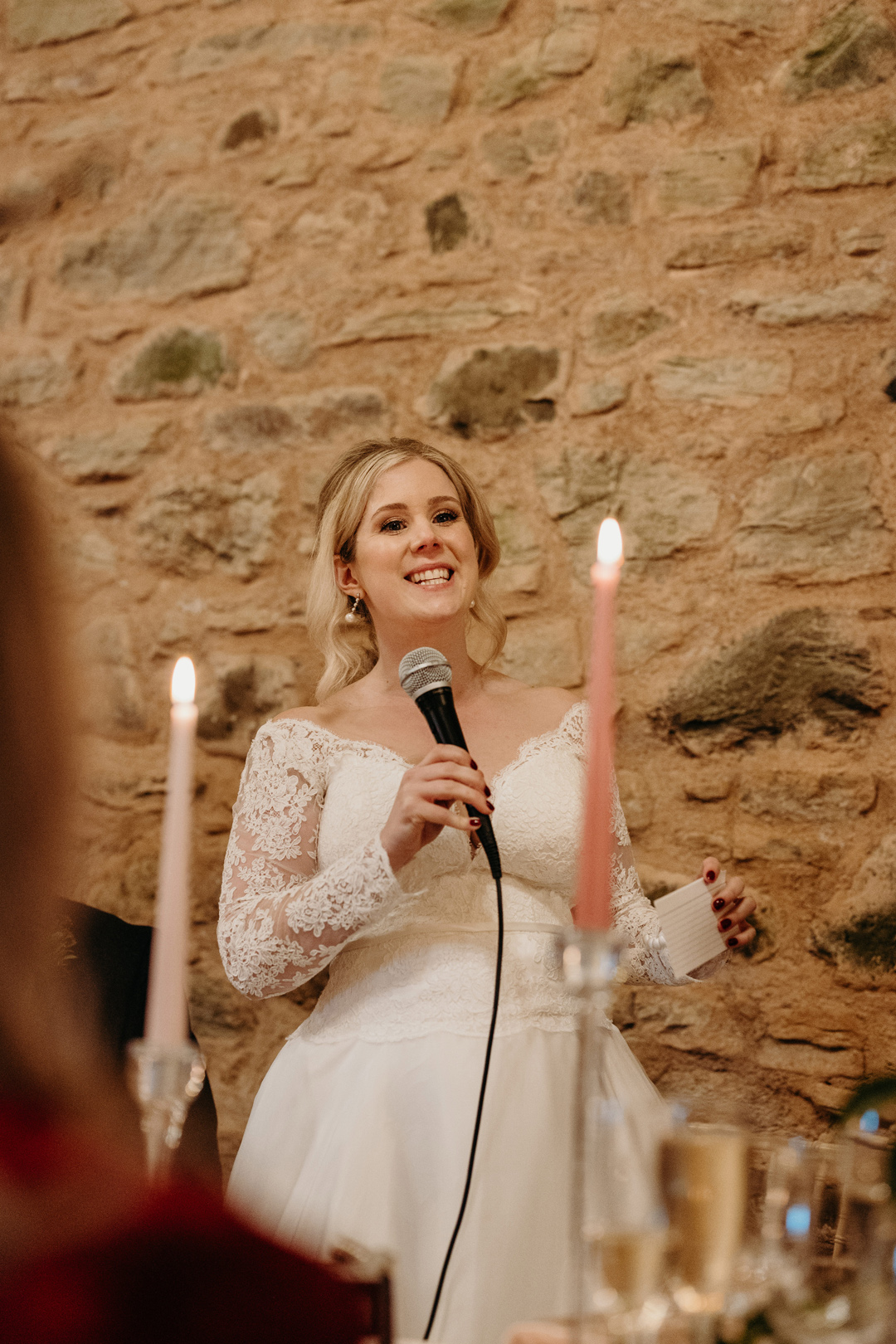 The cake was a three-tier beauty, made by Craig's auntie Fi of Porto & Fi.
"Fi made a three-tier cake with Victoria sponge and blackberry jam, a middle tier of carrot cake and a bottom tier of chocolate beetroot."
"It was demolished! We had a fruit-glaze, traditional boozy fruitcake, made by Craig's grandma."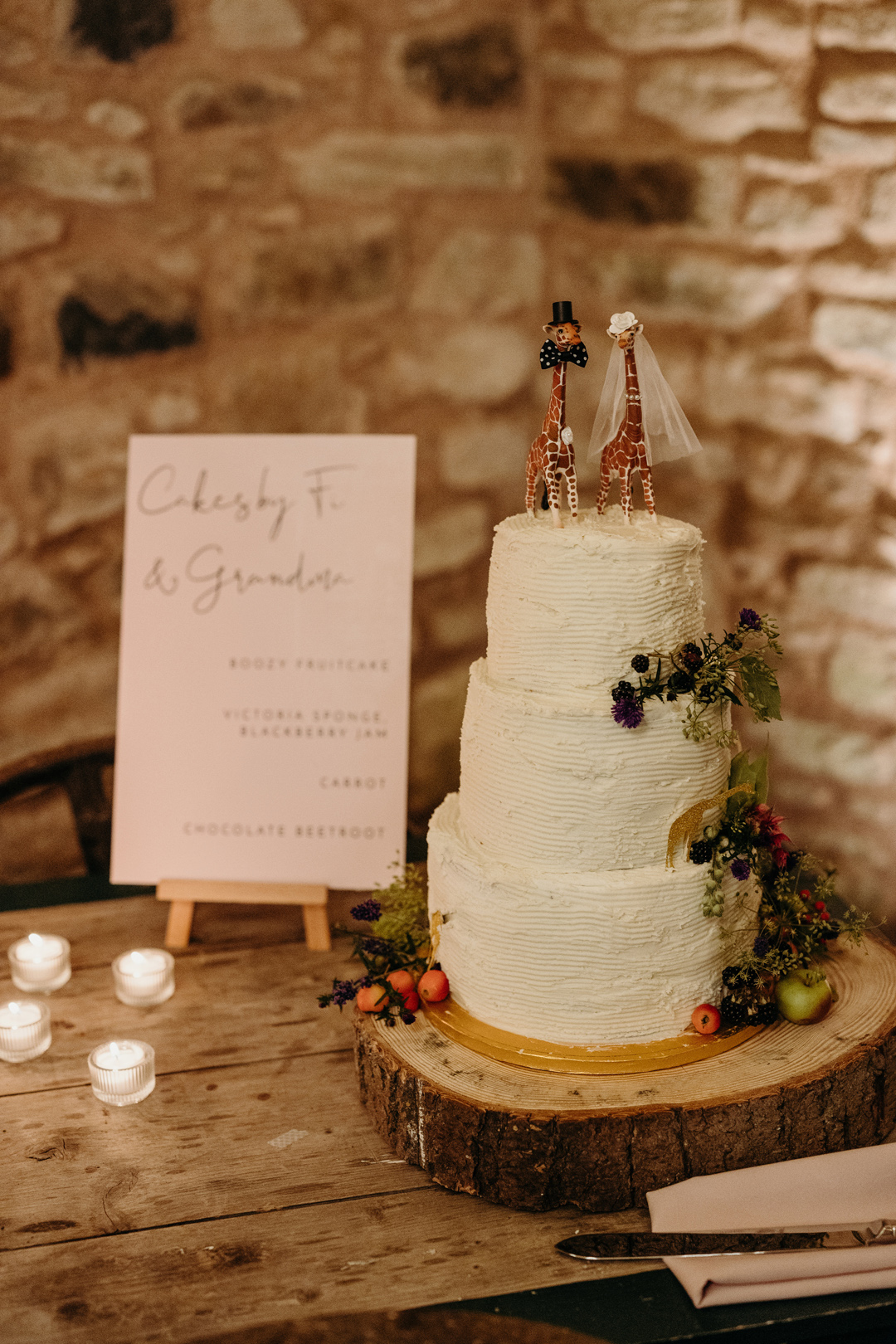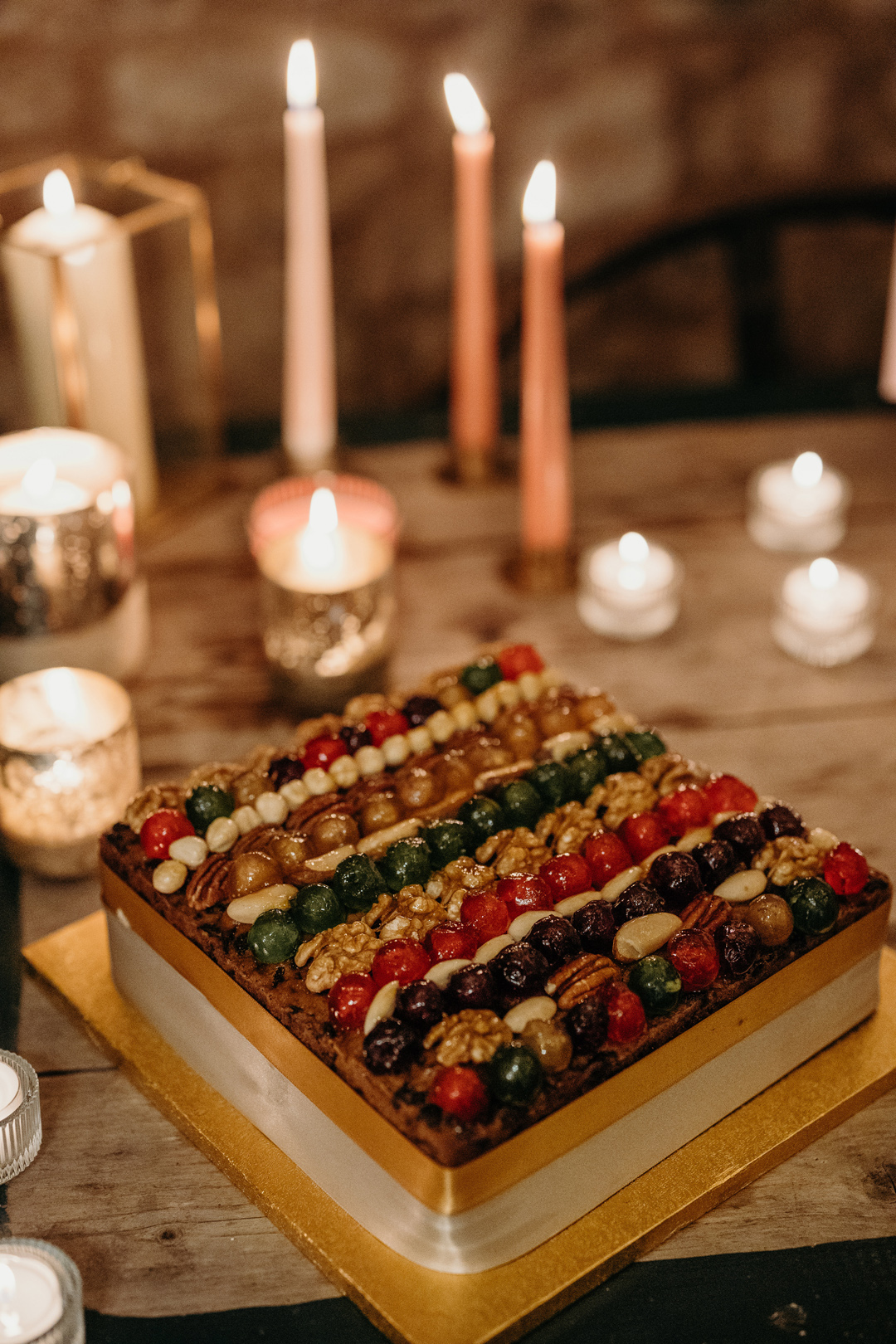 Later on, Hannah and Craig started the dancing with a first dance to 'Higher and Higher' by Jackie Wilson, a last-minute choice, followed by party and ceilidh dancing.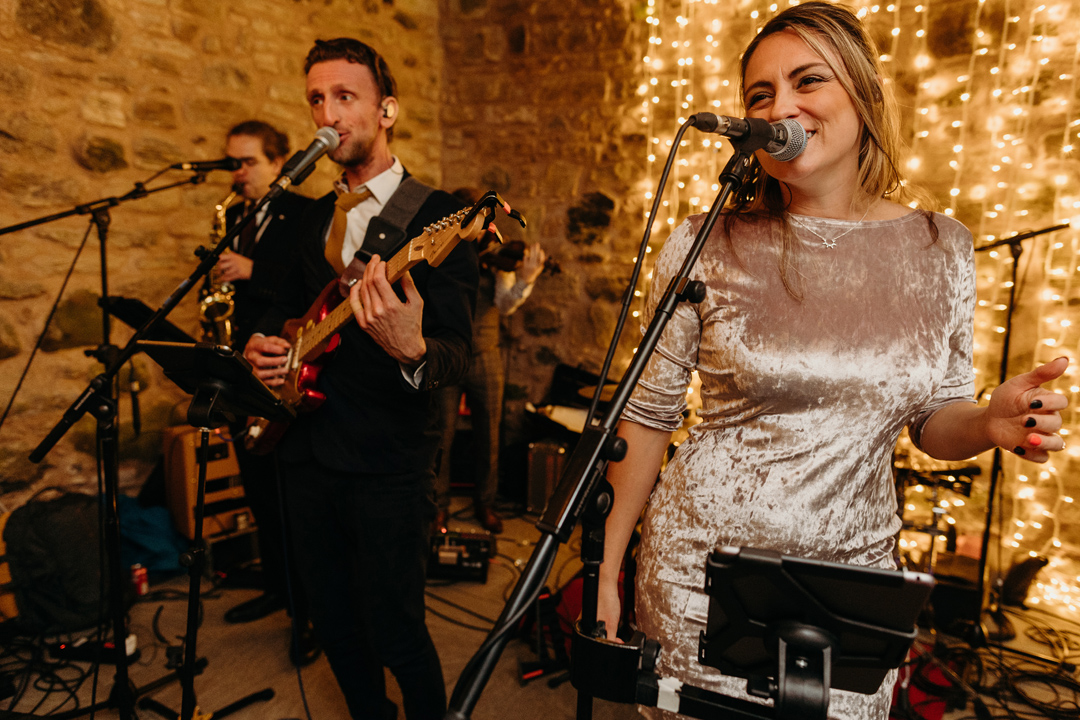 "A couple of days before the wedding, we put a selection on in our garden with Craig's sister helping us choose the least cringe option."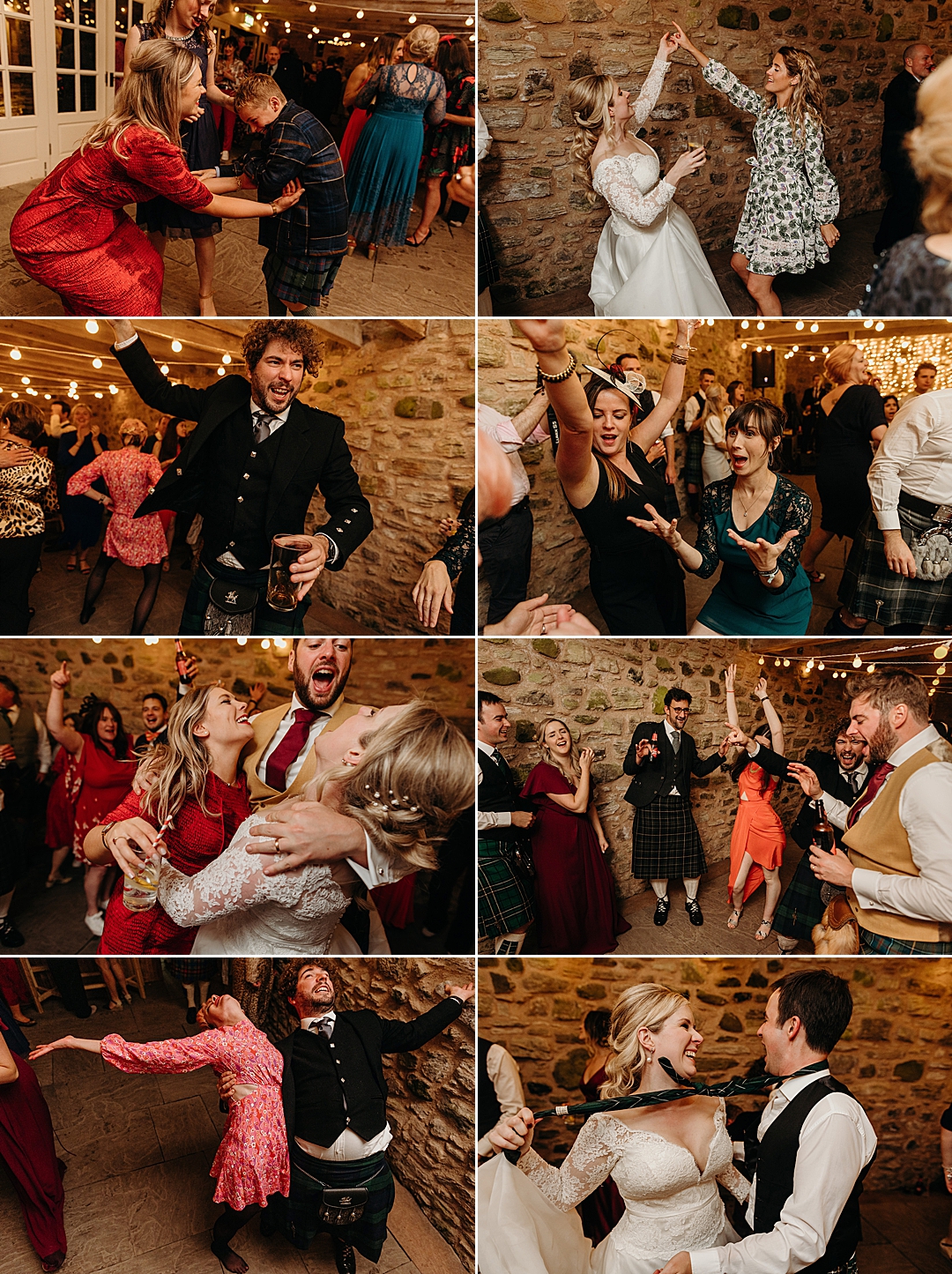 "Our band was Corra – the dance-floor was a riot! Corra played a mix of ceilidh and modern music."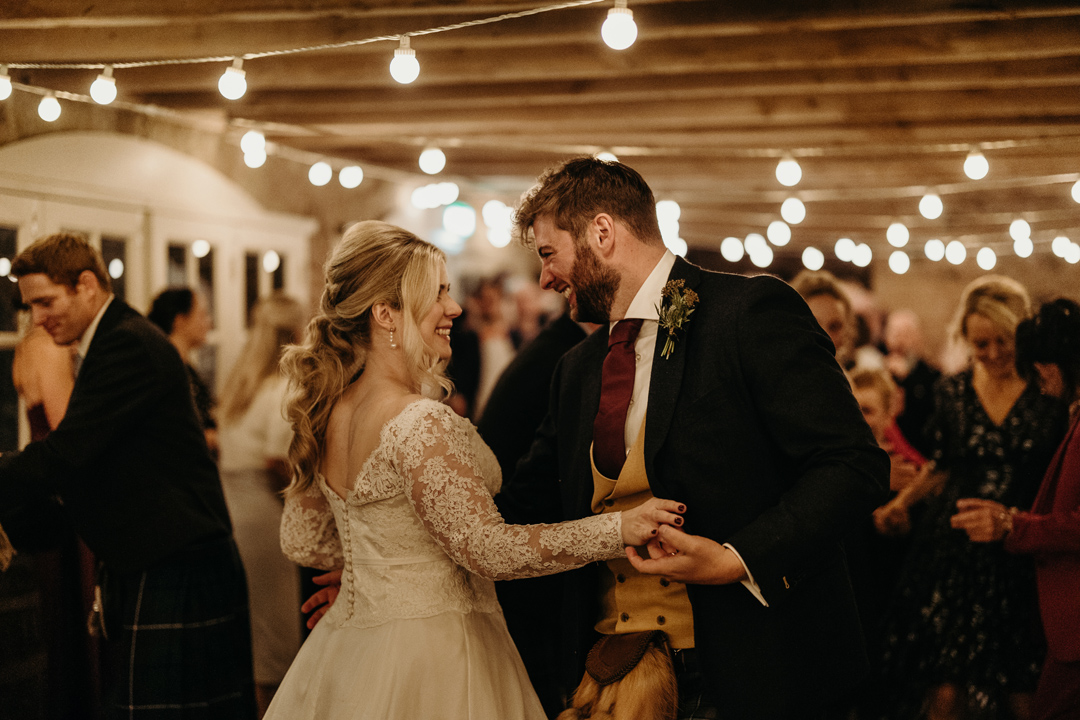 Words of Wedded Wisdom
"Don't ask for lots of opinions. Everyone has one so it'll get confusing."
"If you're the bride, give a speech if you feel able to. I loved being able to thank and acknowledge our friends and family, and talk about how incredible my husband is."
"Trust that the weather does not matter."
"Get the best photographer you can find and afford. The photos are your reminder of the day."
"In advance of the day, write a very detailed schedule of the weekend – a what, where, who schedule. Ask a few trusted family and friends to do a few specific jobs each. Make sure it's not loads of jobs per person so it's not a drag for any one person all day. Give them all a copy of the very detailed schedule."
"Don't feel bossy – it means those who are able to help know what needs done and when and don't flap. I completely checked out of all logistics on the day because we knew our amazing groomsmen and family were to be trusted and knew what needed doing when."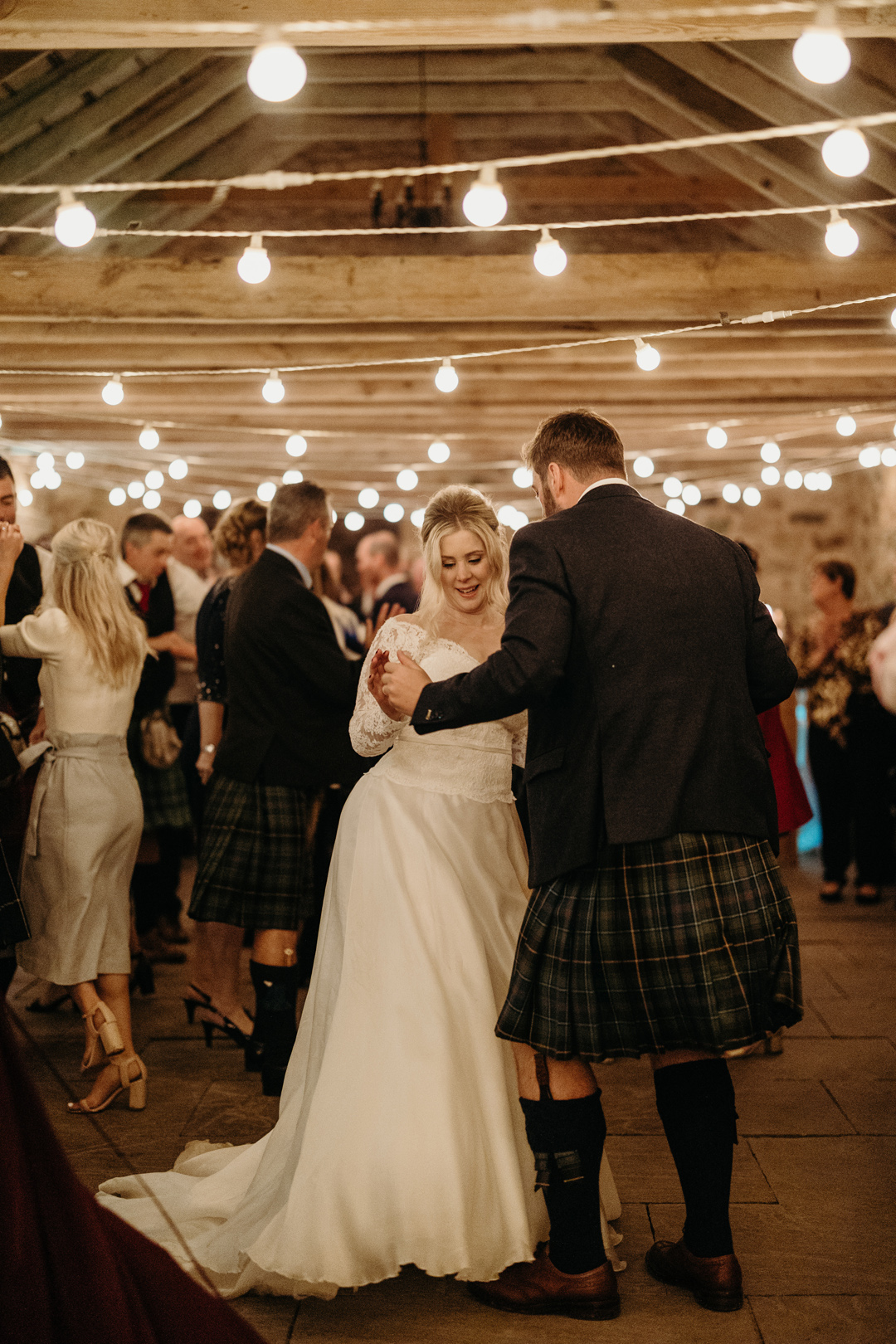 Congratulations Hannah and Craig; what a beautiful and joyful day. Thank you so much for sharing it with us. Richard Skins Photography, what a pleasure to share your divine work once again.
For more brides wearing gowns by Suzanne Neville, please enjoy this selection.
Ele xx