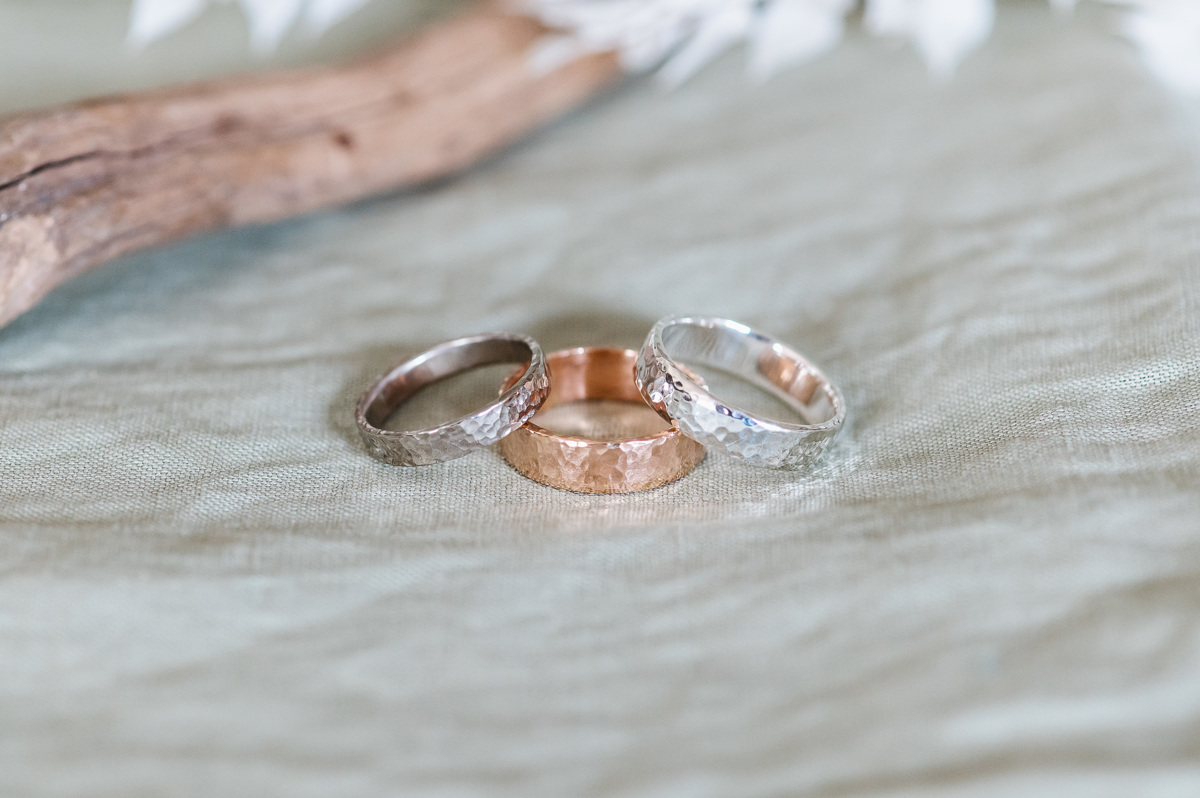 About Nikki Stark Jewellery
Nikki Stark creates simple, elegant jewellery, engagement and wedding rings by hand in a small workshop just outside London.
I have been making jewellery from precious metals for almost 20 years now. It's something I wanted to do for as long as I remember. I've always had a magpie's eye for anything small and sparkly.
About 10 years ago, I made my first wedding ring for a friend. She wanted something pretty and rustic, very different from what was available on the high street. Since then, I have received more and more commissions for wedding jewellery, which fits perfectly with my obsession with rings! I really love being involved with something so personal and special.
My own designs are understated and delicate. The detailing is contemporary but the scale sits well with vintage as well as modern designs. Most pieces can be tweaked to sit with different shaped engagement rings and I can make silver prototypes so you can try the two rings together. In addition to my own designs, I supply traditional bands, and occasionally take commissions for bespoke pieces.
As well as my cold forged pieces I make lost wax cast rings. Lost wax casting is a very old method of making jewellery where a form is carved from a piece of hard wax then cast into metal. This is a really good option if you are looking for something more organic and truly unique.
My collections include a range of stone set rings and necklaces, which are great for bridesmaid gifts. Take a look at my website for galleries of past commissions, information on different metals and finishes, as well as my own designs. Please send me an email with any queries, I'm always happy to answer questions and discuss any special requests.
Videos
Reviews
The hand hammered wedding ring that Nikki has made me is simply beautiful. I searched high and low for a hand made, ethical wedding ring at an affordable price and Nikki stood out from the others by a mile. Nikki kindly allowed me to visit her workshop, where we discussed all of the options in detail. The service has been top-notch throughout. And most importantly... such an exquisite ring!
Ben via email - 4mm 9ct rose gold band
Great customer experience. After sending in photos of my engagement ring, I had a custom made made wedding ring made out of silver to check sizing and then a bespoke white gold wedding ring which is PERFECT! Thank you!! xxx
Melanie on Etsy - 2mm 9ct white gold wishbone
Nikki I cant thank you enough! From start to finish you really made me feel like a valued customer, my ring is perfect! I am so in love with it! Roll on the big day
Gemma on Etsy
I am OBSESSED with this ring! It is so gorgeous and such high quality. Nikki was super understanding regarding a bit of a time pressure and I can't thank her enough! Incredibly happy with the service and product; 10/10 recommend.
Kristine on Etsy - 1.2mm wishbone ring 9ct white gold
Nikki made the most wonderful pair of chevron gold wedding bands for me, I love them! As well as being beautifully crafted, the whole process was really efficient, from sending samples for sizing to making sure the rings arrived in time on a tight deadline. I could not recommended more highly.
Jackie on Etsy - pair of wishbones
I am speechless. My beautiful wedding ring... I am over the moon with it! So dainty and just gorgeous. Thank you so much!
Jenny on Etsy - 1.2mm 9ct white wishbone
Frequently Asked Questions
Is your jewellery ethical?
I think this can be quite a complex question, but I do try to do everything I can to make my work as ethical as possible. All pieces are made by hand by me in the UK. My standard gift boxes are made of a plant based, biodegradable material, and I use plastic free envelopes for sending out orders.
Solid precious metals are much longer lasting than anything which has a temporary plated surface. Although more of an upfront investment, pieces which can be worn for decades rather than a year or two will provide much better value in the long run, as well as reduce waste.
The gold and silver that I use is all recycled. I can source traceable low impact ethically mined stones from several suppliers.
Can you shape a ring around my engagement ring?
Yes, this is pretty much my bread and butter. I make wishbones and curved rings to fit around all different types of engagement ring. I offer a silver trial service to get a great fit between the two pieces.
Can you make a ring with a larger stone / wider band?
Yes, making each piece to order means that the potential to tweak and amend designs to create something unique is really endless.
If you have seen a ring style you like but would prefer a different stone, material, or proportions please send me an email for a quote.
Natural gemstones do vary in terms of hardness and translucency. Some softer stones aren't able to be cut into more complex shapes. (no baguette rings in turquoise or labradorite, sorry, they would be lovely.)
How much do your pieces cost?
My prices range from around £20 - £1,500, depending mostly on the material used.
Stacking and skinny rings in sterling silver tend to be in the £20 - £100 range
Similar items in 9ct gold will be £40-£200
A pair of wedding rings in 9ct gold is generally somewhere around £300-£800
In 18ct gold a pair of rings is more likely to be £700-£1500
I'm able to offer far more than is on the website so if you don't see the metal/width/shape/finish combination you want please send me an email.
What materials do you use?
All my pieces are made of solid precious metals.
I work in sterling silver, 9ct and 18ct gold, and occasionally palladium and platinum. All of the sterling silver, 9ct and 18ct gold is recycled.
I can source a very limited amount of 14ct yellow gold, but not white or rose.
Platinum is a very dense metal, without getting too much into the science I can only create enough heat in my tiny workshop to make quite delicate pieces in this material.
So you make jewellery?
Yes. I have a teeny workshop with a selection of basic hand tools. I make each piece individually to order using traditional techniques.
Making to order this way allows me to offer all UK ring sizes and half sizes to get you the perfect fit, and to be flexible with my designs.
Articles featuring Nikki Stark Jewellery