Where has the summer gone to? It's at this point in the year, when the nights are starting to draw in just that little bit too much, and the Proms are coming to an end, that I start to feel nostalgic for the hot summer days of July and August. I do hope that we are treated to some lovely weather this September.
For today's wedding we are going back just a few months, to May this year, for the wedding of Nikki, a stylist and wedding stationer and Ant, an architecture associate. It's such a delight to share this today as Nikki is the talent behind wedding stationery company Knots and Kisses. Not only have we shared her work before on Love My Dress, she's a valued member of our wedding directory Little Book for Brides. Her wedding has the most beautiful stationery and signage – perfect inspiration if you are considering the look for your own wedding at the moment. Personally, I'm a big fan of the Cocktail Menu blackboard and Cake Menu.
The location for Nikki and Ant's relaxed, music-filled, garden party wedding on 27 May 2017 was Arts and Crafts house Coombe Trenchard, near Okehampton, Devon. The couple wanted to truly reflect themselves, their personalities and their loves in their day. They chose a colour scheme of navy, dark wood and the lovely colours of café au lait dahlias and dark pink peonies as a starting point, along with allusions to their favourite films and books. Over to Nikki to explain more.
"The inspiration for our wedding styling came really easily; it was mainly inspired by us and our house. We had just bought a town house in Torquay which we are in the process of renovating and we had picked a really gorgeous navy to paint all of the walls in the downstairs areas in – along with my love of café au lait dahlias and dark pink/red peonies the colour scheme just came quite naturally. As a stylist and stationer I've always advised clients to pick two or three base colours and one or two accents when deciding on a colour scheme as a two colour scheme can look very flat and unnatural so we decided that blush, dark red/pink and navy, with a base of dark green foliage, tweed, dark wood and ivory, would look beautiful. It totally reflected us as we're just not 'light pastel' kind of people!"
Photography by  Clare Kinchin
"We wanted to incorporate lots of the things we love and make it a true reflection of us. We love taxidermy and animal skulls and have a couple in our house as décor so decided to use a subtle skull motif throughout. We also used plenty of dark wood and rustic / industrial items – we are not people who like everything looking too perfect. We like furniture which is very loved and so we wanted to reflect this in the wedding. We are also both absolute geeks when it comes to music, film and books and so it was important to incorporate this into the wedding."
Nikki drew on her knowledge and contacts in the wedding industry to draw together all of the elements for the day. The criteria for their choice of venue was easy, as they knew that they wanted an informal weekend celebration.
"As someone who works in the wedding industry, as soon as Ant proposed there were a few venues which immediately sprang to mind. We weren't particularly set on a specific location within Devon or Cornwall – although we knew we wanted to get married in the South West and invite all our friends and family down to Devon for a relaxed wedding weekend. I'd visited Coombe Trenchard before to meet with Sarah and loved it instantly as it felt so relaxed and homely, and the views and gardens were spectacular."
"I run my own wedding stationery and styling company so obviously the stationery elements for the day were very exciting for me to create. Not having a sit-down meal I didn't have place cards or a table plan to work on so I concentrated on lots of bespoke signage for the day, painting the backdrops and signage for the photobooth, dessert cart and popcorn bar and I also created Order of the Day cards which sat on each chair and gave our guests an idea of what would be happening throughout the day."
"We didn't want our wedding to feel at all themed, but we still wanted it to be beautiful and pretty so we had subtle nods to 'The Hitchhiker's Guide to the Galaxy' in our invitations and readings."
Nikki's sparkling hair-comb by Kye Tew Jewellery and beautiful T-bar silver, faux fur cape from Blanche in the Brambles and ivory Rachel Simpson shoes all add to her vintage-inspired look. If you haven't already come across Rachel Simpson's vintage designs, please go to her Little Book for Brides listing here for a super reader offer, and explore the collection on our Style Files here.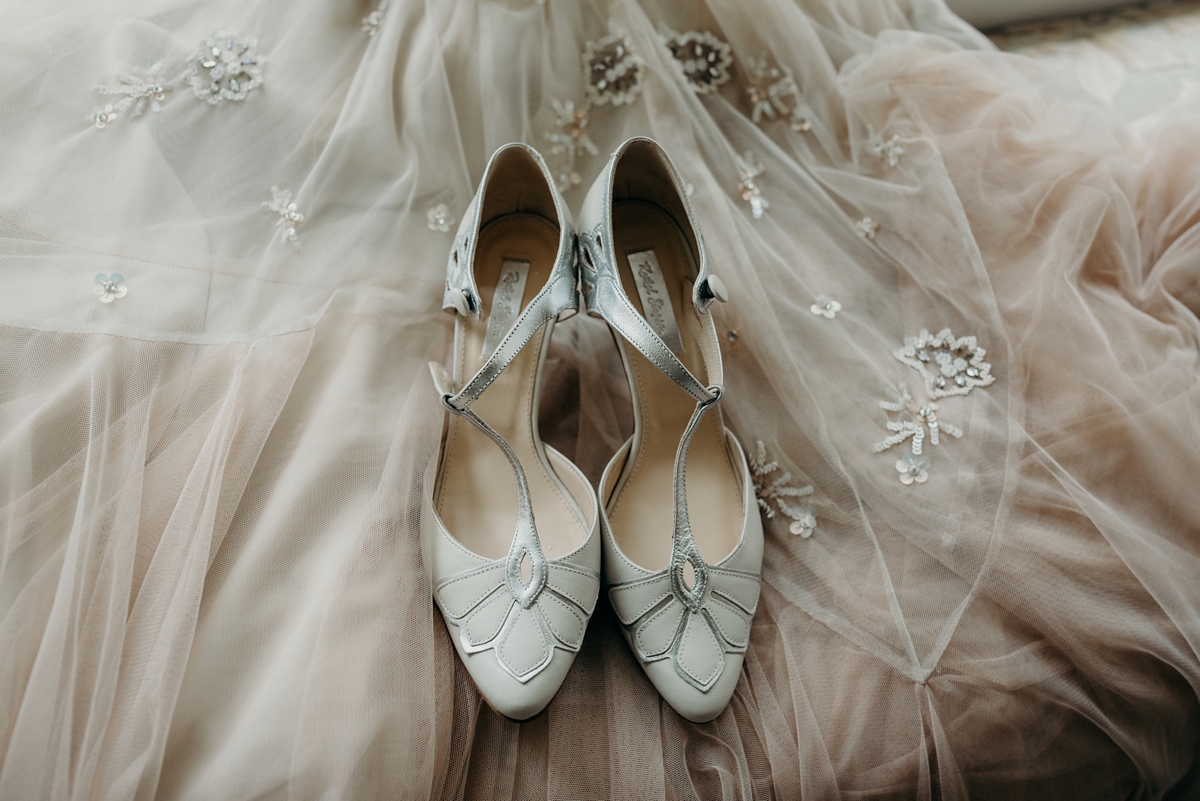 The bride's Needle and Thread gown is the most beautiful shade of blush, embellished at the shoulders with feathers. I love the scalloped beading and neckline, and the drop-waist leading into the beautiful blush skirt.
It looks perfect with the country garden backdrop and the Edwardian style of the house.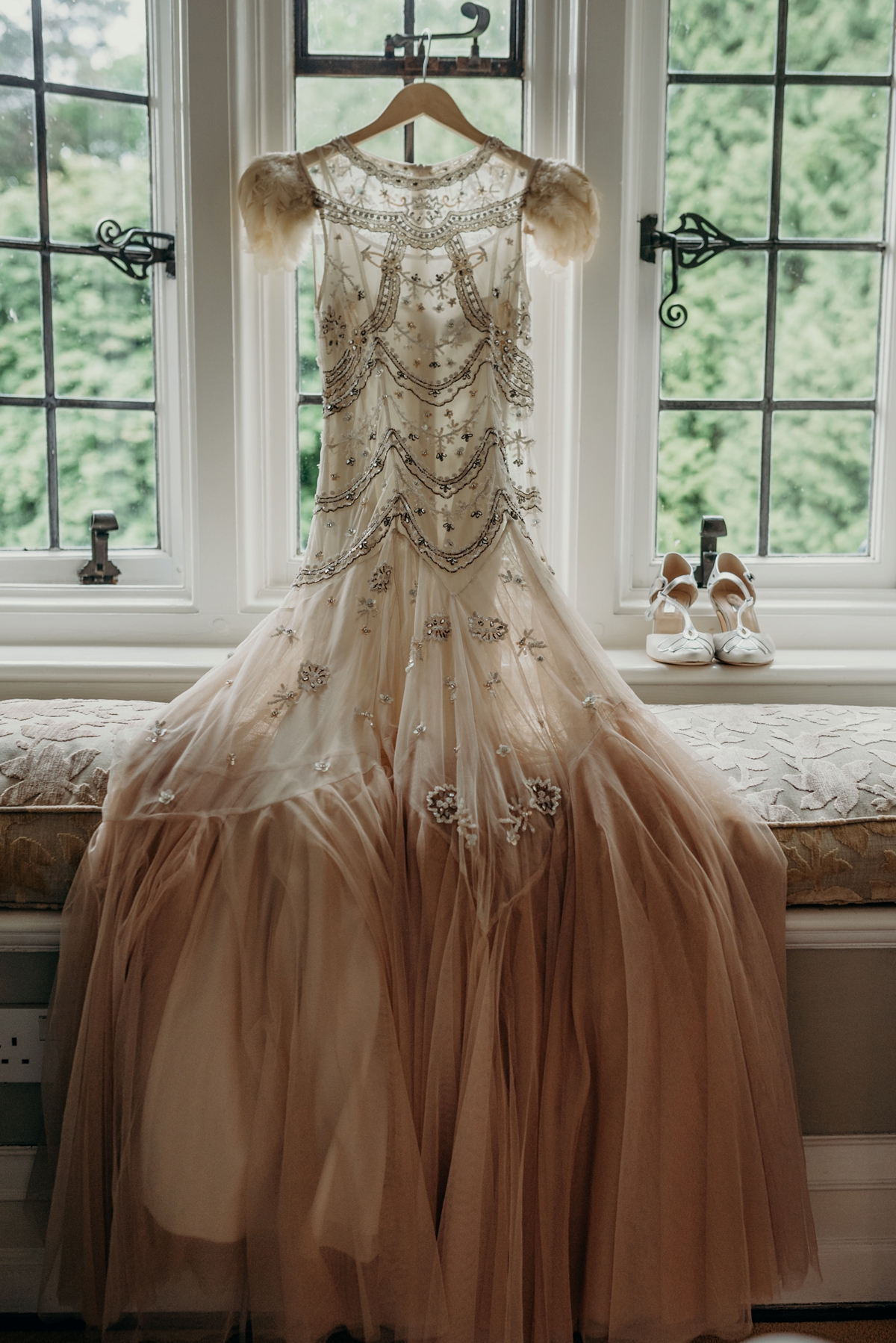 "Weirdly I had written a blog post six months before Ant proposed about great value online wedding dresses and although I wasn't thinking about getting married something must have stuck in my mind. When Ant proposed I couldn't stop thinking about this dress. It totally wasn't what I thought I would go for as I'd always assumed I would pick a tea-length dress, but I couldn't get it out my head and so three weeks after Ant proposed I bought it."
"I tried it on in my bedroom when it arrived and I just knew it was the one."
"I did decide that sleeveless wasn't for me though; it just needed something and I loved the idea of feathery shoulders. I spoke to Kim at Abide Maids and she did an amazing job adding the blush feathers for me and it just made the dress perfect."
"I wanted something that was slightly theatrical but also super relaxed and comfortable and it was the best decision as I was able to run around chatting to guests and get involved in the party all day long."
Nikki's niece was bridesmaid, and wore a dainty ivory John Lewis dress and a faux fur shrug to match the bride's. Her glorious flower crown was created by Brompton Buds, and she carried a simple piece of greenery.
"Emma created a stunning flower crown for my niece Abi who was my bridesmaid which looked great against her ivory dress. I decided I wanted her to carry a fern as I felt she should be carrying something but with the flowers in her hair a bouquet would look too much."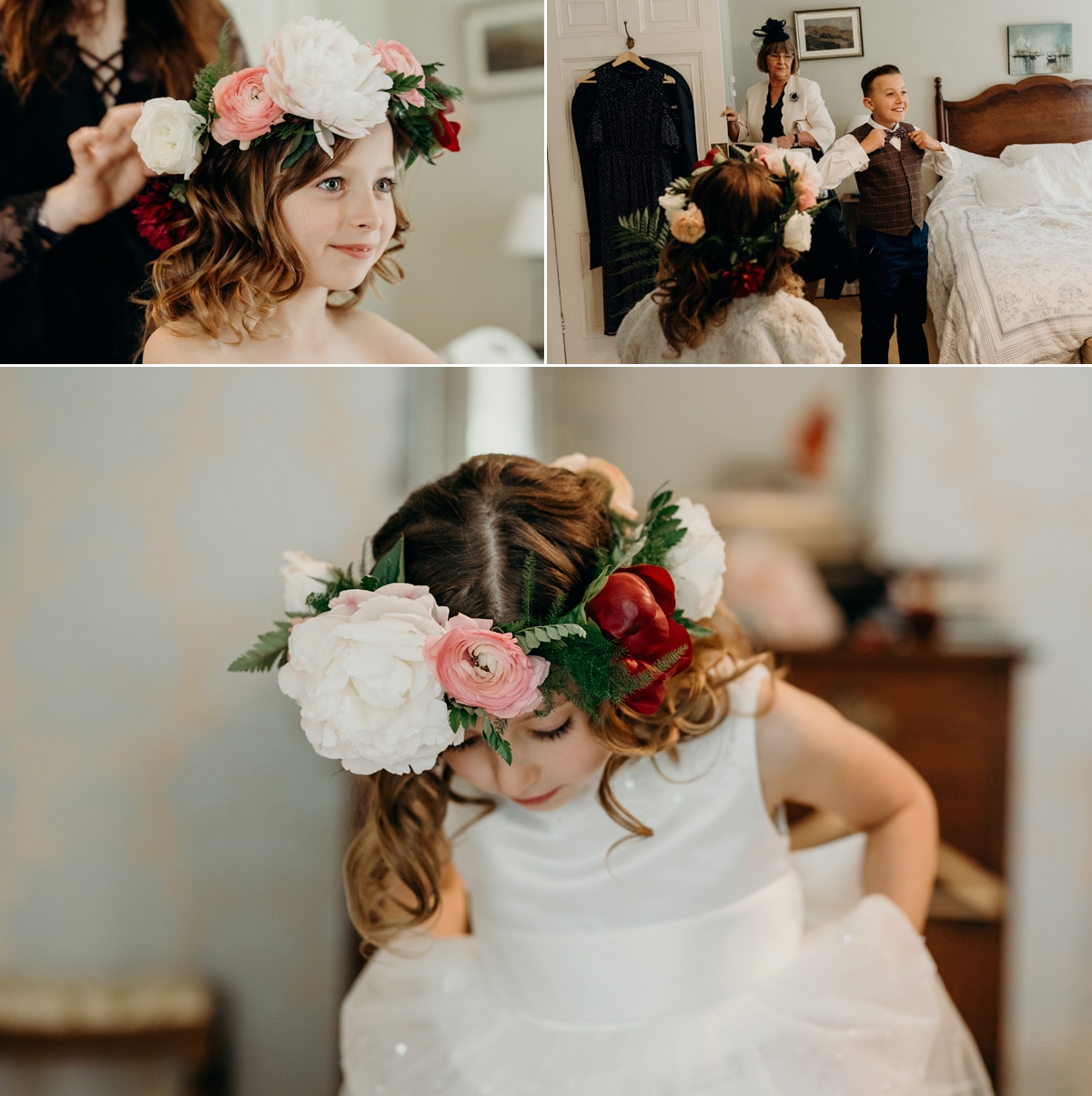 "We narrowed our venue search down to a shortlist of five which we went for a proper viewing at. Most of the venues I'd already been to myself as part of my work so it was really important to me what Ant's instant reaction was to the venues. I could tell immediately that he loved Coombe Trenchard."
"Working in architecture he obviously loved the beautiful Arts and Crafts building itself but the venue just seemed to lend itself perfectly to our idea of a full wedding weekend with a relaxed garden party atmosphere and lots of scope to do our own thing and put our own stamp on things."
Tweed is a recurrent theme for Nikki and Ant, and the groom looks relaxed and comfortable in a tweed suit from The Vintage Suite Hire Company and tie, pocket square and braces from Mrs Bow Tie. The page-boy mirrored the groom in a tweed Monsoon waistcoat and a floral bow-tie, also by Mrs Bow Tie.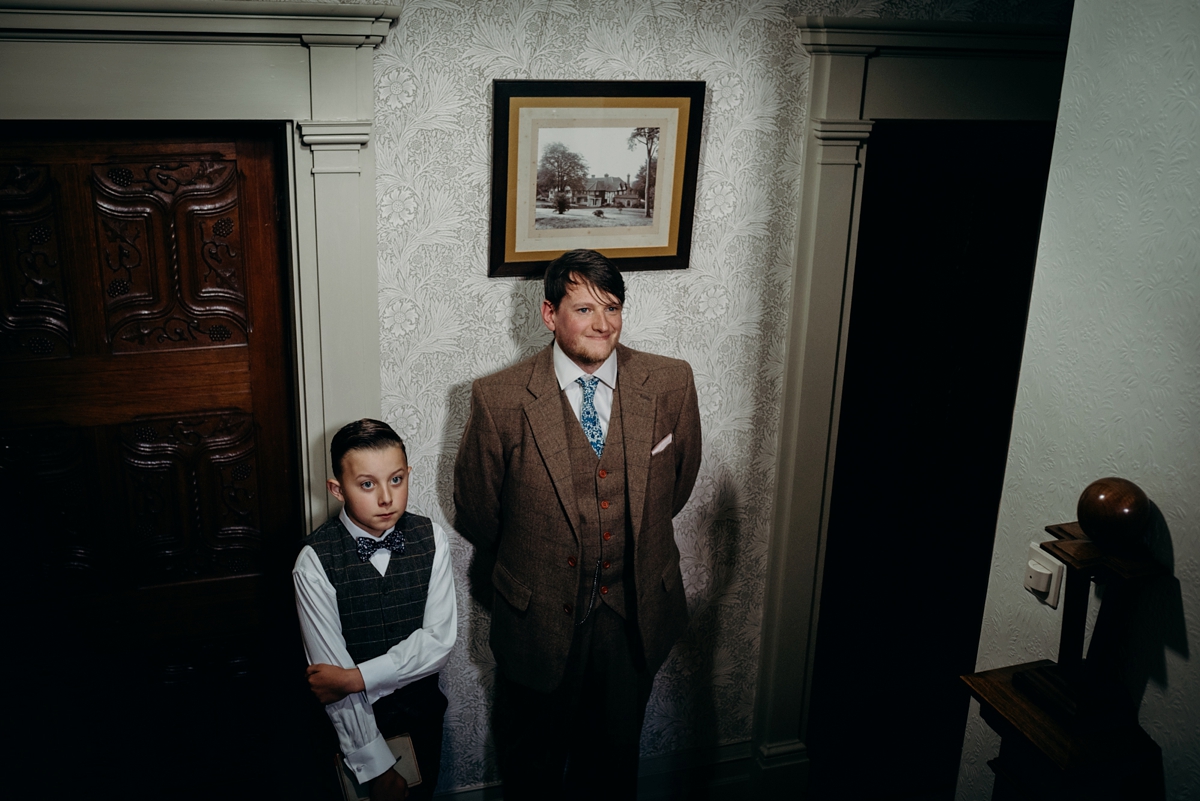 The couple chose to have a 'first look' at the bottom of the staircase before walking down the aisle together to 'Chasing Cars' by Snowpatrol. These photographs are so special; a lovely moment to capture.
"I think we have both agreed that actually the very best part of the day was seeing each other for the first time when I walked down the staircase. We both didn't realise how emotional that would be."
"We had two readings at our wedding which were very personal to us. I'm sure some of the guests didn't get them at all. Neither of us are particularly soppy and so the traditional readings we looked at just weren't right at all for us. I even googled 'alternative wedding readings' but still came up with things which I had heard at quite a lot of weddings. In the end we decided to just pick extracts from books we loved."
"We had an extract from the 'The Hitchhiker's Guide to the Galaxy' which to be honest was the book that brought us together! And we also had an amazing poem by one our favourite sci-fi authors Neil Gaiman called ͞'The Day the Saucers Came' which is a funny and strange poem with a really beautiful emotional ending."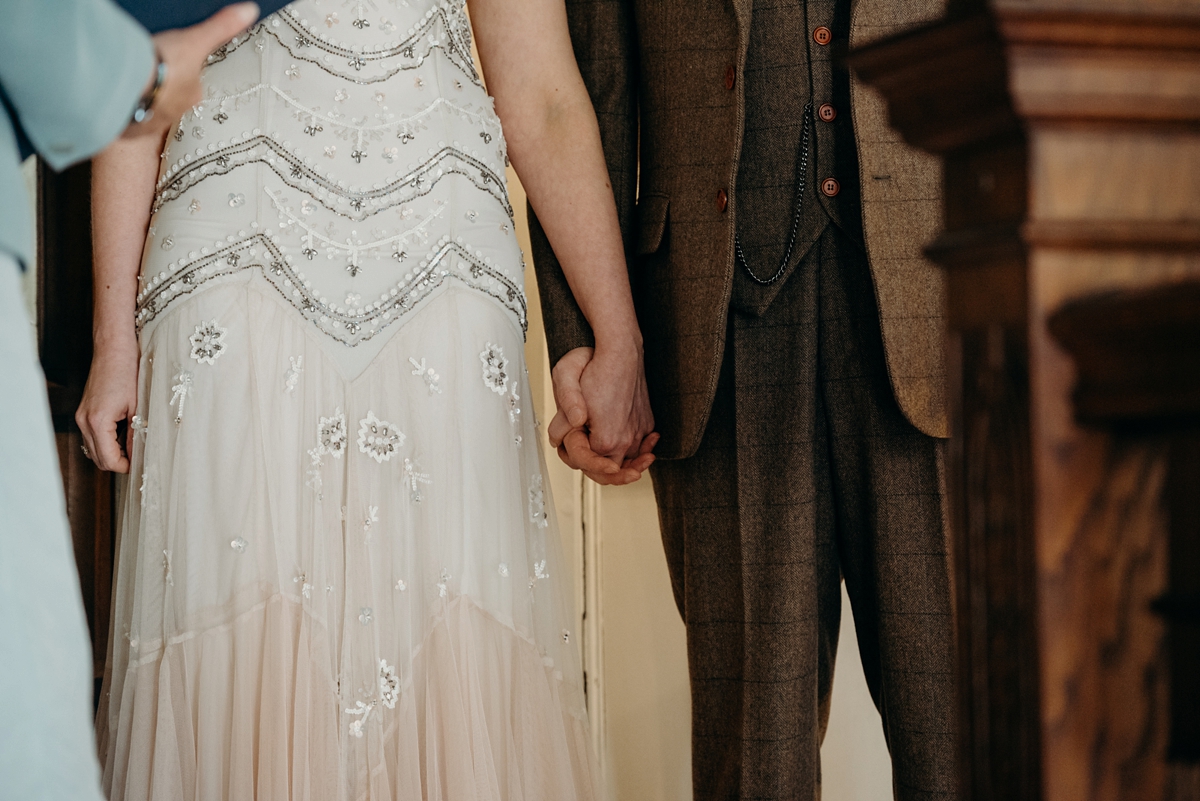 It's so good to see the work of another of our Little Book for Brides and Love My Dress favourite Nikki Stark Jewellery play a part in this wedding.
"I picked a really simple 18 carat gold wishbone which Nikki fitted perfectly around my square set antique engagement ring. Ant decided on a Titanium ring from Justin Duance so it was hardwearing. It was inset with wood and had a sandblasted finish."
The post-ceremony reception held in the gardens of Coombe Trenchard looks like incredible fun with vintage games, space-hoppers, a DIY cocktail bar, dessert cart and photo-booths complete with props. Rather than a traditional sit-down meal, the couple chose to have an afternoon tea provided by the venue, with a pizza van and ice-cream for the evening. The couple worked so hard to style the gardens for both the day and evening, and provide lots of entertainment for their guests.
"We both had such an amazing day … our guests' faces, the amazing weather, all the hugs and laughter, the space hopper races, lots and lots of dancing … and seeing our guests' faces when they realised there was a second terrace and lots more going on in the evening."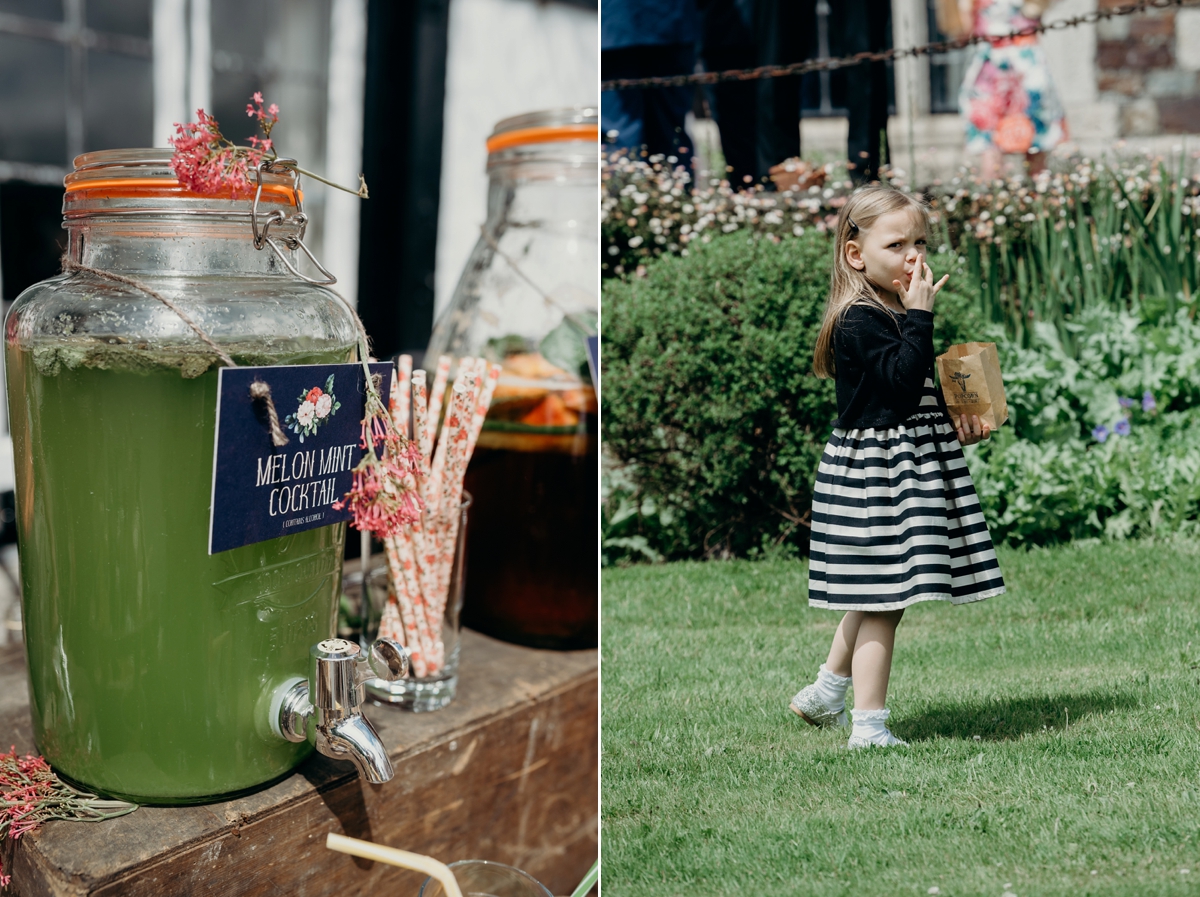 Clare Kinchin Photography, who Nikki knows through her work, recorded the couple's day.
"I already loved Clare's work. She has such a natural style and way of working and her photography always looks so relaxed – it was a perfect match for our wedding. She was more than happy that we didn't want loads of formal photos and didn't want to be away from our guests for very long. She struck the perfect balance and we were blown away with the beautiful results and all the photos of peoples' happy faces."
The couple have been together since 2006, meeting by chance at the Isle of Wight Festival.
"On the first night Ant's friend happened to get chatting to mine about what band was on next and we all ended up chatting whilst the music was on. Me and Ant ended up spending the walk back to the tents together and once we got talking we just couldn't stop as we had so much in common! We ended up spending the entire weekend together – and that was pretty much it. Despite living at different ends of the country at the time we decided it was something special. When Ant proposed on Boxing Day in 2015 we had been together nine years and had been living together for most of that."
"He proposed whilst we were on holiday in Morocco for Christmas. On Boxing Day we had gone out on a camel trek into the Sahara. We both happened to be suffering from awful colds and I almost refused to go but Ant insisted. Ant had planned to propose when we got to the top of a sand dune but I just couldn't make it and when we got off the camels he got down on one knee. When we got back to the Kasbah we were staying in we briefly rang family and friends to tell them the good news and then immediately went to sleep as we were so ill!"
"When we got back from Morocco we immediately started planning and didn't want to have a long engagement as we'd been together so long. We decided on May 2017 as we really wanted a bank holiday weekend and also I was insistent on getting married before I turned forty later that year!"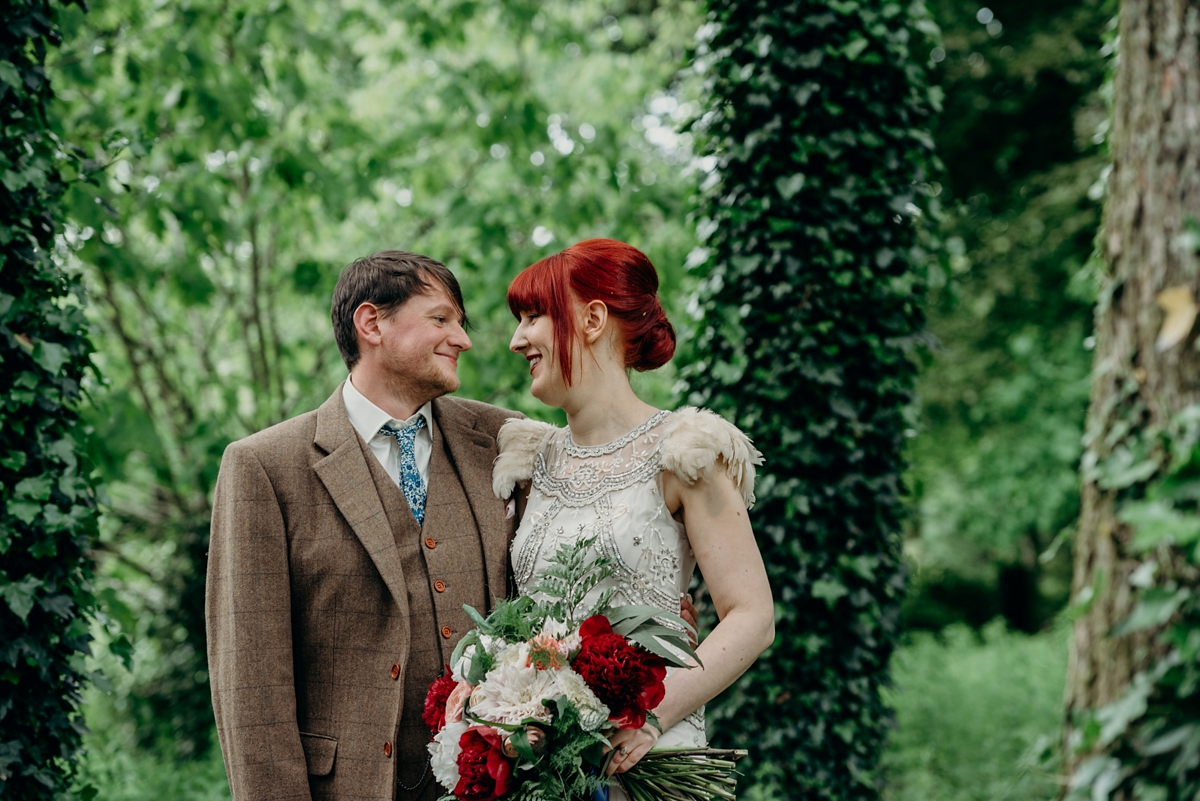 Nikki opted for sumptuous, natural-style flowers, with big garlands of foliage and full-blown stems of peonies, ranunculus and café au lait dahlias. The bouquet and venue flowers were put together by Emma of Brompton Buds.
"I'd always loved Emma's work when I saw her at wedding fairs and events. She has a really natural style and way of working with flowers which doesn't look too forced or formal. I knew when I started talking to her that she totally got what I wanted to do with the flowers at our wedding. I absolutely adore flowers so it was really important to me to include lots of gorgeous flowers throughout the wedding"
"We weren't having a full wedding party though, with no adult bridesmaids or groomsmen, and we weren't having a sit-down meal which would require arrangements of flowers on each table so I was able to allow Emma to go to town on the arrangements we did want."
"I love flower arrangements when they are big and have impact and Emma did an amazing job. She created a spectacular arrangement along with some antlers from Virginia's Vintage Hire to go over the fireplace which was the first thing guests saw when they walked in and she also did a fantastic installation over the corner of the photobooth backdrop which we made, and a garland for the front of the bar. I really wanted a beautiful big hand-tied bouquet with trailing ribbon in navy which looked lovely as a contrast against the blush of my dress. As we were getting married in May it meant I could have my favourite peonies, along with blush ranunculus, leather leaf ferns and Emma even managed to get hold of some café au lait dahlias, my other favourite flower."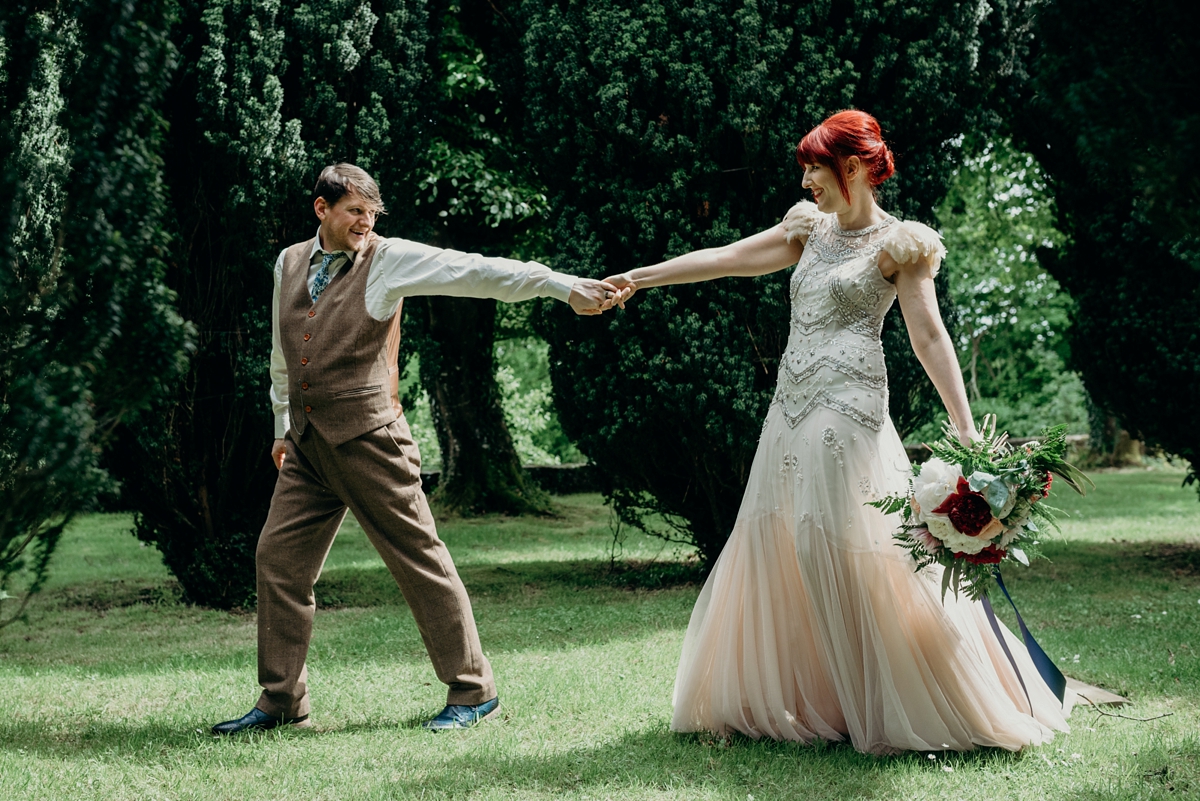 "We loved creating bits and pieces to style our venue. Obviously Coombe Trenchard itself is so beautiful and the interior needs very little styling – so we just used the flowers over the fireplace as décor. But we were able to go to town on the two terraces for the day and the evening. We hired some beautiful tables and carts from Virginias Vintage Hire."
"On the main terrace when guests left the ceremony we created a popcorn bar. Ant made and I painted a sign to go over the table and we used a set of library drawers and some antique boxes to lay out some popcorn bowls."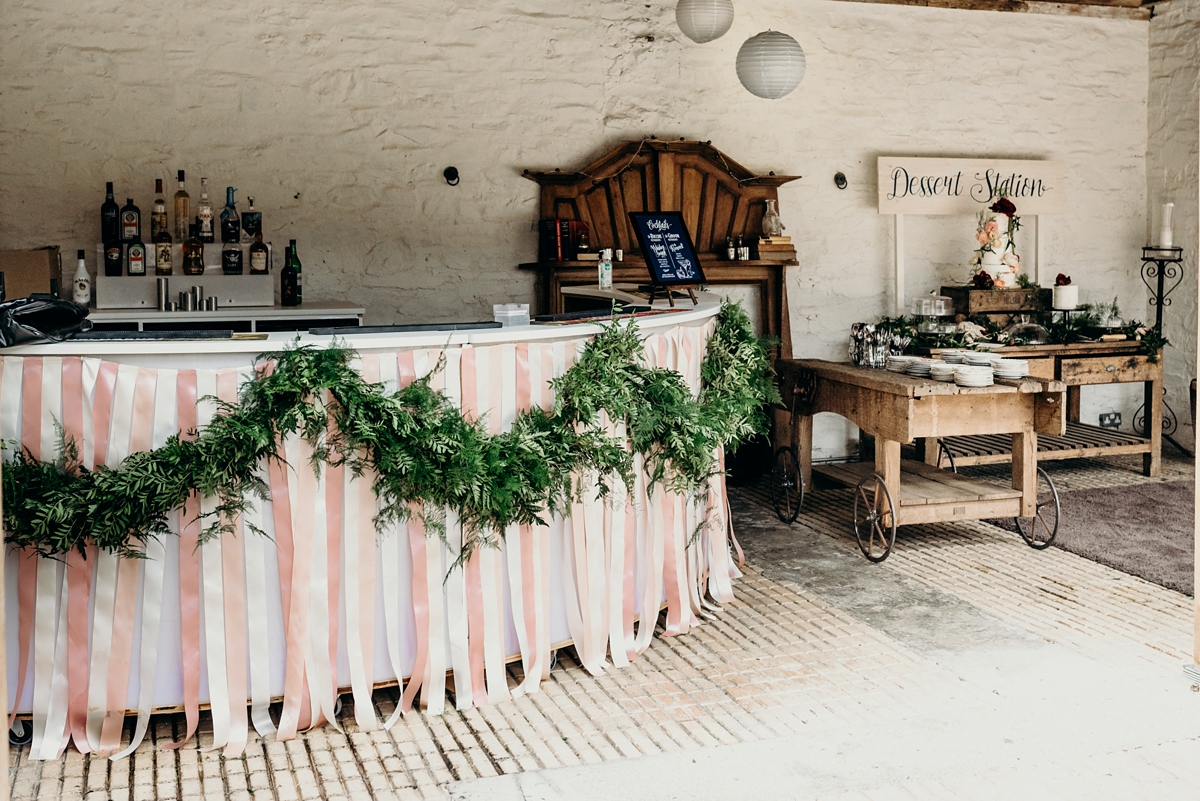 "I stamped brown paper bags for guests to put the popcorn in and had flavour shakers for them to add flavours. On the Italian Terrace and in the Coach House for the evening I used one of Virginia's pantry tables and carts to create a dessert area, using skulls, flowers and apple crates to decorate"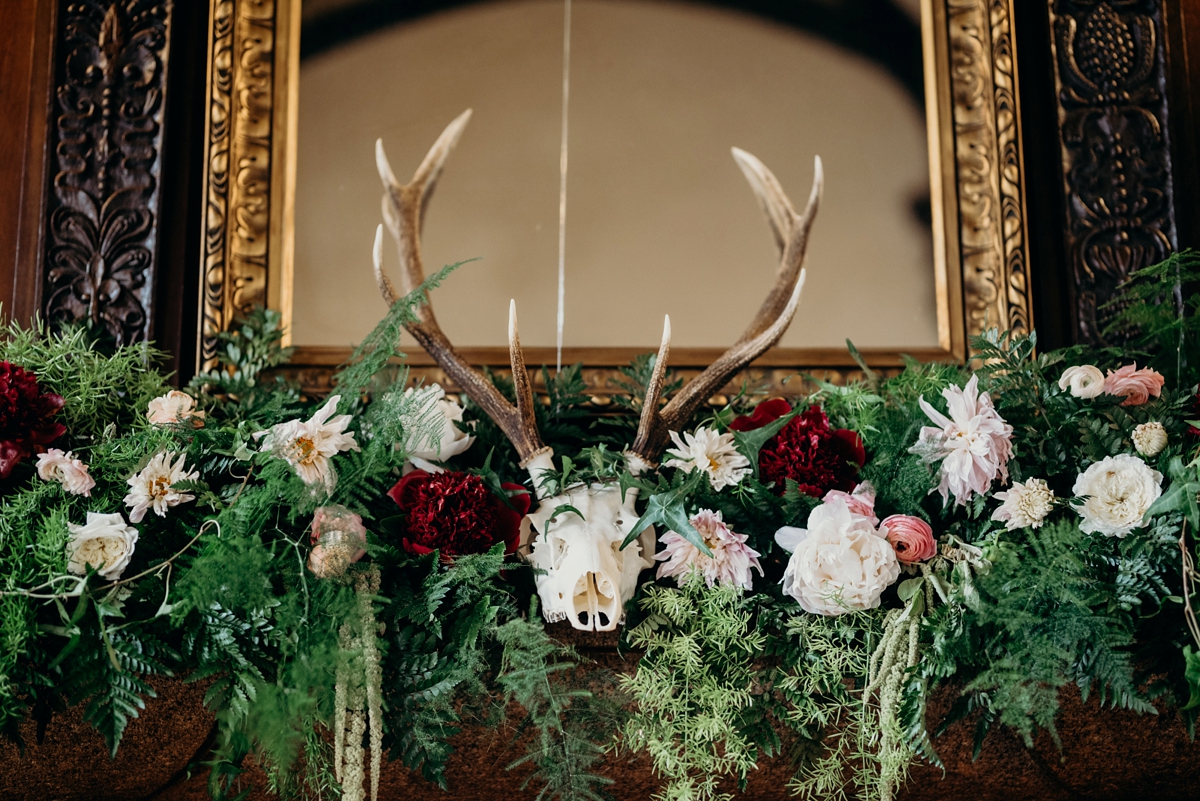 "We also hired in some extra skulls from Cybels Vintage Hire to complete the look. A set of rustic Love Letters from West Country Wedding Planner created a fantastic atmosphere in the Coach House too. For the day garden party we used the garden games which Sarah already has at Coombe Trenchard and also added some space hoppers which we hired in from Best Day Ever."
"Emma from Best Day Ever also made us a ribbon curtain for the front of the bar as well and we also hired in a garden chess set from The Prop Factory.
The tiered wedding cake made a spectacular centre-piece for one of my favourite elements, the dessert cart.
"We ordered a three-tiered semi-naked cake with buttercream from Jennifer at Edible Essence Couture Cake Co. I've always loved Jen's cakes and a naked cake just seemed to work perfectly with our relaxed theme. Jen added matching flowers when she delivered the cake that our florist had left so it all matched in perfectly. Each tier was a different flavour."
"We had an amazing cake tasting with Jen at her studio and we decided on Salted Caramel, Black Forest and Vanilla & Strawberry as the flavours and they tasted amazing! We also had a small separate groom's cake in Bakewell flavour as when we were at the tasting session with Jen, Ant just fell in love with the flavour and so we decided to add a separate tier."
"The cake formed the centre piece of our dessert cart for the evening reception and was surrounded by more foliage and flowers on an upturned apple crate with desserts provided by our evening caterers Two Birds Kitchen."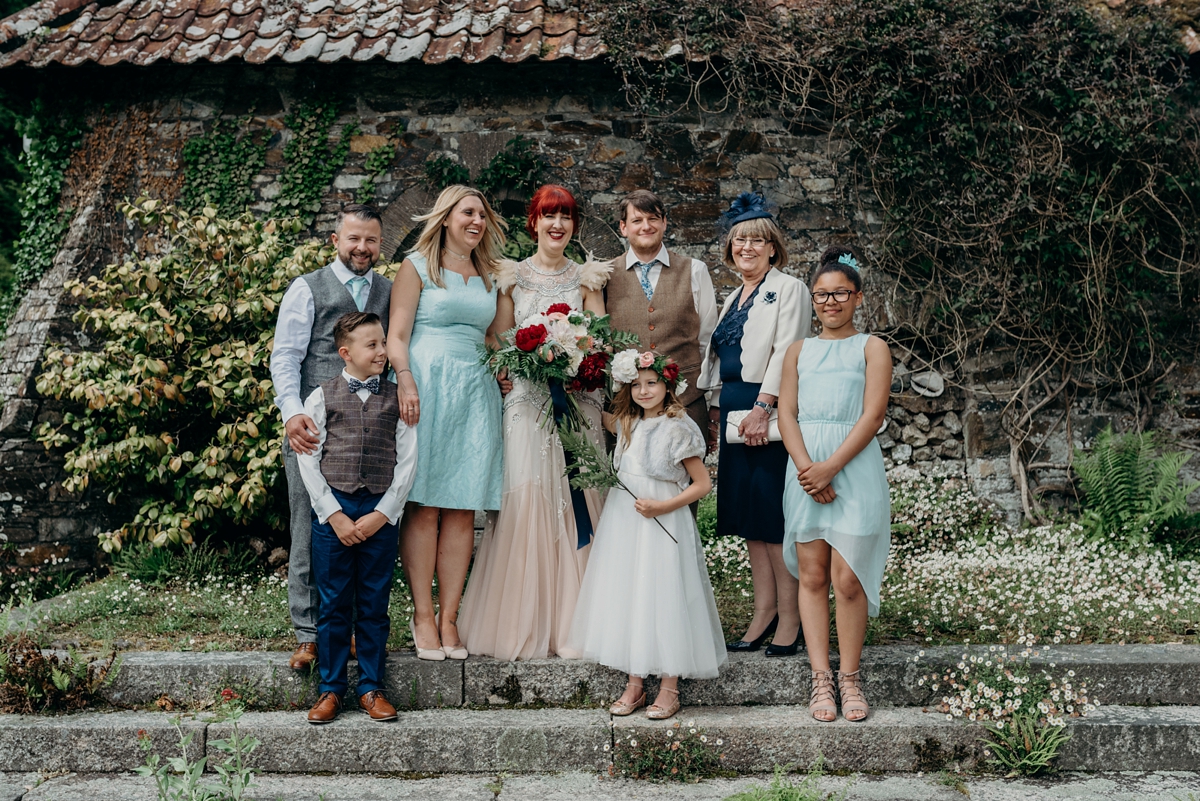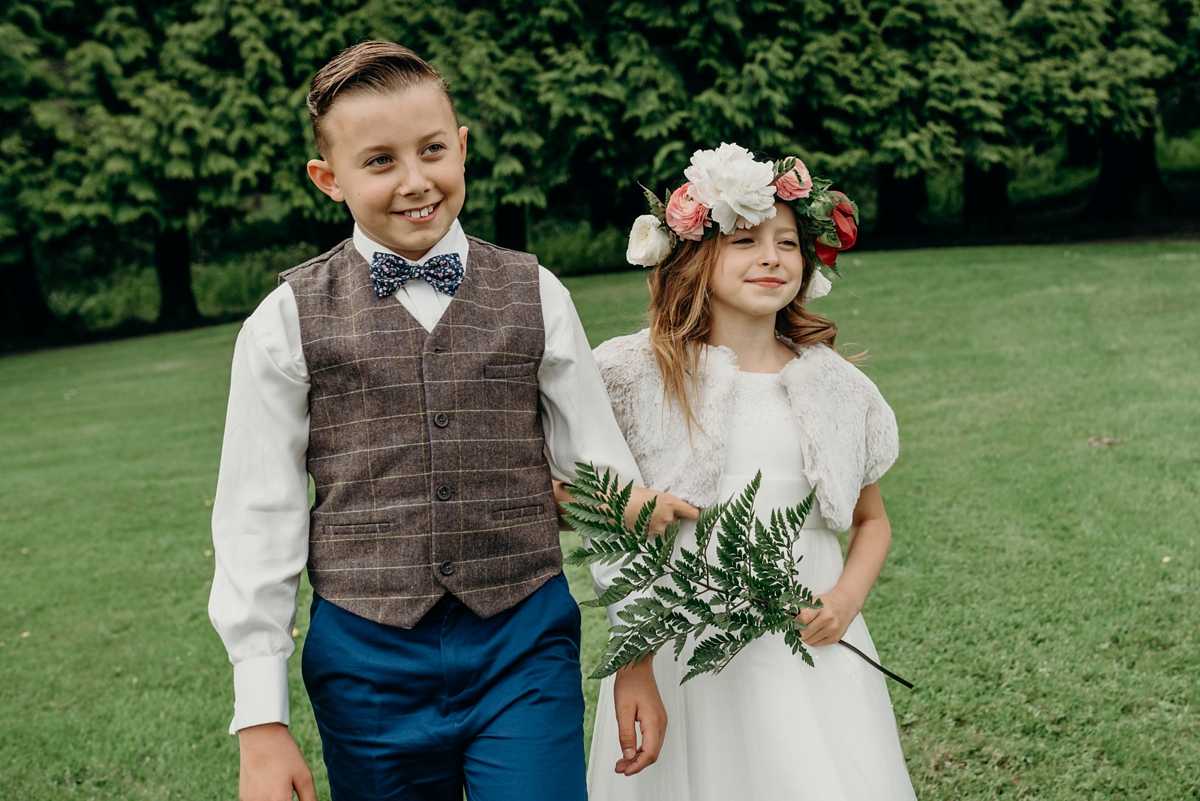 Nikki and Ant changed the entertainment and styling for the evening. As they had such lovely weather, the gardens were ideal for sitting out and eating al-fresco, keeping warm by the fire-pits.
"For the evening we hired some Little Hat Tents from World Inspired Tents and added benches and trestle tables with reindeer skins for guests to sit on if they wanted to escape the band or eat their pizza outside. The main part of the evening styling was our photobooth. Ant made it entirely from scratch himself and then made a large wooden backdrop which I painted up to match our colour scheme."
"I created suitcases of props for people to help themselves to and the photobooth printed out passport-style photos for guests to take away with them whilst we are left with the saved files to look and laugh at for years to come. The photobooth hire will be becoming a part of the Knots & Kisses business."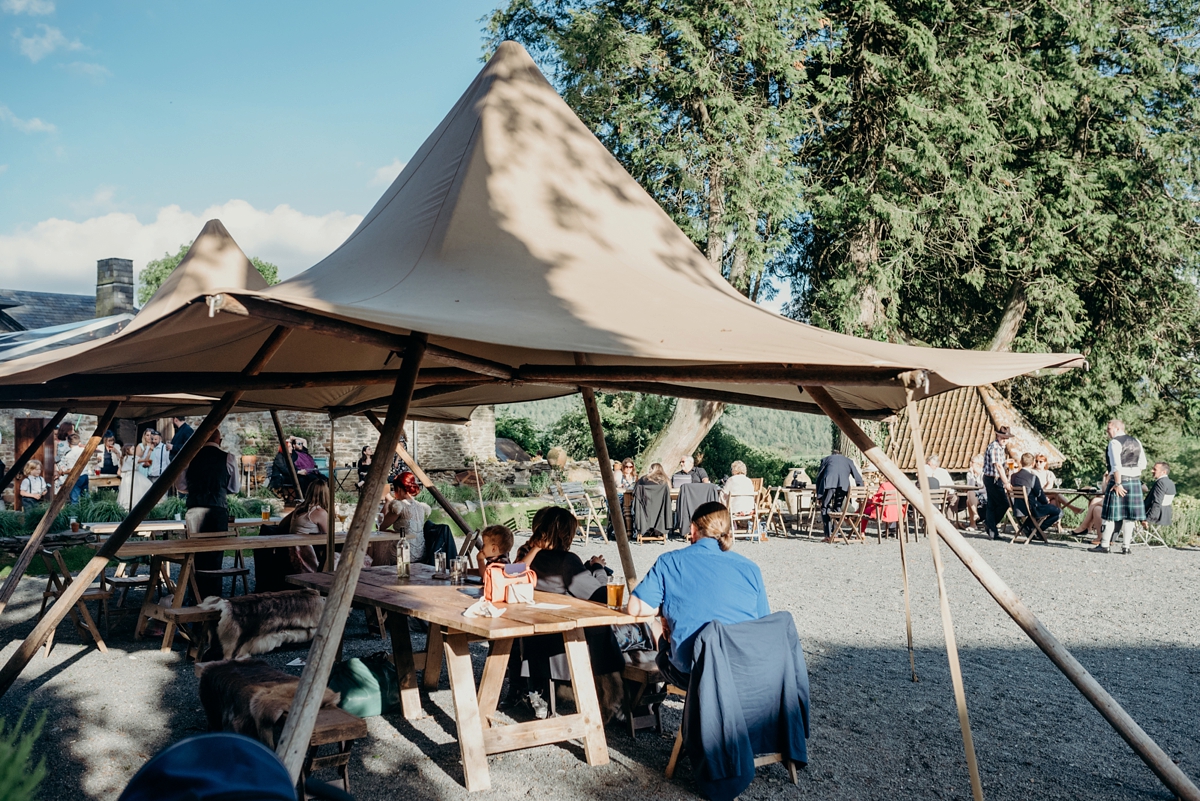 "Photobooth props were very much film and TV-based and we spent a HUGE amount of time carefully working out a playlist for the day and hiring two bands to keep our guests entertained."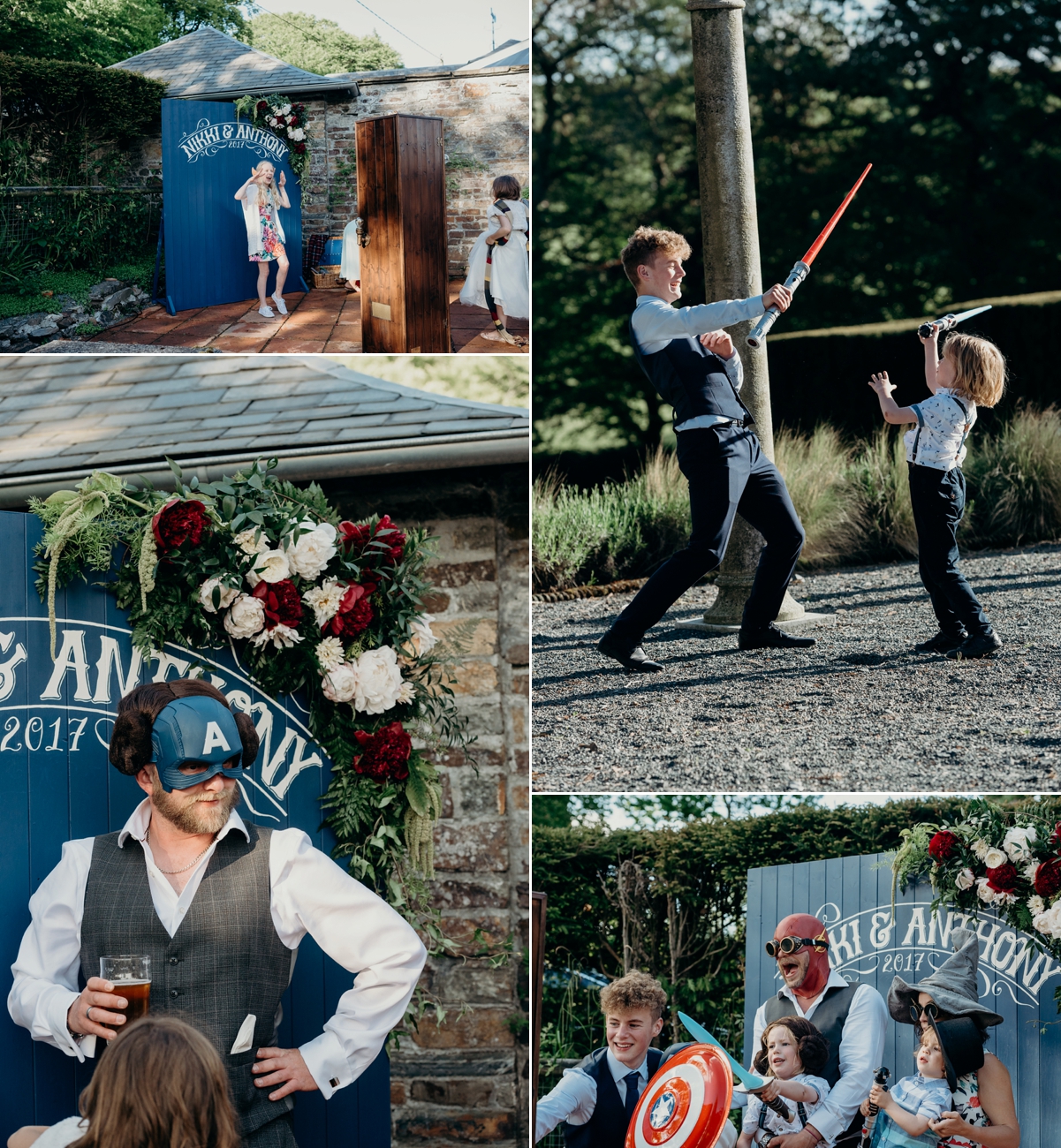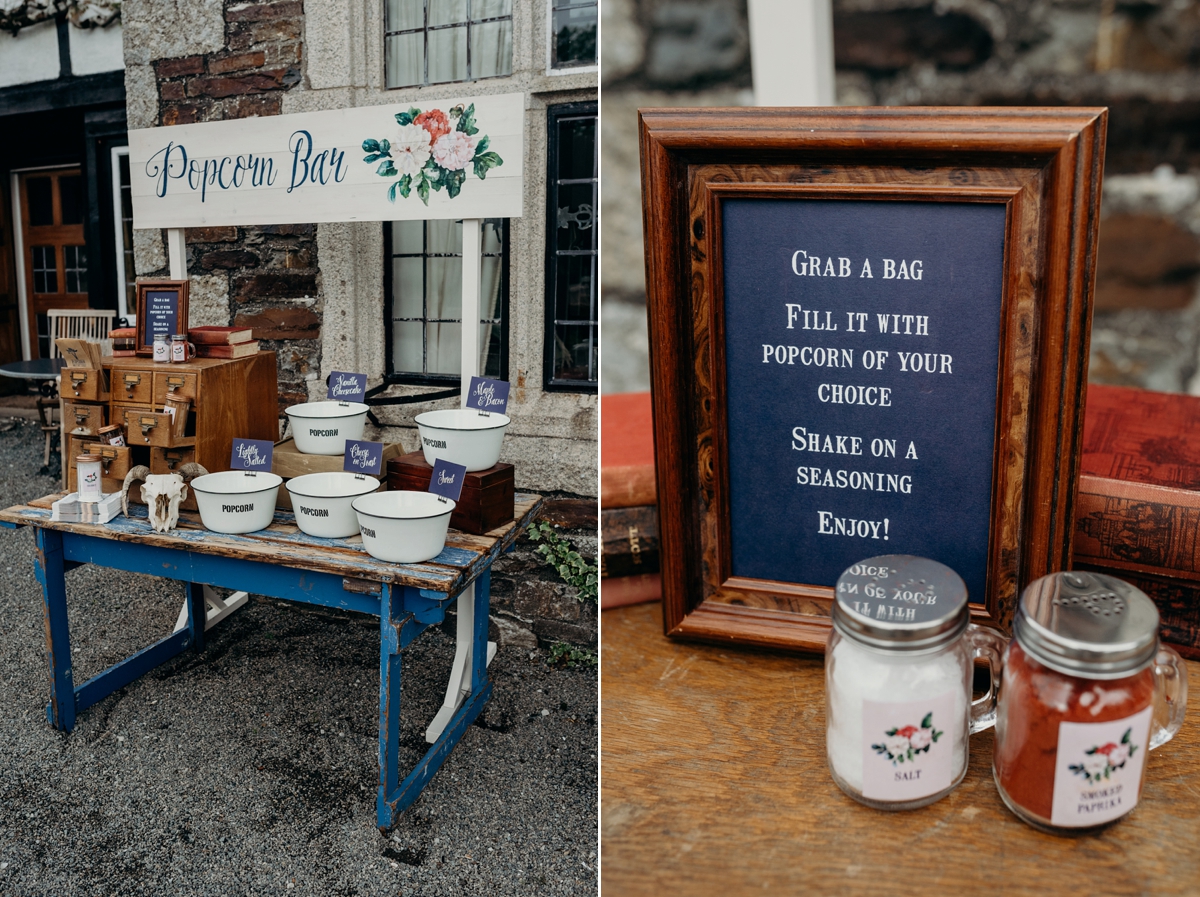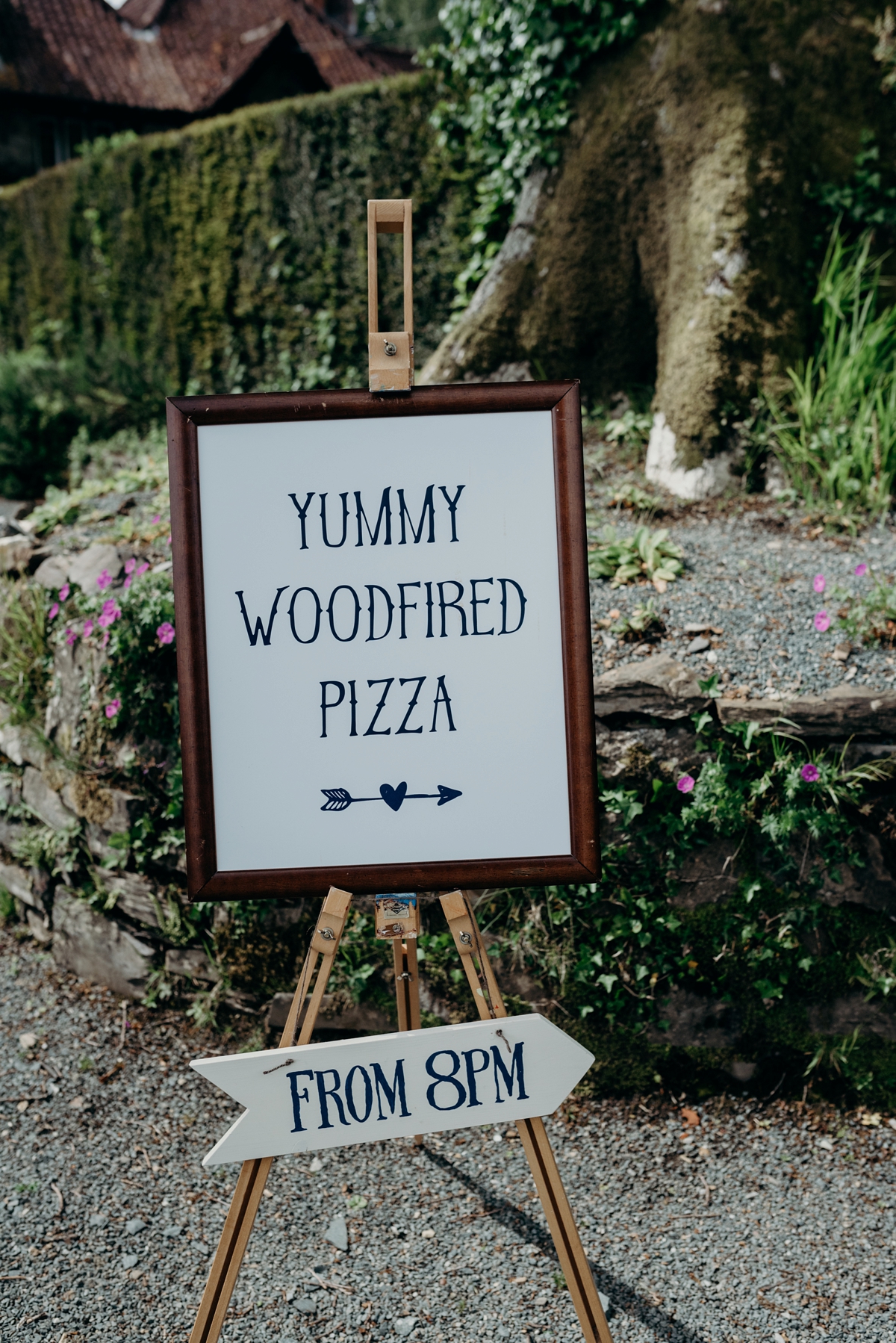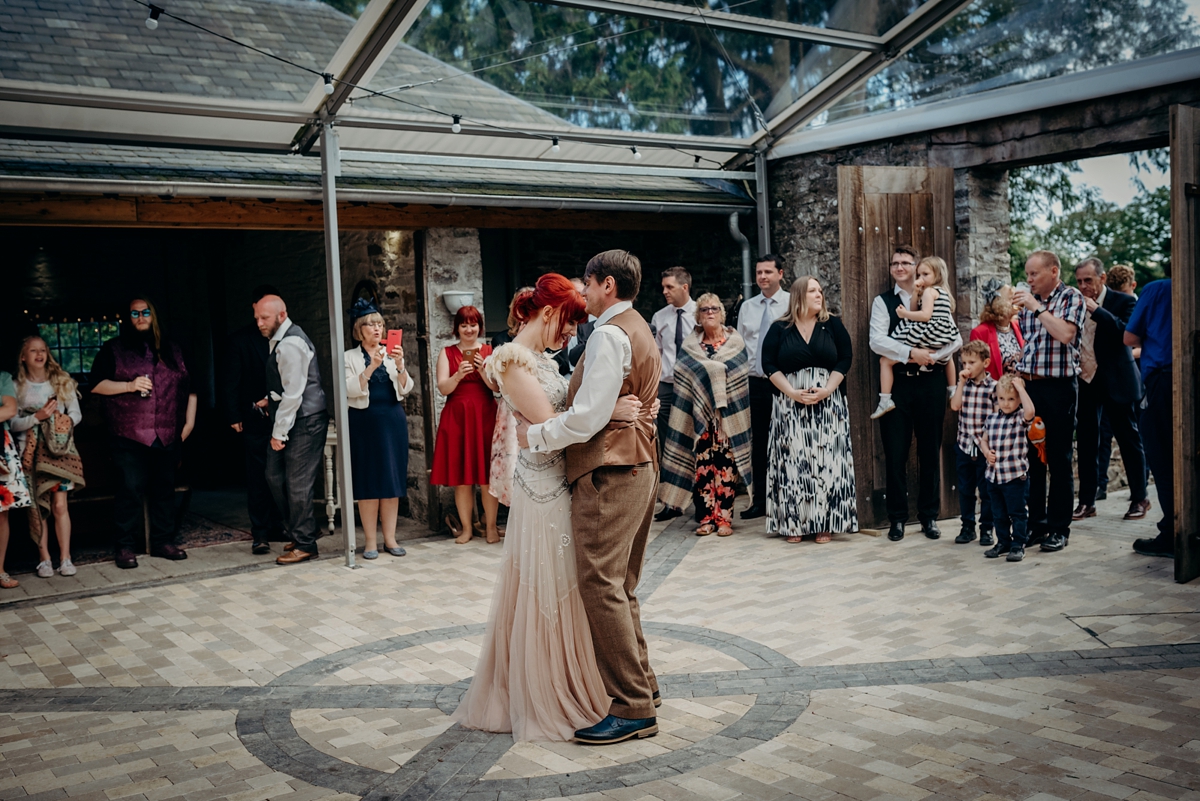 Music was really important to Nikki and Ant, and they hired The Swing Kings to play during the afternoon, and Your New Favourite Band for the evening. Their first dance was to 'Everlong' by Foo Fighters.
"The band were happy to play this for us. The Foos are one of our favourite bands and were playing at that first festival we met at. We picked 'Everlong' because it starts off really slow and acoustic and then gets pretty rocky so we were able to invite our guests on to the dance floor half way through for a proper bounce."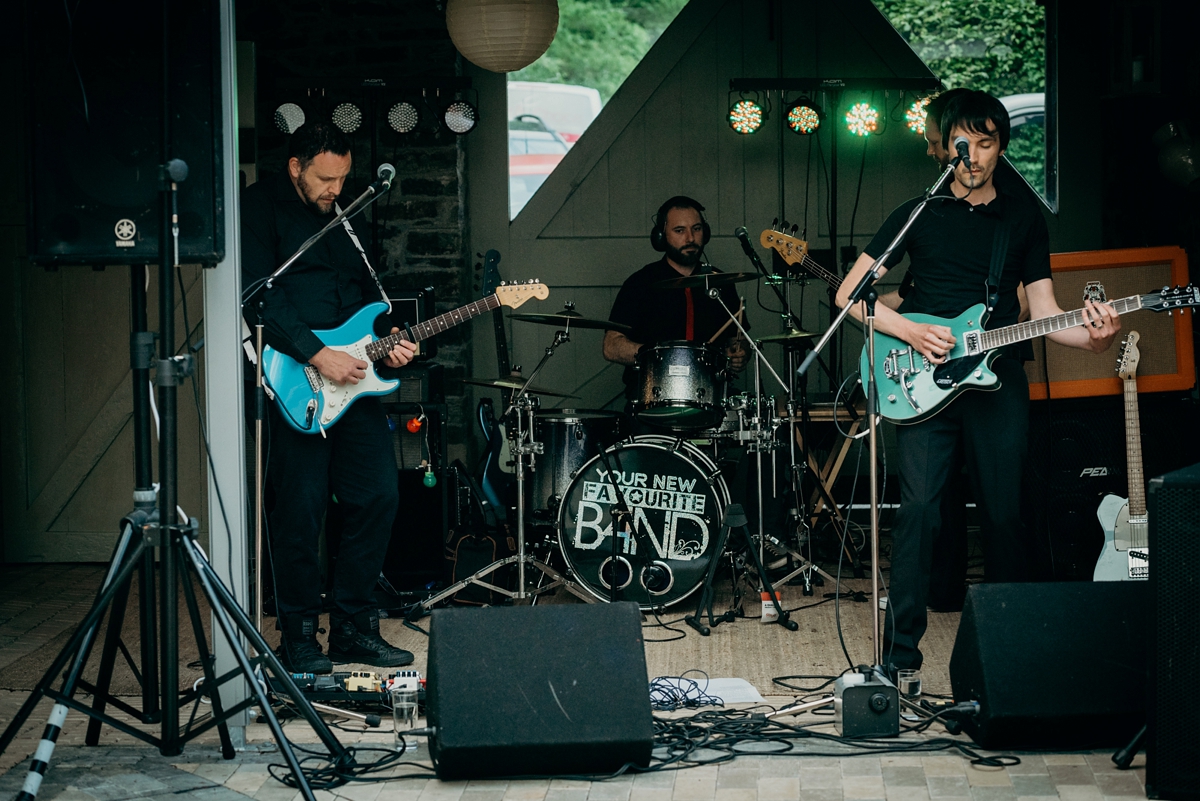 Words of Wedded Wisdom
"I know everyone says it but don't be swayed when planning about what you think you 'should do' or what is expected of you. Think about the day you want and try to stick as closely as possible to that original vision. You will have a much better day if you aren't forcing yourselves to do things you don't want to."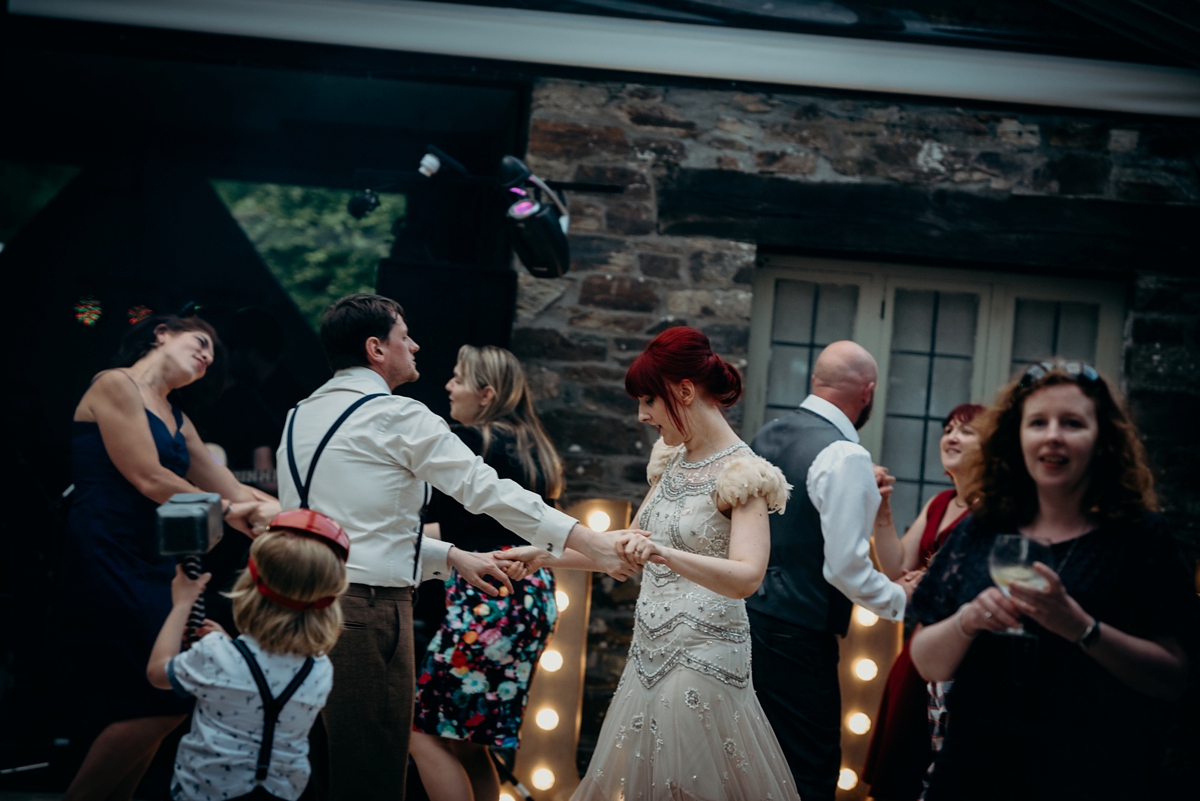 Nikki and Ant, I've so enjoyed finding out about how you planned and styled your wedding, and looking at these beautiful photos. I love the creative and fun use of signage – so inspirational. Clare Kinchin, thank you so much for sharing your work with us. I really do advise you to visit Nikki's Little Book for Brides listing here and follow her on Instagram to see a selection of her charming stationery designs.
Have a lovely day everyone,
Ele xx