I don't know whether it's the fact that I love Christmas more than life itself, or that this year will be my first yule as Mrs Brown, or the fact that the wedding I'm about to share with you is jaw-droppingly gorgeous in every way, but I'm suddenly feeling altogether very festive…in August.
The stunning Amy, Creative Director at Spring Studios, wed her handsome beau Tom, founder of Theodore, an independent music consultancy, on 3rd December 2016 at Emmanuel Church, West Hampstead, followed by a reception surrounded by the twinkling fairy lights of The Amadeus in Little Venice. The new Mr and Mrs Stanford knew that they wanted to wed in the city where they met and live, but were keen to also incorporate a sense of the intimate atmosphere of the Sussex villages surrounding Brighton, where Amie grew up. I love this contrast of cosy familiarity with edgy modern styling, captured fittingly by the very cool Heather of Eclection Photography. We are über-proud to support this talented lady through our curated directory, Little Book for Brides.
"We got engaged on Jan 1st 2016 – already had a lot of summer weddings in the diary and didn't want a long engagement, so felt more comfortable getting married later on that same year. I always associate winter with candles, fairylights and a bit of sparkle – I think it adds so much atmosphere. So this heavily inspired our style along with a lot of winter green foliage, and with the British weather being the way it is, you're just as likely to get a sunny day in December as you are in June. Luckily we were blessed with a crisp, sunny winter's day."
Photography by Eclection Photography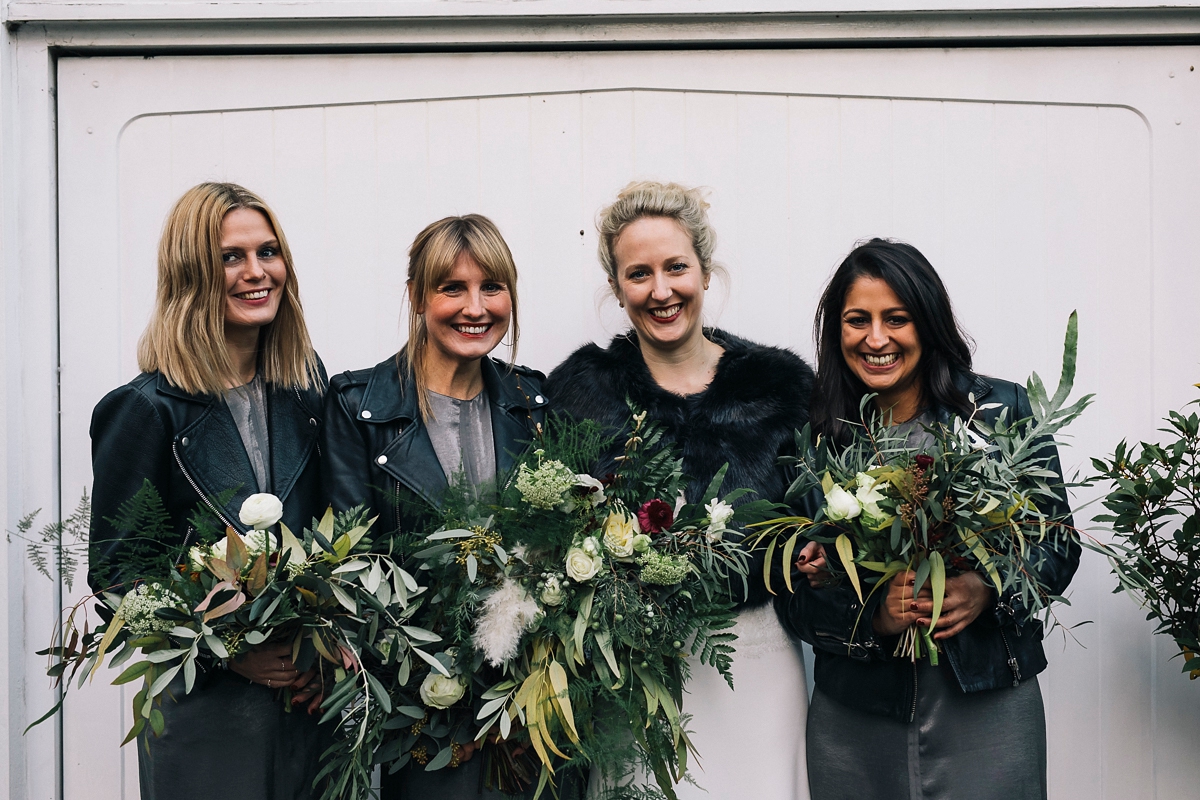 "We used Heather from Eclection Photography, I saw her portfolio online and loved her work straight away. I wanted someone who would think differently and see photographic opportunities that weren't the norm. I loved the light, textures and compositions I saw in her shots and she's amazing at making city areas look cool and urban yet romantic. When we met her she was so friendly we booked her straight away. As we had a lot of people and a pretty big shot list, Heather enlisted the help of Katie Palmer as the second photographer; she was brilliant. We love the photographs they captured and we now have a huge album because we just can't whittle it down."
Our bride purchased her striking Alexis Bitter cuff from Tomfoolery in Muswell Hill and her earrings were from Maya Magal. She also wore her grandma's wedding ring, lent to her for the day by her mum as her something old and borrowed, which also served as the inspiration for our bride's own wedding ring, which she designed herself along with all the stationery for the day.
Tom actually organised for Amie to work with a jeweller on Hatton Garden to design her own engagement ring, and the couple returned to create their wedding bands, a really special experience to share.
"Our florist was Carla Gottlieb from Still Life Flowers who was recommended by Heather, our photographer. Carla was incredibly friendly and so super talented. Her style is quite wild and undone but still well put together and balanced, which is exactly what I wanted. She listened to my ideas, made some amazing suggestions and was so considerate of my budget. I loved the bouquets, they were better than I could have ever imagined."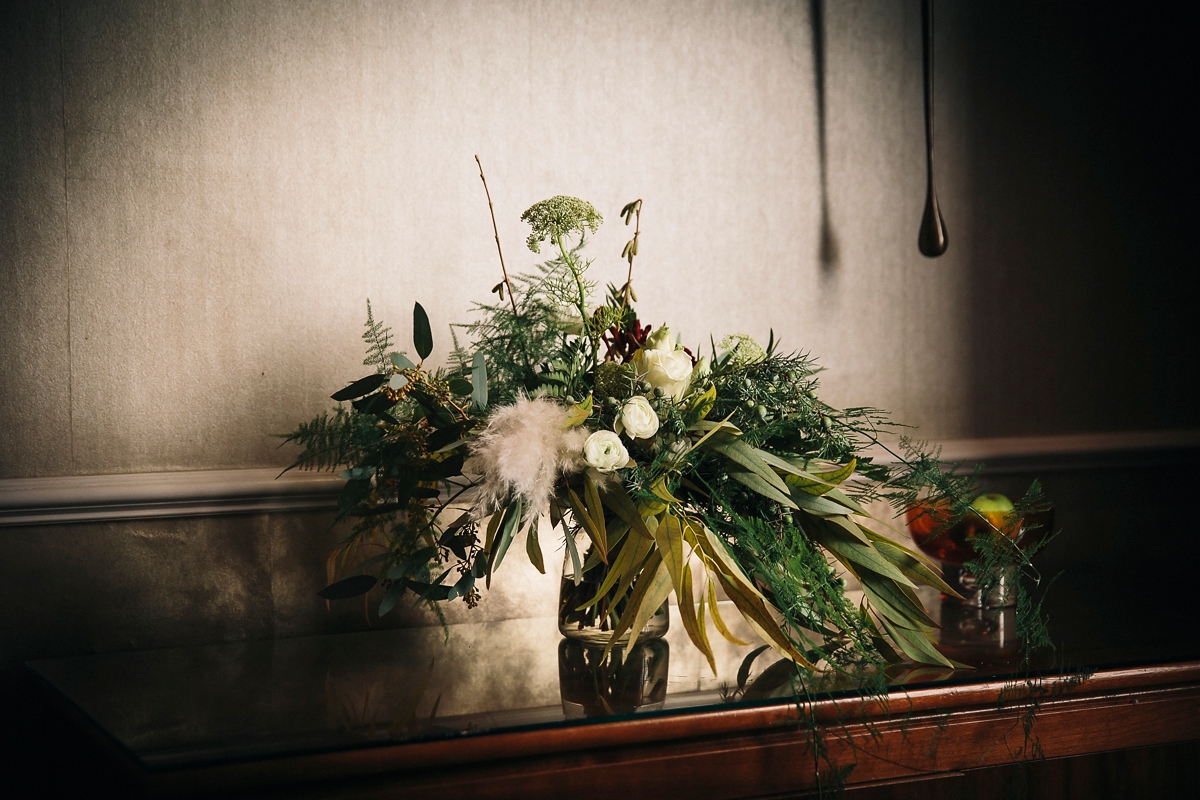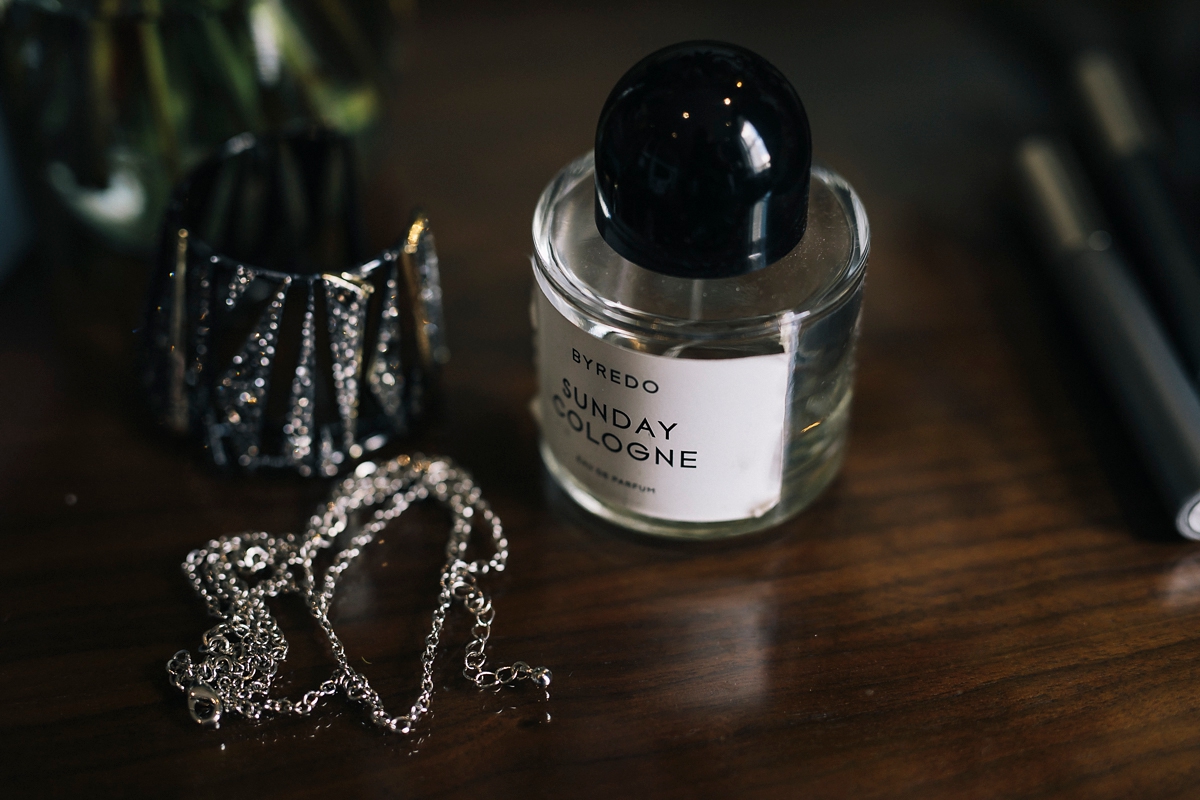 Amie pinned one of her own chains into her flaxen top knot, added some contemporary statement jewellery and slipped on a pair of grey velvet stilettos (three words I'm kind of obsessed with in the same sentence) and finally chose her everyday perfume, Sunday Cologne by Byredo to finish off her look.
"I wanted a pair of gun-metal grey shoes to work with my colour theme and I searched high and low for a beautiful pair of designer shoes but couldn't find any I liked. In the end I found a pair of grey velvet stilettos I loved from Topshop, so spent the money I saved on the shoes on an amazing Alexis Bittar cuff bracelet that I get to wear lots now."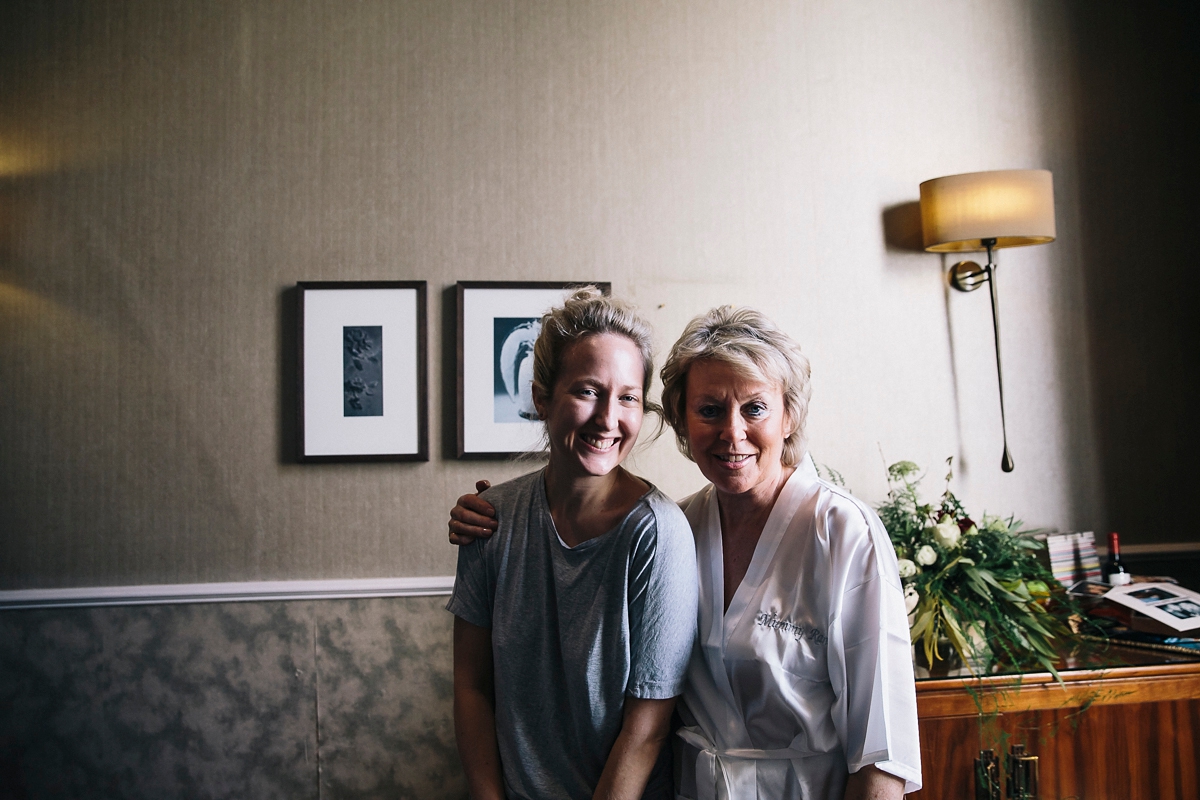 Amie chose a beautiful gown by Lambert Creations, which she purchased from Mode Bridal, a little home-based shop in Hove, beautifully decorated and highly recommended indeed by our bride. I adore the sleek, modern silhouette, softened with delicate lace and set off with a perfectly messy bun and a wintery deep berry lip.
"I wanted a really simple dress with just a small amount of detail but in a really good fabric. I'd tried on about twenty before I found mine and was starting to get a bit disheartened, most of them were too fussy and very expensive. Mine was a sample dress that fitted so well and was just what I had envisioned, with a little lace top and belt."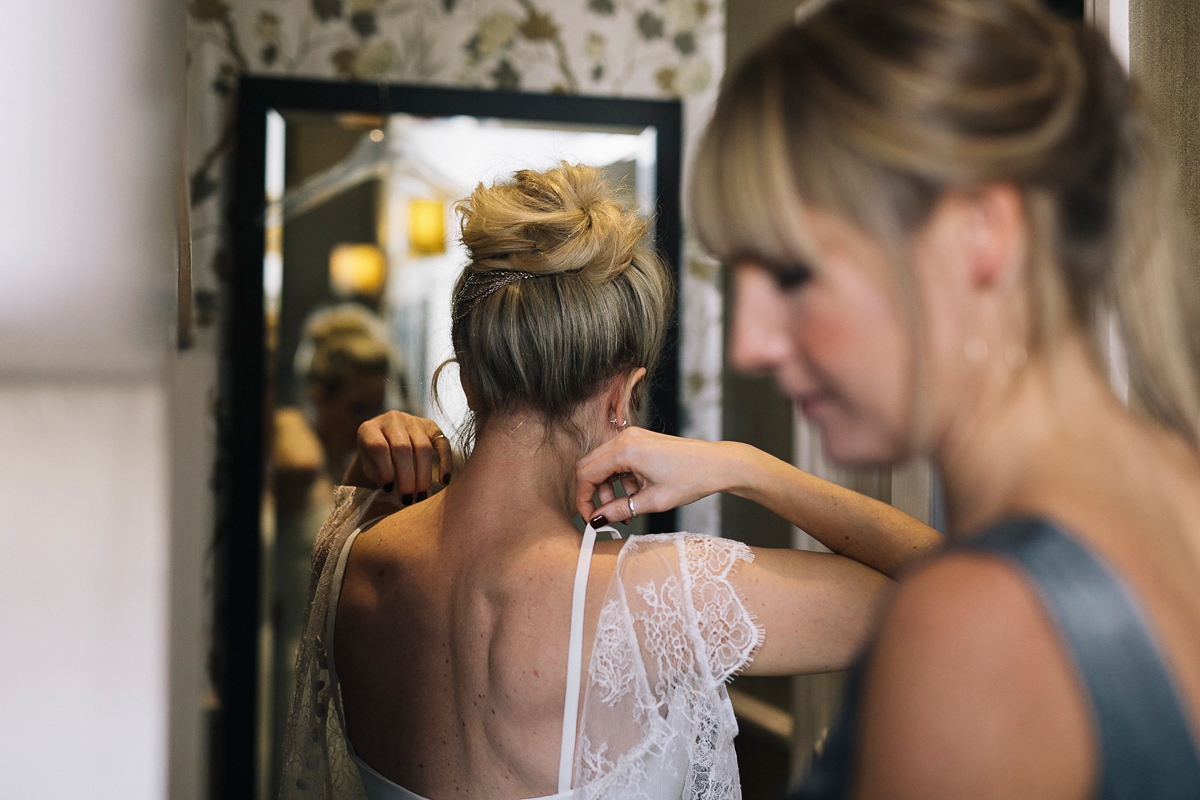 "My Mum cried when she saw me in it so I knew it was the one. With it being a simple design and within my budget, it allowed me to add my own twist. I had the seams down the sides opened up and a lace skirt put underneath, so when I walked it flowed nicely and you caught a glimpse of lace. It made me feel a bit more glam."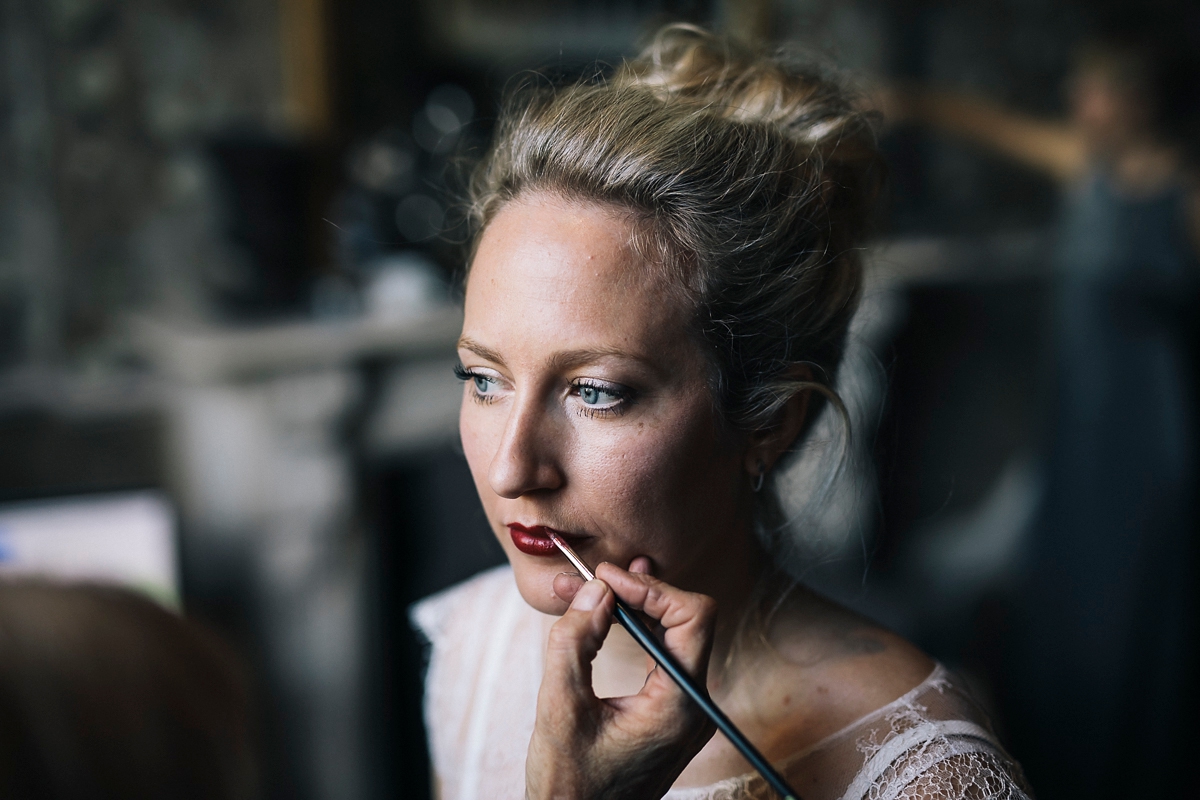 "We met on 1st December 2009 at a charity music quiz in Soho. Tom and I were introduced through a colleague I used to work with who then worked with Tom. I thought he was cute and friendly straight away. I love music so when his team won the music quiz I was suitably impressed and turned on the charm!"
"He phoned me the next day and asked if I wanted to see Ian Brown at Brixton Academy with him on the 3rd December. I went, and the rest, as they say, is history. Getting married on 3rd December seven years later was more by coincidence than design, but when we realised, we thought it was meant to be."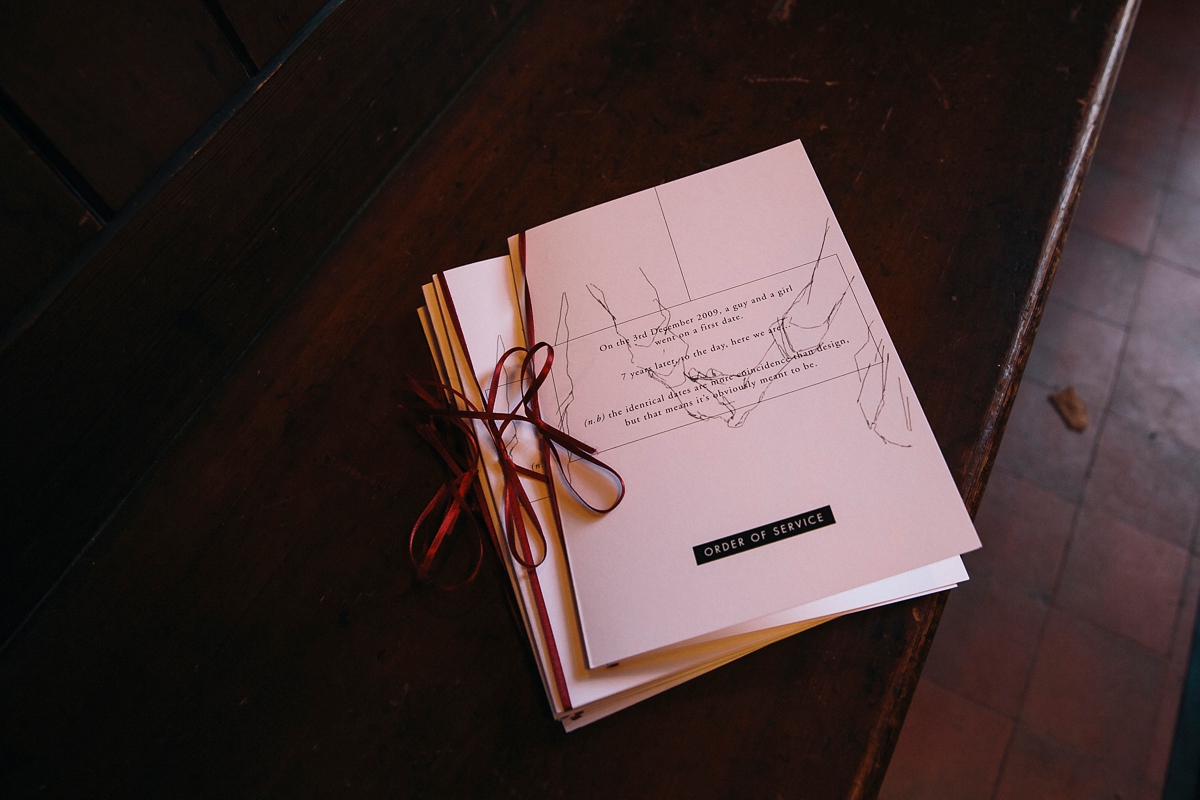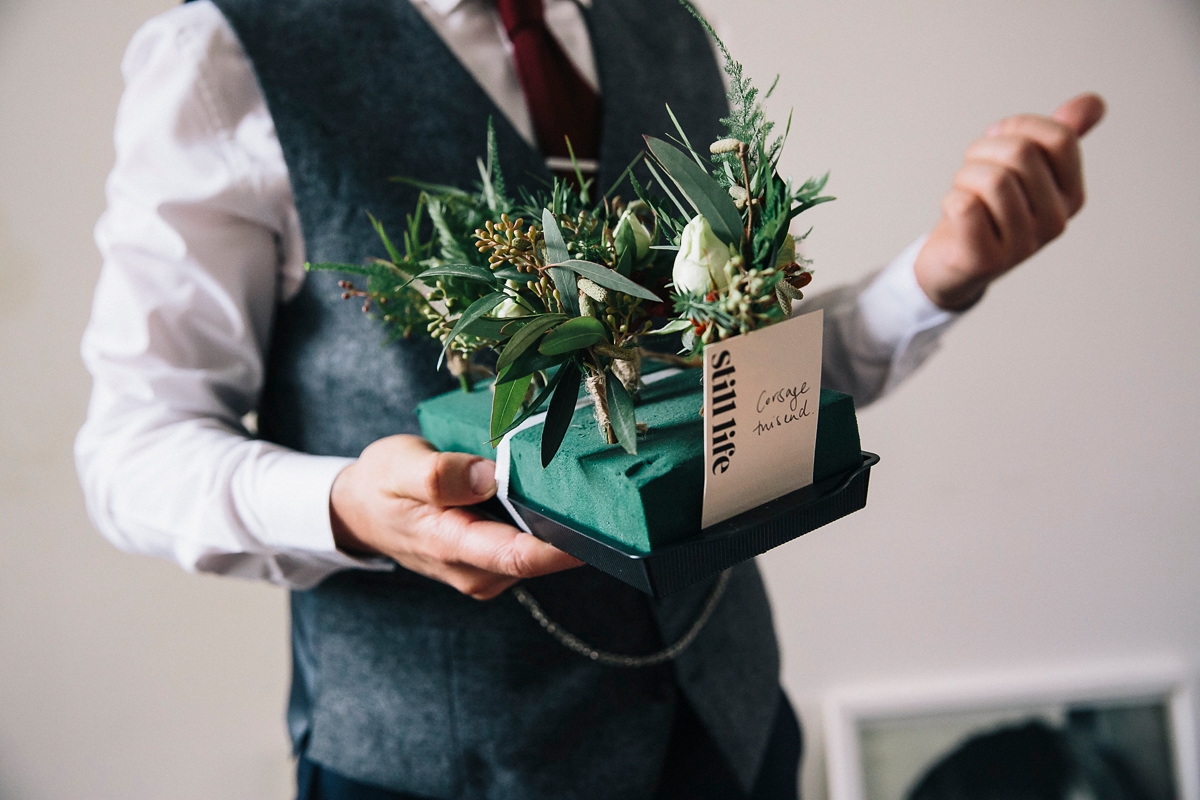 "Tom's suit came from a small independent shop in Shoreditch called Mr. Start. Tom would normally wear a pocket square and tie pin to most weddings, but for the big day he added a beautiful vintage pocket watch and chain to make more of a statement, and while the rest of the ushers wore black shoes he had a cool burgundy pair."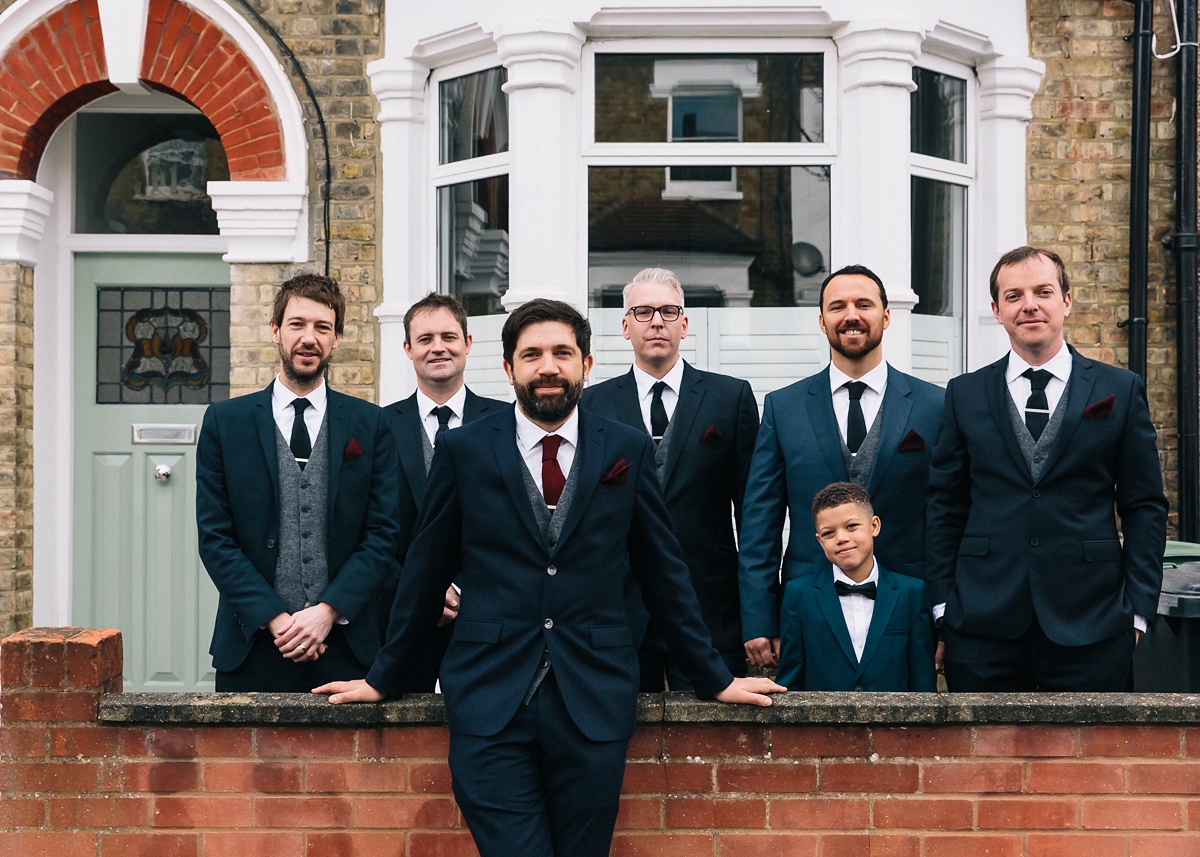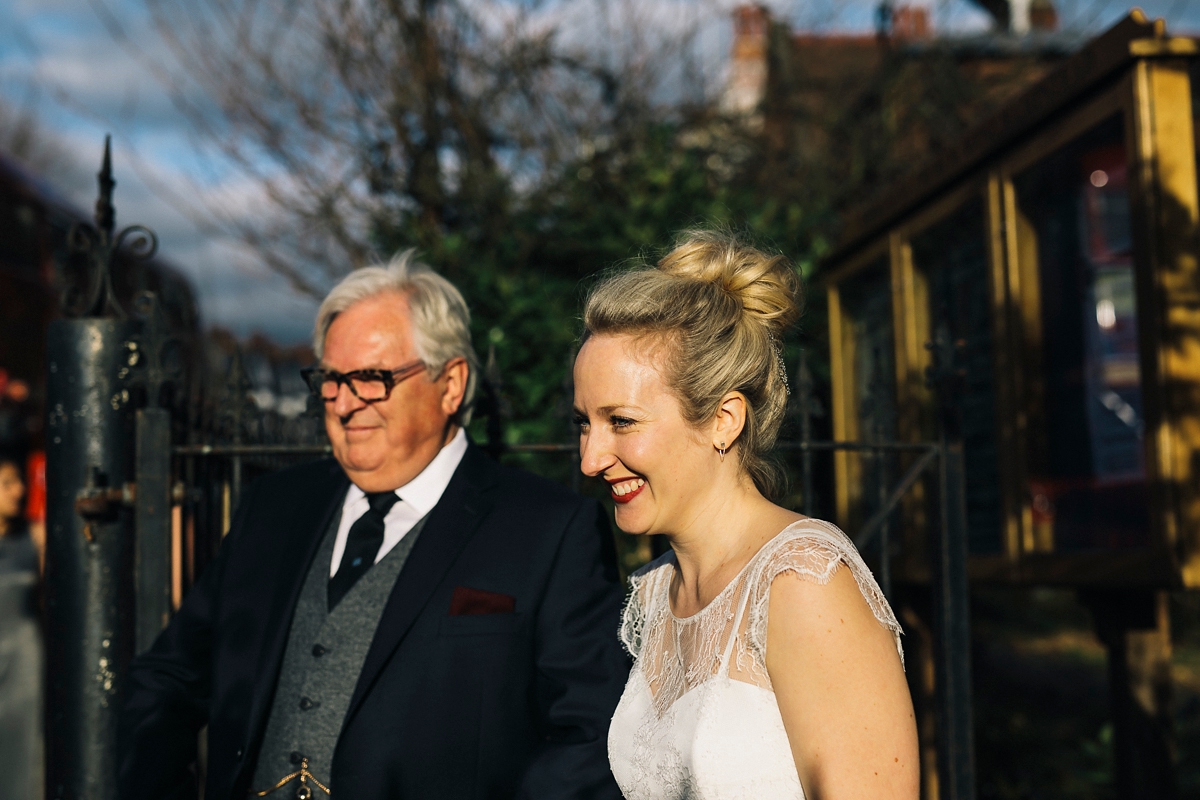 The elegant bridesmaids looked stunning in grey House of Fraser dresses, edged up with black leather jackets, while the mini maids wore pretty frocks from Monsoon and the page boys sported outfits from Marks & Spencer and Zara page boys.
The flower girls were crowned with fresh wreathes of greenery and white roses and the bridesmaids rocked simple, carefully undone tresses so as not to detract from their stunning, painterly bouquets.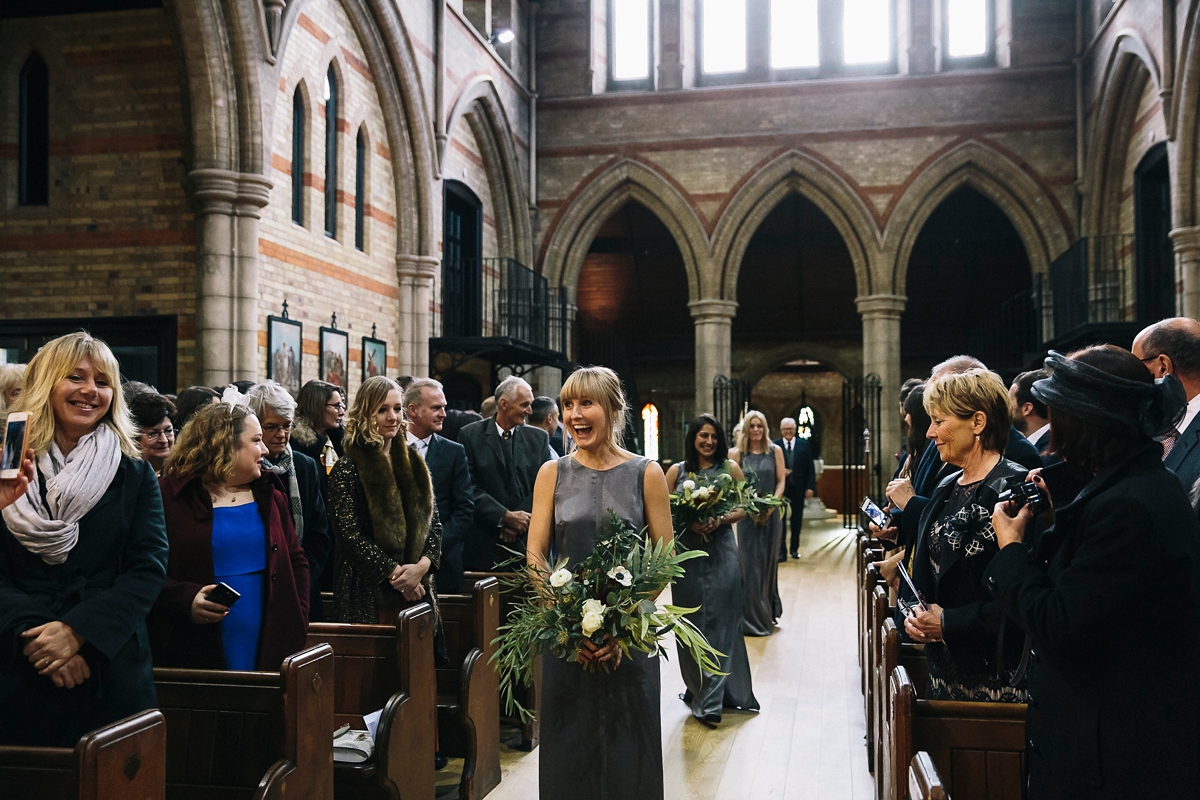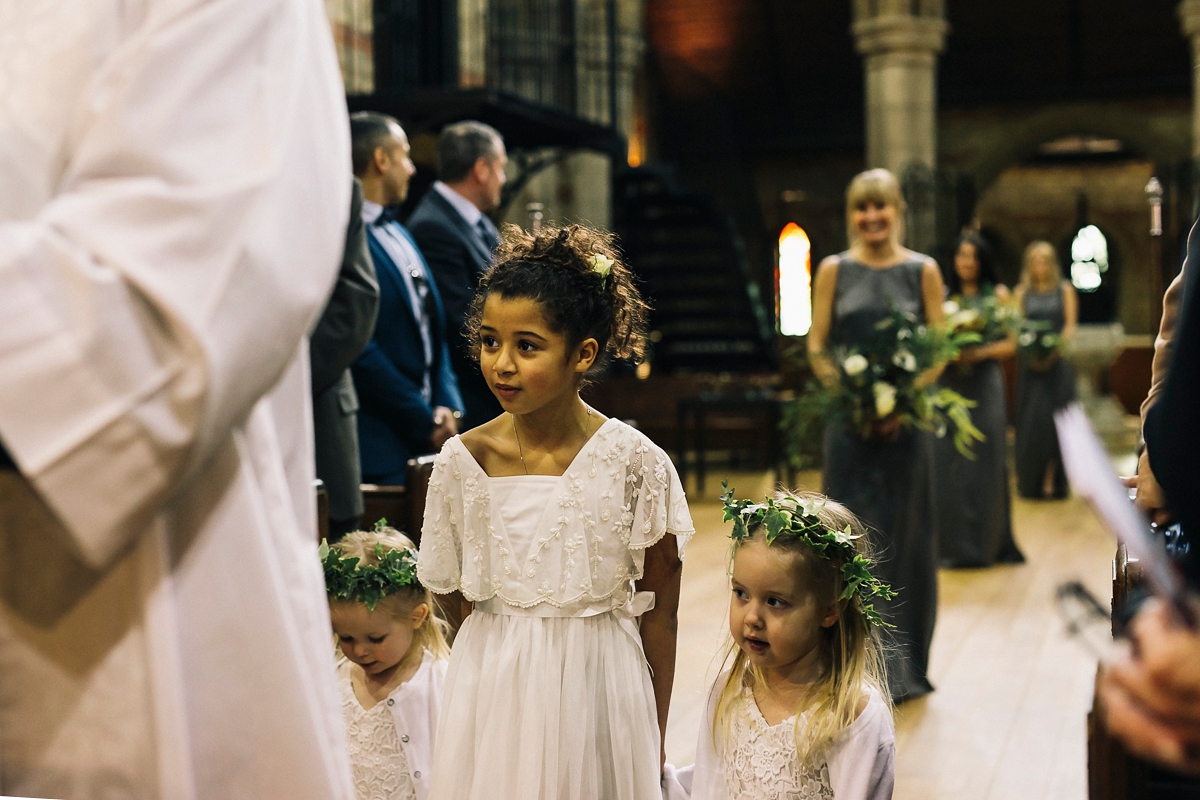 Amie and Tom wanted a relaxed church service where they could have their own music and readings, so when they found Emmanuel Church, it felt perfect; beautiful with its soaring arches and with a really friendly and easy-going vicar. Amie walked down the aisle with her dad to Songbird by Fleetwood Mac, a band she, Tom and her dad have all seen live.
Amie's very favourite part of the day was the ceremony – the memory and emotion of that time with Tom is so special to her.
"Tom's two sisters and my brother did a reading each. Lucy did the religious reading, A love poem between two lovers (Song of Solomon, Chapter 2, verses 10-13; Chapter 8, verses 6-7) while Katie read 'Yes I'll Marry You My Dear' by Pam Ayres. Tom read 'He never leaves the seat up' by Anonymous. We didn't choose the readings, we asked them to decide and not to tell us – I'm really pleased we did this as it was so nice to have a surprise on the day."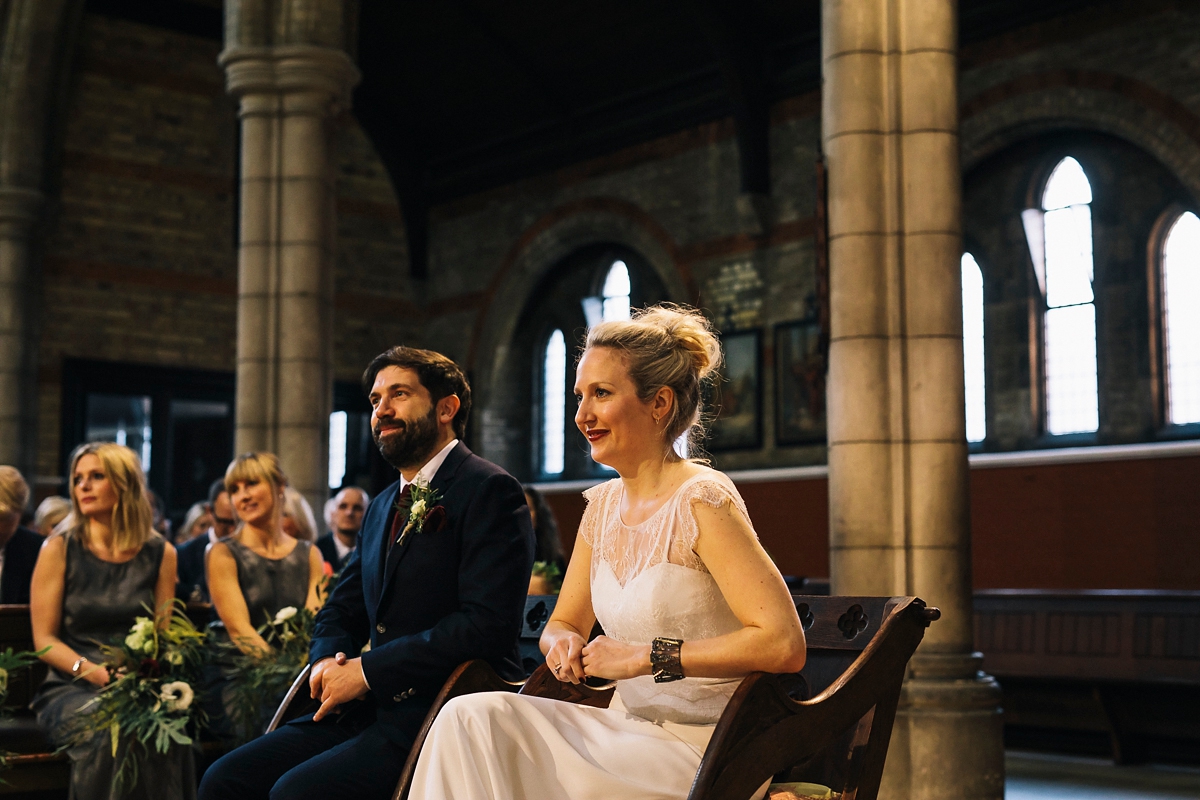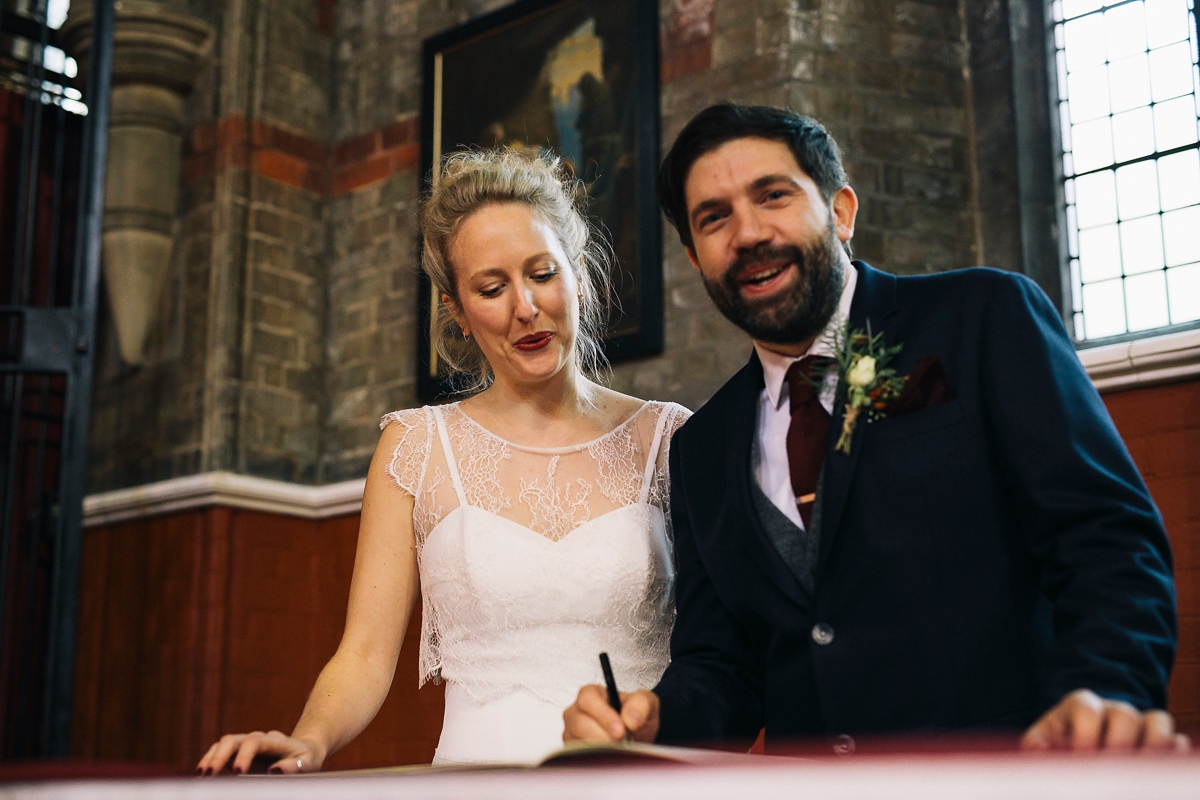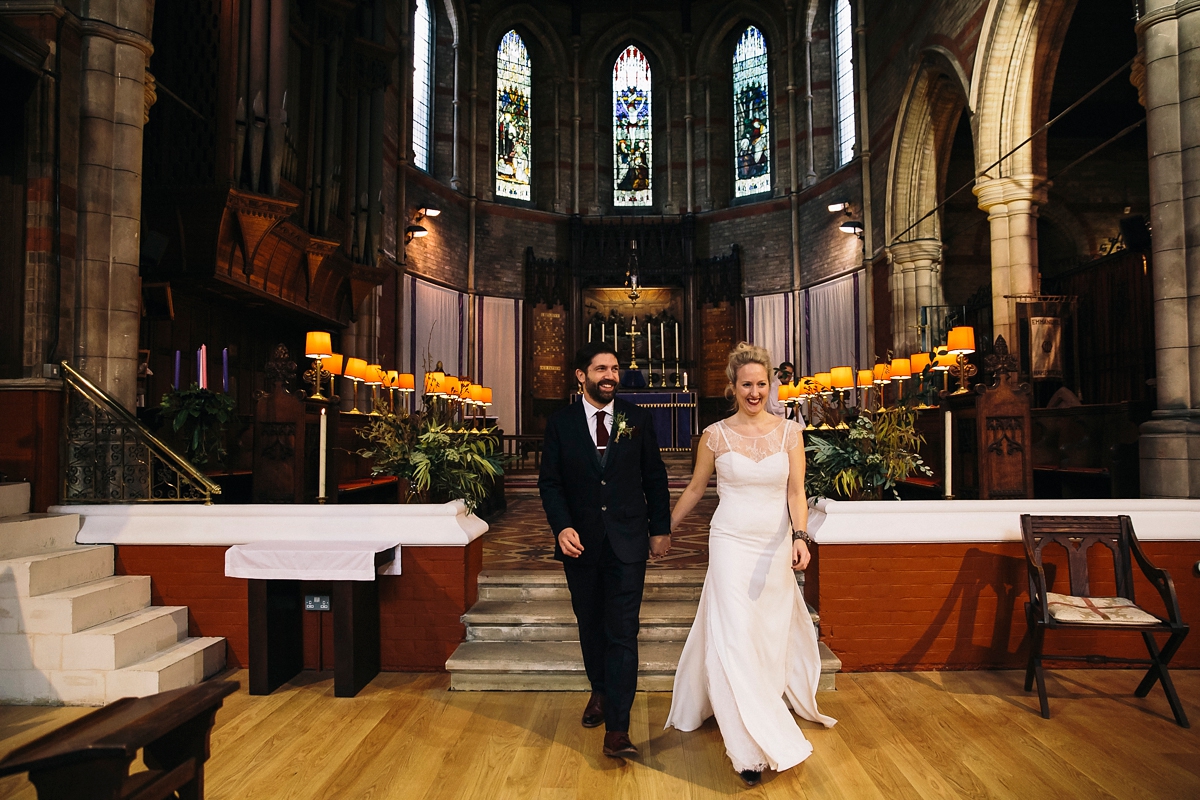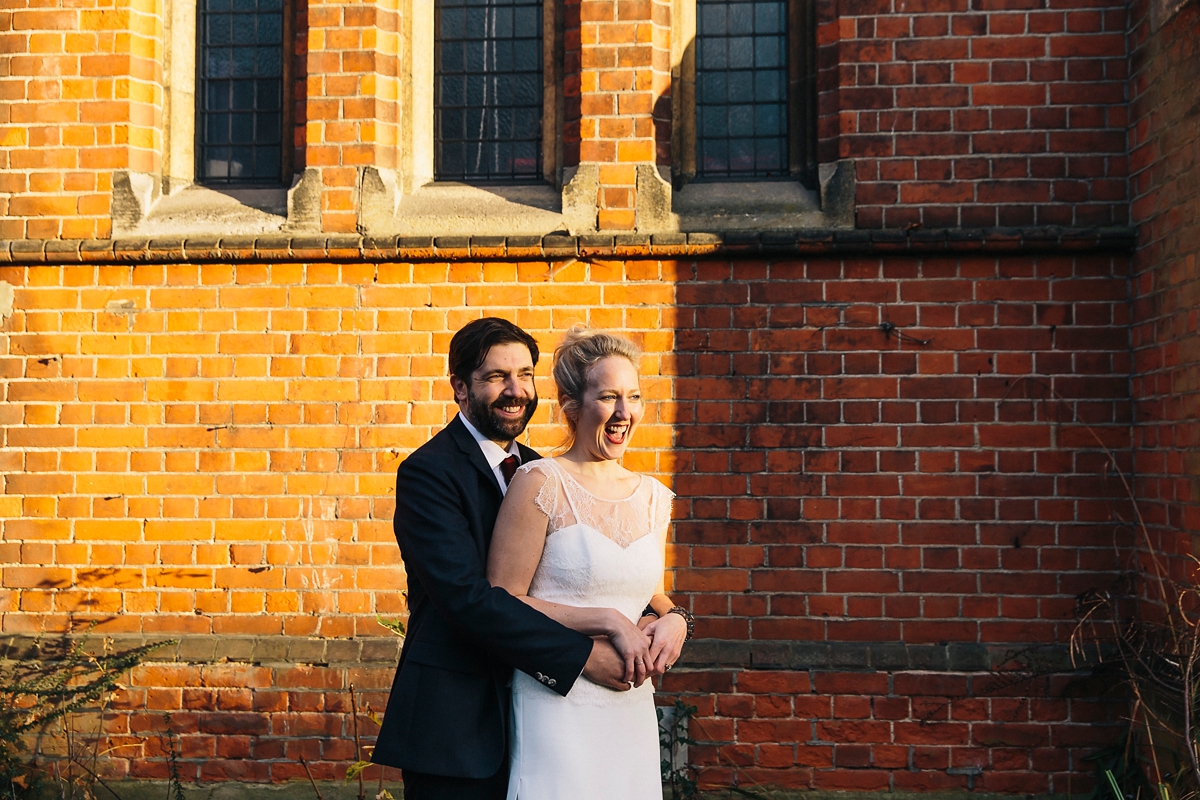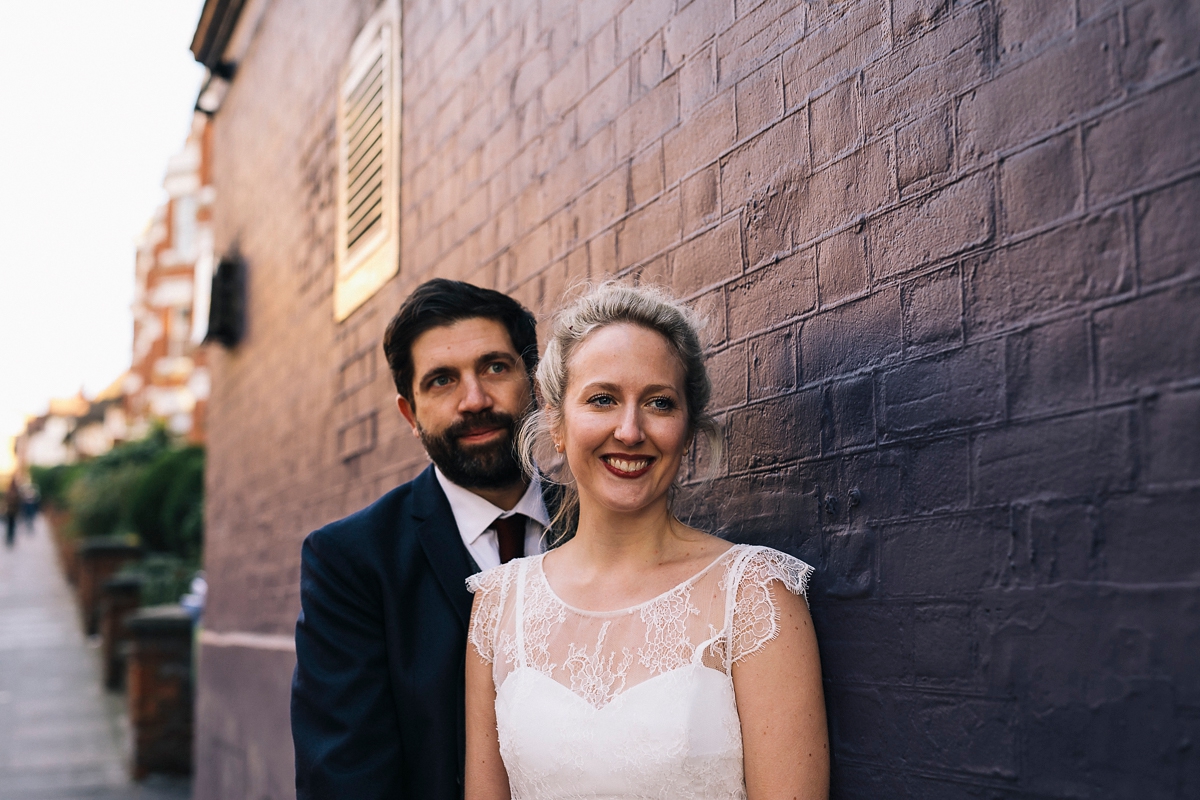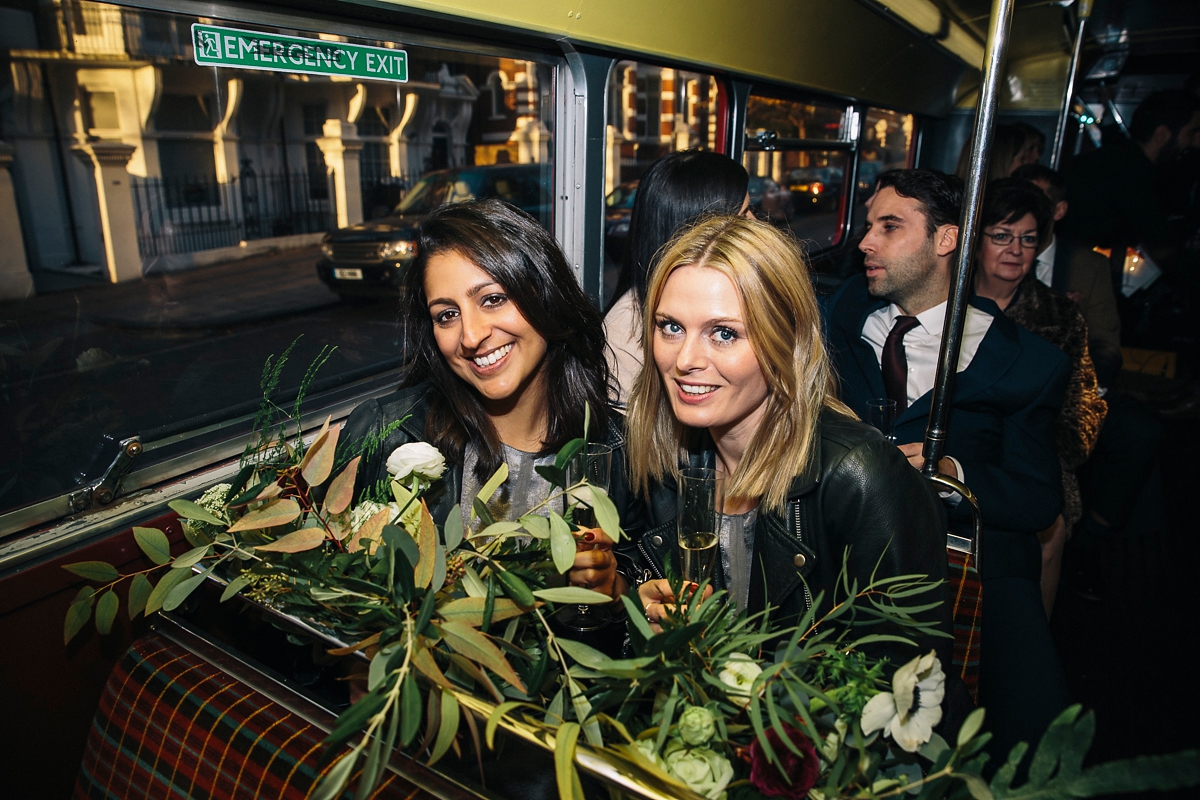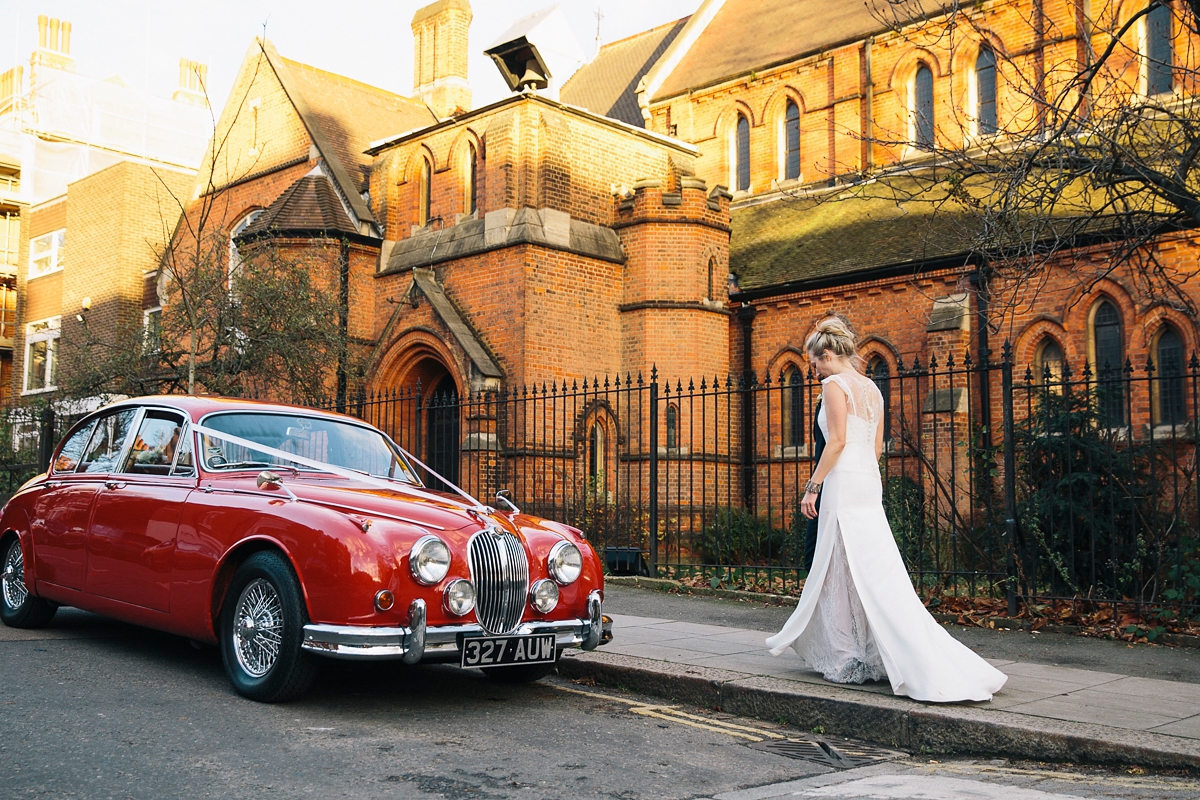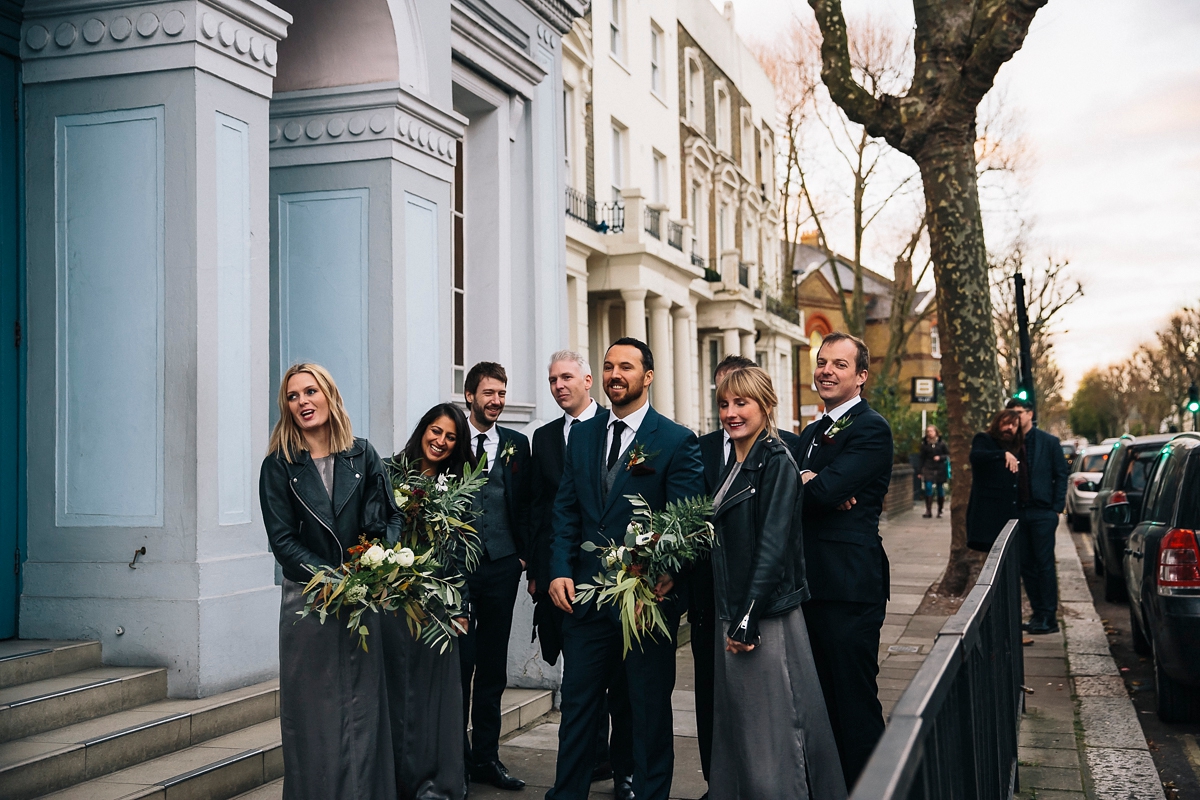 I love the warm quality of light in these images and the cool informal gatherings of the bridal party after the ceremony, full of joy after a jubilant church exit to Signed, Sealed, Delivered by Stevie Wonder. Amie and Tom decided not to film their day but did want to document certain moments.
Tom's friend Simon filmed the ceremony and speeches, which the newlyweds plan to edit together with photographs and music to show to their family members who couldn't attend the day.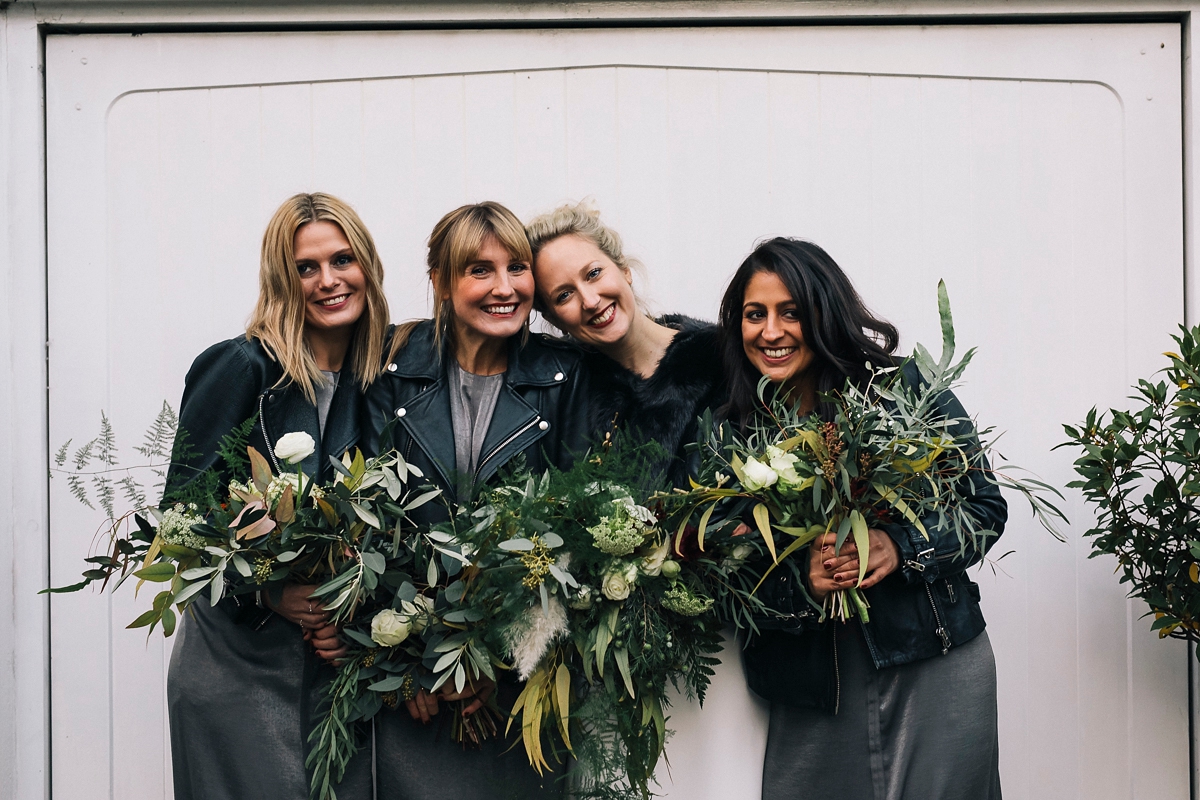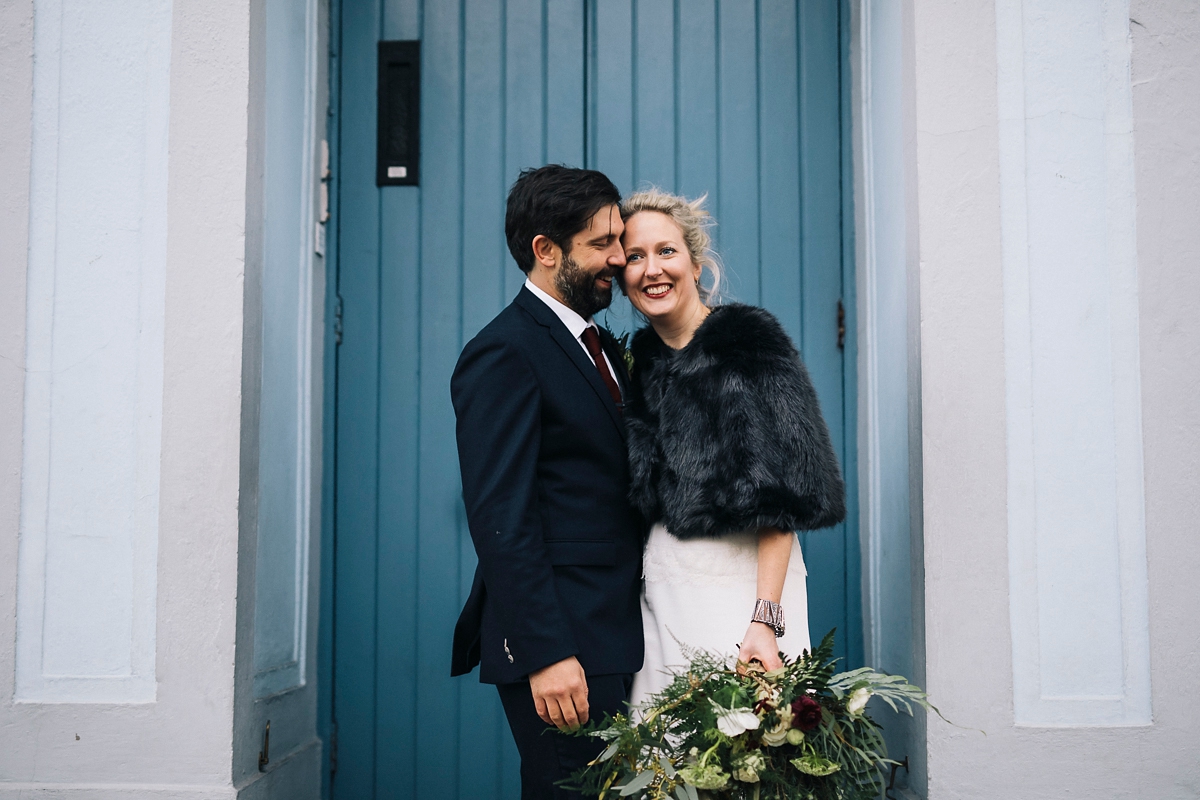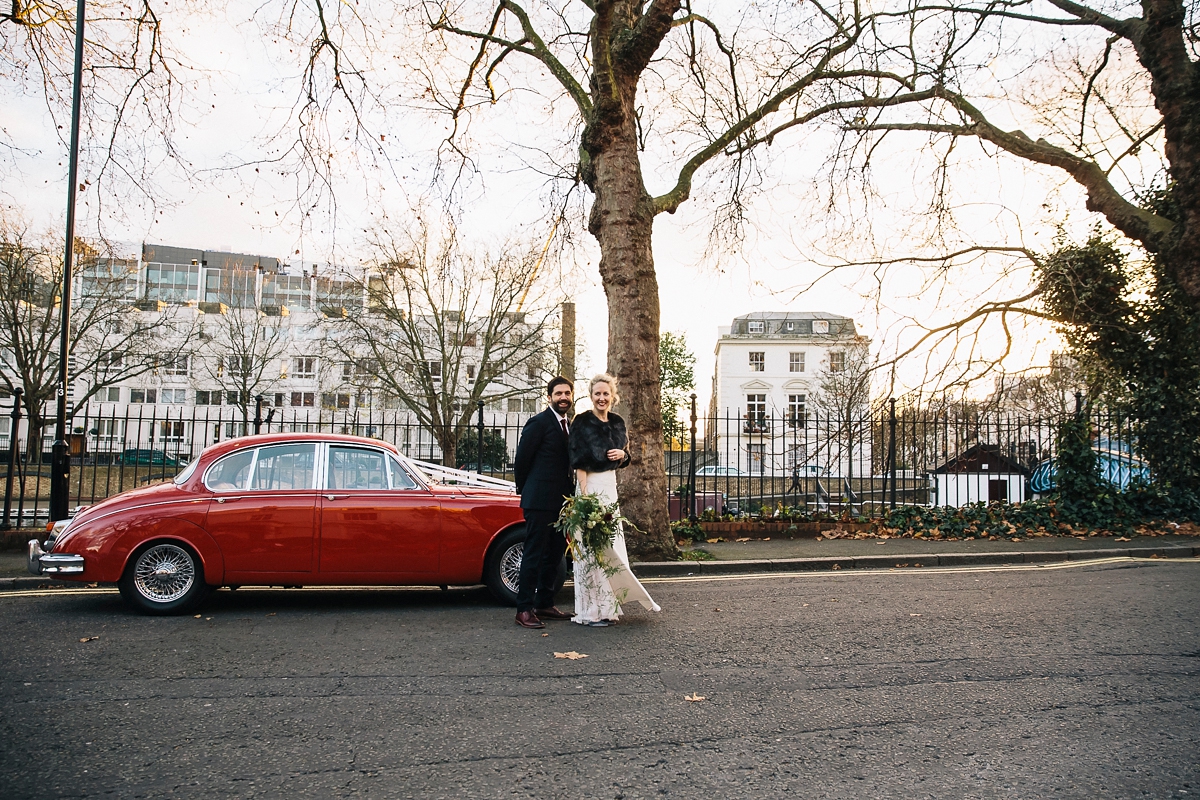 While their guests hopped onto vintage buses with glasses of prosecco in hand, the newlyweds were transported in style to their reception at The Amadeus in a vintage red Jaguar.
"We chose The Amadeus for our reception as it was the ultimate winter venue; two good sized party rooms, the ability to decorate it in magical fairy lights and a no corkage bar. We did go well over our original budget. All the elements added up, particularly as the reception venue was a blank canvas but we got to the point where our saying was 'it is what it is, we're only going to do this once so let's have what we want.'"
"Our florist, Carla, also decorated the Amadeus, bringing to life my foliage theme and arranging the banquet tables with candles and a variety of small bottles and jars filled with winter flowers and textures. It looked amazing."
Caterers &feast provided a delicious sharing-style wedding breakfast and a huge tower of delicious French cheeses. The evening was another of Amie's favourite parts of the day, her dad's speech in particular had everyone in hysterics while Tom's was so heartfelt.
"My friend Adam owns &feast, we've been to his café in Barnes and loved the food. The list of events they've catered for is now very extensive and Adam and his team were incredible throughout. We had long banquet tables which were perfect for sharing platters, which went down exceptionally well with the guests. It's worth noting we had to pay an additional fee to The Amadeus for not using their recommended suppliers."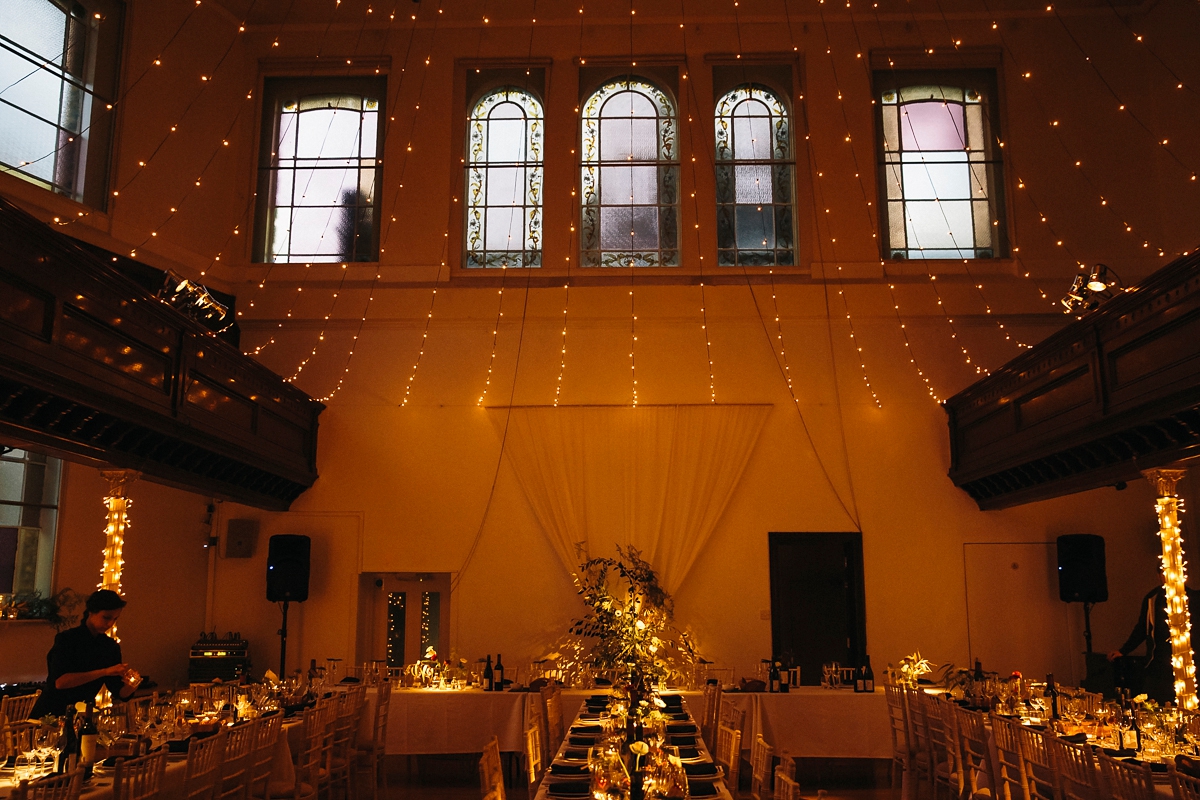 Amie and Tom merged name places with mini Christmas tree baubles in shades of silver, red, brown and gold as favours for their guests and also organised glitter artists for the evening, inspired by the fun times Amie had spent with her friends at festivals. This combined with the abundant fairy lights and shimmering disco ball in the main room of The Amadeus, made the couple and their guests feel like they were dancing under the stars.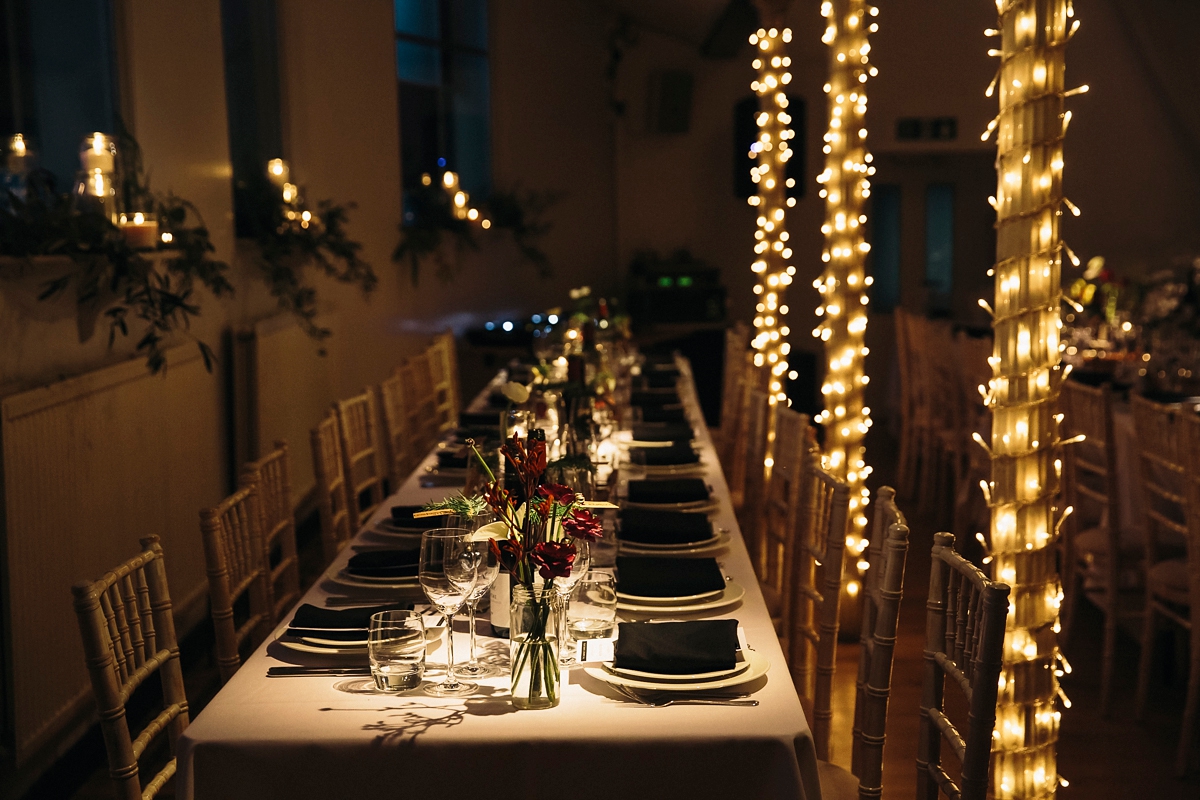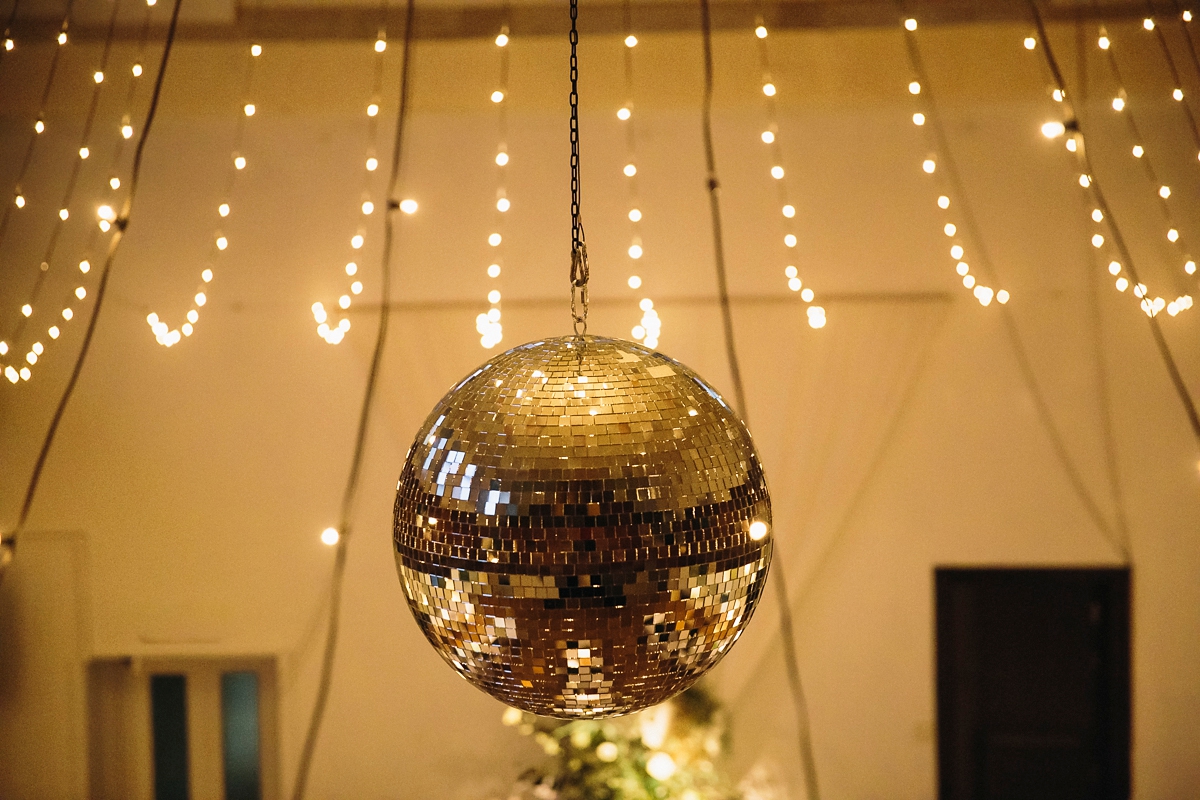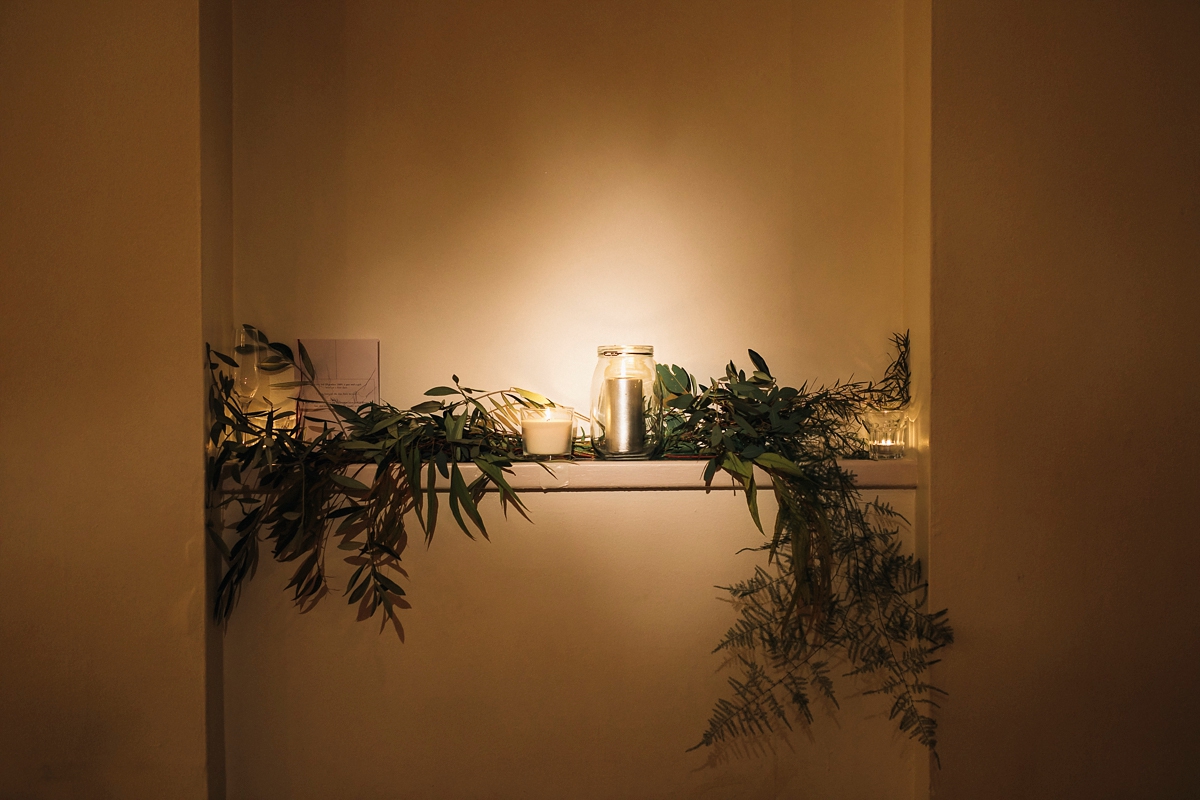 "We booked The Atlantic Soul Orchestra. A friend of ours sometimes drums for them and suggested we check them out. They were absolutely fantastic and a cut above the wedding bands we'd been listening to online. The dance floor was rammed for their entire set and we then had some of Tom's music industry friends DJ afterwards."
"We have a lot of songs and bands that mean a lot to us, but none of them fitted what we wanted for our first dance. Tom does music supervision for a living and found us a beautiful Freddie Scott track called '(You) Got What I Need'. It's a classic soul track, the lyrics were perfect and it had a bit of tempo to dance too."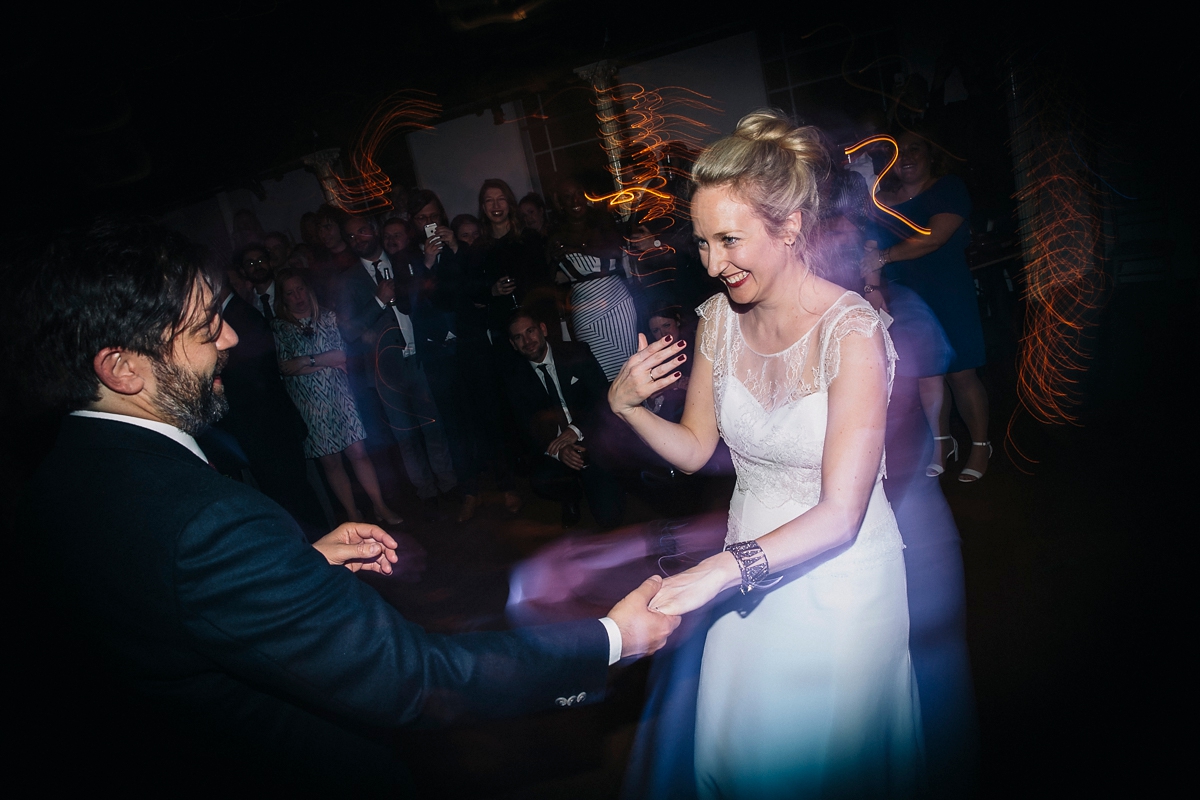 Words of Wedded Wisdom
"Although you want it all to be perfect, don't get too stressed out worrying about the small details that feel so big at the time; on the day they will feel so small. Ask for help when you need it as people really are willing to help, and enjoy the planning as much as possible as the day does go by so quickly and you want the whole experience to be an amazing memory."
That just leaves me to say a huge thank you to Amie, Tom and Heather of Eclection Photography for sharing this divine day with us all. If you've been inspired by this shimmering utopia, take a look here for more beautiful wintery celebrations.
With love,
Em x