Hello lovelies, I hope you have had a great week so far and are beginning to look forward to the weekend. Do you have much planned? My sister, husband and their baby are coming to stay, and I can't wait to have nephew cuddles. I love a hand-made, DIY wedding so Katie and Steve's wedding today is right up my street. The couple wed on 20 August 2016 in a civil ceremony at St Paul's Walden Bury, Hertfordshire with a laid-back, colourful reception at Tewin Village Memorial Hall, Welwyn, for which they combined vintage style with modern design.
"We really just wanted our wedding to reflect us both and to be a combination of all of the things that we love. It was important to us that we both felt completely comfortable on the day and we also wanted all of our guests to have a really amazing time too. I'm a huge fan of the artist Frida Kahlo and we both love Mexican food, so I think the colours associated with these helped us to begin planning the style of our wedding. Our home is a mixture of vintage style and modern pieces, and this was something else that we wanted to reflect on our wedding day. We particularly like the 1950s and 1960s eras."
Film by SuperDuper8 Films
https://vimeo.com/187624967
This beautiful gown is 'Glenda' by Maggie Sottero. Its short lacy sleeves look chic and fresh, balancing the fuller skirt.
"I visited four other wedding dress shops before going to Morgan Davies, and was starting to panic a bit because I couldn't find 'the' dress. People then started telling me that I may not ever find the perfect dress. At Morgan Davies, I selected a few dresses to try and then the assistant helping me choose 'Glenda'. It sounds clichéd but as soon as I stepped into it, I knew it was my dress. I loved the way that it fit and its vintage style. I also loved that the dress came in two parts; the strapless dress and a lace cropped top to wear over the top. It was also the perfect length for me."
Photography by Joanna Brown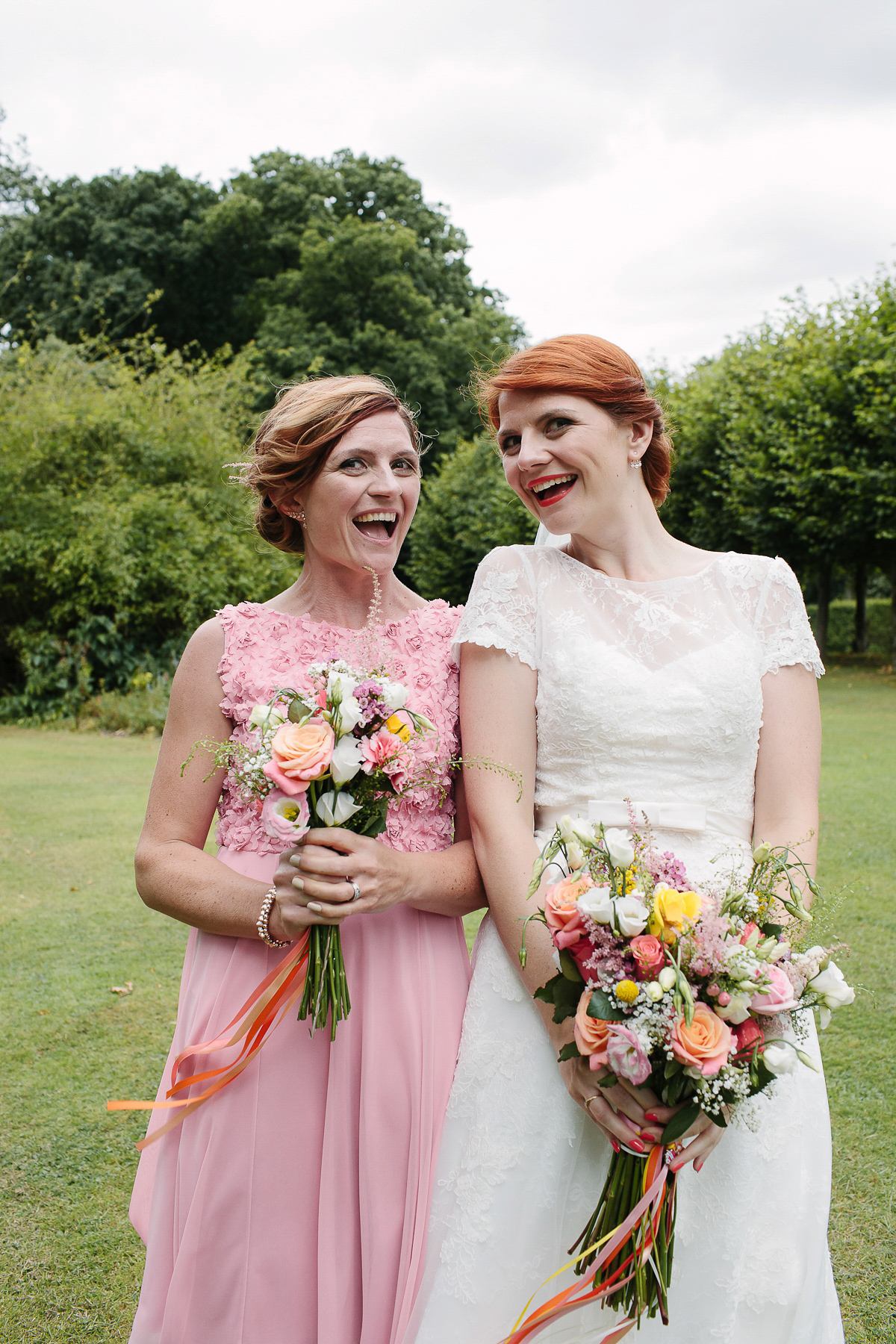 If you love the movement-filled, joyful shots by Joanna Brown then please take a look at some of her other work that we've featured in the past. She has a great knack of capturing the feel of each wedding, all of which are so different.
"We chose Joanna to shoot our wedding as we loved her photo-journalistic approach. Steve is a photographer and does not enjoy being in front of the camera too much, so we wanted our wedding photographs to capture everyone naturally, rather than too many forced, posed photographs. We also love to shoot digitally and using film, like Joanna, so loved that we also received some film and Polaroid prints of our day."
The couple enlisted the help of Laura-Marie Kelly of Marshmallow Weddings to help them pull everything together, and really appreciated the help she gave.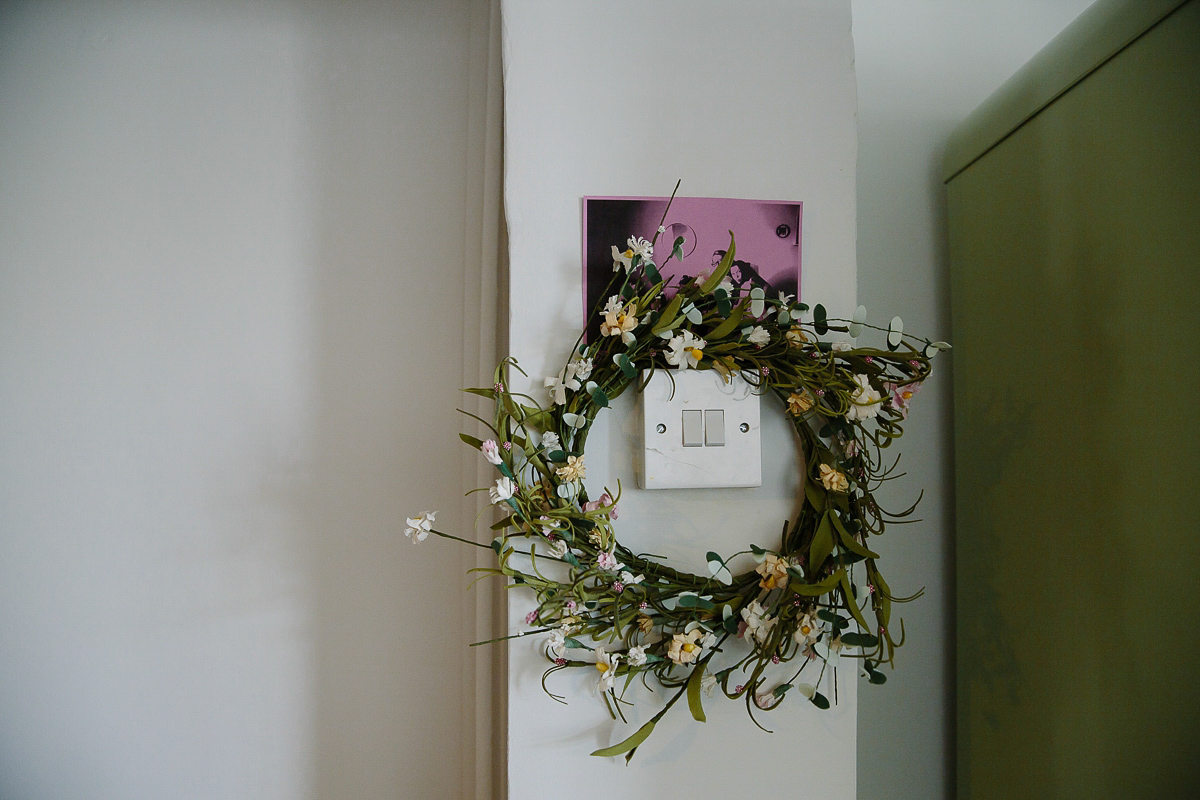 "Aimee and Chris of SuperDuper8 Films were also fantastic to work with from booking until receiving our final film; our wedding video has received lots of adoration! We were unsure about having a wedding video for a while because of the extra cost, however I know I would now regret it if we hadn't. We love that our video has been shot on Super 8 film and that it has that authentic and nostalgic feel to it –it's like we got married forty years ago."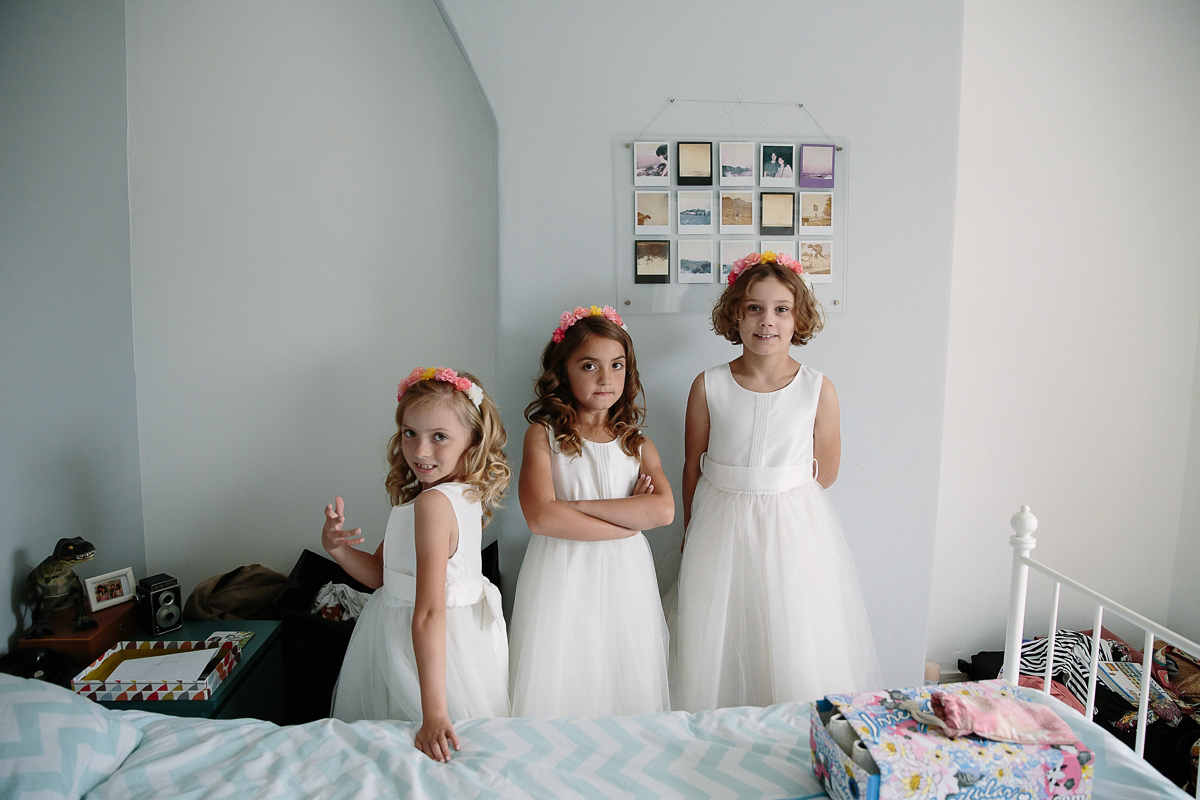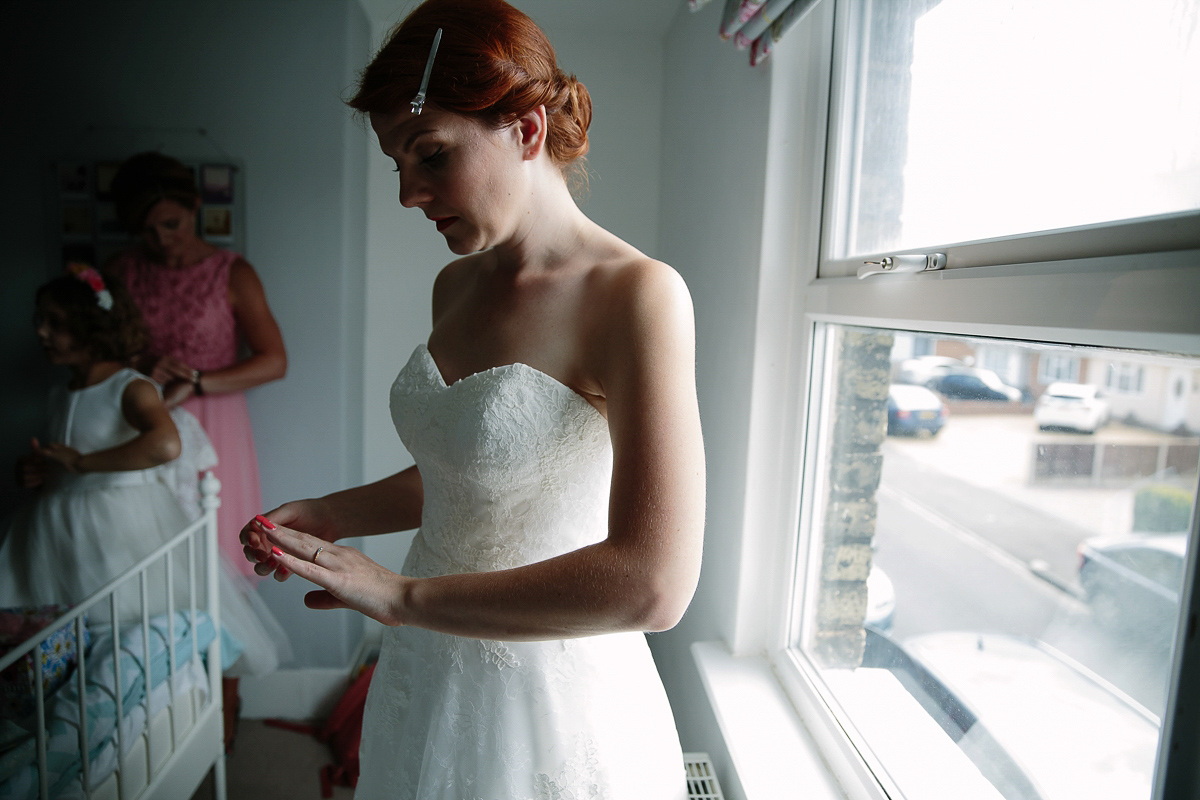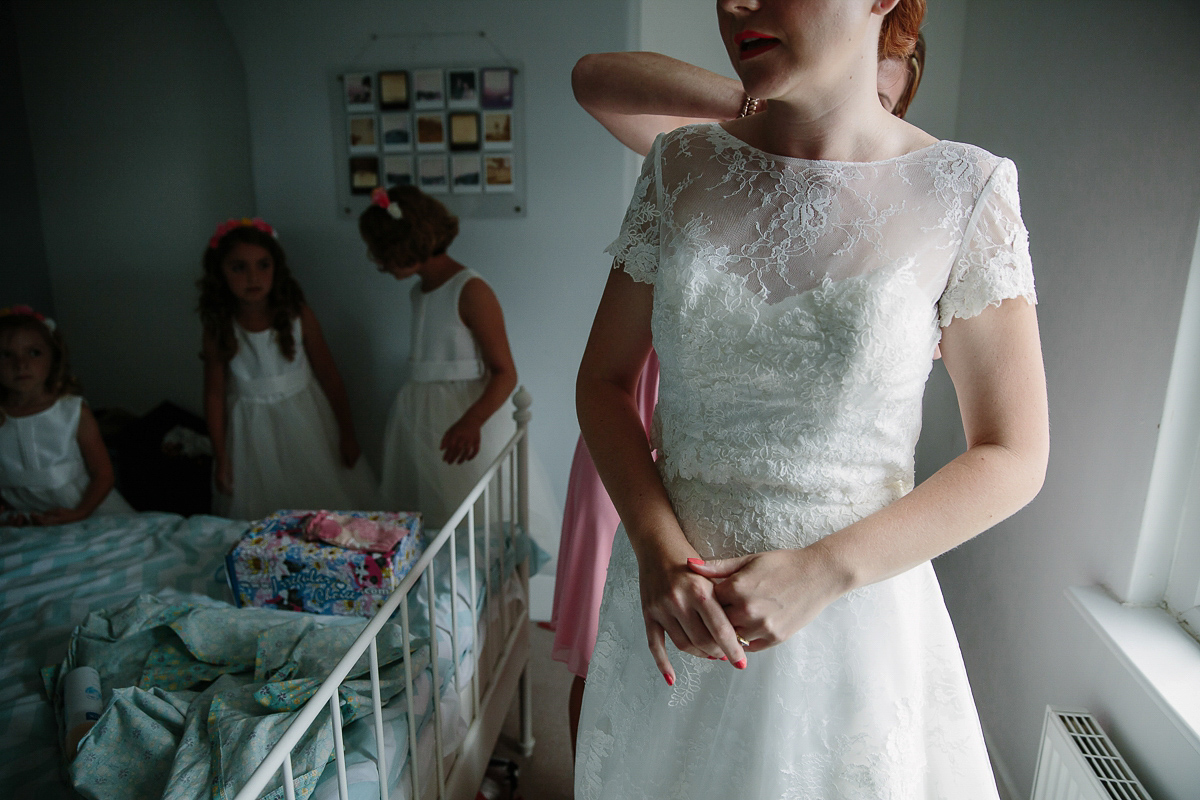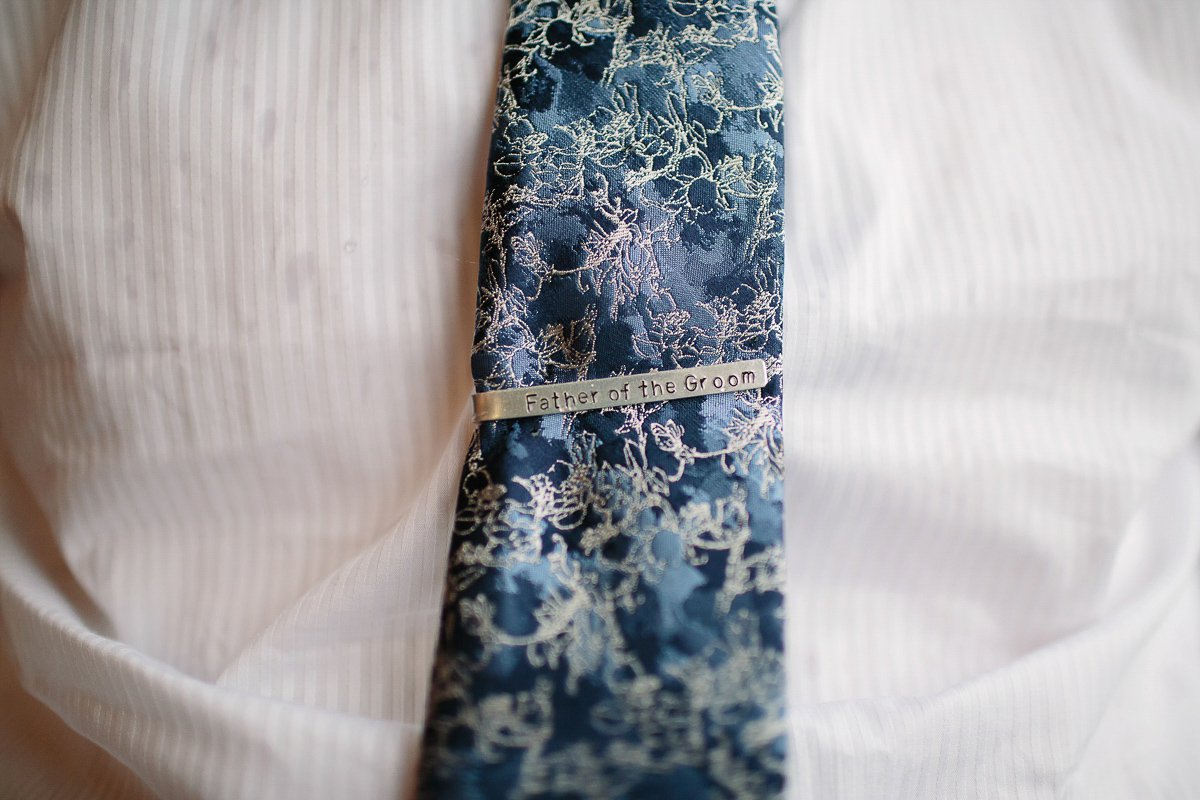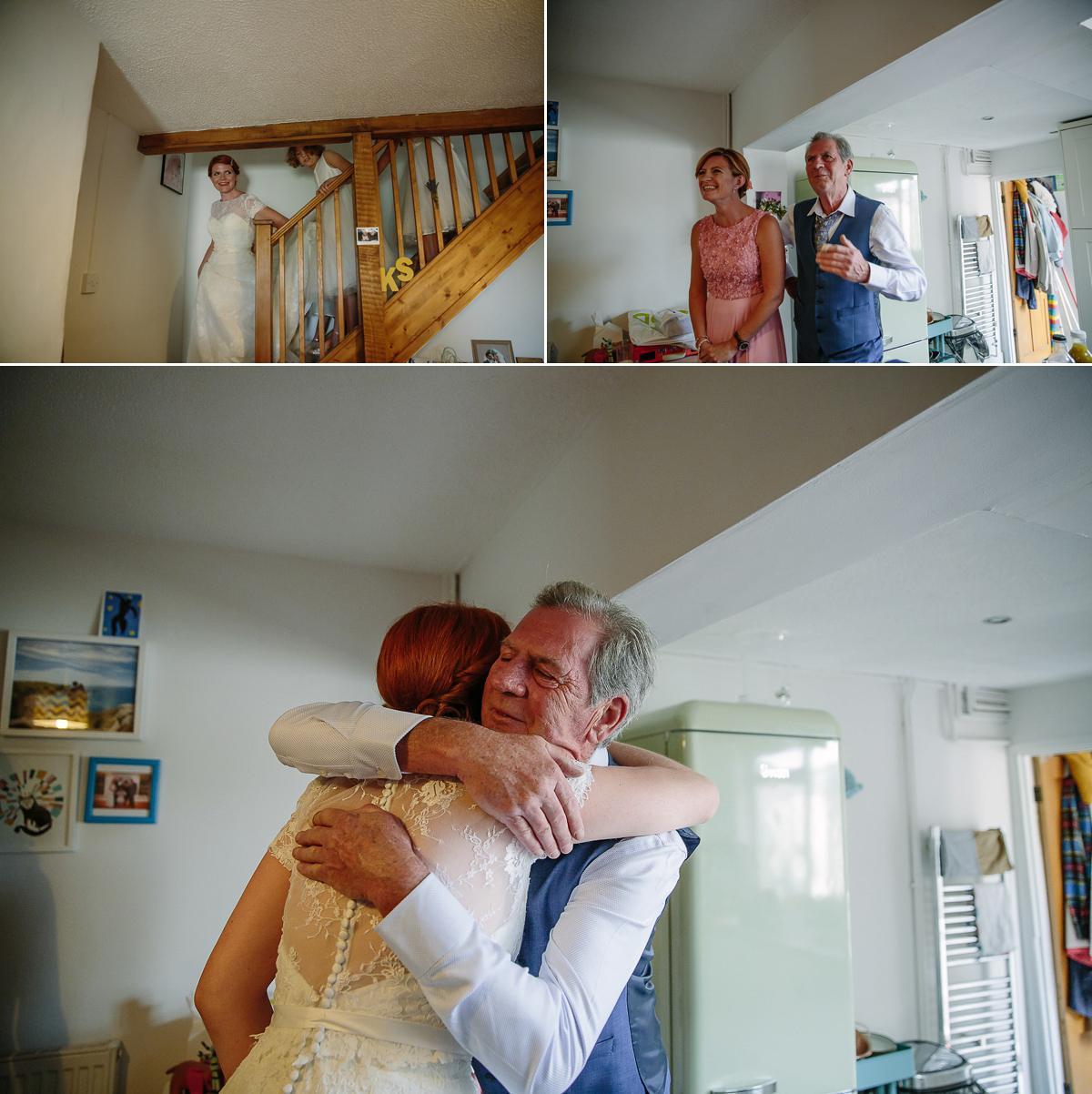 Her short veil was made to fit by her clever sister, a fashion and textiles teacher.
"I purchased my veil from eBay for £20. It was brand new and from a sample sale. Unfortunately when it arrived, the shape wasn't quite right, but I loved the lace trimming on it, which complemented my dress. Luckily my sister was a hero, and as a fashion and textiles teacher, she was able to essentially cut up and reassemble the veil to my specification, It was lovely to wear it knowing that my older sister had played a part in making sure it was perfect."
Katie and the bridal party travelled to the country house in striking blue and purple 1950s cars. I really love these images of Katie arriving; Joanna has captured her happiness so well.
"Being in the car with my dad on the way to the ceremony was lots of fun; we listened to Rock'n'Roll all the way there! From the moment we left to house until I met Steve at the venue is probably the most excited I have ever been."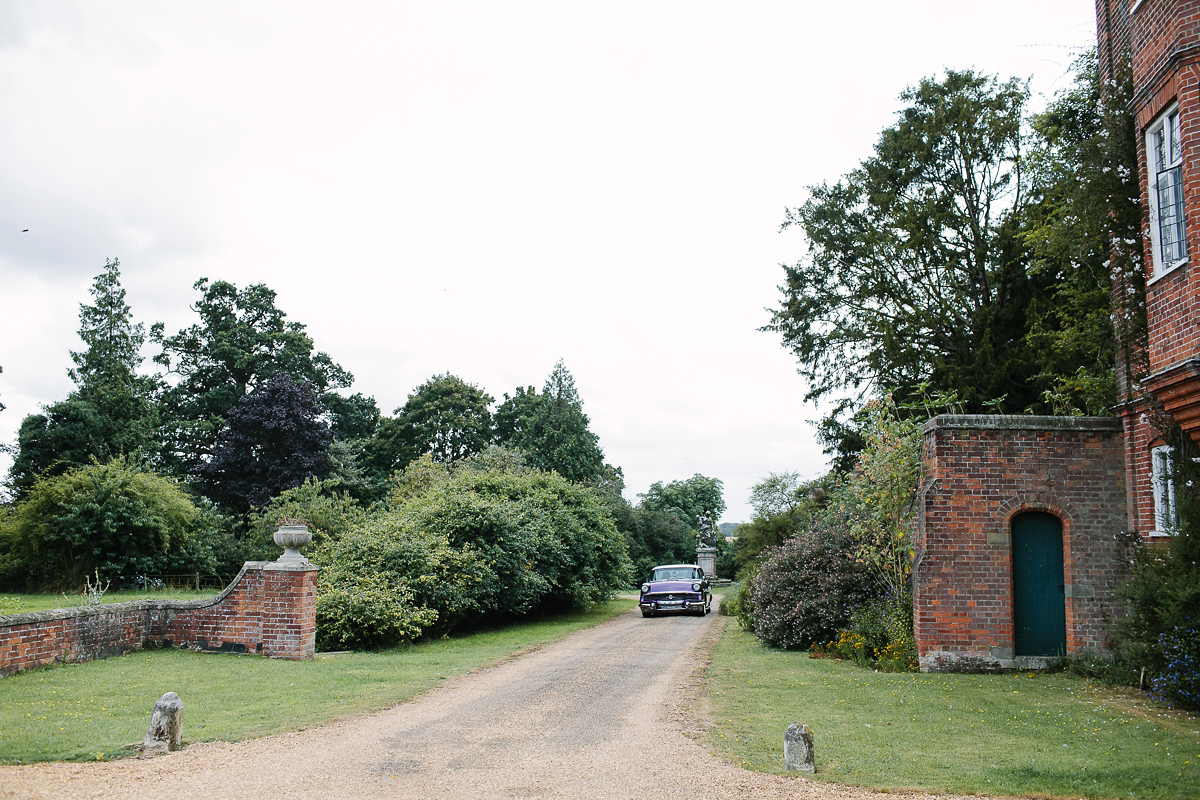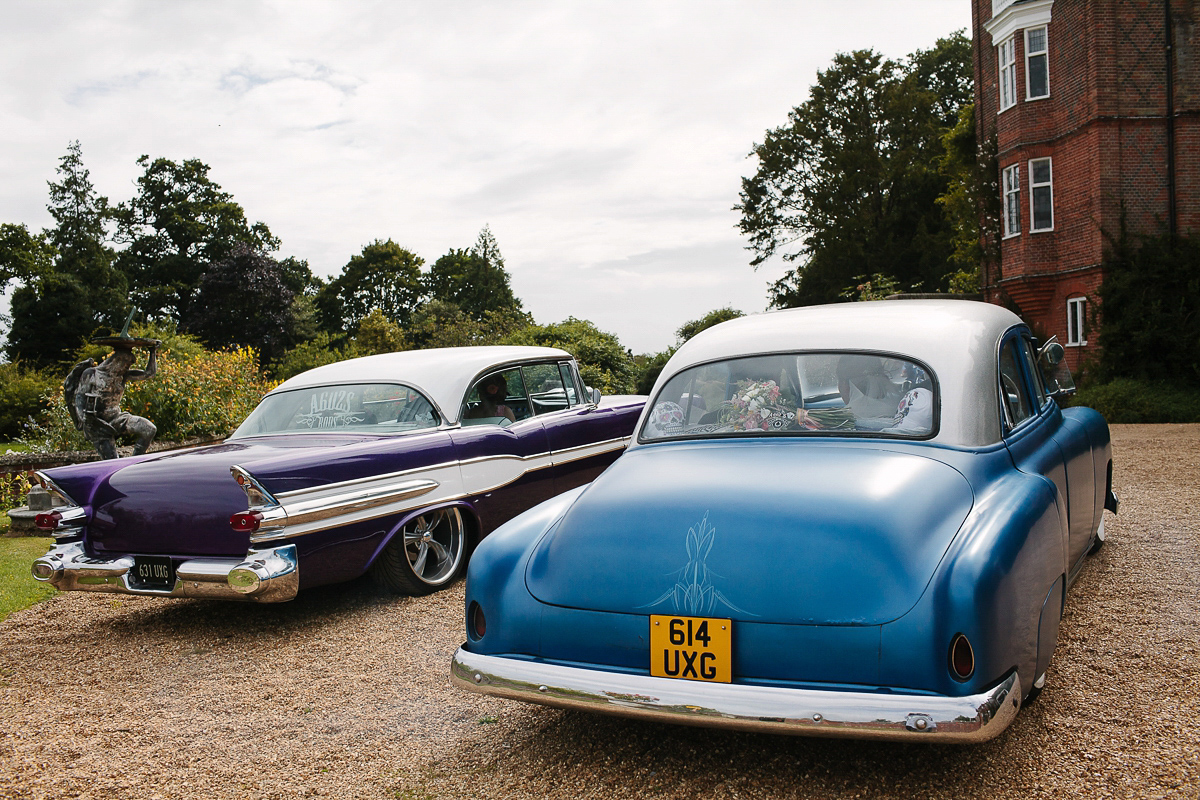 Katie's vibrant auburn hair was styled into an era-inspired roll by Dollie Mixtures of Hitchin, and adorned with fresh flowers. And oh, how I wish I were brave enough to wear bright pink lipstick; Katie totally rocks it and it really highlights the colour of her hair.
"I wore a pair of sparkly shoes with a bow from Irregular Choice for a majority of the wedding day – they were perfect! In the evening, I switched to a pair of patent white pumps with large pink metallic hearts on the front of them, which I purchased from ASOS. I needed to make sure I had the freedom to dance once the band started."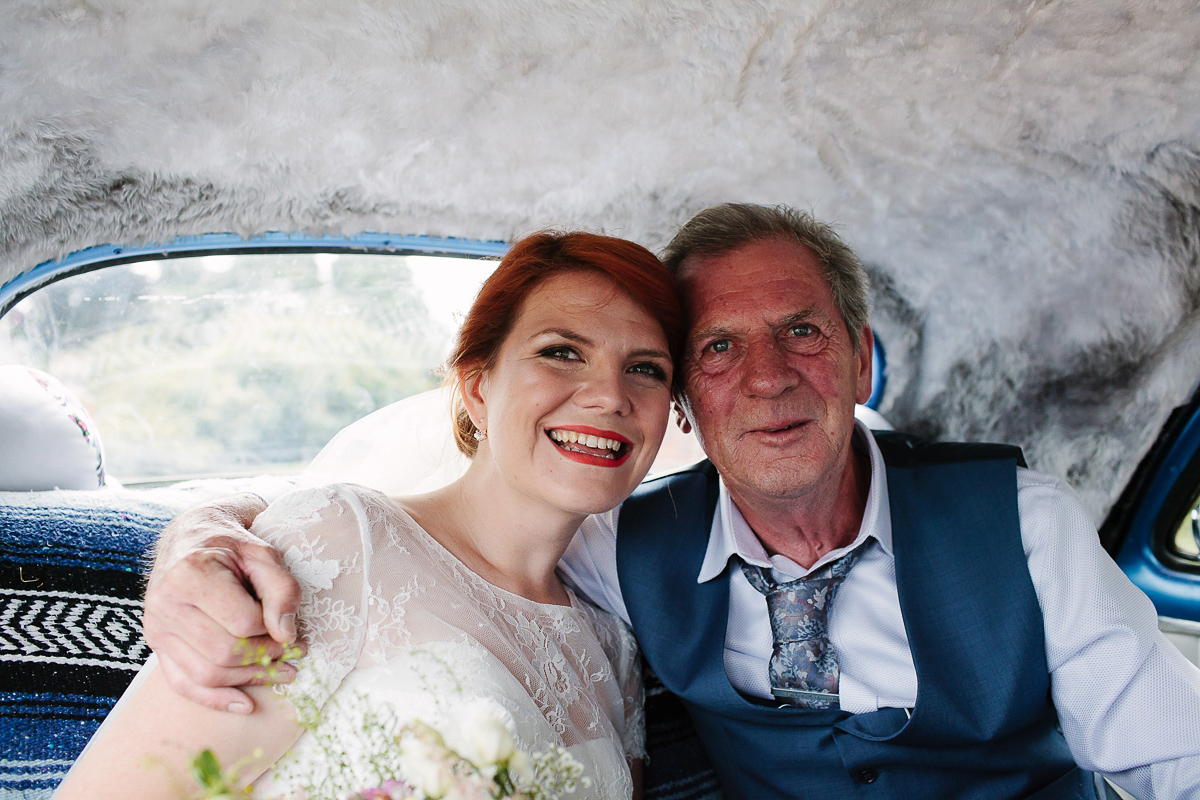 The couple's splendid venue was St Paul's Walden Bury.
"We are not religious, so therefore opted for a civil ceremony in a beautiful location rather than a church or other religious building. We chose the ceremony venue as we had hoped to get married outdoors in one of their licensed temples in the gardens. However due to weather, this could not go ahead on the day. We loved the house too though because of its décor and history, so our Plan B was still wonderful!"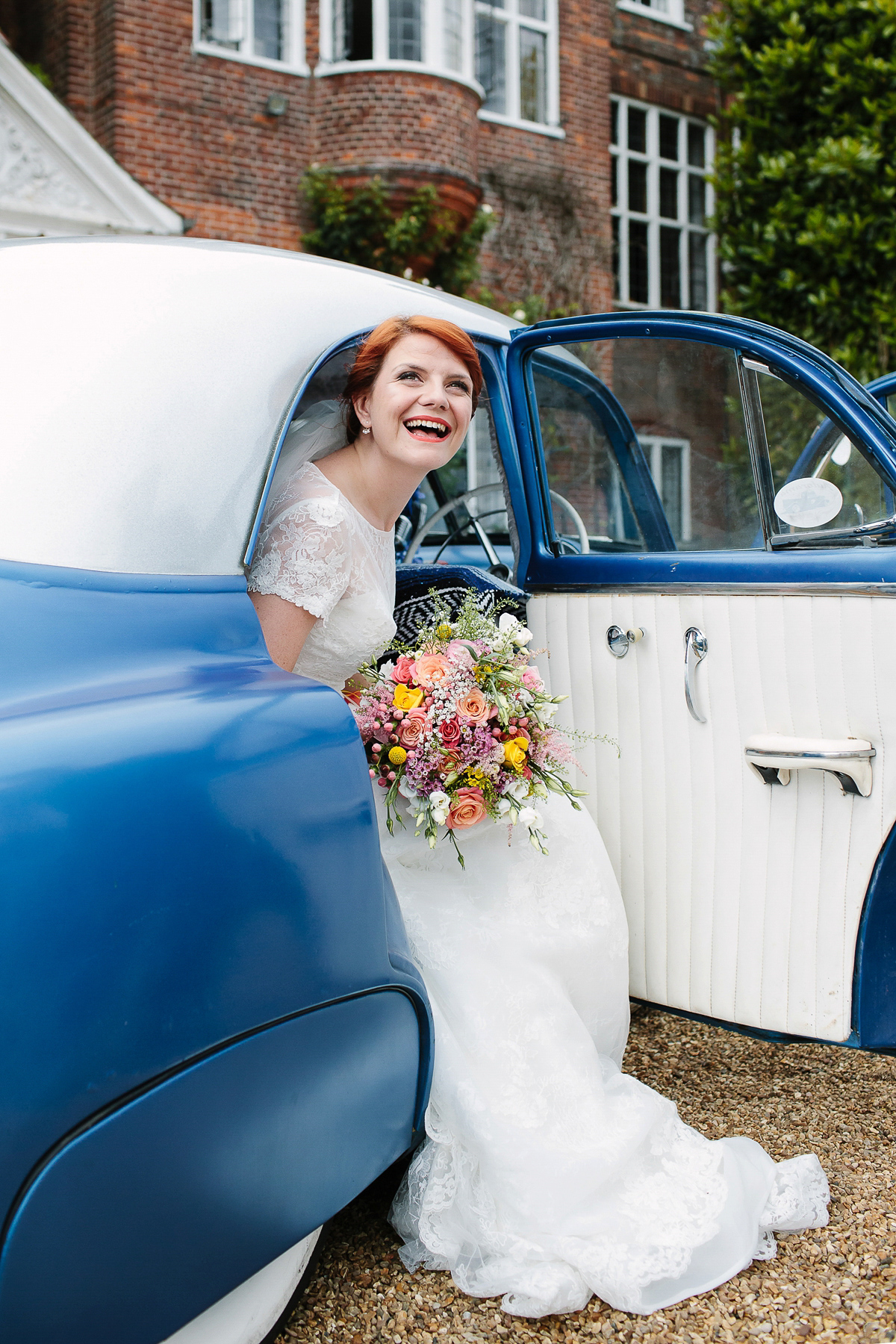 Katie's bridesmaids wore soft pink dresses from BHS, adding their own shoes and wearing fresh flowers in her hair to match Katie. I love the images of her little flowergirls in their bright Claire's Accessories headbands.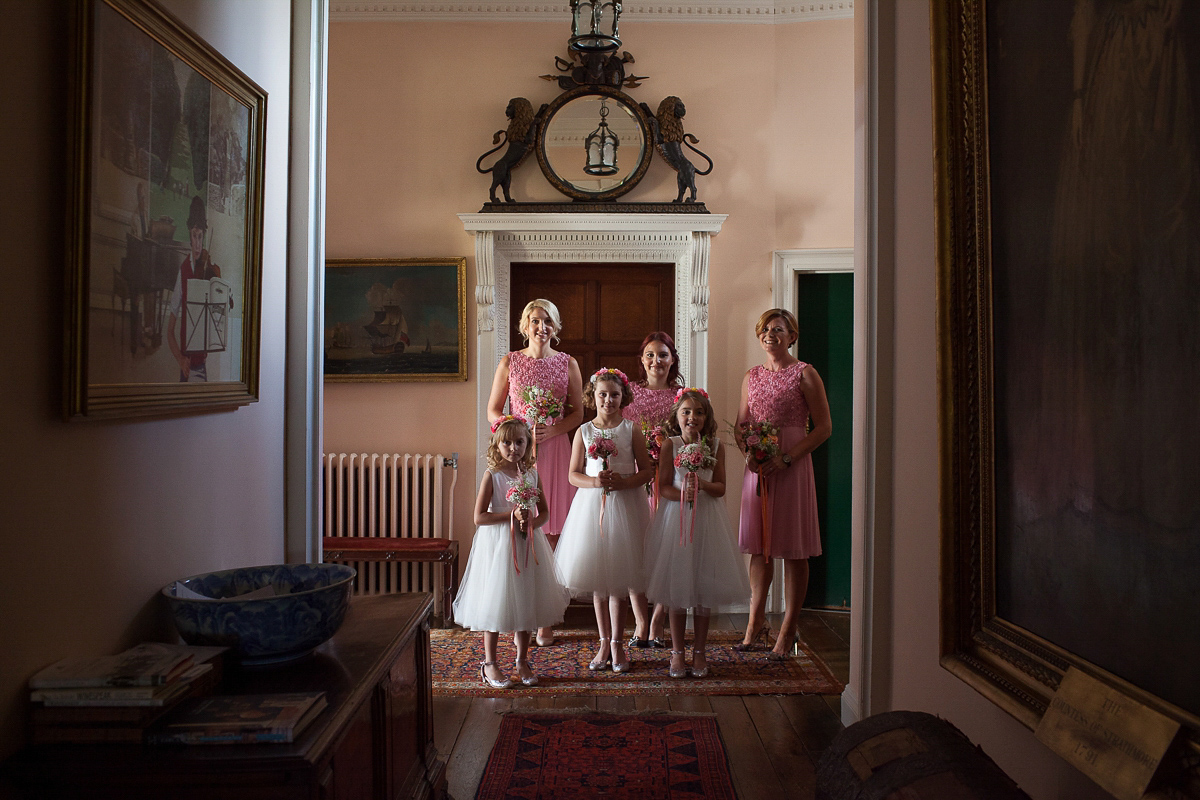 The couple met at university as Fine Art and Photography students and celebrated ten years together just before their wedding day. Katie, an Art Teacher, and Steve, who works as Head of Client and Creative Services of an interactive video company, utilised all of their artistic skills to blend together vintage elements and modern design to create the colourful, relaxed and fun feel that they were aiming for.
"We got engaged during a road trip around America during the summer of 2015 and Steve proposed whilst we were on a helicopter tour of the Grand Canyon. He asked me to take a photo of him using our Polaroid camera, and when I looked at the photo, he had snuck a pre-prepared one into the camera that was of him holding a sign saying 'Marry me?' and then there he was with a vintage engagement ring! We were engaged for just over a year before we got married."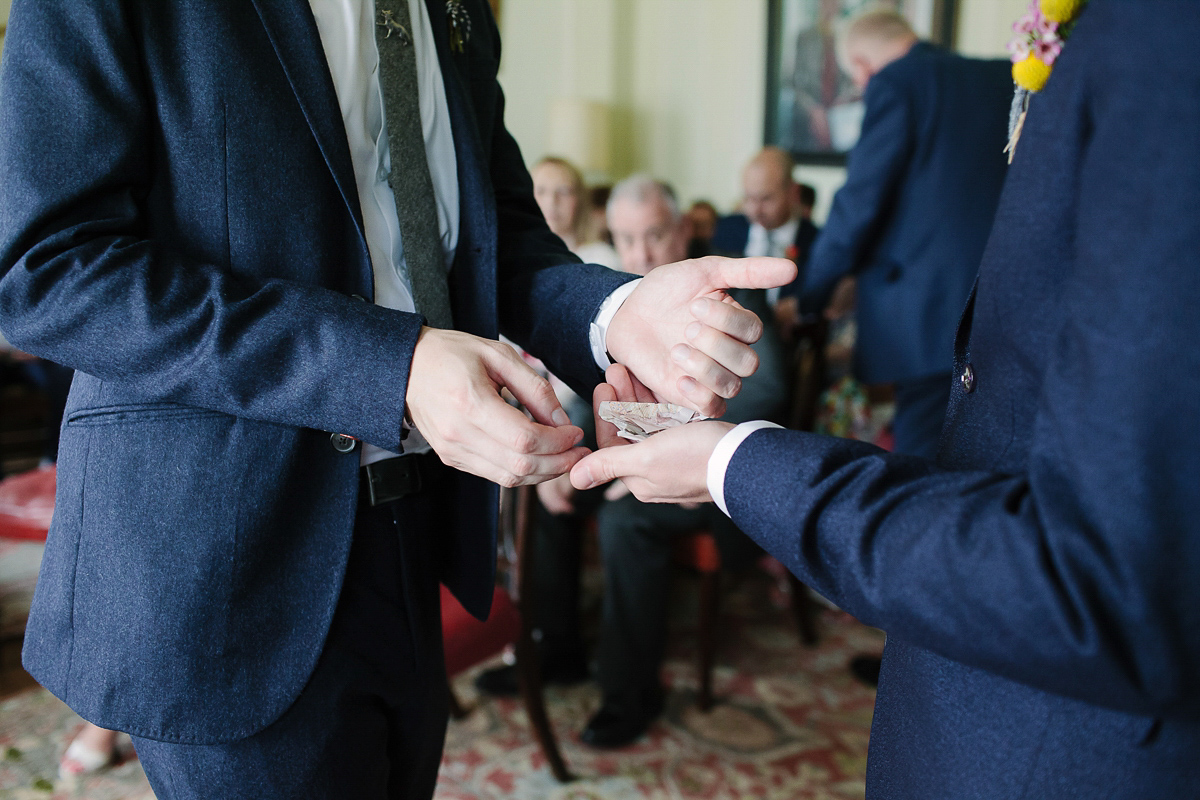 Steve looks every inch the 50s gent in his dark blue Ted Baker suit with his textured grey Topman tie. He added his own touch with a fox tie-pin, which was worn by the ushers too along with brightly-coloured buttonholes.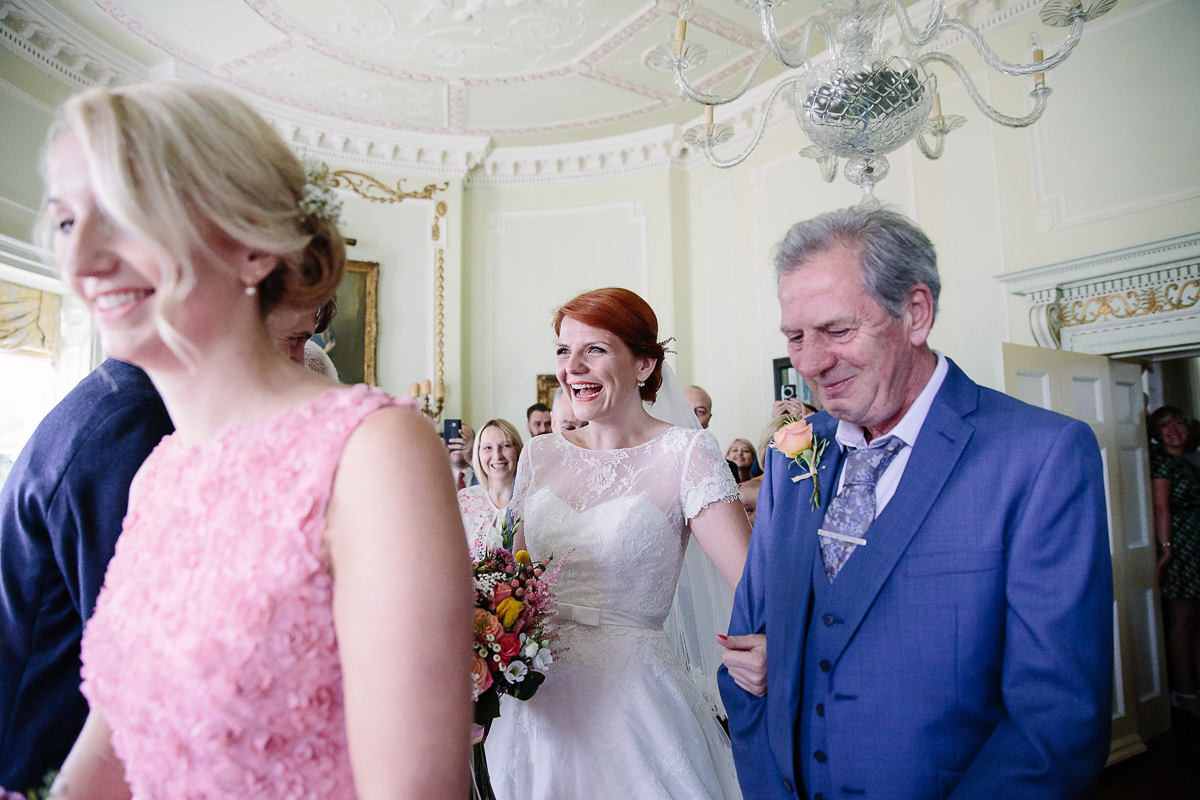 During the ceremony the couple made traditional vows and chose three very personal readings to celebrate their relationship.
"Katie's sister Donna read a reading by Tracey Emin, our friend Ellen read a poem that we had written for us by the poet Mark Grist when we were at Latitude Festival one year, and our friend Hayley read us a poem that she wrote herself especially for our wedding day. We did not want to select any obvious or overused readings for our wedding day – it was important that they meant something to us."
"We chose the Tracey Emin reading because Katie is a big fan of her work, and also we loved the words. The poem that Ellen read was written specifically about us, so is very personal. Hayley's poem blew us away – we heard this for the first time during the ceremony and adored it! We now have a copy which she typed up for us on the typewriter in a frame in our house."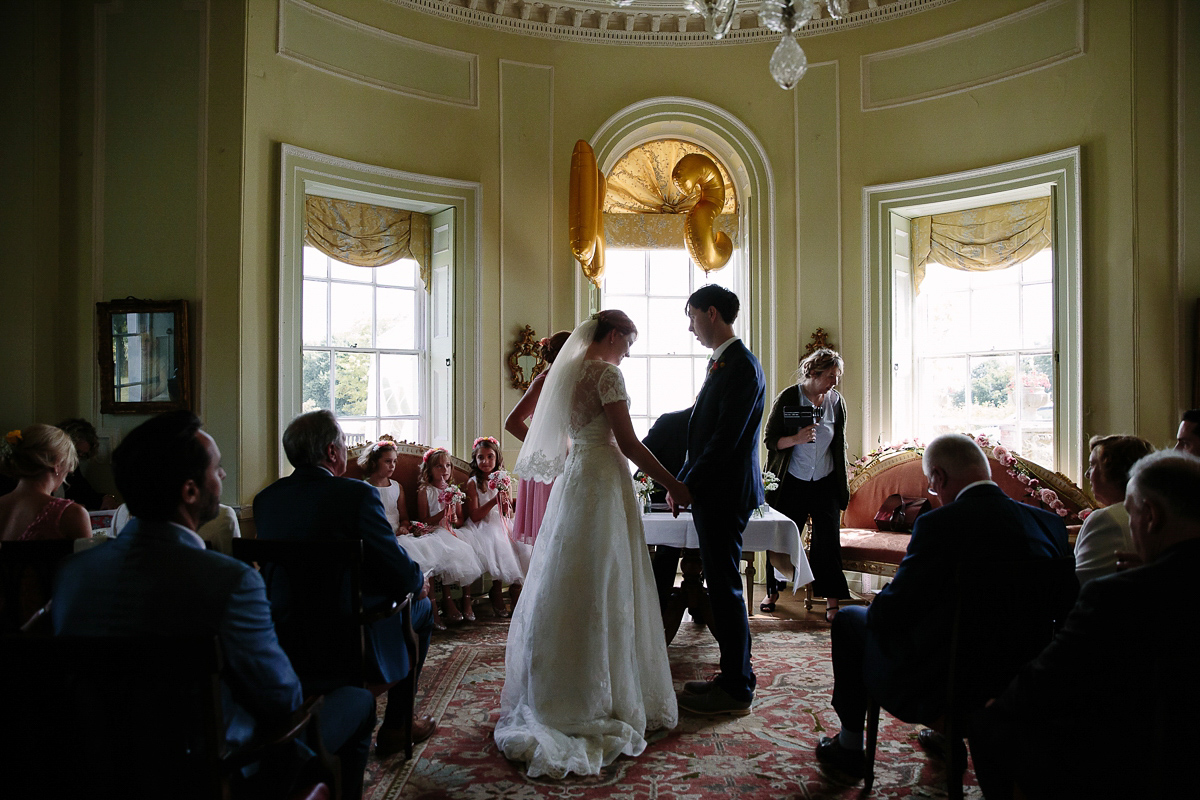 I was so happy to see that Katie chose a slim rose gold ring made by our very own Little Book for Brides member Nikki Stark Jewellery. We are huge fans of Nikki's delicate, simple designs; visit her Little Book for Brides listing where you can see more of her creations. Steve's ring was a silver band with a wooden inlay, chosen from Etsy,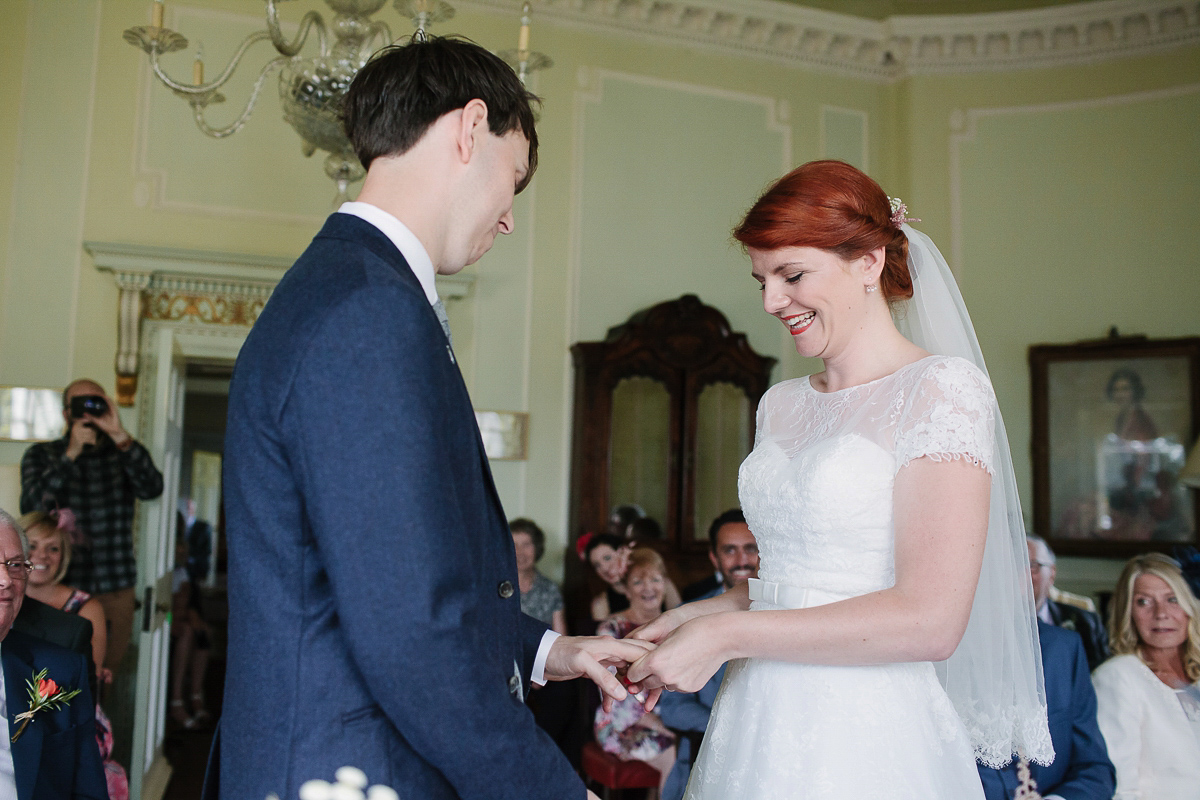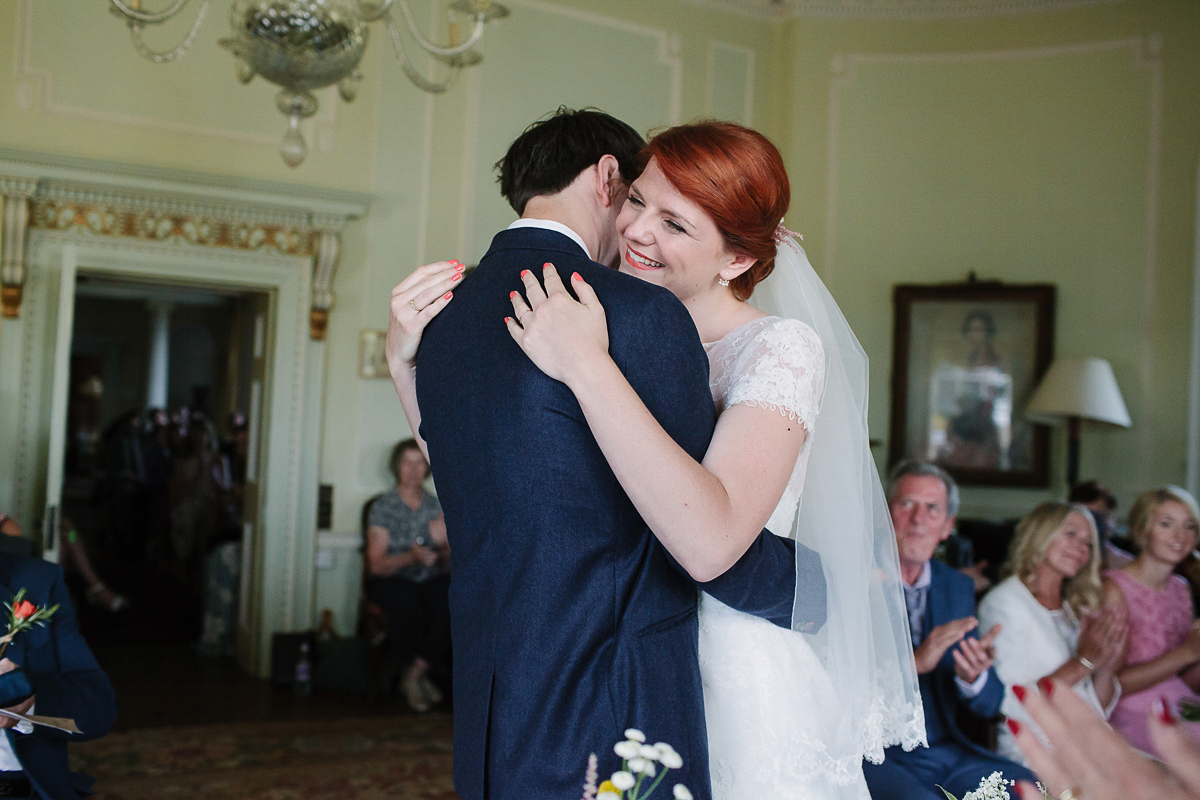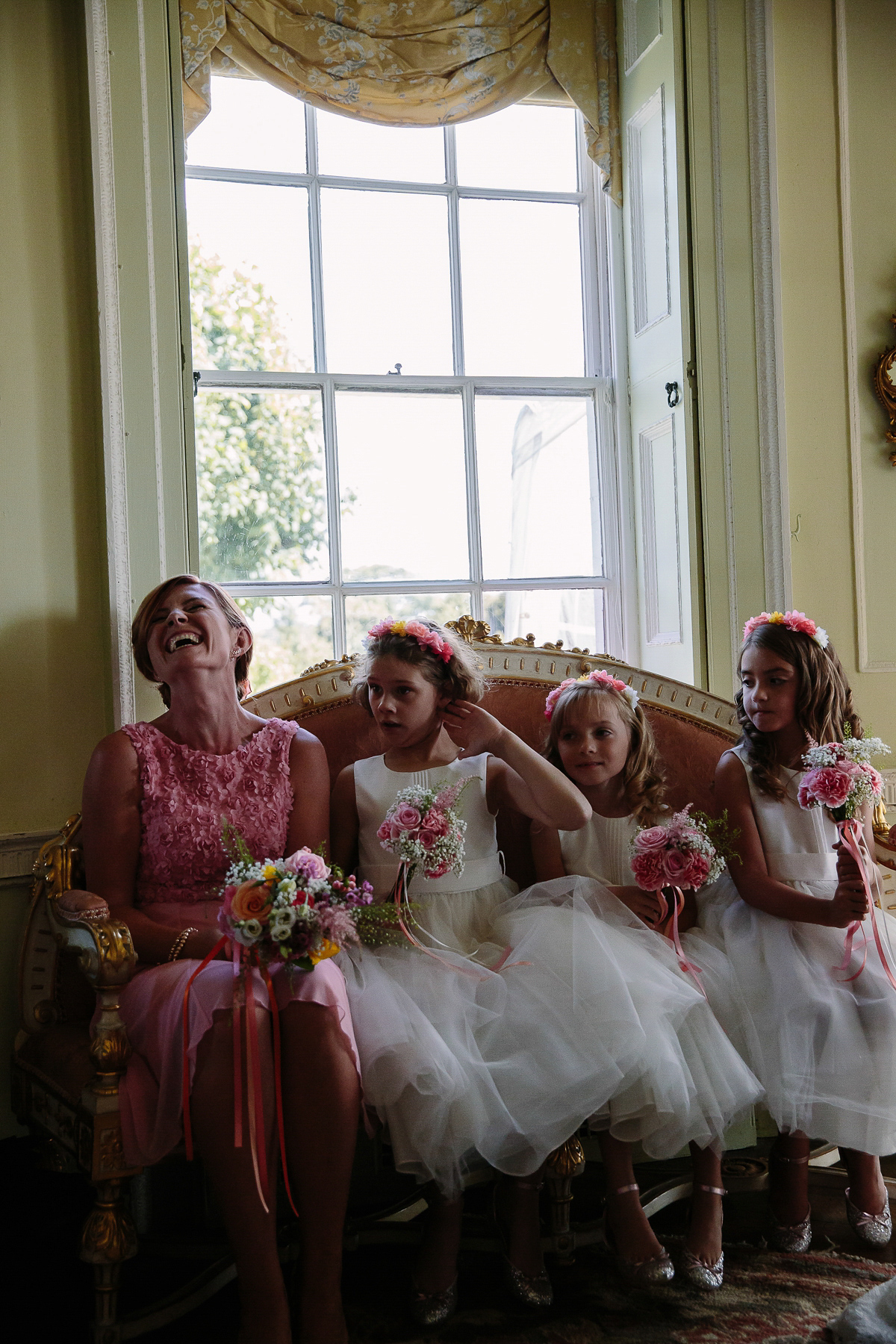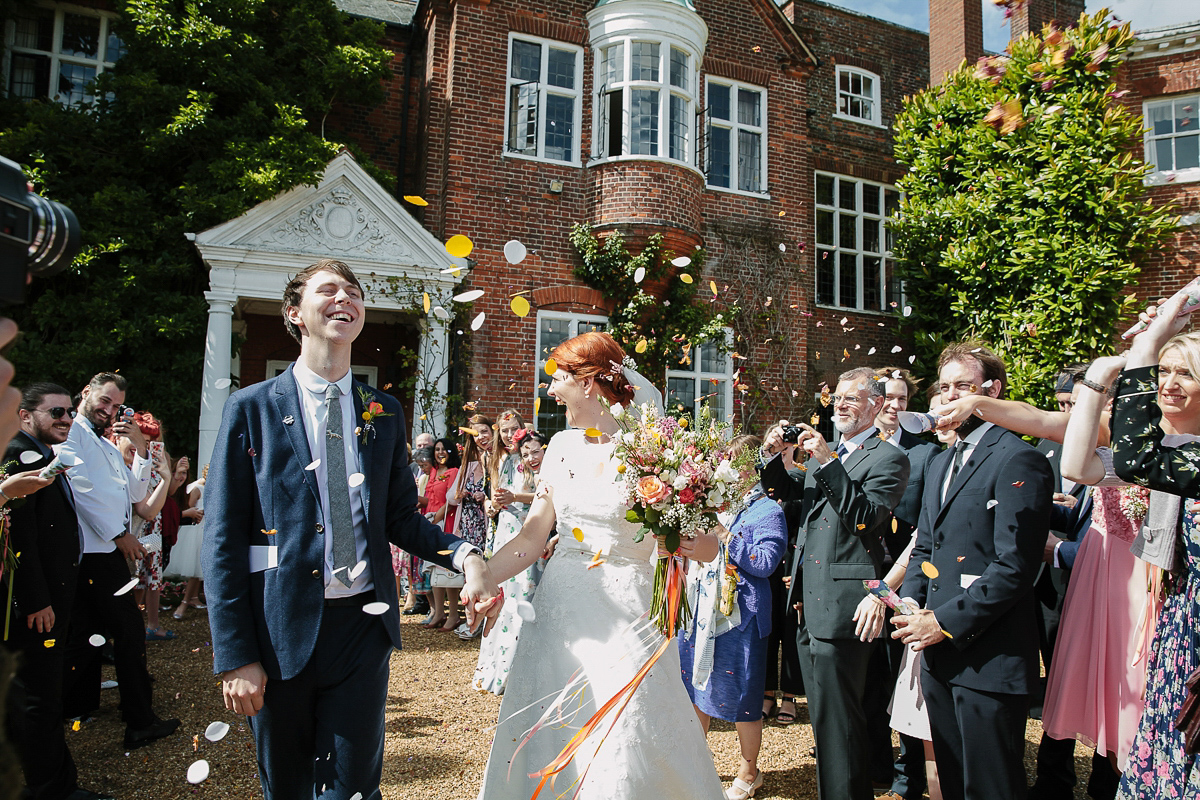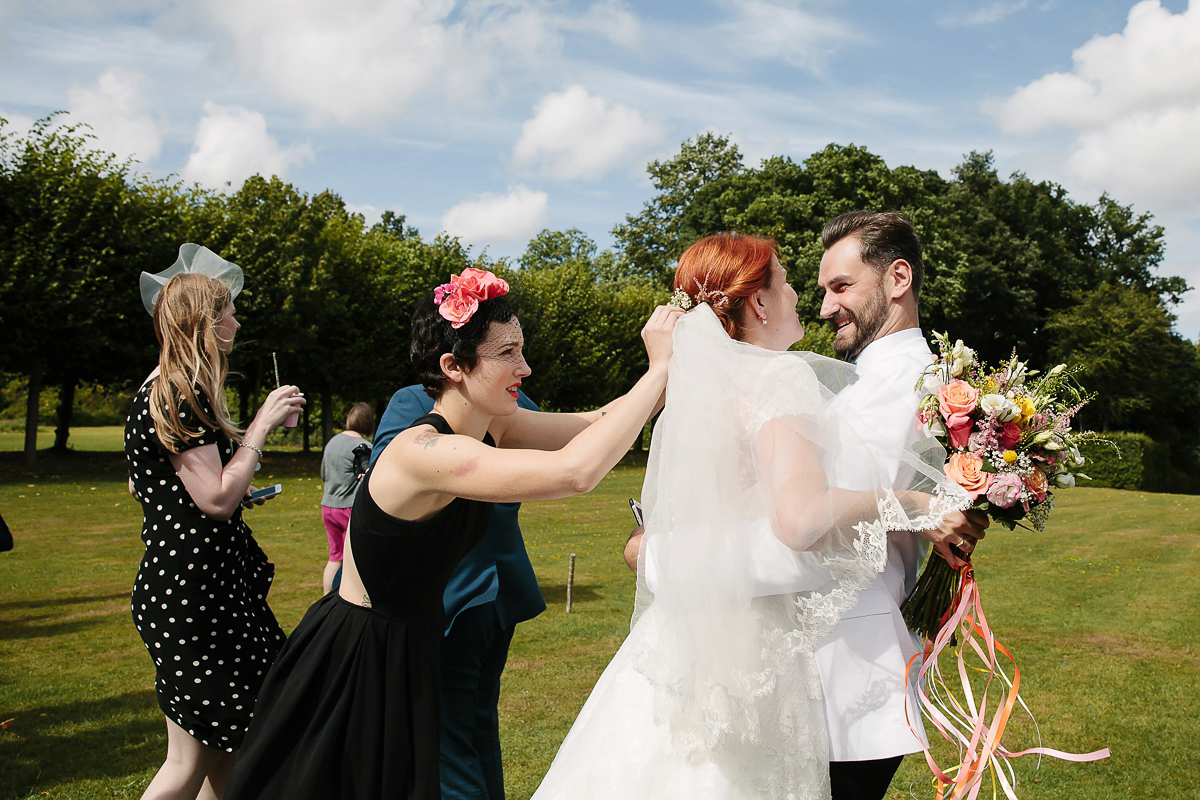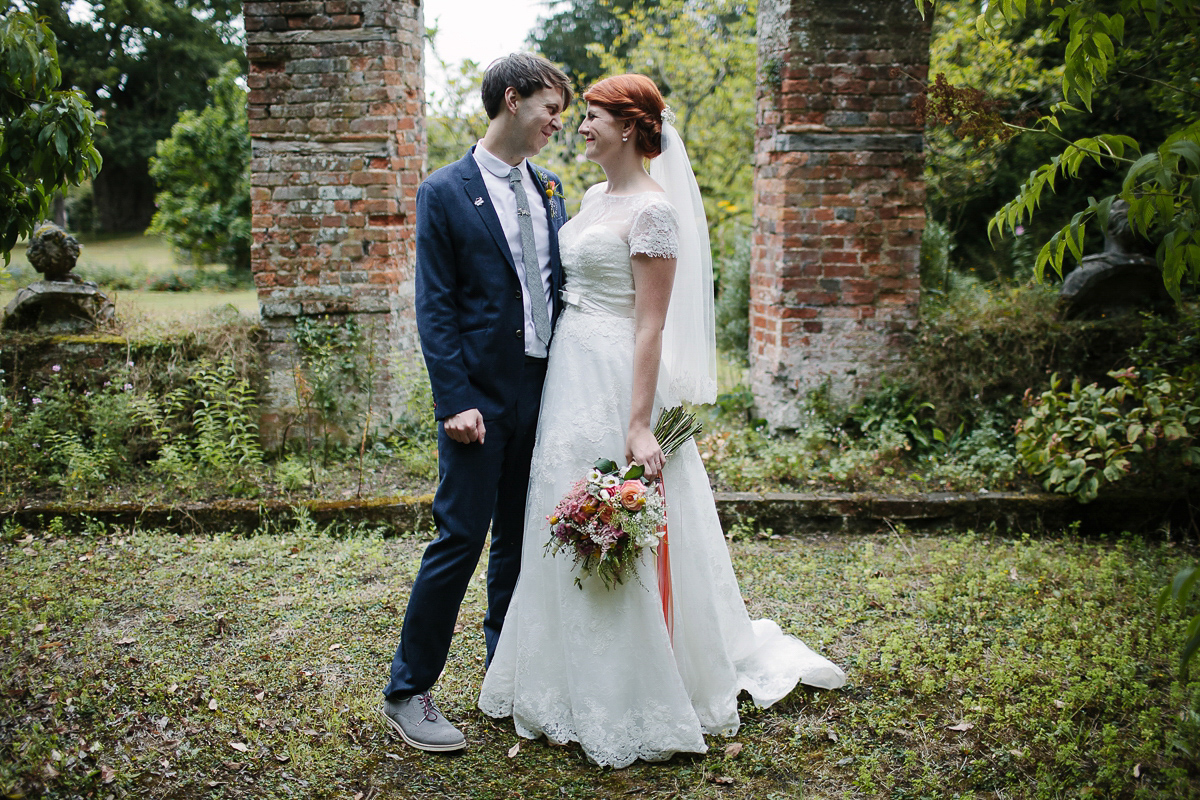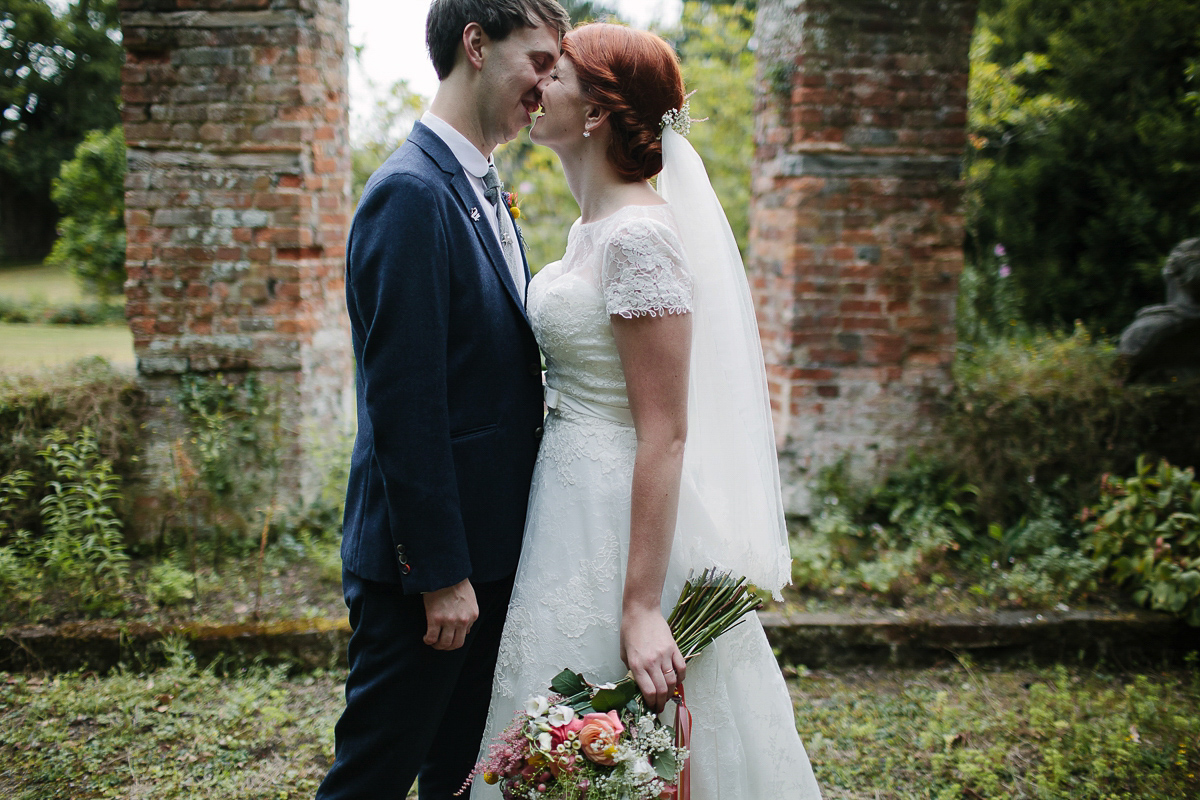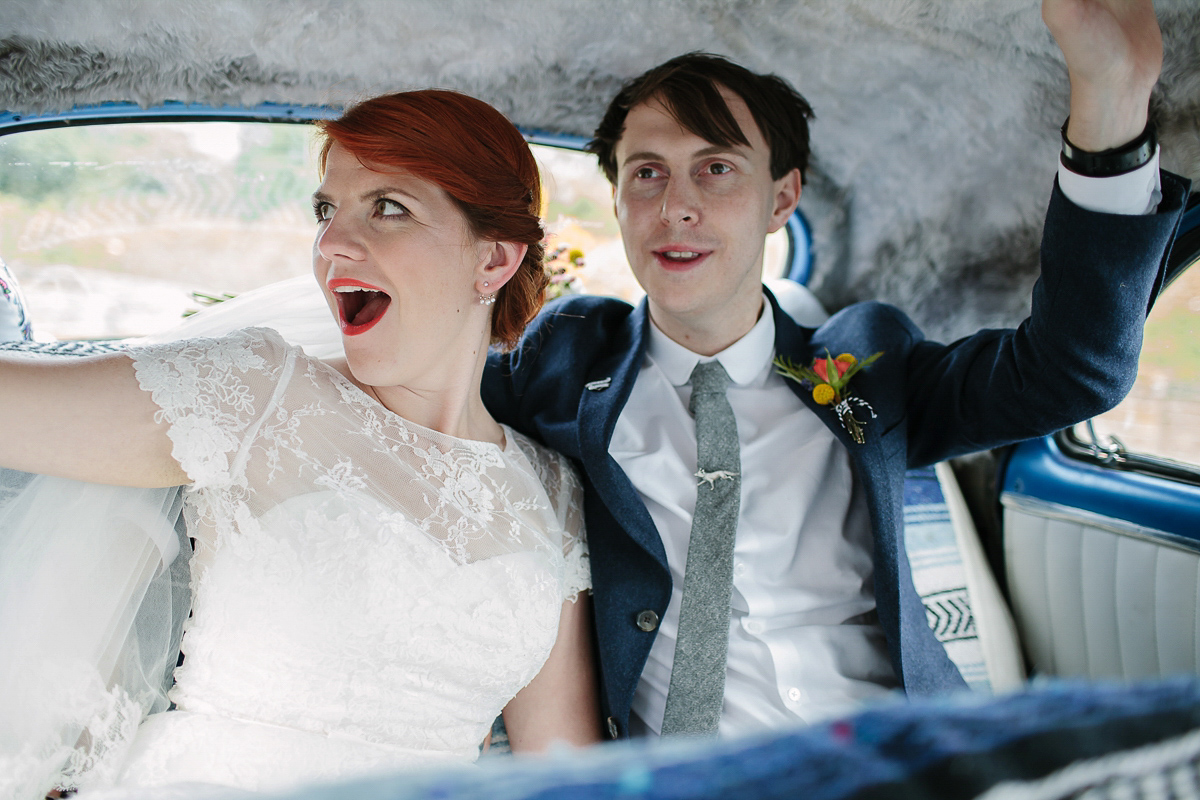 After the ceremony, the couple provided their guests with drinks and nibbles, organised by themselves and bought mostly from Marks and Spencer, before travelling to Tewin Village Memorial Hall, the perfect location for a vintage-inspired party. They couple really went to town on their décor; doesn't it look wonderful?
"We chose Tewin Memorial Hall for our reception venue because it had an old fashioned feeling to it; it has not been modernised too much, both inside and out. We also loved the stage area! We wanted a hall for our reception so that we had complete control over our day and could choose our own caterers, décor and entertainment. It was also convenient as it was only a twenty-minute drive away from our ceremony, so not too far for our guests to travel."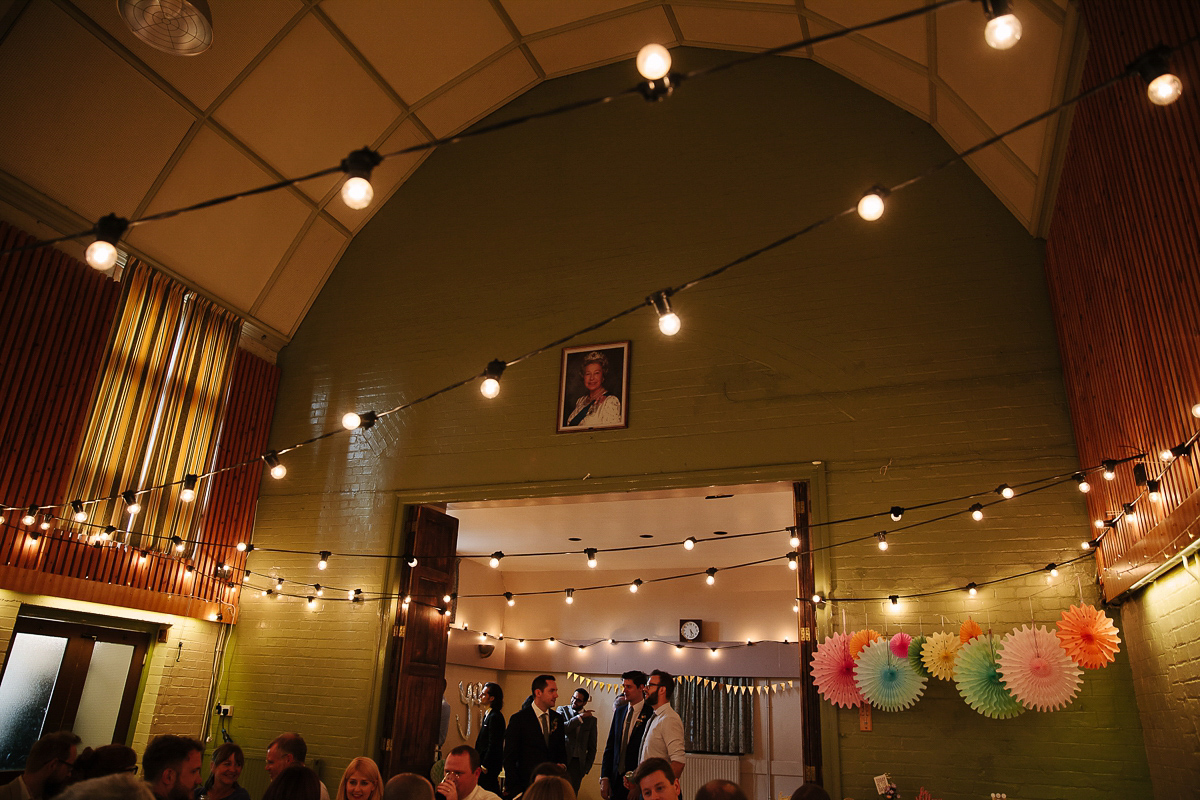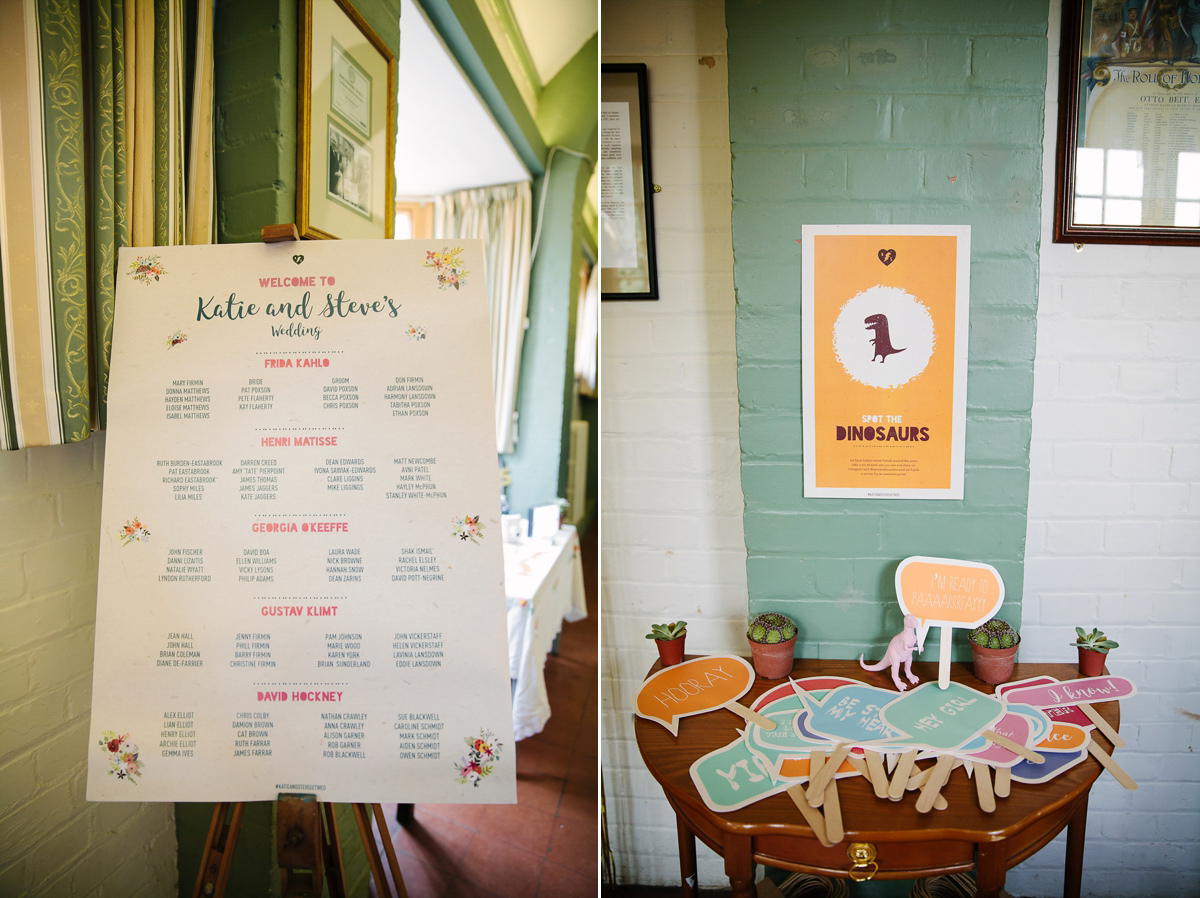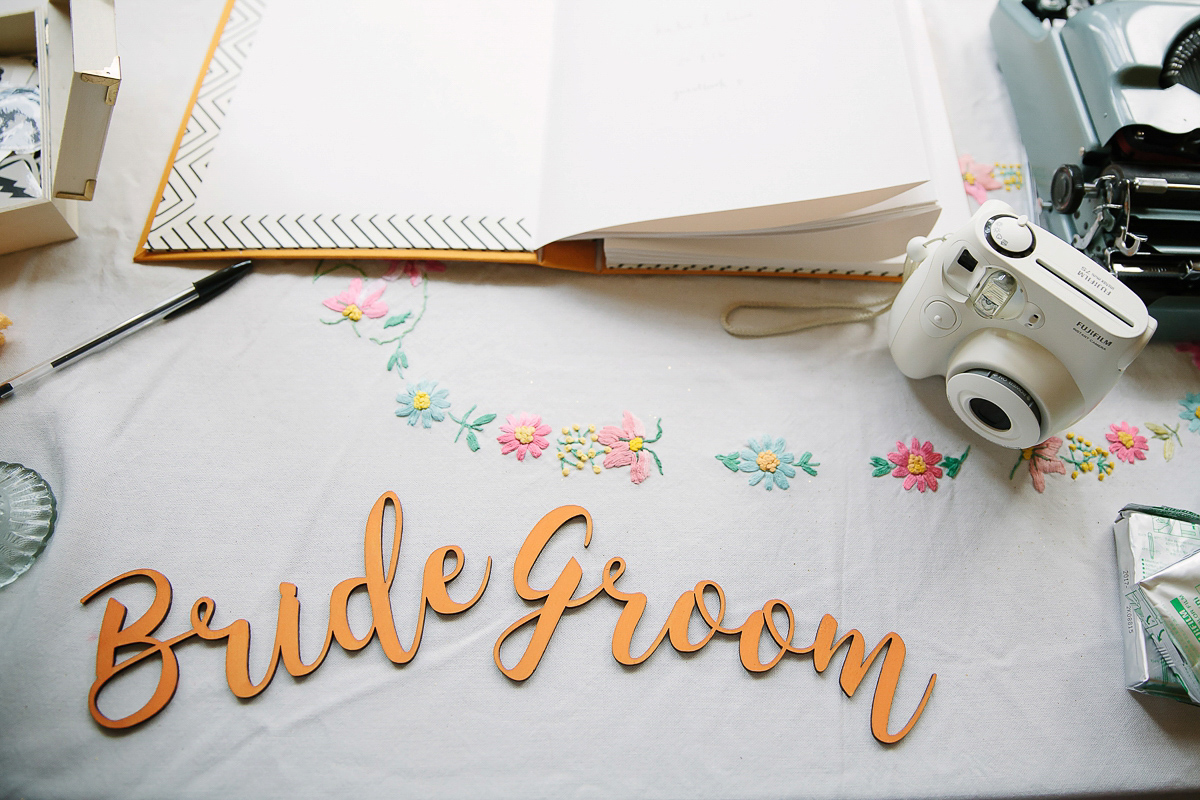 "The table runners were made by Katie who cut the fabric from a roll of material. We had huge gold 'K' and 'S' balloons, lots of colourful paper fans, vintage-style vases and bottles for flowers on the tables, tin cans covered in patterned paper for plants, fairy lights behind the stage and string lights across the ceiling of the hall. Above the bar, we hung a banner that Katie made from gold glitter cardboard saying 'Til Death Do We Party'. Our tables were named after artists. On our guest book table, we had a handmade book, made by our friend Ellen, a vintage typewriter which we borrowed from our friend Hayley of Pigeon Vintage, an Instax camera and temporary tattoos which Steve designed."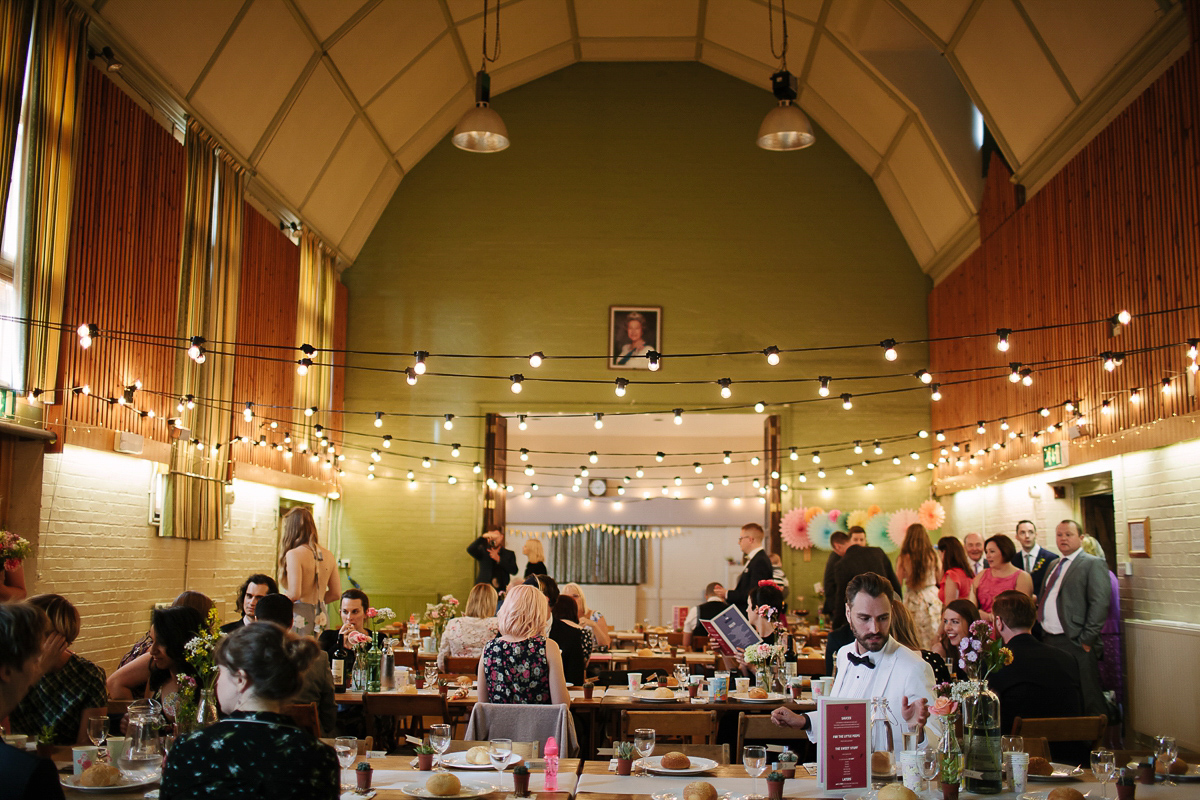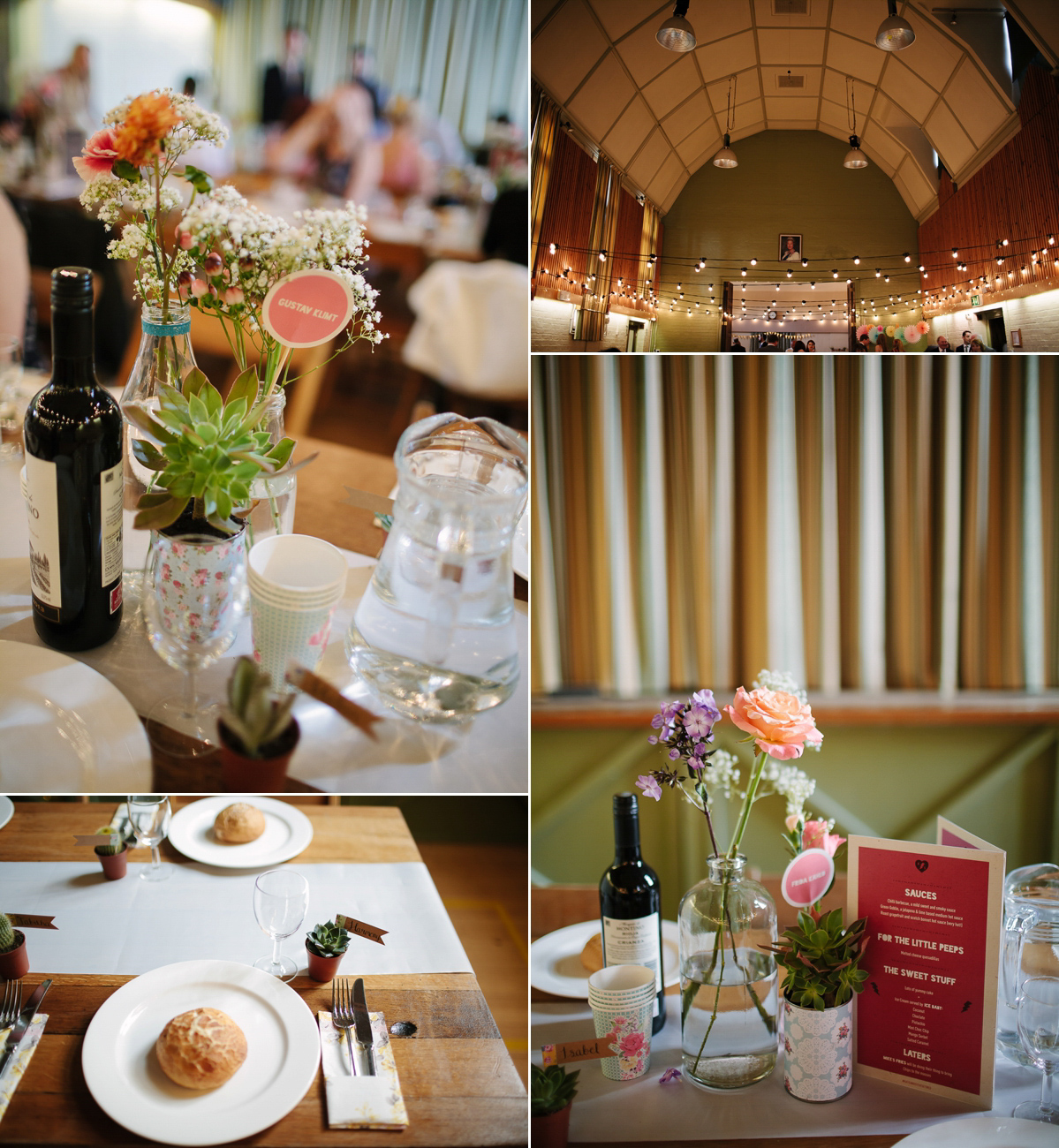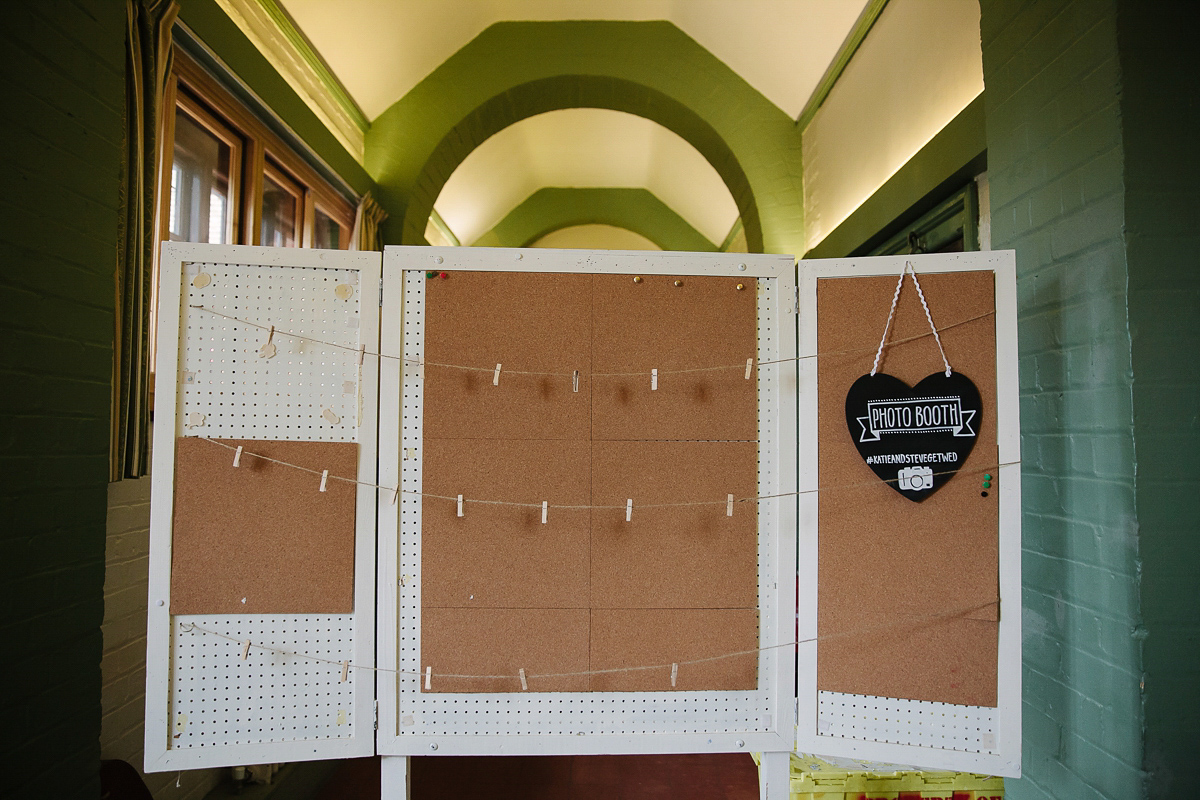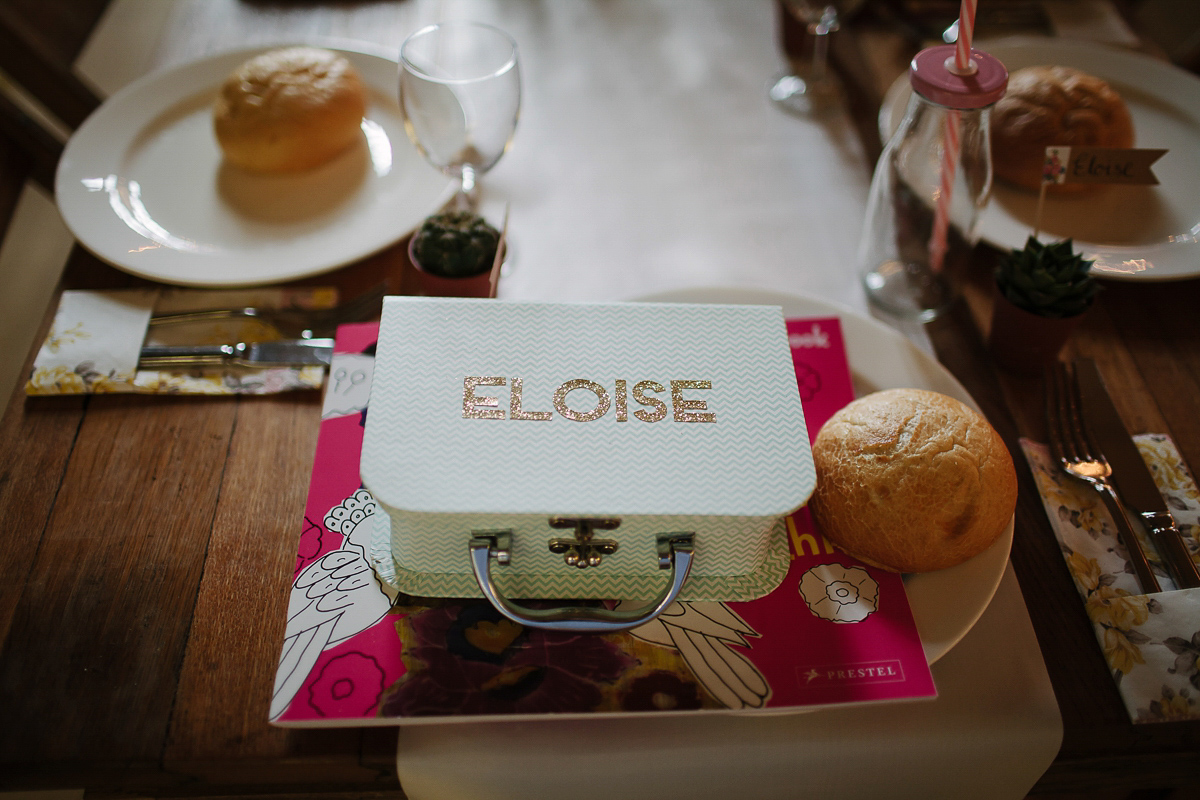 I love the sound of their wedding breakfast, a Mexican feast by Cantina Carnitas followed by ice-cream served from Ice Baby's vintage Honda Ice-cream van.
Later in the evening the guests were treated to sweet potato fries and chips, with mushy peas, gravy and butties. You've probably realised by now that I'm a big fan of cake, and this one made by the couple's friend sounds scrumptious.
"Our friend Ivona made our wedding cake. We chose a three-tier cake; chocolate and peanut butter at the bottom, raspberry and coconut in the middle and lemon on the top. Katie and Steve designed the cake topper together – 'Be Still My Heart' is the title of our first dance song. Steve did the digital part and Katie cut it on a laser cutter. Ivona and our friend Gemma also made all of the other cakes for our cake table, including some gluten and dairy-free cupcakes for our guests with intolerances."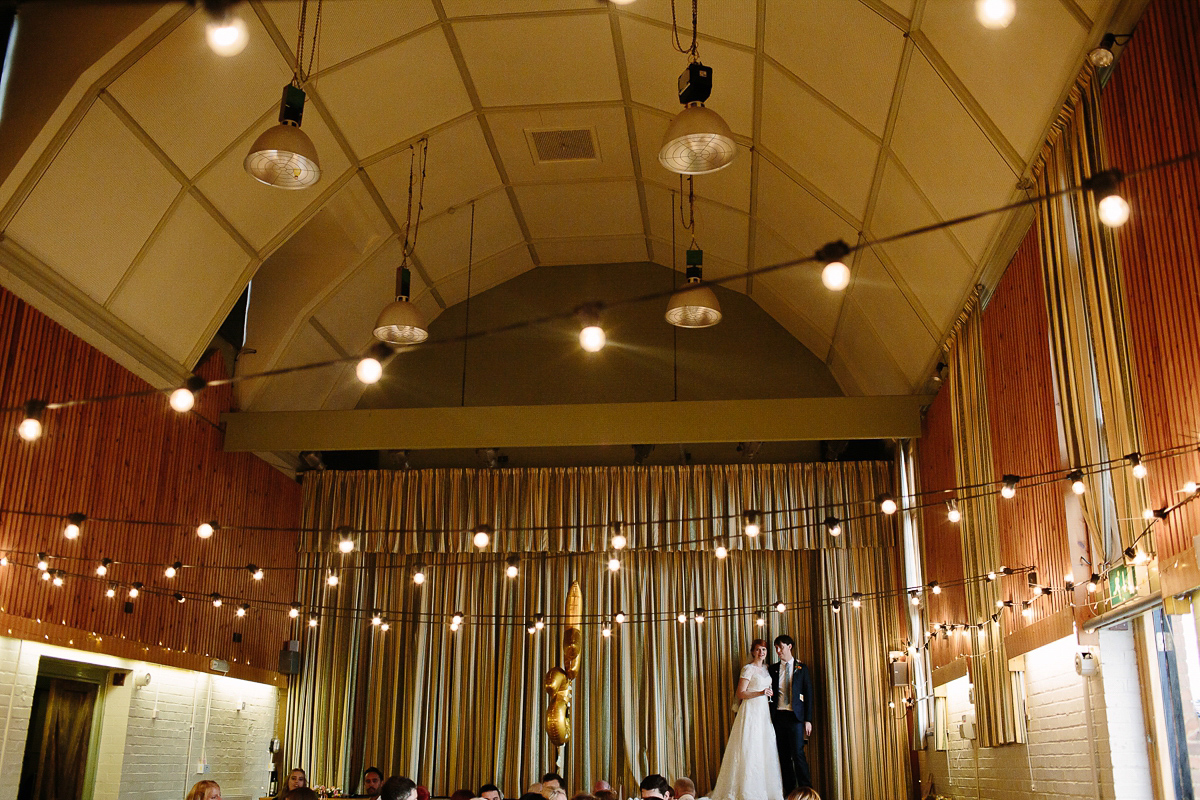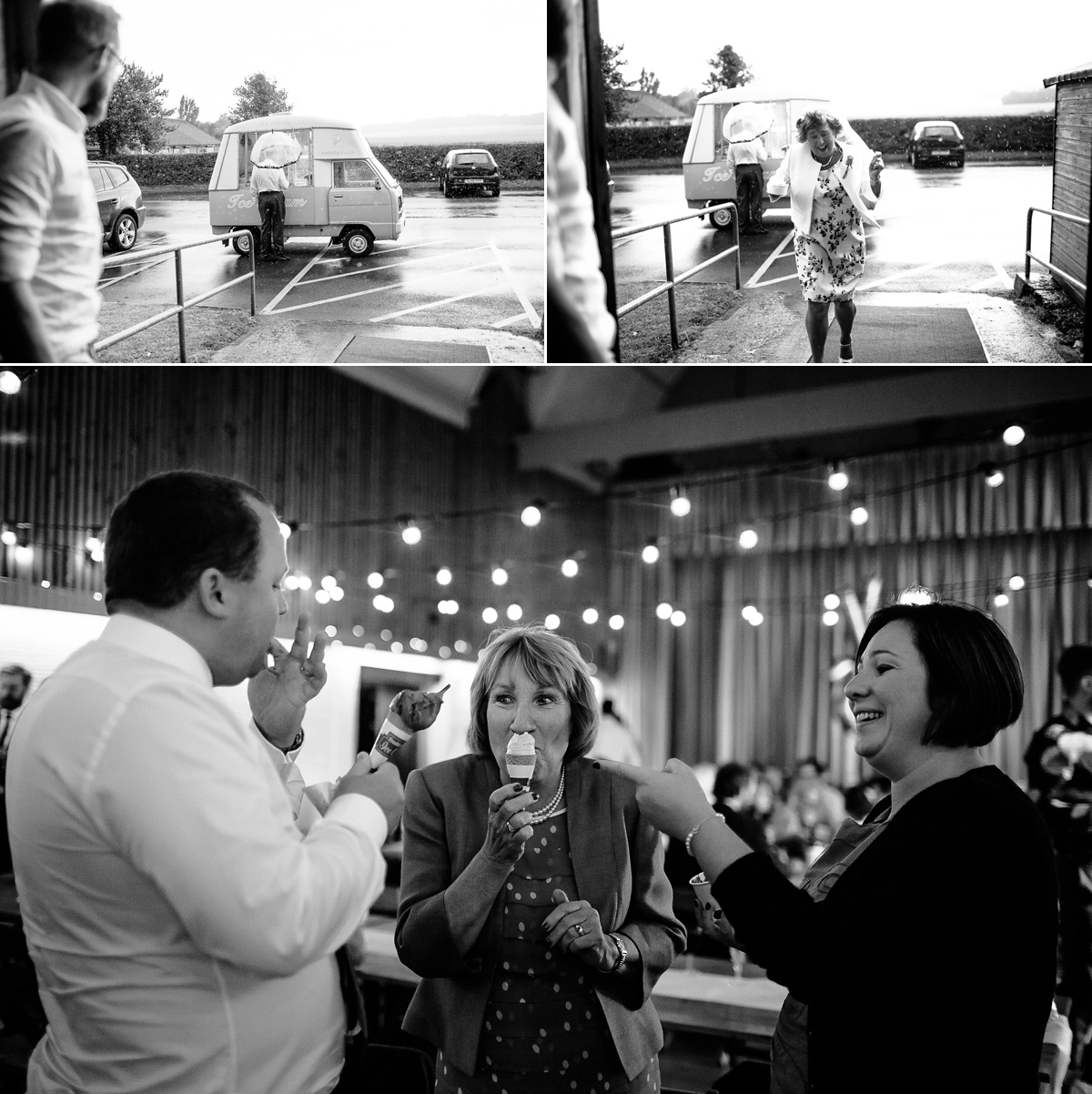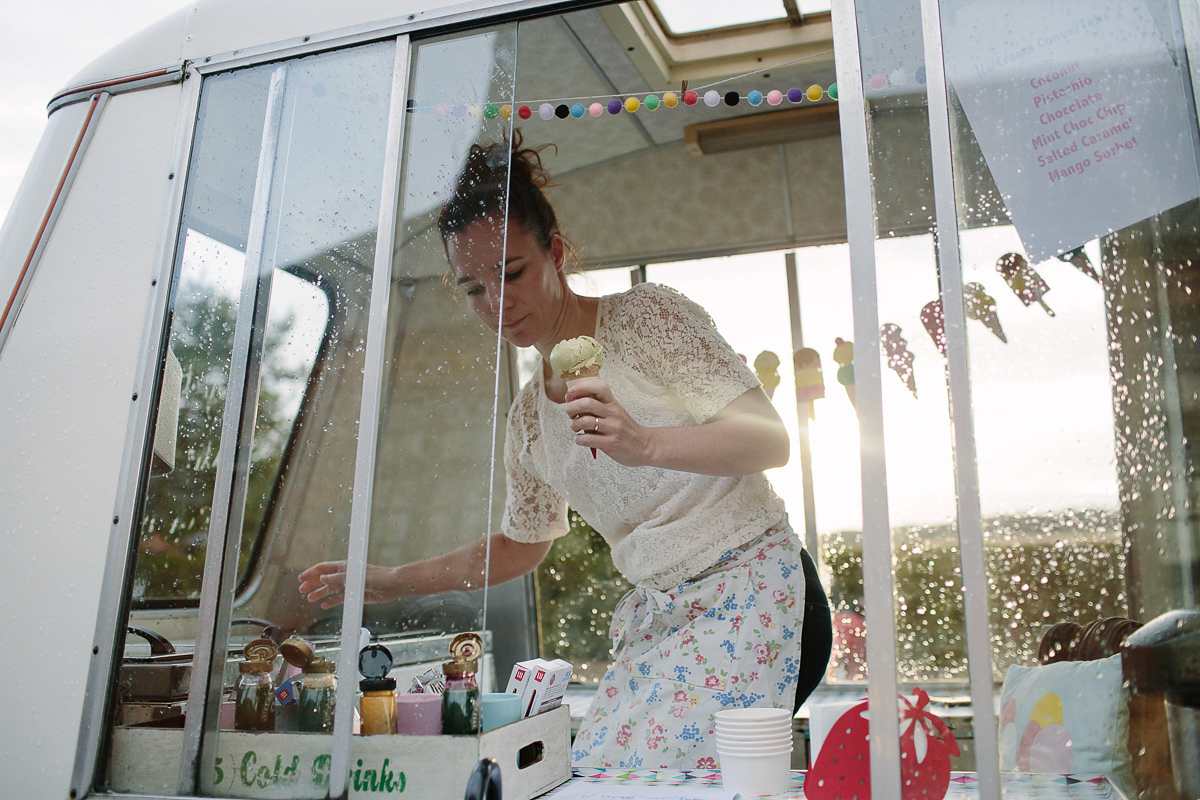 Katie and Steve found their band The Nameless Three through Alive Network.
"We loved that we got to request the first song that they performed – we decided on Chuck Berry's 'You Never Can Tell'"
"Our first dance was 'Be Still my Heart' by the Postal Service. We said to each other years and years ago that when we eventually got married this would be the song to dance our first dance to. The words mean a lot to us and we both love the band."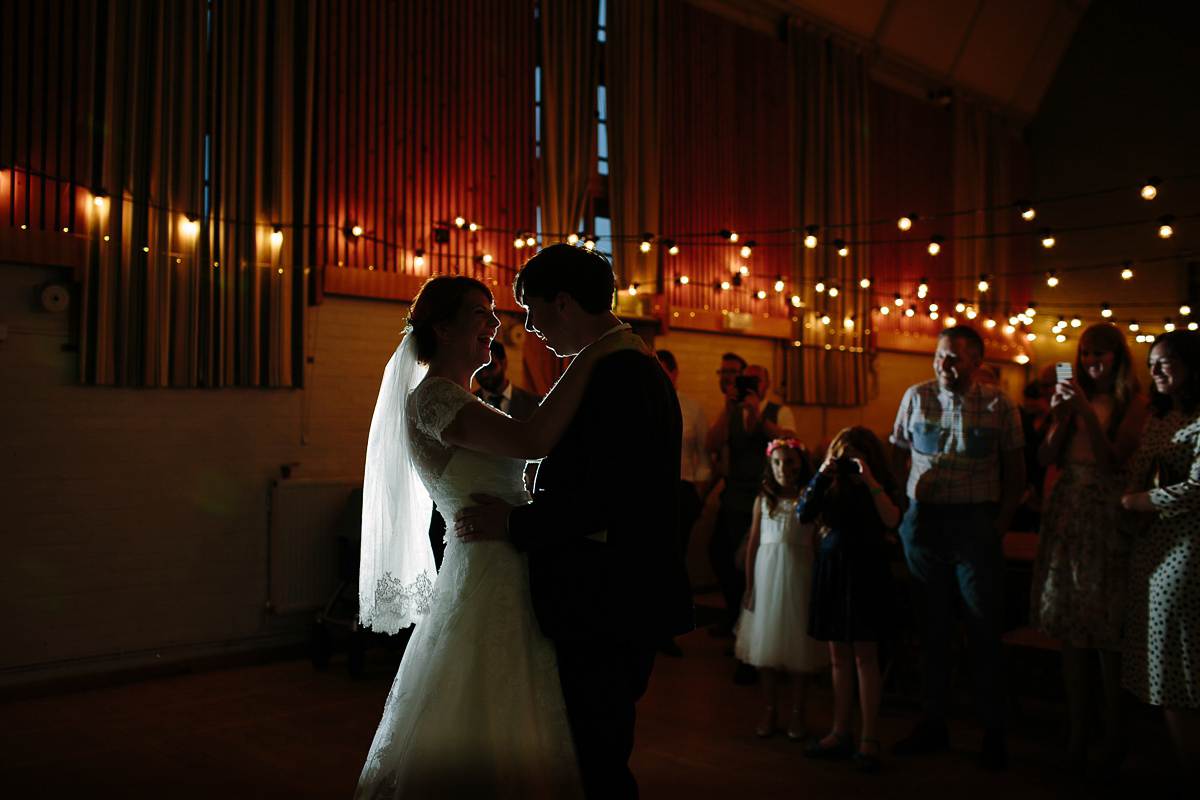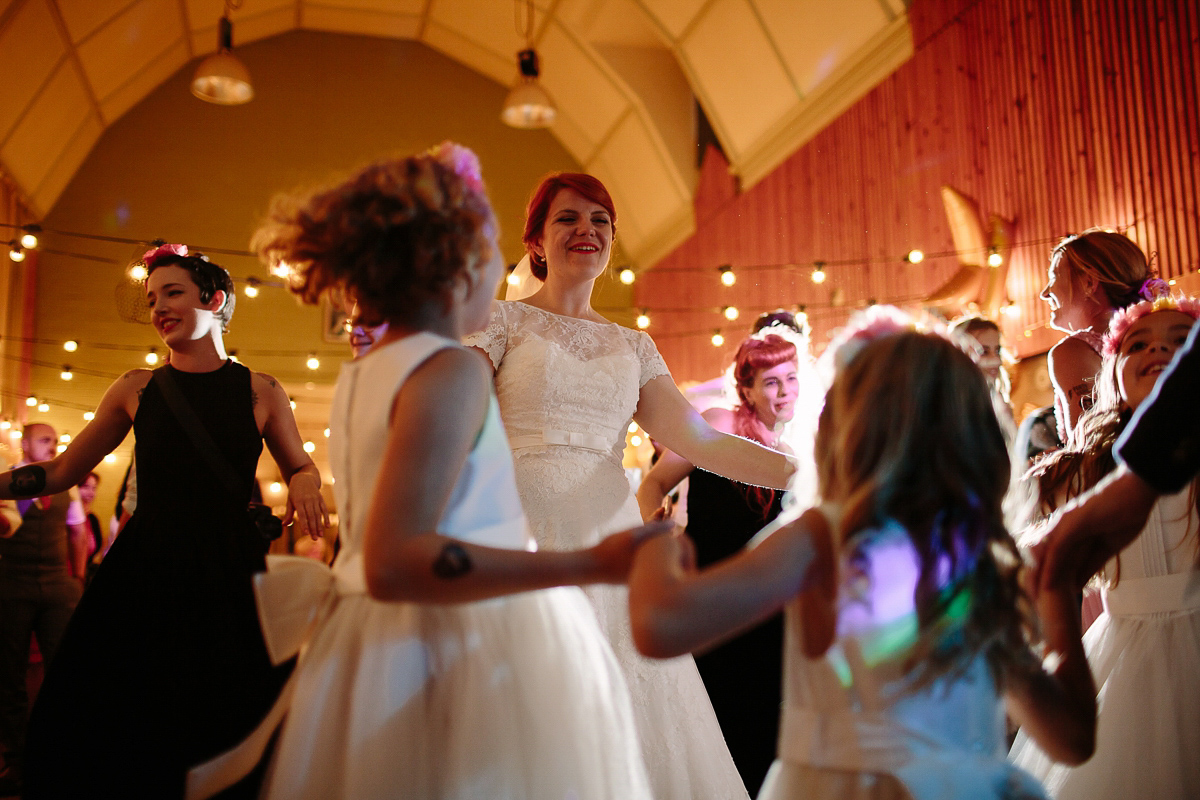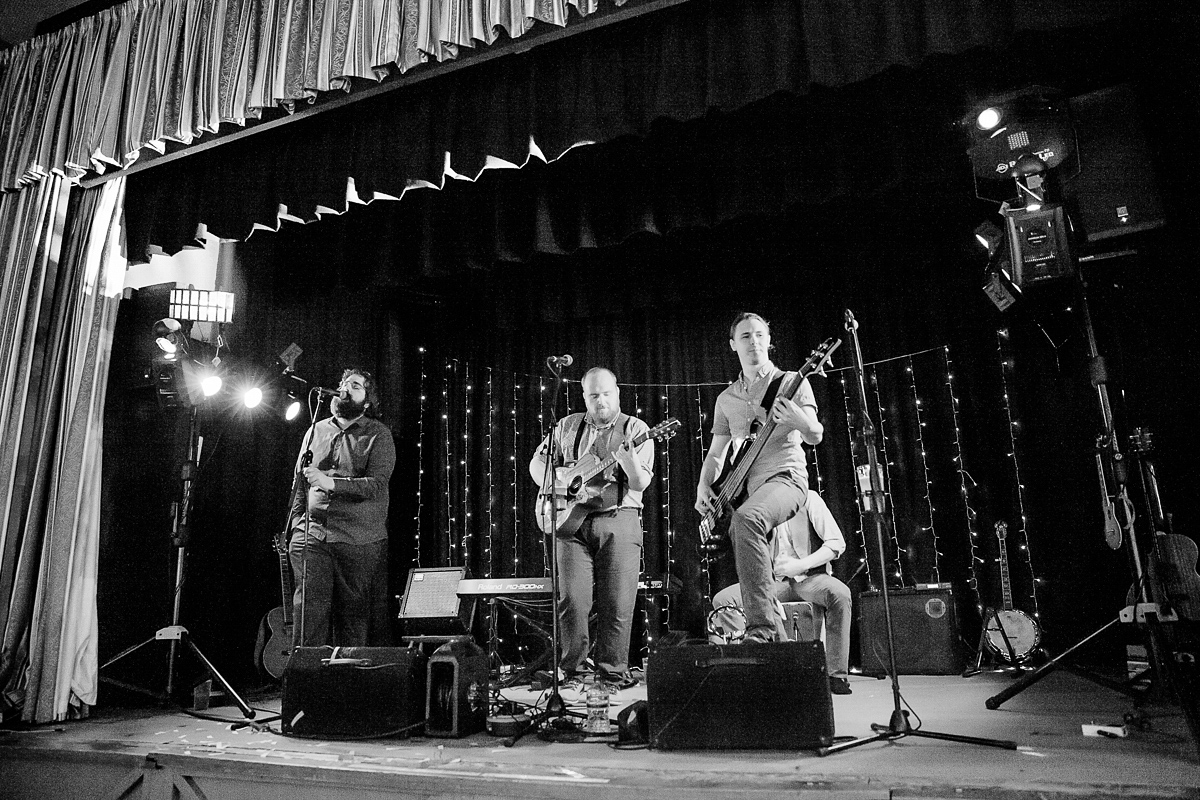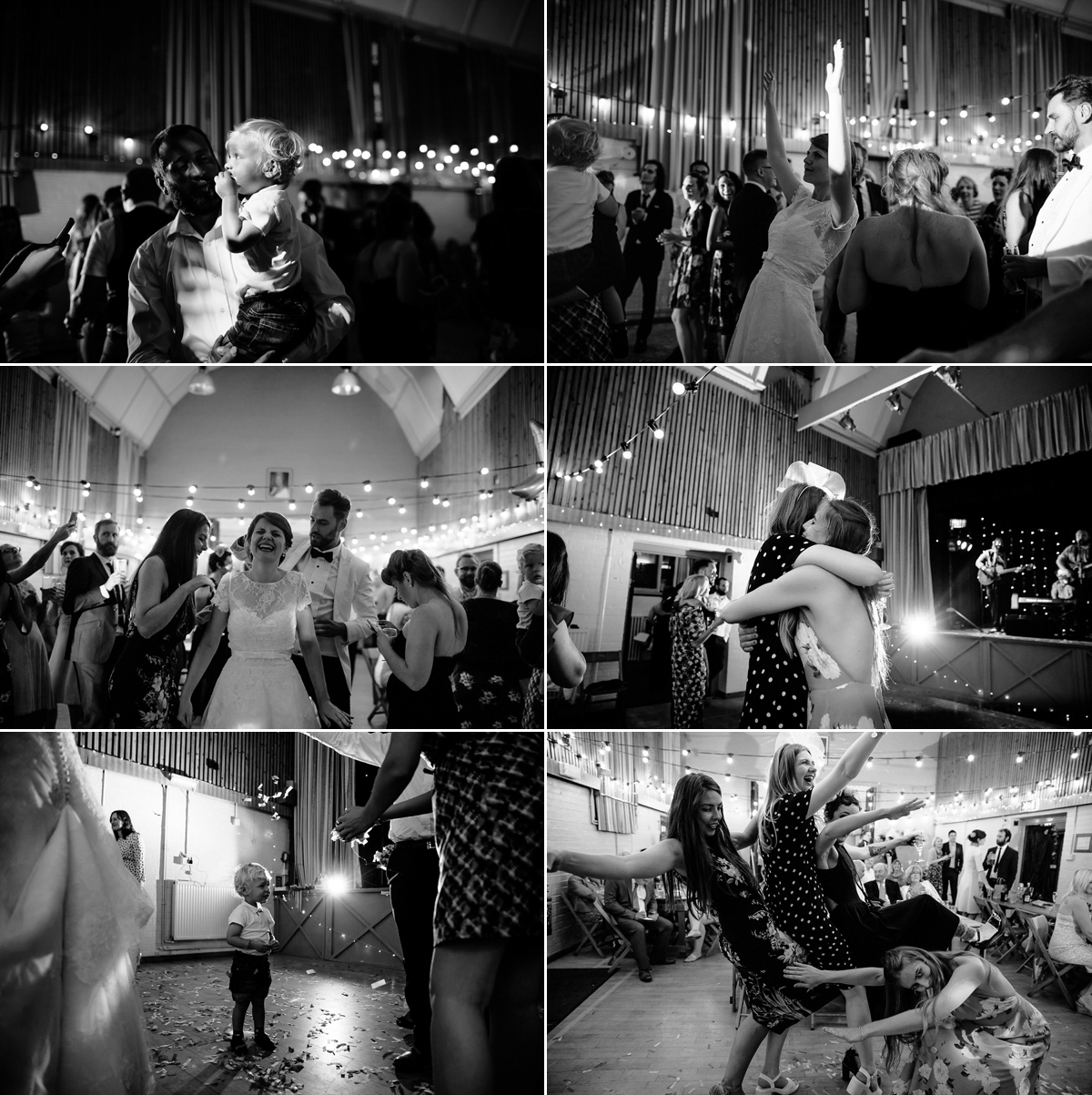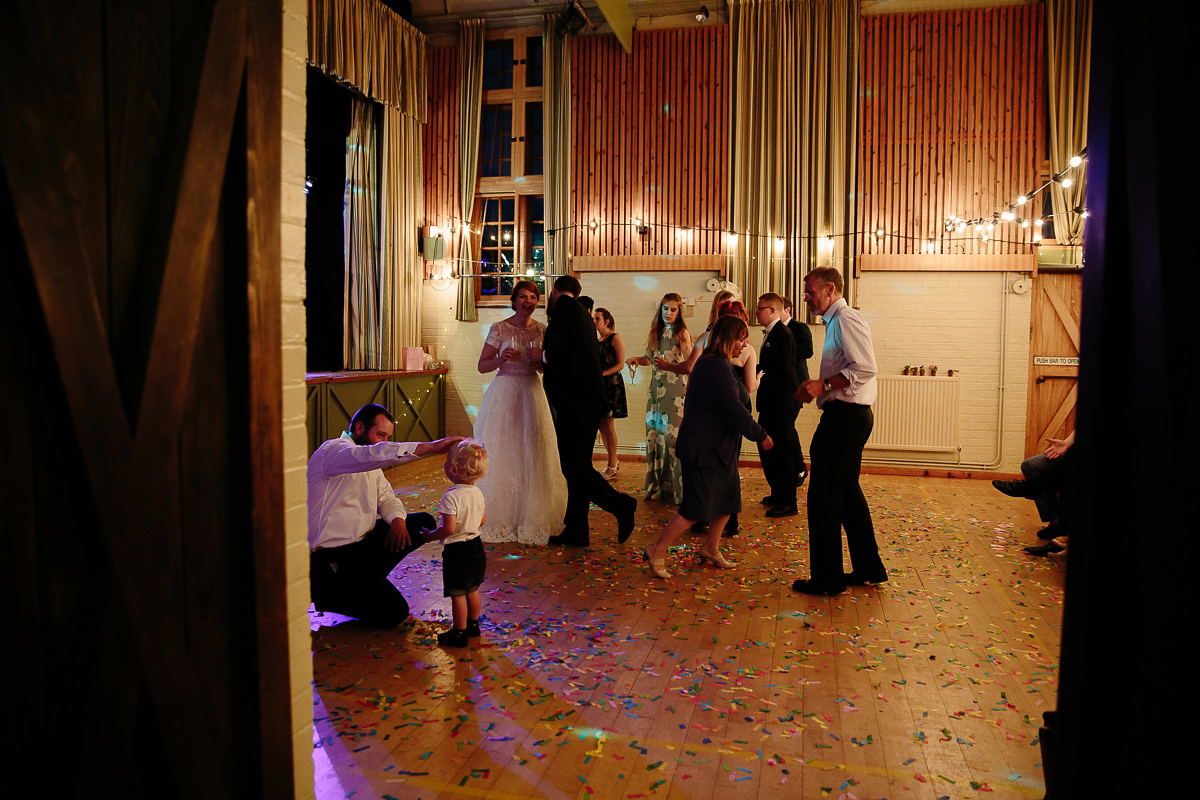 The entire day sounds laid-back, relaxed, and so much fun. There was a home-made photo-booth, a 'Spot the Dinosaur' game and an Instax camera as well as temporary tattoos designed by Steve, to keep the guests entertained.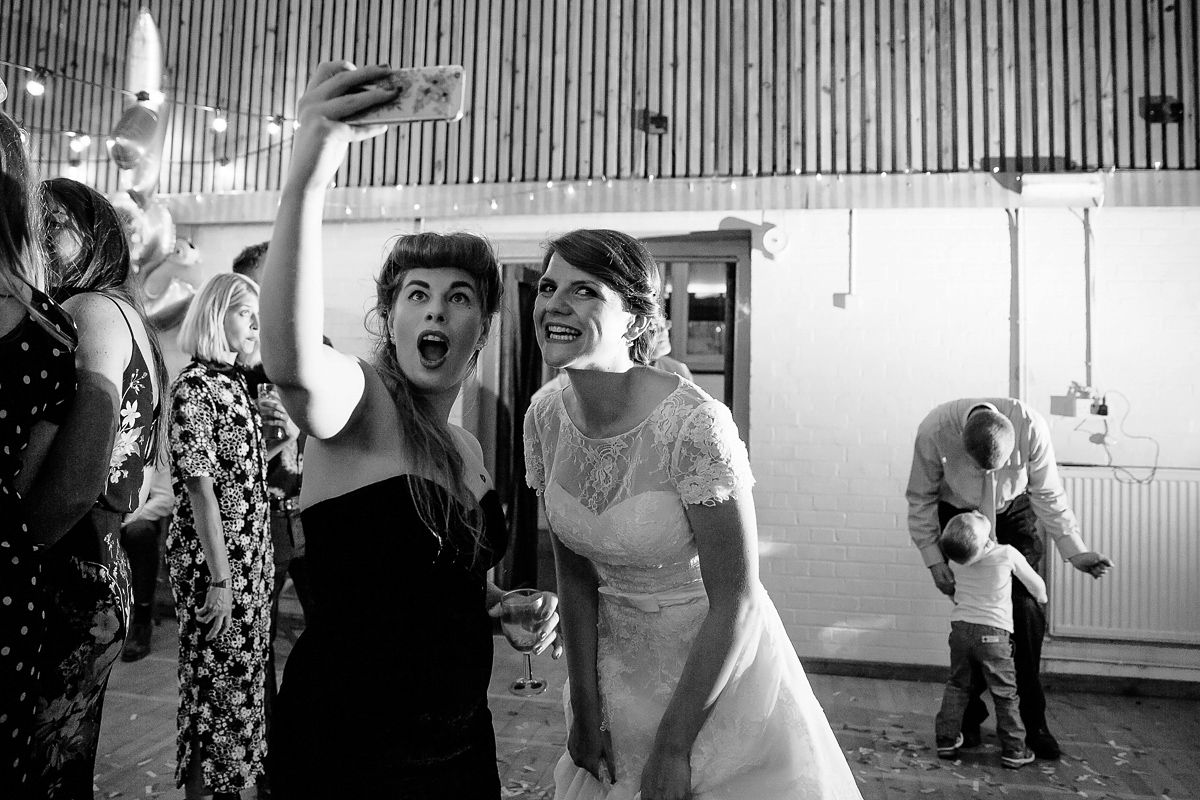 Words of Wedded Wisdom
"If you are planning a DIY wedding we definitely recommend hiring a wedding planner as this hugely reduced our stress. We still organised everything and chose what we wanted, but Laura coordinated it all. In the run up to the big day and on the day, Laura was there to help to deal with any hiccups so that we could just enjoy our wedding.
Go with your gut instinct when it comes to buying anything for the wedding. Yes, things can be expensive but go with your instinct when deciding what to choose. We wouldn't change the vendors that we chose and glad we didn't opt for cheaper alternatives.
Don't feel that you HAVE to do anything – it is your wedding day and it's important that it is everything that you want it to be. Keep the traditions you like, and bin the ones that don't matter to you."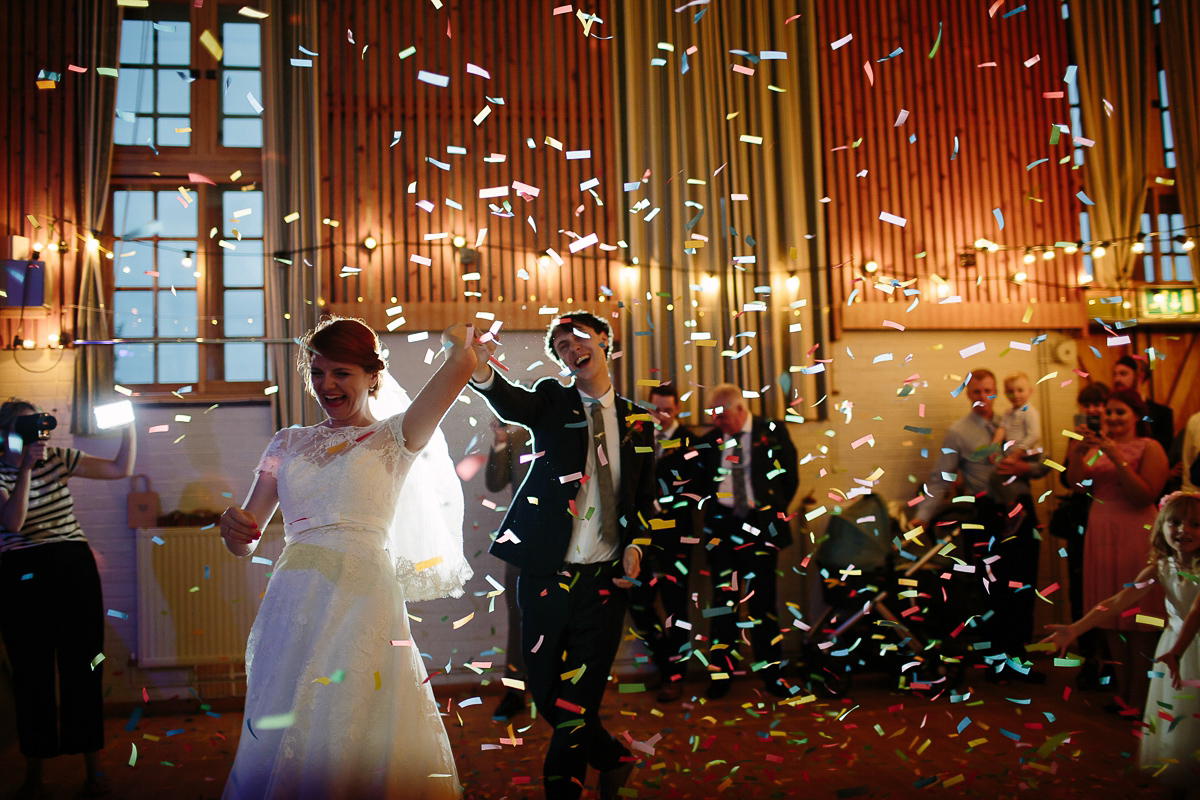 Thank you so much Steve and Katie for sharing your day with us, and to Joanna Brown for her beautiful images. I love how you made it your own with personal details and your flair for design.
Wishing you all a wonderful weekend,
Ele xx