Emily, a florist and flower grower who uses all British and Norfolk grown flowers, married her love Ryan, an arable farmer working on his family farm, on 16th September this year.
The couple chose The East Wing at Wolterton Hall in Nofolk for their wedding and blessing weekend, choosing to have a small, intimate day with just twenty nine guests.
The super talented bride, who discovered her wedding inspiration through Love My Dress, in fact created her own wedding dress, having been inspired by the billowed sleeve designs of Australian brand, & For Love.
Beautiful imagery captured by photographer, Beth Beresford. Enjoy!
We hired the venue as a holiday rental, ather than a wedding venue and this suited the relaxed, intimate feel of our weekend perfectly. The East Wing has beautiful rooms which some of our friends and family stayed in and a lovely downstairs dining room, grand living room and massive kitchen – it felt like our own slice of Norfolk heaven for the weekend.
Our two family dogs Bonnie and Ned were there the whole weekend and it was great to have a dog friendly venue that they could roam in and explore. We stayed from Friday – Sunday and had our closest friends and family stay the whole weekend – we wanted it to be like a little holiday for everyone and Wolterton has beautiful park grounds to explore and relax in.
We spent the Friday night cooking dinner with our close friends and family and the boys enjoyed a bike ride on the Saturday morning whilst us girls got ready. Sunday morning we hired paddle boards for the lake and a group of us even went for a bracing swim.
The hall and surrounding properties have been lovingly restored by Peter Sheppard and Keith Day who bought the hall in 2016. It's not the first time me and Ryan have been here though as we both had our school prom here back when we were at High School many moons ago!
Our date on the 16th September was a Wedding Blessing, as we had officially got married on the 2nd August. My dear Mother had been diagnosed with Cancer the year before, and we knew when we set our date in March that there was a possibility that she would not be able to make it to the wedding date we originally set.
As the Summer went on she gradually became more unwell and we decided that the most important thing was for her to see us married. With the help of our family and vicar we organised for our official marriage service to be on the 2nd August, and we had the tiniest, most special church service with just Ryan's parents and my dad and brother present as my Mother was too unwell to make it to the church. It was the most meaningful, emotional day filled with love, and our vicar finished the service with the blessings and prayers at my parent's home where my mother was.
My Mother sadly passed away two weeks after our wedding, so we were so thankful that she was able to see us married. She had been with us when we initially looked around Wolterton, and I had shared all of our planning journey with her and the decisions we had made so I knew in my heart that on the 16th of she would be with us in spirit and would have known exactly what we had planned for the day.
Find Your Wedding Photographer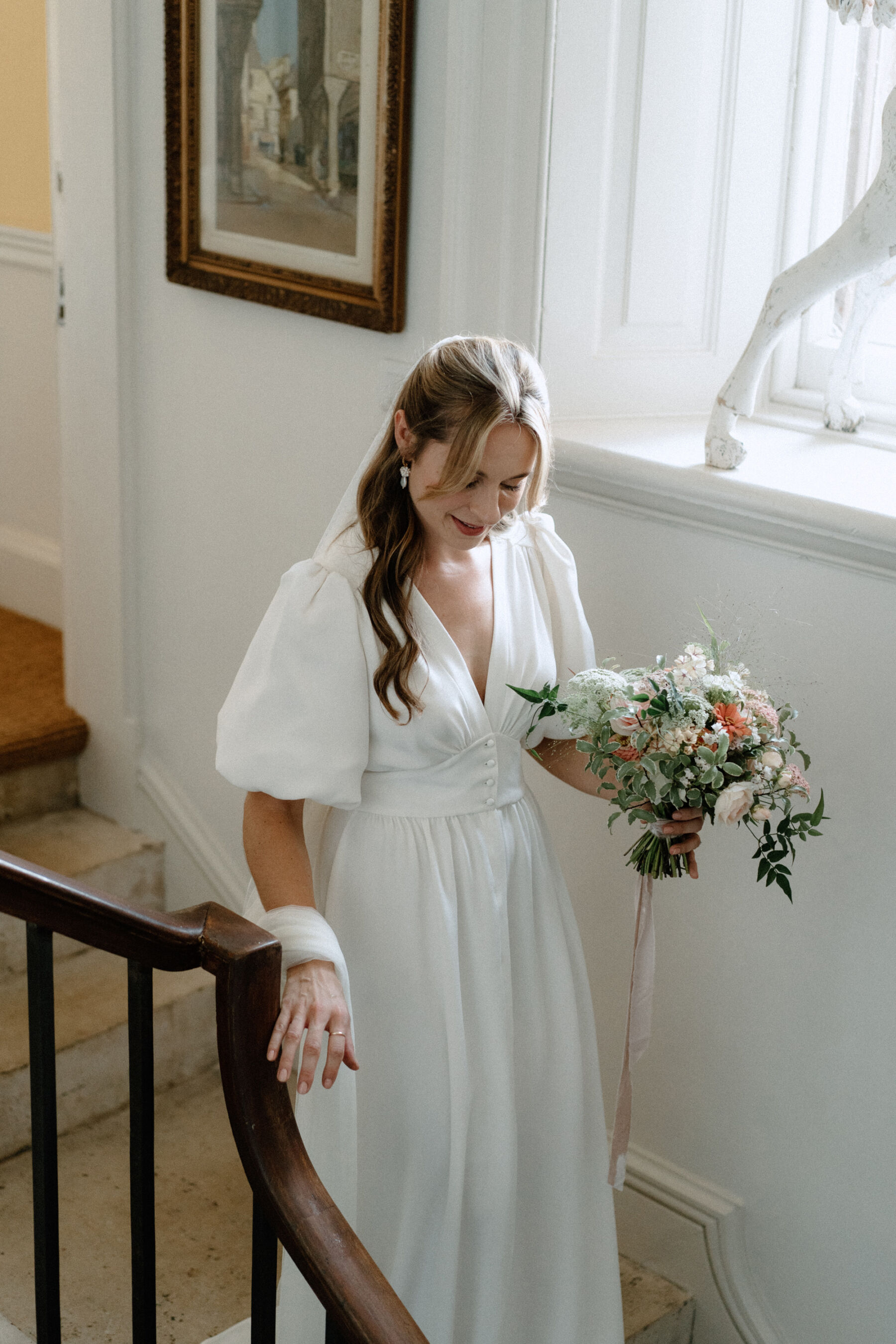 The Dress
Made By The Bride
---
I chose to make my wedding dress myself, and am so pleased that I did. I studied fashion design at University and have recently got back into sewing. When we got engaged, Ryan asked if I was going to make my wedding dress, and I said no!
I thought it would be too much pressure and especially in the time frame we had.
I started looking online at dress designs, and actually found my dream dress on the Love My Dress Instagram! The dress was the 'Audlyn' dress from the Australian designer '& For Love' and I just loved the big billowing sleeves and flattering cut.
Last year, I made my best friend's bridesmaid dresses in a slightly similar sewing pattern and thought if I could adapt the sleeves then the look I was after could be achieved.
Myself and Ryan visited Broadwick Silks in London to purchase the fabric – a beautiful ivory double silk crepe which had the perfect weight and drape to create my dress.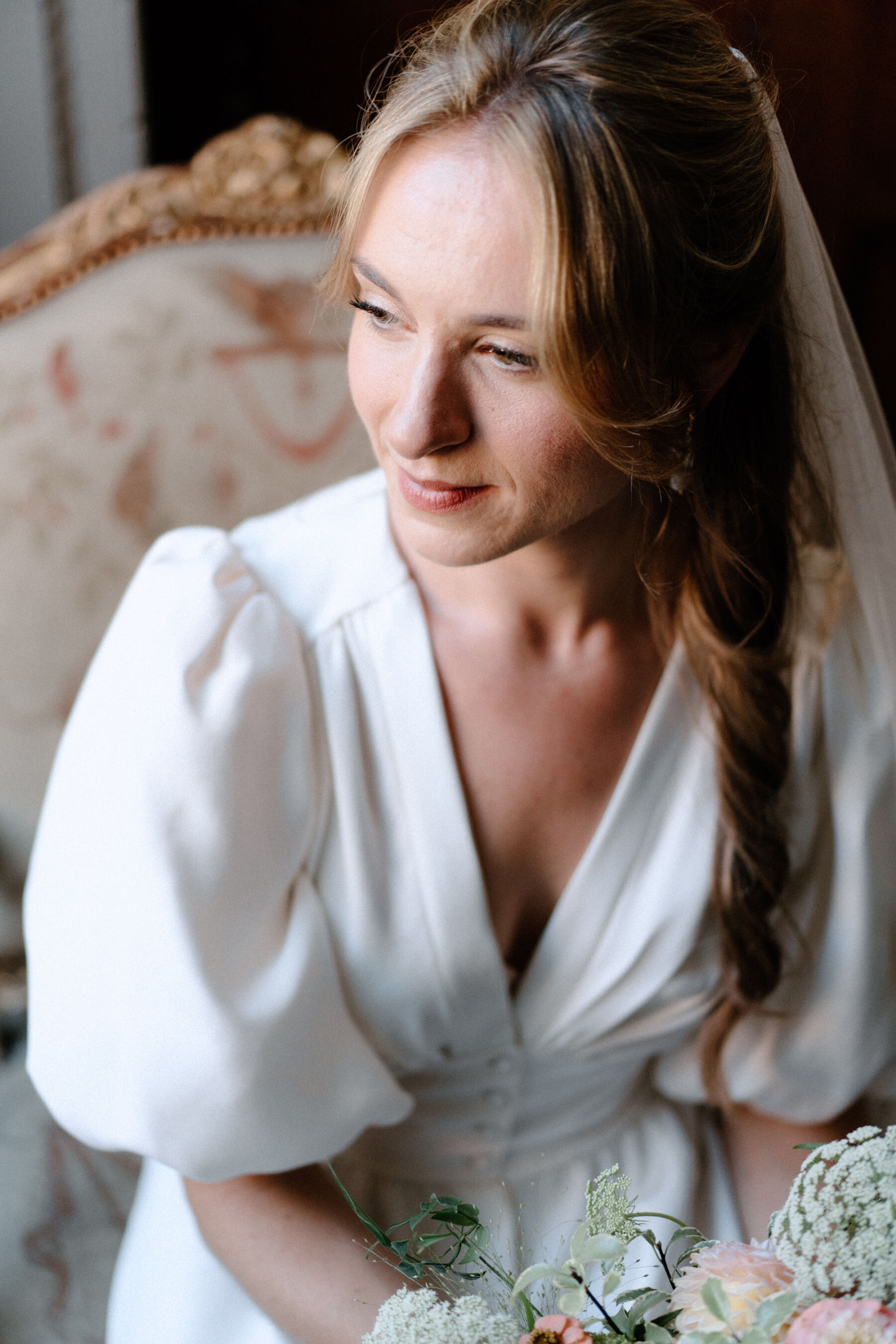 My local sewing and design studio, No 26 Marketplace, were extremely helpful in advising me how to adapt the pattern, and with their knowledge we created the billowing sleeves, added length, and changed the silhouette to be slightly more fitted at the waist.
The shape of my dress, with volume at the sleeves and a fitted waist, is a shape that I favour in my everyday clothing, so on the day I felt super comfortable and just like myself which I think is something to consider when choosing a dress.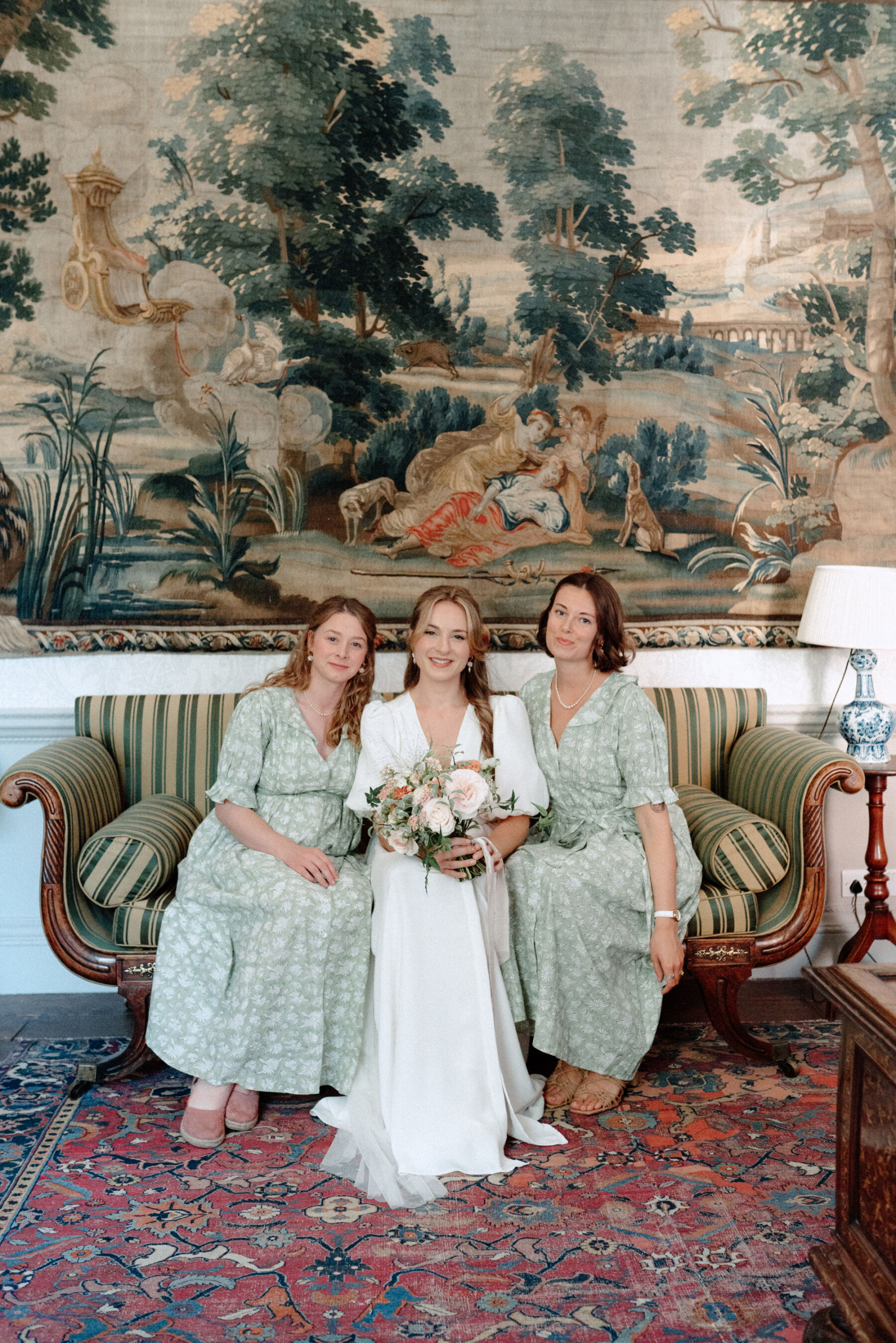 Bridal Beauty & Accessories
I chose to do my hair and make-up myself as it's something I've always enjoyed doing and liked the idea of having that quiet time to myself before the ceremony. I booked in for a wedding make-up tutorial at my local Charlotte Tilbury counter and came back with lots of make-up goodies that I could use for the day, as well as for my day to day makeup.
My look was what I'd call my every day makeup – but a little bit more. I wanted to feel comfortable and like myself on the day, and my hair was a reflection of a style that I love to wear and feel comfortable with, but treated myself to some new GHD curlers before the day to ensure that they stayed for as long as possible!
I have always loved those (very well known!) Loeffler Randall heels and was pleased to find a more pocket friendly version at Monsoon. The bows just peeked out from the hem of my dress as I walked and I think they gave a fun touch to the look.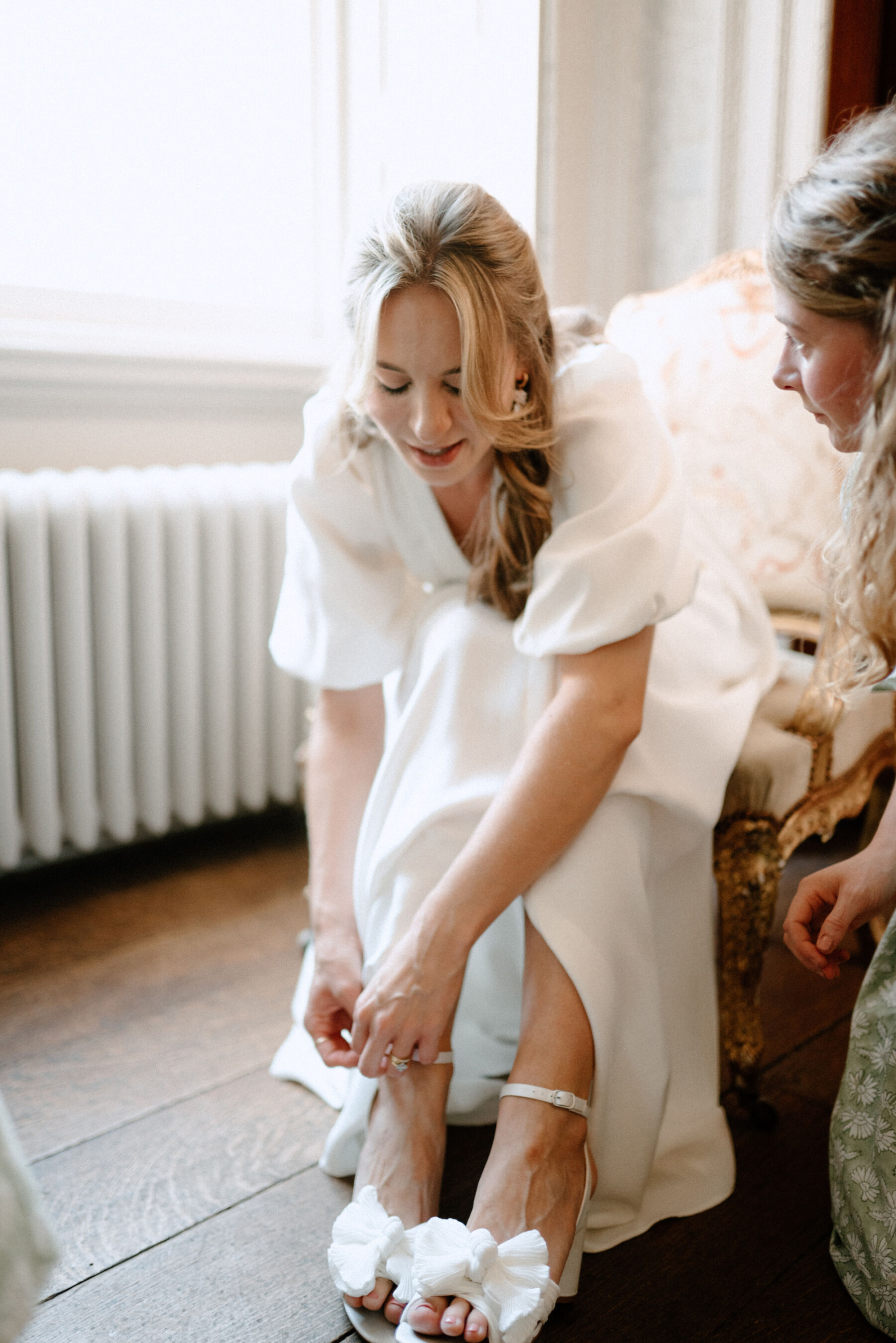 I made my myself with guidance from a Youtube tutorial! I wasn't sure if I wanted a veil originally but as my dress was quite simple in style with no embellishments I thought it would be a lovely touch, and created one that fell just past the ground.
I'd seen so many lovely wedding photos with veils billowing around in the wind (my photographer Beth had some gorgeous ones on her Instagram). Wearing it made me feel so elegant and I was determined to keep it in until the end of the night, they are quite fun to spin around in on the dancefloor too!
My perfume was 'Colette' by Tocca. It was chosen on a whim when I popped into my local department store to choose something for the wedding day, and after far too many testers and an arm full of different scents I settled on this warm floral fragrance which I think shall now be my forever scent.
My earrings were from Gigi & Olive, and by Sandralexandra.
My mum had given me a lovely gold and pearl bar brooch to wear, which I had worn inside my dress for our official wedding ceremony back in August for my 'something old'. On the day, Beth our photographer came up with the clever idea to pin it on my bouquet ribbon, which meant that I could see and hold it.
To go with the pearl theme, I chose the 'Gigi Pearl' earrings by Sandralexandra via Gigi & Olive. I loved the textural design, which was statement yet delicate and they will be treasured and worn for many years to come.
Bridesmaids
For my bridesmaid dresses, I wanted to choose a design that my two best friends would want to wear again and again as I didn't want it to be a dress that just ended up at the back of the wardrobe never to be enjoyed again.
I envisaged something a little more casual in fabric and style as our day was pretty relaxed, and I was thrilled to discover a fellow Norfolk business called 'Hollyblocks'.
They design their dresses in Norfolk and then they are block printed and made in India in the prettiest designs, and I settled on the 'Daisy' dress which was made in the lightest cotton and printed in a sage green floral. My bridesmaid Harriet was pregnant at the time, and the shape was flattering for both her and Natasha with its nipped in tie waist, free flowing skirt and delicate puffed sleeves.
I liked the idea of having matching jewellery with my bridesmaids, and gave them a pair of the Flori White earrings from Sandralexandra via Gigi & Olive. They are a smaller version of my 'Gigi Pearl' earrings and looked so pretty with the dresses.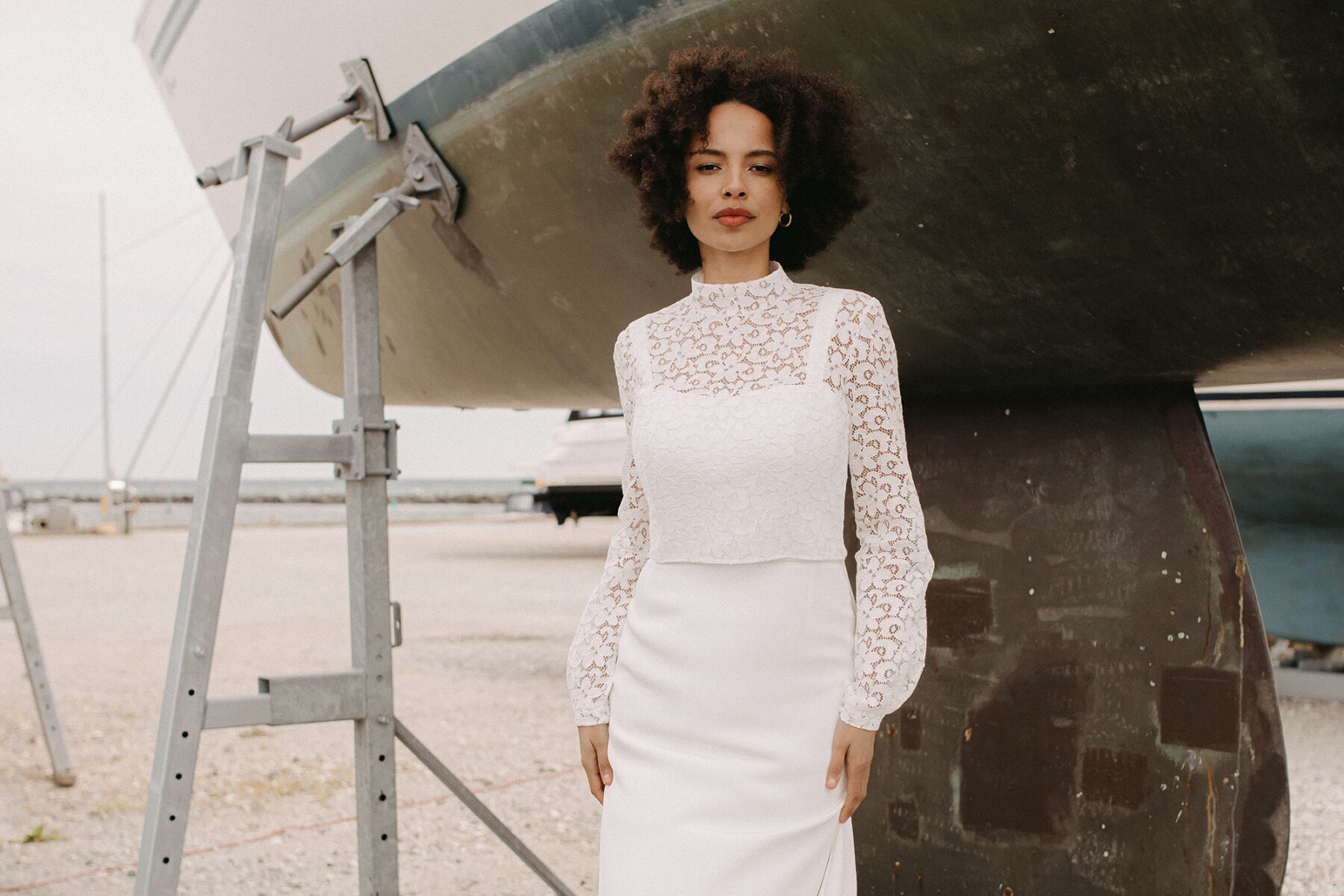 THE STYLE SALON
Discover & Enjoy our Favourite Brands
Flowers
Together with my best friend (and bridesmaid) Harriet, we run a floristry business called King.Witham, so creating my own wedding flowers was always going to be a highlight of the wedding process. We grow our flowers here in Norfolk and use other local suppliers so seasonality was key.
In mid September Roses and Dahlias are the beautiful focal flowers of the season so I made sure to incorporate these into as many of the arrangements as possible.
For our church flowers, I chose to focus on the end of the aisle and we created large overflowing stone urns to frame the space, echoed by vases filled with delicate Cosmos dotted around the church.
The key thing was to create enough impact without making too much work for ourselves as unlike our usual wedding flowers there would be lots of other elements to get ready in the days prior!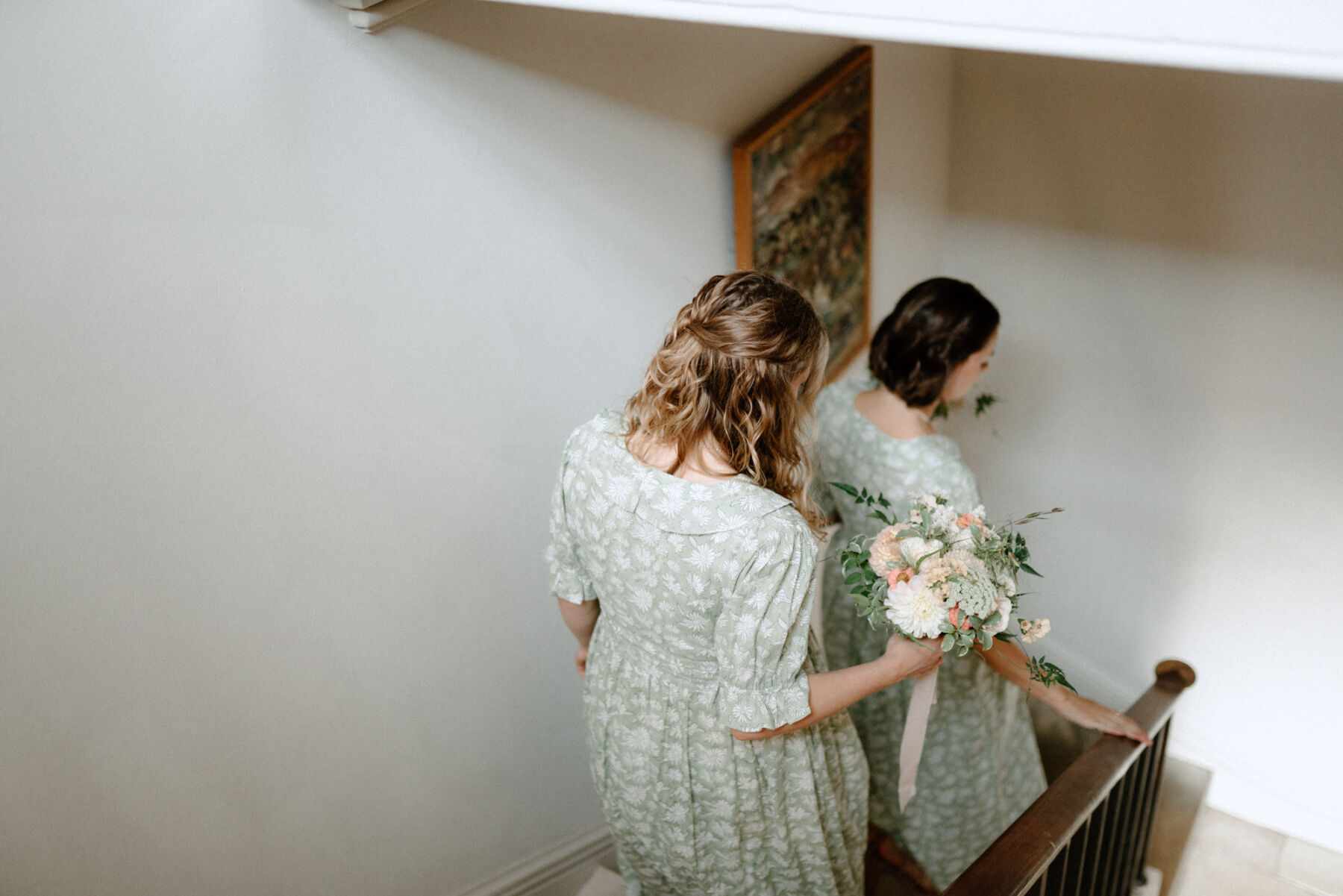 My bridal bouquet and bridesmaid's bouquets were made in soft peach and pink shades, with the sweetest smelling ruffled roses. I chose similar soft pastel shades for the church flowers and more rich, jewel tones for the reception flowers to compliment the opulent interiors. I had a loose brief in my head for colours and arrangements, but it was a real treat not to be focused on a specific mood board or brief and to just enjoy the creative process.
The Wedding Blessing
---
As we had been officially married the month before, myself and Ryan decided to walk down the aisle together, switching sides so that I walked in on the right to signify having joined his family and he on the left to signify mine.
Even though we didn't have family seating sides on the day, this was a nice way to reflect how we'd done things on the original wedding day.
We walked down the aisle together to 'Canon in D' by Pachelbel played on the organ – it's a beautifully uplifting piece of music that gradually gathers pace.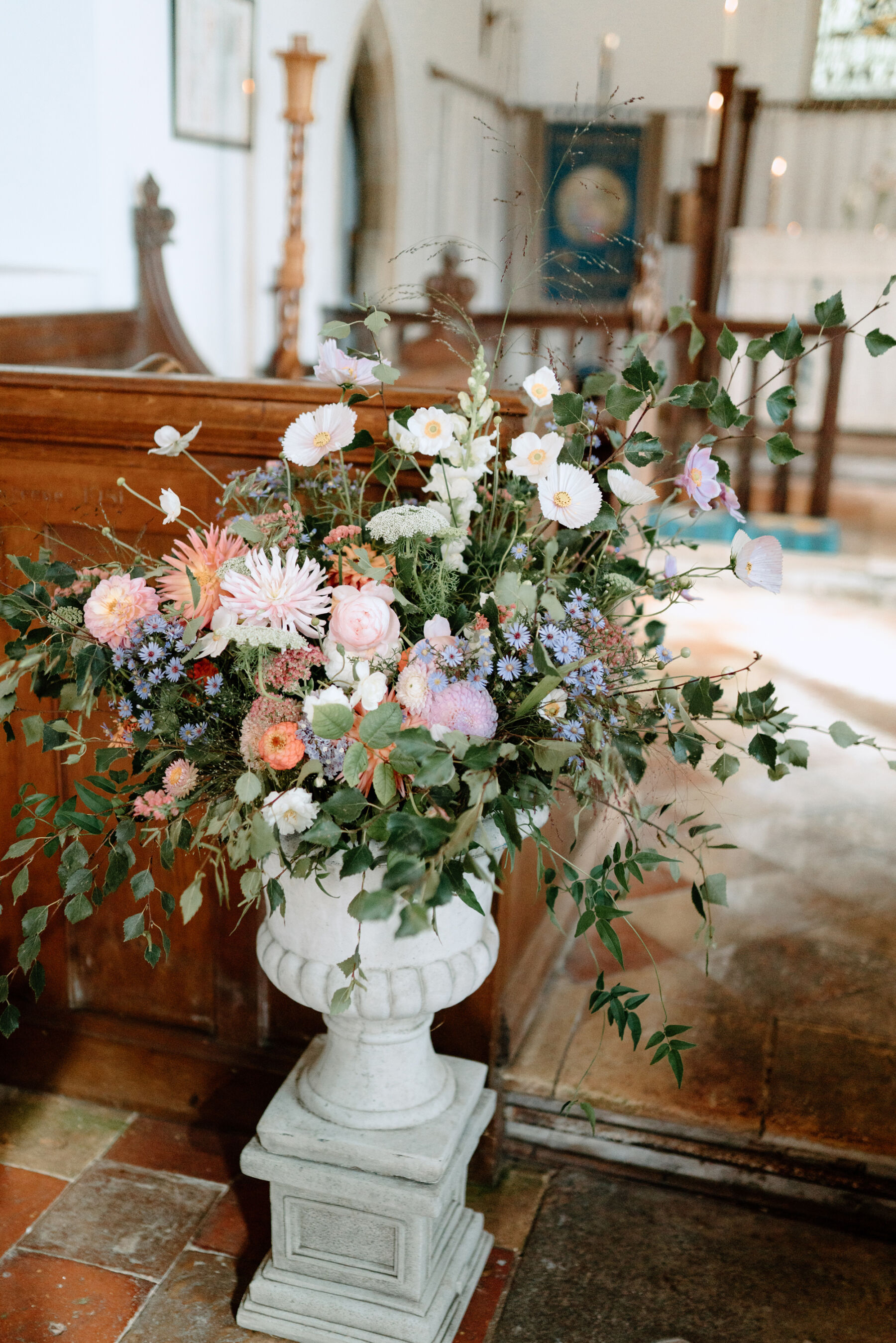 Our vicar was the Reverend Tony Lynn, who is our local vicar and family friend. Tony was wonderful in the lead up to our ceremony, and encouraged us to personalise the ceremony as much as we wanted.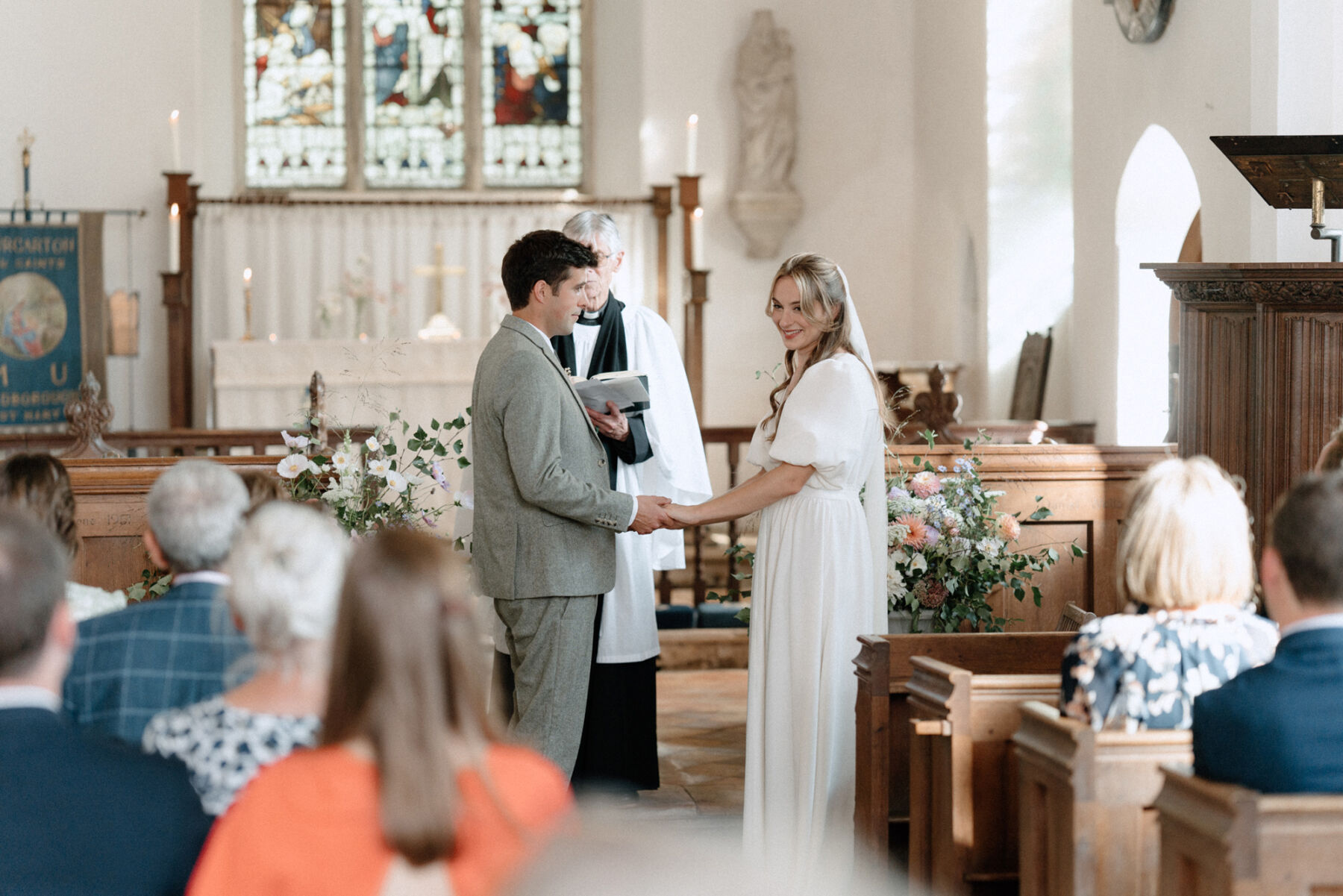 We'd originally planned to have our friend Sam play his classical guitar during the signing of the register, but as this had already been done Tony still encouraged us to keep this part and it was wonderful to have a pause in the service to listen to him play 'Can't Help Falling in Love' by Elvis on the guitar.
We had two readings at our ceremony, one was a beautiful poem called 'I Belong in Your Arms' by Deborah Bridea which Ryan's Mother Lynda read.
The second was 1 Corinthians, Chapter 13 read by my friend Rachel, which is the most popular Bible reading at weddings for its beautiful and meaningful words. A few months before I sat down with my Mother to look at poems and Bible readings for the day and we both chose these together which was really special.
My engagement ring and wedding band were from Lanes Jewellery in Holt. We chose my engagement ring from there together after the proposal – I love Roman and Art Deco style jewellery and this one stood out to me as being a little bit different in terms of shape.
I love how it sits with my simple gold wedding band and I now wear them stacked with my late Mother's delicate engagement ring as well.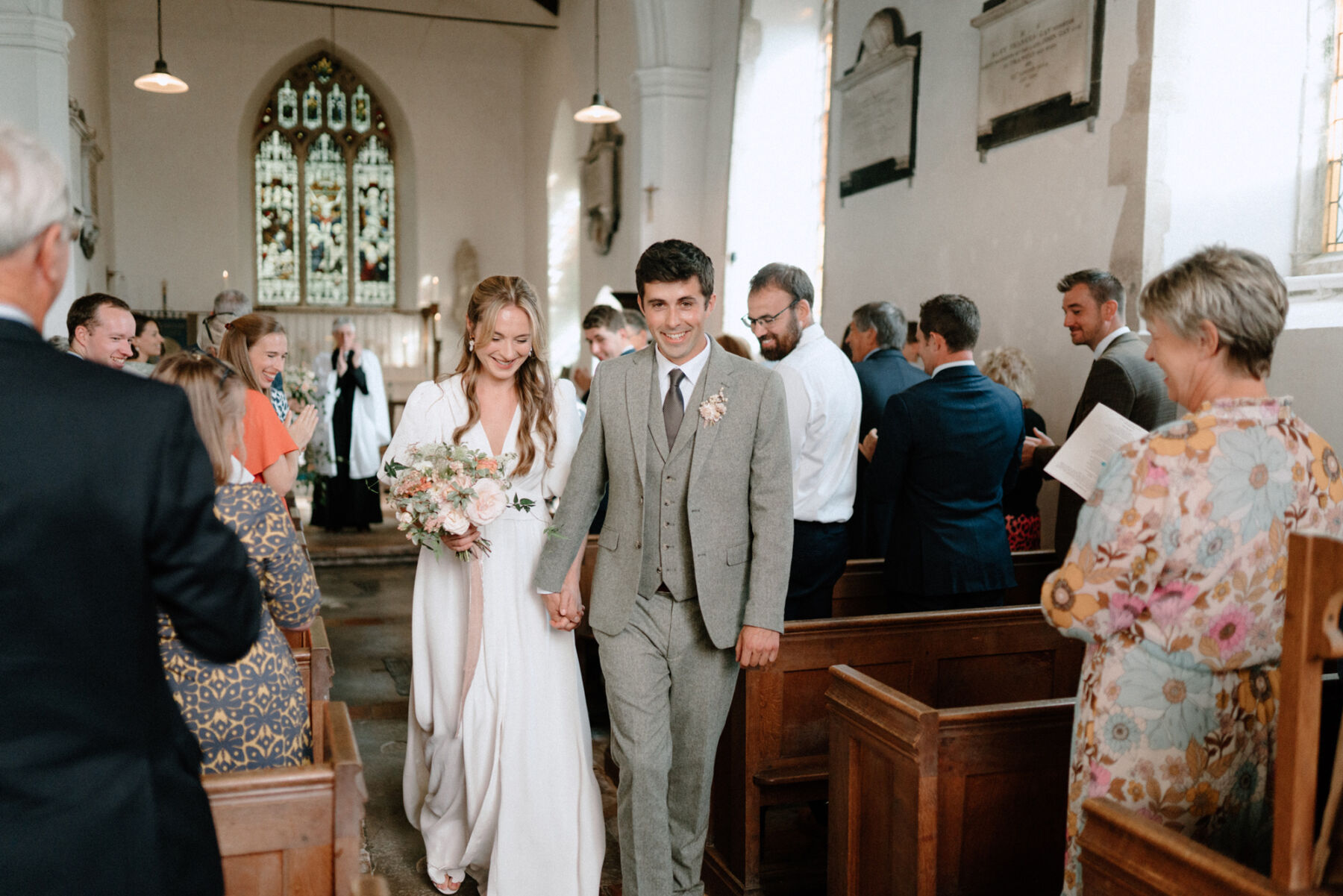 Photography
We chose the lovely Beth Beresford to photograph our day. I found her account through Instagram and instantly loved the romantic tone of her work and attention to the little details. From her portfolio, I knew that she would be the perfect fit for us and our venue and I was so thrilled when she said that she was available.
Beth was such a joy to work with and on the day she made us feel so at ease in front of the camera, and getting our couple shots was such fun and one of my favourite memories from the day. When we got our gallery through we couldn't have been more thrilled, and have so many photos to treasure.
The photos are one of the key things to last from the day, and I think that it's so important to choose a photographer whose work you love
I really enjoyed getting our couple photos taken with Beth as the hall and grounds are so beautiful, and we don't usually get the chance to have lovely pictures taken together so I knew these would be ones to treasure.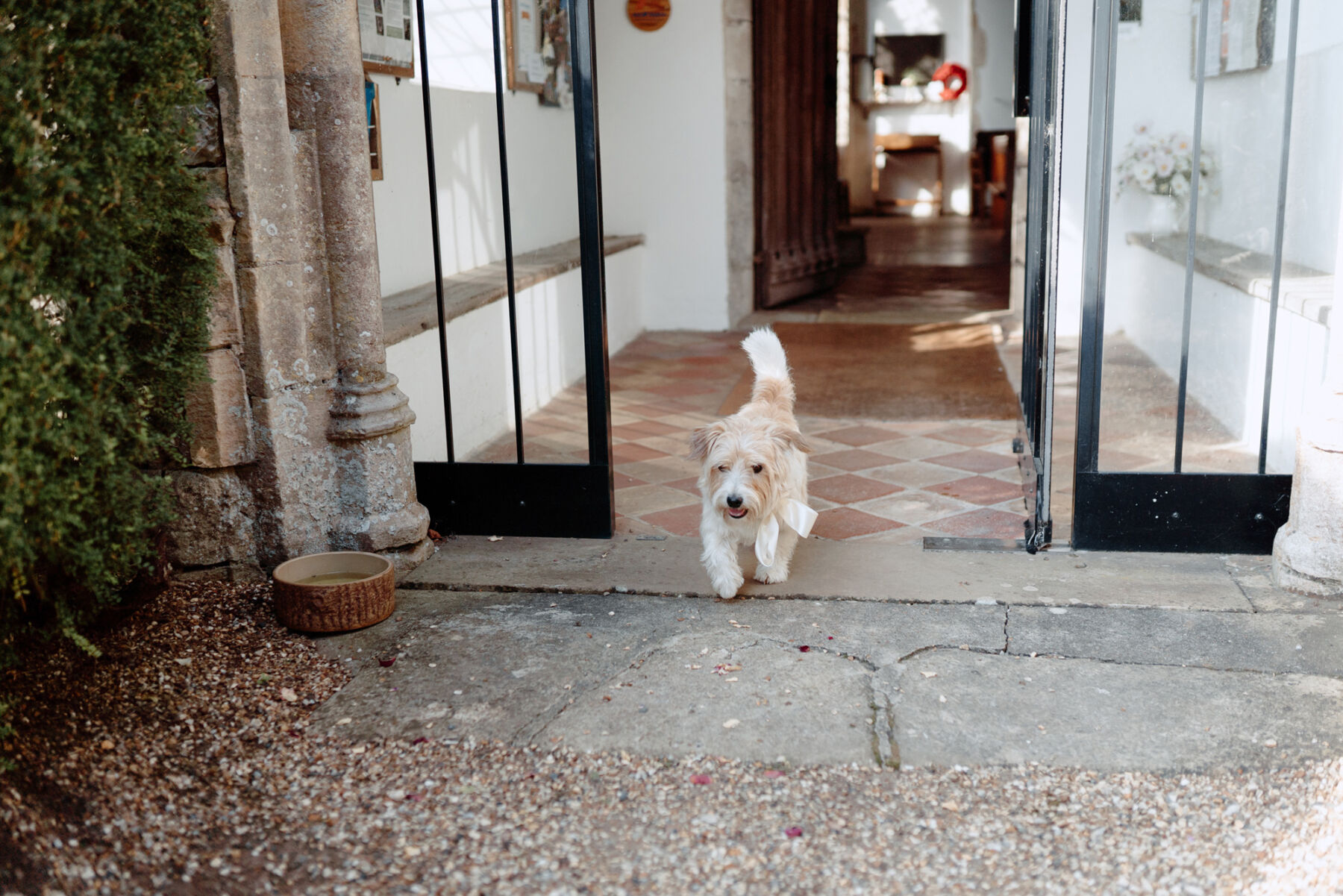 How They Met
We'd known each other through mutual friends for many years but had never properly met (I had secretly always had my eye on Ryan). I'd worked away and had been traveling and when I moved home Ryan sent me a message on Instagram and then after chatting for a few weeks we had our first date and the rest is history…
Ryan proposed at the beginning of March this year and we set our date for the 16th September which gave us 6 months. He organised a midweek day out, which somehow I didn't get suspicious of, as that was definitely out of the ordinary.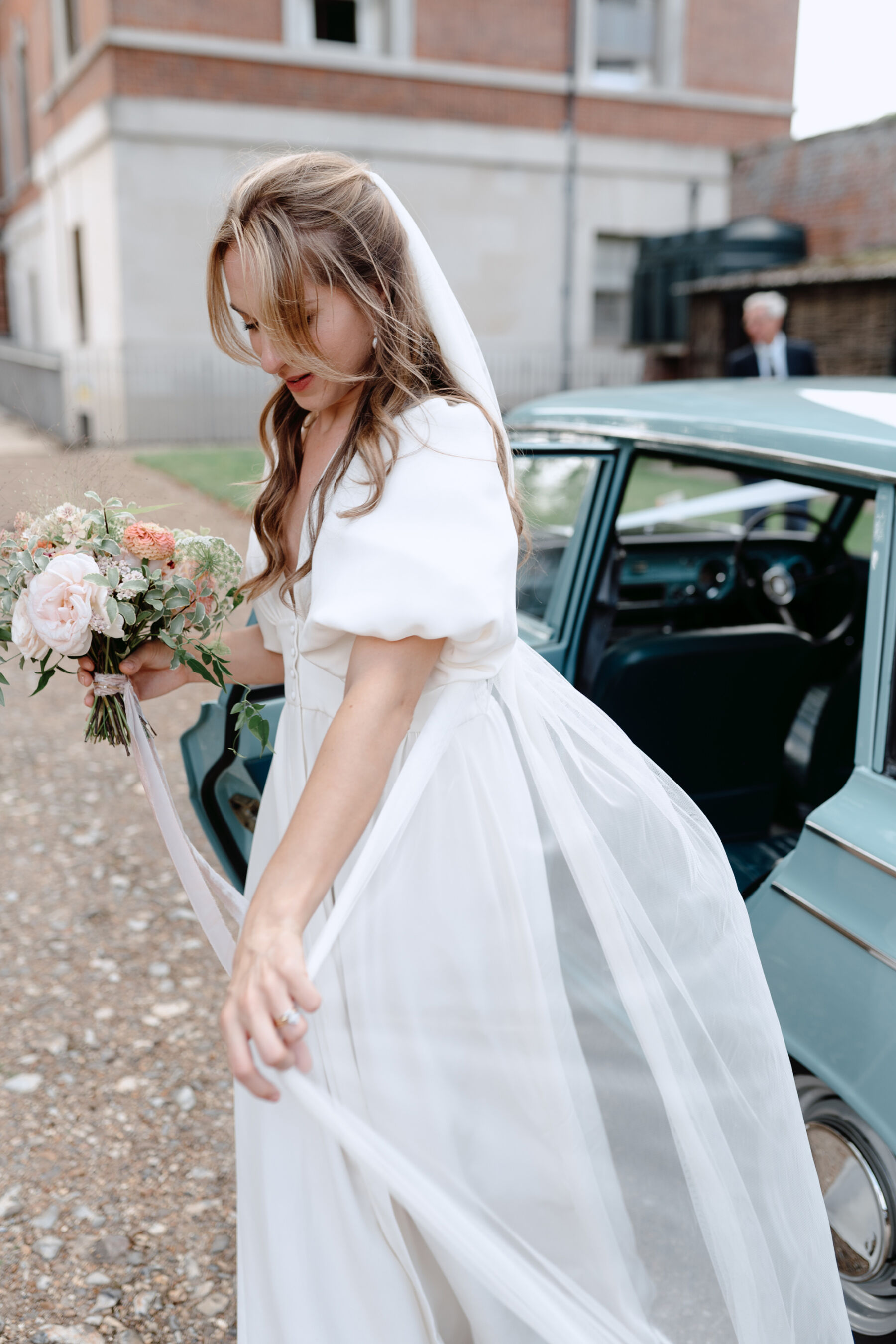 We headed out to one of our favourite North Norfolk spots, Stiffkey, for a walk along the beach where Ryan proposed. We bought a delicious picnic and bottle of Prosecco afterwards, then headed back to see my parents who were waiting at home excitedly.
Ryan wore a sage green tweed suit from John Lewis which was perfect for the relaxed feel of the day and will be worn for many more weddings and occasions to come. We didn't feel it was necessary for him to have matching suits and ties with his best men and our fathers, so they all chose one of their own suits to wear for the day.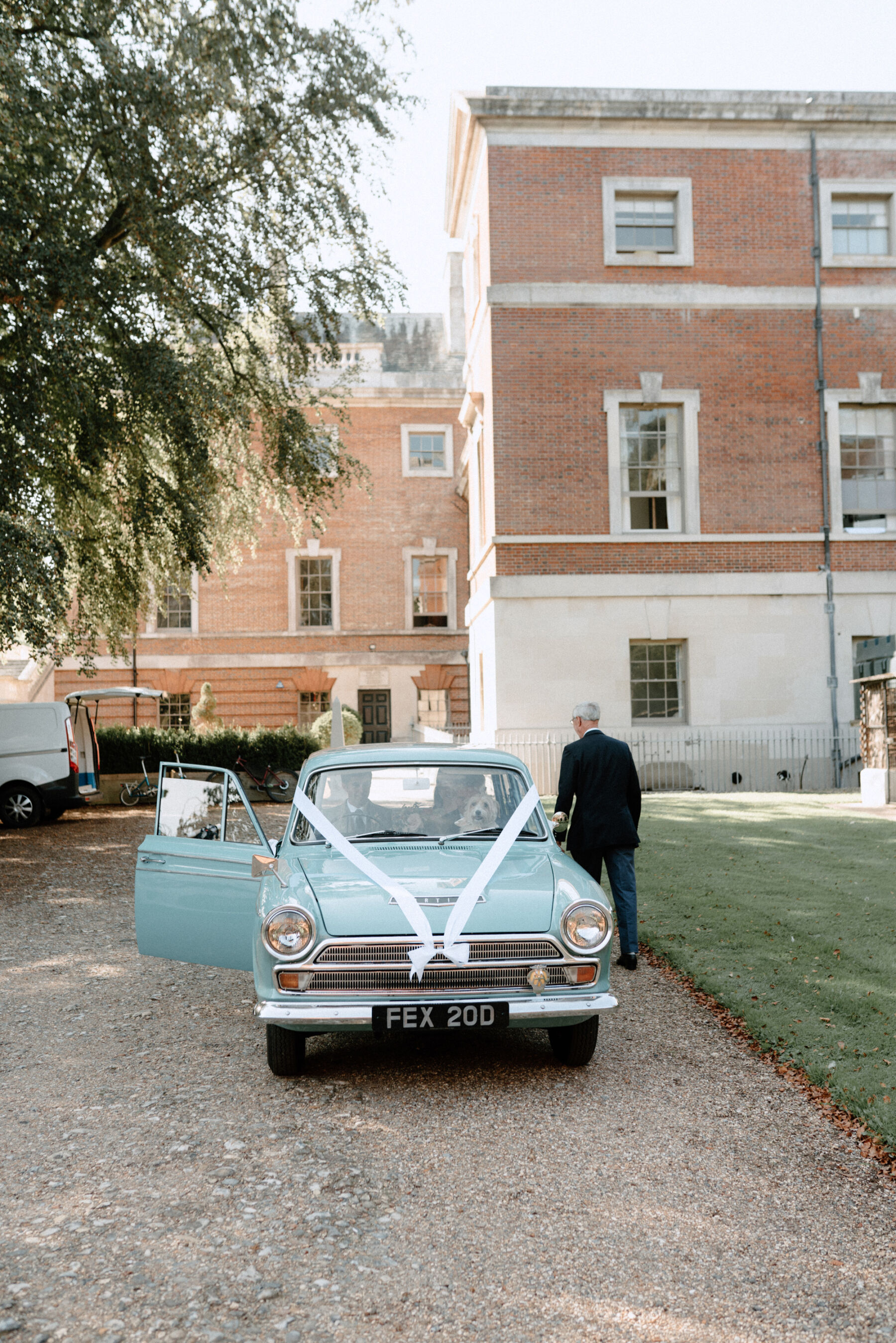 My Father's friend Hugh kindly drove us in his Ford Cortina Mk 1 which he had meticulously restored himself. We'd travelled in the same car on our official wedding day so it was another special link to the day.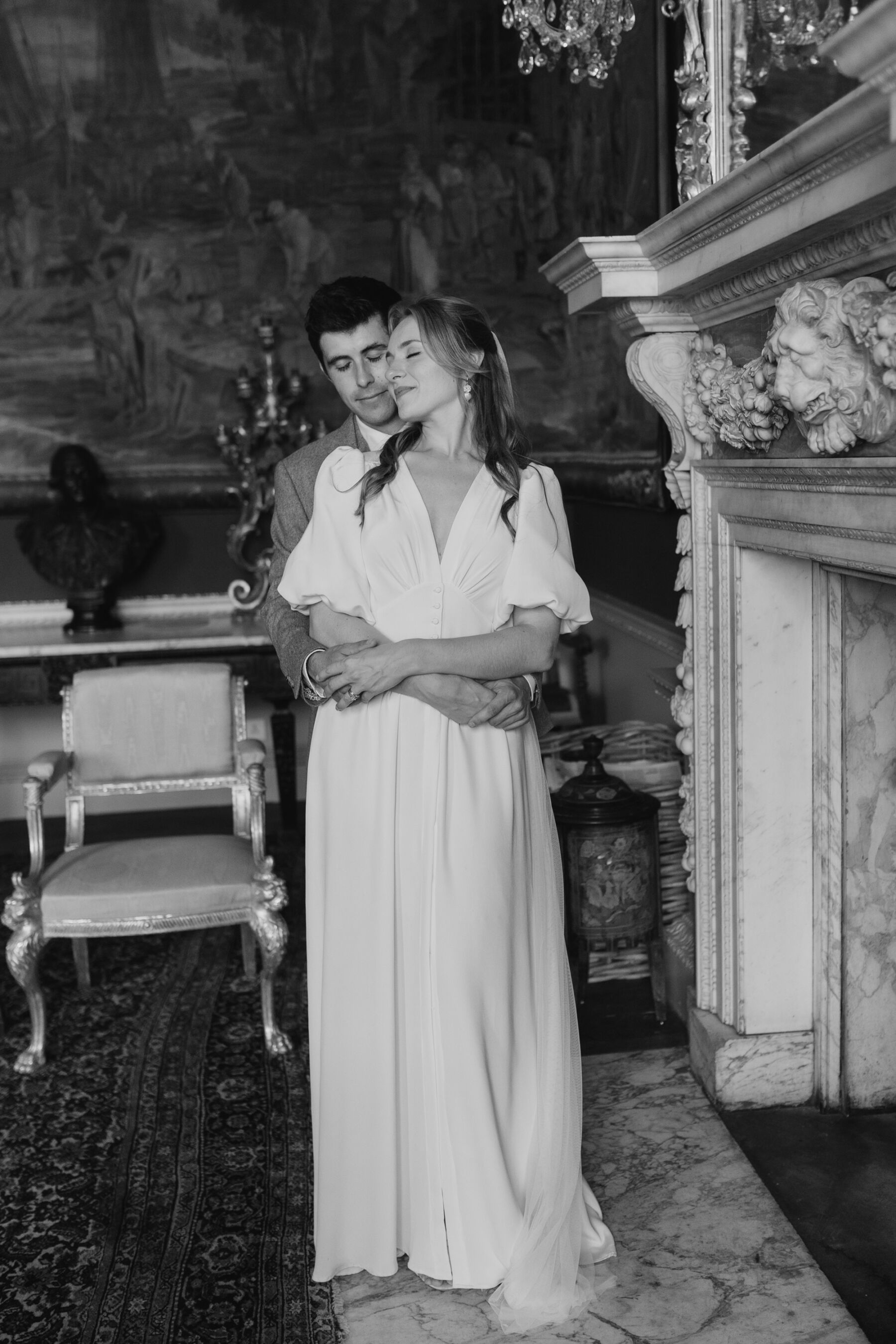 Wolterton Hall has such stunning interiors, and the dining room was the main focus for our reception flowers. We dotted flower filled ceramic vases down the length of the tables and had one statement urn on a side table which suited the grandeur of the room perfectly.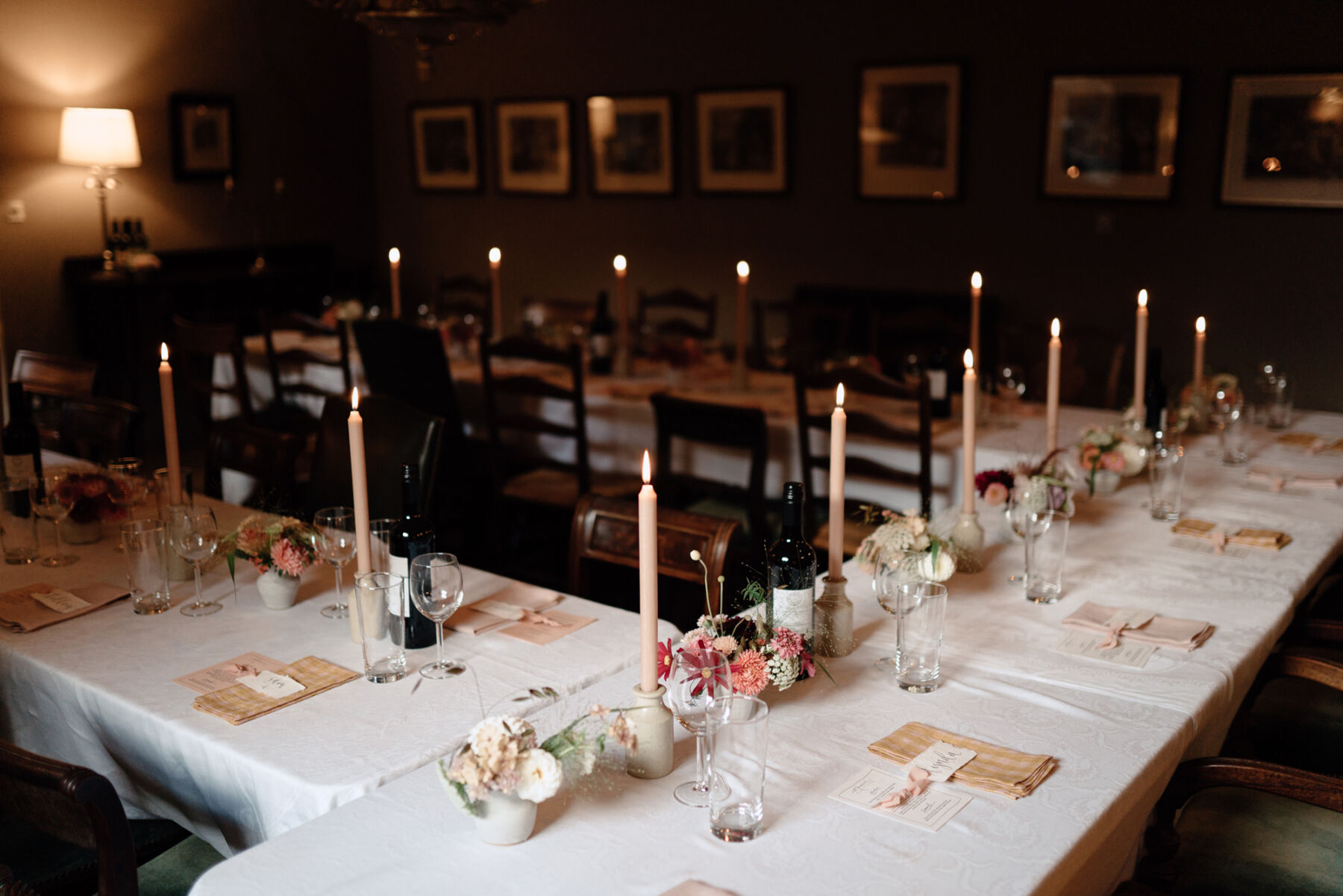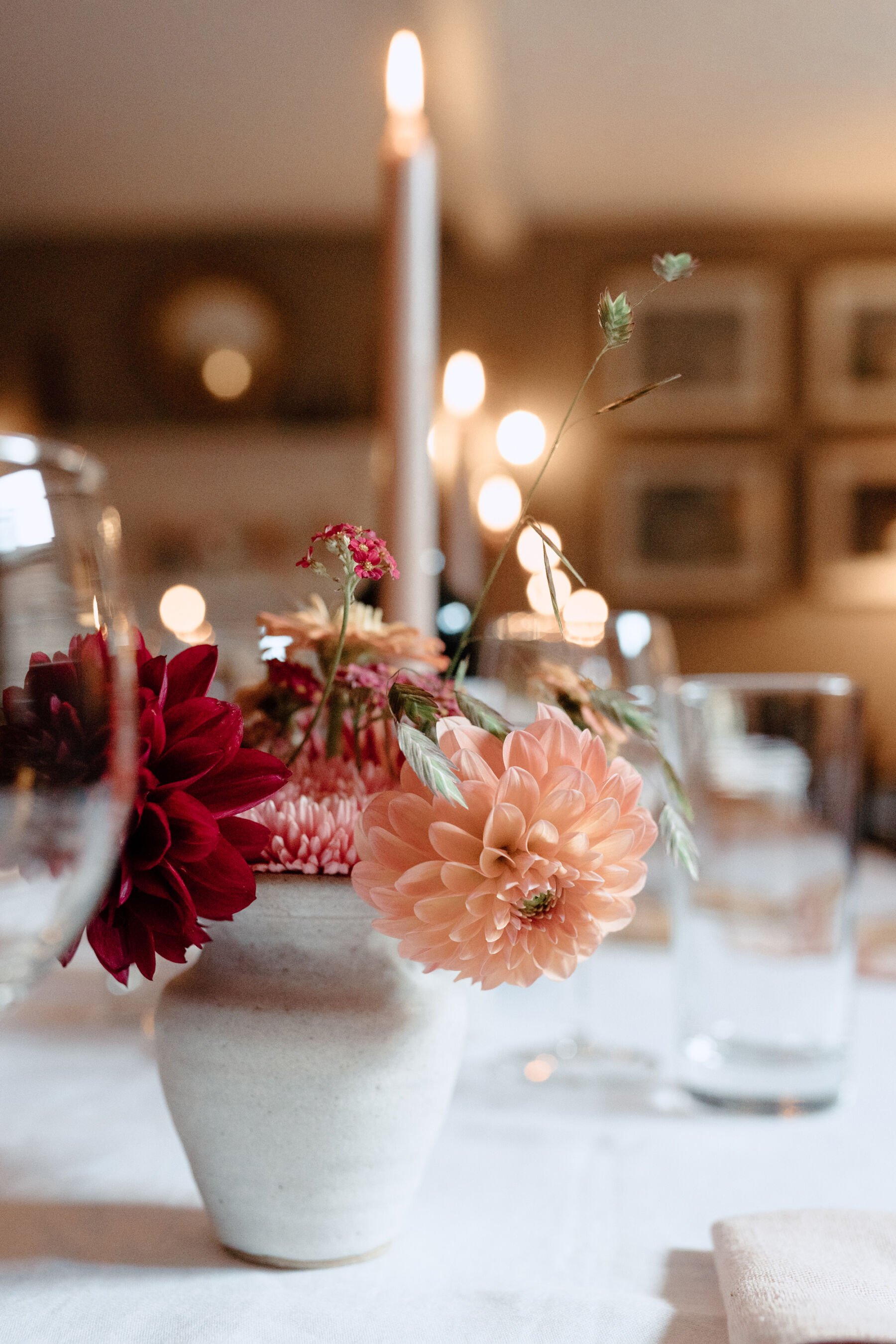 The Reception
---
My friend Tilley is a very skilled calligrapher and hand wrote our place name cards – they made lovely keepsakes to take home and use for bookmarks etc. I created the menus on Photoshop by hand writing and typing the text and printed them out at home – I was quite pleased with them until I realised I'd made a typo but I don't think anyone noticed!
Oystercatcher Catering created the MOST delicious dinner for us and our guests. Ryan's Sister and Brother-in-Law had booked them for their wedding a few years ago and it had been one of the most delicious meals ever and we were so lucky that our date was the last Saturday that they had free and before they moved to Mallorca.
I really enjoyed getting our couple photos taken with Beth as the hall and grounds are so beautiful, and we don't usually get the chance to have lovely pictures taken together so I knew these would be ones to treasure.
Sitting down together with our friends and family to have dinner was also a highlight, and I made sure to stop and take in the chatter and smiling faces, and to feel grateful for the day and everyone involved.
As we were having a small relaxed day, we liked the idea of the food being super memorable and they definitely delivered with that. They focus on using seasonal, local ingredients and were so flexible and helpful with planning our menu.
My Mother-in-law Lynda kindly made both of our wedding cakes. She created both a delicious fruit and carrot cake which went down very well the day after!
My sister-in-law Leanne is a talented ceramicist, and she created the little ceramic vases for the dinner table that we filled with flowers. Each one is unique and very tactile and it felt so special to have something handmade and unique for the table.
I handmade our napkins using the softest linen from Merchant & Mills in a pretty pale pink and soft ochre gingham, and shall enjoy using them for many years to come for parties and at home.
Evening & Dancing
Our friend Sam was DJ for the night and provided the musical entertainment in the downstairs basement room and was very flexible with requests!
Our first dance was 'Lovin Each Day' by Ronan Keating, which we chose the night before! We weren't sure if we'd have a formal first dance but in the end chose this feel good (slightly cheesy!) number as my brother had returned from working in Australia and couldn't stop playing it.
Words of Wedded Wisdom
I would say focus on the key areas you'd like to put your budget towards, and don't feel pressured to spend money on things that aren't important to you as a couple. For us our key areas to get right were the food and a venue to suit our guest numbers, whereas we didn't feel that things like a band, table favours and matching suits for the men were needed for the day we had planned. These days there are no rules, which is great!
Even though our plans changed to have the day as a blessing instead of our official wedding, none of this mattered as the most important thing was that we were surrounded by our family and friends. All the little details and material things are exciting to plan, but when it comes down to it, it's the people that you're surrounded by and their love which really matters.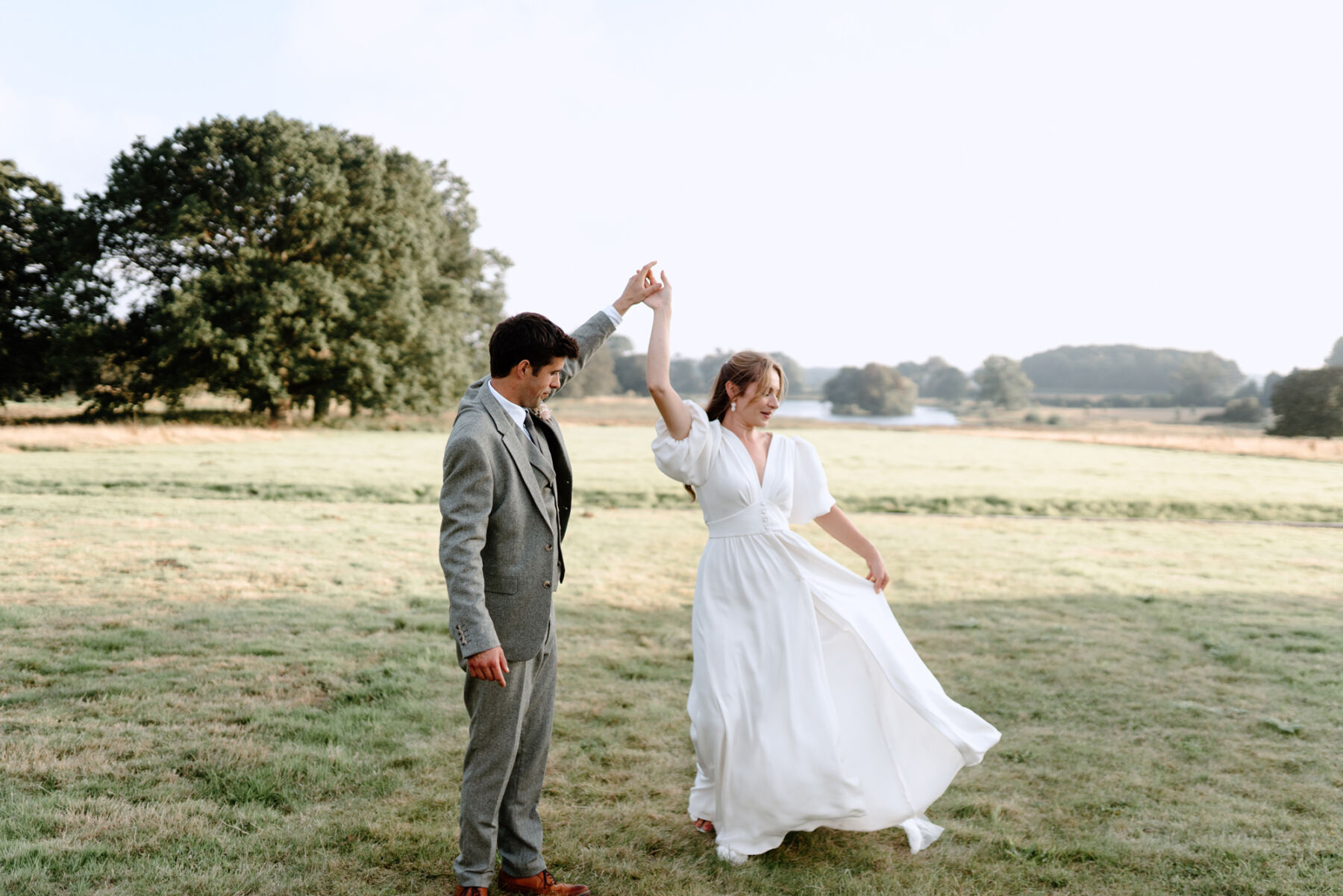 Enjoy our Podcast