Katie and Russell's tired the knot on 1st October 2022 with a ceremony at St John the Baptist Cathedral in Norwich followed by a reception held at Waxham Great Barn on the Norfolk Coast.
The couple worked closely with the bride's sister, Anna, to create an Autumn vibe that wasn't contrived and that meant the large barn offered a sense of intimacy. Warm colours were incorporated through lighting and decor and seasonal blooms in Autumnal rich reds and vibrant pinks added beautiful pops of colour.
The bride wore a backless, puff sleeve gown from cult brand, & For Love, which were discovered at the Halo & Wren Bridal boutique and the very talented Matilda Delves captured these images. Enjoy!
The Dress
My dress was the beautiful Auldyn in crepe by & For Love, from Halo & Wren Bridal.
I arrived at Halo & Wren with high hopes for the Auldyn dress. I was nervous to try it on, in case I didn't love it on me as much as I did on Instagram. However, Eileen at Halo & Wren quickly put me at ease. She was extremely helpful and kind. She offered her assistance whilst being completely unobtrusive which I appreciated. There wasn't a dry eye in the room when I finally tried my dress on, including Eileen!
I found the Auldyn dress on Instagram a few weeks after getting engaged and knew immediately that it was the one for me. To me it felt super modern but also very traditional at the same time. I particularly loved the exaggerated puff sleeves (which I liked as a nod to my mum's 80's dress), the completely open back and the bright ivory colour of it.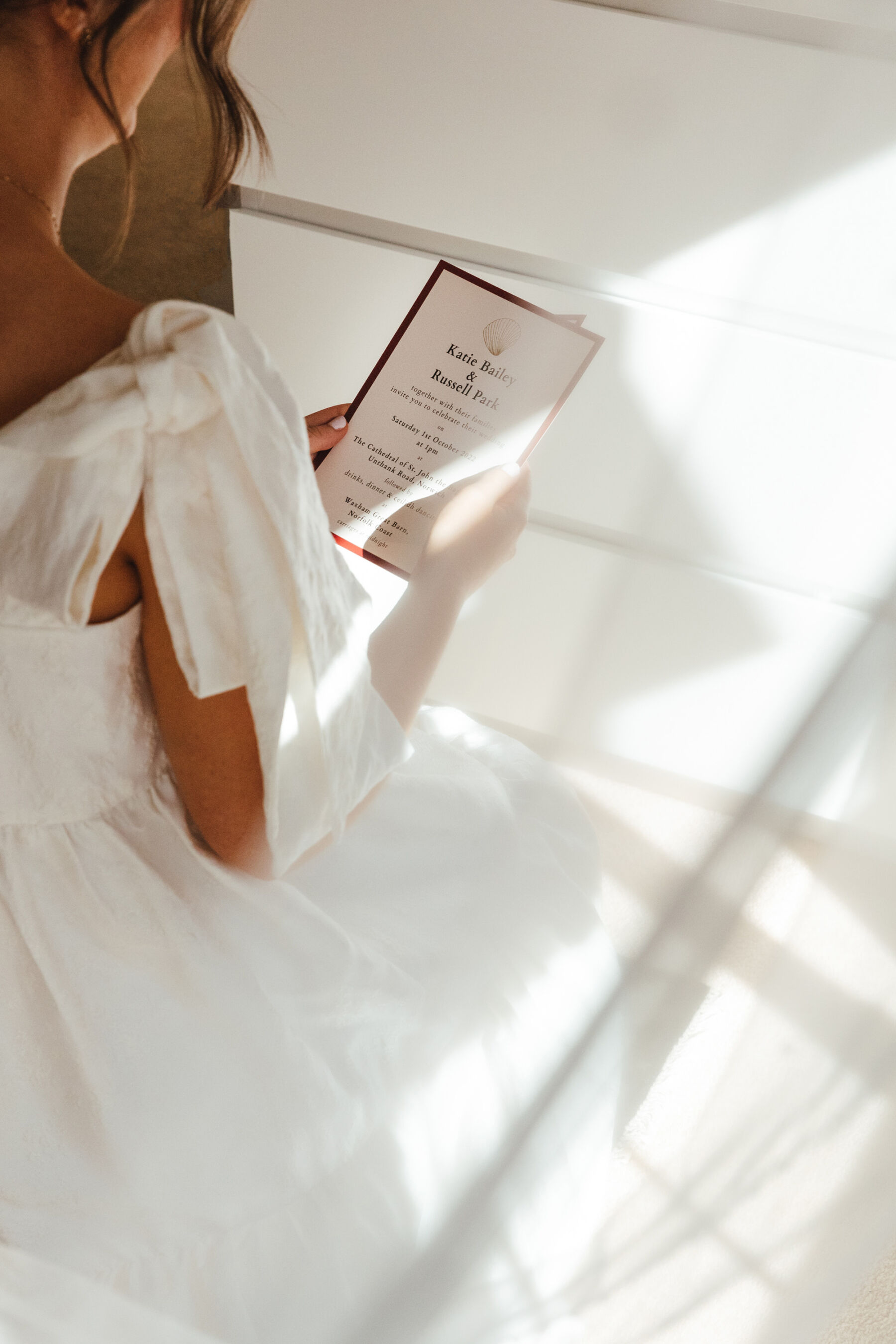 Shoes, Veil & Accessories
My mum's veil had been in the loft, unseen by human eyes for over 30 years. True to the 80's it was a voluminous cathedral length veil, lined and scattered with beautiful delicate pearls but the tulle was sadly discoloured. When I saw it I knew that I wanted to recreate it as closely as possible for my wedding day.
I found Unveiled by Sophie who creates amazing bespoke veils. Sophie recreated my mums veil so beautifully, on new tulle using the original pearls. It was so special to have that link to my parents wedding day, some 33 years prior.
My bridesmaids all wore bows in their hair, and I wanted one to match! When my veil came off in the evening, I wore the Mini Milly bow by Aura Bridalwear. The crepe material matched perfectly with my dress.
I didn't want to spend a lot of money on my wedding shoes, but still wanted to love them. Finding Charles & Keith was such a revelation – I'd never heard of them before but they had a whole collection of beautiful bridal shoes at a reasonable price. I wore them right to the end of the night, which is testament to how comfortable they are.
I wore Jo Malone's Nectarine Blossom & Honey cologne which I bought as a little treat at the airport on the way to our holiday in Portugal, not knowing that Russell was going to propose.
Russell bought me a pair of vintage gold knot earrings from Zelley in Norwich which were perfect for our wedding day. I also wore my late grandma's locket, which still holds original pictures of my grandparents in their twenties.
Hayley and Deb were the hair and make-up dream team. They both created fresh, natural looks that made myself and my bridesmaids feel amazing, whilst still looking like ourselves. They were also both so calm and friendly the morning of the wedding, making us feel at ease and giving last minute glam touch ups until we were ready to leave.
Flowers
We met Natalie from The WildFolk Florist on our first viewing at the Barn, when she was setting up for a wedding there that day. Her flowers were gorgeous, and she explained that they were all from her garden. From that point onwards she was our first choice florist.
Seeing the pillar arrangements outside the Cathedral doors as I arrived for the ceremony was overwhelming. They were so beautiful, and wild looking, exactly as we'd discussed. I later found out that Natalie had added pears from her garden to them, as a last-minute addition after she saw that we were adding fruit to our table arrangements.
As we had decorated the barn with trees, she also produced stunning wild and meadowy arrangements around the trees to frame the space in the barn for dinner. Natalie is so talented and shows such amazing attention to detail.
All of her flowers are locally grown or sustainably sourced too which we really loved as everything was seasonal.
The Ceremony
It was very important to me that we got married in the Church I attended every Sunday growing up in Norwich and we knew from the day we got engaged that this is where our ceremony would be. I think the beauty of St John The Baptist Cathedral speaks for itself in the photos.
My dad walked me down the aisle which was a moment I'll never forget. Our good friend Harry, founder and conductor of choir The Sovereign Singers, arranged a version of The Summons by John L.
Bell for the choir to sing as I walked down the aisle which is set to the tune of a traditional Scottish folk song. It was breathtakingly beautiful.
The music for our ceremony was really important to us. Russell's grandfather was an organist, and he wrote pieces of music for each of his grandchildren when they were born. It was really special to have our organist and family friend, Julian Haggett, playing that music while guests arrived at the cathedral.
We had a traditional Catholic ceremony, officiated by Father Michael who put us at complete ease. We're lucky to have lots of talented relatives – Russell's grandma also painted the cathedral for the cover of our order of service. We chose our favourite hymns, including Love Divine which has been sung at all my family weddings in living memory. I can't sing it without crying.
The Sovereign Singers also sang The Hallelujah Chorus by Handel whilst we were signing the register, which we arranged as a surprise for my mum and family for whom this is a favourite.
We had traditional Catholic vows. The words are so beautiful and will stay with us both forever.
We had traditional readings from the Bible read by our family members. In particular, our first reading from the Song of Songs was also read at my sister's wedding which made it all the more meaningful for my family.
Russell bought my beautiful engagement ring from Hatton Garden Diamond, and my half eternity wedding ring is from Courlanders in Richmond. Russell's ring is from Zelley Jewellers in Norwich.
Photography & Film
Finding a photographer feels like a really important decision and we honestly found the process quite difficult.
After a lot of searching, we were equal parts pleased and relieved to find Matilda Delves, whose photos are exactly what we were looking for. They capture so much colour, warmth and movement, and completely encapsulate the happiness of the day.
We also knew that we wanted to include the beach at Waxham in our plan for the wedding day, and Matilda had such a fantastic portfolio of beach photos. She captured our trip down to the beach beautifully on the day.
Matilda herself was so professional throughout our day, and completely discrete which was perfect for us. We wanted our day captured authentically, and she was spot-on.
We were recommended Gaetano di Giacomo by our photographer Matilda and I'm so glad that he was available for our day. He captured our entire ceremony, as well as speeches and highlight videos, which I cannot yet watch without crying. We will treasure his videos forever.
Our nephew Seumas stole the show in his tartan dungarees and bow tie.
Bridesmaids
My bridesmaids all chose their own navy dresses from Ghost, Rewritten and Oasis. They looked a complete vision and I was so honoured to have them walk down the aisle with me.
My bridesmaids all wore matching blue bows from Lovisa which I loved because I thought it brought all of their looks together.
Russell's kilt is his family tartan, Robertson, from MacGregor and MacDuff in Glasgow.
Our photographer took us up into the dunes in the October sunshine, newly married, where we had a panoramic view of our guests on the beach and the Barn we'd be heading to for our reception. We could hear the bagpiper playing in the background, and the chatter of our family and friends below us.
We hired transport from Sandra's Wedding Cars. We booked Sandra's beautiful 1969 Morris Minor as a surprise for my dad which he loved – his first car was a Morris Minor.
Sandra really helped to calm my nerves on the way to the Cathedral, and she was ready to help with any last minute hiccups, wiping a mark off my dress as we were leaving.
Russell and I really enjoyed the journey from the Cathedral to our reception which felt like a special moment between the two of us, helped along by Sandra's lovely chatter and free flowing champagne.
How They Met
In Russell's speech at our reception, he told the story of how we first met at university in Durham in 2013, when I saw him in a student musical. His (slightly embellished…) story is that I stood up in the middle of the show and announced to the audience that he was the man I was going to marry. For his speech he even re-wrote the lyrics to a song from that show, to make it about me – it was so unexpected and had everyone laughing.
Russell proposed in August 2021 in our favourite place in Portugal which he has visited since he was a child, and where Russell's parents have a holiday apartment. Although we'd been together for a long time, he genuinely took me by complete surprise with his proposal while we were having a sunset picnic by the sea. He thought he'd been rumbled when his bag containing the ring was searched at the airport, but I was oblivious.
Wedding Stylist
We enlisted the help of my talented sister, Anna Cacciaguerra Ranghieri as our stylist. Anyone who knows Anna knows that she has impeccable taste and an eye for detail, and we trust her entirely. She consulted us with Pinterest ideas, moodboards and suggested suppliers, and the finished styling was honestly unmatched.
We also hired Tori & Mary from VC Event Curation to act as our wedding coordinators. The combination of two different venues over an hour away from each other (or three if you count the beach), and lots of suppliers for our DIY reception meant that we really needed support with logistics and finishing touches. It was such a relief to hand over supplier communications to them in the final few weeks, and their professionalism and oversight really helped the day to run smoothly.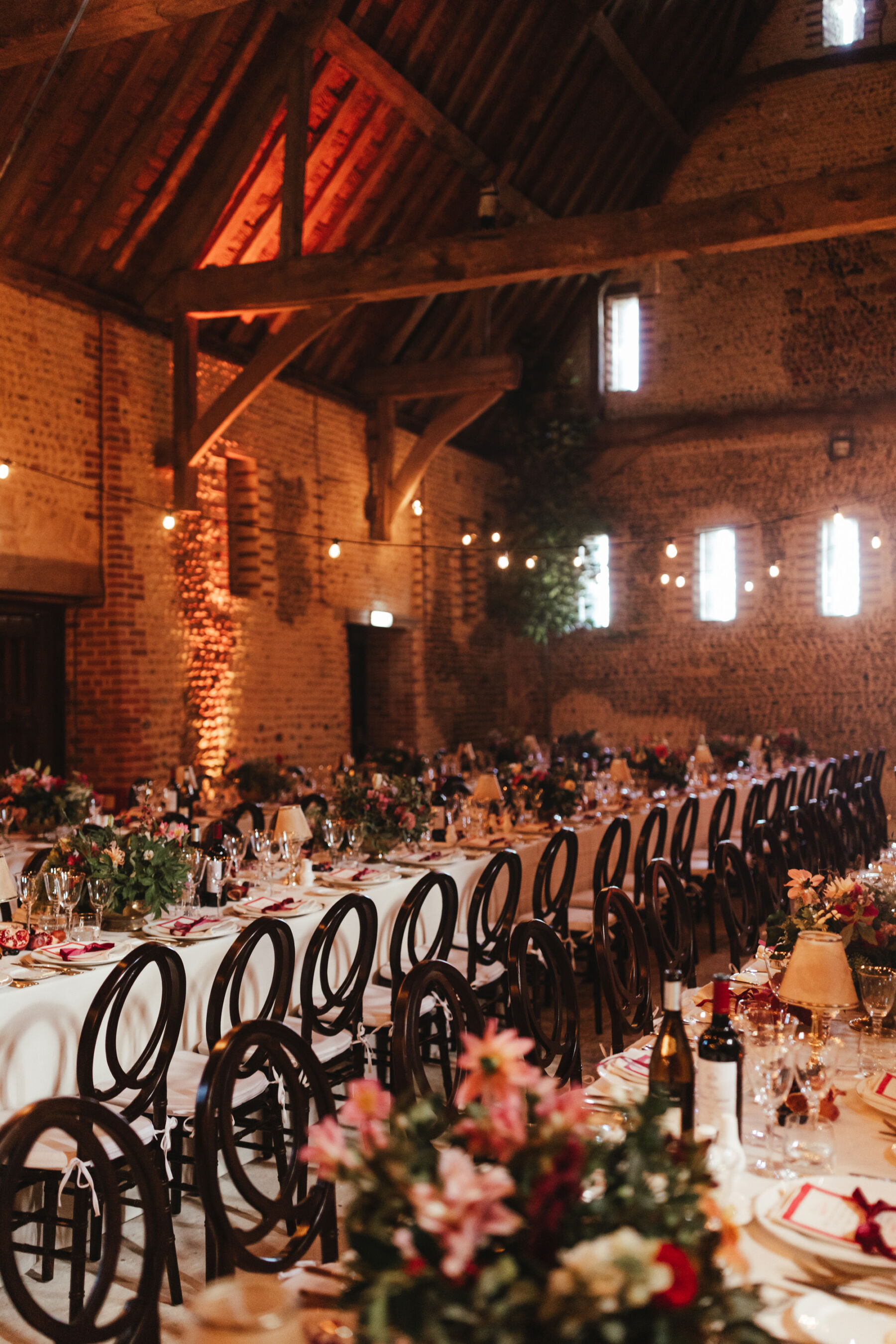 Reception, Decor & Detail
I was adamant that I specifically didn't want a reception in a barn, so we spent a long time looking at marquee venues. We decided to look at Waxham Barn to 'rule it out', but as soon as we saw it, it gave us that elusive buzz and our hearts were set.
The Barn is a beautiful, enormous, and historic space, and being built of traditional flint, feels extremely 'Norfolk'. It's also completely DIY, offering us all the freedom we were looking for with a marquee venue.
The cherry on the cake was that the Barn is set next to one of our favourite beaches on the Norfolk Coast, Waxham. We've enjoyed many a seal spotting dog walk and sunset BBQ there and were so excited about the idea of bringing all our guests to the beach to celebrate with us on our wedding day.
We hired two dozen autumnal trees and bushes from The Romantic Garden Nursery to add to the Barn, including tall London Planes (we have one outside our house at home), Silver Birches and a particularly vibrant Burning Bush which turned bright red just in time for our day.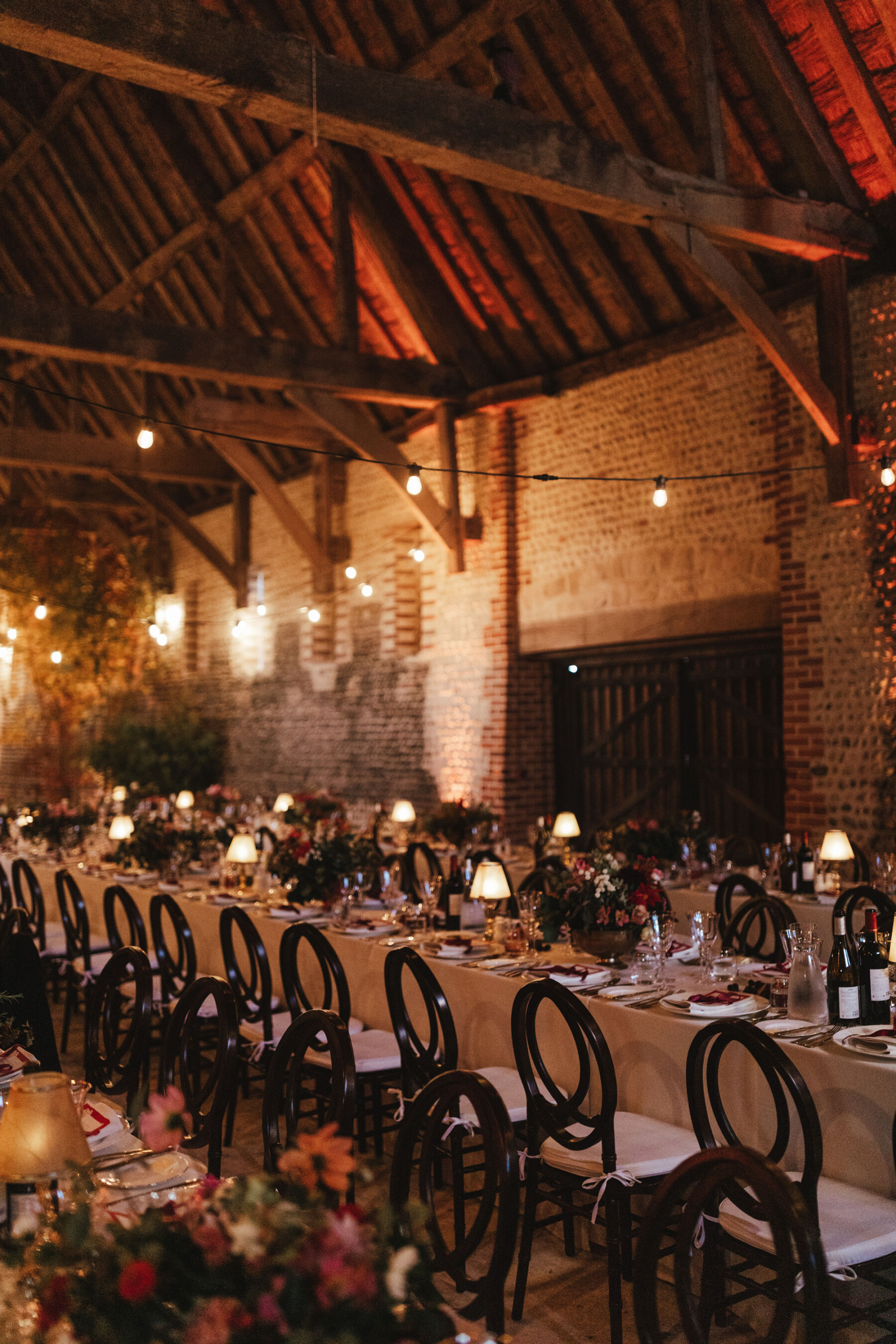 We chose each plant two weeks before our day, and their autumn colours changed beautifully in that time so that they added an array of greens, yellows and reds to our reception.
Candles aren't allowed in the thatched Barn, so we spent a long time figuring out how we might be able to recreate that soft, glowy light without using them. My sister suggested we hire cabaret lamps from Table Lamp Hire instead, which was genius as they created intimacy on our tables and bar area. I absolutely loved them.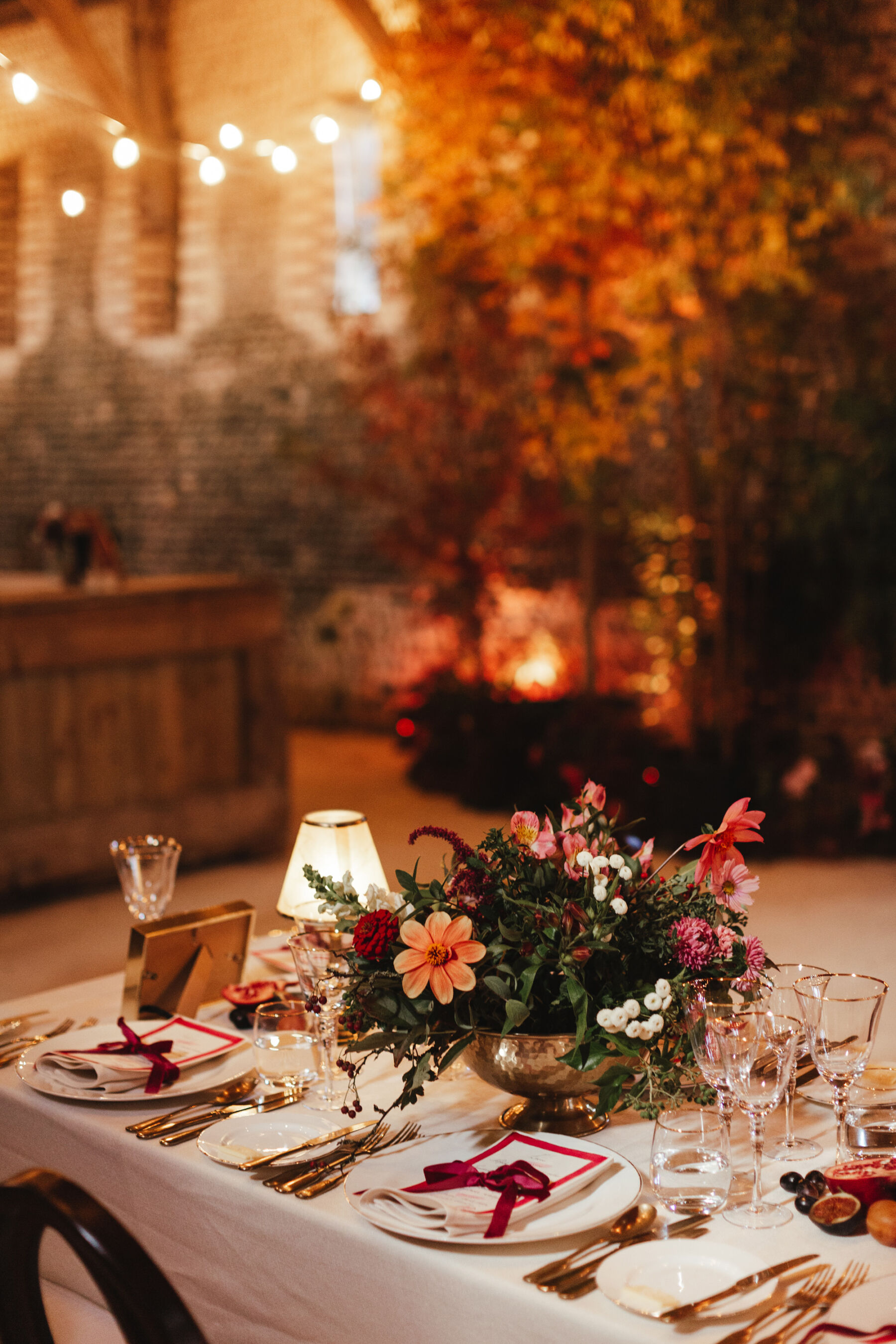 We added framed photos of our grandparents, parents and siblings weddings to the drinks reception space. It felt important to honour these past and present marriages in some way, and our family and friends loved looking at them and talking about their memories of the weddings. We also hired lounge furniture from Array, who know the Barn very well. They have a vast choice of beautiful, comfortable furniture to choose from.
My sister Anna designed our menus. They were beautifully detailed, with two little love birds adorning the thick red border. Amazingly, Anna individually hand painted every last menu, which made them so unique and completely bespoke to us. On the table, she wrapped them in rich red velvet bows and their overall effect down our long tables was stunning. For our welcome sign and table plan & bar menu, we kept it simple – Russell got very handy with Canva and I think did a fantastic job.
Notes from the Wedding Planner
Katie and Russell wanted the day to feel intimate and glowing. In our moodboard we identified a warm scheme of reds, pinks, living greens and golds – reflective of the October day in a way that was fresh and dynamic.
The wedding was in a magnificent medieval barn, and they wanted to do justice to the space without reverting to cliché rustic styling. Instead, we chose elevated table settings with classic linens, personalised menus, autumnal fruits and chic cabaret lamps that cast a glow over the guests' faces. The space was enveloped by an embrace of tall birch trees and shrubs reaching towards the gables. The overall effect was one of warmth and intimacy, reflecting Kate and Russell themselves.
Evening & Dancing
We knew we wanted a ceilidh band from the day we got engaged. Licence to Ceilidh were perfect for us as they combined ceilidh dancing with classic dancefloor covers.
They did a fantastic job of guiding my unruly English guests through their first ceilidh, whilst the Scots showed us all how it should be done.
I booked George, The London Bagpiper to pipe all of us to the beach on arrival at Waxham as a surprise for Russell. Russell was thrilled to see George in his full Scottish regalia when we arrived, playing all of the Scottish classics.
We chose 'Shut Up and Dance' by Walk The Moon as our first dance. Russell is a particularly good dancer and it was such a fun song for him to drag me around the dancefloor on!
Words of Wedded Wisdom
During the planning process, you have a lot of time to think about how things might go wrong. It's important that you don't let these little niggly thoughts stop you from doing something that you really want to do on your day.
We went through phases of second guessing our idea to go to the beach, even though we really wanted to do it, because of what the weather might be like in October, or how we would coordinate getting our guests there and back for instance. In the end, the sun was shining, and our family and friends were so excited to spend time on the beach with us. We're both so glad that we went ahead with our plan despite our doubts and loved every second of it.
I think the only thing we might have done differently is stress less about the small things in the immediate run up to the day, although this is so difficult to do when you're in peak planning mode!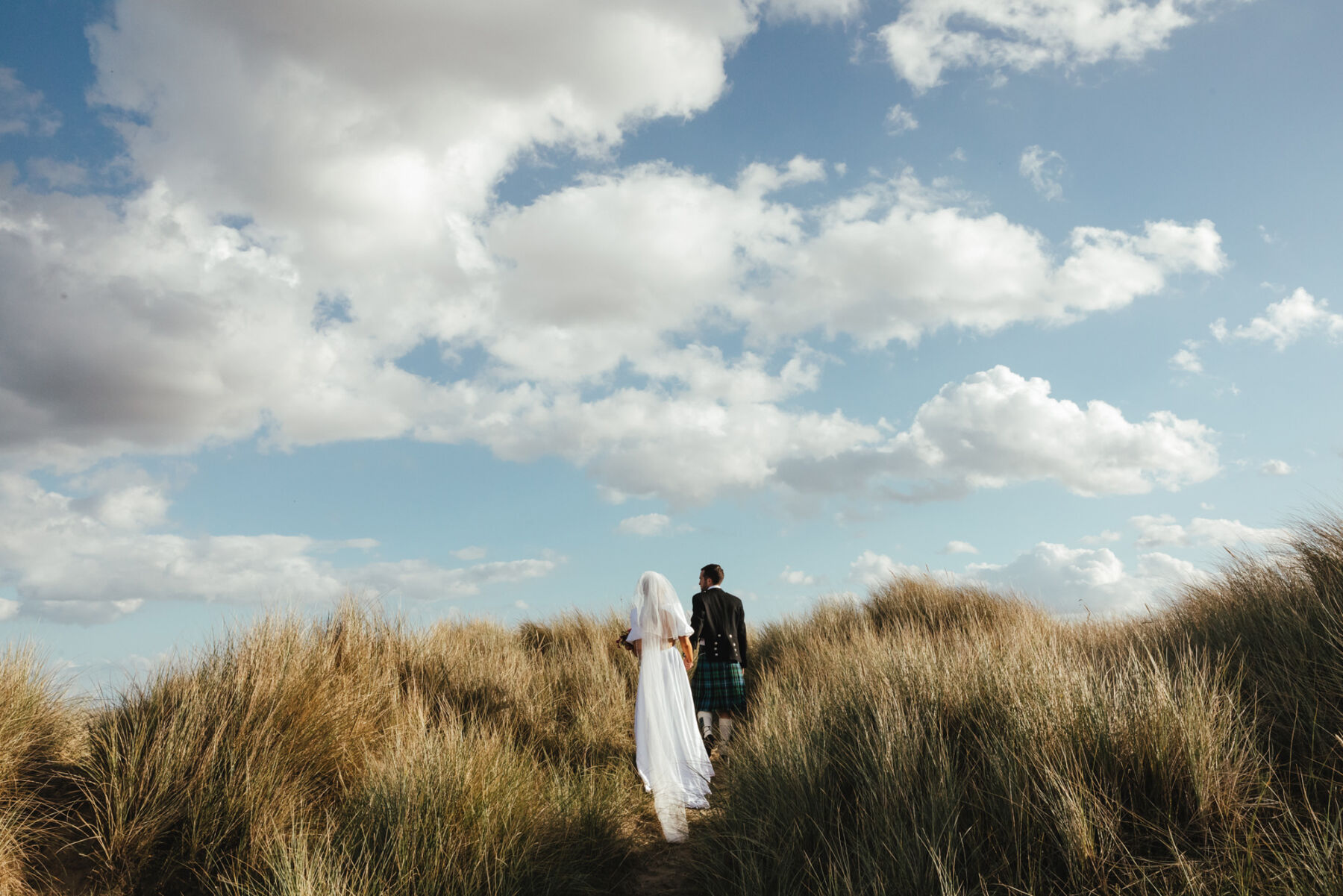 Explore our Directory