These gorgeous, atmospheric, fine art wedding photogrpahs, were captured by Love My Dress recommended wedding photographer, Bernadeta Kupiec, in October 2022, when couple Claire and Kurt eloped from the US to Aberdeenshire in Scotland to tie the knot at Fyvie Castle.
There is something so utterly romantic when the only people at a wedding are an officiant/witness, and the couple themselves and I adore how Bernadeta has captured the emotion present on the day.
The couple had originally started wedding planning in 2018 for a 2020 wedding, but the pandemic scuppered these plans. They ended up having a legal wedding in their home country of America and follow this with a blessing and elopement in Scotland. Enjoy.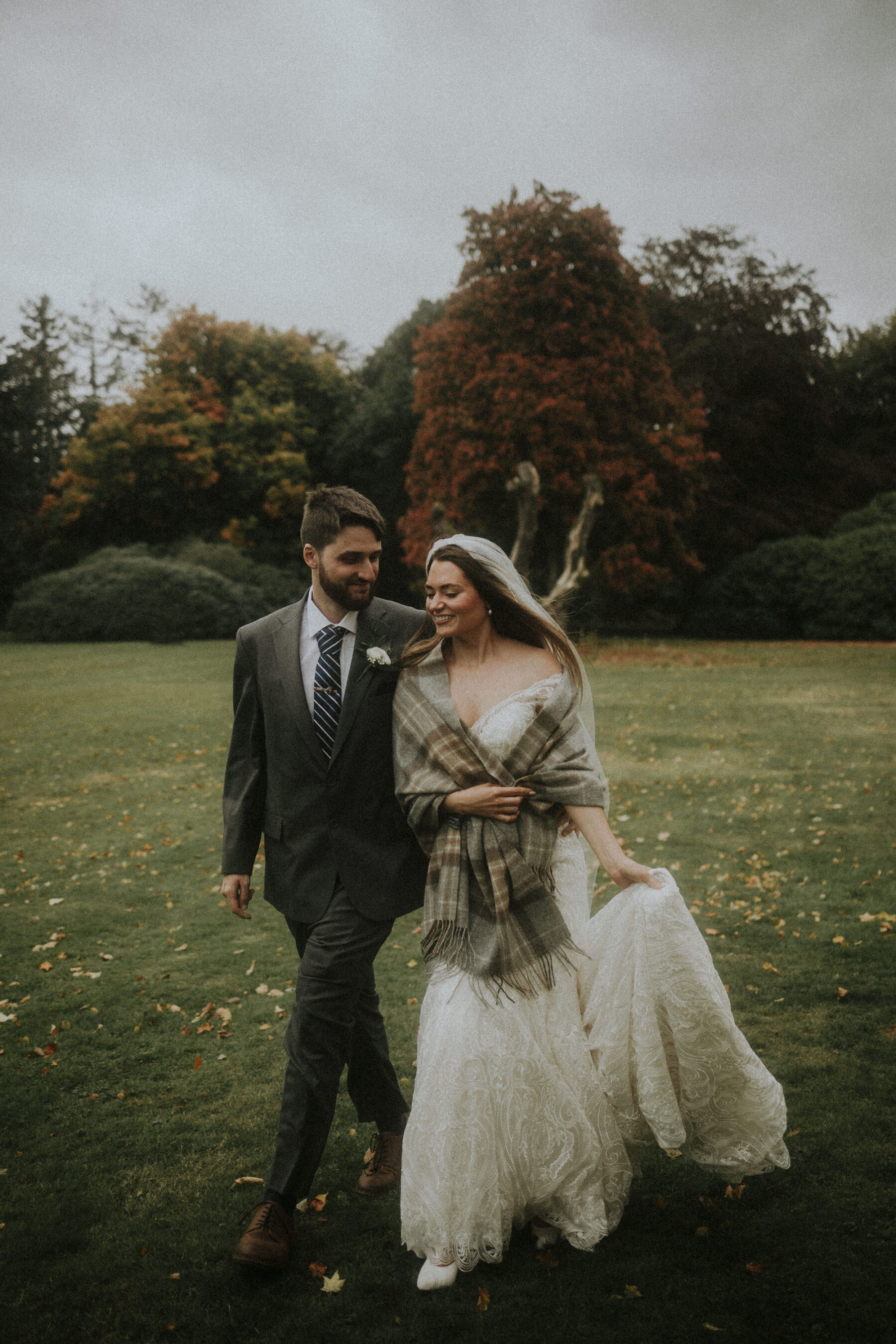 The Inspiration & Location
The vision we had for our elopement was glamorous but not pretentious, stately and traditional.
We choose Fyvie Castle because of the vibe of the beautiful interiors, with all its rich colours. It is plush and warm.
The stamp that we used for our wedding stationary was of an image of Luna, our dog, who couldn't be with at our blessing.
A Maggie Sottero Dress
My dress was the Sabra gown by designer Maggie Sottero, which I found at Kleinfeld Bridal in New York City.
My visit to Kleinfeld Bridal was an amazing experience. I talked to my consultant about what I wanted and she picked out the dress I wanted and had in my mind.
I chose my dress chose because it was glamorous but refined. Off-the-shoulder, all-over lace in a modern pattern, the long train, the subtle sequins.
Shoes, Veil & Accessories
I also bought my veil at Kleinfeld Bridal. It was very elegant, light and had a beautiful white trim.
My shoes were Dries Van Noten. I wanted to wear a different pair of shoes but the restrictions from the castle meant that I went with these ones. A technicality meant that all footwear needed a minimum of 2 cm wide heel, to avoid damaging the beautiful historic floors.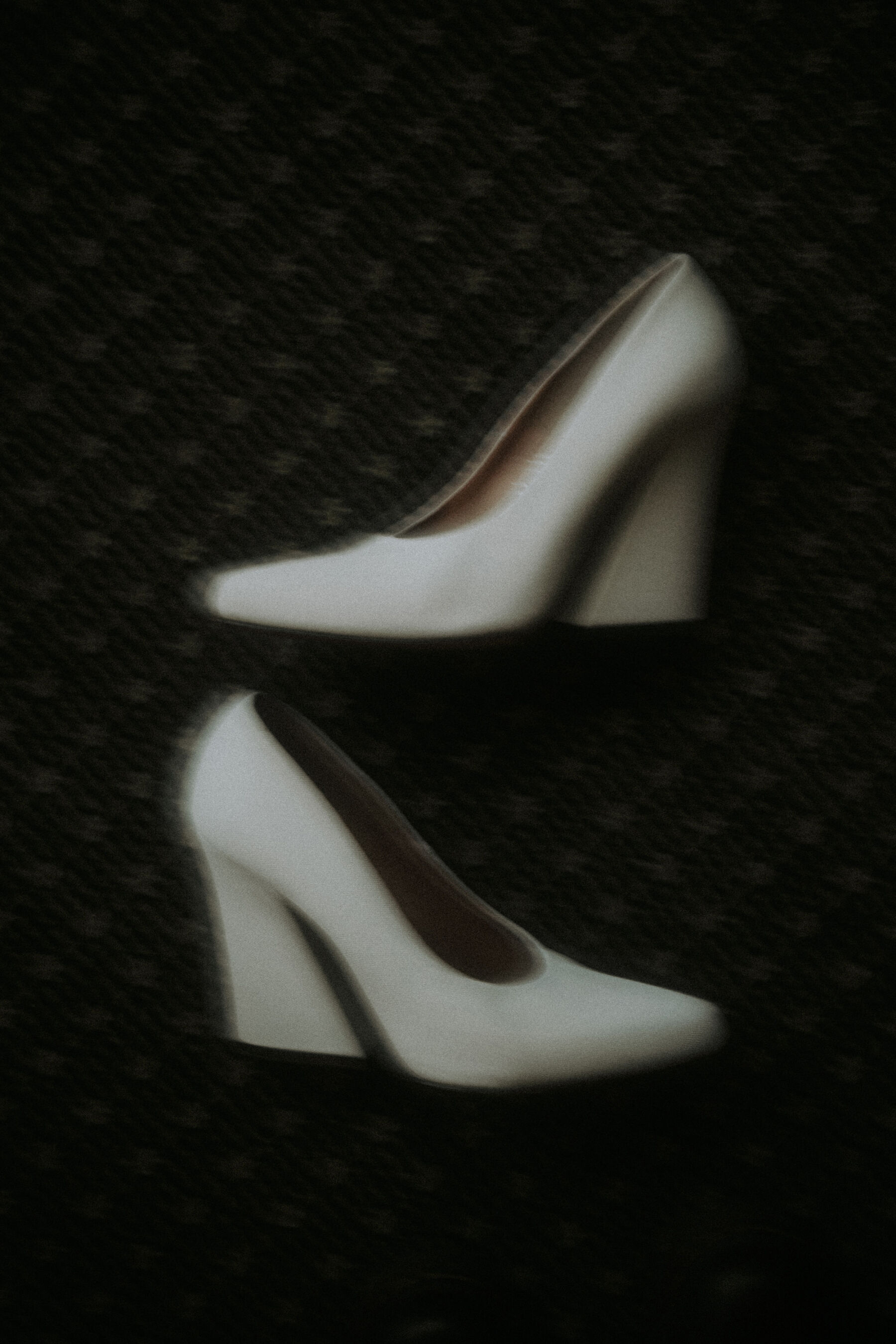 Ceremony
We did all the 'legal stuff' in the US, so it was just a blessing ceremony in Fyvie Castle and there were only two of us, the celebrant, our photographer and the two ladies from Fyvie Castle who took care of us from the beginning of our arrival, until the the moment we left.
Sarah Early officiated our ceremony. We exchanged som every personal vows during our ceremony.
How They Met
I designed my engagement ring, so getting engaged wasn't a surprise, but the location and timing of the proposal were. We got engaged late at night under a streetlight at McKee Farms Park in Fitchburg, Wisconsin while walking our dog after the Christmas Light show. It was cold and icy and dark!
Photography
We hired Bernadeta Kupiec as our photographer, and she was chosen for the aesthetic. Her style works really well for fall/Autumn wedding dates.
Words of Wedded Wisdom
Make your wedding day about yourself, don't rush any part, take it slow and enjoy every moment of it.
And if are living abroad and the process of getting a marriage visa overwhelms you, do the legal part in your country and then have a symbolic ceremony in the place you dream about.
Explore our Directory