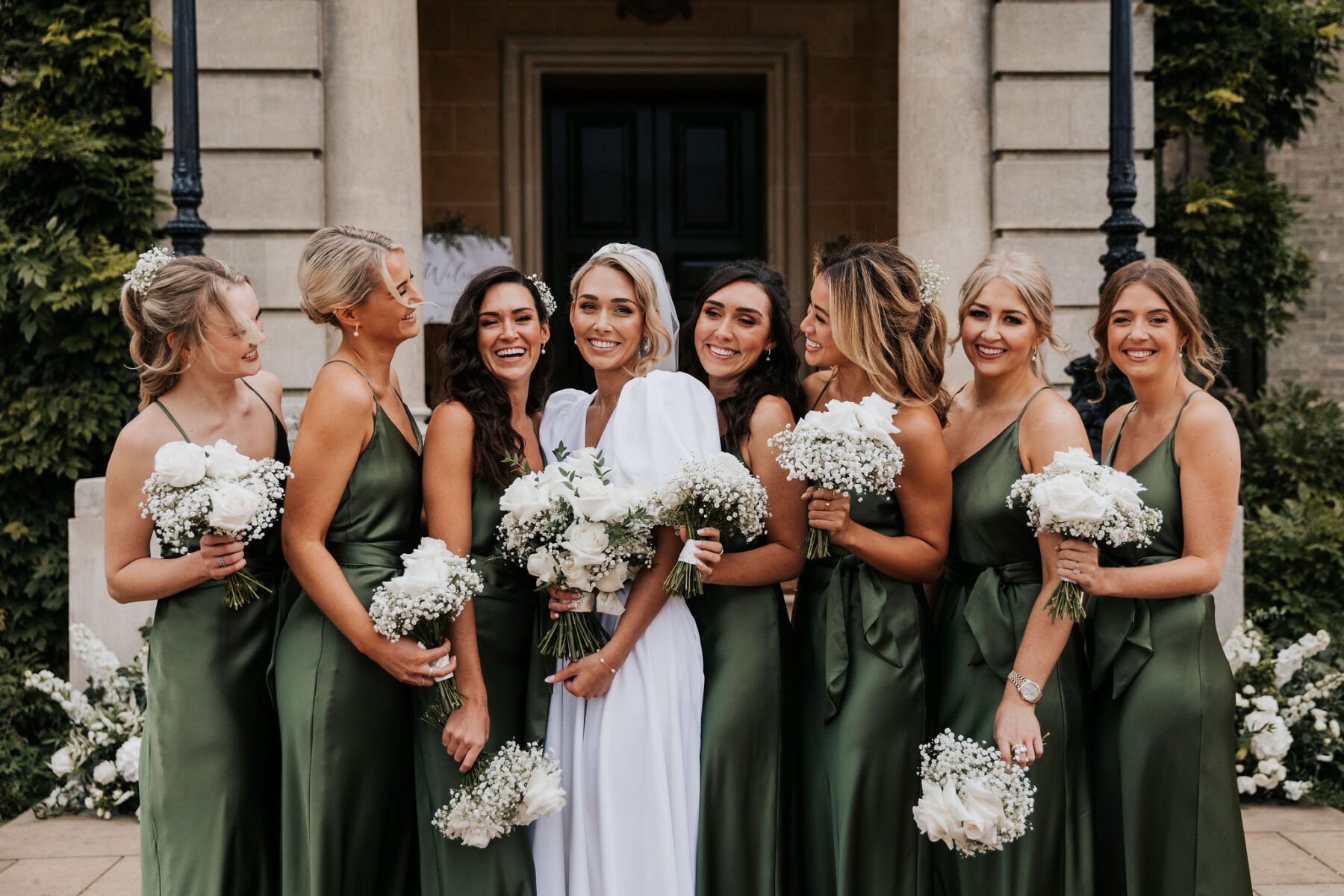 About Rewritten
Rewritten are a popular bridesmaids brand, based in London and with an online shop, who create the most beautiful, flattering modern and sizes inclusive bridesmaids dresses in a rainbow of colours and many gorgeous flattering styles.
The Rewritten story begins in 2016 when friends Katie Arnott and Frances Cookson, frustrated by the choice of contemporary bridesmaid dresses out there, decided to create their own. Frances is a trained Fashion Designer and hand designs all of the collections in London with an emphasis on beautiful silhouettes and flowing fabrics and Katie is a damn savvy business woman.
Size Inclusive Modern Bridesmaids Dresses
Rewritten Bridesmaids are inclusive of size and shape and we encourage you to show off your personality through our beautifully crafted collection. Our collection is available in sizes UK 8 to UK 26 across our best-selling styles and colours. We believe in being the bridesmaid you want to be. Want to wear a flattering jumpsuit in a bold colour you love, why the hell shouldn't you?
All of our flattering styles are hand-designed in-house and sampled on our London workshop floor, where we create the majority of our best-selling styles. Our bold colours are completely unique to us and every dress is created from fabric that is dyed to our exacting colour specifications.
Located in Hackney Wick in the heart of East London, visit our bridesmaid dress haven for a proper trying on session and bubbles on tap. We offer weekend appointments.
Shop the full collection at the showroom, via one of their stockists or online at wearerewritten.com. Prices start at £120.
See all articles featuring Rewritten Bridesmaids here on Love My Dress.
Rewritten Eco-Conscious Sleepwear
Rewritten have teamed up with artist Rose England to create a capsule collection of eco-conscious printed bridesmaid nightwear for the ultimate wedding morning look.
Based in East London close to Rewritten HQ, Rose England is a renowned artist, illustrator and print designer whose playful prints centre around elements from nature, with a particular focus on her greatest love and fascination: flowers. The collection features a cami pyjama set and robe that are designed to be worn together.
With sustainability in mind, we wanted to use as much as the fabric as possible which is why we decided to add two accessories into the collection – the eye mask and hair scrunchie, both of which are made from offcuts to minimise fabric waste.
Boutique
Unit T4, 121 Monier Road, London E3 2PS
By appointment only, please contact us for details
Reviews
I just wanted to say that both the dresses and the experience of shopping for them for my bridesmaids were AMAZING. The dresses are absolutely gorgeous, as so many people told us on the day, and I was quite jealous that I didn't get to have one. My bridesmaids worse the Brooklyn dress in Olive and Forest and they looked absolutely stunning together, and the style suited them all so well. Your shop is so lovely too, very relaxing and intimate, with a beautifully curated collection. On the day we went shopping for them we came straight from another bridesmaids dress shop which was much bigger and had a lot more choice and it was like night and day. The team in the shop made everyone feel so comfortable, and one of my bridesmaids who had really struggled in the other shop with finding styles to suit her was immediately at ease in your shop. You have created something SO special, and I'd recommend the whole experience to anyone in a heartbeat.
Zoe Sciver
Would highly recommend Rewritten for anyone looking for bridesmaid dresses. The dresses are beautiful quality and looked equally stunning on all my bridesmaids, who were all different sizes and each had different requests for their dress. Being able to order fabric swatches first, and to mix and match styles and colours was a real bonus. One of my bridesmaids even went on to use Rewritten for her own bridesmaid dresses, which I think says it all.
Louisa Flemington
Articles featuring Rewritten