Hollie and Luke's beautiful August 2022 wedding was held at popular Cotswolds wedding venue, Cripps Barn in Gloucestershire.
The bride looked heavenly in a gown of frothy tulle, designed and created by Sally Bean Couture, who we recently introduced you to on Love My Dress. If you're considering a bespoke gown, take note of Hollie's words about her incredible experience working with Sally.
This lovely day was full of joy and smiles captured beautifully by photographer Tom Durn. Enjoy!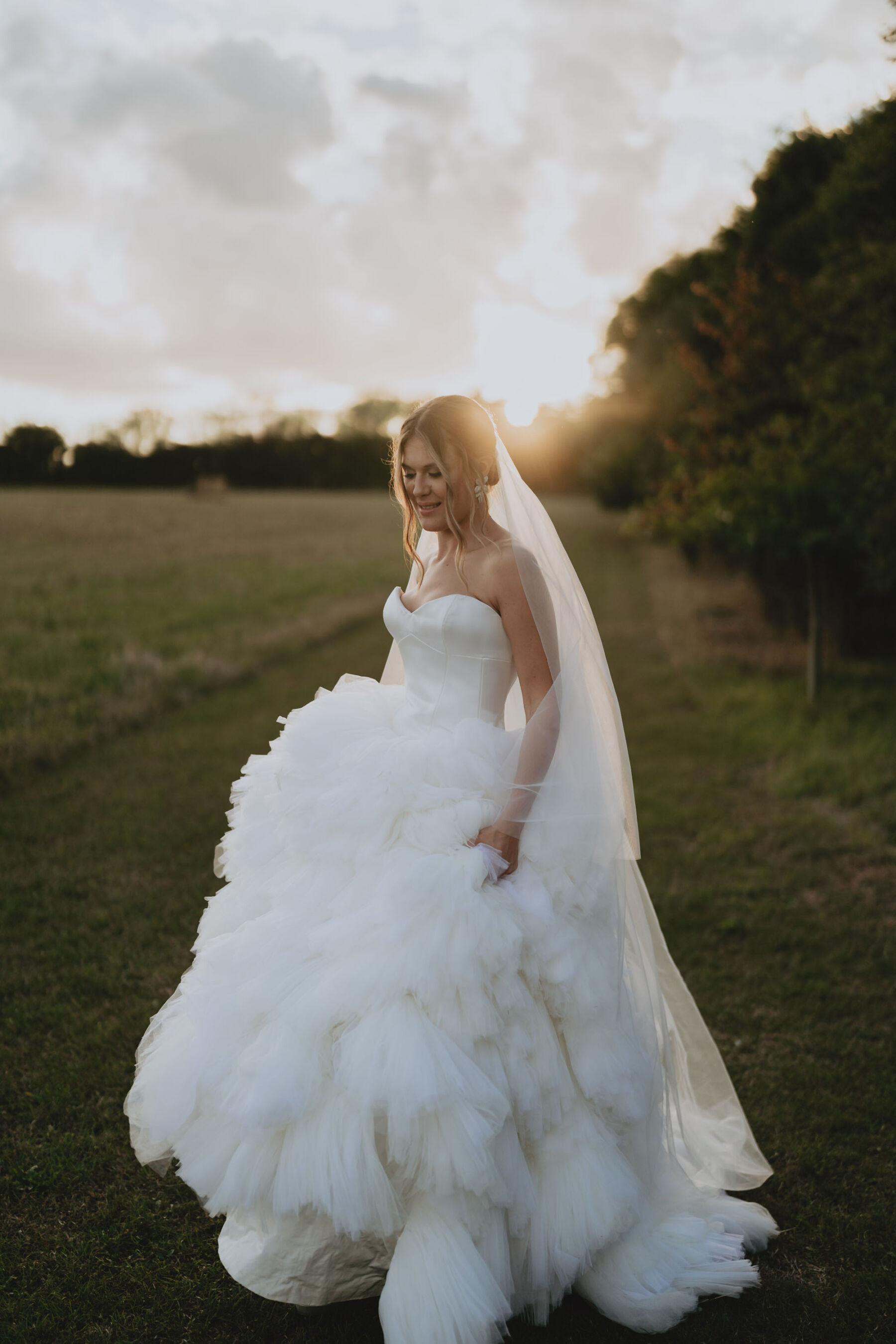 Bridesmaids
My bridesmaids dresses were from Pretty Lavish. I decided on full-length dresses and a palette of colours (emerald green, olive green, cinnamon, and champagne) from my bridesmaids to choose from. It was really important to me that my best friends felt comfortable and chose their own style for the day.
I gifted my bridesmaids some classic drop earrings, but left them to choose their own shoes as it was important to me that they felt comfortable.
The Dress
I will always cherish the decision to order a couture gown from Sally Bean Couture. It was a no-brainer after having not seen any dresses that were what I knew I wanted! The design conversations, fittings and one-to-one chats made the experience so, so special and made me feel on top of the world after every visit (I will really miss not having a regular dress appointment with Sally in my diary!).
I would describe Sally as a talented, considerate, innovative, conscientious and thorough luxury couture bridal dress designer. Having ordered a dress from Sally more than a year before my wedding day, I felt she listened and took so seriously the importance of a long-term bride-designer partnership. Her approach to co-designing a dress is so filled with passion and genuine joy – and my dress itself shows that.
Veil, Shoes & Accessories
I wore a chapel length veil with a blusher from The Wedding Veil Shop. It was really simple and didn't have any embroidery or fancy things like that – I wanted keep things classic and not distract from my gorgeous dress.
I wore my mum's garter from when she got married in the 80's – this was my something borrowed. My earrings were from Latelia and were gifted to me as a wedding gift from my mum.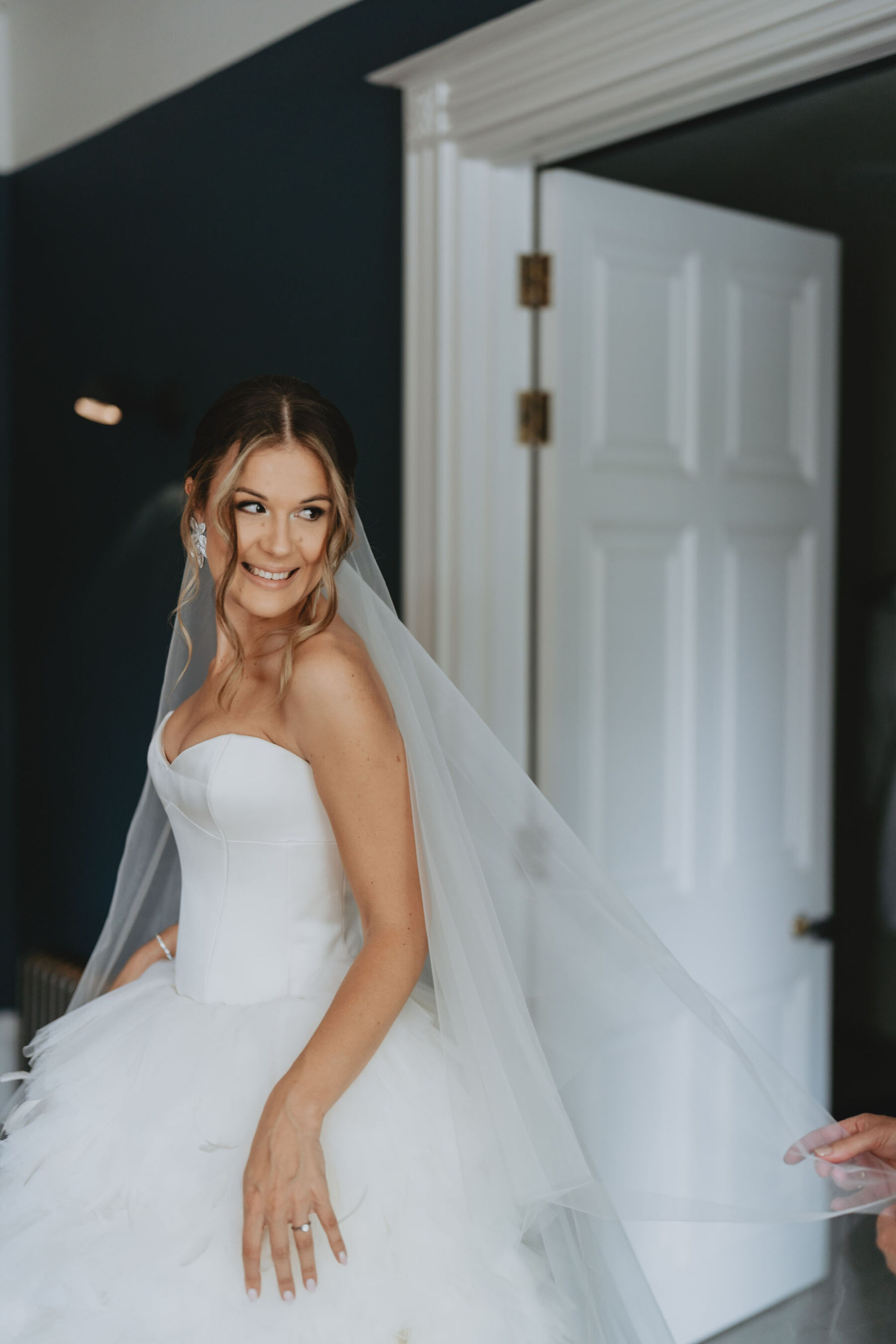 The dress I took home with me is gorgeous and everything I wished for. It's pure luxury, fitted to perfection and was so much fun to wear with the finest silk bodice and a LOT of tulle ruffles, all individually sewn to perfection to create a huge skirt with little bouncy feathers that made me feel incredible. Just the total dress of dreams.
I wanted to wear something with loads of character, and with a maximalist style skirt contrasted with a classic, romantic bodice. In the evening I wanted to wear something completely different, so went for a one-shouldered, single-sleeved dress that I could dance in.
I adored my bridal gown. The skirt was phenomenal and had so much movement to it – something you only ever get to wear at your wedding! I've made a friend for life with Sally and I can't wait to see what more she and her team create next.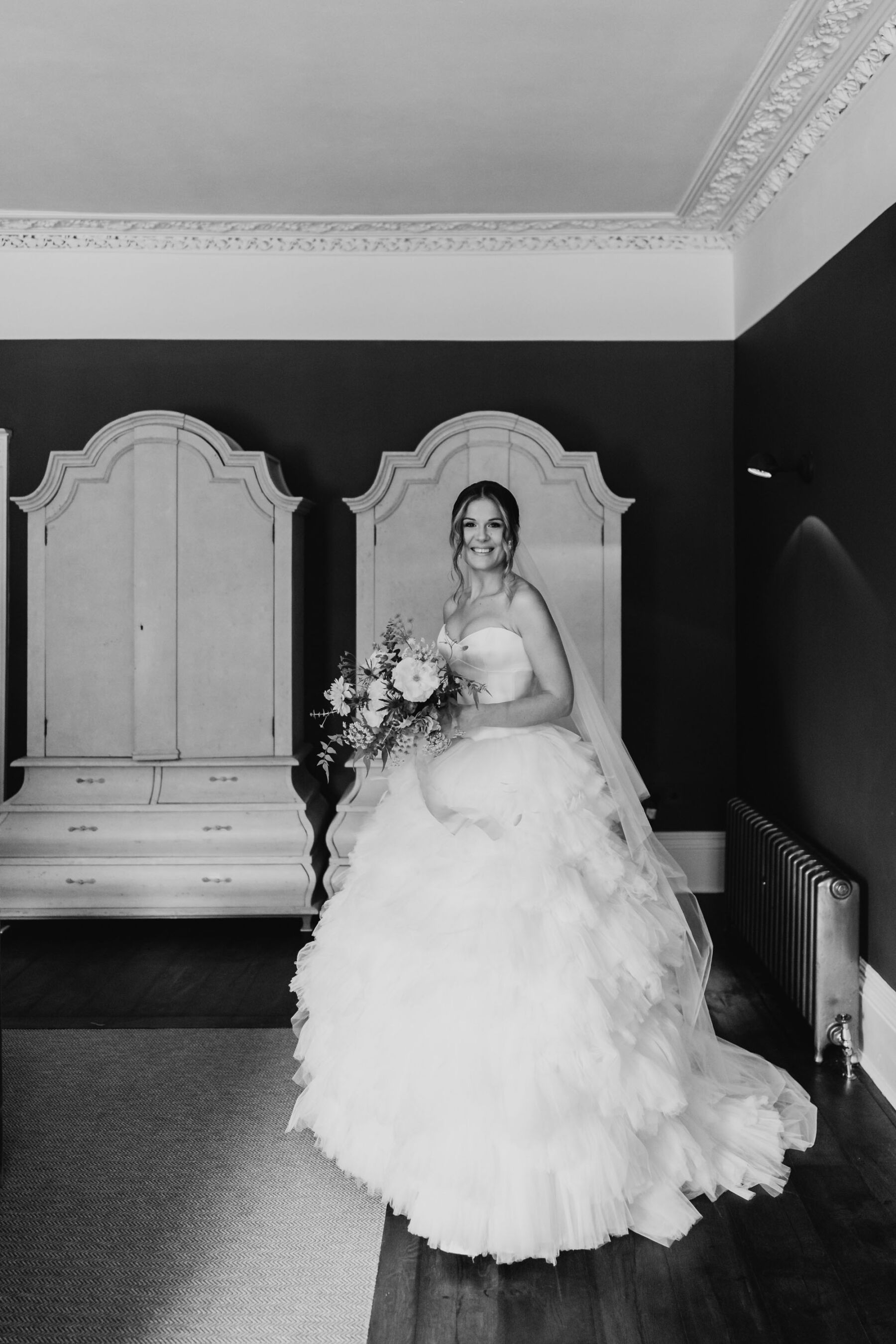 Ceremony
I walked with my dad down the aisle to 'At Last', by Etta James, played by our string quartet, The Cotswolds Wedding Quartet.
Our rings were from F. Hind. We engraved our bands with one anothers' names and the date of our wedding day, by Master Cobbler.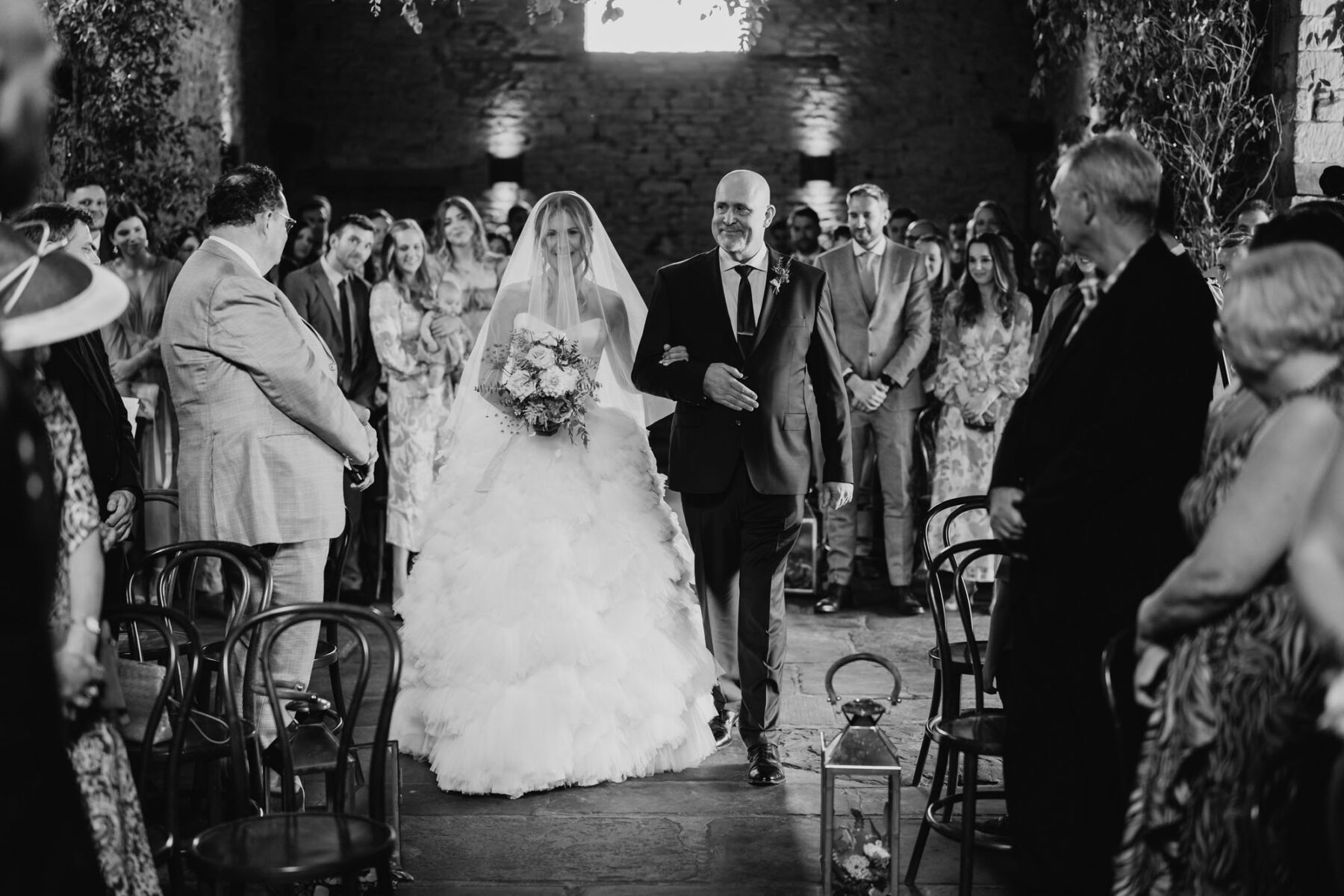 We had two readings, chosen by the friends we asked to read during our ceremony. We knew they both had impeccable taste – and we were proven right.
They included an excerpt from Le Petit Prince by Antoine de Saint-Exupéry and a passage from Wild Awake by Hilary T.Smith.
Photography
Tom is an outstanding photographer. He photographed my sister-in-law's wedding in November 2019, and took a picture of us that we cherish to this day. So it was another no-brainer to have Tom as our own photographer to capture the day's emotion in a way that wasn't forced or 'set up'.
Tom is also a brilliant person, and has a natural ability to make people comfortable and express their joy in a natural and aesthetic way!
We chose to have a second photographer to make sure we captured the moments of our guests and the day when we were having our own portraits done. We're so glad Patrick Partridge was there – he took some gorgeous pictures of our friends and family, and was such a positive addition to the day.
I'd recommend them both as a pair if you can manage to find availability – they're both in extremely high demand!
How They Met
Luke and I met at work in 2014 in our hometown of Stroud, Gloucestershire. We both had plans to move to London at some point, but were working until we'd decided what we wanted to do next.
We ended up moving to London in 2015, and lived there until 2020 (when we were thrown together during lockdown).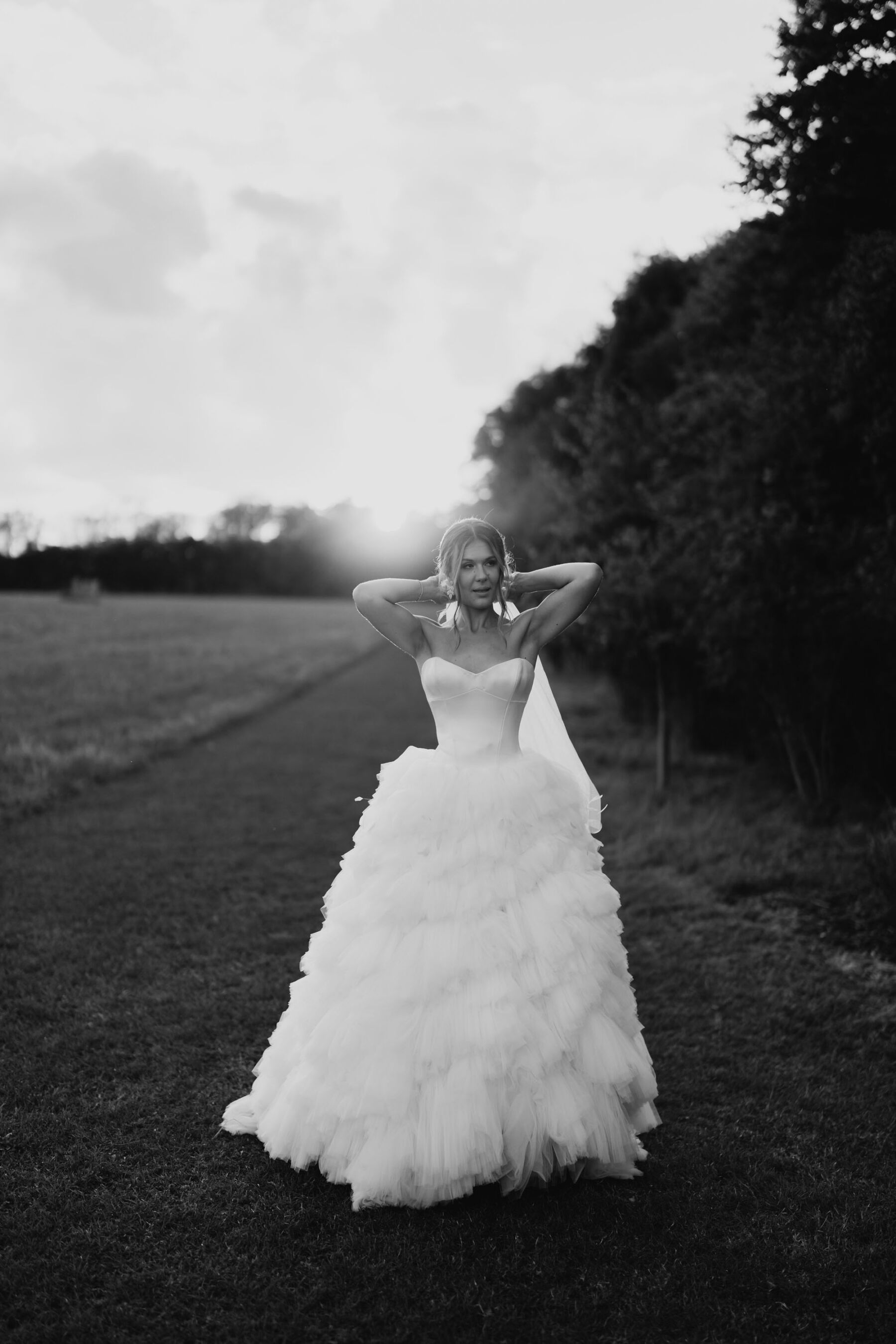 We decided to buy a house back in our hometown and, after a long few months of searching, found the dream home for us. We got engaged the day we got the keys to the house in January 2021!
Luke wore a three piece dark navy suit from Moss Bros. He also wore a Raymond Weil watch, gifted as a gift from me. The arms were navy, which was a lovely hat-tip to the 'something blue' of the wedding day.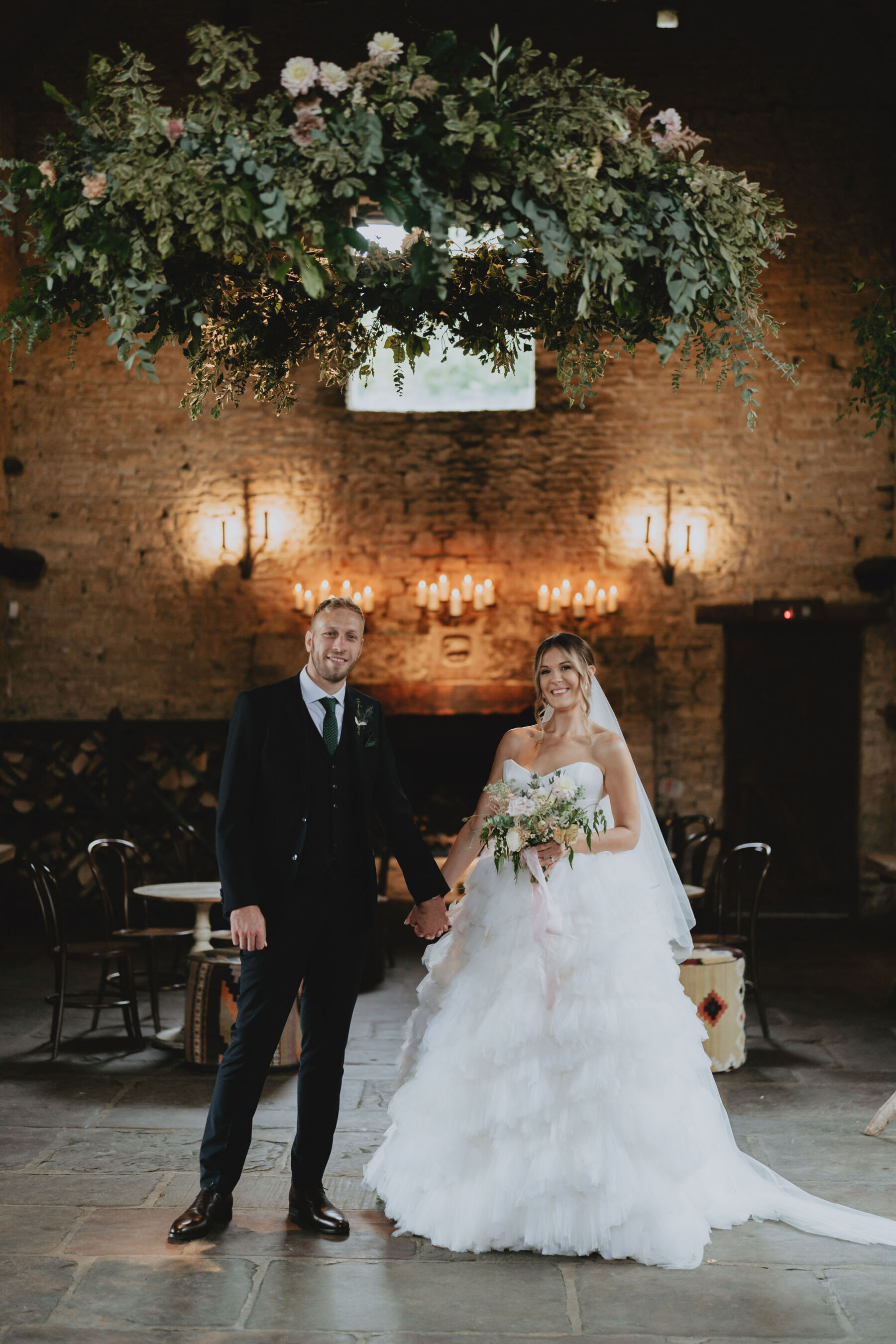 Reception, Decor & Detail
Cripps Barn is a beautiful space, with existing decor that needs little extra done to it! We used the lanterns as pew-ends and repurposed them as table centrepieces to save some costs (we filled them with flowers, rather than candles).
Cripps Barn provided our catering, but evening food was supplied by Brixton-based pizza company, Baz & Fred.
Grania of Ink & Paper Design designed our save the dates and invitations – we got so many compliments on how luxurious our stationery was.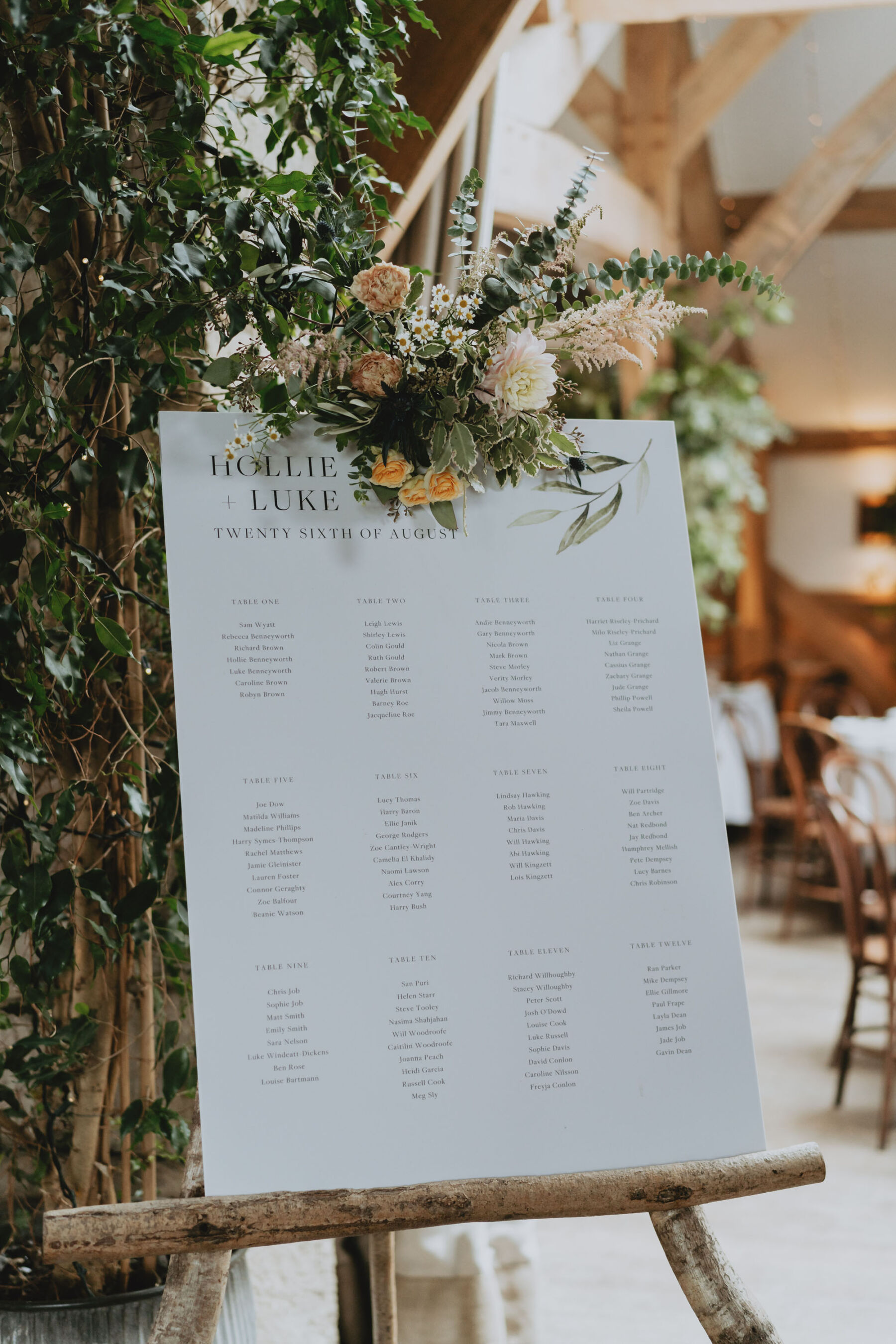 Emma Thistlethwaite of Thistle By Nature is a local florist, with a highly sustainable business ethos. We loved the blend of wild flowers she uses in her floristry, and wanted to have this as part of our decor. A classic look that wasn't too stuffy or 'perfect'.
Cripps Barn have a stunning hanging wheel which we adorned with thistles, roses and eucalyptus. It's an extra special part of the venue that blew us away when we saw it, so knew we needed to make the most of it.
We chose to have eucalyptus sprigs for each place setting as an extra special touch.
Alice of Fenn & Berry Cakes is an old friend of mine, and her cakes are phenomenal. From the moment asked Alice if she'd do my wedding cake, she was so brilliant and flexible with choices and style. My favourite dessert is creme brulee, so we decided to add some elements of burnt sugar on the top tier so we could tap the top to crack into the cake (like you would when eating a creme brulee).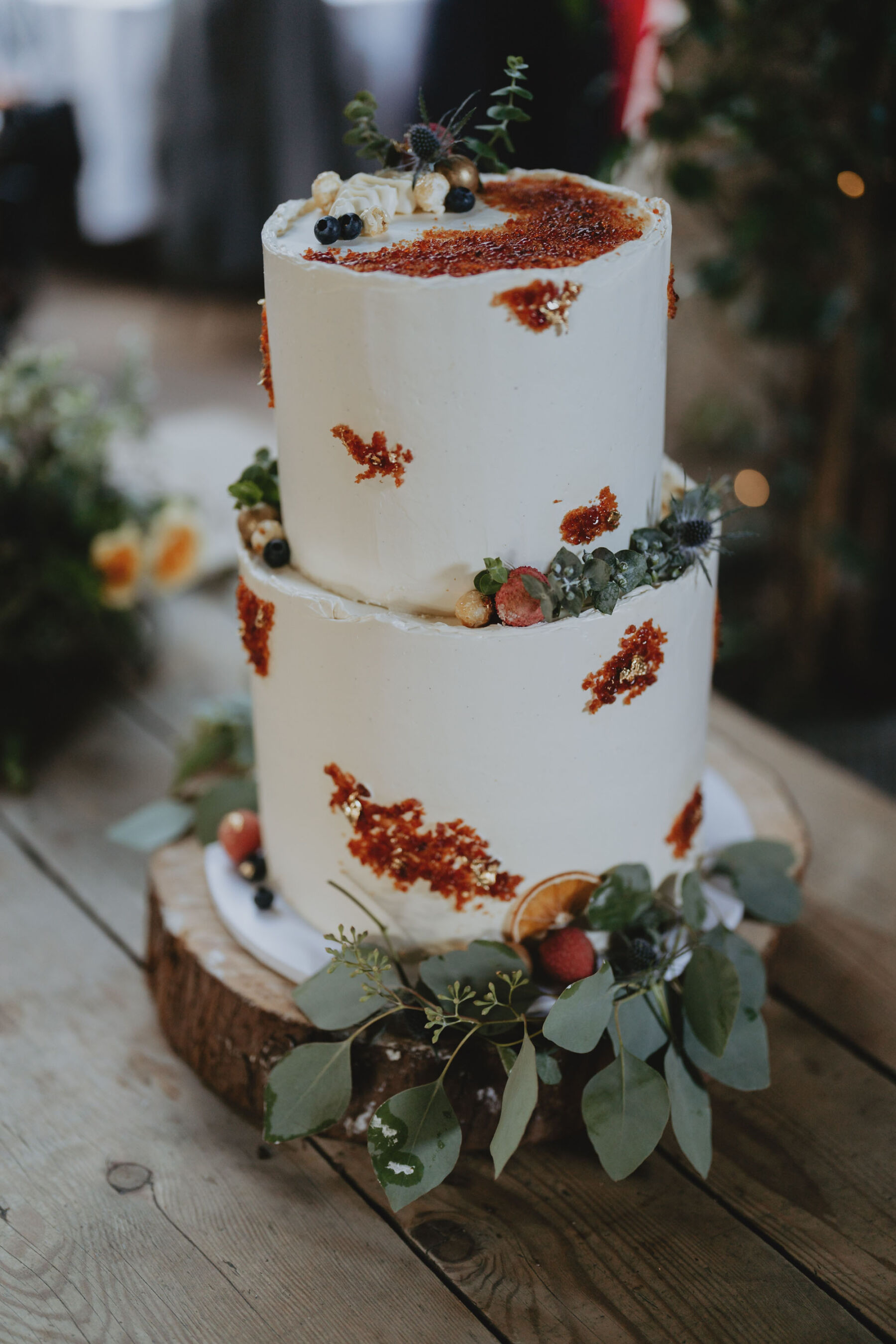 Evening & Favourite Moments
Our first dance was to 'How Long Will I Love You', by Ben Coleman, Jon Boden, and Sam Sweeney. We chose this song as it's from one of our favourite films – About Time. It's also a gorgeous song with beautiful lyrics (perhaps why many folks choose this song!)
Honestly, the whole day was so much fun – everyone was on top form, all our guests could make it (even the newborn babies!) A special moment was choosing to push back our speeches by 20 mins to take advantage of the golden hour and we spent some time alone in the gorgeous field on the venue grounds with our photographer. We were both a little tipsy at this point, but it bring back such happy memories!
I'd also say an extra special moment was when I pulled into the venue with my dad before the ceremony, and one of my best friends' mums (who has known me since I was 11!) was just driving out and she spotted me and gave me the BIGGEST, cheekiest smile as she got to see me before anyone else! That'll stay with me forever.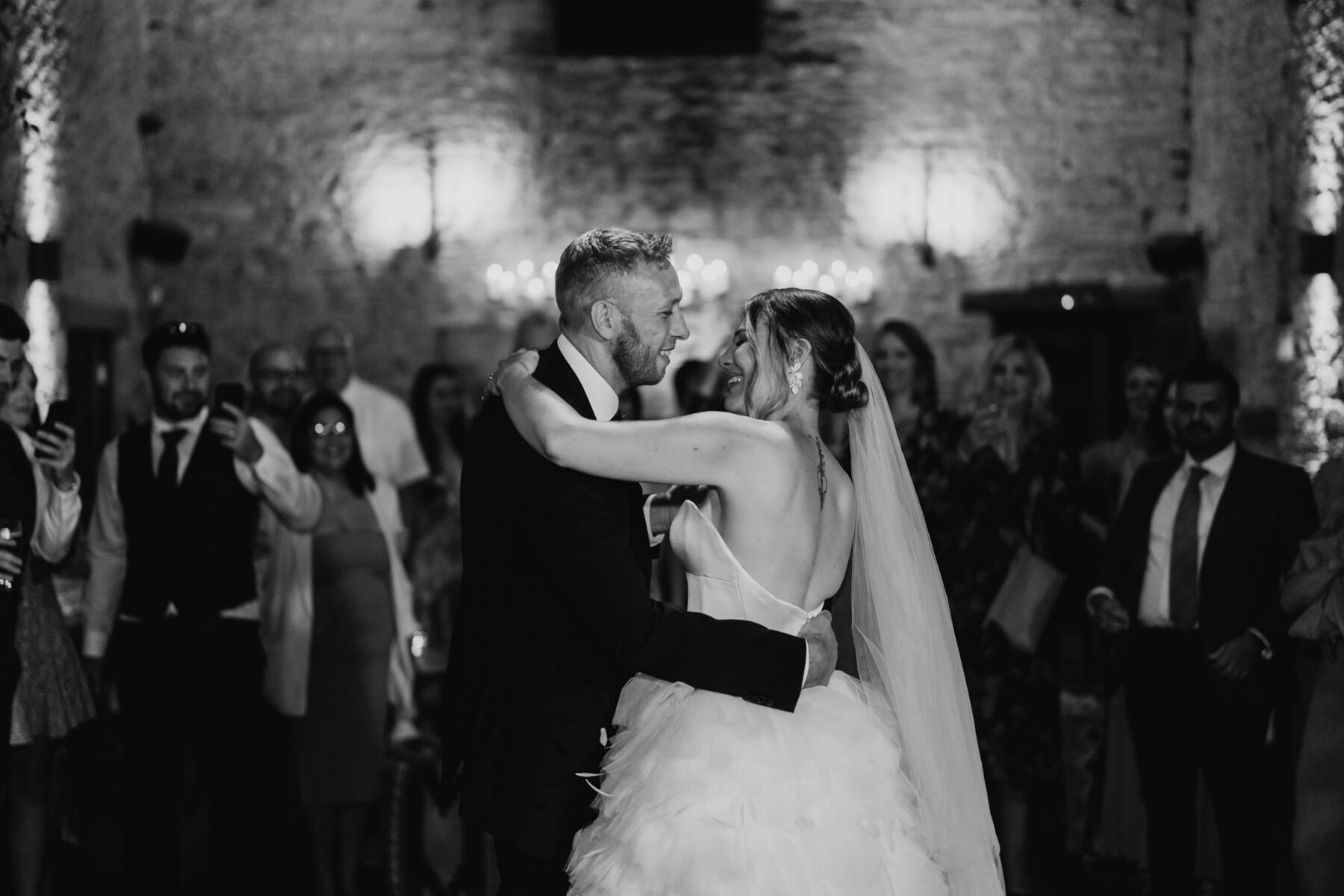 Words of Wedded Wisdom
If our budget could have been extended, we would have loved a brass band to play during our drinks reception and evening reception!
We also forgot to ask our photographers to get an 'everyone' photo which was a shame – but we were still so happy with our photos that it didn't really matter.
Treat yourself as a guest, not a host. Any great wedding venue will sort out the details for you (shout out to Aimee at Cripps Barn!) so you can be left to enjoy yourself to the max with your friends and family.
Love My Dress is such an accessible resource for any bride at any stage of their wedding planning. I love the variety of wedding styles and approaches covered – there's something for everyone!
sallybean.co.uk