Sally Bean Couture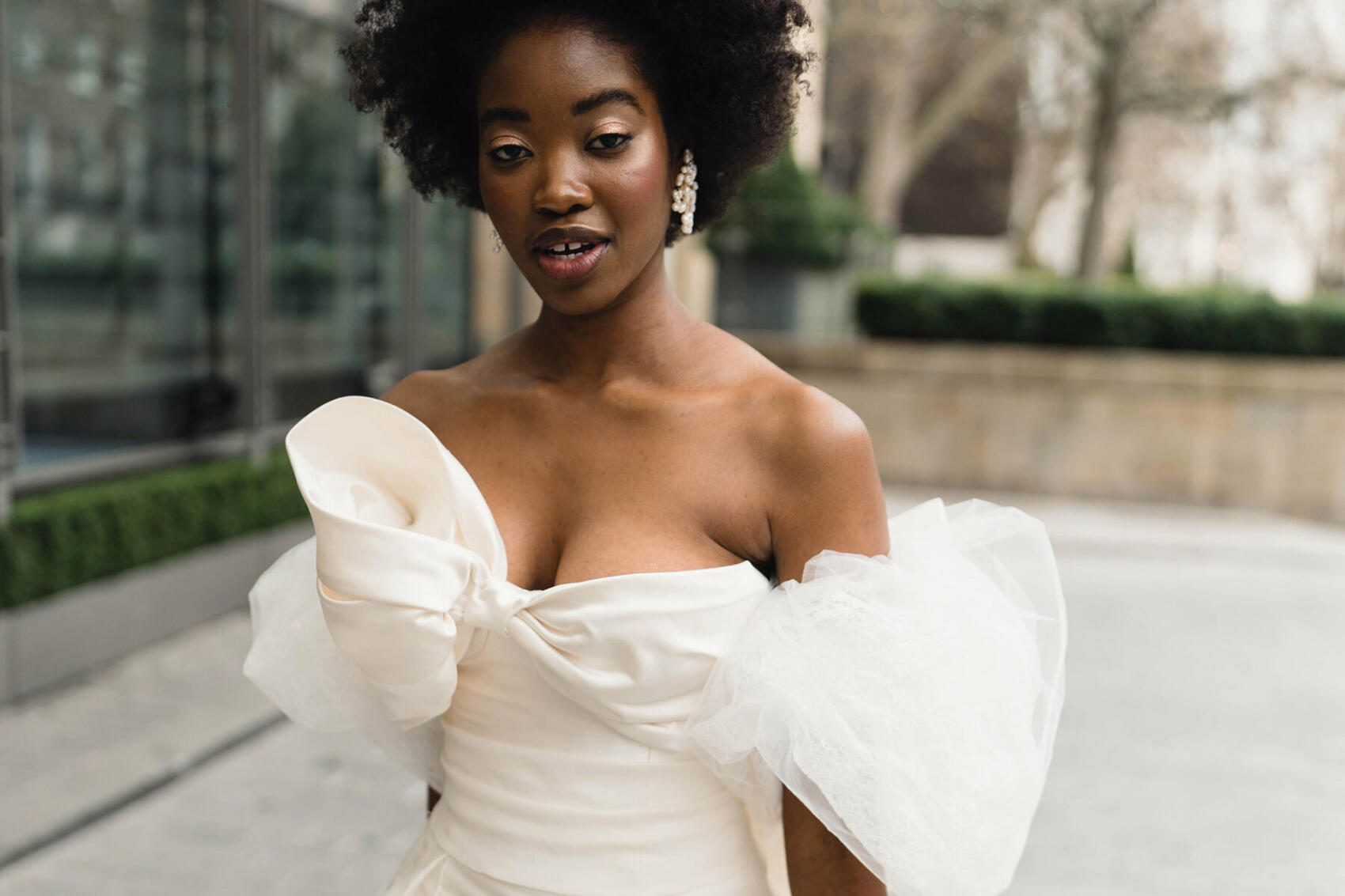 Sally Bean Couture creates beautiful modern bridal wear crafted in London. Sally creates bespoke, romantic and feminine wedding dresses that are modern yet timeless with beautiful hand crafted luxury.
We offer a truly exceptional and personal experience, each fitting takes place within Sally's beautiful showroom in West London and the whole journey is beautifully creative, comfortable and one to one.
Made to Measure Wedding Dress
We make every made to measure wedding dress completely to your own personal measurements starting with a consultation in which we have a beautiful new collection full of  3d flower wedding dresses, stunning fishtail wedding dresses and modern ballgowns alongside cotton toile garments for you to try on to see shapes that suit and are flattering on you.
We adore fine intricate details and embroideries. We create stunning original and bespoke embroideries that are very personal to you with special messages and symbols interweaved within the design.
Sally will sketch your design and provide you with lots of ideas of how to refine the most perfect shape and design for you. we are experts at sourcing really special and interesting fabrics and laces. Tailoring the look to fit your proportions and personal style perfectly.
Wedding Dresses with a Discreet Inner Corset
Our specialism is in creating discreet inner corseted wedding dresses that sculpt and refine your shape, making your silhouette sleek and slender. Our shapes can whittle your waist and make your figure feel natural but look amazing.
Once the design is chosen we then have a wonderful journey creating your dress together with Sally, with you every step of the way creating a truly beautiful masterpiece that is stunning and fits perfectly.
"I have 15 years experience of designing and really honed my expert  skills working as a high end wedding dress designer for some of the most beautiful bridal and fashion brands including 7 years as Embellishment Design Manager for Phillipa Lepley and Bridal Embellishment Designer for Jenny Packham."
'I absolutely adore intricate feminine detailing and making very special wedding dresses. I have a small team who work with me who are experts in corsetry and couture wedding dress making and we pride ourselves on making the most beautiful silk wedding dresses imaginable.'
'My main aim is that you really enjoy your wedding dress journey and we make you a beautiful individual bespoke wedding dress of your dreams. Its a very special and enjoyable experience and a hugely memorable part of your wedding.'
Our niche is that we take a scatter gun of your ideas and combine and reinvent what you are looking for into something completely special, original and beautiful.
What a wonderful experience! Sally is the loveliest person and just knows what you want. When I told her what elements I liked for my wedding dress I was quite sure there was not a single way to combine them all to look good. But while we talked, Sally drew something and after a while turned the paper to me and asked if that was what I had in mind. I was speechless. I had no idea what I had in mind but when she showed me that drawing I knew that that was it. Her attention to detail is second to none and she made me feel so comfortable all the way through our fitting journey. I loved the hours we spent together working on my dream dress. And in the end the dress felt like a second skin and looked like me. That moment is hard to describe but it felt as if Sally captured my essence in that dress. All the little areas everyone has and don't like about ourselves were hidden perfectly leaving me look better than ever in my life. This was the best decision I made about our wedding. I would always make the same choice. The extra money you pay for a bespoke couture dress is 100 times worth it!
Dani S
Creating my wedding gown was the part of my wedding that I was most excited about and I'm so blessed to have had Sally take me through this process. She provided the perfect balance of listening to my ideas and guiding me with her creativity. Making a dress with her is a journey and a thoroughly enjoyable and memorable process! Starting off with beautiful sketches of my ideas to going through the highest quality fabric samples (mostly French and Italian), Sally firstly sampled my idea on a cotton toile which was great to get a trial run. We had multiple fittings along the way to ensure I was assured every step of the way, she was accommodating with changes that could be made and her patience in incredible! If you want a bespoke high end couture gown then Sally Bean is the designer for you! Can't recommend her enough.
Kalpana D
When it came to my wedding dress (the most important part of the wedding in my opinion!) I had an id ea of what I would like it to look like but could never of imagined the beautiful dress I ended up with. That is all because of the amazing and wonderfully talented Sally who took my ideas then designed and made my perfect wedding dress. Sally is not only able to listen to what you would like in a dress but can advise you on what suits your size and shape and how best to enhance your features. Sally is a perfectionist to the very last detail and knowing that my dress is one of a kind, designed especially for me is something very special which I will cherish forever. I would recommend that anyone who is looking for their perfect wedding dress looks no further than Sally Bean Couture.
Samantha E
I originally went to Sally to gets some tips on how best to make the style of dressed I loved work for my body shape. While we were talking Sally did a sketch of the dress that I was describing and it was love at first sight she even had the perfect lace already in her workshop, it was meant to be! From the start Sally was amazing at getting me involved in the entire design process from picking the materials to discussing the pros and cons of various design ideas, to placing the lace. She was great at giving guidance on how best to enhance my assets and hide the niggly parts and was incredibly meticulous always placing, replacing and adjusting pieces of lace during our fittings to ensure everything was perfect. Her attention to detail was amazing down to the beautiful blue ribbon sewn into the dress as my something blue. She took into consideration the location and style of my wedding to ensure that my dress would be practical and comfortable to make the most of our outdoor wedding. It felt amazing to wear, the beautifully tailor made corset was so comfortable and I was able to sit, eat, dance and even climb over a fence with ease. I felt like my dress reflected my personality and gave me the freedom to enjoy the day while still looking gorgeous and feminine.
Emma C
I am so glad I chose the amazing designer Sally Bean from Sally Bean Couture, the dress she created was beyond my wildest dreams. It fit like a glove, was exceptionally glamorous and truly beautiful.
Hope P