It is an incredible pleasure to share this article with you today – a deep dive exploration into the journey of a creative designer, how she got where she is, how she creates, what she inspires her and a fascinating insight into the couture/bespoke wedding dress design journey for all you brides considering this option.
But before we introduce you to the charming and incredibly talented London based Sally Bean Couture, a few words from editorial stylist and planner, the wonderful visionary, Penny of Tigerlily Weddings, whose words follow.
"The vision of the shoot was to create a marriage between fashion with fine art direction encompassing a romantic narrative. We wanted to create a look that inspired brides in the process of planning their own bespoke bridal wedding gowns and look for their big day."
"Within this fashion look designed by the amazing Sally Bean we wanted to create utter romance but still for the look to feel directional, with a slight shimmer and softness and beautifully adorned. So, bringing a little fashion luxe to the fine art scene was a little bit of a challenge but equally a thrill to shape and showcase something a little different."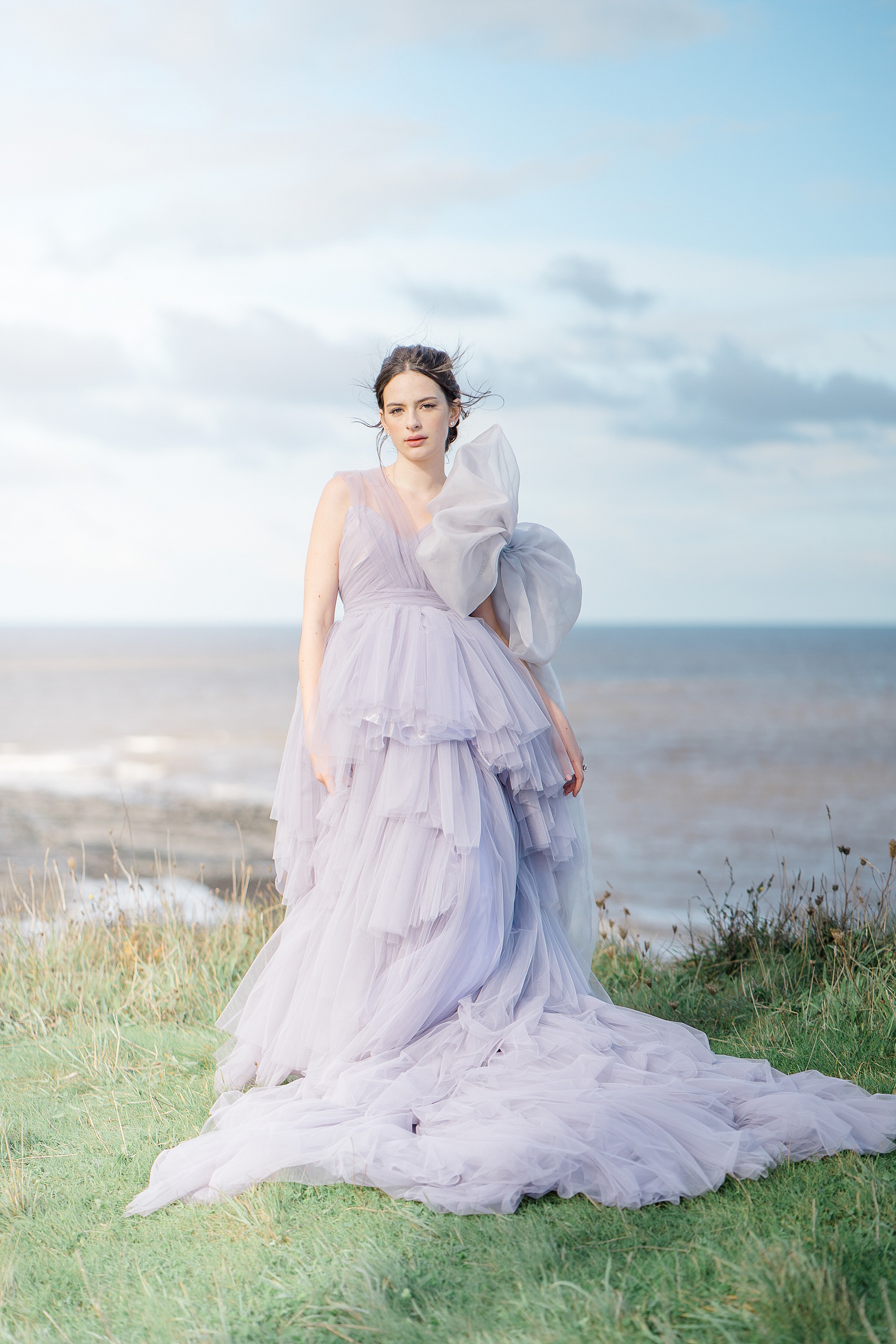 "We wanted to create a mesmerising blend of fashion, accessories exuding elegance for the creative and fashion conscious bride and to celebrate some of the amazing artists within our industry. Our mix of artisans from shoes to accessories and gown includes designers Sally Bean, Deco Love and Freya Rose."
"Our colour palette was predominantly a soft misty lavender with touches of white, blush and garden green accents, I felt it was really important for the overall feeling to feel soft and effortlessly blended with the landscape. Within the look we wanted to embrace fine art with a hint of romance and high end inspirational fashion."
"The focus of the dress was to enthuse the romantic within all of us, think Emily Brontë Wuthering Heights but also strike the balance of colour to blend with the cliffs, sea and water fall. The gown was designed for our shoot and is called the Dove Gown."
"Sally and I talked through our ultimate, and as we dreamed and poured over many different designs and inspirations the gown became a shoot within itself."
"The final inspiration for the dove gown was taken from a vintage Dior design and this beauty was lovingly made in just over a week by Sally. She used over 100 meters of the softest tulle and adorned it with an oversized soft lavender silk bow with tails 3 meters long, to make the ultimate statement."
Tigerlily Weddings

+ Follow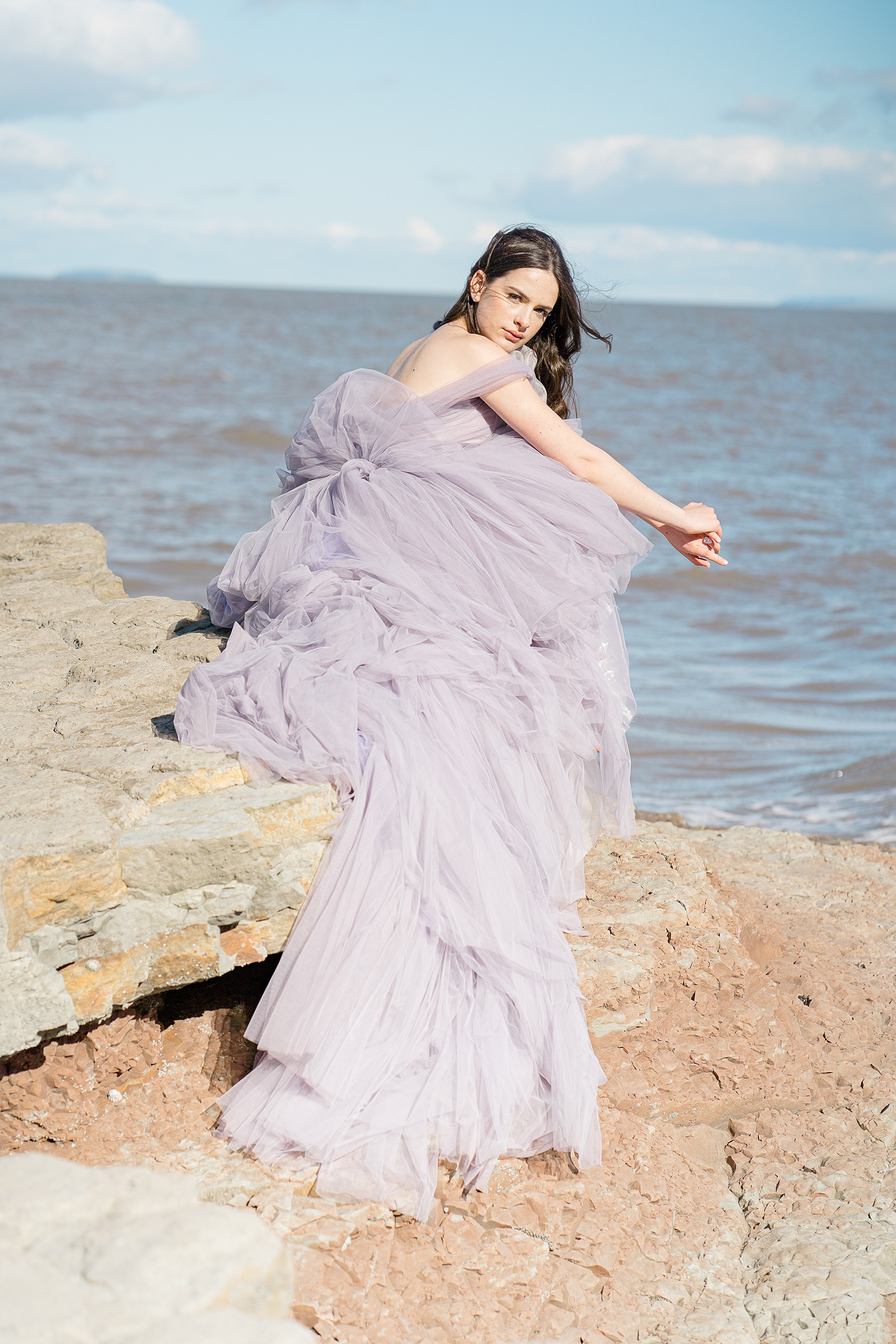 Sally & The Gown
This dress is made from over 100m of tulles and silk fabrics. Constructed with an internal hidden corset, lined in pure silk.
With blush silk taffeta hidden layers under finely ruched lilac tulle on the bodice. A thinly plaited waist belt joins the skirt layers that have the most amazing fullness of tiers of lilac tulles and iridescent lilac organza layers.
Each layer sewn in by hand to create a very high end luxe look that is romantic and timeless. Asymmetrical tulle straps gentle skim the shoulders for a bardot neckline. This dress also has a 3m oversized silk bow and tails that can be worn to add even more drama.
The Dove Dress was the inspiration for my new beautiful capsule collection of 3 bird inspired fantasies. The Dove Dress as featured on Tatler Weddings, is the most beautiful lavender colour and was commissioned by Penelope at Tigerlily weddings for a wedding shoot at St Audrie's which was shot by the amazing at Sara Cooper and White Vila Films.
I wanted to create a gown that was whimsical, fun, but utterly beautiful. That really pushed me technically as I personally made every element of each dress myself from the pattern, to the sewing and hand finishing.

About Sally – Overview
With over 15 years' experience working for the fashion greats,  7 years as an embellishment design manager with Phillipa Lepley and a host of other designers including Jenny Packham. I was ready to launch my own brand – a luxury couture bespoke bridal, evening and event wear company.
I hand make the most beautiful luxurious dresses imaginable. Using the finest silks and laces in my own West London atelier.
My work is ethical and sustainable and I create luxury expertly fitted dresses with hidden corsetry and support that makes my clients look and feel amazing from every angle.
I work on a one on one basis with my clients, exploring their ideas and creating their dream wedding dresses. With my signature style being romantic and modern. Launching in late 2017, quietly by word of mouth whilst having my daughter, I officially launched Christmas Day 2019 with a website and have gone from strength to strength.
A Conversation With Sally Bean
1. The journey is so important and make us the artists we are. How did the Sally Bean Couture journey begin?
I have always been creative, since I was a young child. I would always be found creating, and my journey through to university was a very creative one.
I studied a Fashion BA Hons then was awarded a scholarship to study my Master of Arts at Winchester School of Arts, I was also offered a place to continue my studies to PHD but I was passionate to start my fashion career.
At the end of my degree I met with Nicole Farhi who bought several swatches from my collection and then during a work placement with Georgina Von Etzdorff whilst on my MA they recommended me to Jenny Packham and I joined her team after I graduated, then moved on to many incredible labels that jetted me all over the world before landing back in London and gaining a job as a design Manager with Phillipa Lepley working on everything from couture embellishment, PR and VIP clients.
After 7 years there I decided to take a little time to myself, I travelled the world, worked freelance for amazing occasion wear brands and saw my designs stocked  in Harrods whilst having my daughter, quietly simultaneously working by word of mouth for my own luxury couture designs. Then on Christmas day 2019 I launched my website and officially my brand to the world and it has gone from strength to strength. I adore creating the most beautiful dresses imaginable and it's within my DNA to create constantly.
I'm passionate about growing flowers, drawing and creating within my personal life and find endless inspiration from every thing around me, I am also a dreamer , love to me bare footed on a beach, finding time to nourish your soul is so important.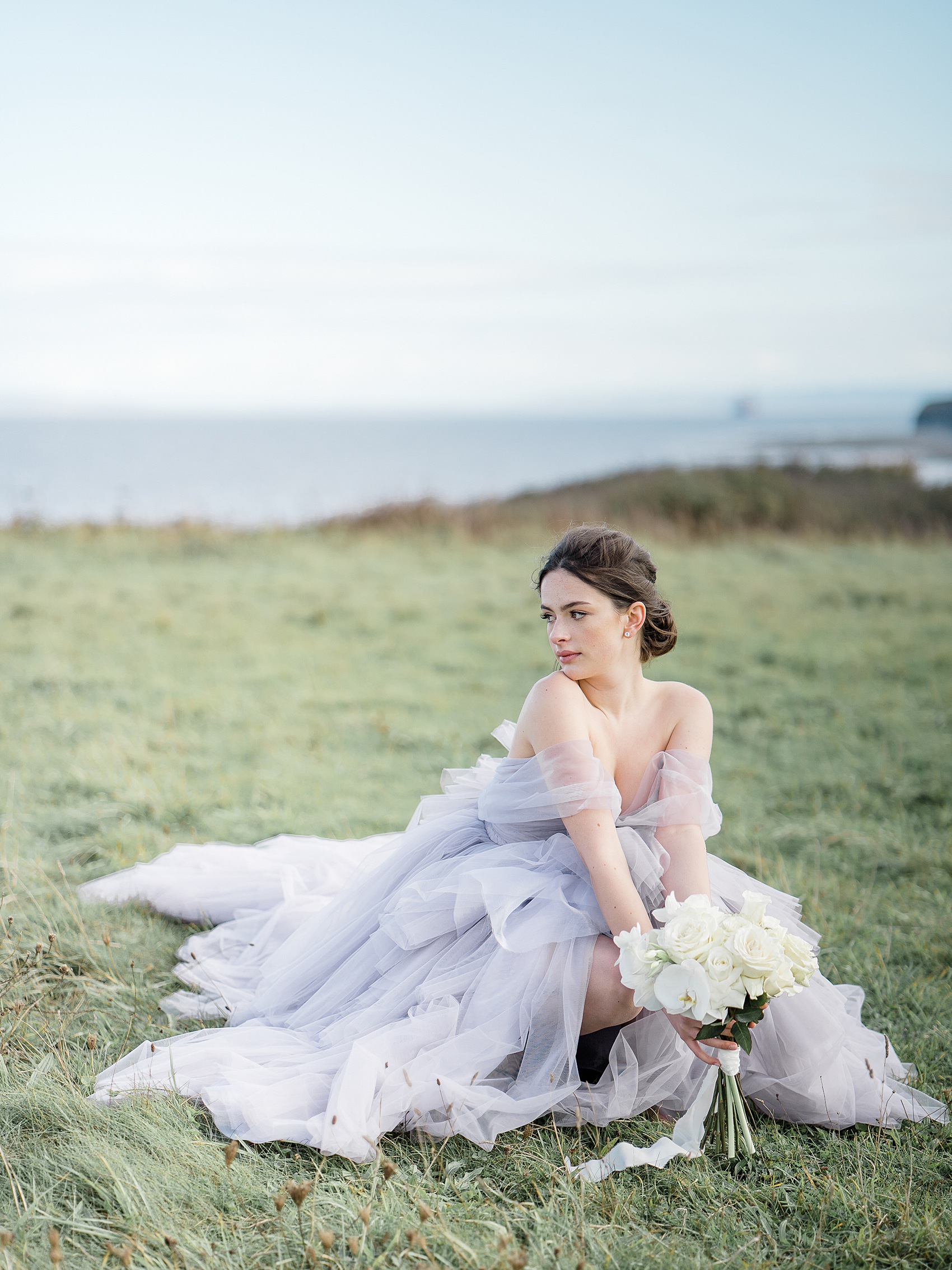 2. You offer such a visionary approach to designing, but your service is so nurturing and intimate when working in partnership. what is your process when working with brides to create their dream gown?
I am so grateful you have noticed the nurturing aspect to my business because client care is at the heart of everything.  I am involved 1-2-1 with each of my clients, I am in every fitting.
The journey starts with creating the look and style of your gown/s and then evolves to create you a cotton toile of the look and then onto 6 further silk dress fittings until we achieve perfection. (We can work around lockdowns ).
We make all of my dresses in Ealing, West London. During Covid I also meet with brides virtually, show them my collection and it's a wonderful appointment to get excited and start dreaming of the most beautiful dresses imaginable.
We then start a WhatsApp conversation where I am at hand all the way through the brides journey and it's a wonderful log of the design I send pictures to them of there dresses being made in the workrooms and from their fittings.
I am very flexible with fittings and during Covid, I have lots of brides who are juggling fittings and we have managed to do it all with ease so far.
Every single bride I have ever had has cherished the fittings and complimented me on them. It's extremely important that the journey creating your dress is as lovely as the amazing creation at the end.
I believe that having a couture garment is a life enriching memory and I am honoured to be with women during this special time in their lives.
3. The post-pandemic era is full of hope for brides to really enjoy designing and planning for their wedding days with a nod loving the more bijou celebration, How have you seen this reflected in design requests?
The brides that a visiting me virtually and contacting me at the moment are planning absolutely amazing weddings, there is so much hope for 2022 and my brides from 2020 and 2021 who have had to postpone are full of quiet optimism that their celebrations will go ahead.
The main trends I am seeing is the ultimate in Romance, lots of beauty and detail that looks incredibly luxurious and individual. The clients that come to me are independent women who have brilliant careers and want to look utterly beautiful on their wedding day. They appreciate and notice fine fabrics and details and want a dress that is original only for them.
I am well known for really beautiful embellishment and embroideries combined with the most amazingly fitted dresses with internal corsetry that redefines your figure, so naturally I appeal to clients who want an ultimate wow-factor luxurious dress.

4. What trends and colour palettes do you feel will be big for brides in 2021 and beyond?
For my brand the word of the year is elevated. Within my collection I am creating, the very ornate extra special couture looks that are refined but also extremely luxurious. Luxury, fine detail, lace and the best fabrics imaginable.
Interesting necklines, beautiful ways to add drama. Overlays that can be detachable.  Several looks in one dress so you can adapt the dress throughout the day.
High necklace over coats. The most beautiful silk crepe dresses that fall perfectly. I am also adoring creating a soft colour collection, with blush pinks, soft lavenders, the softest prints.  I am constantly looking for ways to elegantly elevate my brides.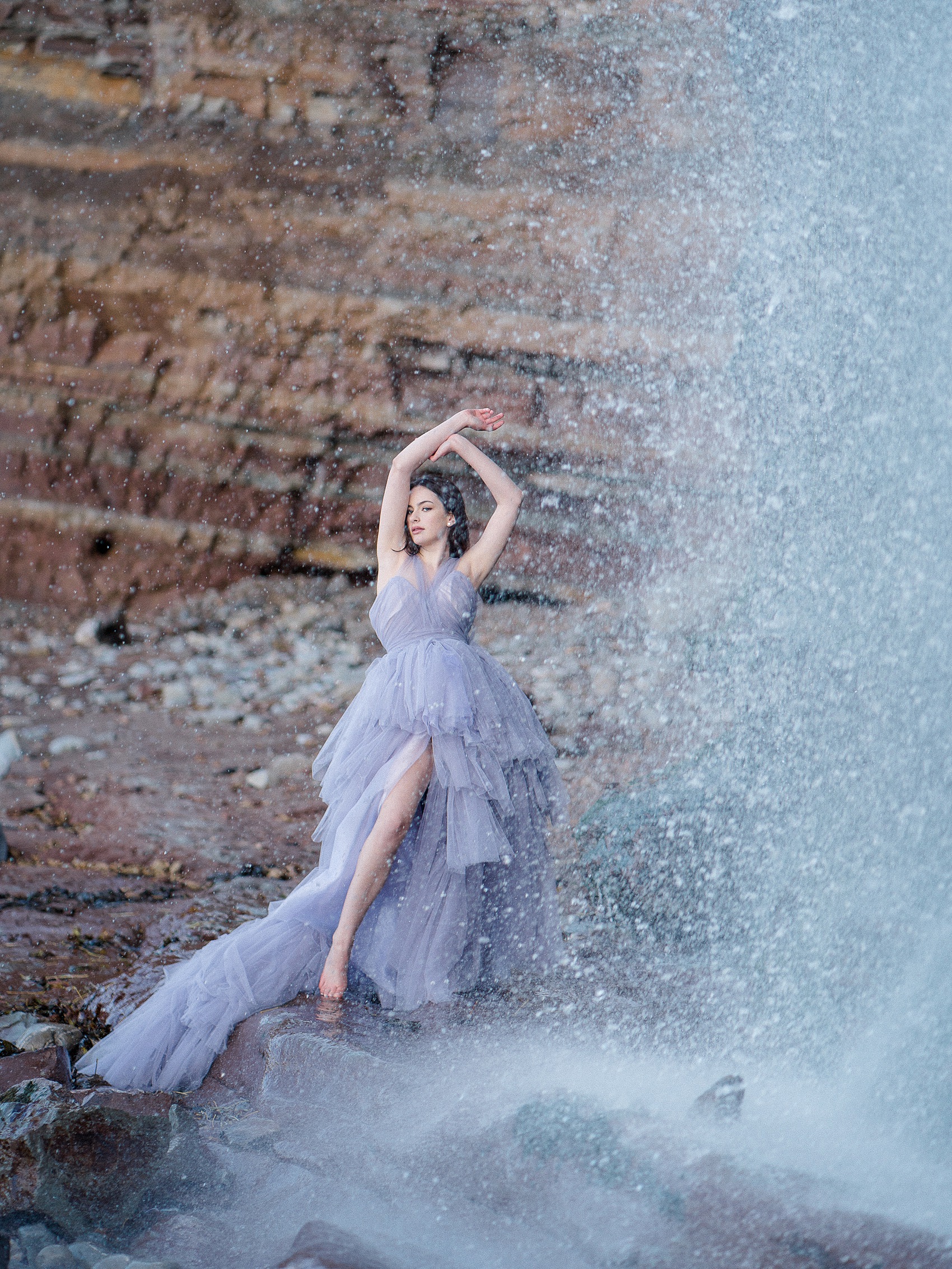 5. Fabrics and finishes and embellishments are so important we would love to hear about your favourite fabrics to work with and finishes?
Oh gosh the list is endless, within my fashion career I was always employed to create the most amazing embellishments and embroideries and I am passionate to bring these skills into my own brand. I never use a fabric or lace just as it is bought. Every lace and embroidery is cut up reimagined and combined to be completely unique.
For my plainer dresses I am adoring texture with gauzy jacquards and layer upon layer of details poking through. I adore fabrics and I only use luxury fabrics within my styles. I am passionate to work with lovely artisan companies, french lace mills and only the Best suppliers world wide.
6. What are you working on next?
I am also creating and work with mother of the Brides creating luxe occasion wear pieces, I am growing this offering to become a collection using Italian printed silks. The look is very luxe, timeless, and ultimately elegant.  I am working with a number of private clients at the moment and I am excited to create a collection of luxury timeless pieces this season.
7. Design inspiration is all around us, what inspires you and how do you translate this within your designs?
I am endlessly inspired, I draw from the couture greats, Christian Dior, Valentino, Tamara Ralph of Ralph & Russo is a visionary (I have met her several times and she is a wonderful person, so elegant and talented and her creations are so luxurious, she offered me a job within her team, but I decided to launch my own collection).
I adore real women , looking at their figures making them look amazing, enhance their natural beauty. I often will build a dress with a client in front of the mirror, adding each element and pinning and tucking a shape until the dress appears in front of her in the mirror. This is how I usually create with my clients.
Taking all the elements they love and making it work for them. I often start with a feeling and a theme when creating my own collections for my showroom where it starts with a feeling , like my Falling Flowers collection and then it grows into a story of a beautiful girl walking through a field with flowers gathering at her feet.
I them immerse myself into imagining the scent the beautiful fabrics and flowers and build a collection with each dress being beautiful and also I make sure that it offers something new elevated and exciting to my range. For my clients  to be inspired by, we never create the same dress twice and each bride has a unique dress perfect for her.

8. We know that you wear many hats, business owner, designer & creator and motherhood  how do you manage to stay fresh and creative?
I am fully immersed in creating for my business and clients but I am also incredibly organised. Years of working in fashion before my own business has taught me to set up systems to help me and my amazing team achieve luxury at every step.
We have files of all our lace inventory organised, all fabrics, the clients journeys are all mapped out.
I spend lots of time focused on each client and make sure I organise her journey at the start so everything is ordered and ready ahead of time.
Working ahead of time I also am a big planner in my home life, I make sure presents and events are planed ahead of time, I have dedicated days off with my daughter where I am completing focused on her.
And I also adapt my week to fit and mine and my family's needs. I do not follow a normal working week pattern. Sundays are actually my busiest day of the week where I see clients and work on their orders and I usually take Mondays off. I plan pockets of time and work hard within that time.