I have such a joyously heartfelt celebration to share with you all today; the wedding of a florist who co-created the spectacular floral arrangements and installations you'll see all the way through the day.
She also has some honest and practical words of advice about feeling overwhelmed during the wedding planning process, which I know will resonate with many of you, and hopefully be of help, too.
Gingersnaps Photography

+ Follow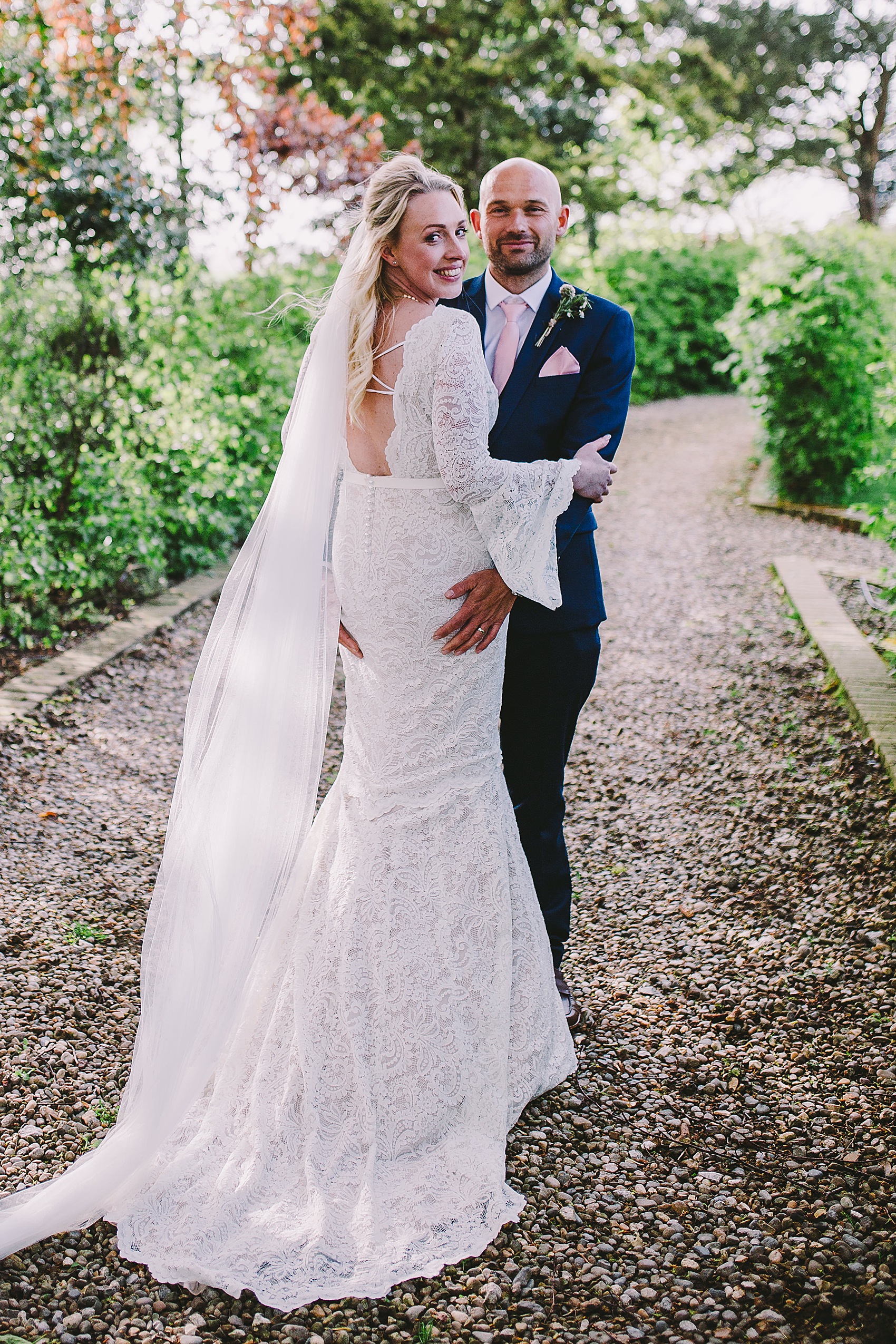 Florist Jade co-owns The Beverley Flower Company, and married Brett, a car sprayer and restorer on the 4th May 2019 at the beautiful and welcoming Dunedin Country House, in the idyllic East Yorkshire village of Patrington.
"I first discovered this venue supplying florals for other couples, and fell in love with the relaxed ambience of the venue. We also loved the exclusivity of the venue on the day."
I love the 1970s boho feel of Jade's lace dress by & For Love – those statement tapered sleeves and lacing detail – just wow! She discovered this beauty (the 'Paris') at excellent Hull boutique Ghost Orchid Bride.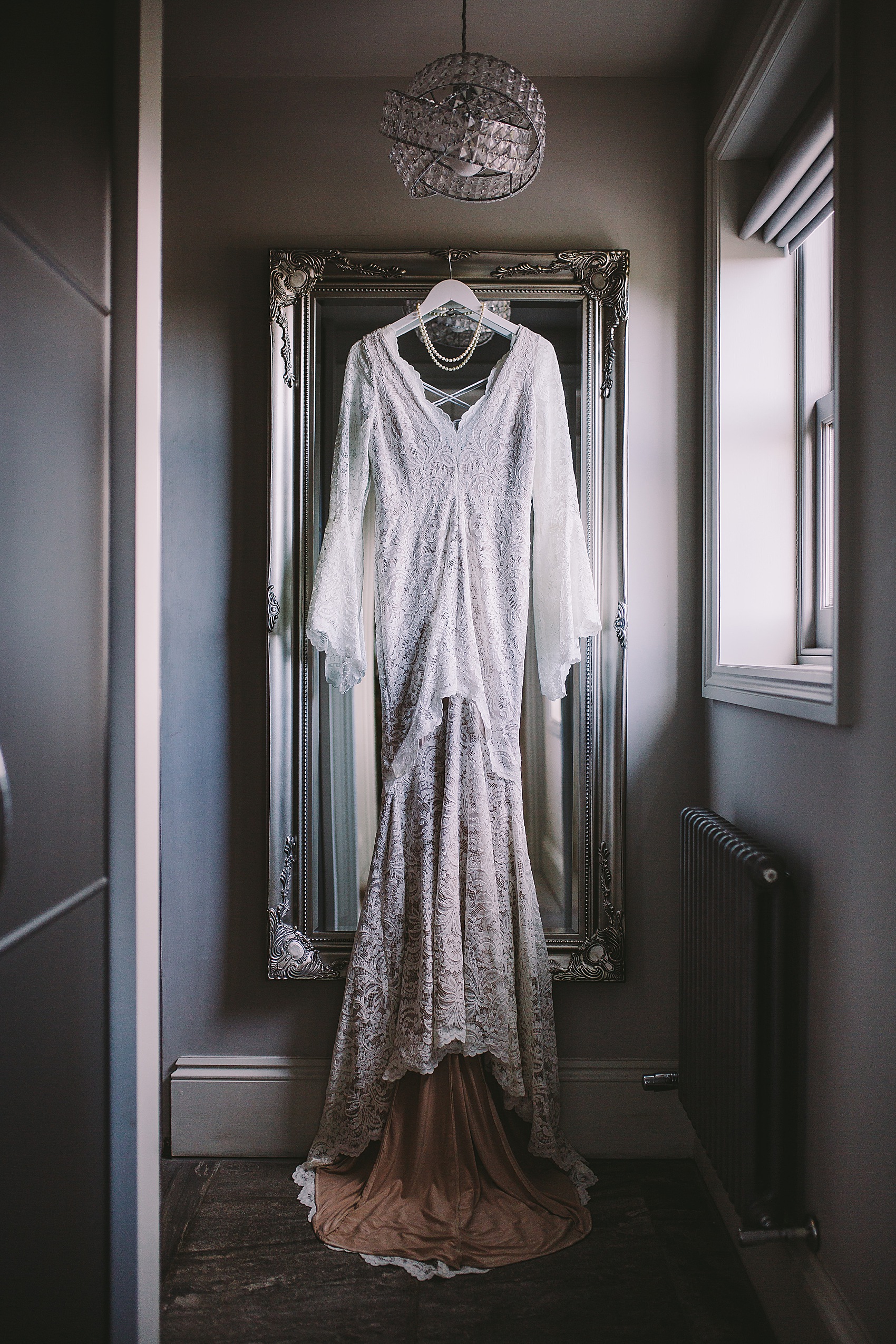 "Katy, the owner of Ghost Orchid Bride was unbelievably amazing. I have zero body confidence and spent my first appointment in tears. She was so lovely the whole time and so patient."
The dress I thought I would go for looked terrible on me. I returned again a few weeks later and the last one I tried on was the one! I cried, but this time because of how perfect it was for me."
"The dress choose me really with the help of Katy, of course. I loved the lace detailing and the floaty bell sleeves. It gave me the confidence I needed to walk down the aisle with all eyes on me."
Jade's hair was styled in a beachy, undone fishtail braid by Unity Rhodes Bridal Stylist, and her beautiful make-up was by Corey from Coco Rose Beauty.
On her feet she wore sandals from Dune, and accessorised with a classic and elegant pearl necklace belonging to her grandmother. Her final finishing bridal touch was a simple long tulle veil by Helen Martin Veils, via Ghost Orchid Bride.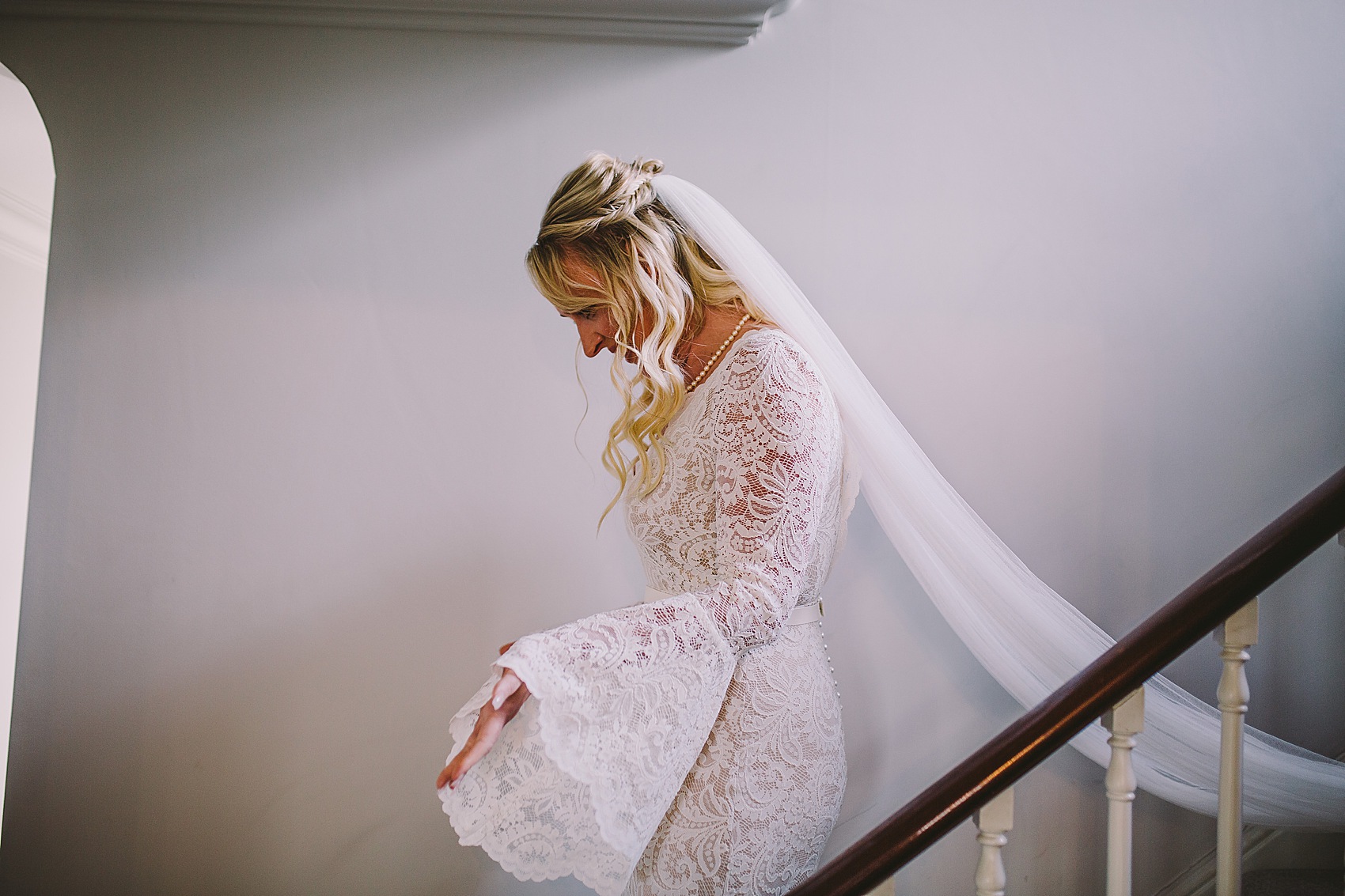 "Myself and my business partner Sarah are owners of The Beverley Flower Company. I couldn't imagine allowing anyone else doing our wedding flowers. We had 4 other weddings the weekend of ours, too, and one the same day."
It was a crazy week but we pulled it off as always. Sarah just finished doing the final details in the ceremony room, giving her enough time to throw on a dress! We have been in partnership now just over 4 years."
Jade's bouquet was full of gorgeous texture and soft and romantic colour, with ranunculus, roses and waxflowers alongside asparagus fern and eucalyptus.
In the elegant ceremony room at Dunedin, there was a giant hoop-shaped arbour adorned with flowers, as well more beautiful arrangements on the tables, and lining the aisle.
"Brett and I have been a couple for just over 12 years. No romantic love story for us I'm afraid. We met in our local pub out with mutual friends in spring 2018, and spent the next 4 years going on holidays and buying our first home."
"We hit a bumpy road when we needed the help of IVF to conceive. The news was a huge blow to us both, so in true style we booked another holiday for the Christmas and New Year break – two weeks in Cuba, which was where Brett proposed to me on the beach one evening under the sunset on the 30 December 2014. Totally cliché!"
"We cried ugly tears and everything. 2015 was spent backwards and forwards to hospital appointments, and in 2016 we welcomed our miracle son Cooper. We decided 4 years after our engagement we would book our wedding."
"The week we confirmed we found out I had fallen pregnant naturally with our second son Buddy. 2019 seemed like the perfect year to tie the knot so our boys could walk down the aisle with us."
"We worked with Lucy and Megan at Belle Bijoux Events, as I was overwhelmed with how I wanted the day to look – doing so many weddings myself! I basically gave them free rein, and it was beyond our wildest dreams. I gave them a colour pallete and florals I would be using, and they did the rest."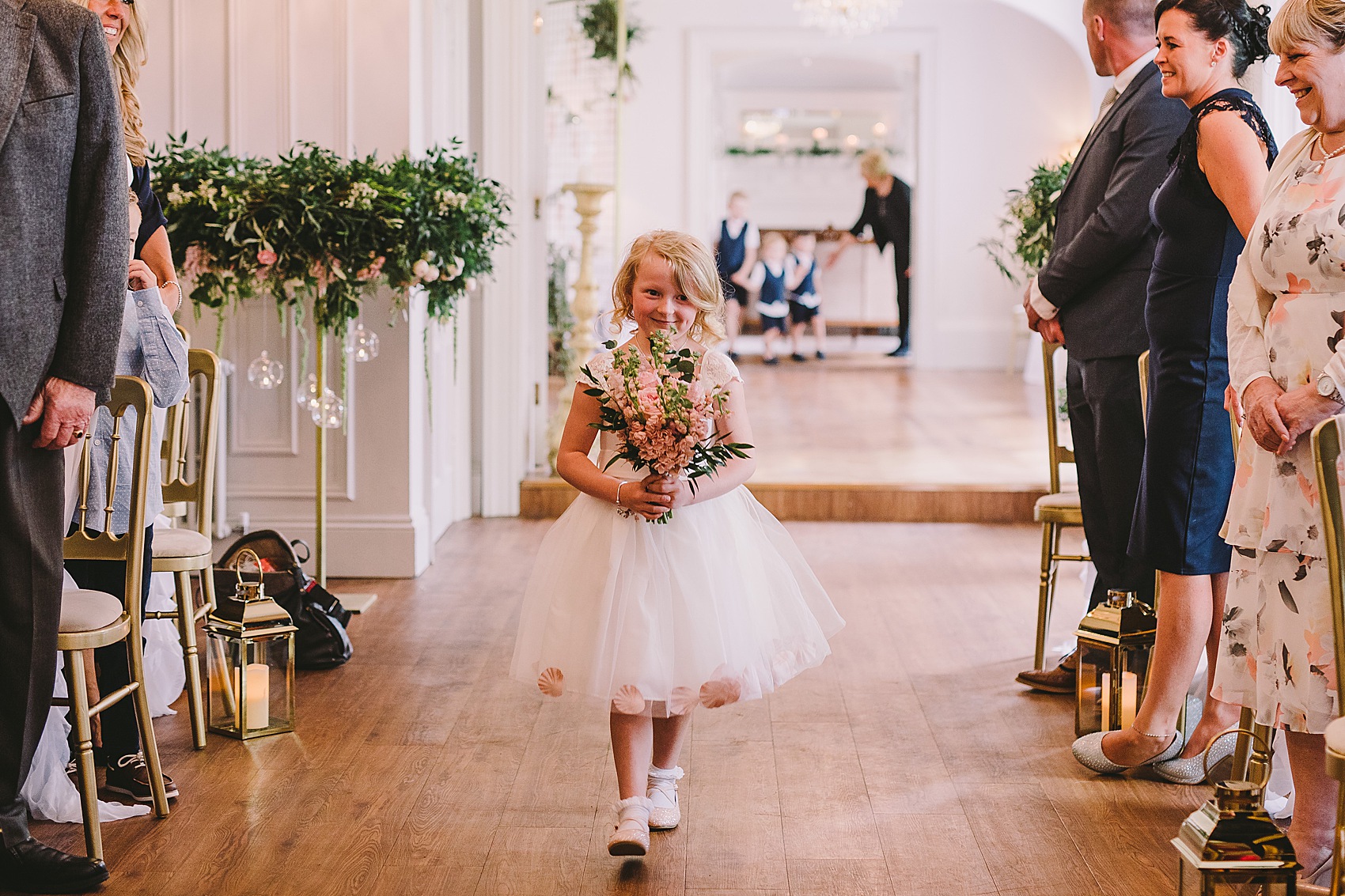 Surrounded by their loved ones, Jade and Brett made their vows and solidified their commitment with the exchanging of rings. They both chose simple platinum bands from family jeweller Hugh Rice.
"One of our closest friends who is also the godfather to our boys did a reading. It was Union by Robert Fulghum."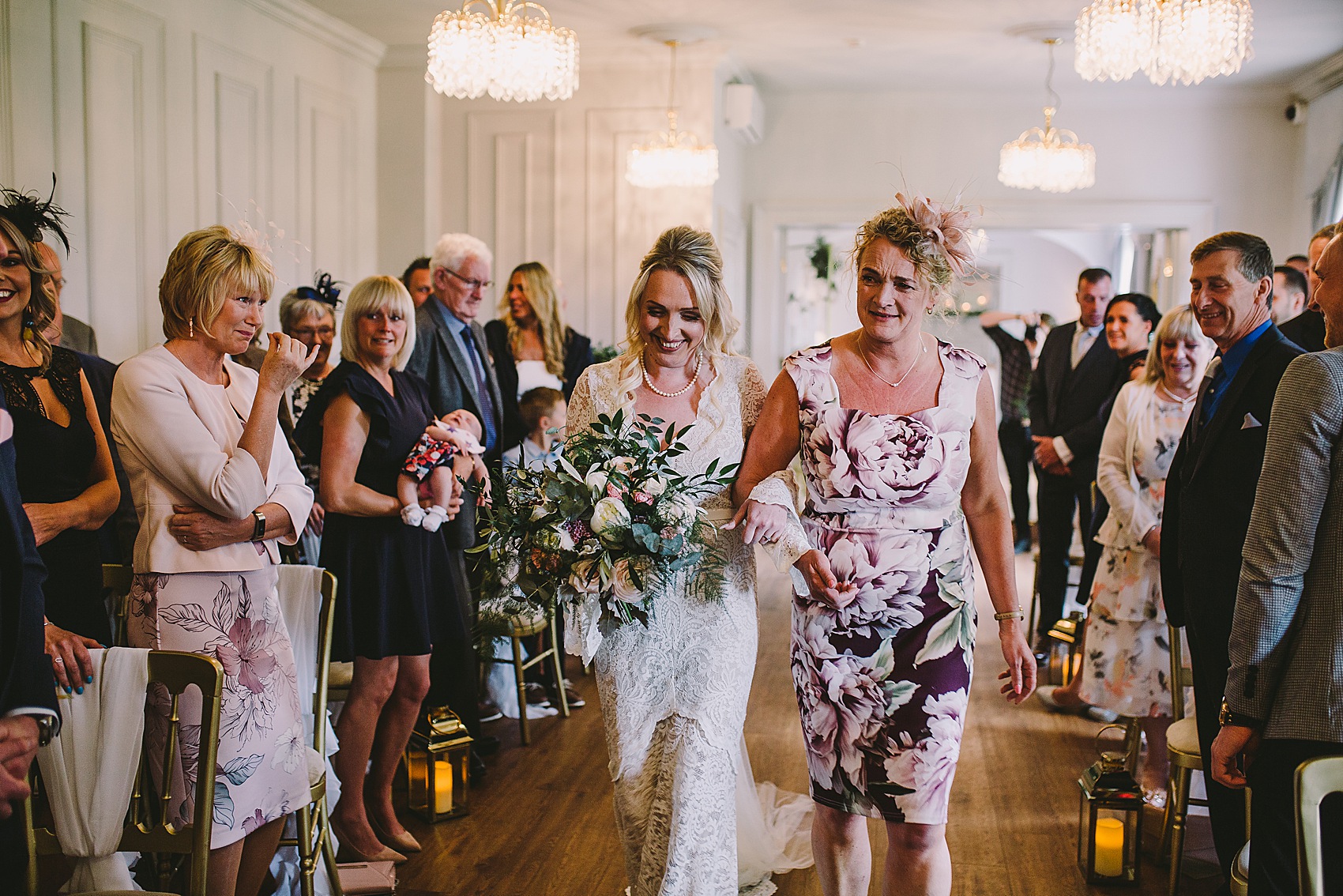 Brett's smart three-piece navy blue suit was by Marc Darcy, worn with a white shirt and a blush pink tie and pocket square. The couple's sweet flowergirl wore a a pretty tulle dress from Debenhams.
"I walked down the aisle with my Mum, the only person I could wish to be by my side at such an important occasion. Our entrance song was Connie Talbot – The Climb, which is a song close to my heart and one that most of our guests recognise as the soundtrack from our IVF pregnancy announcement."
"Saying 'I do' was my favourite part of the day. Wow it felt good. Mrs Crisp. Having the same name as my boys was so important to us as a family."
The bridesmaids looked lovely in pink multiway wrap dresses, and shoes all from ASOS.
Caricaturist Ray Allen kept guests entertained as they relaxed with drinks and canapés post-ceremony, and Jade and Brett took some time together (and with their wedding party) for photos with photographer Dan, from Ginger Snaps Photography. It's so lovely to see Dan's candid, laid back work on our pages.
"Dan is one of the good ones, you know. His style of photography has always stood out to me. Fun, natural shots. One of the easiest guys to get along with, full of life and always making people laugh."
"He had our photographs edited and in my inbox in just a couple of days, and wow, he did not disappoint."
The table plan was a gold wire frame with hand lettered paper, and behind the top table was a floral arbour decorated with blush pink chiffon, and the dramatic table cloth was covered in rose gold sequins.
The couple's stationery was by Belle Bijoux Events, and Lucy and Megan were invaluable to Jade during the planning process, which she found, at times, to be overwhelming.
"As a wedding florist I work with hundreds of couples working through mood boards and inspiring material to make their day extra special and stand out from the rest."
"I've got to admit, I found the whole planning for our day one big, overwhelming mess. Megan and Lucy were amazing at guiding me and keeping me calm. I love texture, and peach and blush are my favourite combination of colours."
"Belle Bijoux Events had some newly launched tall table stands known as halos, and when they mentioned these I knew I had to use these and fill with a mass of florals. They were going to be our statement pieces. The rest of the décor flowed from these."
After dinner, loved ones gathered on the edge of the dancefloor to watch Jade and Brett take their first married dance together, to A Thousand Years by Christina Perri.
After a wedding meal courtesy of the Dunedin in-house team, there was a spectacular cake by Sammy's Iced Fancies to be enjoyed – four tiers with pale pink marble effect icing, as well as one tier of ruffled flower petal icing, and a sparkling iced layer, too.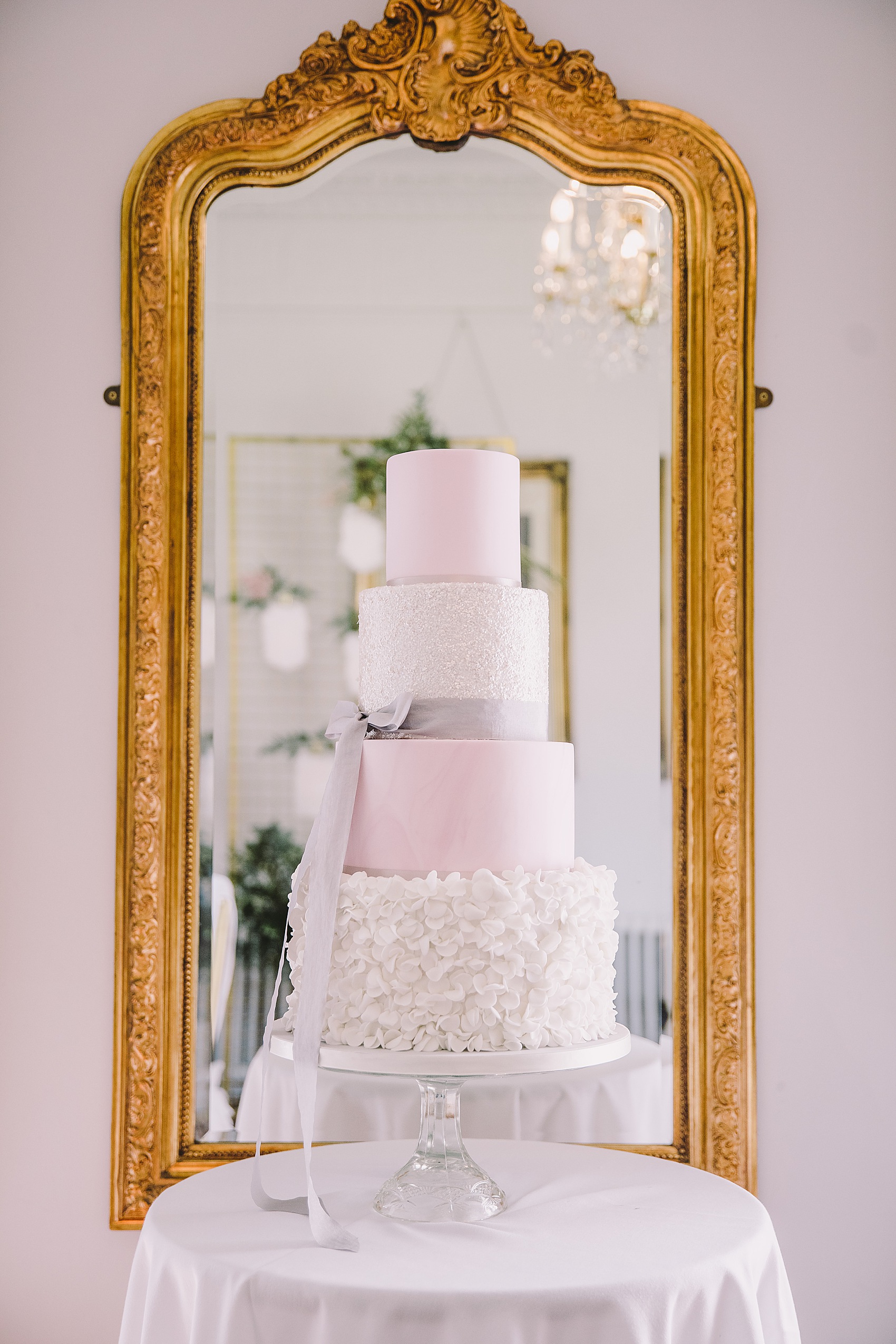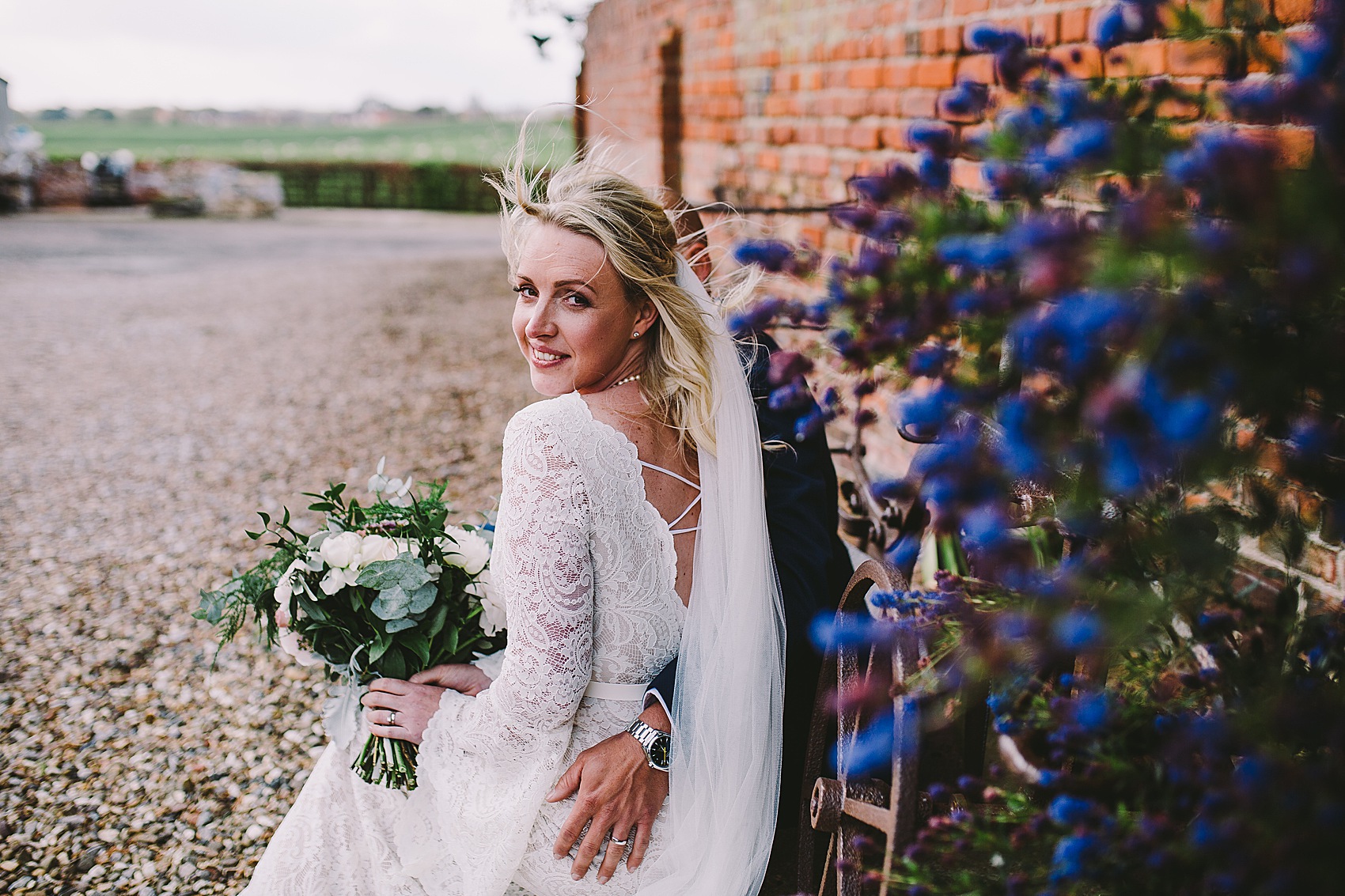 Words of Wedded Wisdom
"Remember it's your day, your way. It is impossible to please everyone. Remember why you are getting married and what is important to yourselves."
"Enjoy the build up and don't forget to take a little time out on the wedding day to say hello to each other and enjoy that time, because the day goes so so quickly you spend it catching up with your guests instead of each other."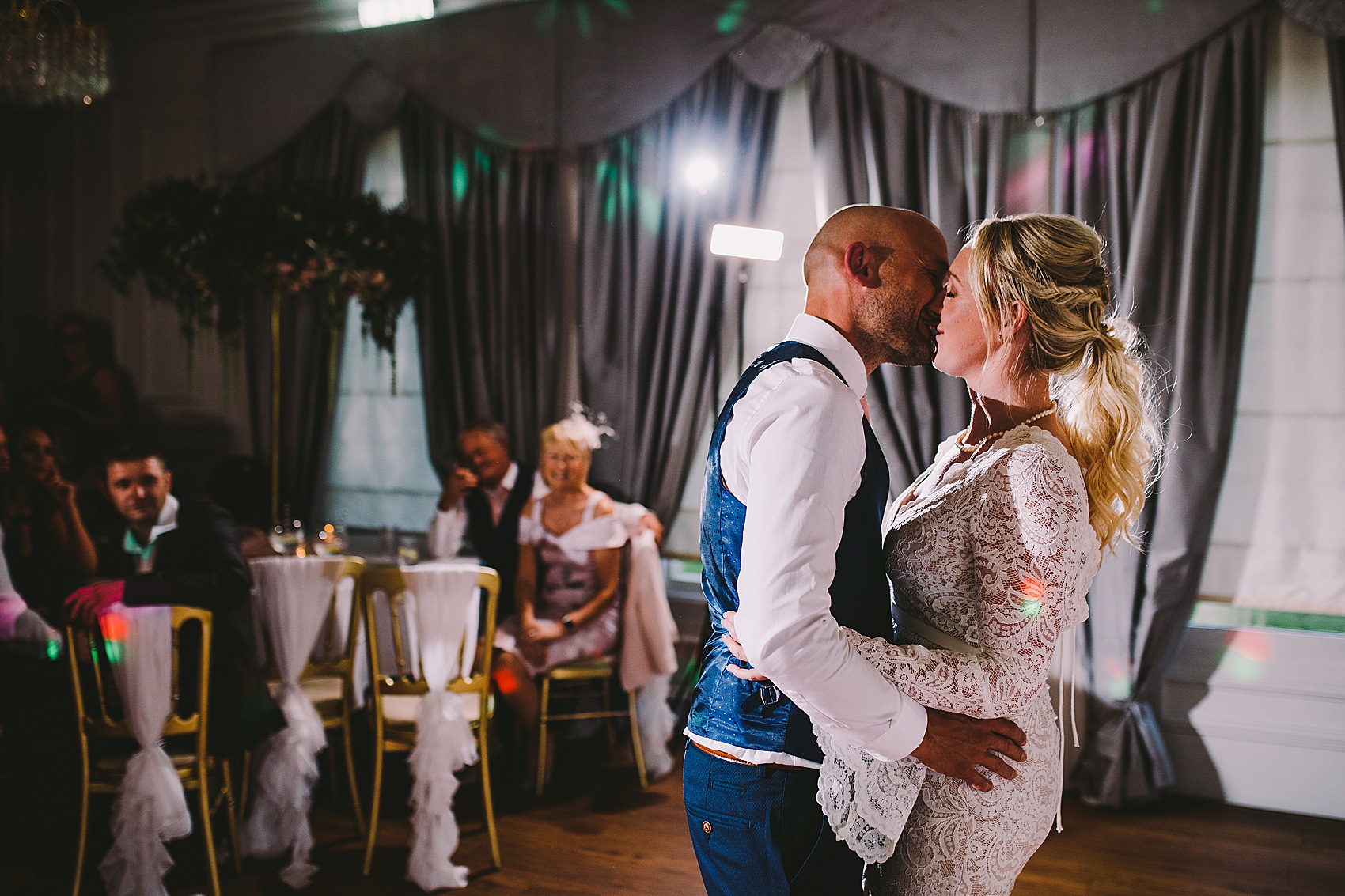 Jade and Brett, thank you so much! Thanks for your words throughout this piece, too, and what an absolutely magical, flower-filled day you had.
Many thanks to Dan from Ginger Snaps Photography for capturing it all so beautifully, too.
Love, Laura