Katie and Alex's breathtakingly beautiful Autumn wedding was held at Goodstone Inn, in Middleburg, Virginia in South East America in October 2022.
The couple chose this picturesque and romantic spot to tie the knot as it was the area Katie grew up in. They also wanted to honour Alex's British roots by weaving an ode to British culture and the pretty English countryside throughout their day, achieved through delighting their guests with mini servings of fish and chips, and a scattering of Liberty print. The entire day was planned and styled to perfection by the team at Lauryn Prattes Events.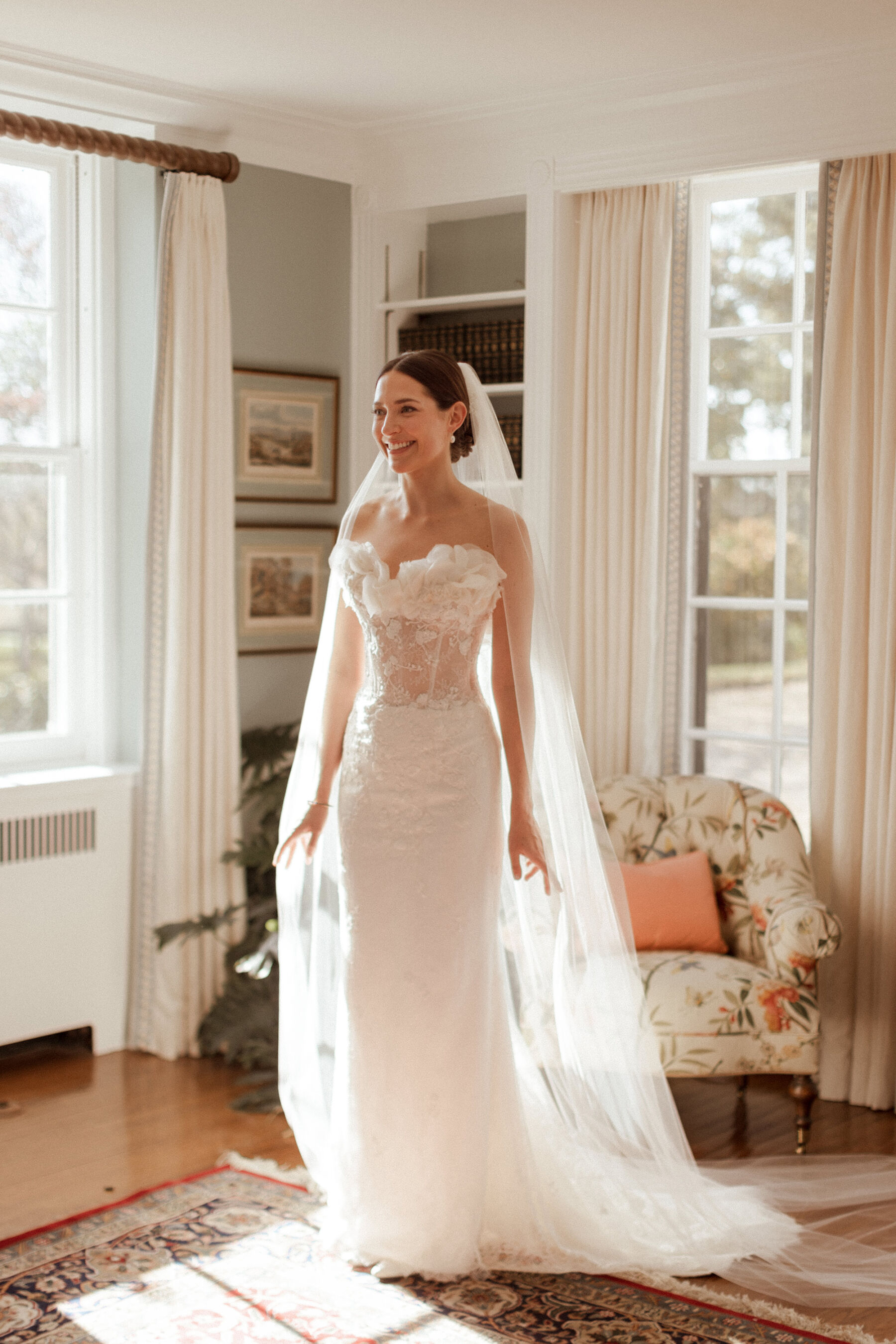 The couple shipped out two of the best British wedding creatives to document their day, the wonderful Ben at Tynegate Films and The Curries, whose team members Chris and Jessica did the most superb job capturing the joy and beauty of the day in their signature relaxed, natural and fun style.
But the absolute star of the show was Katie's incredible gown – a couture design by London based designer and Love My Dress favourite, Sally Bean.
Bride Katie's words follow for the rest of this beautiful article. Enjoy!
A Sally Bean Wedding Dress
I absolutely loved working with my dressmaker, Sally Bean. Sally created the dress of my dreams! After trying on numerous dresses at wedding boutiques, I decided to go the bespoke route and found Sally after doing some research.
I went to over seven bridal boutiques and while there were a few dresses which had elements I loved, nothing felt quite special enough. I decided to research the bespoke route and came across Sally whose work was really impressive.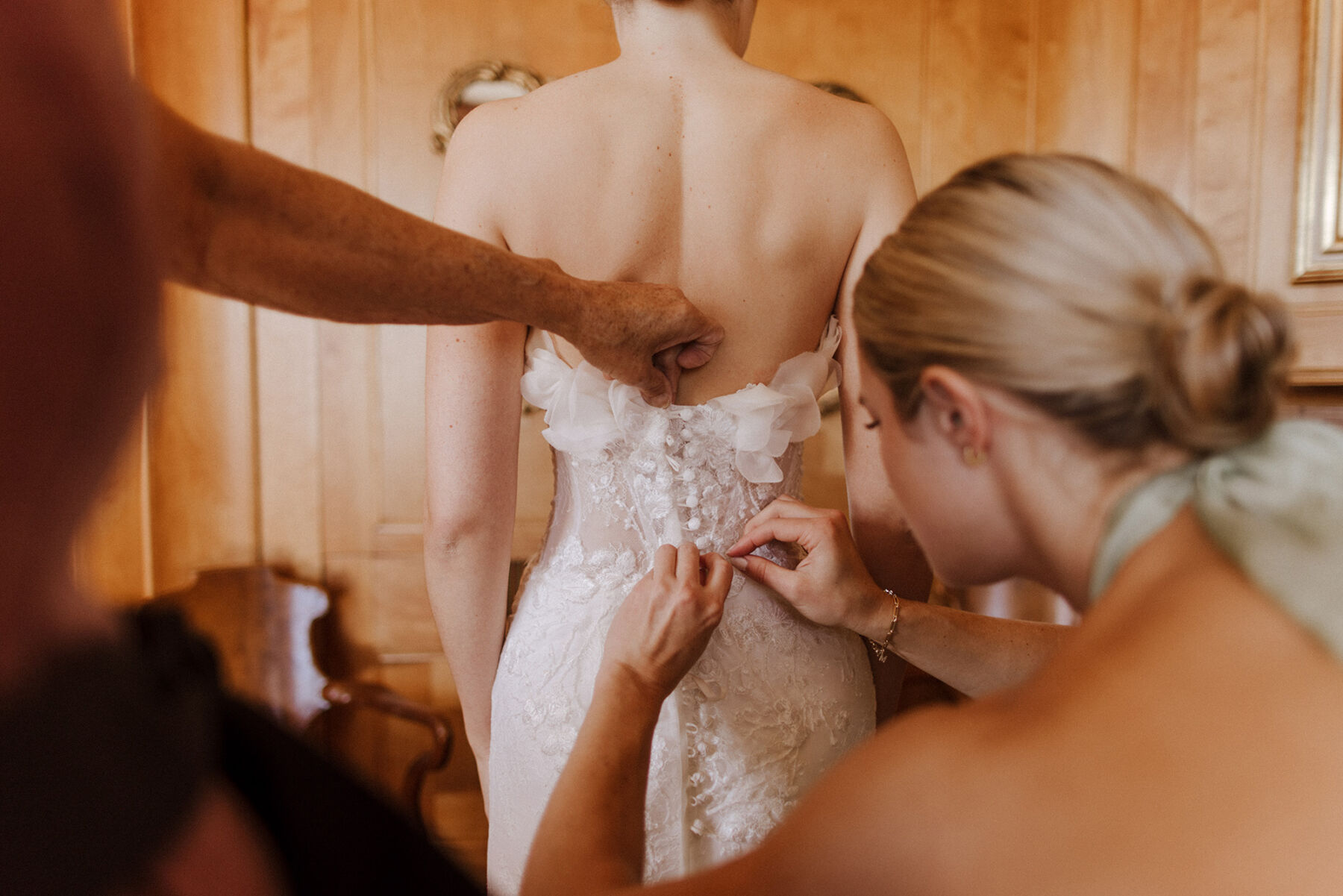 After our first meeting I knew I wanted to work with her – she really listens to your vision and brings it to life in a way I could have never imagined.
Over the course of nine months, I met with Sally regularly to design my dress. She helped me refine my vision while still allowing me to have all design decisions (although I definitely looked to her for guidance and expertise!).
The dress we ultimately created together is more beautiful and special than I could have imagined, and this is all due to Sally's talent and commitment to her clients.
Beyond her ability to create stunning dresses, Sally is so wonderful to get to know as a friend and makes you feel so comfortable and at home in the appointments. I could not recommend Sally enough – I will forever be grateful for our time together and the beautiful dress I wore on my wedding day. It really is a work of art.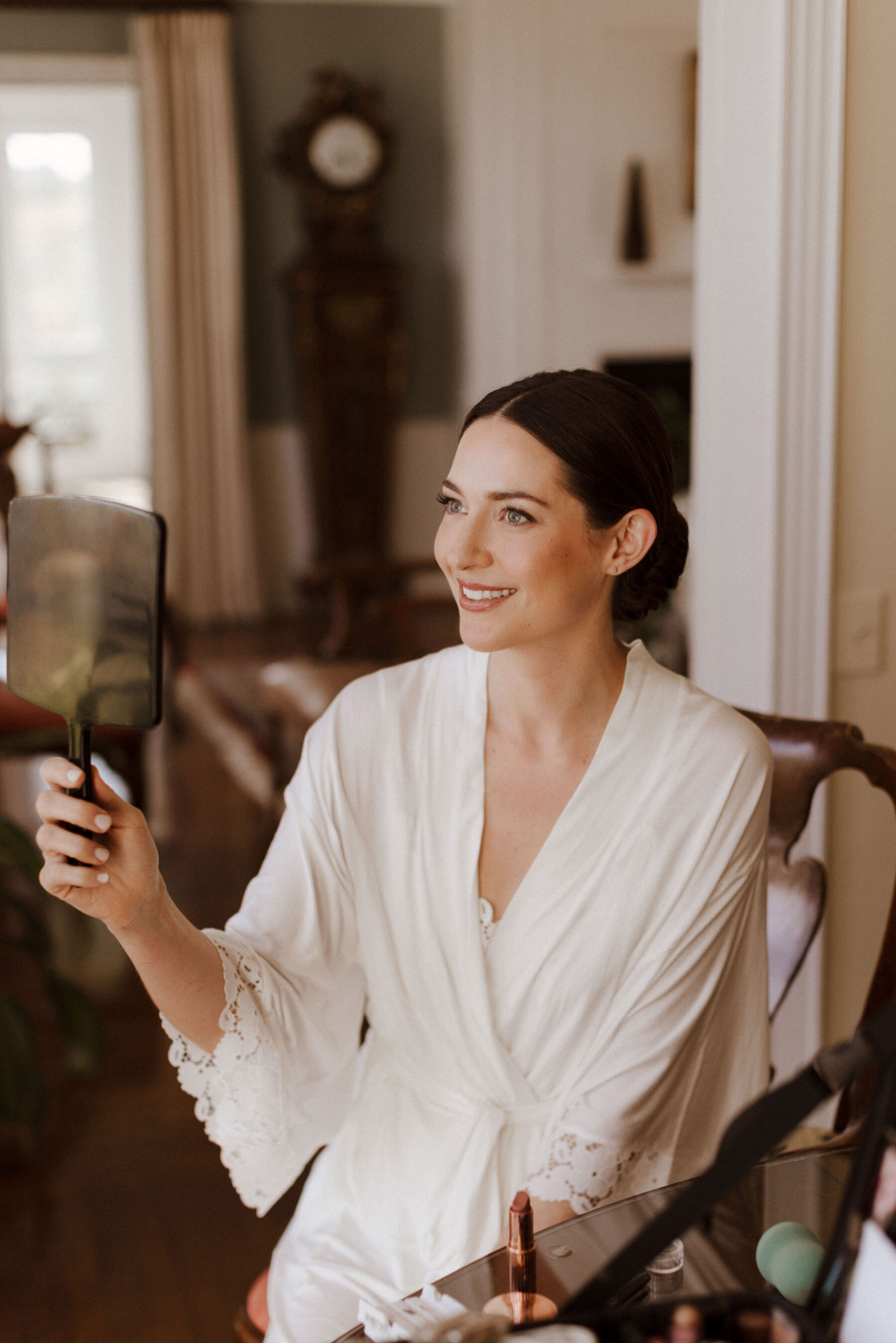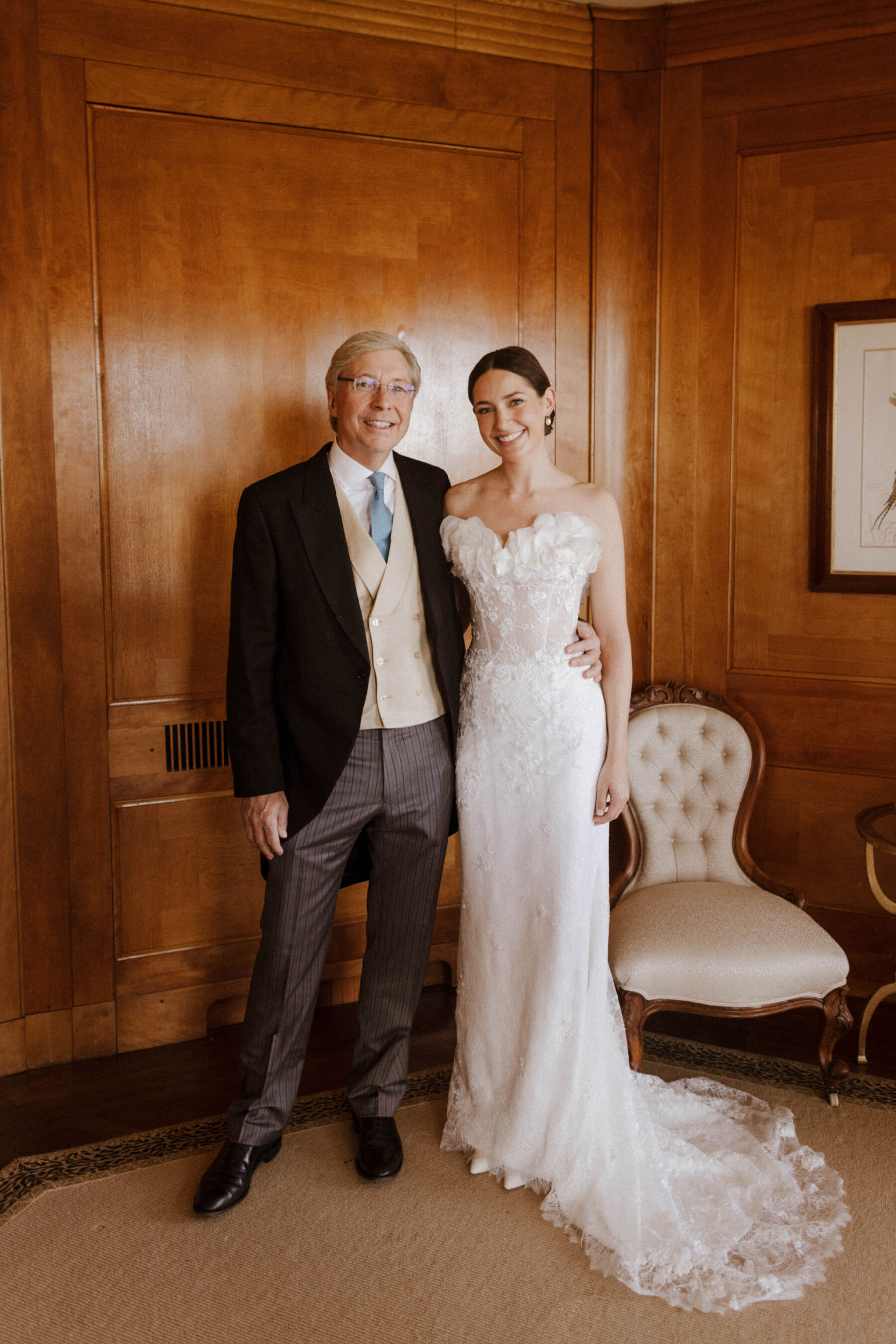 Shoes, Veil & Accessories
My perfume was Maison Louis Marie No.9 – Vallee de Farney. I discovered this scent in Copenhagen and have been wearing it ever since. I wore pearl drop earrings from Annoushka and a simple sapphire stone bangle (vintage bought through auction). Both of which were given to me by Alex over the years. The earrings were his first gift to me and the bracelet was a birthday gift.
I wore a very simple white pointed toe heel from Emmy London (a block heel, given grass at venue!) but I ended up changing into a pair of Loeffler Randall heels for the reception and dancing in the eveing.
My veil was also made by Sally Bean – given the detailing on the dress, we went with a simply, delicate long veil. Sally also created a lovely floral hair piece for me which was made of pieces from both my mother and grandmothers wedding pieces.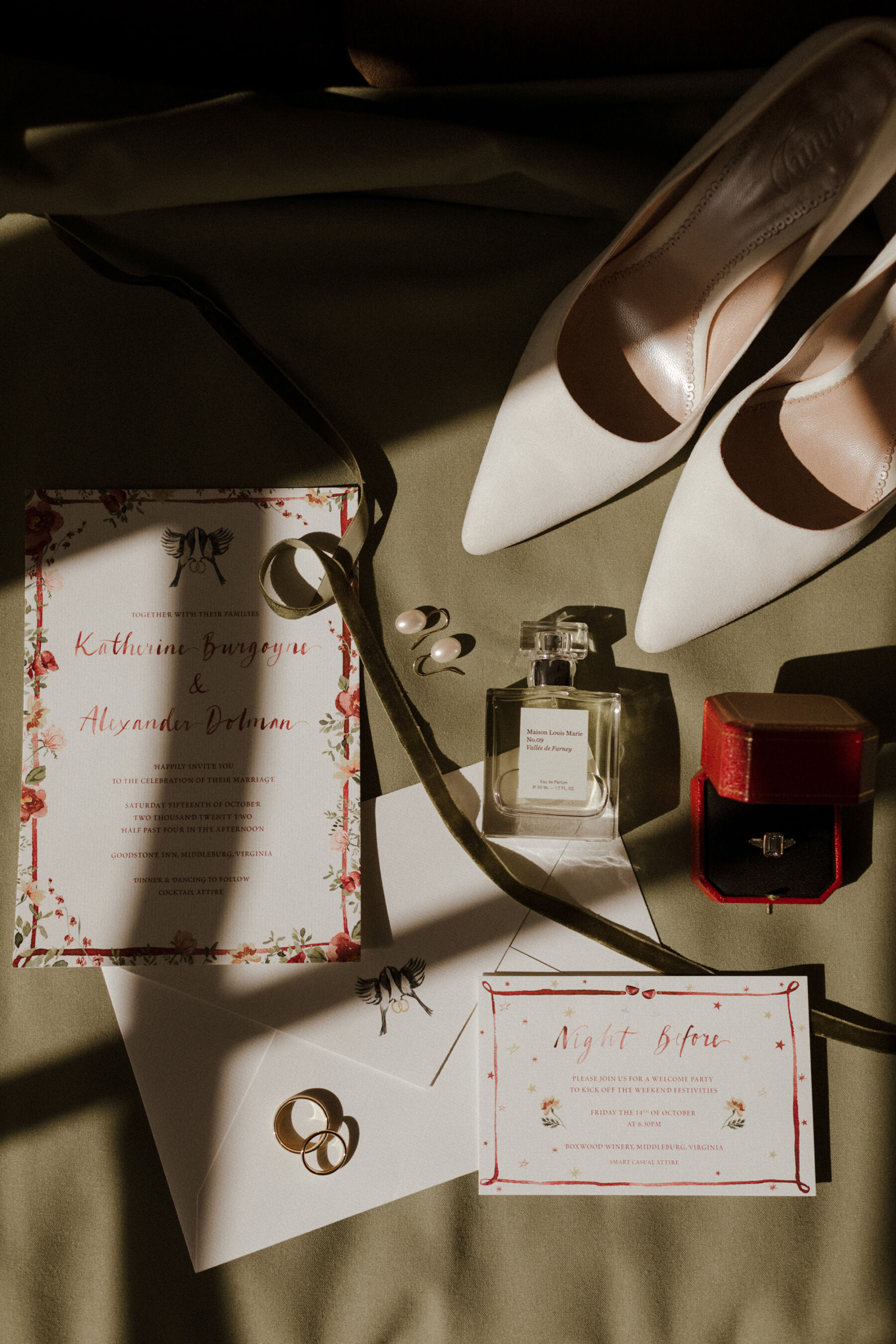 Bridesmaids in Mismatched Dresses
I let my bridesmaids pick their own dresses – they were just asked to keep it either maxi or midi and within a certain colour range (creating a Pinterest board helped give them an idea).
I encouraged them to do a mix of styles and fabrics and it turned out so well.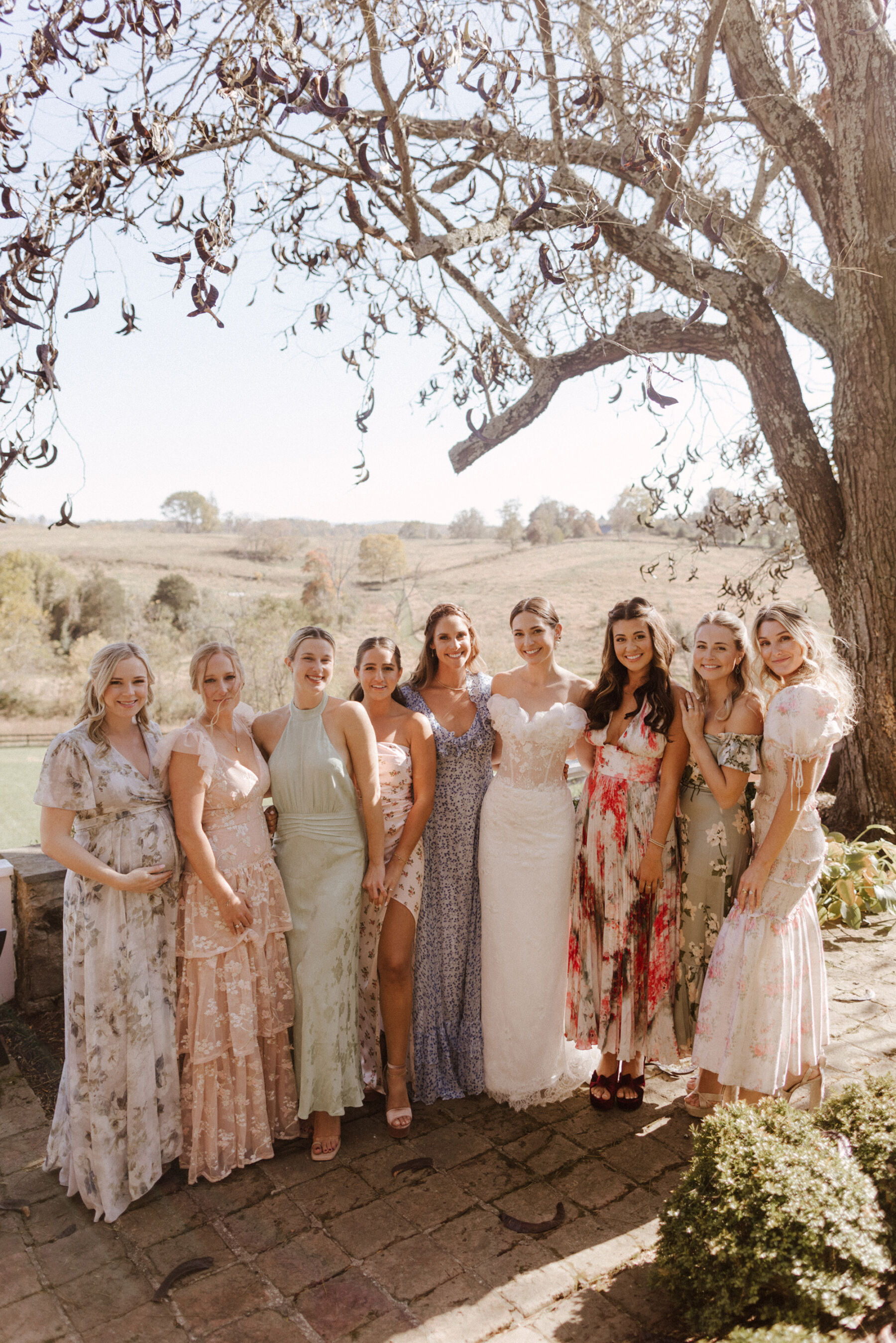 Ceremony
The reason we decided to get married in Middleburg, Virginia is because I grew up when I was a child – it's a really beautiful and special place. It was so fun to invite Alex's friends and family from the UK to experience it – many also tacked on time in D.C. and/or US roadtrips afterwards.
Our flowers were by Wander & Whimsey. For the ceremony, we got married in front of an ivy wall at our venue so the setting was naturally beautiful. We opted only for a floral arch which the W&W team designed beautifully into the ivy. For the reception, we wanted a whimsical feel with a mix of winding florals, lots of bud vases and candles.
We had Sage String Quartet play during the ceremony. For my walk down the aisle with my dad, they played 'Everything I Do, I Do it For You', by Brian Adams – a song that always makes me thing of my dad.
One of Alex's dear friends officiated our ceremony. We had two readings; 'What is Love', by Unknown – read by Alex's sister (this one was my favourite!). Our second reading was 'I saw two clouds at morning', by John Gardiner Brainard, read by my mother.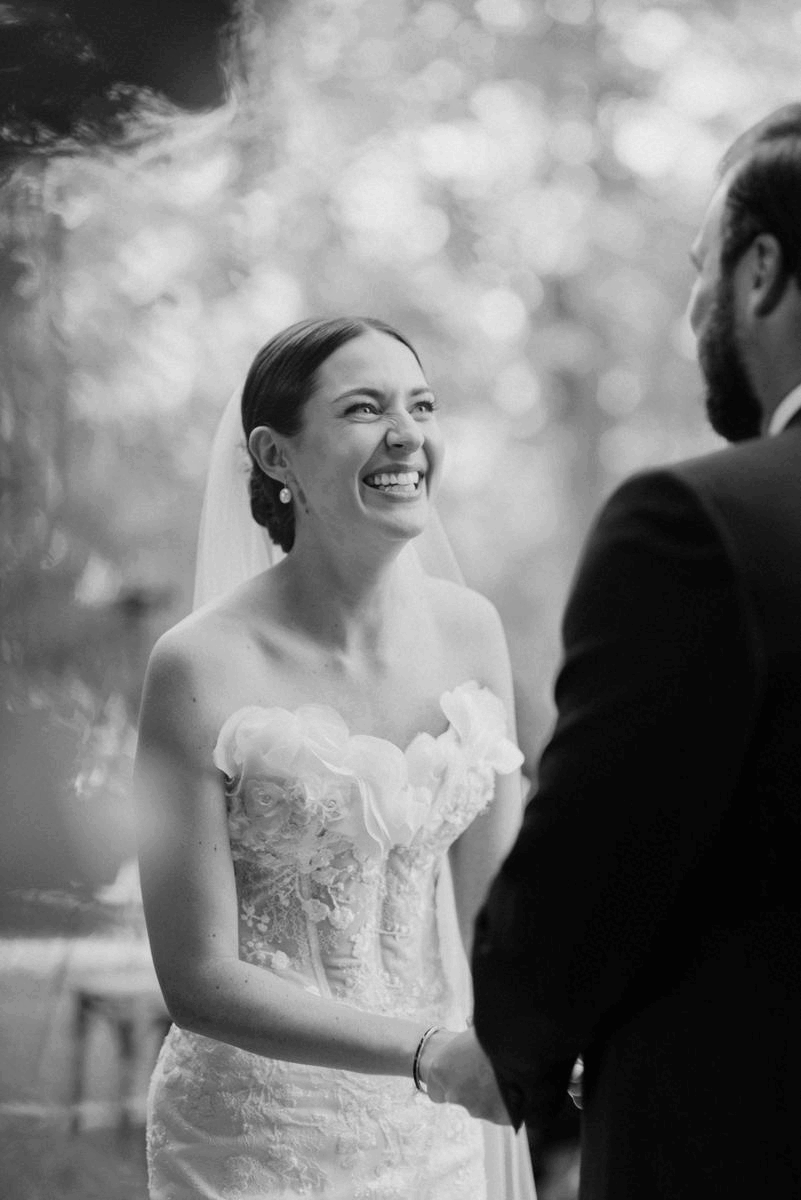 We also included the song 'Happy Together' by The Turtles. It was so fun and a really special addition to the ceremony to have everyone in the audience get up and sing with us with the string quartet playing along with background music.
We chose the song because it's fairly easy to follow and the lyrics fit well for a wedding ceremony. We loved this part of the day! Our guests loved it as well.
My wedding ring is by Garrard and Alex's wedding ring is by Boodles. We both went with simple gold bands. My engagement ring was custom designed by Alex.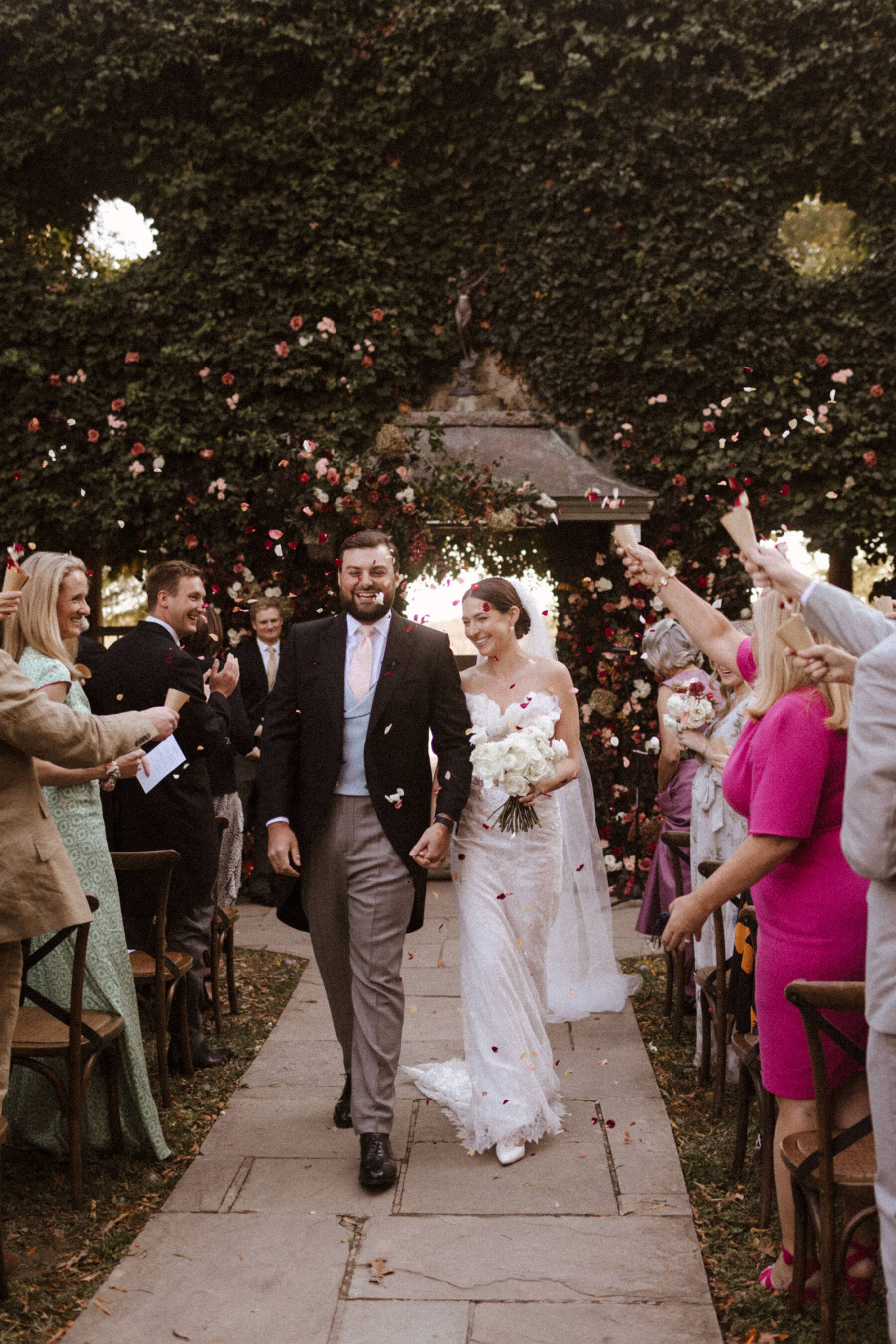 Photography by The Curries
Our photographers were The Curries – incredible! I ended up bringing over our photographer and videographer from London, because I absolutely loved their style and approach.
On the day, we had Chris and Jessica – they made everyone feel so comfortable and were a blast to have around. They are funny, easy going, and made an effort to engage with all of our guests.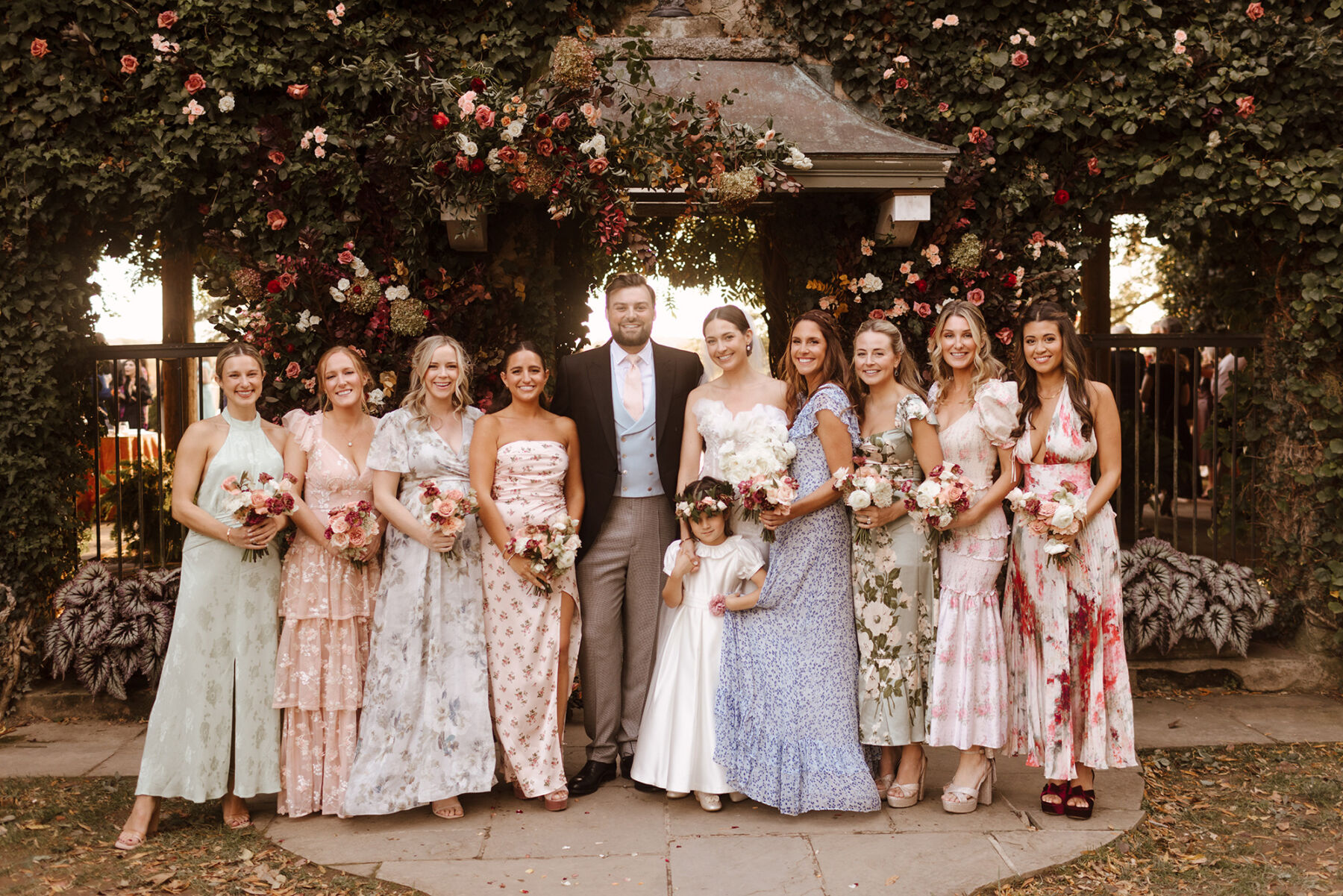 We would absolutely recommend to anyone – I'm really so happy we got to work with them and the photos turned out so beautiful. Everyone was raving about them after!
Ben of Tynegate Films was also incredible! Ben was so lovely and is incredibly talented. The final product is beyond special and brings us right back to the day. I would recommend him highly! He does a wonderful job filming your day in a way that makes it seem like art rather than a typical wedding film.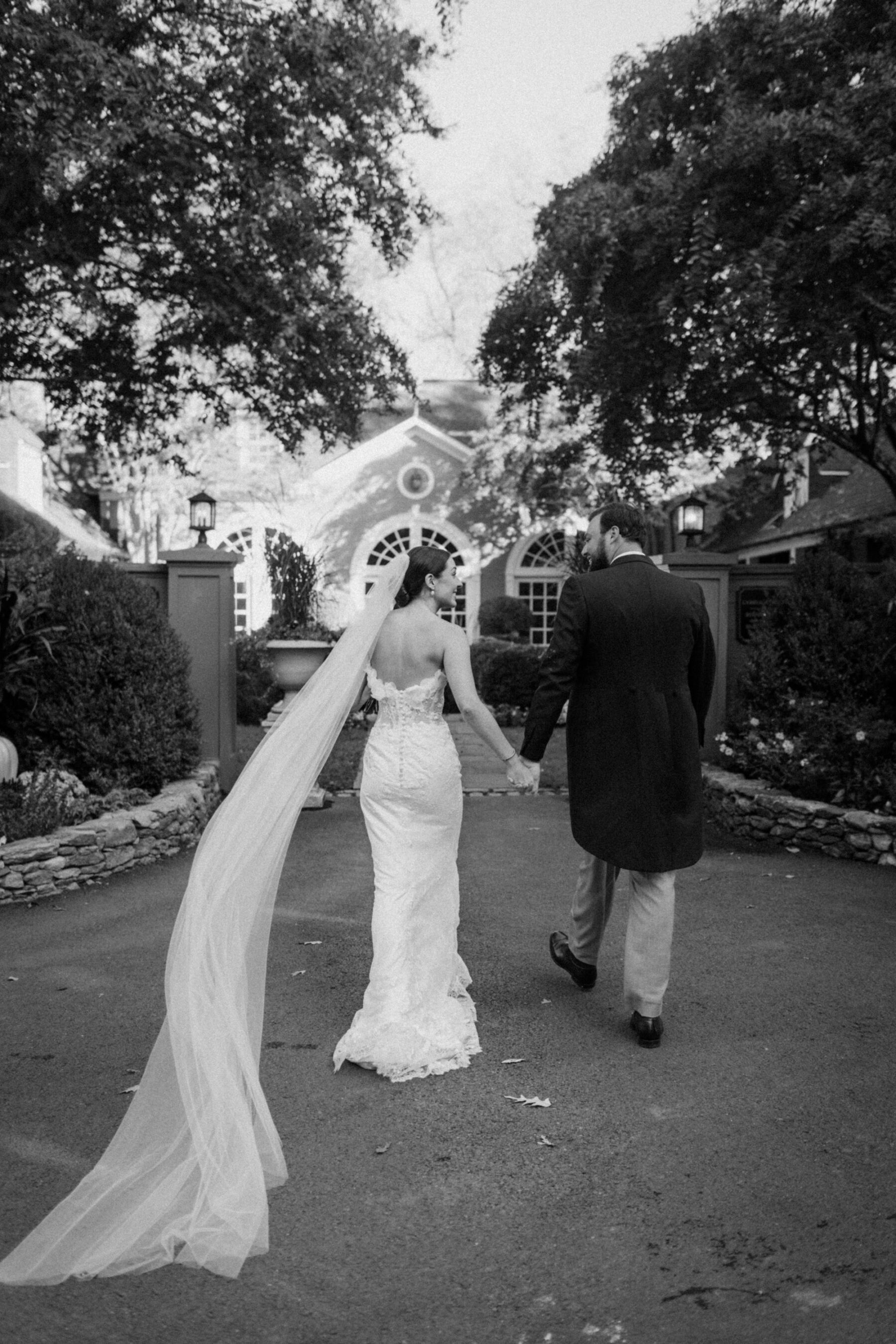 How They Met
I'm American and was living in New York City when I met Alex serendipitously in November 2018, through mutual friends. Alex is British and was visiting NYC for a week on a work trip with some friends. We hit it off immediately, spending as much time together that week as we could which turned into me visiting him in London a few weeks later.
After that trip, we committed to giving long distance a shot and dated between London and NYC for a year before I decided to move to London in January 2020.
After a year of COVID, Alex was finally able to travel to the US with me for a family trip to California for Thanksgiving in November 2021. Before meeting my family in Sonoma, Alex and I spent two nights in San Francisco where he surprised me with a proposal.
We then celebrated with my family for the week before stopping over in NYC for further celebrations with our friends. It was perfect! We were engaged for just under a year before getting married in October 2022.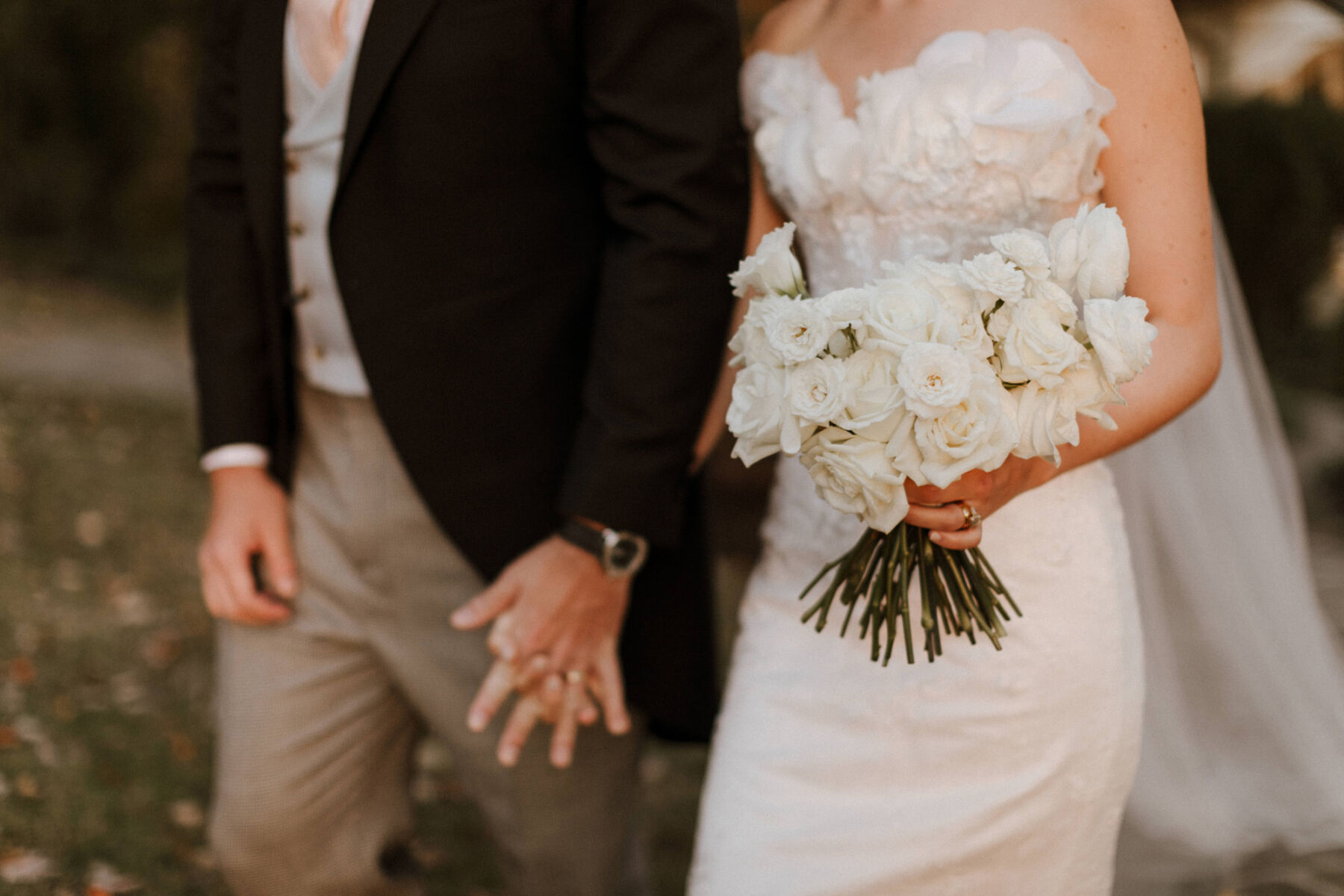 Reception, Decor & Details
As our venue was in the US, we wanted to bring in a more whimsical, British countryside feel with warm, inviting colours and lots of candles and bud vases to make it feel like a big dinner party. The Goodstone setting is beautiful so our planner recommended we bring the outside indoors with a clear "garden" tent from Sugarplum Tents. It was a showstopper
We incorporated some British elements into the cocktail hour as well, like mini martinis, fish & chips, and Liberty London cocktail napkins.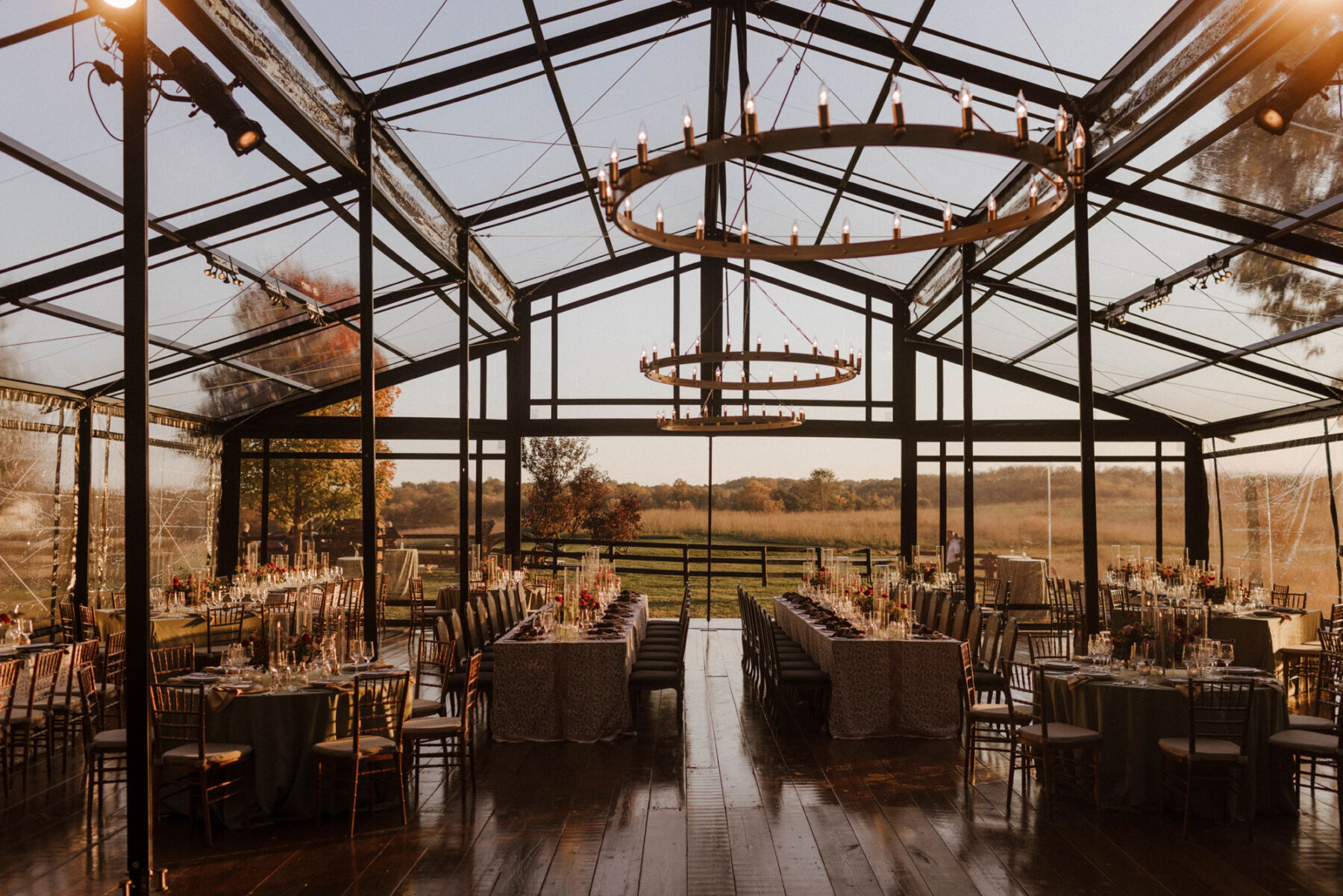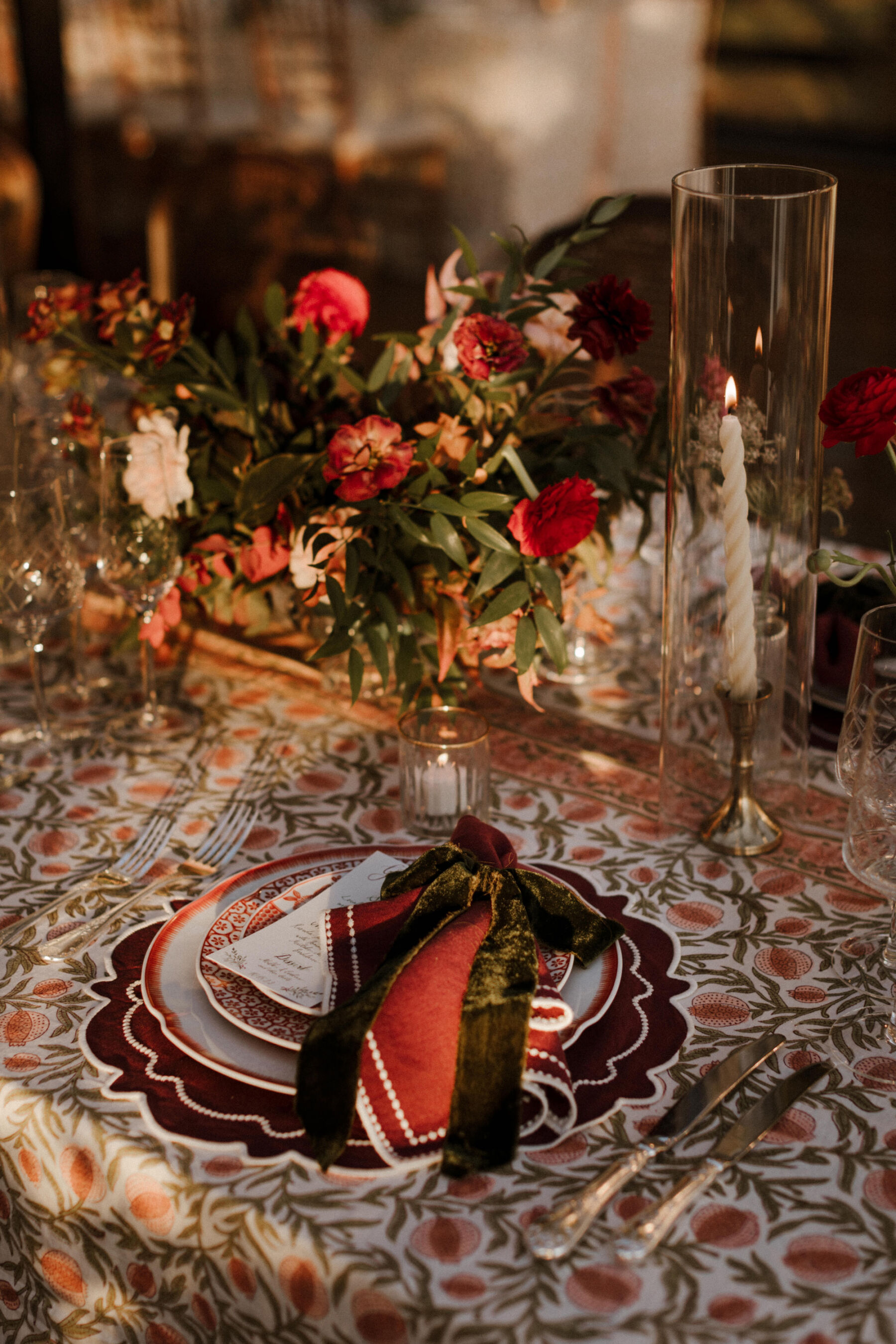 Decor & Detail
Whimsical English Countryside
---
We had a disposable camera and guest book during cocktail hour so guests could snap a picture and glue it into the book with a message!
This was such a cute addition and we love having a book full of our guests pictures and notes on our coffee table.
Our planner surprised us with lounge furniture around the dance floor which proved popular for some guests who wanted to take a quick break from the dance floor.
We had originally opted to do have this but in hindsight it was a nice touch and very kind of her to include for us! We had a few little décor elements incorporated: custom match boxes with our wedding logo, liberty London cocktail napkins (both done via Etsy).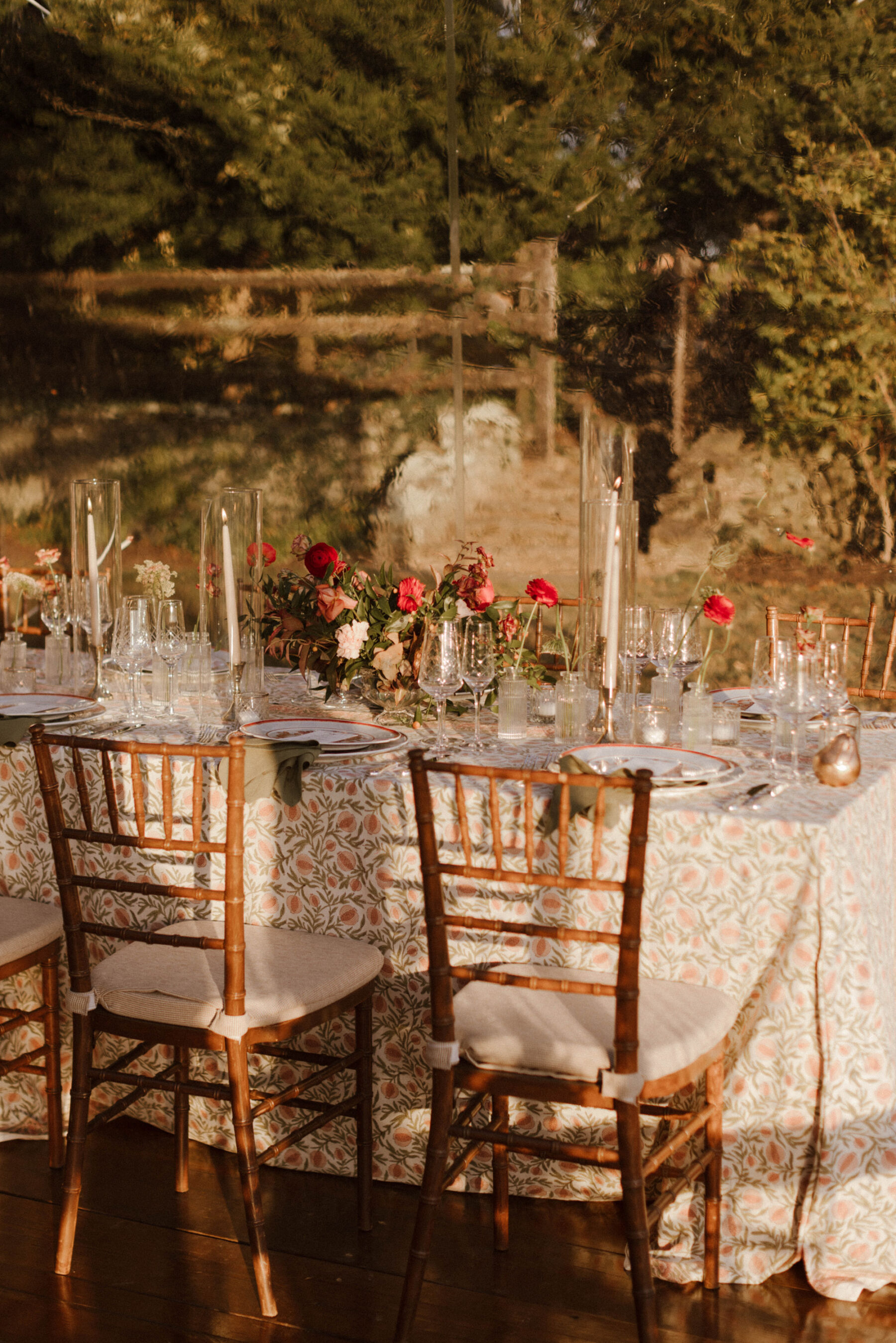 The Millustrator designed our wedding invites & menu and printing was done by Mount Street Printers. Our wedding logo was designed by a good friend of mine from school, Sarah Chow, who is a graphic designer in LA.
We asked her to create two magpies holding a ring – magpies are special to me and Alex, and Sarah did a fantastic job creating the design! Save the Dates were done on paperless post.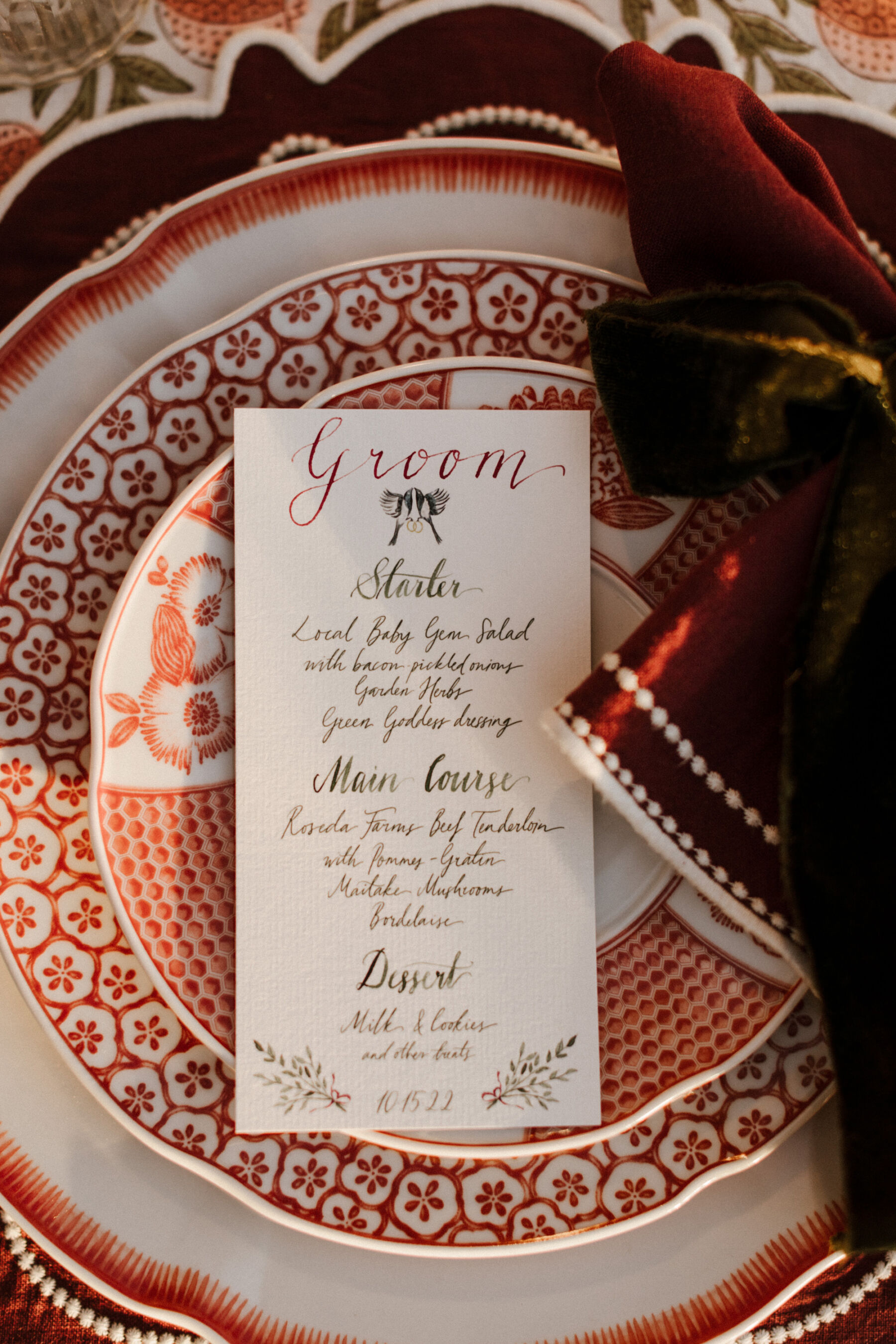 We had our wedding party stay on-site with us at Goodstone for the wedding weekend. In each of their rooms, we had a basket that was filled with some of our favourites: Maine Beer Company beers, Virginia Peanuts, playing cards from the bar we met at (Due West in NYC), Madagascar chocolate (my stepbrother is working in Madagascar), custom cookies with a battersea park design on them (ode to our home!), and custom caps with our wedding logo.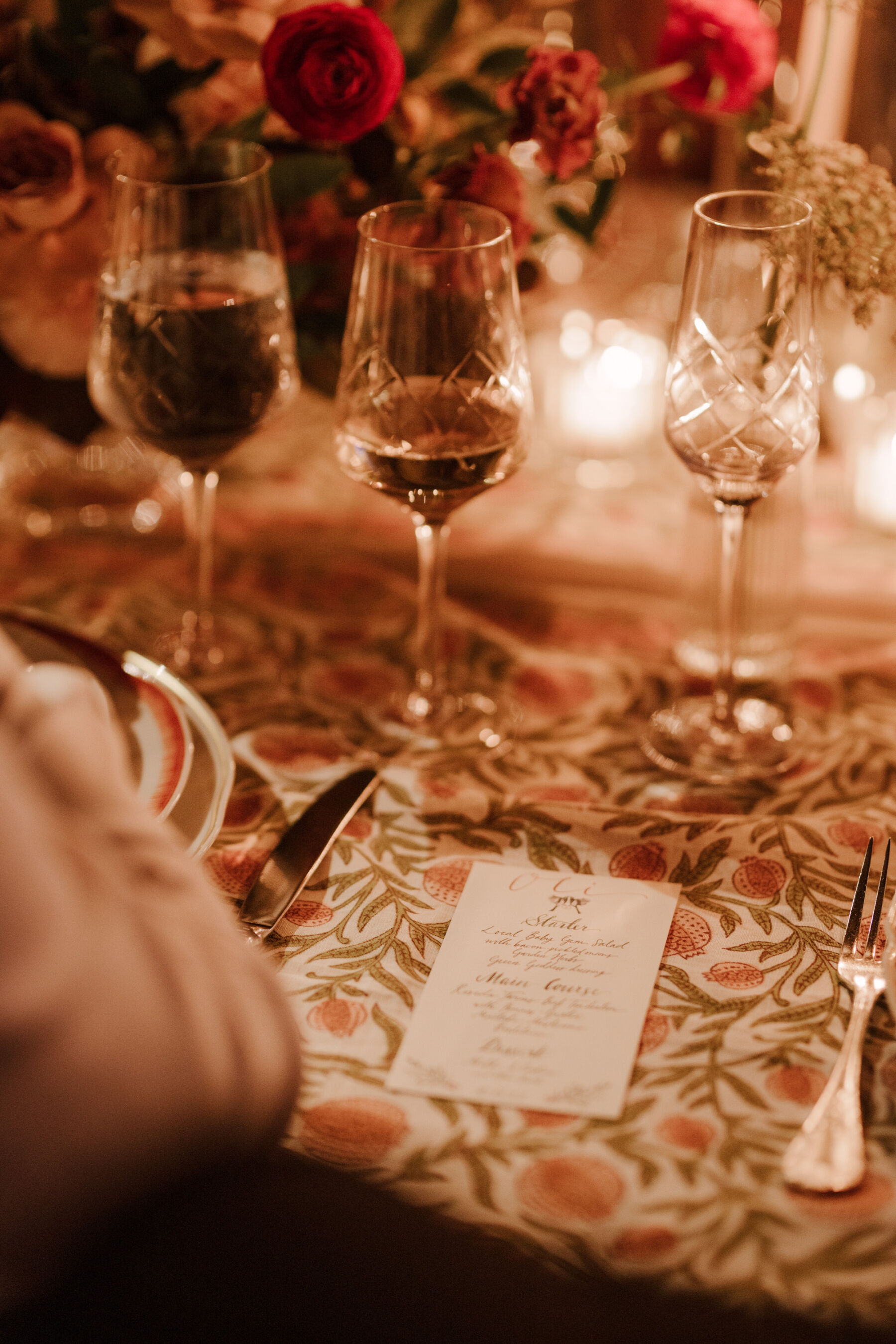 Our cake was by Carvel. We ordered really simple custom ice cream cakes which are a nostalgic favourite of mine.
We didn't want to have a big wedding cake so this was the perfect touch – it was passed around by waiters while everyone was on the dance floor so most people ate it standing!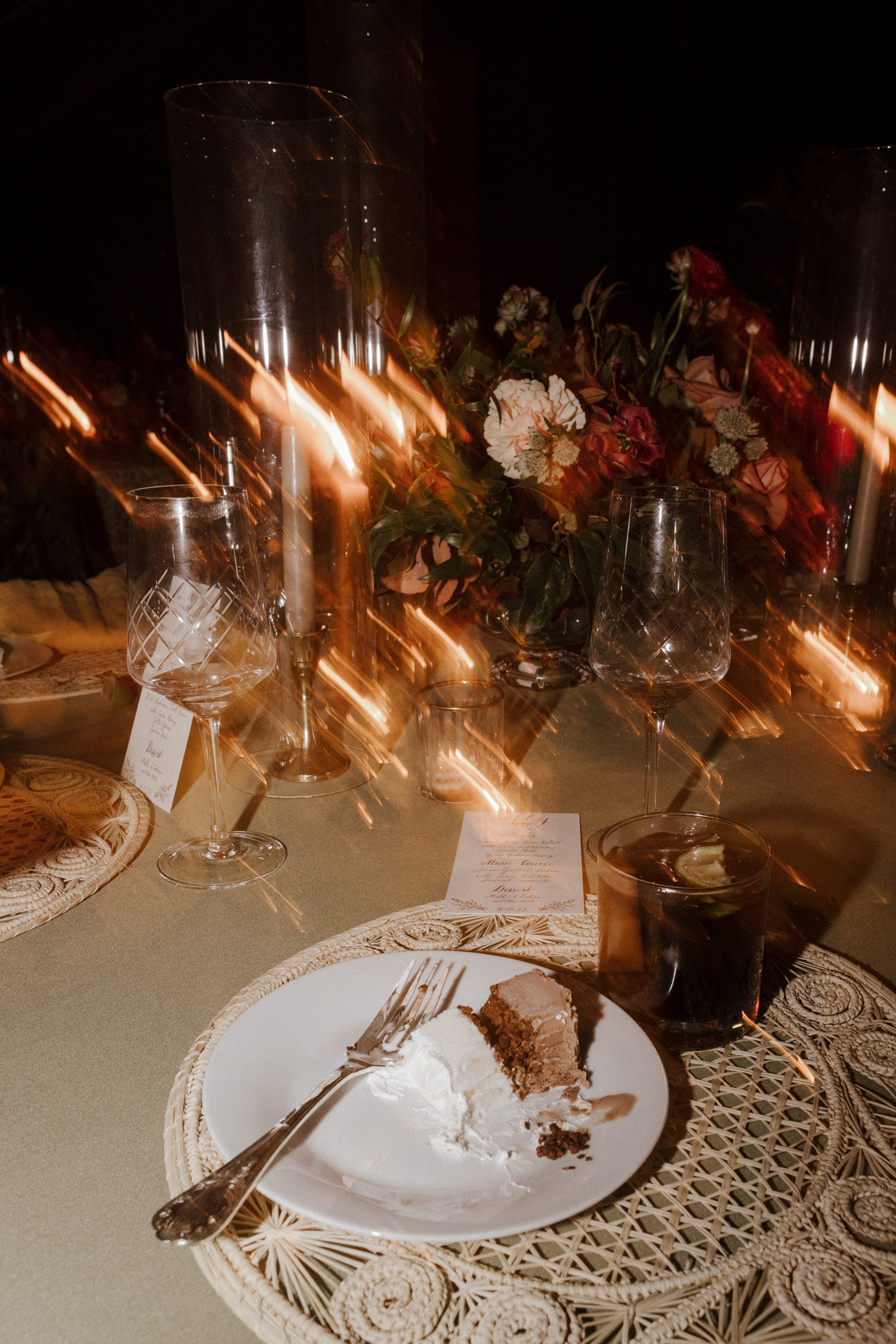 The day was truly the happiest of our lives – it is beyond words to be surrounded by everyone you love and feeling their support and love for you. We danced the night away and were so filled to the brim with joy. The Bride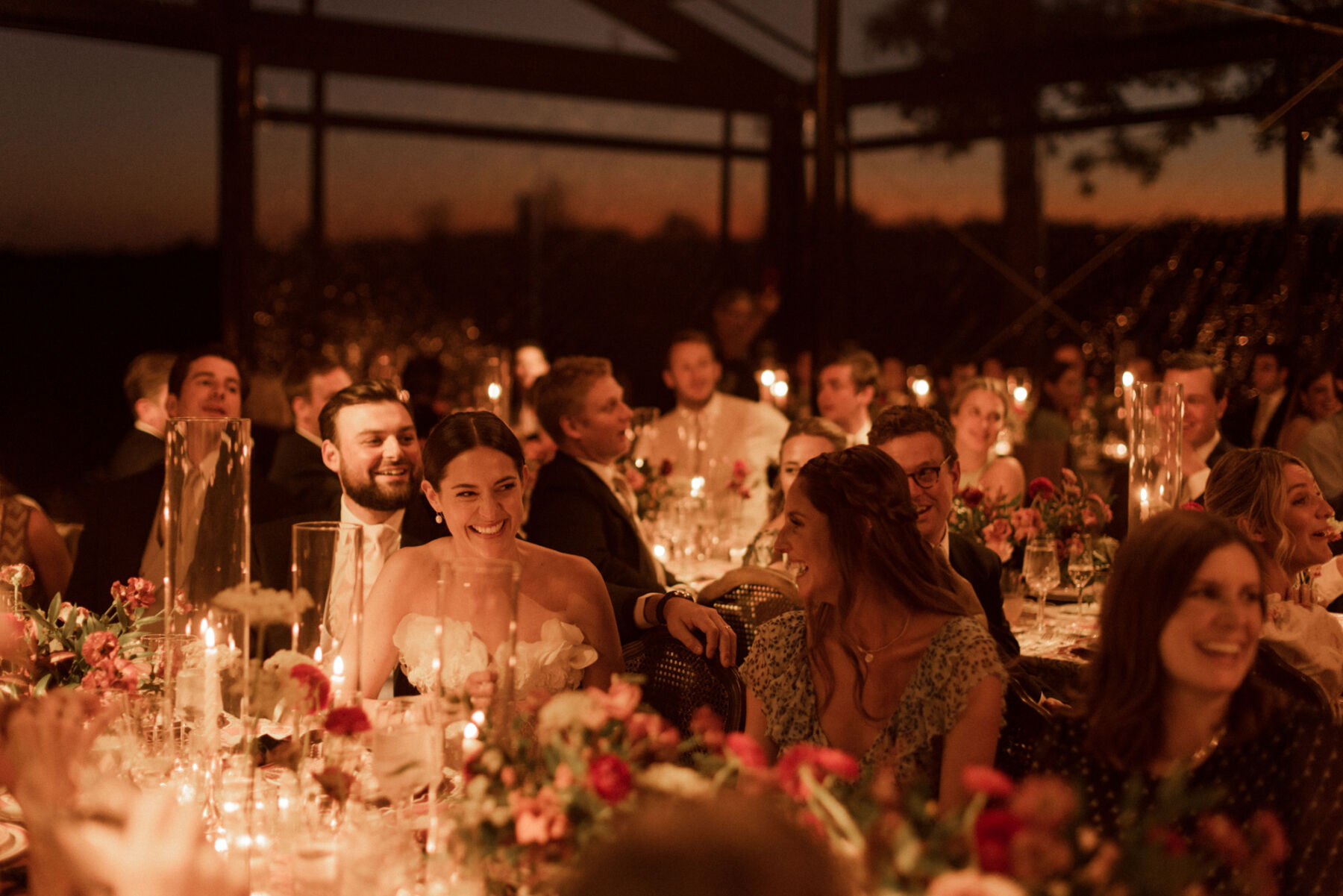 First Dance & Entertainment
Our first dance was to Florence and the Machine's 'You've Got The Love'. We entered the tent to our guests already on the dance floor which was amazing! The energy was so high and everyone was having a blast (probably due to the martinis and negronis we served during the cocktail hour!).
Upon entering the tent, Alex and I went straight into our first dance with our guests surrounding the dance floor to cheer us on. It was the best.
Our entertainment was provided by Sound Connection – they were amazing.
Words of Wedded Wisdom
Be in the moment and soak up every minute. The day goes by in a blink of an eye and will be one of the happiest moments of your life so you'll want to be present for all of it. It's easier said than done, but make sure you leave your planning nerves at the door when the day arrives – ultimately everyone is there to celebrate you and will feed off your energy so you want to set the right tone!
I also would highly recommend getting a videographer. Re-living the day on film is so special and allows you to jump back into the joy of the day more than memory will allow!
Oh and serve mini martinis – smash hit!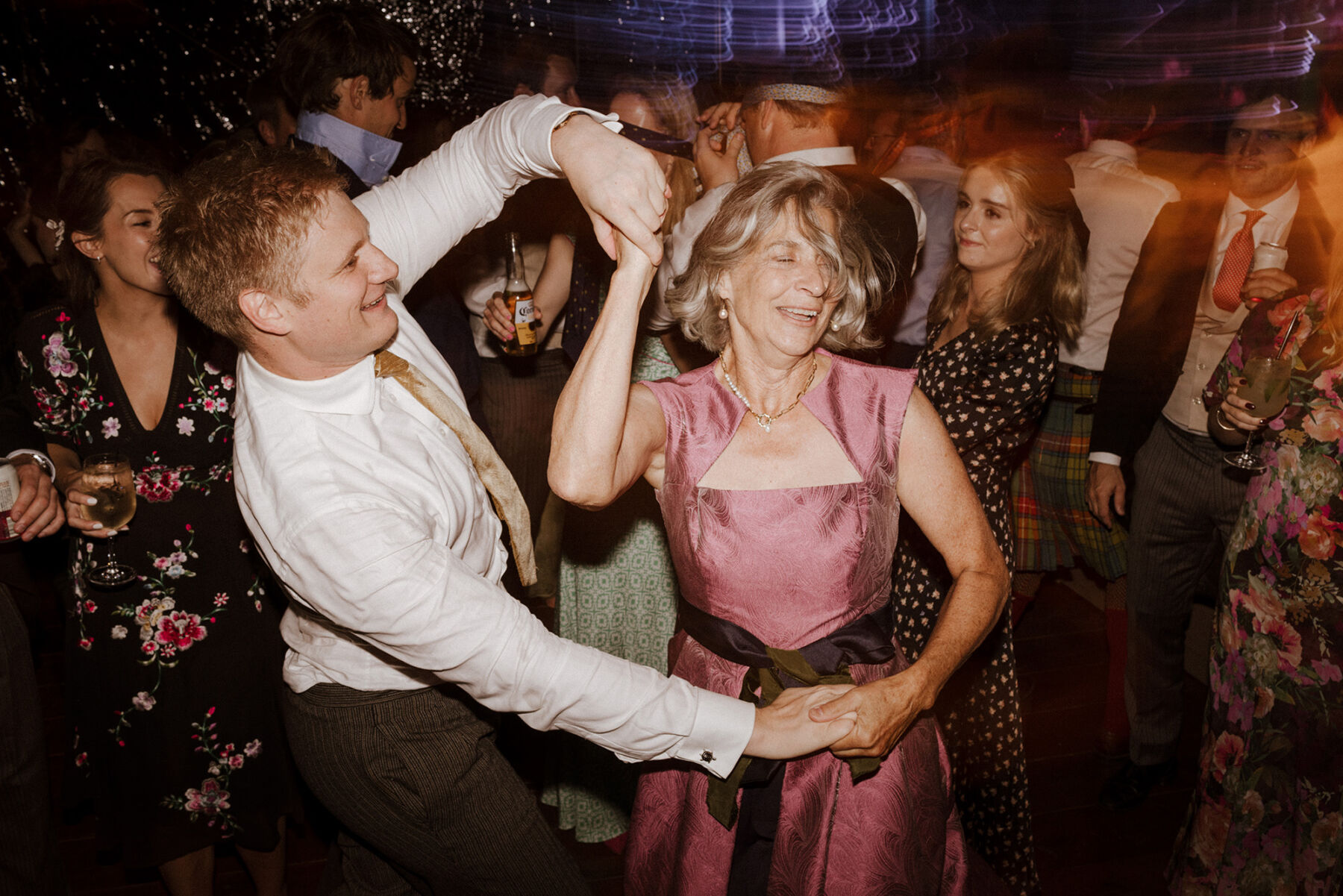 Everything went on without a hitch (to our surprise!). You're sort of primed to expect something to go wrong, but the weather was perfect, the food delicious, the drinks flowing, and everyone was in the best mood. That really is key – ensuring your guests are bringing the energy!
Whilst we'd prefer not to disclose budget, it was definitely exceeded; we hadn't anticipated the impact of inflation and the general price of weddings in the US at the moment. Budget definitely is a stressful part of the planning process however you realise its money well spent when you get to experience the joy that a wedding day brings to you and your family and friends.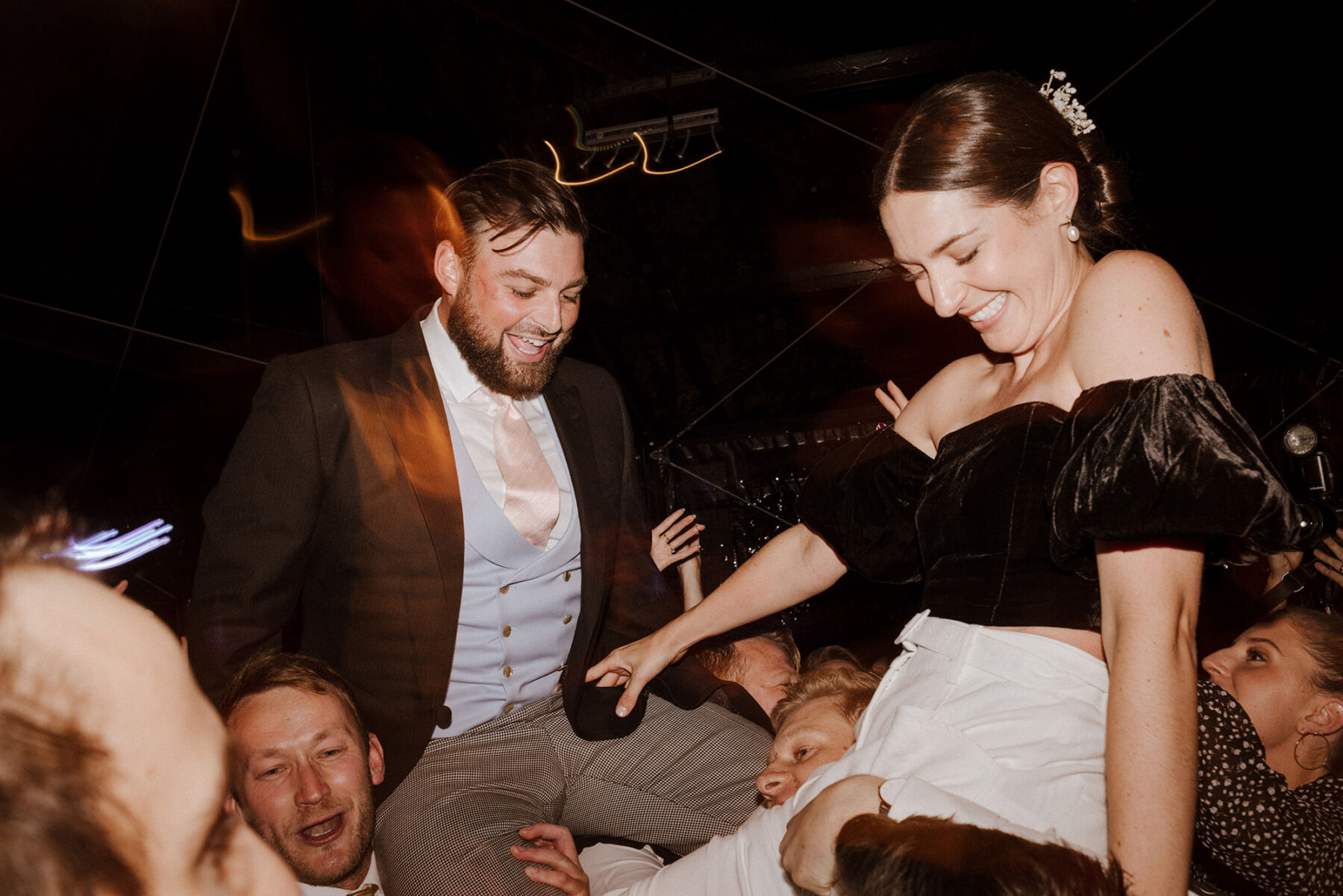 Explore our Wedding Directory