I've something extra special in store for you lovely lovelies. Grab a cuppa, a cheeky slice of something sweet, and dream away as you pore over Helen Russell Photography's incredible images of Sorrento and the majestic Amalfi Coast for the wedding of hairdresser Victoria to Ben, a joiner, on the 6th of September 2016 in one of the most picturesque locations I've ever seen. Let's set the scene with a snippet of the couple's wedding video, by the talented Dan from Shoot Me Now Films (and member of our most handy bridal resource Little Book for Brides – view his listing here).
"Whenever I imagined my wedding day I had always envisioned a garden wedding. So with English weather being very unpredictable I asked myself 'would it spoil my day if it rained?' and the answer was yes! So the decision was made that we were going to have a destination wedding."
https://vimeo.com/182555724
"We saw one picture of the San Francesco Cloister in Sorrento, Italy and both knew it was perfect. The fact that neither of us had ever been to Italy before made it even more exciting. For the party back home, we booked The Grotto in Marsden – with its water and cave bar setting, it just seemed like the perfect complement to our wedding on the Amalfi Coast."
Photography by Helen Russell
Victoria wowed in a Riki Dalal gown from Si Bridal & Co with long sleeves in lace and a deep V-neck – and got 'all the feels' the moment she tried it on.
"I went in looking for something totally different but didn't like the ones I thought I would. So I just started trying different styles on, then when I tried this one I just knew it was the one. I don't know how else to explain it; it just felt right and I still love it now."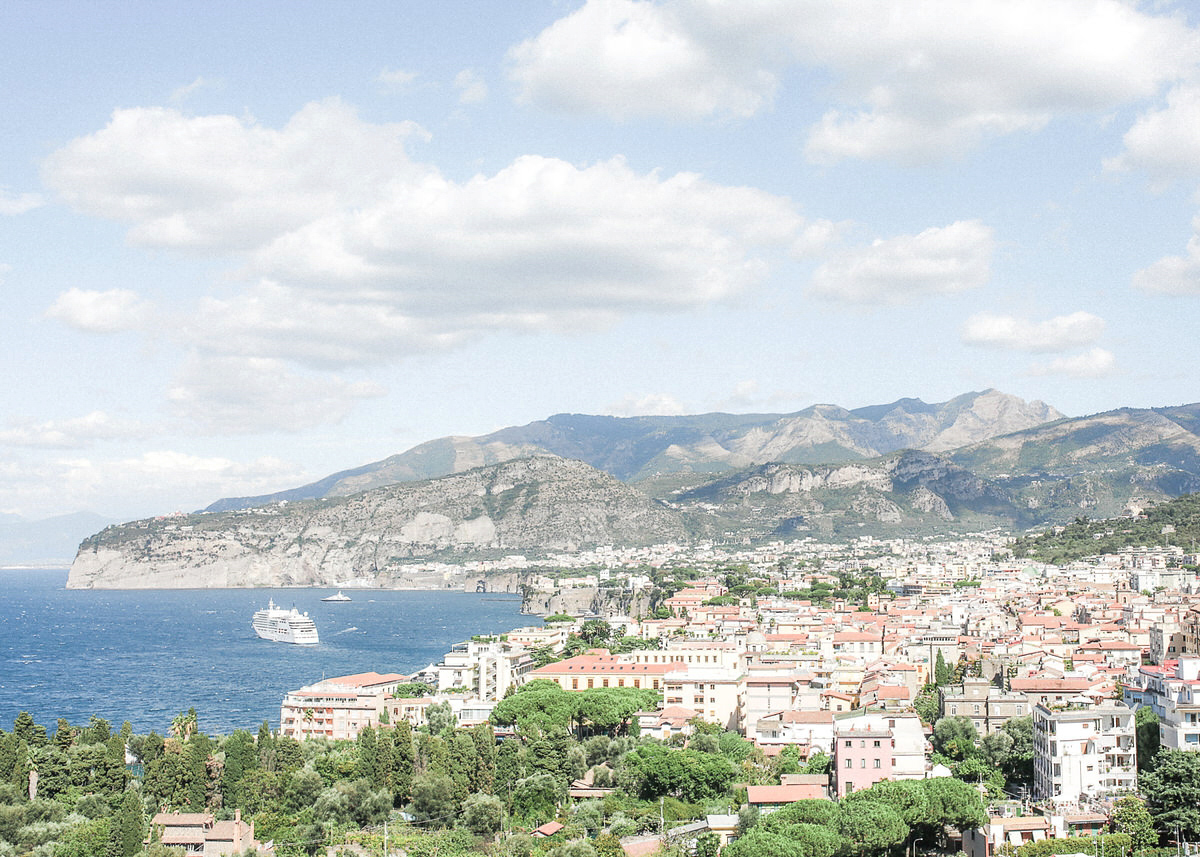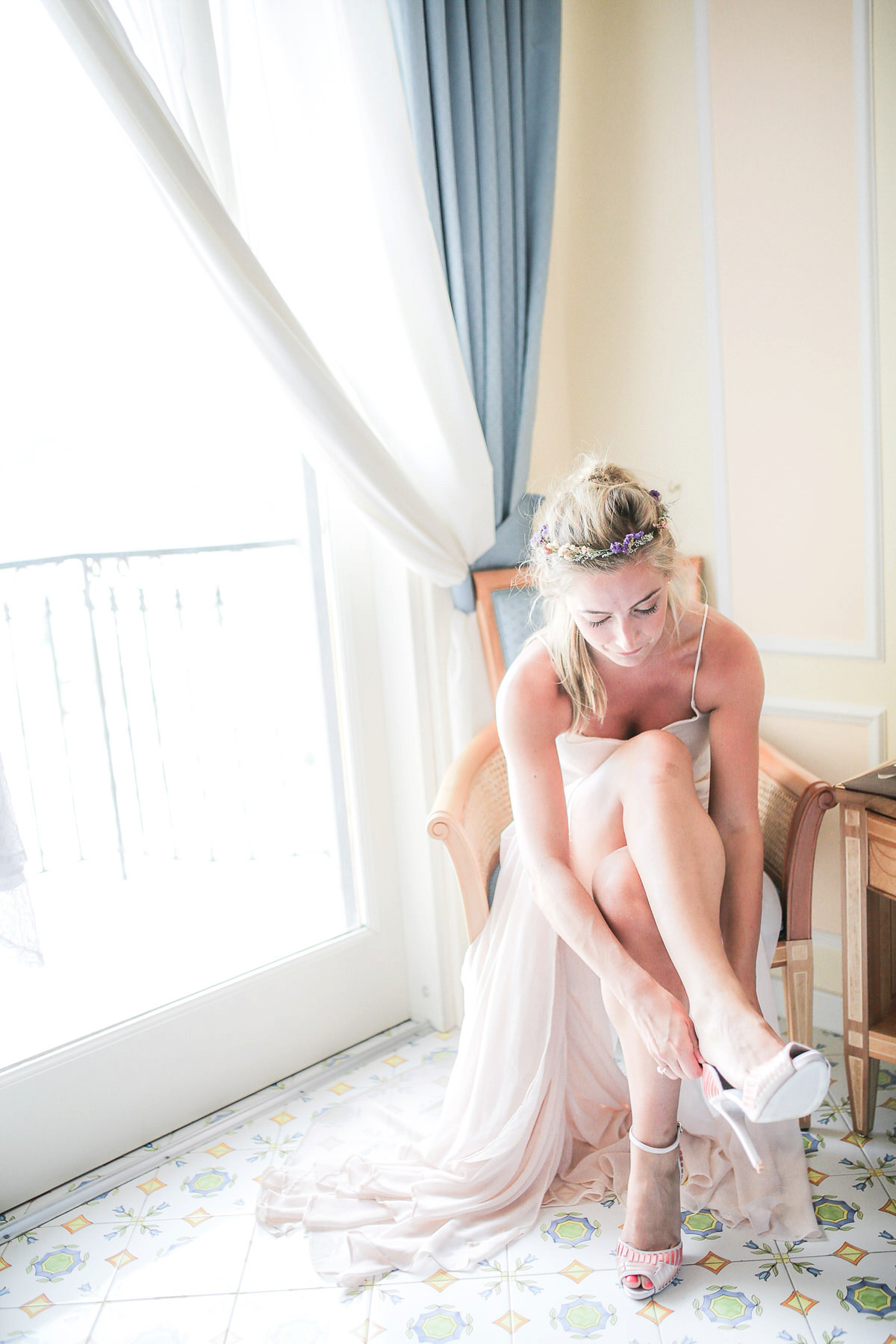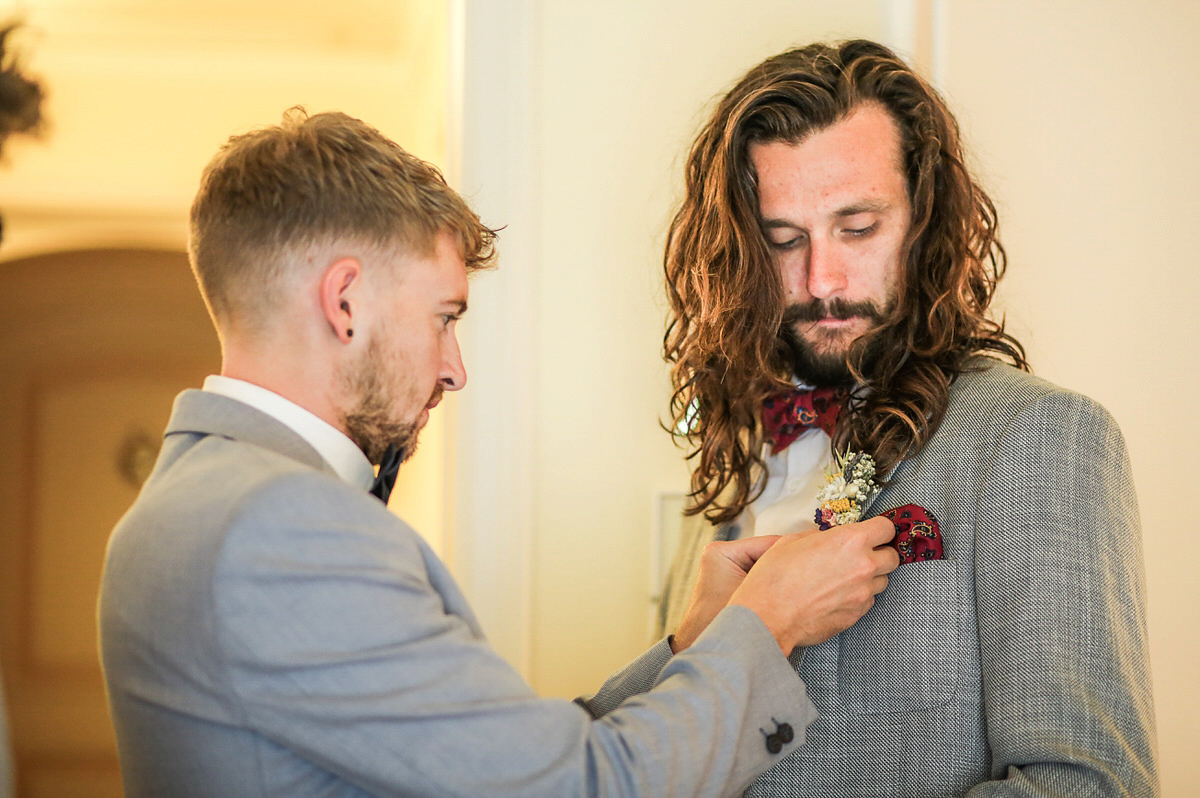 The pretty bouquets of flowers were by 'English Flower Market' on Etsy and the couple's rings were via The Great Frog.
Adding sky-high Charlotte Olympia heels, a whispy veil, Jo Malone perfume, and an exquisite, delicate hairpiece by Poirier from Si Bridal & Co (with her pretty upstyle by The Blackdoor Hairdressing), Victoria is the epitome of elegance.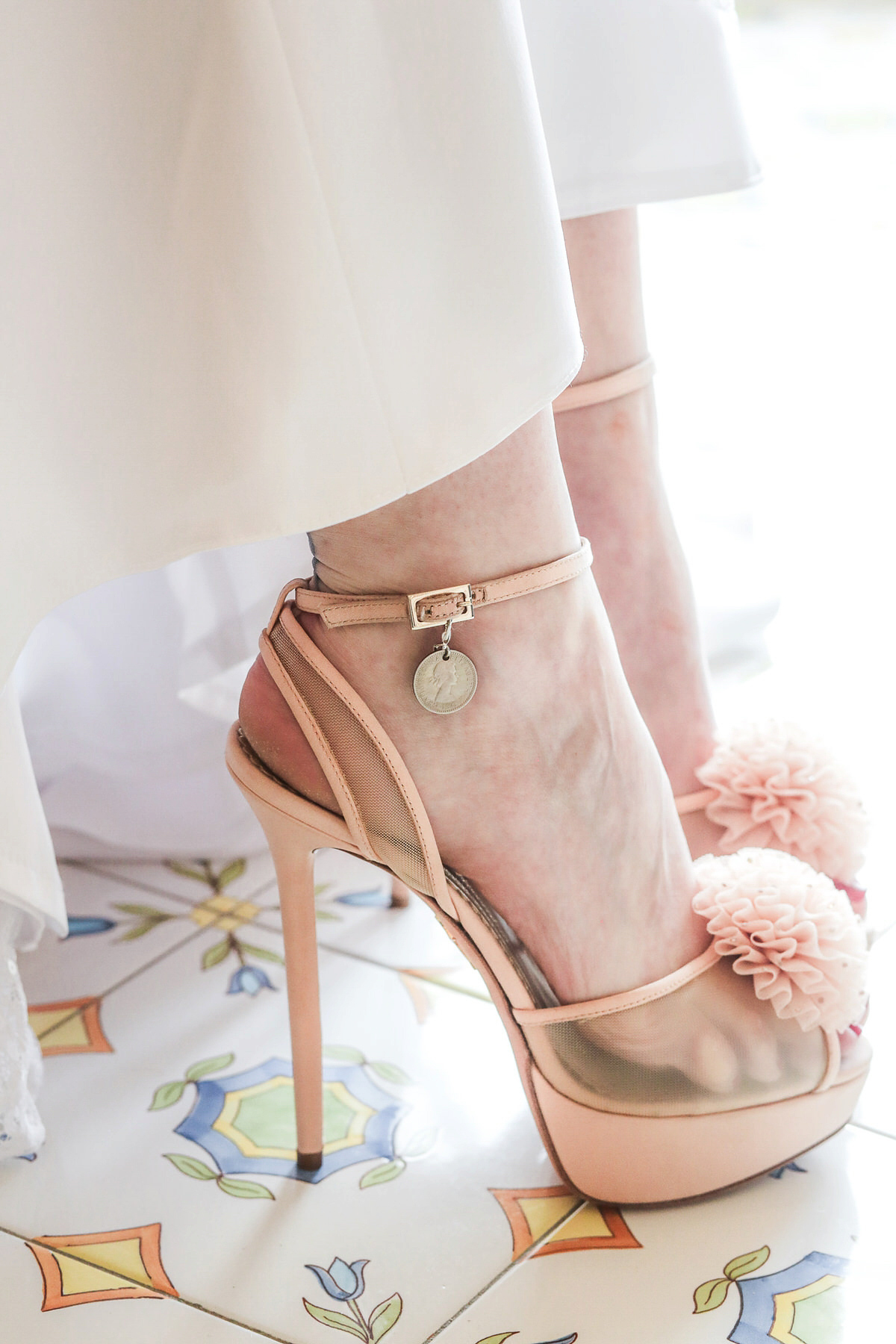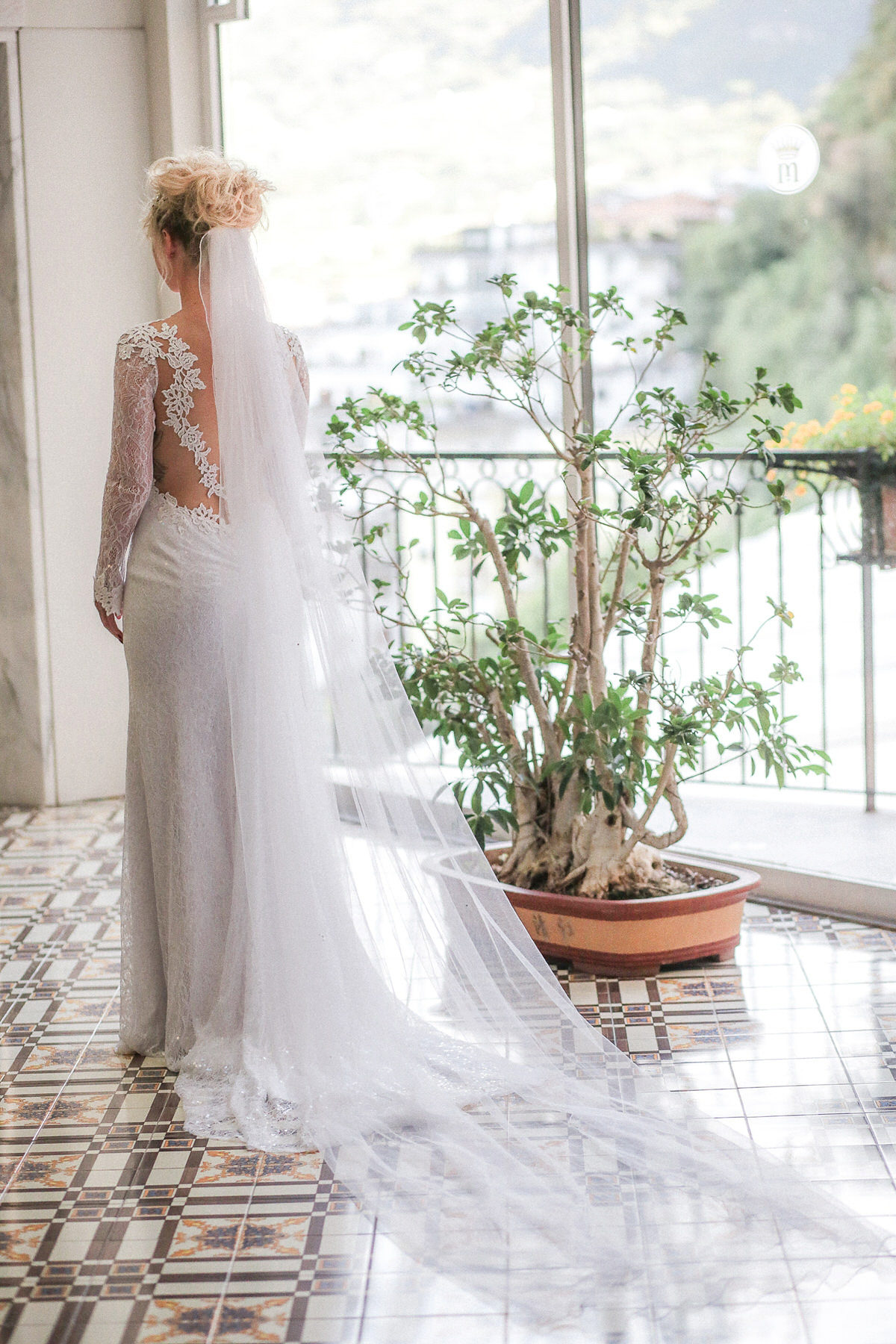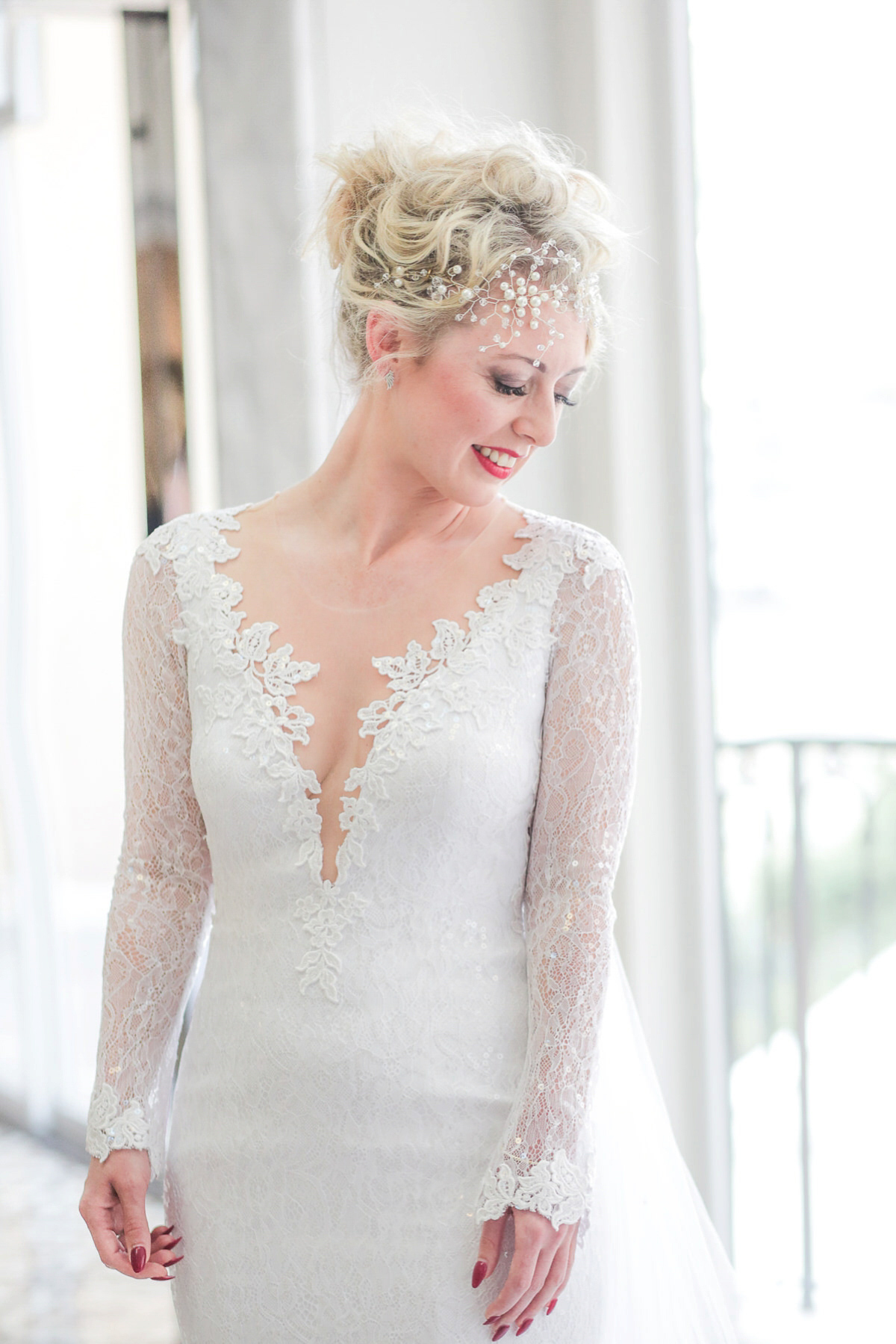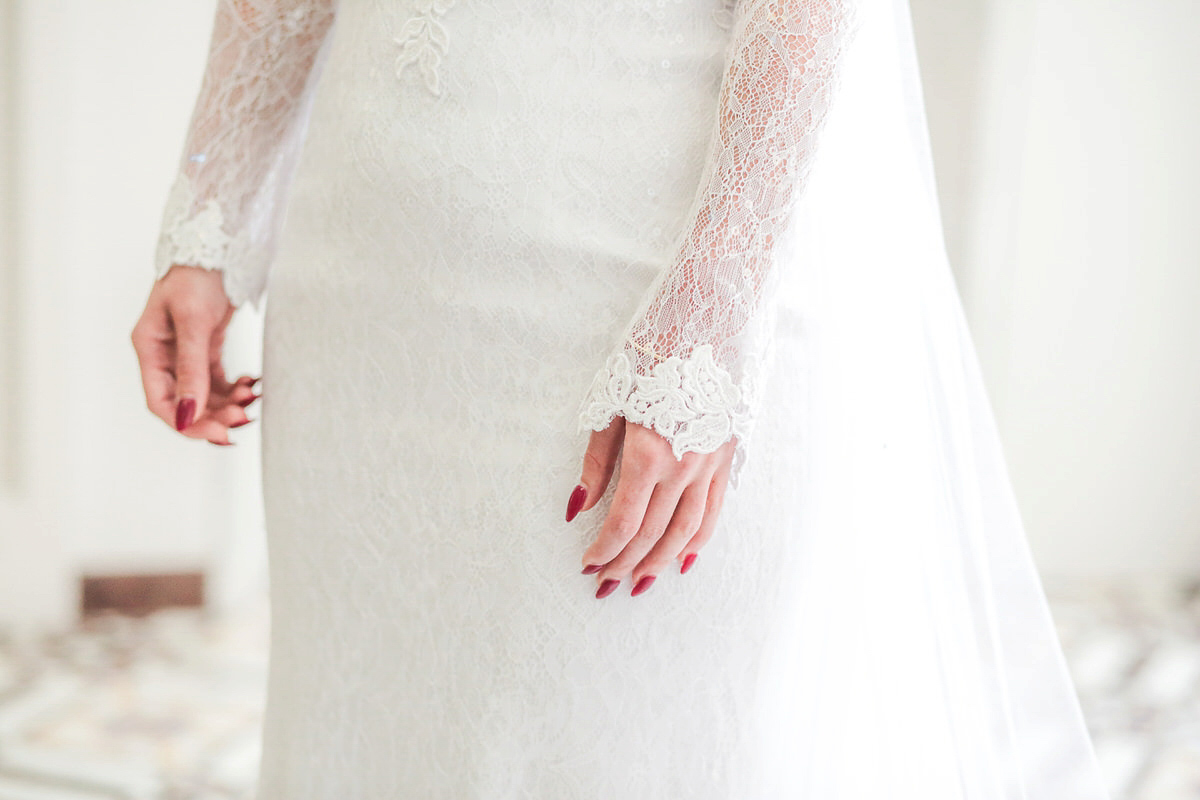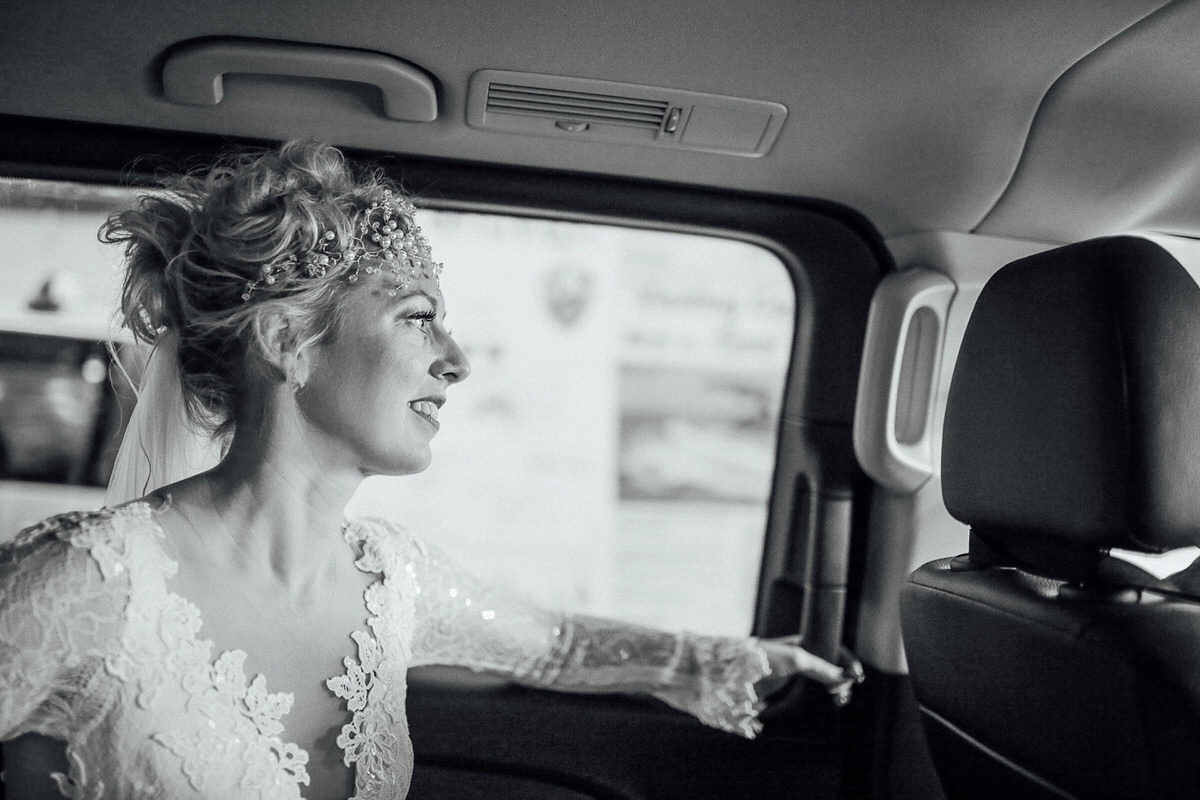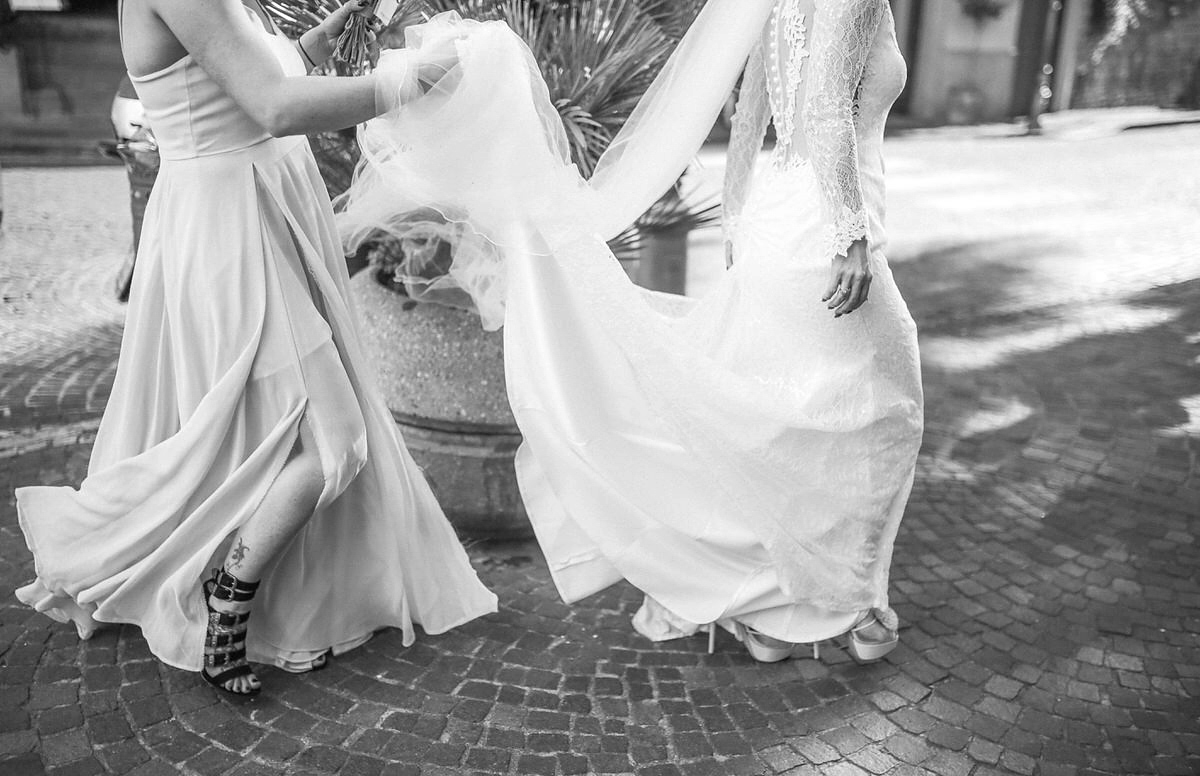 Ben wore a stylish ensemble, all via Woven, including a Bertoni suit, a white short-sleeve shirt, funky bow-tie and pocket square. His best man and groomsmen chose suits from Peter Werth. What a handsome bunch!
"When it came to the planning of our wedding we talked about the things that were important to us first. One of them for me was my Dad and Grandad (mum's dad) both walking me down the aisle. They are two of the most important men in my life and I'd be lost without them, so it only felt right to have them both by my side."
"We met through friends at a Halloween party in a bar on the 29th October 2011. I was dressed up in a gothic circus-themed outfit and my friends and I were some of the very few that had maybe taken the fancy dress option a bit too far. So I was well on my way to finishing a full bottle of wine to take the edge off what I was wearing when I saw Ben!"
"At this point the alcohol had kicked in and I had no problem with going over and introducing myself. The next morning I woke up with a bad head and flashbacks of kissing the boy I'd just met in the middle of the dance floor cringing and thinking I'm never drinking again."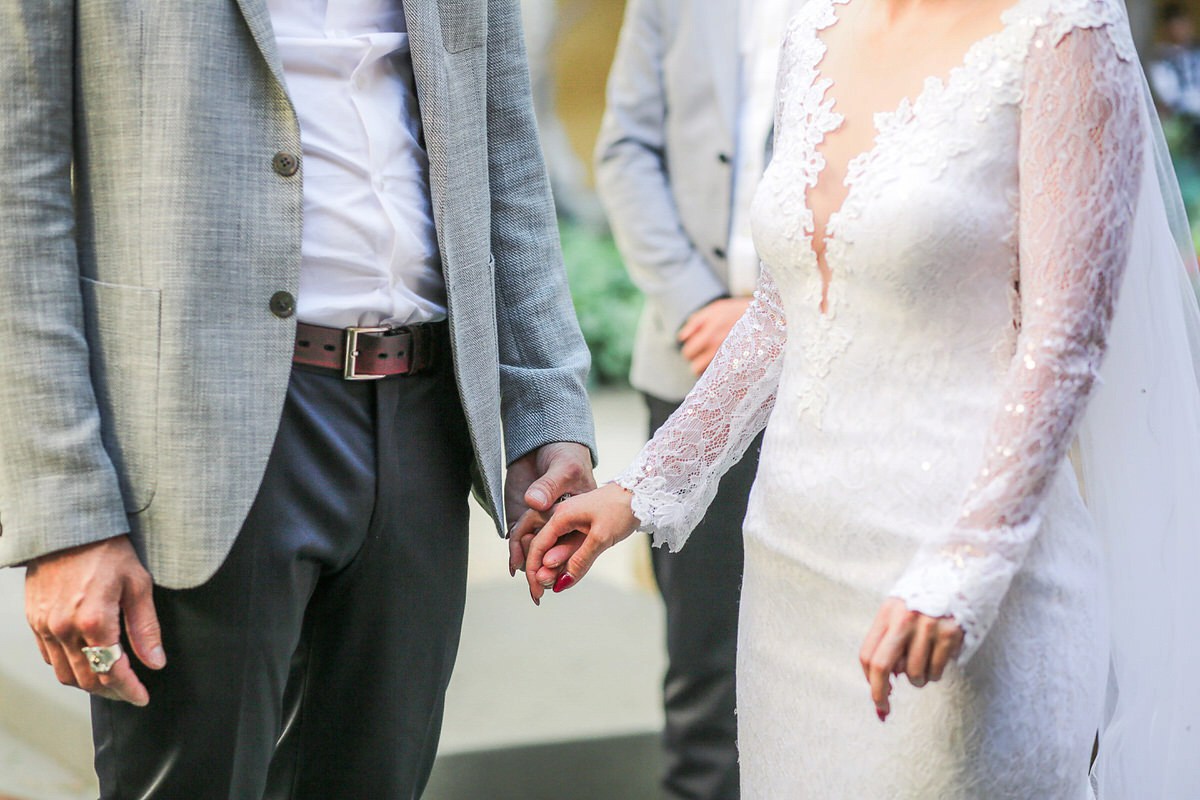 "One week later I got a message from a strange number – it was the boy from the dance floor and he was asking me on a date! I thought I might as well show him that I can dress normally, so we arranged a first date and the rest was history."
"We had decided to treat ourselves to a night away after the New Year at The Crab and Lobster. Ben proposed while we were walking round the gardens. I was in shock as I had no idea he had this planned, but there was no doubt in my mind my answer was yes!"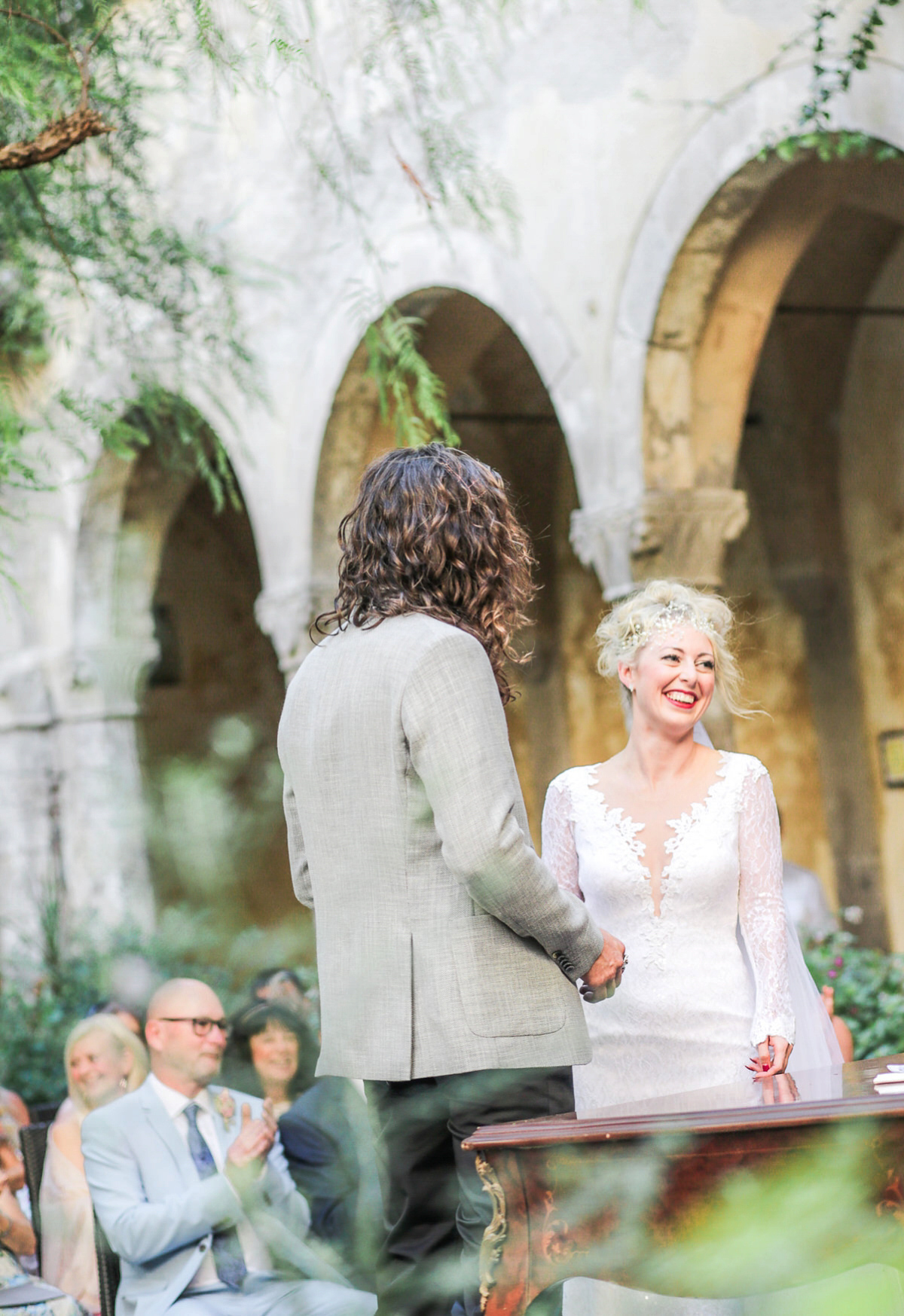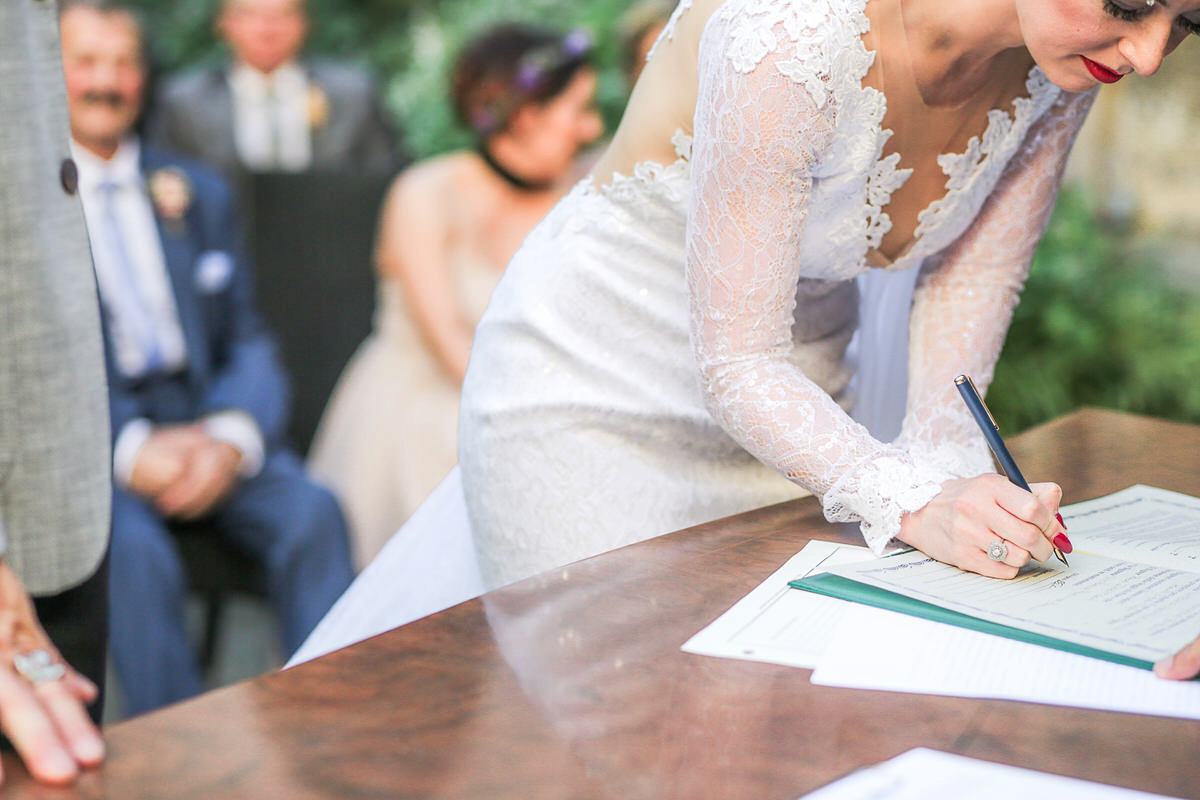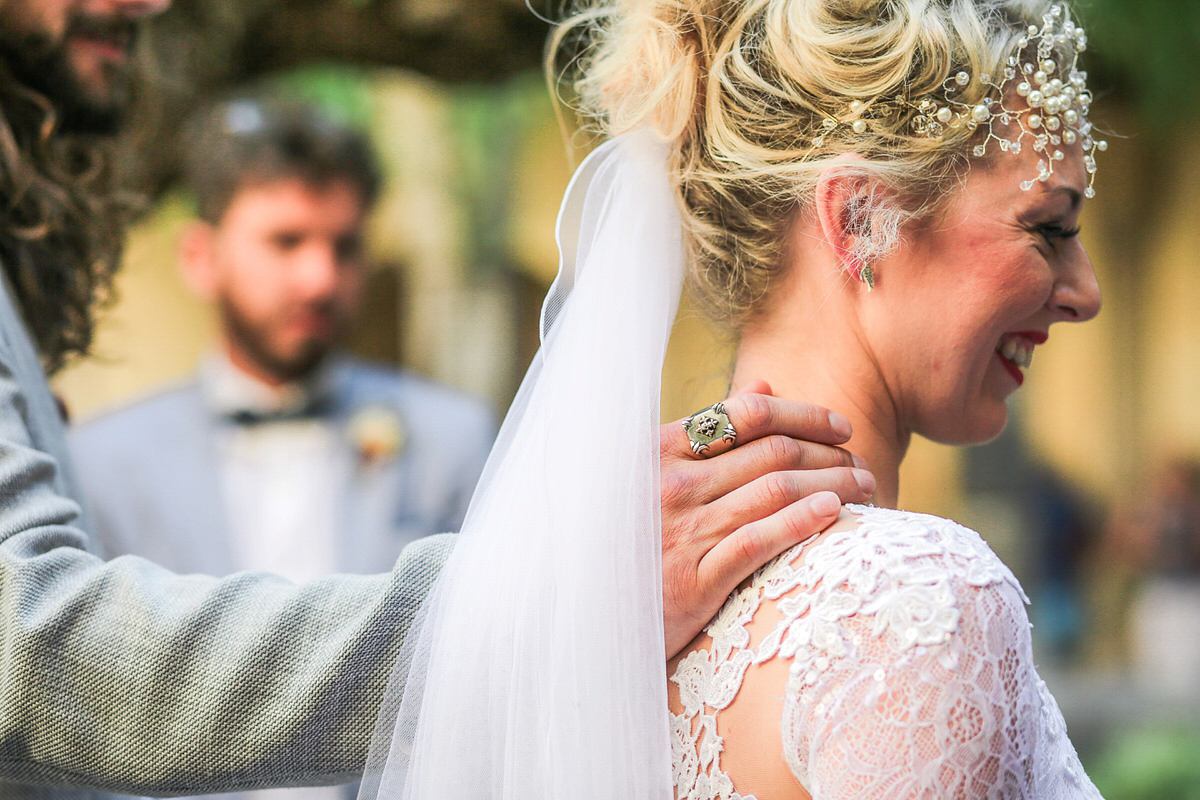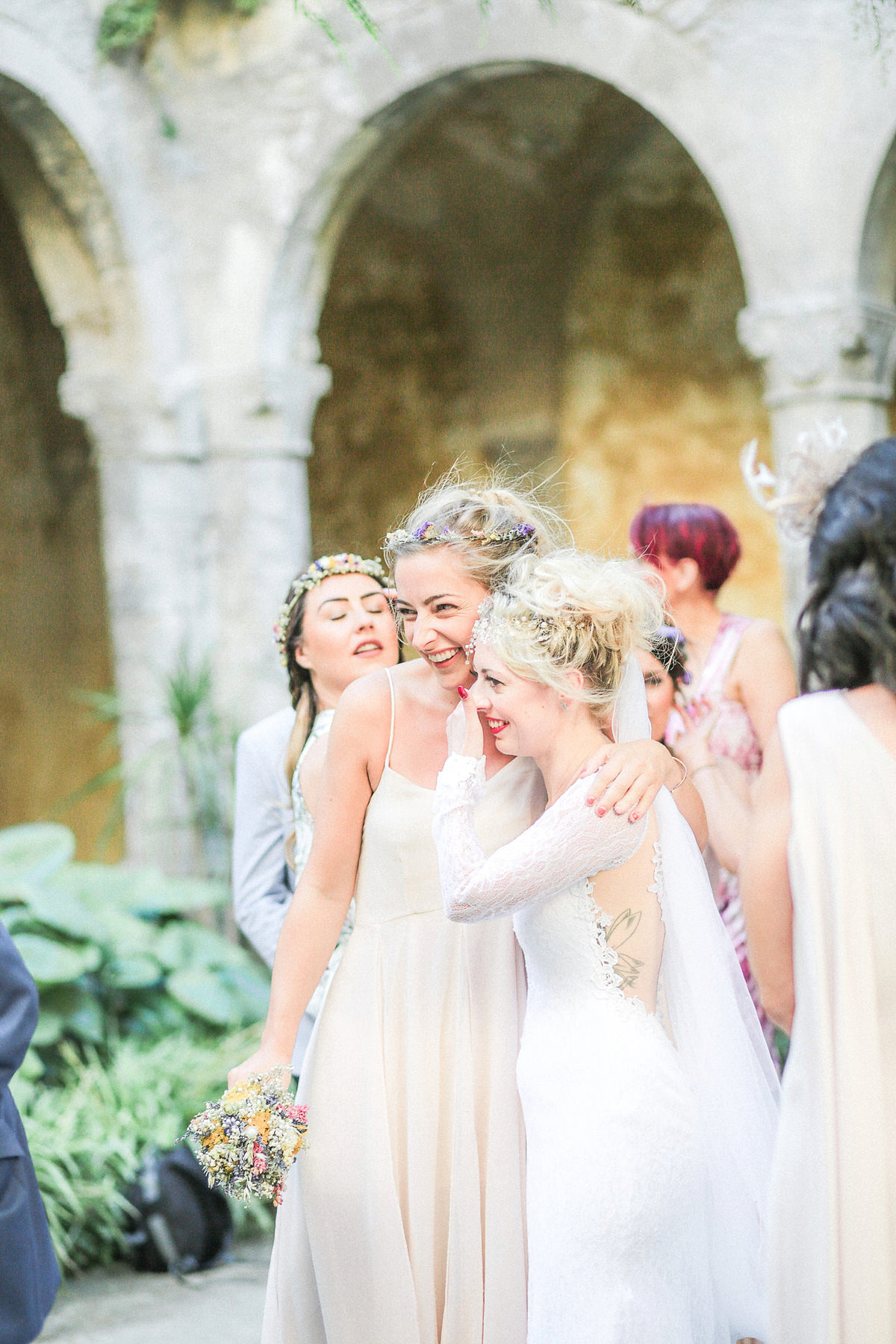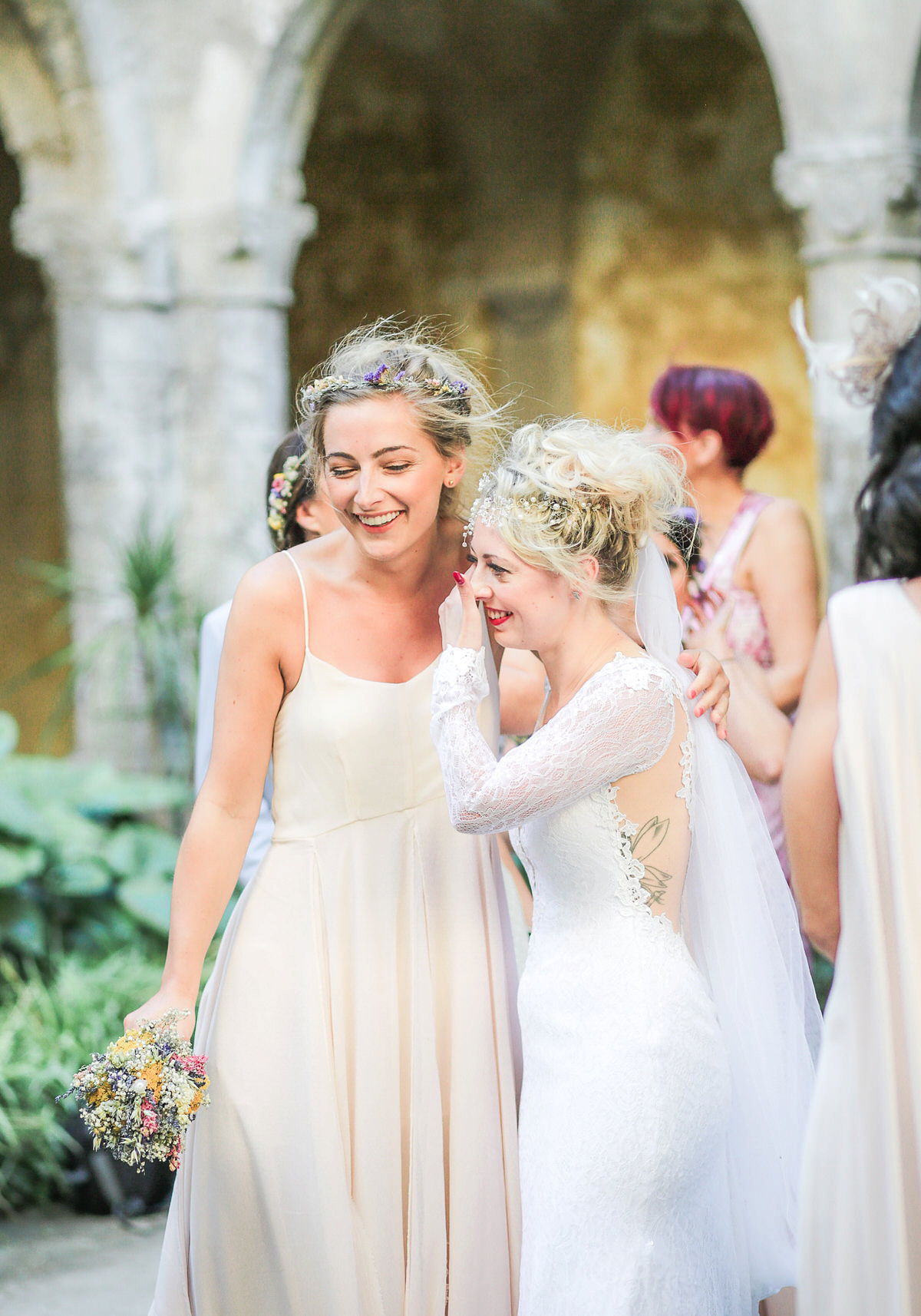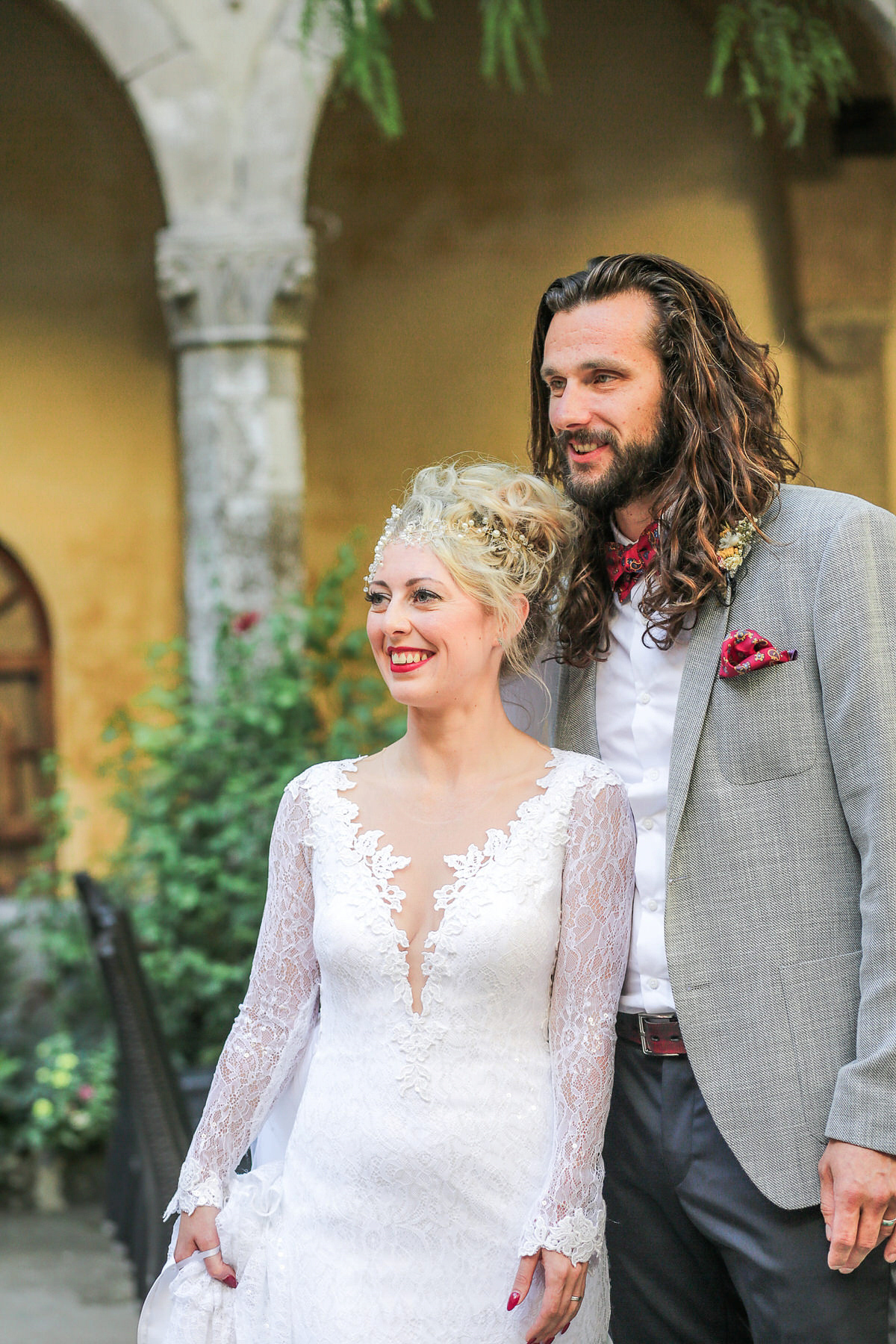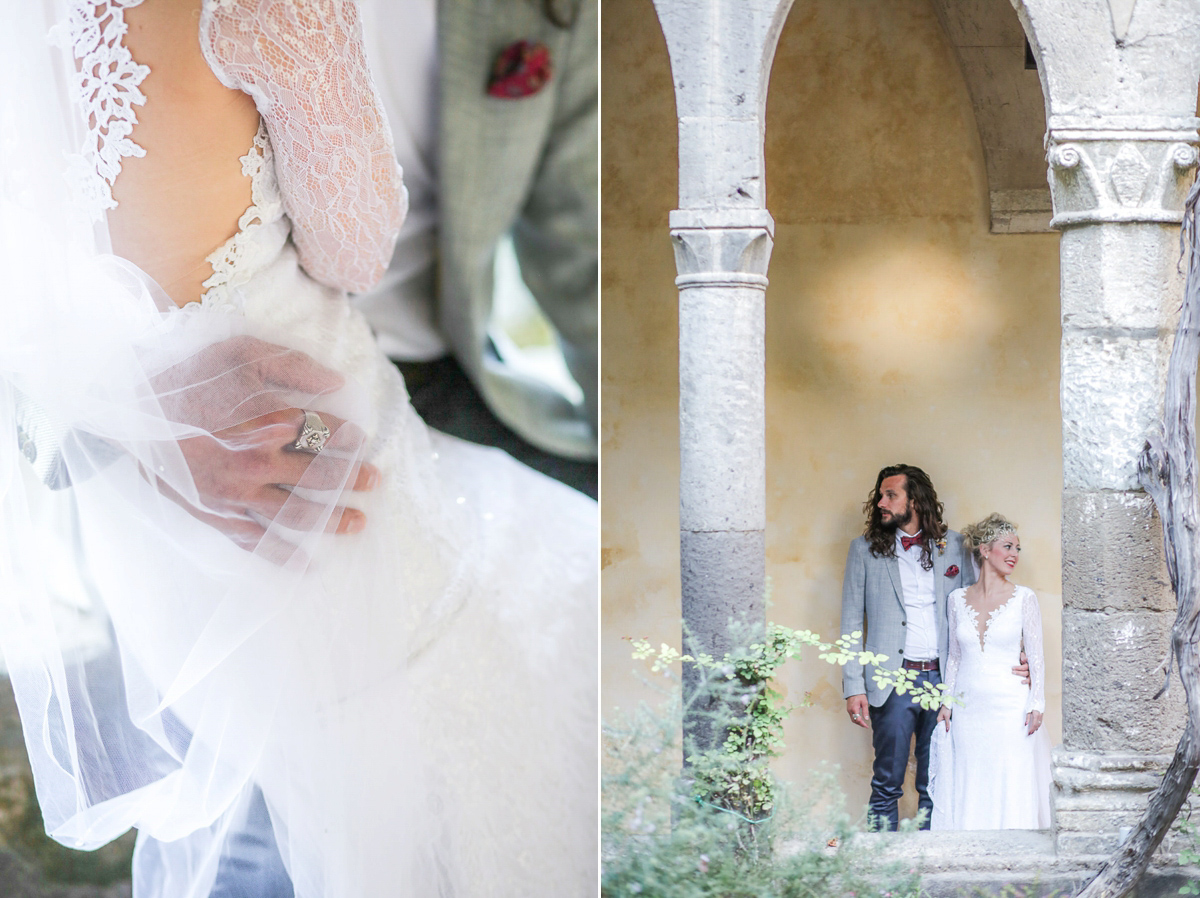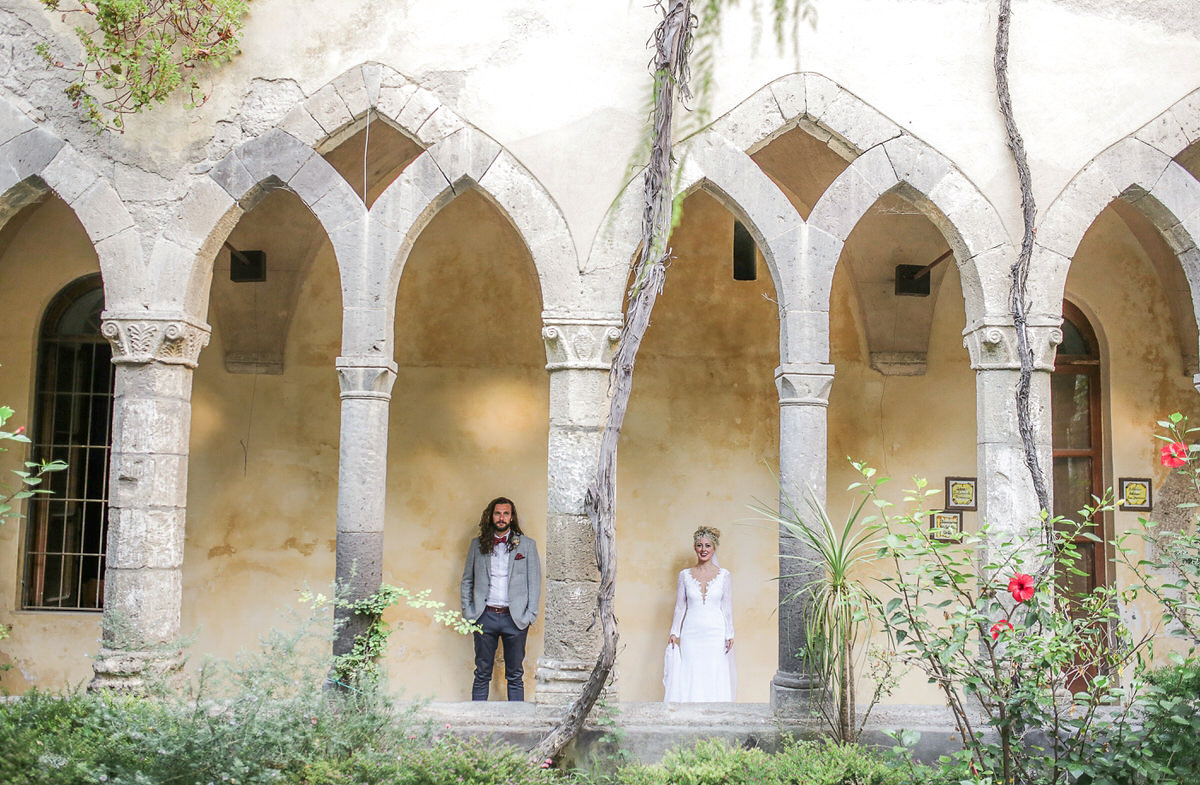 The bridesmaid's donned long, floaty gowns by Religion and sprigs of flowers from Etsy for their hair. For the second celebration in the UK, they added leather jackets for the beach shots and I adore these images of the girls frolicking together with the bride. Victoria explains a moment that tugged on the heart strings and changed plans for one of her bridesmaids.
"When we made the decision to have the wedding in Italy we knew it would come with its risks, such as people not being able to make it. One of my best friends of 15 years and a bridesmaid fell pregnant – we were over the moon for her amazing news! The only sad thing was that the doctor had said she couldn't fly, so she couldn't make the wedding in Italy. We FaceTimed the morning of the wedding and it was very emotional, but we were both looking forward to catching up when we returned and organising the wedding party back home. I had already spoken with my photographer Helen and she was going to get some photos on the beach with all my girls reunited."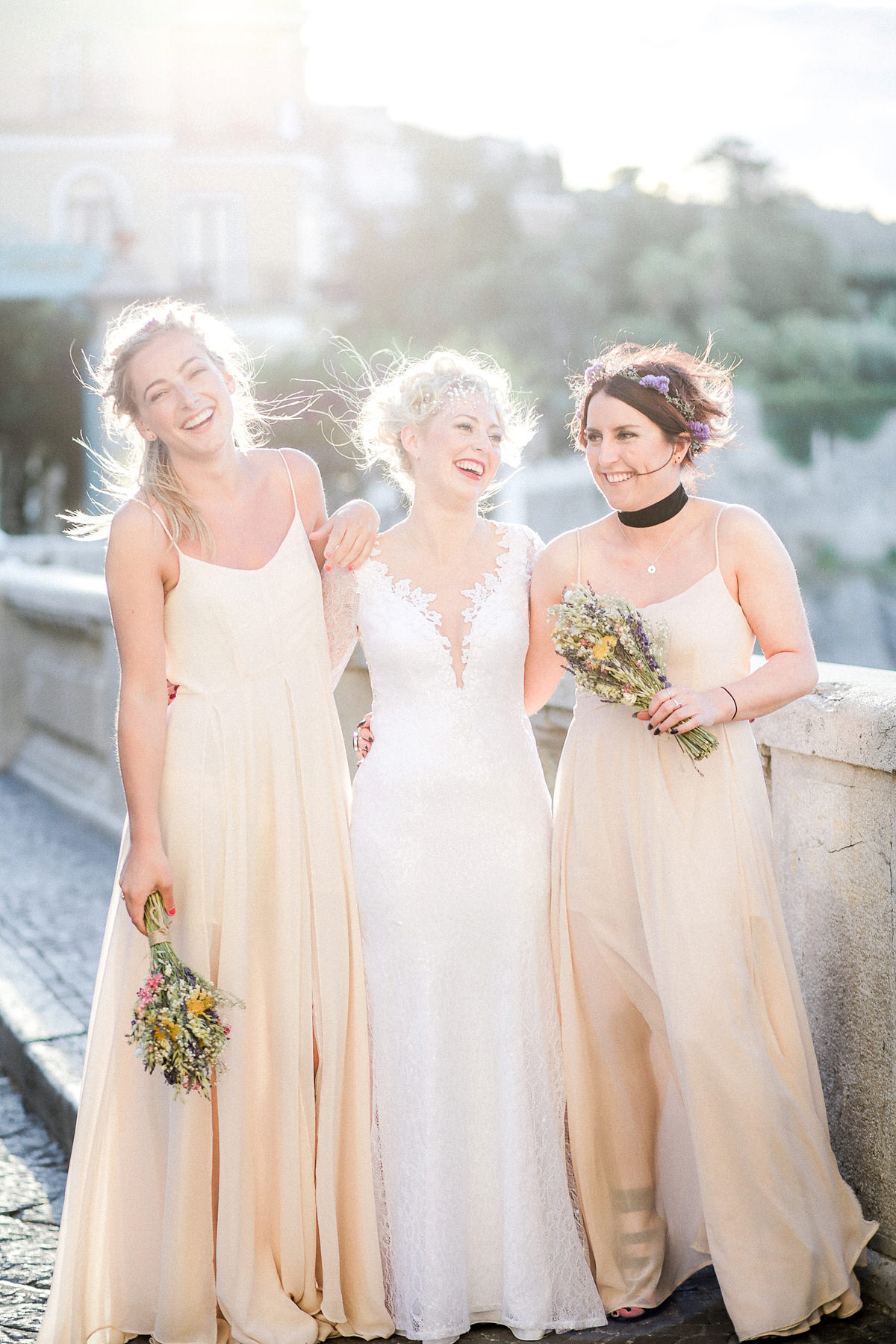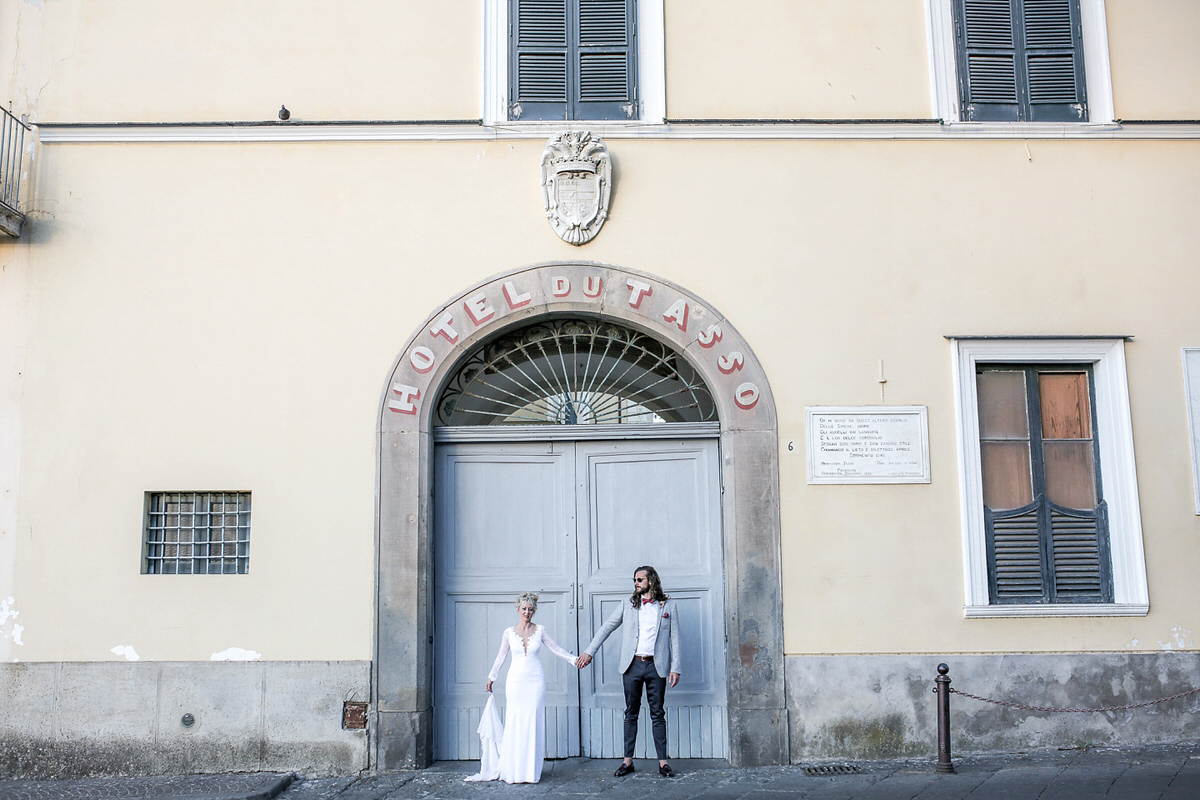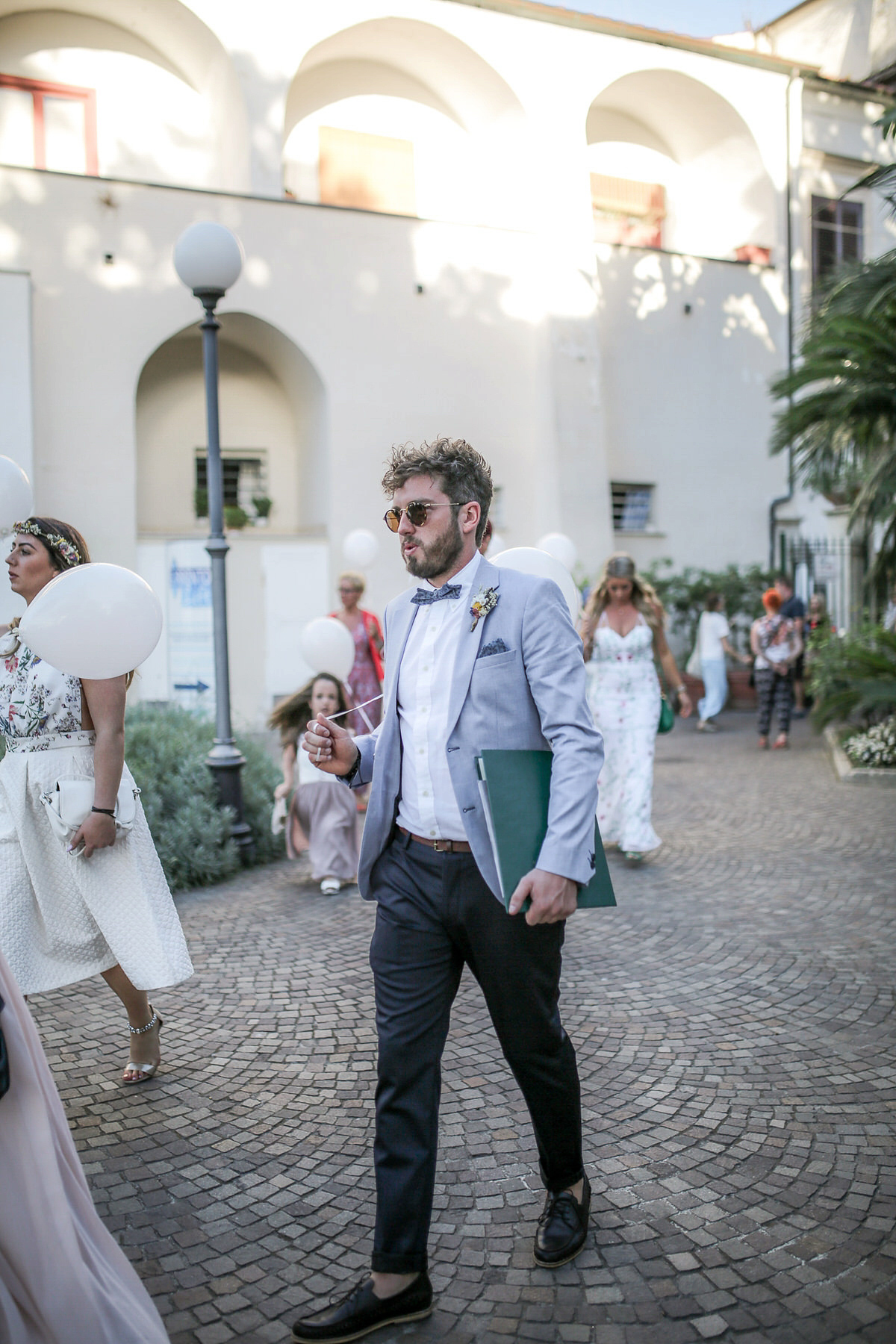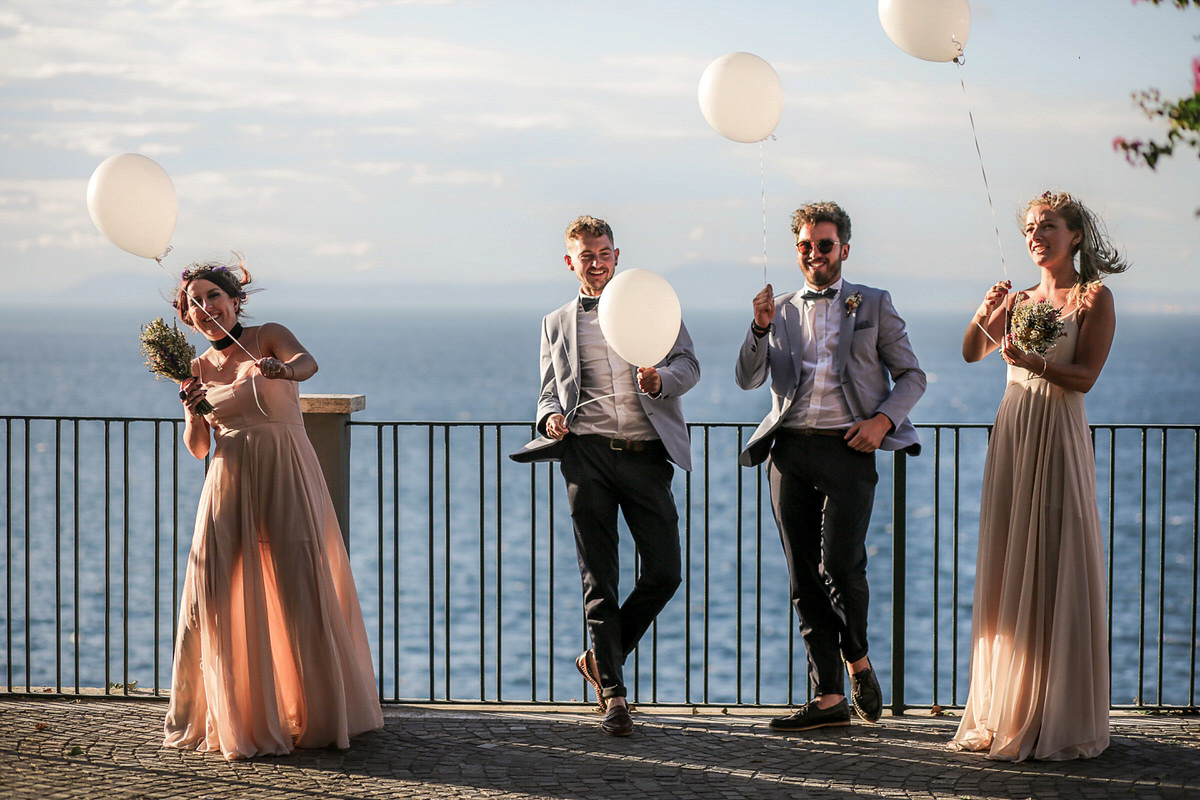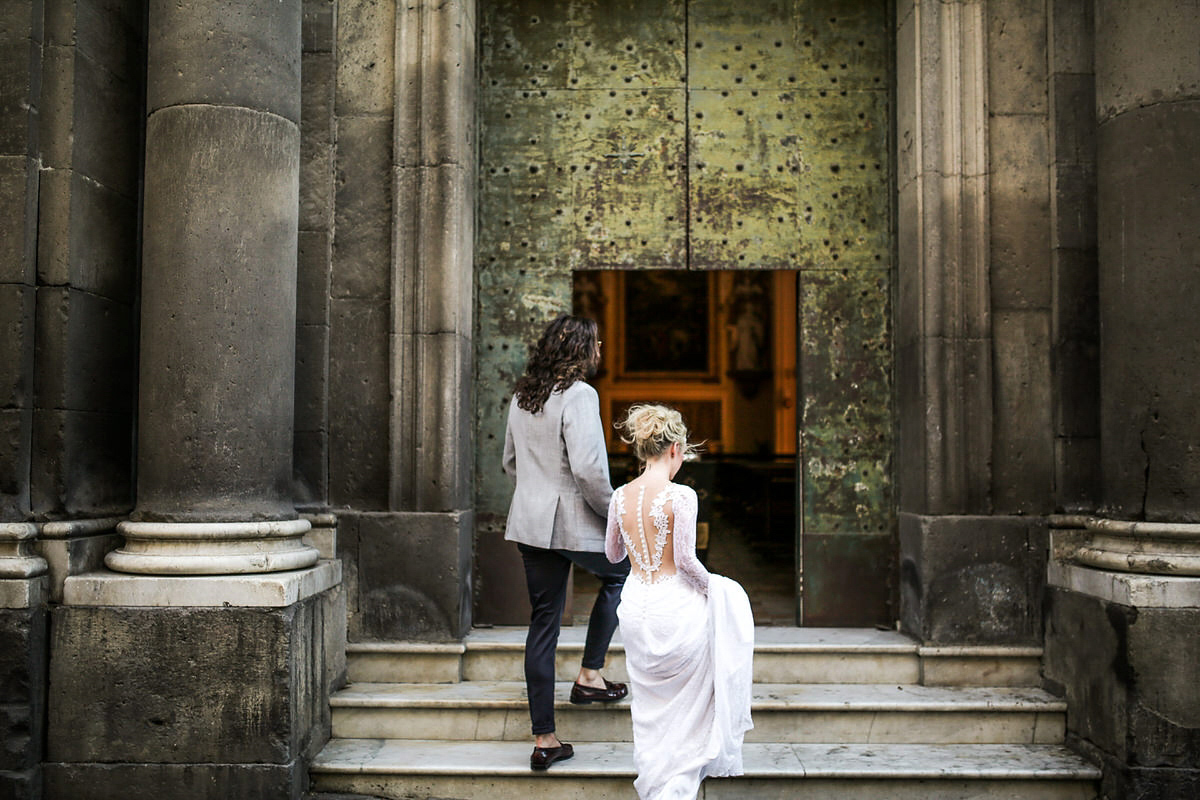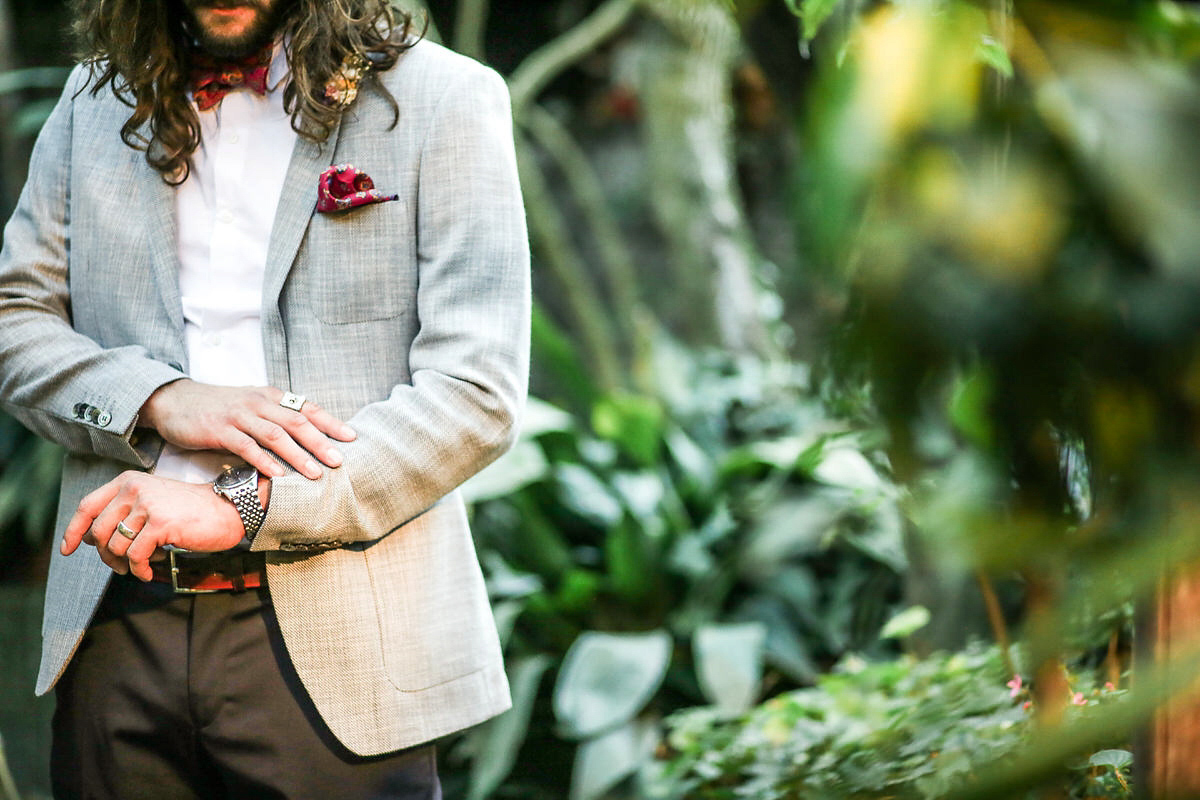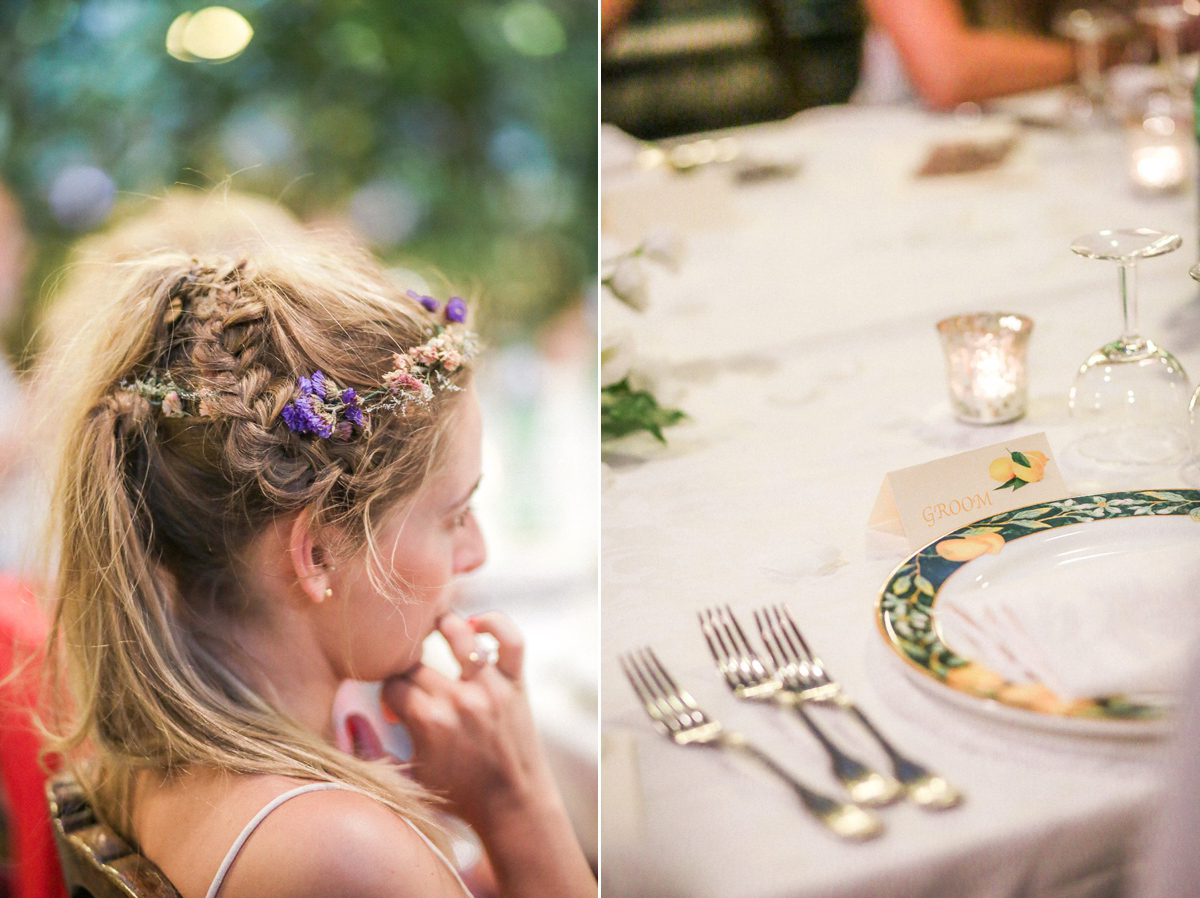 The couple sang the praises of their photographer Helen Russell Photography and videographer Shoot Me Now Films.
"Our day wouldn't have been the same without Helen and Dan. I think it is one of the most important things to have the right photographer and videographer capture your day, as this is your memory bank forever!"
"I would also advise for brides not to be put off looking at taking them away with you. Our budget for the wedding stayed the same; we just prioritised where the money went and it was the best decision we made on the right two people. They made our day easy and all of our friends and family would also recommend them."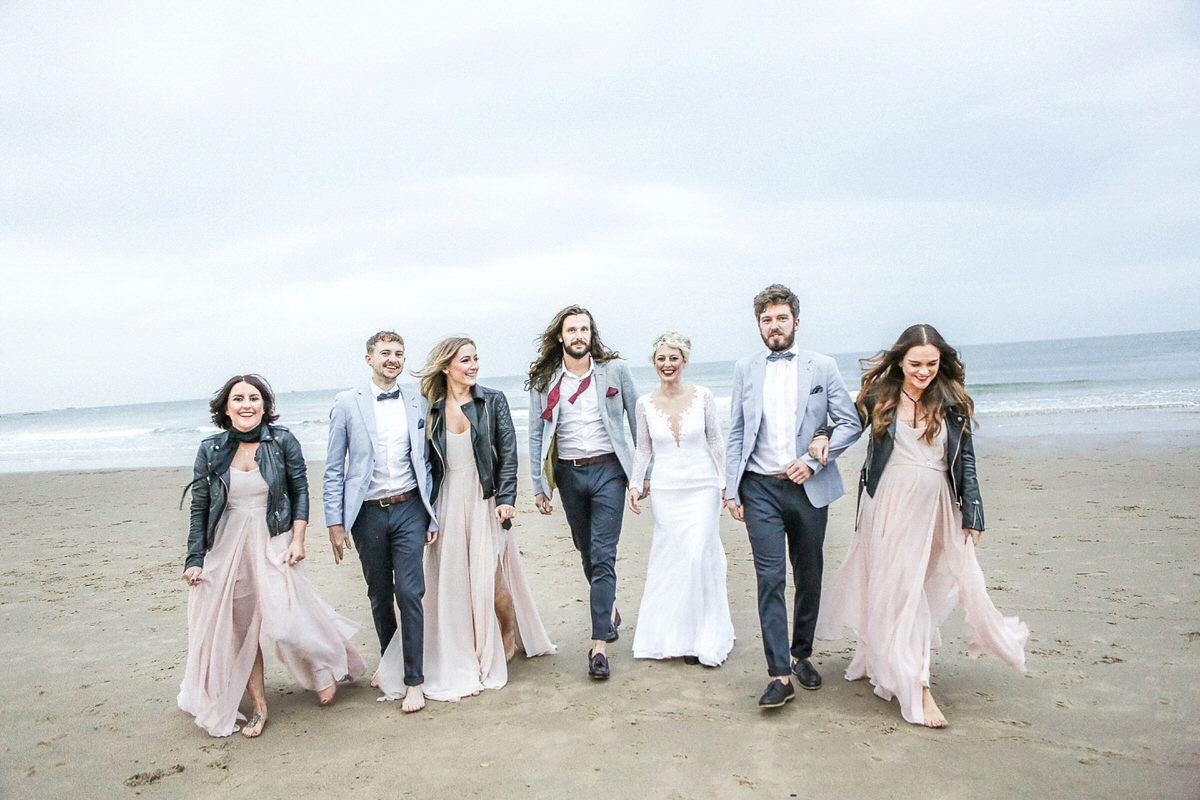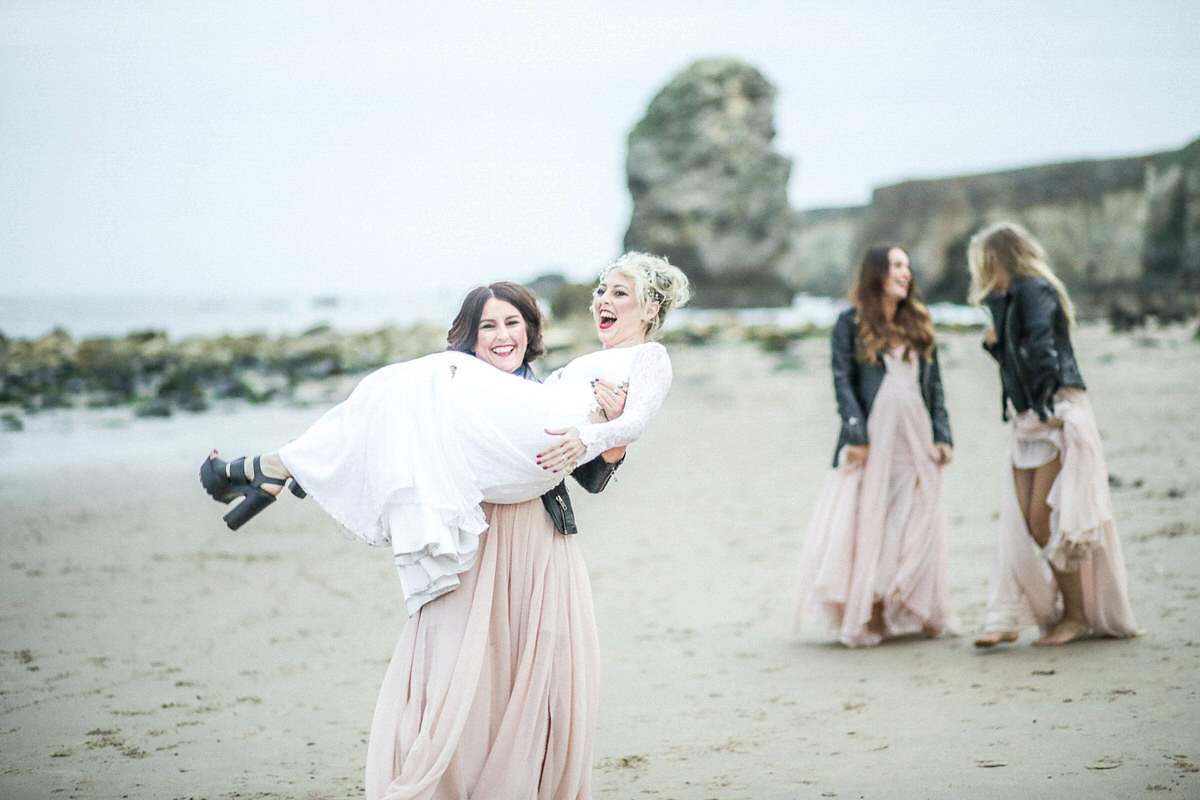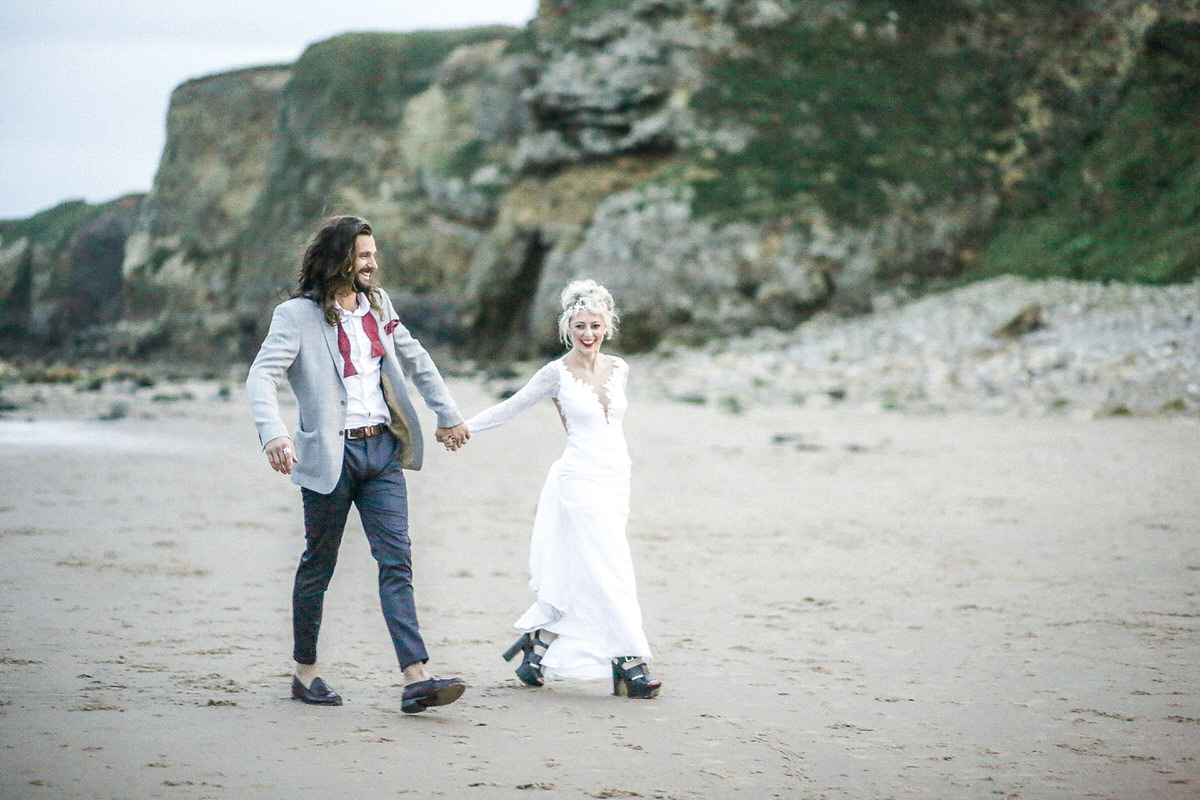 The newlyweds celebrated with their guests in Sorrento at O'Parrucchiano; a beautiful tree-filled restaurant and at The Grotto by the beach for their UK party. The tasty cake and utterly tempting dessert table for their party was from Sara's Kitchen – do you want to dive right in like I do?!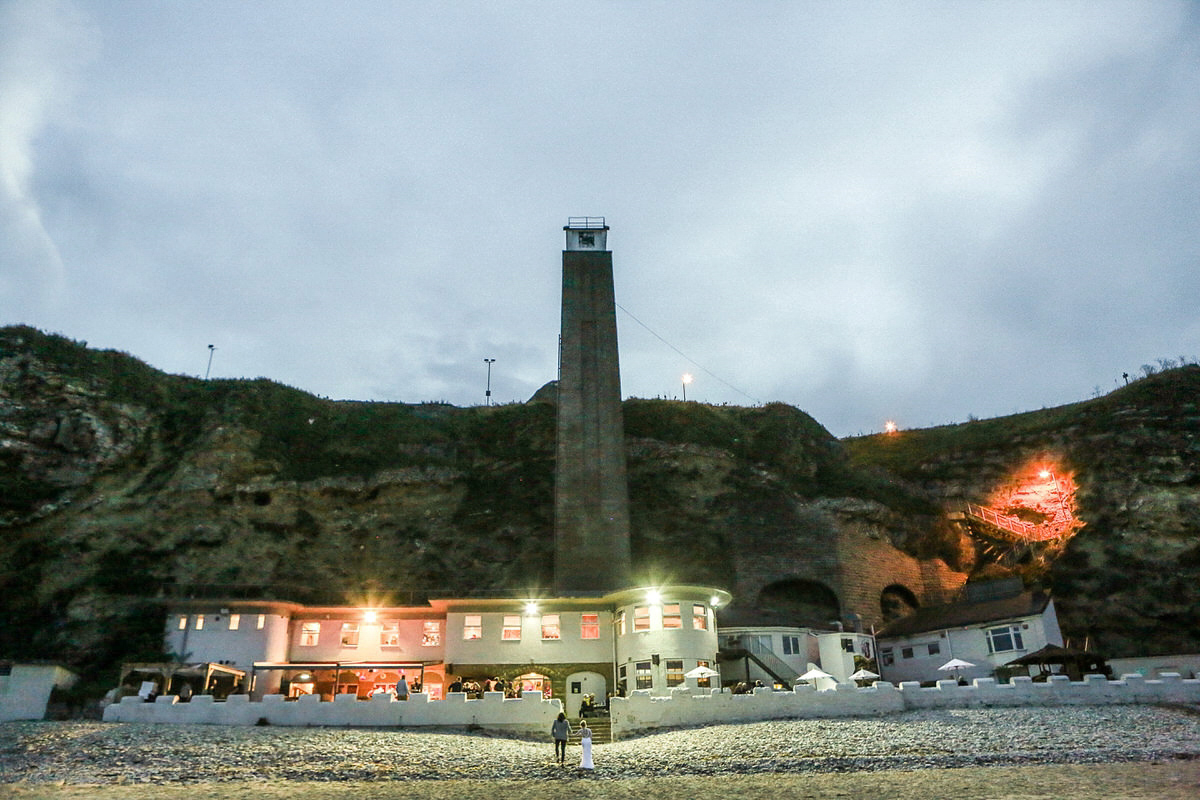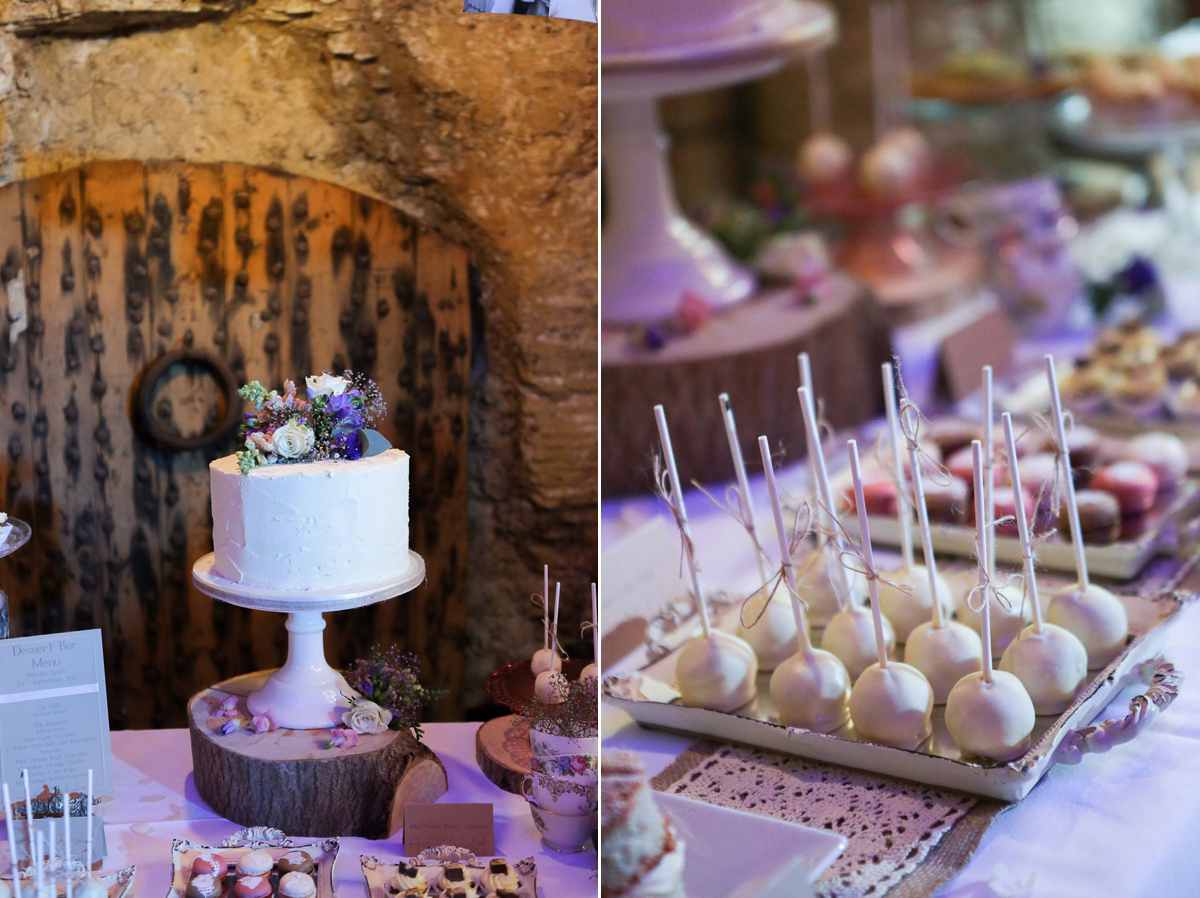 "The whole day was just so relaxed and magical. Saying our vows under the most romantic backdrop in front of our nearest and dearest was amazing."
Words of Wedded Wisdom
"Stay true to yourself and go with what you like and feel comfortable with, rather than what you should do at a wedding. Our day was very chilled and relaxed which is what we wanted."
I hope you've enjoyed Victoria and Ben's delightful day as much as I've loved sharing it with you. Thank you so much to Helen for capturing these luscious and light-filled images and all of the emotions.
And be sure to check out these other gorgeous destination weddings in Italy for even more inspo.
Love Jo -xo-