Today I'm delighted to be sharing the wedding story of a bride who found lots of planning inspiration on our pages, and invaluable support and community in our closed Facebook group.
This is the wedding of Jo, a teacher, and Andy, who is a floor fitter. They celebrated their marriage on the 9 August at The Normans, Bilbrough, York. The Normans is a former working farm built in the eighteenth century, transformed into a beautiful, creative and versatile event space.
"We knew we wanted a laid back yet atmospheric venue, somewhere cool and contemporary, yet rustic and welcoming – was such a mix possible? Yes! As soon as we stepped through the gates, we knew The Normans was perfect for us. It is such a cool venue and felt incredibly special." 
Film by Tregoning Weddings
"Being the shy and retiring type, Andy was adamant he didn't want a video, however I talked him round as I felt it would be a lovely memento, and we compromised by having a wedding highlights video. I came across a local videographer, Andrew Tregoning, whose style I loved and, after a Skype call, we went for it. It was one of our best decisions, as Andrew was totally brilliant. He just got us and our style."
"Throughout the day, he worked like a Trojan, yet was so chilled, which really put us at ease in front of the camera. In fact, he was so subtle that we totally forgot he was there – no offence, Andrew! When we received our video, again the tears came. It is simply amazing! Andrew captured everything we want to remember and more in just 10 minutes of footage. The music, the style, the editing is just perfect. What's more, Andrew is the loveliest guy, and just having him around brought so much to our day."
Images by Shutter Go Click Photography

We've featured a whole host of celebrations on our pages, which have been captured by Shutter Go Click Photography, and today we're adding to that with this beautifully atmospheric images.
"I actually don't know where to start with Ryan. He is possibly the most tremendous creative talent and wonderful human ever. Whilst on the photographer search, I Googled 'Cool wedding photography' and he popped up with his achingly beautiful/cool/creative images, and I was hooked! We met for a coffee and we hired him on the spot, didn't even think about shopping around, and it was the best decision we made."Jo's hair was styled into a romantic, loose bun with face-framing waves by Kelly Hanks Hair Design, with beautiful, cruelty free make-up from Amy George.
"These girls are not only super talented, but they are the most all-round lovely humans ever, and having them there on the morning was an absolute joy! I honestly could not believe how much magic they worked, and how special they made me feel. They were also so approachable with any request I had."

On her feet, Jo wore a pair of gold shoes by Rachel Simpson (the 'Ginger' design), kindly bought for her by her sister-in-law at a wedding fair they attended together.
"I wore a gold back drop necklace by E&E Project purchased through Etsy, my earrings were Love Like Lightning from The Boho Boutique, and I wore a selection of rings – stacking rings from Nikki Stark, and also midi rings from Topshop. My bag was the gold lips clutch by Lulu Guinness."

Jo headed to the fantastic Fruit Market area of Hull – the city's cultural centre – to boutique Ghost Orchid Bride. There she chose the sharp, clean lines of a high-low Alexandra Grecco dress, complete with pockets and a beautiful train.
"I've always been a bit of a tomboy at heart, so didn't want anything too fussy. I had 3 rules when dress shopping: 1. It had to allow me to eat. 2. It had to allow me to dance, and 3. It had to allow me to go to the loo by myself! I tried on a few floor length, lace dresses but, being 5'1'', those styles seemed to drown me and I felt too fussy in them."

"As soon as I put on this dress, I had 'the moment'. It felt exactly as I wanted it to – I felt like a bride, yet still me. I loved the high-low detail so my shoes would be visible, the v-back, which I really wanted, the fact it had a train, and how beautifully the material moved. Plus, it had pockets! I felt it needed a little something around the middle, so I accessorised it with a gold metal belt from ASOS."
"Every appointment with Katey, who owns the Ghost Ordchid Bride, was an absolute joy. She is incredibly warm, accommodating and really knows her stuff when it comes to cool wedding dresses and style."

To transport them from their hotel in York over to The Normans, Jo hired a gorgeous VW Beetle convertible for herself and her dad, and a classic VW Campervan for her bridesmaids, bridesmen and flowergirls, from All Love' Dub.
"Scott, who owns the company was brilliant – from our initial telephone conversation, I knew immediately he was someone I just had to hire. He could not be any more friendly or helpful, and his dad proved this was a family trait as he helped lift our old arthritic dog in and out of the camper – definitely above and beyond! Scott's vehicles are just stunning, and travelling in them felt incredibly special. Although we weren't using them after the ceremony, Scott waited around so we could have photographs with them, what a legend!"

Jo and Andy have been together for 15 years, first meeting in 2003 through a mutual friend, and instantly clicked.
"You might say the phrase 'opposites attract' totally applies to us as we are so different (I could talk for England and Andy is a man of few words!). Andy actually asked my mum and dad for their blessing to marry me whilst on a family holiday to Cornwall in 2012 – it only then took him 4 years to actually propose – he's a slow burner!"
"It kind of became a running joke amongst our friends; they would often tease him about 'pulling his finger out', and any time we were going away, someone would inevitably say that he was going to propose but I knew, if he was going to do it, it would be in his own time and in his own way. That's just Andy, and a huge reason why I love him. In 2016 he finally decided the time was right and, after orchestrating a plan where I would pick him up in the car, he produced a present for me, which turned out to be a book about all the things he loves about us."

"I reached the middle page, handwritten by him, to find a beautifully worded piece about me, which led onto to a proposal. When I looked up, he was holding a toy ring out. Already in tears, I was for once, speechless, and he had to prompt my answer. He then told me that the toy ring of course was temporary as he wouldn't dare choose a ring for me. It was an understated, emotional proposal, perfect in its simplicity, and very Andy."
Jo's engagement ring was from Nikki Stark Jewellery – a beautiful baguette set smoky quartz. To complement this, Jo chose a hammered gold wedding band from Firewhite Jewellery.
"Andy doesn't generally wear any jewellery ,and can't for work, therefore wanted something simple and easy to wear – he opted for a brushed silver band. We liked the idea of buying from independent suppliers."

Jo chose her elegant veil from Little Book member Blossom and Bluebird, following multiple recommendations on the Love My Dress Facebook group. It's also how I found my way to the lovely Sian for my wedding veil, too!
"Sian was lovely and incredibly helpful. It was always hit and miss as to whether I wanted a veil, so I went for a delicate, plain one, and I'm so glad I did."

Providing expert canine support was Jo and Andy's brilliant boy, Archibald, who looked impeccable in a grey bow tie from Moaning Minnie, and a marble and copper collar and lead from Poppy & Ted.
"I decided to stick with grey for my gorgeous flowergirl nieces, but rather than a dress, I wanted a tulle skirt and white leotard. I had the skirts made by a talented local designer Klue Doll, who was fantastic. She worked with my ideas and advised me on materials etc., then produced two beautiful skirts, the tone of which worked perfectly with the other bridesmaids."

Ghost Orchid Bride owner Katey introduced Jo to the brilliant bridesmaid label Rewritten, and her bridesmaids chose a variety of their different designs in a soft and delicate oyster colour. They wore their dresses with metallic shoes, On Foundations hair combs, and silver necklaces, which Jo bought them from Oliver Bonas.
"They are incredibly cool and beautifully made so that they fall perfectly, and with different styles, it meant each girl could choose the one they felt suited them. We had a colour change though: in my head, I had always wanted grey but the oyster shade just looked so stunning against the metallic, and it seemed to complement my dress better too, so we went with it. I also had two bridesmen – they chose their own grey suits."

Before (and during) the ceremony, guests were entertained with live music from Michael Mulholland, who learned Finlay Quaye's Your Love Gets Sweeter specially for Jo to walk down the aisle to with her dad.
"We'd had a lovely journey to the venue together, and as soon as I took dad's arm as we were about to go in, my emotions hit me. I heard one guest say as we were walking down the aisle, 'She's crying already, I knew it!' We're a very close family, but I didn't think my dad would be that emotional, however, as we reached the end of the aisle, he burst into tears! I'll never forget that moment and our photographer captured it beautifully."

As a literature lover, the wedding readings were an important aspect of the ceremony for Jo, and the first reading chosen was How Falling in Love is Like Owning a Dog, by Taylor Mali.
"Seeing as our dog played a huge part in our service, the words were perfect. The analogy is so clever and it has just the right mix of humour and emotion. One of my bridesmen, Rob, read it and had everyone in tears."

The second reading was a beautiful poem by Erin Hanson, called Winter Wonders, which was read wonderfully by a friend's daughter.
Andy initially struggled to find a light grey suit, but then landed on the perfect choice at Burton, which he then had fitted by a tailor in Leeds (no further details about this). He paired his suit with a white shirt, shoes from Office, and a floral bow tie from Etsy-based Dapper Jack.

I love Jo's striking bouquet of eucalyptus, ferns, succulents and other lovely greenery alongside fresh, white blooms – made for her by Tracey from Campbell's.
"I wanted lots of foliage and white, keeping it simple and clean. I love succulents, air plants and eucalyptus so wanted to incorporate those into the arrangements and the amazing Tracey was fantastic in bringing my vision to life. She is just lovely inside and out, too, so warm and friendly and she clearly has such a passion for what she does."

Post-ceremony drinks were enjoyed in the venue's courtyard, with more live, acoustic music from Michael Mulholland, too.
"Michael has such a cool, distinctive voice and his set list is massive; he also shared the mic with me for an impromptu song for Andy! Everyone commented on how fantastic he was." 

"Oliver, Laura and Sharon – the team at The Normans are absolutely incredible. Nothing was too much trouble for them. They made planning easy every step of the way and the day ran perfectly. They have created something very special there."

"Communication was brilliant. On the day with our photographer Ryan was so much fun to be around (it was like having another old friend at the wedding). Not only is he superb at capturing real emotion, but he is a master of sneak – he blended in so well, grabbing those in the moment shots without anyone knowing, and he kept us super relaxed, which was important as neither of us love posing for shots. When we received our previews, we were blown away (I think I cried every time I looked at them!) The response from our family and friends was the same – tears, joy and awe in equal measure."
"My phone was pinging all day with people messaging me to say 'Wow!' Everyone has said how special the photographs are and we agree. I cannot stop looking at them! We will never be able to thank Ryan enough for capturing such special moments and memories for us."

The old Grain Shed at The Normans is now a breathtaking celebration space, transformed with a fabric canopy ceiling strung with twinkling fairylights. The room looked fantastic decorated with pops of fresh and contemporary metallic colour and greenery, just as Jo and Andy wanted.
"We went with my idea of foliage and metallics, and tied the three areas of the ceremony barn; reception barn and cow stalls together, by hanging gold triangle garlands from Etsy seller Maisy and Alice from the beams and walls. Information signs I made myself using copper letter boards, and the seating plan I created using an old wire grid that I sprayed, and used metallic banners to indicate areas – these were from Etsy seller All Her Glory."

Jo and Andy were thrilled with caterer The Hog & Apple Food Co.'s innovative and creative approach to their menu, with delicious Raspberry Collins served with canapes during the drinks reception, followed by a meal starting with antipasti sharing boards, followed by meat or veggie stacks, served with triple cooked chips, Greek salad and coleslaw.
"Our guests absolutely loved the food, and the team were fantastic throughout the day. Everything ran like clockwork, including the bar, which they also provided."
"In the time between dinner and the evening reception, we had two very talented girls – our niece Ruby and my friend's daughter, Lily sing an acoustic set to entertain the guests in the chill out area of the venue – the cow stalls, which went down a treat."

Jo had spray painted jars and vases with metallic geometric patterns, and the day before the wedding, filled them with flowers and eucalyptus to place around the space, as well as sweet succulent pots from Add Vintage.
"For other décor, I went mad buying hundreds of candles, tea lights, geometric lanterns, fairylights and anything else that lit up – basically if it shone, I bought it! We dotted these around the venue with other pieces such as glitter balls, foil balloons and quotes in frames, and I was so happy with the overall effect."

Contemporary rose gold stationery was designed by Raspberry Toast, with the couple's dining tables named after favourite bands and singers, incorporating song lyrics, too. Sweet, stylish place settings were adorned with rose gold guest names, love hearts and sprigs of eucalyptus.
"We are both huge animal lovers, so donated to two charities – Dogs Trust, as we love dogs, and to a local donkey sanctuary in honour of a special friend of ours who we sadly lost. She loved donkeys, therefore we wanted to remember her for that. I wrote a poem, which we printed on Polaroids and attached a dog treat to each one – think our dog snaffled most of these throughout the day!"

Instead of a sweet wedding cake, cheese lovers Jo and Andy chose a cheese tower, served with crackers, chutneys and grapes. There were sweet treats, too, with a cake table from Cherry Cakes.
"Tracey made three delicious cakes as centrepieces: Strawberry meringue, millionaire's shortbread and chocolate orange, and then we had a selection of other goodies such as peanut butter and jelly brownies, cookie dough brownies, pistachio brownies, scones with jam and clotted cream, Oreo cupcakes, a huge custard tart and millionaire's shortbread all sourced from local suppliers and farm shops."

In the evening, there was a whole host of wonderful entertainment, with Sophie from Wow Face and Body Art (booked through Add To Event) giving guests sparkly looks to take to the dancefloor, and magic from close-up magician, Arron Smith.
"Arron absolutely blew our minds with his magic, and what a lovely guy, too. He circulated in the crowd perfectly and left everyone open-mouthed and totally wowed."

"For our evening reception the awesome Deckheds really got the party going. Karl is a total genius at reading the crowd, and he kept the dancefloor jumping all night – literally! Oliver at The Normans said he'd never seen the courtyard so empty as everyone was inside dancing! It was such a fantastic atmosphere and I hardly left the floor all night."

For their first dance, Jo and Andy chose a song with lovely meaning for them both – First Day of My Life, by Bright Eyes.

"We deliberated over the first dance for ages. Everyone expected us to do a full on routine, and we contemplated this, but in the end we decided we wanted to be a little more sincere. As a couple, we're very light-hearted and jokey, so thought it would be nice to show our softer, more serious side for once. Our friends let off gold confetti canons during the song, which was pretty magical."

"I just loved it all! Getting ready in the morning with my gang, and seeing them all standing together looking so stunning; when my Mum and Dad came into the room to see me for the first time; the walk down the aisle and seeing Andy; the speeches; having stolen moments with my new husband; going on a walkabout for photos with our gang, dancing all night. It was all just amazing; more than I could have ever dreamed."

"I think though, my favourite part, was having the people we love most in the whole world with us on such a special day. Everyone smiled from beginning to end, new friendships were formed, others cemented, and we were surrounded by so much love, it was just the most incredible experience."
"I ordered a mix of white and metallic confetti from Dollz Confetti, and we scattered this down the aisle to complement the floating candles in hurricane jars that were provided and set up beautifully by Cristel at Shindig Event Styling."

Words of Wedded Wisdom
"We were so lucky to have found incredible suppliers who really took the time to understand exactly what we wanted, and who really got us and our vision. Having these wonderful people really enabled us to stay relaxed throughout the planning process. Find suppliers not only whose work you love, but who you really can get along with, as this makes a huge difference."
"Accept help when it is offered. Realise that everyone has skills to share, and that will be a huge support. Our family and friends were just amazing, from chatting through ideas and offering suggestions, to setting up the venue and helping to run the day, we really could not have done it without them."
"If you're up for it, give a speech. I'm so glad I did one, as I feel it gave me the chance to say thank you to so many amazing people who I am lucky to have in my life, and it was my opportunity to let them know just how grateful I am for them, and how much I value and love them. Plus it's about time brides got to have their say, too!"
"Etsy is an amazing place to find some really unique pieces, and you are supporting independent sellers too. Also, Instagram, Pinterest and the Love My Dress Facebook group are your friends – they are jam packed full of inspiration, but that is what it is, inspiration – at the end of the day, go with what you want and feel, and don't compare your day to anyone else's. The more 'you' the day is, the more everyone will enjoy it."
"This is common advice but so true – enjoy every single minute as it goes by so fast! Enjoy the love – at the risk of sounding cheesy, you can literally feel it all around you! Don't sweat the small stuff. Things may go wrong: 48 doughnuts, a major part of our dessert table, didn't turn up, so we cut up the cheese tower early – it's not the end of the world. If the two of you are surrounded by those you love, then you pretty much have everything you need to give you the best day ever."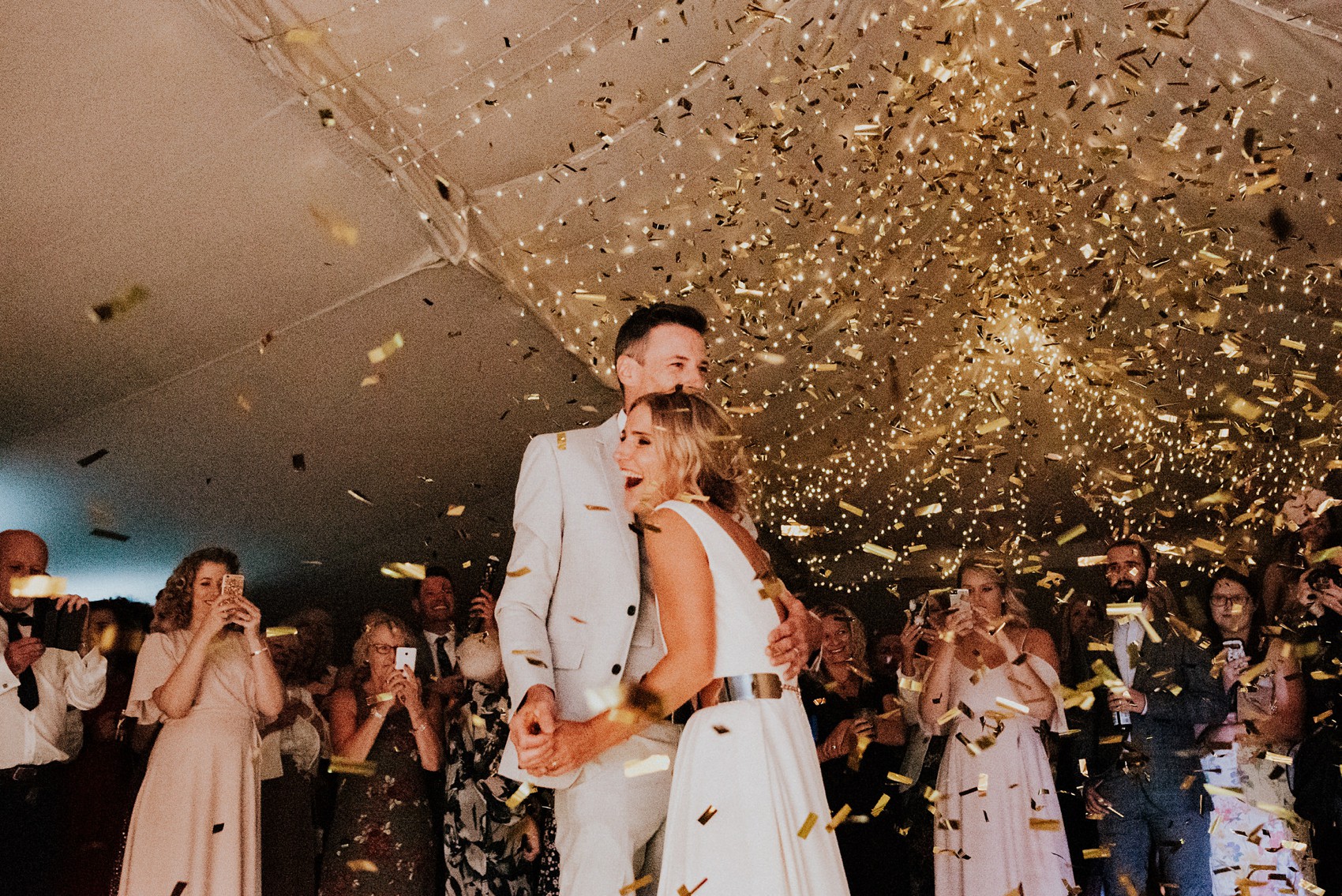 Jo and Andy, your amazing day sparkled from start to finish – in more ways than one! Thank you for sharing it with us. Many thanks to Tregoning Weddings and Shutter Go Click Photography for capturing everything so brilliantly, too.
With love,
Laura