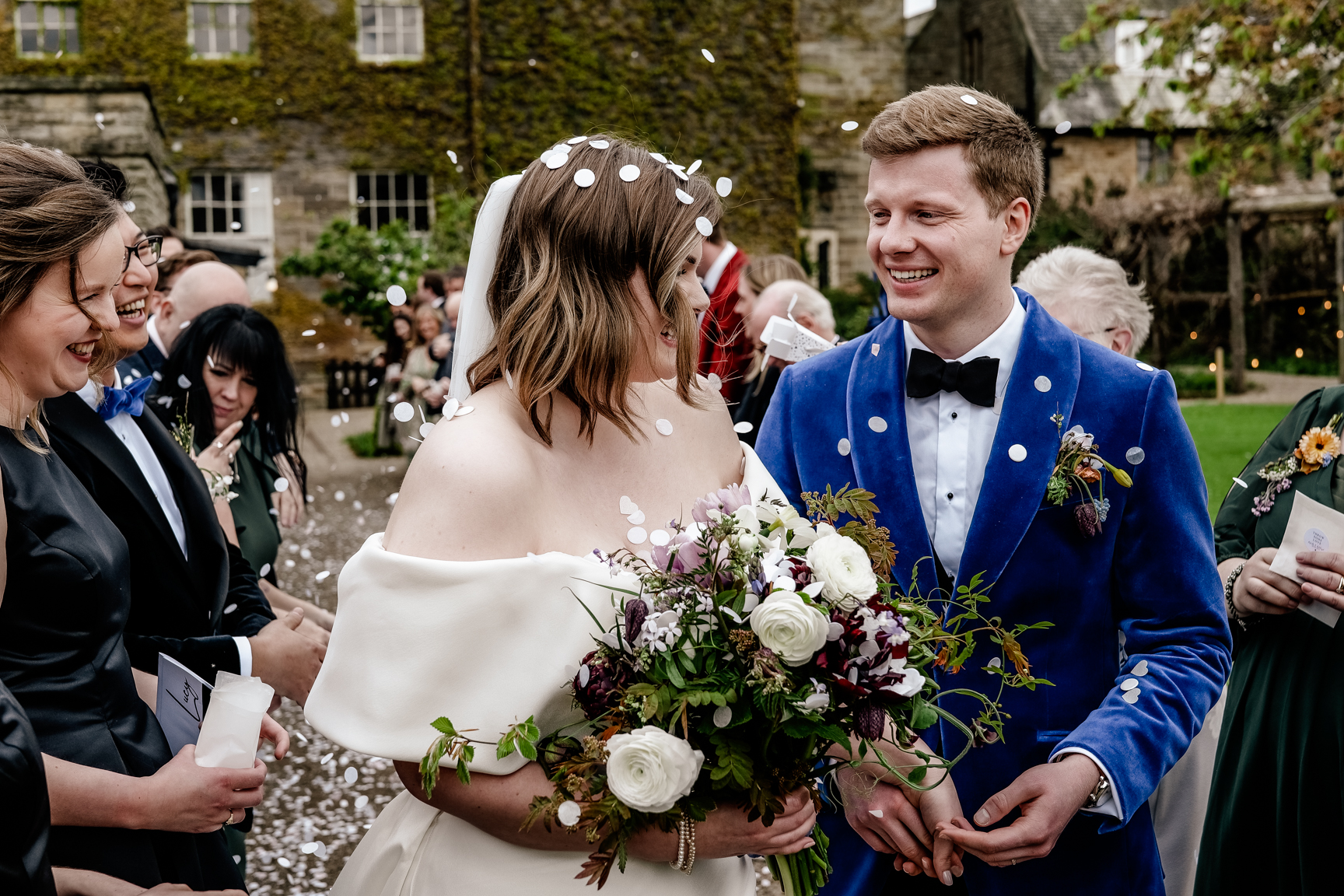 About Moonwind Flowers
Moonwind Flowers are a husband and wife Whitby wedding florist and floral design studio, who provide bespoke floristry and floral design for weddings across North Yorkshire.
We grow all our own flowers on a sustainable, chemical free basis, on our own 4 acre flower farm based located in the heart of the North Yorks Moors National Parks, adjacent to our home.
Our wedding flowers are seasonal, exquisitely scented and romantic. Our floral style is wild and natural. We love to create floral beauty and joy for our clients.
We would love to hear from couples marrying in North Yorkshire, who love ethically grown, seasonal wedding flowers as much as we do. Venues we love working at include Danby Castle, Larpool Mill, Middleton Lodge, Yorkshire Wedding Barns, Egton Manor and Sneaton Castle. Get in touch and we'd be delighted to arrange a complementary phone call where we can chat through your needs and we can response to any queries you might have.
We'd love to hear from you.
Reviews
Firstly, a million thank you's. I can't explain what a joy it has been to know you and to get to work with you. Never at any stage in the process did we feel anything but truly genuine interest and investment into our day and we are so grateful for this. Philip, I can't express how genuinely honoured we feel to have had your passion and creativity at the centre of our most important day. I had every faith you would bring to life our vision but you did and then +1000 on top. The energy and magic you provided I am unable to articulate but it was unlike anything we've seen before. Annabel, you are truly a good egg! You have been endlessly supportive and always there for queries and mini chats and from our first messages I felt instantly at ease. Your genuine warmth and positivity has made this process enjoyable and something we will cherish. We are so pleased to have worked with you and we wish you all of the success and we hope other couples can have a piece of your magic as part of their day, can't help but feel slightly sorry for those who don't!
Alex & Callum, September 2022
A brilliant company we used for our Wedding Day in July. I highly recommend Moonwind flowers, we had an incredible, personable customer experience with them. From the very start right until the final product, they exceeded our expectations! I am so grateful I found Philip and Annabel. The company provided bouquets for myself and bridesmaids, buttonholes, corsages and buckets which included the most beautiful flower, with this I was able to dress the venue in a variety of different vases as I please. No minimum spend and affordable. The best part is all of the flowers are grown on their own land, chemical-free. I can honestly say our Wedding Day would not have been the same without their beautiful Wedding Floristry. Thank you so much for all of the time you put into growing and nurturing them, the care, detail and love making the final product. One very happy customer :)
Jessica Wild, July 2022
We couldn't have been more delighted with Moonwind Flowers' service for our wedding. We were eager to find sustainably grown, chemical-free flowers for the big day and were so pleased to come across Moonwind's incredibly beautiful, natural arrangements. Further to the flowers themselves, Philip and Annabel have blown me away with their personal approach and attentiveness to our preferences and wants; we felt so refreshed by their genuine investment in our wedding. The friendliness, care and attentiveness of their set up team was also widely appreciated by our friends and family during preparations and they contributed to a fun, stress-free atmosphere! Thank you Philip and Annabel for sharing your passion for naturally grown flowers with us to help create a wedding day full of life and beauty.
Rachael & Seb, June 2022
We were thrilled with our flowers, thank you so much, they made the day and dressed the venue beautifully, it's very apparent how much hard work goes into what you do.
Helen Hindle, May 2022
Frequently Asked Questions
Do you have a minimum order?
We do. Our minimum order value is £750.
Do you provide buckets of flowers for us to take and do our own flowers DIY style?
Yes we absolutely do! We'll pick the flowers for you and provide buckets bursting with beauty for you to collect the day before or early on the day of your wedding day.
What are your payment terms?
We will require a 50% deposit to secure your booking. The remaining 50% balance will be due four weeks before your wedding.
Where are your flowers from?
We grow absolutely everything ourselves on our beautiful flower farm, located in the heart of the North York Moors National Park. We grow our flowers sustainably, ethically, organically and chemical/pesticide free.
What area do you cover?
We are based 6 miles out of Whitby, North Yorkshire. We're more than happy to travel to nearby towns and cities like Middlesbrough, York and Scarborough etc. We will need to add a small delivery fee to our order if your wedding is taking place outside a 10 mile radius from our flower farm.
Do you provide styling services too? Can you style my venue?
Of course! We absolutely love to creatively transform venues and spaces with our flowers. Be it hanging floral decor, table decor or more - let us know what your vision is and we will help bring it to life.
How would you describe your floral style?
Romantic, wild, natural and whimsical.
Are you insured?
Yes we are. Please ask us to provide evidence if this is necessary - we understand that for some wedding venues it is.
Articles featuring Moonwind Flowers