Sarah and Tom got married on a beautifully sunny Spring day at the gorgeous harbour-side venue of The Idle Rocks Hotel in Cornwall.
The couple wanted to host a smaller, more personal wedding. As neither enjoys being the centre of attention, they also wanted their wedding to be something special and representative of each other. The bride wore a bespoke dress made by an independent dressmaker which she accessorised with a sweet pearl bag and wool sweater for a beautifully laid back and relaxed vibe.
Our love and thanks to talented photographers, Lyra and Moth, whose beautiful wedding photography you can explore more of here on Love My Dress and whose own sublime Cornwall wedding we have also featured. Enjoy!
The Location
We enjoy nothing more than taking little day trips to beautiful places and when we were forced to cancel our first wedding and honeymoon plans due to Covid in 2020, we decided that instead of getting married somewhere and honeymooning in Cornwall, we would start as we meant to go on and begin it all in this stunning part of the country.
We discovered The Idle Rocks Hotel on Instagram and after researching it, found that its sister hotel just round the harbour had the perfect little room for our day.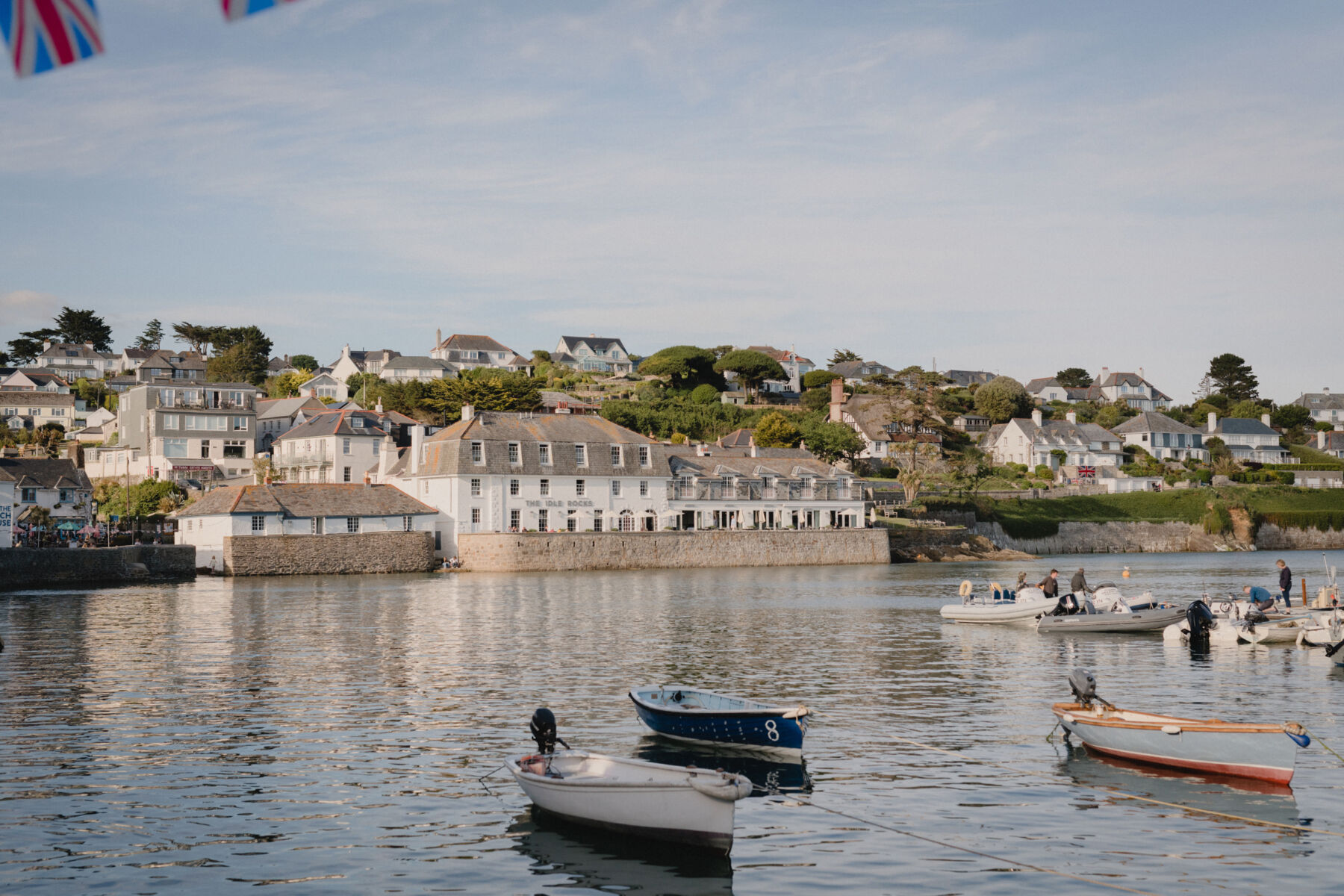 Cornwall, as a setting, guided and represented so many of the things we wanted from our day. Not just in its pastel buildings, blue skies and green hills but as neither of us have much interest in expensive or flashy things, we actively seek out the imperfect and authentic and Cornwall has such a beauty and honesty that we tried to honor it with subtle and muted styling.
My Loeffler Randall shoes also had a part to play though of course. The beautiful pinks, buttermilks and blues provided a constant touchstone for our theme.
We didn't use anyone to help plan our wedding specifically but Chloe at St Mawes Hotel and Idle Rocks was a superstar from the moment we enquired, allowing our vision to come together. We are both creative people who have specific tastes and we loved that there was lots of room within our plans to get stuck in and take care of details such as the flowers, tablescapes and invitations ourselves.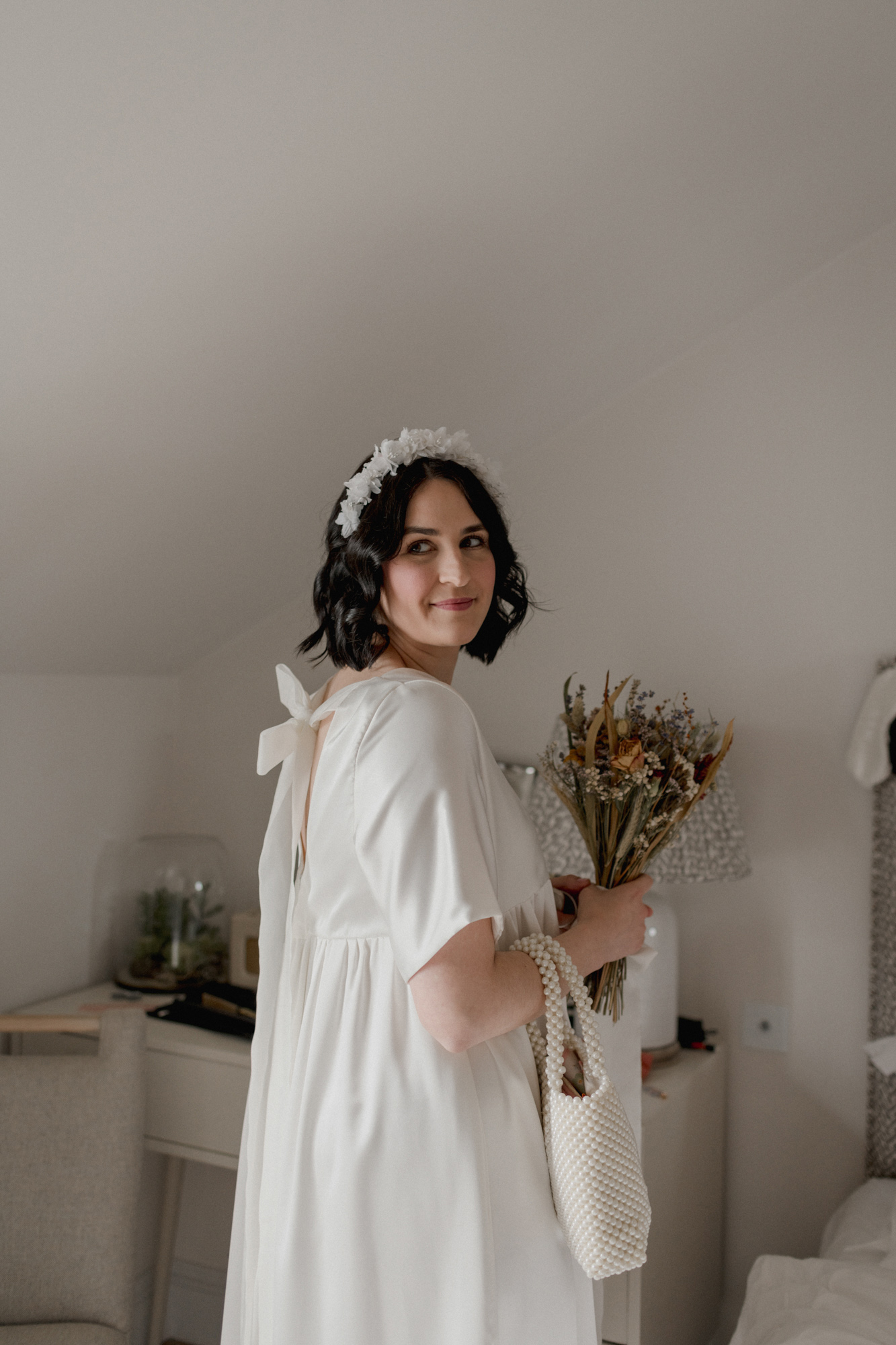 The Dress
My dress was handmade especially for me by the beautiful Mel at Joan Brown Bespoke Bridalwear.
Everyone said on the day that my dress was 'so me' and that is exactly why I loved it. I felt so beautiful and yet completely comfortable and exactly like my more relaxed self.
From the moment I met Mel, she helped bring my vision to life and even throughout the pandemic continued to work on my dress to make sure it was just the way I wanted, soft and flowing and with the velvet bow of dreams. I would say to anyone to get their dream dress made for them, it's such a special experience and one that means you can store it like me for two years and still feel like you're seeing it for the first time every time you put it on.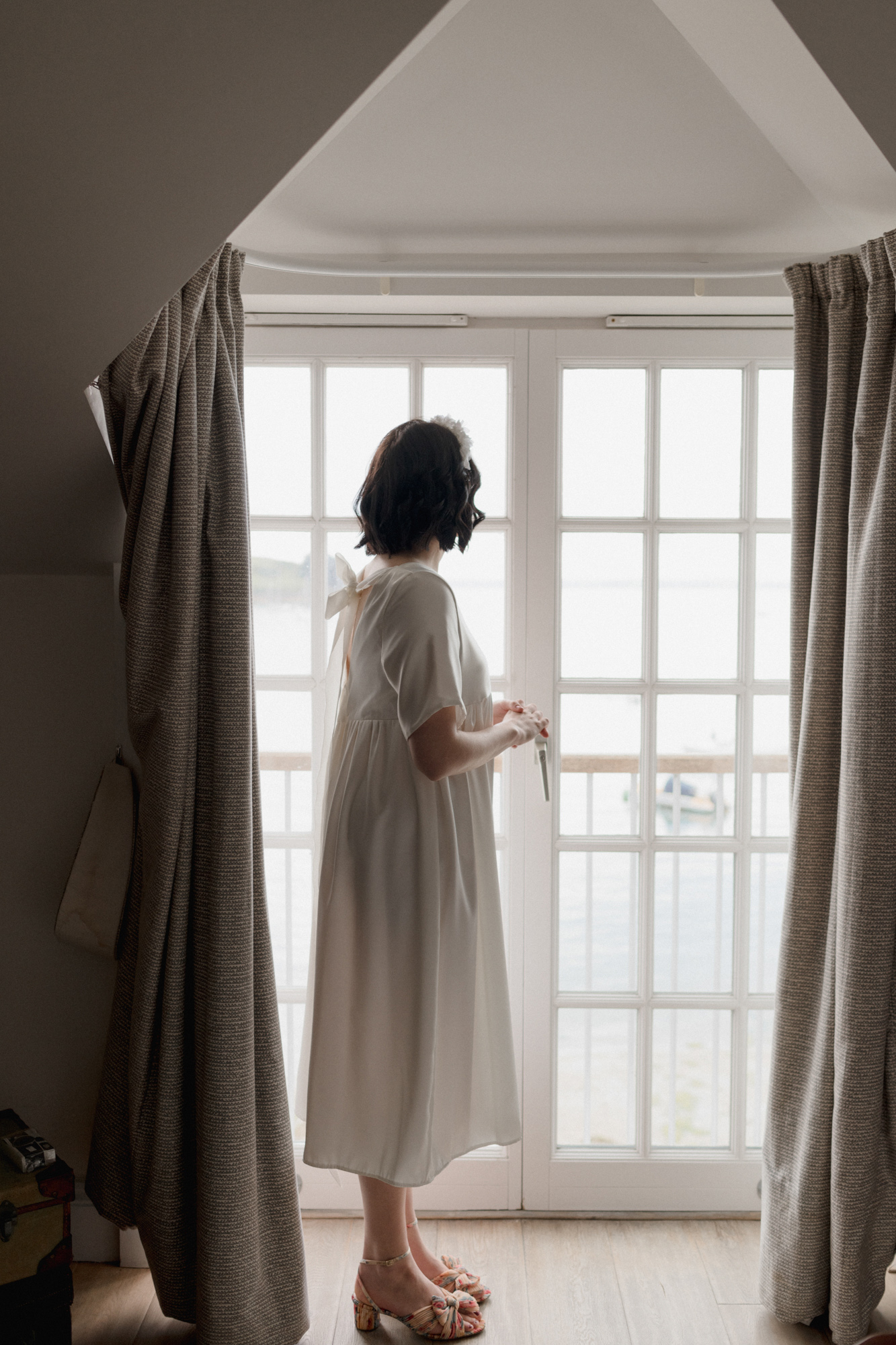 Bridal Beauty & Accessories
I didn't wear a veil. I definitely thought about it but decided on a headband instead. The one I wore on the day was actually a part of my mums veil and headpiece she wore on her wedding day. It was a crown shape when I got it but I wanted a more traditional shape so again Mel at Joan Brown worked her magic and transformed it into the wonderful item I wore on the day. This was such a special thing for me and meant so much.
My shoes were Loeffler Randall – These are super popular wedding shoes and I can't recommend them enough. They are all fabric so the most comfortable shoes ever and a perfect height if you want to be a little more on the practical side. With a mid length dress, my shoes were very important as they would always be on show. When I saw these pair in their muted florals with pleated bows I was hooked.
We both believe that fragrances evoke memories so it was very important to us to each have a fragrance that would have the power to take us back to our day when we wore it. We didn't buy new fragrances but instead opted for our favourites from our collections that we just felt gave us that little boost and we would want to reach for in the future.
I did my own makeup. I love makeup and beauty so it was a really fun part of the day for me. I used lots of Chantecialle products, as I love their more natural formulas. I also did my own hair. I wanted it to be natural and soft so I ran a straightener through it to give a few waves and volume.
Jewellery is not something that either of us wears, so Tom opted not to have a ring and it was very important to me that both my engagement ring and wedding ring were perfect so that I felt comfortable in them.
Just like my dress, I wanted both my bridesmaids to feel completely themselves and comfortable. All I said was a soft pink and not full length and the rest was up to them. One chose a more traditional dress and the other something with floral embroidery that went well with the rest of the wedding.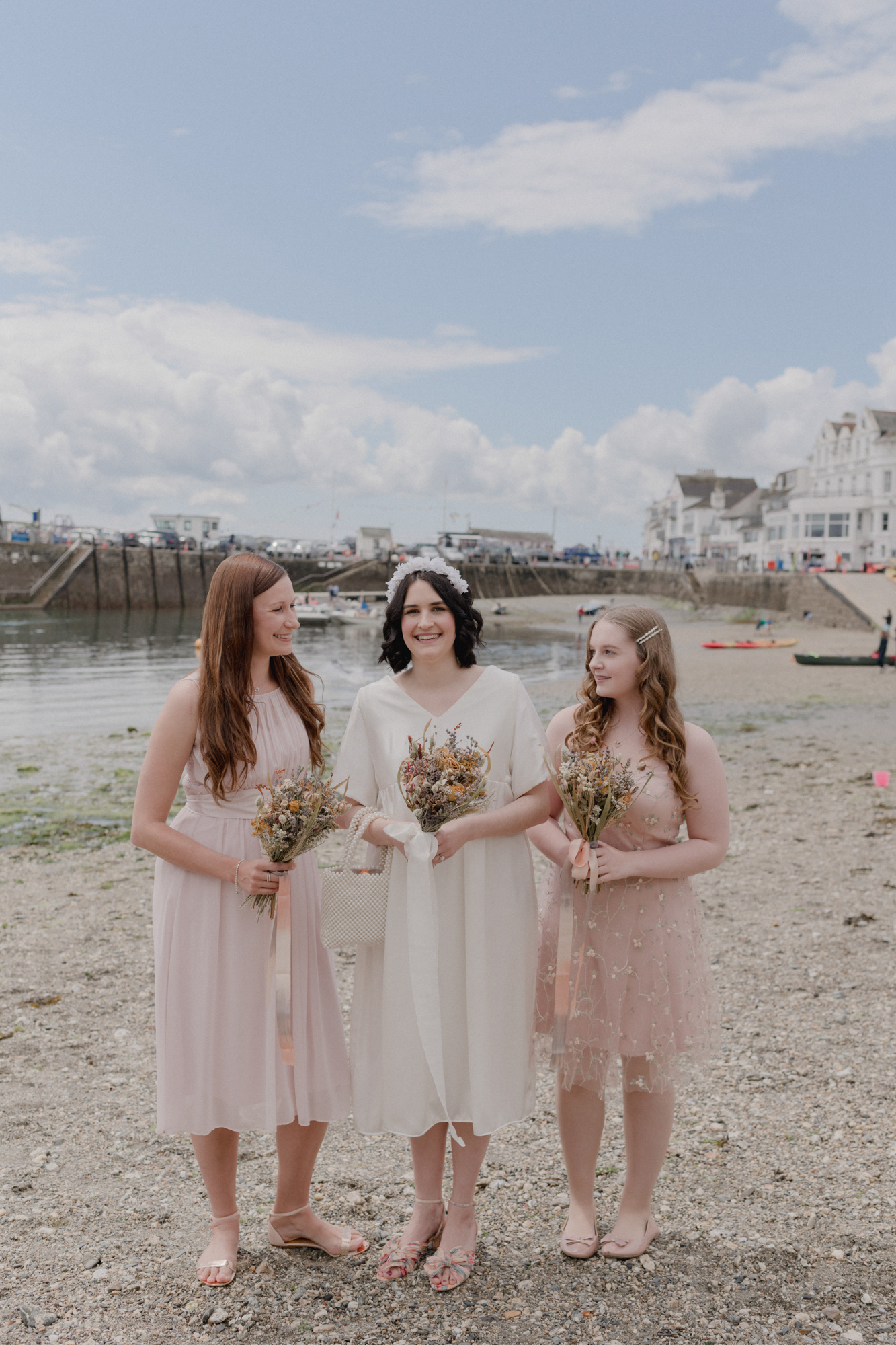 A Dried Flower Wedding Bouquet
Travelling down so far the day before the wedding, real flowers seemed like something that we might not be able to control, so we opted for dried flowers across our wedding day. All bouquets and button holes were bought from Etsy, across various sellers. There are so many options available and they are all beautifully put together at great prices.
For the room décor, I ordered lots of loose bunches of various dried flowers and used them to build bunches. I then collected various bottles across a year period to display them in. All varying sizes, shapes and colours, we loved the way all the different bottles look together and the differing heights they created.
The flowers turned out better than we could have hoped. They were easy for us to drive down as they were dried, they last all day and we still have them now. We even gave lots out as keepsakes to friends and family.
They proved great for moving around our venue as the day moved on, initially using them to line the aisle for our ceremony before they then decorated our tables and the rest of the reception room for our meal and speeches.
Wedding Directory
Meet some of our recommended suppliers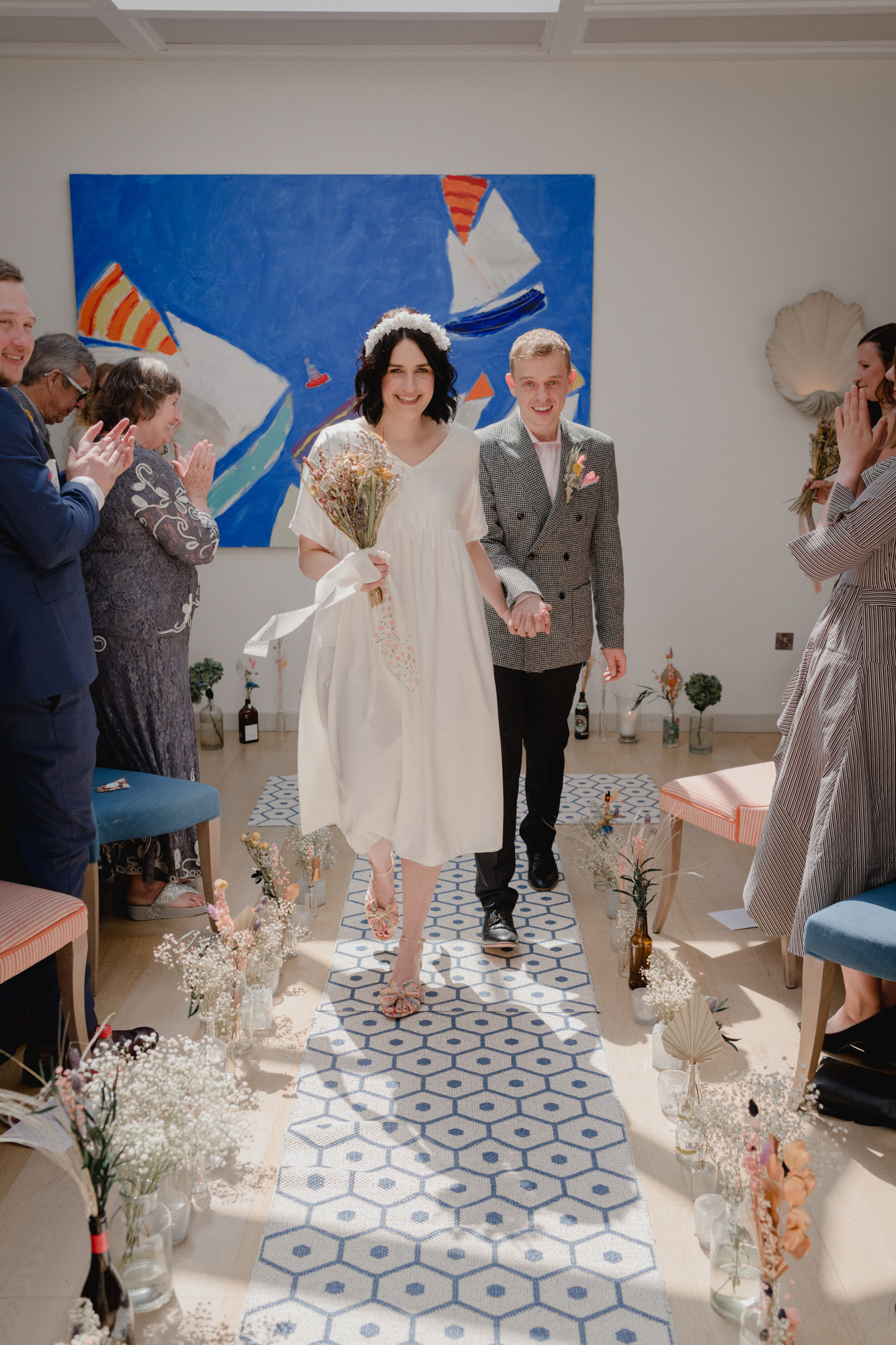 The Ceremony
We had two readings at our wedding, and one song! One was a reading from Winnie the Pooh, a personal favourite of ours both as children. The second a personal letter by the writer John Steinbeck and the third, Toms best man performed the song 'Grow Old With You' from the Adam Sandler movie, The Wedding Singer.
Our vows as mentioned before were very personal, so I will keep those for us but I will say that they are something I really recommend people give thought to. Funny, sweet, honest, whatever they look like to you, they are something we often refer to when we are both happy or times seem harder.
They set a tone for your day and in the greater scheme your marriage, so say what you want to say and if you get a tear or two from your guests then that's a bonus!
My engagement ring is a Vintage piece. It has a yellow gold band with a central Opal stone, surrounded in a halo of diamonds. Opals are delicate and so I do not wear my engagement ring everyday. With this is mind I wanted to ensure my wedding ring was more practical and also subtle to match my style. I chose a simple thin yellow gold band, again pre owned and this ring was sourced from Powells Fine Jewellery.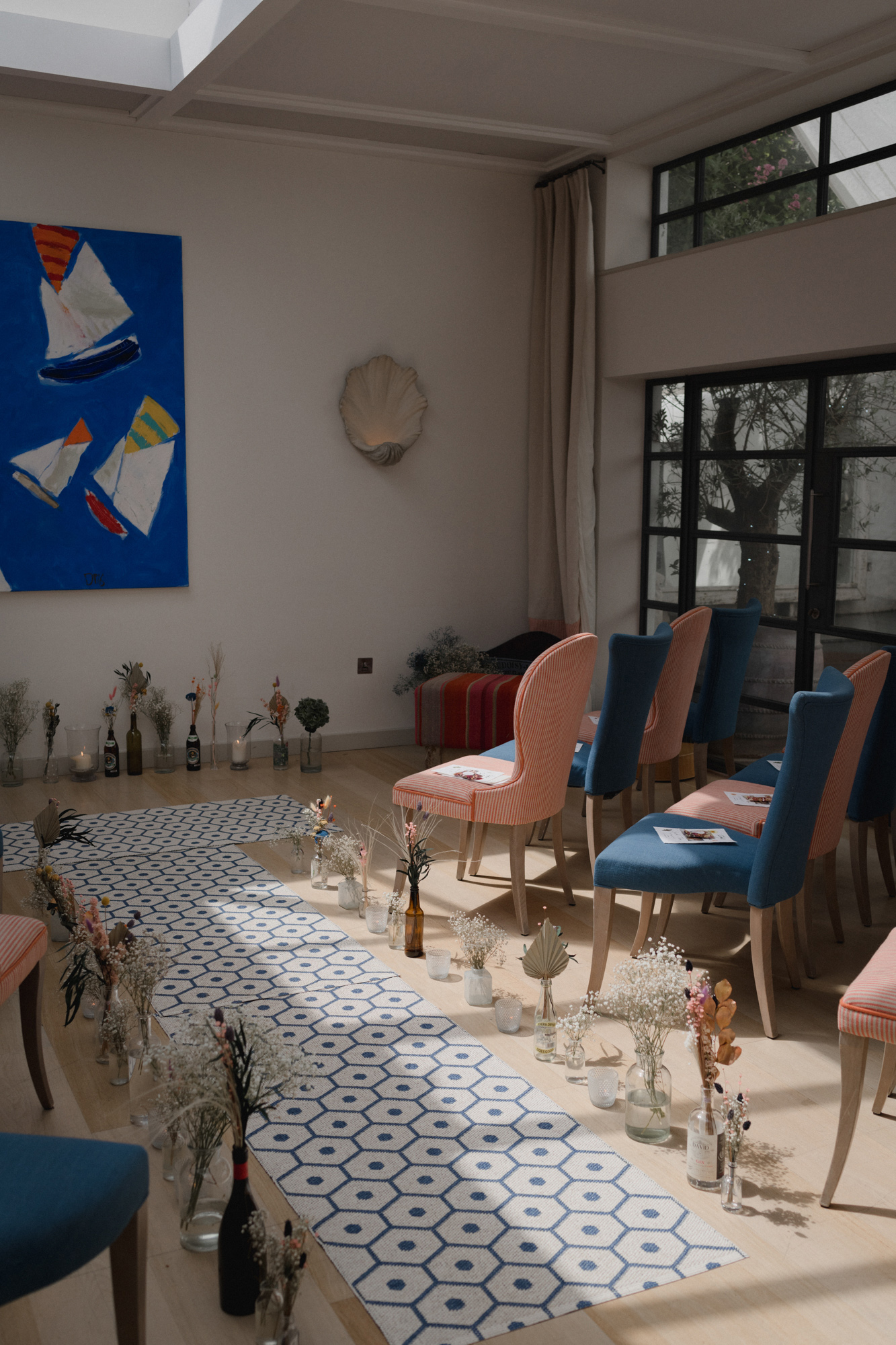 Photography
As our wedding was far away from home and in such a picturesque part of the world, we knew it was going to be very important to have the right photographer. We took to the internet and started researching options based in Cornwall.
We decided to search using Google images so we could let the photos stand out for themselves. This is when we saw the unmatched finesse of Lyra and Moth. They are Cornwall residents and the most delicate and talented photographers, not to mention kind and genuine people.
Sarah got our idea straight away and understood that a sense of place and capturing the little details was high on our priorities. Our photos bring us so much joy and Sarah's warmth and sensitivity also brought us so much ease on the day.
How They Met
We are very lucky and met by complete fluke on a night out in Bristol, where we were both living at the time, despite Tom coming from Chester and myself from Surrey. We both were smitten from the outset and of course a little drunk.
It was a slow start for us, dating for over a year before we decided to make it official, then it was another five years before we became engaged. It just felt like we had fallen more for each other each day and it seemed like something we suddenly had an urge to do, we have fallen even further every day since then.
Our intention was always to get married quickly after getting engaged in Jan of 2019 and so we scheduled our original wedding for 30th May 2020 but after the pandemic we decided to postpone until we felt like it was right again, which led us to the exact same date but this time in 2022.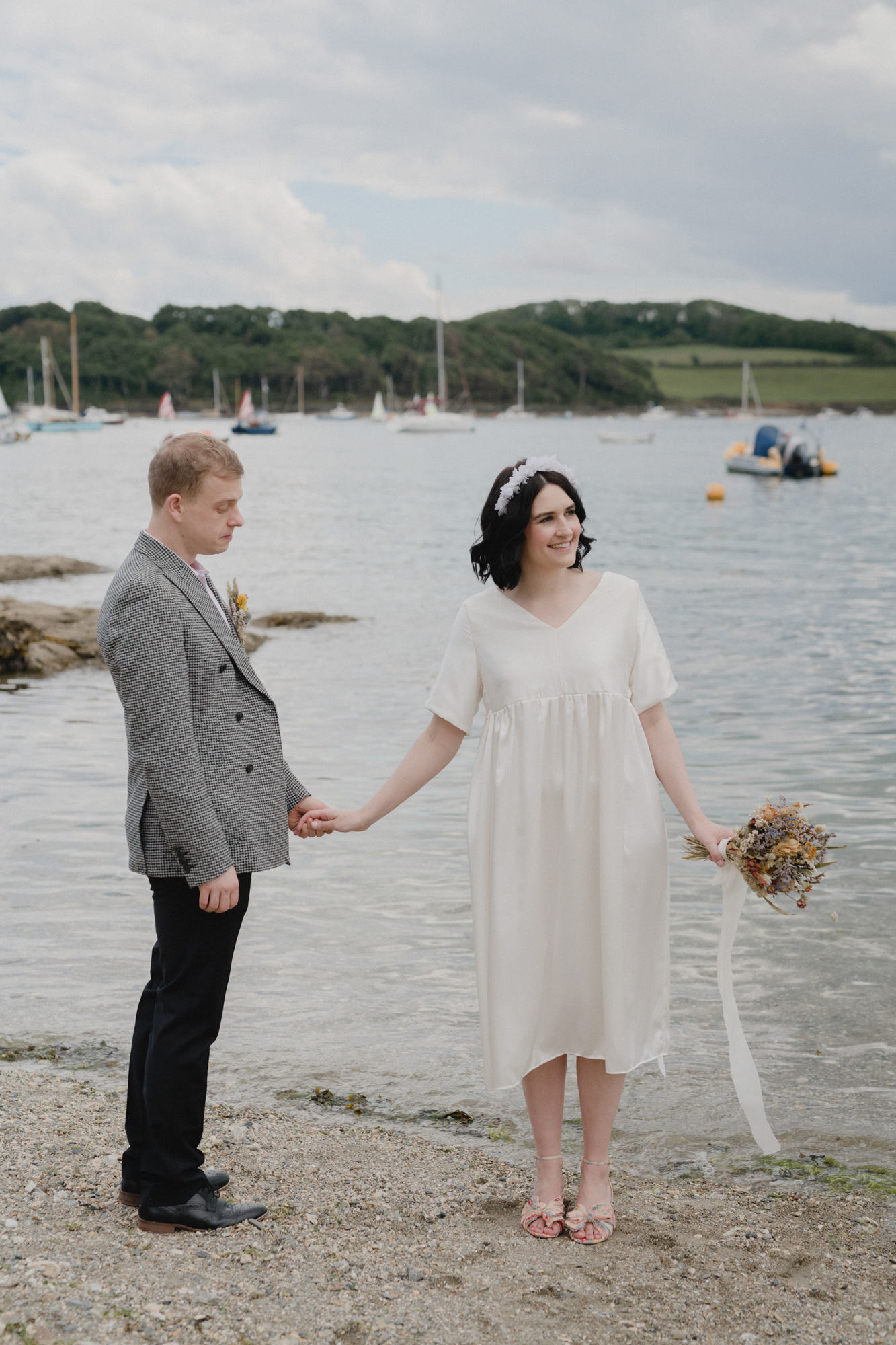 Favourite Moments
The favourite part of my day was being on our boat trip which fell after our ceremony and before our wedding breakfast. This is uprising as I actually have a real fear of boats and get quite sea sick!
It was such a beautiful day for the weather and we took a trip up the River Fal with canapés and glasses of champagne, everyone was laughing, catching up and enjoying the views.
It was relaxing and broke up our day wonderfully. Also by the time we got off everyone was very 'merry'.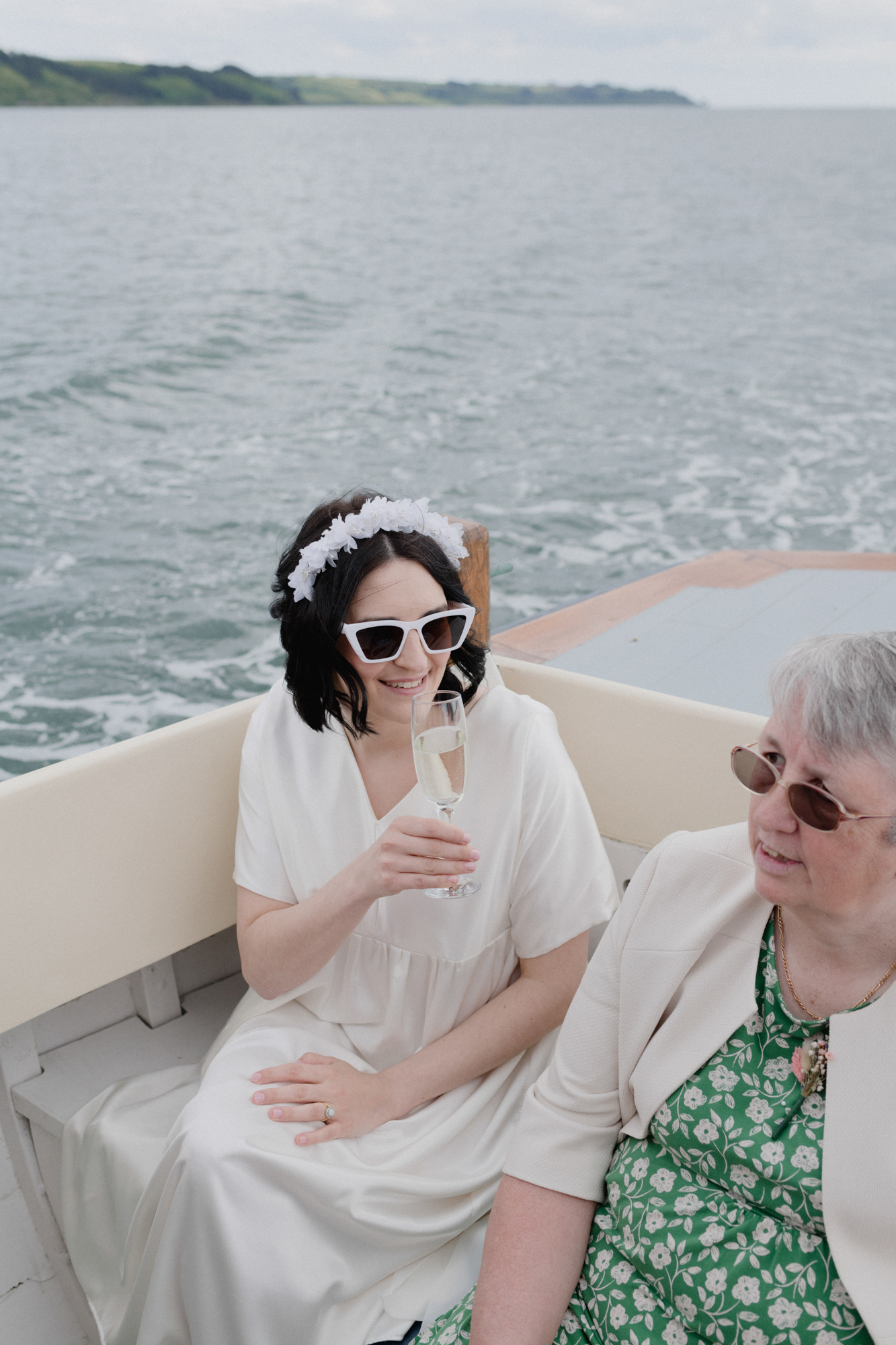 Reception, Decor & Detail
Vintage inspired cakes are fun and interesting to look at and we loved the idea of having one for our wedding. We found a stunning pistachio cake from a supplier in Manchester, where we were living at the time. We drove the cake all the way to Cornwall and it still looked fab by the time we arrived! A testament to Aphrodite's Cakes.
I studied Illustration at university so I made and designed our entire wedding stationery. Drawing on the dried flower theme of our wedding I used sustainable seed paper as a base for our designs. Creating everything myself gave me the chance to introduce lots of subtle touches, for example using Toms handwriting and my own for our names on our invitations and orders of service, as well as childhood photos and some real pressed flowers as extra decorations.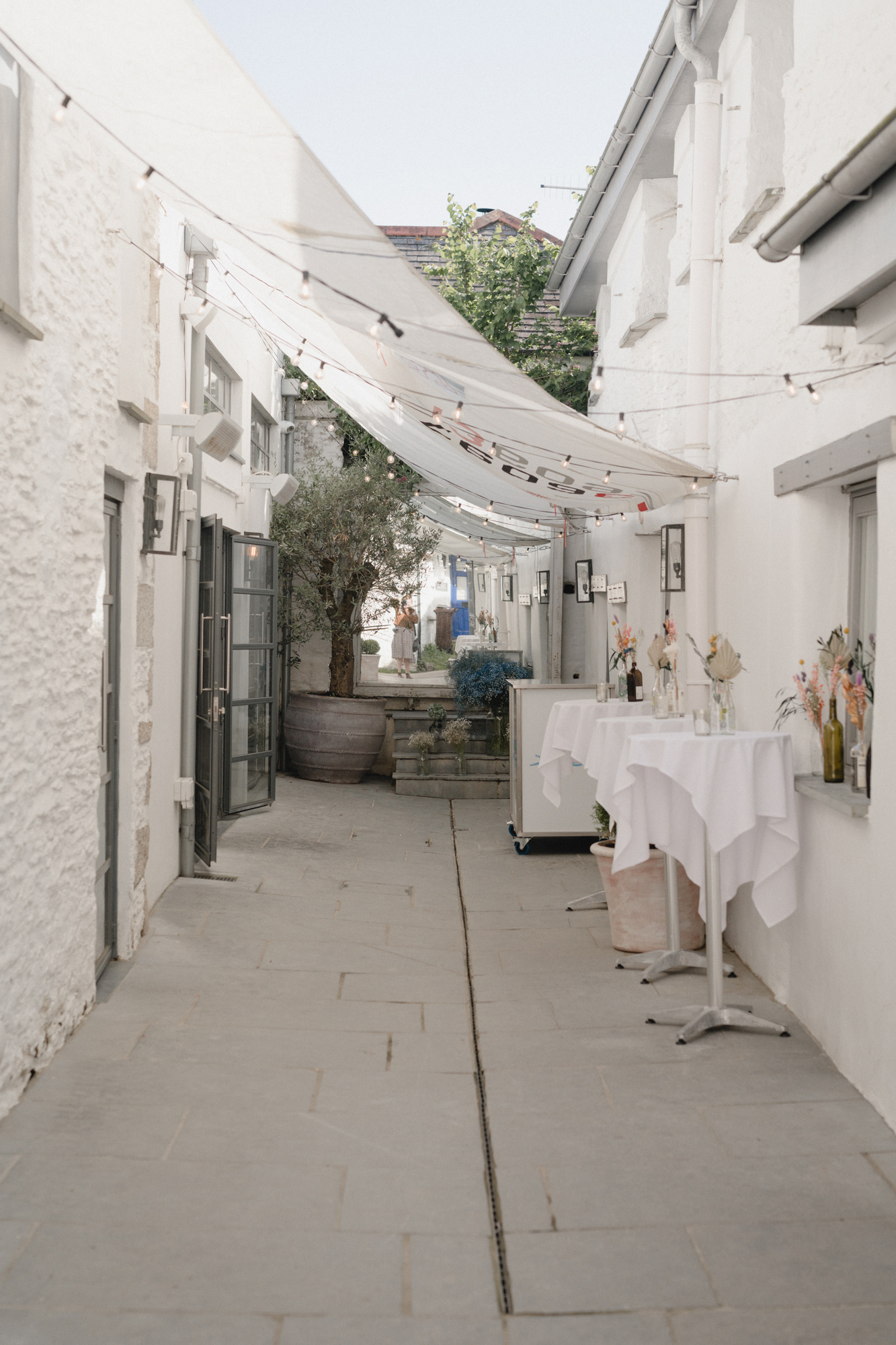 Words of Wedded Wisdom
My main advice is making a day that reflects who you are, not what you think people will enjoy. Also remember that no matter how much everyone loves you, the day will never mean as much to anyone as it means to you and that's ok.
Practically we would recommend breaking up the day with a change of scene, an activity or some kind of event. The boat trip we took is just one example of the kind of thing you can do. Also it is very helpful to draw on aspects you've enjoyed about other weddings you've been to and things you didn't and use these if you are unsure about a choice for your day.
Explore our directory