Arthur Rackham Fairytale & Renaissance Inspired Woodland Wedding in Cornwall
Ruth Atkinson Photography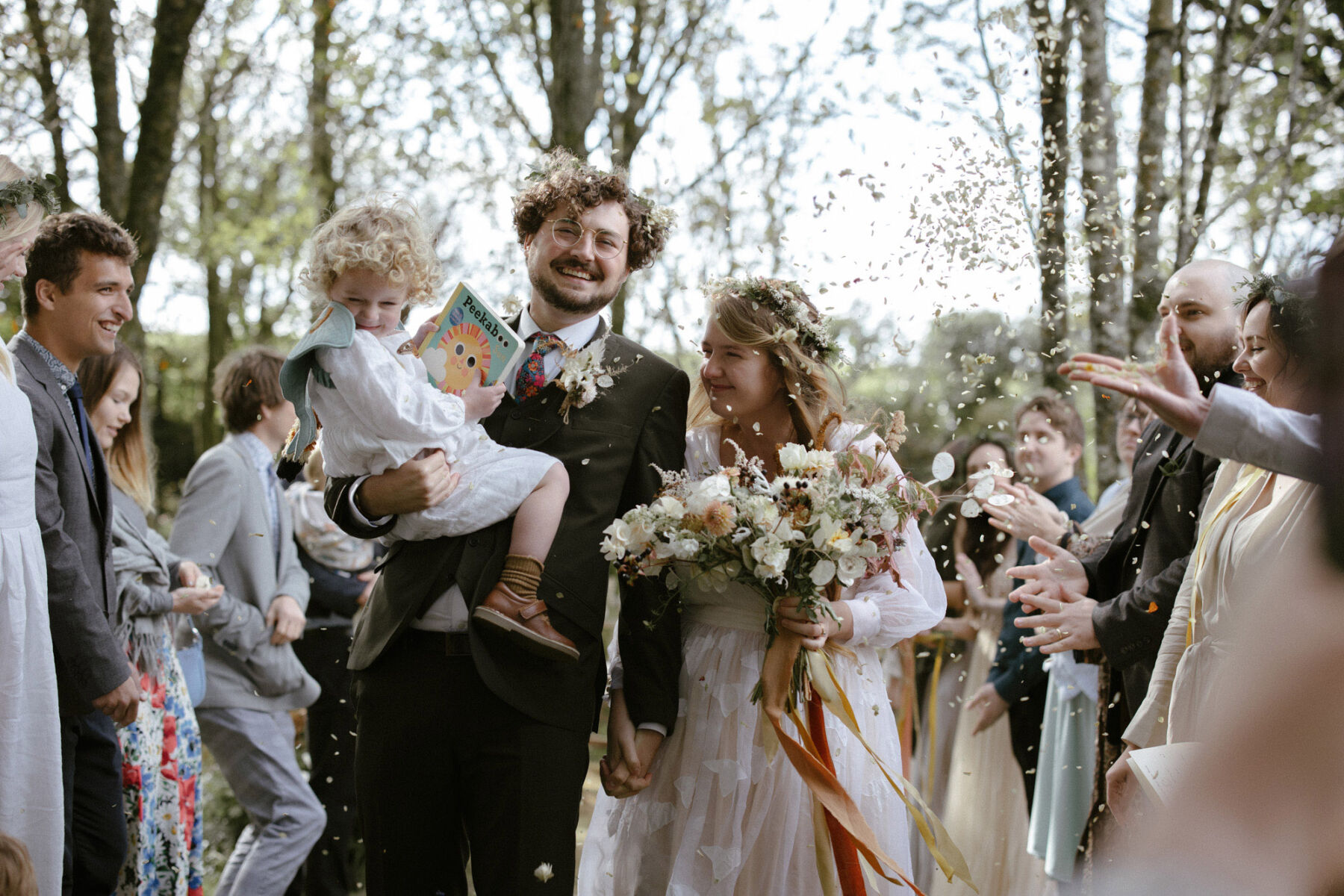 Magical and captivating, today's wedding is a true celebration of fairytale woodland style and quaint, non-traditional practices.
Come with me to Constantine in Cornwall for the gorgeous wedding of wedding photographers Sarah and Jonathan. On 12 October 2021, Sarah and Jonathan, who are the talented creatives behind Lyra & Moth, wed in a magical outdoor ceremony in the woodland at Potager Garden, Constantine, Cornwall.
Inspired by the Autumnal forest and ethereal feel of Arthur Rackham's Fairytale illustrations, the couple added Renaissance vibes with décor of fruits, beeswax candles and natural foliage and flowers for their glasshouse reception.
"We always knew we wanted to get married outdoors at Potager Garden. We frequently go there for lunch as it's a vegetarian cafe so it means Jon can eat anything."
"The great thing about Potager Gardens is that even if the weather is wet, it's still a beautiful, natural space indoors surrounded by plants and nature. People would be really cosy indoors, no matter the weather."
Photography Ruth Atkinson Photography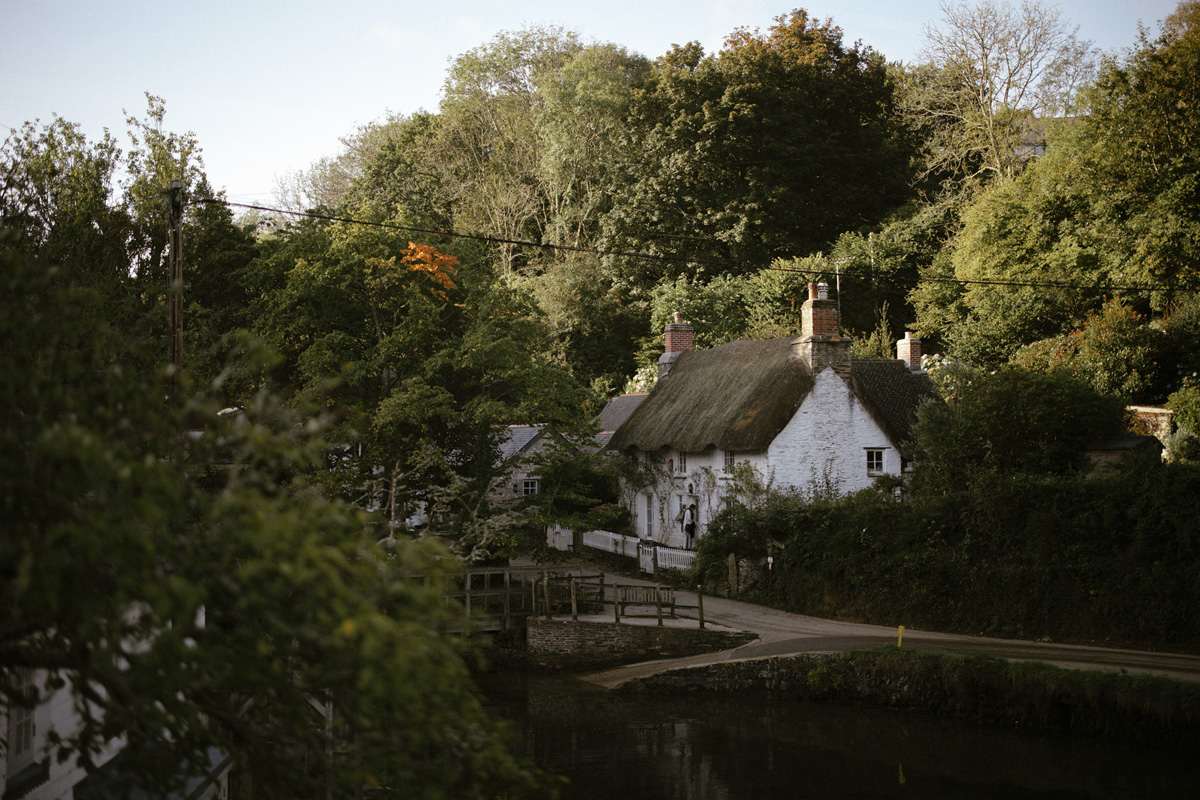 "The vibe we had in mind was Arthur Rackham's Fairytales meets Renaissance with ethereal vibes. We were inspired by scenes in Renaissance paintings so we decorated with fruits like pomegranates, grapes and figs on the tables and collected endless treasures from charity shops to hold our natural beeswax candles."
"We didn't have a colour scheme in mind so much as a mood – soft, natural, autumnal, woody."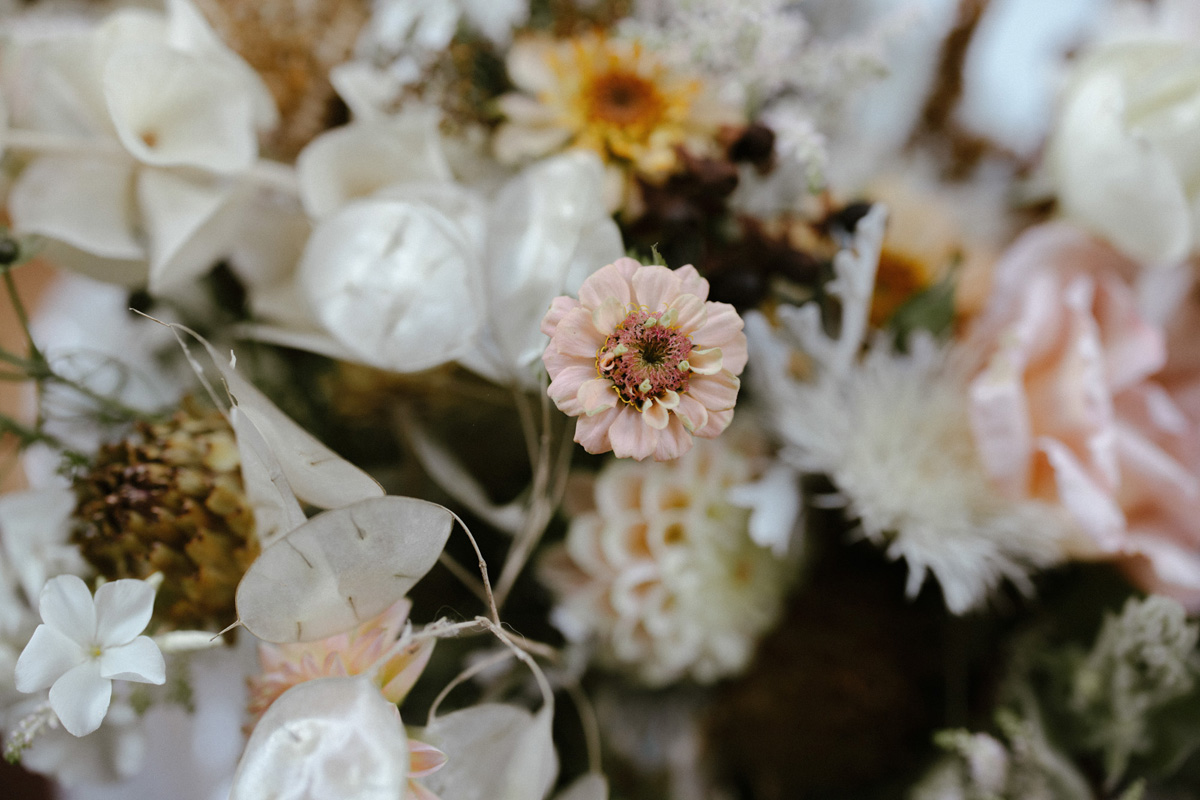 Accessories were simple, just a flower crown by florist Clare Webb at The Cornish Cutting Garden and rings made by Hannah Batstone, a Cornish artisan based in Penryn.
Sarah's hair and make-up were styled by Ione Kutz of Ione Makeup and Hair Artist.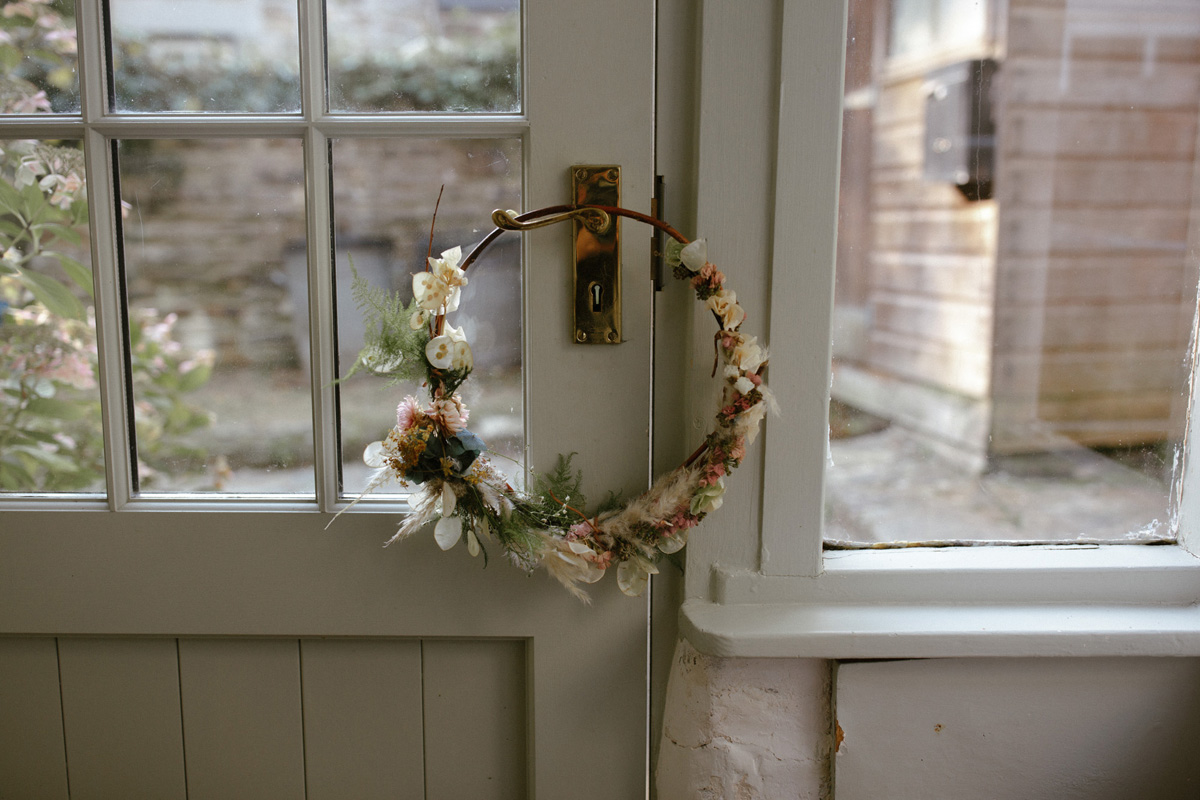 Sarah's fragrance was Flowerbomb Midnight by Victor Rolf.
"I wanted a really autumnal scent with a slight spice to it and it was perfect. I tried on a lot of perfumes before I finally found that one"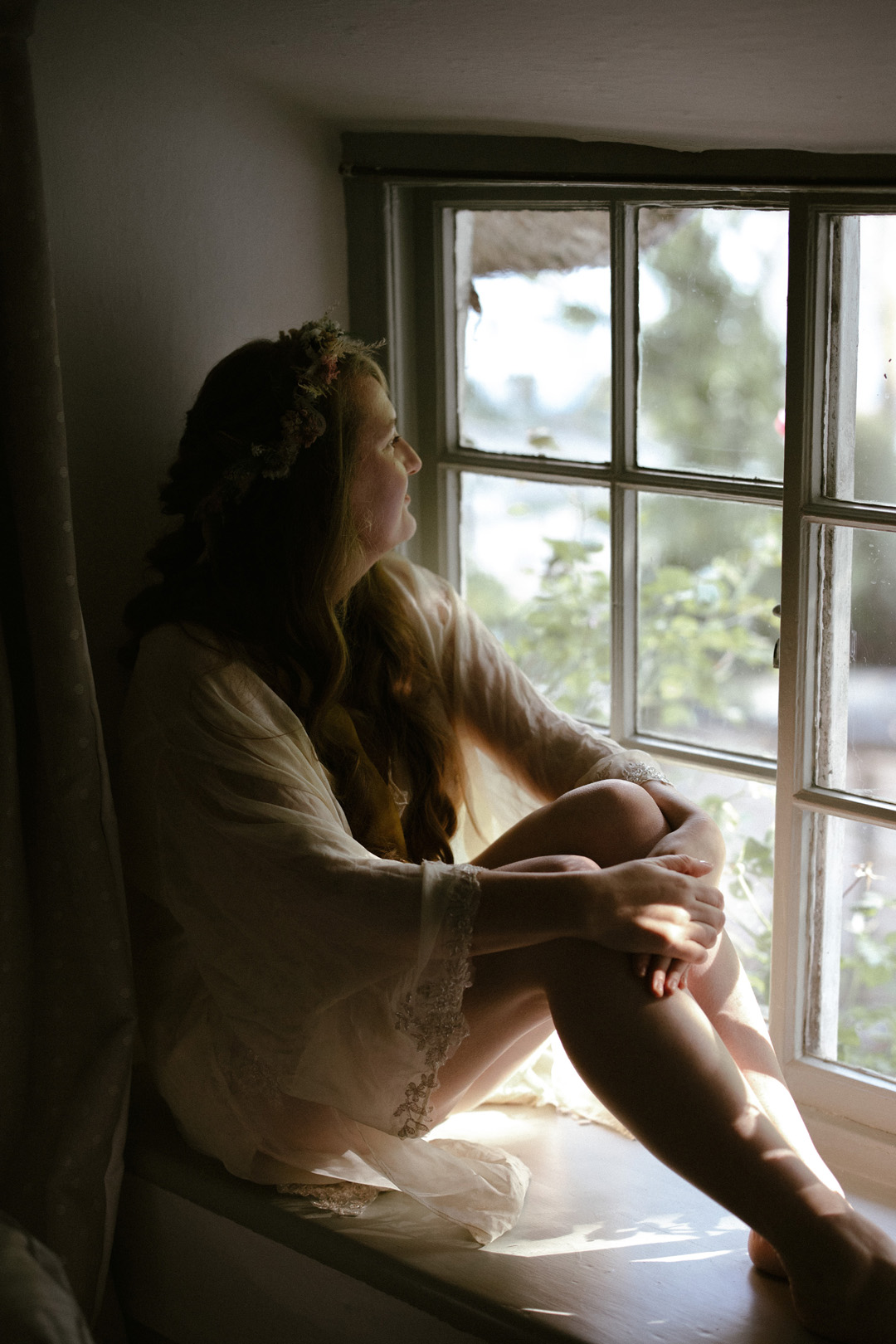 The bride wanted a relaxed, non-traditional gown for her day, approaching designer Ailsa Munro to hand-make this ethereal, whimsical piece for her in the palest of blush tones. It featured a tulle cape and delicate ivy detailing.
"I knew I couldn't face going into a boutique. I have ADHD and not only do I find shop lighting really affects me, I don't like the pressure of trying on dresses and speaking to sales people; I'm quite awkward with things like that."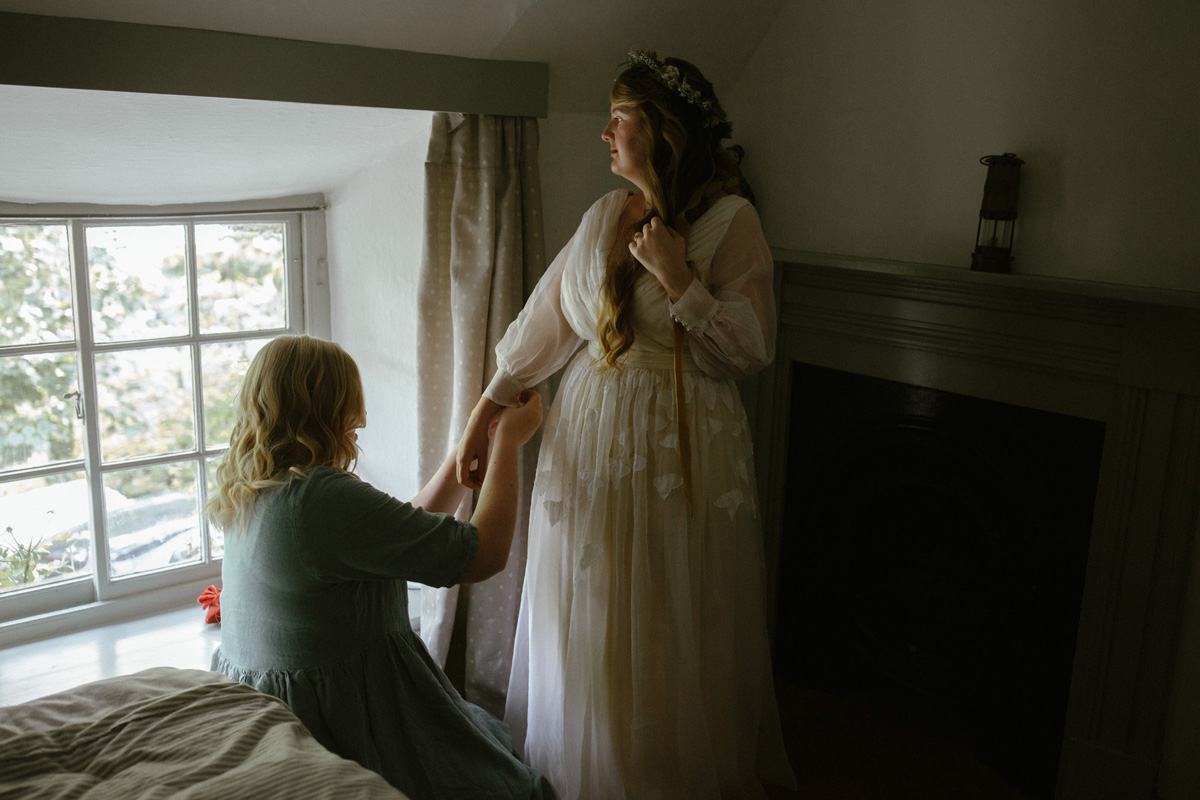 "I always knew I wanted my dress hand-made. I met Ailsa through working together on styled shoots and I knew right away that one day, she'd be the lady to make my wedding dress. She created a bespoke design for me based on little aspects I loved from her various existing dresses. We added a cape and huzzah! It was perfect. I loved my dress so much and it was so comfortable too."
"I don't suit white at all so having a 'slightly blush' dress worked better for my skin and hair tones. Ailsa was a dream at realising my vision and helping with advice."
"She also stitched mine and Jon's initials secretly into my dress which was a really lovely little touch."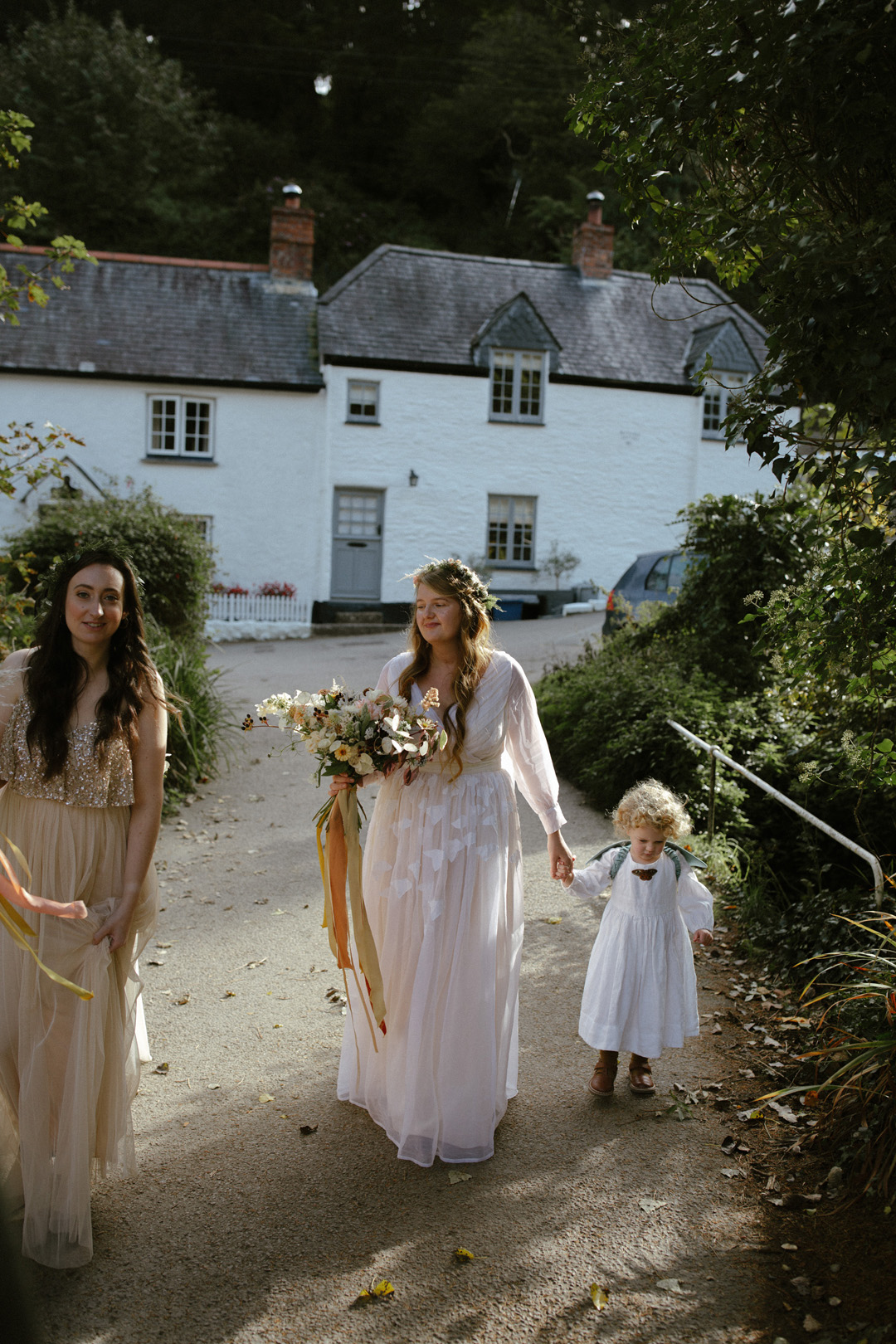 "I wanted something not typically bridal. I wanted something that was quite ethereal and fairy-ish but having a long train isn't practical for a woodland venue or cuddling and picking up a three year old, so we went with a flowy tulle cape and dreamy poet sleeves."
"I love everything about my dress, from the translucent sleeves to the ivy detail on the skirt but most of all, the cape. I really did feel like a fairy."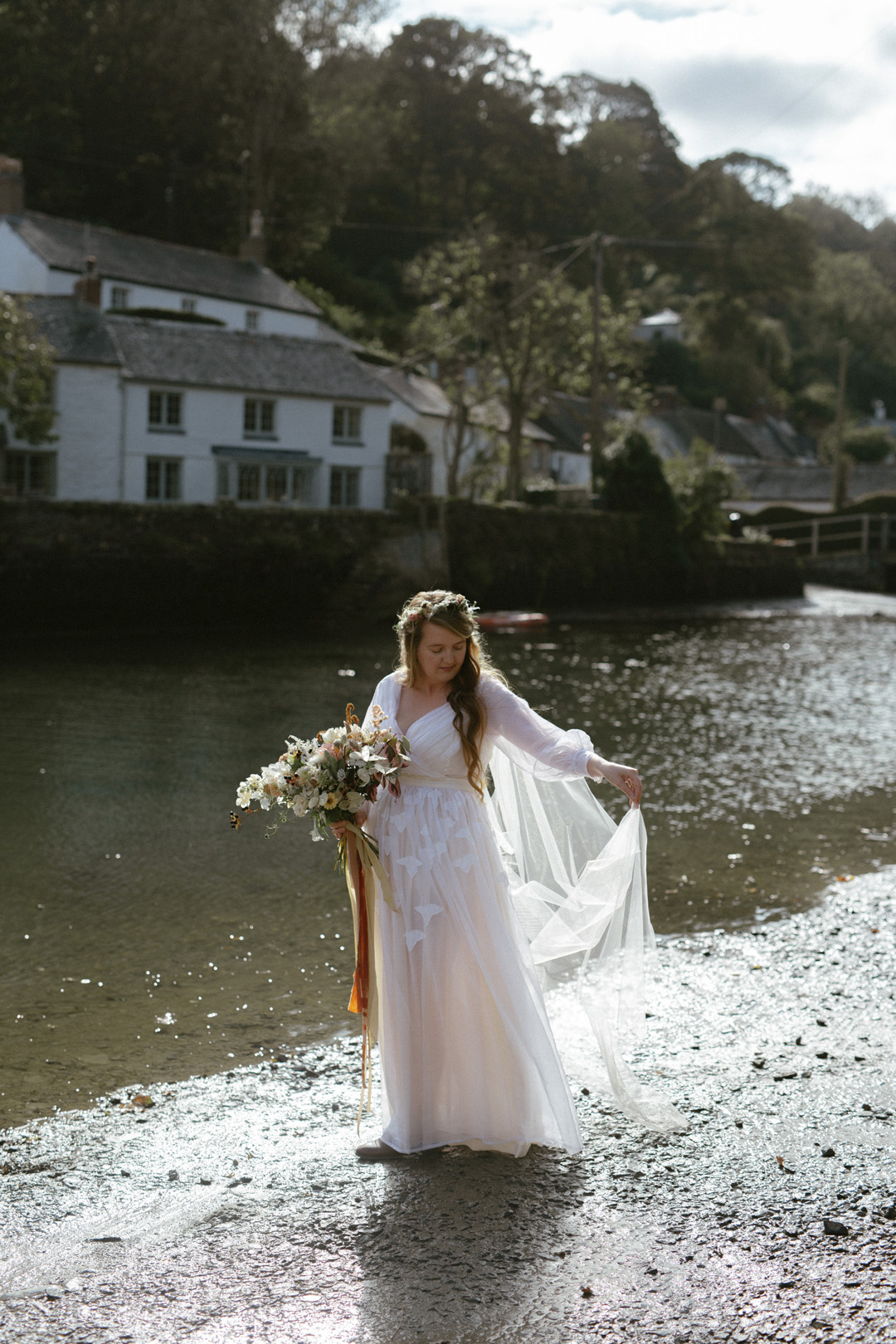 Sarah's bridesmaids were given a brief of 'pale, creamy tones', each selecting a different gown to suit their own personality and style.
"Everyone had something totally different but they came together with the greenery crowns, bouquets and boots. I didn't want to put everyone in the same dress as I wanted everyone to have one they could wear again and bring out the aspects of their personalities in their outfits. I also love mis-match as a vibe – I'm not a very uniform type of person."
"The brief was comfy autumn boots, much to my Nan's disdain! I thought it gave off a cottage core vibe but apparently, it's a contentious point with the older and more traditional family members."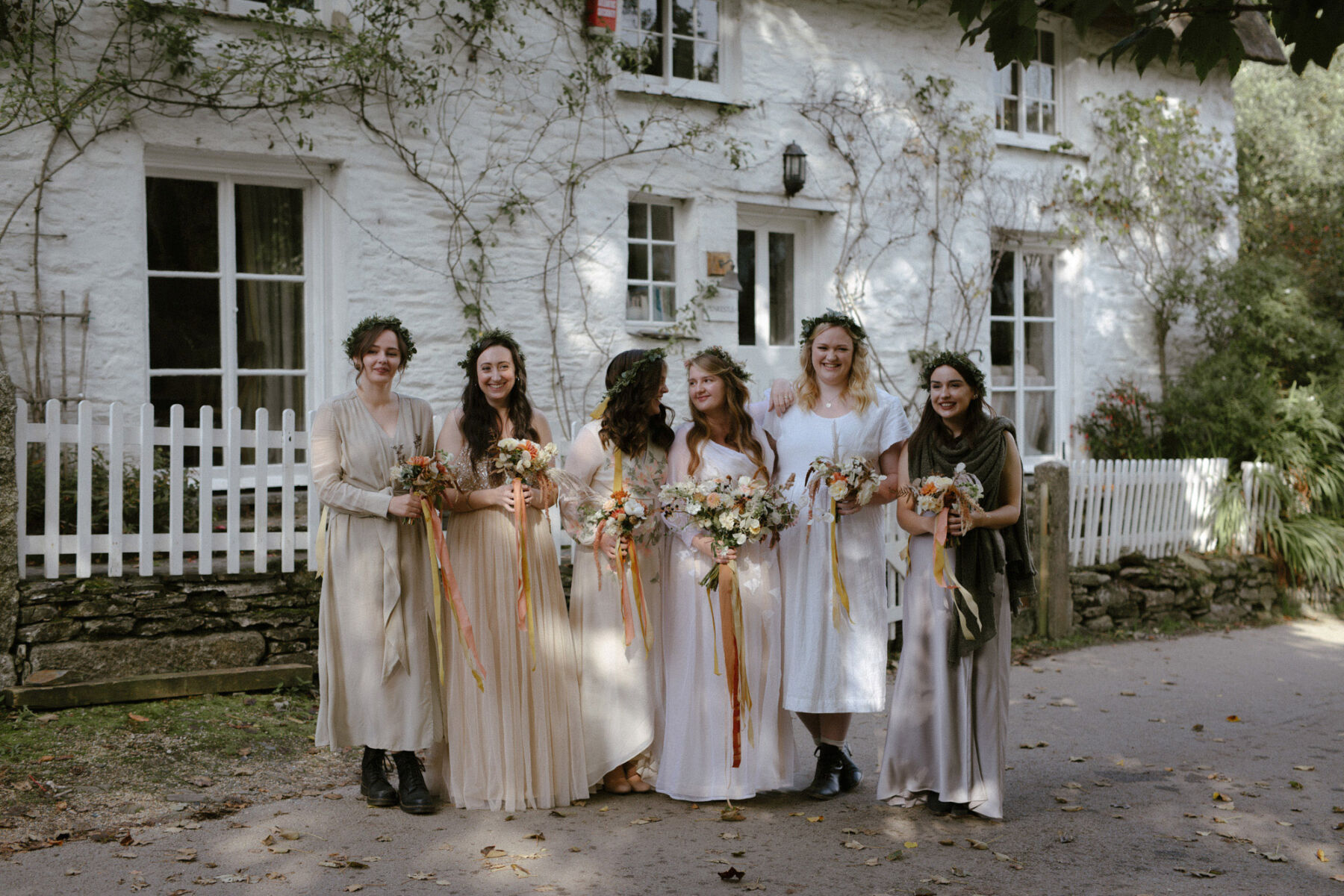 The brief for my bridesmaids was comfy autumn boots, much to my Nan's disdain!
The couple's little daughter, Lyra, was flower girl. She wore a handmade linen dress, made by Ailsa Munro, with an embroidered moth on the front.
"She loves it and still wears it now."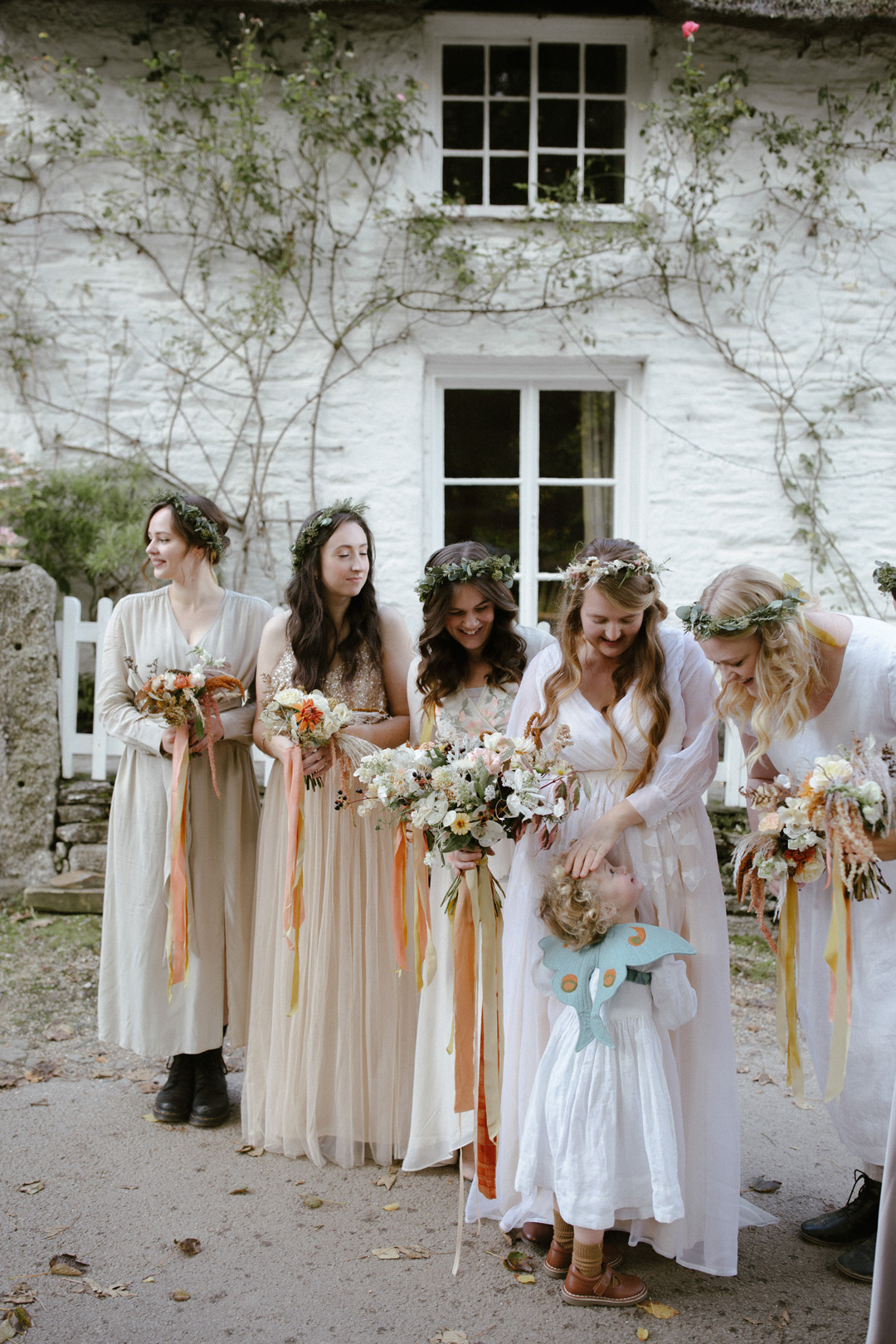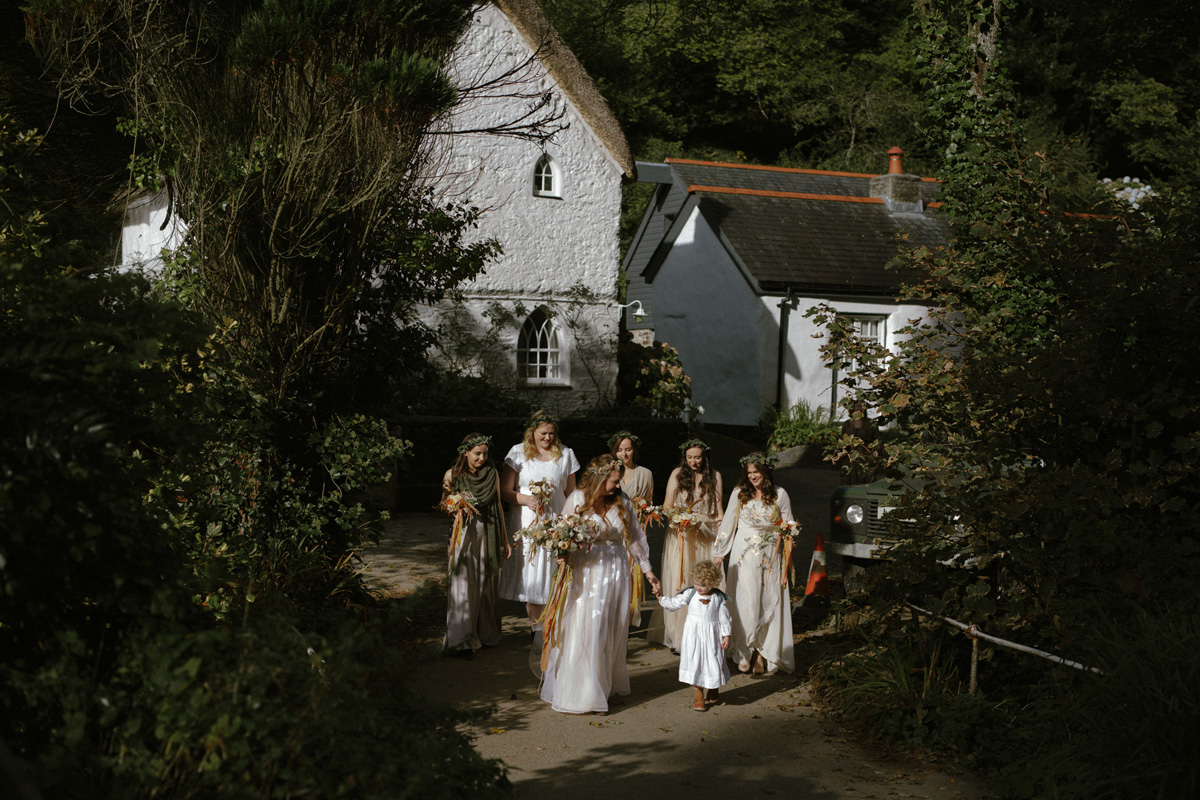 In keeping with the natural, woodland style, Jonathan chose a deep green Heart & Dagger suit (no contact details), worn with a Liberty London skinny tie and an ivy flower crown from The Cornish Cutting Garden.
"He always knew he wanted a green suit – he has moss green eyes (one of my favourite features) and is the epitome of autumn as his birthday is 30 October."
"He wanted to wear an ivy crown for our ceremony, somewhat untraditional for a groom, but I thought it was very handsome."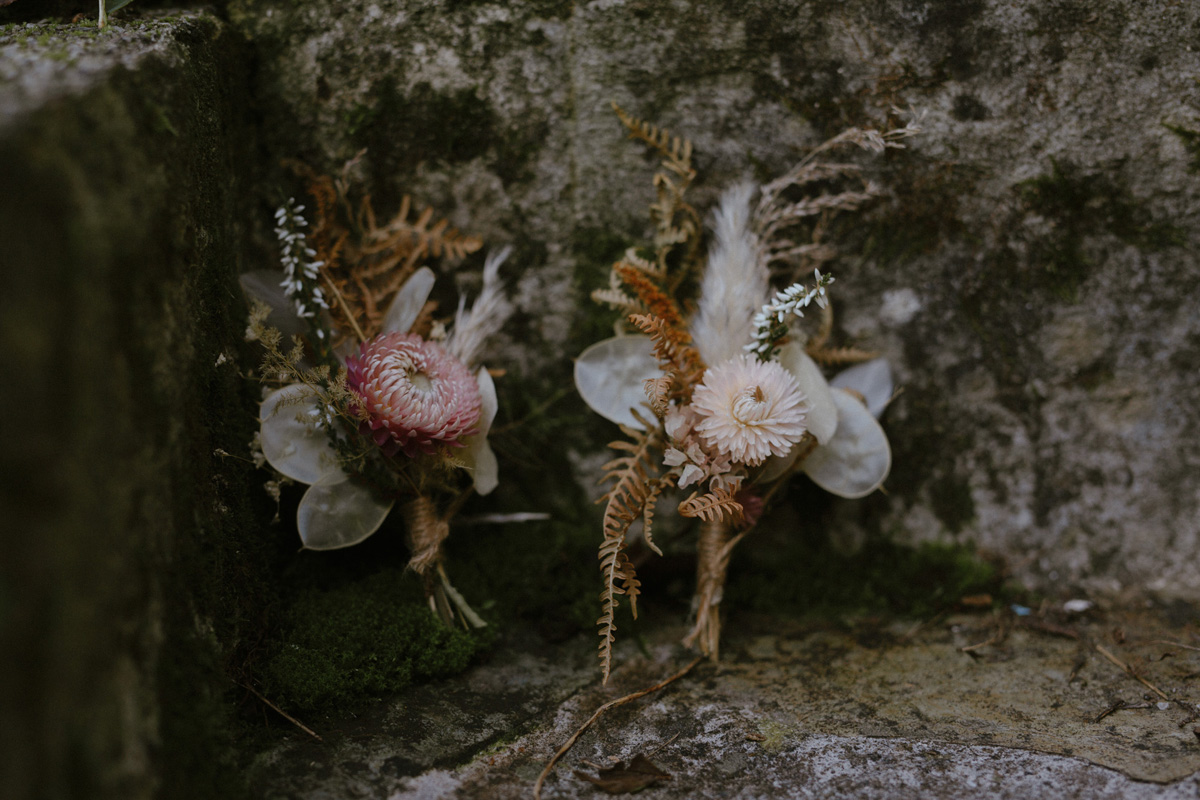 The bride carried a whimsical and wild bouquet, by The Cornish Cutting Garden.
"Clare is the loveliest human ever and so talented. She grows everything herself in her own Cutting Garden which is much more eco-conscious and she's a social enterprise so her ethos is amazing."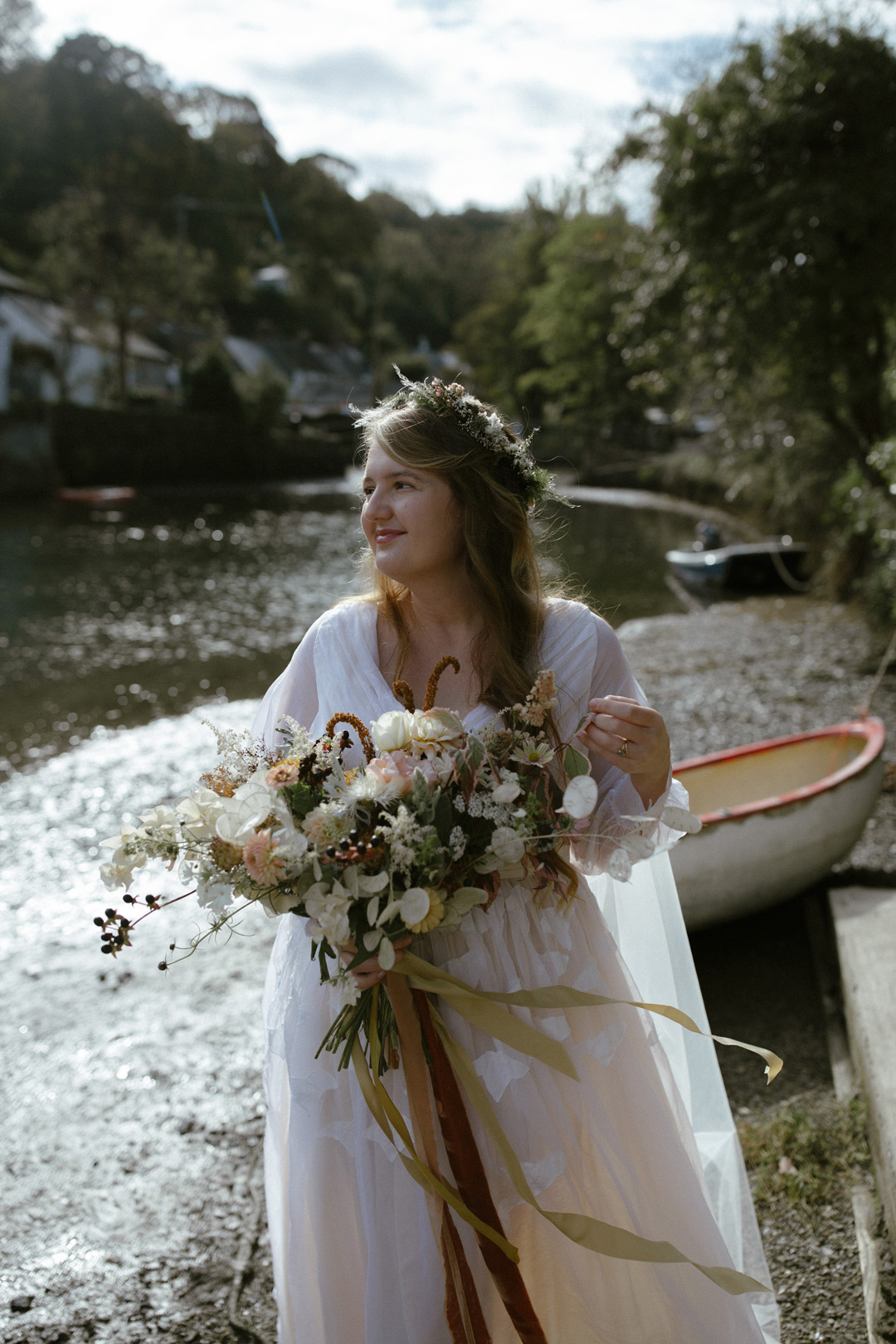 "When she's not a florist, she's an artist and that really comes across in her work which is very unique. I adored the sculptural rambling rose arch she made for our ceremony space, as well as the floral cloud in the greenhouse."
"The bouquets were beyond what I'd dreamed. She had really taken my ideas and put her own spin on them. I burst into tears when they turned up."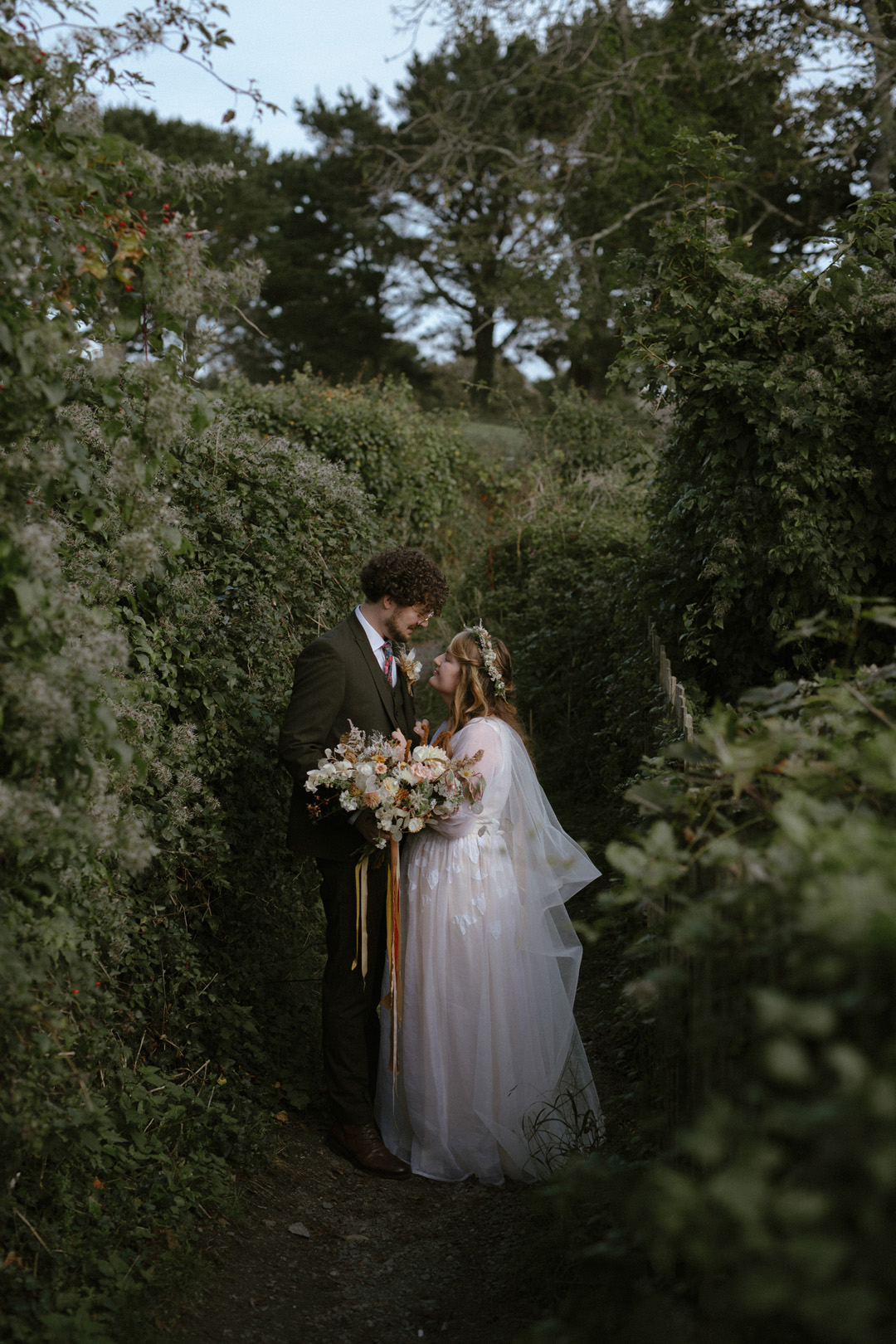 Originally planning a May wedding, with 'A Midsummer Night's Dream' inspiration, Sarah and Jon had to postpone twice due to Covid, eventually settling on a date in October.
"It was the only remaining date we had free in our diary (as we shoot weddings ourselves) but we adore the autumn and are so glad it happened this way."
"The weather was so cold and horrible on our original two dates which got postponed, and the weather on our actual date was so magical and warm and perfect. It felt like it was meant to be."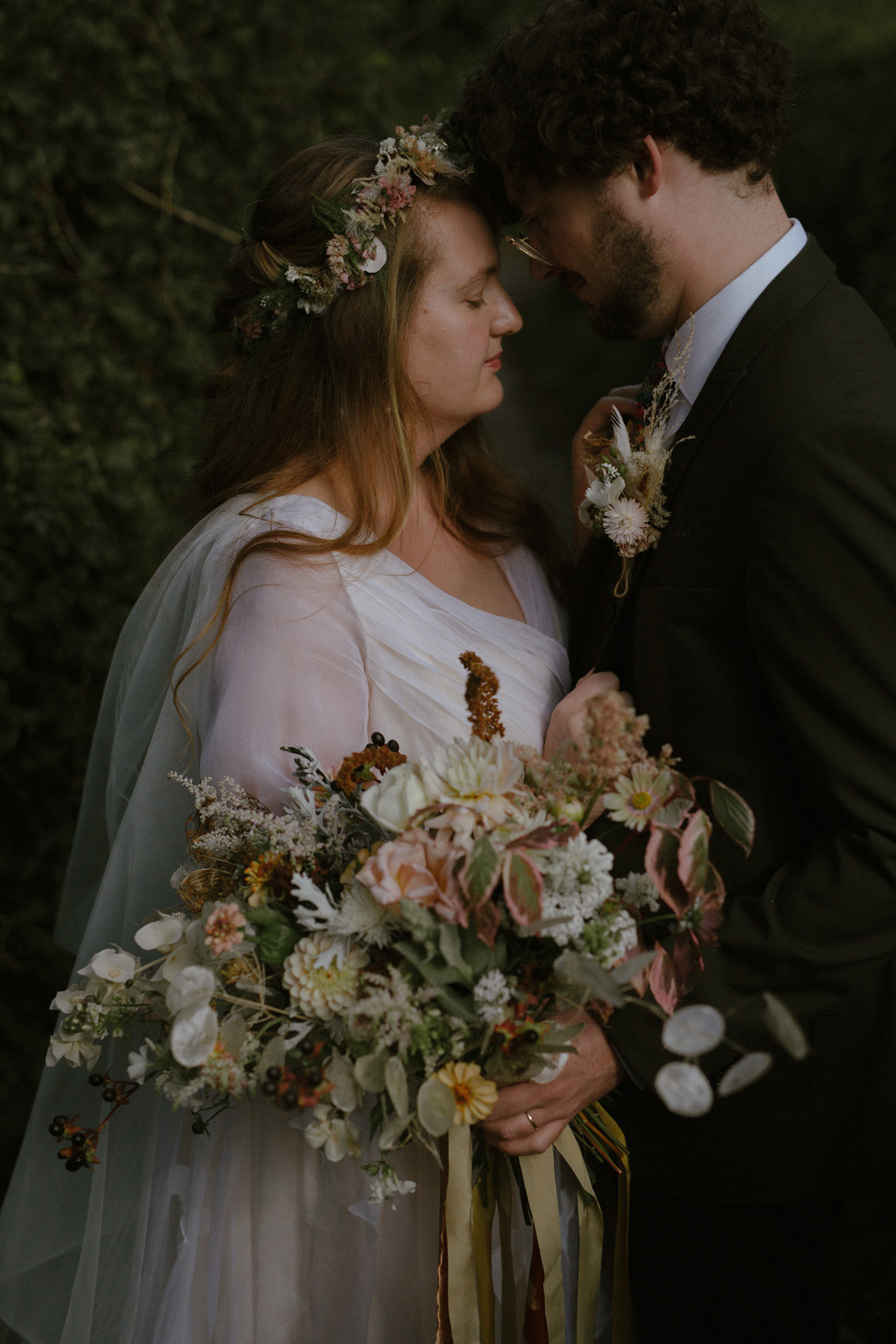 "The final look changed as the dates changed but we were so happy with how it all worked out. Autumn is our favourite season and it really suited the venue with its orchard and little woodland."
"By postponing twice, we were able to save up more money for extra magical things that we couldn't afford in our original budget, such as a violinist for the ceremony and upgrading our catering as well as adding a glitter bar."
Sarah and Jonathan had a special first look before being sailed across the Helford river together in sail boat 'Magpie'.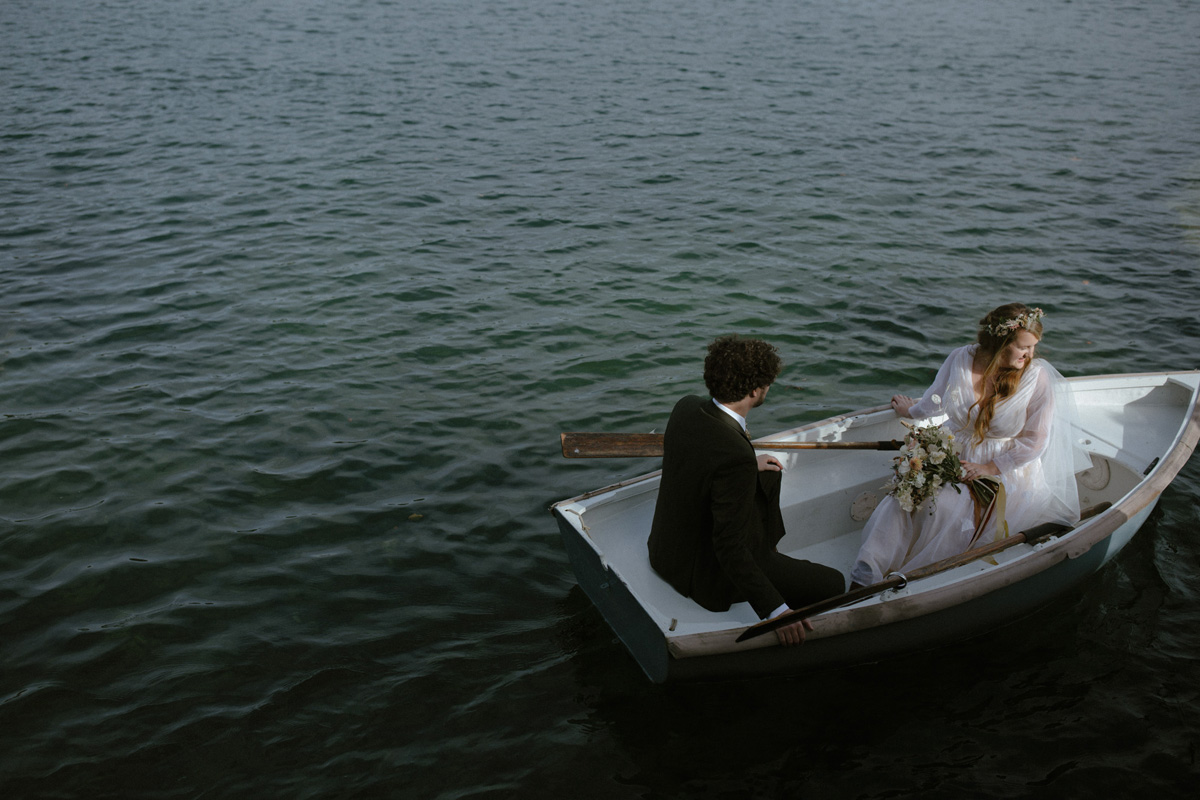 "Although postponing was frustrating, we used it as an opportunity to add even more magic with the extra time and it feels so good when it finally comes together. We'd also advise that outdoor ceremonies are incredible and so magical so if you have the opportunity to do so, we highly recommend them."
The couple met at the beginning of 2017 through a mutual friend who had double-booked them both for a coffee date.
"She decided that it would be easier if we all just hung out together. I realised I had met my match when Jon vanquished me at a game of 'Ticket To Ride' (something I hadn't thought possible)."
"We bonded over a love for film photography and I offered him a job second shooting for my new wedding photography business."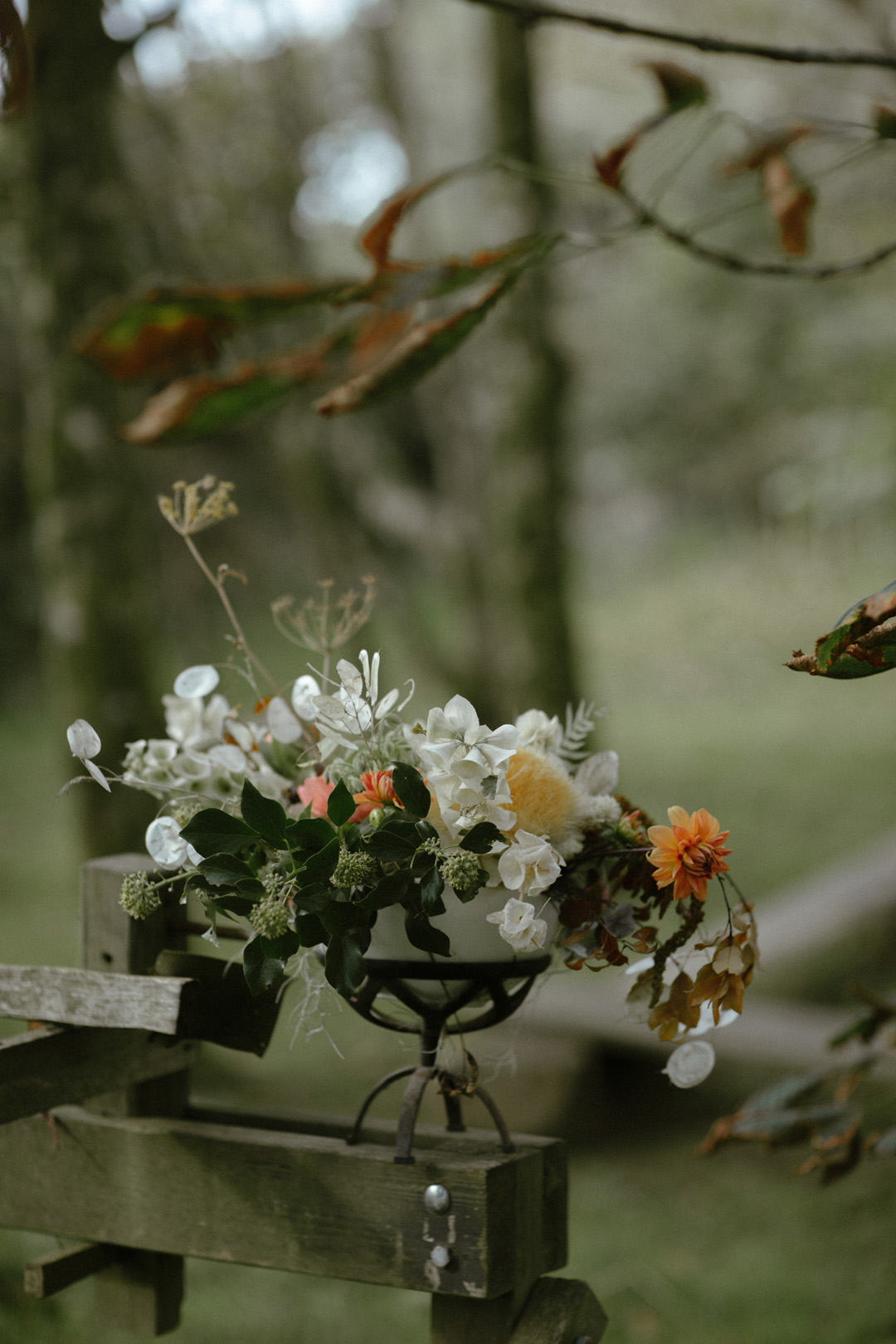 To allow for easy walking in the woodland ceremony area, the bride wore dark brown leather ankle boots from FatFace.
"They matched my bridesmaids who all wore boots. They better suited the venue vibe and were very practical since we took a boat across the Helford River to get to the ceremony."
"I swapped out to rust velvet ASOS mules for dancing in the evening but having ankle boots for the day was extremely comfy and an excellent decision for a woodland wedding."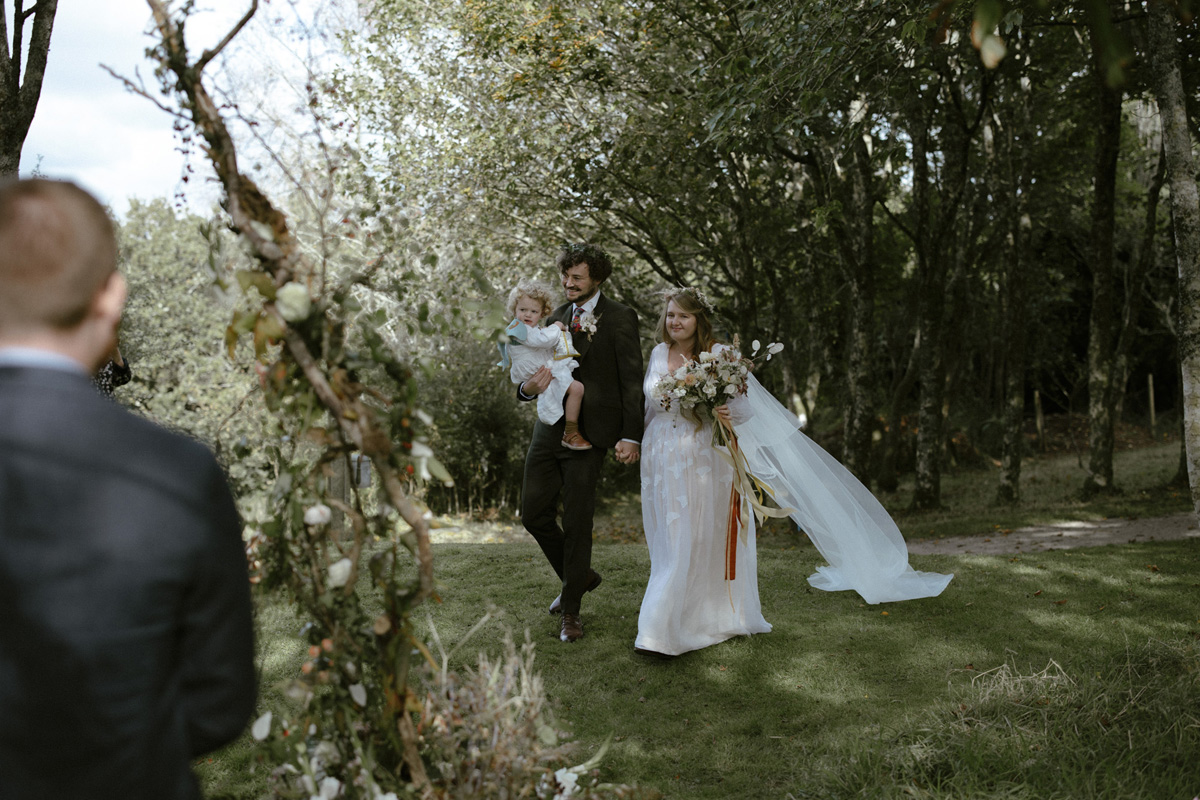 "We travelled all over the country together capturing weddings and staying on to explore different places; lots of long boarding on the Penzance promenade and wild swimming together on days off."
"After an elopement in the Highlands followed by a weekend away in Edinburgh, we finally admitted to each other that we were somewhat more than colleagues."
"We share the same dark sense of humour and love of weird things like 'The X Files', Cryptids and mythology."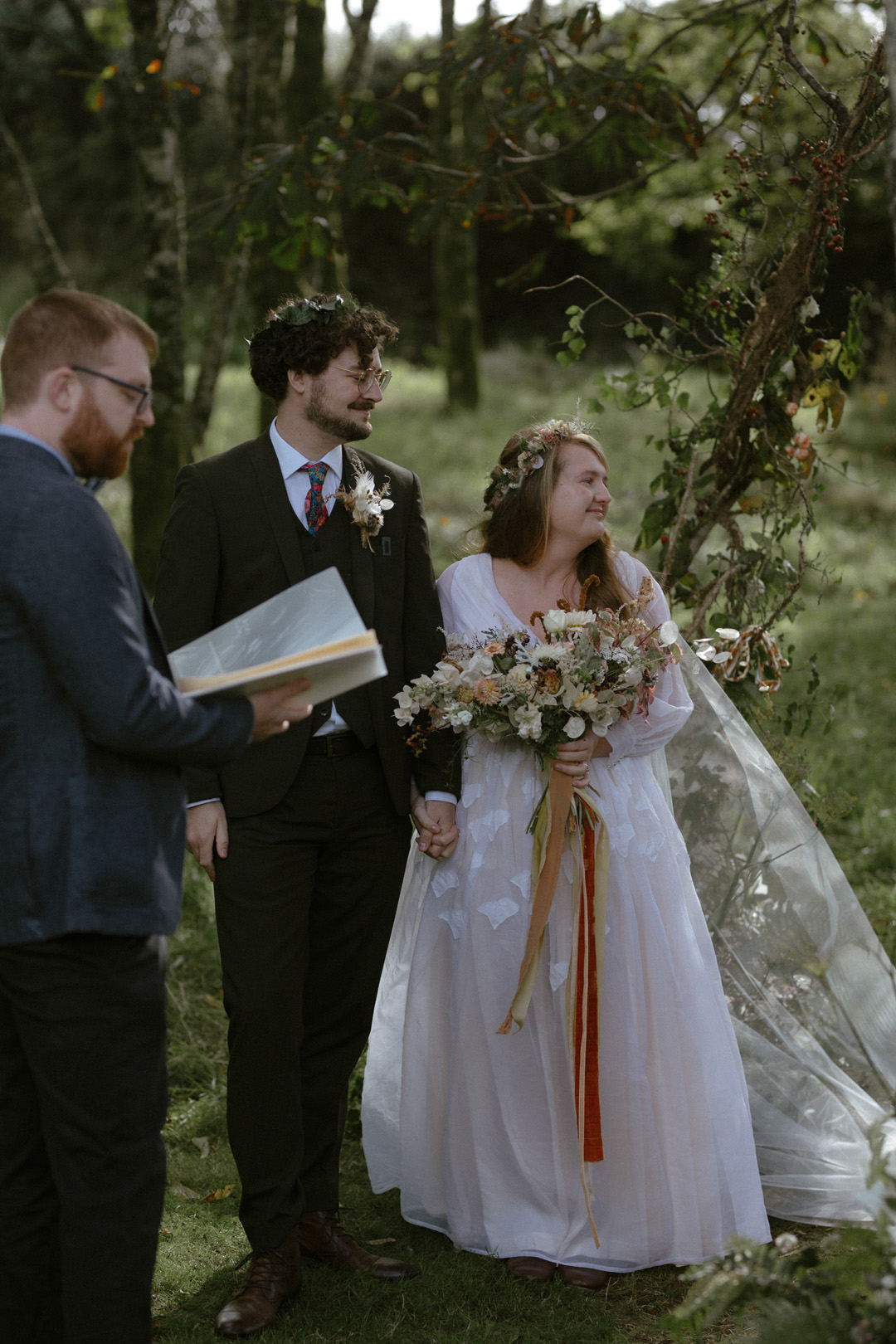 The wedding ceremony and hand-fasting were held in the woodland at Potager Garden and was simple, rustic and magical, with wooden chairs and a floral arch.
"Jon and I went 'down the aisle' together along with our daughter Lyra. There wasn't much of an aisle due to a mistake with the ceremony setup and chair layout so we sort of rocked up to the arch together. We had a violinist, Sue Aston, play some folk songs for us."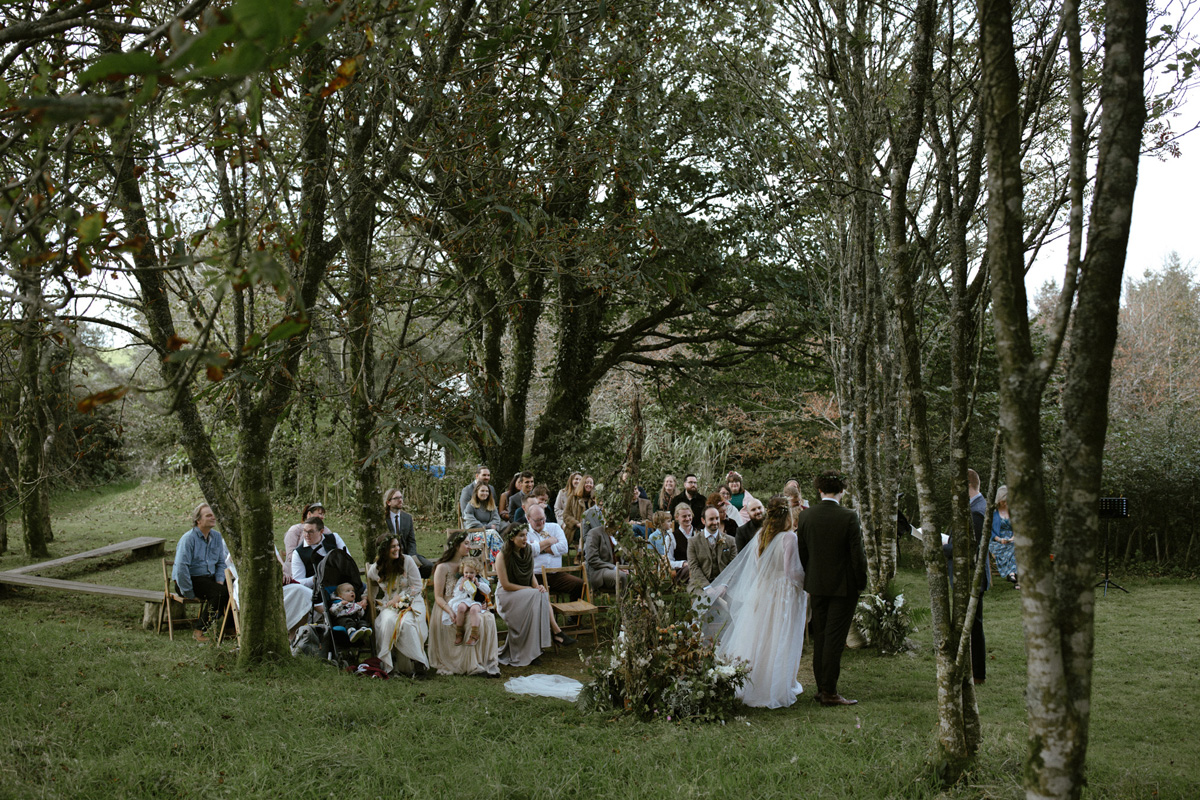 "We wrote the entirety of the ceremony ourselves as we were already legally married at a registry office and wanted something that was a bit fun and celebrated life and silliness. Our good friend Dave officiated for us and performed a hand-fasting."
"We did a 'blessing of the rings' where our rings were passed around our guests so they could bless them with their good intentions, and we and the congregation sang a traditional Cornish song, 'Cornwall My Home'."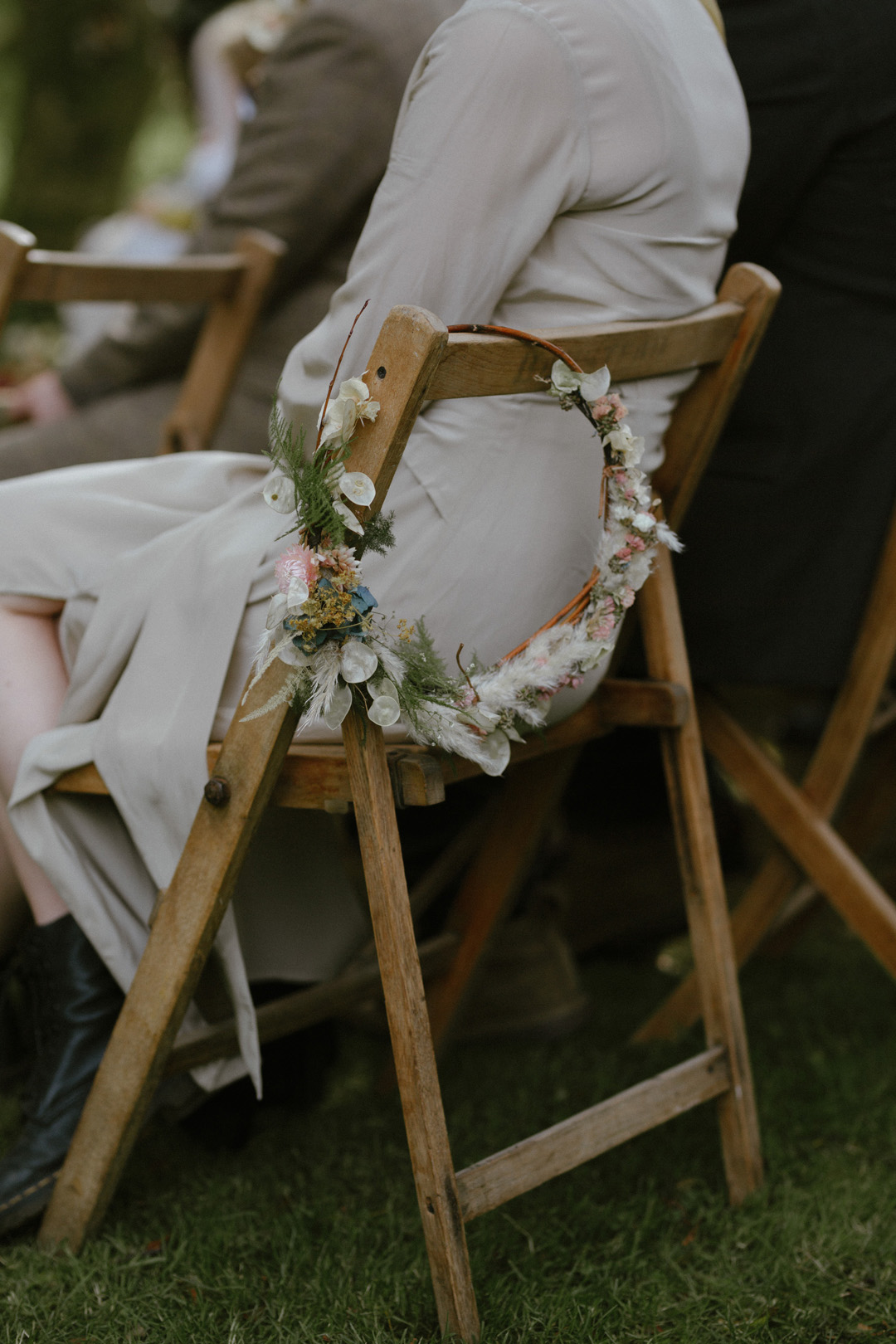 "It was important to us that the ceremony was quite whimsical so we really personalised it with some anecdotes and humour."
"We wrote our own vows to each other, a mix of humour and sweet sentiments. We ended up crying through our vows and hand-wrote them in a little book which we've put in a wedding memory box."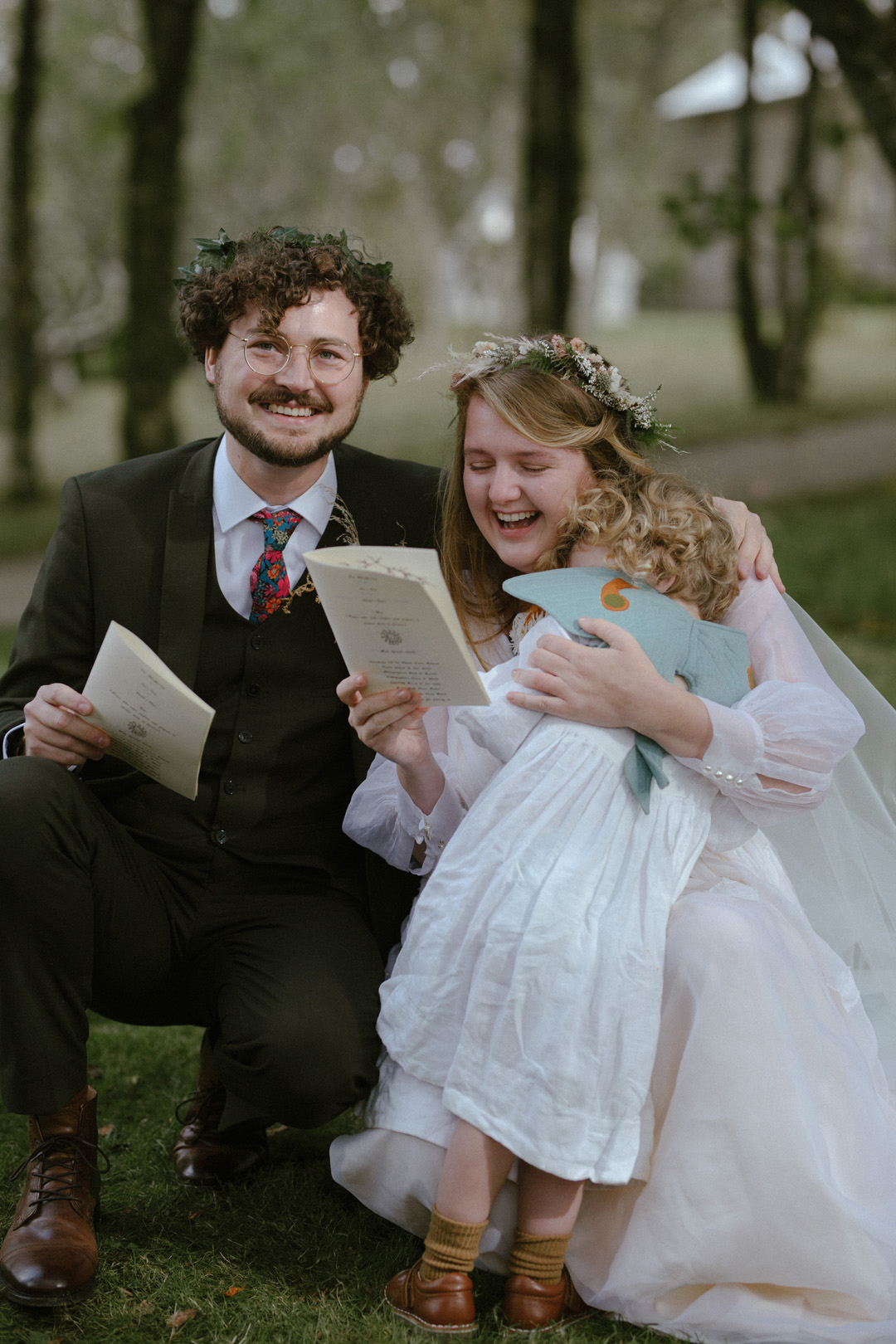 The couple selected non-traditional readings; 'The Jabberwocky' by Lewis Carroll to entertain the little ones and 'Desiderata' by Max Erhmann.
"We wanted some light-hearted fun from 'The Jabberwocky' and to avoid the usual wedding readings. 'Desiderata' seemed like a beautiful sentiment that we all needed to hear after a difficult and trying couple of years."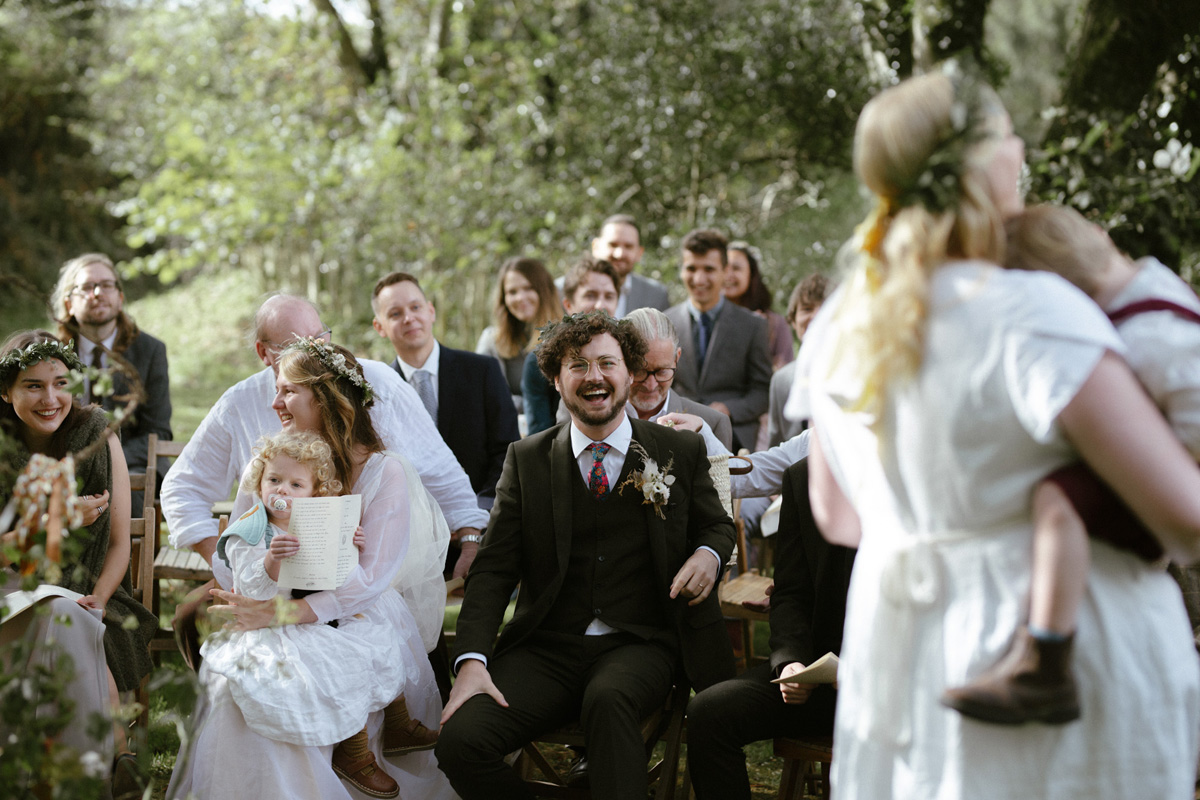 "We chose a hand-fasting as we had already exchanged rings at our legal wedding and wanted something that was an ancient tradition that transcended across many different faiths."
The couple's rings were by Cornish jeweller Hannah Batstone.
"We found her at a local artisan fayre one Christmas and Jon bought me one of her rings as a present. We've since been back for engagement rings and wedding rings, along with our friends."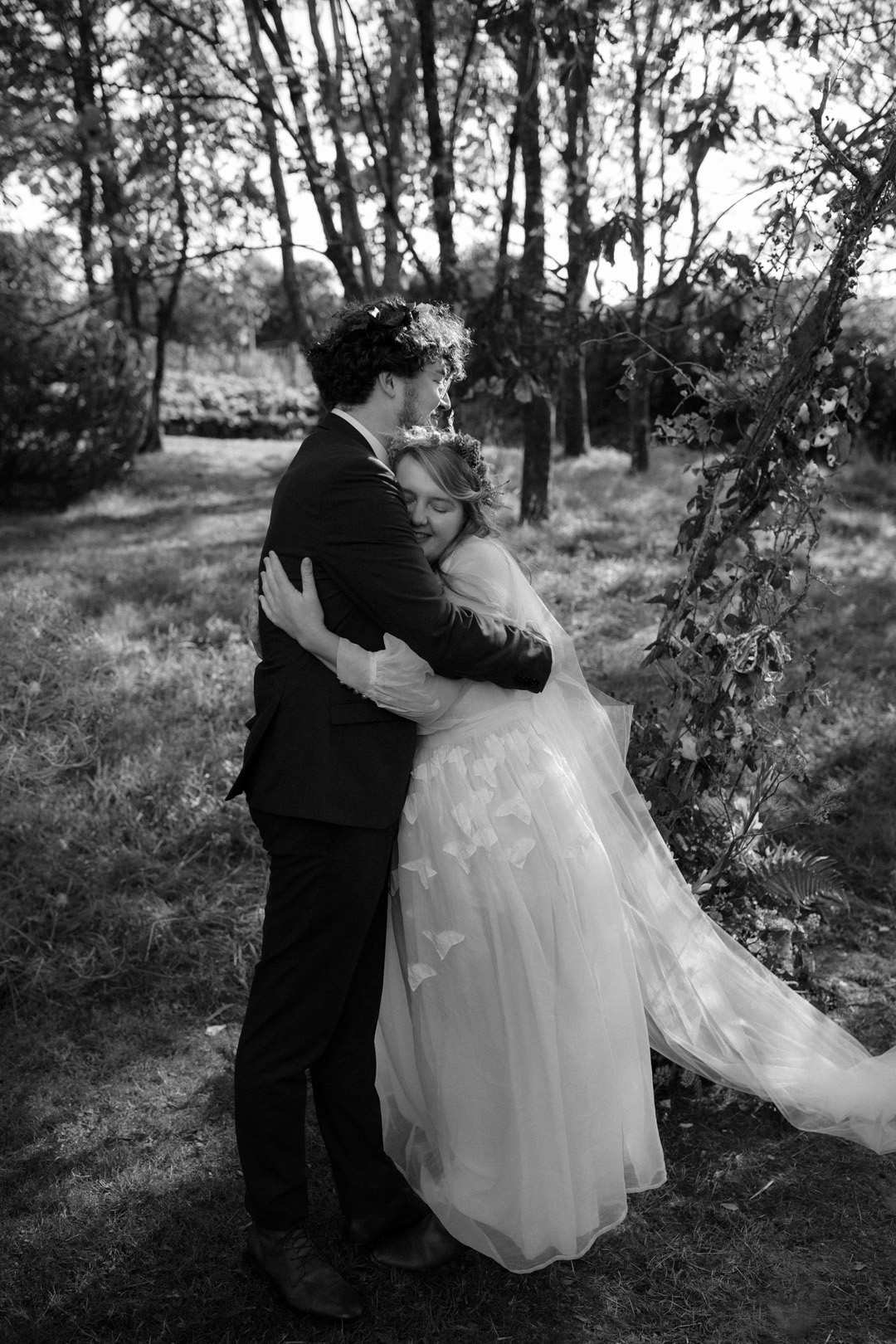 As the couple walked back down the outdoor aisle and through their confetti tunnel, the 'Poldark' theme tune was played.
"It was quite funny and got some giggles from our 'Poldark' and period drama-loving friends."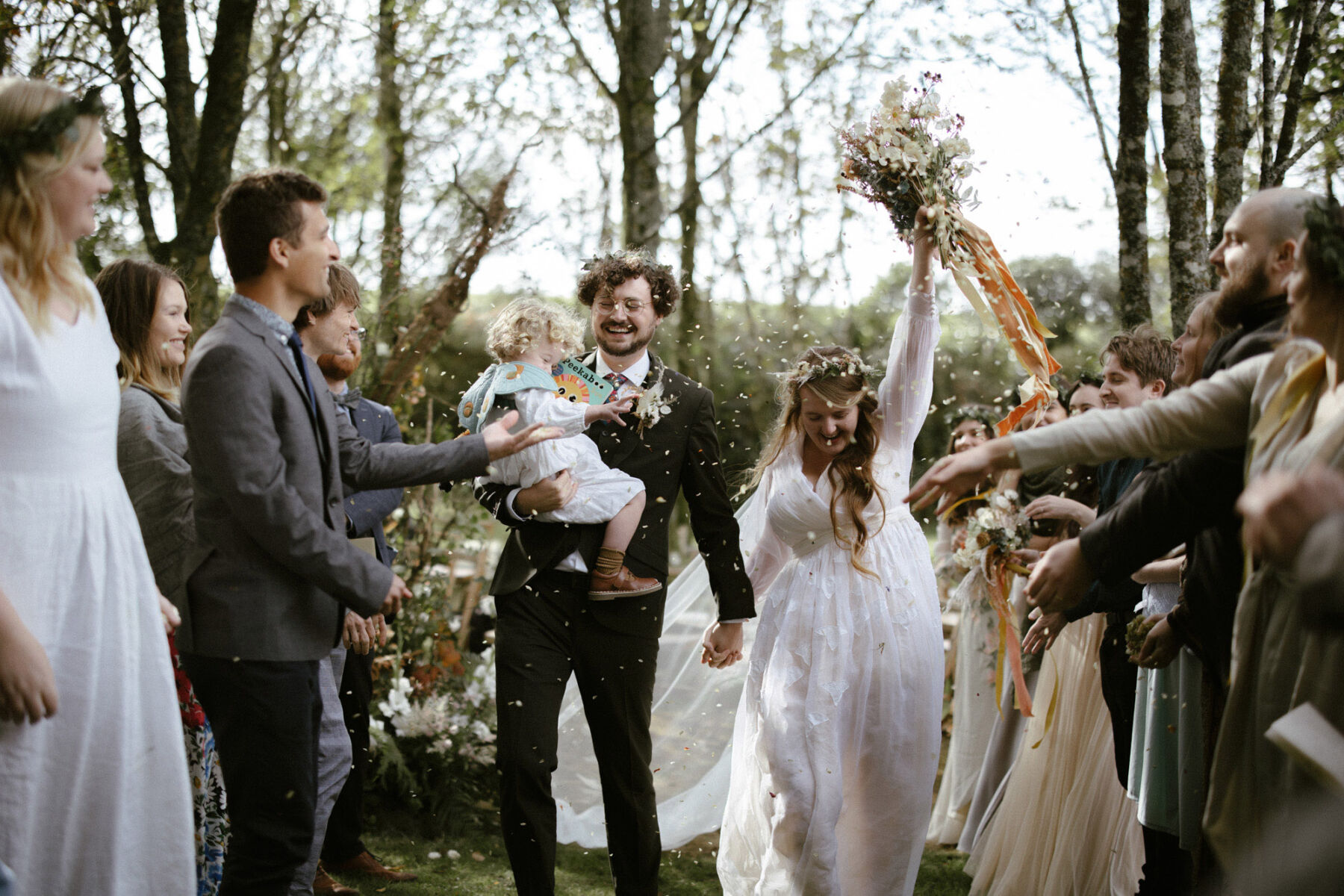 It was important to us that the ceremony was quite whimsical so we really personalised it with some anecdotes and humour.
"My nephew Theo was page boy. He wore rust-coloured The Simple Folk dungarees with a linen popover shirt and Piran, Ailsa's son, wore handmade dungarees."
"I'm not a fan of toddlers in suits so dungarees seemed far more fitting for an outdoorsy, woodland wedding."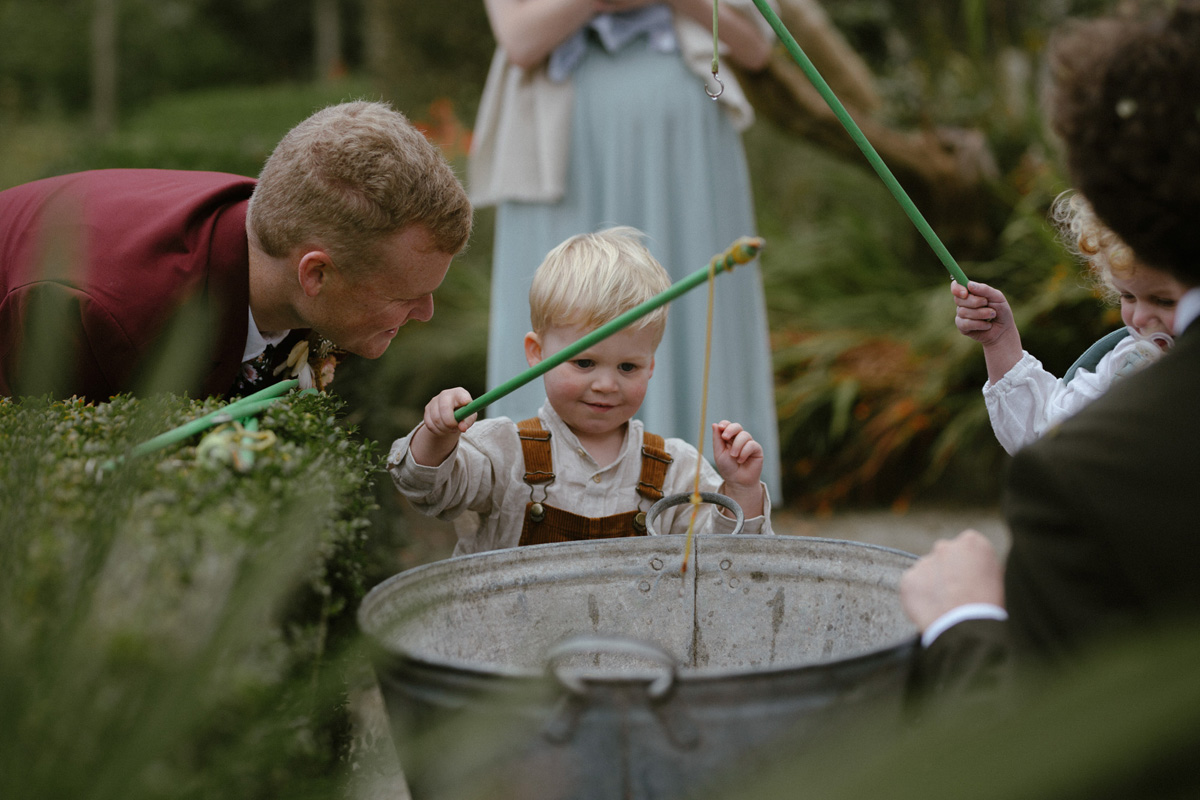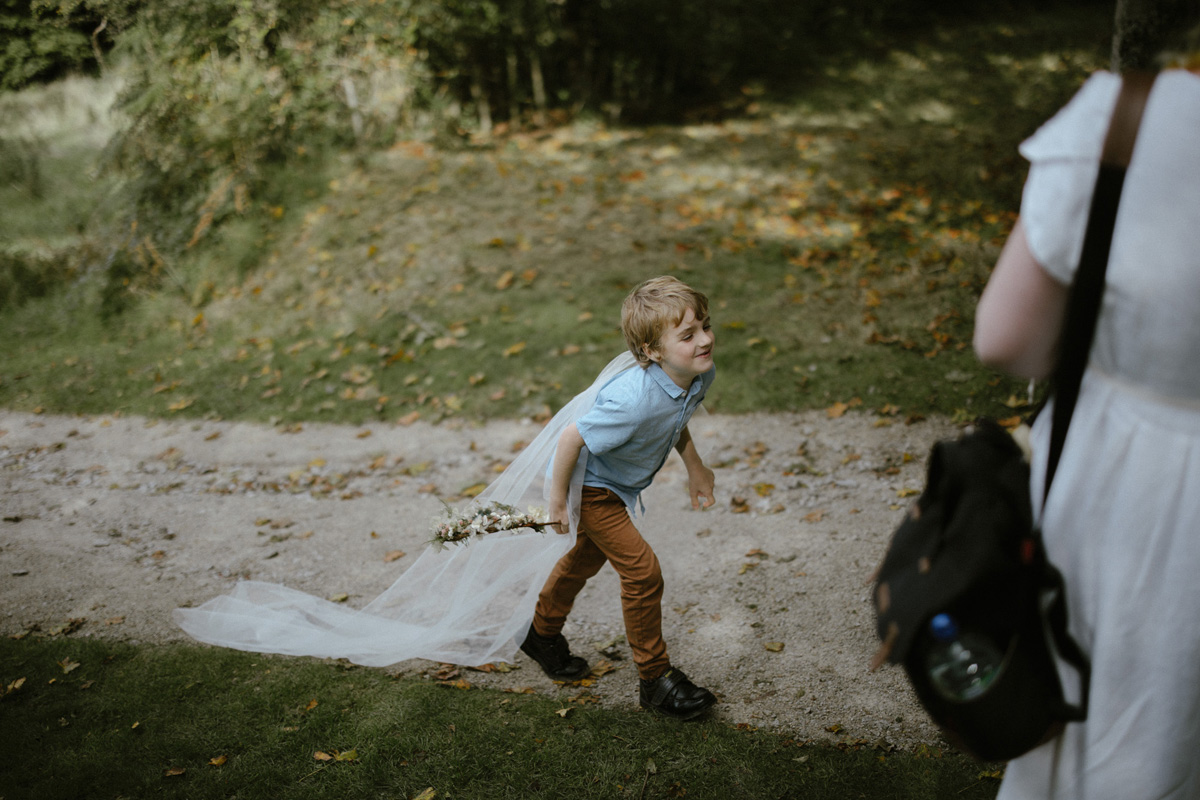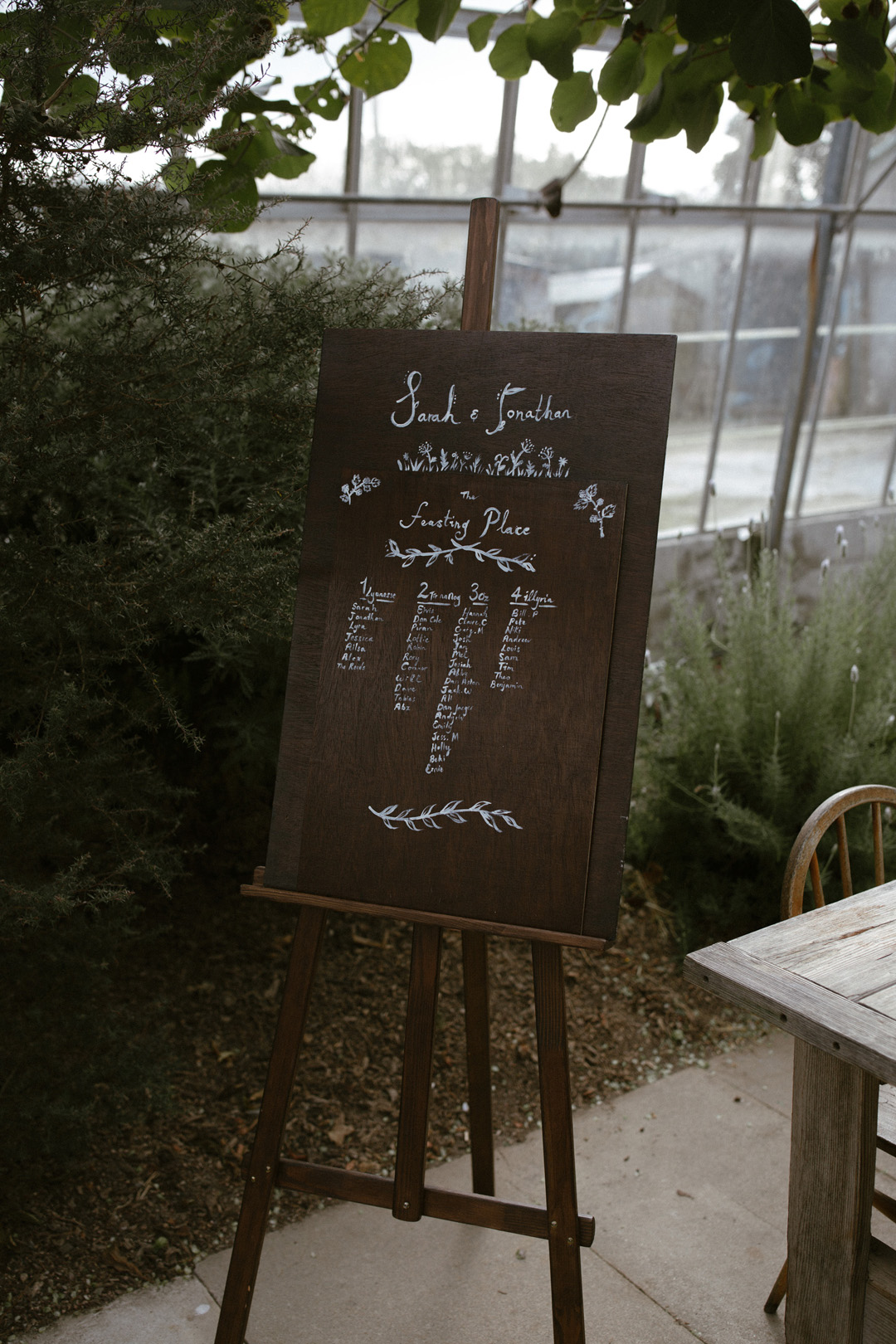 Potager Garden's glasshouses made a fanciful and welcoming space for the wedding feast. Décor centred around foliage and flowers, with lots of personal touches from the couple.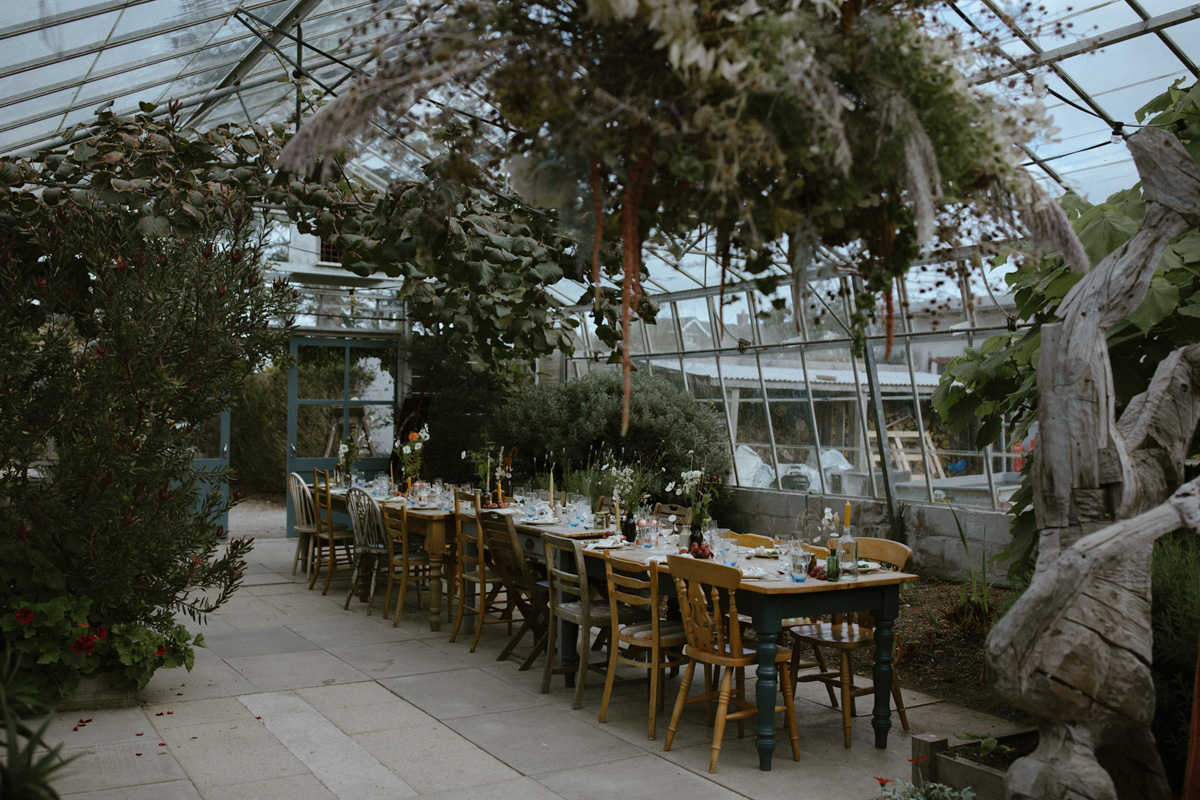 "I made all my own stationery and hand-drew the orders of service, menus on the tables and place cards. I hand-painted the signs onto fabric and muslin and the table plan was very hurriedly painted the night before the wedding (Don't leave your DIY projects till the last minute, folks!)."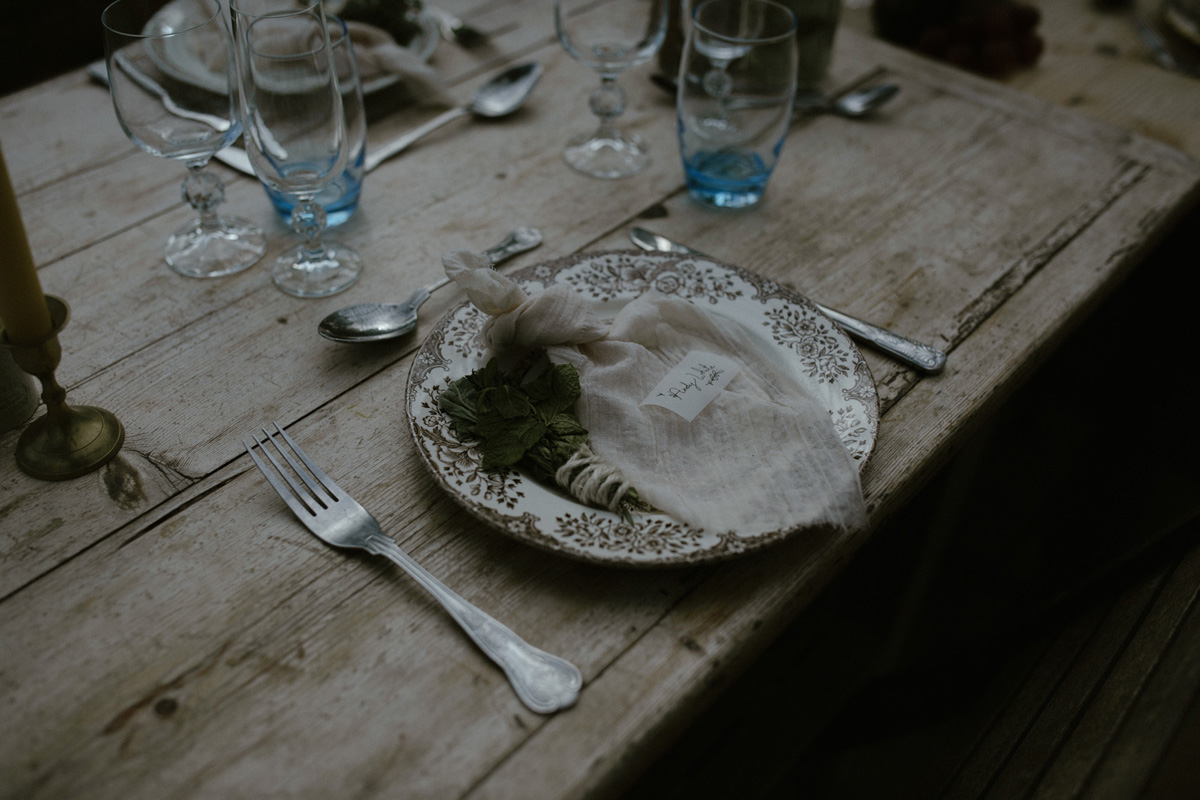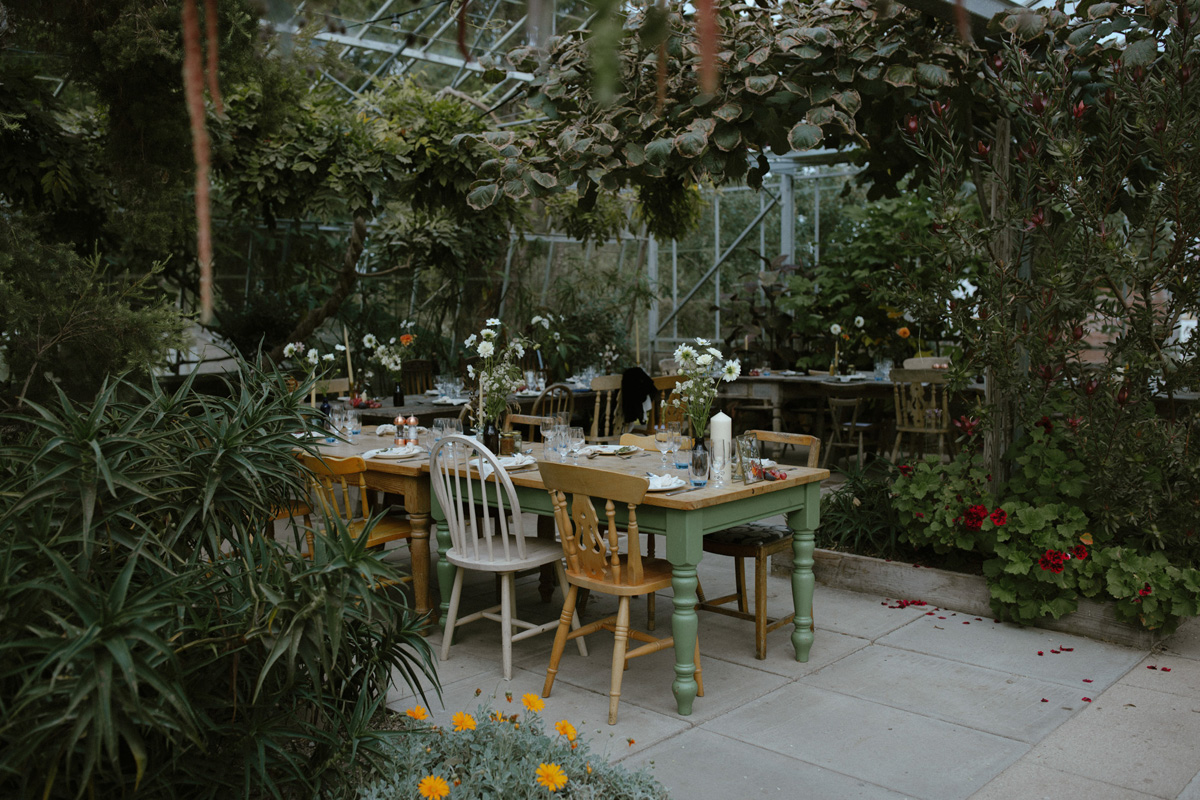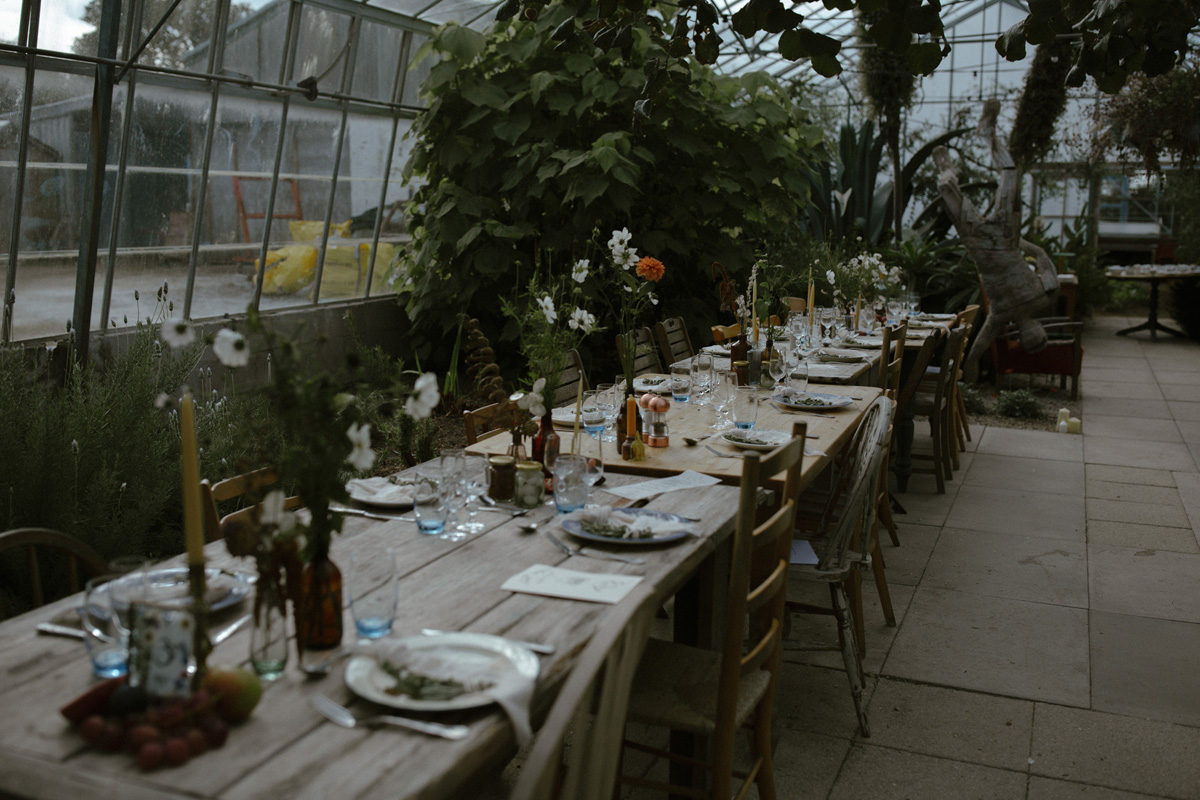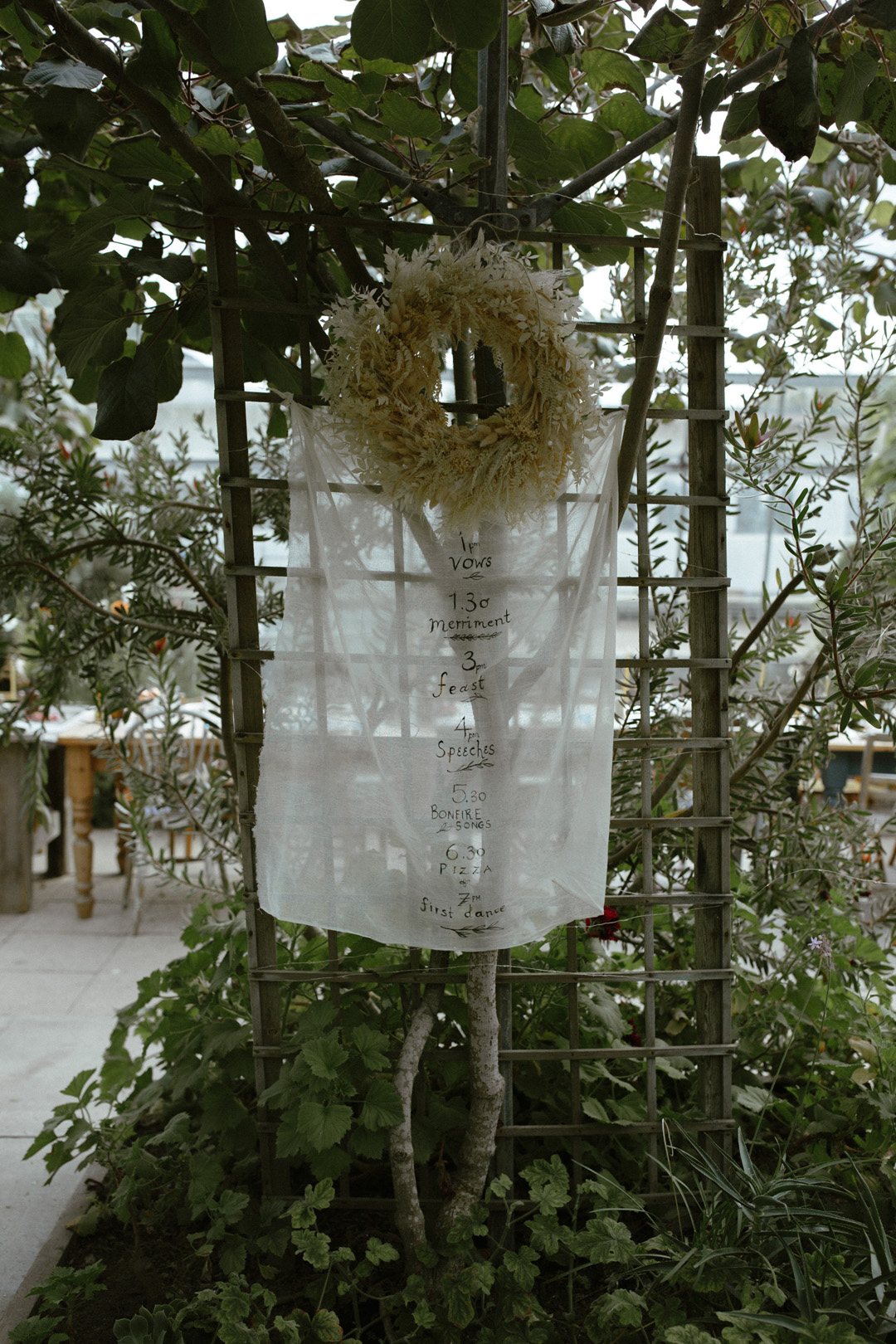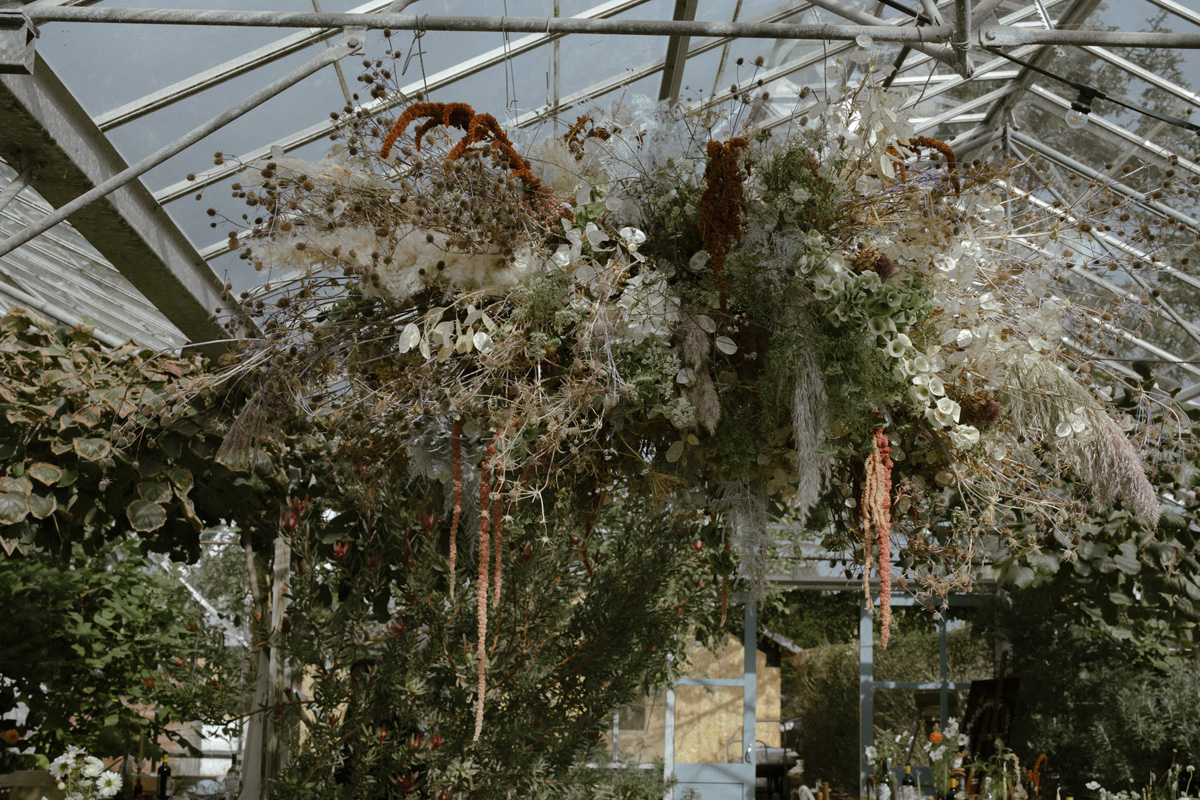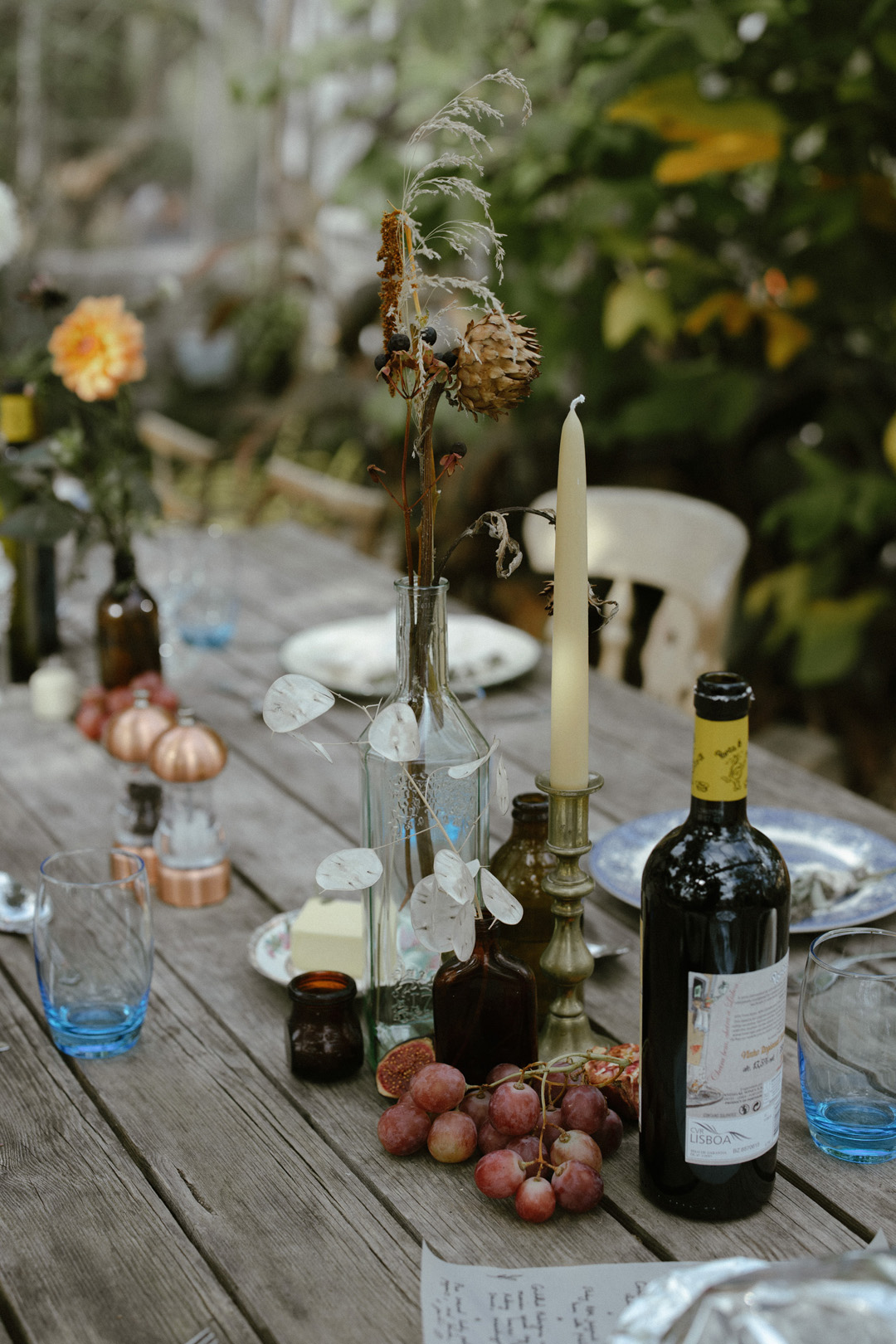 The wedding feast was catered by Kerra's Catering and Sarah chose Oona's Cakes to make the fruit-adorned wedding cake.
"I have worked with her countless times, loving everything she made. I gave her our brief of 'autumnal Renaissance' and she nailed it; gold-sprayed giant blackberries, dried pears, figs and a beautiful floral crescent moon design on the top."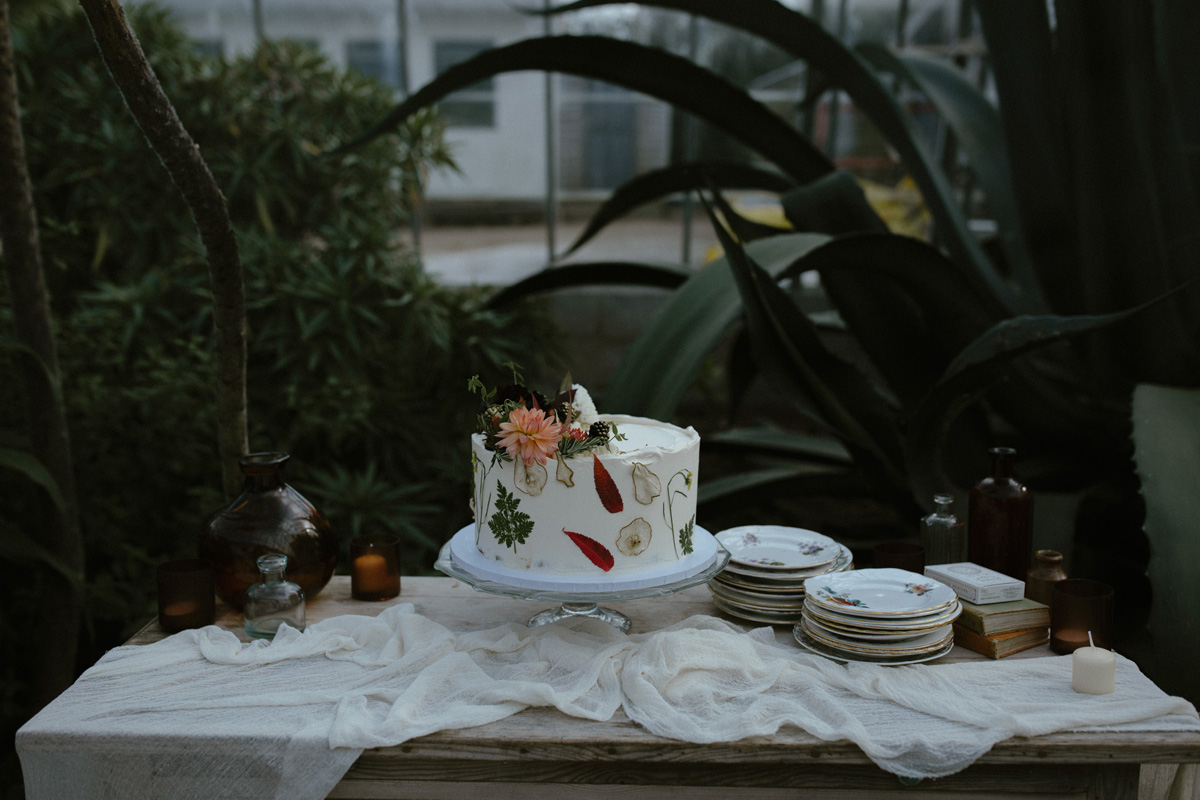 "It was so delicious and there wasn't a single crumb left. We went for an orange and almond cake with Earl Grey buttercream icing and apricot jam. It was absolutely divine."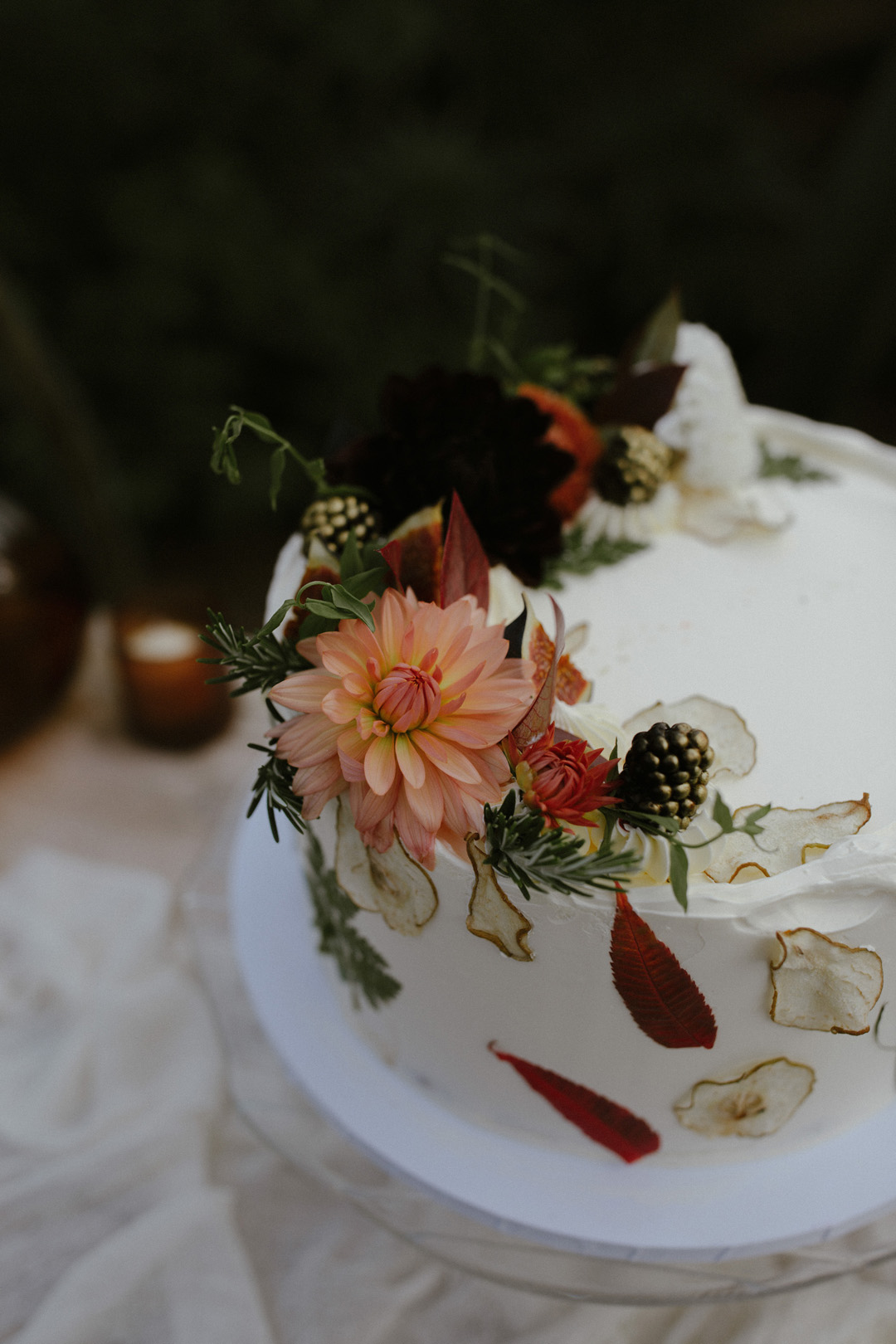 The photographer for the day was Ruth Atkinson Photography, whose work the couple had seen on Instagram.
If you love her style, you can see more of her weddings featured here on Love My Dress.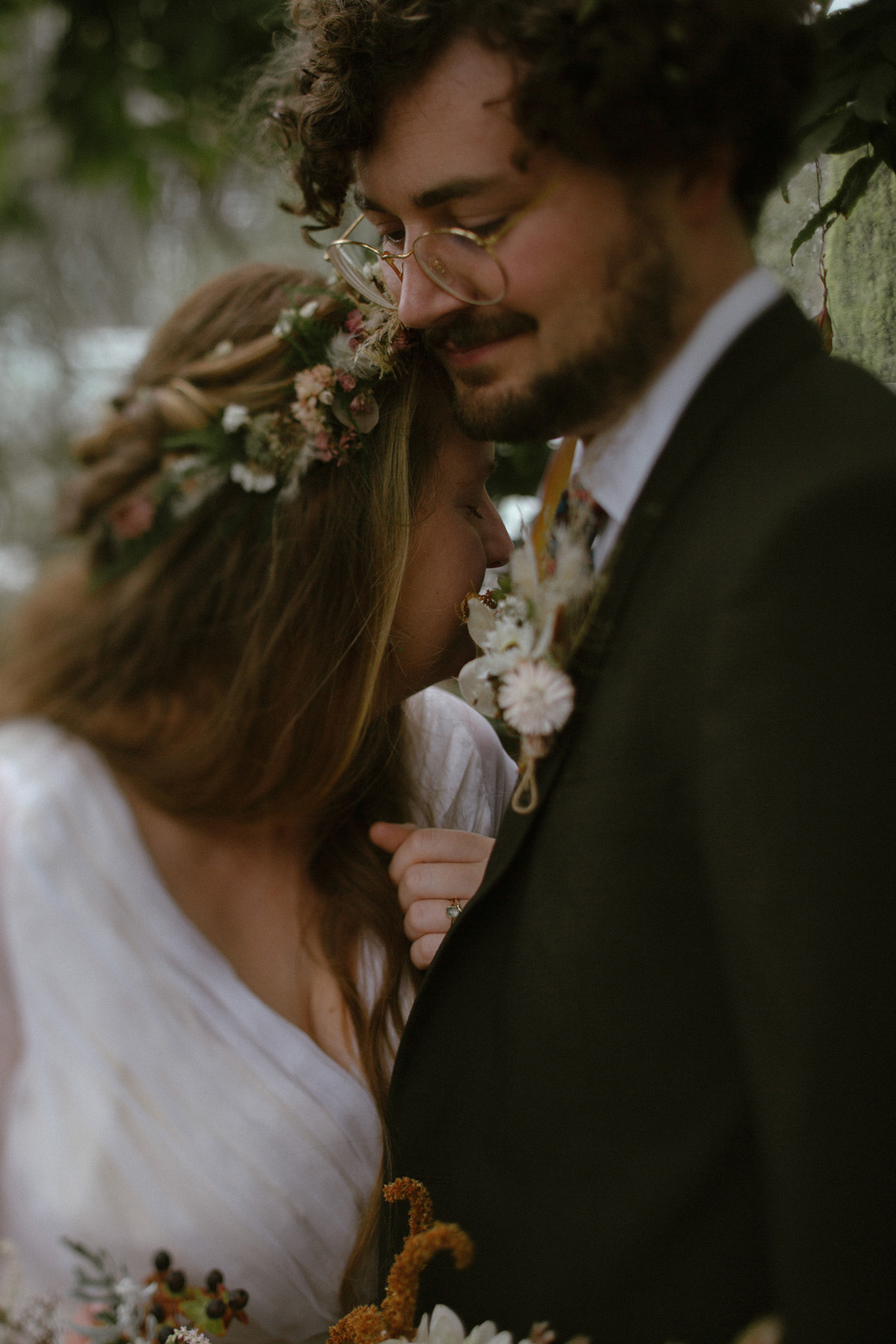 "Seeing Ruth's  work regularly pop up on Love My Dress certainly cemented our choice to book her. Jon and I both loved Ruth's work for its cinematic look.""
"We fell in love with her editing too, a really important aspect for us, and her style really suited the venue and the autumn tones."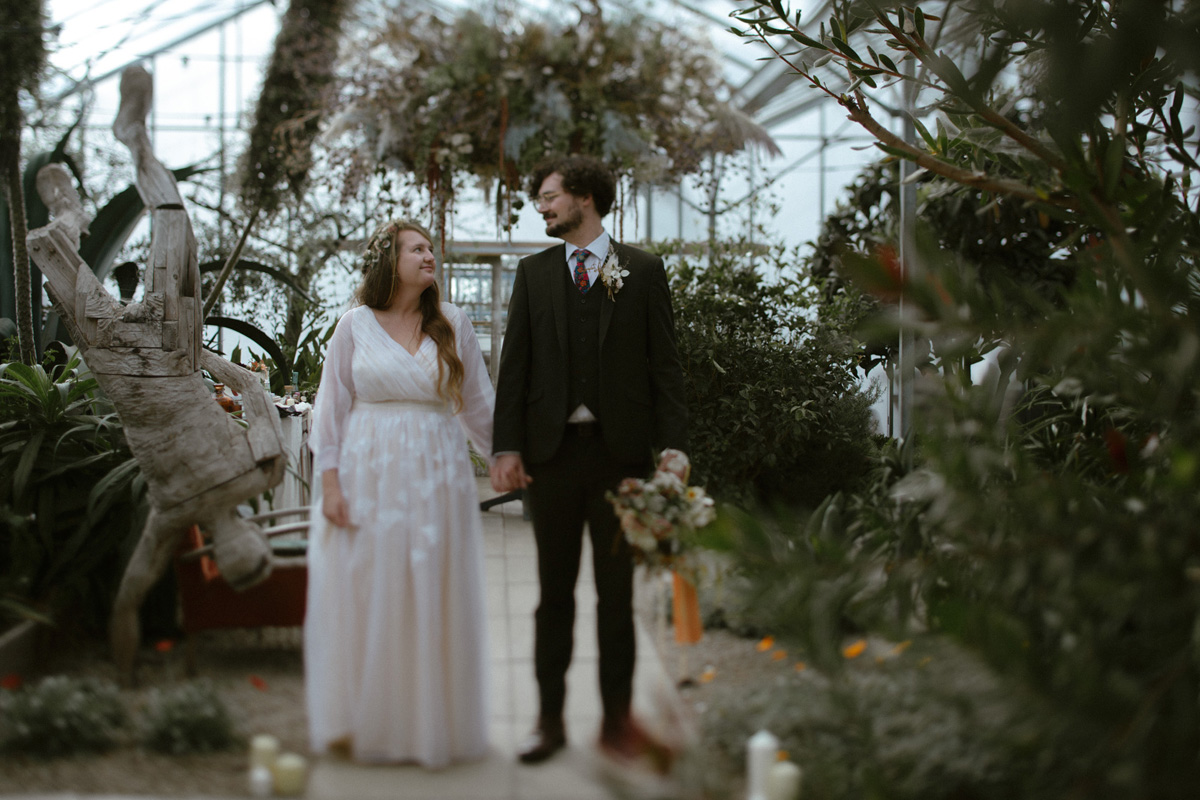 "We are so happy with the photographs and love how she captures details and moments. Keziah from Hello Pictures assisted her on the day as Ruth was barely weeks away from going into labour with her daughter, Saorise."
"Ruth and Keziah were both great; they hung back and captured the natural moments with hardly any posing or formality, exactly what we wanted."
"They were super-friendly and lovely too which is really important to us – we didn't want a loud or bossy photographer."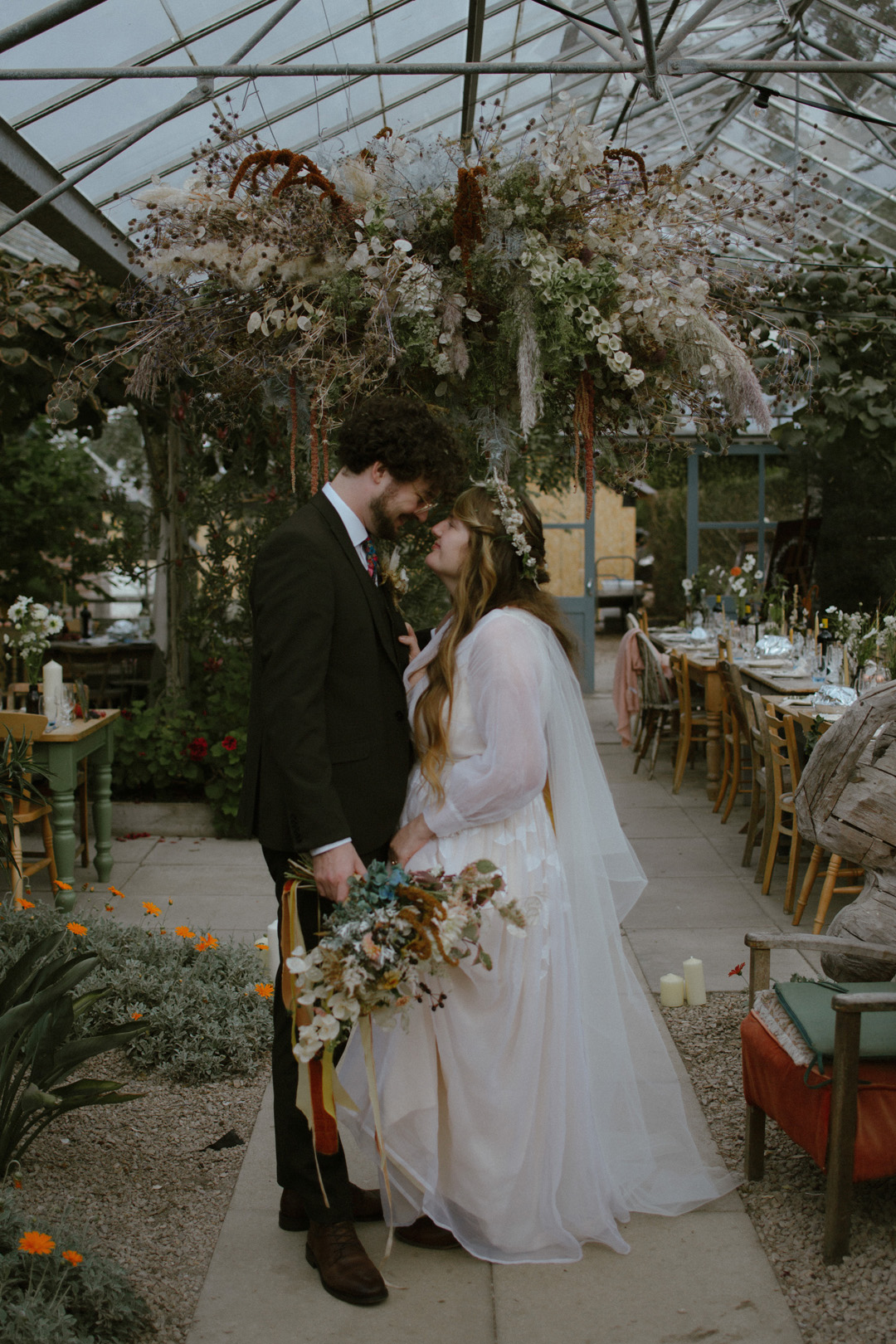 Wedding filmers Grace & Mitch captured a moving record of the day.
"We chose Grace & Mitch for videography after falling in love with the video they made for our bridesmaid Rachael."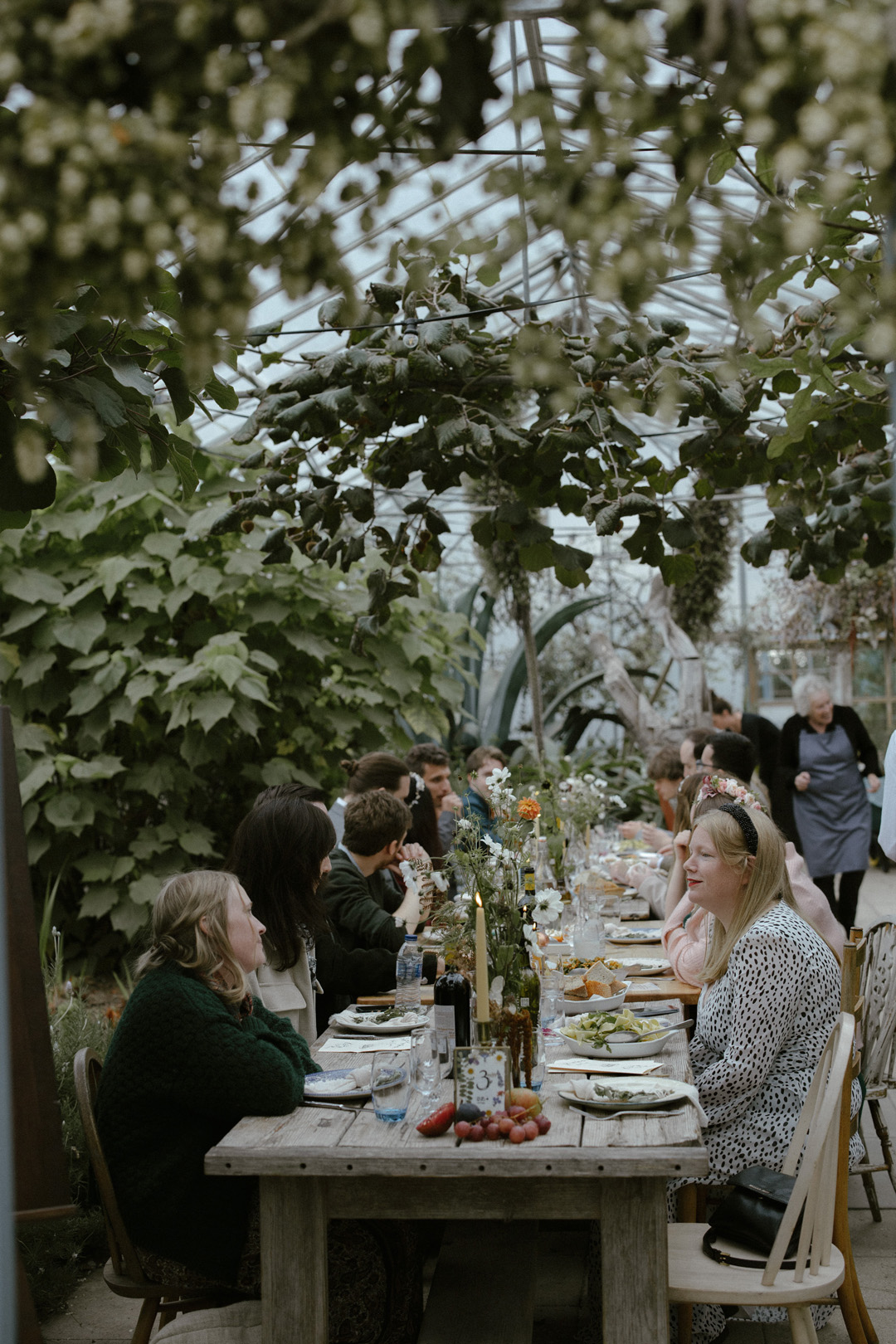 "I collected everything from charity shops, from the vintage plates to the candlesticks and earthenware pots. I didn't want the set-up to look like your usual wedding and wanted to lean into the rustic greenhouse vibe of the venue so everything had a very unrefined look to it."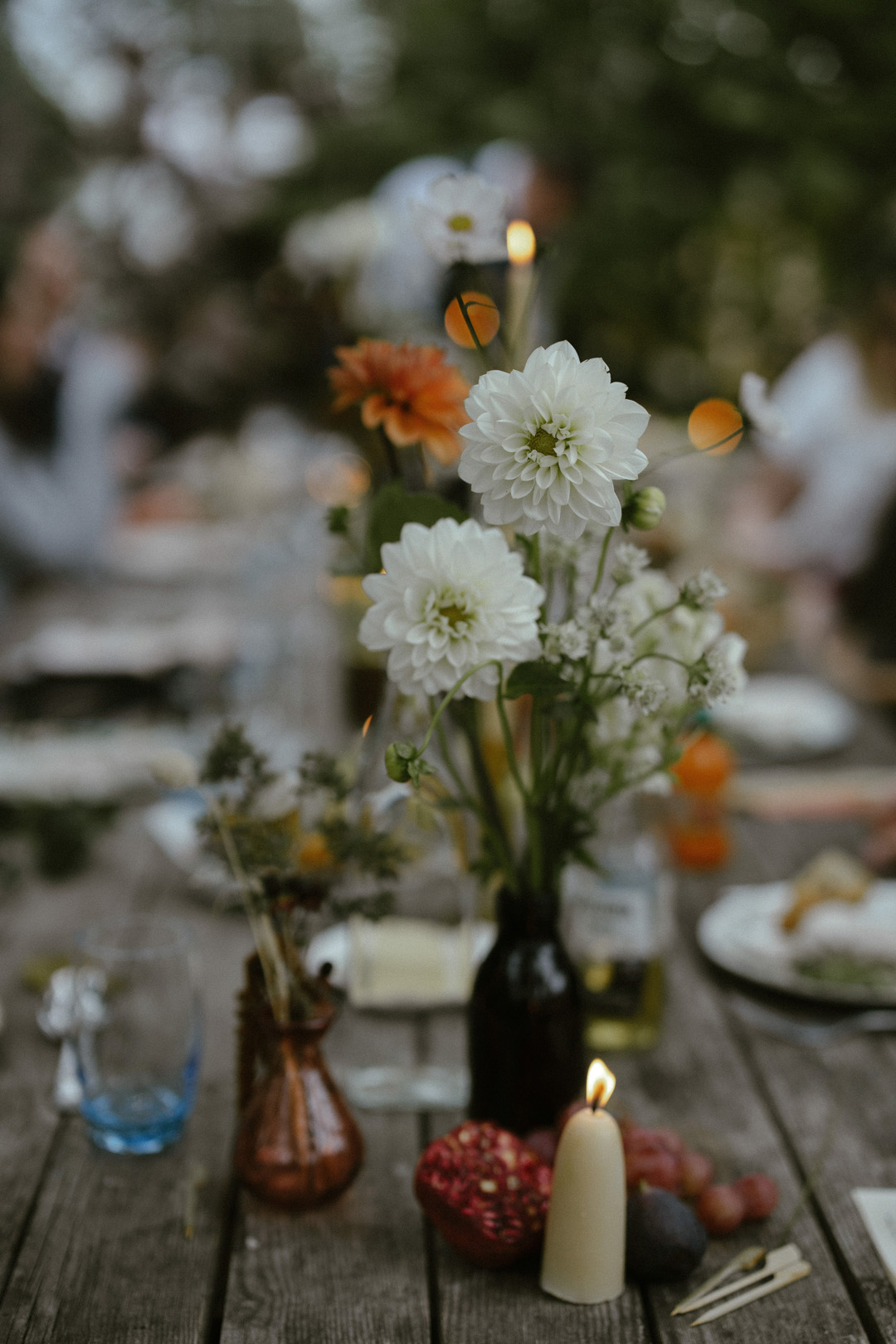 "We piled pretty fruit onto the tables which people could (and did) eat and lit the room up with a great many natural beeswax candles."
"I set up a Gin Bar with a selection of gins (the squid ink was the most popular) as we played vintage jazz music over the speakers to give an almost Speakeasy vibe."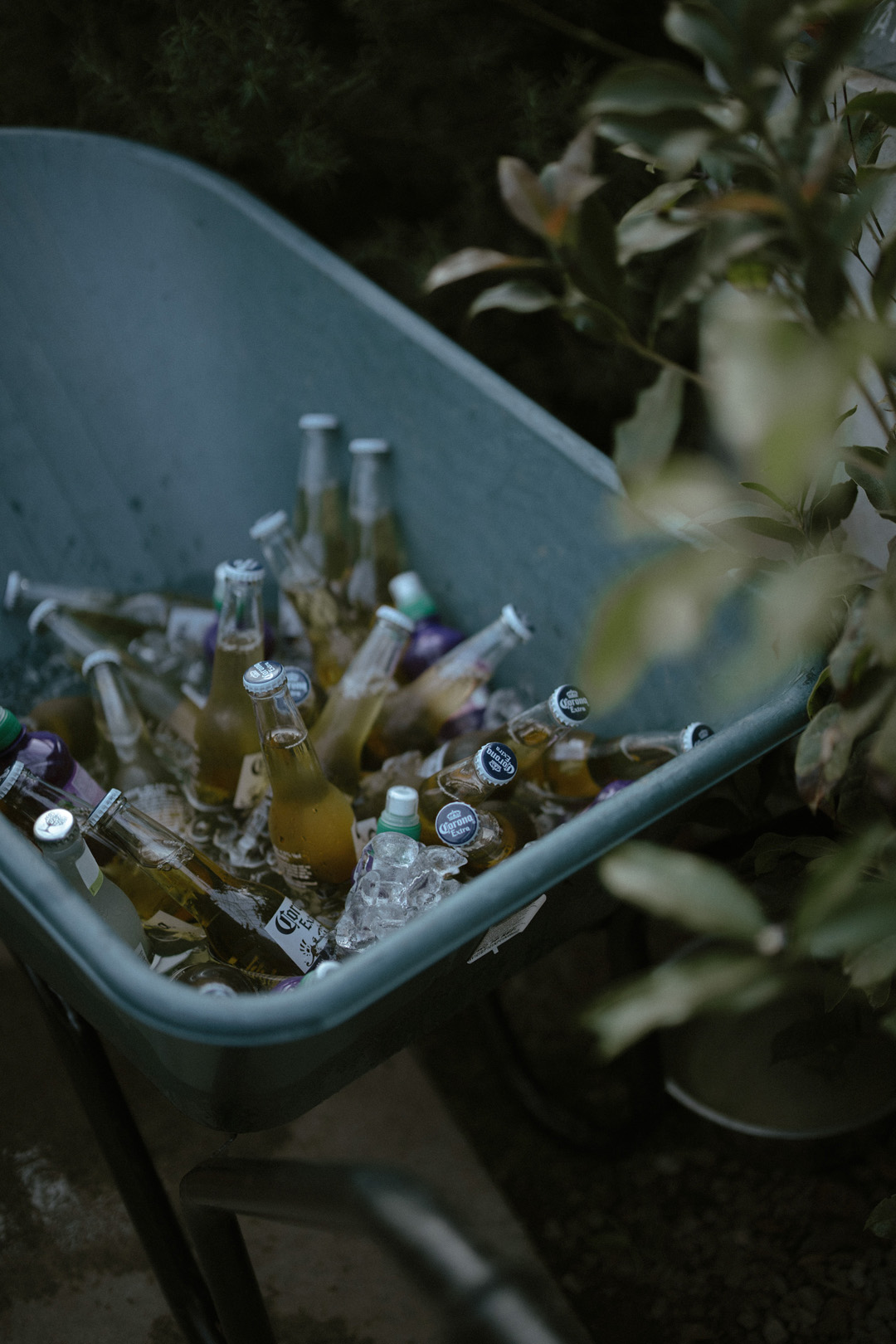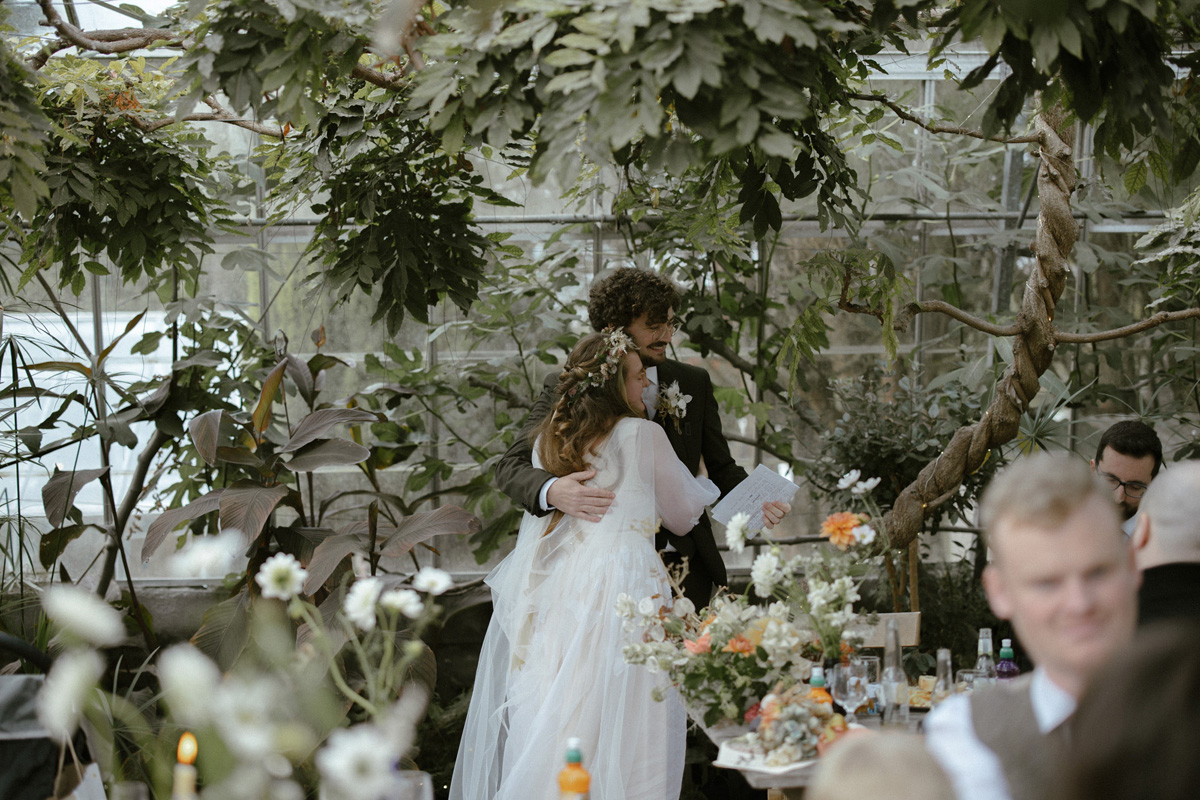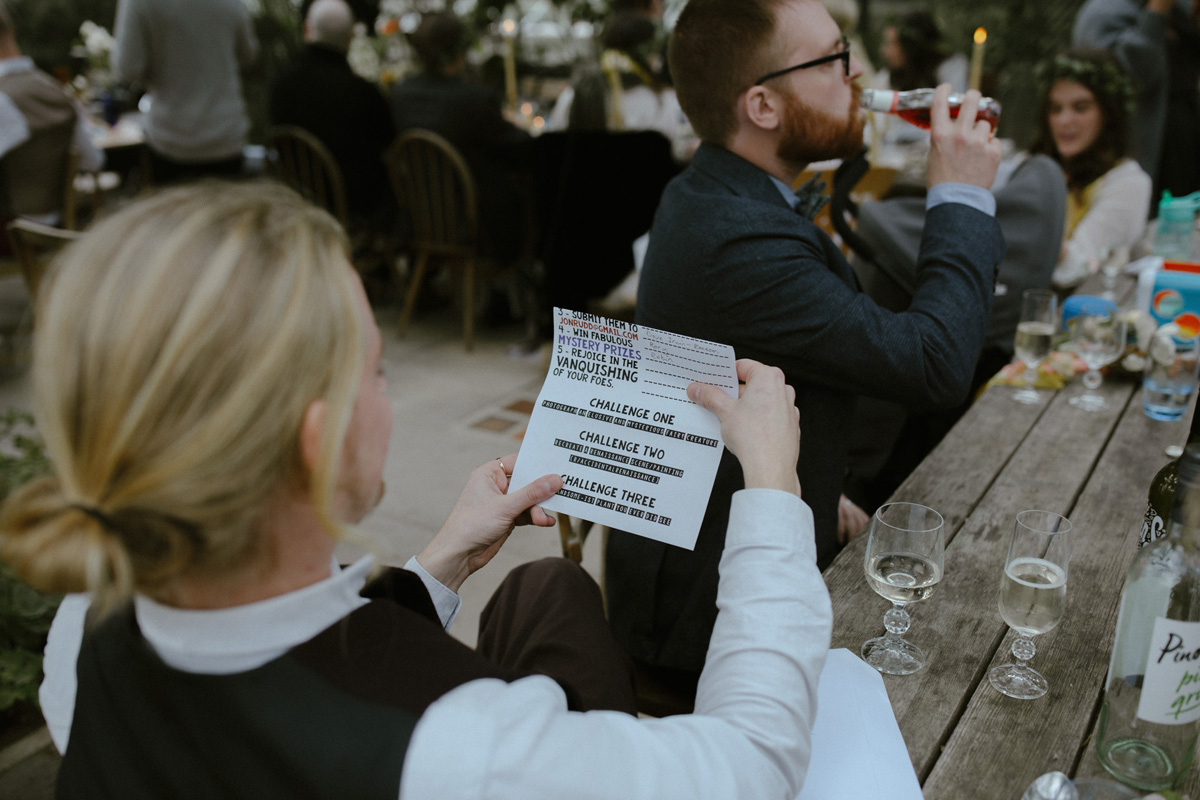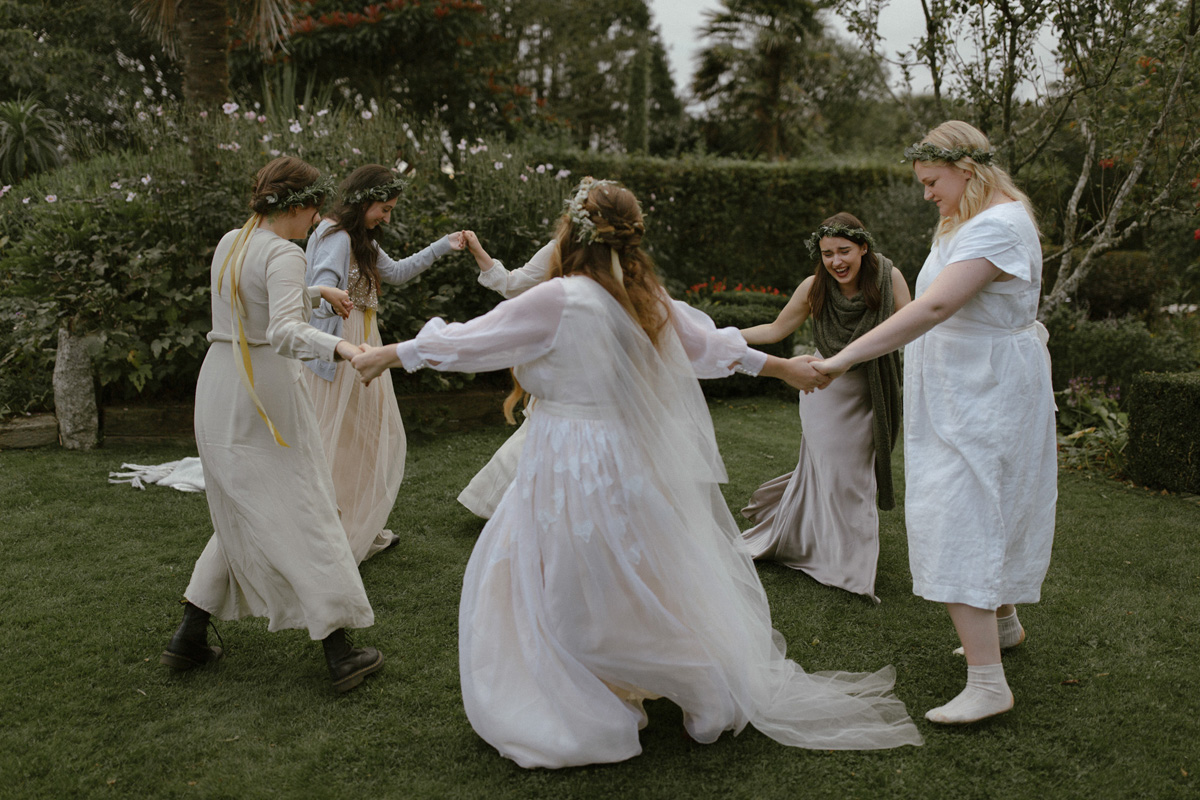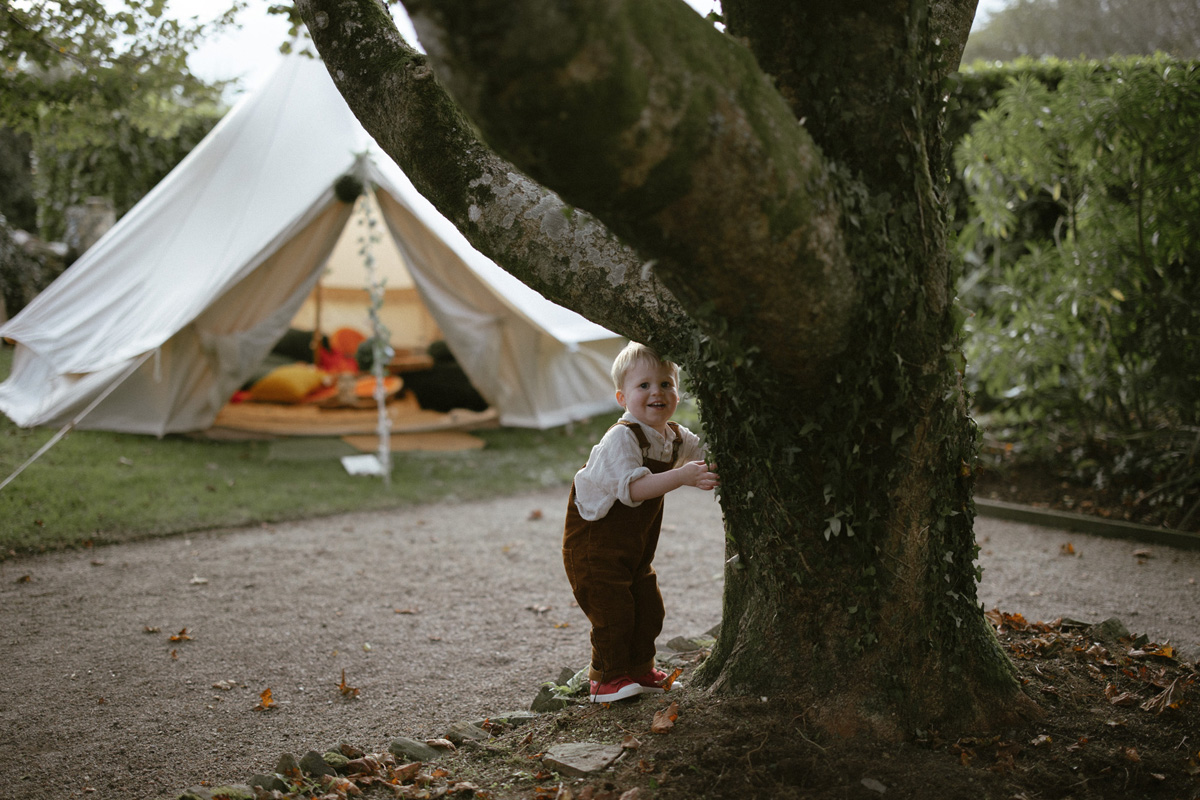 Sarah opted not to wear a veil, so as to show off her gorgeously long hair.
"The cape gave all the flow tulle, sheer vibes of a veil without covering my hair or making me look silly. Ailsa made two cape veils for me – one shorter one for most of the day and an extremely long one for the ceremony so I could channel some strong Titania vibes from my favourite Arthur Rackham painting."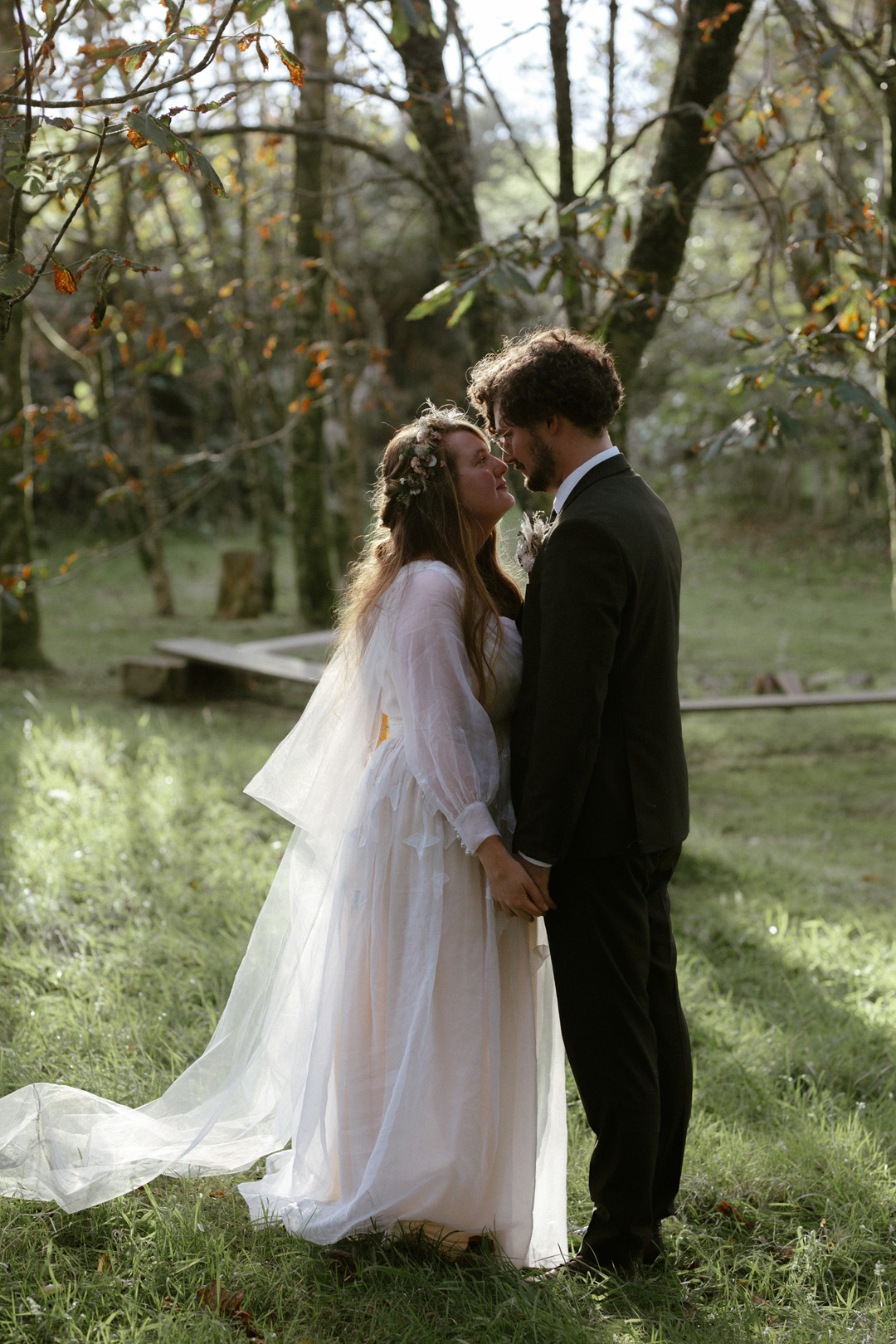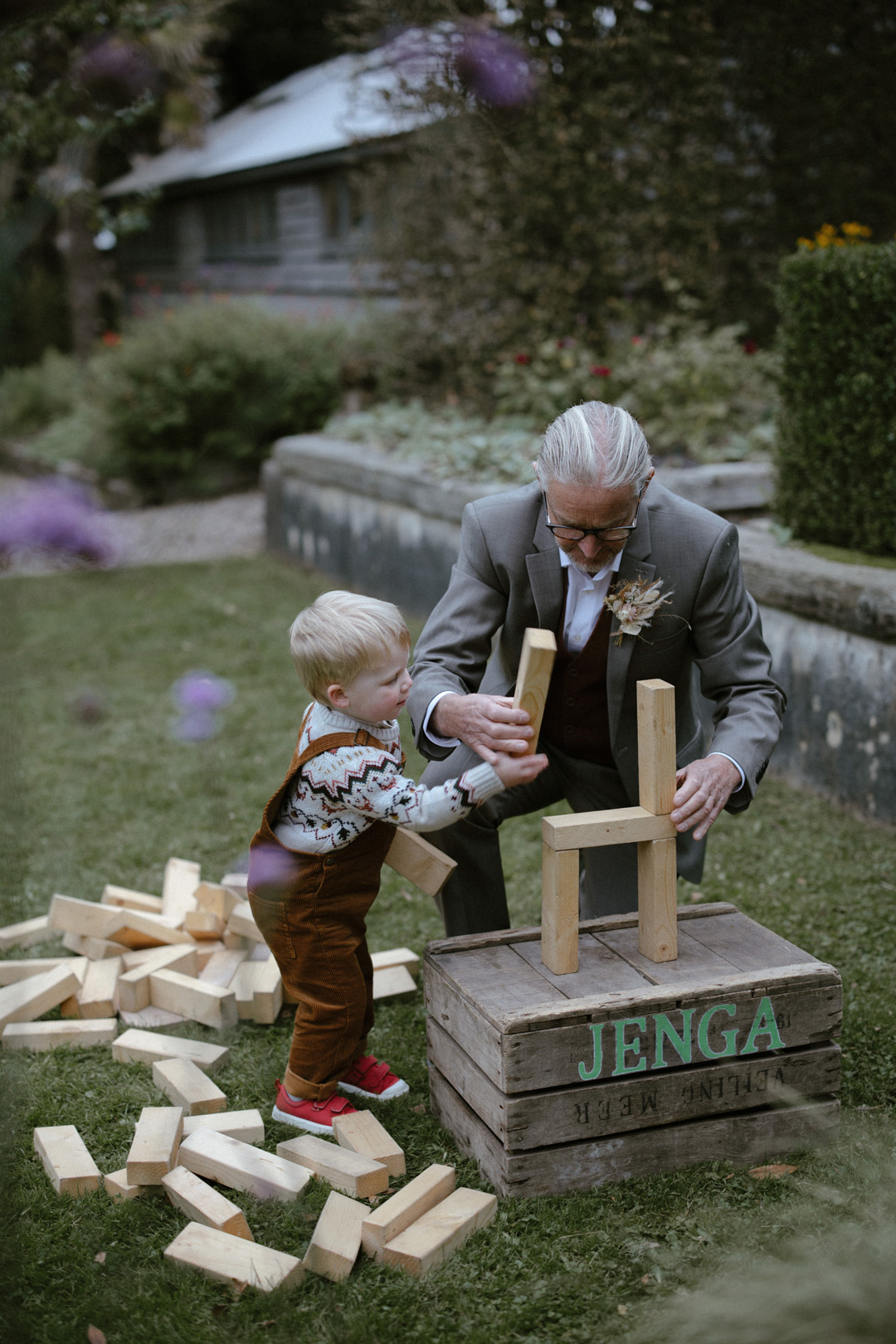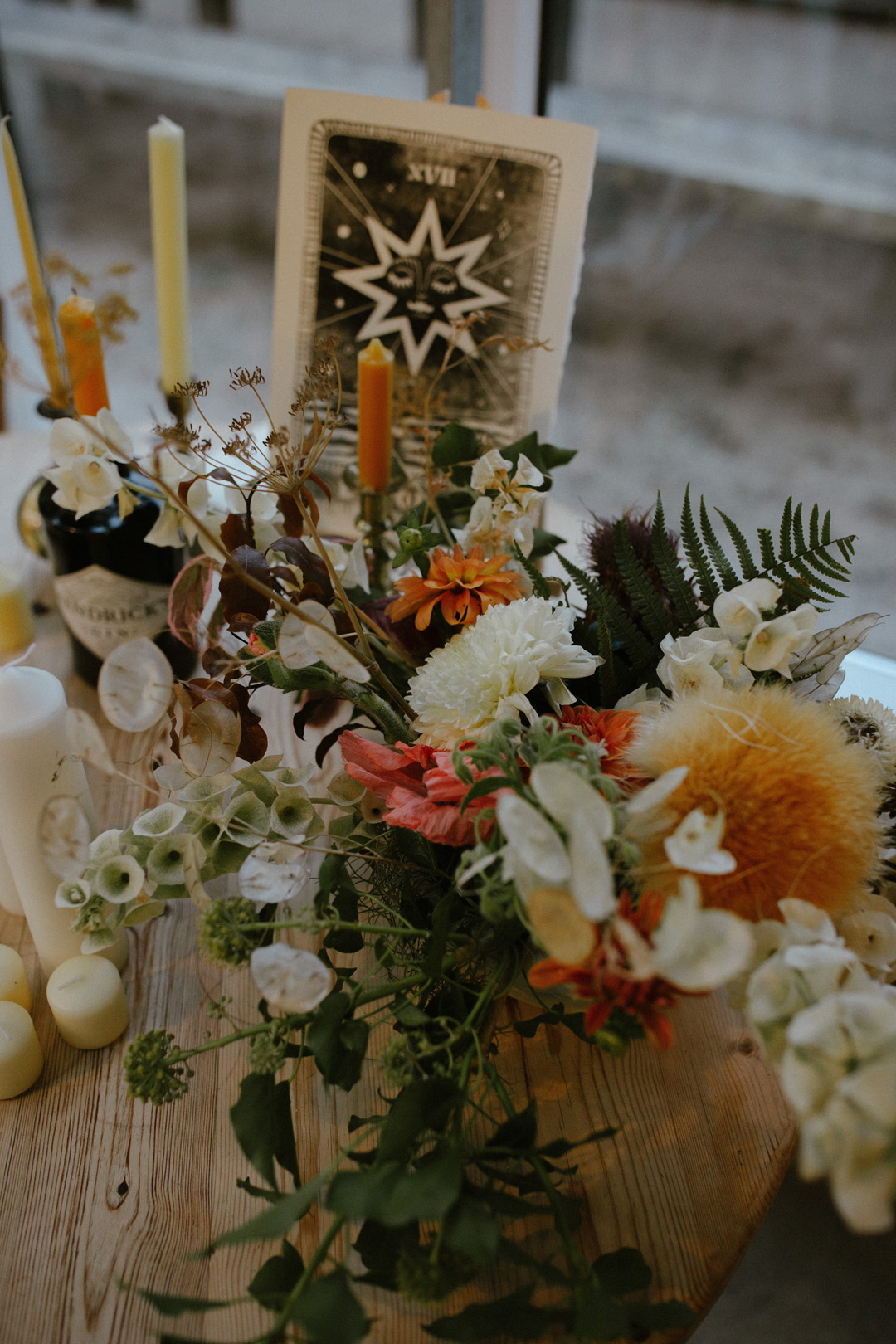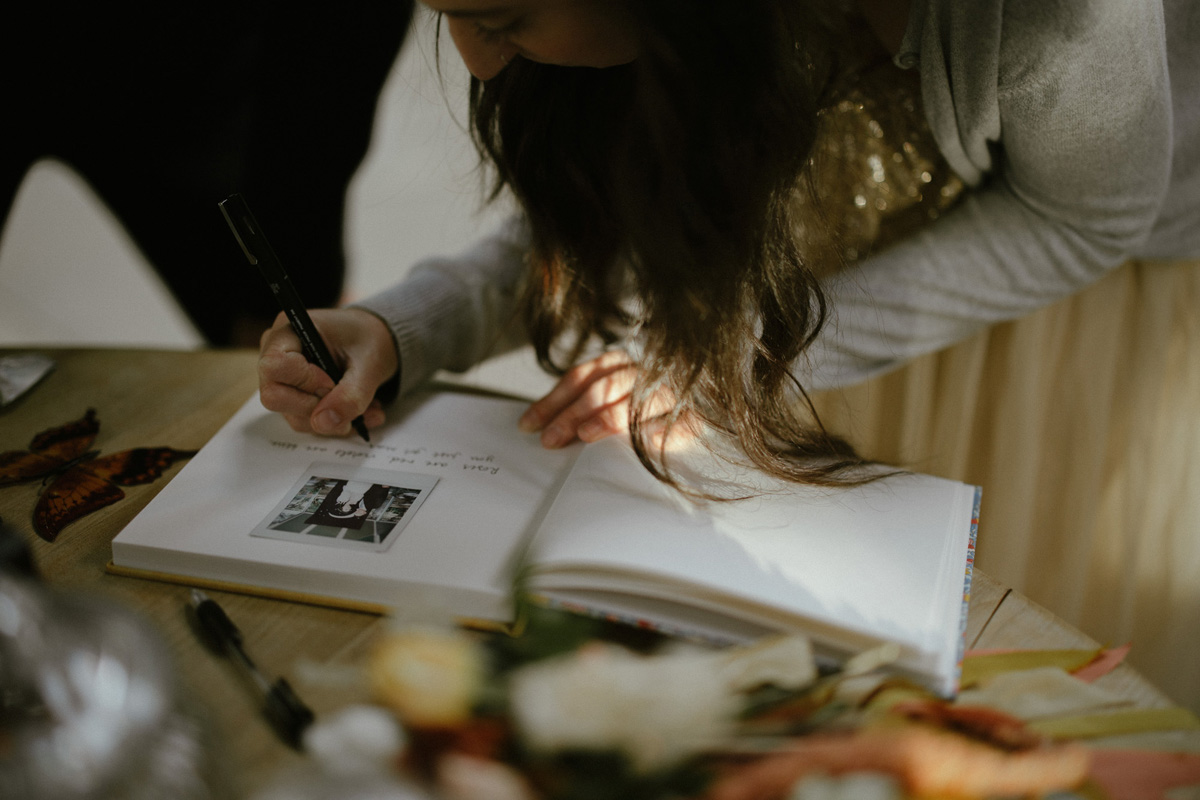 The autumn Renaissance theme continued in the couple's fun and quirky entertainment plans, which also included a Glitter Bar from Cornwall's Eco Glitter Bar.
"We set a sort of photography scavenger hunt competition. The challenges were 'recreate a renaissance painting,' 'capture an elusive flower fairy' (the children had handmade linen fairy wings to dress up in although the grown-ups got a lot of use out of them too!) and 'the most handsome plant.' We got a lot of interesting entries and people really enjoyed it."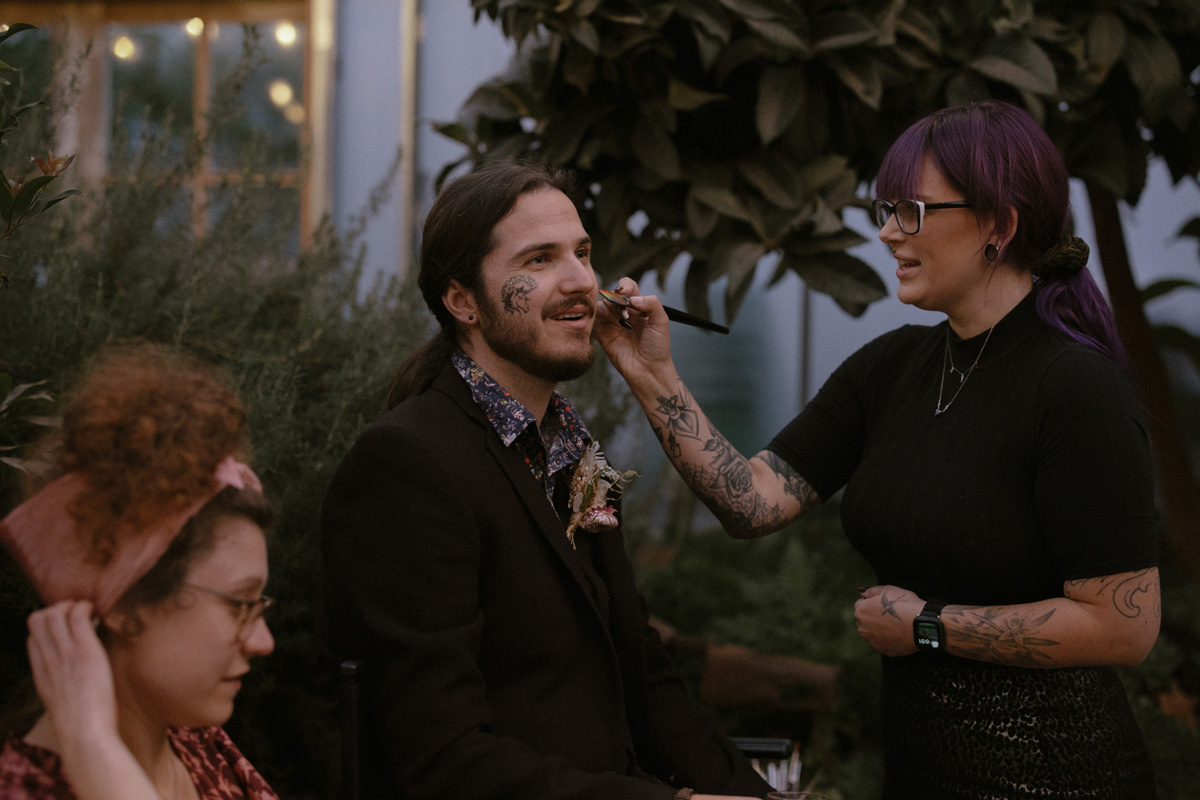 Jonathan and Sarah have some beautiful memories from their day.
"We both loved getting ready together and going over the river on the boat. We didn't have any photographers or videographers for that part and it was really relaxing sailing up the Helford river on a soft autumn day."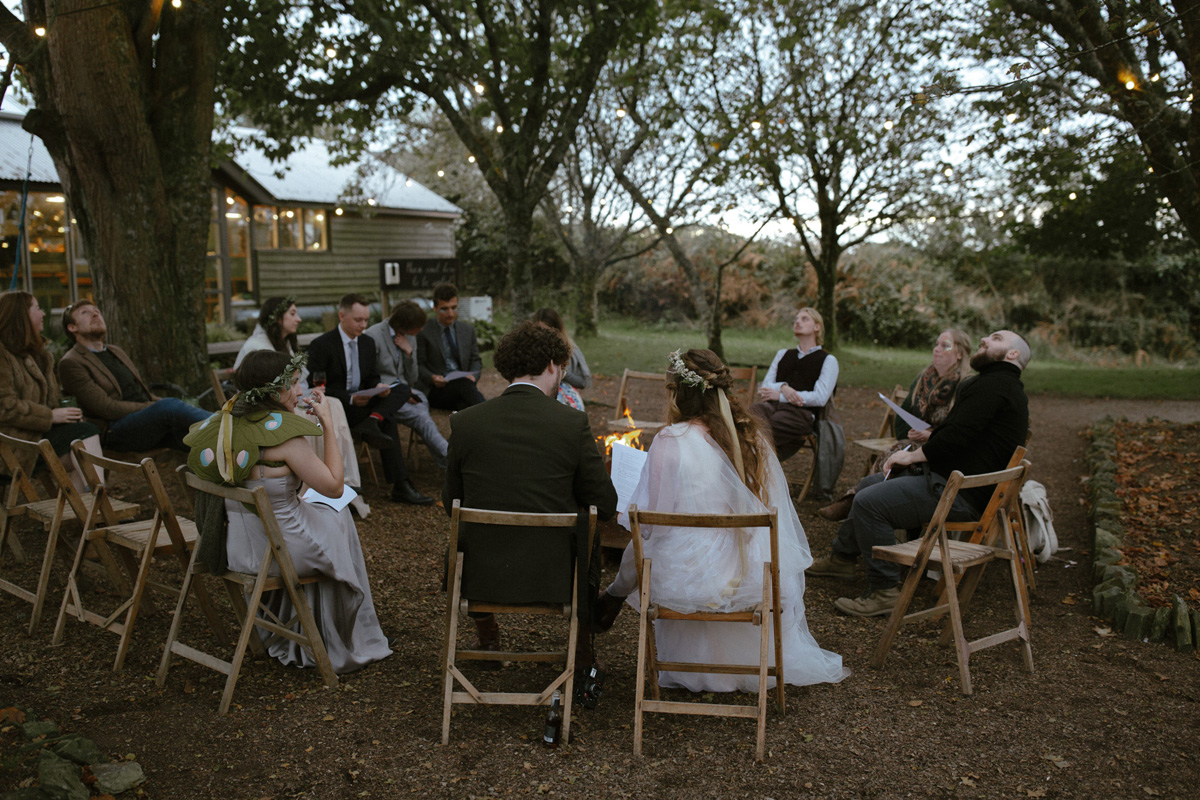 "The ceremony was really magical too, outdoors in the woodland surrounded by trees and our friends. We really loved playing bonfire songs with our loved ones around the fire in the evening and the BBQ feast was so delicious. It's really hard to pick a favourite element, it was all magical!"
"I guess one bit that really stood out was jamming with my friends Jack and Josiah."
"Lyra borrowed Jack's melodica and joined in with us. She and the other kids really got into the spirit of a jam sesh."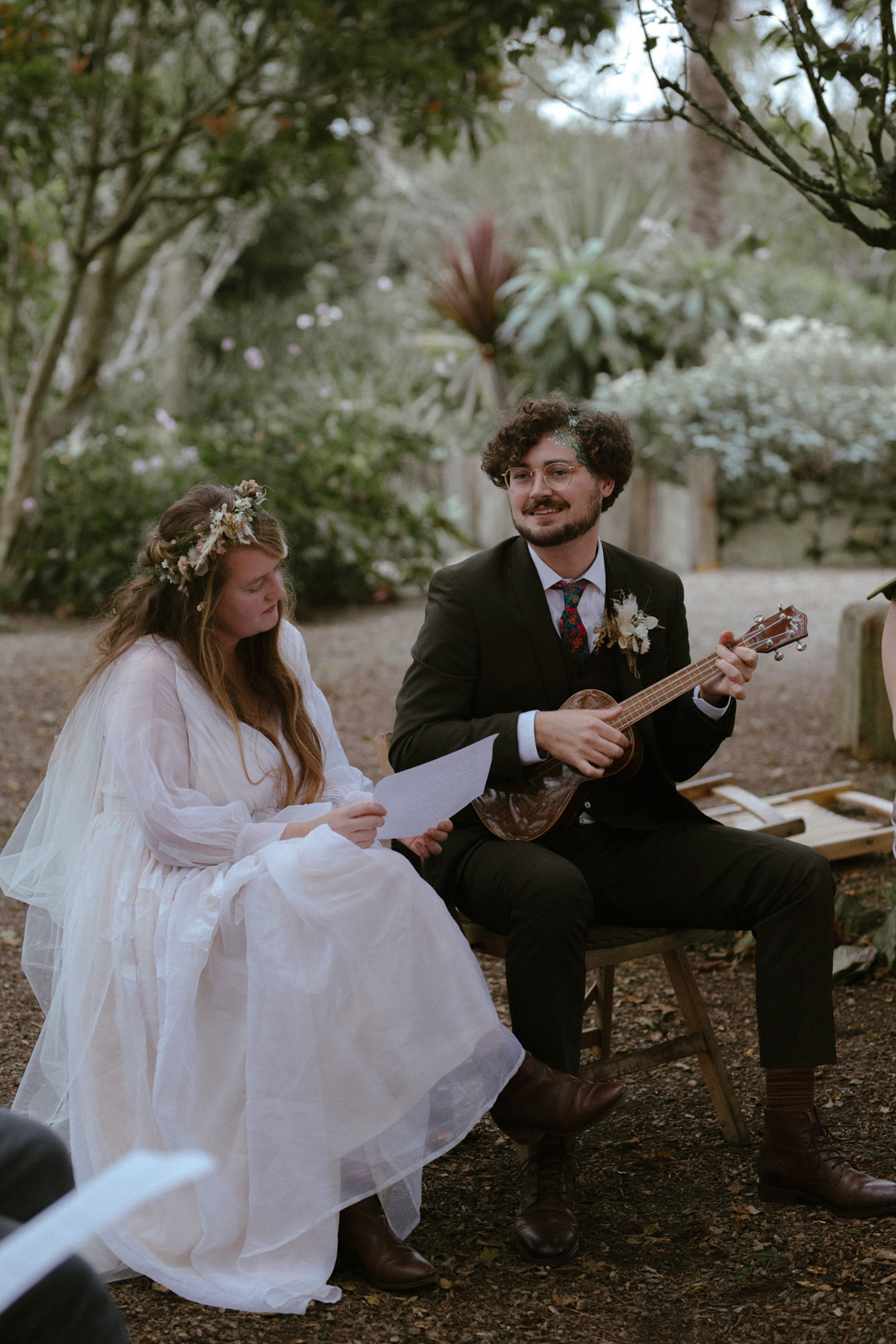 As evening fell, the newly-weds and guests relaxed in the grounds and gathered around the bonfire for songs. Evening food came from Flour Power Pizza Parlour.
"Jon and I played a duet on the ukulele around the bonfire and got our friends involved in playing bonfire songs. Since lots of our friends are musicians, we invited some of them to bring instruments so we could all have a jam. The kids got involved too."
"It was so much fun and it was so great singing with our friends after not seeing anyone for 18 months. It was not exactly a ceremony but a part of the day that was really important to us."
We had our first dance to 'Friday I'm in Love' by The Cure, a song we both really love. It reminds us of when we first got together.
Words of Wedded Wisdom
"Don't look at what everyone else is doing for weddings. Focus on the two of you and create something that's uniquely you. We got ready and did our couple photos before our boat ride to the ceremony to give us more time with our guests which we really appreciated as the day goes by so fast."
"Don't look at wedding Pinterests. Instead, think about how your magical day would look and if you could create your own whimsical scene for a day, what would it look like? You can be as bold and creative as you like! We really wanted a chance to create a sort of ethereal fairy ball and used our wedding as an excuse to create that atmosphere."
From the bottom of my heart, congratulations and thank you Sarah and Jonathan, for sharing your utterly wonderful day with us. Thanks also Ruth Atkinson Photography for your evocative work.
For more woodland wedding ideas, we have so many more to inspire you here. Or, to see other brides wearing Ailsa Munro's creations, enjoy this selection.
Ele xx