A Laidback London Pub Wedding With Tambourines & Bridesmaids in Black Ganni Dresses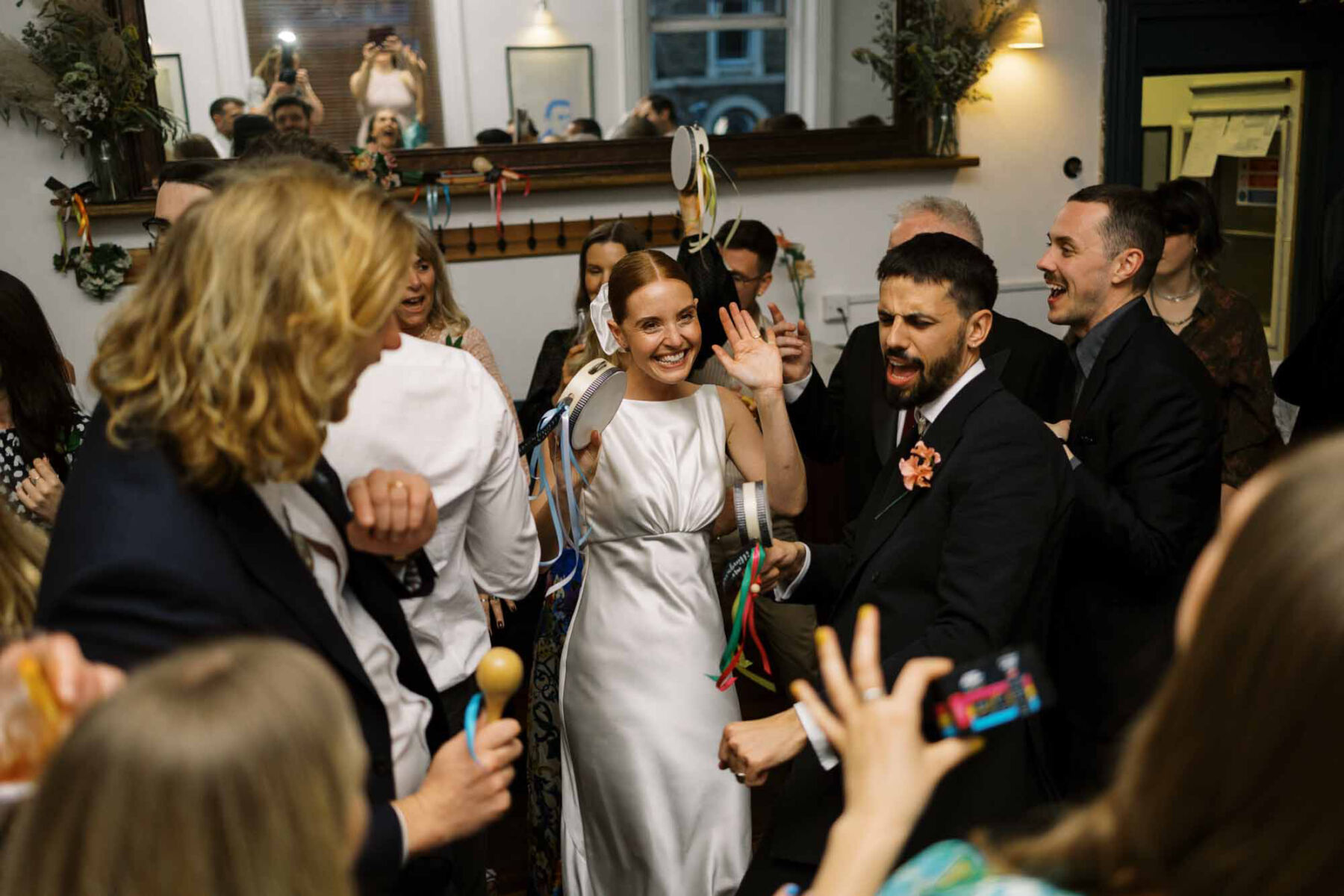 Emma and Ethan's 16th April 2022 wedding took place at Peckham's Asylum Chapel, where they exchanged their vows, followed by a celebratory reception with their loved ones at The Camberwell Arms.
As co-founder of What About Weddings, I am just so thrilled to have learned that the couple won their wedding photography through the What About Weddings charity auction held in March 2021. They were lucky enough to win talented film and digital photographer, Emmy of Emmy Shoots.
We love these images and hope you do too.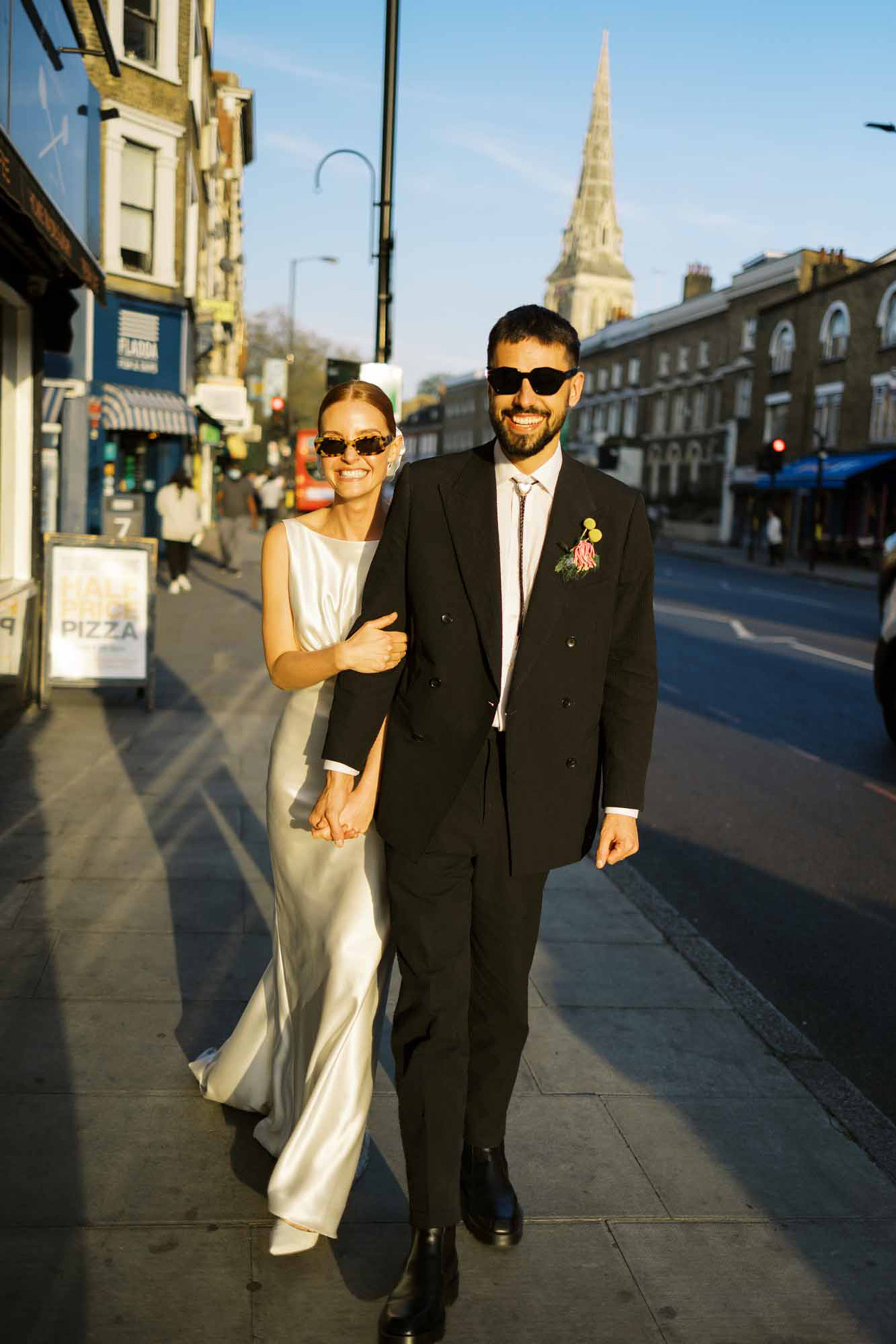 The Dress
My dress was made bespoke by Bridal Rogue Gallery in Marylebone. We both had the most incredible experiences with where we got our dresses/suits from and couldn't recommend them more. My dress was made from scratch by a lady called Catrinona, who is just wonderful.
We had multiple fittings and she truly wanted to make the dress perfect for me – she was so talented and had the best eye for detail. She was also super patient when I had a couple of extra fittings.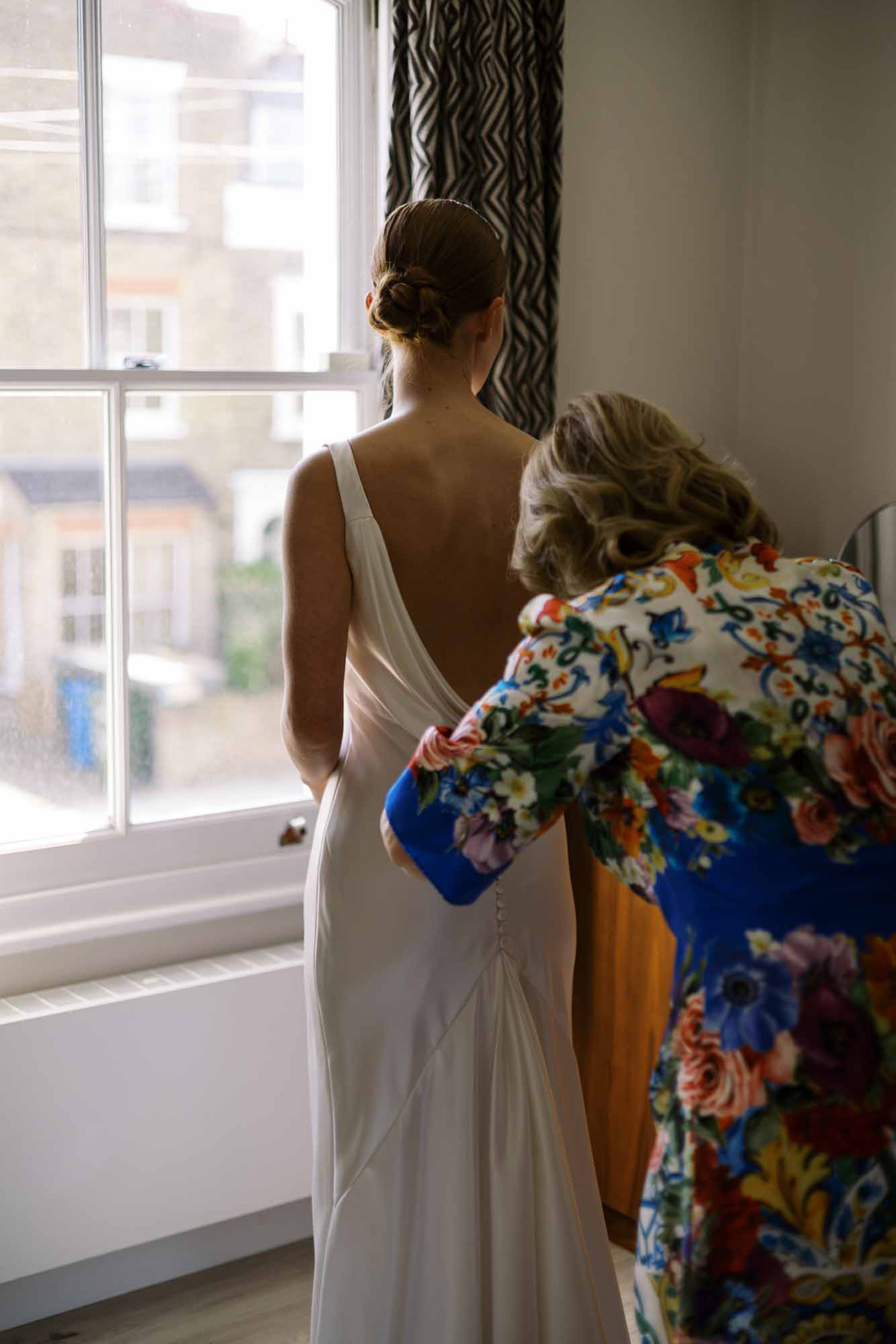 Veil, Shoes, Beauty & Accessories
After choosing a traditional dress I then became transfixed on having a fashion headpiece to balance it out – then came the next influx of Net-A -Porter boxes with every head band they sold. But again nothing sat with the dress right.
I was really against having a veil at first as I didn't want to be that traditional, but it was about three weeks before the wedding and I still didn't have anything I loved and I tried on a really long plain veil at Bridal Rogue Gallery at one of my last fittings with my mum and sister and it was perfect – despite trying to fight it.
However, I decided to take the veil off after the ceremony and switch it for a giant scrunchie from ROOP to enter the reception with – Natasha from Roop was the best and made me a bespoke scrunchie from the excess dress fabric. Then I felt like I had the perfect mix of traditional and fun/fashion.
I wore my mums earrings (something borrowed) that match my engagement ring. My shoes were Jimmy Choo's Mair 90's in ivory leather. My perfume was Chance, by Chanel and I worked with Laurretta Power for years at Benefit Cosmetics and always knew I wanted her to do my makeup. Laurretta also did my hair.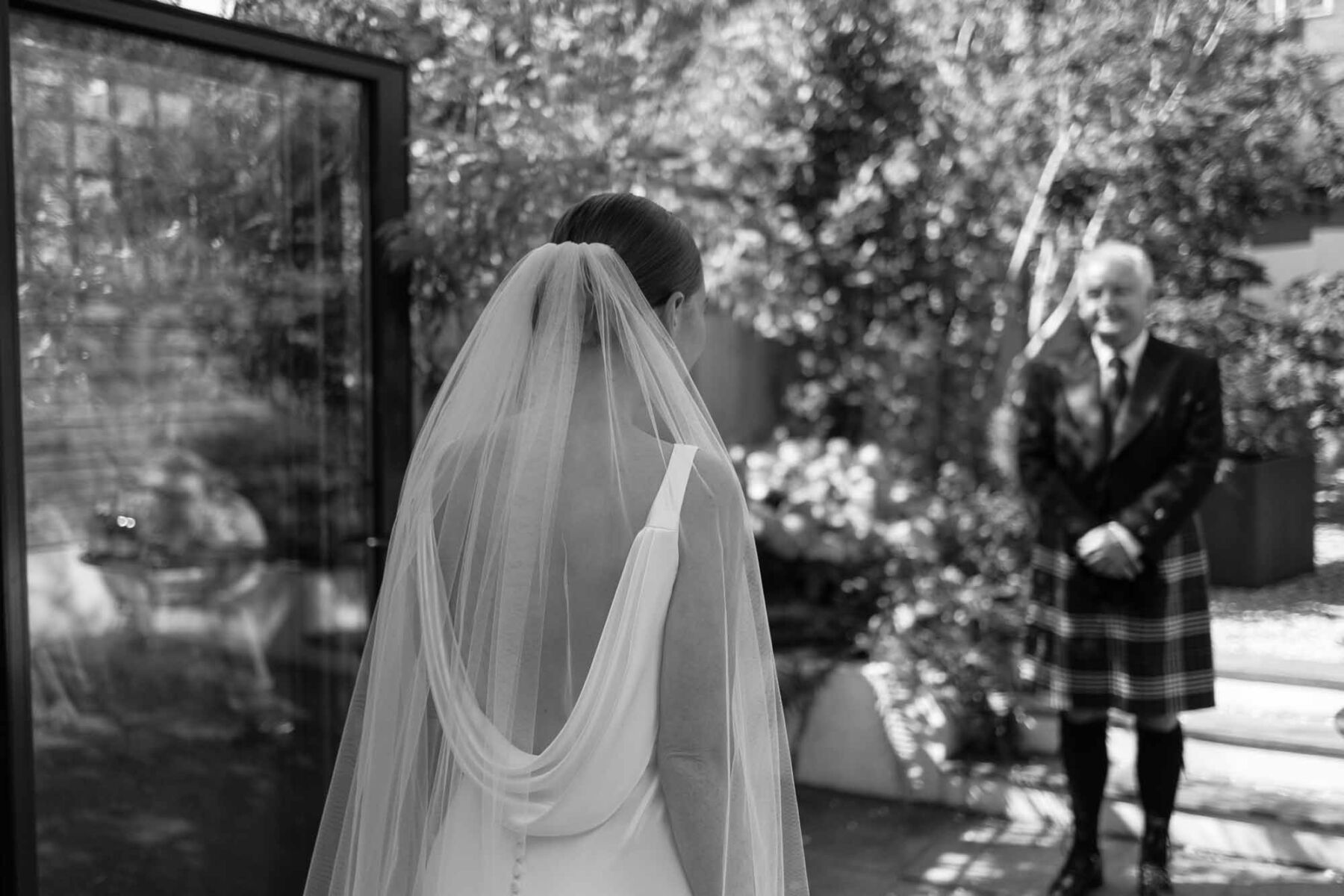 I'm still so shocked that I had such a traditional dress. I really wanted to go for something more 'fashion', I had ordered almost every white dress on Net-a-Porter and tried numerous trouser suits but nothing was right. I went to Bridal Rogue Gallery with my mum and sister just to try some traditional dresses on just for a fun day out. I tried on all of the huge dresses and just as I was about to leave, they suggested I tried on a sample of my dress design.
In the directory Emmy Shoots
Listed in
Photographers
In the directory Miss Bush
Listed in
Boutiques
I was too tired to find a polite way to say no because I didn't love it when I saw it, so I tried it on and immediately loved it, I showed my mum and sister and they cried. I didn't commit on the day because I was still in shock that I was buying a relatively traditional dress. But I couldn't stop thinking about it so dragged my mum and sister and Ethan's mum too, all back to London and said yes to the dress, had my measurements taken and chose the silk we would make it from.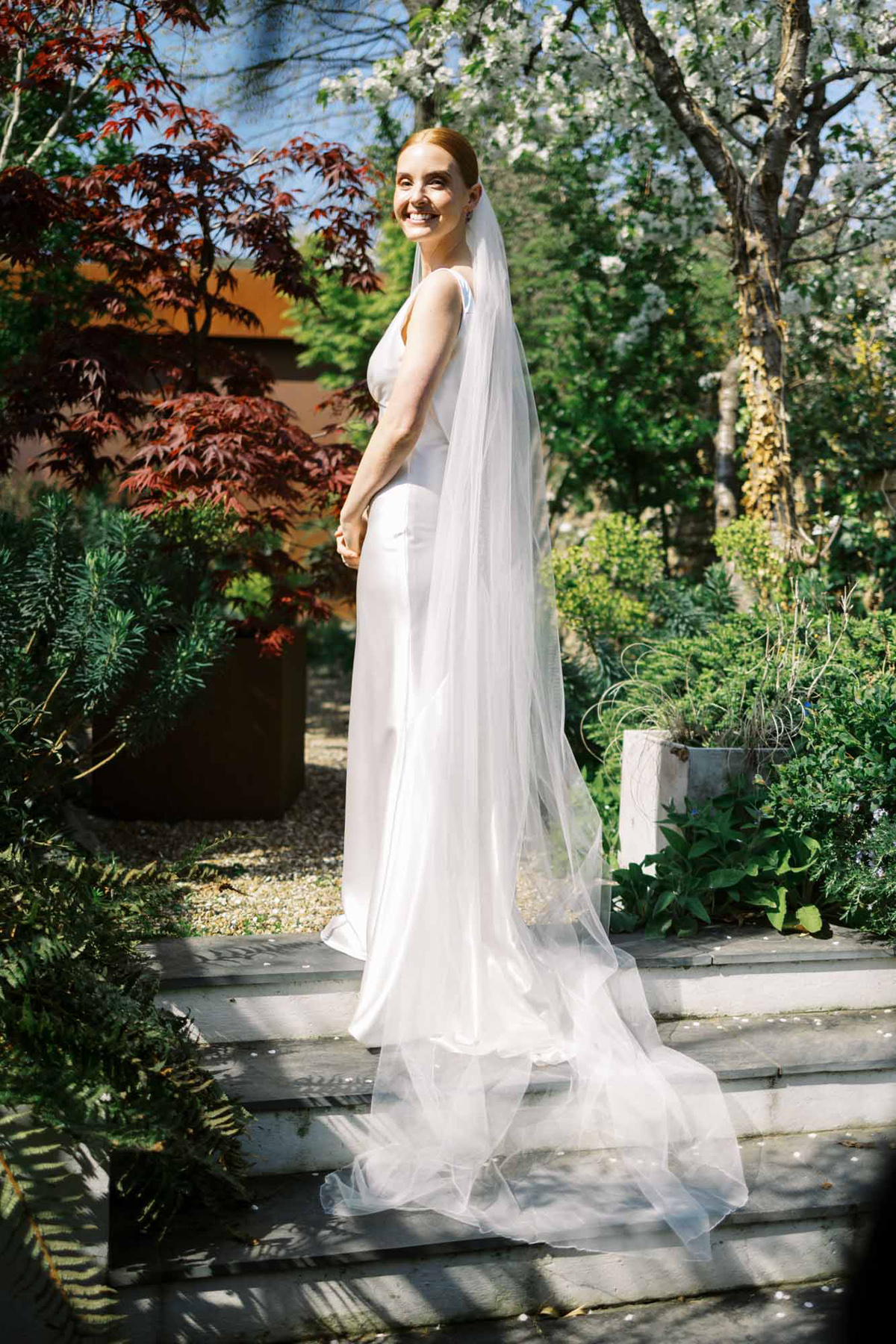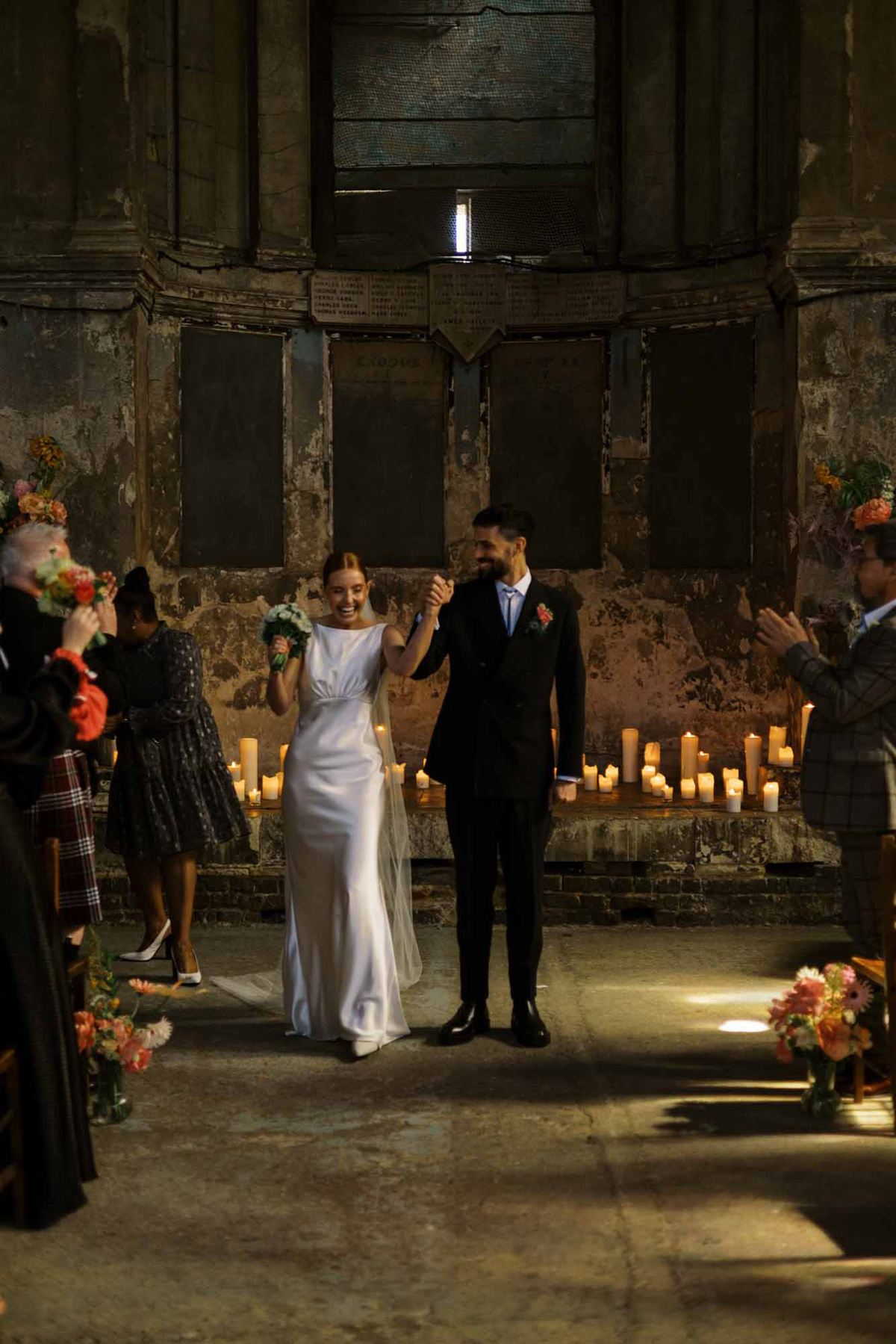 The Ceremony
Our ceremony was held at Asylum Chapel in Peckham, London. We knew we wanted to get married in Peckham as it's where we live together and have done for years – it felt like the place that was true to us and our relationship.
My dad walked me down the aisle, followed by the bridesmaids in pairs, with my sister, also maid of honour, first. This was to the sound of Des'ree's 'Kissing You', from Romeo & Juliet.
A harpist called Tamara Young played during our ceremony – she was incredible.
Photography by Emmy Shoots
We were already familiar with Emmy's work and loved it. It was the perfect mix of non-traditional, fine art, editorial and documentary all in one. We loved her style, approach, just everything – we were obsessed. We also loved that she shot so much on film, which is really important to us both as a medium.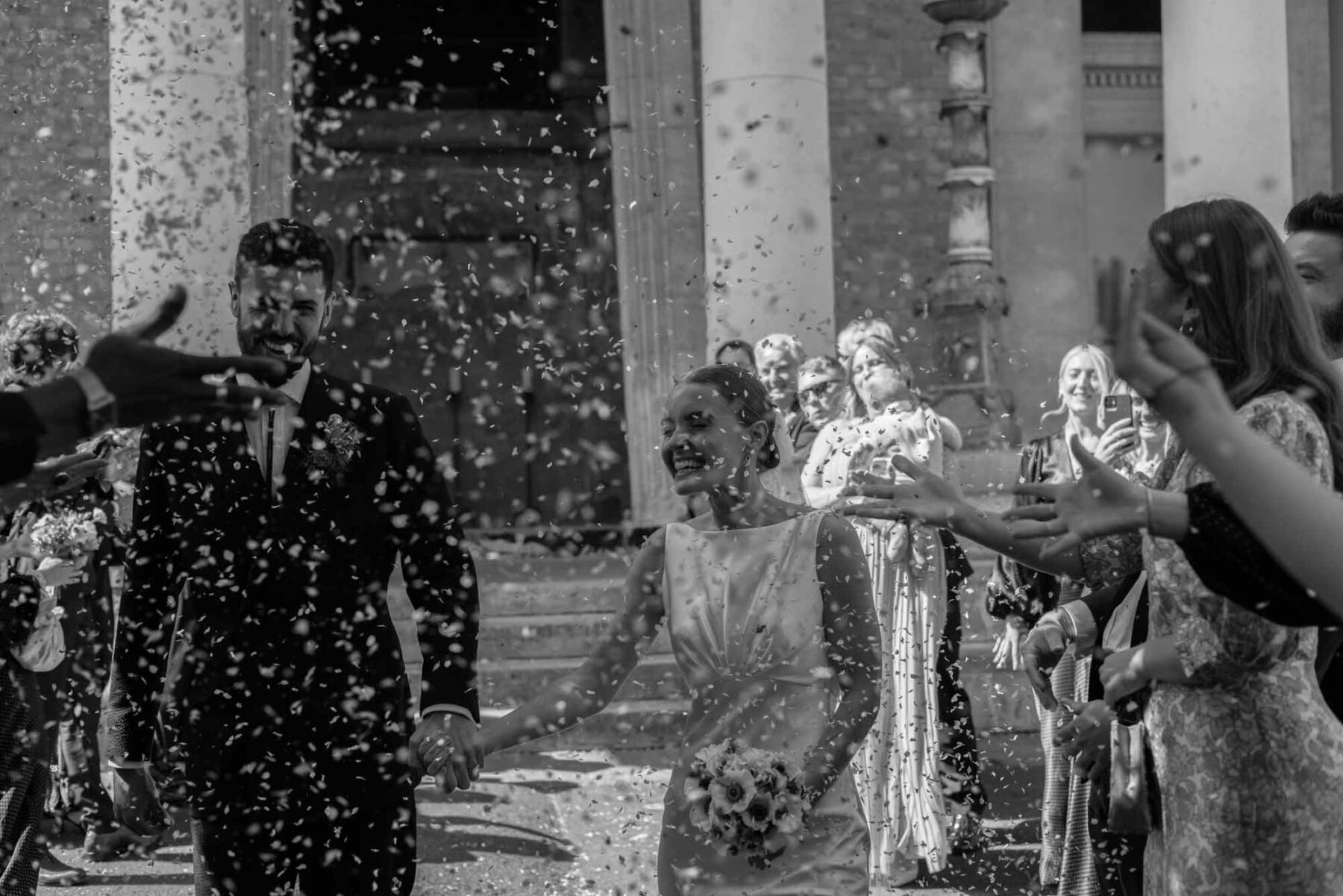 We had already enquired with Emmy, and then in the same week had seen she was taking part in a charity auction for @whataboutweddings – so we plotted together, ensured she was still available and then won the auction – it was fate.
Emmy was honestly the most incredible photographer and person to be around. We couldn't be happier with our photos and would recommend her to everyone.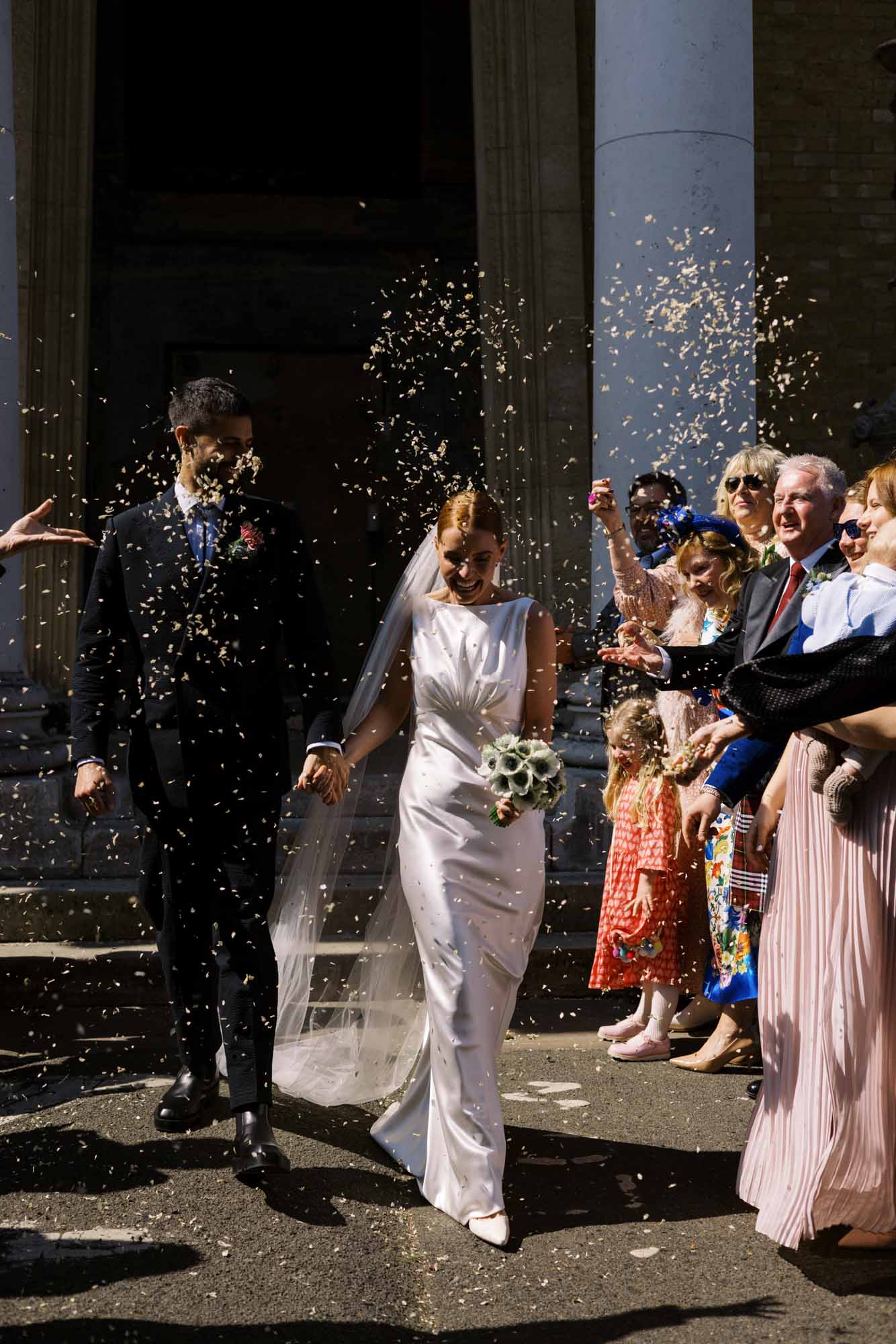 The Proposal
We met at a party twelve years ago by chance and realised we had loads of mutual friends but hadn't crossed paths yet. We have been together for over 11 years now. We got engaged exactly three years before our wedding day and eleven years to the day we became boyfriend and girlfriend; one single anniversary date to remember to keep it simple.
That's why we chose the wedding date we did, neither of us had a strong preference as to a time of year to get married so our anniversary felt perfect.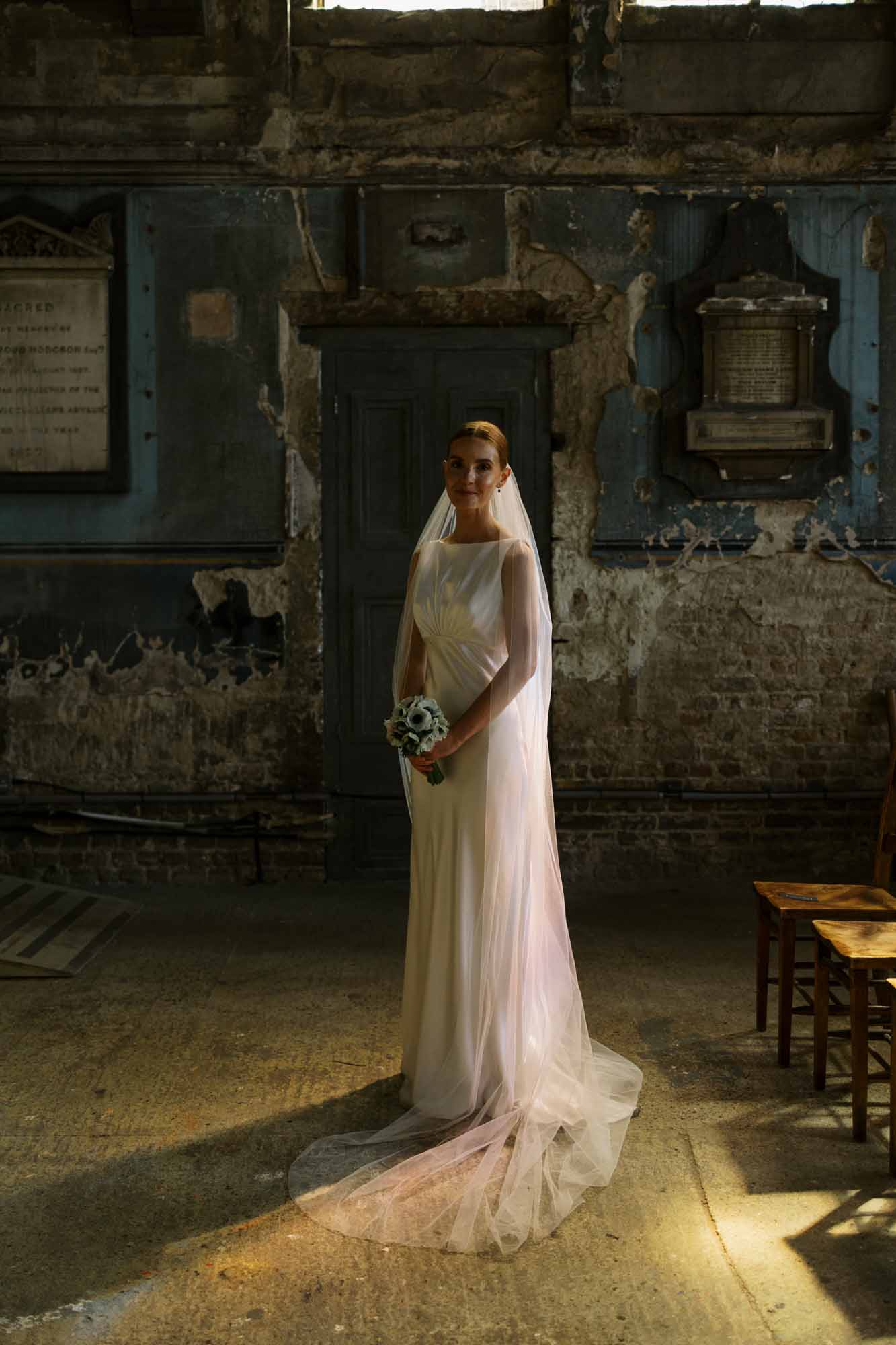 Ethan proposed to me via some clues that led me to the Minerals Room in the Natural History Museum, my favourite place in the world. I arrived and he was standing by the pink sapphires, which is the main stone in my engagement ring.
We just wanted it to be really true to ourselves and our relationship; we knew we didn't want a visually traditional or stereotypical wedding but still wanted it to be pretty classic and timeless. We also didn't want it to be mega formal but still wanted it to feel really special.
We didn't know what this would look like as a complete package though, so we chose every element of the wedding together as an individual entity rather than thinking about what it would look like overall e.g. picking the confetti we really wanted rather than making sure it matched something else. It was a bit of a risk but it meant that overall the wedding truly represented us.
Bridesmaids
I bought the bridesmaids Ganni dresses well over a year before the wedding and before I had my dress. I always knew I wanted black bridesmaids dresses, just to be transgressive, haha! This is where the idea of bright coloured bridesmaids bags came from, to keep the black feeling a little more celebratory.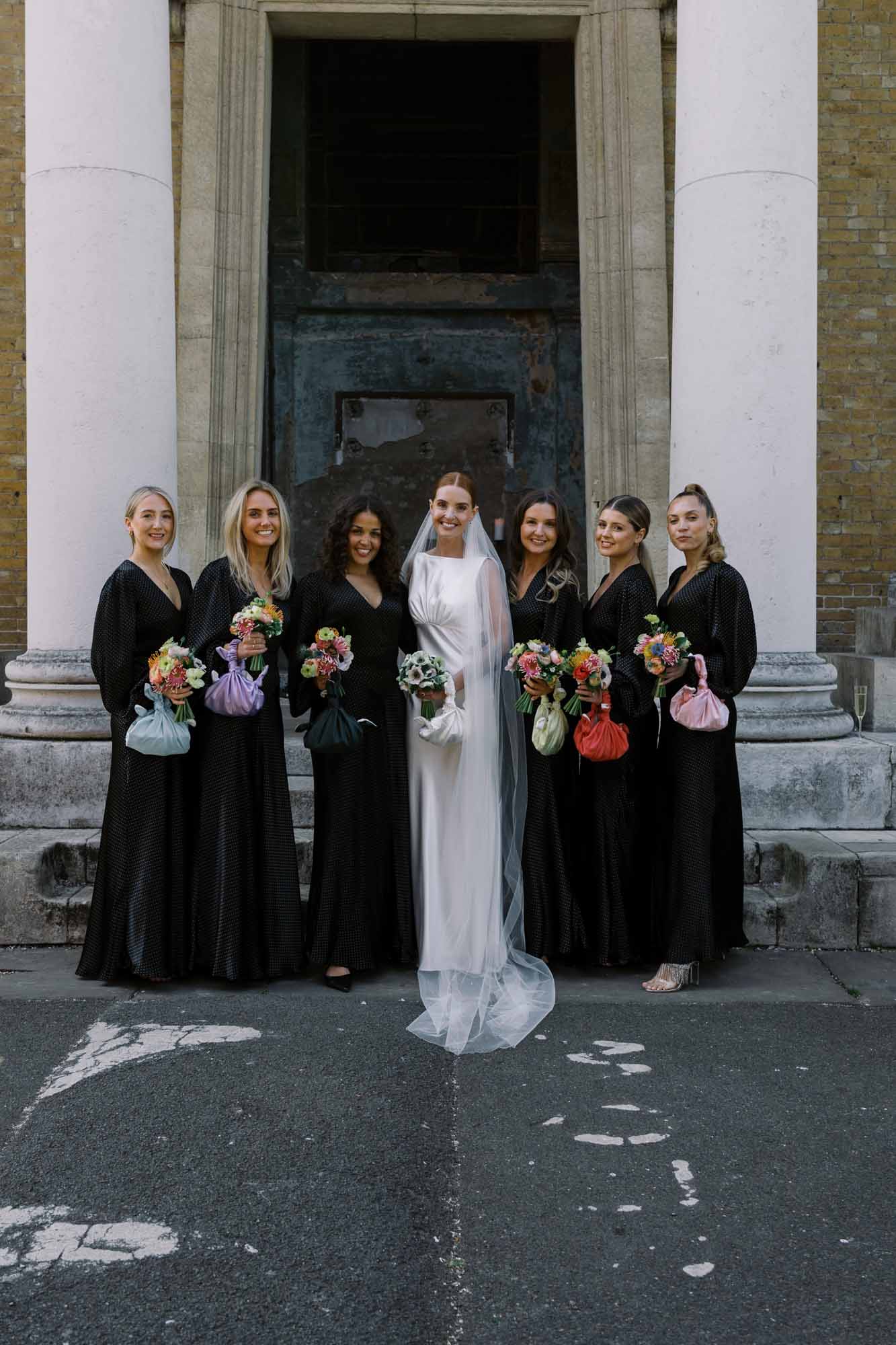 They all had their own choice of shoes. We wanted them to feel like themselves / be able to style the dresses as they felt comfortable. And of course the ROOP bags; as well as my scrunchie, Natasha also made me a bag out of the material and all of my bridesmaids bags too. These were surprises for the bridesmaids and I gave them to them as gifts on the morning of the wedding.
We worked together to source all of the bridesmaids favourite colours for their bag material. I think I asked Natasha to make the bags before we even had the venue booked.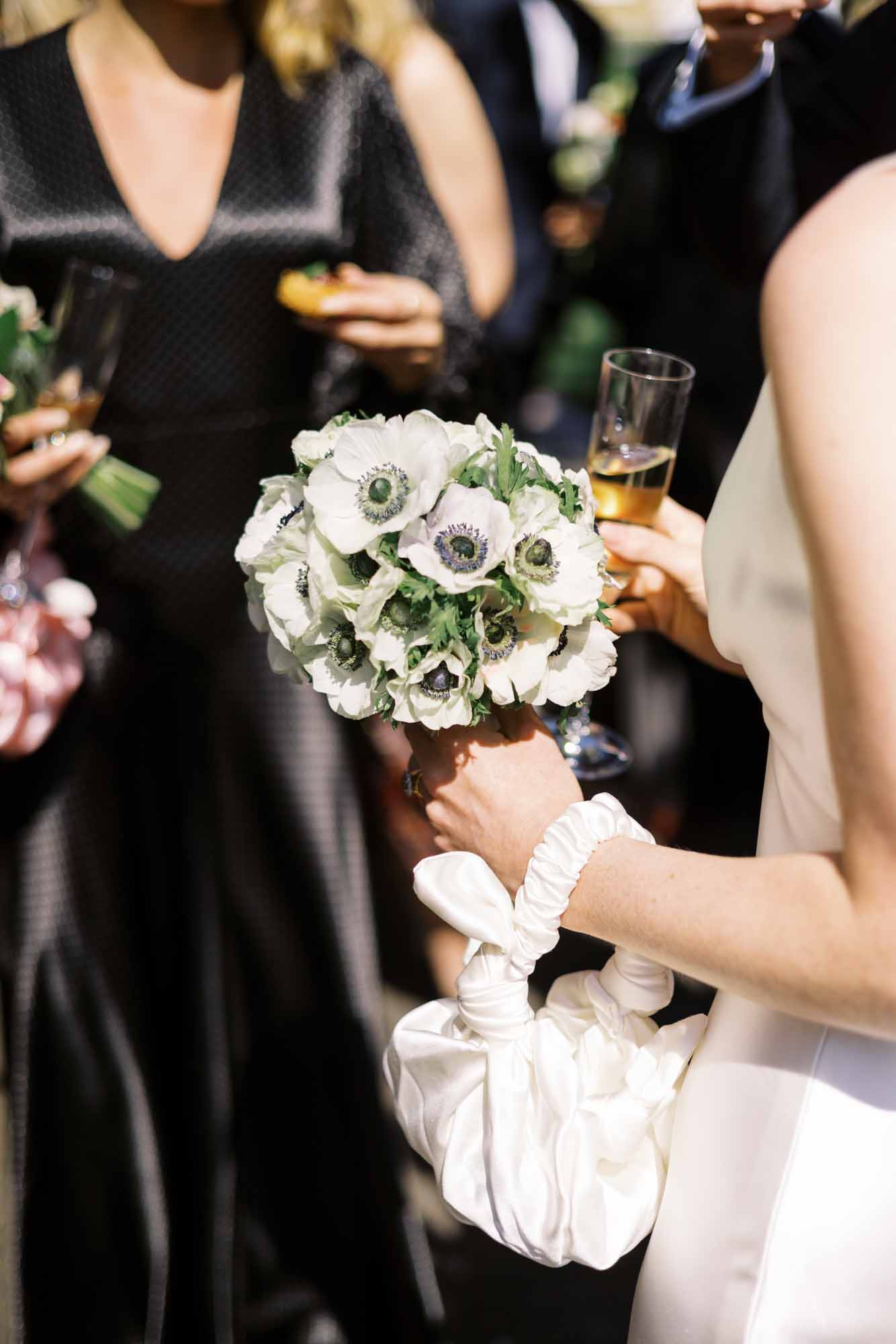 Reception
We chose The Camberwell Arms for our reception because its our favourite place to eat and on our doorstep – we also knew we wanted a really small and relatively casual wedding so our favourite pub felt perfect.
We kept the details and decor super simple as both venues were beautiful. Ethan designed all of our stationery himself. For our order of service we did bookmarks, because we both love reading so much and so everyone had a use for them afterwards.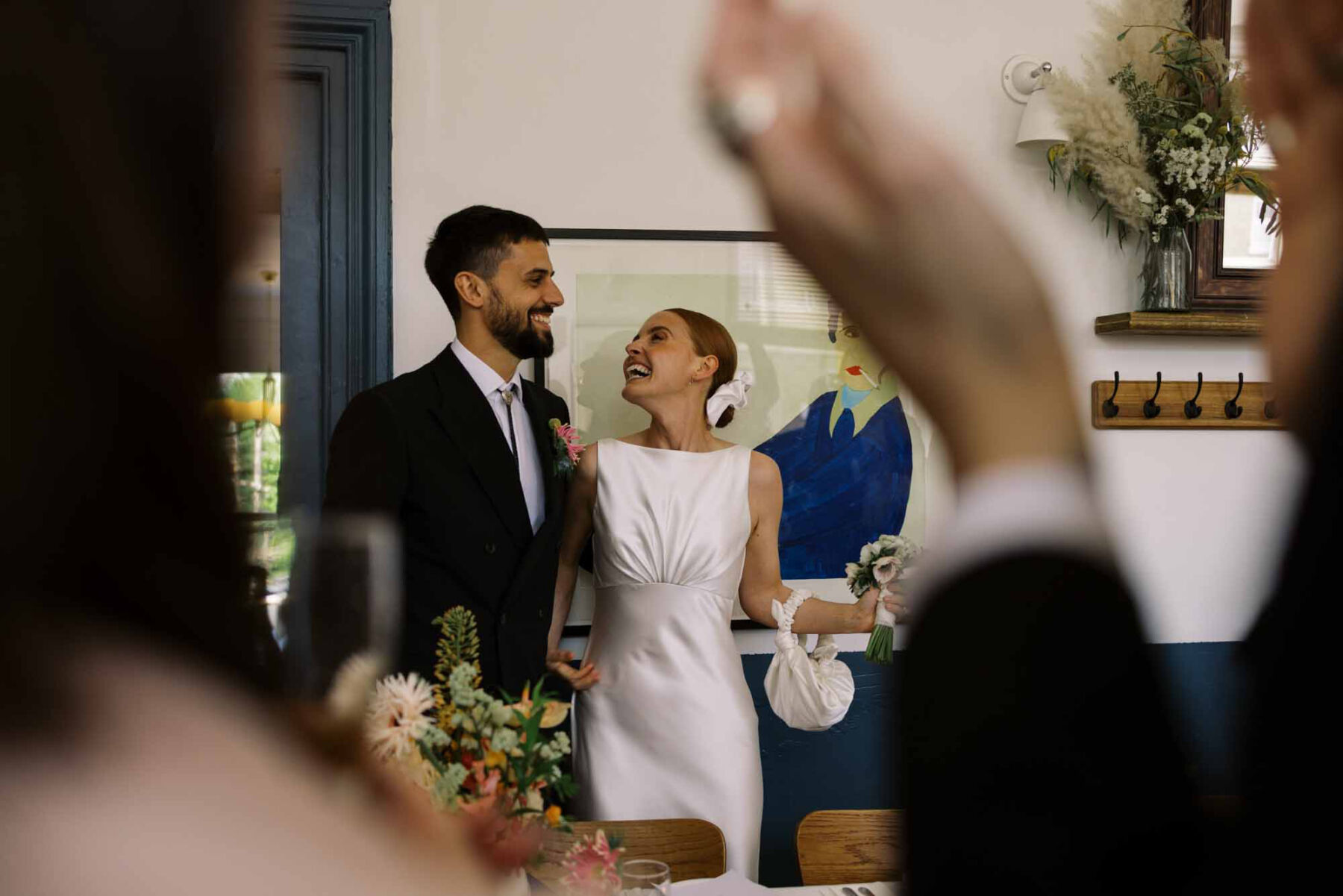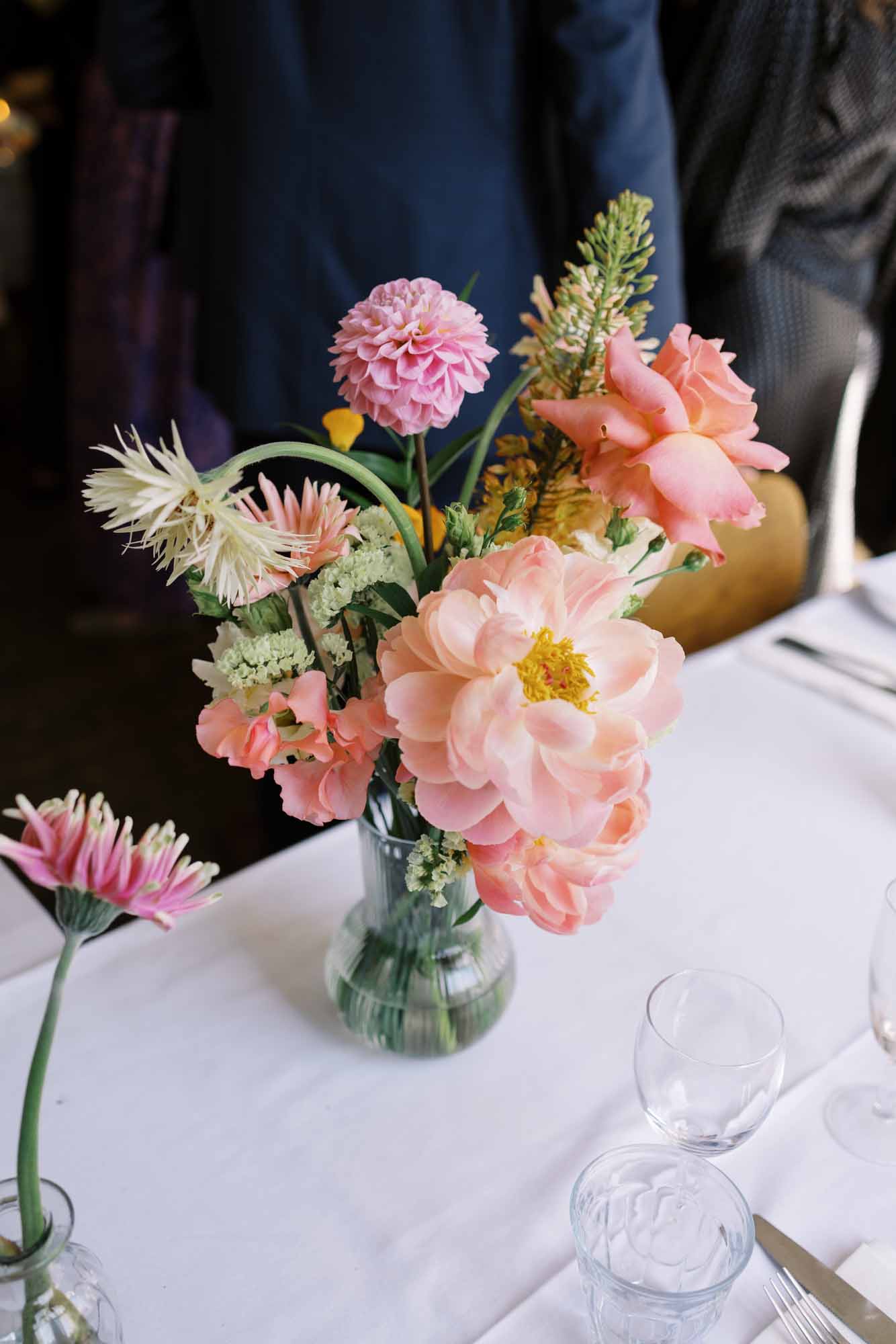 We hired Cocotte for canapes after the ceremony and Trevibban Mill Vineyard for bubbles after the ceremony (Ethan's family live in Cornwall so this was our Cornish touch).
My Mum Emma is a florist so she did all of the bridal bouquets and buttonholes as well as some table flowers in The Camberwell Arms. We went with her, my sister and Ethan to Covent Garden Flower market two days before and she made them all up.
Similar to the rest of the wedding, we didn't know exactly what we wanted, so just rocked up on the day and chose whatever made us feel happy, with mums advice. We went for multi colours on everything except my bridal bouquet which was just white anemones, my favourite flower.
Evening & Dancing
We had personalised instruments for everyone, just little hand bells and tambourines that my sister and I spent hours tying multi-colored ribbons to for a festival/carnival atmosphere.
They were such a hit and brought super fun vibes all night long. We also had bowls of cigarettes for people to smoke.
Our first dance was to Paul Simon's 'Diamonds on the soles of her shoes'.
Words of Wedded Wisdom
Don't feel pressured to follow the standard wedding set up / routine / style. It's your one day, do it your own way and how you really want to, rather than how you feel you should. For once put yourselves first; you'll love it even more and your guests will love that it's true to you both, not like another wedding they've already attended.
Also To help you find the right dress or commit to one, try on every style you can get your hands on just to cross them off the list / to know you tried every possible style option, it makes saying yes easier because you don't have the 'I wonder if I should have tried long sleeve lace' or 'what about a trouser suit' in the back of your mind, because you did and it wasn't right.