Regular visitors to Love My Dress will know how much we love Rolling In Roses, a sustainable, British, indie label who create ethical bridalwear using the most beautiful materials.
Today it's a pleasure to share the forest elopement of its production coordinator Ellis, who naturally wore separates from Rolling In Roses. On 11 June 2021 Ellis and Natalie, a self-employed tradeswoman, eloped to Marthrown of Mabie, Mabie Forest, near Dumfries in Scotland. 
Rolling in Roses

+ Follow
The wedding included just the two of them and their witnesses, and was Marthrown was the naturally perfect oasis for an intimate, personal ceremony.
They celebrated after with a naked wild swim and picnic on the banks of the loch.
"We always knew that we would like to get married outdoors and to be surrounded by beautiful scenery and nature."
"We both love to explore and Mabie forest was the perfect setting in which to do so. We camped there in August 2020 and immediately knew that if we were to elope, that was our place."
"Pam and Mike have created a real eco oasis with the water supply coming from a local spring and solar panels for electricity."
"The whole vibe of the place aligned perfectly with our values and is nestled in beautiful Mabie Forest."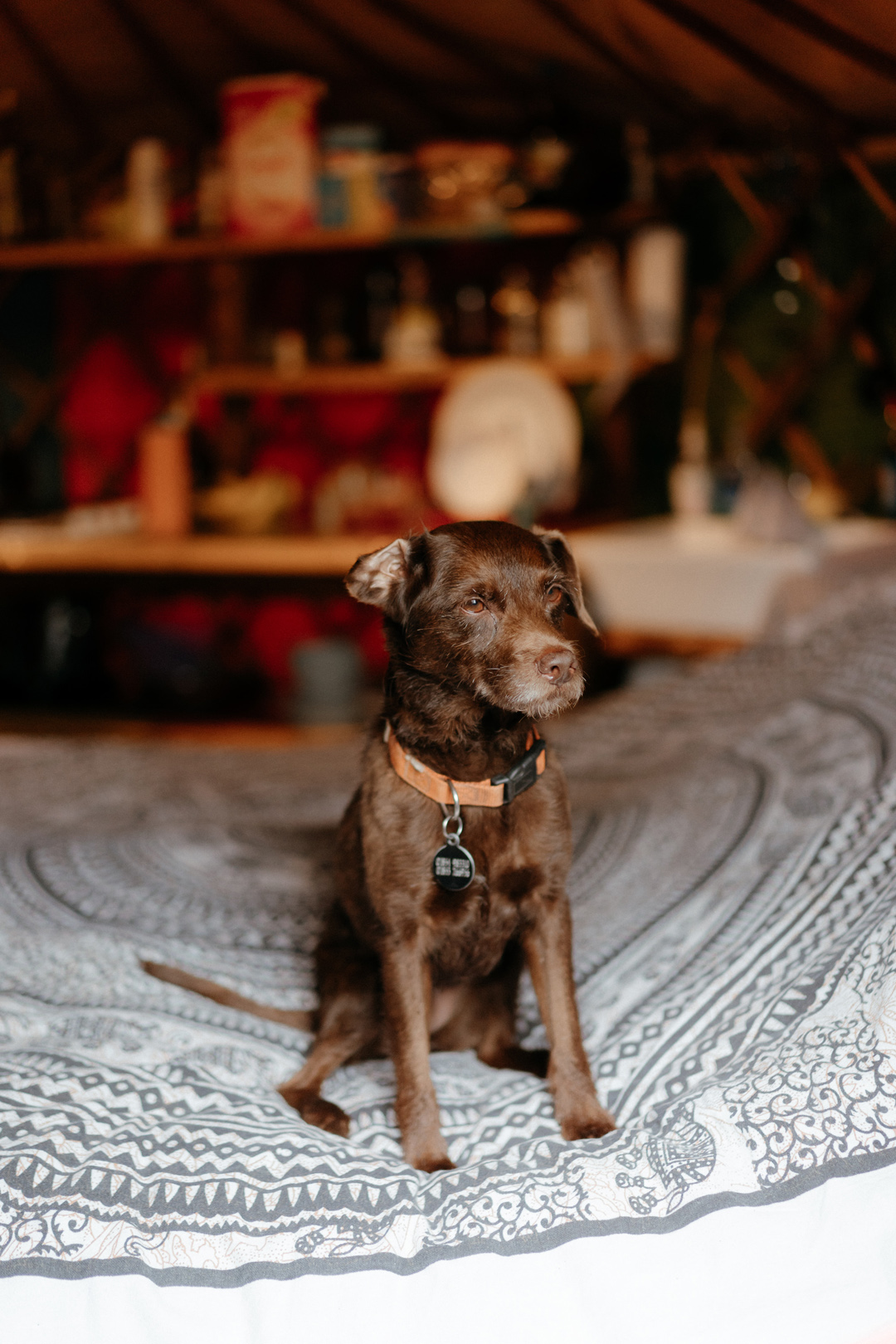 Ellis and Natalie first met at met Glastonbury Festival in 2017 as friends of friends.
"We got together as a couple in late 2018. I proposed to Natalie the night before the wedding."
Ellis chose to wear bridal separates from Rolling In Roses; the Beloved trousers and the Luminous blouse (made by herself of course). I love the balloon sleeves and relaxed fit of the outfit.
We are so proud to support them on our Love My Dress Wedding Directory so please visit their listing to find out more.
"The only person who knew about our wedding prior to the day was designer Hayley as I had to ask her permission to wear her brand!"
"I originally tried some other bridal outfits but they just didn't feel right – it had to be Rolling In Roses! I'm hoping to dye my trousers green and both garments will definitely we worn again."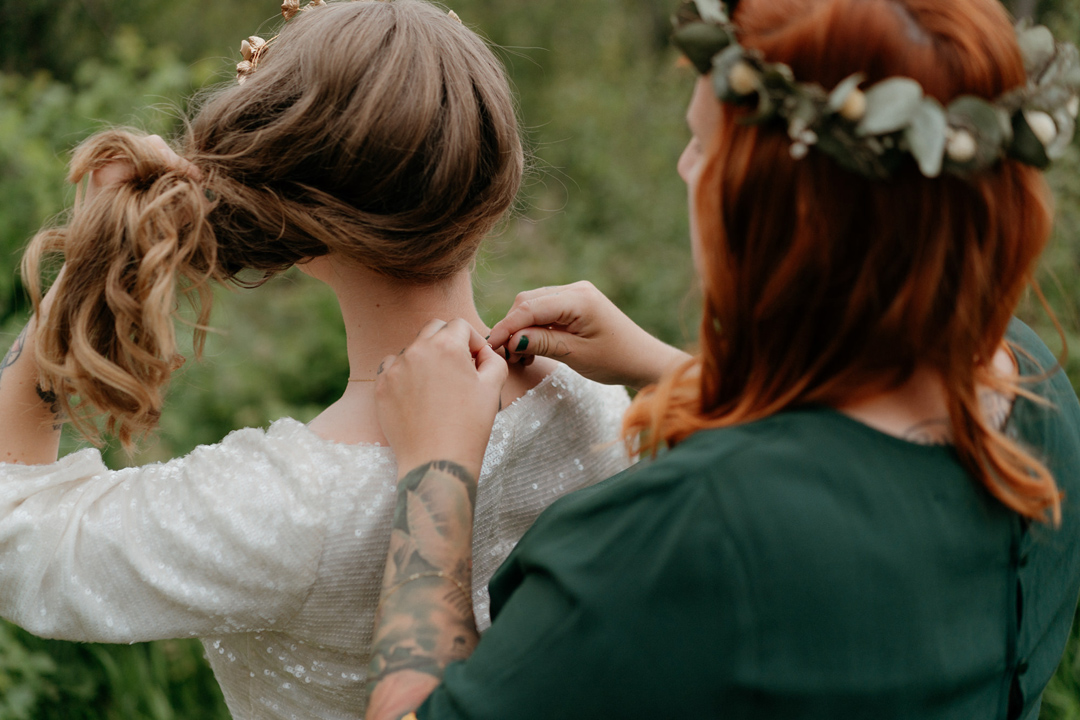 "We both wore necklaces from Oh My Clumsy Heart which we had purchased for each other on previous birthdays."
Natalie bought her forest green jumpsuit at ASOS and it was altered by Ellis to shorten the leg length, add pockets and add gold vintage trim to the sleeves.
She paired it with a pair of Vans and a pretty dried flower crown from To A Mountain Daisy.
Natalie: "My jumpsuit ticked several boxes in that it was comfortable, had pockets and can be worn again."
Her shoes were Dr. Martens Blaire sandals and in her hair she wore a hairvine from Josephine Laycock.
Matching Natalie's floral crown, she carried a bouquet of dried flowers in soft yellows and creams from To A Mountain Daisy whilst Natalie picked her own bouquet of fresh wildflowers as they walked around the forest on the morning of the wedding.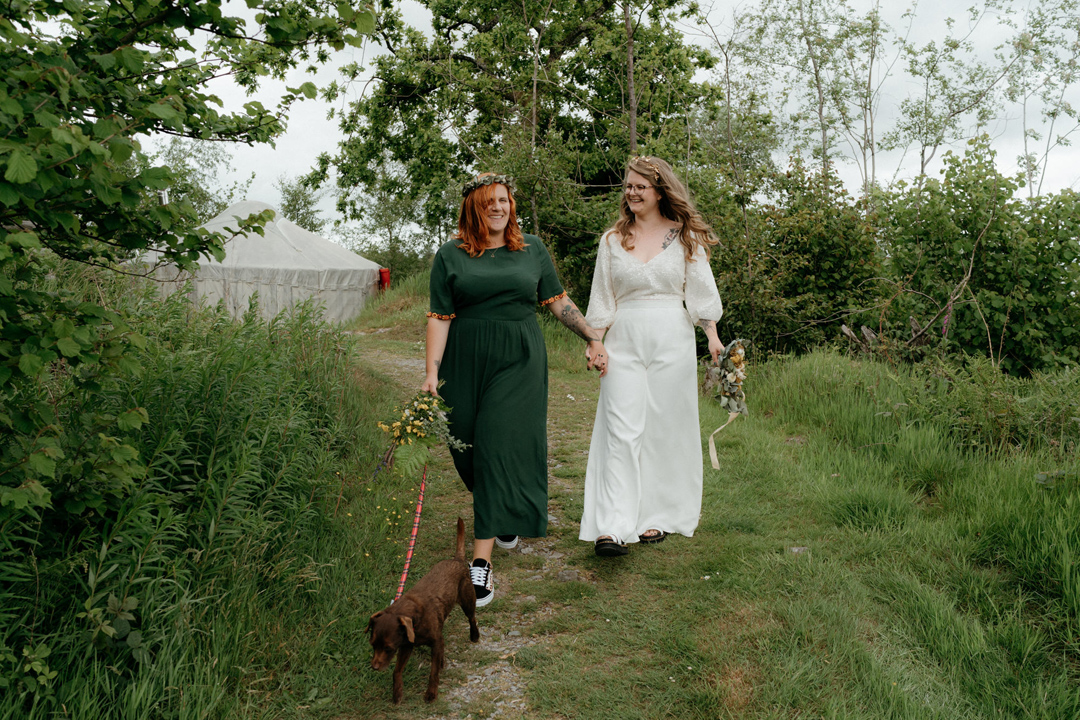 The humanist ceremony was held on a wooden platform in a clearing in the forest, with the most beautiful views over the low hills. Their celebrant was Lindsey Mason Ross.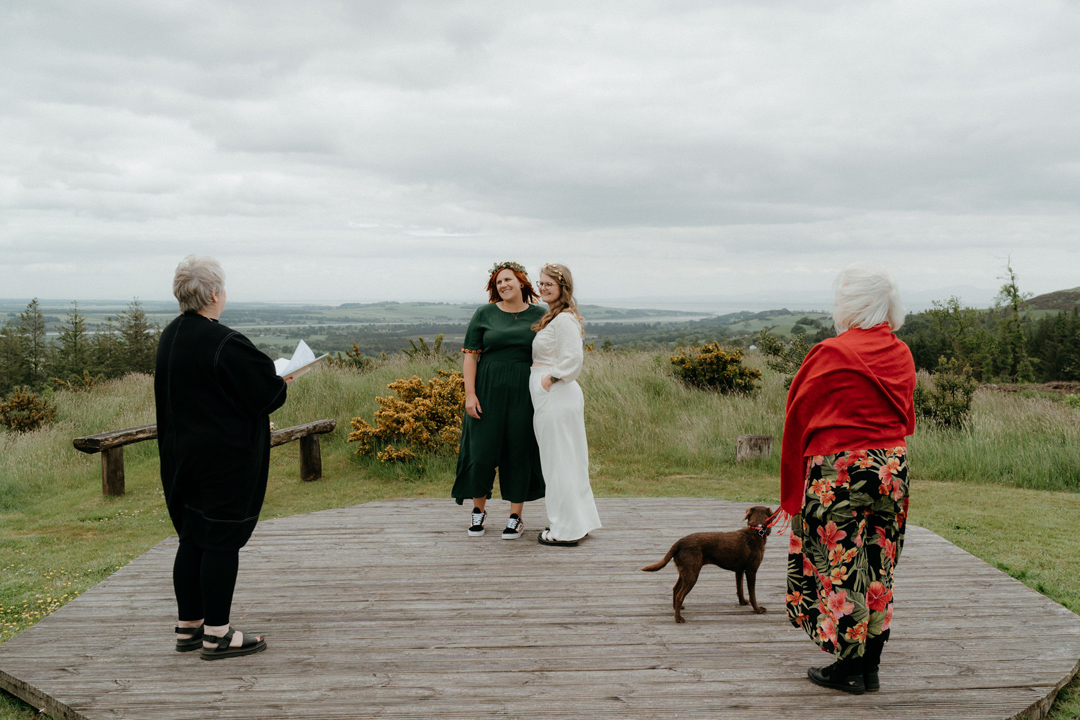 "We chose to have a humanist ceremony, not only because Lindsey is the best celebrant going but it perfectly aligns with our values."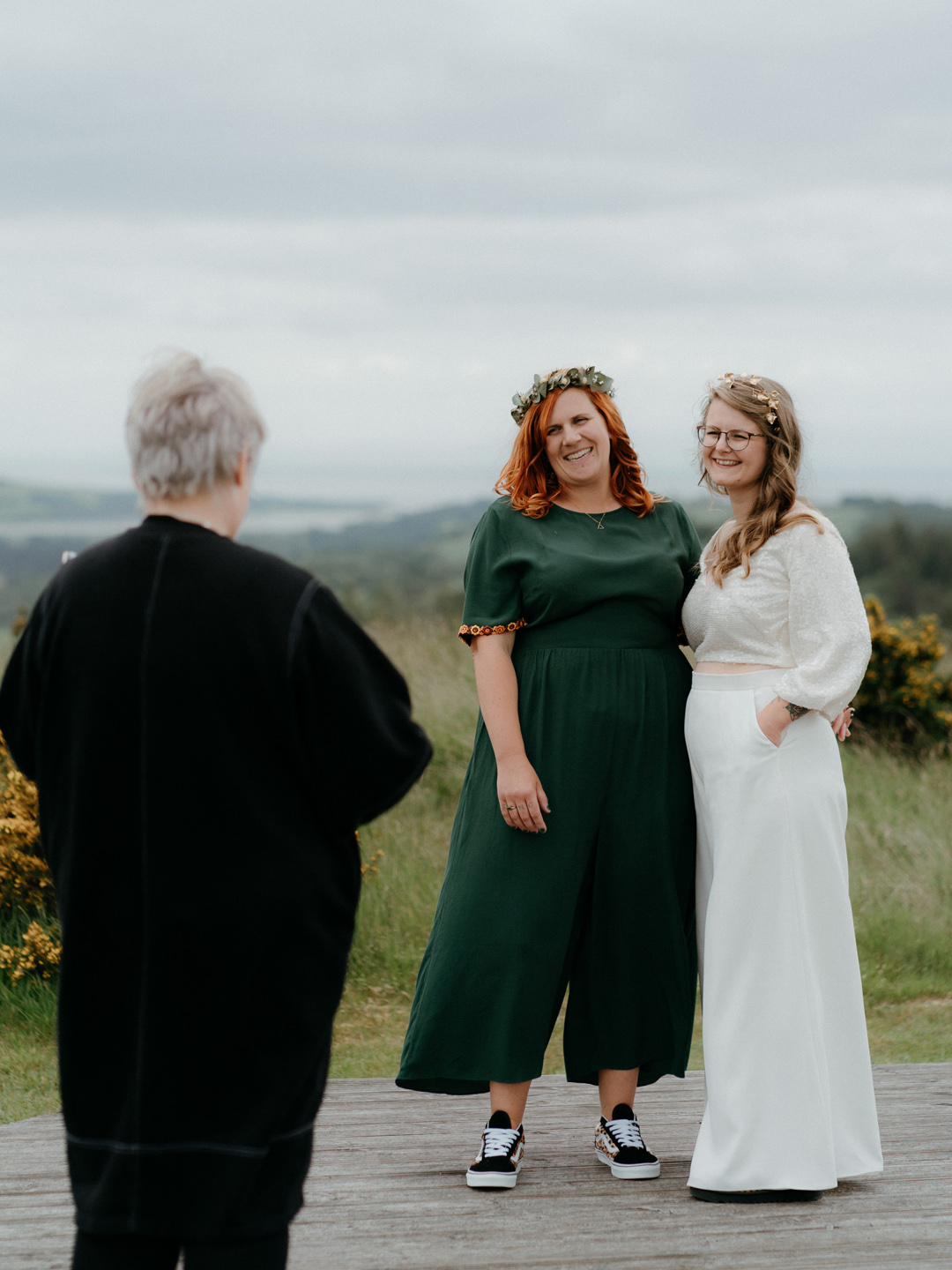 "We had a playlist running throughout the ceremony of some meaningful songs including 'This Must Be The Place' by Talking Heads, 'Firesmoke' by Kae Tempest, 'Just Like Heaven' by The Cure, 'Never Too Much' by Luther Vandross, 'Into My Arms' by Nick Cave & The Bad Seeds and 'Let's Stay Together' by Al Green."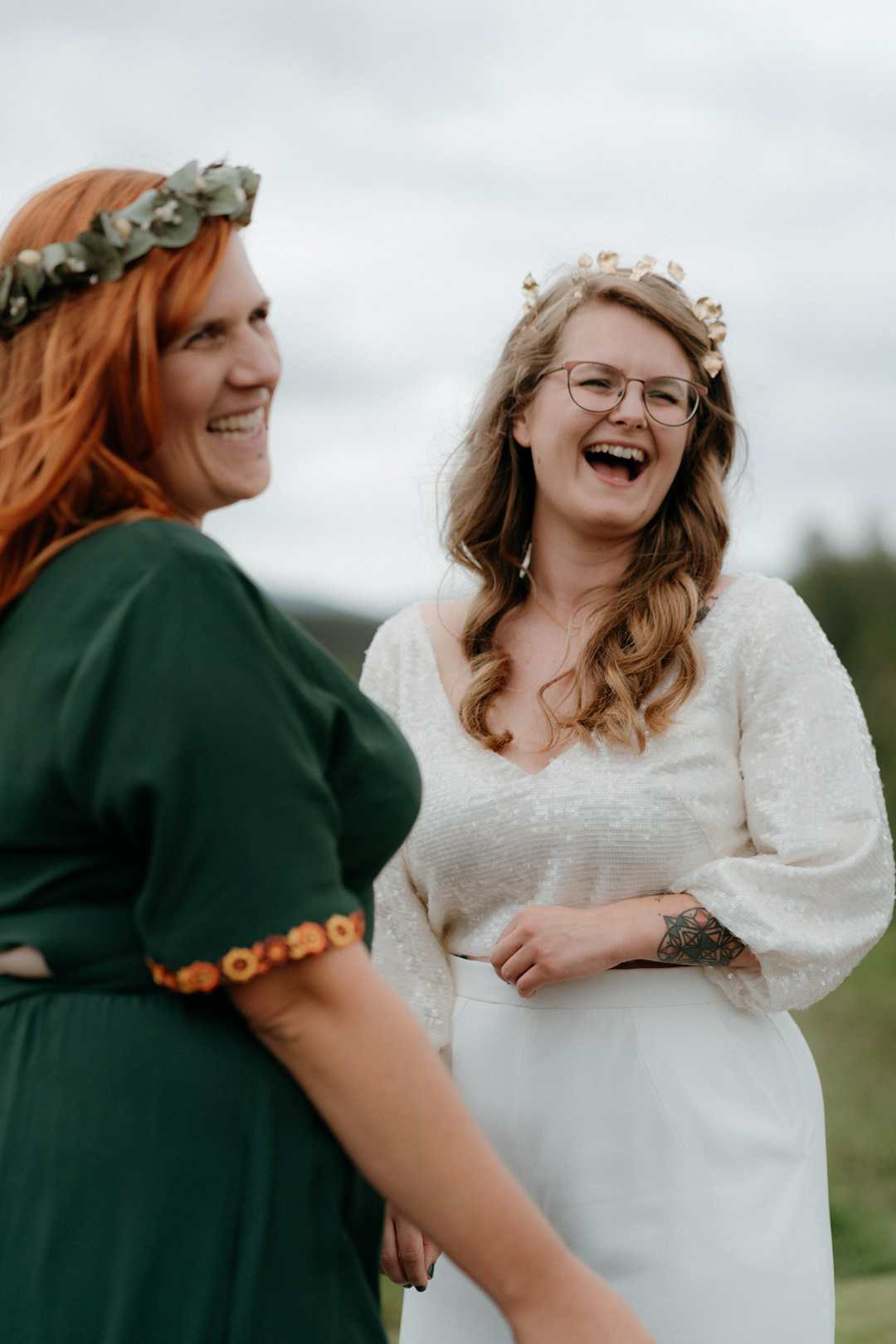 The couple exchanged hammered, recycled gold rings from Salt and Star and wrote their own vows.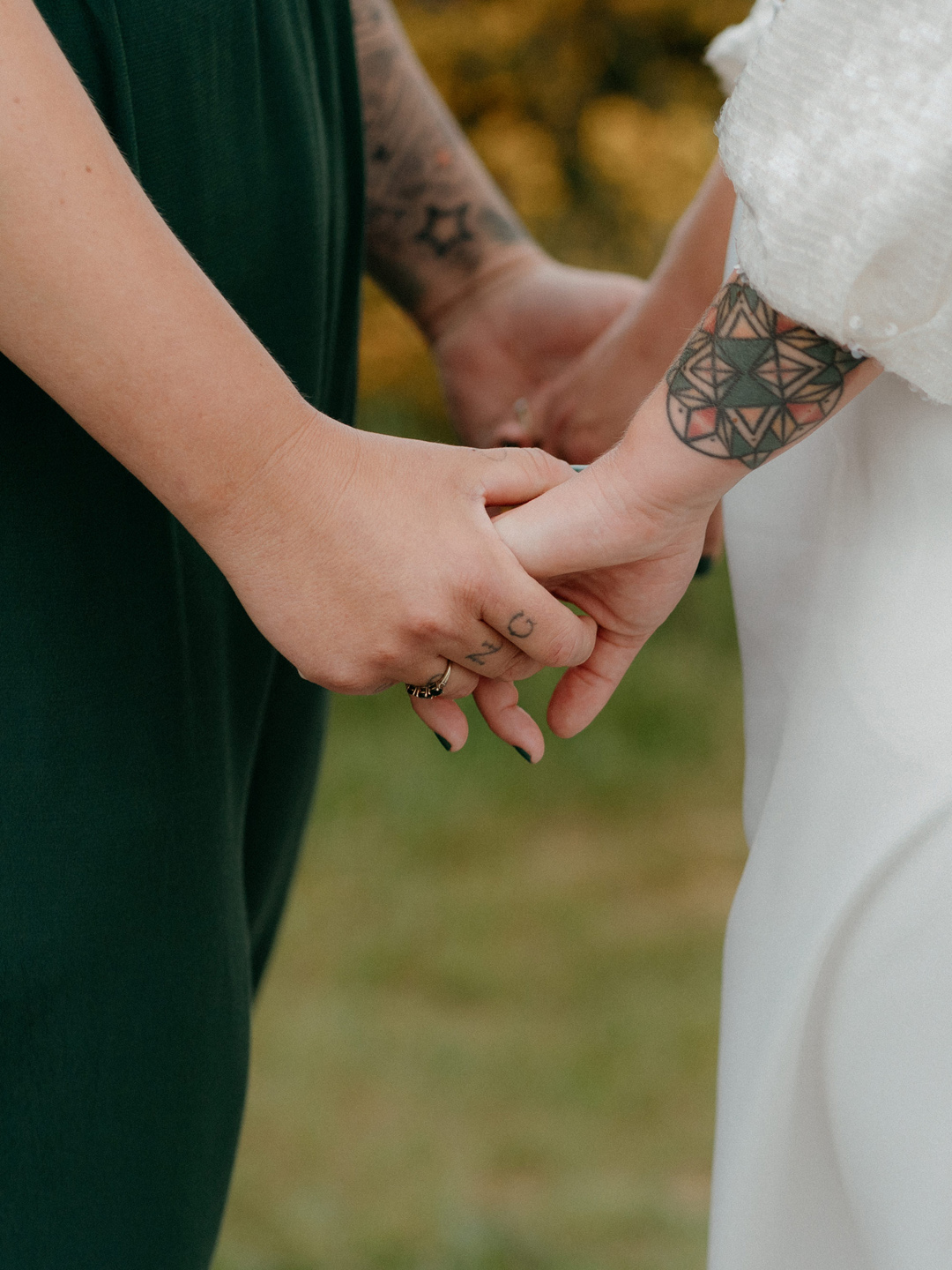 "We read them to each other privately during the ceremony. Lindsey suggested this and it was a lovely way to do it, much laughter and tears!"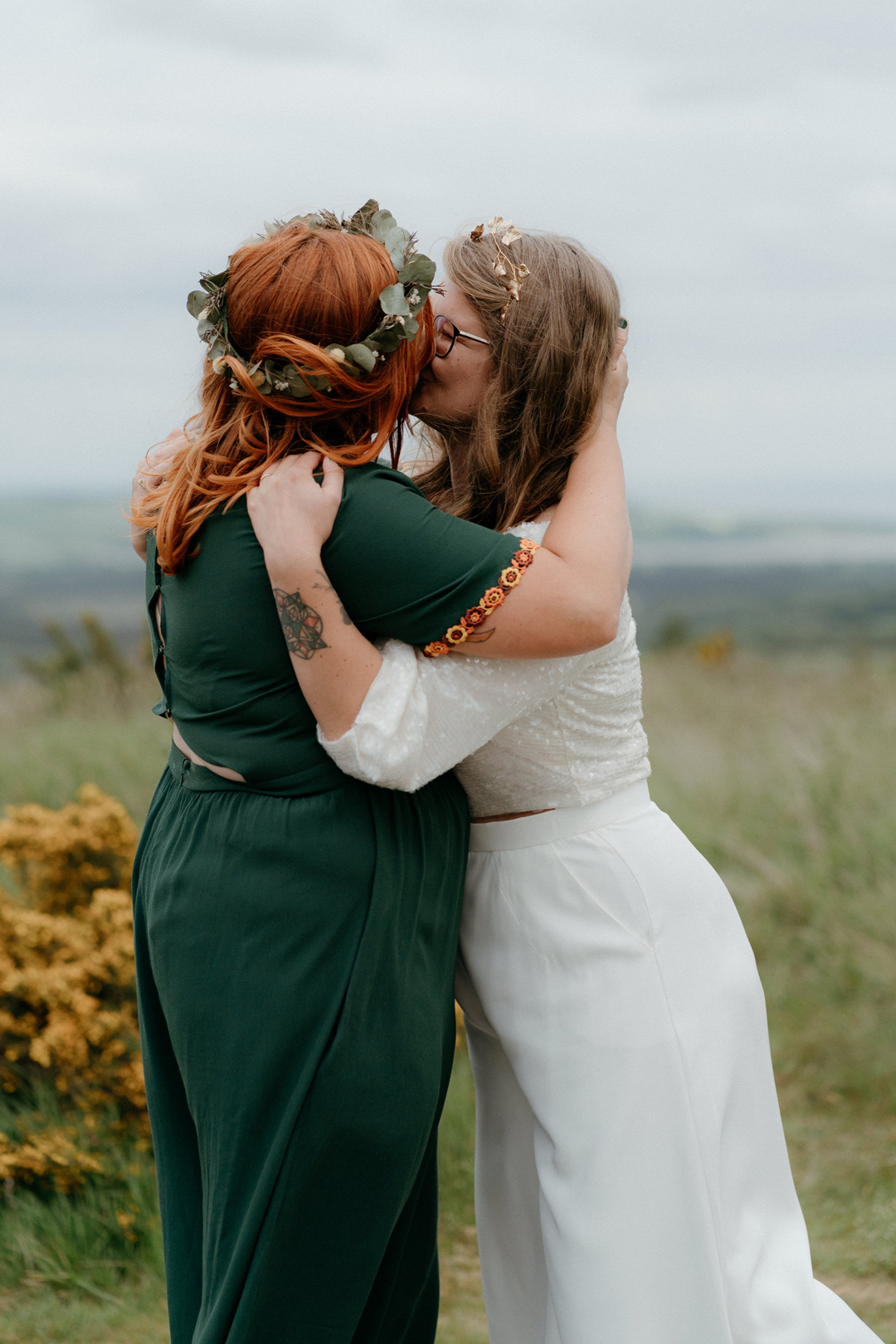 "We had a Quaich after the ceremony which is traditionally where whisky is shared from a Quaich but we chose to share Buckfast from our pig mug."
"Our beautiful cake was made by Danielle of Noonchi Cake. We hadn't originally planned to have a cake but changed our minds a couple of weeks before and I'm so glad we did; it was so lovely to share with our suppliers/witnesses on the day and we got to tuck into the leftovers throughout the weekend!"
"It was both delicious and beautiful and really complimented our day."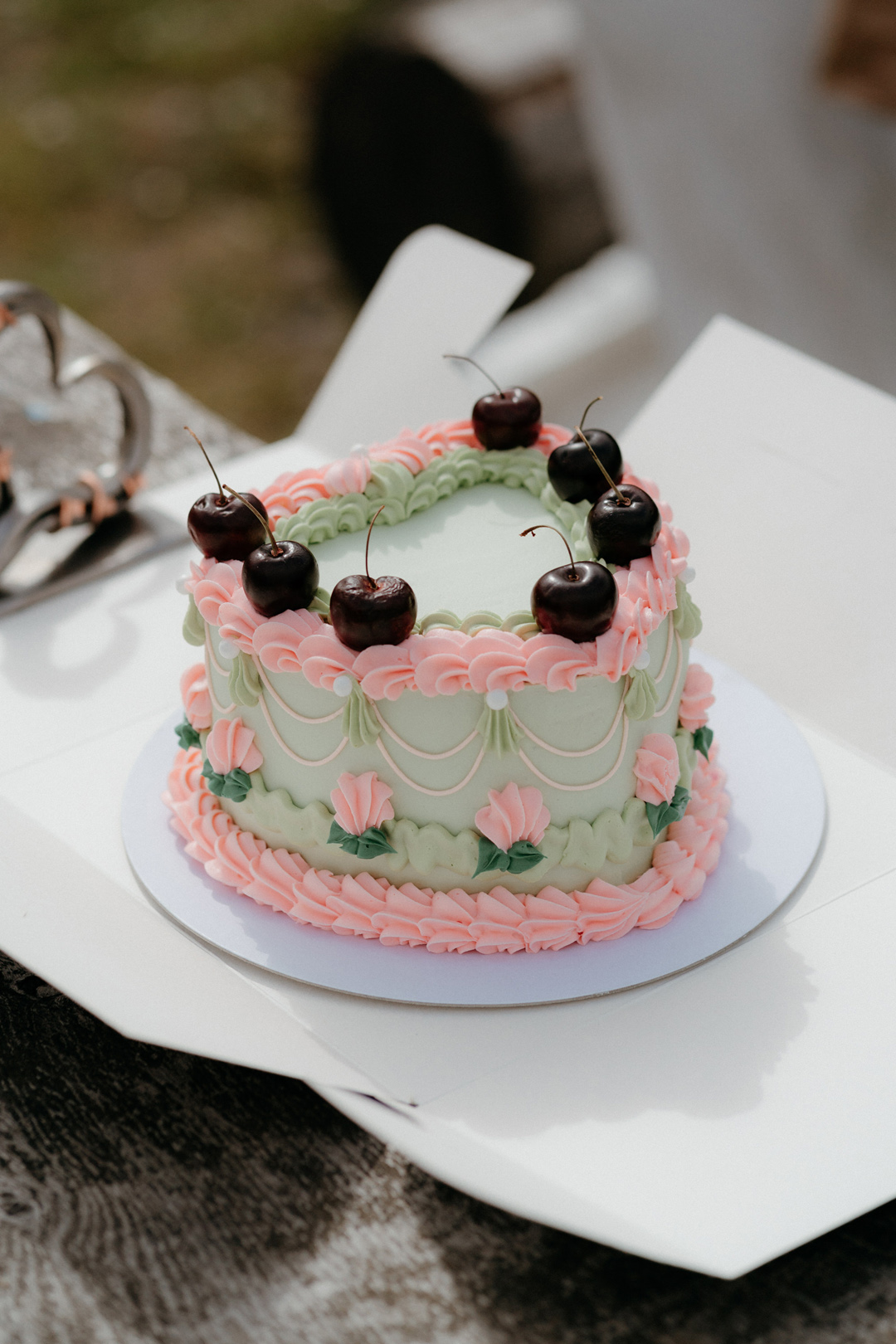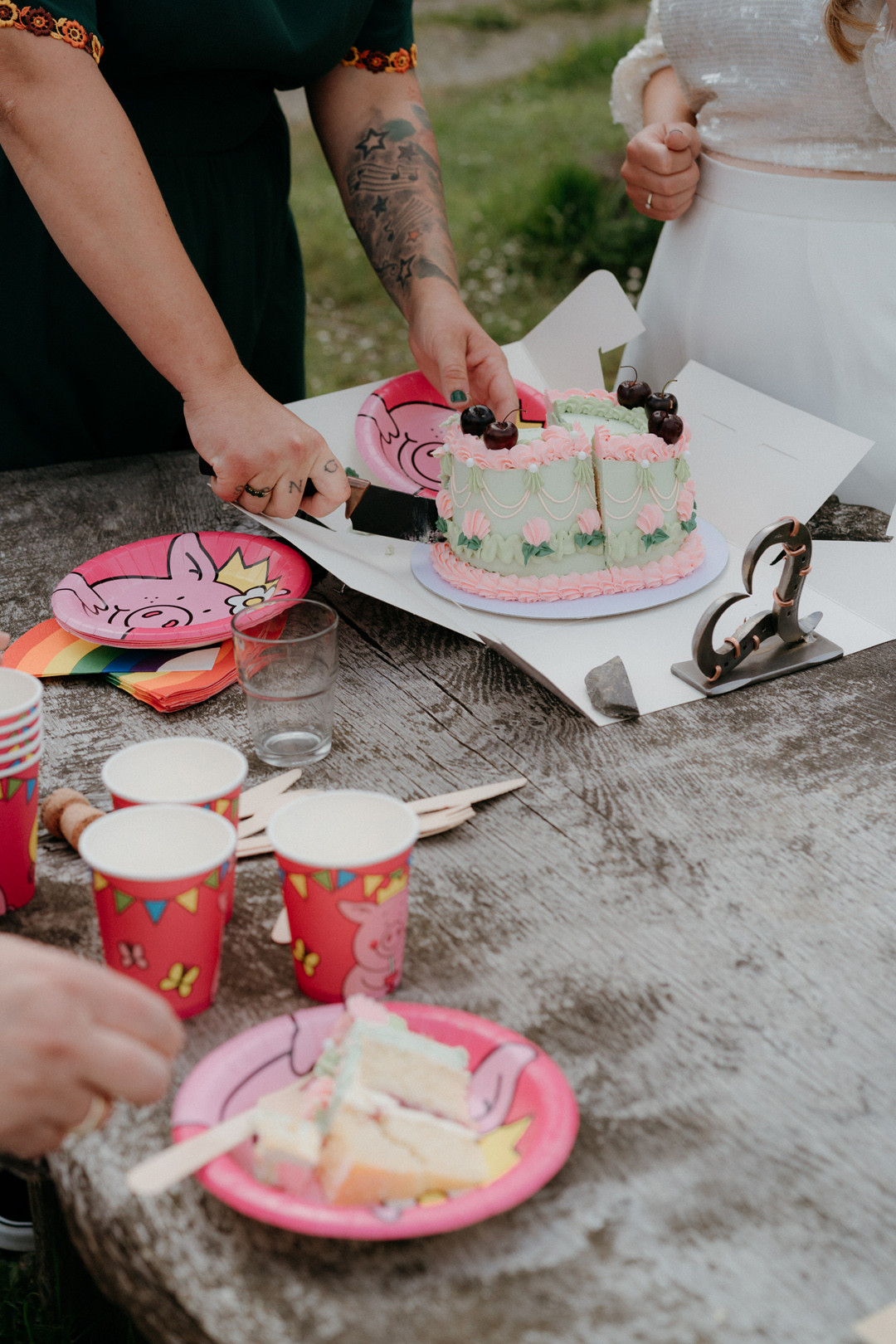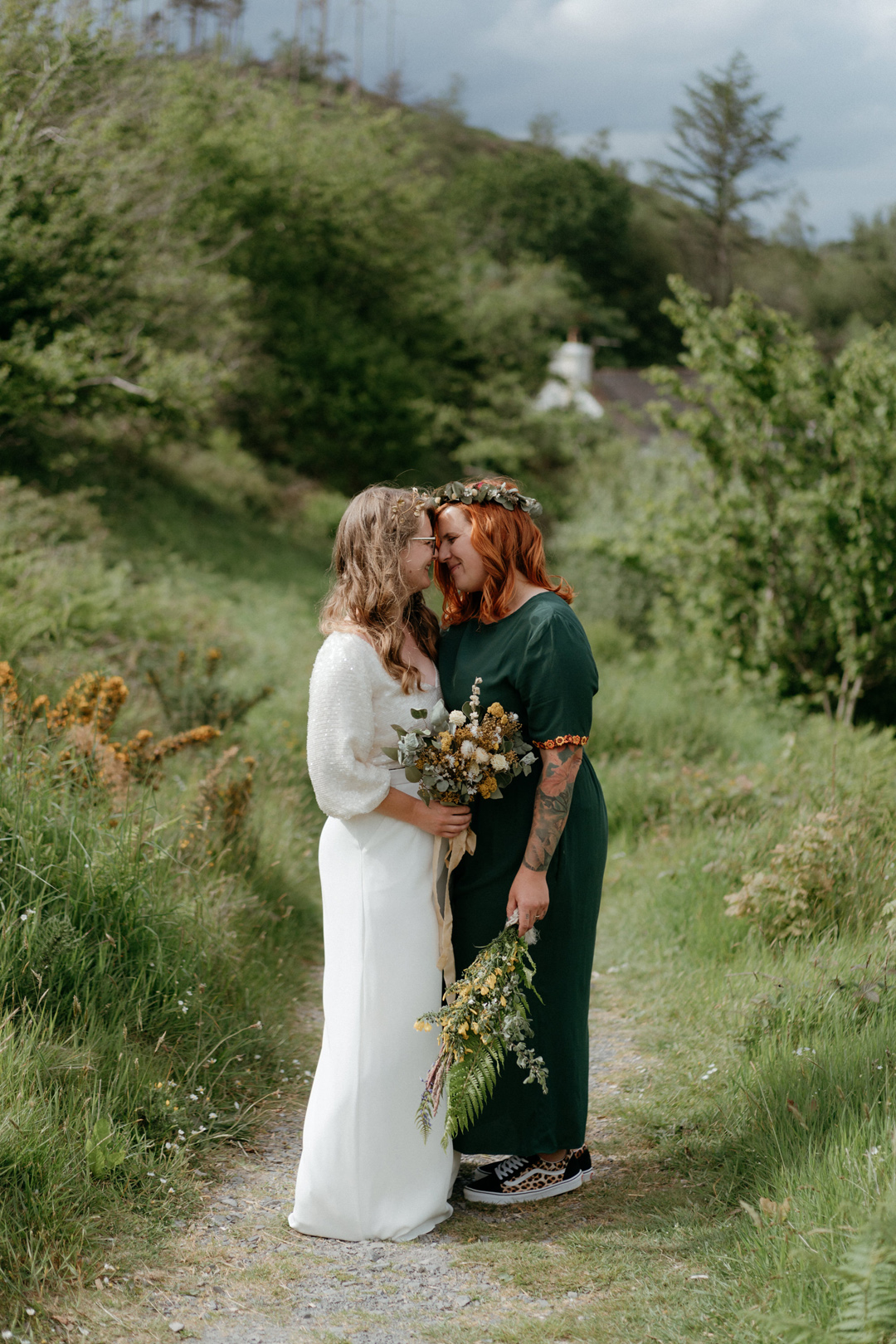 The day was just the two girls and their suppliers, one of whom was Scottish elopement photographer Lina Hayes who has captured the magical atmosphere of the forest and the wedding so wonderfully.
"We found Lina via Instagram and are so glad that we chose her to capture our day. She was relaxed, thorough and a great calming presence."
"We absolutely love our photographs and will cherish them forever. She managed to capture exactly who we are and told the story of the day perfectly."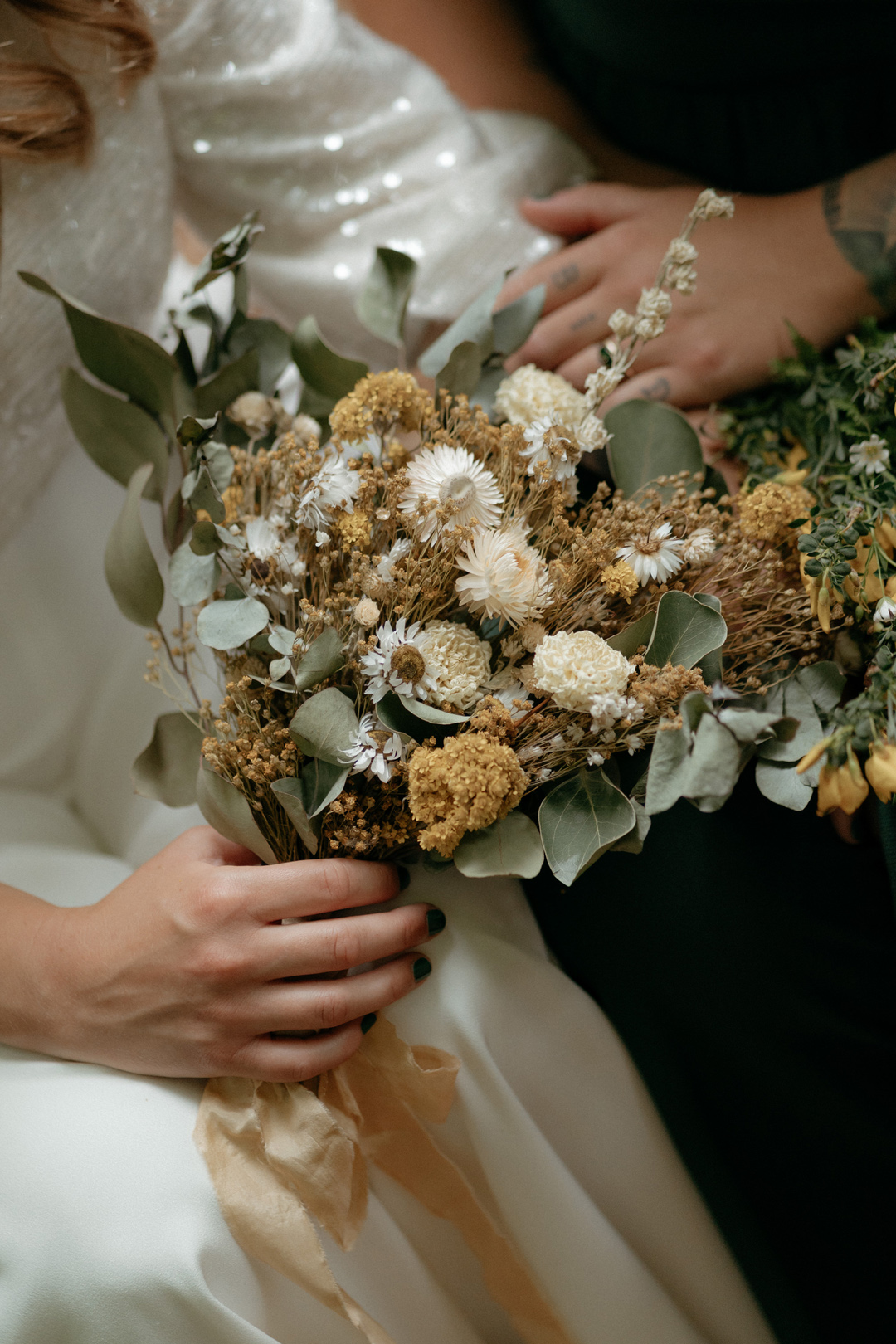 The couple have such beautiful memories of their day.
"The ceremony was filled with so much joy and emotion, there was laughter and tears for all."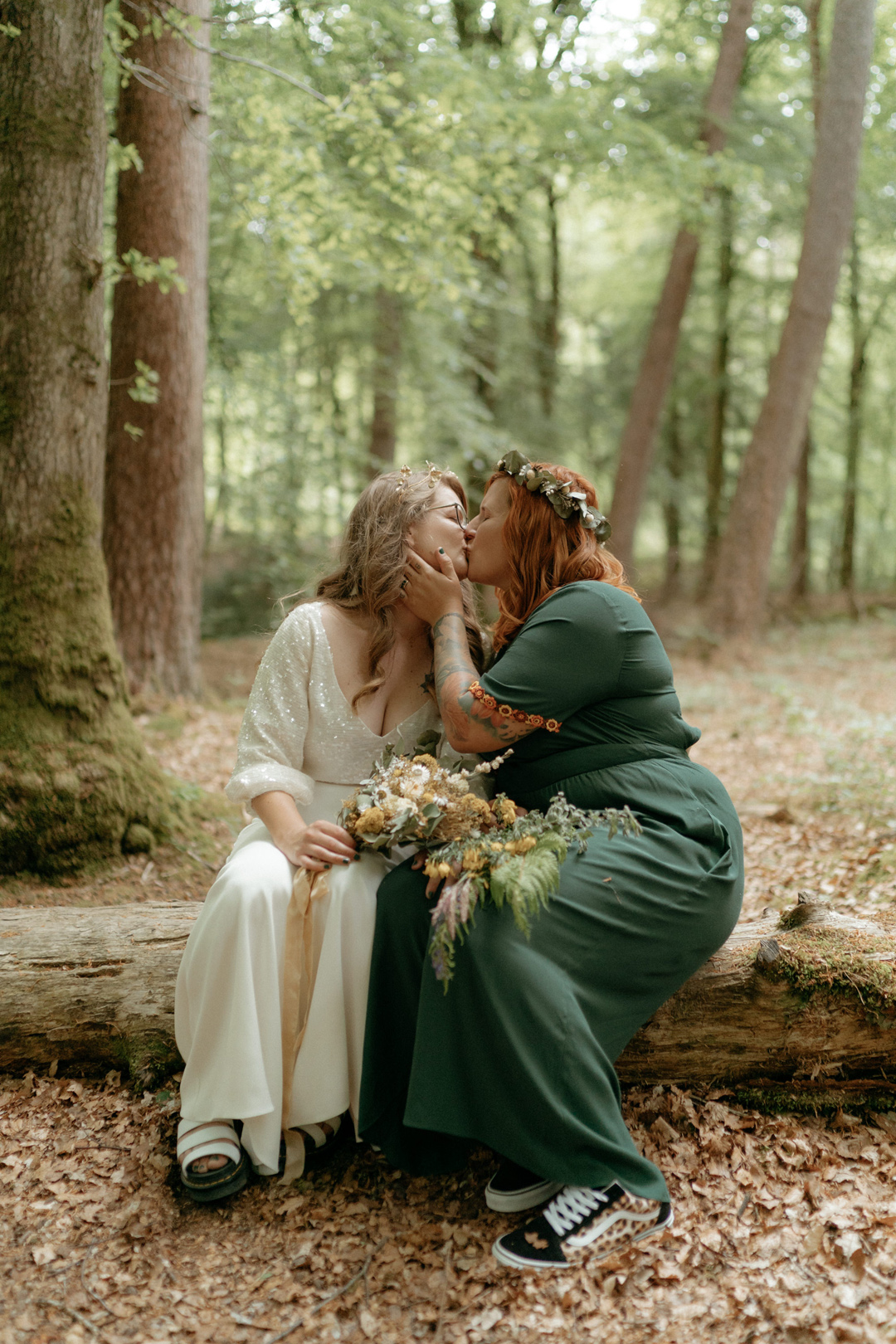 "We couldn't recommend an elopement more strongly, especially if any couples are feeling overwhelmed with the stressful planning during these strange times."
"It was straightforward in planning and utterly full of sheer joy and romance on the day."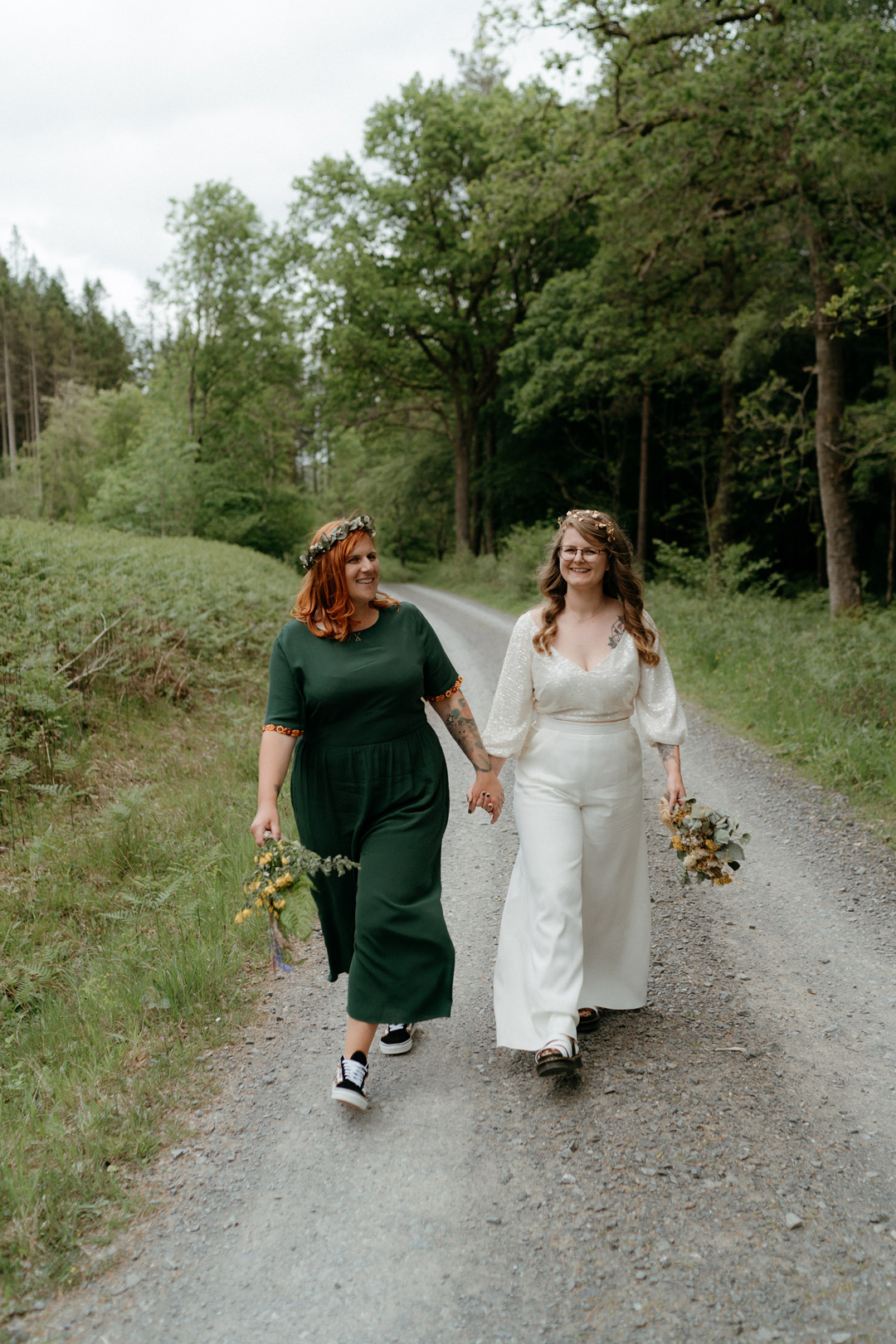 The ceremony was followed by celebratory drinks and slices of cake outside their yurt.
After, they explored the forest whilst getting the most beautiful portrait shots, before dipping into the loch for a wild swim.
"We had a little disco for two that evening by our yurt."
Natalie and Ellis enjoyed visits to Love My Dress during their planning process but highly recommend LGBTQ+equalityweddings on Instagram account for LGBTQIA+ couples.
"Queer people are hugely underrepresented in the wedding world so this account is great for feeling included and spreading that joy."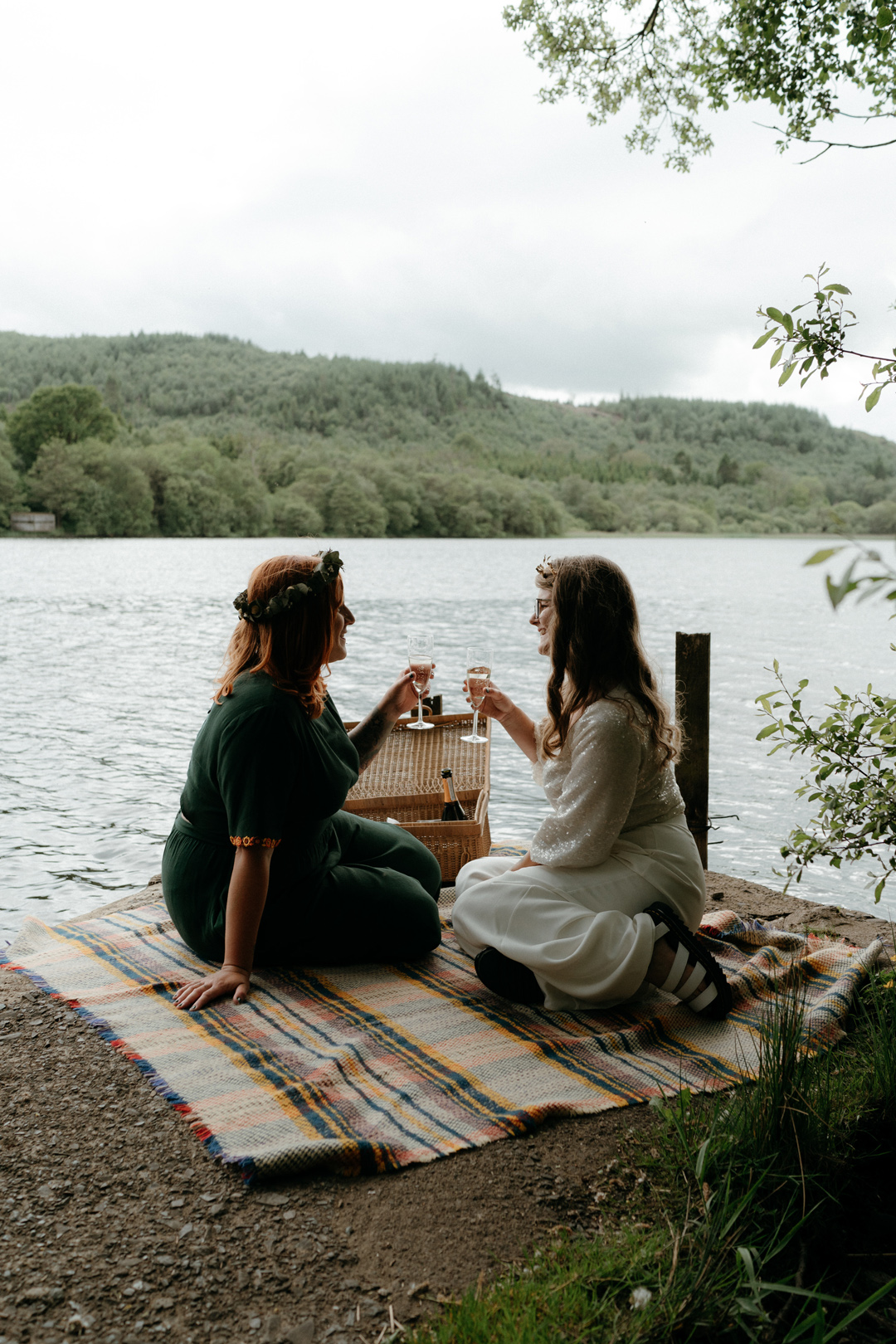 Words of Wedded Wisdom
"Eloping was the most wonderful experience and I'd recommend it so highly to anyone who is leaning towards doing so."
"Ultimately, don't get caught up in what you think other people want you to do, it's your day."
Natalie and Ellis, sending so much love and congratulations on your marriage. Your day looked absolutely magical and it's been a joy to share it on our pages today, thanks to your beautiful work Lina Hayes.
Lovelies, if you are thinking about eloping then I'm sure you'll love these other intimate elopements on Love My Dress.
Ele x