I am thrilled to be supporting Sassi Holford, one of my very favourite British bridal fashion designers today, in the launch of her brand new collection for 2022; Love Conquers All.
If one single term could be used to sum up the general zeitgeist, following the impact of the past 19 months, love conquers all would certainly be it. This gorgeous new collection, now available to the general public via Sassi's London and Taunton boutiques, and via any one of Sassi's UK stockists very soon, captures the mood of the moment whilst carrying all the classy hallmarks of a Sassi Holford design, and I love it.
Sassi describes her new collection as a 'beautiful collision of the best of the 80's with a Victoriana twist'.
Peppered with Sassi's signature style and dedication to detail; it is a striking combination of textures, high necks, long sleeves, and the reinvention of lace for the modern bride.
I love how Sassi has dived back into her own creative past and design legacy in producing this collection. I adore the whisper of 80's catwalk glamour with those sharp, yet ultra feminine sleeves, alongside the more regal inspired high necks, cinched in waists and big, voluminous skirts.
"I've had the time to go back to the beginning, to look at the archives and my early collections for inspiration."
"My feeling was to take a deep breath, trust my instincts and intuition, and dive in."
Dedicated to, and inspired by her brides, Sassi says "This collection is my emotional response to what has been the most challenging time in business. Love Conquers All is more than a collection: it's an emotion, a feeling."
This, I love, more than anything. And this heart-led approach is what truly separates Sassi from the crowd. She loves her clients and believe me, they really, really love her too. It's part of the reason she has been able to maintain a sought after bridal fashion brand for more than 40 years.
"My brides have been my driving energy who have embraced the moment and proven that love conquers all."
All Sassi Holford's gowns are designed and made at Sassi Holford's atelier in Somerset, where she also has a boutique – her main store being located in London.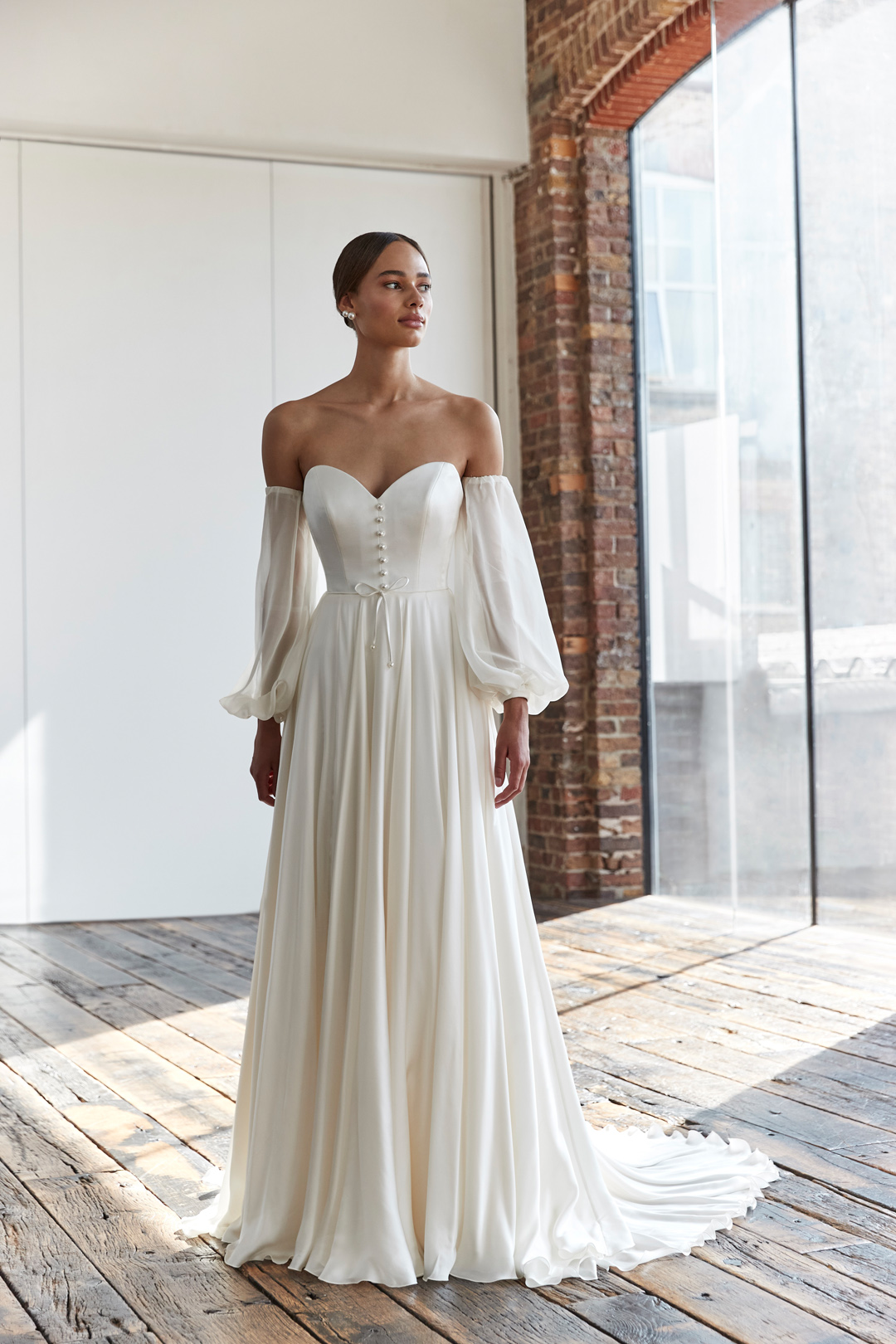 For further information, you can get in touch with the Sassi Holford team via either of her boutiques listed below.
82 Fulham Road, South Kensington, London, SW3 6HR, telephone 020 7584 1532.
6 The Bridge, Taunton, Somerset, TA1 1UG, telephone 01823 256308.
You can also find a list of stockists here.