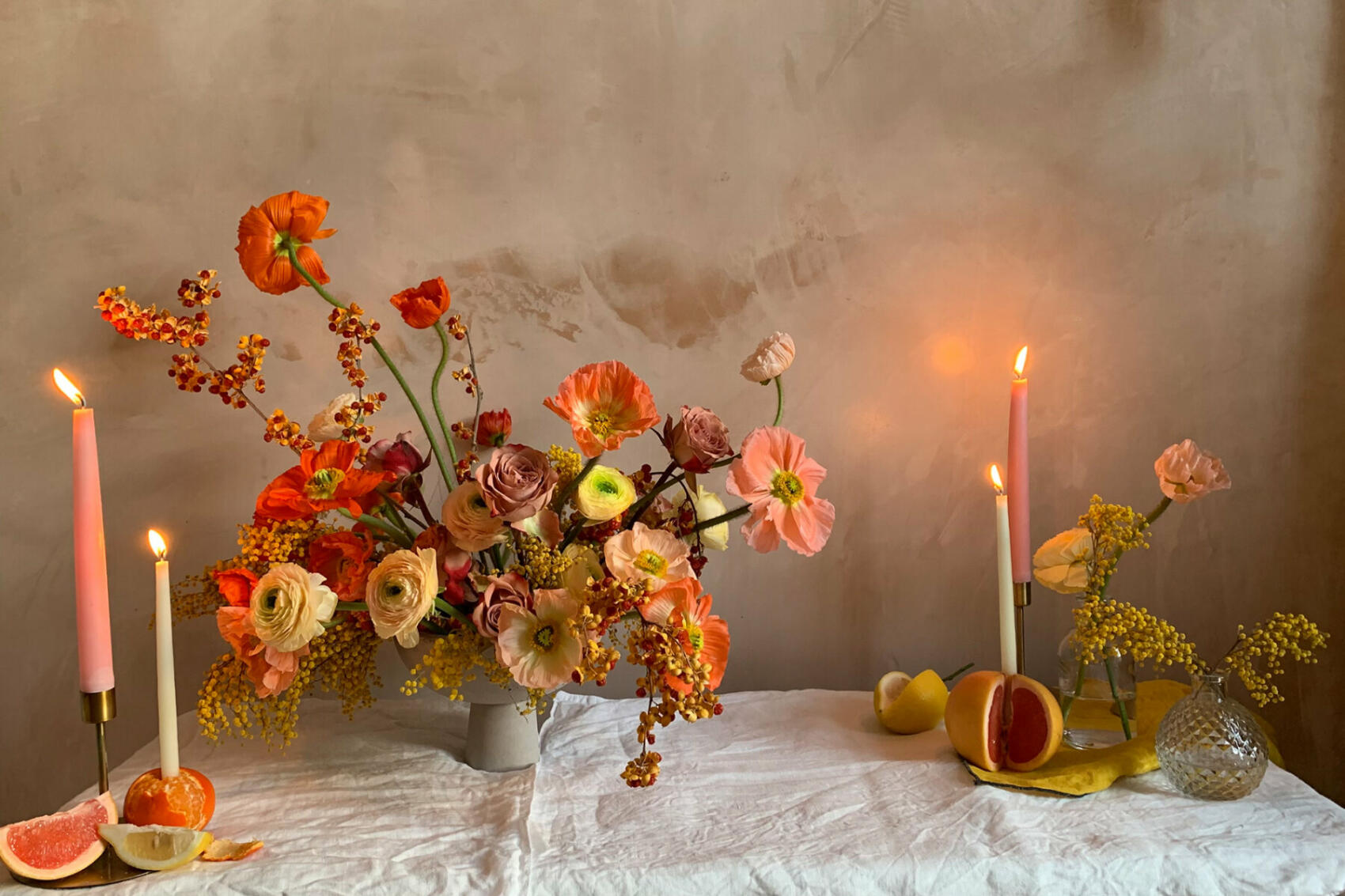 About Wild Flower Workshop
Wild Flower Workshop is a contemporary floral design studio based in Glasgow. We provide modern couples with beautiful, contemporary wedding floristry and floral design.
Founded in 2017 by Barbara Smith, Wild Flower Workshop aims to elevate and push the boundaries of floral design. Working closely with our clients to give them something truly personal and reflective of their tastes, whilst employing our expertise and unique design aesthetic to create floral works of art.
Reviews
Barbara, your flowers are like art, I was so excited to have you as my wedding florist and you did not disappoint. I enjoyed talking with you about the flowers so much and everything you created for the day was so beautiful. Everyone commented on them and they were the finishing touch to a very special day. Thank You!
Sonya & Miles
We found Barbara on the recommendation of our photographers, and I knew we had to have her flowers for our elopement. We were eloping in Skye three days after we were available to pick up the flowers, so I was concerned about how they would hold up on the day of the ceremony. In our chat, I explained our situation and gave her free rein on the flower types. All I really wanted was that it be a very autumnal looking bouquet. I was ecstatic to see the masterpiece she designed along with the matching buttonhole. The colors and textures were perfect. It was packaged carefully and it all held up not only until our big (windy) day, but I even saved some of the dry grass to take home. It was everything I could have imagined and more, adding the perfect touch to our scenic and intimate ceremony. Thank you!
Steph & Ana
Barbara was wonderful to work with, she is very knowledgeable and was informative about flowers available at the time of year and how she could work with our chosen colours. I particularly loved the visuals she provided around the colours, sending photos and artworks that represented what she could put together for us. Our dates changed a number of times with changing Covid restrictions and Barbara was relaxed through the whole process. When people see our wedding photos, they always comment on the stunning flowers. Barbara is a true artist in her floristry and we feel so lucky to have had her work represented on our wedding day." Thanks :)
Emily & Andrew
Now I've had time to catch my breath a bit from the wedding I wanted to drop you a wee note to say thank you for making such beautiful floral creations for our big day. The flowers were actual works of art, more exquisite than we could ever have imagined, and so many people commented on them. From my bouquet to the top table arrangement and the bridesmaids bouquets and the chair ends, all were perfect. The only pics I took on the day were of the top table flowers while I was eating dinner 😂. Oh and the bouquets for the mums were glorious! I wish I had managed to catch you on the Sunday to give you a big thank you hug. I am arranging for my bouquet to be dried and framed so I can keep it, as I couldn't bring myself to say goodbye! Anyway, thanks for making a gal so happy. Xx
Emma & Joey
Frequently Asked Questions
Do you have any packages?
The short answer is no.
The longer answer is that no two weddings are the same. We produce highly creative, bespoke designs for our clients which reflect you as a couple, enhance your chosen venue and reflect the season in which your wedding is taking place.
Basic wedding packages just don't cut it.
How does it all work?
If you're interested in talking to us about your wedding flowers, we ask that you fill in a short inquiry form, giving us all the basic information we need. From there we'll arrange a a video call to discuss the finer details, such as your inspirations and hopes for your wedding. This is our opportunity to bounce ideas around, get a feel for your style and come up with the most impactful way of utilising your budget.
After our meeting we go away and create a bespoke proposal for your wedding including visual mood boards and colour palettes, you will also be given information regarding the specific flowers that will be in season for your wedding.
How do I book?
If you like what we've created for you and are happy to go ahead. We require a deposit to secure the date in our diary. You are welcome to make changes to the design after this point, the deposit just ensures that we will be available for your wedding date and will continue to work with you as your florist to perfect your wedding floral design.
Articles featuring Wild Flower Workshop