These breathtaking images stopped me in my tracks the moment I set eyes on them one evening as I was casually strolling through the 'gram.
I was soon to learn the bride is our dear, talented and wonderful Little Book Wedding Directory member, Lilly Sells. I knew in an instant we had to share these images with you.
Freelance wedding photographer Lilly married film maker Rich on 7th October 2020 at the dreamy Glencoe in The Scottish Highlands, described by the couple as one of our their most favourite places – wild, beautiful and romantic.
"We met at a street party my road was having for the Queen's Diamond Jubilee back in 2012. Rich was there as official photographer and I was there with my family. We spoke very briefly about cameras and that was it."
"Until Rich found me online (does sound a little creepy) and we spoke over the course of about eight months. Eventually in February 2013 we went on a first date and now we're married."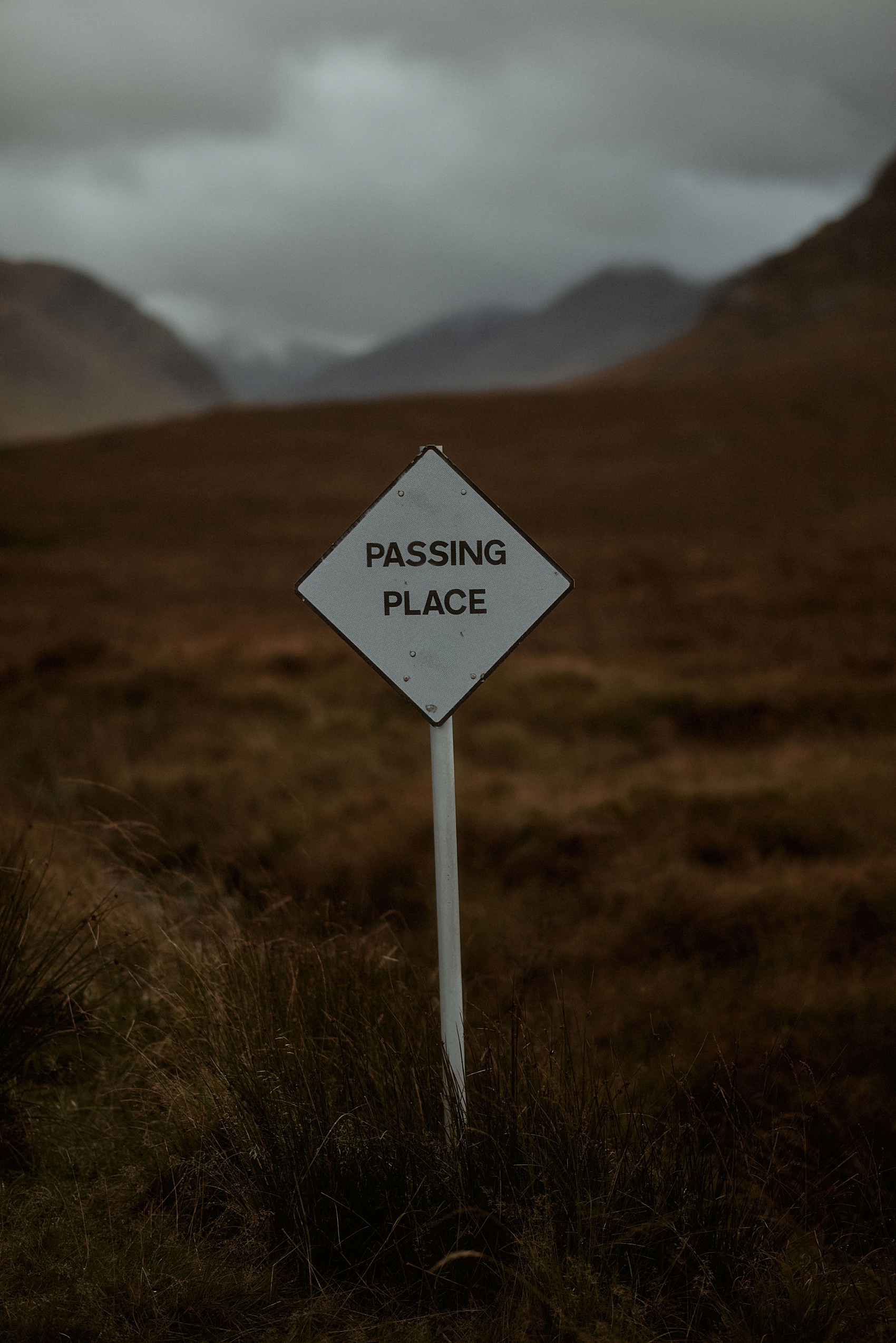 "For that first date we went to an exhibition in Greenwich of Ansel Adams' work. There we fell in love with his photographs of Yosemite National Park. The following year we flew out to California and explored Yosemite for ourselves."
"It is our absolute favourite place on earth. In 2019 we visited again and during a very long uphill hike, Rich proposed. Our engagement was 349 days, a little under a year."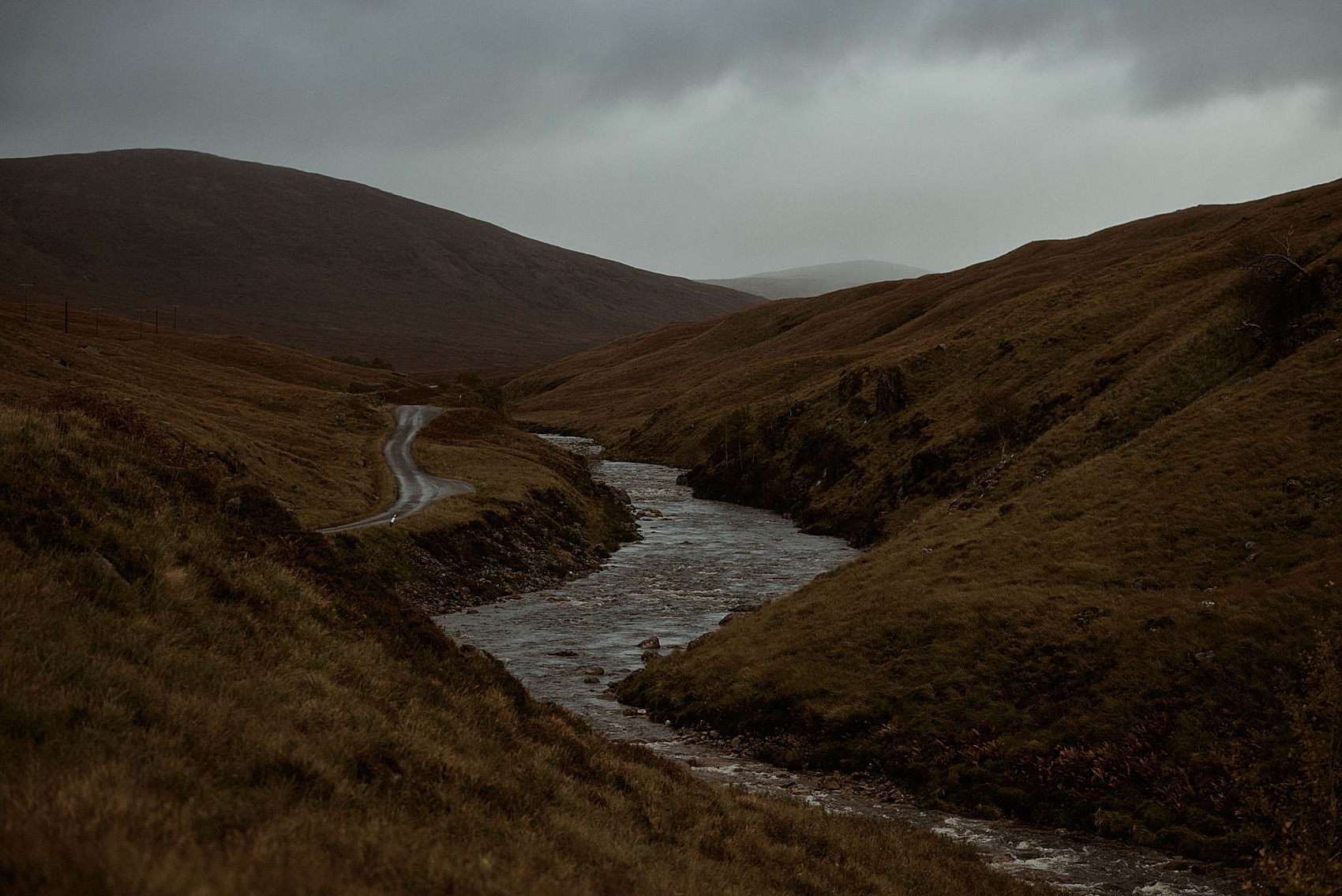 "When we first began thinking about the style of day we wanted, we came up with a list of words that we could always come back to, to remind us if we were getting a little lost of what we wanted. These foundation words were: small, romantic, relaxed, cute, fun and us."
"We always knew we wanted to marry in a place that meant something to us and eloping would help make that possible. When we realised that eloping gave us the freedom to literally marry anywhere we wanted, Yosemite became the obvious choice."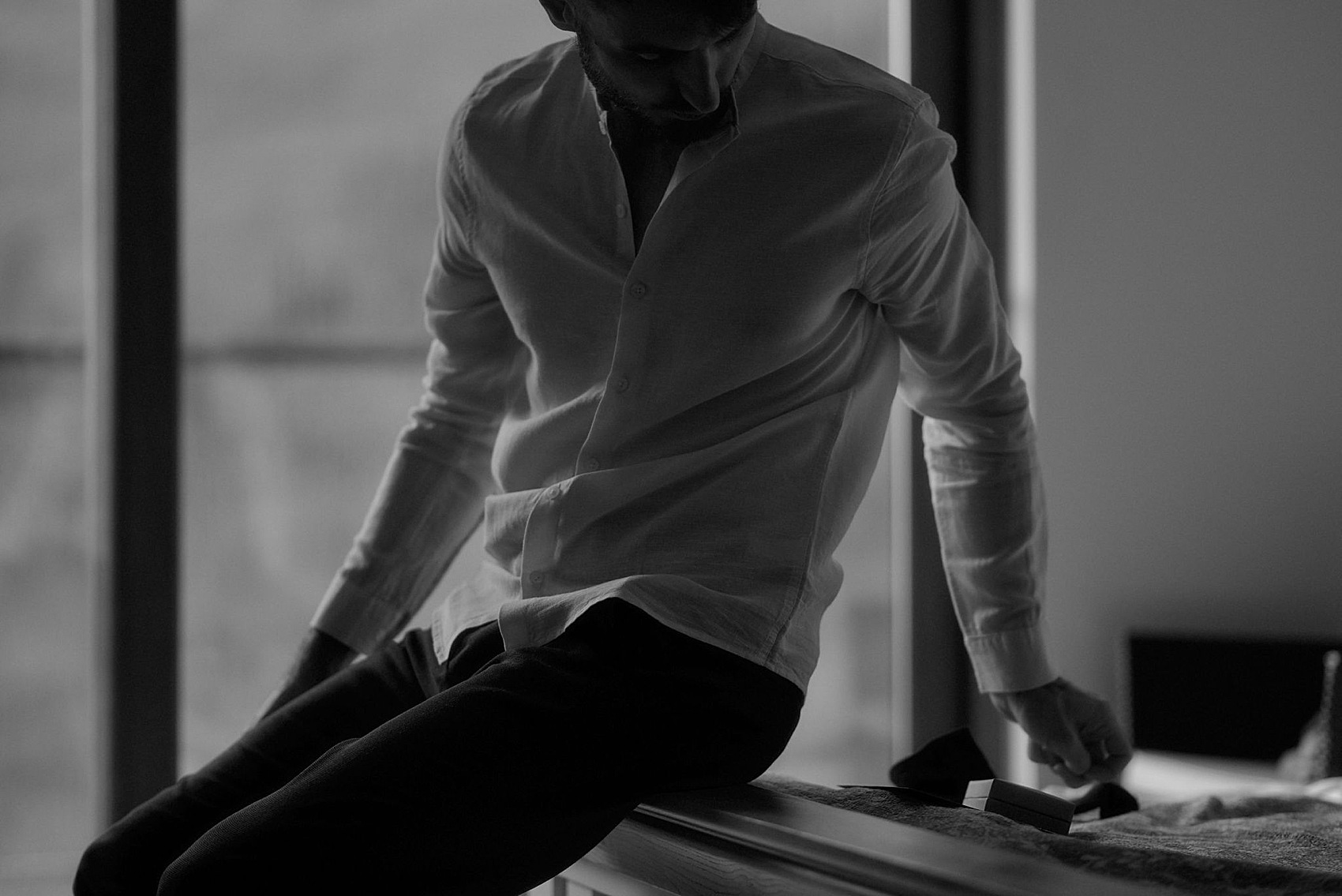 "Due to it being such a small wedding and not being able to have a reception due to Covid restrictions we didn't need any official stationery. I did have a special envelope made up for Rich to open the morning of the wedding."
"The envelope and calligraphy were done by Another Loop Calligraphy Studio."
"As a wedding gift, I bought Rich a small pin to wear. A small gold fern by Alex Monroe. Ferns have a great deal of symbolism attached to them in both Celtic and Native American cultures. So would mean a great deal whether we married in Scotland or Yosemite."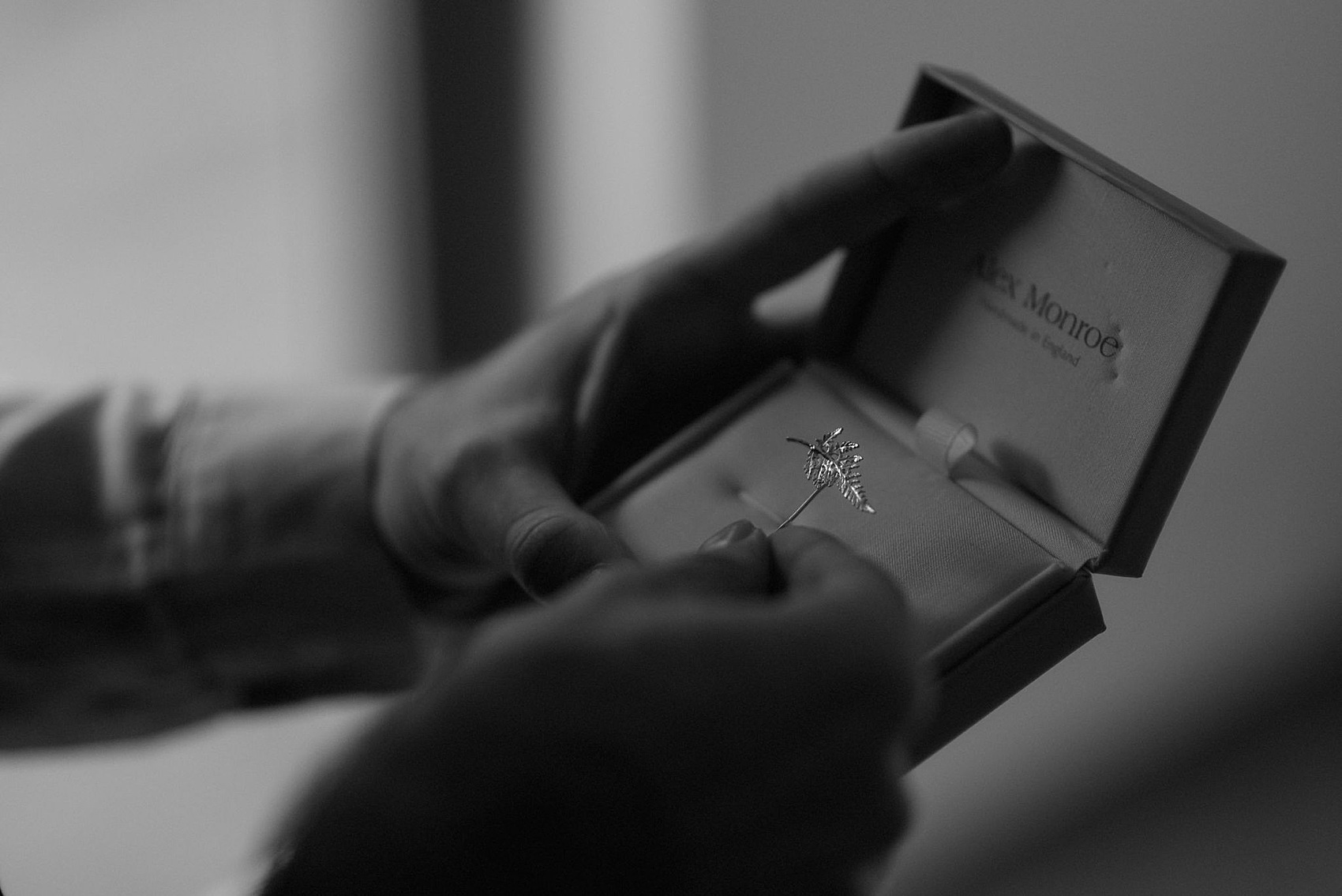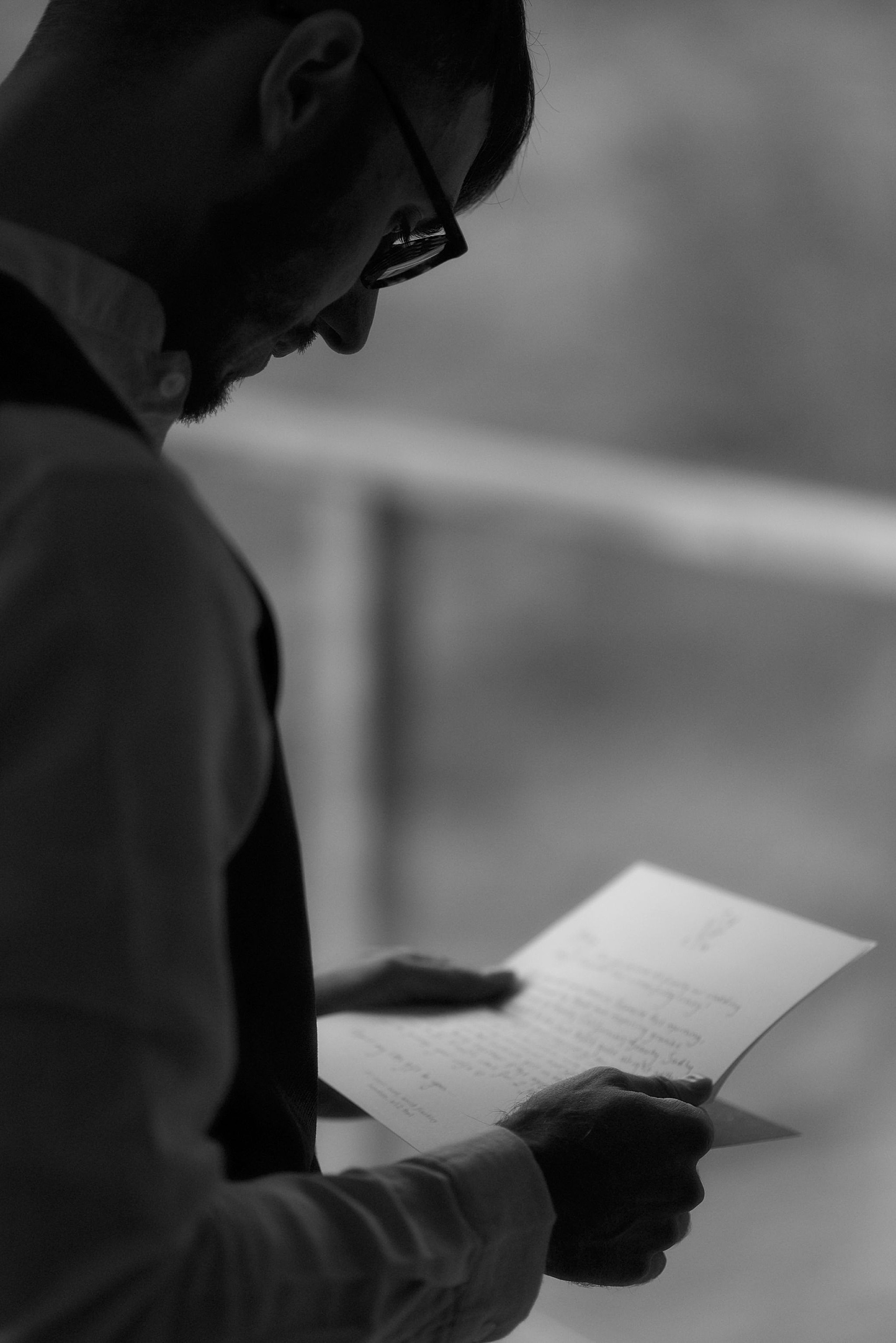 "Rich wore a beautiful forest green suit purchased from ASOS along with books and a grandad collar shirt. He didn't wear a tie as we felt it was a bit too formal for an elopement ceremony."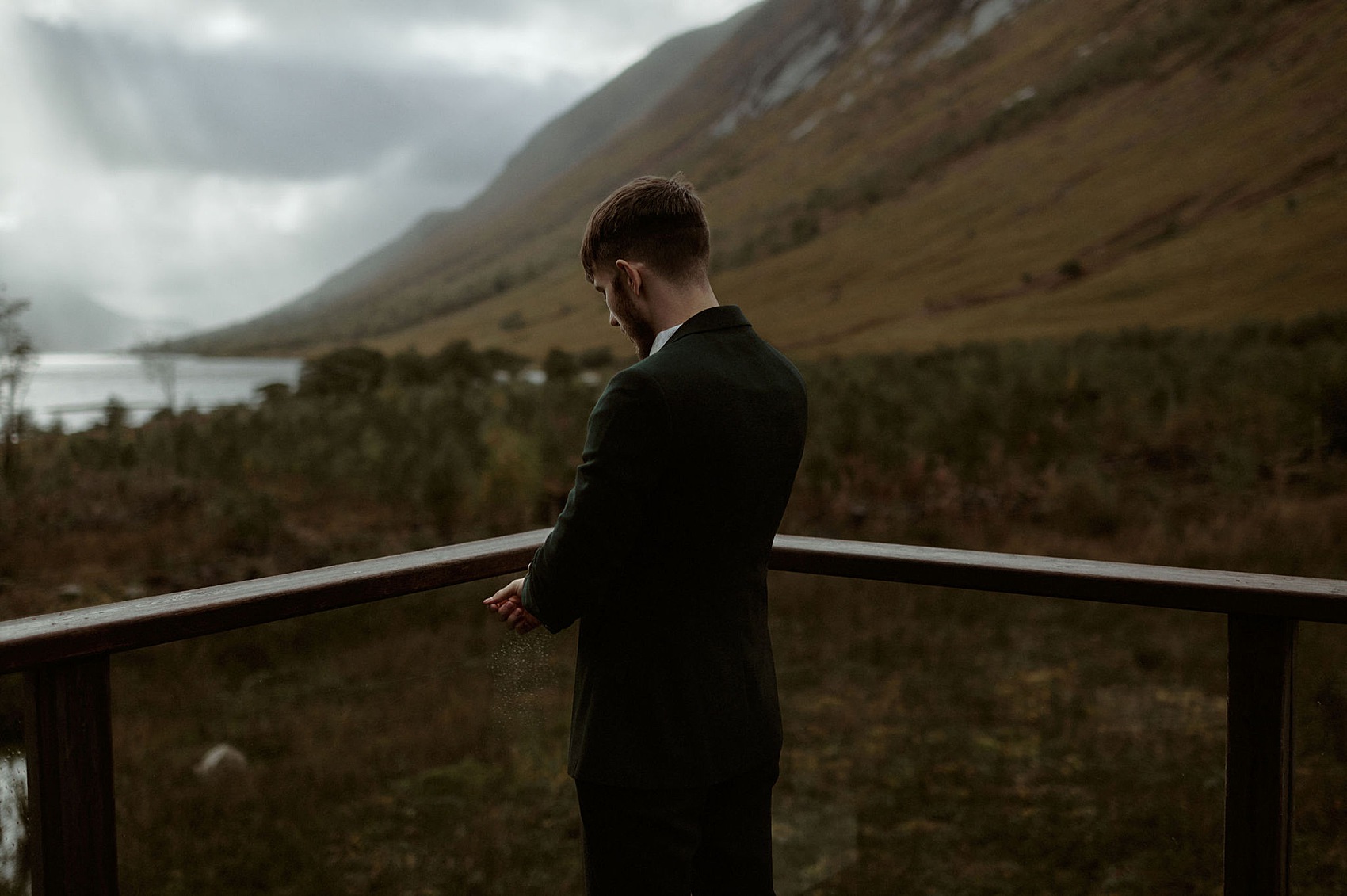 Lilly' hair and makeup artist was from the AMM Hair and Make-Up Team, and was recommended by the couple's photographers, The Kitcheners.
She also wore a gold ivy leaf crown, from headpiece designer Agnes Hart.
"I wore a pair of earrings my mum had given me for my birthday and a bracelet Rich gave me the morning of the wedding."
"The bracelet was engraved with a personal message in Rich's handwriting. It was from Minetta Jewellery."
"My wedding gown was in two pieces, a lace top and silk organza skirt.My top was designed by and purchased from the Spanish fashion house Cortana."
"My skirt was homemade by my mother-in-law."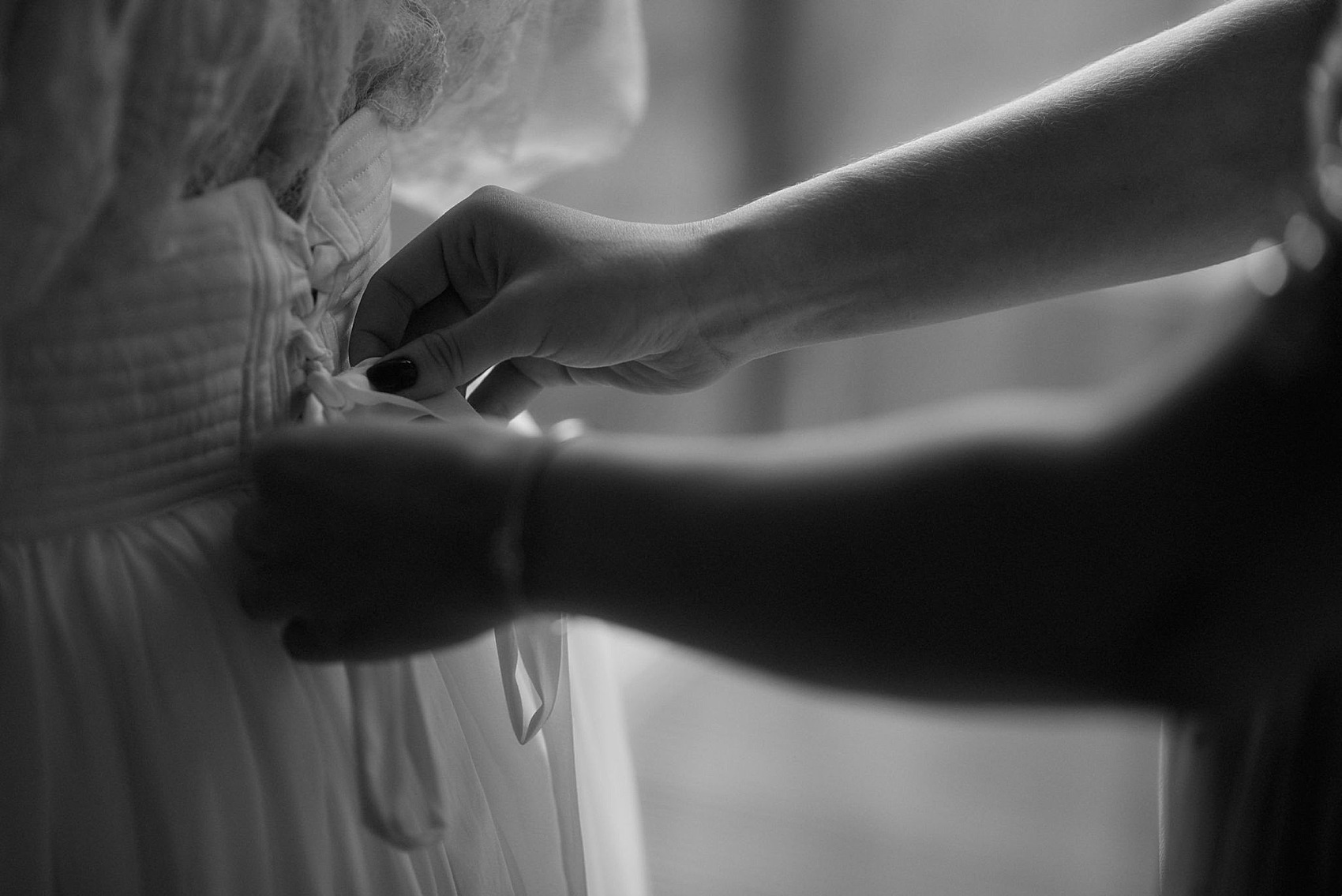 "I purchased my 'Daisy Top' from Cortana's Barcelona boutique. Due to Covid, all contact and communication with the boutique was done via the phone and email. The eventual top was mailed to me. The whole team were incredibly lovely and so very helpful during what would become such a trying year for everyone."
"Even when their store had to close due to lockdown I was kept up to date with the progress of my top. I would highly recommend Cortana to any bride. The final piece was beautiful and so very well made. I love that I can continue to wear it in the future and will treasure it forever."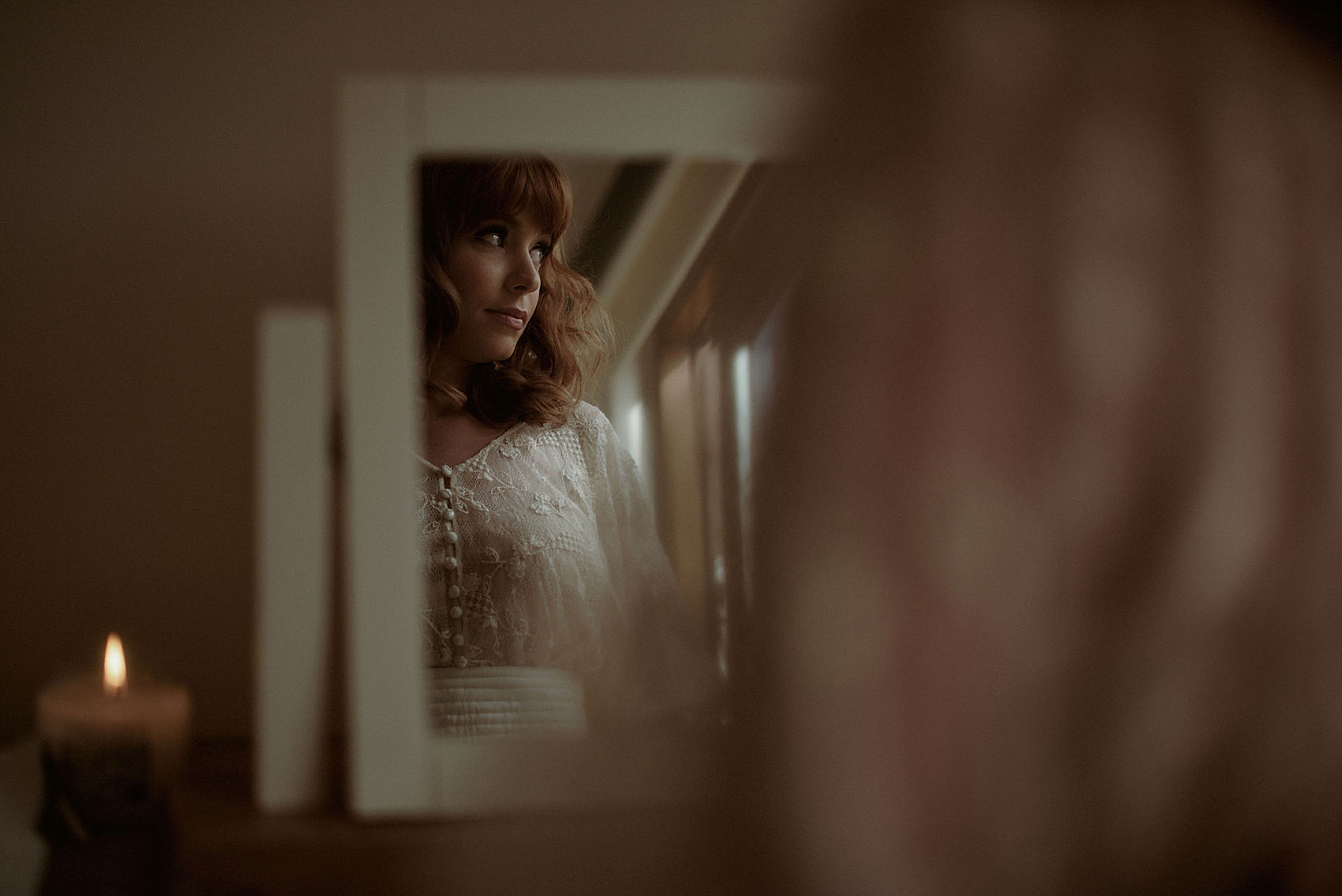 "For me I could never imagine not wearing a veil on my wedding day. Since being a little girl, I though that was what made you a bride. Not true of course, but I knew I wanted to wear one."
"I wore a church length, silk style, ivory veil from Britten Weddings. At the base, Rich and my initials were embroidered along with two poppies. California's state flower; a little nod to where we would have been getting married."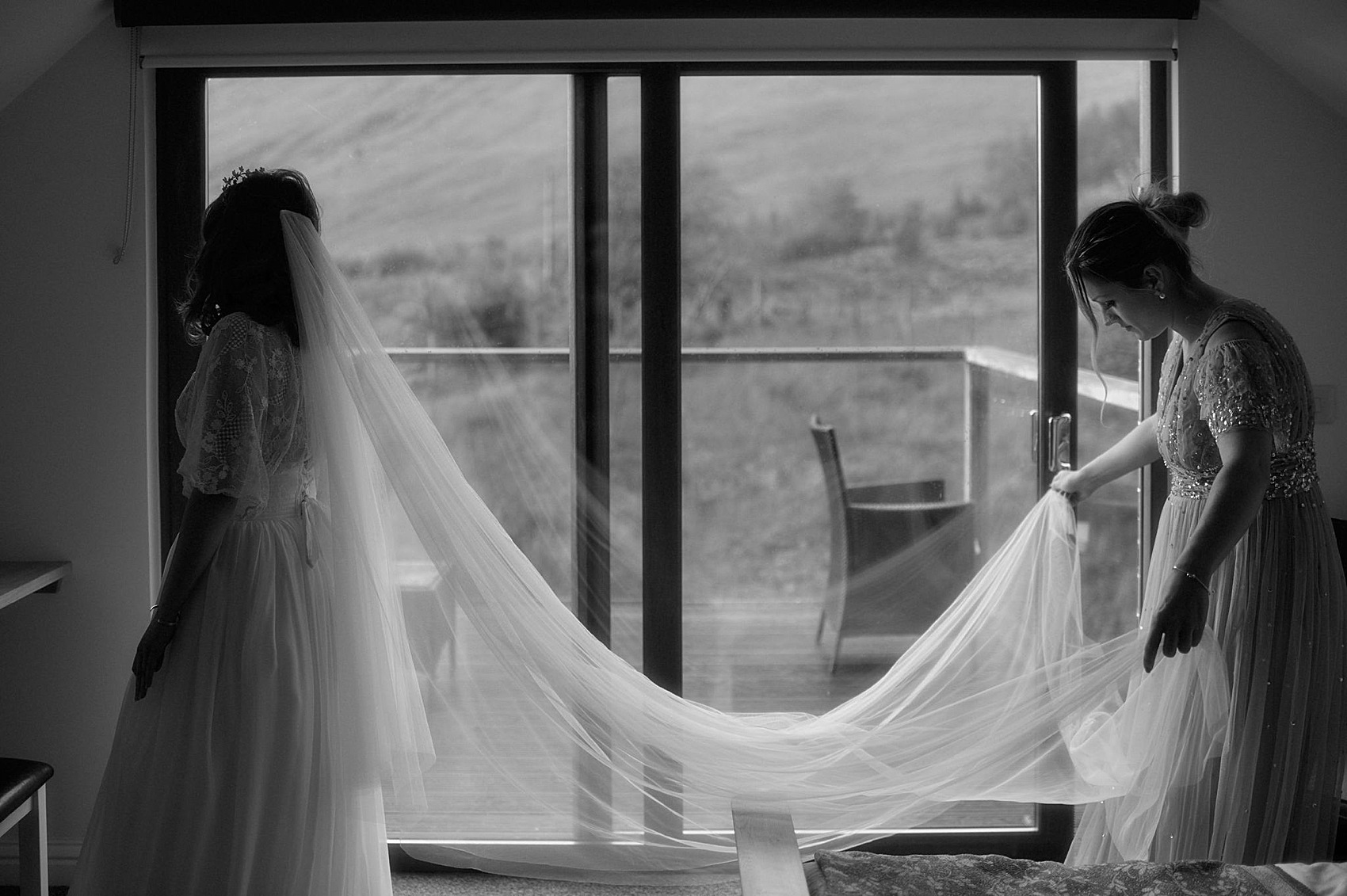 "I wore a pair of beautiful Birdies slippers all morning (and evening) but for our ceremony I changed into my hiking boots. An old pair of Russell and Bromley boots I've had forever. They were my something old."
"Due to Covid restrictions and having just had a baby, my other sister sadly couldn't be with us on the day. She gave me a pair of her socks to wear underneath my boots so that they could be my something borrowed and so that she could "walk me down the aisle."
"As it was an elopement we didn't really have an aisle to walk down. My sister and dad did accompany me to the ceremony location though. We walked together from the house, along the river to the elopement spot."
"My sister wore a beautiful tulle dress from Coast. She was 4 months pregnant at the time so wanted something that would gently sweep over her little bump and compliment the tulle in my own skirt."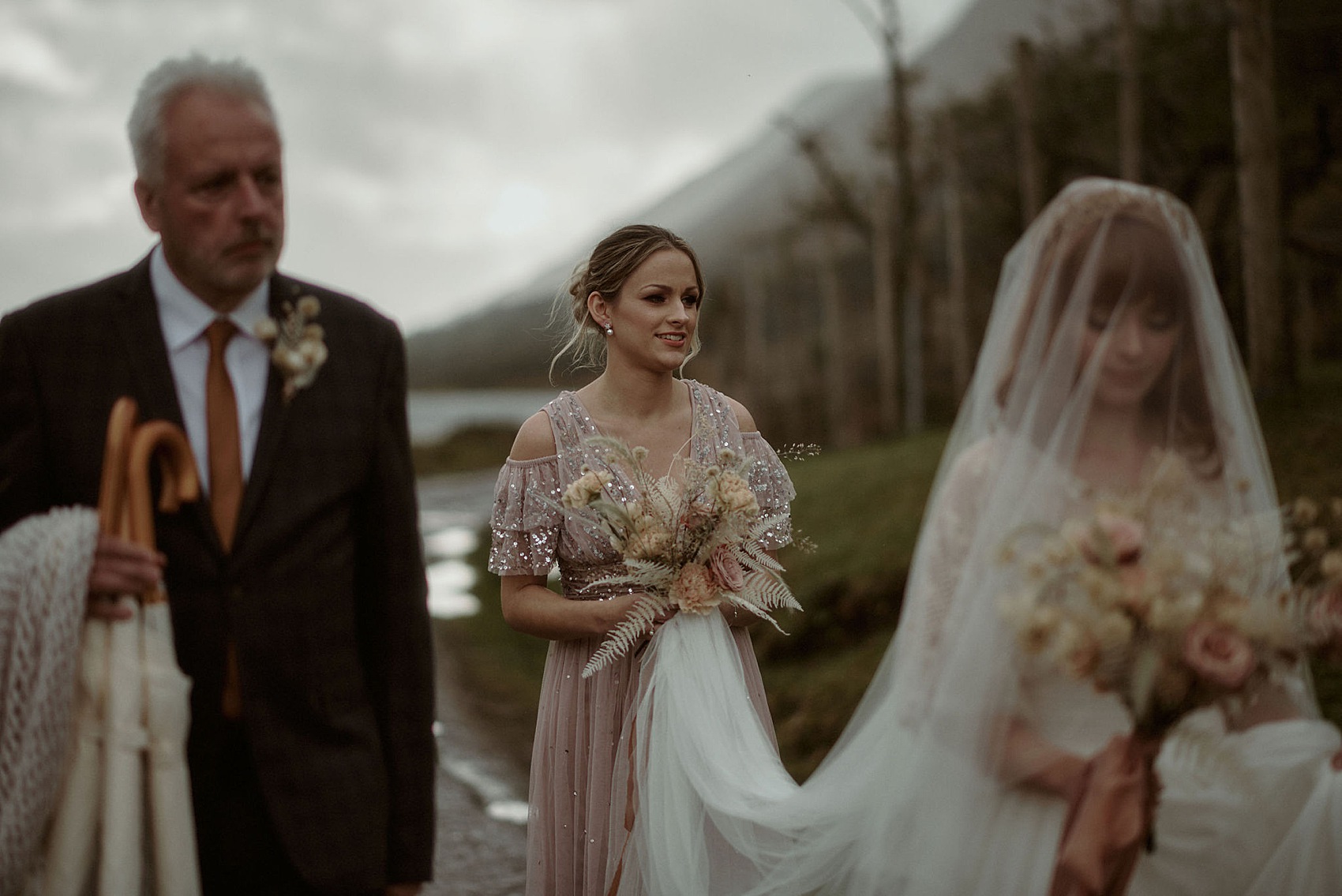 "When searching for my dream dress I really struggled to find anything I really loved. The Daisy Top was the first design I saw and really fell in love with. I quickly tried to forget about it due to it's location but kept coming back to it, as for me, I couldn't find anything as beautiful or unique."
"I also loved Cortana's approach to slow fashion and sustainability. Their commitment to nature and the old fashioned artisan approach. Their bridal collection focuses on ethereal silhouettes, natural materials and attention to detail. I knew this top would compliment our wedding in every way."
"As for my wedding skirt, again I could never find anything I had that "wow" moment with. So, my incredibly talented mother-in-law created my dream skirt for me. It became such a personal item, something really meaningful and her gift to me for our wedding day."
"I'm completely indebted to her and will never be able to thank her enough for all she did. It became such a lovely thing for us to focus on during lockdown too."
"Something we could work on and control while we were so anxious that the wedding might not be able to go ahead."
"On the wedding day itself, it worked beautifully and because it hadn't cost a fortune, it didn't matter that it got wet and muddy. It was the perfect elopement dress to wander around the Scottish mountains in."
"Rich and I both love dried flowers. We love the textures, tones and their delicate nature. Even the air of sadness about them. So I always knew I would like my bouquet and any other florals we had to feature dried flowers. "
"I'd followed Barbara, of The Wild Flower Workshop, for a long time and always loved her work. She is a master of romanticism and no matter the combination of flowers, creates these beautiful works of art."
"They truly are like sculptures. Barbara is based in Glasgow which was so helpful for us as it meant we could collect our flowers from her studio en route to our elopement accommodation."
We commissioned from her a bridal bouquet, a bridesmaids bouquet, various button holes and two arrangements to adorn the ceremony arch we had created. Barbara was a dream to work with."
"She understood instantly the look we were hoping for, why we wanted dried elements and most importantly, that the florals would need to last a couple of days from collection to wedding day. Having mainly dried flowers really helped us with this."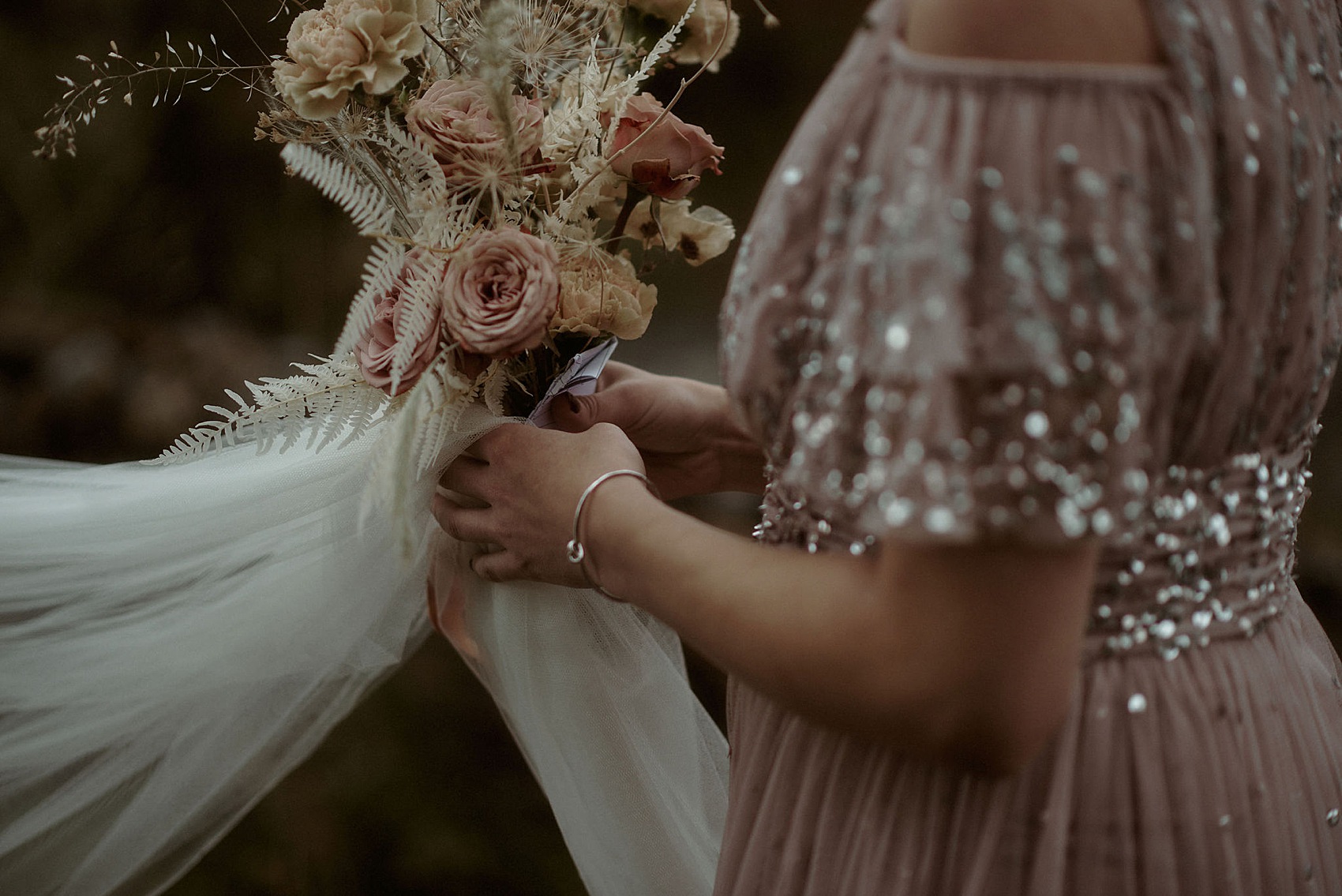 "The final arrangements Barbara created for us were stunning. Everyone has remarked upon them. They were so delicate, wild and romantic and fitted the brief perfectly. They were unstructured arrangements using seasonal flowers."
There was a focus on texture and movement within the arrangements using a combination of fresh and dried elements. The colours were muted and earthy to echo the landscape; warm shades of cream and caramel, touches of muddy pinks and peaches."
"They are still hanging up in our airing cupboard drying out completely. I love them."
"We built the wedding arch ourselves and drove it up to Scotland. It was decorated with the beautiful florals by Wild Flower Workshop."
"Our favourite moment was when Rich lifted my veil. It felt very romantic and suddenly very real. We were about to get married!"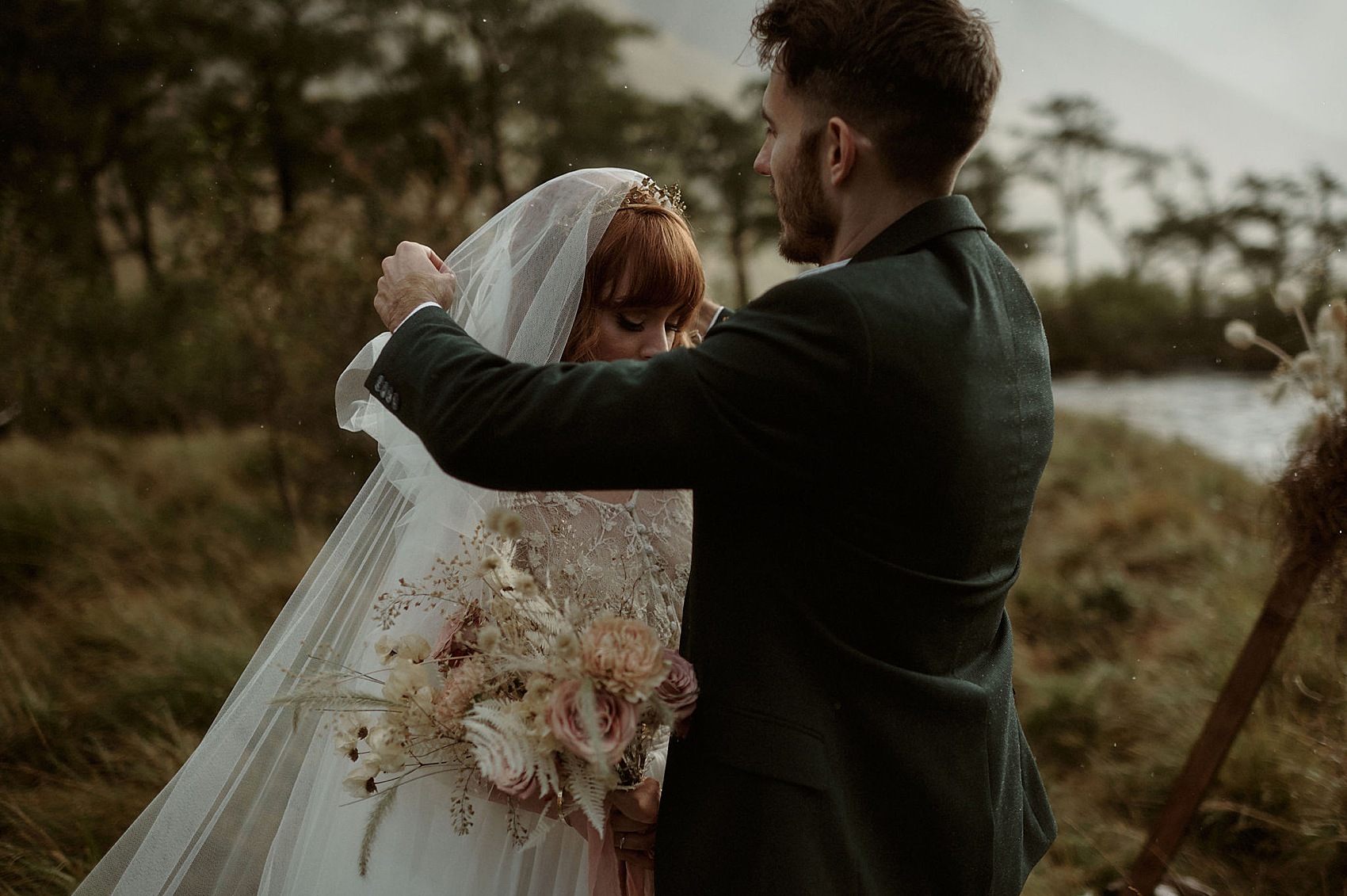 "Our lovely humanist celebrant was Claire Digance, from The Humanist Society Scotland. Claire is amazing and very funny! She's such a wonderfully calm and happy soul to have around you during the lead up to your wedding and on the day itself."
"She created a beautiful ceremony for us and we are so happy she was the one to marry us."
"Due to the pandemic, Yosemite wasn't to be, so the wilds of Scotland became our new plan. The Glencoe landscape is such a stunning place that we visit each year and have so many happy memories of."
Once we knew we would have those beautiful mountains as our backdrop, they became our inspiration and main styling focus. We wanted all our wedding elements to compliment the landscape rather than try to compete with it."
"Our original wedding day had to change quite drastically due to Covid, although we were very lucky to retain the same date. We were due to marry 7th October 2020 in Yosemite National Park, California."
In March, along with restrictions here, the US introduced a travel ban from Europe, which still hasn't been lifted. For many months we held out hope, that having an October wedding would work to our advantage, that things would be better by the autumn and our dream wedding would be safe."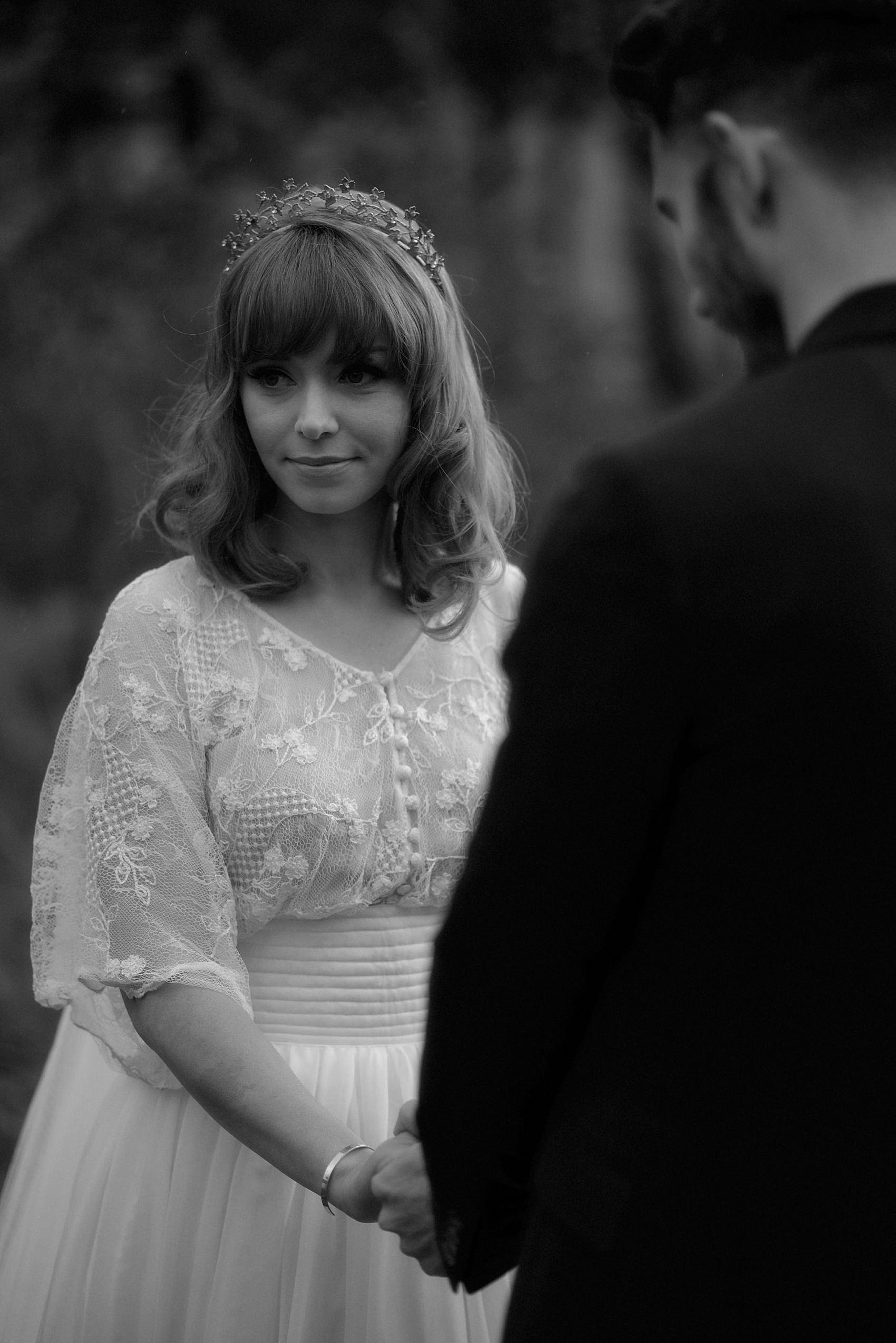 "It was a very stressful year. On top of our own wedding plans slowly crumbling around us, my wedding photography business and so many of my couple's dream wedding days started crumbling too."
"With every passing month it became clearer and clearer that we simply wouldn't be allowed to travel to the US, let alone get married out there. Couple's here in the UK weren't permitted to marry at all, how on earth were we going to?"
"In September, we began the process of planning an alternative day while chasing refunds for flights and accommodation. Letting our US suppliers go was one of the toughest parts as I knew they were going through the same heartache I was with my business."
"Rich and I were exhausted thinking about weddings. We'd spent six months waking up each day hoping for a scrap of good news only to realise that it wasn't coming. If we wanted to get married we'd have to adapt and embrace a new dream."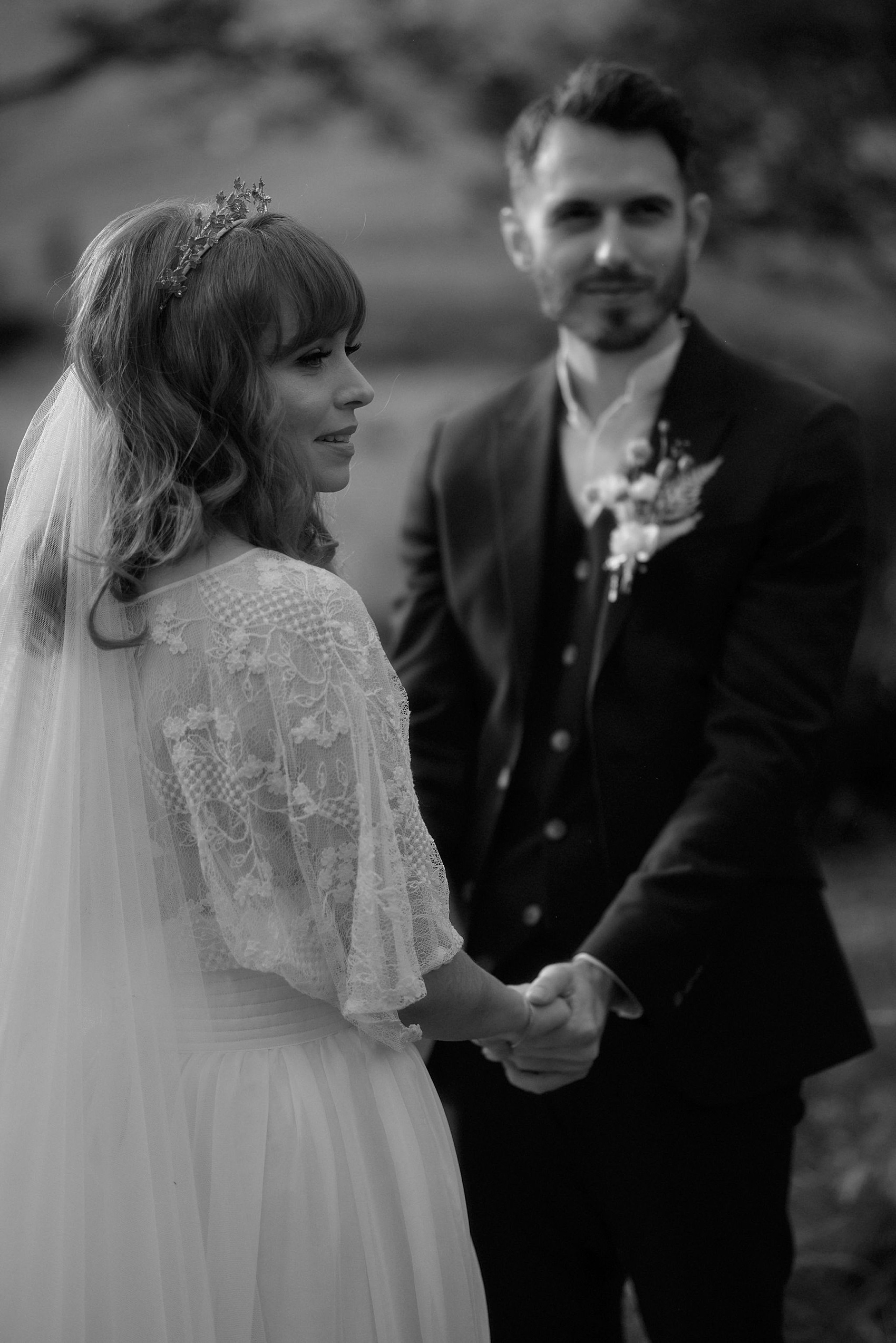 "Rich really was my rock throughout the whole process; no matter how amazing getting married in Yosemite would have been, the most important thing for us was that we got married at all. All that mattered to me was that one day, I would get to call Rich my husband. Nothing else mattered."
"I think this was one of the most frustrating and saddening things about it. It wasn't that we couldn't have the day we wanted, it was that it looked like we wouldn't be able to get married at all this year. The majority of our family and friends were incredibly supportive but it only took a few comments about there being "no rush" or "just do it next year" or "it's just a party" to really get to me. Ironically from couples who were already married themselves."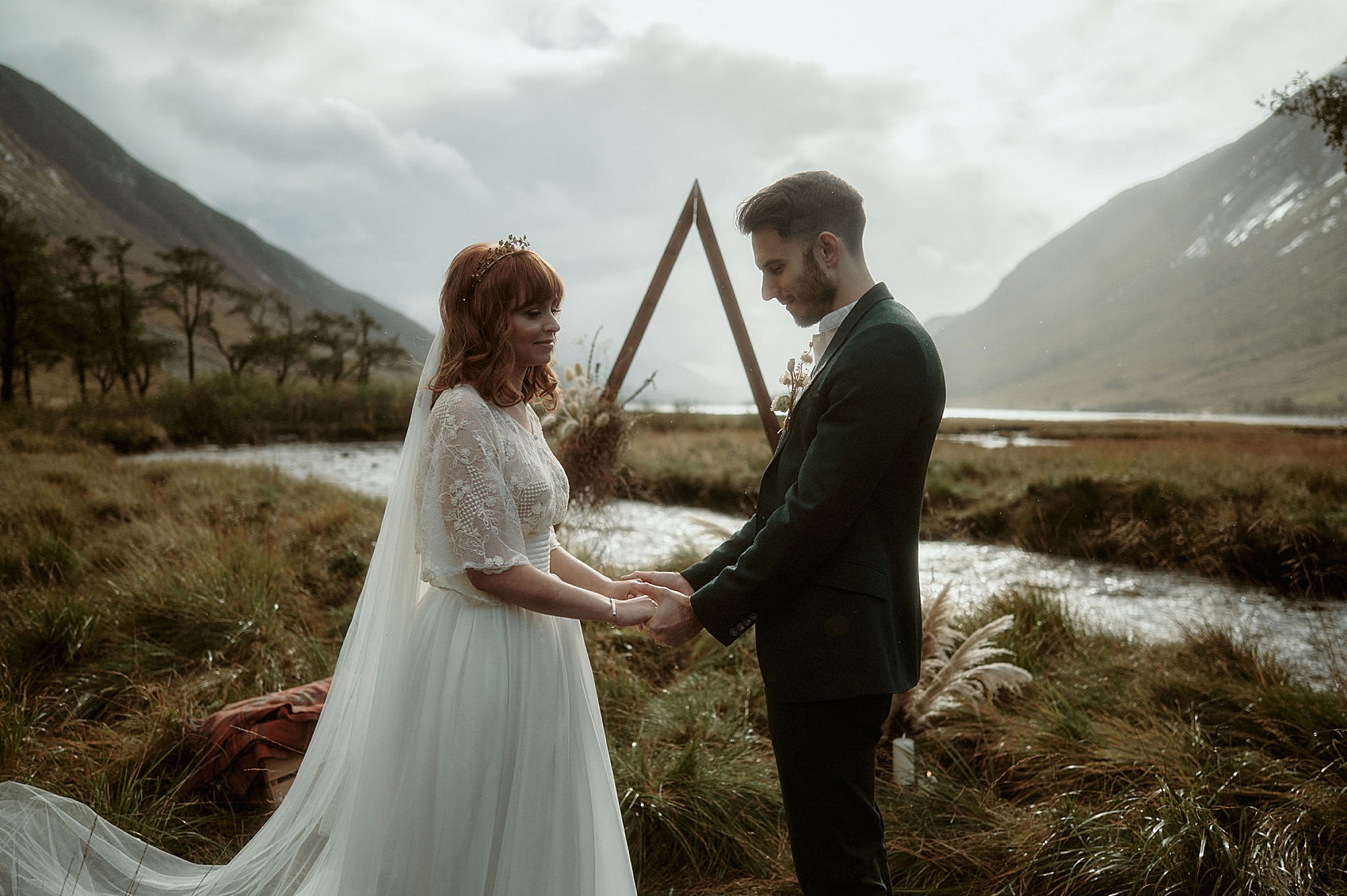 I think unless you are a couple who had planned to marry in 2020, who have experienced what a nightmare it has been just to feel secure in the knowledge that you will be allowed to marry the person you love, it's very hard to understand what that feels like. At no other year in history have weddings been banned. Marriage is a right of passage and I just couldn't compute that Rich and I would be denied that right."
"We persevered; having already booked Dylan as our photographer and him being based in Scotland, we went back to an early idea we'd had of eloping in Glencoe. This also meant we could stick with our original wedding date. Having cancelled everything in California by the middle of September, we then began counting down the days again. Hoping that the restrictions in the UK would ease long enough for us to be able to travel up to Scotland and marry."
We planned to elope next to Loch Etive and have our seven guests to dinner that evening in our airbnb. A small family meal to celebrate what we'd done. Three weeks before our elopement, new restrictions were put in place. In Scotland, visiting other households would not be permitted. Weddings on private property would not be permitted. This was quite difficult change to deal with, as we had booked to stay in one large house altogether."
"Now that no households could mix my dad, my sister and her family needed to be booked into a local hotel instead. This was of course an added expense we hadn't bargained for. It also meant we could not have everyone get ready with us at the house the morning of the wedding or have the small private dinner we had planned afterwards."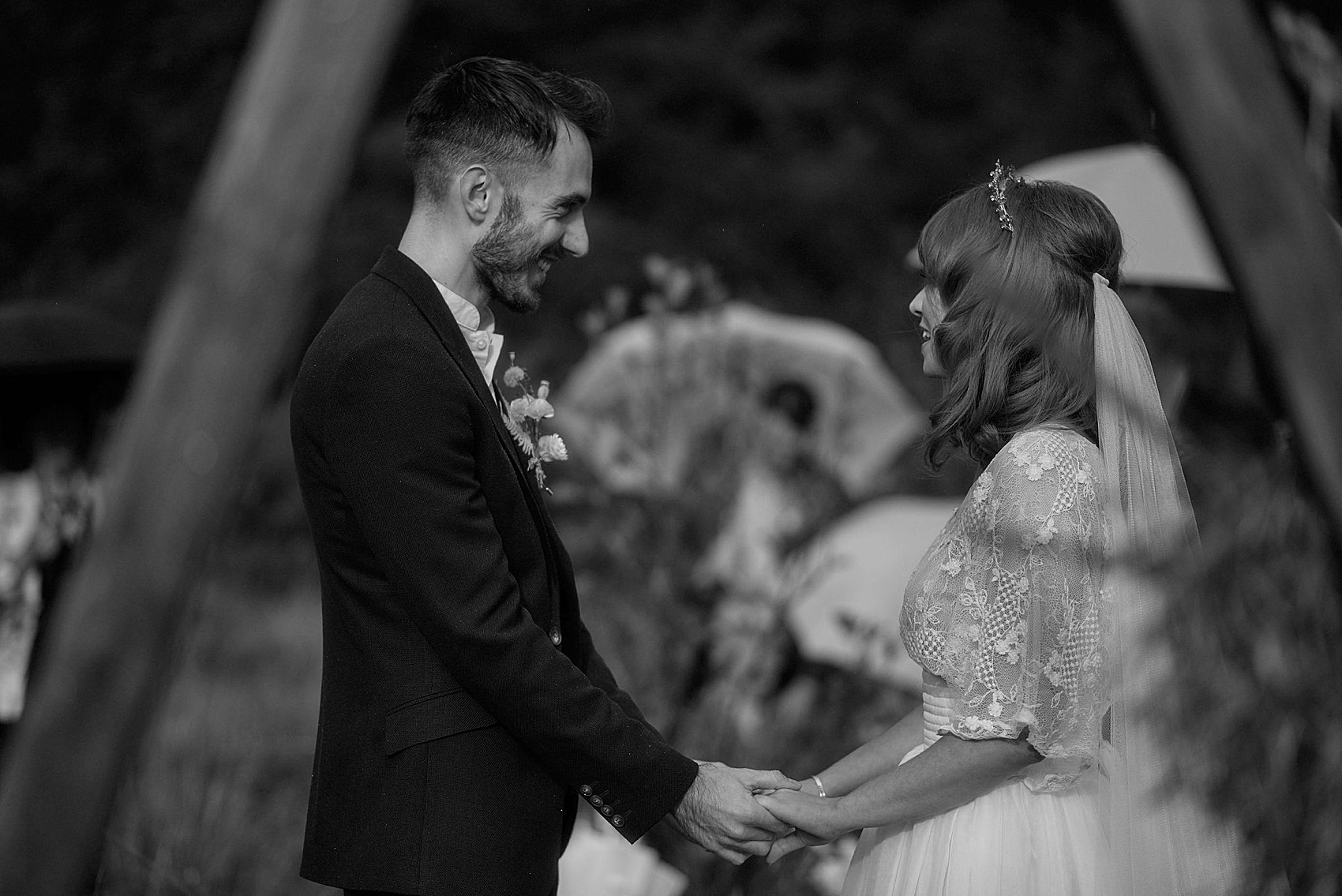 The day before our elopement, Nicola Sturgeon announced new restrictions. We watched while holding our breath. New rules, including closures, for pubs, restaurants and hotels, in our location were to come into affect two days after our wedding."
A month later, a London lockdown (where we live) followed by a national lockdown. No crossing of the Scottish border."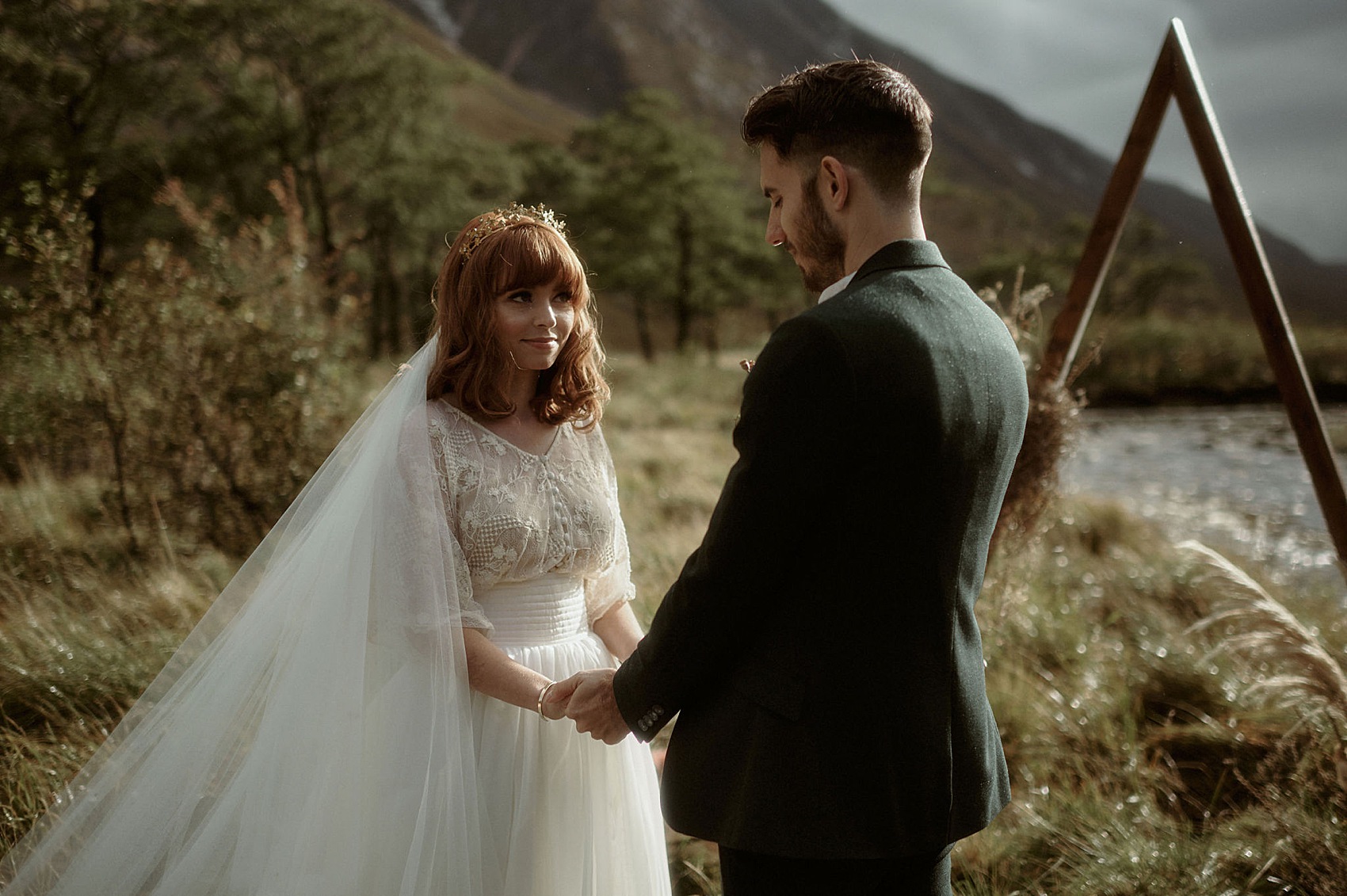 "We were INCREDIBLY lucky to marry when we did. It all just came down to pure luck, which is the most heartbreaking thing for so many couples."
The restrictions placed on weddings have been so very harsh and seemingly done without thought, The stress couples and suppliers have been put through this year is unbearable."
"We wouldn't wish the anxiety of a 2020 wedding on anyone and we are one of the lucky couples."
"Naturally any suppliers who entered our home wore masks. Only Rich and I were allowed to touch our wedding rings. My dad and I couldn't link arms to walk to the ceremony."
"No other household was allowed inside our house before or after the ceremony. We could have 20 people maximum from 5 households at our outdoor ceremony with social distancing."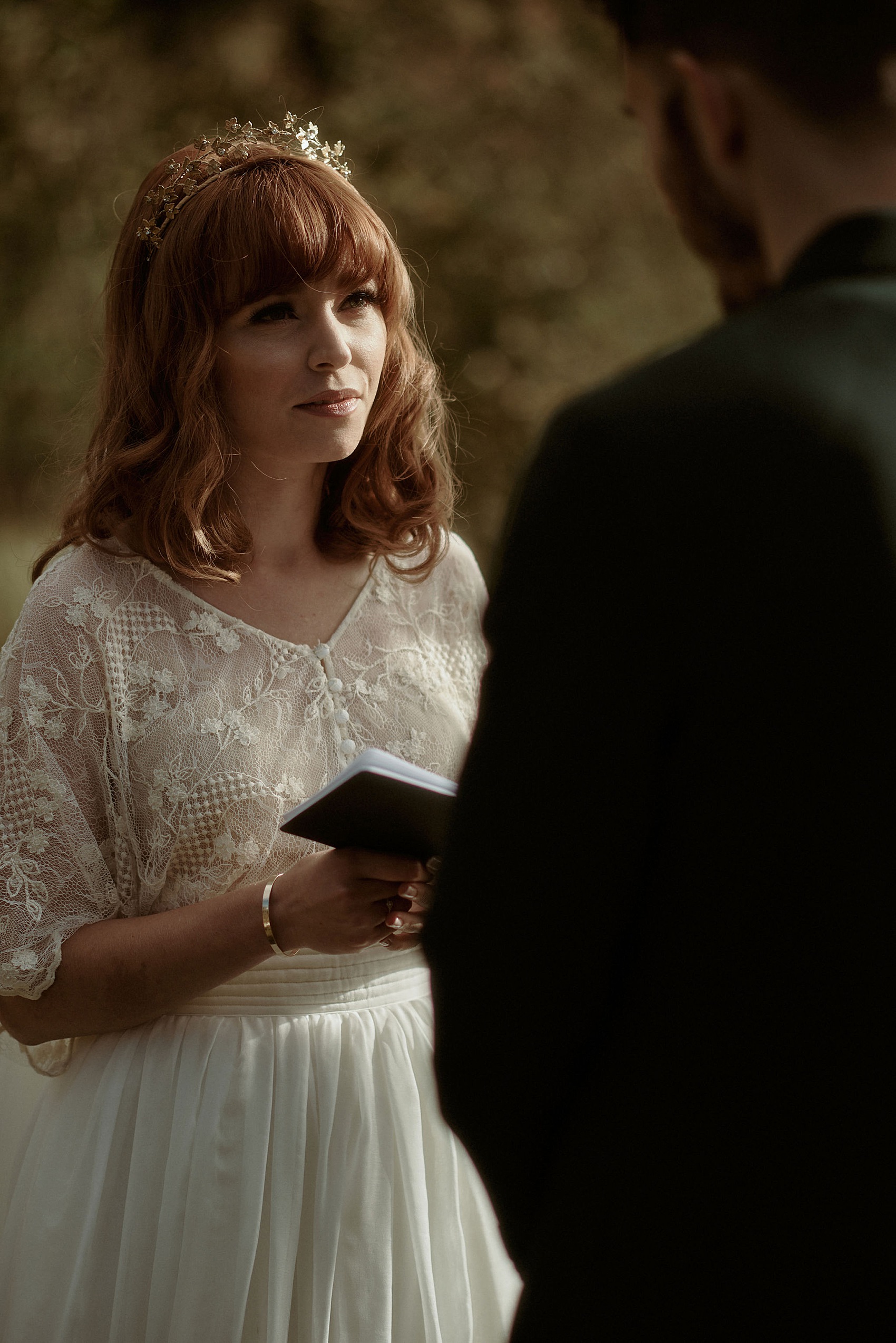 "For safety we only had eight guests including our photographer who counted as a household. We were only permitted to have six guests in our garden afterwards and this could not be a reception."
"We were permitted to go to a local restaurant for a 'wedding meal', but were not allowed to sit together."
"Our vow books were designed to match his suit colour. His whole outfit was from ASOS."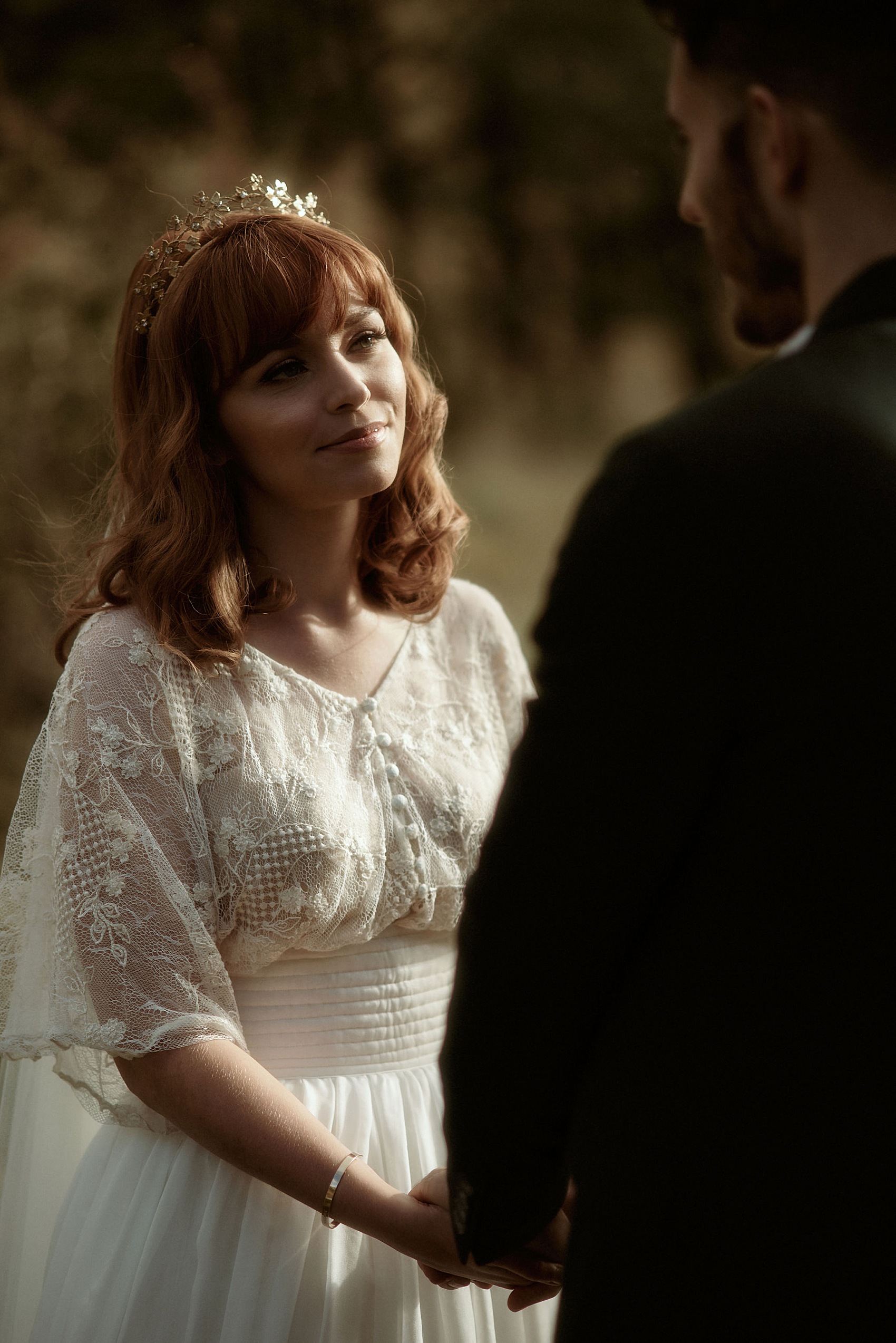 "My sister wrote and read a beautiful reading for us. It focused on us, our relationship and what we meant to her. It was very lovely."
"Rich and I incorporated a Handfasting Ceremony into our elopement. We love the old Scottish tradition of being bound together during your wedding ceremony. We chose three pieces of ribbon, each a different colour, to symbolise Rich's family, my family and our newly joined family coming together."
"The celebrant usually performs the handfasting ceremony but due to Covid restrictions this wasn't possible. Fortunately Rich's mum is part of our household so she was able to bind us together herself which was really lovely. It worked perfectly and we got to literally tie the knot."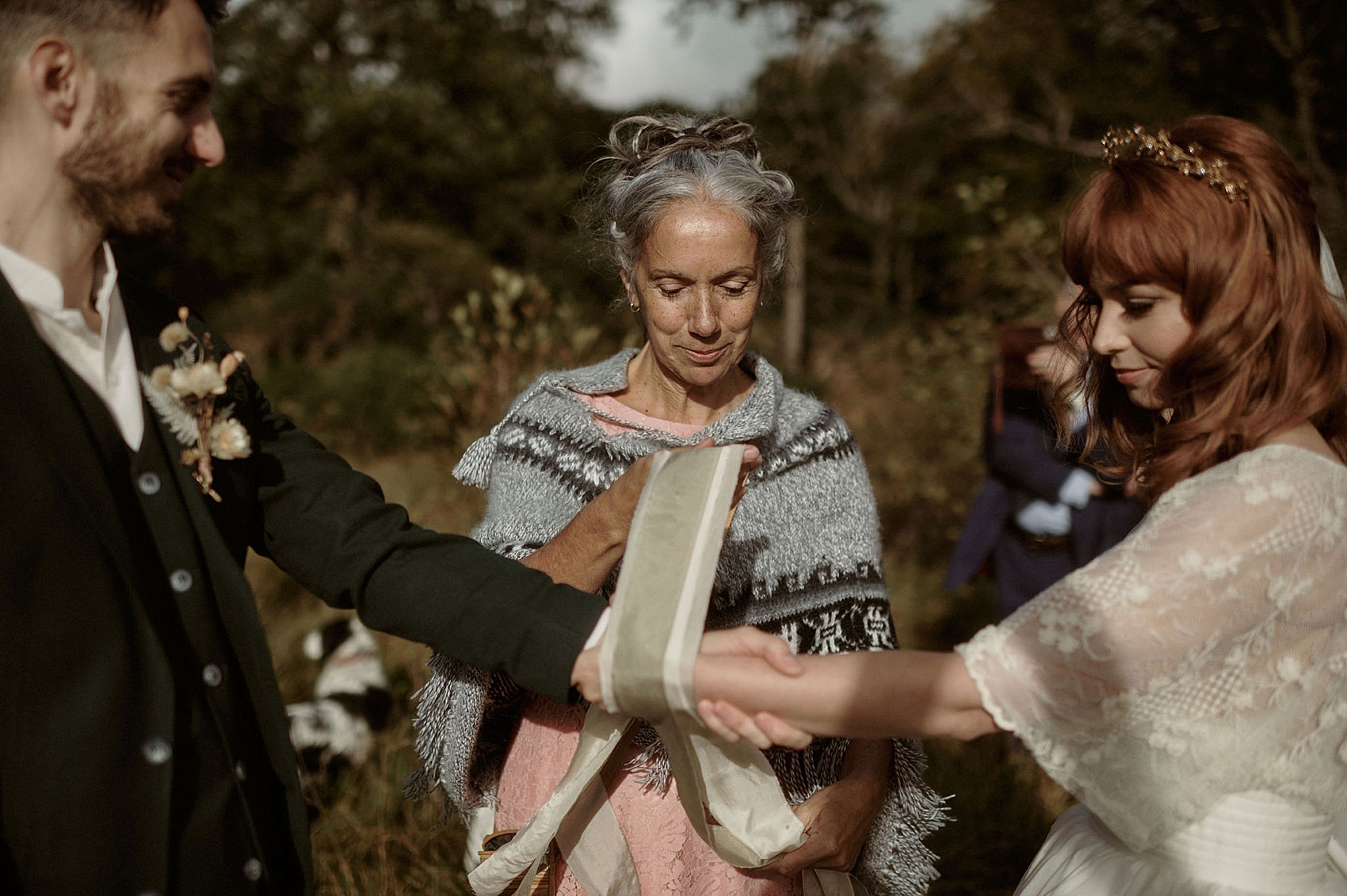 "The handfasting ribbons and bouquet ribbons were created by Carole from Laik Style. I'd worked with Carole many times before and knew I wanted to use her ribbons on our elopement day."
"She specialises in organic, natural fabrics and ribbons. Using natural hand dyeing techniques, our handfasting ribbons were made bespoke for us, one was even dyed using Scottish seaweed which was very fitting."
"We wanted something simple, contemporary and Scottish. Fire White Jewellery based in Glasgow created us the most beautiful set of textured rings. Rich's in silver and mine in gold to match my engagement ring."
"Something we loved about them was how the texture was inspired by the volcanic nature of Iceland, another one of our favourites countries. When we found them we knew they were simply meant to be."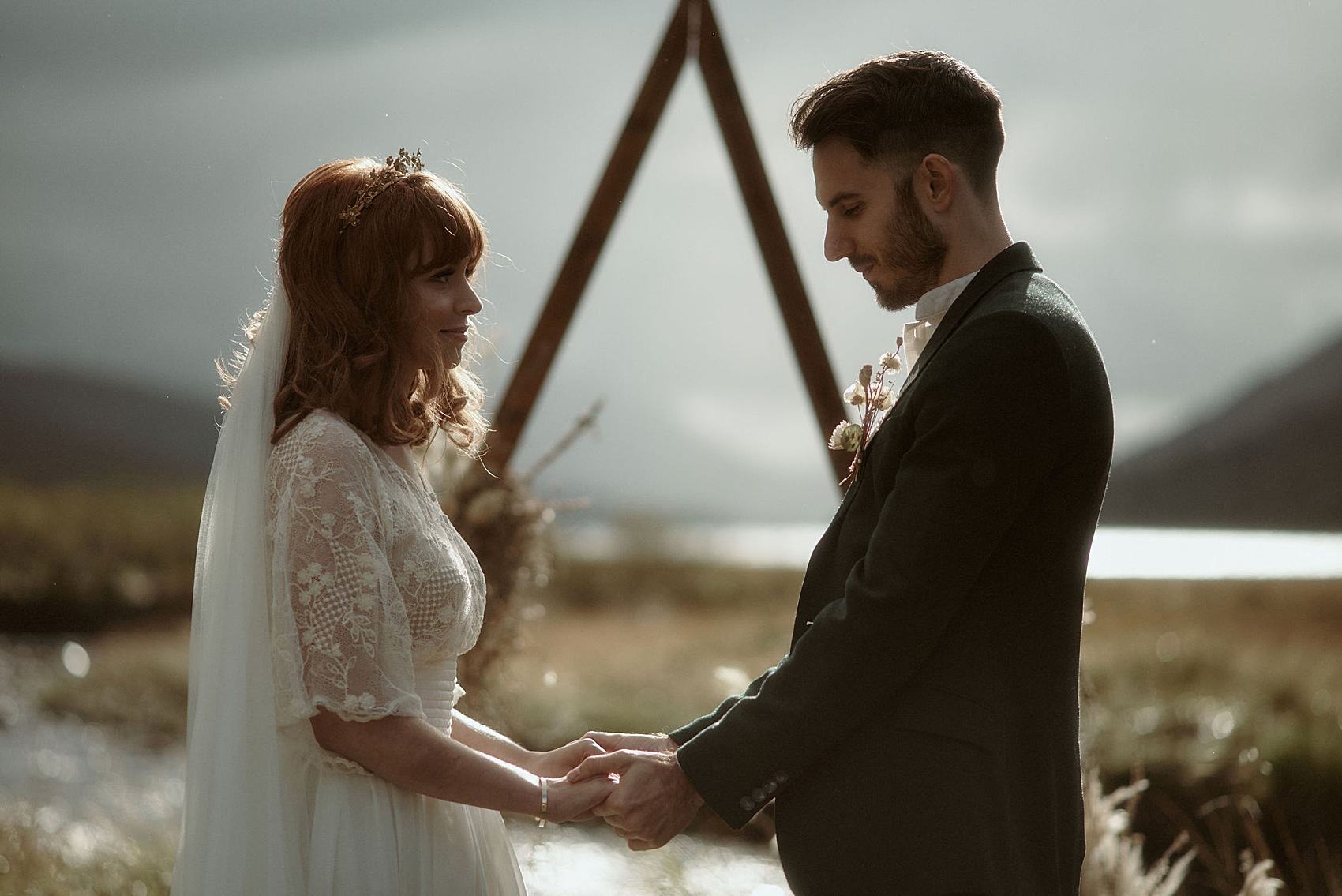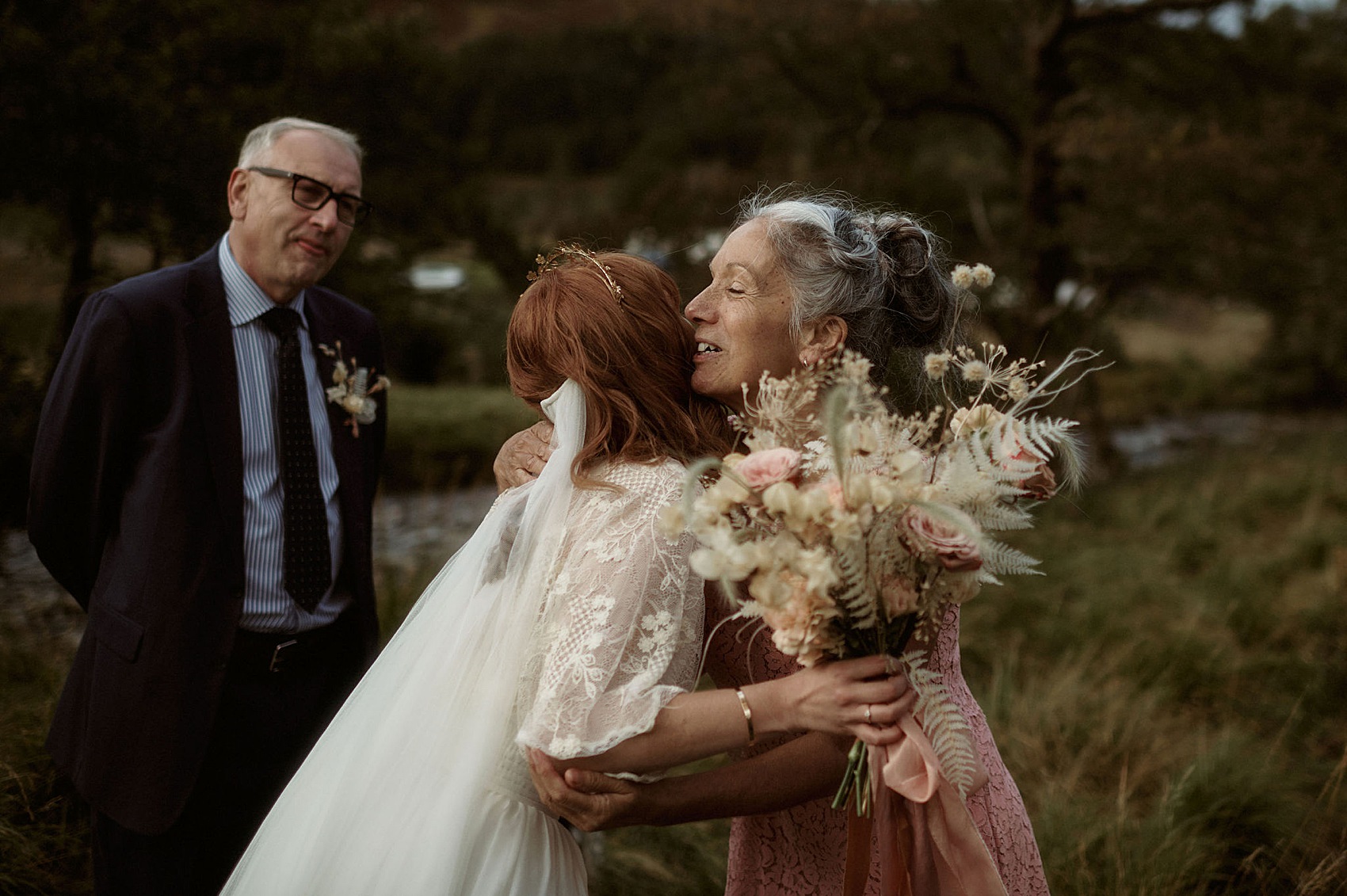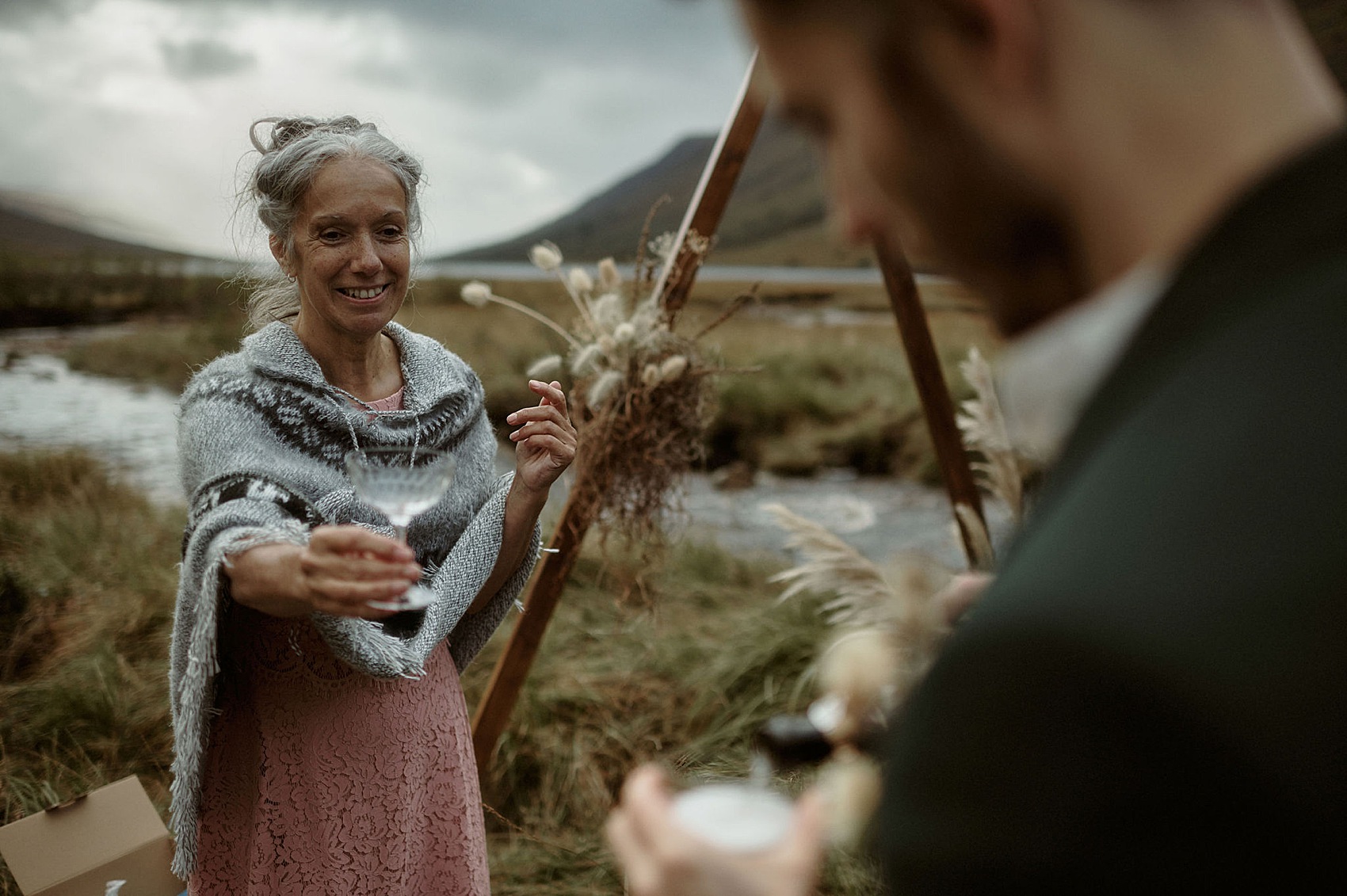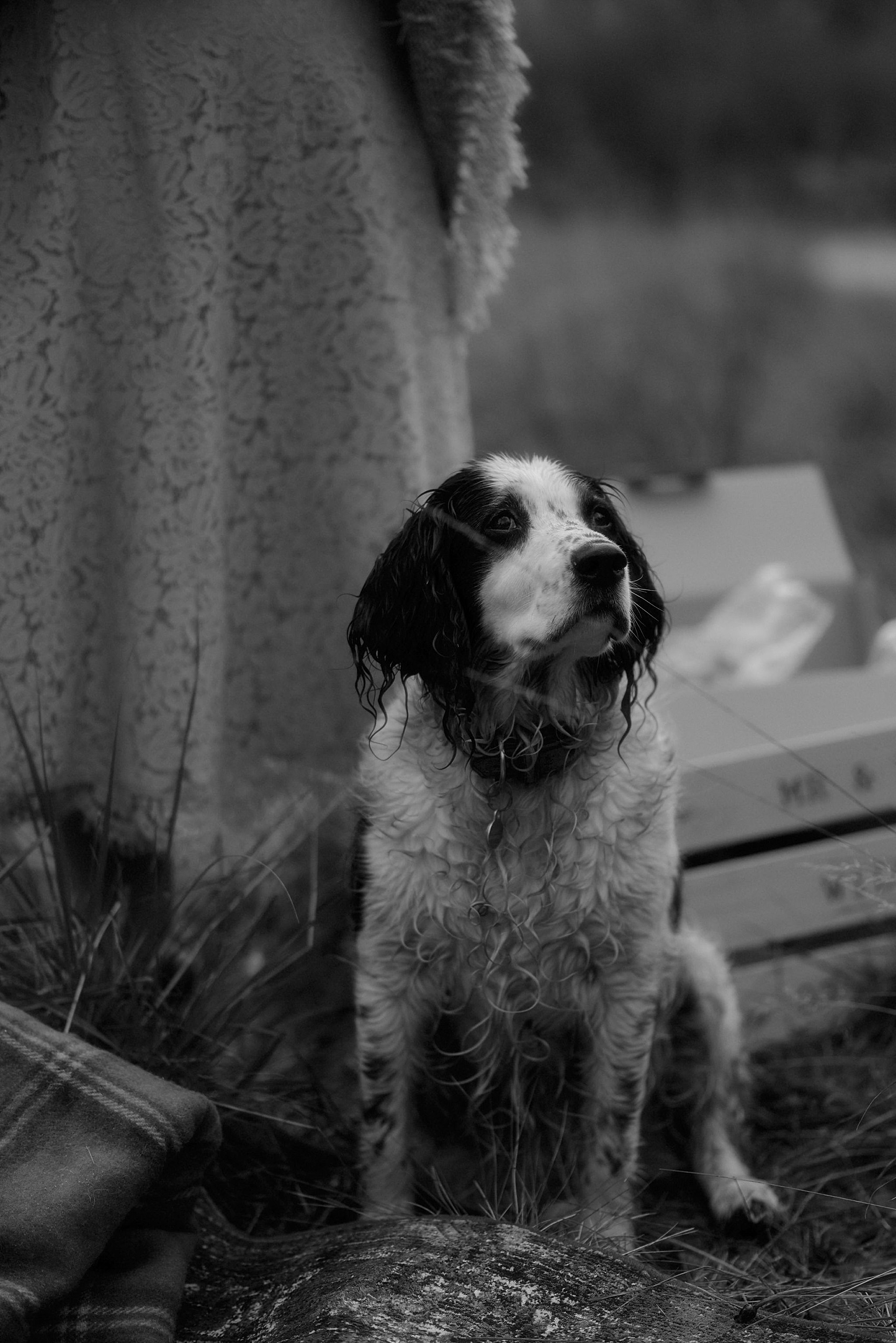 "Our cake was delicious! We wanted something simple and elegant. Rich is a huge chocolate fan so that flavour was always going to be a given. The lovely Amélie from Honeytrap Bakery in Glasgow made our cake. It was a vegan, gluten free Chocolate and Hazelnut Praline cake."
"Everybody loved it and Rich has considered us moving to Glasgow just to be closer to the bakery."
"My little nephew Owen, three yrs old, wore a white grandad shirt, ecru woollen jumper, brown corduroy trousers and a camel coloured coat. His choice of boots were his Paw Patrol wellies which were actually very sensible. We wanted him to be warm and comfortable."
"His whole outfit was from Zara Kids apart from his trousers which were from H&M Kids."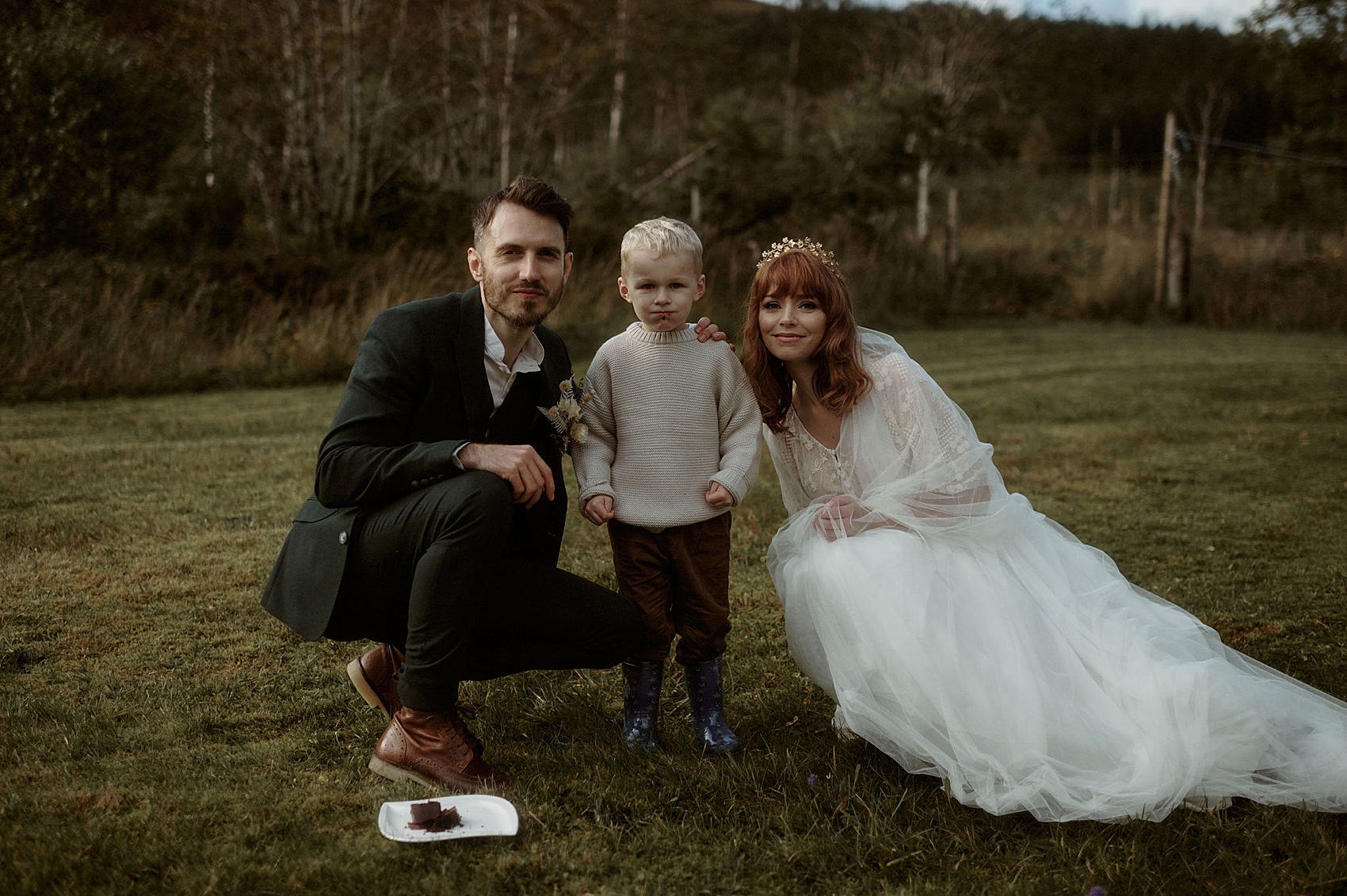 "We have followed The Kitcheners work for years! Anyone who comes across their portfolio will instantly see why they are so revered by fellow photographers and so sought after by couples. The are simply the best."
"We contacted Dylan a few months after getting engaged, even before we had set a wedding date, as having him capture our day was all we knew we wanted at that stage."
"From our very first email exchanges he was absolutely lovely. He went out of his way to help us. He recommended venues, locations, suppliers. His knowledge of Scotland and how elopements typically work was invaluable to us."
"Sadly, we just couldn't find a date that worked. Over Christmas we really slowed down and thought about what we wanted. This was when it dawned on us that as we were eloping, we could literally do that anywhere! It didn't have to be Scotland. We could have a real adventure. So after a lot of laughing and a lot of 'Are we crazy?' talk, we decided to elope in Yosemite, California."
"Where we had just got engaged and loved so very much. We went back to Dylan with this new plan and new dates and that was it. We were over the moon to have The Kitcheners as our photographers, let alone have them fly all the way to California to capture our elopement day."
"Throughout the incredibly anxious year 2020 would become, with every new restriction, with every travel ban and every day ticking by closer and closer to our elopement, Dylan was amazing."
He was so supportive of us, let us hope while we still needed to hope and when it got to September and we knew we were not going to be able to fly to the US the next month, he again, supported us in every way possible."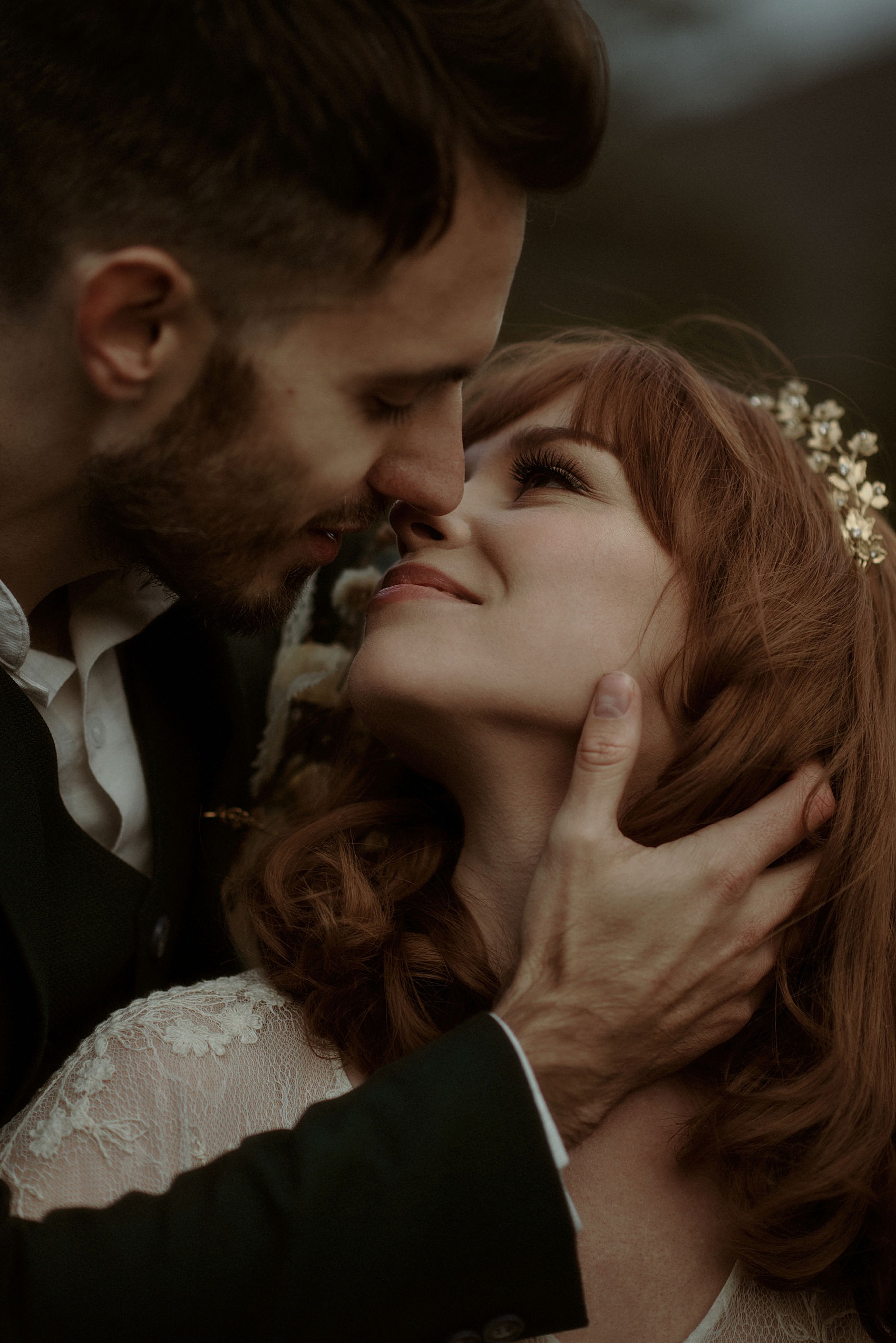 "He helped us create a new plan and got us excited about eloping in Scotland all over again. On the day itself, he was a joy to have around. We were worried we would feel anxious in front of the camera but he made us feel so at ease."
"As a wedding photographer myself it was so lovely to not have to worry about a thing. I knew I could completely let go of that way of thinking and trust him to capture every detail while Rich and I enjoyed our day."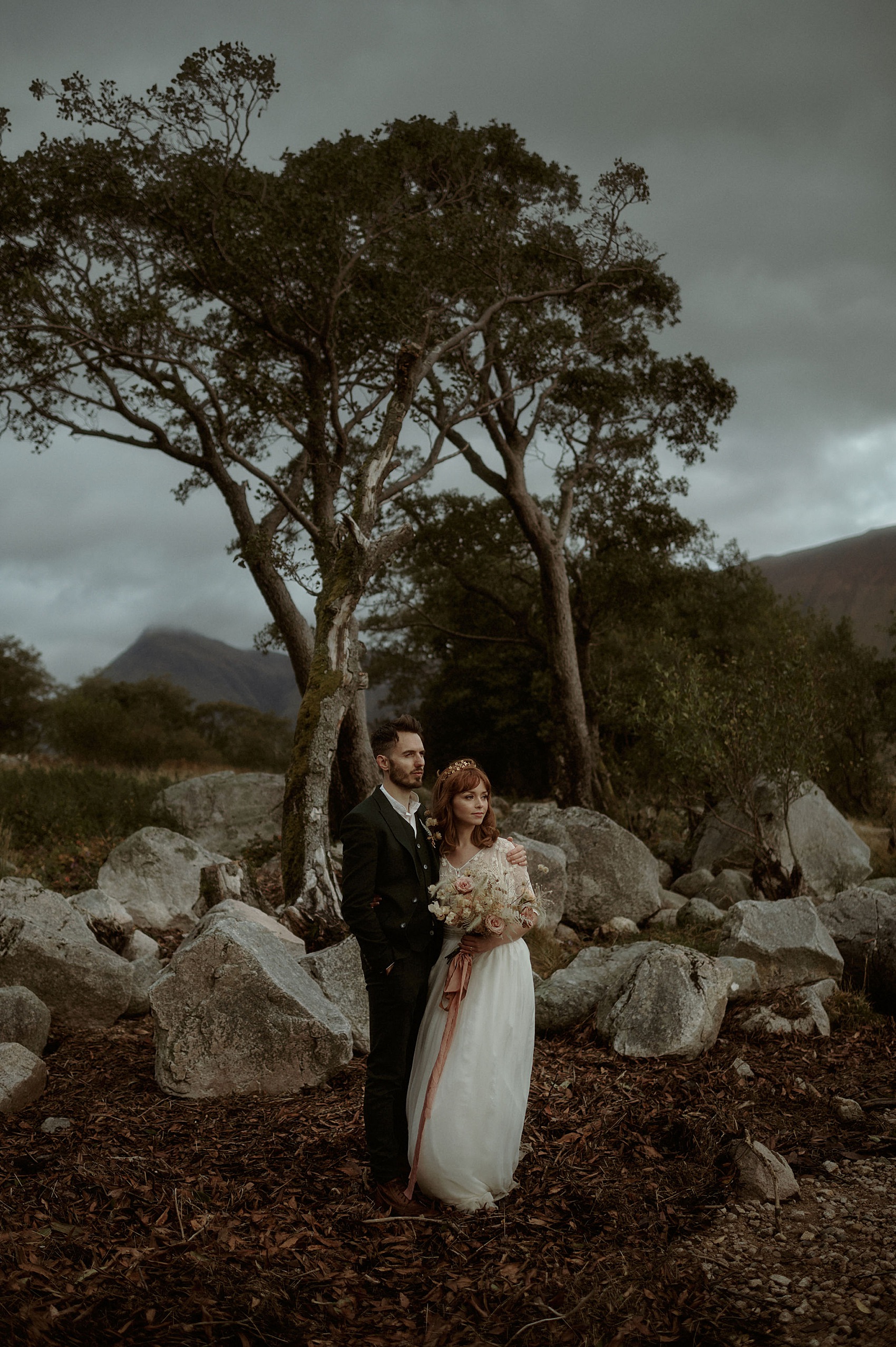 We have the most beautiful set of photographs to look back on and treasure forever. They are stunning; we can't quite believe how lucky we are that those images are of our wedding day."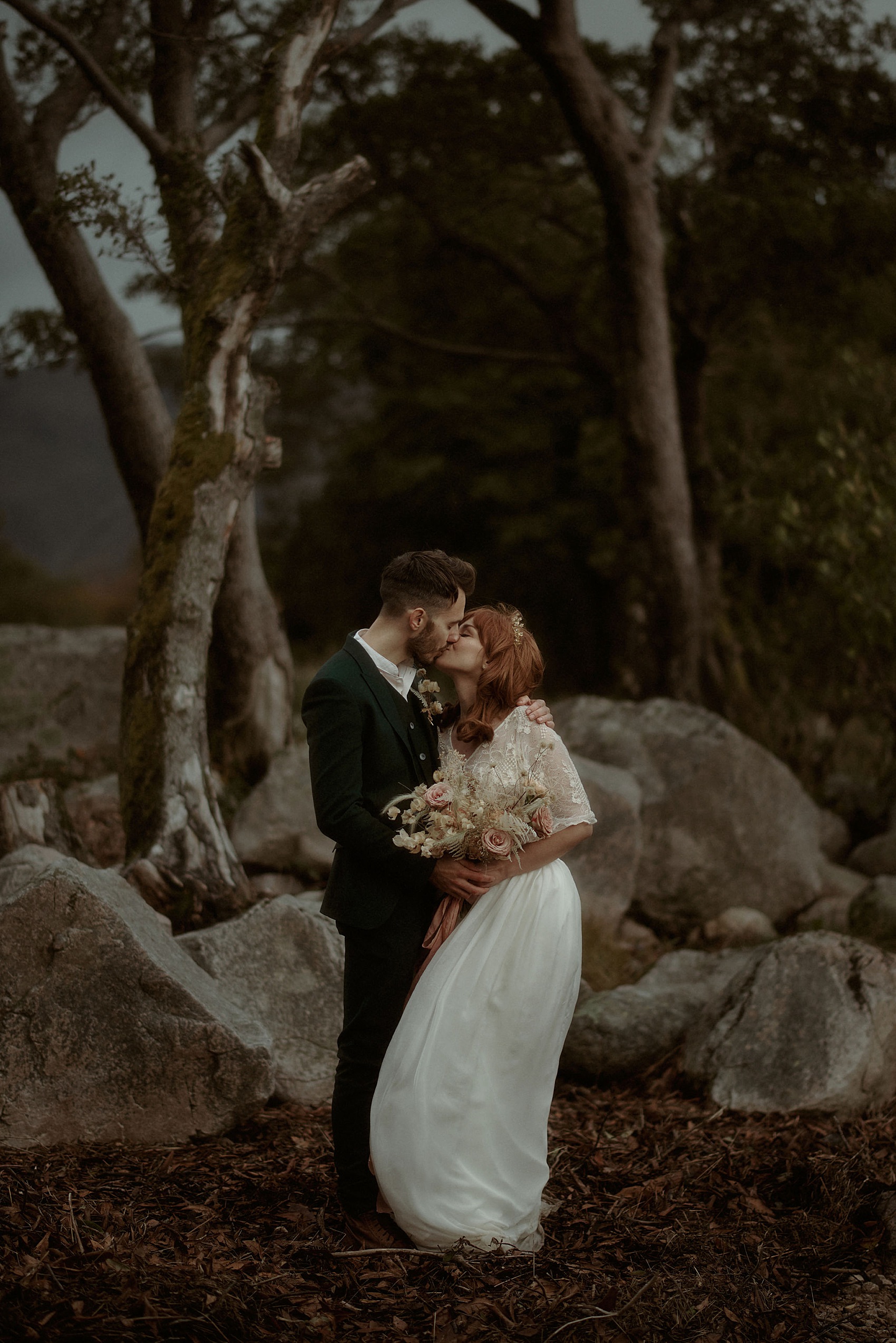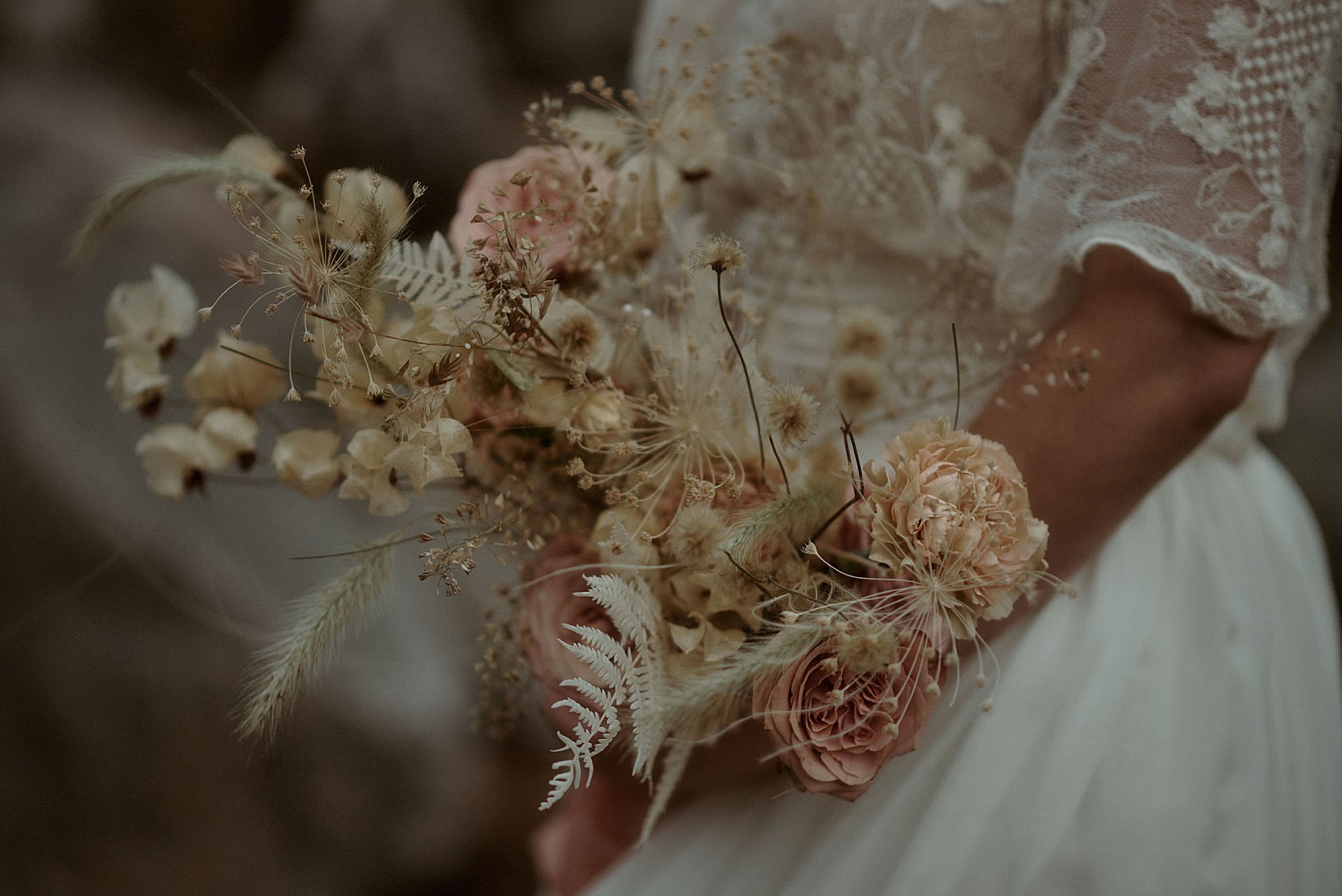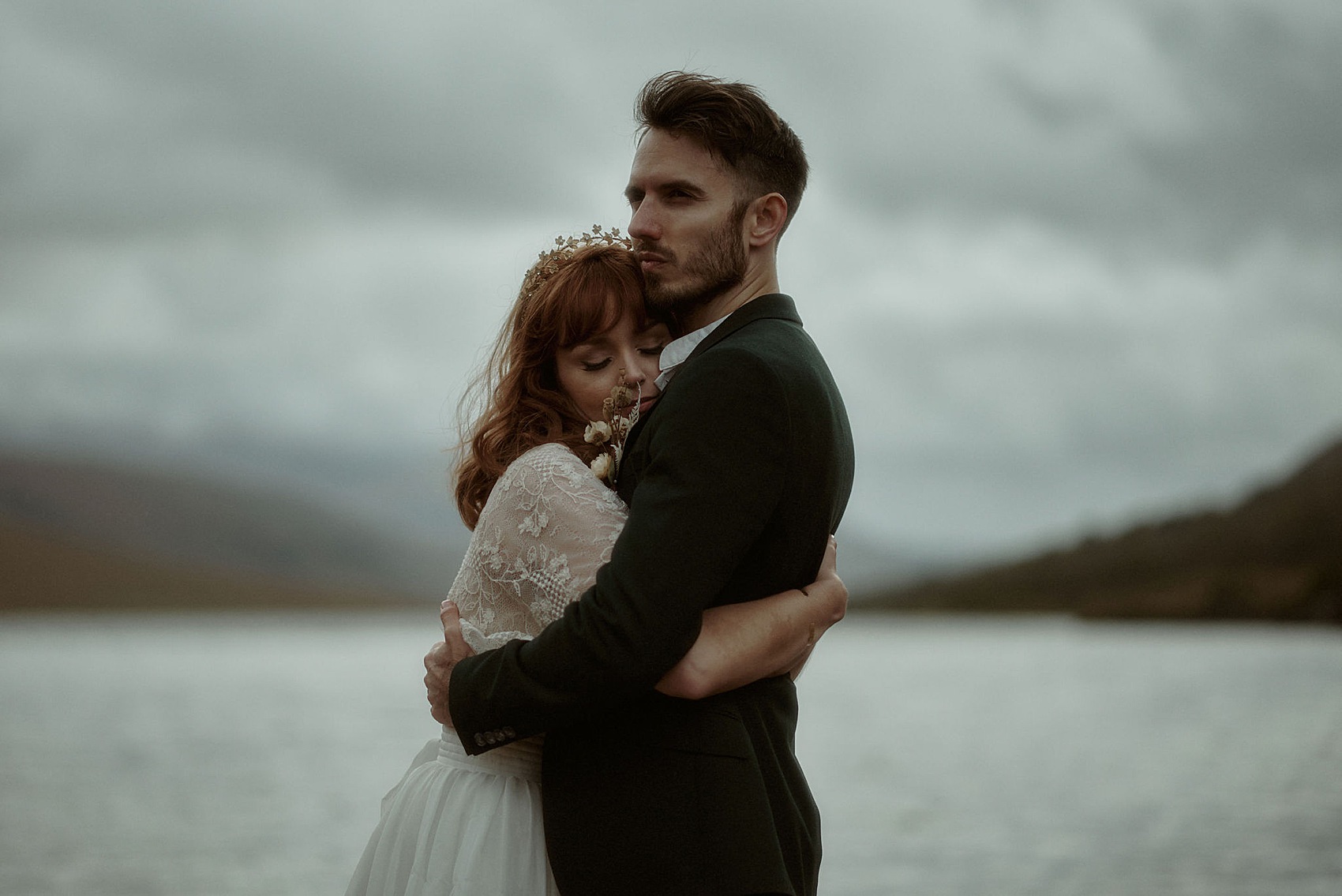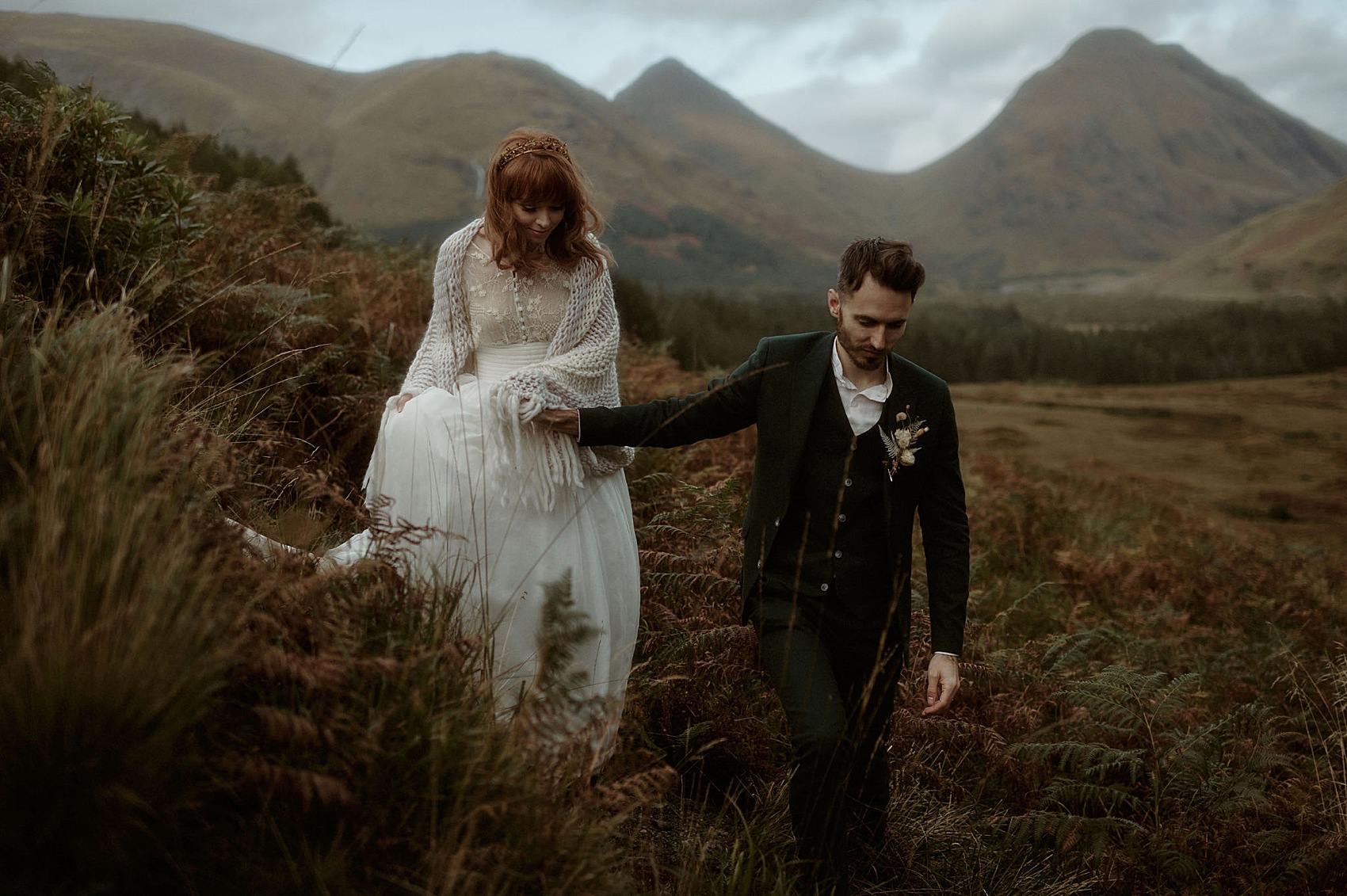 "I wore a lovely, chunky woollen shawl made by Chunky Couture when in got a bit colder. It's something I'm so glad I had with me!"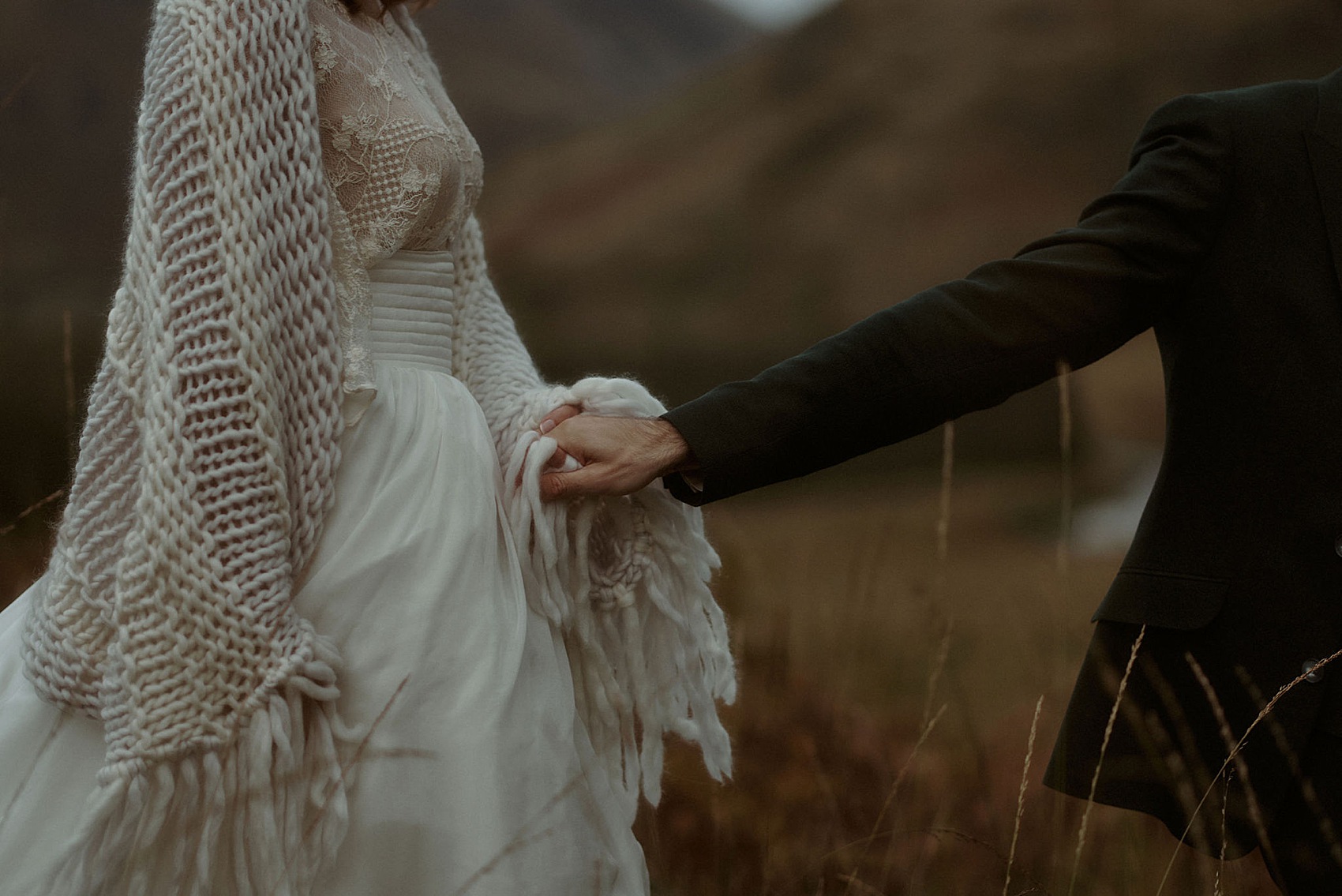 Words of Wedded Wisdom
"Lots of people say your wedding day should be the absolute best day of your life and that inevitably creates a lot of pressure and expectation. Hopefully your wedding day does become one of the most wonderful days in your life, but that doesn't mean it has to be absolutely perfect."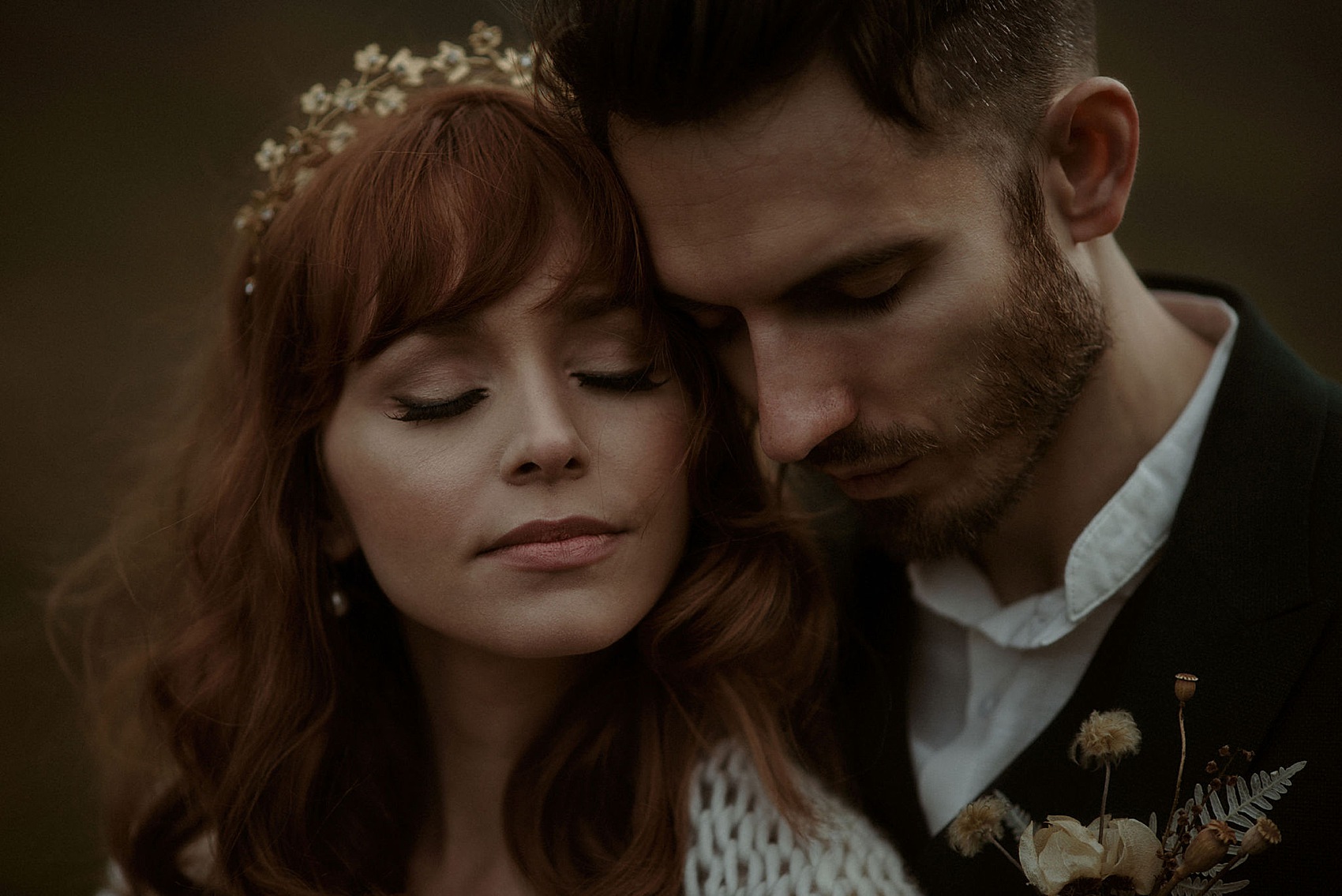 Things will go wrong and that's okay! It's part of your unique story. A wedding day is a beautiful celebration of all that you've been through as a couple and all you hope for the future, but the marriage you build afterwards really is much more important."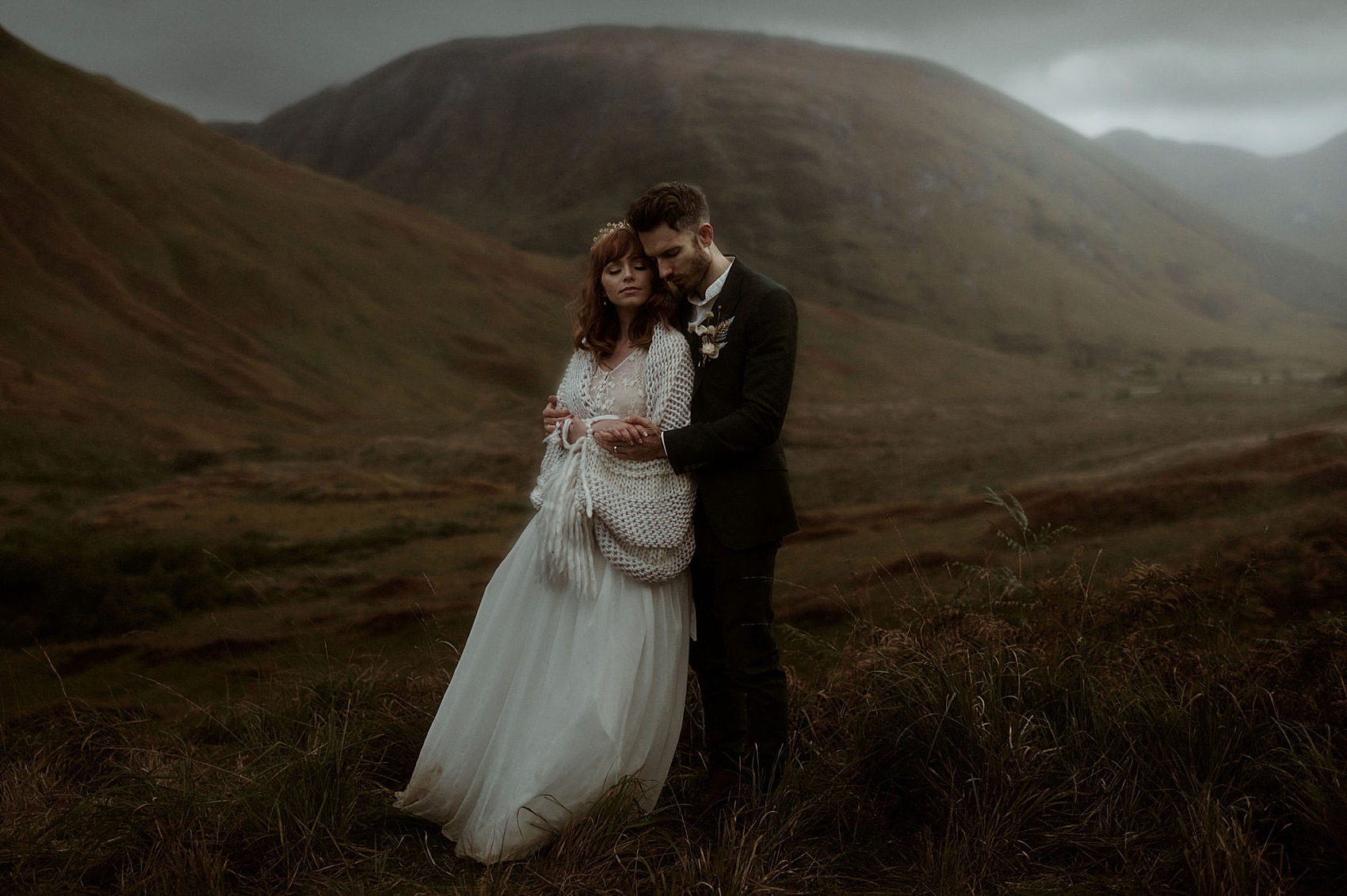 "Choose your absolute favourite photographer. Your memories and their photographs are the only things that last after the wedding day. It really is worth investing in a good photographer. You won't regret it and you will treasure the images they give to you."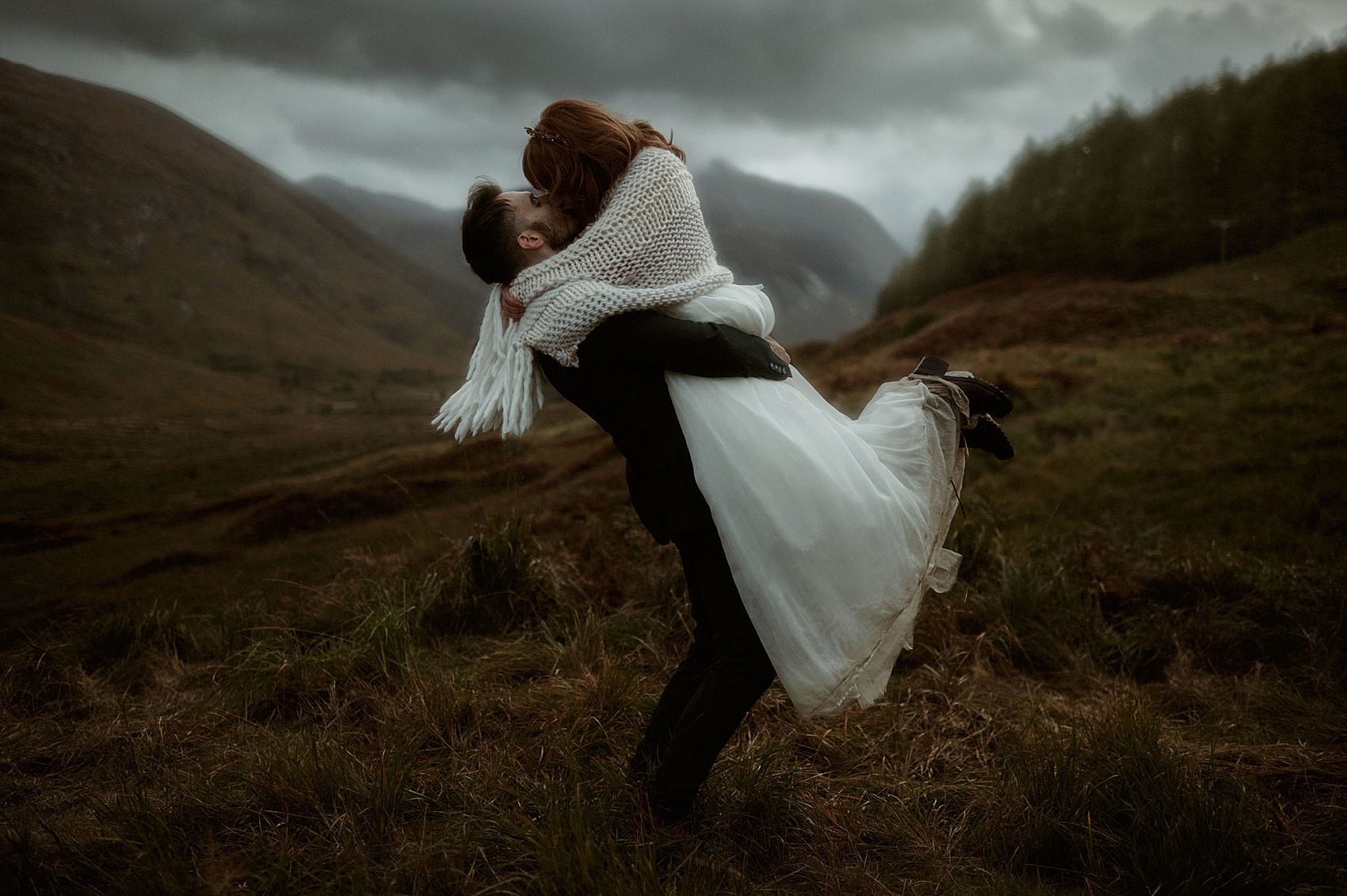 "Don't feel you need to do everything on the day; spread lots of little things out over a fews days if you can, as the day itself goes by in a flash. Once the world is back to normal, have a pre-wedding dinner the evening before, have a lovely walk the day after your wedding with any guests who stayed over. Get dressed up again for family members who couldn't make it."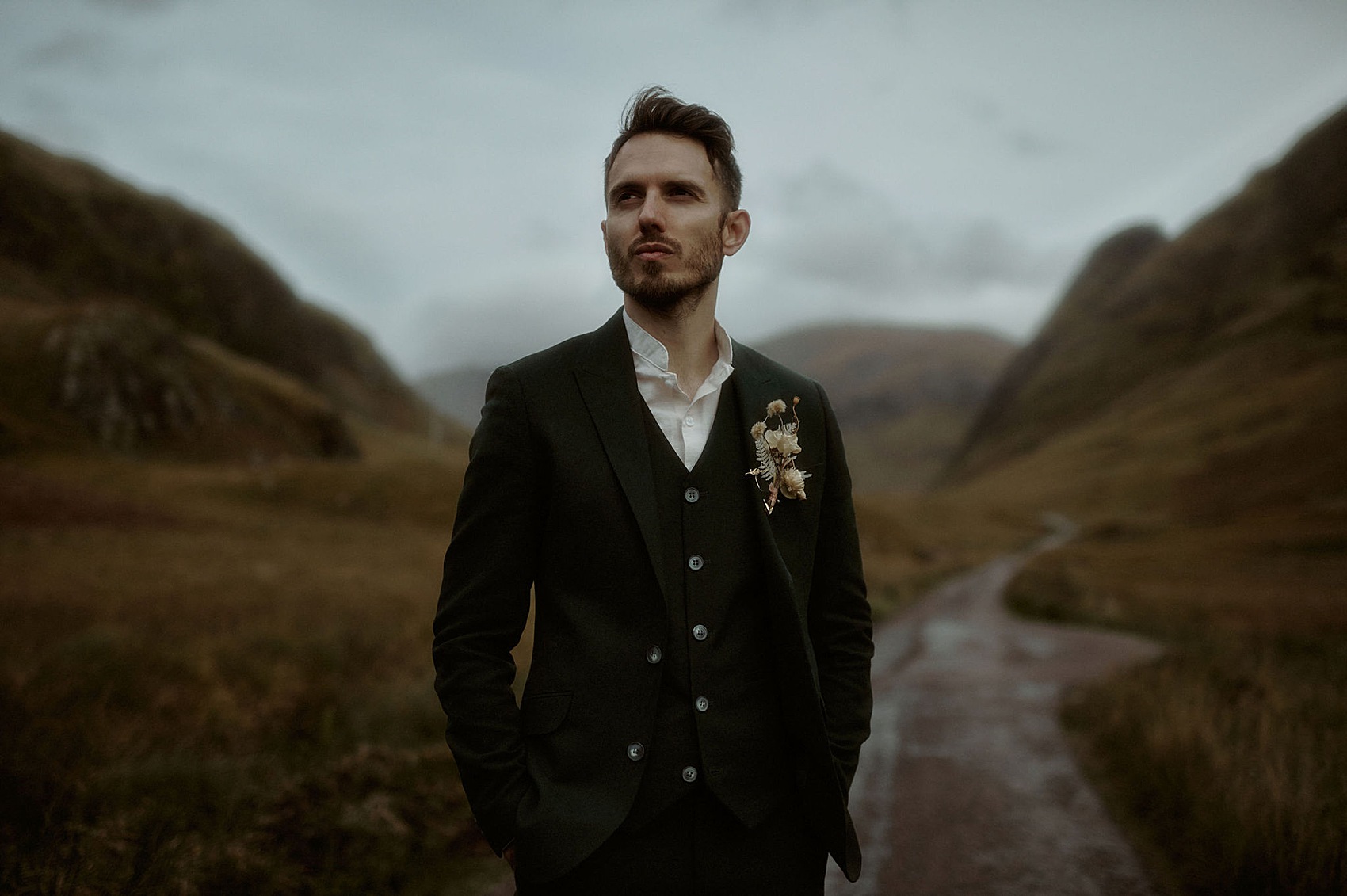 For example, Rich's Grandma couldn't be with us on our wedding day so a few days after the wedding we got dressed up again and went to visit her. She was so moved to see us in our outfits and we took some silly photos with her in the garden. It was really special and a wonderful memory we'll always have of our wedding week."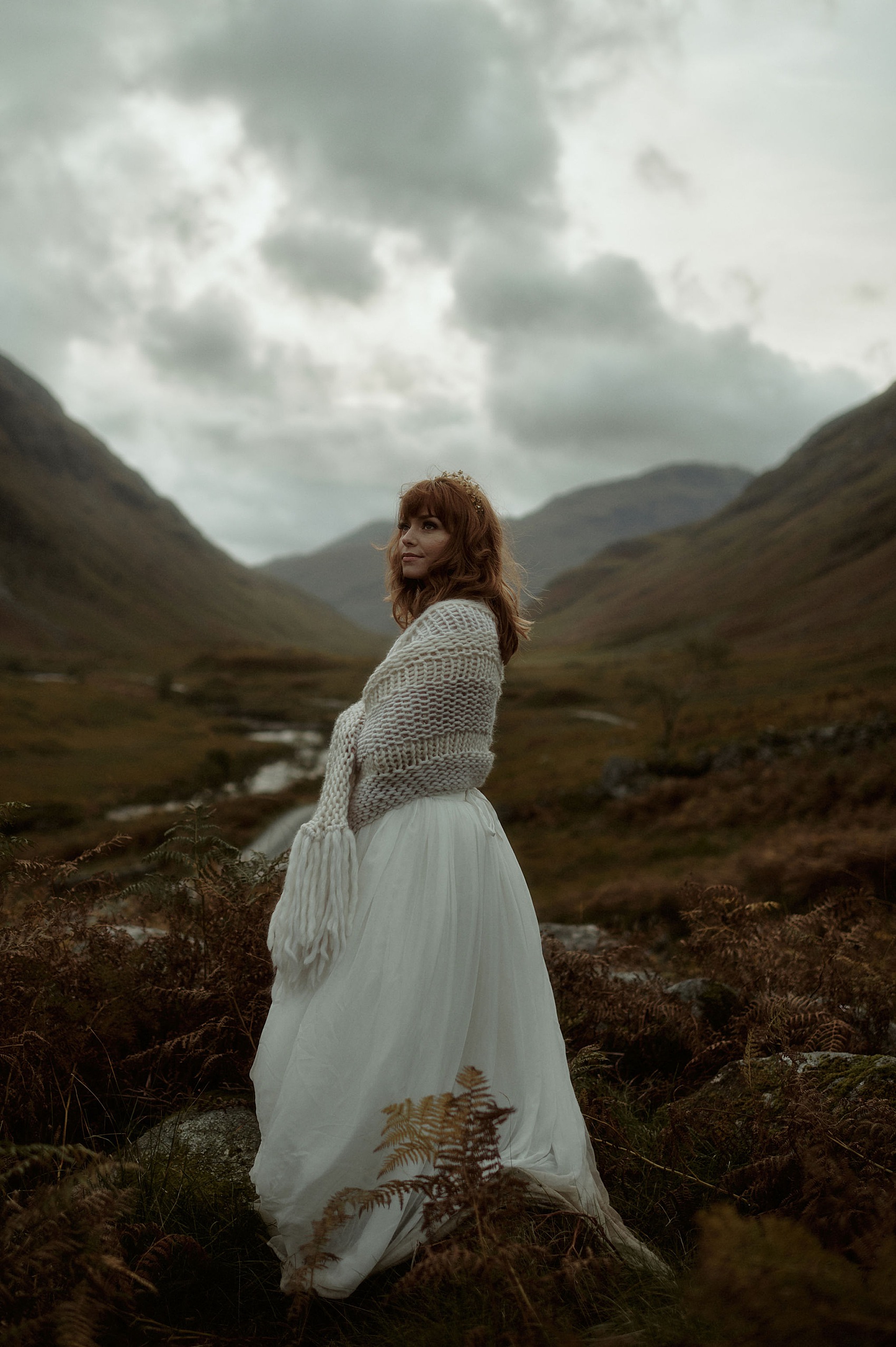 "As a couple you might come up against people who expect you to do things a certain way. It's easy to feel selfish or guilty for going against this, but try to remember it's your wedding day, no one else's."
The commitment you are making to each other is the most important thing and you want to feel the very best you can on that day. Your day should reflect everything about you as a couple. Obviously if parents for example have contributed financially it makes things a little harder as they deserve a say, but try to find a compromise rather than not having something you really want."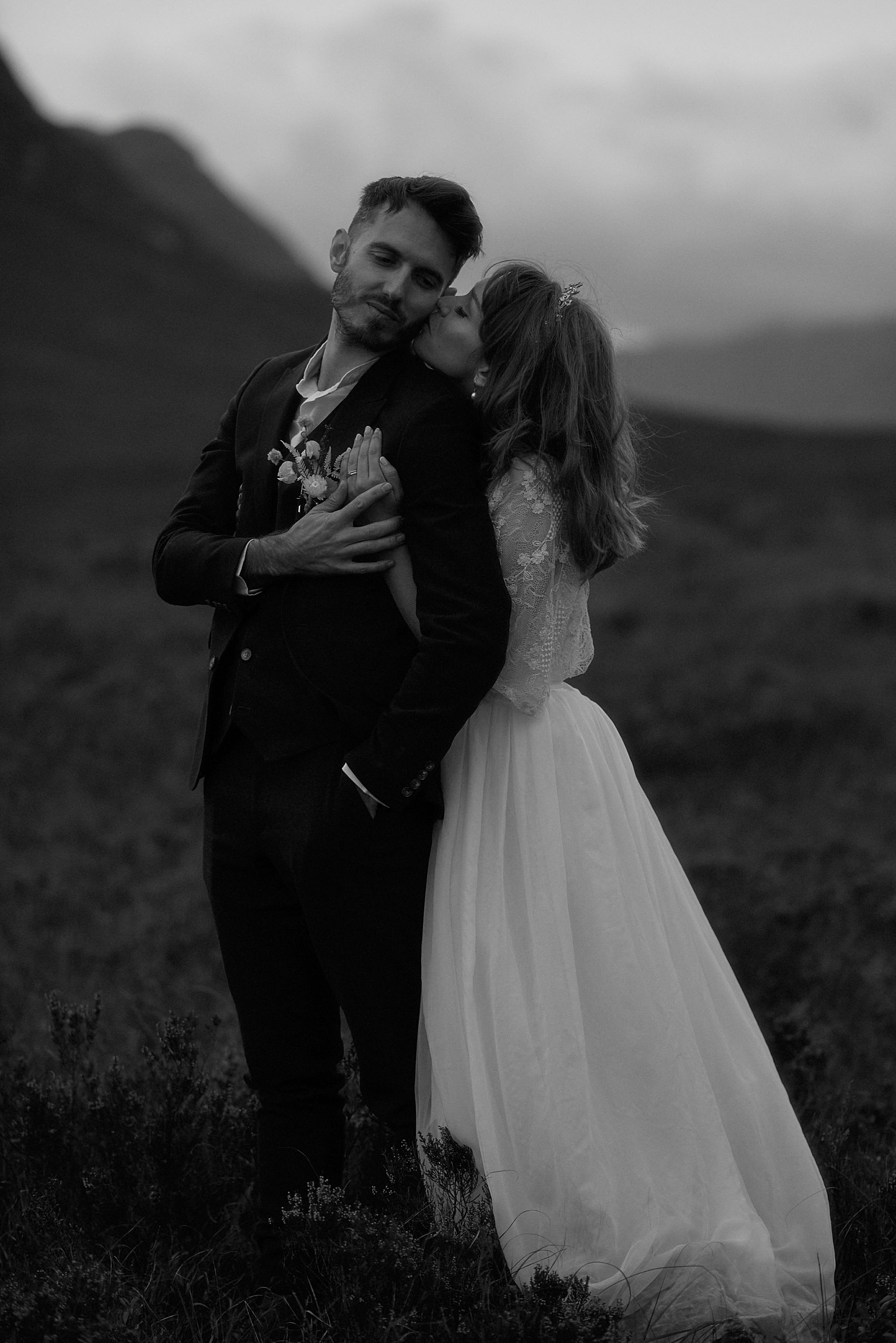 "Don't be afraid to incorporate sustainable and eco-friendly elements. It can take a little extra research but the final pieces are beautiful and often produced by small businesses who really need support right now. Plus, you get to rest easy knowing that your wedding has helped the earth a little bit."
"Take advantage of the unique opportunities not being expected to have a big wedding allows.  Marry now, party later."
Oh my gosh, the absolute dream – Lilly and Rich, I wish you a lifetime of love and happiness together. Thank you from the bottom of my heart for entrusting me and Love My Dress to share your exquisite day with our community.
Readers – you can see many more gorgeous elopements here on Love My Dress.
With all my love,
Annabel x