What a week! From emerging out of a national lockdown, to having the biggest confidence boost due to this rather special question time with Boris!
We are thrilled that the lady who got to ask this question is Lara Gill, owner of Launcells Barton, a beautiful Cornwall country house wedding venue – and member of our Little Book Wedding Directory. We're even more delighted that further members of our Little Book were involved in this gorgeous wedding day you see before you today. Due to the COVID-19 pandemic, the couple had to rearrange their wedding plans at the very last minute.
Architect and researcher Sol married James, a technology consultant on the 19 September 2020 at Clissold House, an eighteenth century mansion set in parkland in Stoke Newington, North East London – now looked after by Hackney Council.
The couple hired the incomparably talented Ben of Tynegate Films, one of our Little Book Wedding Directory members, to document their day in film.
 Joanna Bongard Photography

+ Follow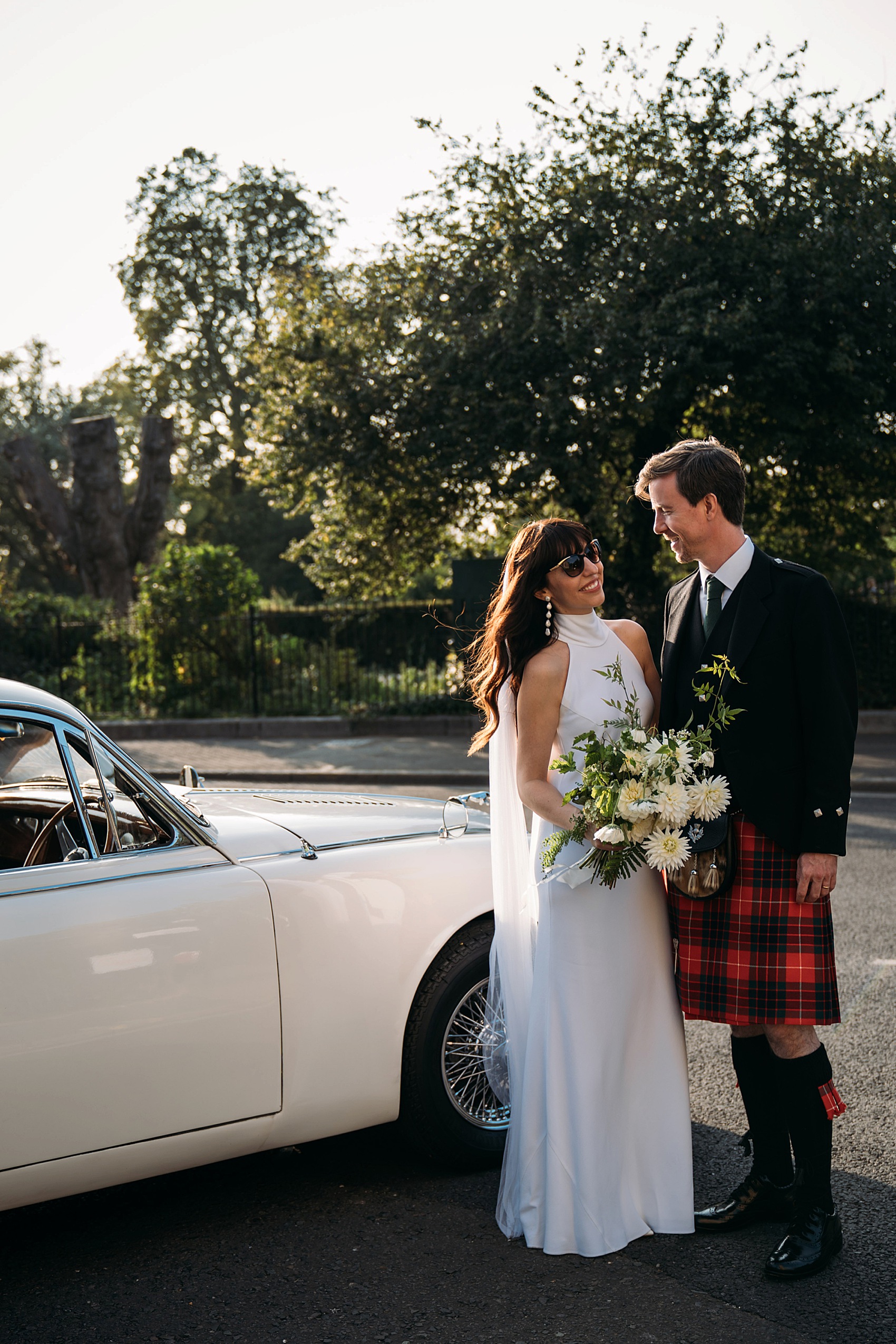 Annabel worked very closely with Ben last month in producing the exceptional 'A Million Moments' campaign film, for the What About Weddings campaign.
"I would highly recommend having an experienced videographer like Ben for your wedding day. We needed to record our wedding as our families and friends couldn't attend due to the pandemic, and Ben did a fantastic job at capturing the vibe of our wedding. He was friendly and almost invisible while recording, and worked really well alongside Joanna."
"As a photo-shy couple not used to posing in front of the cameras, I would recommend having a film since it increases your chances of having a record of your wedding that you enjoy. We are pleased with our videos, and our friends and families were happy to see a short wedding film and the ceremony they were not able to attend."
Sol's shoes were white 'Saffiano' heels by Prada, and she also wore gold plated river pearl earrings by Chan Luu, who champions fair labour practices and women's causes.
Sol chose the sleek, minimalist beauty of a high halterneck dress by Galvan London, which she paired with a simple and soft tulle veil by Blossom and Bluebird. Dress alterations were by the excellent Sewn Right.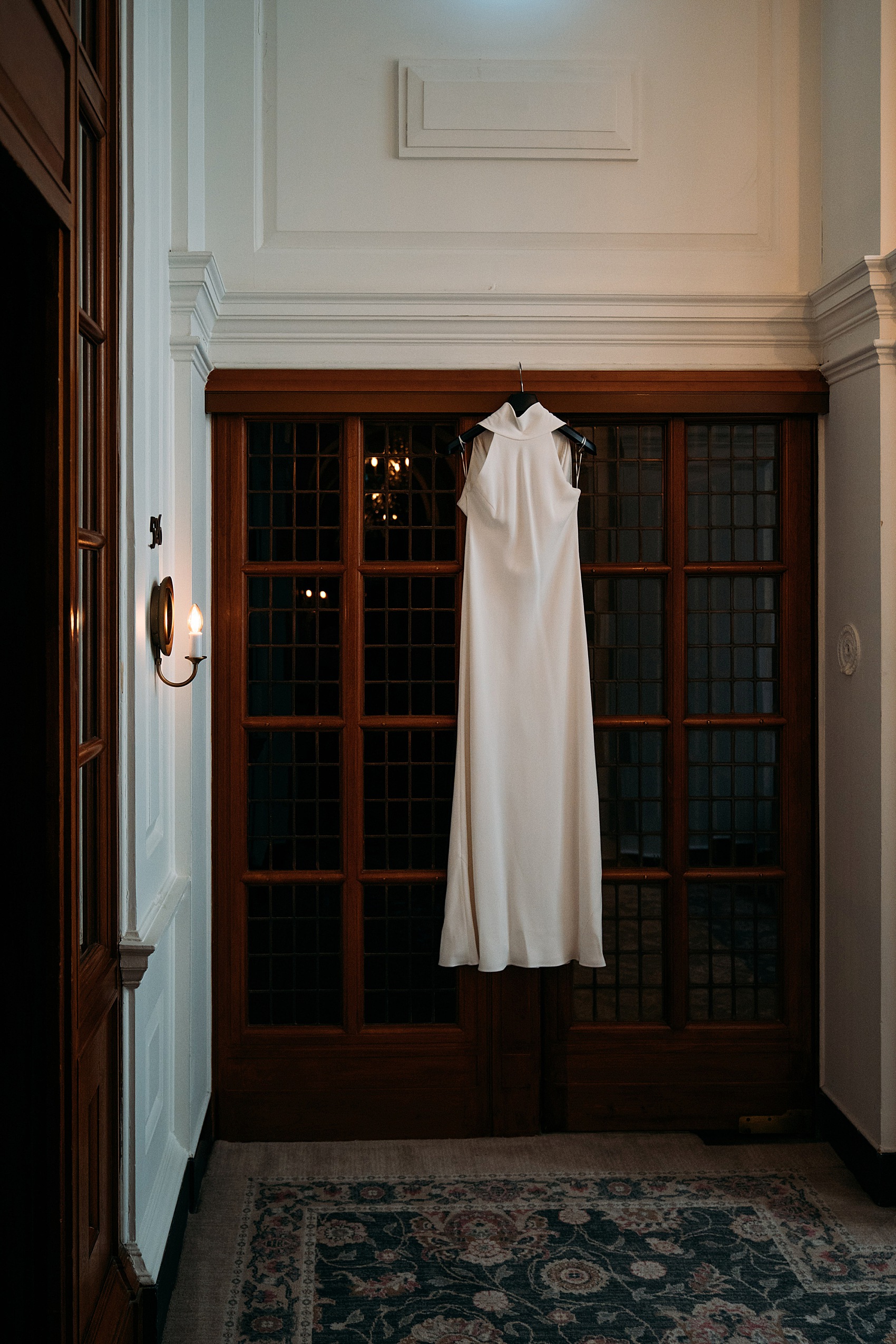 "Due to the lockdown in March I had to order my wedding dress online. I ordered a few dresses from different shops who were doing home trials, and I finally settled for this crepe version of Galvan's 'Sienna' dress from Net-a-Porter."
"Though trying dresses at home is not ideal, the availability of dresses on Net-a-Porter and their returns system made things a bit easier when all the wedding shops were closed."
"I had a French silk tulle veil from Blossom and Bluebird. The fabric was excellent quality, soft and with a nice fall. Sian was really helpful through email. I ordered samples of the fabric through her webpage to confirm the colour was right for my dress, and then ordered the veil online."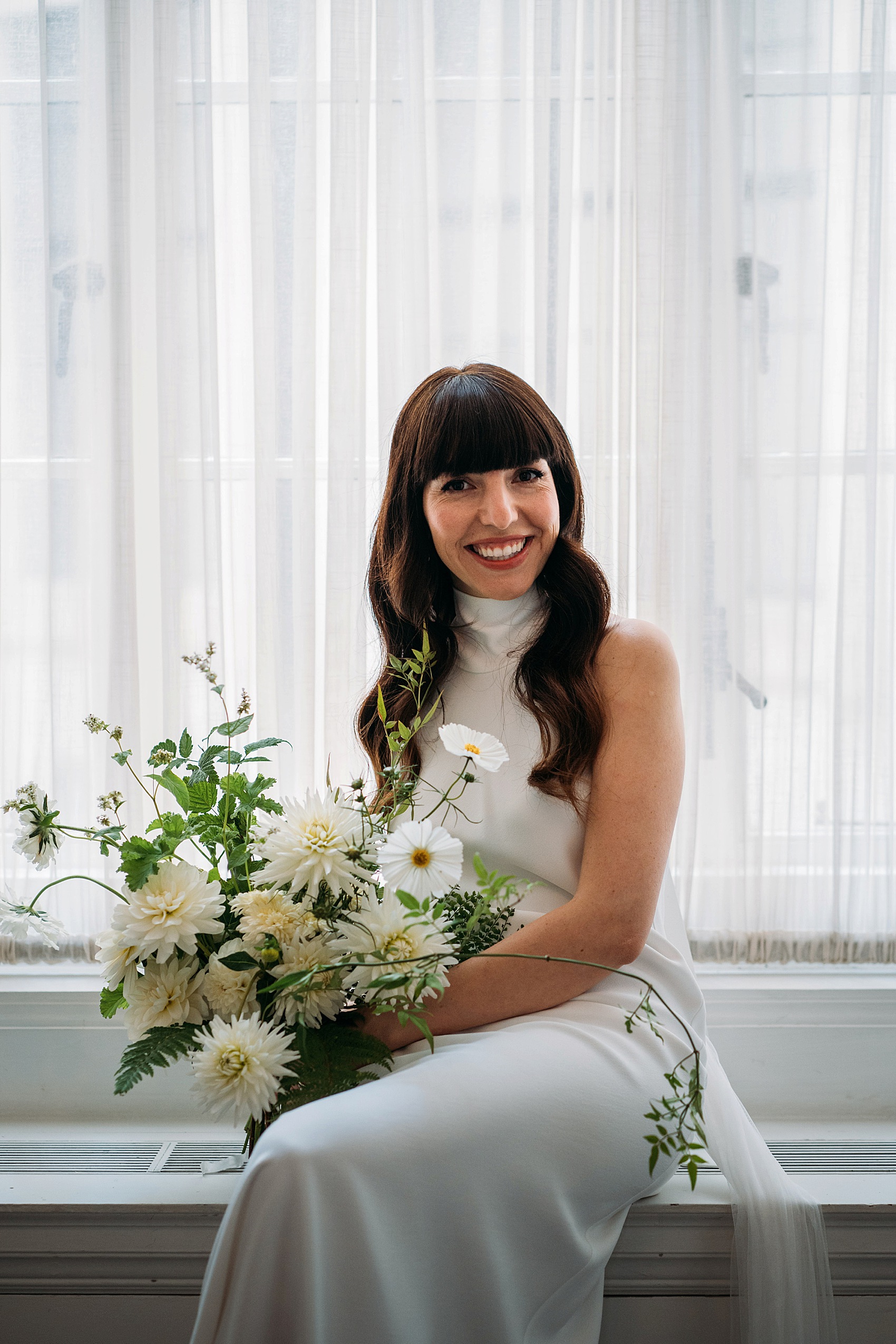 It warms my heart whenever I see a bride wearing a veil by Little Book member Sian of Blossom and Bluebird. This sweet and talented soul made makes the softest, most magical veils, and she also made my own beautiful draped wedding veil, too.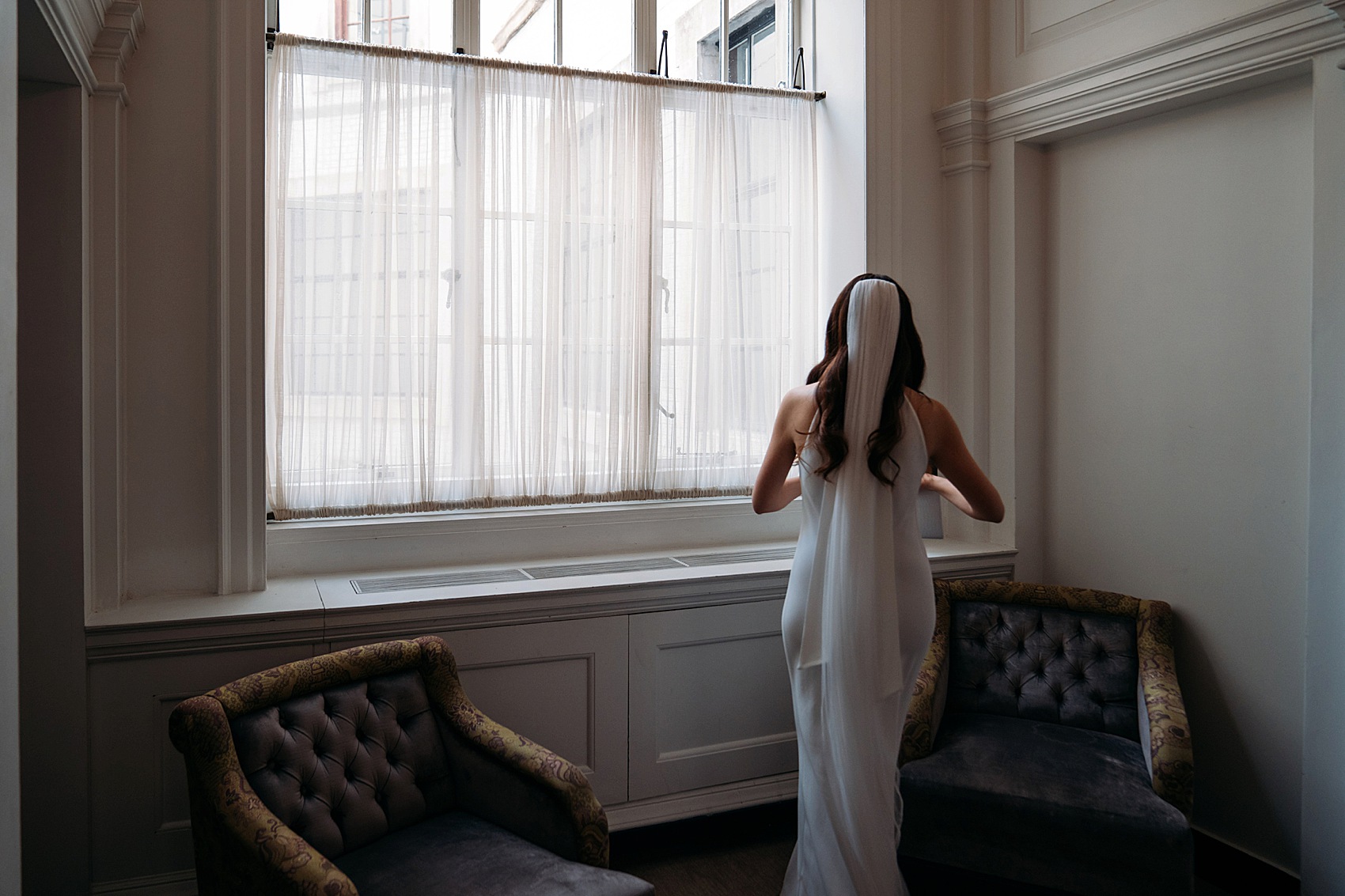 It was important for Sol and James that whatever shape their wedding day took, that they put sustainability and ethical practice at its heart.
"We wanted to support businesses led by women, or emerging businesses. We chose providers who are known for their ethical standards, fair labour practices or sustainable aims."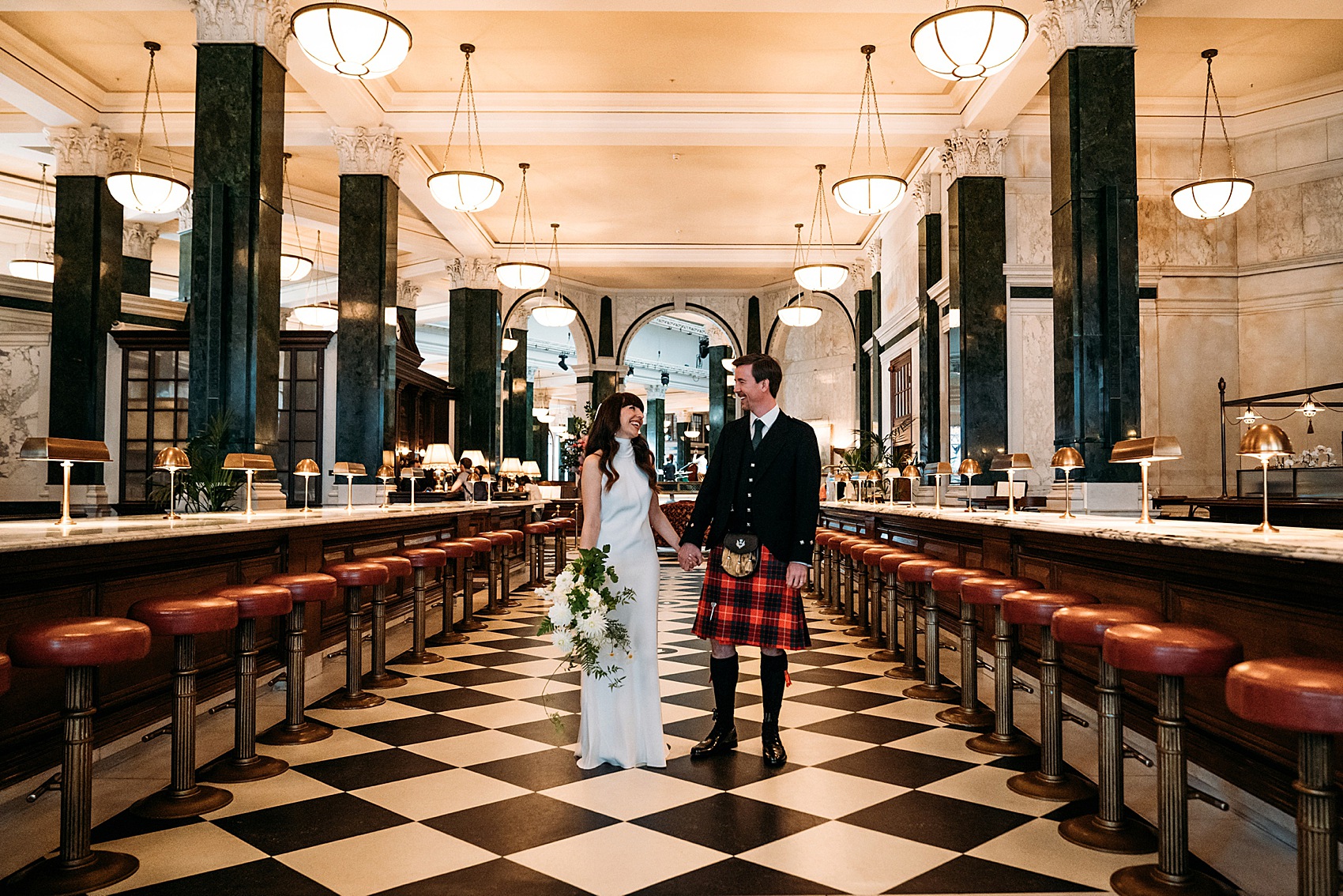 "I highly recommend Zoe Cornwell from Knot Your Average Bride for hair and make-up. She was friendly, fun and professional, and more importantly she made me feel confident and beautiful on my wedding day."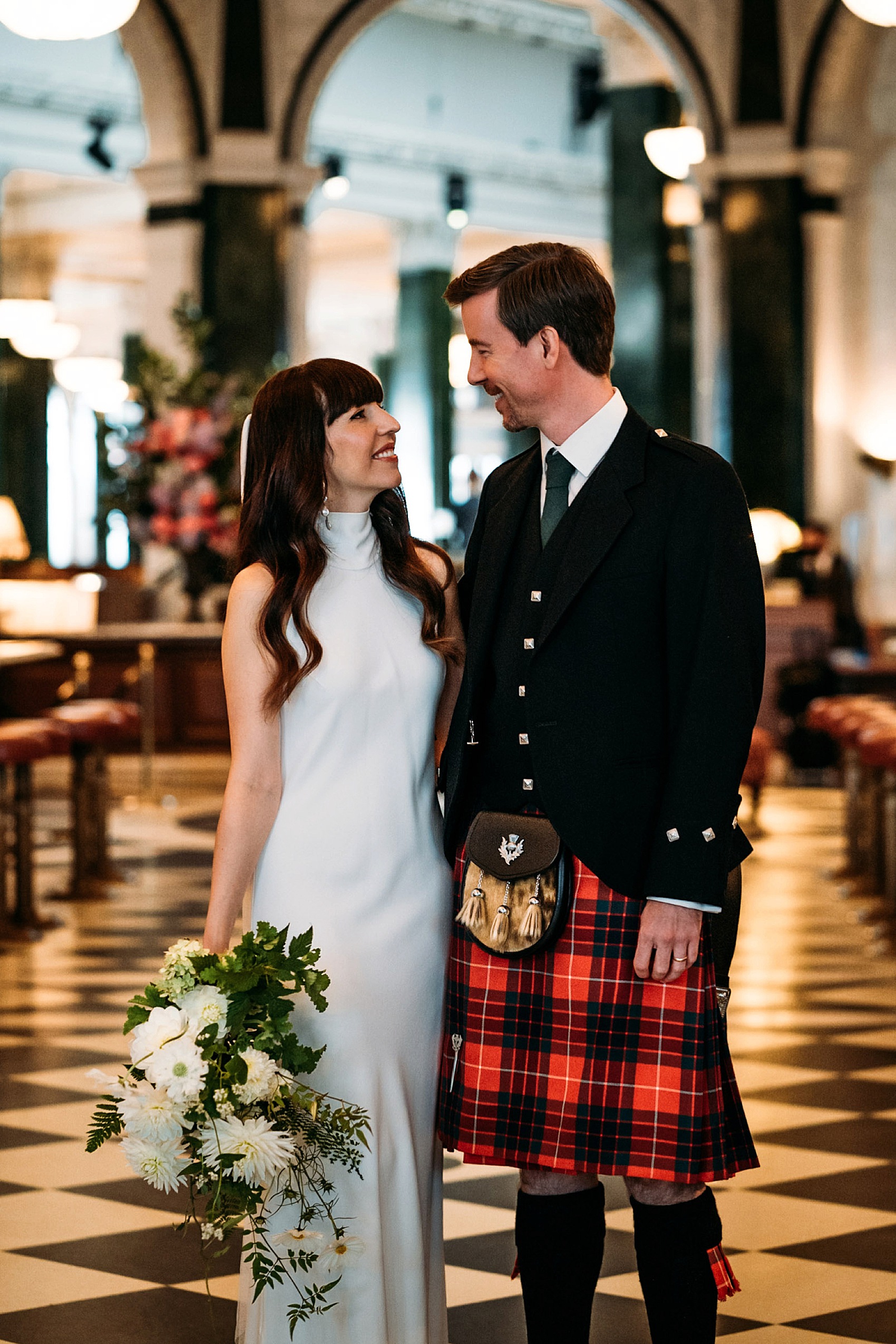 "Since I was getting ready on my own and we didn't have a chance to meet before the wedding because of Covid, Zoe's positive attitude was very important. Apart from doing a great job, Zoe was fun to chat to, and I truly enjoyed getting ready even though my friends and family were not there."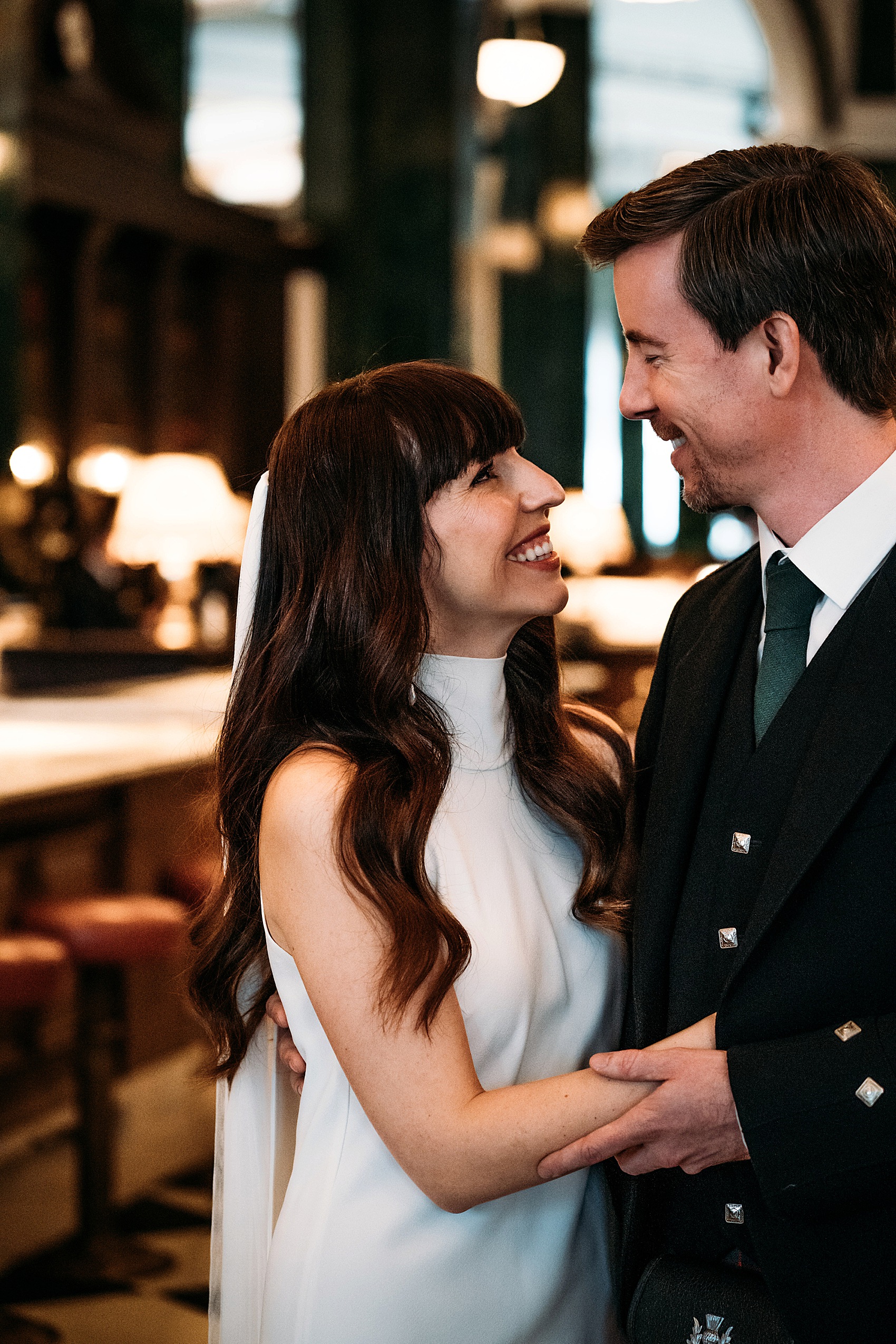 Sol carried a spectacular bouquet by Wetherly, and I love the height and texture at play with the different dahlias, cosmos and greenery. Florist Olivia Wetherly Wilson uses only seasonal and sustainable British flowers for her amazing creations.
"Because of lockdown we shared ideas online and discussed the plan through email. I loved my bouquet, and Olivia also created a flower arrangement in a Raawii bowl, which I kept as a memory of our wedding day."
"I chose whites and greens as a colour palette for a mimimal but elegant look. We were hoping to have a city wedding and a party in Hackney, the neighbourhood where we met and where we live, but due to the pandemic we had to downscale from a warehouse to a city hall elopement."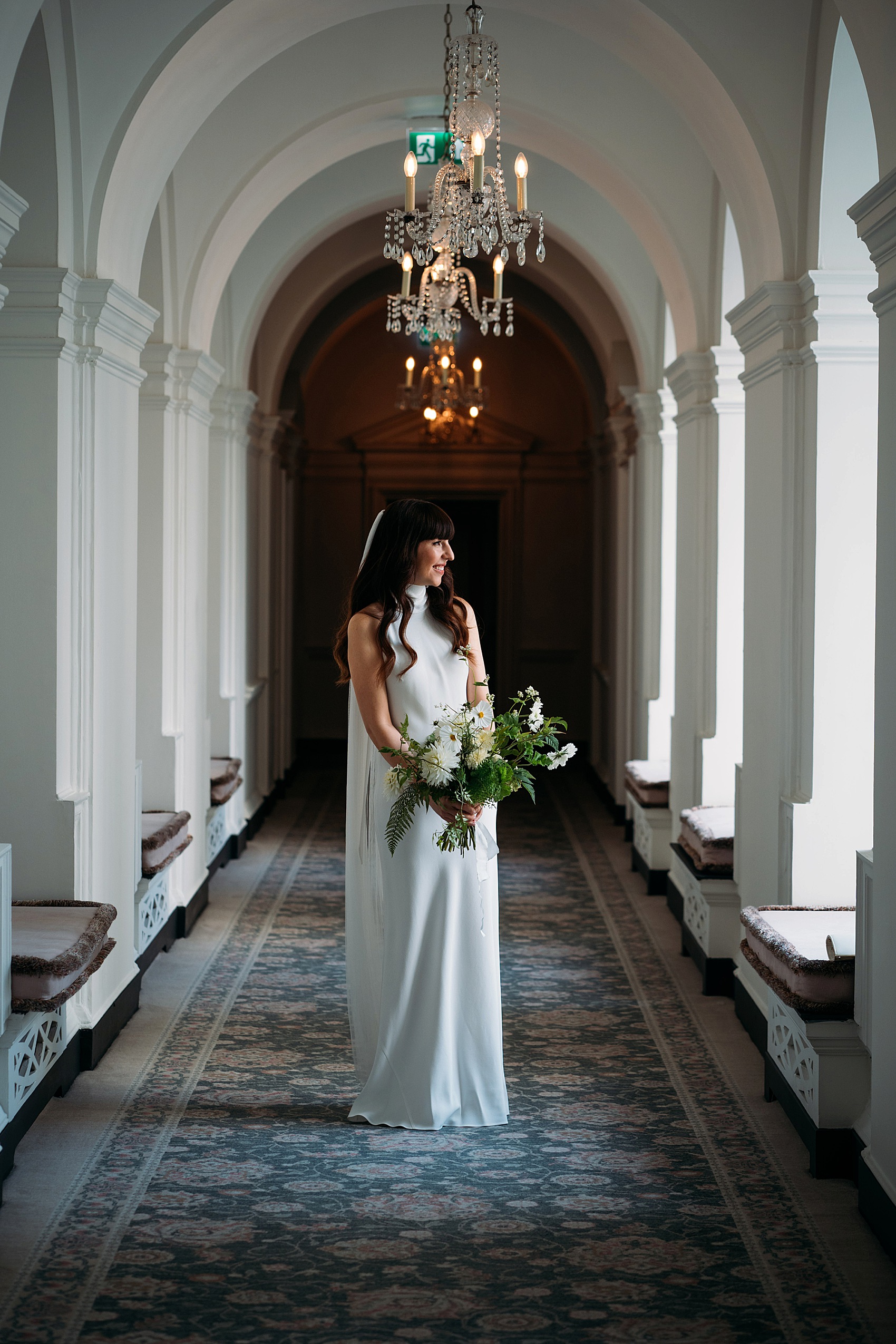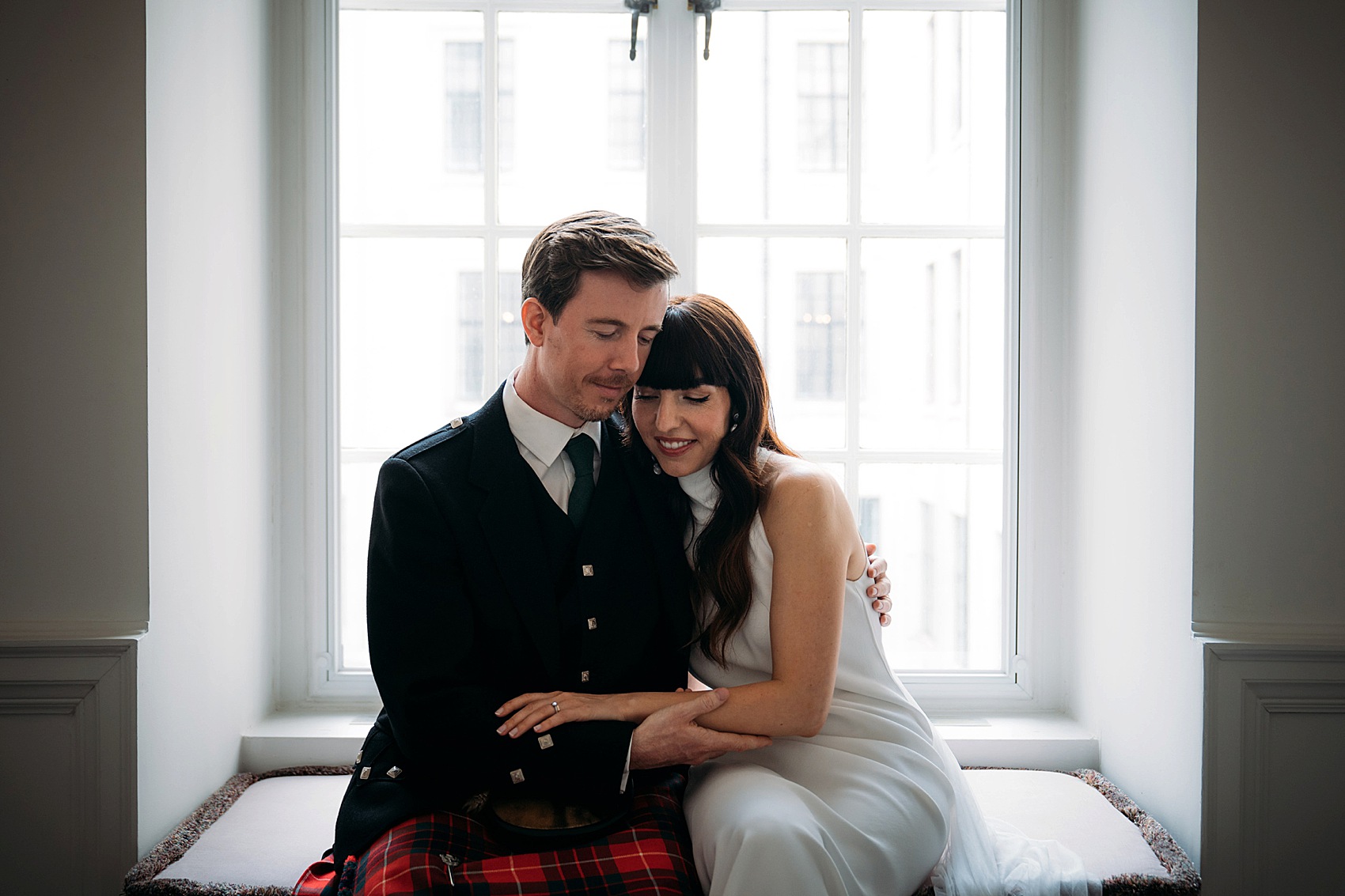 Ahead of their ceremony, Sol and James met for a first look once they were both ready, and James looked fantastic wearing his family tartan.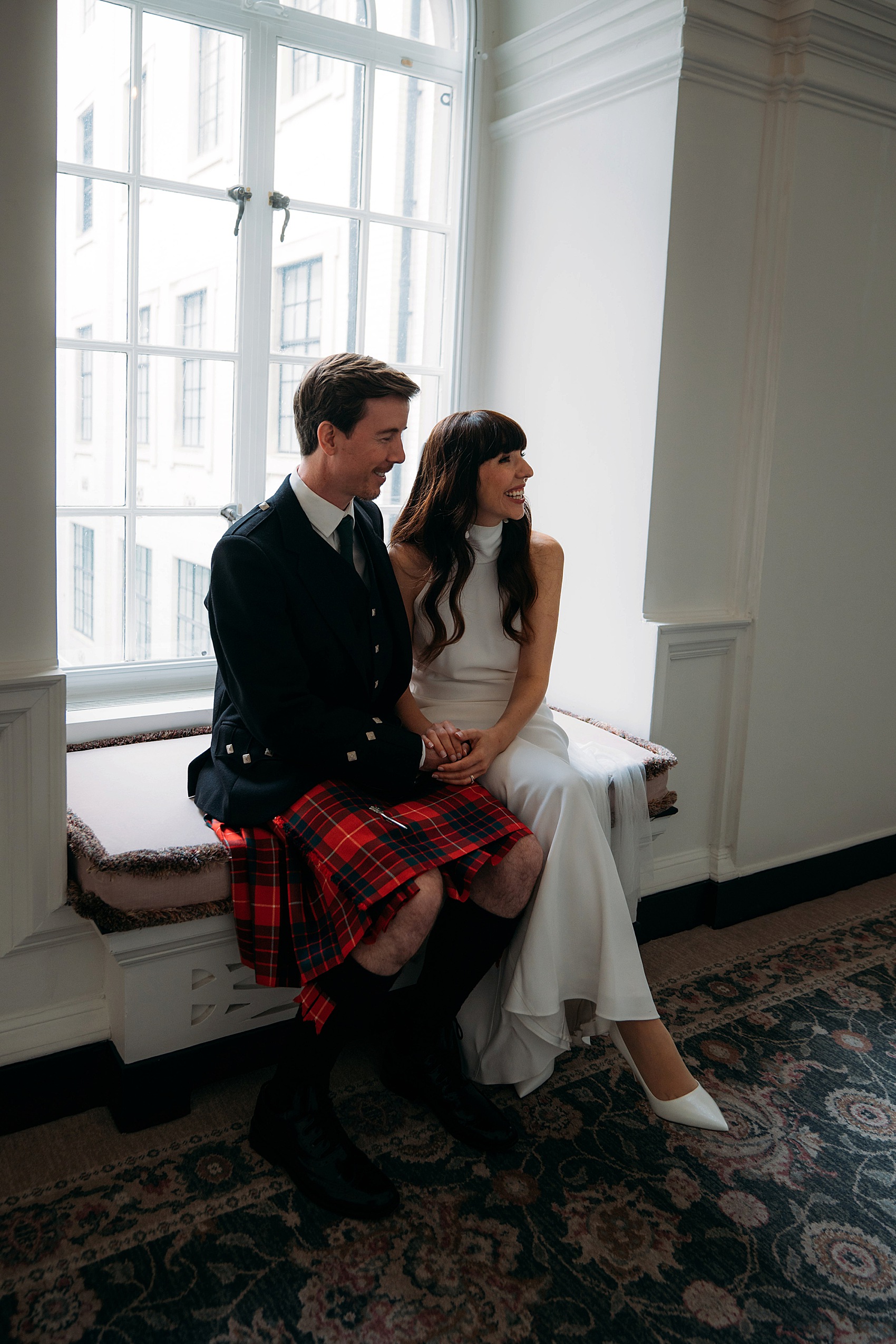 Together they walked the London streets with their photographer Joanna Bongard, where the perfect peaceful, reflective place awaited them – the ruined medieval church of St. Dunstan in the East.
Heavily bombed during the Blitz in World War Two, the church was later turned into a public garden. It's one of my favourite quiet, hidden gems off the beaten path in London.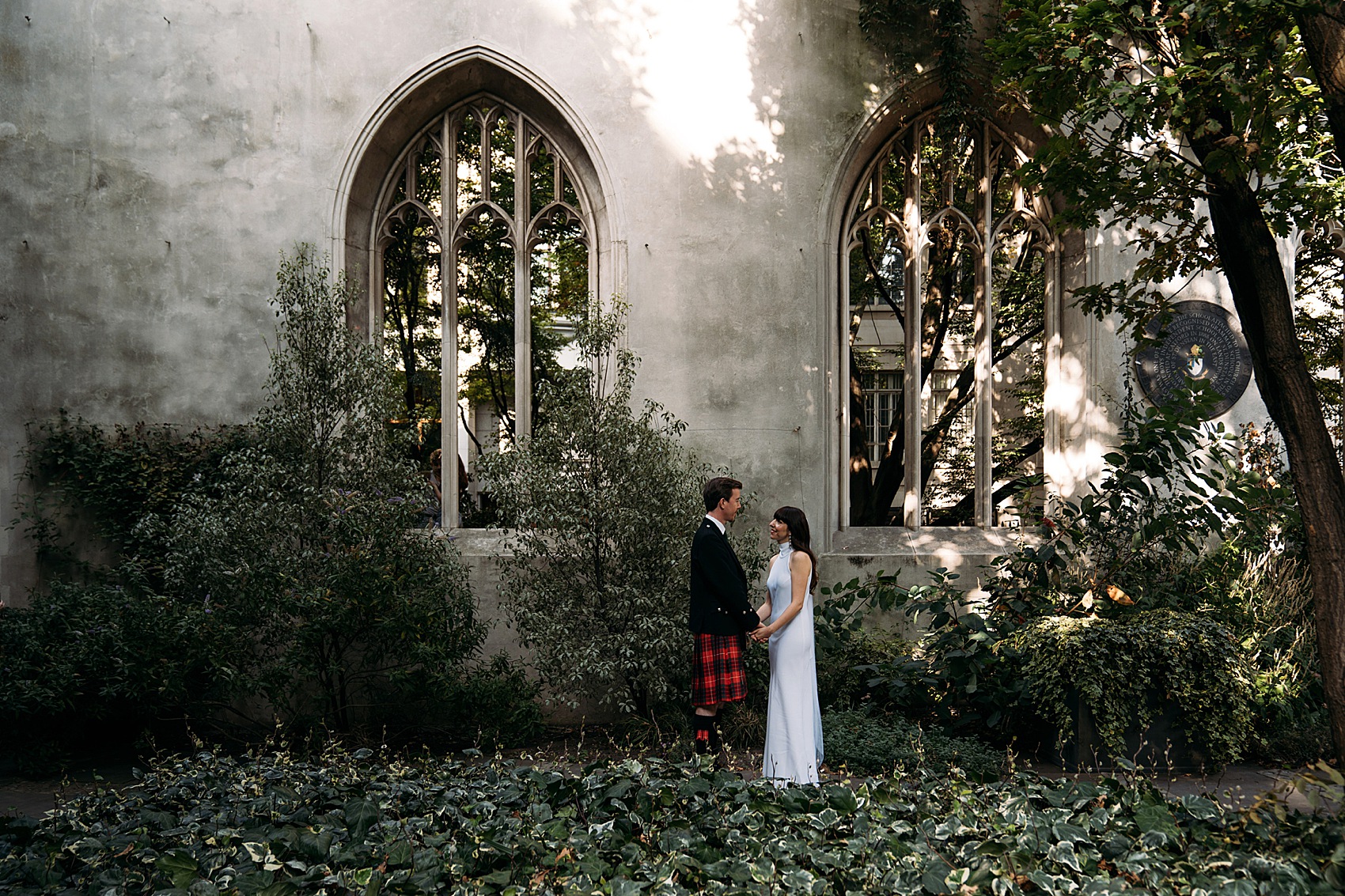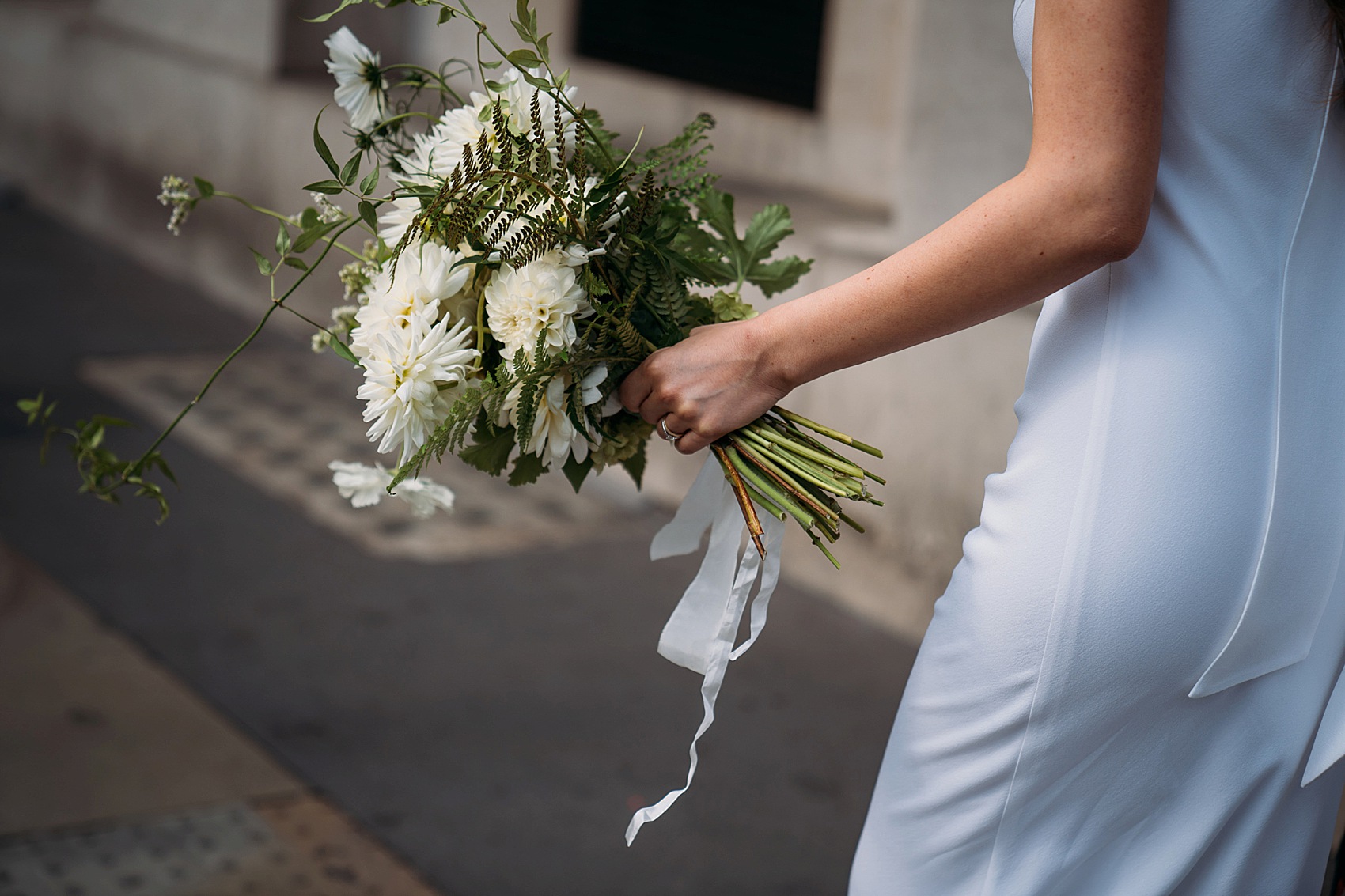 "Joanna Bongard was absolutely key in our wedding day. She was professional, friendly and calm, even when things were fast paced and we were moving between multiple locations."
She had a great eye for orchestrating the photos, was fantastic at keeping time, and directing us kindly when we had no clue how to pose."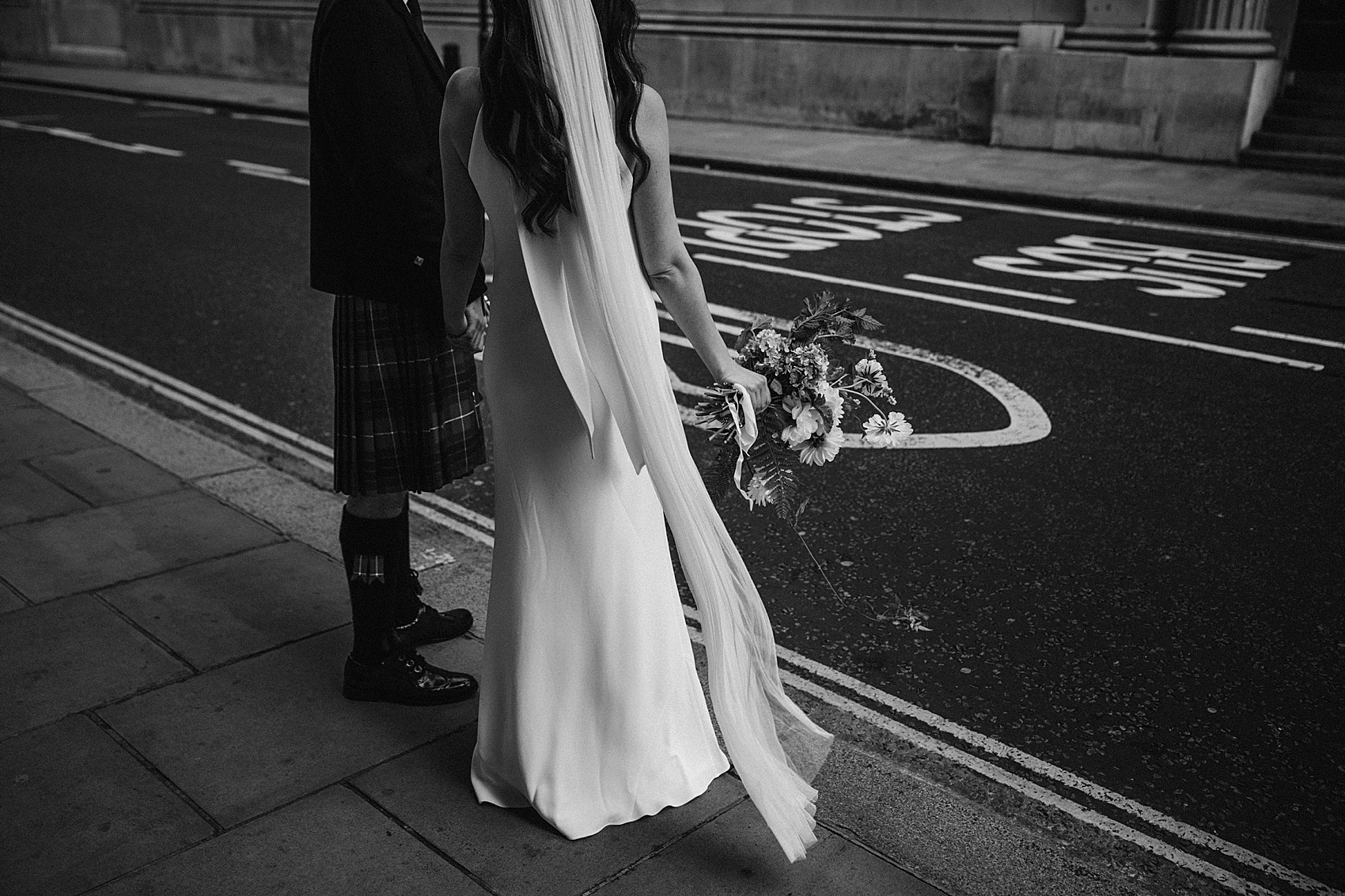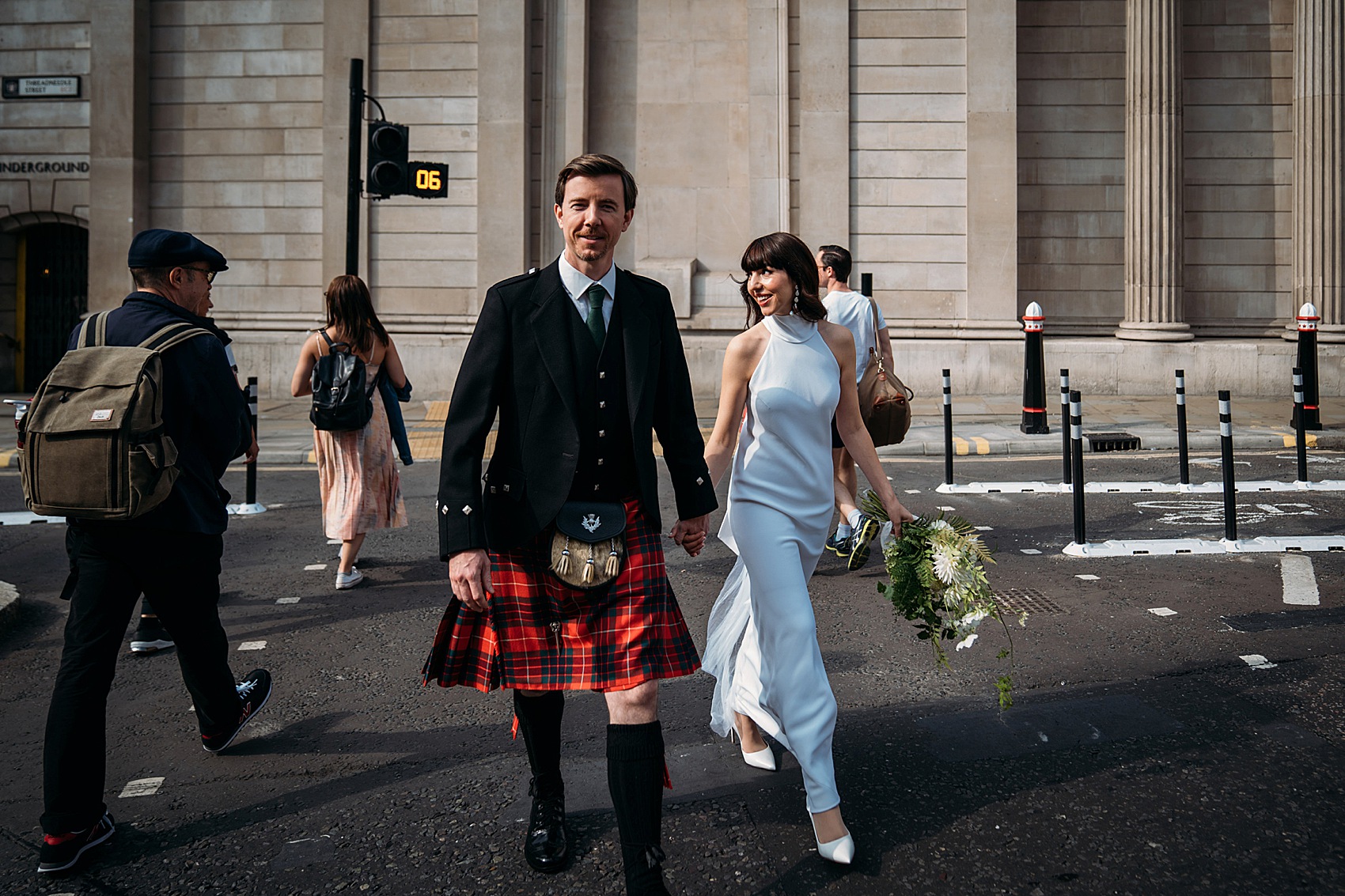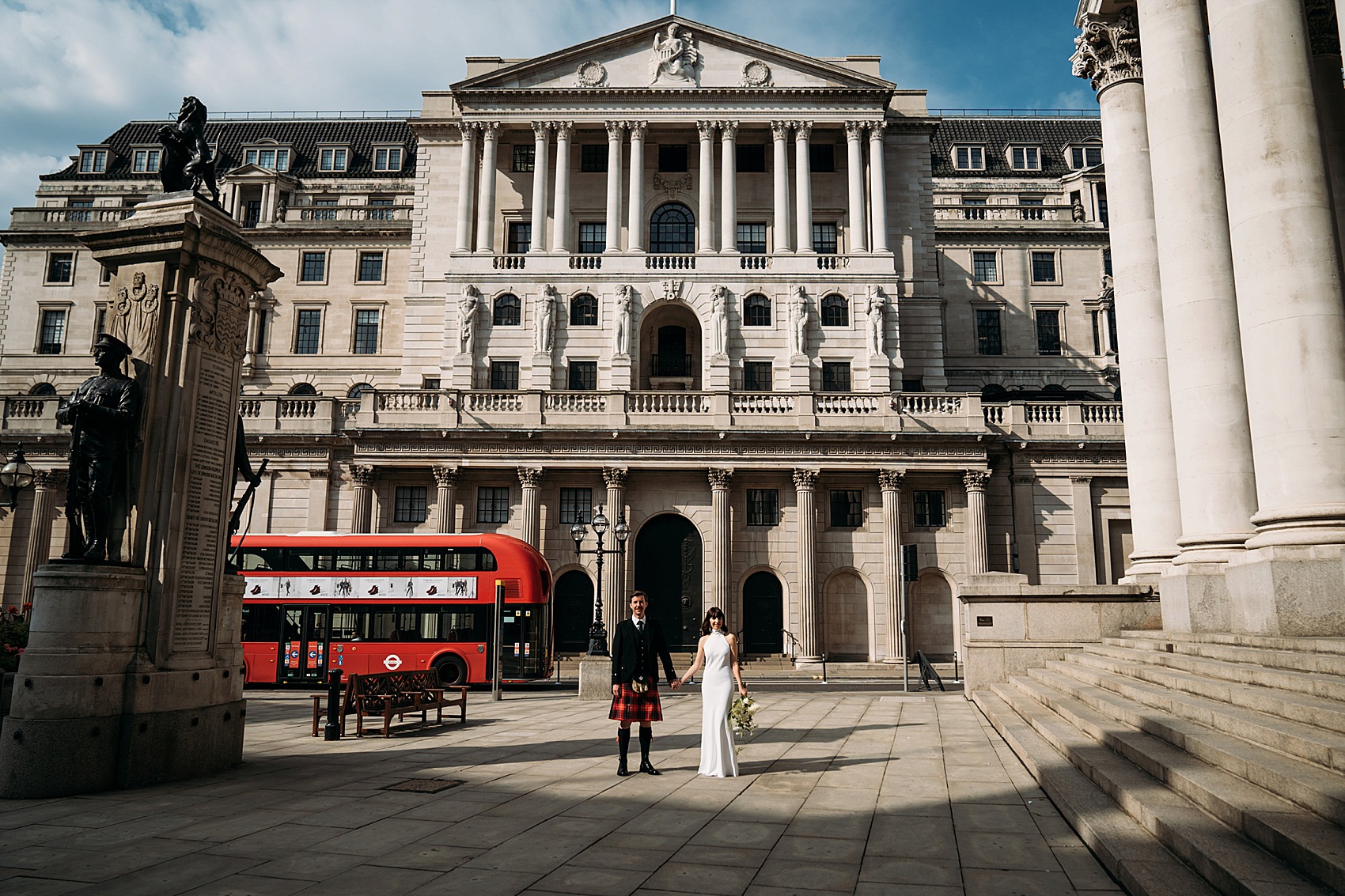 "She made our day enjoyable and we now have photos of our day that we really enjoy. If I had one recommendation is two invest in a good photographer who knows the trade well, like Joanna. Also, make sure to explain what you would like to see in your photos."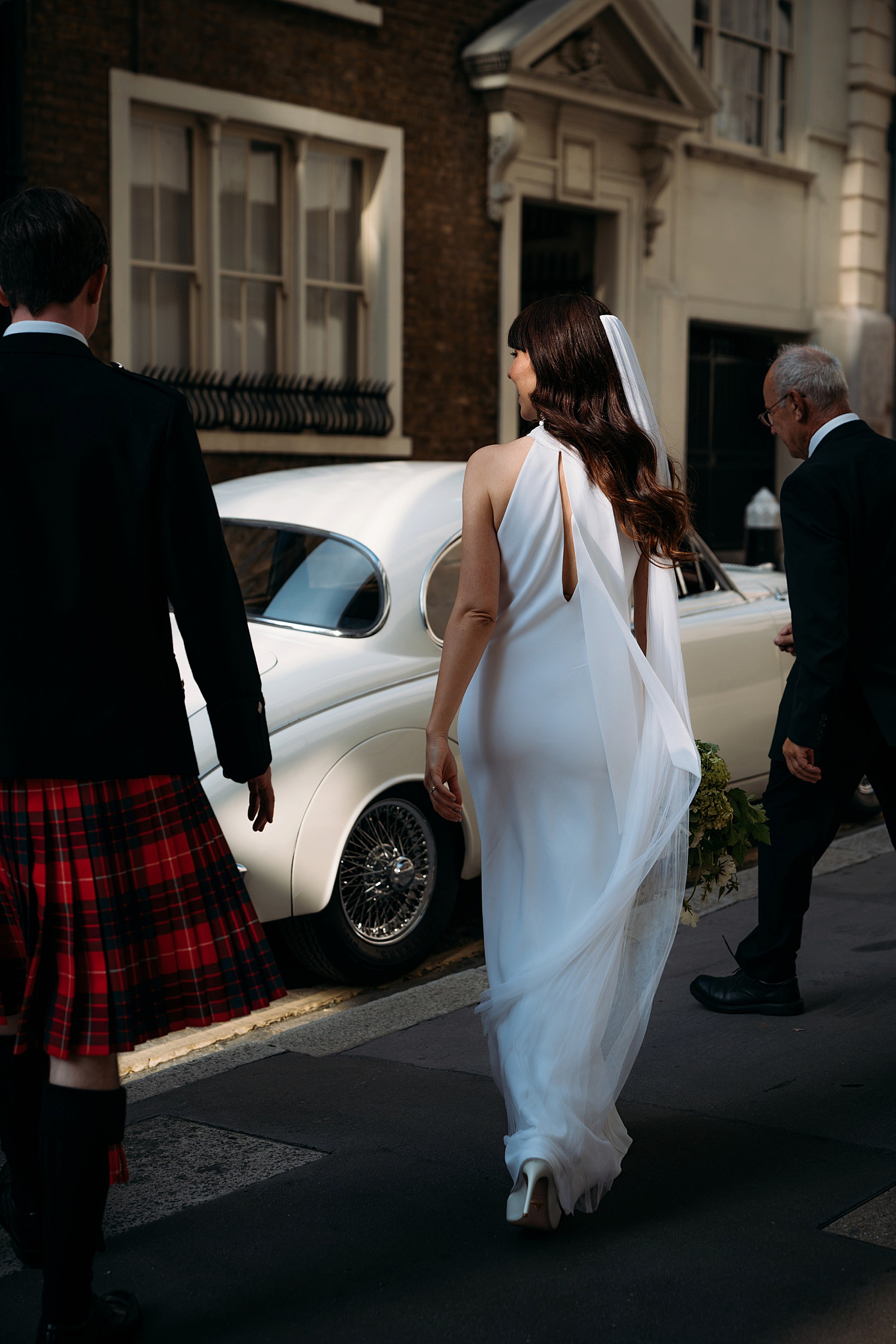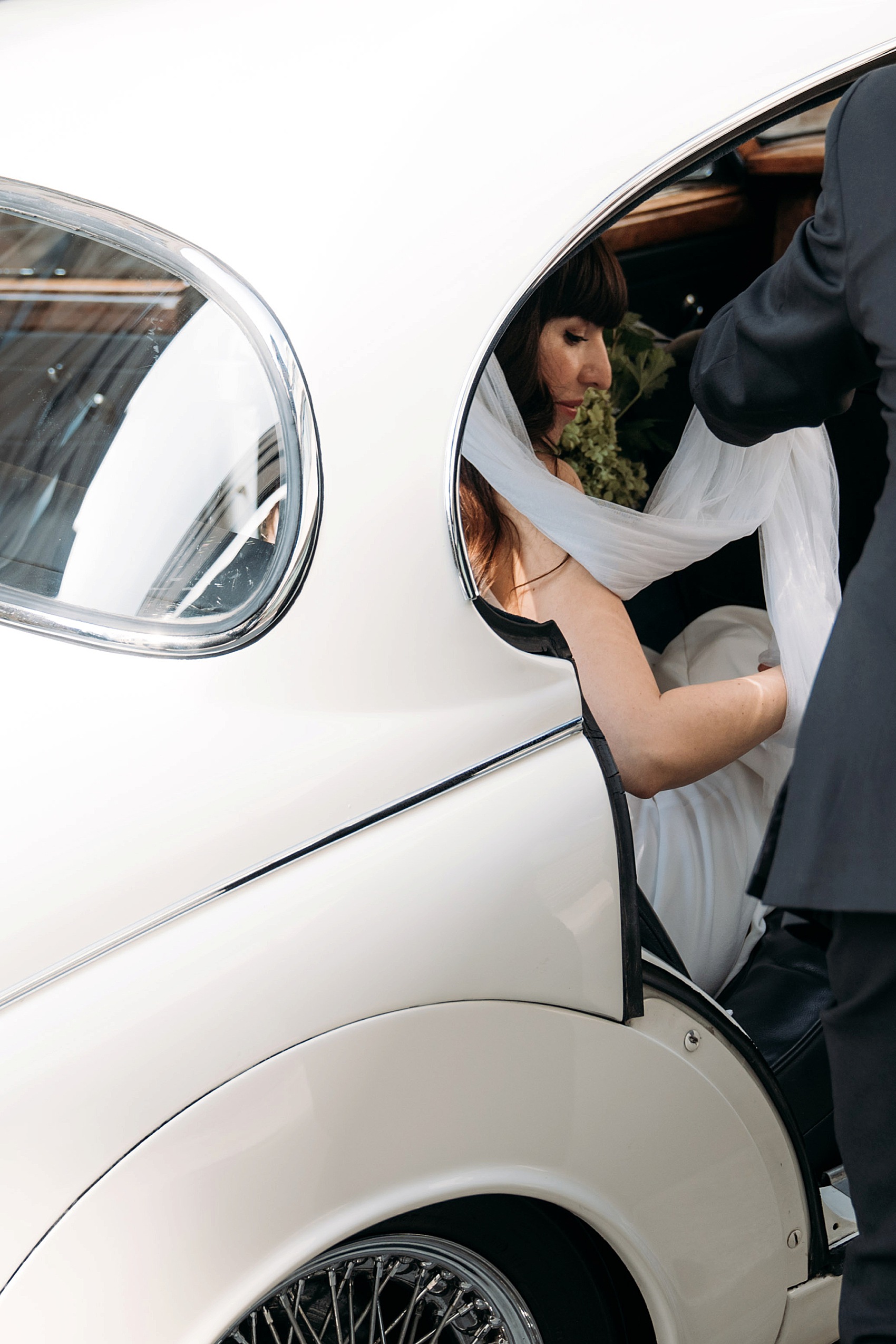 "The day goes by very quickly, and you need someone who has a good eye to capture those fleeting moments."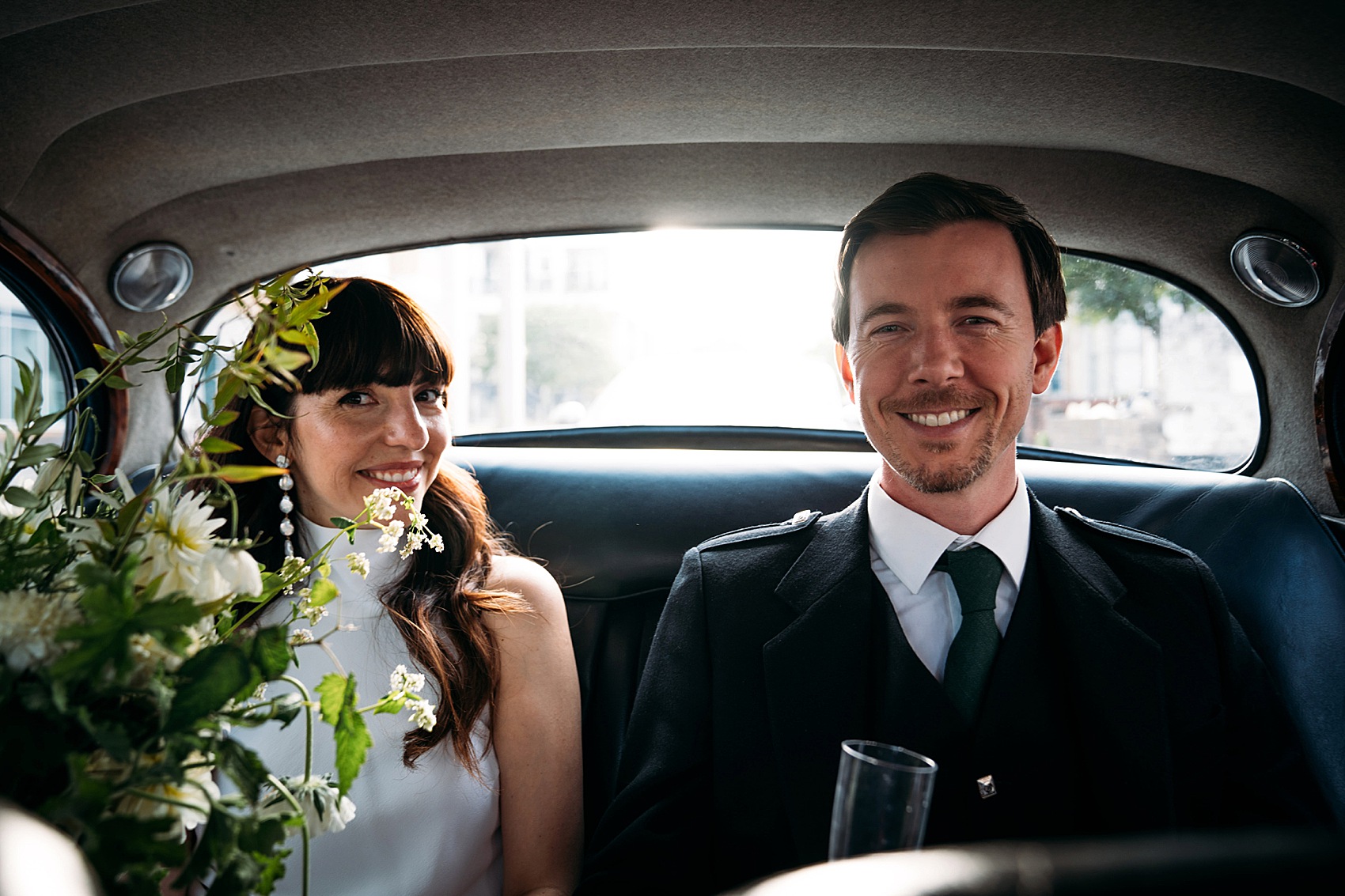 To travel to Clissold Park for their ceremony, Sol and James rented a Mark II Jaguar from Gold Chauffeur Services.
"The car was beautiful and David, the driver, was excellent company."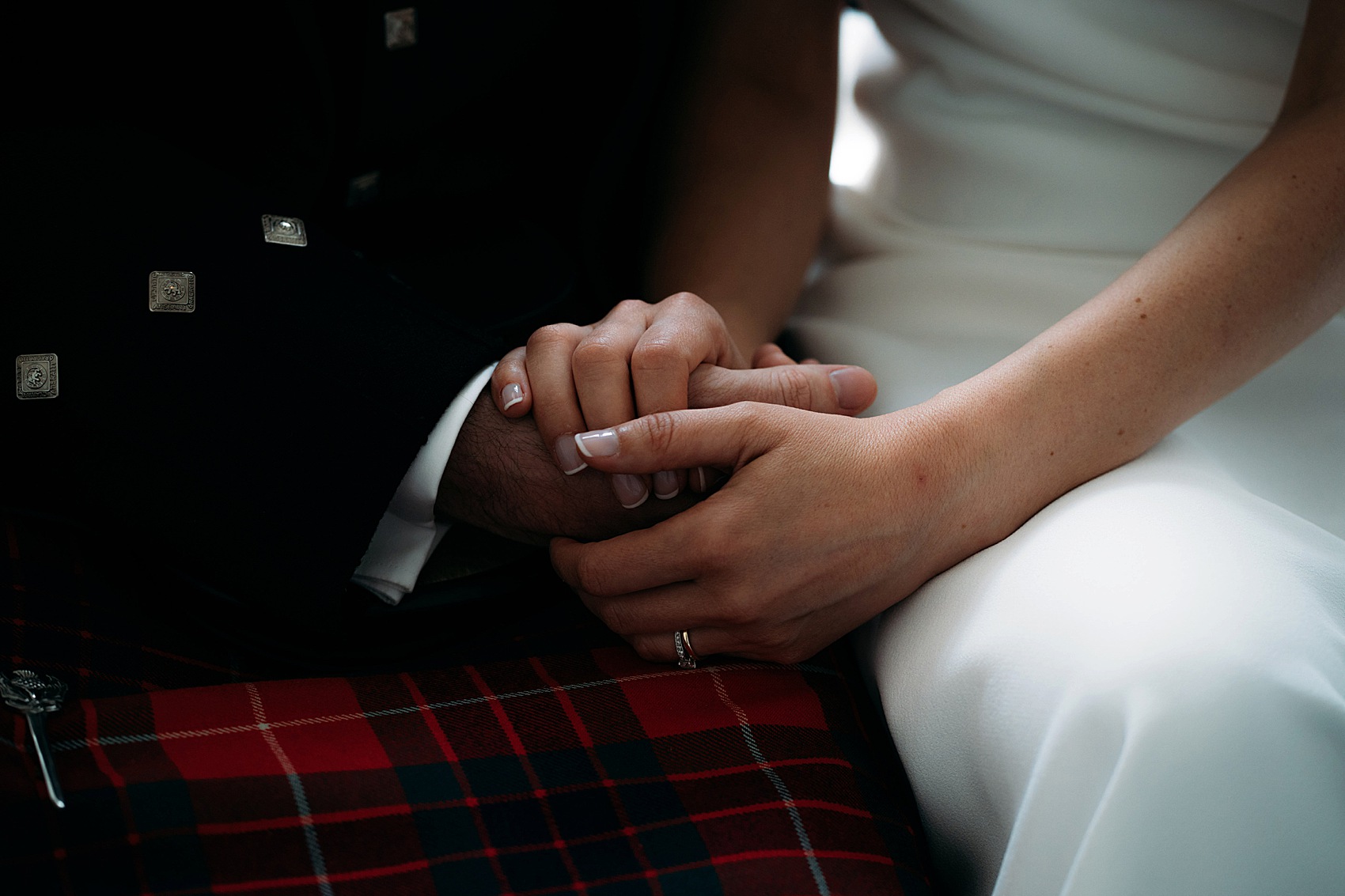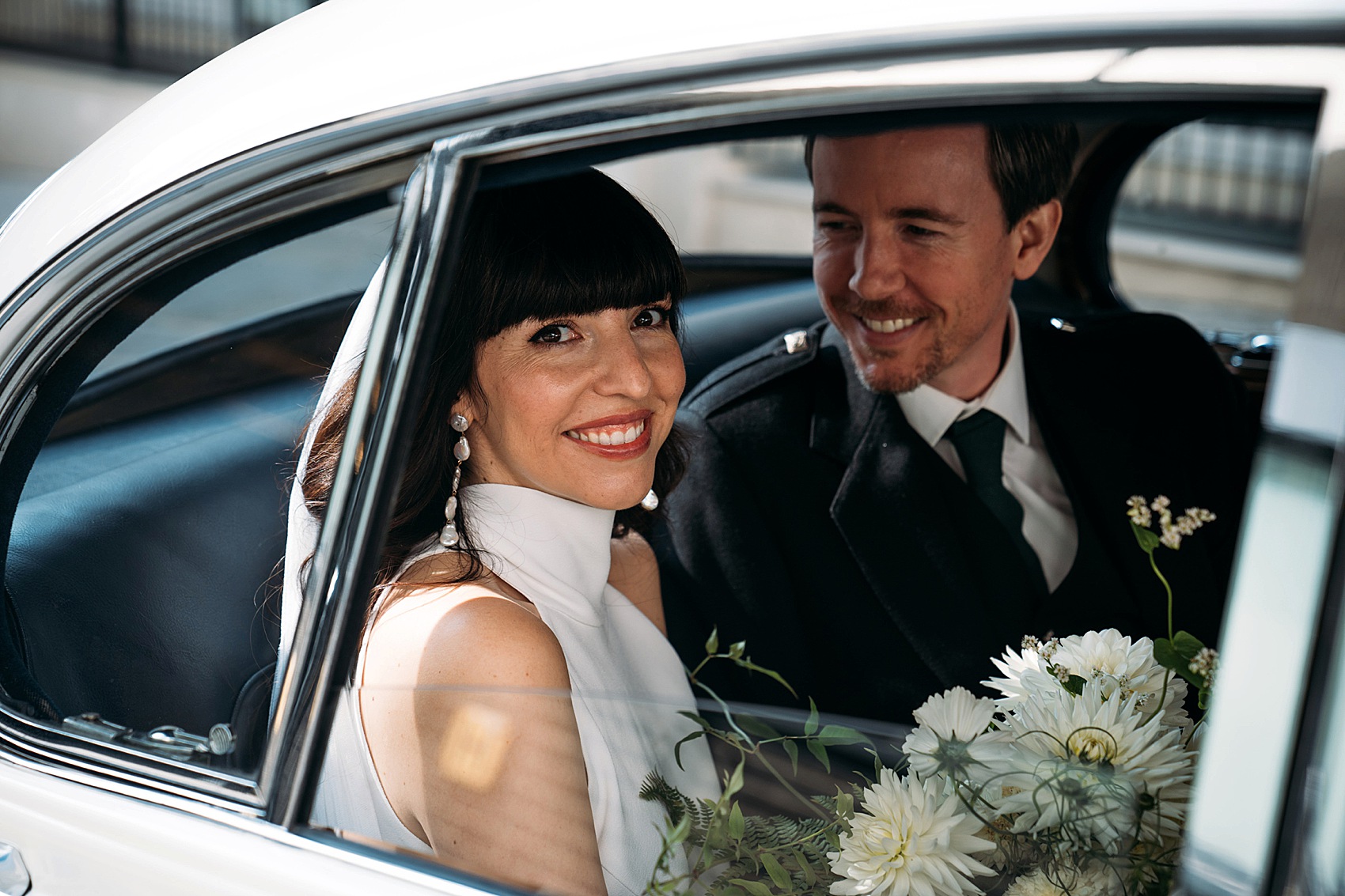 "Due to last minute coronavirus problems with our venue at Hackney Town Hall, we had to downscale again just 28 days before our wedding to a micro-wedding at Clissold House, in Clissold Park."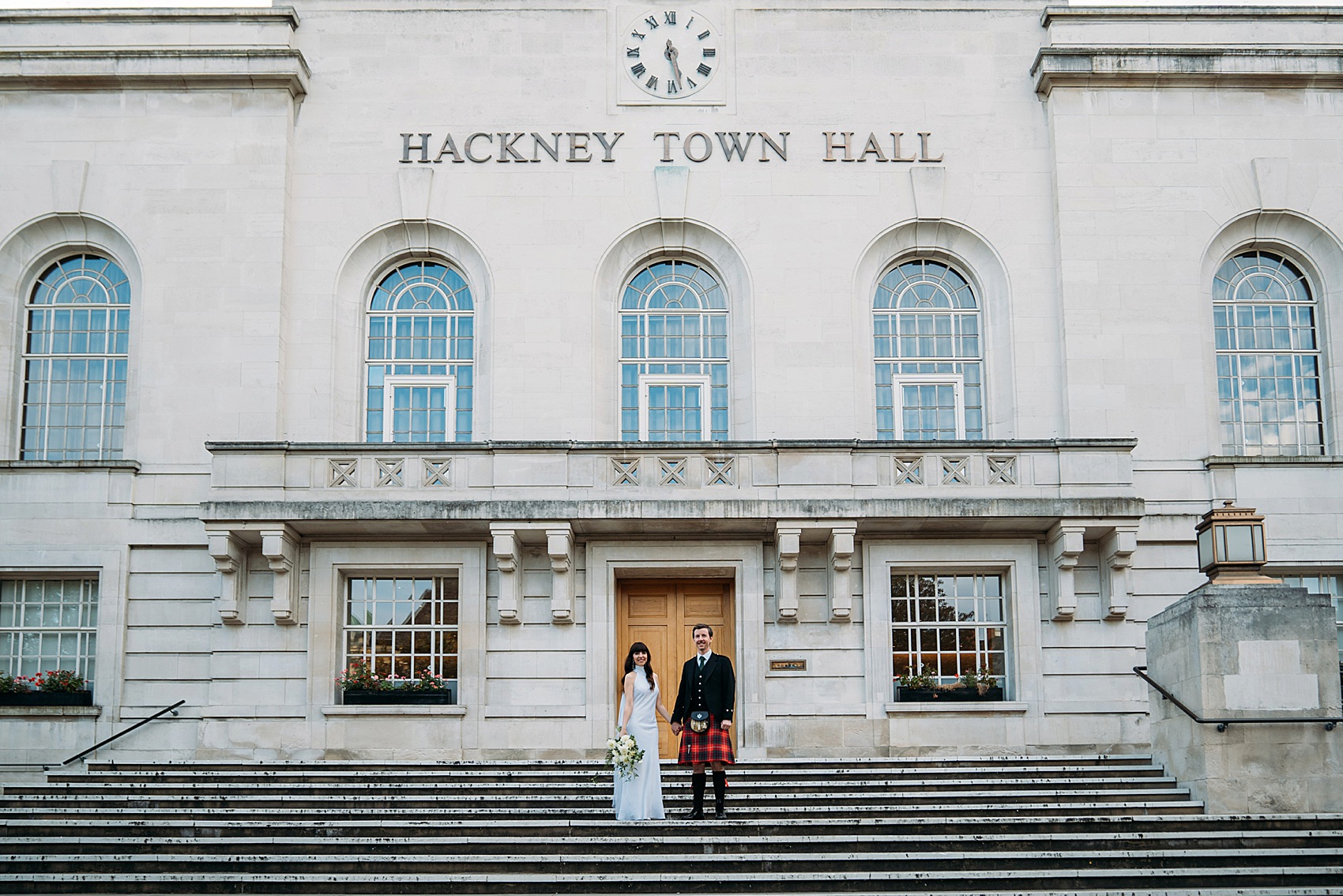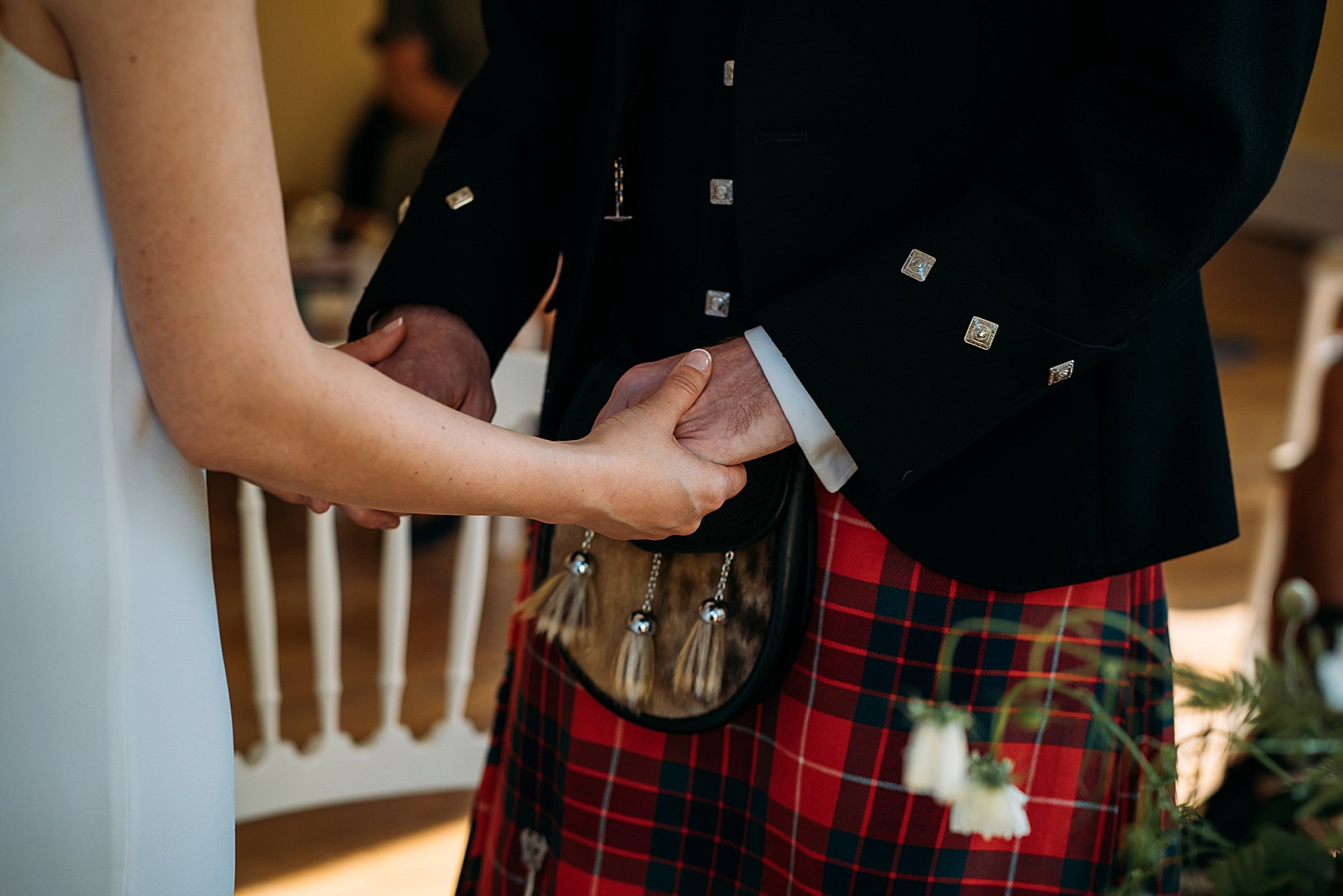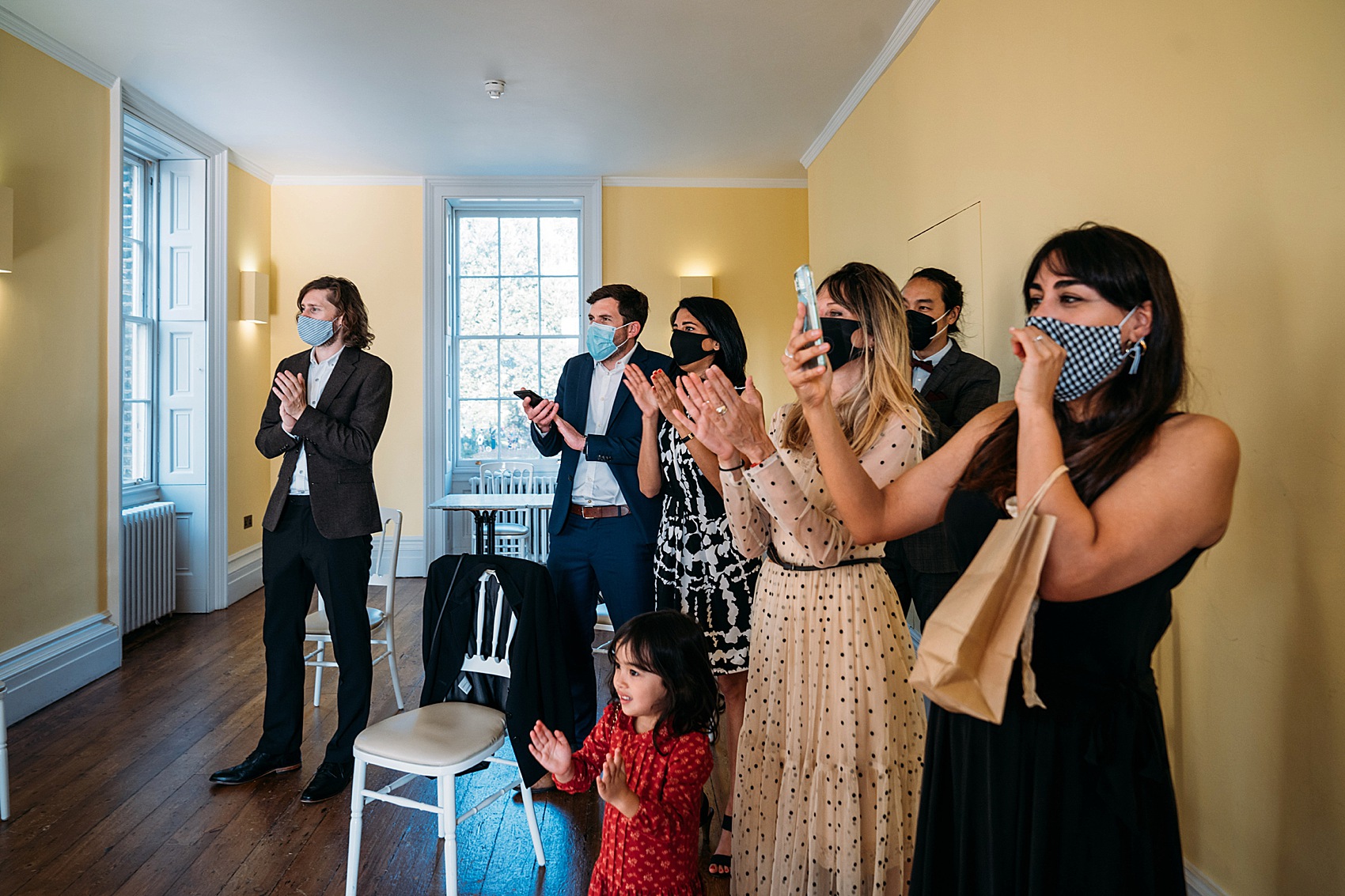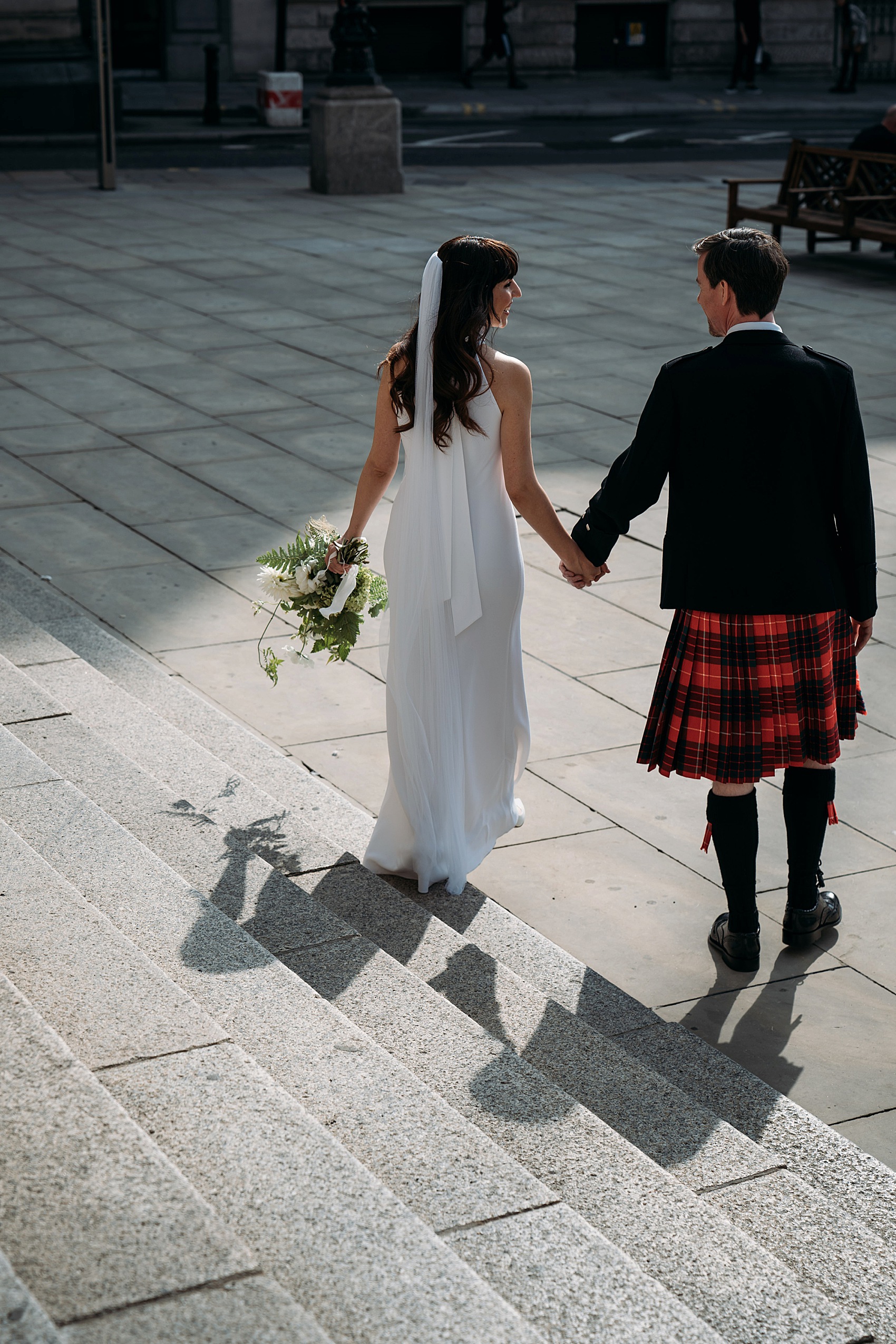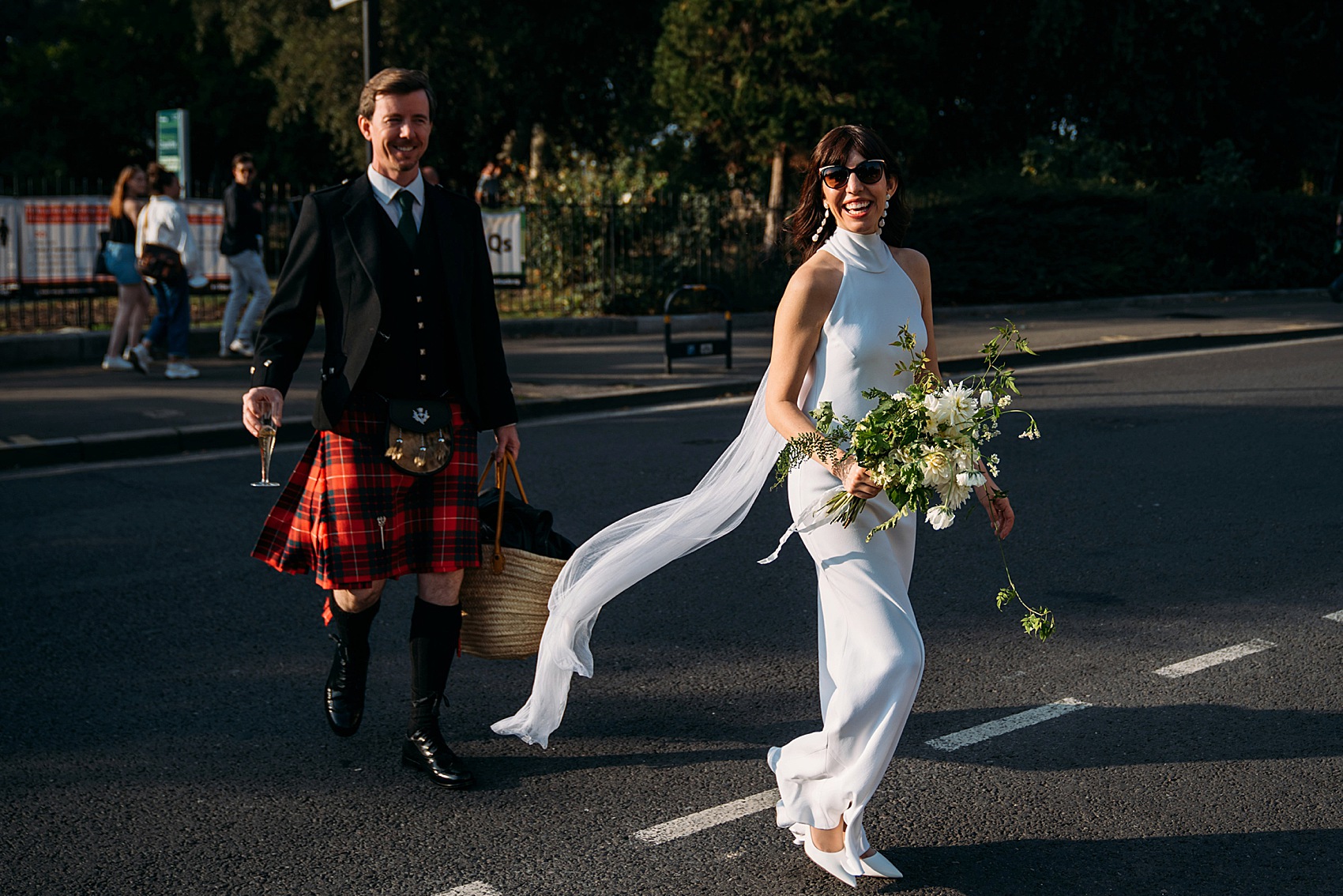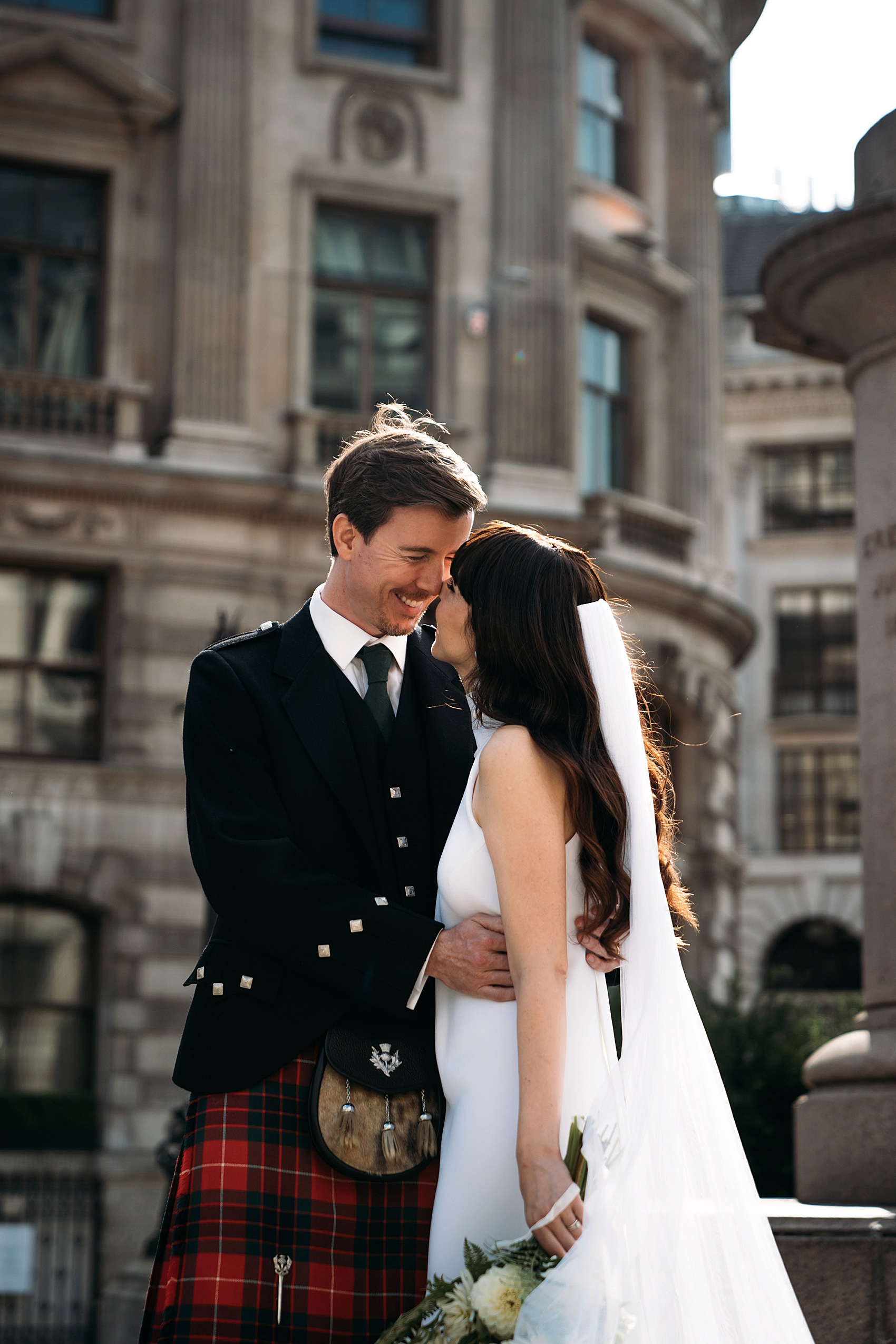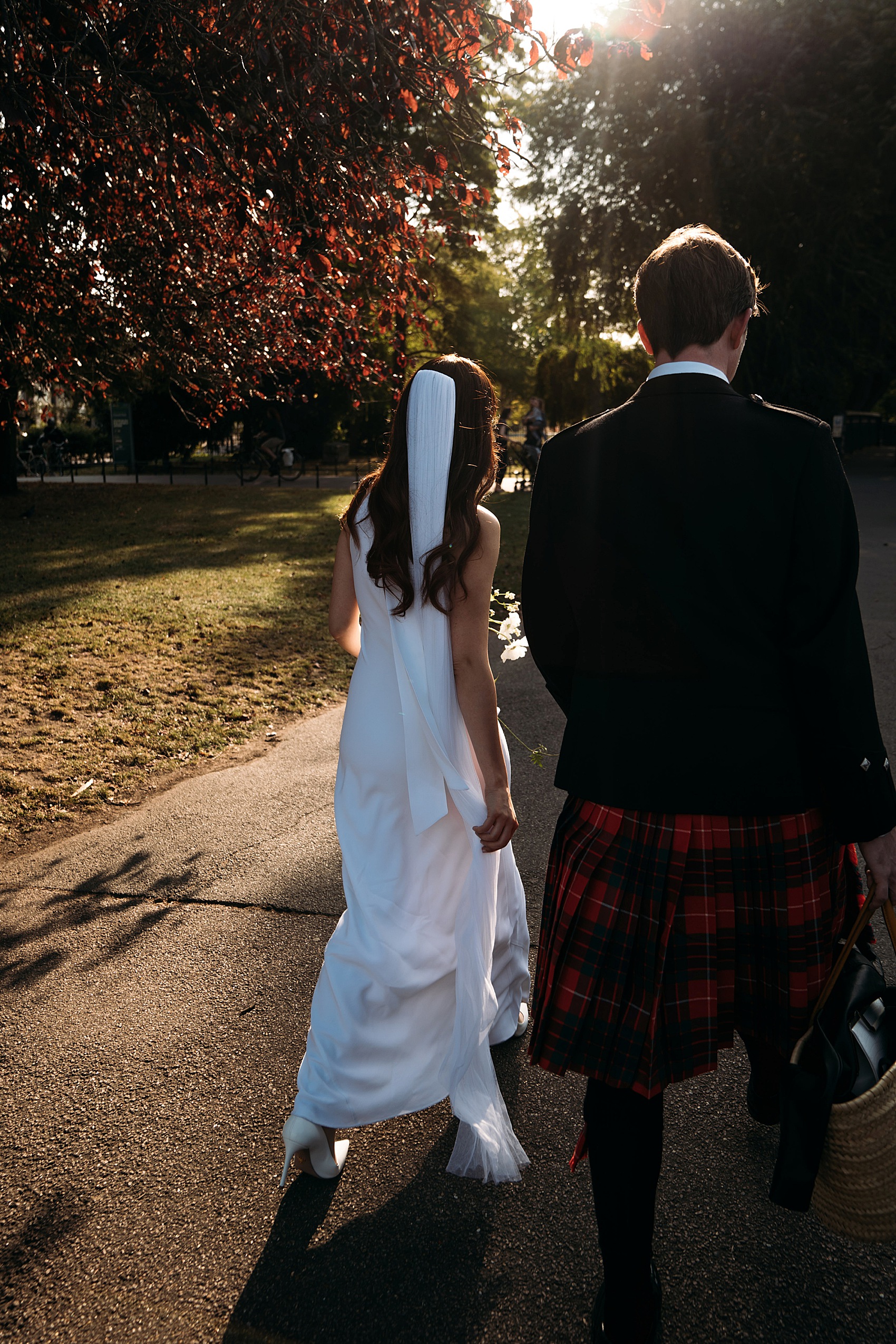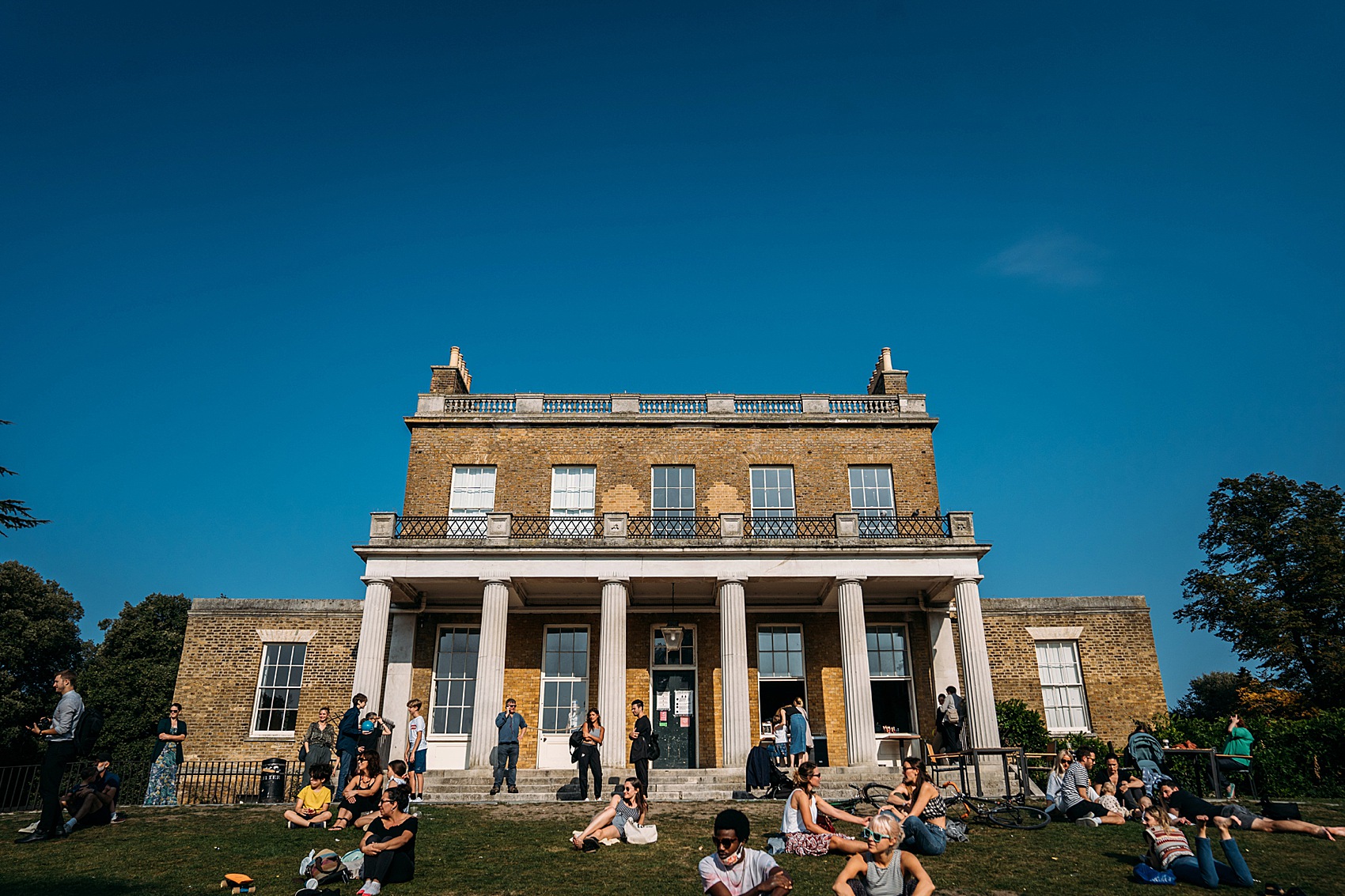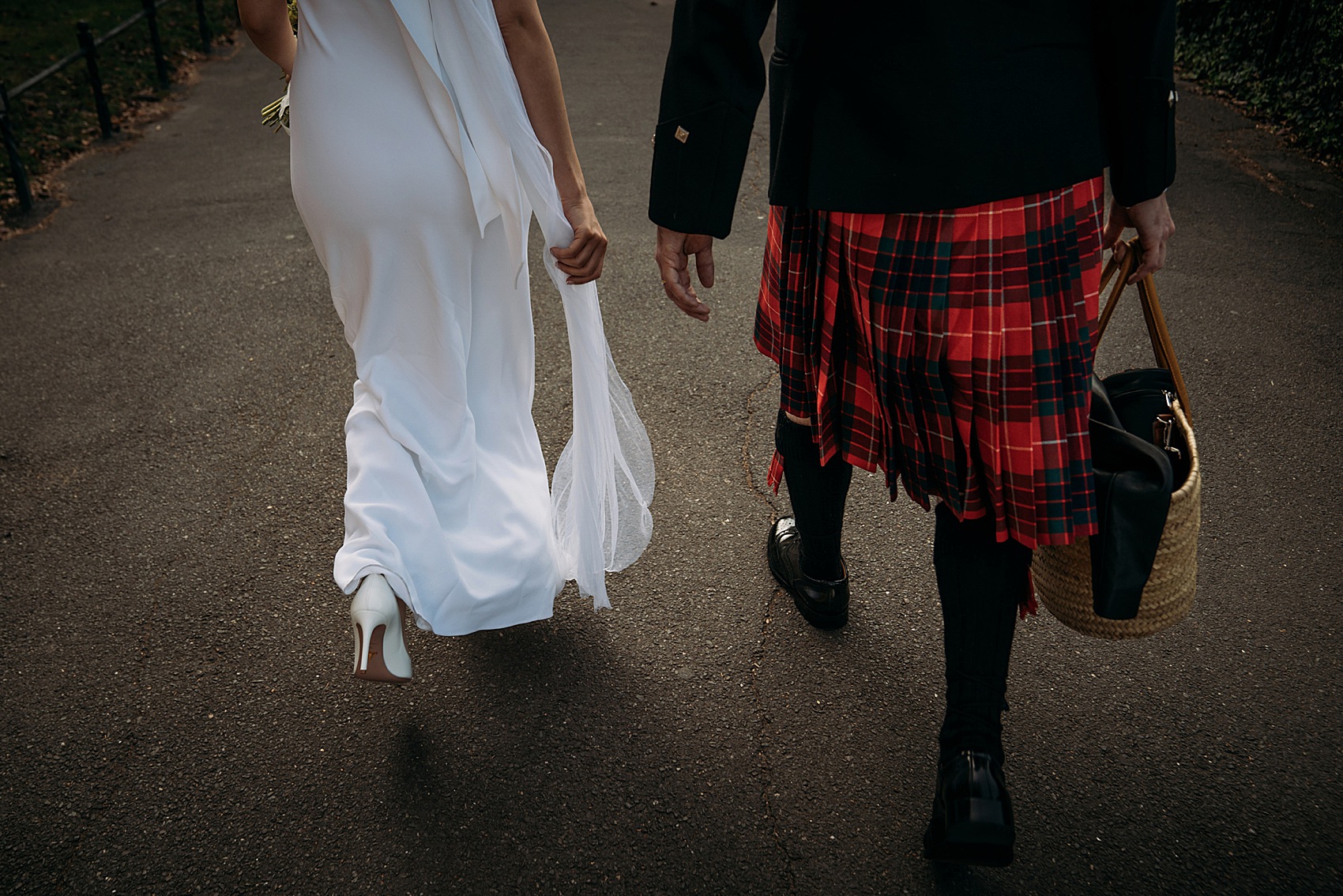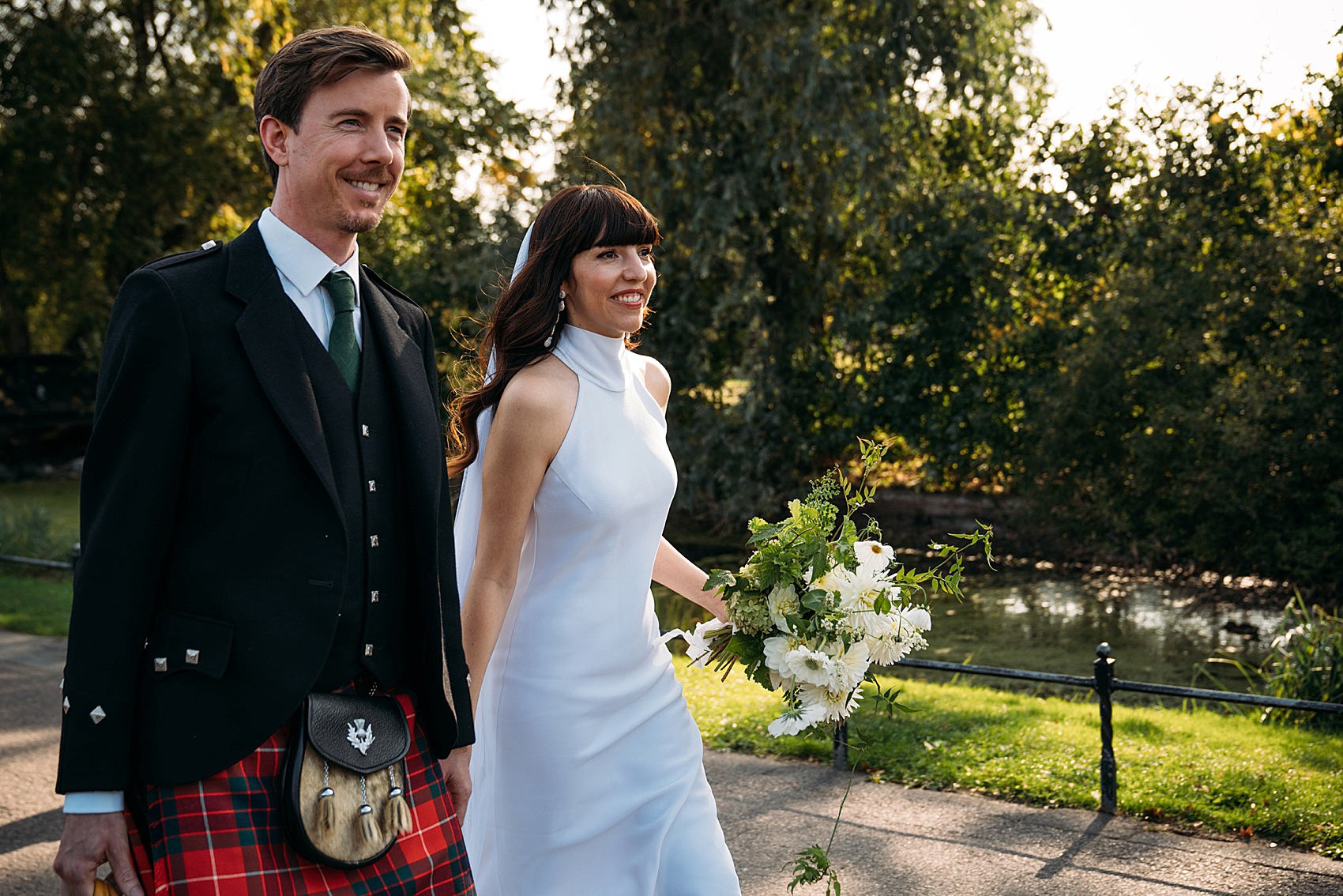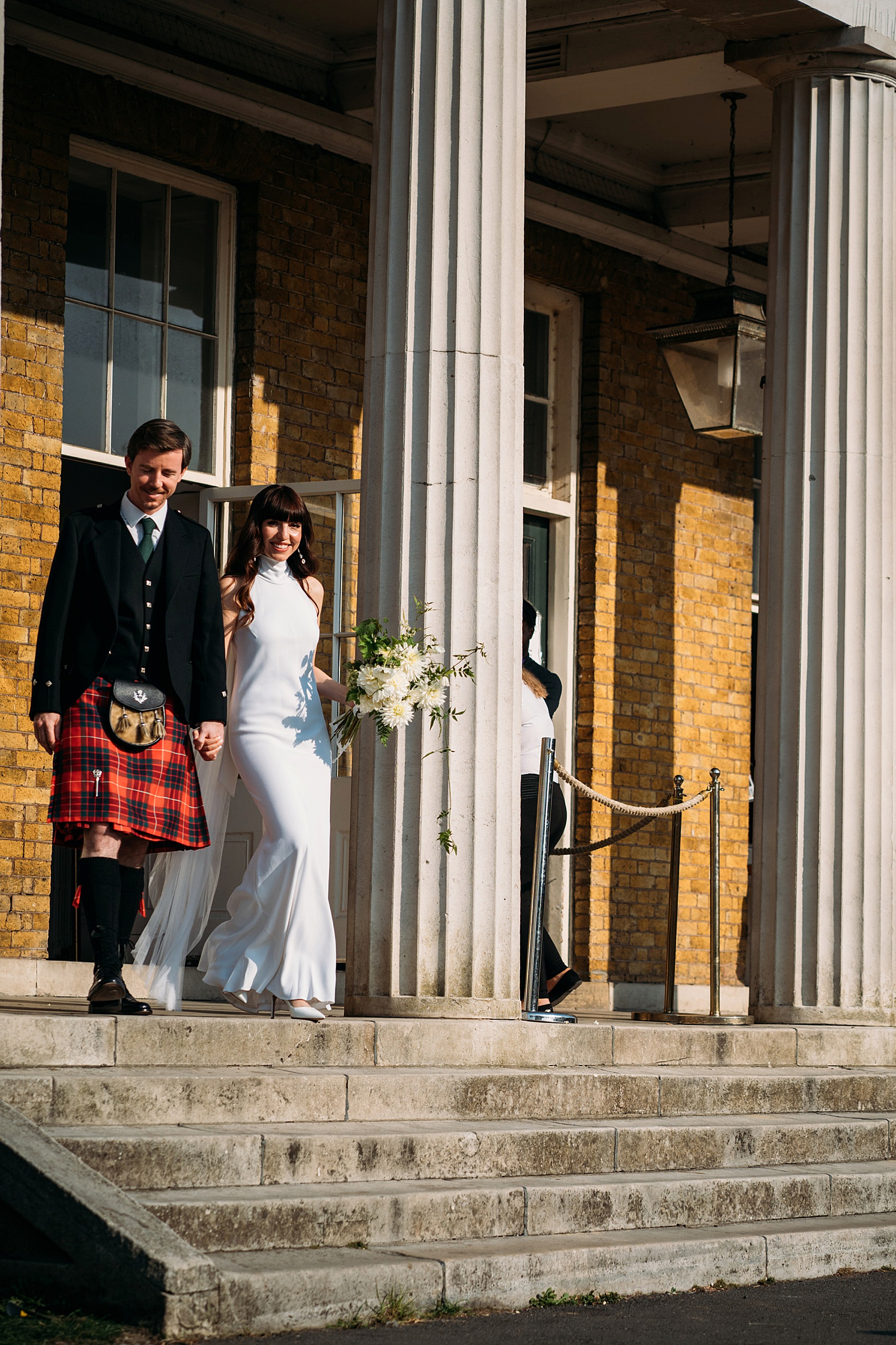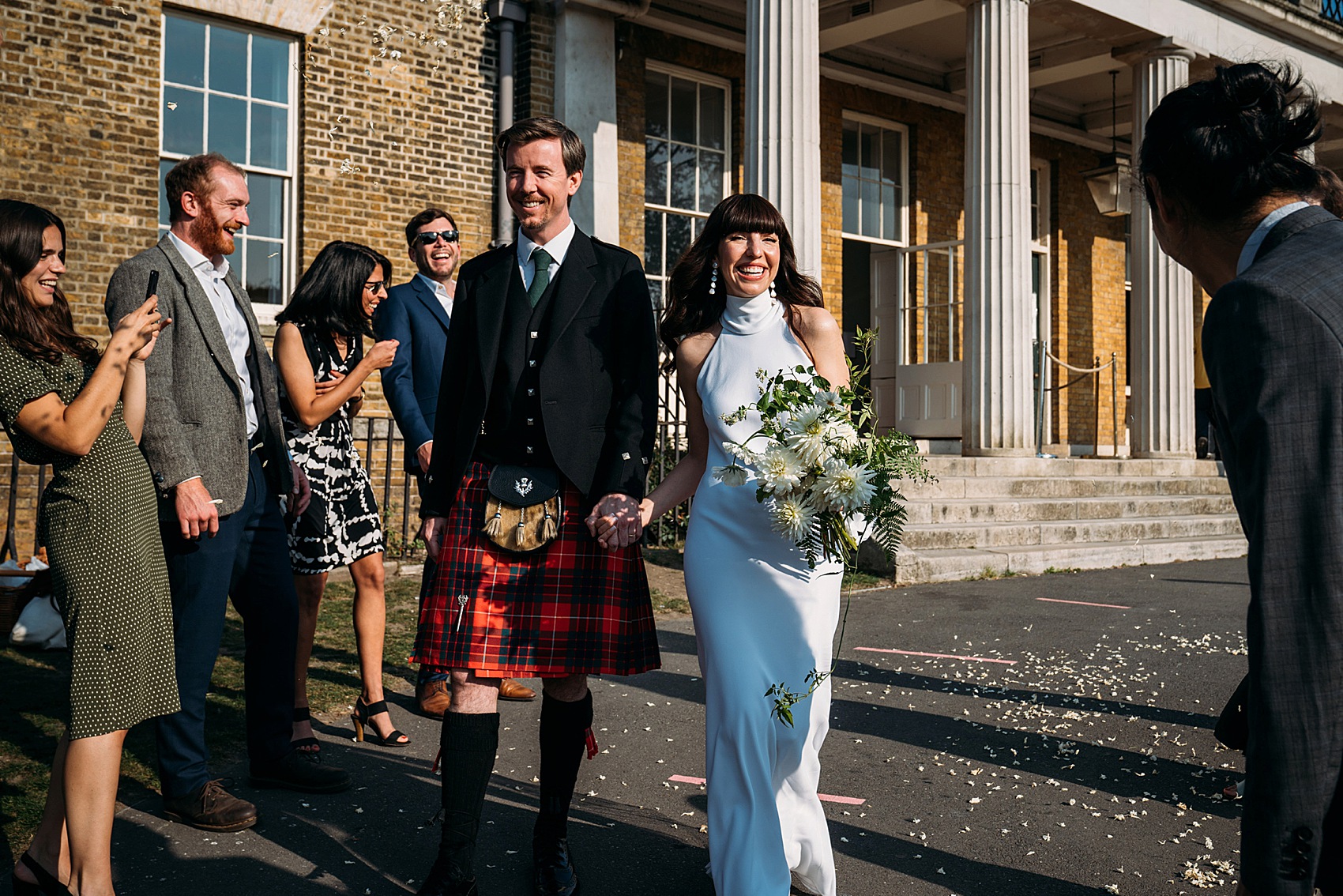 Waiting in Clissold Park were loved ones laden with hampers of champagne, and inside the venue, Sol walked down the aisle to the song Open by Rhye.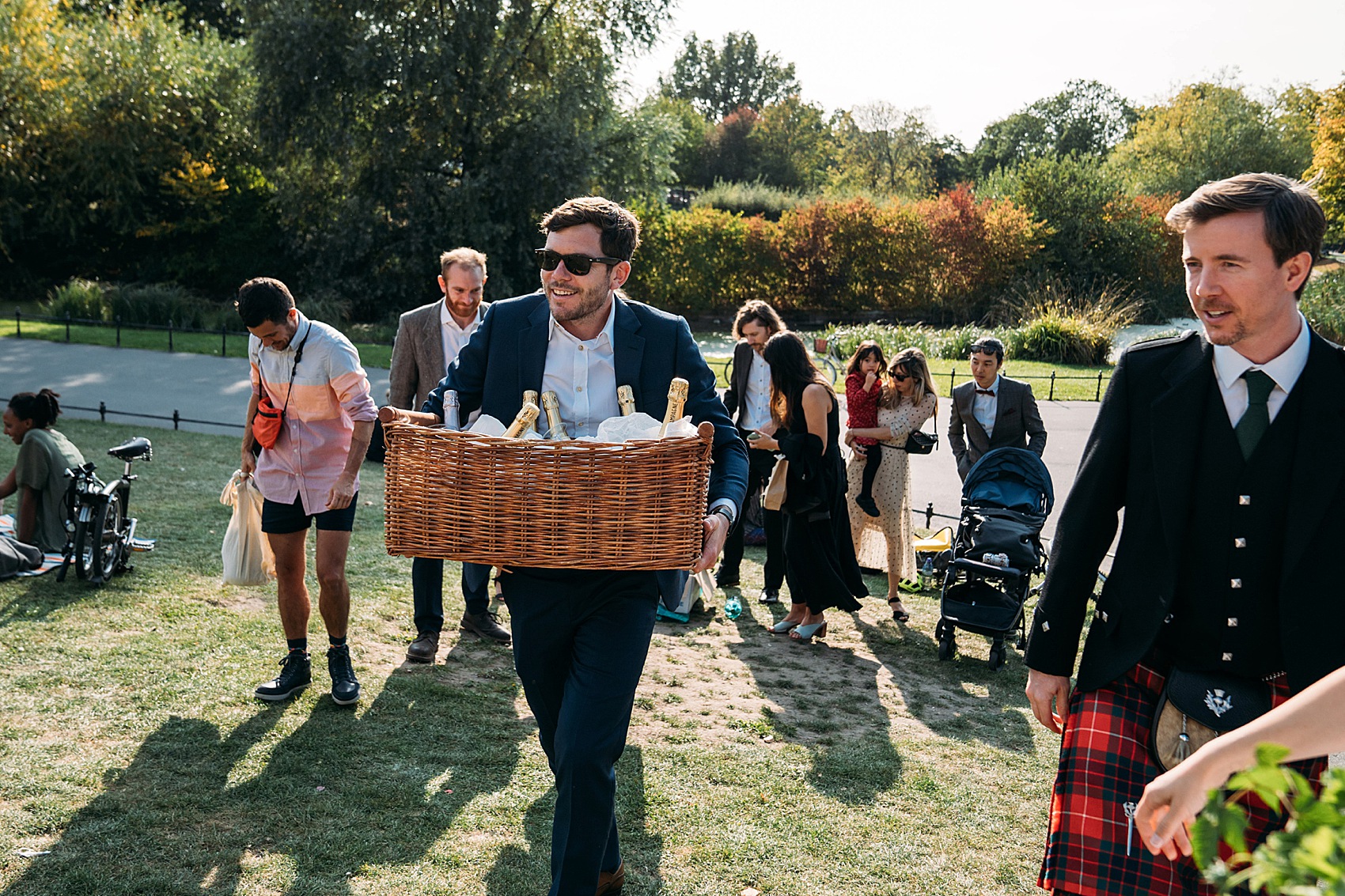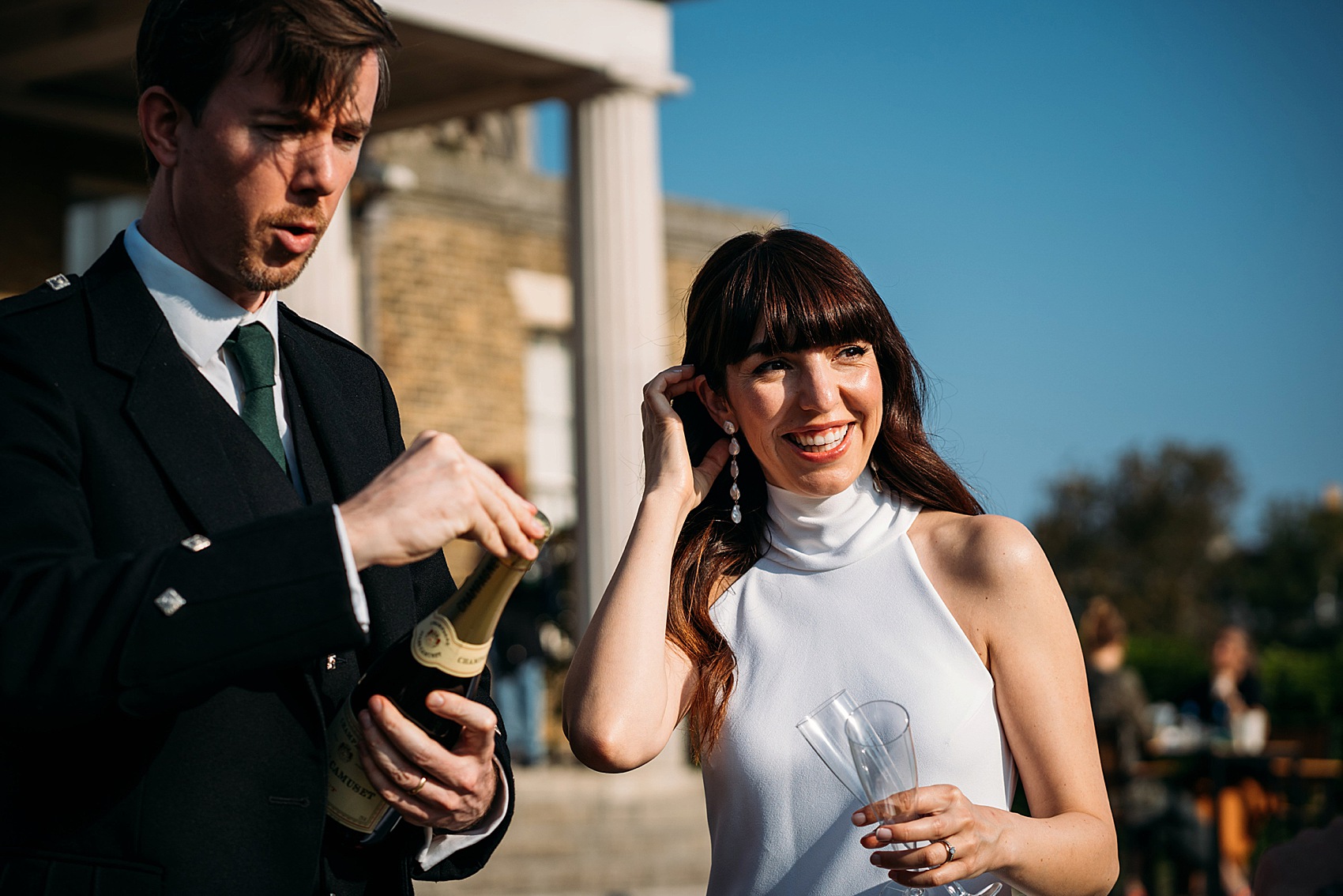 "We met online on 2014, and after 5 years together James proposed in Japan in April 2019. As a couple with families in Chile and Scotland, we decided to have a celebration in each country to make it as sustainable as possible and minimise international travelling across the world."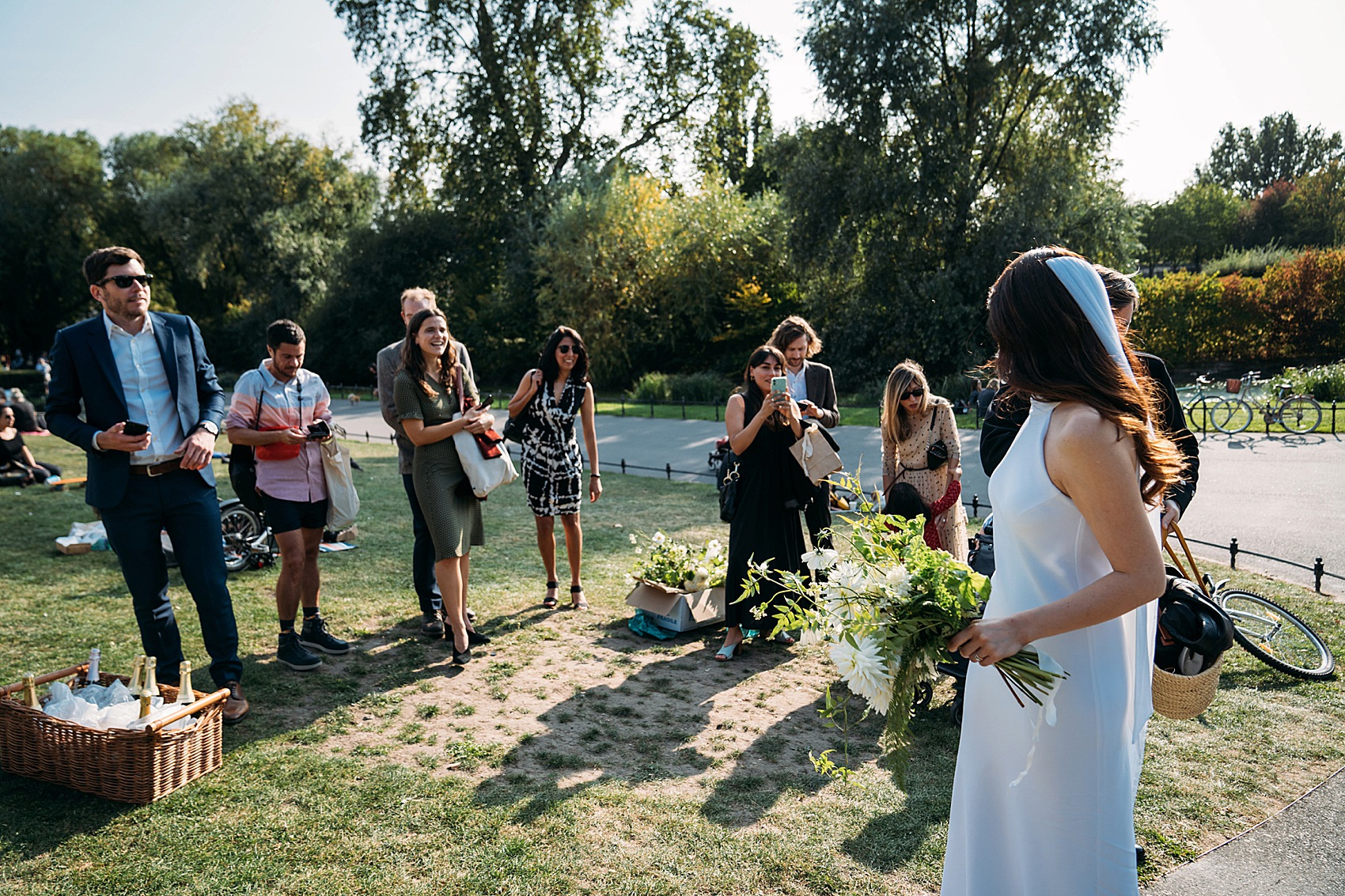 "After 9 months engaged we had a wedding party in January 2020 at my house in Chile with friends and family, and our plan was to do the same in London with James' family and friends, but due to the lockdown we had to downscale the celebration to a micro wedding with 10 of our friends."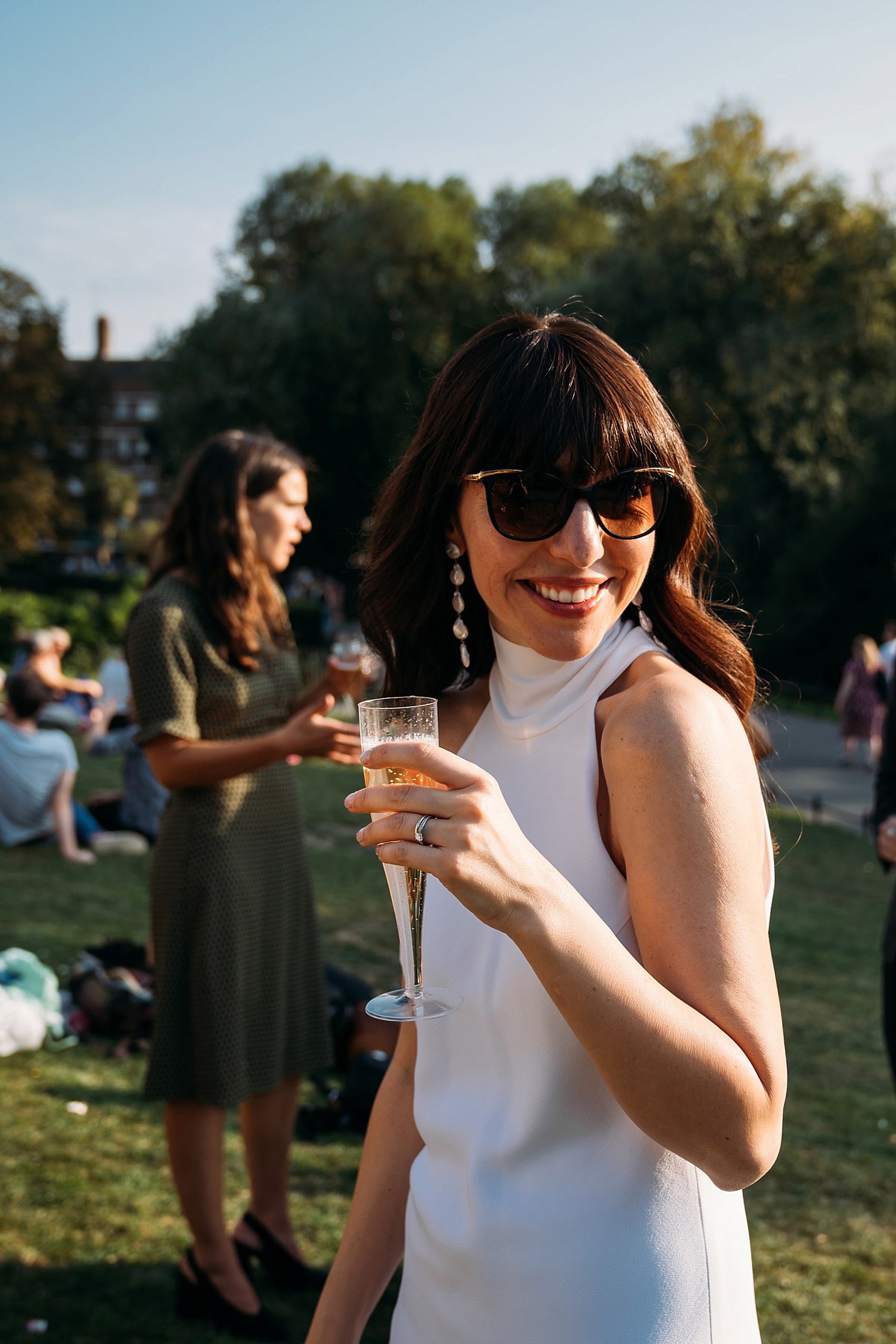 Sol and James' ceremony was conducted by registrars from Hackney Council, and as they made their vows to each other, they also exchanged rings, which were simple, matching gold bands from H. Samuel.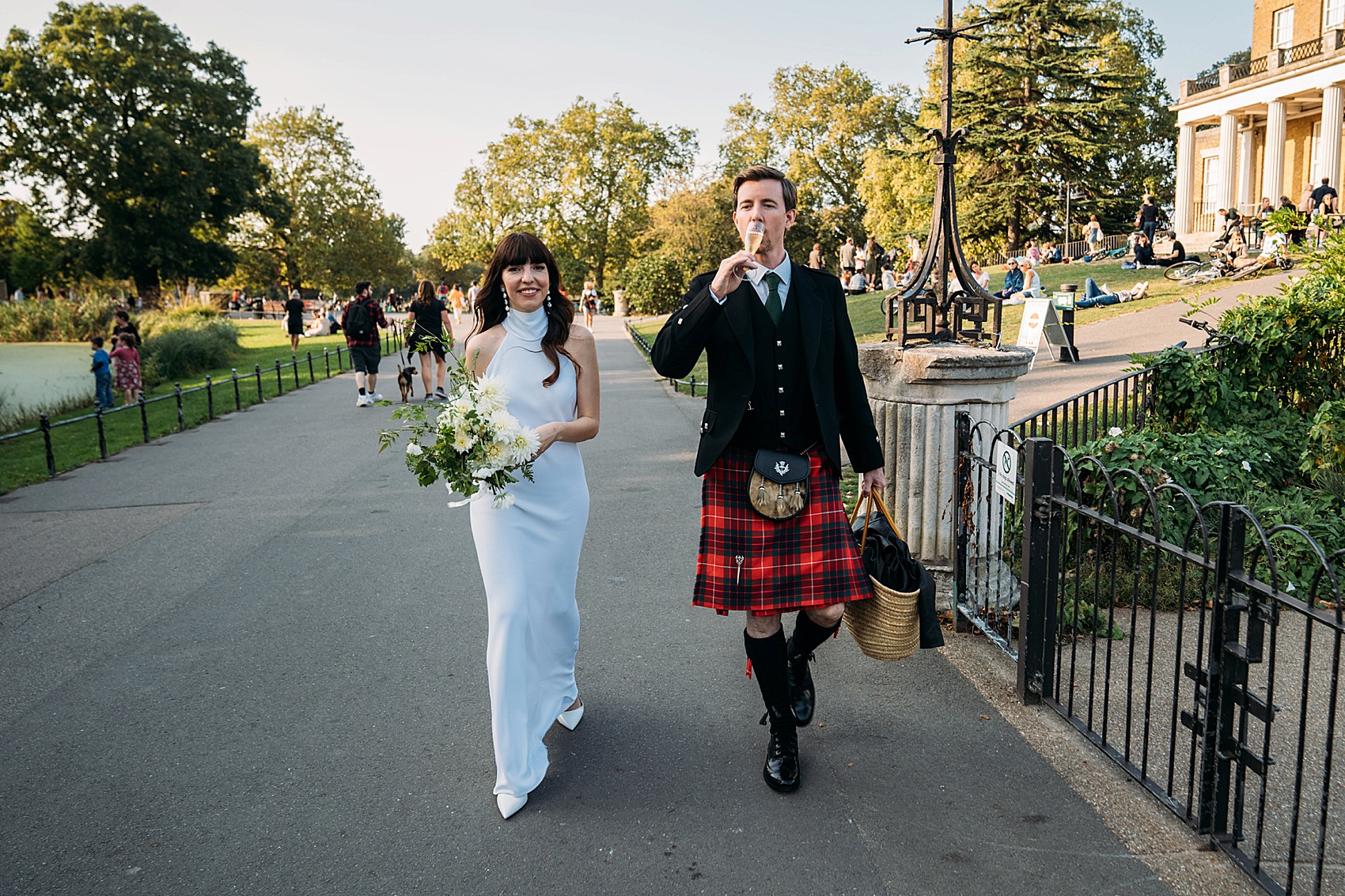 "My favourite part of the day was when the registrar declared us husband and wife. After all the changes and problems due to the pandemic, it was a huge relief to achieve our micro wedding."
Outside in the sunshine, Sol and James were greeted with congratulations from loved ones, and the champagne was opened to toast their marriage and their love.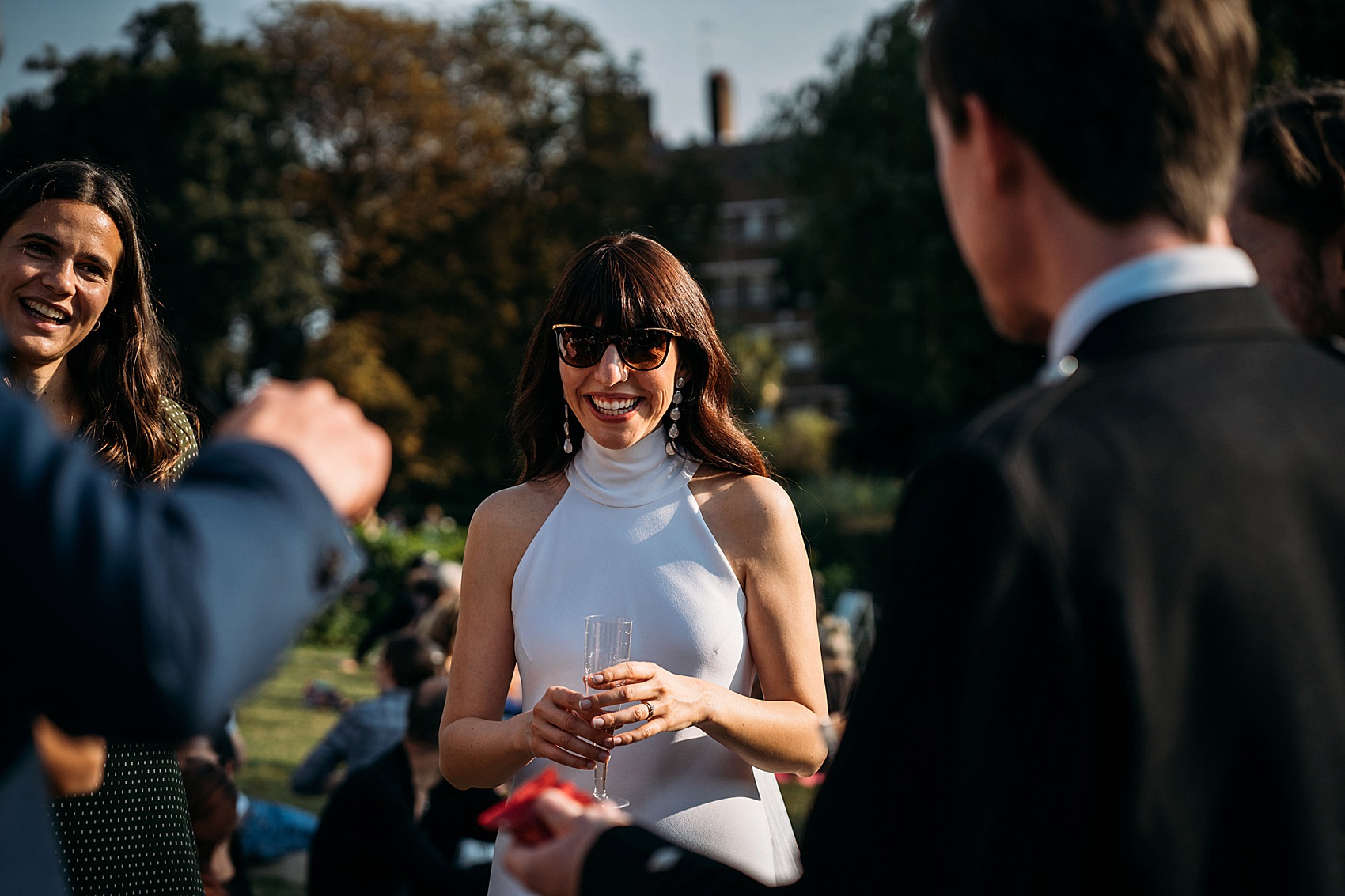 Words of Wedded Wisdom
"If I knew everything that was going to happen in the run up to our wedding, including the Chilean uprising and a global pandemic, I would have gone for a very small city hall wedding with my closest friends and family followed up with a party on a later date when it was safe to do so."
"I underestimated the amount of work it is to organise a wedding, no matter how small! So my recommendation is to do it as simply as possible, follow what you like, and try to ask for the least number of opinions as possible. If family are involved, let go of some things since it is a day for them as well, but make sure to keep some things that are important for you – and don't budge."
"The best advice I was given was to take it all in as the day goes fast. Don't focus too much on what goes wrong as you will forget it. Make sure to make time to take the pictures you want, and to inform your photographer accordingly."
"Our micro wedding was a very special day, and even though we missed family and friends, we feel very lucky we were able to get married in the middle of a pandemic. I think it is a great option with everything that is going on."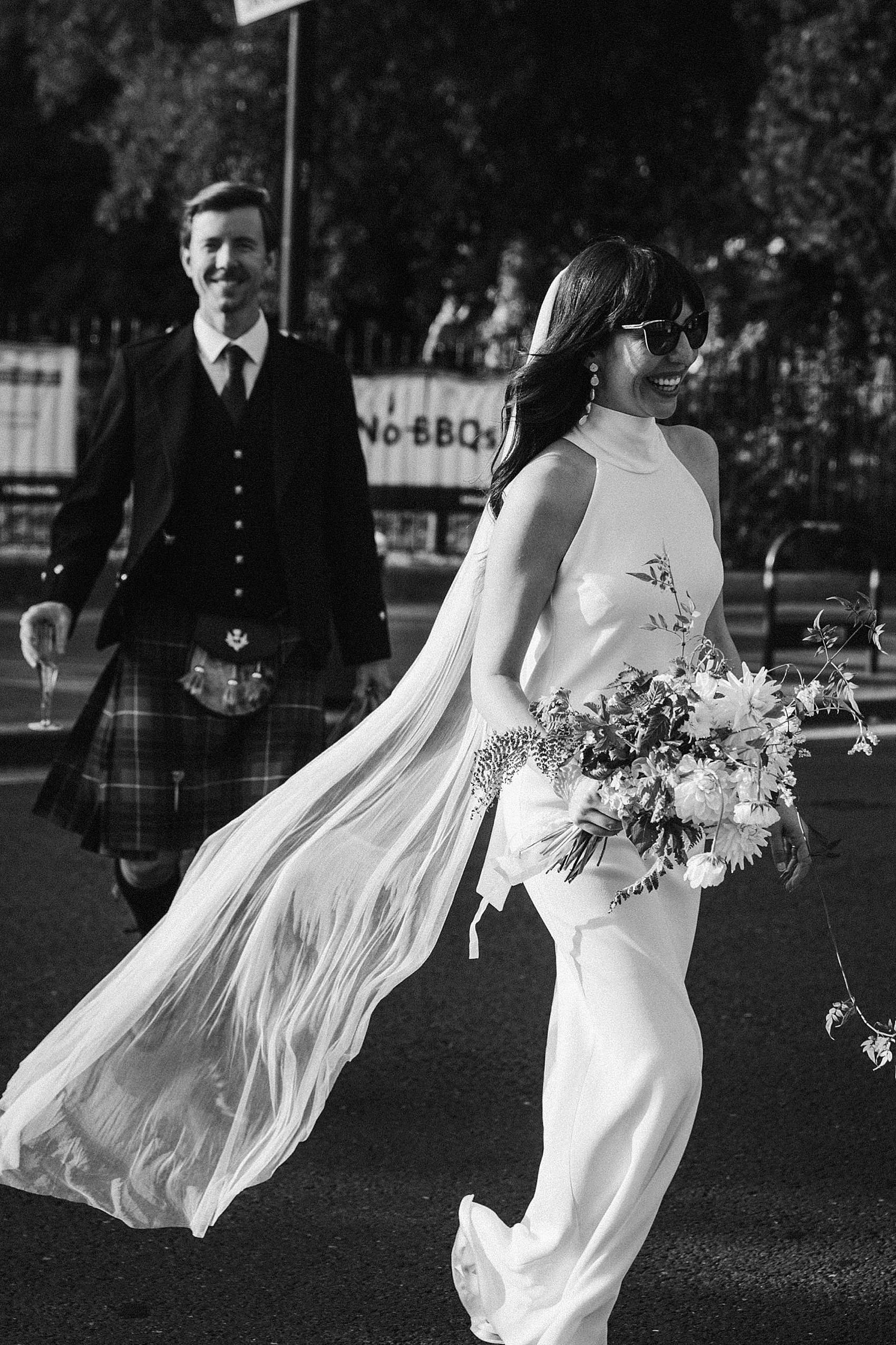 Sol and James, many congratulations and best wishes to you both, and thank you for inspiring and reassuring other couples with your words. Many thanks to Joanna Bongard for these beautiful, elegant images, too.
With love,
Laura