Nicole and Jamie's delightful English countryside wedding was held on 8th July this year in Newtimber in Hassocks, West Sussex.
The couple who are based in Australia, were eager to marry in England in honour of the groom's parents – their venue, Newtimber Place, is owned by Jamie's mum's side of the family – and his parents also got married in the same church.
Nicole embraced her love of modern and contemporary style and chose to wear a top and skirt by Australian bridal designer, Prea James, whilst he maids looked incredible in Oscar De La Renta, Aje and Shona Joy.
This delightful day was captured to perfection by our friend and Derbyshire based wedding photographer, Luis Calow, whose images it's always a huge pleasure to share on Love My Dress. Enjoy!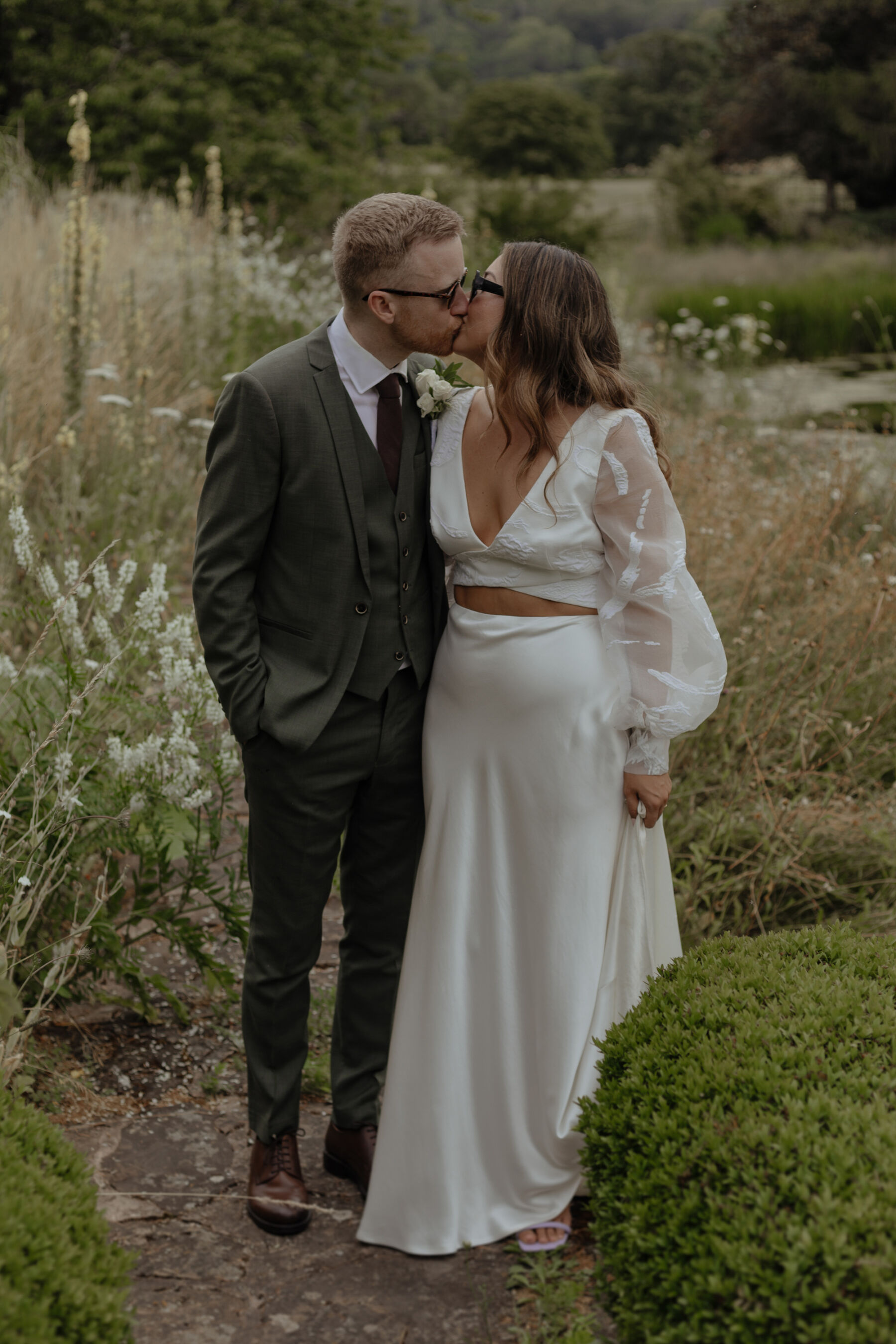 I'm Australian and Jamie is English but we live in Australia. We wanted to get married in England since we live in Australia so it only seemed fair to be close to Jamie's family for the wedding since we live so far away.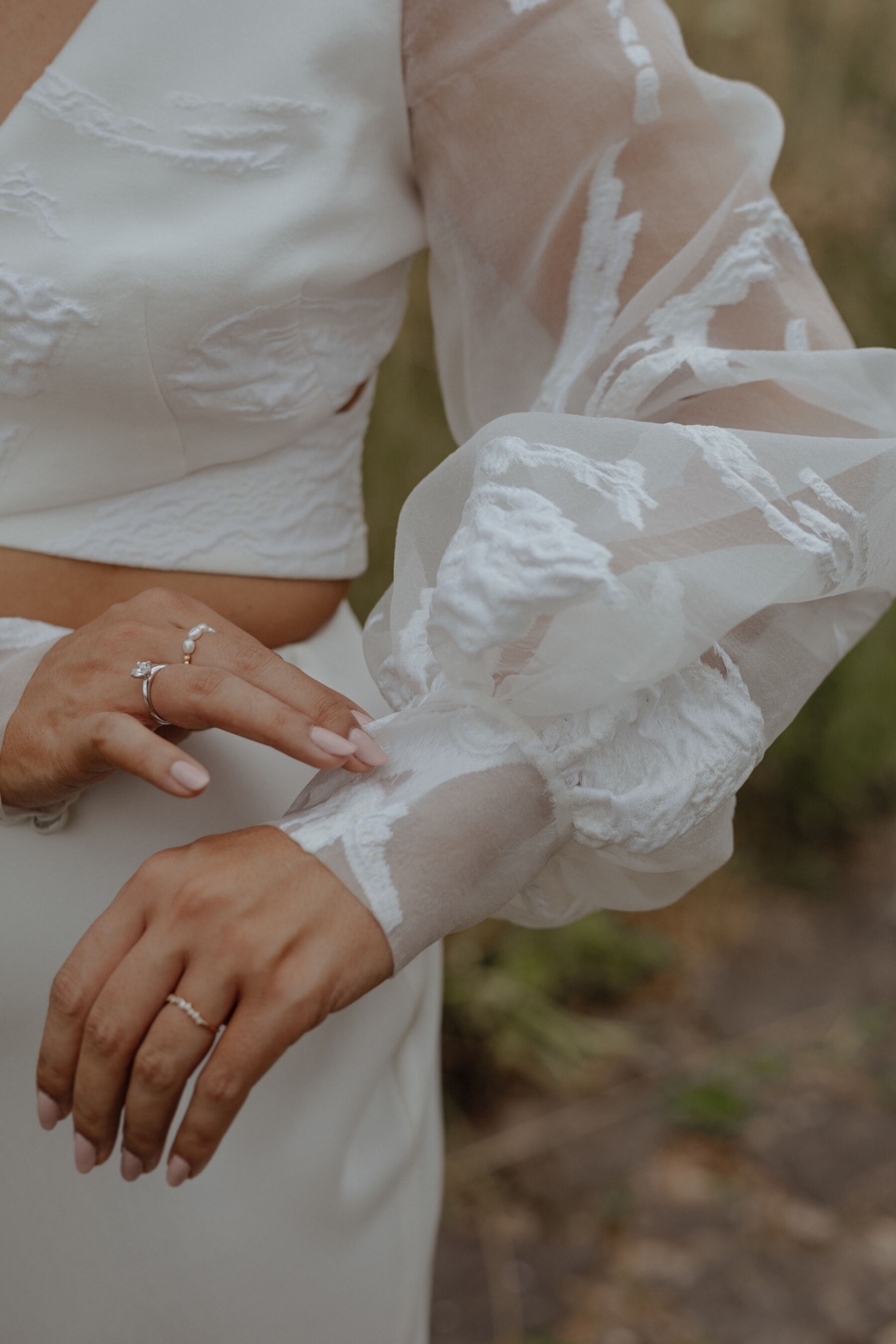 Prea James
---
My hair and make-up artist was Ellie Nightingale. She was so lovely and professional. Because I live in Australia, I had to have my trial a year before my wedding when I was visiting the UK and she was super accommodating to that.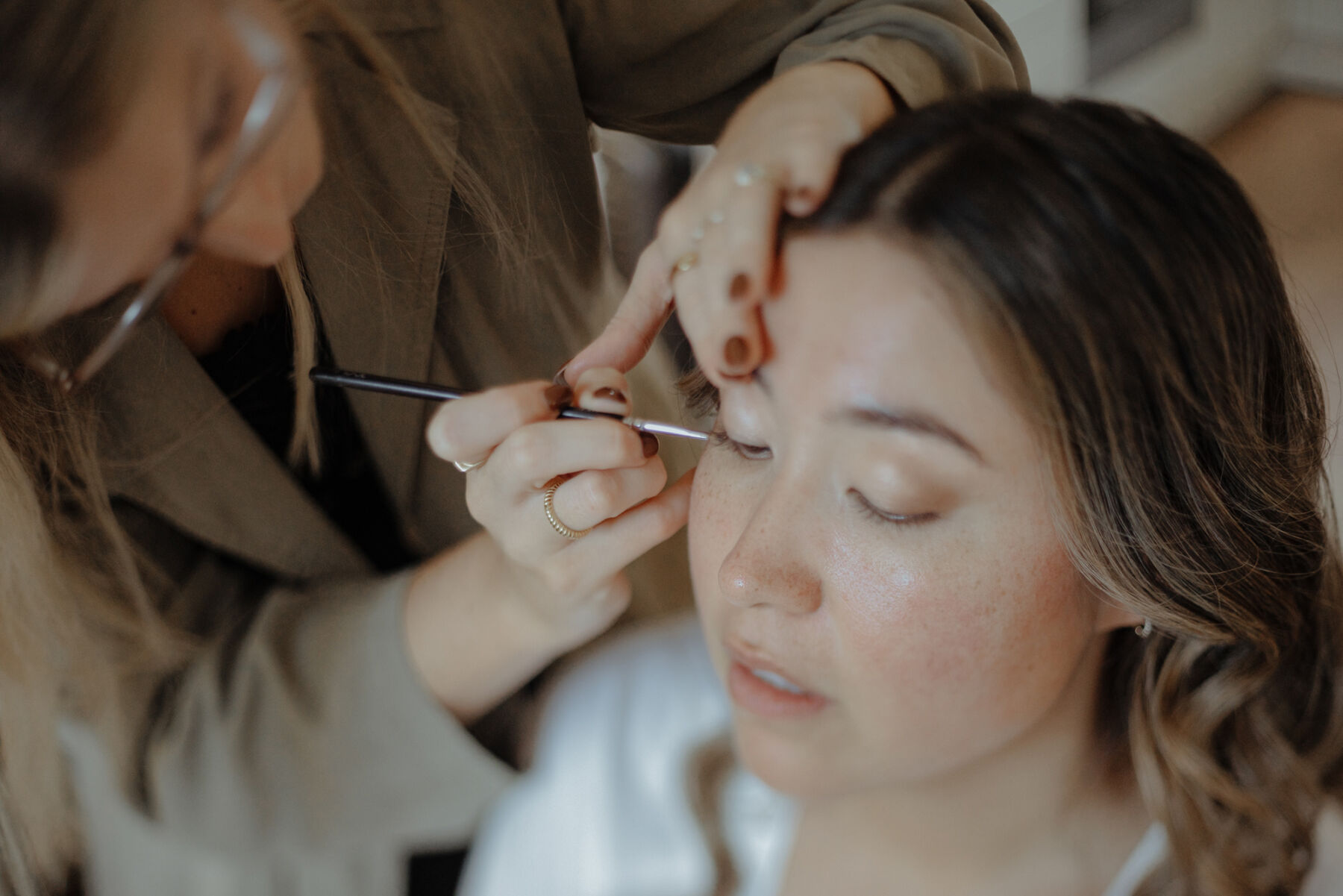 My wedding top & skirt was from Prea James Bridal, an Australian bridal designer – and I bought my wedding outfit from the Prea James Bridal store in Paddington, Sydney, Australia. It is such a beautiful store and everyone who worked there was so helpful and made you feel special. It's a small boutique store so it didn't feel too overwhelming and felt very intimate. I told them that if I ever have a second wedding, I'll definitely go back there!
I was never drawn to wedding dresses that were more traditional. Everything almost felt too "bridal" for me, which I know is a bit odd because I was there as a bride! But I loved Prea James's dresses and outfits because they felt like fashion first, then bridal.
My outfit didn't sway too far from a wedding dress but still felt more like a fashion statement and felt unique and modern. I also love structure and sleeves in my day to day outfits and so I felt as though this top was something I would wear outside of a wedding.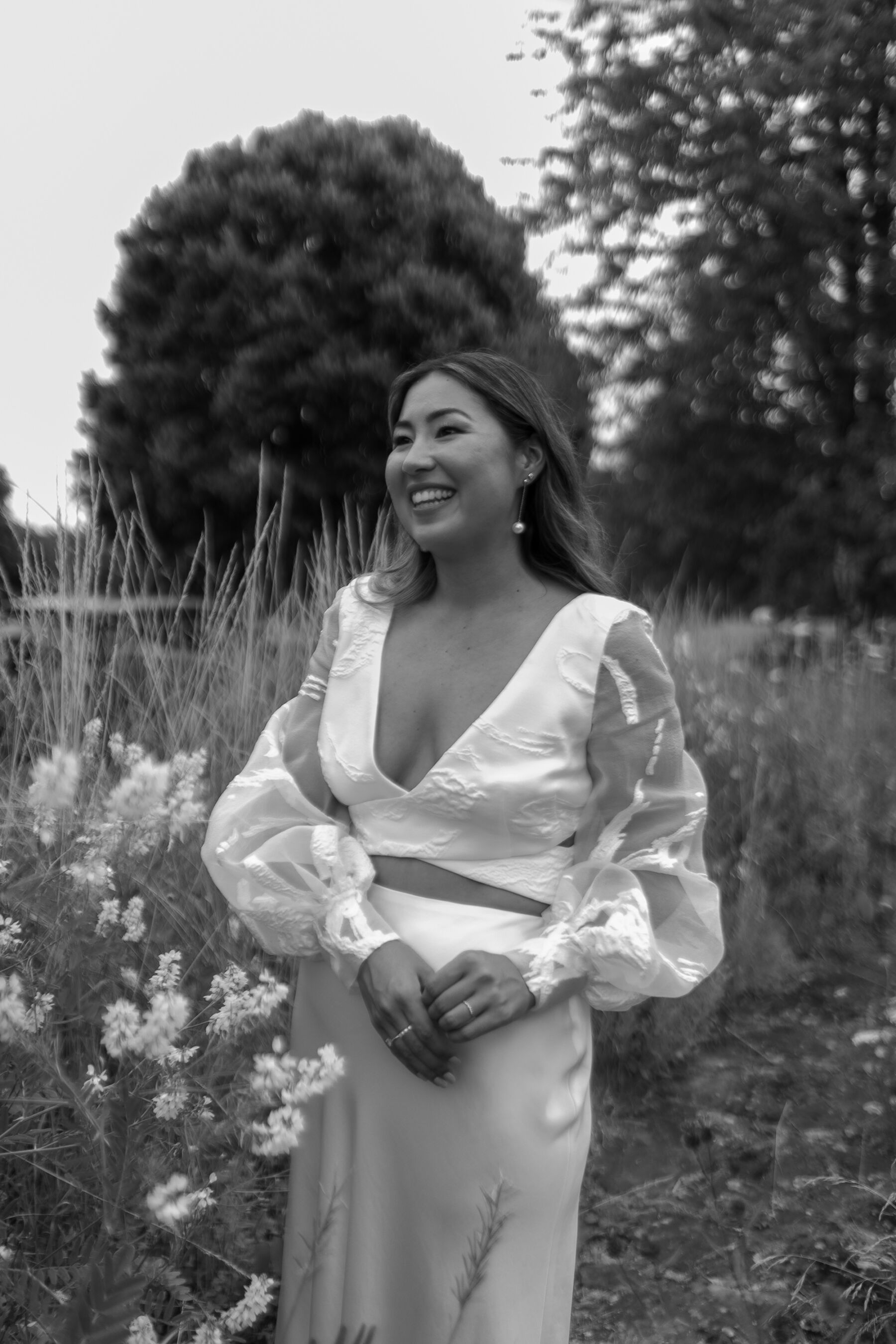 I didn't wear a veil – I loved the sleeves of my dress so much and I thought the veil took away from the sleeves. I also put a veil on and thought it looked too much on me!
My perfume was Lipstick Rose by Frederic Malle. My maid of honour, James, loves perfumes and knows so much about it. So I just trusted to him to spray me with the best scent for the day.
I wore these stunning drop pearl earrings by Anissa Kermiche that my maid of honour, James, bought me as a wedding gift. They really added to the elegance of the whole outfit. I also wore diamond studded earrings that my mother-in-law gifted me. They are really special as they were made from the diamond of her mother's engagement ring (my husband's grandmother). It was so special to be able to wear a family heirloom on the day.
Bridesmaids
My bridesmaids all wore different outfits because I wanted each of them to feel beautiful and love what they wore. It was really important to me that they were able to pick their own outfits. I gave them a colour scheme/gradient to tie it together (which was the same as my flowers) and I wanted them to wear summery flowy pieces. They wore outfits ranging from many different designers, like Oscar De La Renta, Aje and Shona Joy.
My gift to my bridesmaids were these beautiful rings from Bixby & Co, a female founded Australian brand, so we all wore these on the day. They were the Akoya Rings, where half of the ring are lines of pearls and the other half a wavy gold.
I have three beautiful nieces and they were all my flower girls. They wore dresses/rompers from Marlow and Mae and wore flower crowns from Aubrie.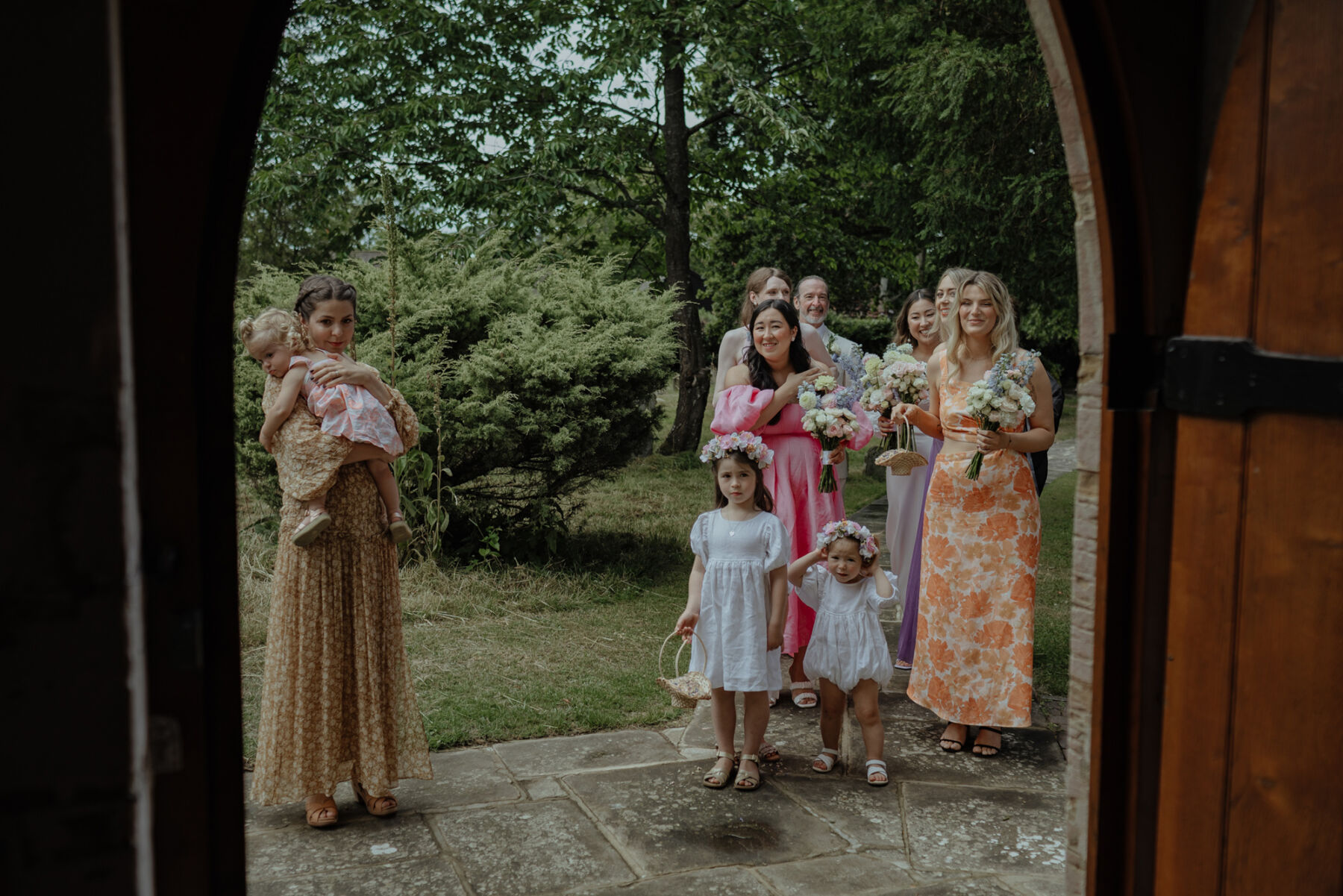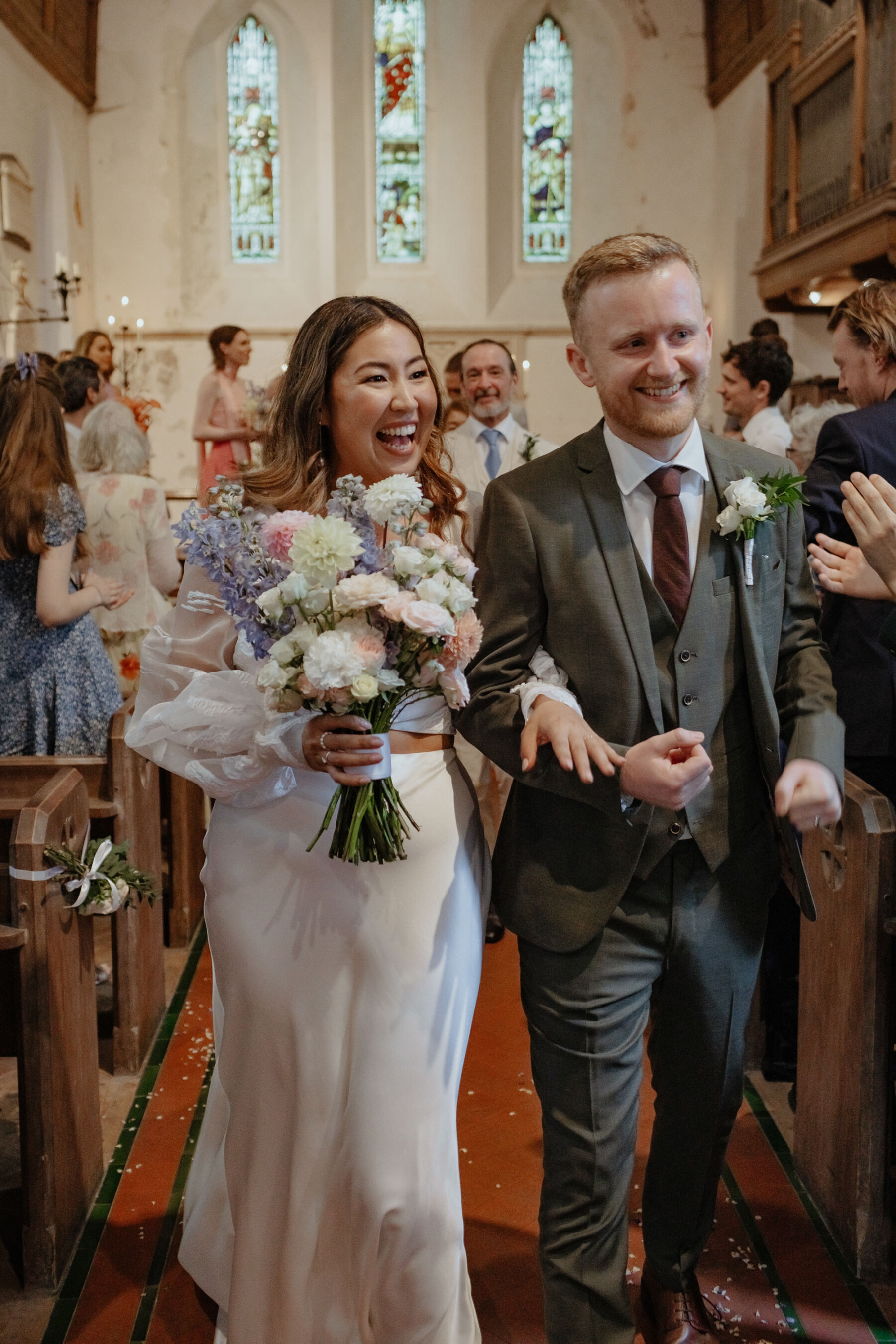 The Ceremony
---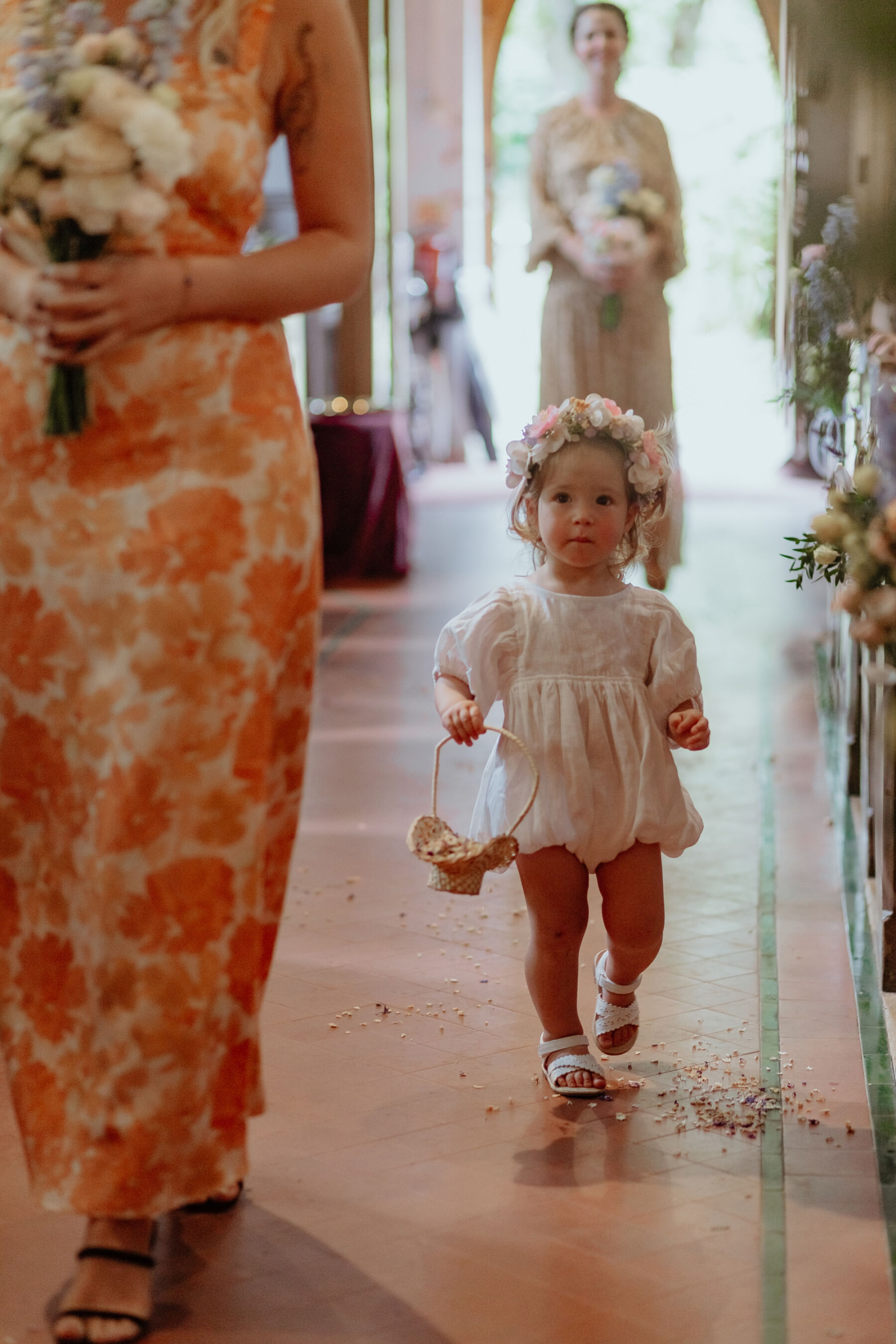 I had both my mum and dad walk me down the aisle. My mum raised me just as much as my dad (if not, more) so it was really important to me for her to walk with me as well. My mother is Japanese, so she wore a traditional kimono, a version that is special to weddings, to the ceremony. It was so nice to have a piece of our culture shown at the ceremony.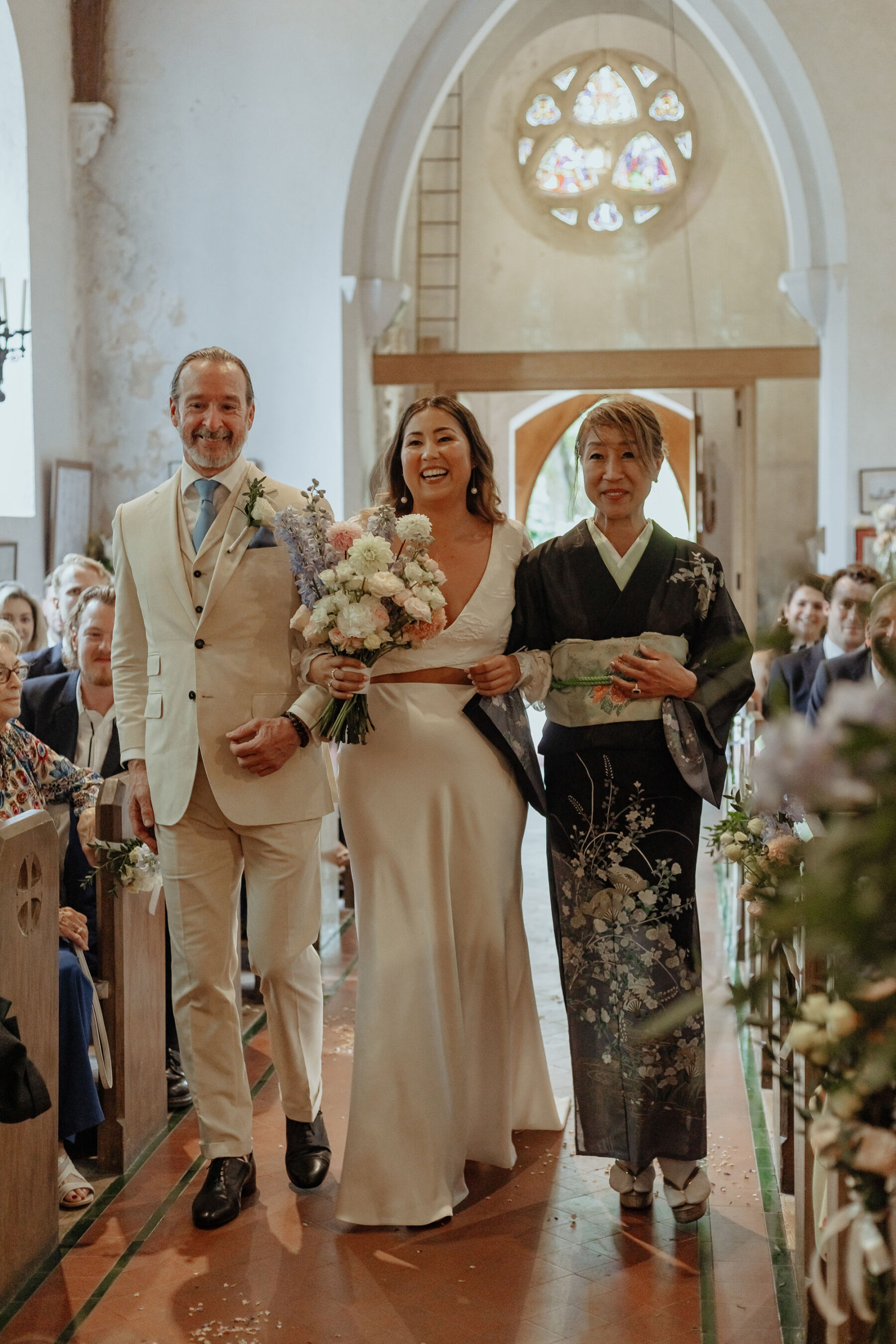 I walked down to 'This Guy's In Love With You', by Herb Albert. It's such a romantic song and I've been in love with it for so many years. Our good friend, Murray James, is a really talented musician and he performed it as I walked down the aisle. It was so special having one of our friends be a part of the moment.
Unfortunately, as we got married in the Church of England, we were not able to change our vows, though we really wanted to!
We purchased our rings from Sarah and Sebastian which are an Australian fine jewelry brand. I love how simple and delicate each of their pieces are and their rings look great stacked so I knew my wedding ring would match my engagement ring.
My wedding ring features an organic curved cluster of diamonds and it's so special because it feels unique and not like a typical wedding ring. They also have men's wedding rings so we purchased Jamie's ring from there too.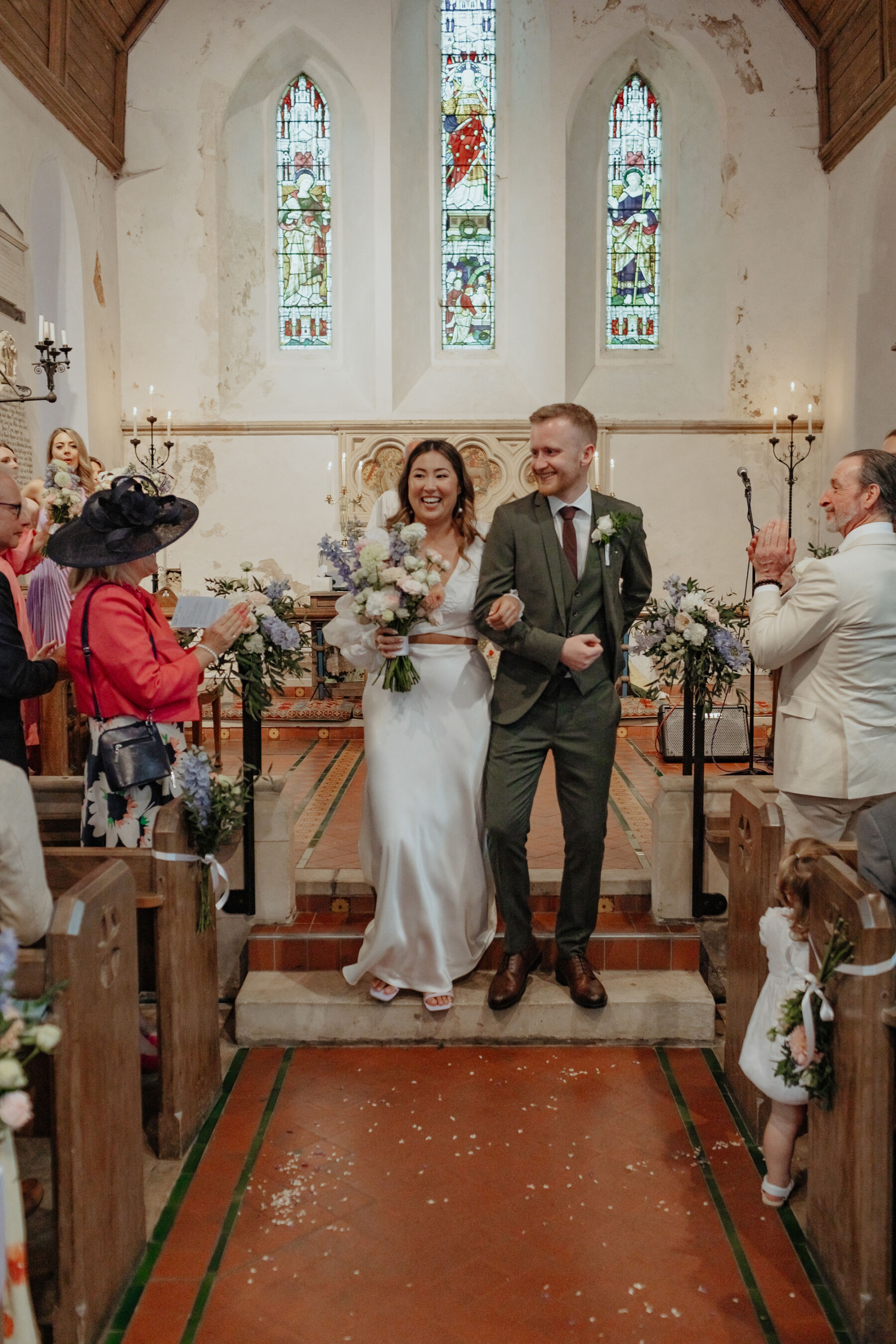 Photography
We had Luis Calow photograph our wedding and we're so glad we did! Jamie and I aren't camera shy but we're definitely not used to getting photos of ourselves taken and Lu made us feel so comfortable.
He was also constantly pumping us up about our wedding on the day, leading up to it and even afterwards! It made us feel really special.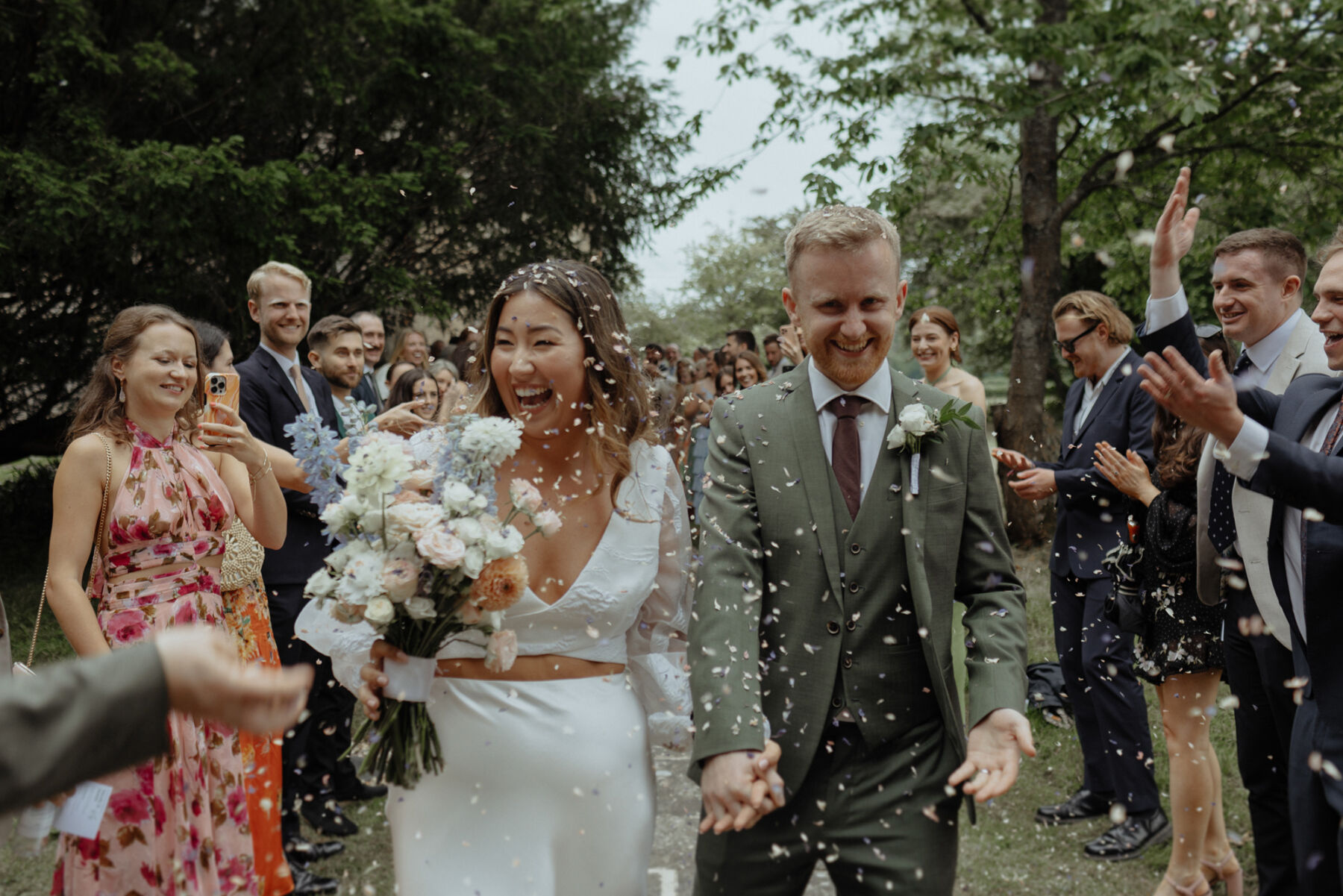 Jamie and I prefer more candid shots rather than staged and Lu really delivered there. We have so many photos of our friends' and families' (and our own) raw reactions and genuine smiles of the day and they are definitely my favourite photos.
Luis captured every bit of our wedding so effortlessly. I think everyone's comment after the wedding was, "Wow, your photographer was everywhere!". And that was really evident in the incredible photos we received.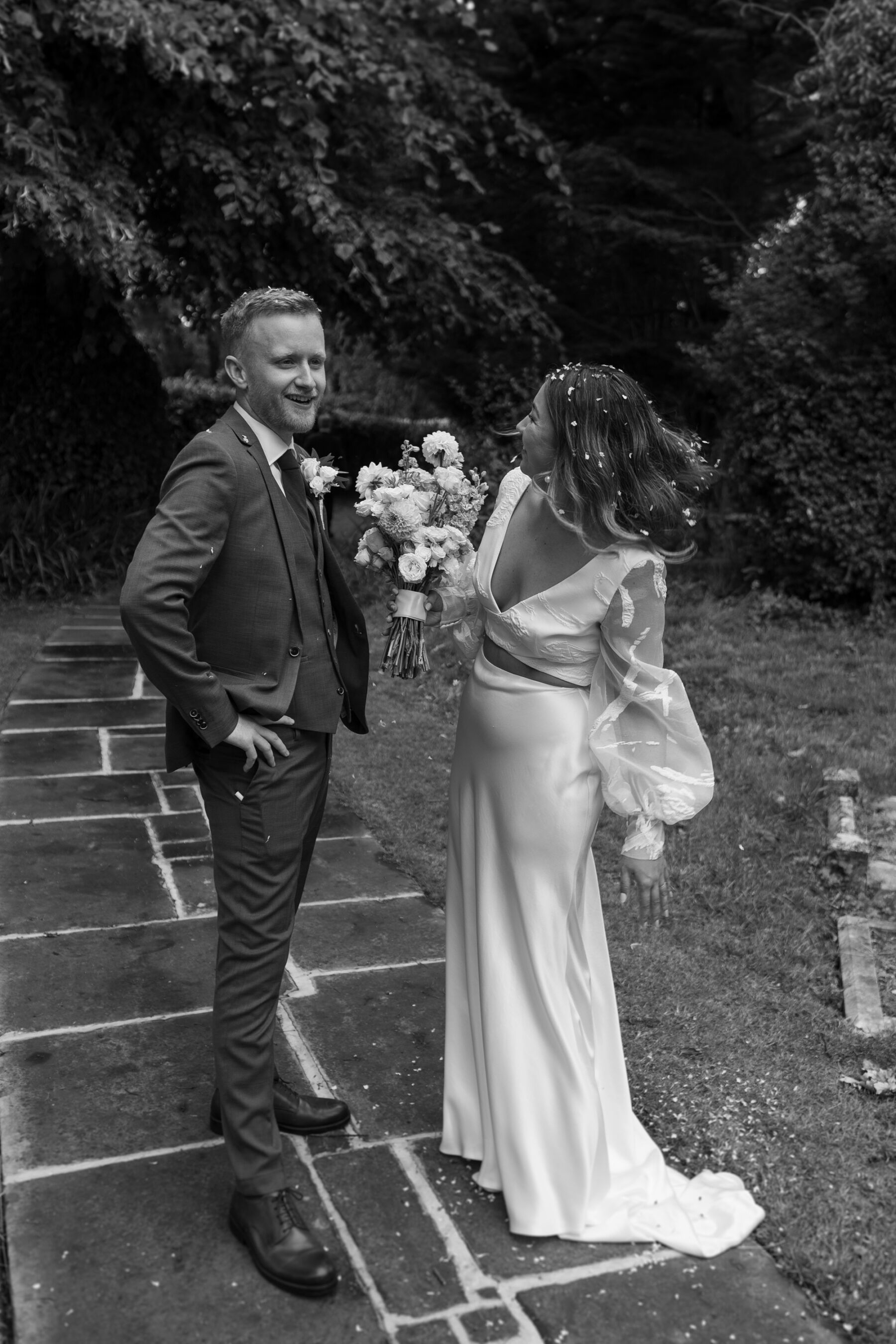 We drove off in Jamie's parent's mini cooper which was fun! We arranged a coach to pick our guests up from Brighton city centre (where most people were staying) and drop them to our wedding venue.
How They Met
I moved to London from Sydney, Australia and then met Jamie through Hinge after about 8 months of living in London. We were together for about two years before he proposed but during these 2 years, we faced the pandemic, moved from London to Sydney during strict covid times and also lived with both of our families.
On our second date, Jamie had organised a scavenger hunt around London (through an external website that sends you clues) since I was new to the city and he wanted to plan a different kind of date. At one point, we had to go into a pub say a riddle to get the next clue and I was too embarrassed to do that. So Jamie said, "I'll do it but I'll need a little something to give me courage. Will you kiss me?" So I gave him a kiss.
For our engagement, he had arranged a scavenger hunt around Sydney, Australia where we live. One of the clues again was to go into a pub and say a riddle to get the next clue so I of course said I wasn't doing that.
Jamie then said, "I'll do it but I'll need a little something for courage" so I gave him a kiss and turned to walk towards the pub. Jamie said, "I'll need something a little stronger than that" and when I turned around to see what he meant, he was down on one knee. I wasn't expecting it at all so I was in shock for about 10 minutes before it sunk in.
We were engaged for about eighteen months before we got married.
Flowers
We found Petra from Sussex Florals only about four months before our wedding day and she couldn't have been more lovely! They supplied all the flowers, confetti, vases and flower girl baskets.
I really wanted a loose, asymmetrical bouquet – I didn't want a traditional round bouquet. I also wanted colourful flowers loosely in vases on the tables in different colours and in different heights and sizes. I'm not a big fan of flowers being positioned super neat and tightly bounded, but more organically. I also really wanted poppies added in but unfortunately they weren't in season.
We added in delphiniums to give us height, and dahlias, carnations and garden roses to give us the different colours and sizes.
Jamie wore a khaki green suit from Politix. He loves a waistcoat so that was his one request when deciding what to wear!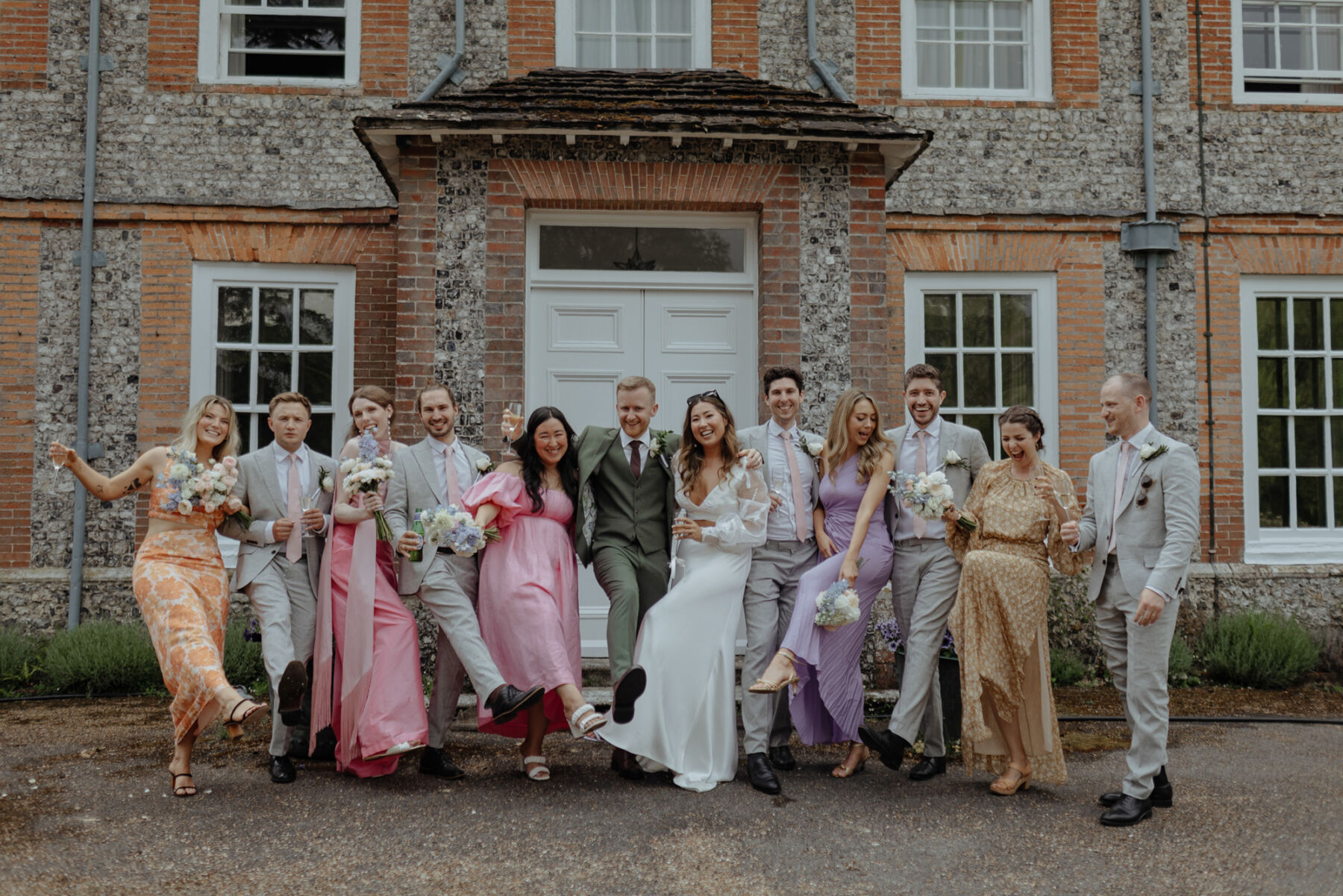 Reception
Being Australian and having a lot of my family and friends from Australia fly out for the wedding – it was lovely having a more typical English countryside wedding. One of the reasons we really wanted to get married in England is because Jamie's parents also got married at Newtimber Church and had their wedding reception at Newtimber Place. Newtimber Place belongs to Jamie's mum's side of the family and she used to spend her childhood there so is a really special place in Jamie's family. We hired a marquee from The Great Outdoors Marquees.
I think our wedding venue inspired a lot of the style of day I had. The church is very small and old so there wasn't much we could change/style. Newtimber Place, where we had our reception, is just absolutely stunning and speaks for itself. So it definitely anchored the style of the day!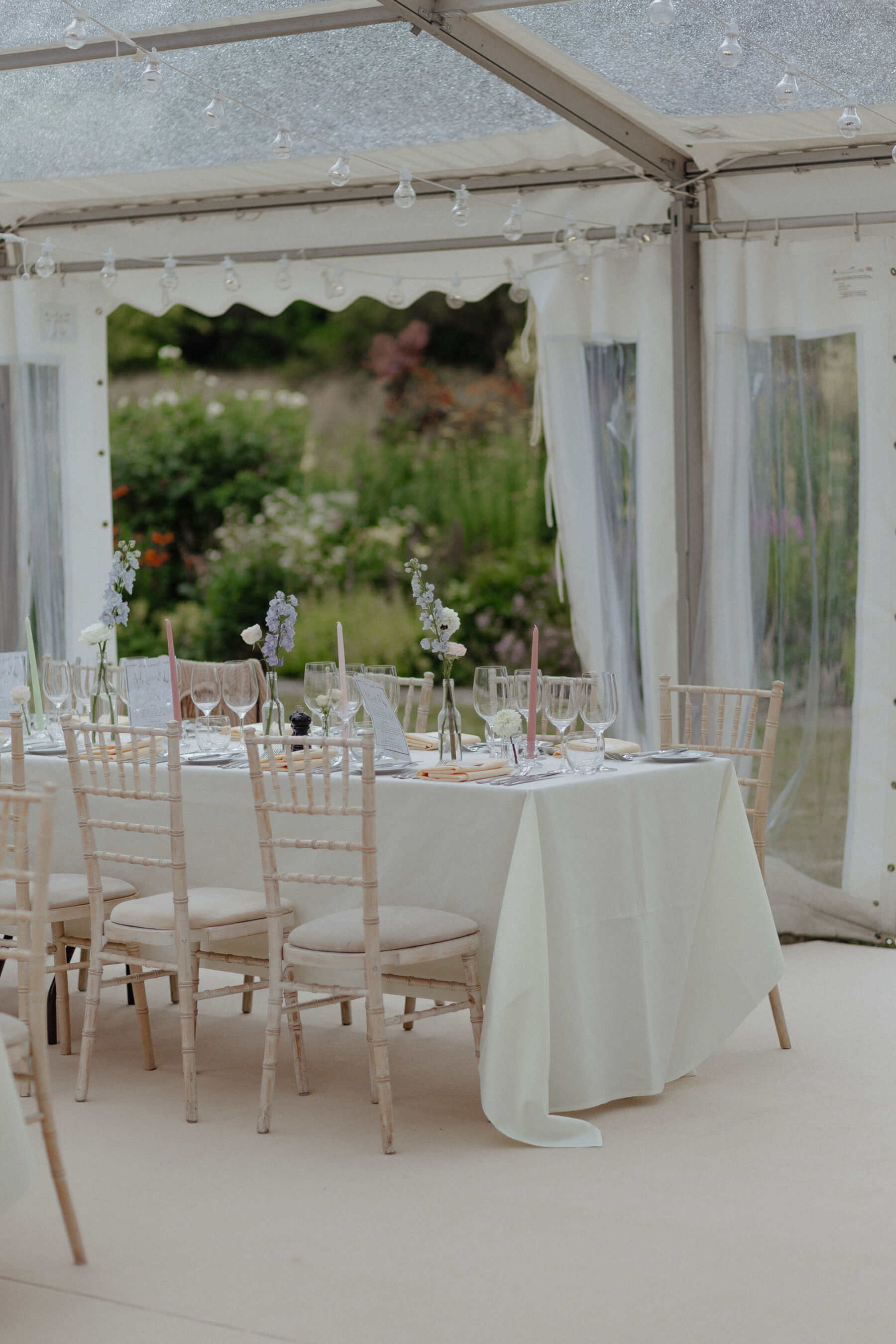 We honestly didn't have to do much to style the space as it was on the estate of a beautiful manor house. There was a moat surrounding the grounds, ducks, and flowers all around. It really spoke for itself.
My aesthetics in all of my fashion and design choices in my day to day life are more modern – I'm not really into the whimsical/old fashioned style, so I try to put a lot of contemporary aesthetics into the things I could add to the day (e.g menu cards, order of service, dress etc) as our venue and church was old and more traditional. We used Paperless Post for all our invitations. As it was a destination wedding for all the guests in Australia, I also created a wedding website on Squarespace with all the information they may need.
Our catering company was Gastro Catering – they were so professional and thorough and went above and beyond. It was so lovely and easy working with them.
For our order of service, menus, table plans and place cards, we purchased a template off Etsy from Pulp Templates Company and modified it to how we wanted it.
One of my favourite parts of the day was when we were all seated for dinner, the DJ played 'Angels', by Robbie Williams. The whole wedding party got up and were singing along, waving their napkins in the air and arms around each other. It just set such a good, fun vibe for the evening. I love the photos of this moment.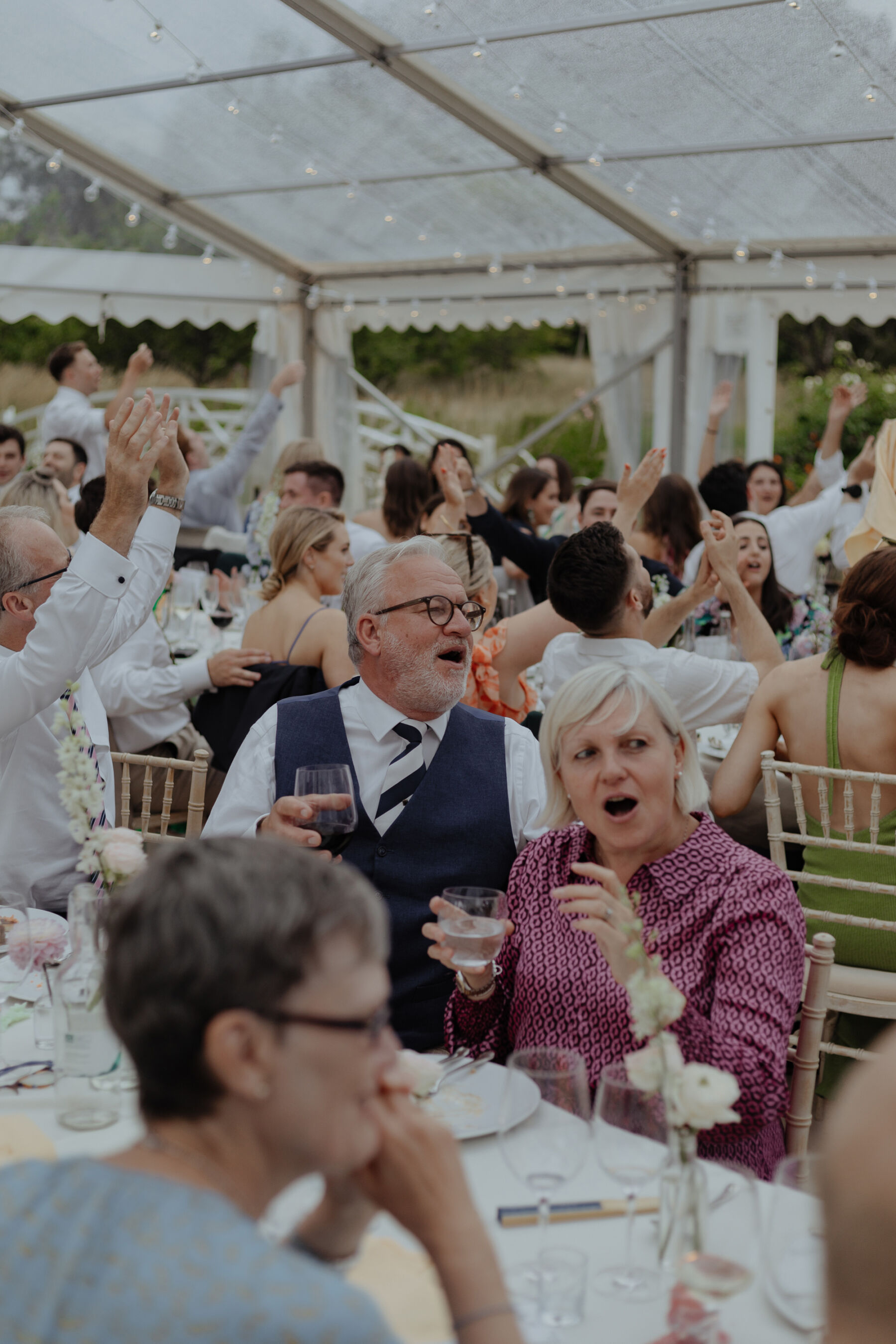 Evening & Dancing
We had our first dance to 'Simply the Best', by Tina Turner. I honestly didn't want to do a first dance but Jamie wanted to because he loves a dance! We both love the song and play it around the house a lot and it's a song you can't be in a bad mood when listening to.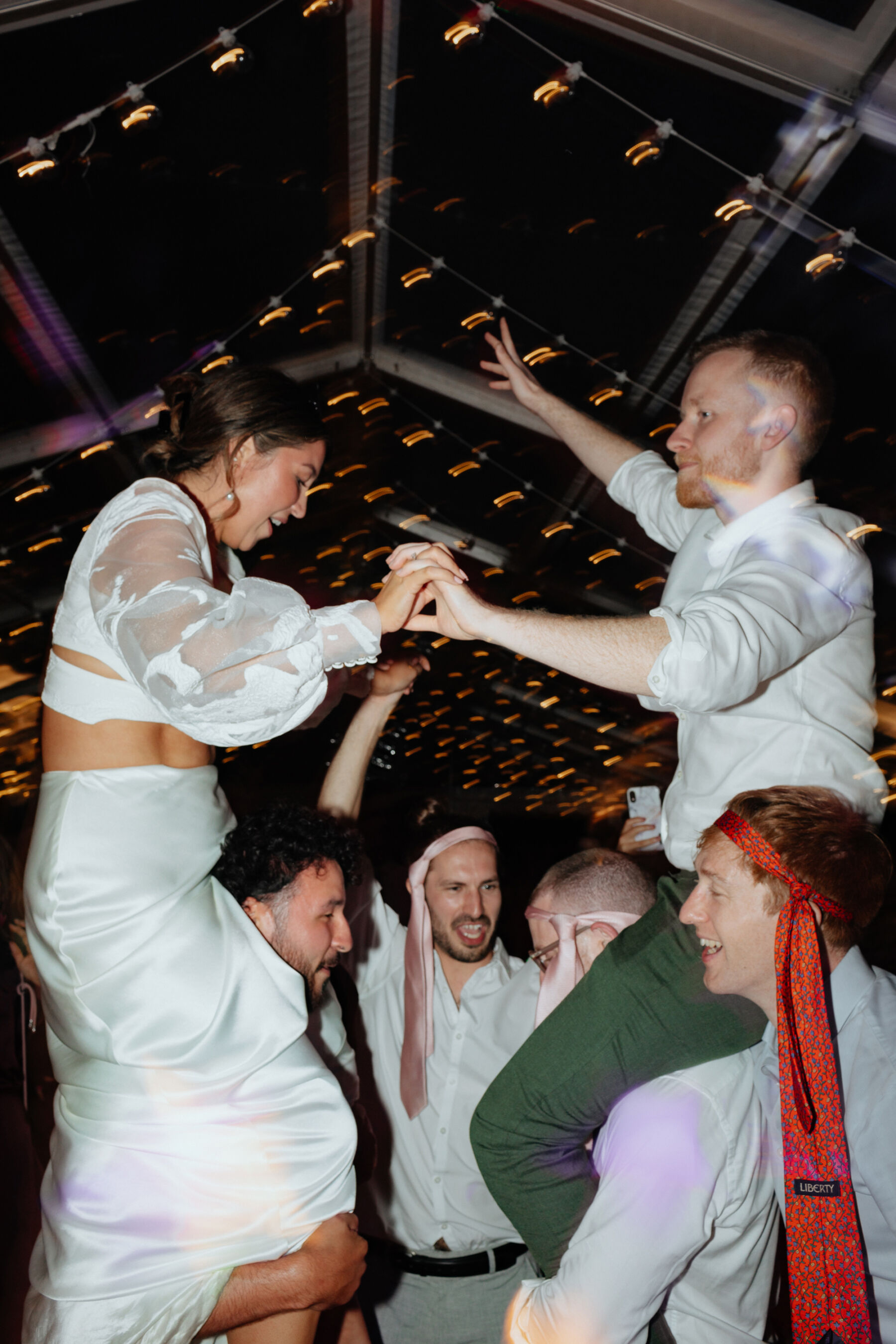 We had DJ Jerry of Off The Record Disco play music from dinner until the end of the night. We loved Jerry – he was so fun and put together such a great playlist and had everyone on the dance floor.
Murray James and Kate Lindeman, our musician friends who had only met that night, also played a few pieces for us, impromptu! They had all the tables singing along and it was such a fun way to start the party.
Words of Wedded Wisdom
I have a few! Get late night snacks! We almost didn't but my mother-in-law suggested to order some pizza to arrive later in the evening and it was such a hit!
Surround yourself on the day with people who support you and makes the day as special as possible. I know friendship/family politics can sometimes get in the way of choosing bridesmaids/groomsmen, but think about who will truly be happy and supportive of you on the day and won't make you feel anxious.
Remember that if anything on the day is different to what you had originally planned (e.g wrong vases or plates), no one is going to know (aside from yourself!) Your guests will attend the wedding and see it as it is and will love it.
Our budget was definitely exceeded! Not by too much but I think we definitely didn't realise how much everything would add up, despite everyone telling us it would.