Hayley and Drew's charming Scottish wedding was held in July last year within the gloriously beautiful grounds of the Cambo Estate, on the Fife Coast. This beautiful family owned Estate comprises picturesque parkland, magical woodlands and a charming beach.
As Drew is Filipino, the couple incorporated parts of the traditional Filipino wedding ceremony into their own – this included having 'sponsors', the exchange of coins, the draping of the cord and veil and a unity candle.
We're delighted Hayley and Drew asked photographer Caro Weiss to document their wedding. Caro is one of our much loved and adored, recommended wedding photographers, whose work we've been sharing on Love My Dress since 2010.
Hayley's words follow. Enjoy!
A Combo Estate Wedding
I have Scottish heritage (Clan Buchanan) and joked that there was probably a Buchanan Castle where we could get married. I started searching Scottish wedding venues and came across Cambo, which was a relatively new venue at the time.
You could just tell from the pictures how magical Cambo was. We immediately fell in love and booked the venue without even visiting.
Cambo also had an amazing coordination team – Louise Walker was a superstar.
A Romona Keveza Wedding Dress
My Romona Keveza dress was simple, but very flattering. The fabric was exquisite and made the gown fall so nicely. The fit was great too – sculpting in the perfect places, while still being very comfortable. I wasn't itchy or stiff the entire day.
I'll admit that I bought a different dress in 2019. When I bought this dress, I liked it but didn't adore it. I wanted to save money on the dress and the dress was a beautiful compromise.
But, as we pushed out wedding back due to the pandemic, I fell out of love with the dress and wanted a fresh start.
I found my dress at the Warren Barrron salon – I felt beautiful and comfortable in my skin. I did ask the amazing tailor with Warren Barron to remove the lace skirt and train from my initial dress to create a removable overskirt! It was so fun and I wore it at the rehearsal dinner over a white romper! Best of both worlds.
Flowers
Our florist was Wild Gorse. I loved Julia's untamed style and her use of native Scotland flowers. She has a beautiful way of making wild arrangement, that mimic nature, but never feel messy.
Accessories
I wore a veil made by Kimalpha Bridal on Etsy. It was a cathedral veil with 3D flowers.
My shoes were by Kat Maconie Heels and I also wore a pair of pearl-bedazzled Nike Air Force 1's.
My scent was Baccarat Rouge 540. It's what I wear everyday and is the most amazing smell that lasts all day.
I wore a pair of beautiful earrings from We Dream in Colour called the Antheia Earrings. I discovered this company during the COVID shutdown days and was drawn to her nature-inspired designs.
I had a hard time choosing the earrings because I love so many of her designs, but I decided on the Antheia earrings because of the balance of their delicate design and large size.
The Groom
Drew wore a custom suit from Suitsupply in Dallas, Texas, which he designed. Then he switched into a kilt that he rented from a store in St. Andrews. I bought Drew a watch made in the 80s that he had wanted for a very long time.
I bought it before we had to delay our wedding, so I gave it to him early to enjoy.
The Ceremony
My father walked me down the aisle to the sound of my favourite song, Love on Top, played on the piano. My brother officiated the wedding.
We asked Drew's sister to choose a reading that reminded her of us, so it would be a surprise.
She came up with a very creative take on 1 Corinthians scripture. It was kind, loving, funny, and perfectly suited for us.
Michelle, the owner and designer of Osha Jewelry, is an unbelievable artist and creator. She custom designed both my engagement ring and our wedding bands. She also happens to be a good family friend. When I saw we lucked out in so many ways, I really mean it!
Photography
Ah Caro Weiss – what a rockstar! We fell in love with Caro's photography and personality from her website – and fell even more in love when I met her in person.
Caro has an amazing ability to blend in with the crowd and to capture the moments we couldn't remember from our wedding day.
There is so much life in Caro's photos. Reviewing them allows you to relive the day.
Caro hired a second shooter, as well, Claire Fleck. Claire was phenomenal and so kind. I felt too lucky to have both of them with us that day.
How They Met
We meet our first week of dental school at the University of Kentucky in 2012 and have been pretty inseparable since. We've moved from Kentucky to Las Vegas, Nevada to Fort Worth, Texas together.
Drew is very romantic and family oriented. He planned an amazing vacation in Colorado with both my family and his family to propose in 2018.
He planned a sunset boat ride to propose and a celebratory dinner at a French restaurant (my favorite cuisine!). When Drew asked me to be his girlfriend, he made an origami puzzle with the question pieced out in the origami; so when he popped the question again, he made the same origami puzzle to ask me to be his wife.
We planned to get married in July 2020. However, a global pandemic decided against that. We rescheduled twice and finally had the perfect wedding in July 2022.
The Inspiration
We had a couple of overarching themes that I told our planner, Helaina Storey about, and she nailed them. They included embracing local and farm-to-table, the overlaps of Scottish and Kentucky cultures, bringing the inside, outside and other French aesthetics and unique touches from things special to Drew and I.
The Reception
Helaina blew me away with her styling. Can I gush again about how amazing she is?? I gave her the themes of farm-to-table, meshing Scottish and Kentucky traditions, and bringing the inside outdoors. And from that, she fairy-dusted the most perfect scenery with the fairyland backdrop that Cambo provides.
The majority of guests came from the United States, so we hosted a Welcome Party/Fourth of July Party the night before the wedding. It was an amazing time – food, drinks, dancing, great live music from Jeremy Levif, fireworks and a fairy-lit woodlands after party!
Drew's aunt, Jeanette Montero, is an amazing artist. She designed our monogram and wedding suite images. I then used and shared these images to create our paper needs.
Additionally, a best friend that couldn't make the trip across the pond for the wedding gave me a sweet memento of our time living together in college. We also used Pantone postcards as place cards during the reception.
Favourite Moments
If I had to choose a specific moment, I'll need to give a little backstory. There's an old Kentucky tradition to bury a bottle of bourbon before your wedding day. Then on your wedding day, you dig up the bottle and are graced with good luck.
When Drew and I first visited Cambo Country House in 2019, we really wanted to honor this tradition.
We pitched the idea to the then-owners of the house, Frankie and Struan, and they loved it!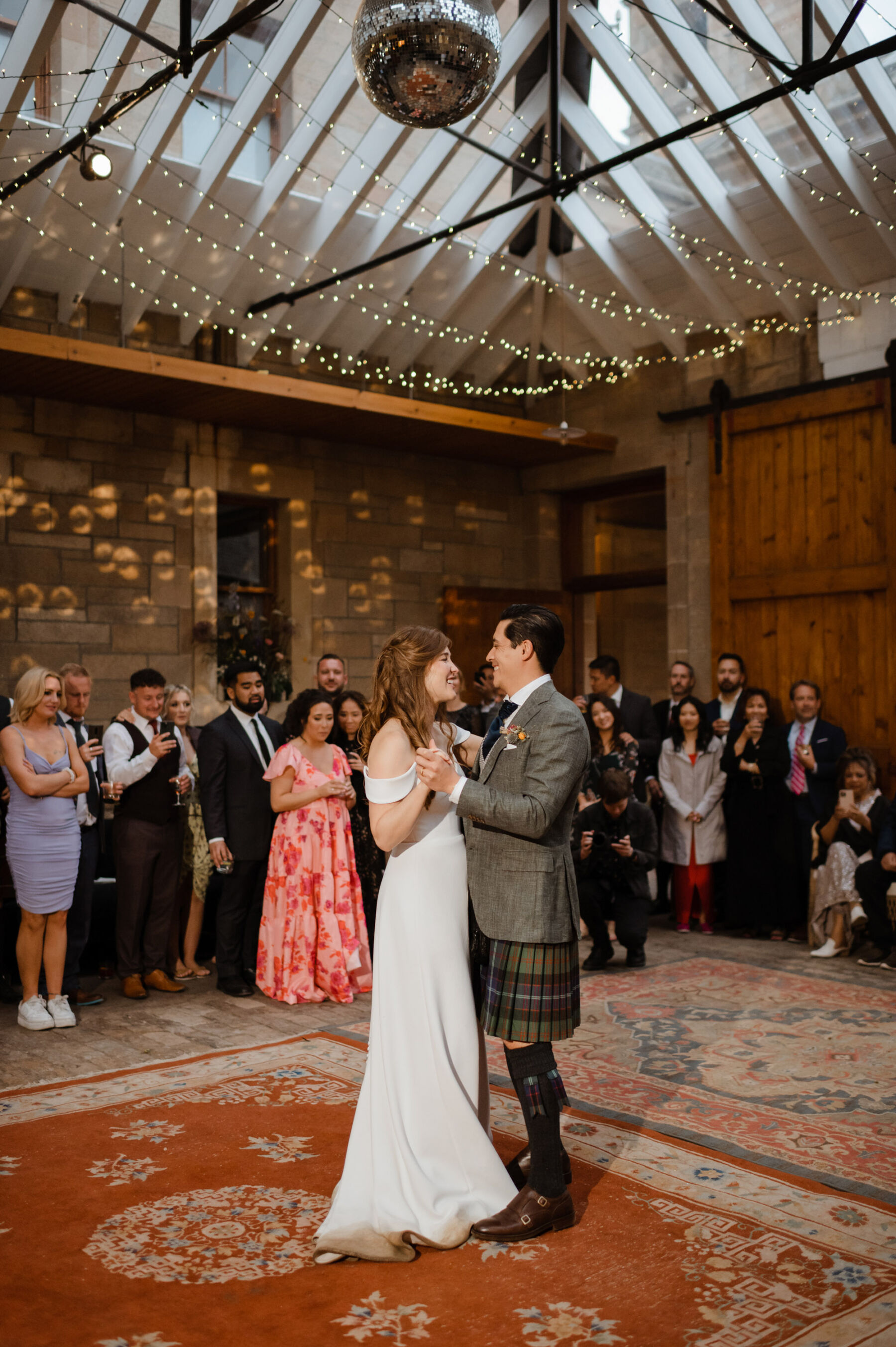 They not only allowed us to bury the bottle, Struan helped us dig the hole! Fast forward two delays and four years later.
Drew and I dug up the buried Scotch and poured ourselves a wee dram, then sat together to soak in the day.
Words of Wedded Wisdom
I would recommend before each decision, ask yourself does this choice serve my partners and my vision and desires. It's easy to get swept away into traditions and expectations.
Also, stay true to your joint wishes.